Let's face it, a big part of travel is trying to get those Instagram perfect snaps and Lisbon is by far one of the most photogenic places we have visited. With the cobbled backstreets, and graffiti clad walls, there are so many Instagrammable places in Lisbon. We have put together this post to help you find the most photogenic places in Lisbon to really brighten your Instagram feed.
From the colourful backstreets of Alfama, to a former red light district turned hipsters paradise, Lisbon Instagram spots are certainly not hard to come by.
Disclaimer:
This post contains affiliate links, so if you use these links to buy something we may earn a commission, at no cost to you. Thank you for your support.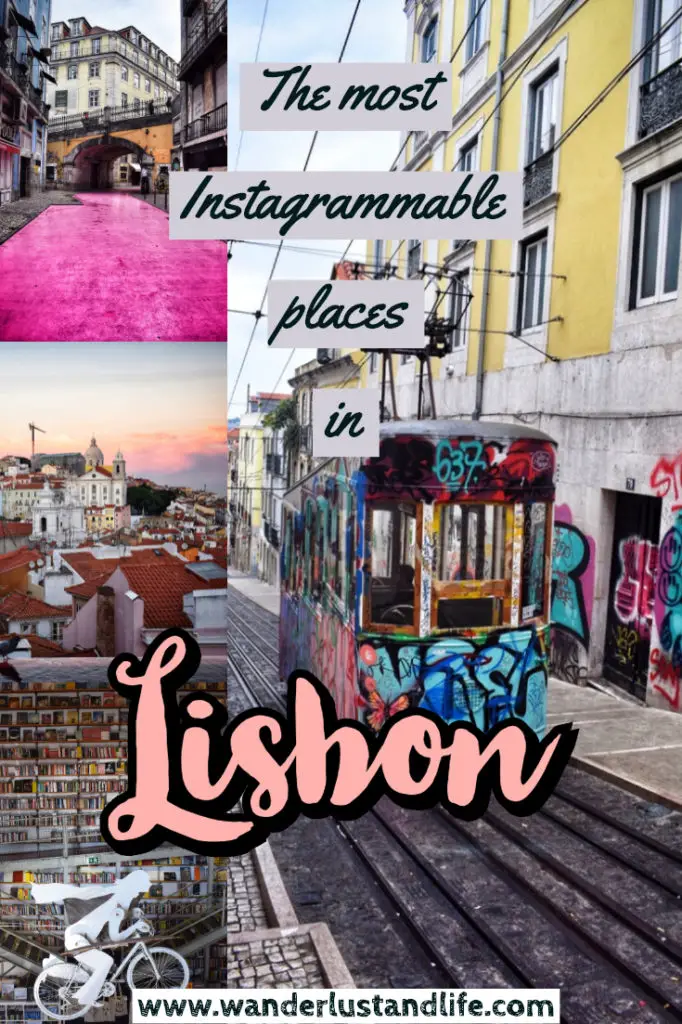 Before we get to some of the best Lisbon Instagram Spots let's look at why you should visit Lisbon.  
Lisbon is not only picturesque, but it's also super laid back and friendly. In the summer months it is the perfect city for Al Fresco dining, wandering around, and of course sipping on some cold drinks. It's also pretty cheap compared to the likes of Paris or Rome. It's also a perfect mix of modern and historical, making it a great place to photograph or just explore.
And if you are still on the fence about visiting Lisbon this guide might help.
Lisbon Instagram Spots – When to visit them
Lisbon is a really popular place to visit all year round. If you can, we recommend avoiding visiting smack bang in the middle of summer. Temperatures can get well into the 30's and with all those hills it can be quite exhausting. Summer (August specifically) is also busy because of school holidays, so expect prices for things like accommodation to be slightly higher. Also those famous Lisbon Instagram spots also get pretty crowded so you won't get the best photos.
We visited Lisbon in October and it was pretty perfect. For starters, the temperatures were mild and ranged from 23-26 degrees Celsius. Lisbon in October is a lot quieter so you won't have to line up nearly as long as you would a few months earlier.
March-May are also good times to visit due to the milder temperatures, and lower number of tourists. You still get the odd beach day, and can definitely sit outside sipping beers in the sun. So it's win win.
Winters in Lisbon do get cold, I think a lot of people assume it is a year-round sun destination which it isn't. It also rains quite a bit, so you aren't guaranteed sunshine. A lot of the charm of Lisbon is alfresco dining, and exploring the cobbled streets, so with a strong chance of rain winter probably isn't the best time to visit.
The most Instagram worthy places in Lisbon
Here are our recommended Lisbon Instagram Spots and maps to help you find them all.
✈ The Pink Street
By far one of the most photogenic places in Lisbon has to be the Pink Street. Located on Rua Nova do Carvalho, at night time this street is one of the hottest areas to go out in Lisbon. By day though, it is one of the most Instagrammable places in Lisbon. It will definitely brighten your Instagram feed, and the good news is that it doesn't get too busy in the day, so you can get pictures without tons of people photobombing you.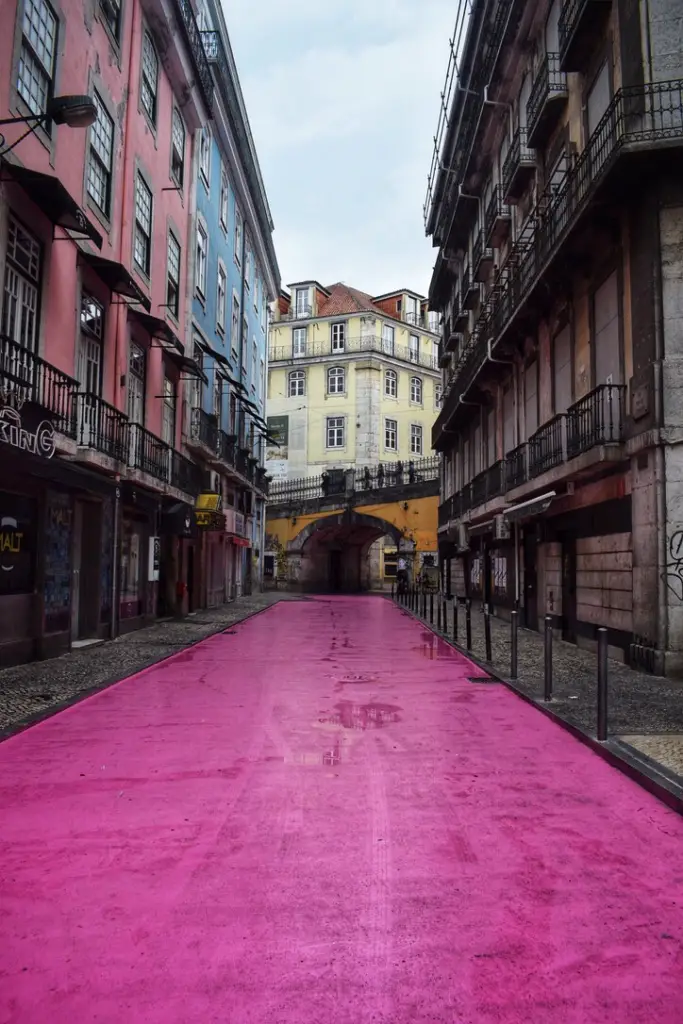 Despite it being a top Lisbon Instagram spot, the Pink Street, actually has some pretty seedy origins. Lisbon has a long history of being a port city, and the area was popular with sailors, as it was packed with brothels, gambling dens, and much more debauchery.
To find this one on Google maps make sure you put in it's proper name Rua Nova do Carvalho.
If you are getting the metro, get off at Cais do Sodré and take the short walk away from the port towards Rua Nova do Carvalho.
✈ Belem Tower
Belem Tower is certainly one of the most obvious choices for the best places to photograph in Lisbon. It is a popular tourist attraction, and the lines to get in can get pretty busy. From the outside though, you can get some really beautiful pictures, especially if you go out of hours when there aren't crowds of people around.
We unfortunately didn't have that luxury but even so, the Tower makes for a great picture. Especially if you stand near the wooden decking which leads you to the entrance. This creates the perfect leading line and draws your eye to the beauty that is the Belem Tower.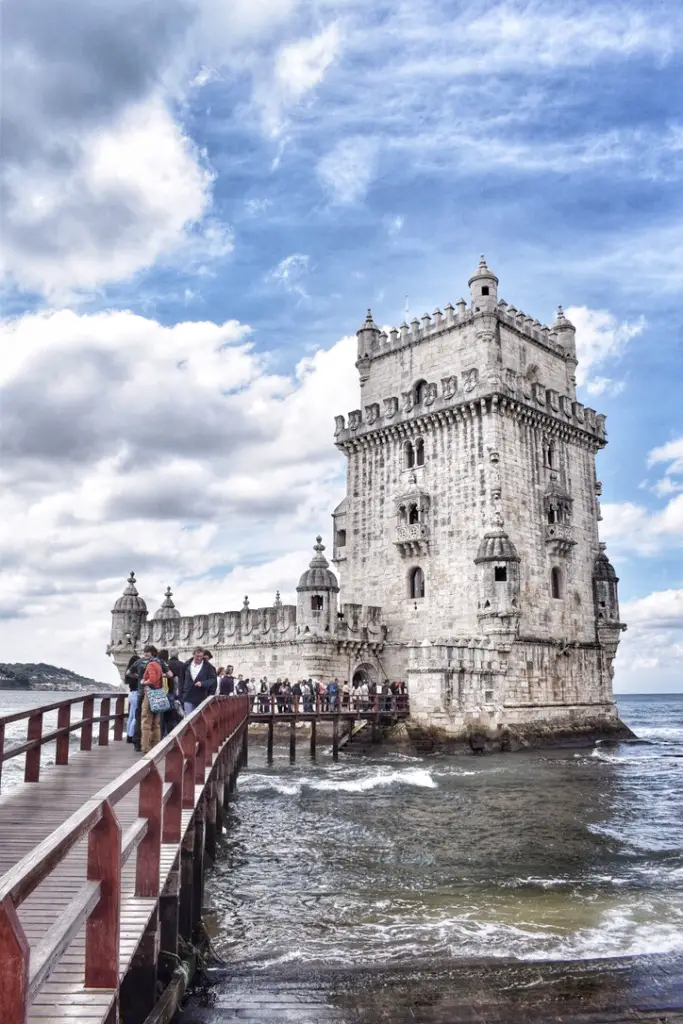 If you want to go inside the tower and get some of the best shots, we highly recommend booking in advance.
To get here from the centre of Lisbon you will need to hop on tram 15 headed to Algés (Jardim). Get off just after Mosteiro dos Jerónimos – usually 1- 2 stops after.
✈  Alfama District
There are several places in Alfamais one of Lisbon's best Instagram spots as a whole. It's a pretty big area though so we will go through a few in a bit more detail.
One thing we recommend though is to just walk around. It is one of the most Instagram worthy places in Lisbon, with its narrow streets, graffiti decorated walls, and incredible views.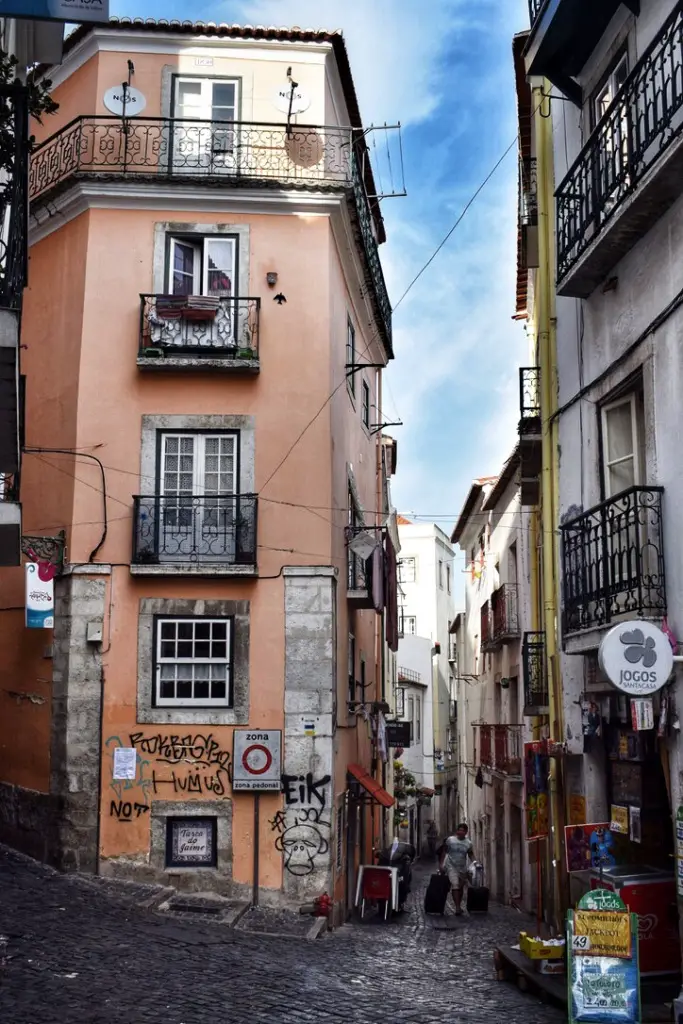 You could spend an afternoon here with your camera, just clicking away. Alfama was one of our favourite places to explore for this very reason. It is one of the oldest districts in Lisbon, and one of the most colourful by far in both palette and character.
✈ Lisbon Cathedral
Further into the Alfama district you will find the Lisbon Cathedral. This is one of Lisbon's most recognised religious buildings. And it is where you can go to get that iconic shot of Tram 28 snaking its way past with the cathedral in the background. When we visited there was cladding on the building next to it, so were were not able to get that perfect shot, but it is still an iconic Lisbon photo, also I should note that the best photo we took was of Tram 12, but you get the point.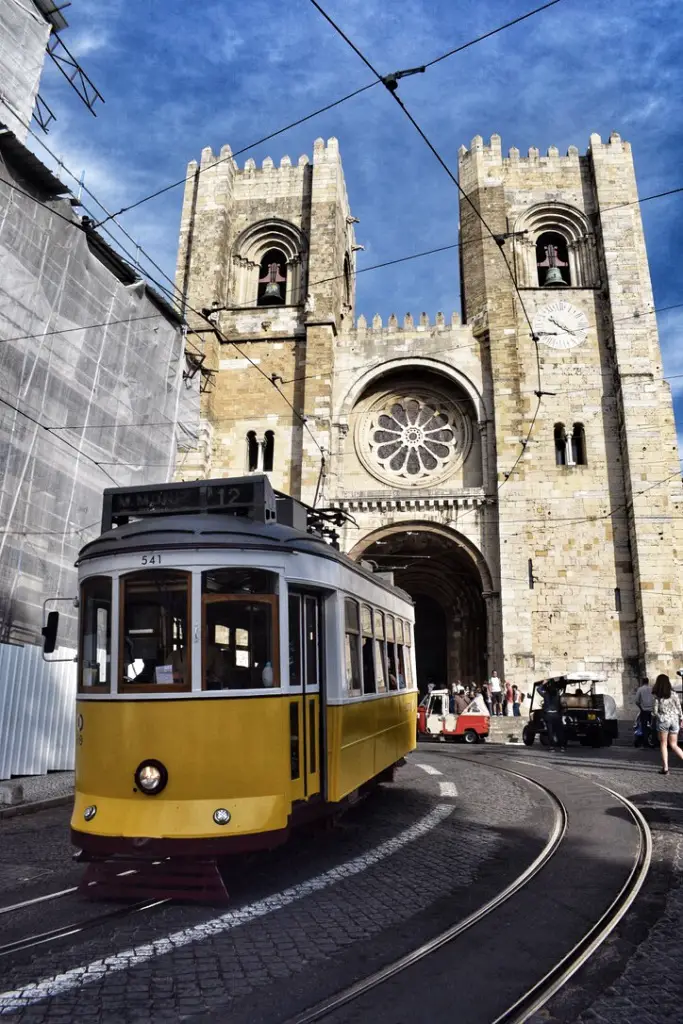 ✈ 
Portas Do Sol Viewpoint
The Portas Do Sol Viewpoint is another of the most Instagrammable places in Lisbon. The views from here are incredible, especially around sunset. The atmosphere is also fantastic with buskers and artists trying to attract the attention of the tourists. This is a great place to grab a drink and soak in the atmosphere.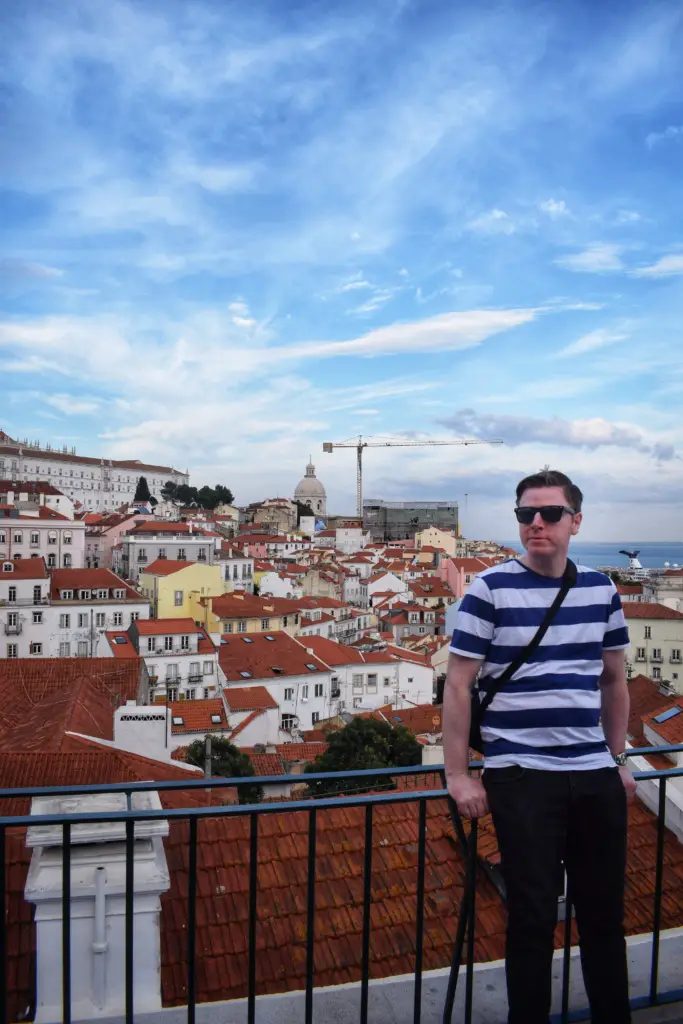 ✈ Lisbon Story Arch
Add a pop of colour to your Instagram feed with the Lisbon Story Arch. Located right near a public toilet in Alfama, you will find this colourful tunnel which depicts the history of Lisbon in a series of comical cartoons.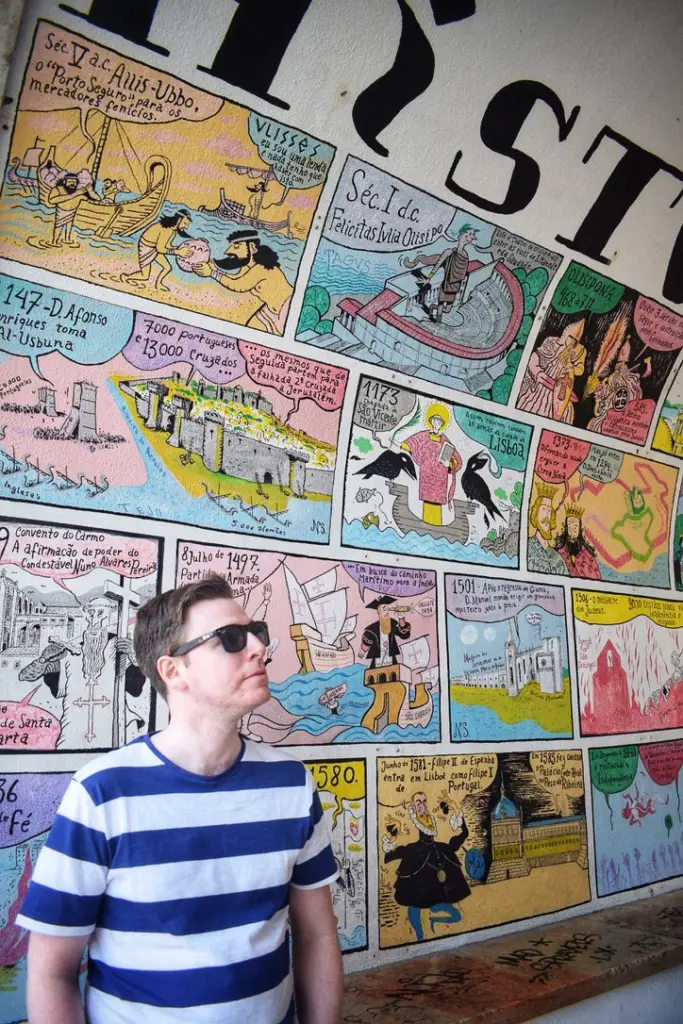 This one can be a bit tricky to find, and if you take the wrong turn you might miss it completely. If you follow the map below, and once you are in the area follow the signs to the public toilet. You will only go a short way down the stairs before you see a small tunnel with comic strips on both sides.
✈ Miradouro de Santa Luzia
This romantic terrace located by the church of Santa Luiza is certainly one of the best photo spots in Lisbon. For starters the gardens surrounding them are beautiful, filled with tiled mosaic walls and bright colourful flowers.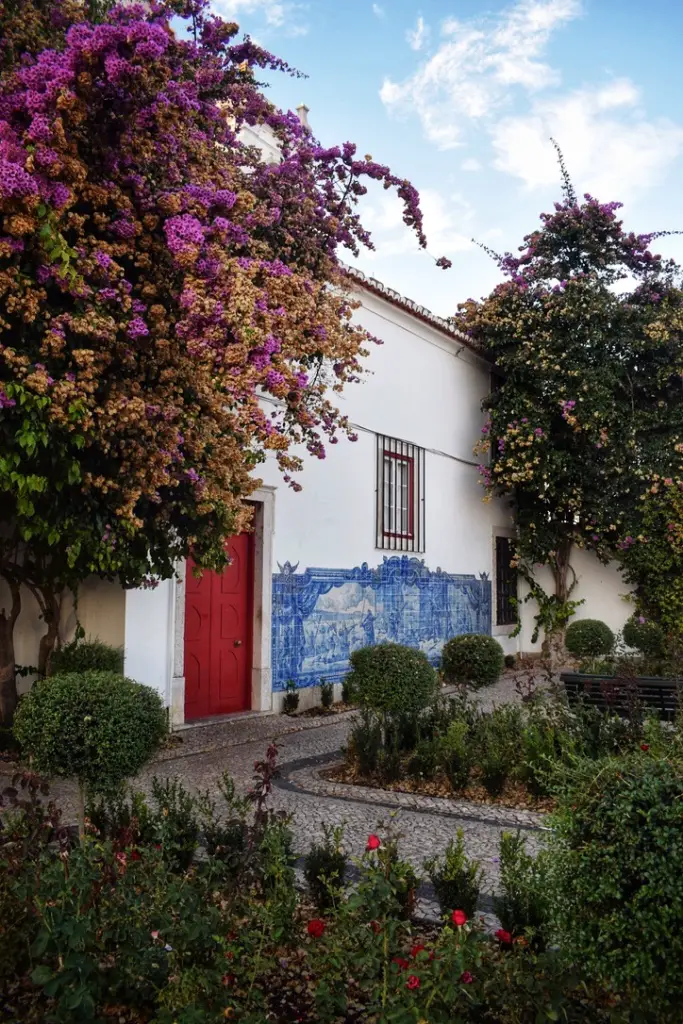 There is also a beautiful look out point here where you can admire those incredible red tiled rooftops whilst listening to buskers perform around you.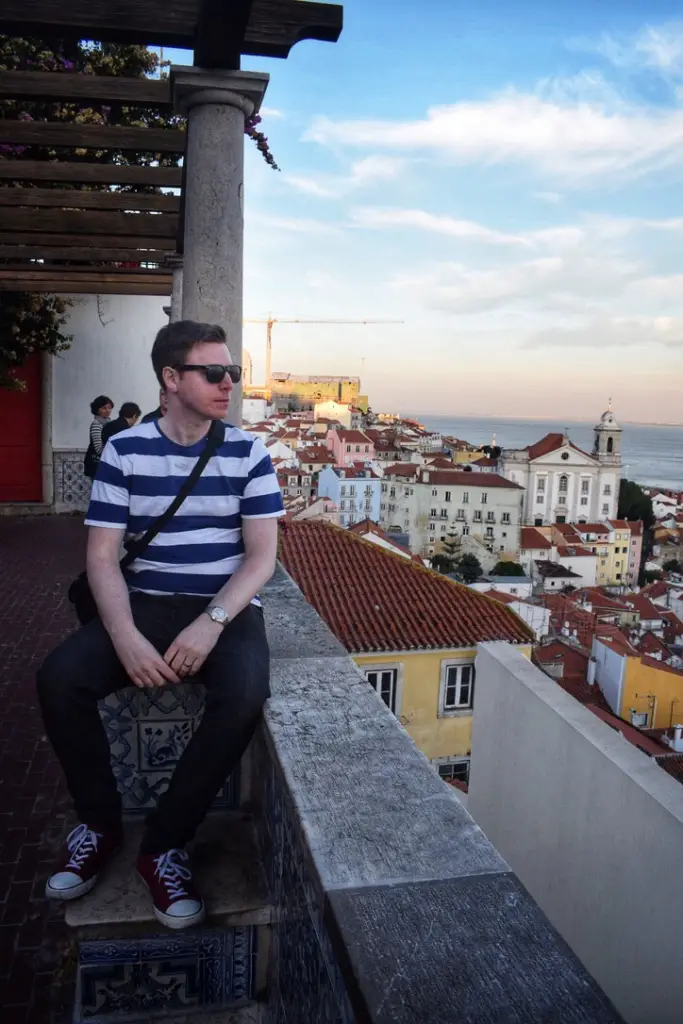 This is by far one of the best Lisbon Instagram spots – but also make sure you take some time not only to photograph the area but to sit and enjoy it too.
✈ Memmo Alfama
One of the best places to photograph in Lisbon by far has to be at the Memmo Alfama. This hotel has one of the most impressive rooftop bars and you can get some amazing photos of Lisbon from here. If you time it just right and you are here for sunset, then you can get some truly beautiful pictures. Plus what better way to enjoy the sunset then with a camera in one hand and a cocktail in the other?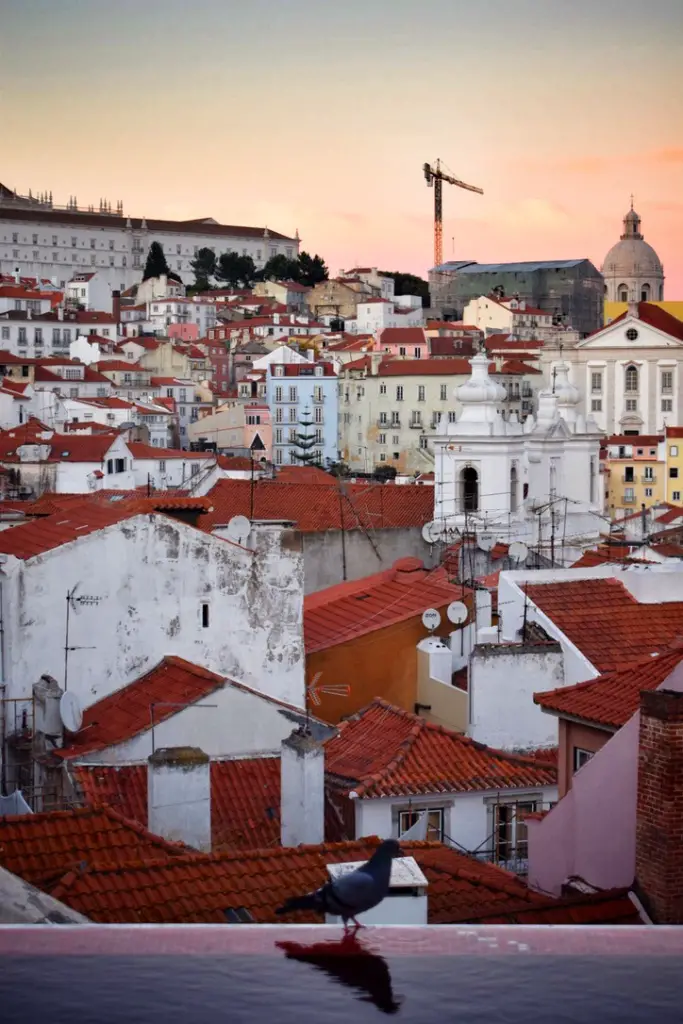 ✈ 
 Elevador da Gloria
We couldn't compile a list of the best photo spots in Lisbon without mentioning Elevador da Gloria. The elevador or funicular is located in Santo Antonio and is probably one of the most photographed bits of public transport apart from Tram 28.
What makes this one of the best places to photograph in Lisbon, is the funicular itself is covered in colourful graffiti, and with the background consisting of colourful homes and cobbled streets, you have yourself an Instagram favourite.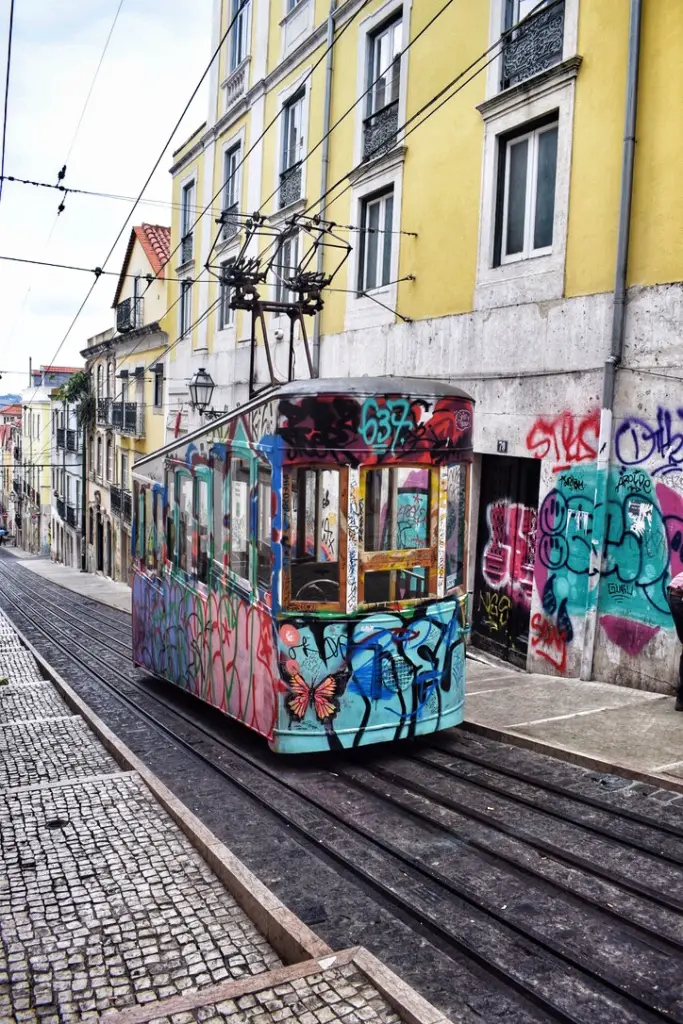 ✈ 
Elevador da Bica
Located nearby is the equally beautiful and photogenic Elevador da Bica. Again with the grungy background of graffitied walls and quirky buildings, this makes for the perfect Instagram shot.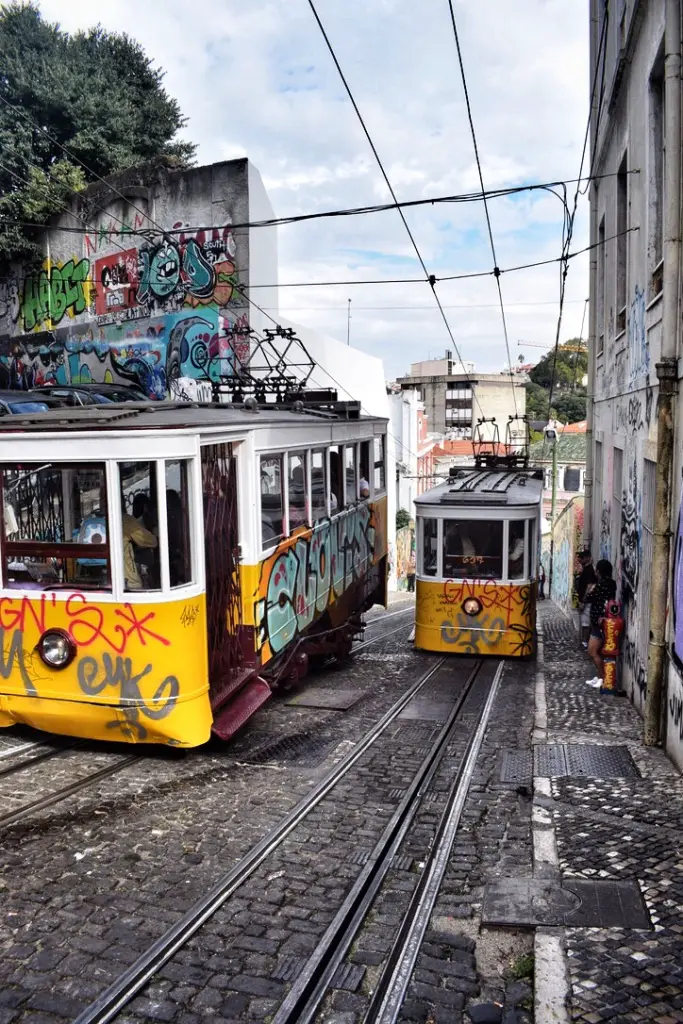 ✈  Santa Justa Lift
The Santa Justa Lift might be an obvious choice but we certainly wanted to include it on this list. The lift was designed by Raul Mesnier de Ponsard who was actually a student of Gustave Eiffel, who you might know from such designs as the Eiffel Tower!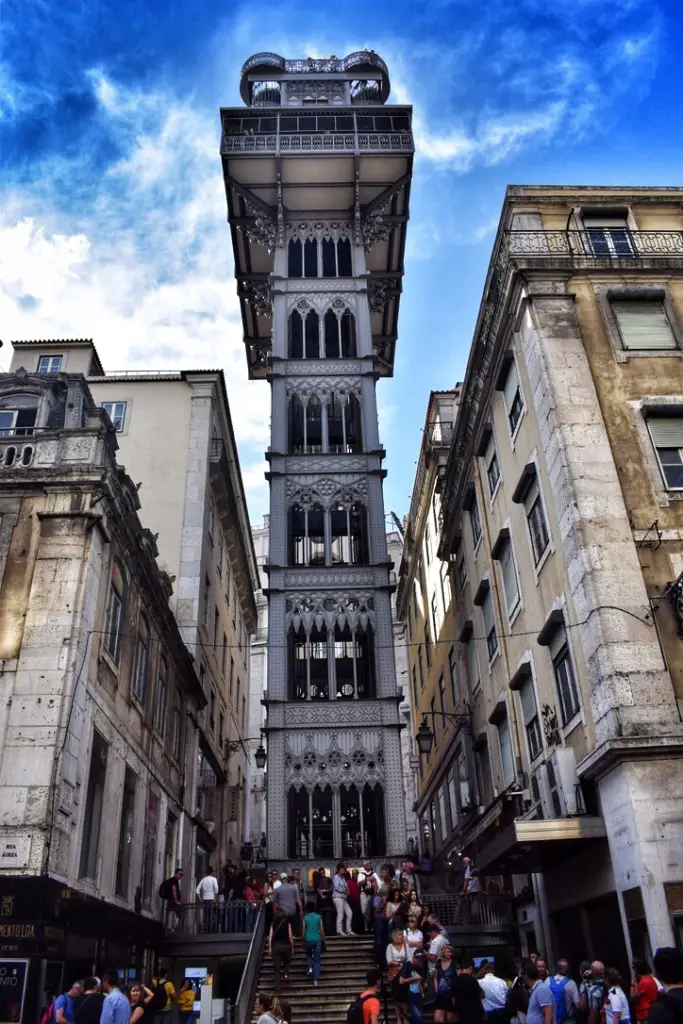 ✈ Praca do Comercio
The Praca do Comercio is the main square in Lisbon and popular with tourists. The square itself is beautiful but if you cross the road to admire the view of the Ponte 25 de Abril, Lisbon's iconic suspension bridge you will find another of the best places to photograph in Lisbon. This is a great place to go at sunrise as you can get some brilliant shots of the bridge with a pink sky in the background.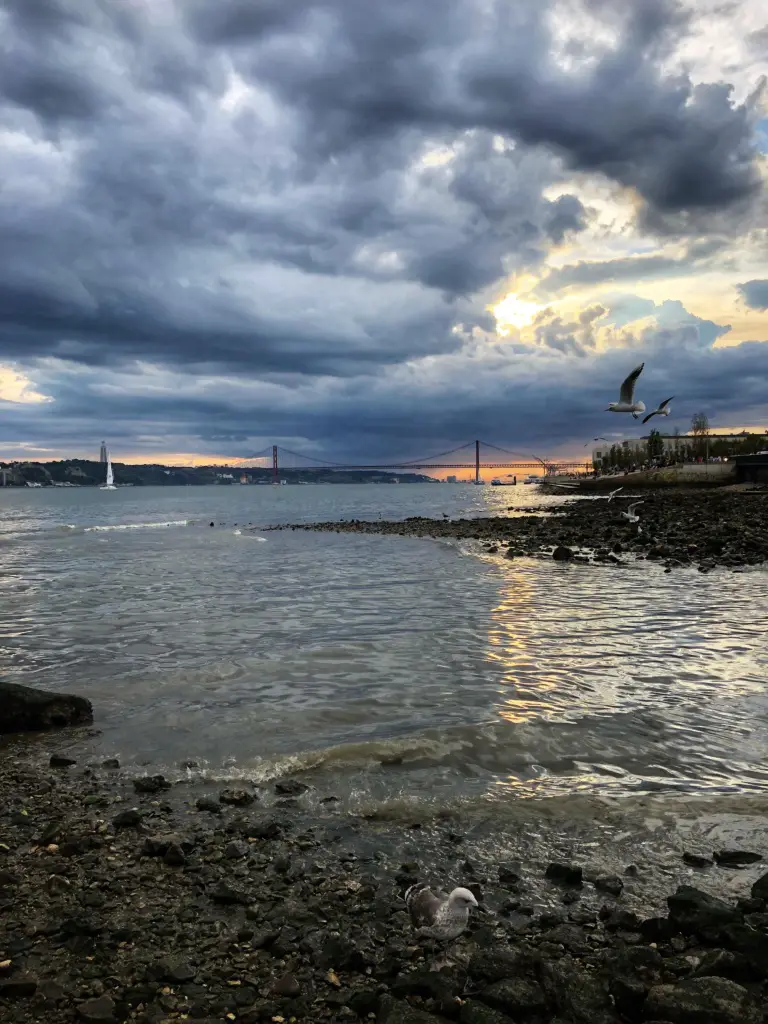 ✈ LX Factory
The LX Factory is pretty much a mecca for hip coffee shops, quirky stores, and some really funky outdoor bars. On top of that it is the perfect Lisbon Instagram spot. The street art is immense and there are so many awesome stores you can go into and take photos of.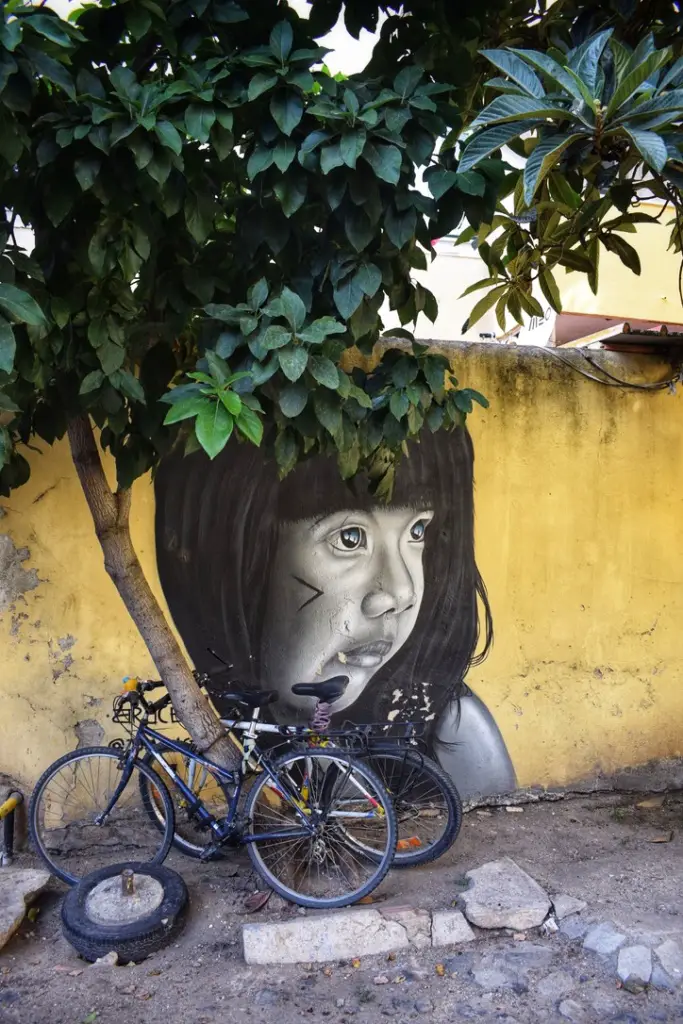 ✈ Ler Devagar
One of the best stores at the LX Factory has to be Ler Devagar. This is one of the most photogenic bookshops we have ever seen that is perfect for Instagram.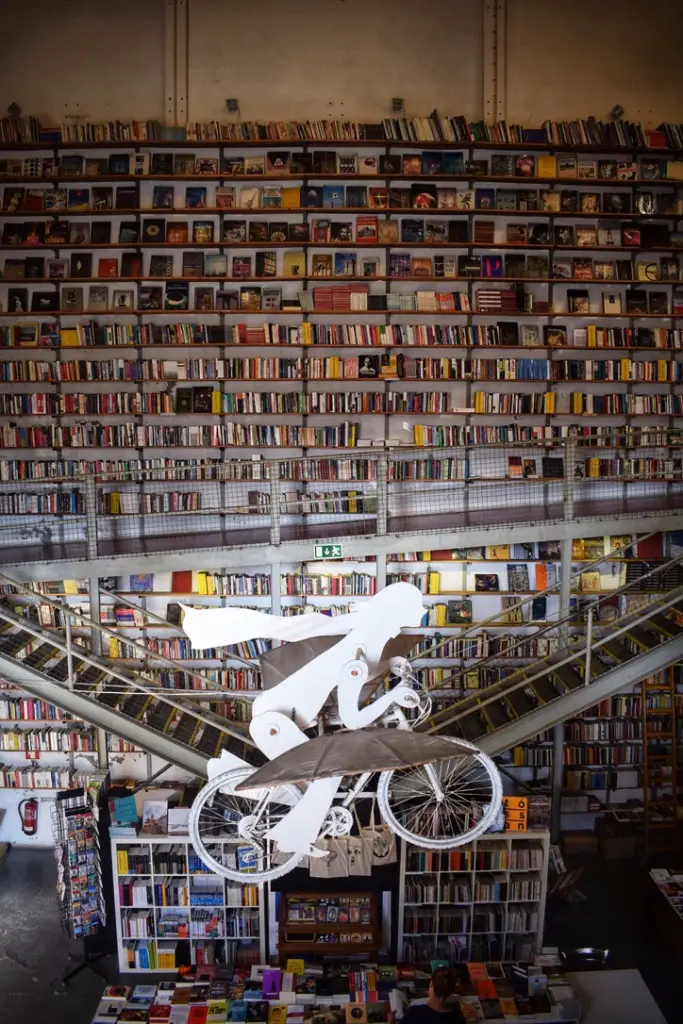 How to get to the Lisbon Instagram Spots
So you might be wondering how to get to all these Instagrammable spots in Lisbon. We recommend purchasing a Viva Viagem card. You can then load the card with a ticket, and you are off. If you go to a subway station you can top up your card with a 24 hour ticket which covers, buses, trains, and trams (including the 28) for a little over 10 Euros per person.
When purchasing your ticket there is an English language option which is handy. You can alternatively buy tickets on board buses, trams, and funiculars in the city, but these are more expensive that if you pay with your you can buy on board tickets in Lisbon buses, trams, funiculars and Santa Lift lift, but they'll be more expensive than paying with Viva Viagem card. Here is a quick overview on the public transport options.
Metro
There are 4 metro lines in Lisbon identifiable by their different colours (Blue, Yellow, Green and Red). The metro is frequent and convenient running between 6.30am and 1am daily.
Trams
There are 6 tram lines in Lisbon including the very popular  and totally Instagrammable Tram 28. The trams are operated by Carris and take you across the city. We actually didn't end up using the trams all that much except to get to Belem and of course to do Tram 28.
Bus
We ended up getting the bus quite a bit in Lisbon, as they tend to go to areas not accessible by tram or metro. They operate between 5am to 11pm, and the easiest way to work out where you are going and where to get off is to follow your route on Google Maps.
One thing I should advise though is that buses tend to get really busy. We ended up squished onto quite a few buses with strangers' elbows in our faces but I guess it is all part of the city break experience.
Funicular & Lift
They may look touristy but the funiculars and the vertical lift in Lisbon are all genuine modes of transport. They are ideal to help you ascend some of Lisbon's steepest streets.
Public transport is really convenient and easy to use, which makes getting around during your 3 days in Lisbon very easy.
Lisbon Instagram Spots and the best areas to stay
One of the most important things when planning your time in Lisbon is of course working out where to stay. Some of the best places to sleep in Lisbon are in Alfama, Baixa, and Bairro Alto. These are centrally located areas close to a lot of the main tourist sites and Instagrammable spots in Lisbon.
Here is our rundown on each of the neighbourhoods.
Alfama
This was our absolute favourite part of Lisbon, and in hindsight we would try to stay here if we are lucky enough to return to Lisbon. It's filled with back alleyways, steep hills, and a ton of character. It's probably one of the most photogenic parts of Lisbon, and great for a short break. Accommodation options in Alfama tend to be more apartment stays, so if you have your heart set on a hotel this might not be for you. The neighbourhood is really quirky, and there are so many places to eat, drink, and photograph.
Baixa
Baixa is probably the more touristy part of the city, and is close to a lot of the attractions and main squares. There are a lot of coffee shops, and restaurants, and the atmosphere is fantastic. This is really the heart of Lisbon, and great for people watching, and photographing.
Bairro Alto
The area is close to the city's two funiculars, and is full of hustle and bustle.  It's filled cobbled streets, graffiti clad walls, but more importantly a lot of places to eat and drink in the sunshine. It can get a bit boisterous in the evenings, so maybe not the best if you want a quiet night. It's a great place for couples too, with several rooftop bars in the area, and overall fun vibe. This is another of the best neighbourhoods in Lisbon if you are wanting to be near the top photo spots.
Best photo spots in Lisbon- a recap
Hopefully this article will help you find the most Instagrammable places in Lisbon. It really is the kind of city that you could spend days photographing and it was hard to narrow down the most Instagram worthy. I guess I should give a shout out to my Instagram and real life husband Dave, for putting up with me shouting at him to look wistfully into the distance while I take his picture. And if you are in Lisbon and you are thinking of doing a day trip, then you should consider visiting Sintra which in itself is one of the most Instagram worthy places we have visited.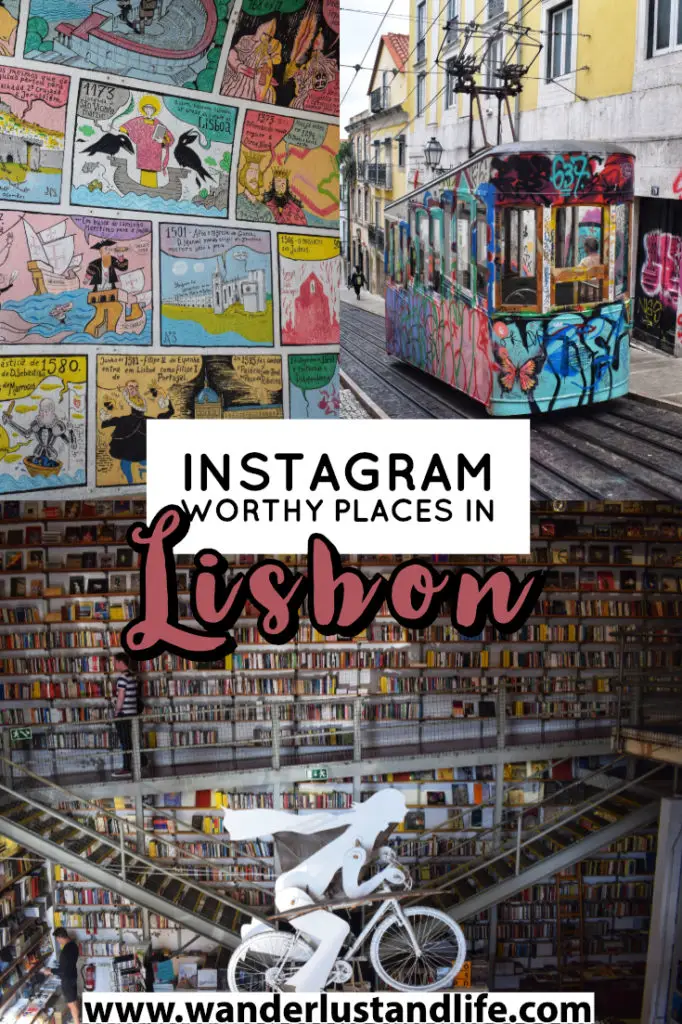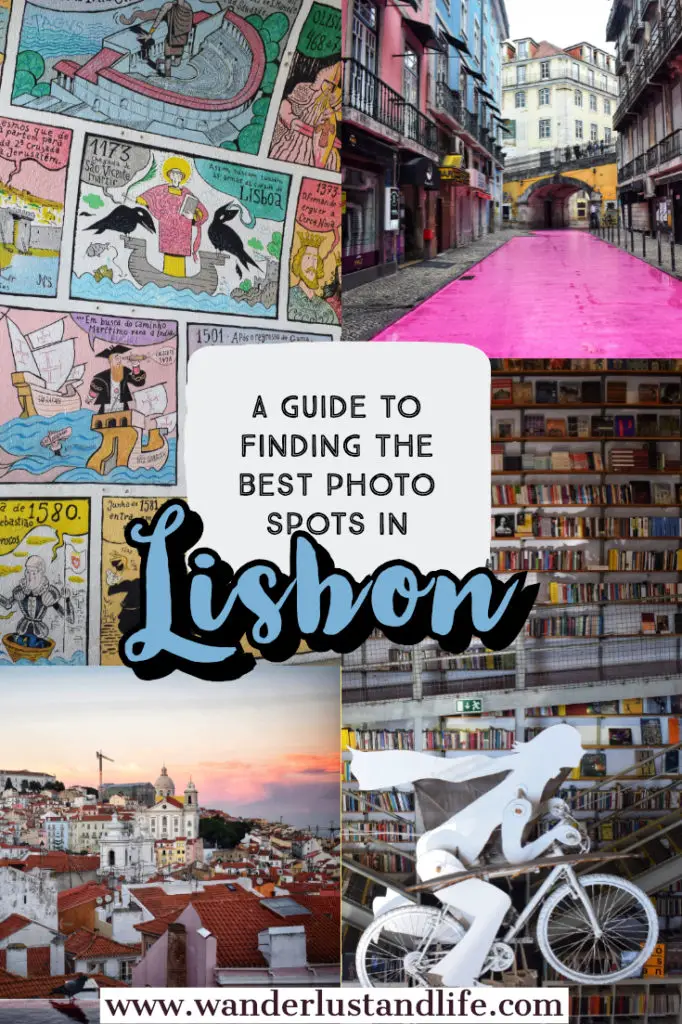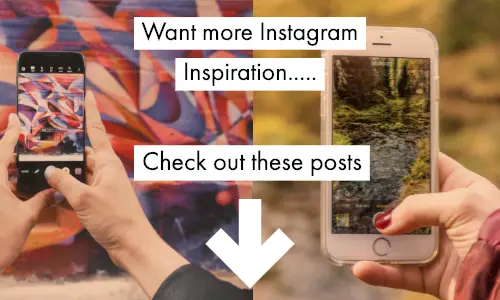 Instagram worthy places in Prague
Instagrammable places in Budapest
Instagrammable places in Singapore 
Instagram worthy places in Sydney
Best photo spots in Manchester 
Instagram worthy spots in San Francisco