How to get to the Pink Street in Lisbon
This post contains affiliate links, so if you use these links to buy something we may earn a commission, at no cost to you. Thank you for your support.
The Pink Street in Lisbon is so quirky and so bright that we really think it deserves its own blog post. And despite it being a pretty big tourist attraction, we actually struggled to find it and had to ask some locals how to get to the Pink Street. So we have put together this post all about the history of the street, where to find it, and everything else you need to know.
About the Pink Street Lisbon
Lisbon has a long history of being a port city. When the ships used to dock, and the sailors longing for human touch would make their way to Lisbon's Pink Street. In those days it was filled with gambling dens, brothels, and some very seedy bars.
Nowadays (and more on the change below) it is home to Lisbon's hottest nightlife. The clubs and bars get rowdy in the evenings and it is one of the most happening places in Lisbon. It goes from a quiet unassuming (or at least it would be if it wasn't so pink!) street in the day, to a place where all the cool kids gather at night. And in the day it is probably one of the top instagram spots in Lisbon, because who doesn't want a photo of a Pink Street?
Lisbon's red light district turned pink light district
I think it is fair to say that the Pink Street had some very shady beginnings. It was once home to Lisbon's Red Light District, and a place where sailors, criminals, and prostitutes would meet. In 2011 it transformed from seedy to quirky. The brothels and dodgy bars closed their doors and in their place, trendy cafes and bars opened up instead. This attracted a completely different kind of clientele to the area.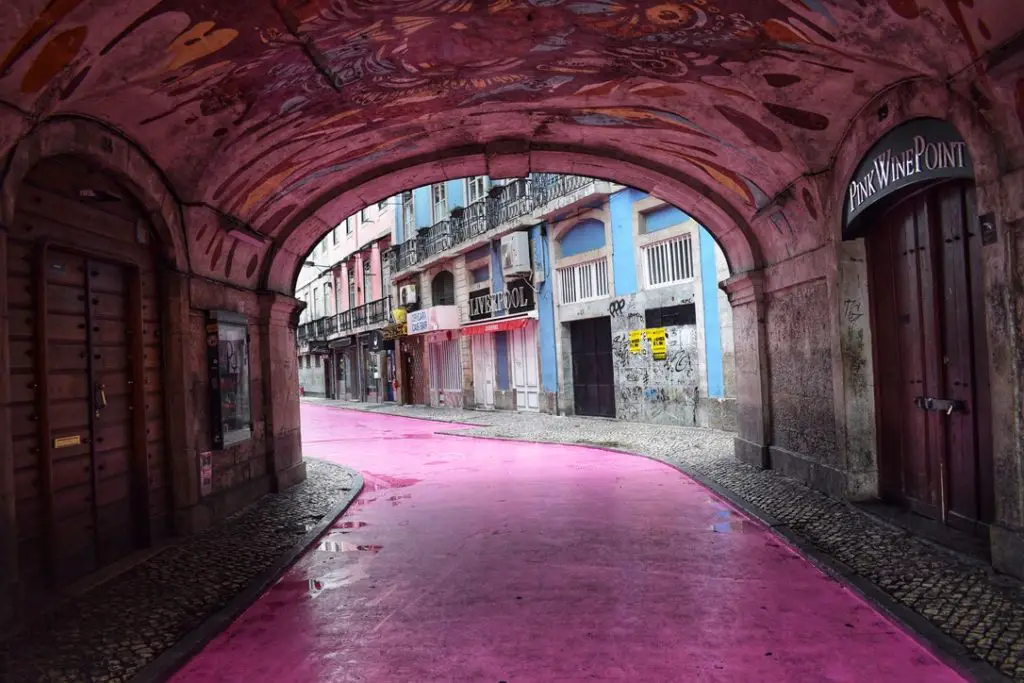 The past of debauchery and sensual pleasures has not been completely forgotten in this area though. You can still find a lingerie store and even an erotic bookshop, perhaps as a homage to the street's colourful past. Some of the bars still have fishing nets, and keep their bright colours as a way of remembering their seedy beginnings.
The Pink Street was only painted a few years ago, with work starting in 2011. The idea was to make the neighbourhood a little bit nicer, and what could be nicer than painting the streets pink?!
How to get to the Pink Street Lisbon
Just googling how to get to the Pink Street Lisbon doesn't really come up with much, or at least not when we looked. Instead you need to search for Rua Nova do Carvalho, which is the street's actual name.
If you are getting the metro, get off at Cais do Sodré and take the short walk away from the port towards Rua Nova do Carvalho.
Best time to visit the Pink Street Lisbon
Deciding when to visit the Pink Street is dependant upon the reason you want to visit. If you want to take some fantastic pictures to brighten up your Instagram feed then go in the morning. The bars are closed and the street is pretty much deserted making it the perfect time to get some really cool pictures. That being said maybe avoid visiting the Pink Street too early, as you might end up photographing a lot of rubbish from the night before!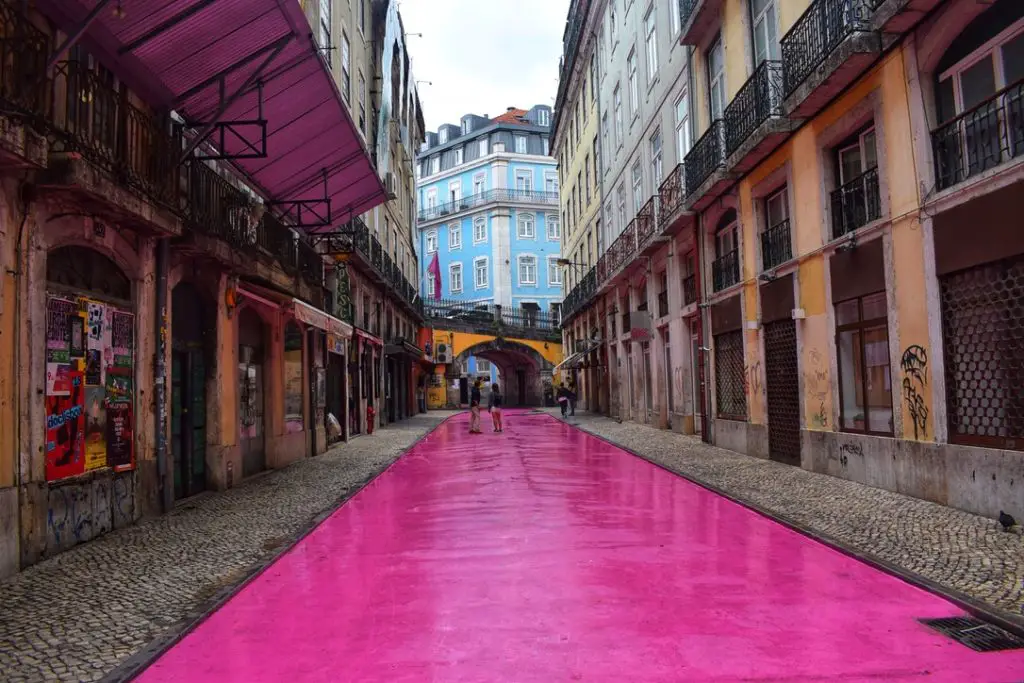 Of course if you are looking to explore the nightlife the Pink Street is open late. It starts to get lively in the evening, and bars and food spots are open well into the early morning. It is after midnight when the party really starts though so keep that in mind if you are looking for a crazy night on the Pink Street.
Things to do around the Pink Street Lisbon
There is a lot to do in the area, so once you take your photos be sure to explore. Here are some of the must see attractions located within walking distance from the Pink Street.
Elevador da Bica
The Elevador da Bica in our opinion is the prettiest of the two funiculars in Lisbon. You can either hop on and take a ride up the steep hill which overlooks the Tagus River. Or do what we did, walk up the steep incline and take some amazing pictures.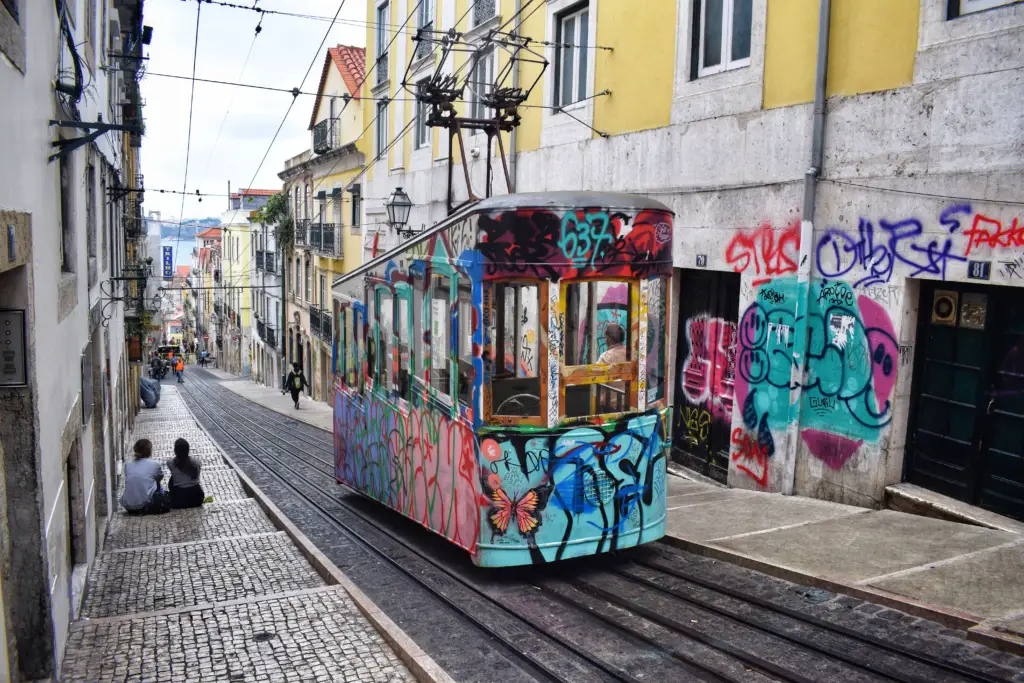 Time Out Market
The Time Out Market in Lisbon is a food lover's dream. It opened in 2014 with the idea of bringing together some of Lisbon's top chefs, and making their food more accessible to the public. You can indulge in almost every kind of cuisine here, from sushi and noodles, to more traditional Portuguese food. It can get super busy particularly on the weekend but the atmosphere is incredible as is the food.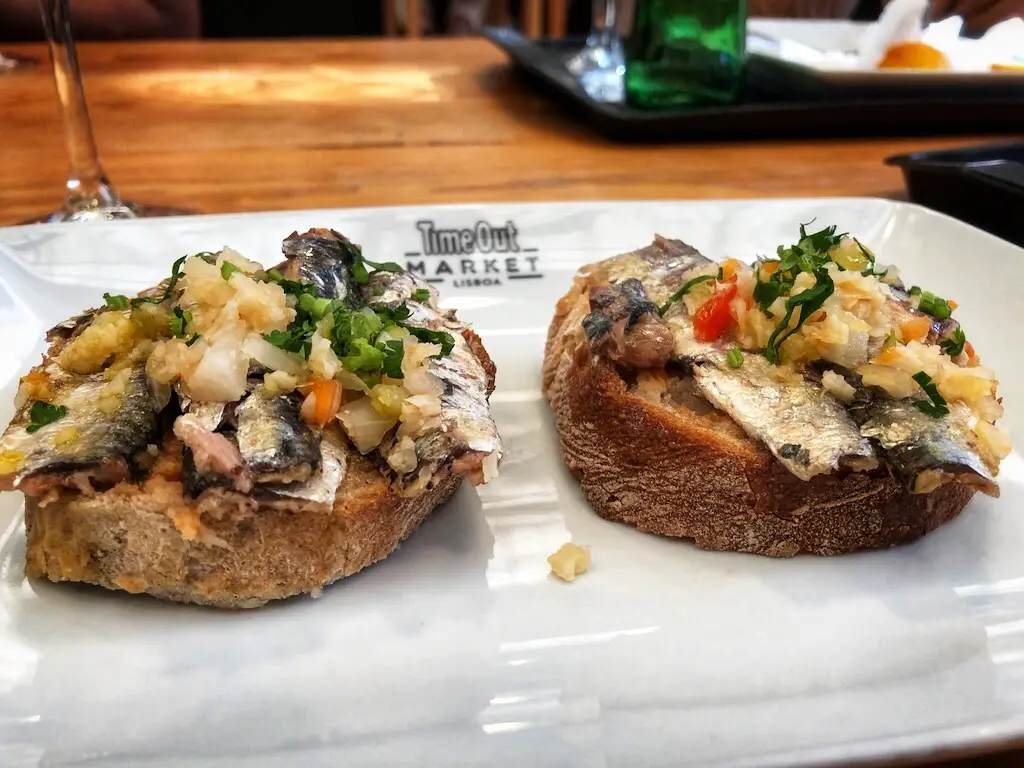 Lisbon Pink Street – recap
Hopefully this article has been useful to you and you now know how to get to the Pink Street in Lisbon. It really is a quirky place to visit, whether you are after some unusual Instagram photos or you are looking for a fun night out.
Looking for more Lisbon Information, then you might find these links useful.
Best places to watch the sunset in Lisbon
Also if you found this post useful then don't forget to pin it!