So you only have 1 day in Budapest, well this article is all about making the most of your short time in the city. You might not be able to see absolutely everything but you can make a good go of it. Whether you are on a day trip to Budapest, are visiting as part of a cruise, or just stopping by on your way to other destinations, this guide is for you. Here is everything you need to know about planning a 1 day Budapest itinerary.
Disclaimer: This post contains affiliate links, so if you use these links to buy something we may earn a commission, at no cost to you. Thank you for your support.
1 day Budapest Itinerary Factsheet
Here are some of the basics that you will need to know for planning your 1 day in Budapest.
Country: Hungary
Languages Spoken: Hungarian – although English is also widely spoken
Currency: Hungarian forint (HUF) – you can sometimes use Euro's but we wouldn't recommend it (more on that later)
Famous for: thermal baths, incredible architecture, ruin bars
Visit if you like: museums, quirky bars, cool buildings, fun and lively city breaks
Budapest is a great city break destination, and one of our favourite places in Europe. It's known for its vibrant nightlife, tumultuous history, and some pretty impressive architecture.
The city is separated slightly by the Danube river, on the one side you have the Buda section, and the other is the Pest. Thankfully they have been linked by the famous Széchenyi Chain Bridge since 1849.
A lot of the main attractions in Budapest are close together, which is good news when trying to plan a 1 day Budapest itinerary.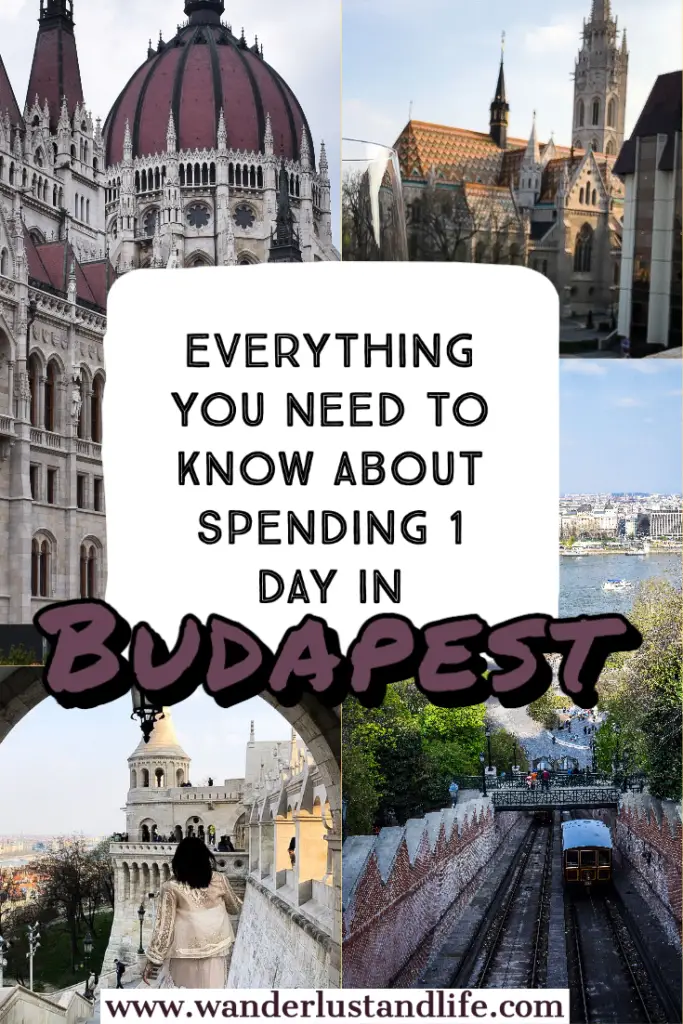 Starting your 1 day in Budapest – Getting here
There are several different ways to get to Budapest, and for this article we have listed the 3 common ones including, flying, getting the train, and getting the bus.
Flying to Budapest
Chances are that your 1 day Budapest itinerary will start in Budapest Ferenc Liszt International Airport, which is the city's main airport. You are then best running a quick GoogleMaps search to help you get to the centre of Budapest. Realistically though you will need to get a bus or a taxi.
Bus
Getting into the centre of Budapest by bus is probably the most popular choice. You can hop on the 100E which will take you into town within about 30 -40 minutes. There is also the 200E but this one is a bit more complicated as you will have to change onto the Metro at some point to get into the centre
Taxi
A taxi might be the preferred option when you only have 1 day in Budapest. You are probably looking at a cost of under €30 one way. This will obviously be your more direct and convenient way to get to and from the airport.
Getting a train to Budapest
If you are travelling from a neighbouring country like Austria, or even elsewhere in Europe, it might make sense for you to get the train to Budapest.
Budapest-Keleti is one of the main train stations, particularly if you are coming from Vienna for example. On one of our trips to Budapest we caught the overnight train from Lviv (obviously pre-war). Getting from the train station to the centre of Budapest is simple.
You can either walk, which is probably around 40-50 minutes. It might not be ideal if you have a lot of baggage, but is a good way to see a bit of the city.
Alternatively you can get public transport to a more central location in the city. For example if you were wanting to get from Budapest-Keleti to the Hungarian Parliament, then you only need to walk a couple of minutes to the Metro stop. In under 10 minutes you will be at the Parliament Building.
Getting a bus to Budapest
If you are on a budget getting to Budapest by bus is a great option. The international bus station is Nepliget. It's around 6km out of Budapest, and you will need to get a bus and a metro to get into the centre of Budapest (depending on where you are going). It will probably take you half an hour for example to get from the station to the Hungarian Parliament for instance.
Where to stay during your 1 day in Budapest
If you only have 1 day i Budapest you might not need to look for accommodation, especially if you are doing a day trip. If that is you, can scroll on my this section. But if you do want to know where to stay in Budapest then read on.
There is a lot of information out there on accommodation in Budapest, but let's break it down. For starters as mentioned above, Budapest itself if broken into two parts. You have the Buda side and the Pest side. They are split by the Danube River, but there is a bridge connecting the areas.
The city is also made up of 23 Districts. So when you are booking your accommodation you might see words like District I or District V. Obviously 1 day in Budapest isn't a lot of time, so if you are staying the night you will want to make sure your accommodation is centrally located.
To further simplify where to stay in Budapest, on the Buda side, you have locations like Buda Castle and Fisherman's Bastion. It's a very traditional area, and there tends to be more luxury hotels in the area. If you are wanting a quieter evening, with atmospheric restaurants and cobbled streets, this might be the area for you.
On the Pest side, you tend to have a lot more options, and accommodation to suit all budgets. A lot of the backpackers hostels are on this side as well. On this side of the river you are close to attractions like the Houses of Parliament, and the famous ruin bars. This area very loosely is the best place to stay if you are wanting to enjoy the nightlife and party into the wee hours.
Whatever area you decide to stay in (in the centre of Budapest at least) the good news is that you won't be too far from the main attractions. And if you are after boutique hotels, here is a guide to the best unique hotels in Budapest.
Here is a bit more of a breakdown.
District I – Buda Castle
District 1 includes the Buda Castle area. It is located on the west bank of the Danube, and is home to attractions like Fisherman's Bastion, The Royal Palace, and Matthais Church. If you want to spend your evening with a good meal and a glass of wine this is a really good option. It also tends to attract a lot of families as well, due to the calmer nightlife.
You've still got a range of hotels covering different budgets, but the luxury hotels are more common on this side of the river.
District V -Parliament & Downtown Budapest
Across the Danube from the Buda Castle area is District V, which includes attractions like the Parliament Building and St Stephens Basilica. It's very central and close to food, drink, and most importantly public transport. This is the area that we most recommend when you are only spending 1 day in Budapest. It's close to everything, and you can easily get around.
There are a ton of mid-range hotel options here, as well as a number of backpackers hostels.
District VI Terézváros
This is probably your more cultural part of Budapest with points of interest such as the  Hungarian State Opera House, the Liszt Ferenc Music Academy, and the Operetta Theatre. It's great for culture lovers and those that want to go shopping. There are a few mid- range hotels as well as some more upmarket places. It's very central and close to transport.
District VII – Erzsebetvaros
This is the heart of the Jewish Community in Budapest especially as it is home to the Dohany street great synagogue. Separately the area is a hipster's dream filled with super cool cafes, street food, and of course the ruin bars. If you are planning to party during your in Budapest this is probably the area for you.
Where we stayed during our 1 day in Budapest
When we visited Budapest we stayed in District VI or Terézváros. It's very close to District V. It was also easy for us to get around Budapest from here. Most importantly though, it was only a short walk for us to get to the ruin bars. We stayed at the K+K Hotel Opera. It was a great hotel that was mid-range, and excellent value for money. The rooms were modern and clean and we highly recommend it. Our stay wasn't sponsored or anything like that, we just really liked the hotel, particularly for what we paid.
One tip for getting the best hotel deals is to book well in advance. We usually use hotel booking sites for this.
Things to do as part of your 1 day Budapest itinerary
These are some of our recommendations on things to do in Budapest. You definitely won't be able to to do them all, but you should be able to tick 3 or 4 off your list at least.
House of Terror
It sounds scary and it actually kind of is. But very much in a historical way. The House of Terror is a museum that centres around the fascist and communist regimes in Hungary in the 20th Century. It's hard to walk around because the horror of what the victims of these regimes endured is a lot to take in. But it's important, and if you have the time, this is somewhere we highly recommend you visit.
One of the most emotional bits got me right at the end, and maybe it's because my family are Ukrainian so I've heard firsthand the horror of these regimes. You basically get in an elevator, and everything goes dark. The lift descends with some really emotional music. When you get out you will find yourself in the basement of the building. Here is where prisoners were tortured and killed.
It's moving and it's hard at times, but sometimes history is like that, and it's important to know and learn from it. The museum is really popular and we actually spent almost an hour lining up waiting to get in. Obviously if you only have 1 day in Budapest that isn't ideal. Therefore you can buy a ticket via Get Your Guide which grants you entry, and a guided tour. You also get to skip the queue.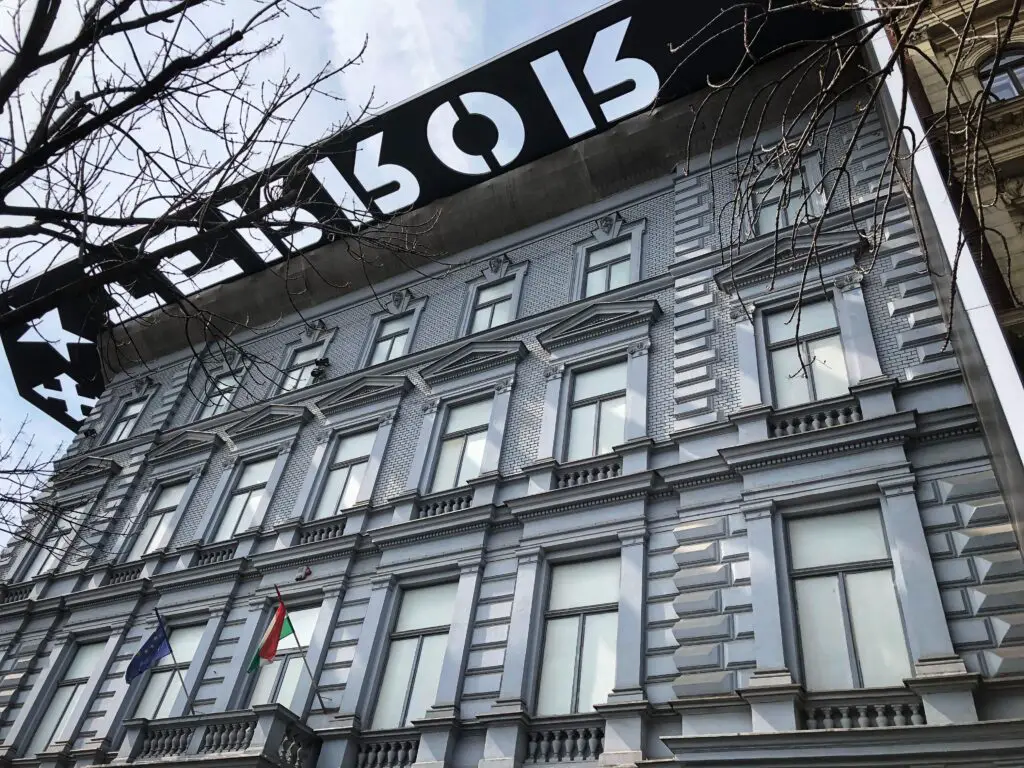 St Stephen's Basilica
This is a must see sight in Budapest. At least in our opinion. St Stephen's is a Roman Catholic Basilica named after Stephen the first King of Hungary. It's one of the more recognisable buildings in Budapest, and is also one of the tallest alongside the Hungarian Parliament Building.
Now tall in Budapest, isn't the same as tall in other parts of the world. The Basilica stands at a mere 96 metres, which for my North American friends, is nothing.
The first thing we did when we arrived in Budapest was visit St Stephen's Basilica. The Roman Catholic Basilica is a distinctive part of the city's skyline and was named in honour of Stephen the First King of Hungary. It is also one of the tallest buildings in Budapest alongside the Hungarian Parliament standing at 96 metres.
With that in mind, the top of the Basilica boasts some pretty awesome views over Budapest. You can either climb to the top or get the lift. Entry is free for the Basilica, but if you want a tour, or if you want to head to the top (which we highly recommend) then you will need to pay a small fee. You can book your tickets online here.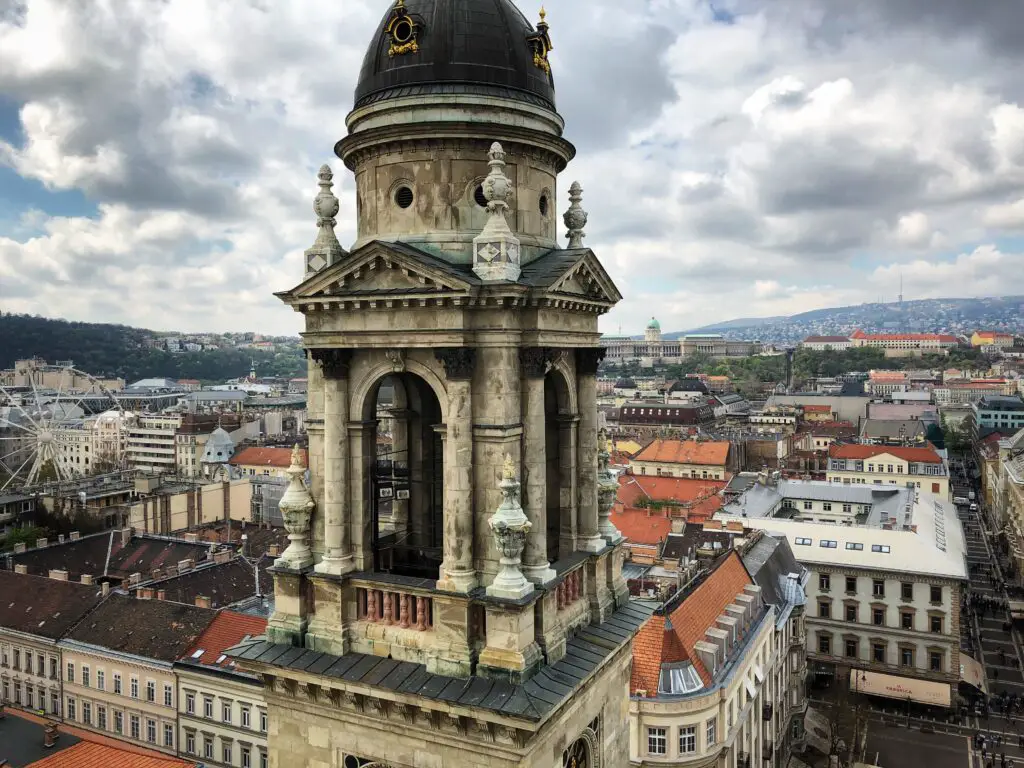 Hungarian Parliament Building
We mentioned above that St Stephen's is one of the tallest buildings in Budapest with the other being the Hungarian Parliament Building. It certainly stands out with its striking neo-gothic architecture. It was designed by the Hungarian Architect Imre Steindl and opened in 1902.
You can go inside when the National Assembly is not in session, but you have to do so with a guided tour and book this in advance. We didn't get a chance to go inside, and with your 1 day in Budapest you probably won't either but do make the effort to at least see it from the outside.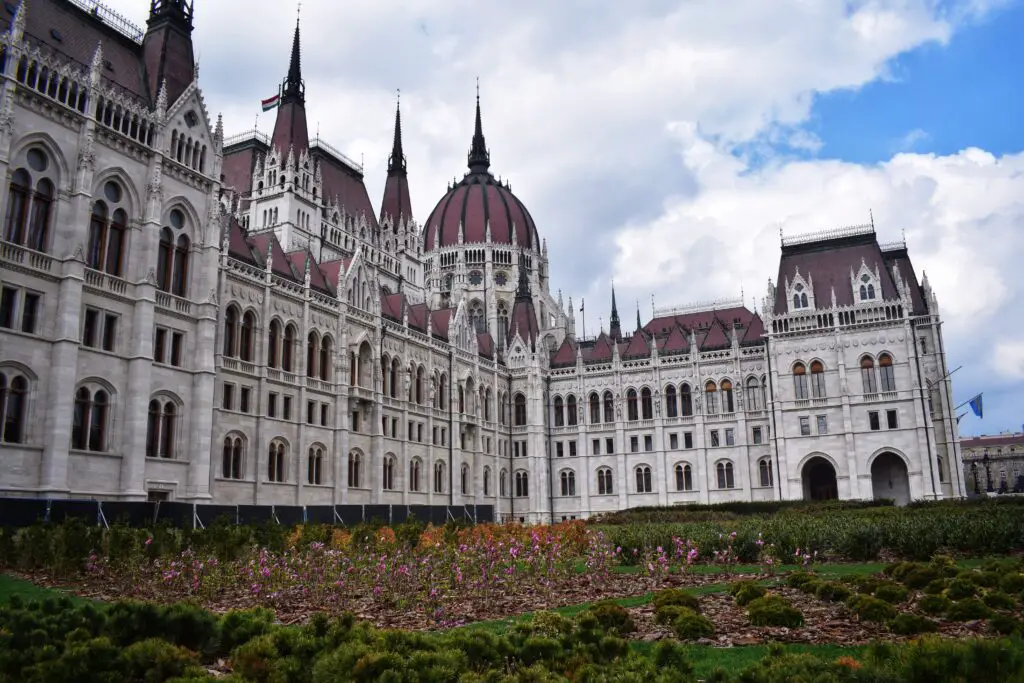 Shoes on the Danube
You will see reminders of Budapest's tumultuous history throughout the city, but one of the more moving memorials has to be Shoes on the Danube. The Shoes represent the thousands of Jews that were killed during World War II by the Arrow Cross militia.
They were marched down to the Danube and ordered to take off their shoes before being shot by the edge of the river. Their bodies then fell into the river and were carried away. What makes it even more gut wrenching is that many of the shoes were children's. As we made our way to the memorial the rain started to pour and this perfectly reflected the darkness of the crimes that were committed here.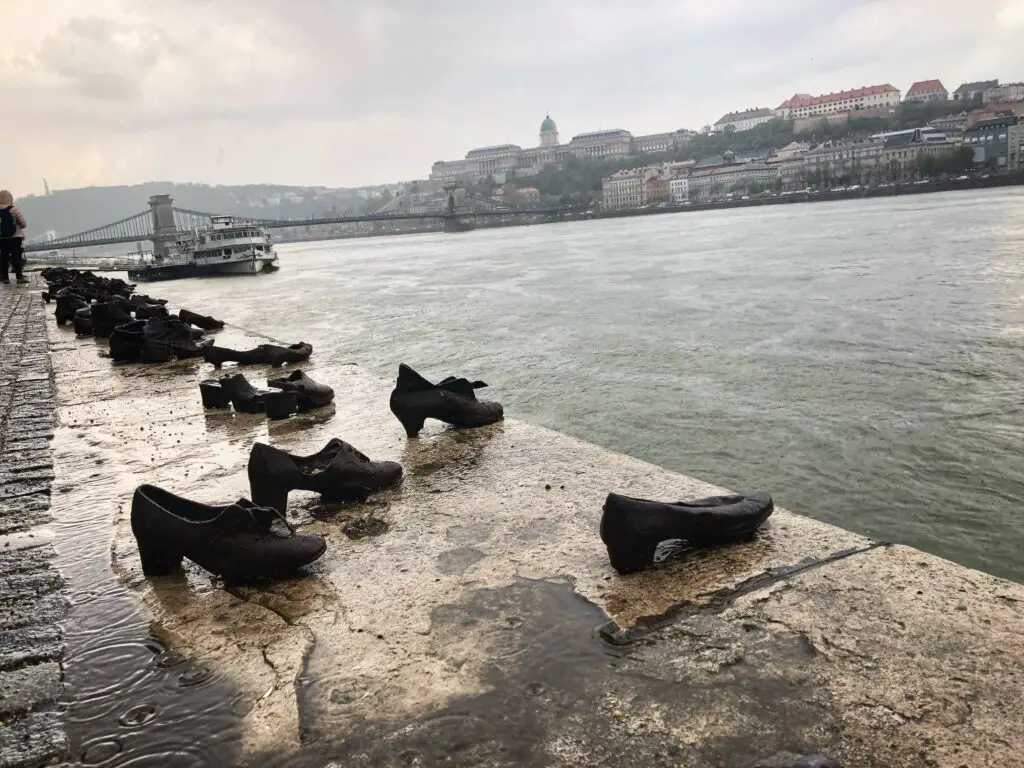 Dohány Street Synagogue
Dohány Street Synagogue also known as the Great Synagogue or Tabakgasse Synagogue, is located in District VII. It's a really beautiful building and is an important part of the Jewish community in Budapest.
It was built between 1854 and 1859 in the Moorish Revival style. The architect Ludwig Forster is Viennese with the inside designed partly by Frigyes Feszl. The complex itself consists of the Great Synagogue, the Heroes' Temple, the graveyard, the Memorial and the Jewish Museum. Another cool fact is that it is the largest synagogue in Europe and seats approximately 3000 people.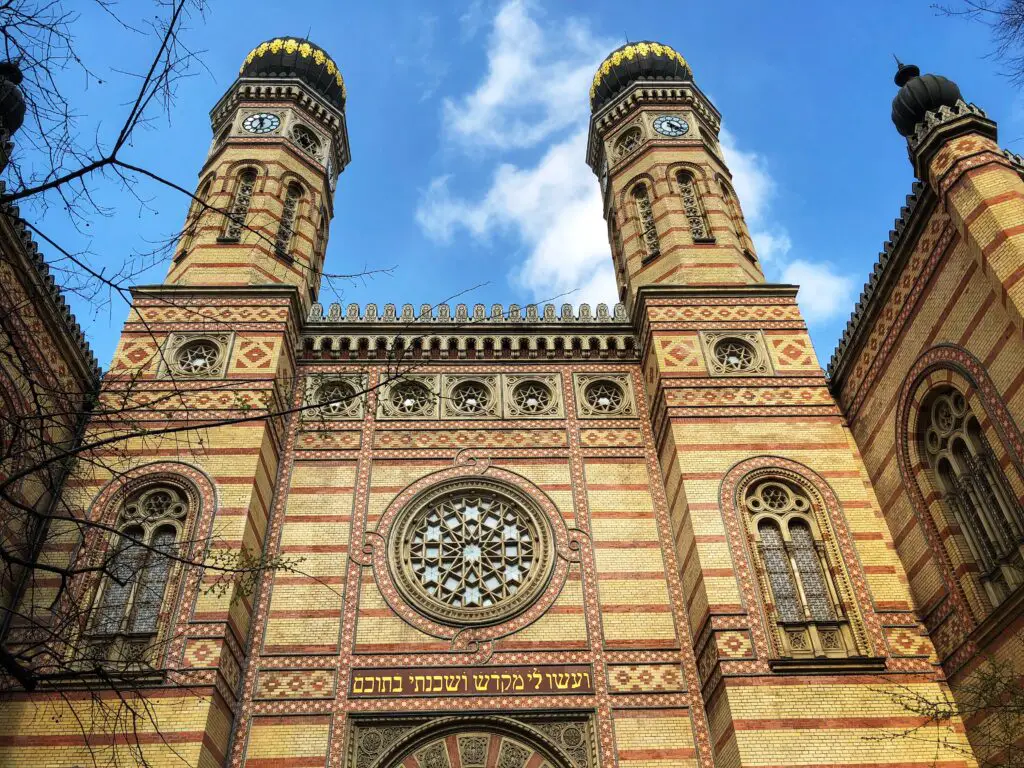 Szechenyi Baths
The Szechenyi Baths are another hugely popular attraction in Budapest. If you have ever seen those pictures of older men playing chess in steaming hot thermal baths, this is the place the photos were most likely taken. The Szechenyi Baths were built in 1913 and are considered medicinal. People come here to cure a range of ailments including respiratory illness and even arthritis.
There are actually 18 pools to choose from, as well as 10 saunas, massage therapies, facial treatments and more. We highly recommend booking in advance because this is a really popular attraction. Admittedly you might not get the time to do this during your 1 day in Budapest, but if it's a non negotiable, book in advance and be strict with your time.
Széchenyi Chain Bridge
The Széchenyi Chain Bridge is another must visit place in Budapest and chances are you will cross it at some point during your 1 day in the city. It is one of the most prominent landmarks as it connects the Buda and Pest sides of the city. It's also quite spectacular around sunset.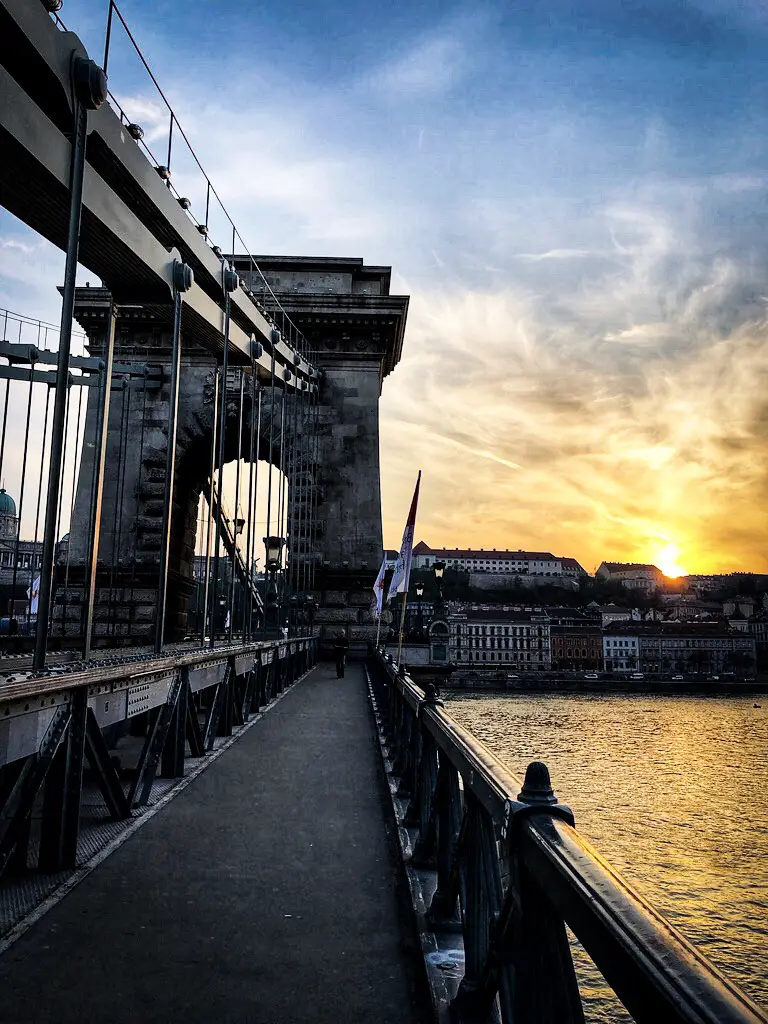 Danube Cruise
Sailing along the Danube, particularly at night is a great experience. The city lights reflect magically off the river creating a wonderful atmosphere. Day or night though, it's a great way to get a different perspective on Budapest.
Buda Castle Hill Funicular
The Buda Castle Hill Funicular is not only a practical way to get up an otherwise steep hill, but is also an important historical part of the city. It was completely rebuilt after it was destroyed in World War 2. And in 1987 it was added to the UNESCO World Heritage list.
It has been in service since 1870 (and obviously there was the time when it was destroyed and rebuilt), so it is quite historical and a very popular tourist attraction. The lines for this do tend to be quite long, so our recommendation is to get there early. The funicular opens at about 7.30am and closes at 10pm, so plenty of time to catch a ride. A one-way, ticket costs HUF 1,200. A return tickets is HUF 1,800.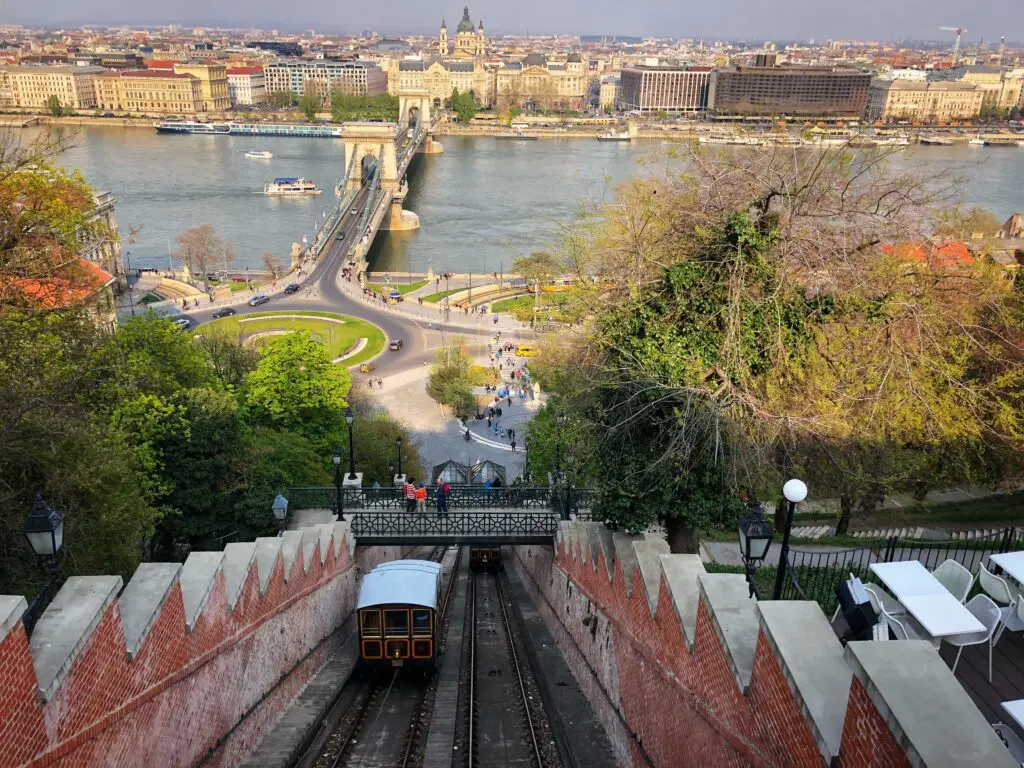 Hungarian National Gallery
Located in Buda Castle you will find the Hungarian National Gallery. This beautiful building is one of the bits of distinguishable architecture you will see from St Stephen's Basilica. It was established as the national art museum in 1957, and it is home to a number of collections of Hungarian art in several genres.
We would recommend about 2-3 hours to have a good look around, and entry will set you back around HUF 2,600.00.
Fisherman's Bastion
This is another of my favourite tourist spots in Budapest, and a must for your 1 day Budapest itinerary. Located just across the rive from the Parliament Building when you stand on the beautiful terrace you get some really cool views of the city.
There are several Romanesque look out terraces making it the perfect place to take pictures and enjoy the stunning views. The structure itself is about 140 metres in length, with 7 stone towers that are supposed to represent the 7 chieftains of the Hungarians who founded Hungary in 895.
The original walls were built in the 1700's but the structure that we see today was built between 1895 and 1902 by Frigyes Schulek who also restored the nearby Matthias Church.
It is very touristy, but don't let that put you off. There are parts that you can see for free, but to walk along the facade you will need to pay. There are also a couple of cafes/bars on the terrace where you can have a drink and enjoy the view. Yes they are overpriced, but you are paying for the view.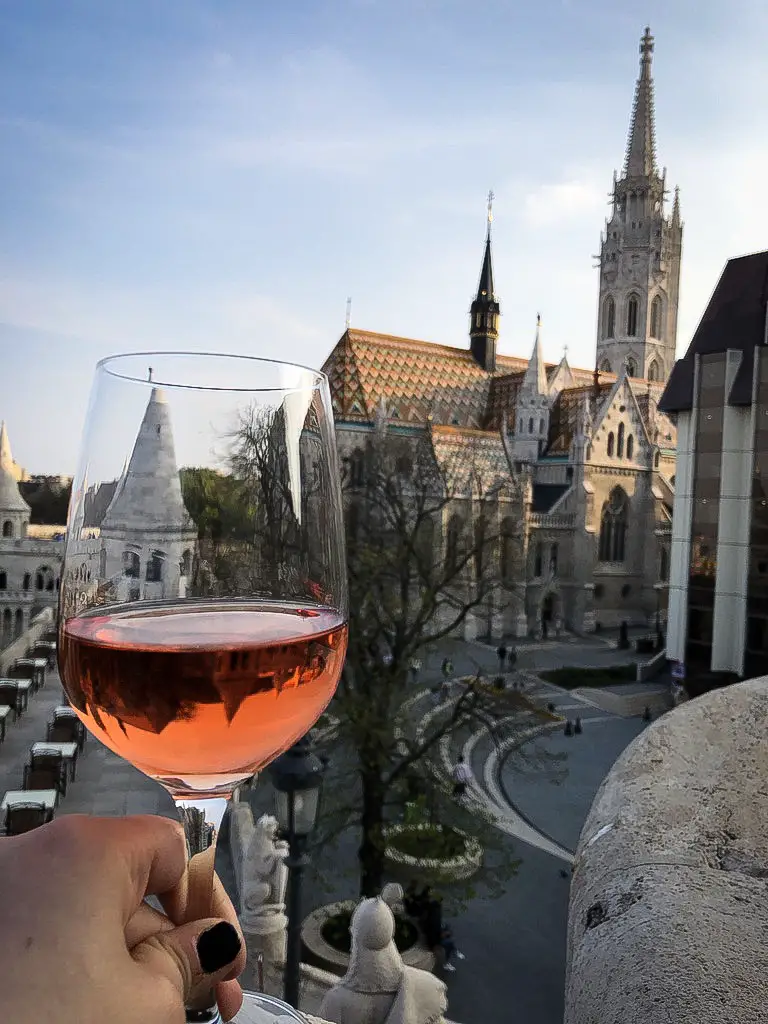 Matthias Church
Next to Fisherman's Bastion is Matthias Church. It's the most visited Roman Catholic Church in Budapest, and has hosted many a royal wedding as well as classical organ concerts.
It's a neo-gothic style building that was established between the 13th and 15th Century, and it was renovated at the end of the 19th Century. You need to pay to go inside, which is worth it, but if there are queues, skip it and just admire it from the outside.
Hospital in the Rock
One of the more unique attractions we visited in Budapest has to be the Hospital in the Rock. There are a number of underground caves or caverns in Budapest, and this tour gives you the chance to explore some of them.
As the name suggests the Hospital in the Rock was a working hospital in WW2. Construction began in 1939 and was completed in 1944. The hospital staffed 40 doctors, nurses and assistants, during this time.
Initially it became a hospital for wounded civilians injured in airstrikes, and eventually soldiers too. Conditions inside the hospital were bleak. During the Siege of Budapest the hospital had to handle the wounded and dead, and were often without food or medical supplies. Staff had to sometimes reuse supplies, taking them from the deceased to reuse. It was only designed to treat 60-70 patients, but at one point there were 600 wounded soldiers being treated here.
You can only enter the caves as part of a guided tour, but this gives you the chance to learn so much about the conditions that hospital staff had to work under. This was one of our favourite tours in Budapest, so we highly recommend it.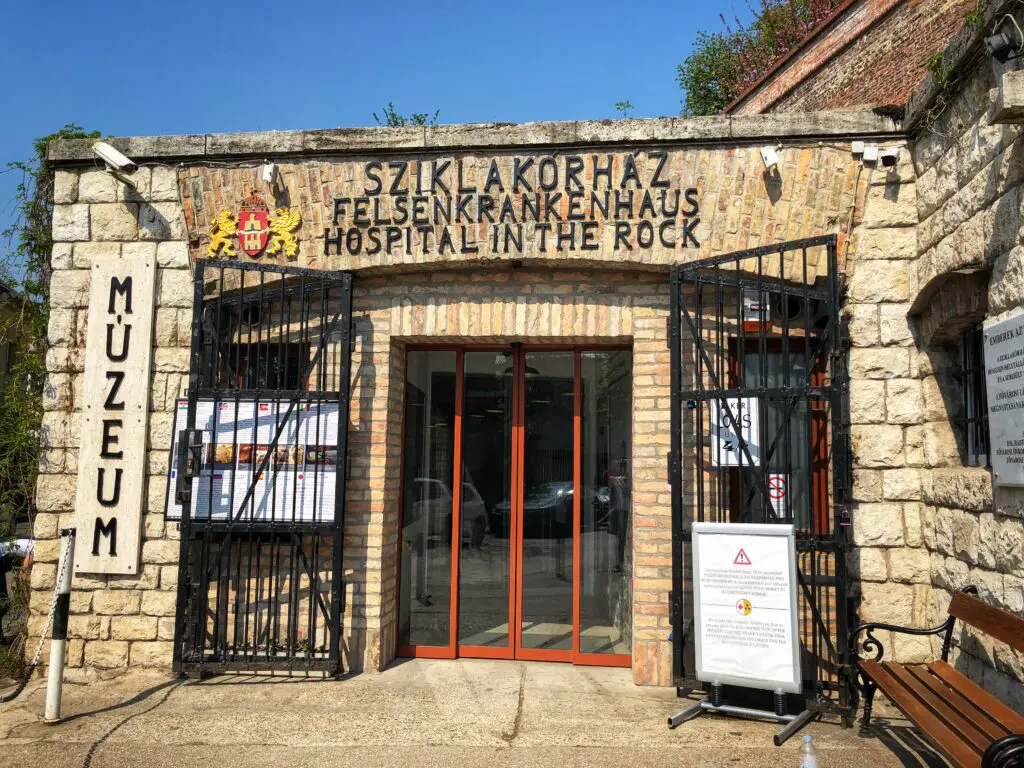 Labyrinth of Buda Castle
As mentioned above there are a number of caves under Buda Castle. As part of this experience you get to explore the caves that once held the infamous Vlad the Impaler, otherwise known as Count Dracula as a prisoner for 14 years.It's slightly creepy, but it's a really fun experience. It's also great when it is raining in Budapest and you are trying to find some shelter.
Eating and drinking during your 1 day in Budapest
There are so many amazing places to eat and drink in Budapest. Realistically you won't be able to try them all in 1 day. But here are some of our favourites anyway in case you are stuck for ideas.
Gerbeaud Cafe
This is one of the old world traditional style coffee houses that Europe is famous for. It's got high ceilings and wooden features, and you can almost sit here and watch the world go by for hours. It's great for coffee but also a hearty breakfast before a day of exploring the city.
Gerloczy Cafe
This is another amazing cafe/ coffee house that we discovered one day when we struggled to get into the New York Cafe. They do great coffee and a substantial breakfast at a much lower price then the New York Cafe.
New York Cafe
The New York Cafe appears to be the crème de la crème when it comes to cafes in Budapest. And it's no secret either. If you want to get a table here our advice is book in advance. Or get there early. It's a really beautiful cafe with marble surfaces, and crystal chandeliers. Often you will have musicians serenading you as you eat and drink.
It is a little on the pricey side, but worth it to just experience the grandness of it all. We have only been at breakfast, but the cool thing was that we ordered coffee with gold leaf on the top. It was very cool.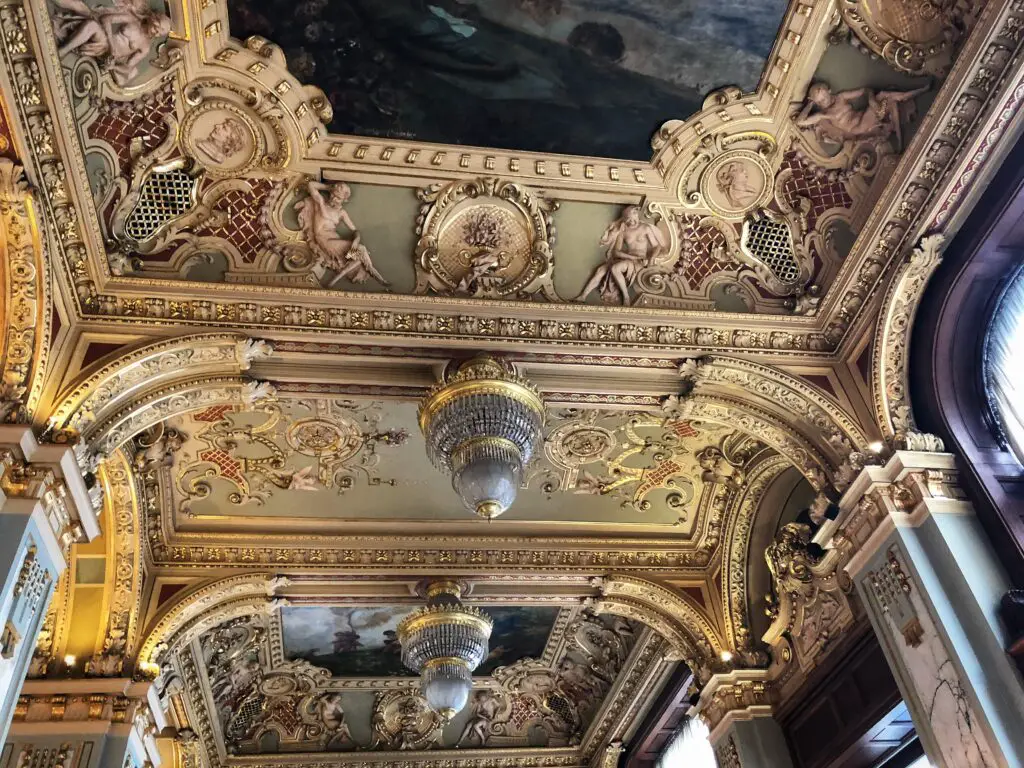 Ruszwurm Confectionery
If you are around the Buda Castle area then you should try and visit Ruszwurm Confectionery. It is one of the oldest traditional cafes and confectioners in Budapest. Serving homemade cakes and coffee, this place is a must for anyone with a sweet tooth.
Rengeteg Romkafe
Speaking of a sweet tooth, chocolate lovers will be thrilled to visit the Rengeteg Romkafe. It's essentially a very quirky cafe that serves hot chocolate. But I'm talking rich luxurious liquid chocolate style hot chocolates. You can be as creative as you want when deciding on your flavour. I went with salted caramel and strawberries and cream and Dave opted for a dark chocolate, mint and blueberry concoction. Definitely a must for something a little unusual.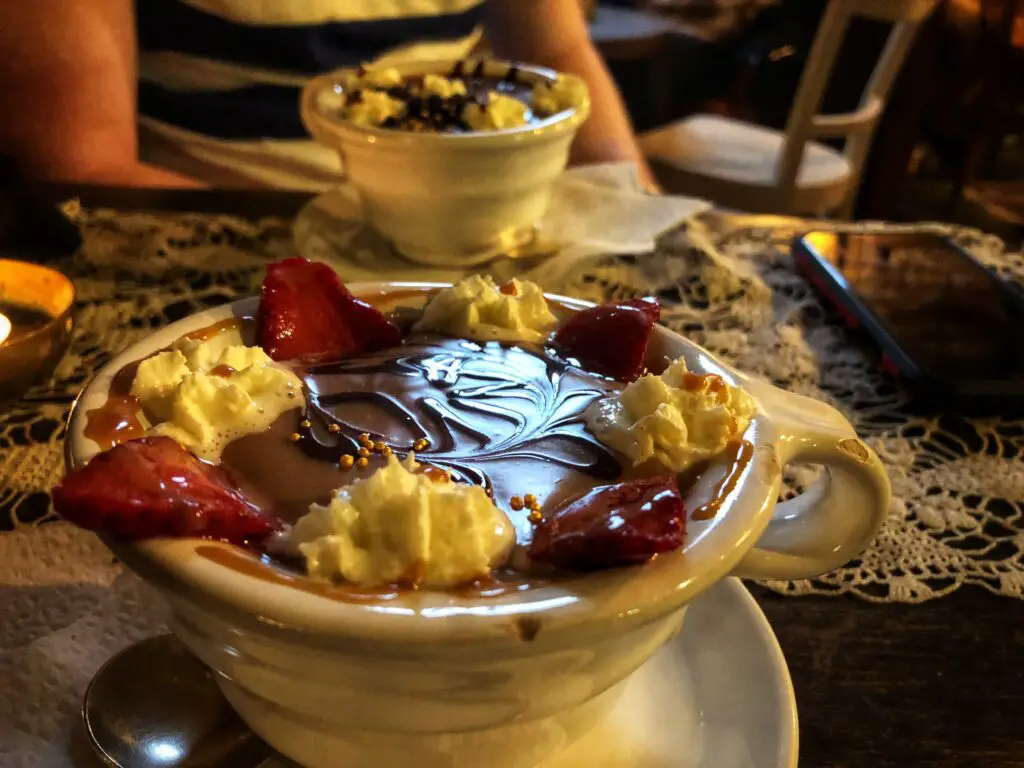 The Ruin Bars
If you drink anywhere as part of your 1 day Budapest itinerary, make it a ruin bar. They are a real bucket list affair.
Szimpla Kert is the biggest and most popular and I don't think anything we read really prepared us for actually seeing it for ourself. It is kind of like a playground for grown ups where instead of swings and slides you have random fixtures and cheap drinks.
For Sale Pub
This is our favourite place in all of Budapest for food. It's a quirky restaurant serving traditional Hungarian food. The gimmick is the bits of paper hanging off the walls with notes from previous patrons. The food is great on its own though and the gimmicky side just adds to the atmosphere.
It's a really popular place to eat so make sure you book in advance. We didn't and waited an hour to get in. It was worth it though.
High Note Sky Bar
Located on the rooftop of the Aria Hotel this bar was actually voted one of the world's top rooftop bars by Conde Nast Traveler. Based on this fact alone we knew we had to have a drink here. The view is amazing, particularly of St Stephen's Cathedral that forms part of the bars stunning backdrop. It gets really busy though, and we were lucky to get a table, so we recommend booking in advance.
Must eat food during your 1 day in Budapest
Food is of course a big part of visiting any foreign city. You might only have 1 day in Budapest but that doesn't mean you can't try some of the foodie delights the city has to offer. Here are some of the must eat foods.
Goulash
The ultimate comfort food in Budapest is a steaming hot bowl of Goulash. Made with beef, vegetables, and a good bit of paprika, it's a must try.
Langos
For something that's cheap and cheerful try Langos. It is basically fried flat bread topped with sour cream and cheese. It's probably more of a street food item as opposed to something you will find in restaurants, but definitely a cheap and comforting food to try to give you some much needed energy when exploring.
Chimney Cake
You can't go to Budapest without trying Chimney Cake. If you have been to Prague, you might have come across this dessert before. It's a sort of pastry wrapped around large cylinders and cooked over an open fire. Whilst cooking add some sugar and presto you have Chimney Cake. It's delicious plain but you can also get it with different fillings. You will pretty much find it all over Budapest at different street stalls. It's also quite handy when you are feeling peckish after a few drinks out at one of the ruin bars.
Chicken Paprikash
I'm still dreaming over the mouth watering chicken paprikash I ate in Budapest. It's chicken cooked in a sauce filled with onions, tomato, garlic, peppers, and of course paprika. Add some sour cream and *chefs kiss*.
Unicum
You will see signs promoting Unicum all over Budapest. It's the national liquor of Hungary, and drank as an apertif. You honestly either love it or hate it. I think it tastes like aftershave but others don't. Try it for yourself.
Tokaji
When in Budapest make sure you try some Tokaji wine. Sometimes referred to as liquid honey, it is the most famous dessert wine in the country. It can be expensive but is worth the splurge.
Sample 1 day Budapest itinerary
Here are some sample 1 day Budapest itineraries to give you a little bit of inspiration for your own trip.
Budapest for first timers
If this is your first time in the city here is our recommended 1 day Budapest itinerary.
Start your day with breakfast at one of the Grand Cafes in the city. We recommend the New York Cafe. Then visit St Stephen's Basilica and enjoy the views.
Afterwards head towards the Hungarian Parliament to check out the architecture. Before walking along the banks of the Danube towards the Chain Bridge. Along the way you should come across the Shoes on the Danube.
Cross the Chain Bridge, and head towards the funicular. Ride the funicular to the top of and admire the views.
Visit the Hospital in the Rock for a timed tour, before making your way to Fisherman's Bastion and Matthias Church.
Finally make your way to the Ruin Bars for a couple of drinks.
Budapest if it's raining
If you arrive in Budapest and the weather isn't great here is our suggested 1 day Budapest itinerary.
Grab some breakfast at one of the Grand Cafes in the city. We recommend the New York Cafe. Head to St Stephen's and explore the interior of the Basilica and visit the viewing platform at the top.
Then make your way to the House of Terror to learn all about the history of fascist and communist regimes in the city.
Afterwards head to the National Gallery (get the funicular up) and visit the Hospital in the Rock.
In the evening head to the ruin bars.
Budapest for a relaxed day
Grab some breakfast at one of the Grand Cafes in the city. We recommend the New York Cafe.
Afterwards make your way to the Szechenyi Baths for a bit of pamper time.
In the afternoon Head to St Stephen's and explore the interior of the Basilica and visit the viewing platform at the top. Grab a drink at the Aria Hotel next door to grab a drink and admire the views.
Visit the Hungarian Parliament to get some photos and do a Danube cruise once you are done. If you have time head to Fisherman's Bastion and grab a drink at one of the terrace bars and take in the views.
Head to one of the ruin bars in the evening for a few drinks.
What are the must sees in Budapest?
When you only have 1 day in Budapest you might be wondering what the unmissable attractions in the city are. Obviously this is our point of view and others will feel differently.
St Stephen's Basilica
This was one of our highlights when visiting Budapest. It's centrally located and honestly it's the views from the top that make it worth visiting. You see so much of the city and it's just a great experience.
High Note Sky Bar
If you visit St Stephen's then head to the High Note Sky Bar for a quick drink. Again the views are fantastic and if you are going to stop anywhere for a cheeky drink during your 1 day in Budapest you might as well make it this place.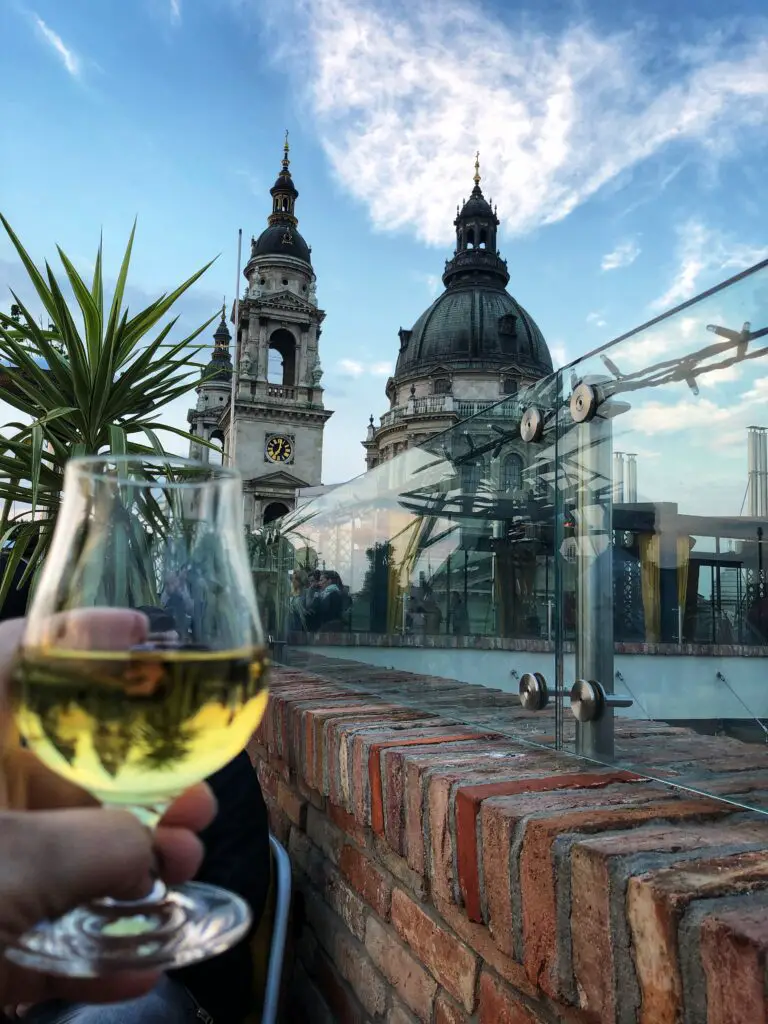 Hungarian Parliament Building
It's one of the most recognisable buildings in Budapest and even if you don't go inside, you should at least get a couple of photos of that magnificent architecture.
Fisherman's Bastion
This is another incredible piece of architecture and absolutely worth visiting if you only have 1 day in Budapest.
Szimpla Kert
We also recommend Szimpla Kert, because it is such an iconic part of the city. Even if you don't want to spend your evening partying, head for one drink, or even just a quick walk around.
How to get around during your 1 day in Budapest
Getting around Budapest is actually pretty easy, as like we mentioned before a lot of the attractions are close to each other. You won't have to spend ages on public transport trying to get to each place which is great news when you only have 1 day in Budapest.
Whilst many places are walkable, you will save yourself a lot of time if you get public transport. You will need to purchase a ticket to use either the trams, buses, or the metro. There is usually a self service ticket machine at the metro station, or tram and bus stops. And they have an English option which was a relief for us anyway.
Select your ticket type, which can be a single journey, or a 24 hour pass. We would recommend the 24 hour pass for your 1 day in Budapest. You will need to validate your ticket at a metro station, or on a bus or tram.
Budgeting for your 1 day Budapest itinerary
Budapest is one of your cheaper European capitals, particularly when compared to the likes of London or Paris. Between the two of us we budgeted €100 for the day. And this covered everything from breakfast, lunch, dinner, tourist attractions, and alcohol.
You can do your 1 day in Budapest way way cheaper though. If you avoid eating at restaurants, and stick to supermarkets or street food, this will save costs. If you aren't planning on going out for cocktails and drinks in the evening, again this will save you even more money.
It's easy to spend a lot more money although I'm sure I don't need to go into detail on how to do that!
Accommodation is separate from this budget, and our mid-range hotel set us back around €80 for one night. We probably could have gotten it for cheaper but we made the rookie mistake of booking too close to the trip.
What is the currency in Budapest?
The official currency in Budapest is the Hungarian Forint. You might see it abbreviated to HUF or Ft.  
Some places, especially the more touristy spots may accept Euros, but we highly recommend you pay in the local currency. This is because change will be given to you in Forint even if you pay in Euros, and the conversation into Euro's isn't always great so chances are you will probably end up paying more.
Also not all places in Budapest accept card, so this is another reason to make sure that you have some Forint on you.
The currency is one of those that has a ton of zero's in it so just keep an eye on what notes you are getting when you are given change etc. Notes consist of 500 Ft all the way to 20,000 Ft. Although with the larger denominations you may struggle to pay for things in some shops, so if you are carrying cash try and have some smaller notes as well as the larger ones.
There are also coins such as the 200, 100, 50, 20, 10 and 5. Everything is in Forint. So for example in the US there are dollars and cents, or pounds and pence in the UK, but in Hungary everything falls under Forint. 
Is it worth getting a Budapest card for 1 day in the city?
A lot of people will try and sell you the Budapest Card, but honestly if you are only spending 1 day in Budapest we don't think it is worth it. For starters the card costs €29 per person. It does grant you free entry into a number of museums, and also gives you discounts for others. Your public transport is covered, and you even get to do a walking tour of the city too.
Deciding on whether to purchase the card will of course depend on what you are planning to do in the city. We decided against purchasing the card because we knew exactly which attractions we wanted to see in Budapest, and the bulk of them were not included with the card.
Public transport is cheap enough anyway without spending money on the card, so don't just buy the card for the sake of it. It might be worth it if you are spending longer in Budapest, and planning on visiting tons of attractions, but honestly our advice is don't bother.
Best time of the year to plan your Budapest itinerary
No matter what time of year you visit Budapest you will find pros and cons. For our trip we actually visited in April. The weather was mild, ranging from around 8-20 Degrees Celsius. The days were warm(ish) and sunny and the evenings had a coolness about them. Even in April we found that attractions were crowded, and we were having to line up for ages to buy tickets to things. So honestly we can only imagine what it must be like in peak season.
Visiting Budapest in summer
Peak season in Budapest is around June- April. This coincides with the summer months, but also the school holidays. If you only have 1 day in Budapest peak season may not be ideal, unless you book things well in advance to minimise the amount of time waiting in line. Hotel prices are also at their highest around this time, so again book well in advance to secure the best deals.
The pros of visiting in the summer months though, is the fact that Budapest as a city really comes alive. You've got plenty of al fresco dining options, and sipping a beer in the sun is way better than sipping one in the cold. Your daylight hours are much longer as well, which is handy for your 1 day Budapest itinerary, as you have more time to see things in the light.
Temperatures range from around 20 degrees Celsius up to 30 degrees Celsius. You tend to get heatwaves in August so that is something to consider when visiting.
Visiting Budapest in winter
The winter months in Budapest do tend to get quite cold, so expect temperatures to get below freezing at times. It gets darker earlier so the amount of time you have in a day to visit attractions is a lot less. Some attractions also close in the winter months, so it is best to double check before you visit.
December is a popular time to visit Budapest though, due to the Christmas markets. The atmosphere is really lively as people get ready for the holidays and sip mulled wine in the cold.
Visiting Budapest in autumn and spring
Your shoulder seasons of autumn and spring are probably your best times to visit Budapest. Spring is great because the city starts to warm up, and the striking flowers and cherry blossoms bloom. In autumn you are treated to cooler temperatures and golden leaves falling across the city. Budapest is less busy in these months, so it's a great time to nab a bargain with your accommodation at least.
If you do only have one day in Budapest we recommend visiting in April, May or September, October. The daylight hours are long enough and the milder weather make it the perfect time to walk around and explore. There are also less tourists, which is handy when you have a time limit.
Packing list for your 1 day Budapest itinerary
Because you have limited time in Budapest don't let issues like sore feet, or rainy weather prevent you from seeing the city. Be prepared. Here are some must haves for your 1 day in Budapest.
Rain jacket in case of bad weather
Comfortable, waterproof shoes
Refillable water bottle
Seasonal items such as sunglasses, sun cream, winter coat, gloves etc.
Is 1 day in Budapest enough?
Honestly, no, Budapest is one of those places that you probably need a good 4-5 days to properly explore. But chances are if you are only spending 1 day in Budapest there is a reason. Don't panic, though you will still be able to see a lot if you plan properly.
A lot of the key attractions in Budapest are close together, and if you use public transport it won't take you too long to get around. Our main advice for spending such a short amount of time in the city is to pick a few key attractions that you want to see, book any tours in advance, and be strict with your time.
Tips for planning your 1 day Budapest itinerary
Here are some tips for planning your 1 day Budapest itinerary.
Museums are closed on Mondays so if you are desperate to visit, don't come on a Monday.
If there are any particular restaurants you really want to eat at, then book these in advance especially during the peak season.
Bring a good pair of walking shoes.
And bring a big appetite.
Use public transport, it's cheap and will help you get around faster on your 1 day in the city.
Carry some cash on you as not all places accept card payment.
If you visit in the winter some tourist attractions might be closed to check in advance.
Similarly if you visit in the summer book your activities in advance otherwise expect long queues.
Should I spend 1 day in Budapest?
If you are on the fence about spending 1 day in Budapest then let this be your sign to book your trip. I know that 1 day doesn't sound like a lot of time in such a vibrant and exciting city, but if you plan ahead you can honestly make the most of it. There is a lot to do here, and a little something for everyone. Of course the more time you have in Budapest the better, but you really can have a memorable experience in just 1 day.
We hope that this article has given you some inspiration, and has helped you plan your own 1 day Budapest itinerary. If it has been useful please pin it for later.