If you are visiting Dublin and are looking to travel further afield why not consider a Cliffs of Moher day trip. Located in County Clare in the west of Ireland, these vertical cliffs are about 203 meters above the Atlantic Ocean. They really are beautiful and something that you have to see why visiting the Emerald Isle. We have put this guide together for anyone wondering how to get from Dublin to the Cliffs of Moher, as well as everything that you need to know once you get there.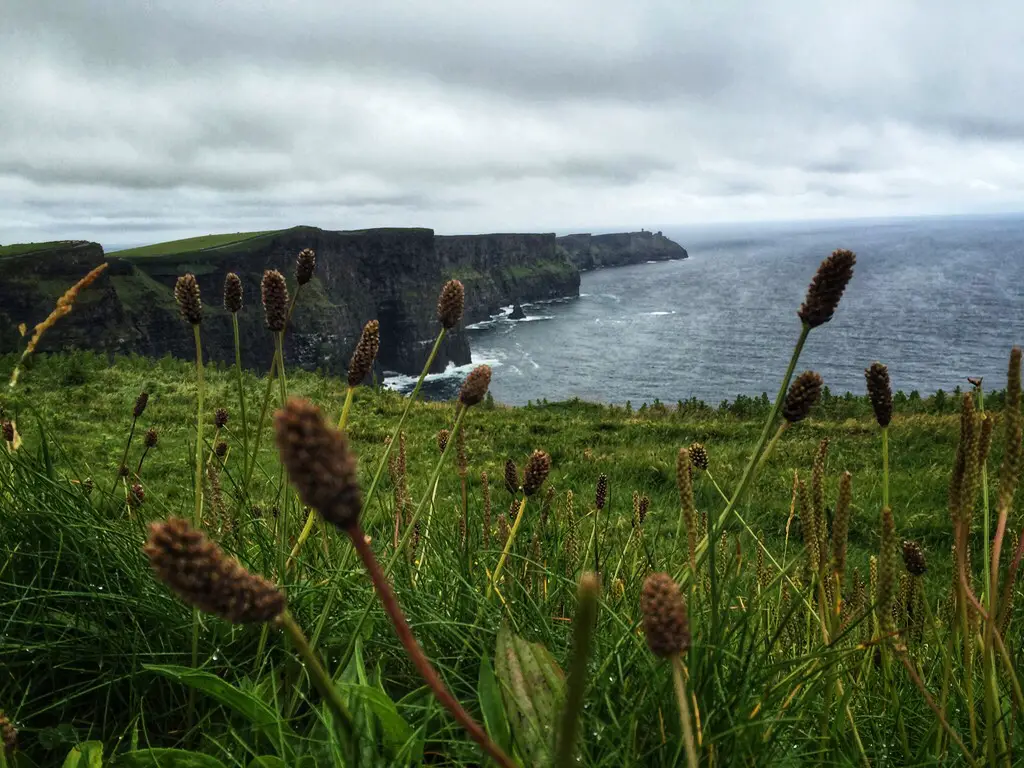 How to get from Dublin to the Cliffs of Moher
There are a number of ways to get from Dublin to the Cliffs of Moher. You can drive, get public transport, or go on an organised tour. We will discuss the pros and cons of each option below.
Dublin to Cliffs of Moher – Public Transport
If you decide to get from Dublin to the Cliffs of Moher with public transport, we highly recommend getting on a train from Dublin to Galway and then getting the bus from there. The train takes about 2.5 hours in total, and from Galway you can get on a bus with Bus Éireann. It is important to note that the bus from Glaway to the Cliffs of Moher takes a little over 2 hours. If you are planning to get from Dublin to the Cliffs of Moher on public transport, due to the time it takes we don't recommend cramming this into a day trip. You are probably better staying in Galway for the night before heading back to Dublin. It is a long trip and if you miss any of your connections it can be even longer.
Dublin to the Cliffs of Moher – Driving
Driving from Dublin to the Cliffs of Moher, is going to be the quickest way to get you to the cliffs. The drive time is on average around 3 hours and 15 minutes. The driving route mostly takes you over motorways making it an easy trip and it also gives you the flexibility to plan your day and see some sights along the way.
Dublin to Cliffs of Moher – car rental guide
The Cliffs form part of Ireland's Wild Atlantic Way route and are an absolute must see when visiting the country. We highly recommend driving yourself as opposed to going on a tour because it means you can explore other places along the way.
You can rent cars from most major airports in the country, including Dublin Airport. We would highly recommend you book your car hire well in advance for the best deals. Here our some tips for renting a car in Ireland.
Plan your route before going, as often, your GPS can send you to what might not be the quickest route.
Plan some stops along the way in order to take a break from driving.
When renting a car bigger isn't always better. The roads can be quite narrow at times and it is often easier driving with a smaller car.
The majority of cars in Ireland are manual (or stick as it is referred to in the US), so if you want an automatic you should book this in advance.
Go with the full insurance option as it is better to be safe than sorry.
 If you are planning on returning your car at a different location to where you picked it up, then there will be a fee for doing so. It is not so bad if you are renting a car for a long period of time, but more noticeable if you only have the car for a few days.
Some roads contain tolls so make sure you consider this before driving.
Cliffs of Moher Day trip – Parking
Just across from the Visitor Centre and the Cliffs, you will see the car park. It does cost 7 Euros to park, but this also includes entry into the Cliffs of Moher Visitor Experience. When you arrive you need to drive up to the admission pod, to get your tickets. It is recommended that you book tickets in advance so that you don't miss out. Once you have done so you will be given a time frame for entry. Make sure you arrive at least 15 minutes before to make the most of your time.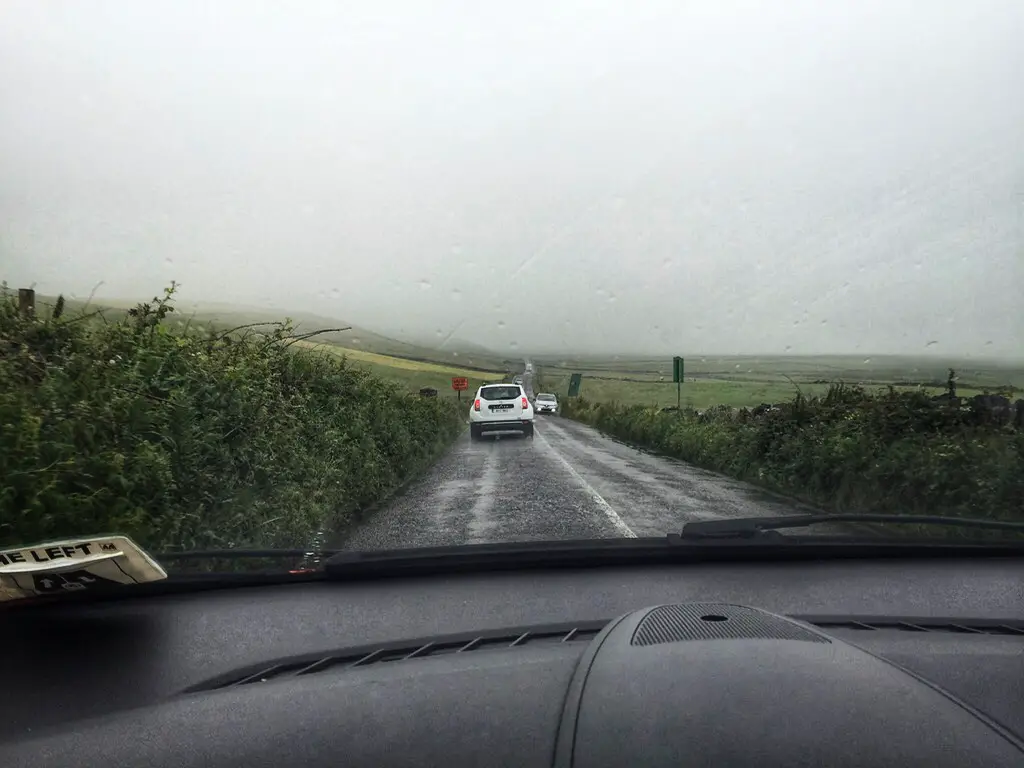 Dublin to Cliffs of Moher – organised tours
If you are planning to get from Dublin to the Cliffs of Moher by organised tour, you are in luck because there are heaps of options.
This Cliffs of Moher day trip is one of the more highly rated on TripAdvisor. For 50 Euros you get a full day trip including The Cliffs of Moher, The Burren, Doolin, and Galway.
Get your Guide also offer a couple of options with tours priced at under £60 per person (Note this is GBP not Euro when you follow the link you can request this to be quoted in your own currency).
If you do decide to go on an organised tour these usually last between 12-13 hours. They set off early from Dublin and drop you off again in the evening.
The best bit on taking one of the organised tours is that everything is done for you. You can sit on a comfortable coach and let someone else navigate the Irish roads, and basically tell you what to see.
Other Cliffs of Moher Day trip routes
If you are coming from somewhere other than Dublin, or maybe you are planning on visiting some other cities after the Cliffs of Moher, here is some information. .
Shannon Airport
The closest international airport is Shannon. From here it is around a 50 minute drive to get to the Cliffs. If you are wanting to see more of the west coast of Ireland or drive the Ring of Kerry/ Wild Atlantic Way then Shannon airport is the most convenient to fly into and a great place to start.
Other popular day trip routes
The Cliffs of Moher can also be easily accessed from Kerry, Galway, and Limerick. These larger cities provide an excellent base when visiting.
Tips for your Cliffs of Moher day trip
Don't expect perfect weather
First things first, don't go expecting great weather. If you get it, it's a plus, but if not, don't be disappointed. The cliffs are obviously at their most spectacular on a clear day. In fact on a good day you can see as far as the Aran Islands. Still, even in typical Irish weather there is an eerie beauty that you cannot miss.
Unfortunately luck was not on our side and we managed to arrive in the middle of a massive downpour.  We parked the car and waited, but eventually with no end to the wet weather in sight we gave in. We got out of the car and made our way to the cliffs.
Fortunately there was a small reprieve up by the time we reached the cliffs. This gave us enough time to wander around and take some photos. By the time we left the heavens had reopened drenching a whole new crowd of eager tourists. So a big tip here is to pack an umbrella or raincoat.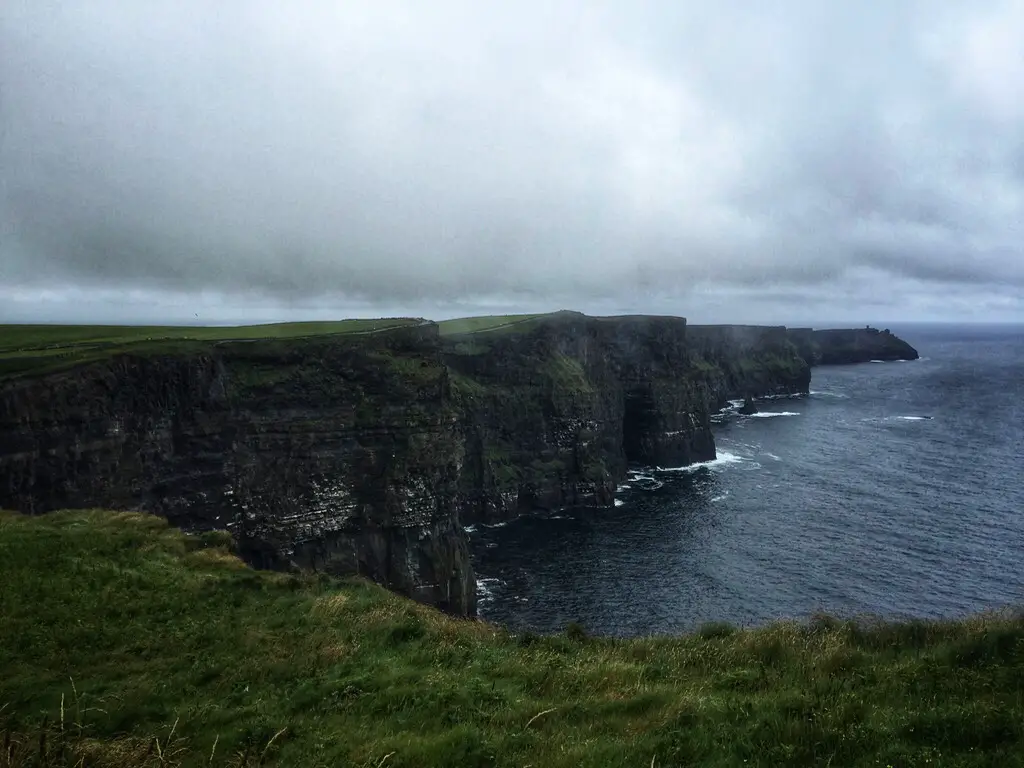 Visit later in the day if you can
Another helpful tip is to try and visit later in the day after a lot of the tourist buses have gone. They tend to frequent the cliffs in the morning so arriving in the afternoon gives you a bit of an advantage. Also if you can time it with the sunset even better!
Take your time visiting
Do take your time when visiting. You will probably want to spend a good 2-3 hours here which includes hiking around the area and enjoying the visitors centre. Obviously if you are on a bus tour you will be limited due to schedules, but try and make the most of it.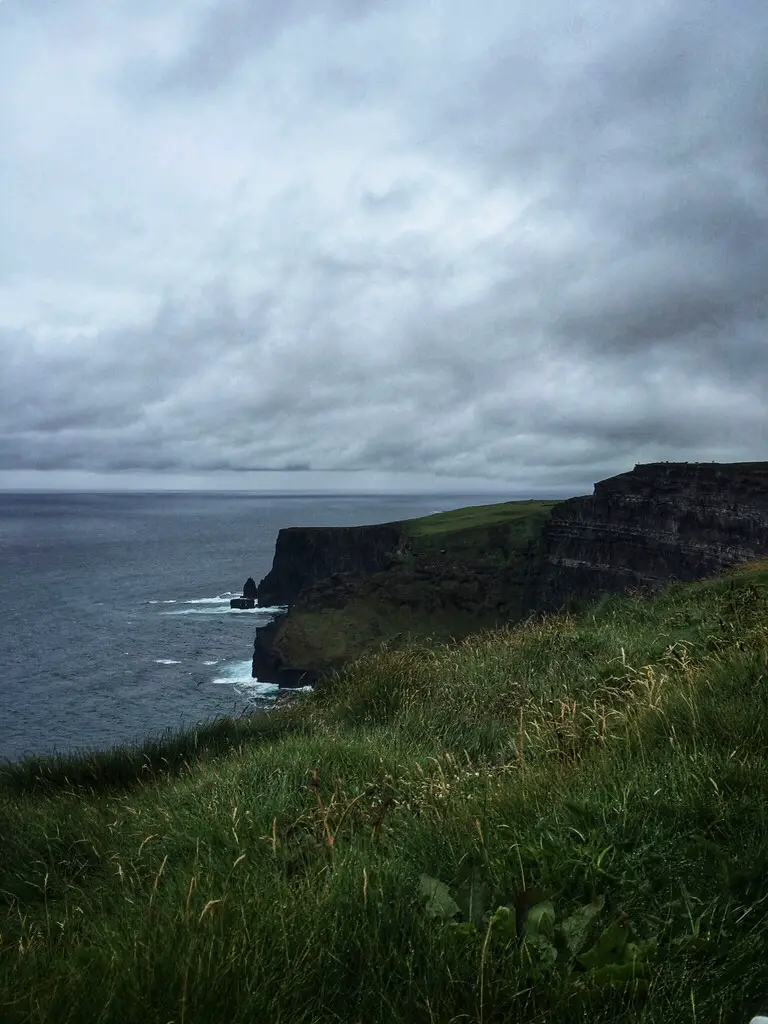 Things to do on your Cliffs of Moher Day trip
Go on a hike around the Cliffs
When you fist arrive at the Cliffs of Moher you will notice that you don't get really close to the cliffs. There is actually a wall that blocks you from getting too close to the edge. But if you are willing to follow one of the trails and hike out a bit further you can leave behind all the tourist hustle and bustle, and you can also get a bit closer.
But do be warned, people have fallen to their deaths getting too close to the edge. It can get windy really quickly and you can lose your balance. Also keep in mind paths can get quite mucky, so take care when walking.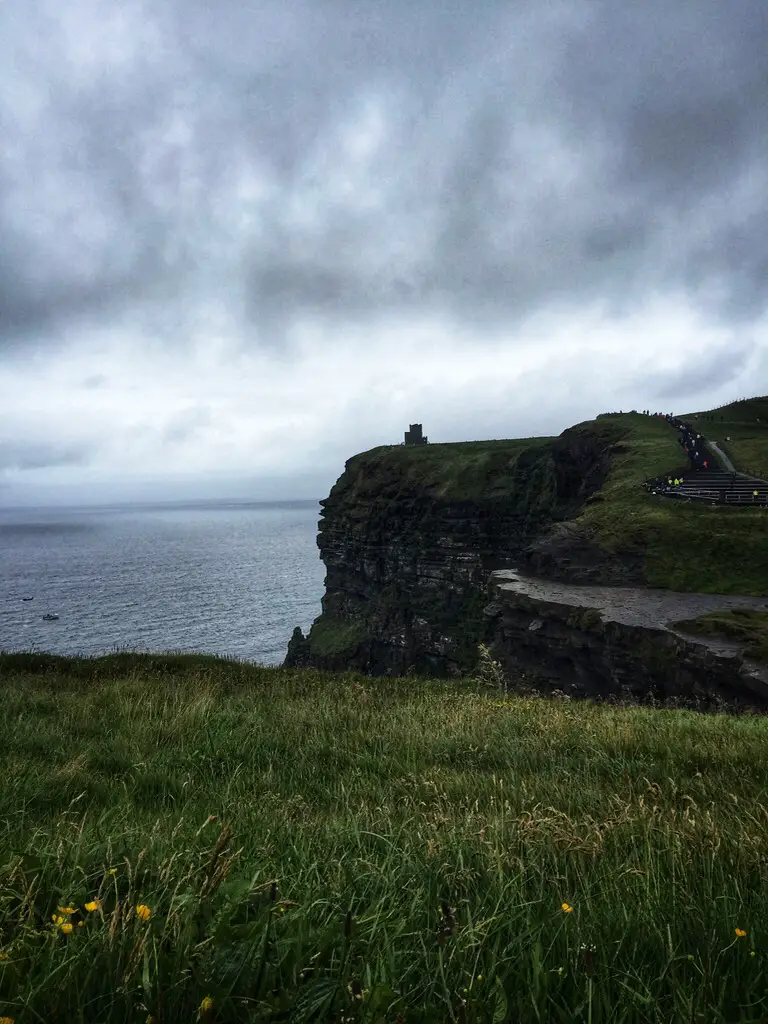 Visit O'Brien's Tower
Whilst walking around you will also come across O'Brien's tower. The tower was built in 1835 to serve as an observation point for tourists visiting the cliffs. If you have the time, for a few extra Euros it is worth the entry.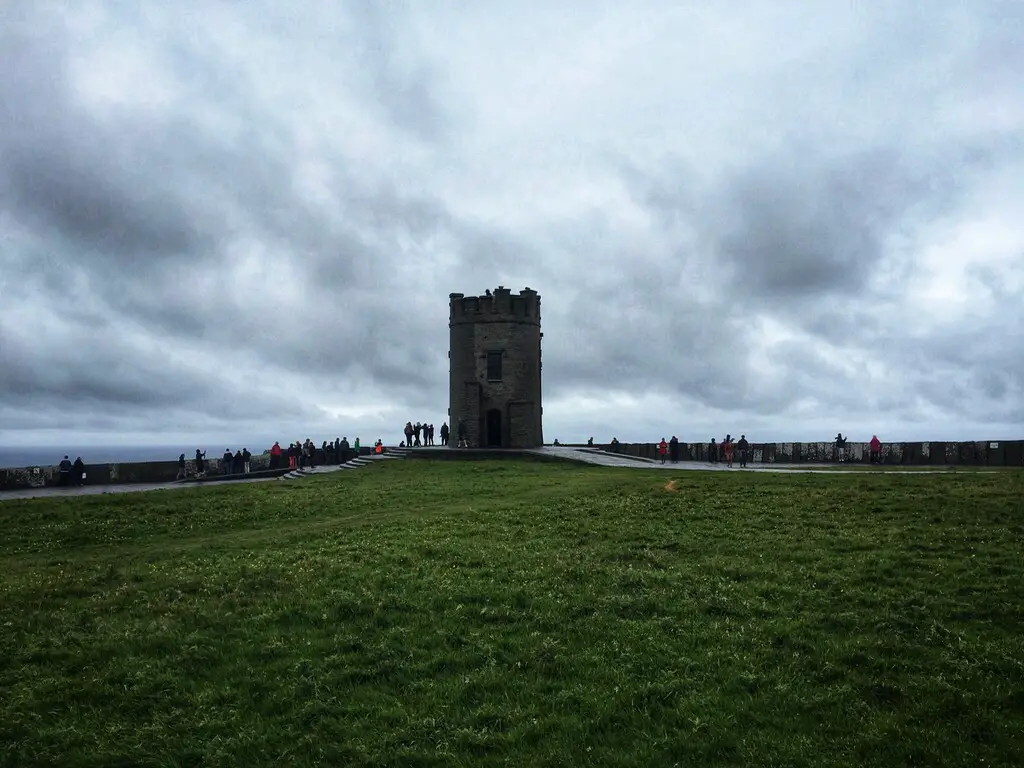 Make use of the visitors centre
If you get hungry or thirsty the visitor centre built into a hill is there to cater for your needs. It actually took us a while to work out what it was because it is really camouflaged. The reason it is built this way is to minimise visual impact. It is also a good place to seek shelter when the unpredictable weather takes a turn for the worst. There are a number of exhibits you can check out, as well as a cafe and restrooms.
What to bring for your Cliffs of Moher day trip
If you are wondering what to pack for your trip to the Cliffs of Moher here are our recommendations
A decent pair or walking shoes.
This is a big one because the paths can get mucky especially if want to do a bit of a hike and get away from the main tourist spots.
It's Ireland and the weather is sometimes slightly unpredictable. If you are travelling all the way from Dublin to the Cliffs of Moher, don't let a bit of rain ruin your time here.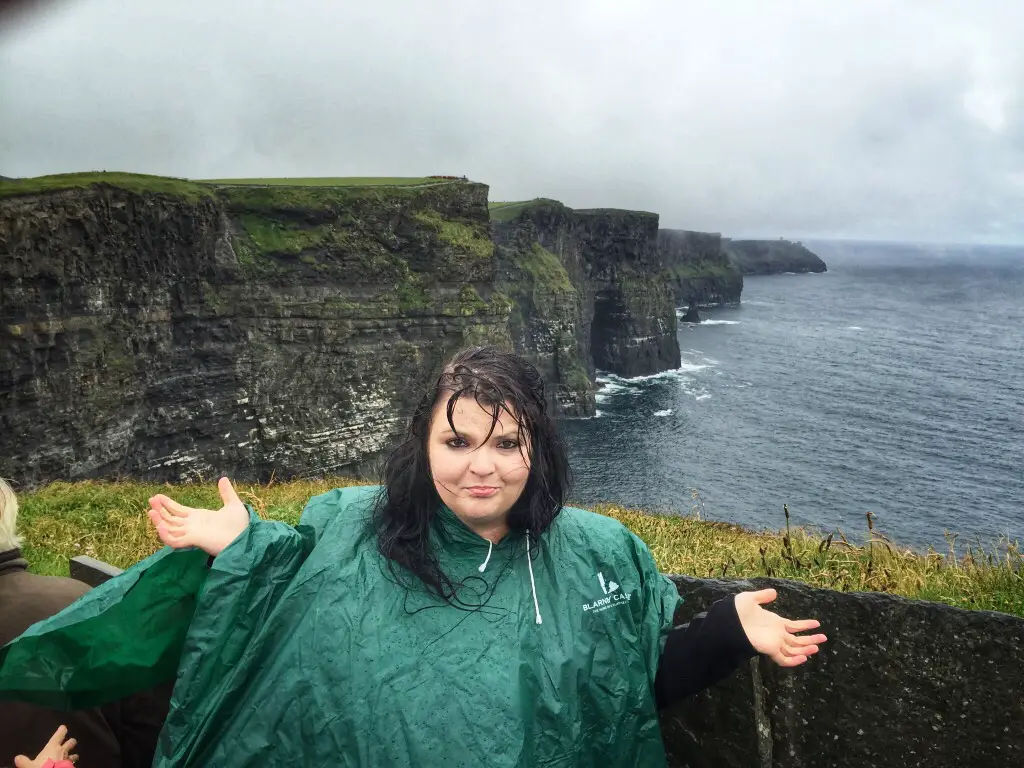 Bring a bottle of water with you especially if you go out hiking.
Have a little longer? Here is where you can stay
Liscannor
Liscannor is only 6km from the Cliffs of Moher making it the perfect place to stay for the evening. This is particularly useful if you are wanting to catch the sunset at the Cliffs. Liscannor is a small coastal village, but keep in mind due to its size accommodation options are limited.
Doolin
Doolin is another popular place to stay if you are looking for somewhere close to the Cliffs of Moher. Doolin is a bit more lively than Liscannor with more pubs and general craic. It is also a good place to stay if you are wanting to do a cruise to see the Cliffs of Moher from below.
Galway
Galway is probably one of the biggest cities near the Cliffs of Moher. The drive is around 1.5 hours but staying in Galway gives you the chance to explore one of Ireland's most beautiful cities. Also the nightlife here is incredible.
Is it worth travelling from Dublin to the Cliffs of Moher
Overall the cliffs are a must see when visiting Ireland. They are awe inspiring and it is almost hypnotic watching the wild Atlantic Ocean crash at the base. If you are planning to do a Cliffs of Moher Day trip from Dublin it can be quite exhausting but still doable. Booking an organised tour allows you to put the planning in someone else's hands, meaning you can relax. If you do choose to rent a car then we recommend visiting the Cliffs but staying somewhere nearby for a night or two to make the most of it.
Other nearby sights to add to your Cliffs of Moher day trip
Here are some of the best things to add to your Cliffs of Moher day trip.
Doolin
As mentioned above Doolin is close to the Cliffs of Moher and is a great place to go to do a cruise that will get you up close and personal with the base of the Cliffs. There is also a cave to explore in Doolin which is another popular attraction.
The Burren National Park
The Burren National Park is one of the six national parks in Ireland. The landscape is unique with its rocky ground, beaches and caves. If you have come all the way from Dublin to the Cliffs of Moher then we highly recommend to explore the national park whilst you are here.
Galway
Galway is a beautiful city, and if you do get the chance to stop there during your Cliffs of Moher day trip then do. The city streets are incredible and it is also the gateway to the Aran Islands.
Cliffs of Moher day trip recap
We hope that this article has helped you plan your own Cliffs of Moher drive itinerary no matter what part of Ireland you are staying in. The Cliffs are such a beautiful part of the country, and we highly encourage you to take a drive out further and explore the west coast of Ireland. If you have found this article useful please do Pin it and save for later.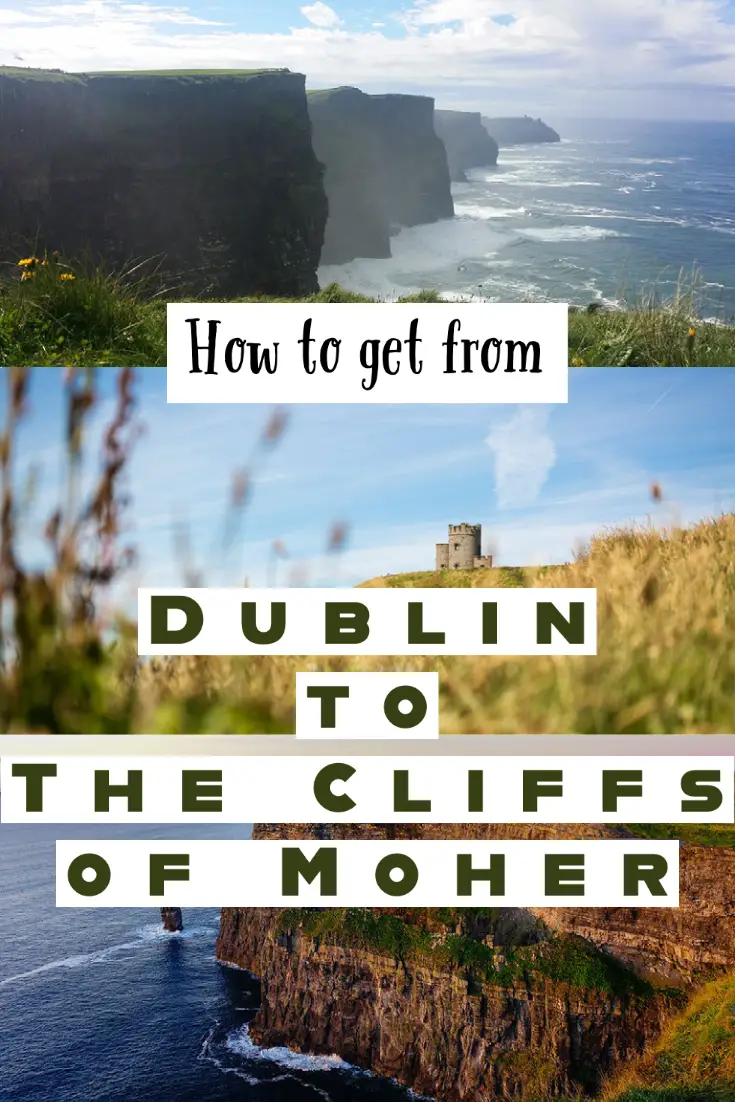 If you want some more Irish Inspiration then make sure you have a look at some of our other articles:
Road Trips
9 must see sights on your next Irish Road trip
Dublin to Glendalough day trip
The most scenic road trips in Ireland 
Places to Visit