Last summer we took a road trip around Ireland with the aim to see as much of the country as possible with the limited time we had. Overall we wanted to spend around 7 or 8 days in Ireland, and we wanted to use that time to drive around and see the sights. Ireland is the perfect place to do a road trip, even if some of the roads are narrow and, you have to wait a good 10 minutes to let a farmer and his cattle cross to the other side on occasion (true story). But the things you will see are unforgettable.
Starting in Dublin and ending in Sligo we have put together this 7 and 8 day Ireland itinerary. We list all the key spots that we think you should visit, as well as where to stay and how much money you might need.
Here is our ultimate driving tour of Ireland to help you plan your own trip in the future. We have included a, 7 days in Ireland itinerary as well as an 8 day Ireland itinerary if you do have a little extra time. 
Disclaimer: This post contains affiliate links, so if you use these links to buy something we may earn a commission, at no cost to you. Thank you for your support.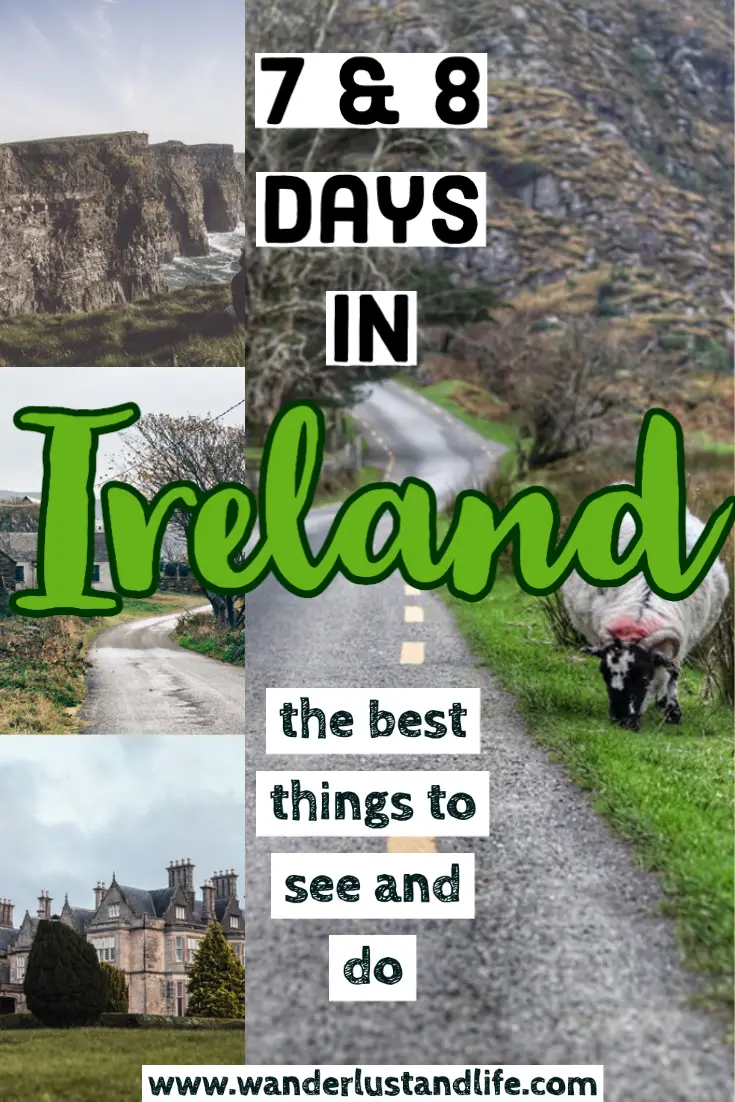 Ireland Itinerary Factsheet
Capital: Dublin
Currency: Euros
Famous for: Guinness, Whisky, Greenery, Pubs
Visit if you like: Quaint places, enjoying nature, folk stories,
 Also known as: The Emerald Isle
Ireland is known as the Emerald because of its rolling green fields, and if you love nature, and the great outdoors then you really should start planning your 7/8 days in Ireland immediately.
Ireland might not be big especially compared to say the likes of the USA, but there are hundreds of different accents in the country. Also, there are two official languages in Ireland, Gaelic and English. Don't worry though English is spoken pretty much everywhere, but you will notice road signs in both languages.
7 days in Ireland or 8 Days? How long do you really need?
If you are wondering how long you need in Ireland well the honest answer is the longer the better. 7 days in Ireland seems to be the more common timeframe among people we speak to. It allows for a full week of exploring the country, and tasting the delicious food and drink on offer, before heading home. We did a full 8 days before flying back to the UK but seriously we could have spent way longer here. 
8 day driving tour of Ireland
Here is a quick plan of our 8 day Ireland itinerary which we will go into more detail about below:
Day 1- Wicklow Mountains & Glendalough
Day 2- Kilkenny
Day 3 – Rock of Cashel & Cork
Day 4- Blarney Castle, Bantry & Killarney
Day 5 – Killarney National Park, Ring of Kerry & Tralee
Day 6 – Cliffs of Moher & Galway
Day 7 – Aran Islands and Galway
Day 8 – Sligo
Less time? What about a 7 day Ireland itinerary?
A lot of people tend to spend 7 days in Ireland rounding their time off to a solid week. If this is the case then you will need to cut out a couple of the stops we have listed above. We will go into more detail below on each stop and provide suggestions on where to save time, but we would recommend cutting out a day in Kilkenny if you want to plan a 7 day Ireland itinerary. 
7 Days in Ireland Day 1- Wicklow Mountains & Glendalough (Great for a break if you are driving from Dublin)
7 Days in Ireland Day 2 – Rock of Cashel & Cork (Cork is an absolute must when visiting Ireland so you don't want to miss out if you can help it)
7 Days in Ireland Day 3- Blarney Castle, Bantry & Killarney (The Blarney Castle should be high on your list, especially if you are after the 'gift of the gab'. If you are short on time though you can skip Bantry as it is a little further out.)
7 Days in Ireland Day 4 – Killarney National Park, Ring of Kerry & Tralee (Killarney National Park, and Ring of Kerry are great for hikes and gorgeous scenery, and Tralee is a good place to rest your head for the evening before heading towards Galway). 
7 Days in Ireland Day 5 – Cliffs of Moher & Galway (The Cliffs of Moher are absolutely stunning, and even though they are super touristy a trip to Ireland would not be complete without a visit).
7 Days in Ireland Day 6 – Aran Islands and Galway (For a real Irish experience you should see the Aran Islands, although this does mean another night spent in Galway, so again if you are short for time this might be worth skipping).
7 Days in Ireland Day 7 – Sligo (Sligo might be a small town but the county itself is full of natural beauty and it really is Ireland's best kept secret. If you are looking for an Irish experience with few tourists Sligo is a must). 
Ireland 7 & 8 day self drive itinerary and tips on renting a car
Before you start to plan your Ireland 7 & 8 day self drive itinerary here are a few tips that you should bear in mind when renting a car.
☘ The majority of cars in Ireland are manual (use a gear stick) so if you want an automatic car arrange this in advance.
☘ If you are planning to drive in Northern Ireland be aware that it is kilometres in the Republic and miles in the North.
☘ Bigger is not always better in terms of car size in Ireland. The roads can be quite narrow at times so keep this in mind.
☘ If you rent a car and return it at a different location as mentioned in this post then you will be charged a fee for dropping the car off in a different location. It was not a big deal during our 8 days in Ireland but with shorter trips you will notice the cost.
Tips for planning your Ireland 7 & 8 day self drive itinerary
☘ We recommend booking your accommodation in advance. We then knew where we were staying each night and didn't have to worry about places being full. You can book your accommodation through hotels.com for some great deals.
☘It is better to plan your 8 day Ireland itinerary in advance so that you have a clear idea of where you want to go and how to get there.
☘Allow time to make unscheduled stops too.
What to see in Ireland in 7 & 8 days
Here is our guide on what to see in Ireland in 8 days and a sample itinerary for you to use. If you are looking for a 7 day Ireland itinerary you will need to cut one of the days out.
Day 1, Wicklow Mountains & Glendalough
After an incredibly delayed flight we landed in Dublin Airport and collected our rental car. If you do rent a car remember that bigger isn't always better. Some of the roads in Ireland are rather narrow so our advice is pick something economical and small.
On this trip we decided to give Dublin a miss mostly because we were short on time, and had been there several times in the past. In fact you can read about that right here.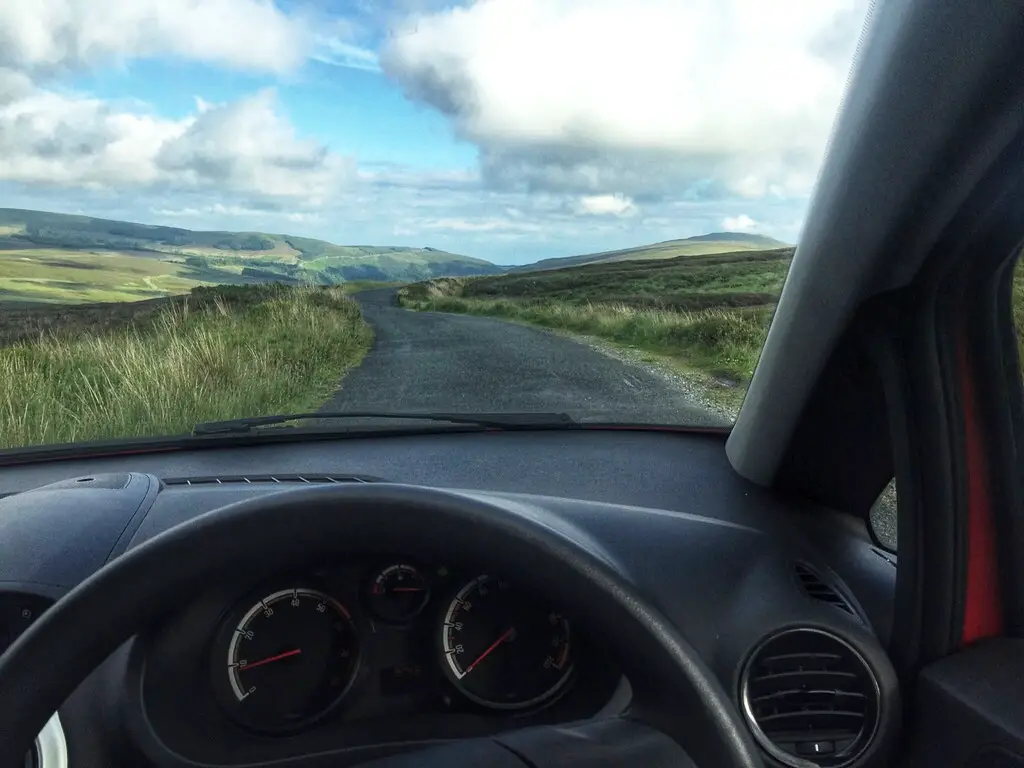 After navigating the motorways we left Dublin with haste and began our drive through the Wicklow Mountains. We stopped a lot to take pictures and soak up the views of this rugged hilly land. The drive really is beautiful and what made it even more special was that we passed so few cars on the journey. Although that is probably a good thing considering the width of the road in some parts.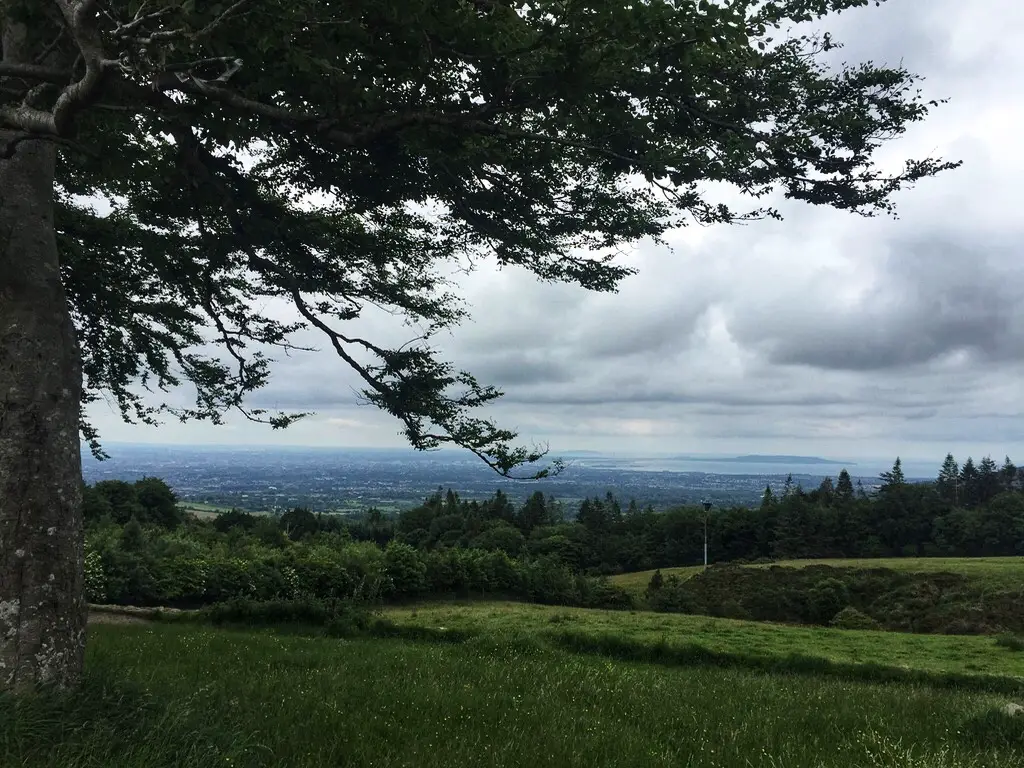 Things to do in the Wicklow Mountains
Some of the top things to do in the Wicklow Mountains/ County Wicklow that you can add to your 7/8 Day Ireland itinerary are:
Climb Sugarloaf Mountain
Drive to the Blessington Lakes for some quiet time
Head to Ballinastoe for some incredible views. There are a number of scenic walks you can do around here.
Explore Powerscourt House and Gardens and visit the Powerscourt waterfall
Eventually we arrived at Glendalough which literally means Valley of the two lakes. The site is probably best know for its monastic heritage. It's a great place to walk around especially by the lough and it is one of those places that gives you a sense of inferiority that can only be felt by standing next to something so beautiful. Glendalough also makes for a great day trip from Dublin too.
Things to do in Glendalough
Here are some of the top things to do when visiting Glendalough:
Glendalough monastic site
Hike the upper and lower lakes
Visit the Whiskey Distillery
Where to stay
We spent the evening in Avoca, a very small town in County Wicklow. Avoca was great because it was very quiet and not massively touristy. It kind of had that whole Irish countryside vibe. Alternatively you can stay closer to Glendalough though but do make sure you book well in advance as accommodation can fill up quite fast.
Day 2, Kilkenny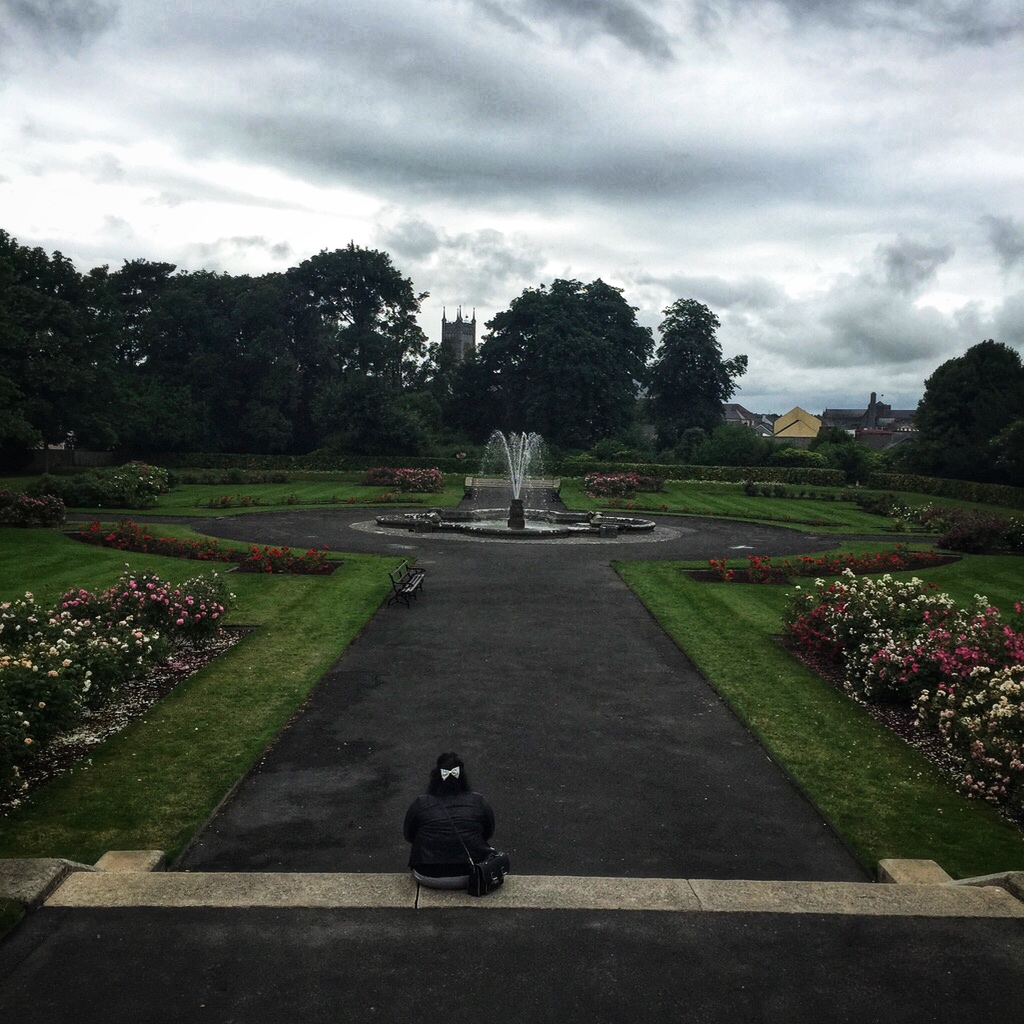 We decided the spend the second day in Kilkenny and spent the morning driving to the town. It was a great opportunity to explore the city and participate in a well earned pub crawl. One of the most prominent sights in Kilkenny is the Castle, which also has an incredible rose garden you can walk around in. If you are looking for a drink, we stumbled upon Kyteler's Inn (and stumbled back out of after a few drinks) which was recommended to us by the locals. Kilkenny is a great place to explore and has a fantastic cafe culture. So don't forget to walk around those back streets for a true taste of the town. Read more on Kilkenny here.
Things to do in Kilkenny
Here is a rundown on some of the best things to do in Kilkenny that you can add to your 8 days in Ireland.
Visit Kilkenny Castle and wander around the gorgeous rose garden
Visit the National Design and Craft Gallery
St Mary's Cathedral
Explore the Rothe House and Gardens a historical museum
St. Canice's Cathedral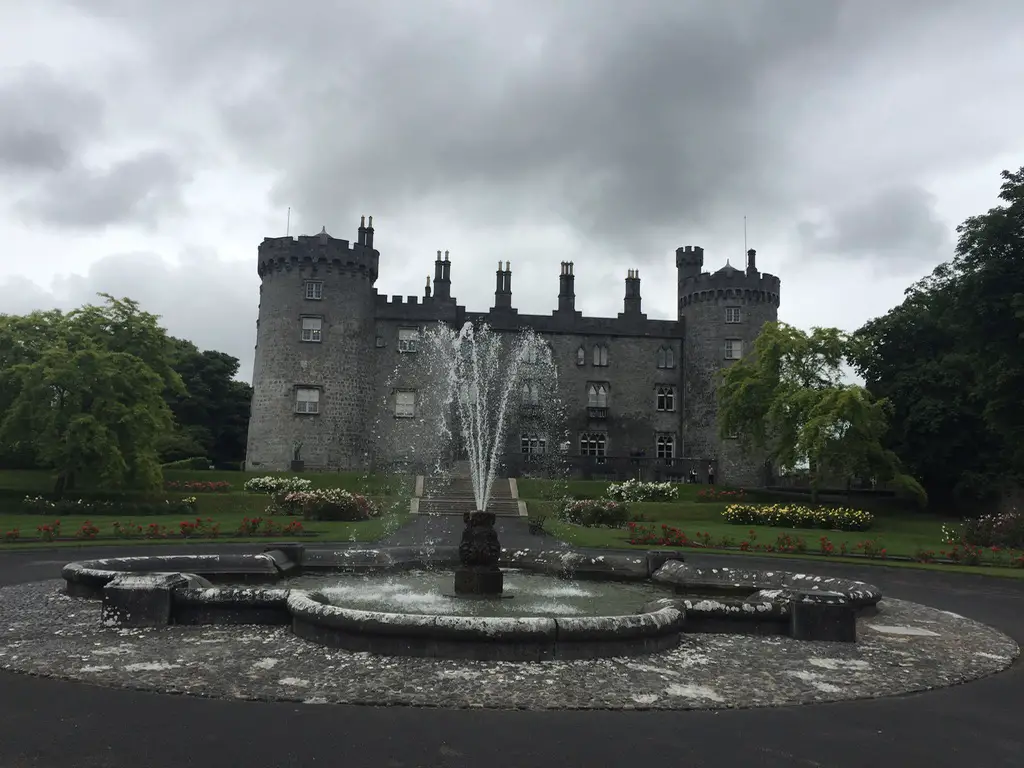 Where to stay in Kilkenny
Kilkenny is only small so if you stay in the centre you won't be far from the main tourist spots. There are a range of accommodation options from high end hotels to budget B&Bs.
Day 3, Rock of Cashel & Cork
Another early start as we drove towards the Rock of Cashel, a historic site located in County Tipperary. But of course not before stopping for a traditional Irish Breakfast close to the site.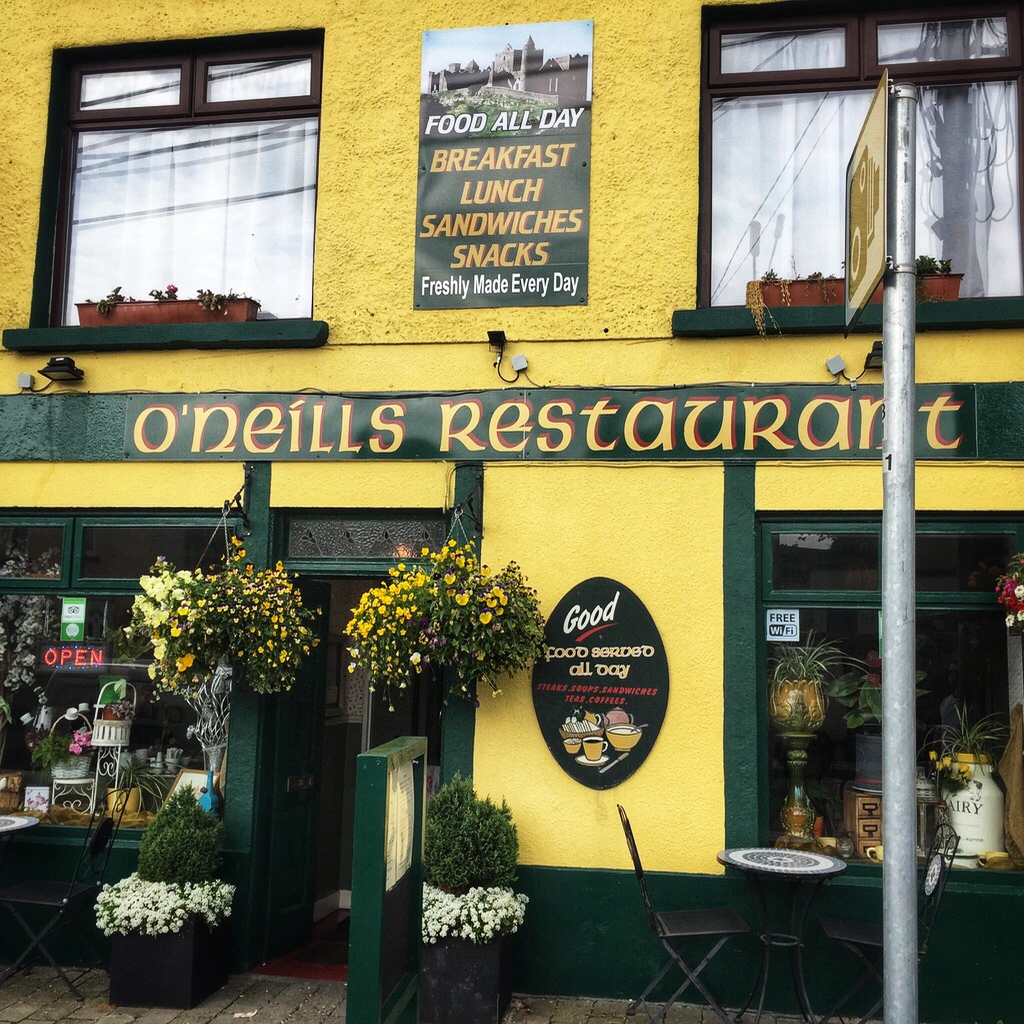 We clambered up to the entrance alongside the dozens of passengers who were emptying out of the tourbuses. It was a beautiful site and we were lucky enough to be standing in the ruins of the cathedral when a choir broke out into full song.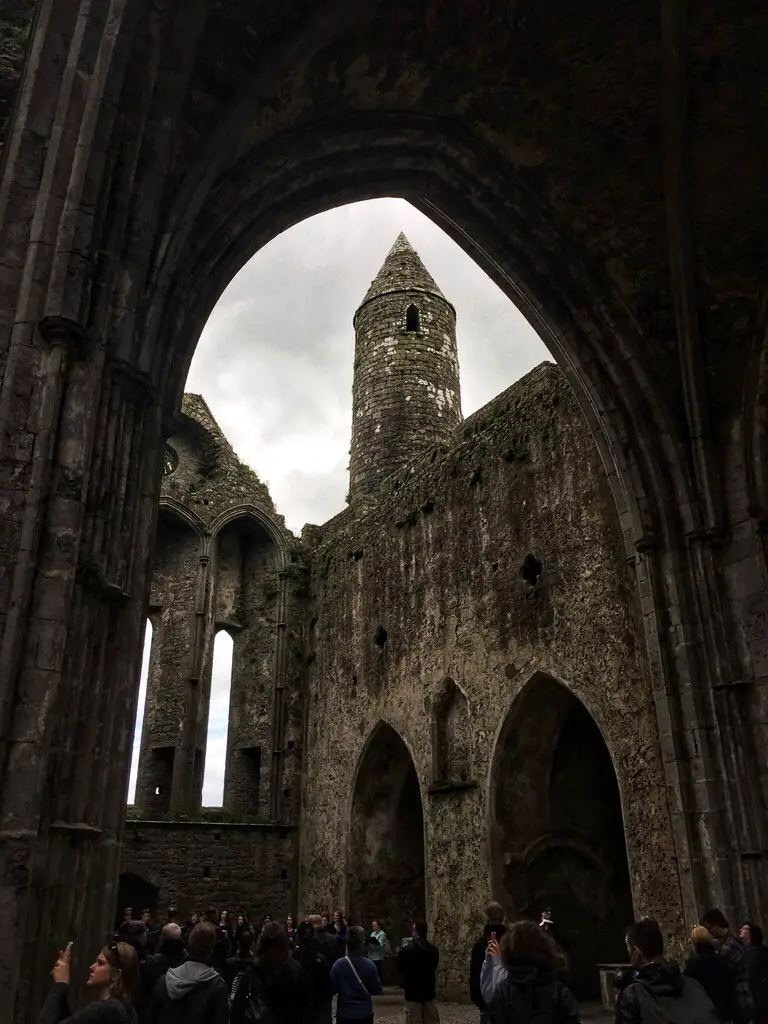 If you love history then you will love visiting the Rock of Cashel. Just make sure you try and arrive early because it does get swarmed with tourists. It really is a beautiful place to explore and take in some of the history that makes Ireland what it is. There are a few walks you can go on around the Rock of Cashel as well, so don't forget your camera and some walking shoes. Oh and it is Ireland after all so maybe an umbrella too!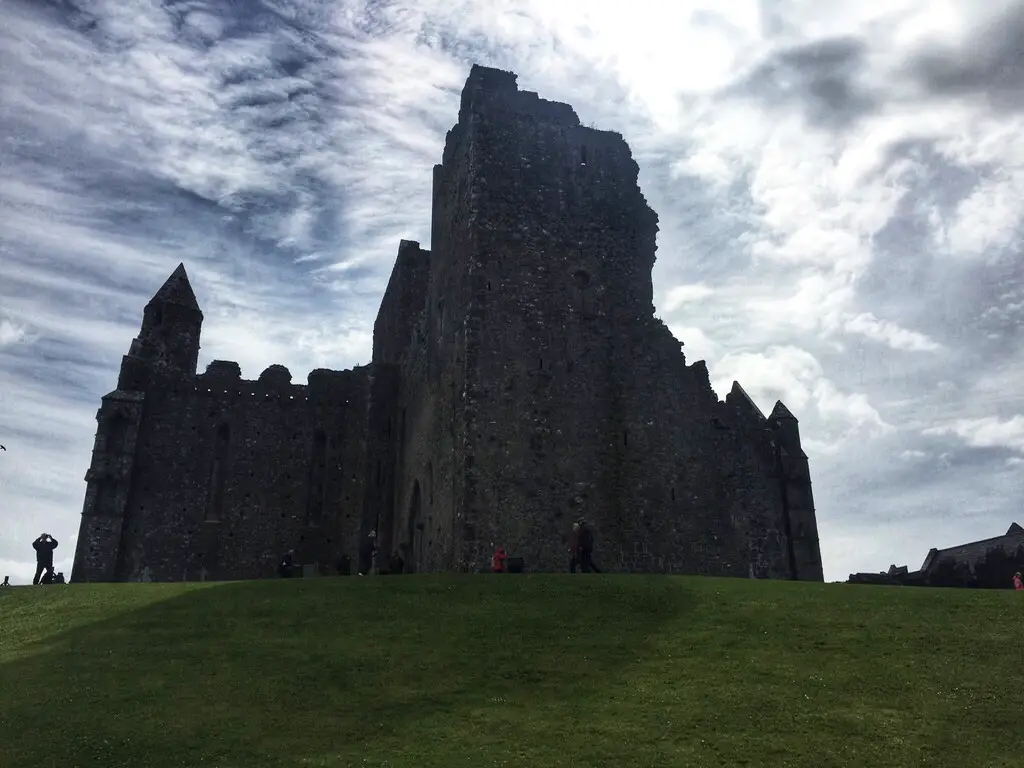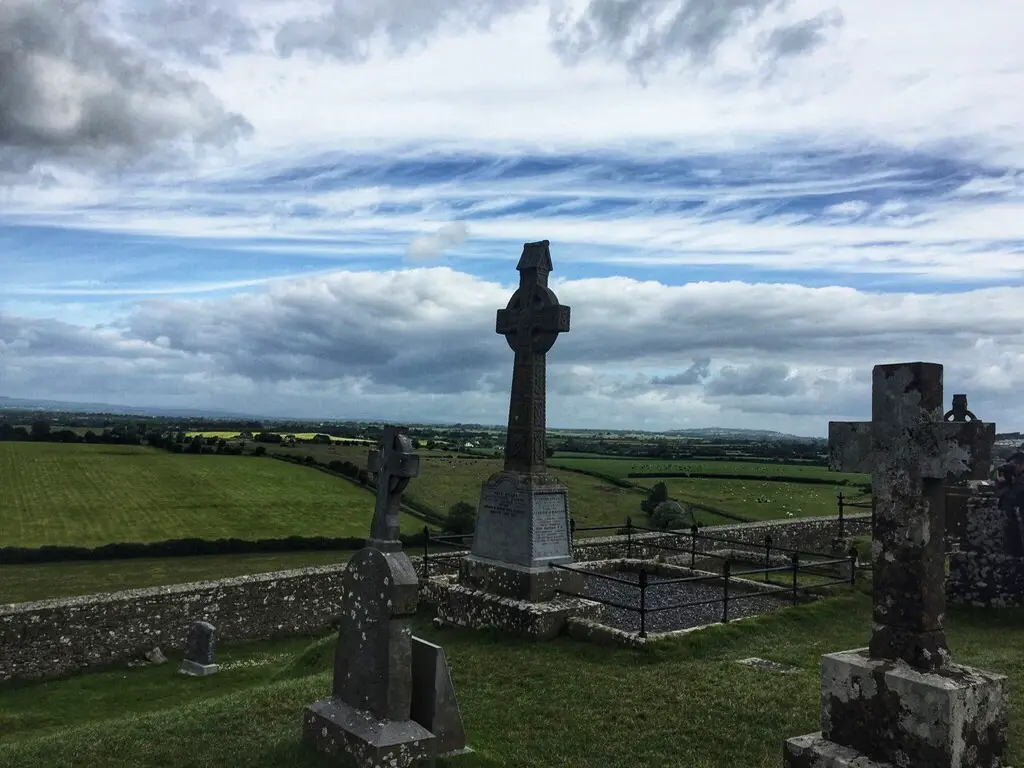 Moving on we headed to Cork, a very colourful and contemporary city located in the Southwest of Ireland. It's also a vibrant city full of quirky bars and restaurants. Our highlights included a visit to the English Market where they sell locally produced foods. If you have time we recommend doing a historical walking tour in the city to learn absolutely everything you can.
We also visited St Anne's Church where you can ring the bells, and make your way to the top of the church for a 360 degree view of the city. Just a word of warning this is not ideal if you are claustrophobic or afraid of heights (or both). It can get pretty tight climbing up and I'm pretty sure at some point we had to negotiate our way around a giant church bell. You do get giant noise cancelling headphones to wear as the bell is still in use so make sure you use them. One of our favourite things though was ringing those church bells. There is a book and it tells you which rope to pull to play certain songs. I tried my hand at Walzting Matilda and failed miserably.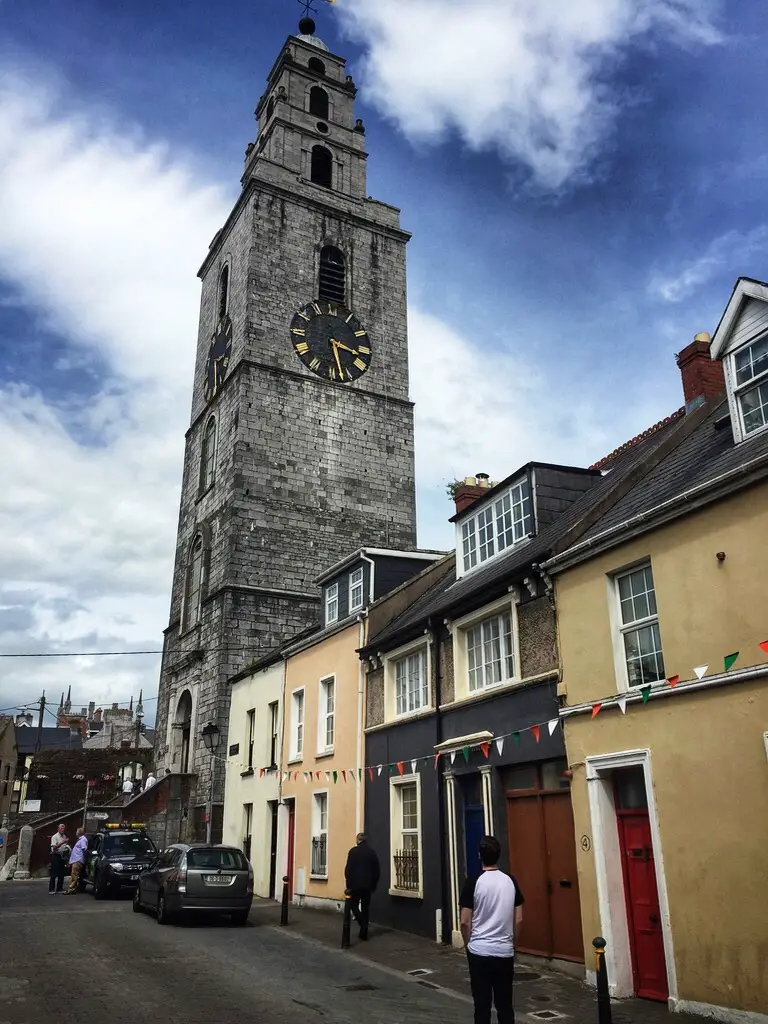 Things to do in Cork
Here are the highlights of things to do in Cork:
Stroll through the English Market
Visit the Crawford Municipal Art Gallery
Visit Cork City Gaol
Explore St Fin Barre's Cathedral
Ring the Bells at St Anne's Church
Do a Cork Harbour cruise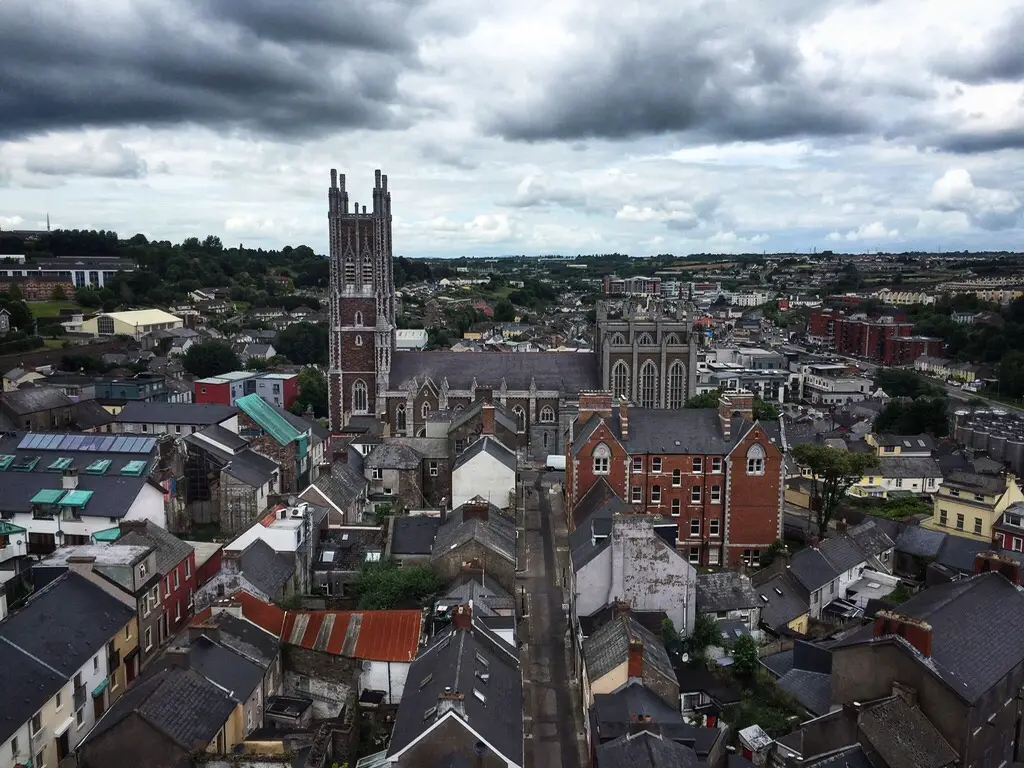 For more Cork tips make sure you read our post here.
Where to stay in Cork
This 7/8 day Ireland itinerary only really covers a day in Cork. Because of that we recommend staying in the city centre. You are smack bang in the middle of all the hustle and bustle as well as several bars and restaurants. Make sure you book accommodation in advance for the cheapest rates.
Day 4, Blarney Castle, Bantry, & Killarney 
On to day 4 where I have to stress no trip to Ireland is complete without a trip to Blarney Castle. The weather wasn't great when we arrived but this did not deter us. The must do thing at Blarney Castle is of course kissing the Blarney Stone. To get to the stone you must first walk up to the top of the castle via a very narrow and winding staircase. Once at the peak you join a line of fellow kissers and wait. You lay on your back and reach out to kiss the stone which is suspended over a severe drop. Unfortunately my fear of heights got the better of me, although Dave did manage to do it. His reward was 'the gift of the gab' or so it is foretold (which he hasn't shut up about).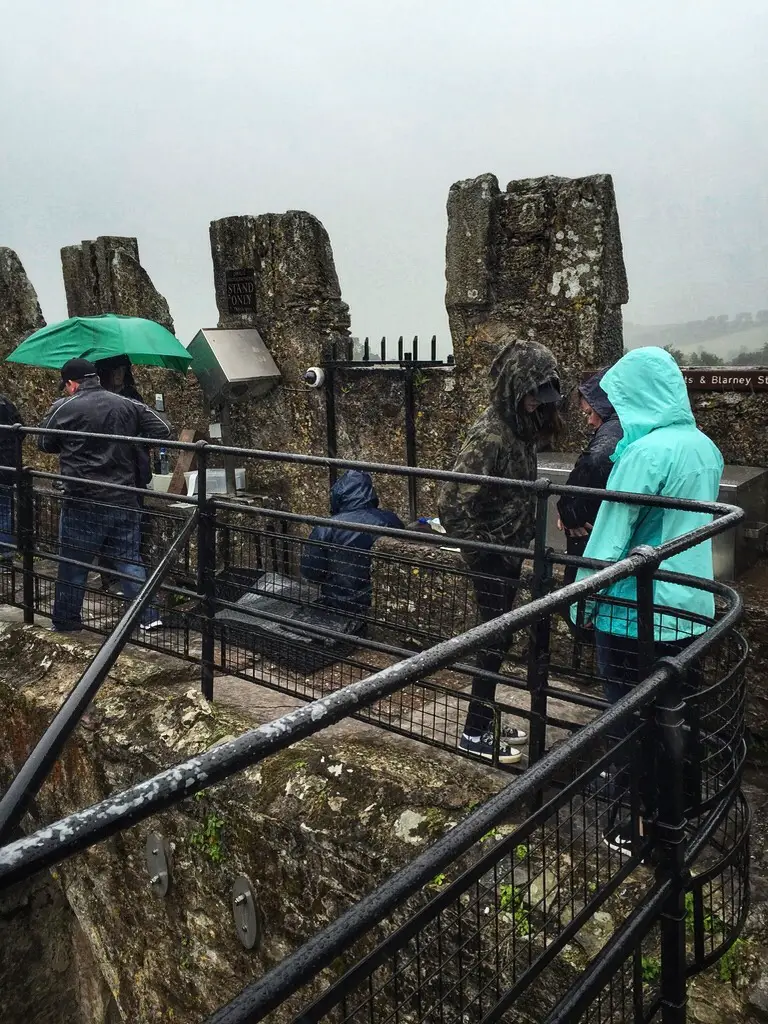 It is also worth exploring the Castle grounds. There are some beautiful gardens to get lost in, and being Ireland a lot of green places to take pictures.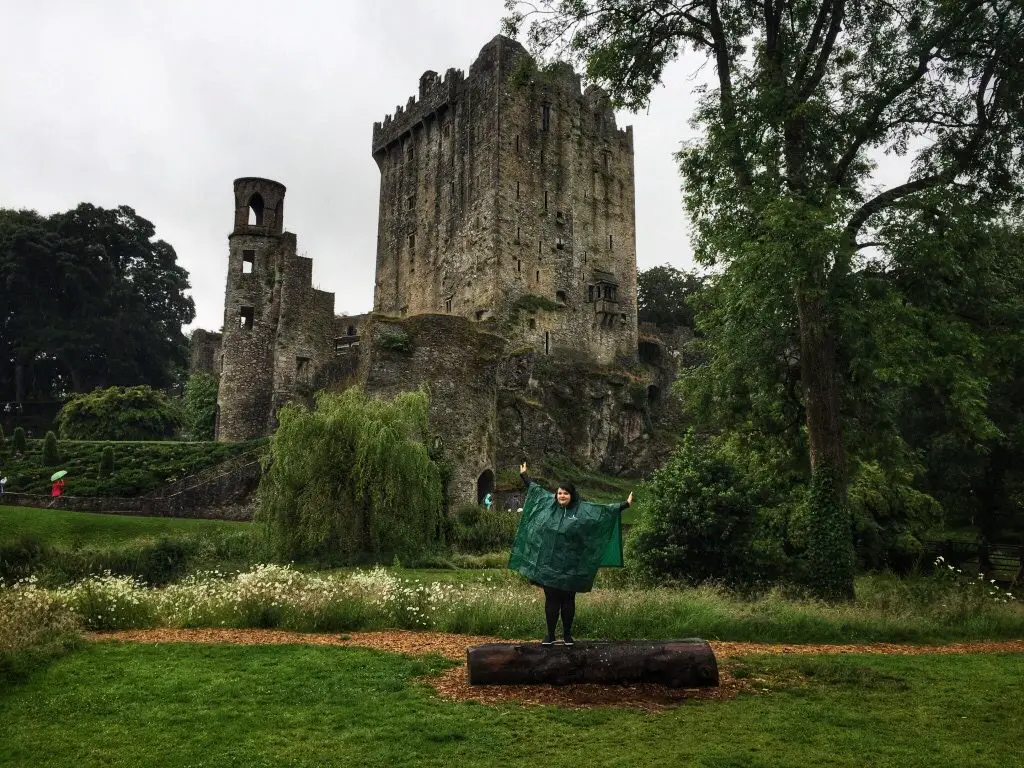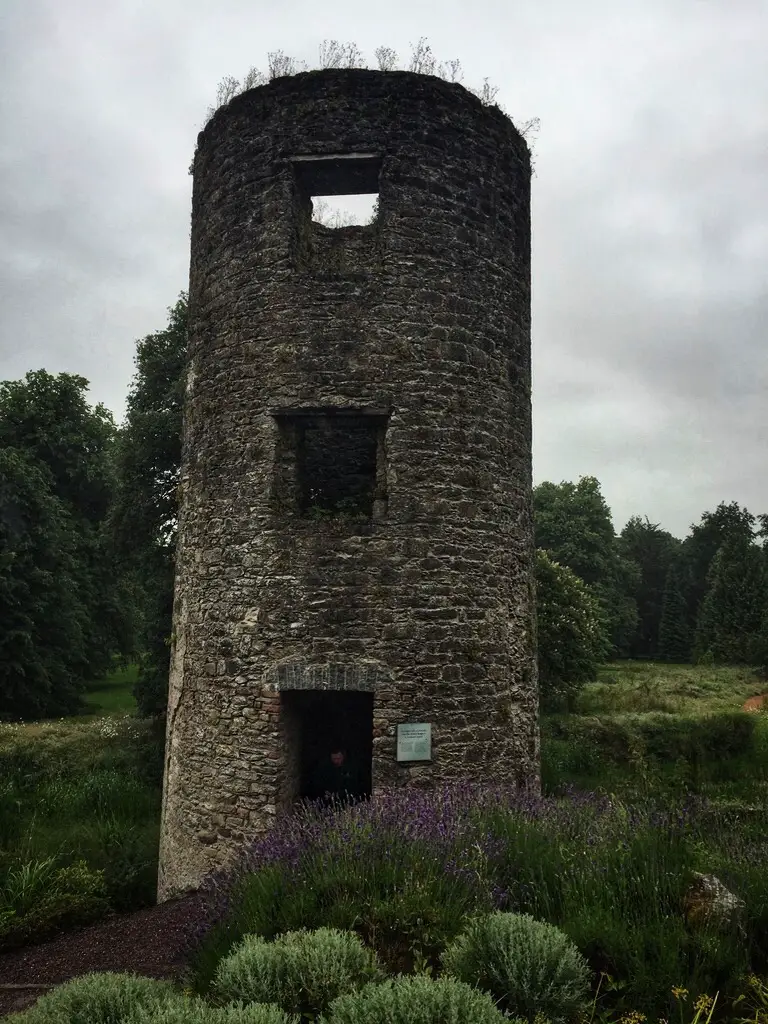 Armed with this new gift of the gab though we left Blarney castle and we drove to the seaside town of Bantry. We parked up and got to spend a little bit of time walking around breathing in the sea air and feasting on some very fresh fish and chips. We were then mobbed by seagulls and had to eat the rest of the food in the car.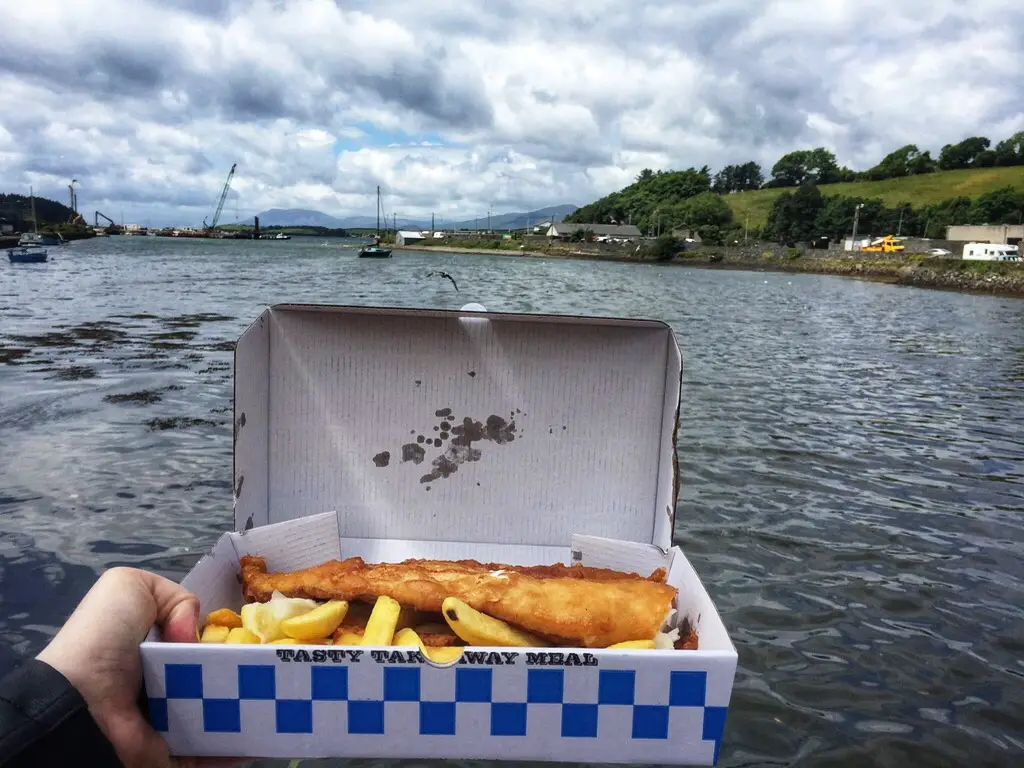 Bantry is a really beautiful place to visit. There are so many seaside walks to go on, and if you get the chance make sure you explore some of the quaint back streets.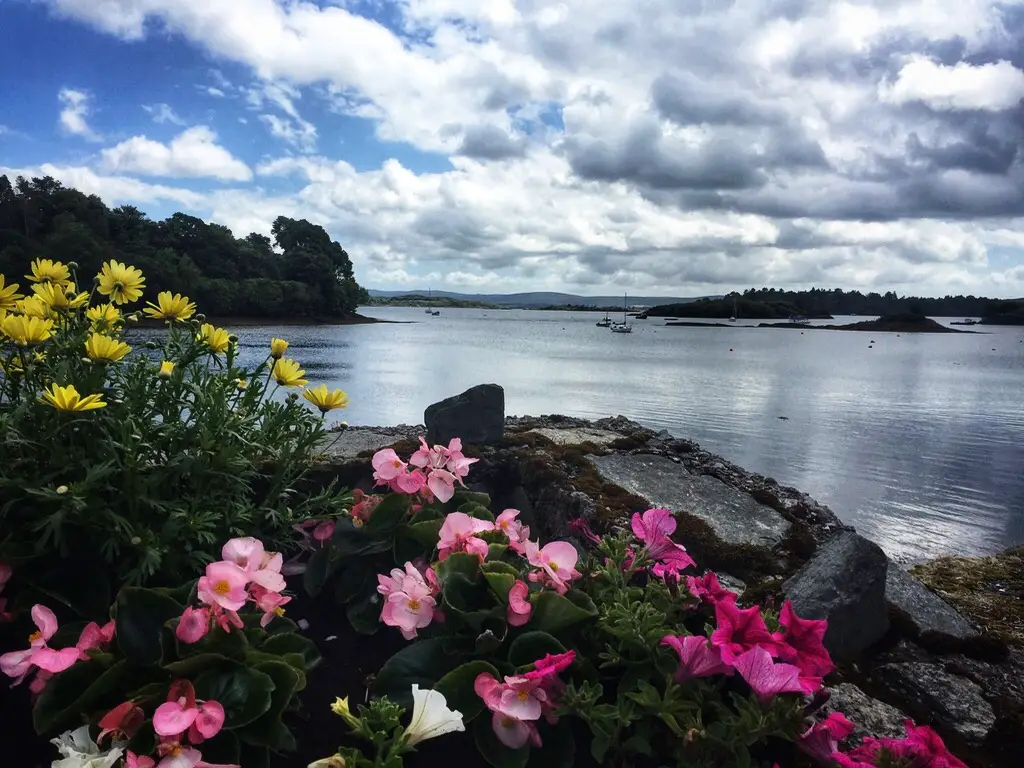 Things to do in Bantry
Bantry House and Gardens
Get a ferry to Garnish Island
Whale watching
Traumatised by our seagull attack (and yes I know it was my fault)  but still going strong we drove to Killarney, a very touristy and quaint town. The town was filled with pubs and restaurants and you could even travel by horse drawn carriage around the town if you really wanted to. It was the perfect place to have a nice traditional Irish meal and sip a few pints before going to bed. If you are looking for more ideas for things to do in Killarney we have this post.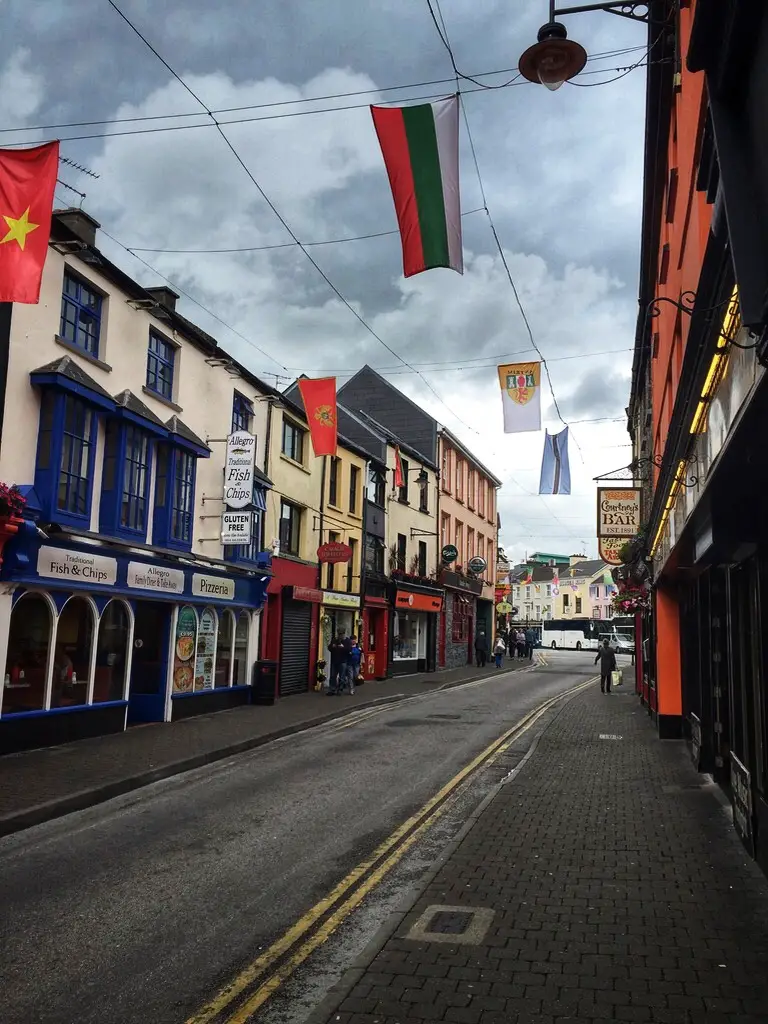 Where to stay in Killarney
Killarney might be small but it certainly has a fantastic atmosphere. We wanted to stay in the centre for this reason, but unfortunately because we had a car we had to stay about a 10 minute walk away from the centre. Just something to think about when planning your own 7/ 8 days in Ireland.
Day 5, Killarney National Park, Ring of Kerry & Tralee
Killarney is the perfect place to base yourself if you plan to drive the Ring of Kerry. We woke up early had a full Irish breakfast and set off to do the Ring of Kerry. You can read about it in more detail here.
But first when you leave Killarney you will find yourself driving through Killarney National Park. Driving through you are surrounded by giant trees and moss covered rocks. There are so many walks you can do around the park and our highlight was walking around Torc Waterfall which is at the base of Torc Mountain.
Also not to be missed is Ladies View, where you can stop off and enjoy some sweeping views of the mountains and lakes that make up Killarney National Park. There is a conveniently located cafe here too in case you need some sustenance on your journey.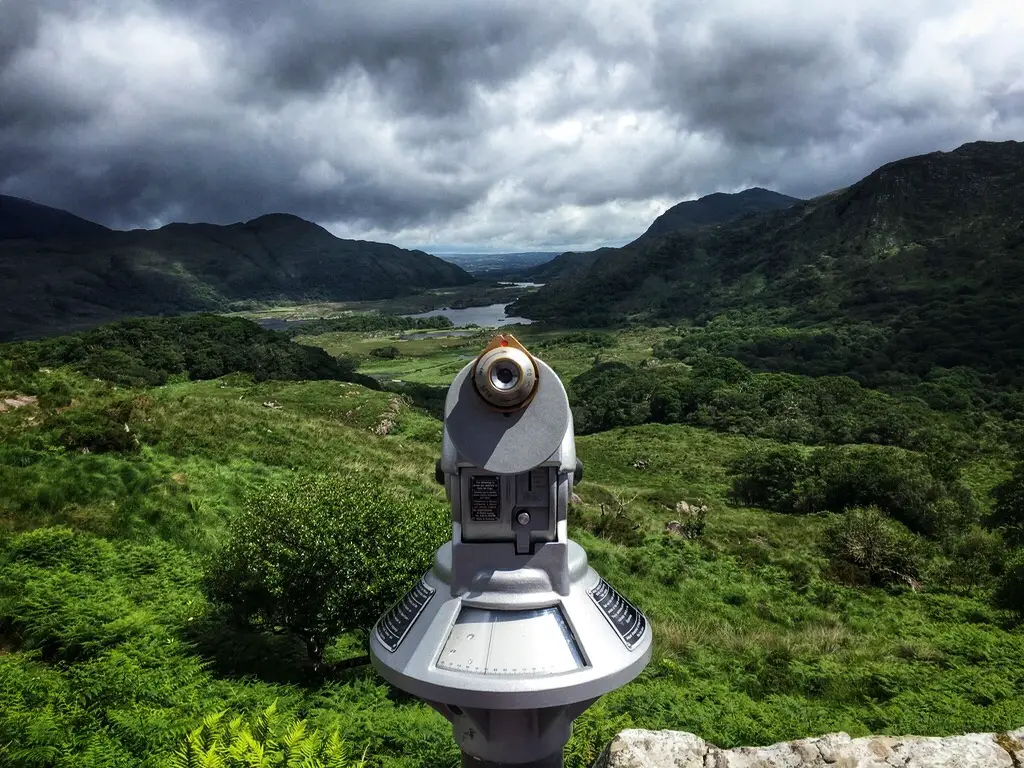 Things to do in Killarney National Park
Muckross House and Gardens
Torc Waterfall
Ross Castle
Ladies View
The national park also forms part of the Ring of Kerry route. The Ring of Kerry is a scenic drive around the Iveragh Penninsula in County Kerry. You pass through incredible mountainous terrain, as well as crystal clear ocean water. This was one part of the drive where we stopped a lot and had to switch up the driving frequently.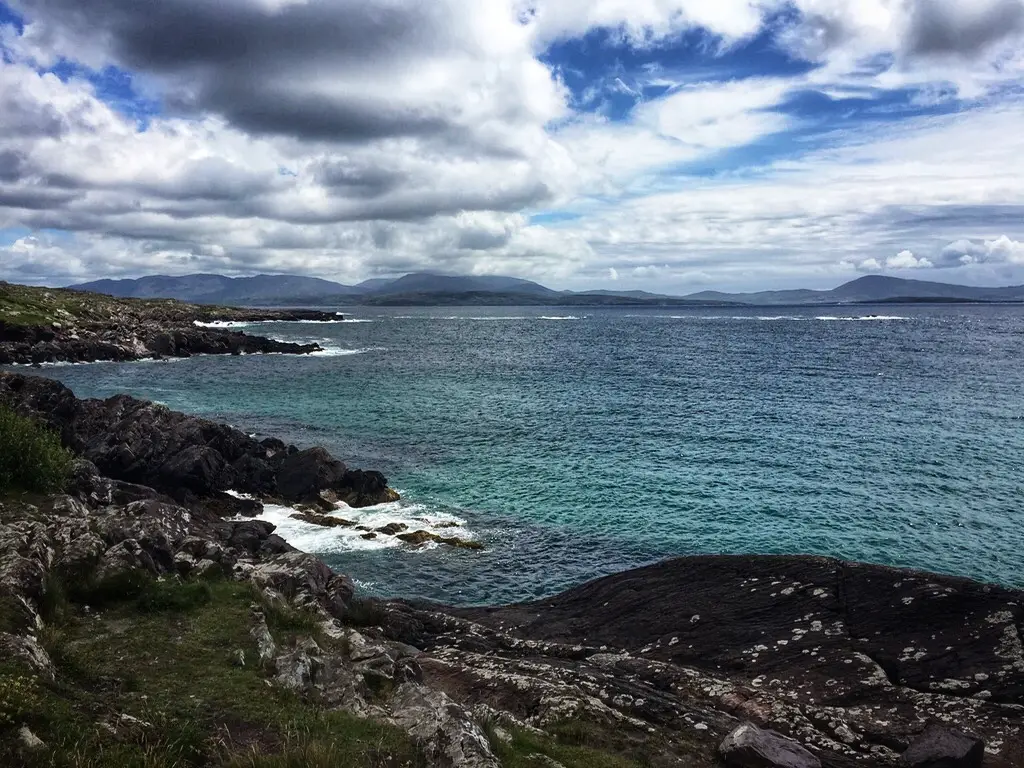 We trailed off before completing the full ring and spent the evening in Tralee which gave us a good start for the following days journey.
Day 6, Cliffs of Moher & Galway
Another must see in Ireland are of course the Cliffs of Moher. At a maximum height the cliffs are 214 meters high. The day we visited was quite overcast and they do allow you to use your ticket on another day if this is the case. As we were pushed for time we couldn't take advantage of this, but luckily the rain cleared up for a short time while we visited.
You can read all about our adventures at the Cliffs of Moher here.
Leaving the cliffs and the rain behind we then headed to Galway. A stunning harbour city, Galway is an excellent place to experience some Irish culture. From its fine dining and seafood restaurants to it's quirky Irish bars, Galway is a popular tourist destination. The Latin Quarter is one of the more lively places to go out and experience some of these bars and restaurants. It is also full of buskers and jovial tourists enjoying this fine city.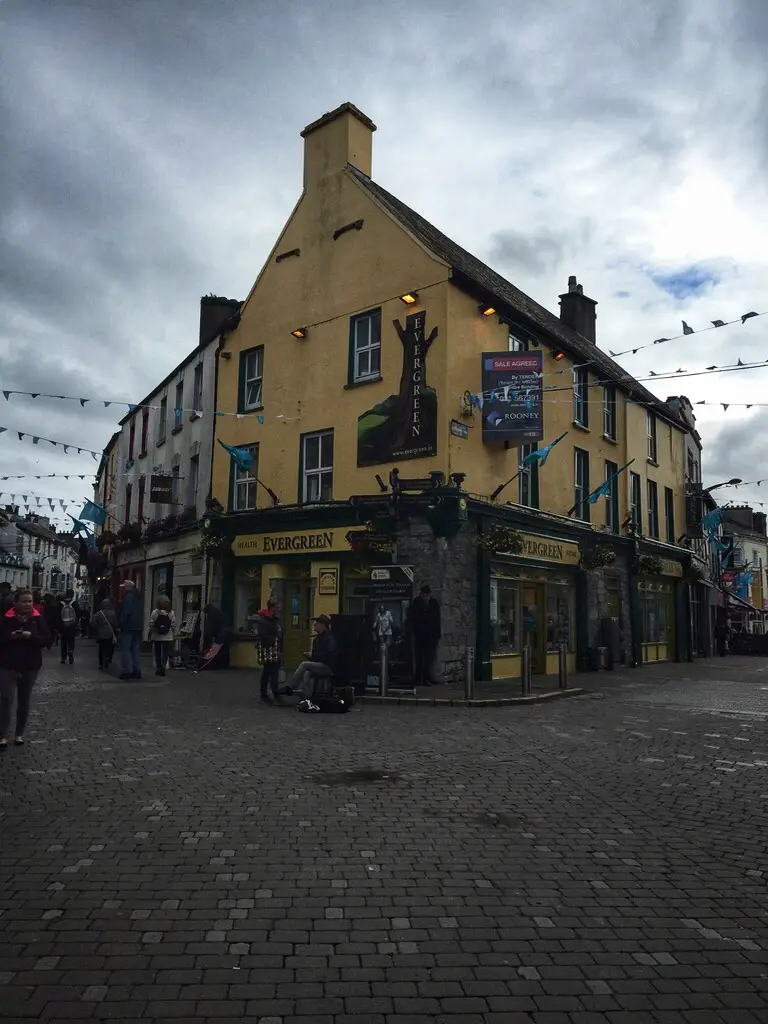 Things to do in Galway
EAT! Galway is a foodies paradise – here is a great food tour you can do
Enjoy the pub culture – particularly in the Latin Quarter
Listen to the buskers along Quay Street
Galway City Museum
Visit Salthill
Go to a trad music session
Where to stay in Galway
You definitely want to stay somewhere in the centre of Galway especially around the Latin Quarter. There is a lot of entertainment here and it makes for a great night out.
Day 7, Aran Islands & Galway
Galway is also the perfect gateway to the Aran Islands. We left our car at the hotel and took a bus out to Rossaveal where ferries depart frequently to the Aran Islands. The Islands are an absolute must and if you check out our previous blog post you will find out why. We visited Inishmore which is the island accessible from Galway. Once you are on the ferry it usually takes about 45 minutes to reach Inishmore. Do be prepared for choppy waters, as the Atlantic Ocean can be a little fierce at times.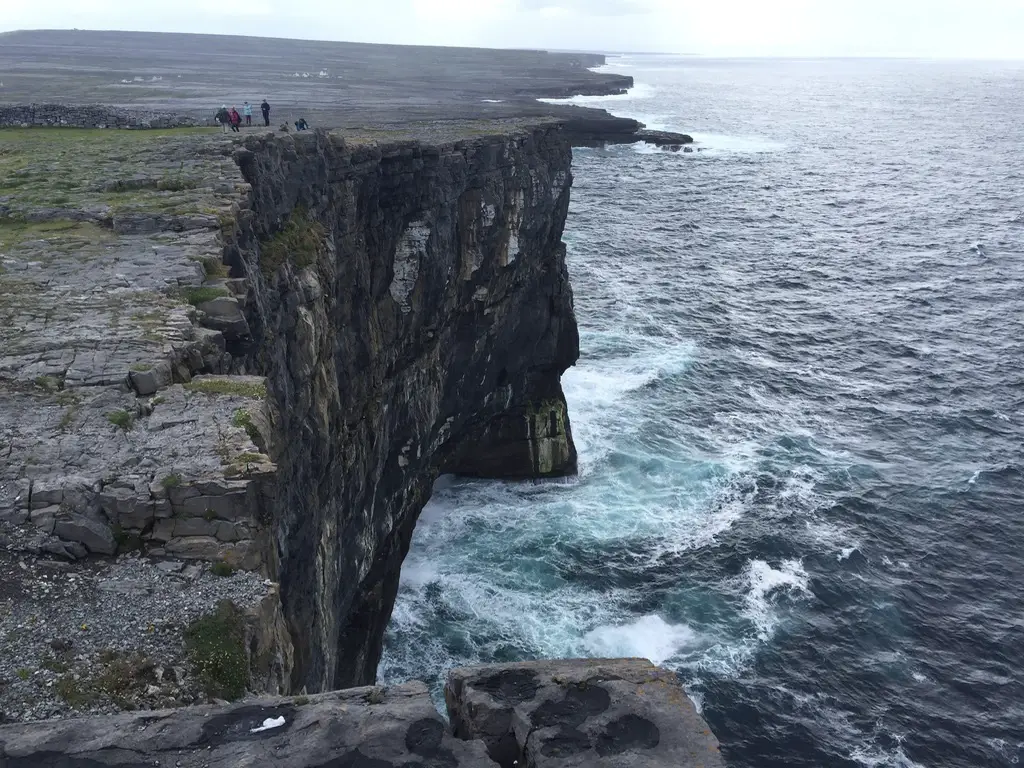 The best way to see the islands in our opinion is to do a bus tour. The guides really know their stuff and will let you in on some insights to what life is really like living on the islands.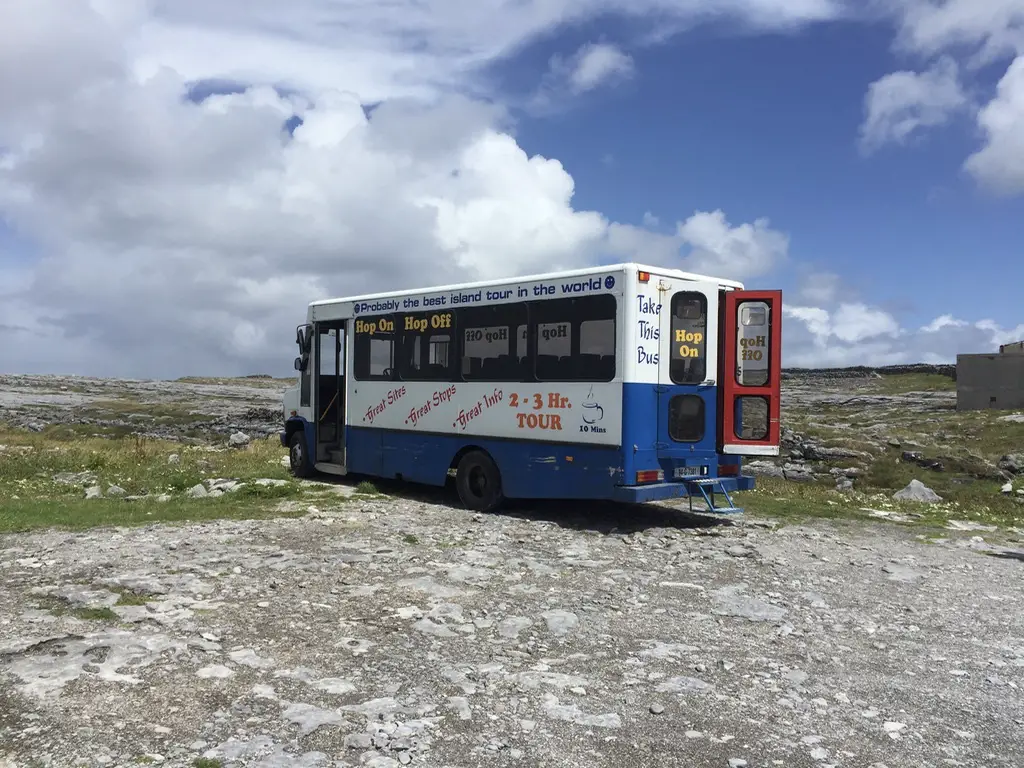 After spending the day we arrived back in Galway in the evening, just in time for a few pints and some fantastic seafood. Because of its close proximity to the sea Galway is one of the best places in Ireland for seafood so if you are a fish fan do take advantage.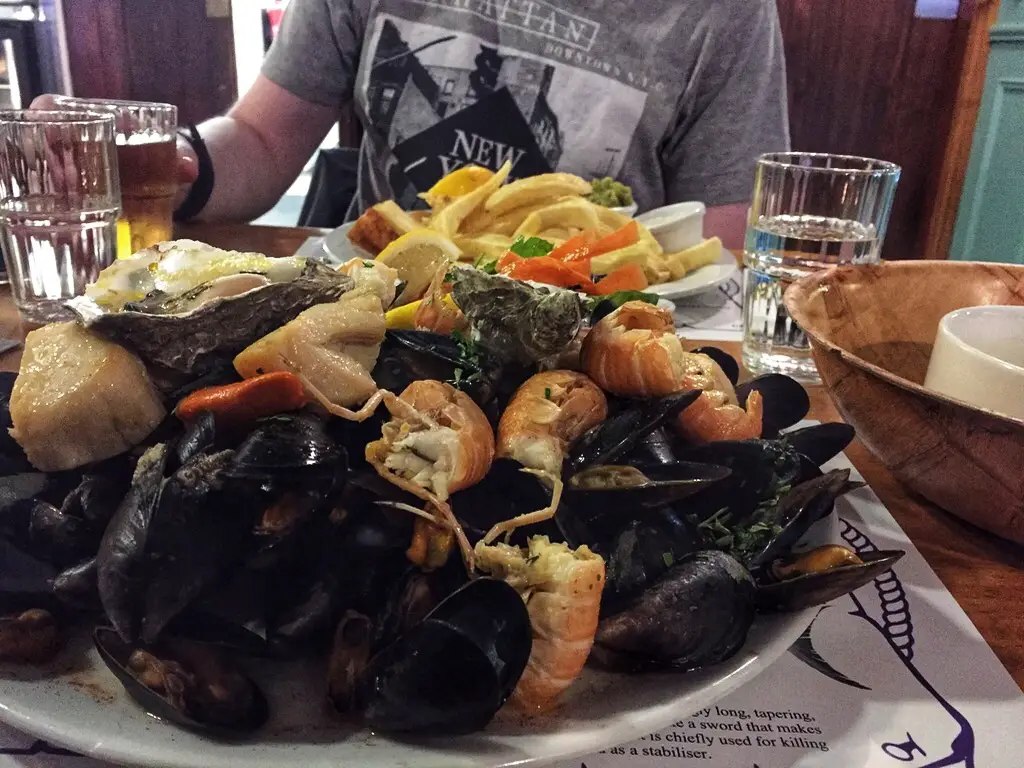 Day 8, Sligo  
Our final destination was Sligo, a town along the Wild Atlantic Way coastal route that exudes natural beauty. Sligo is also Yeats Country and this is where the poet was inspired to create some of his best work. Sligo is one of our favourite places in Ireland and really is a hidden gem.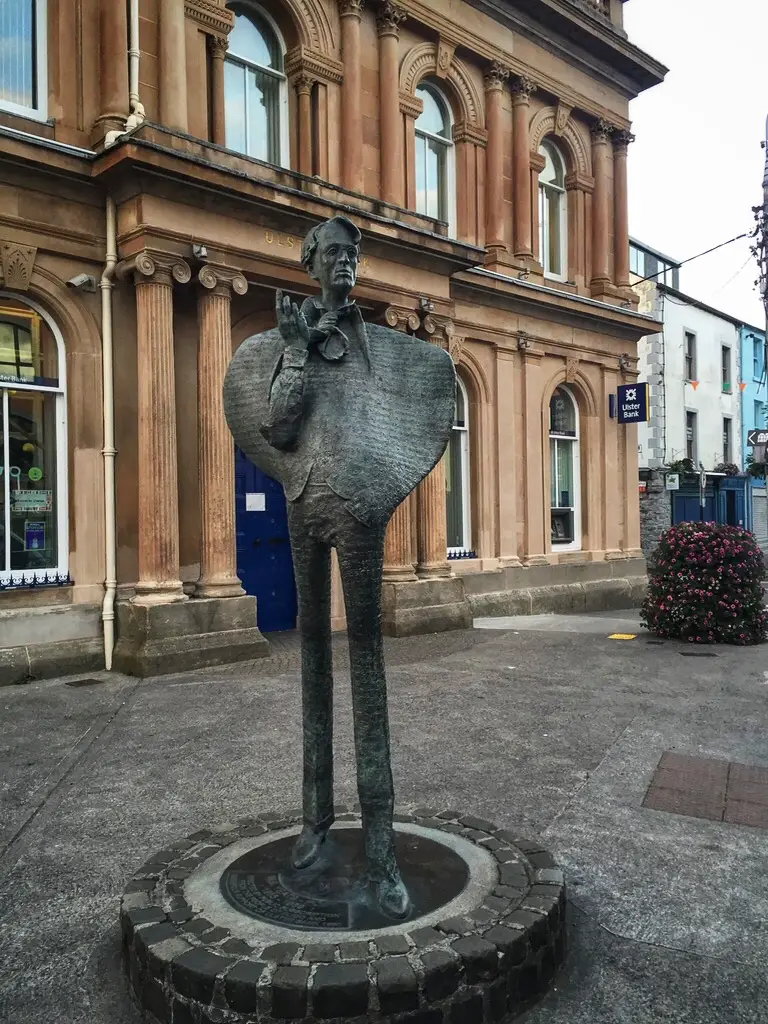 One of the best things about Sligo is that it is not over run by tourists. So you can explore its natural beauty without having to share it with a bus load of tourists.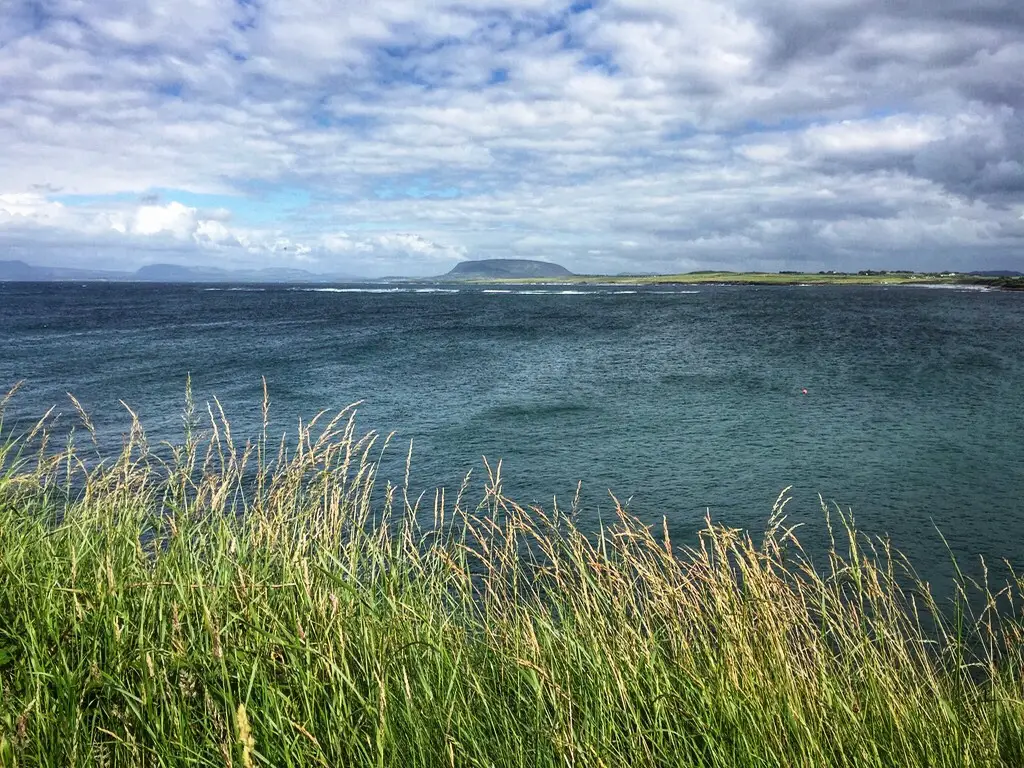 From serene lakeside walks to forests that are worthy of a thousand picnics for us Sligo is the perfect place to spend your last few days in Ireland.
Sligo is also pretty famous for its surf school, located at Strandhill one of the many beaches Sligo boasts.
It's about a 40 minute drive to Knock Airport which has regular flights to the UK as well as other European destinations so if you are travelling from the UK its an easy base to fly home from.
Things to do in Sligo
Visit the Carrowmore Megalithic Cemetery
Admire Benbulben
Climb Knocknarea
Explore Lough Gill
Visit Sligo Abbey
Walk around Rosses Point
Enjoy the surf at Strandhill
Visit W B Yeats grave at Drumcliffe Parish Church
Admire the Gleniff Horseshoe
Where to stay in Sligo
We would recommend staying either around Strandhill or Rosses Point, particularly if you want to be close to the beach. Otherwise base yourself in the city centre – just make sure you check if your hotel has parking.
How much money do I need for my 8 days in Ireland
You might be wondering how much money you will need for your 8 days in Ireland. A lot of that is going to depend on what you want to see and do. Ireland can be expensive particularly in places like Dublin.
Keep in mind you will have to budget the following:
Hotels: Average at €90 – €120 per night
Rental Car – €600 average for a week but consider what insurance you are getting and any additional costs
Petrol: Petrol prices are pretty high these days, and it's hard to gauge the exact cost. This will depend on where you go to fill up (smaller towns are often cheaper) but also how economical your car is.
Other: For things like tourist activities, food, shopping etc, we would probably budget about €100 – €150 between 2 people per day. Again this will depend on where you go to eat, how many activities you want to do, etc.
What currency do I need for my 8 days in Ireland
Ireland is part of the EU and therefore the currency is Euro. One Euro is equivalent to 100 Cents. Euros are made up of a mixture of coins and notes. The coins tend to be Cents so you get 1,2,5,10,20 and 50 Cent coins, as well as a 1 and 2 Euro coin. Notes are made up of 5,10,20,50,100,200, and 500 Euros. With the notes we don't recommend carrying around the higher denominations as some places won't take anything over a 50 for security purposes. And honestly, I don't think we have ever seen a 200 or 500 Euro note! So if you do find one let us know.
You can pay on card for most things in Ireland, but we do recommend carrying some cash on you especially in the smaller towns as some places may only accept cash.
Ireland itinerary 7 & 8 days- A recap
Whether you are looking to spend a full 7 days in Ireland or 8 days in Ireland we hope this itinerary is useful for you. And so our Irish road trip came to an end. We saw and learnt so much, and of course Dave now has the gift of the gab so expect plenty more blog posts on Ireland in the future.
If you have found this guide to 7/ 8 days in Ireland useful please make sure that you pin it for later.