Every so often you stay somewhere so magical that it leaves a lasting impression on you. From that sheer excitement as you drop your bags down and check out every nook and cranny, to that sadness you feel as you pack your bags and close that door for the last time. Last weekend we got the chance to stay at the Fallen Angel Cornwall, and it was one of those places, so much so that we really didn't want to leave. And so we have put together a Fallen Angel Cornwall review to help you take the plunge and book your next romantic break here.
Located in Mousehole (which we later learnt is pronounced Mouzle after asking for directions and receiving blank stares), Fallen Angel is a hideaway perfectly designed for couples in mind. Mousehole is definitely the perfect setting, as it is a small fishing village located on the Cornish Coast. It is the ideal place to escape and nestle into some gorgeous accommodation with the one you love.
Fallen Angel is an accommodation like no other. Everything here is designed for two, from the cosy couch located in front of a log burner, to what can only be described as one incredible bath with seaside views in the bedroom. It's luxurious, it's relaxing, and it was all ours for the weekend!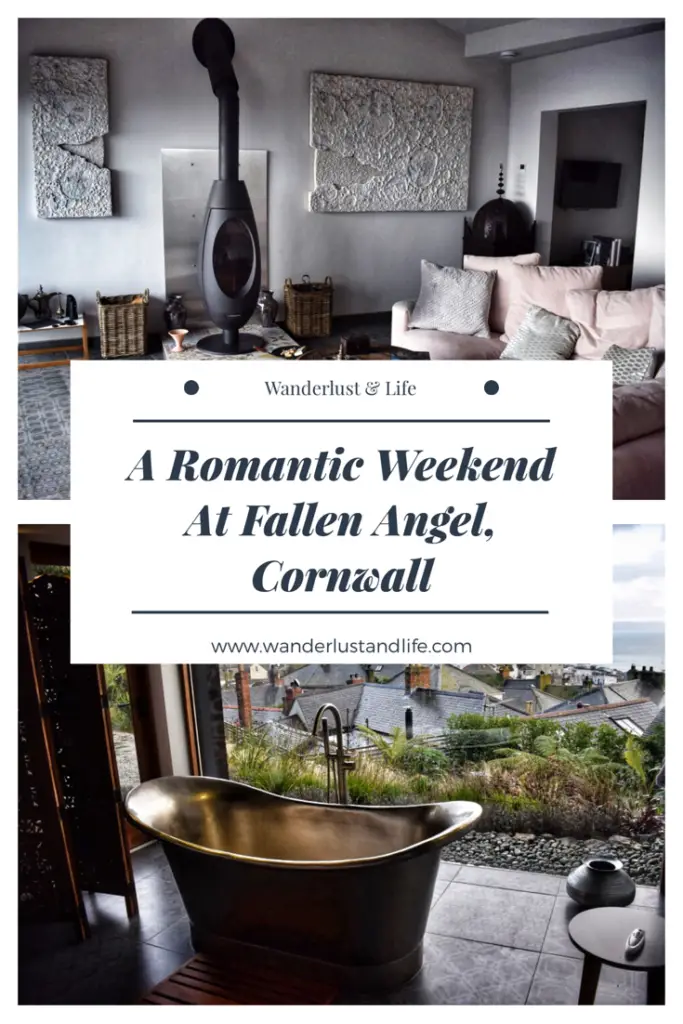 First for a bit of background
Fallen Angel is the brainchild of owners Mark and Jane, who also run Petite Weddings, a specialised wedding service based in Cornwall. The whole idea of the project was to create a luxurious place for couples to enter, close the gate, and just forget about the world. Which I might add was just what we were looking for, as city life sometimes gets on top of you especially in gloomy January! You can find out all about the story behind Fallen Angel here.
Mark and Jane are available to get involved as much or as little as you want. They can arrange to meet and greet you or provide you with all the information you need to be left to your own devices. The choice is yours. Before you arrive you do have the option to add some extras to your stay such as booking a private chef, or even a couples massage. We decided to go out and explore ourselves as we were only able to stay 2 nights due to work commitments. Although I must say in hindsight once we arrived we didn't want to leave, even for dinner, and that private chef started to sound more and more appealing.
Our stay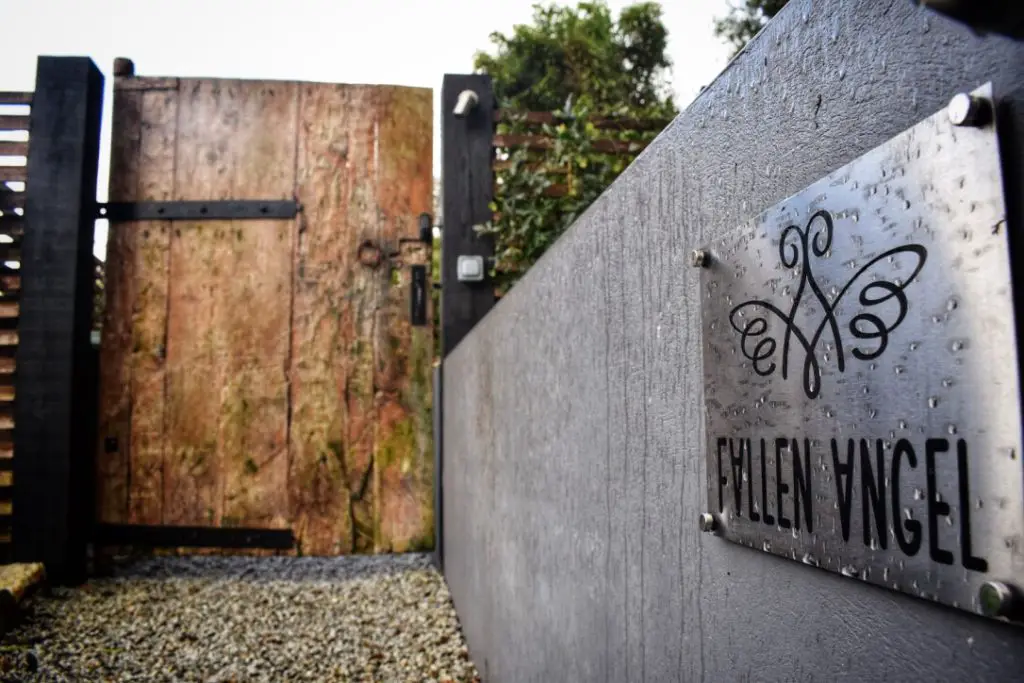 We arrived in Mousehole early on a Friday evening, just as the sun was beginning to set. The moment we stepped out of the car, the fresh sea air hit us. We were definitely not in the North of England anymore. Fallen Angel is only accessible by foot, so we had to walk down some back streets to get there. Everything was so beautiful and quaint and we instantly fell in love with Mousehole. We ended up asking one of the locals for directions who upon advising where we were staying informed us it was the nicest place in the village and we were in for a treat.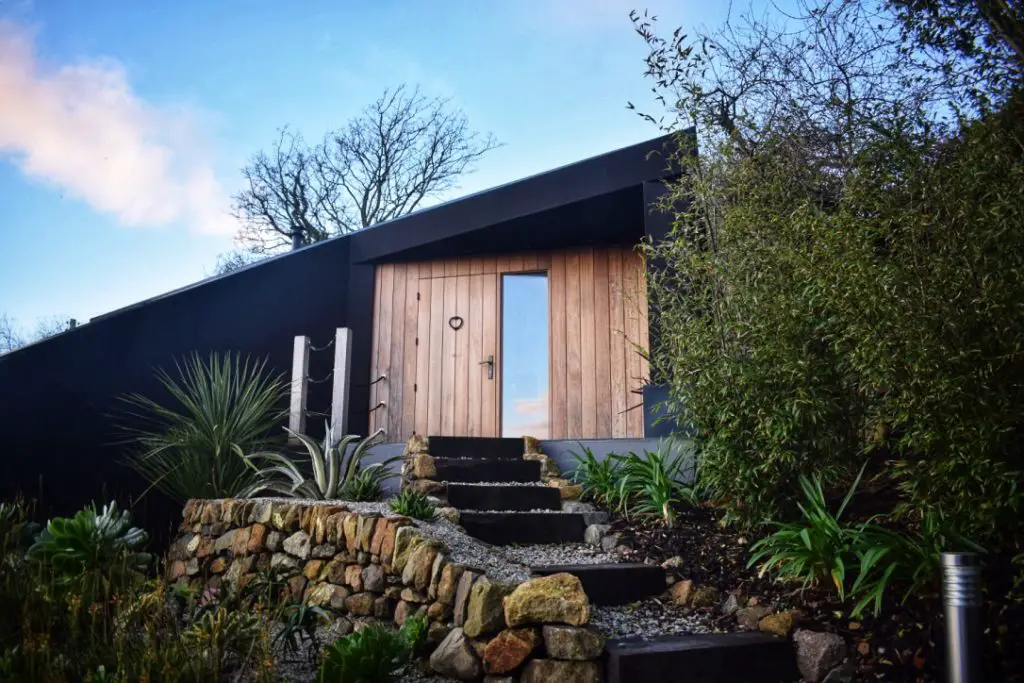 Our expectations were certainly high as we approached the Moroccan gated entrance, which incidentally was previously one of two doors at the entrance of a Moroccan village. It's safe to say though that as we put our bags down our expectations were well and truly met. We spent the first few minutes just shouting to each other from opposite ends of the cottage. "Have you seen the bath" I squealed as Dave excitedly informed me of the view from the upstairs balcony.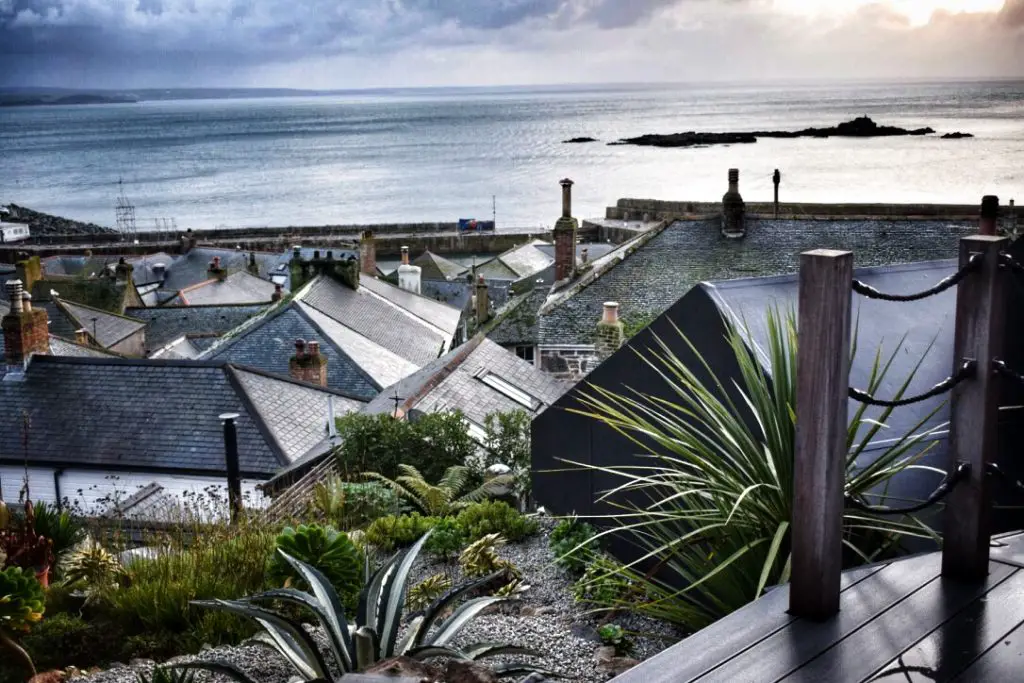 Upstairs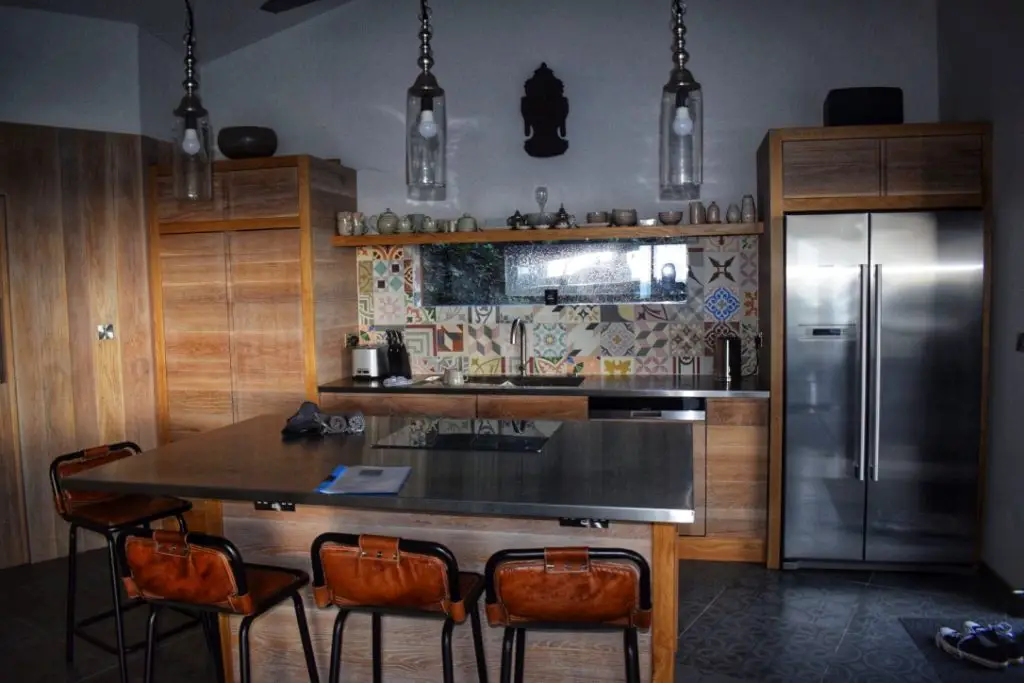 The cottage is split into two. The upstairs section is where you have your kitchen which is stocked with all the basics like tea, milk, butter and of course sparkling wine. In the lounge there is a sofa that you can sink into, with blankets at the ready to get yourself even more cosy. We actually spent one of our evenings here drinking wine in front of the crackling log burner as the rain hit the glass balcony doors. It was bliss.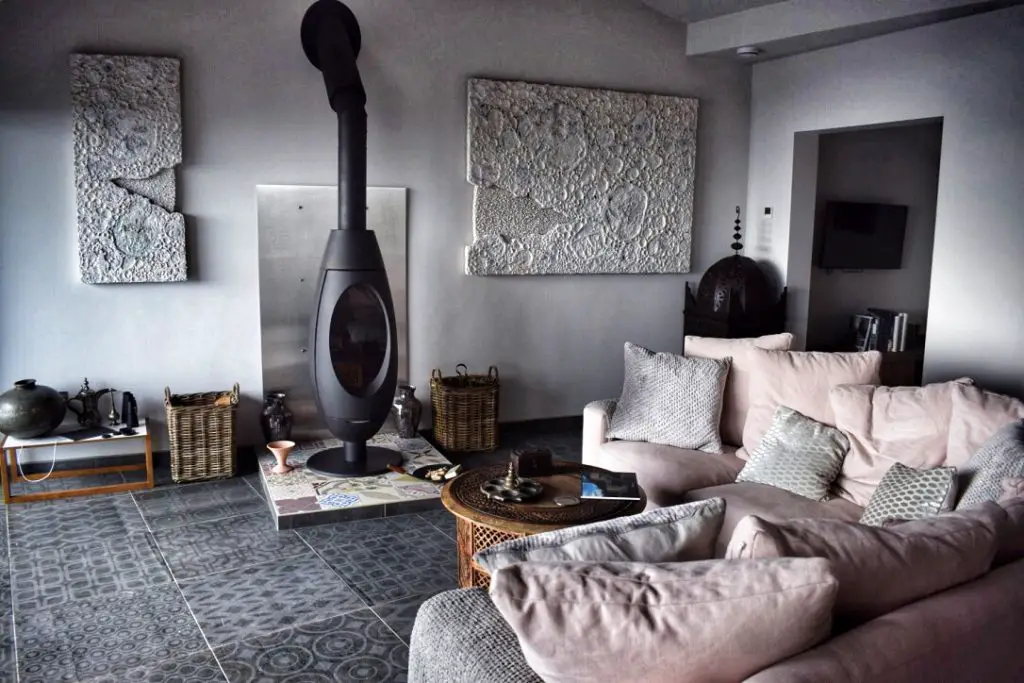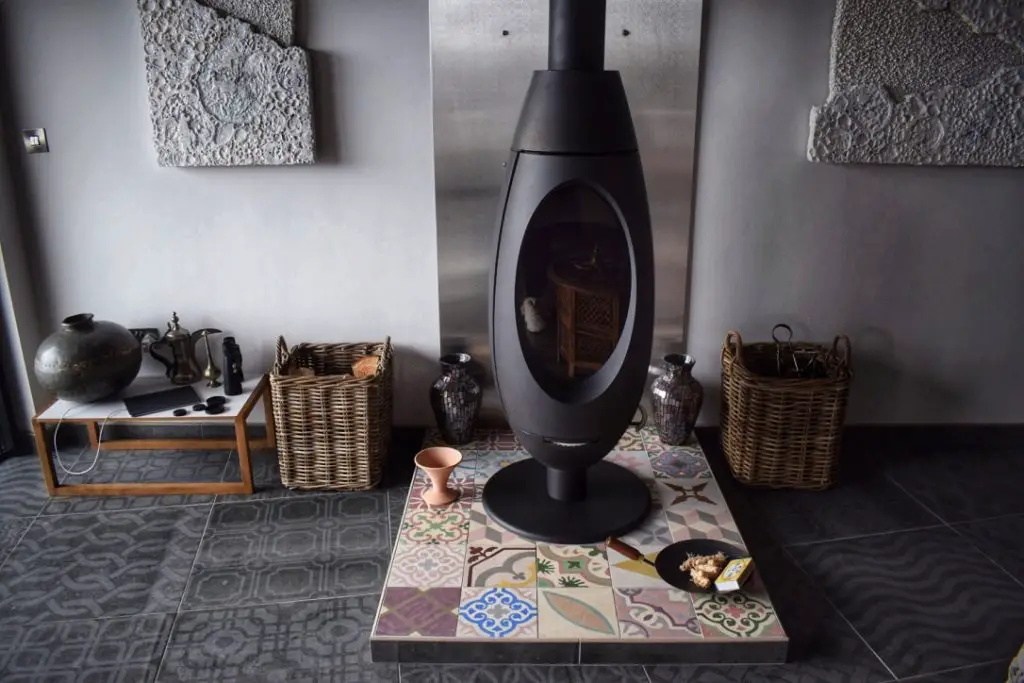 There is also a little snug area to watch TV which includes Sky TV with movies and sports. Needless to say this might have been the highlight for Dave, although in fairness to him he did actually miss a very important rugby game, which just proves how magical Fallen Angel really is.
Also worth mentioning in the upstairs area is the balcony, overlooking parts of Mousehole and the sea. On our first night the weather was perfect and there was not a cloud in the sky. We sat here looking up at the stars whilst sipping our cups of tea. This is certainly something we never get to do living in the city.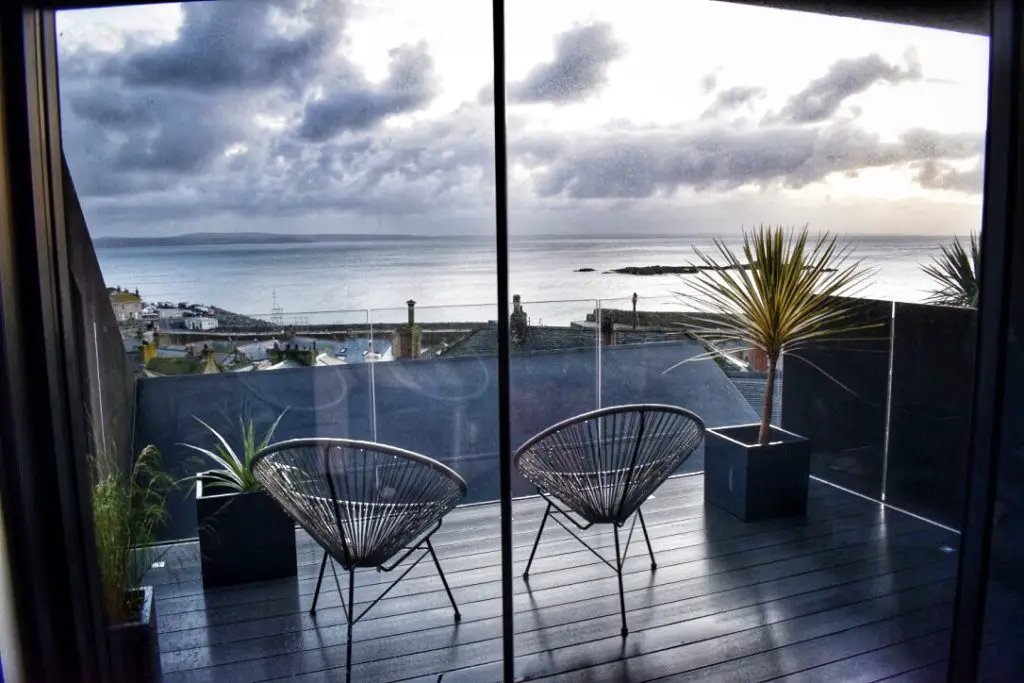 Downstairs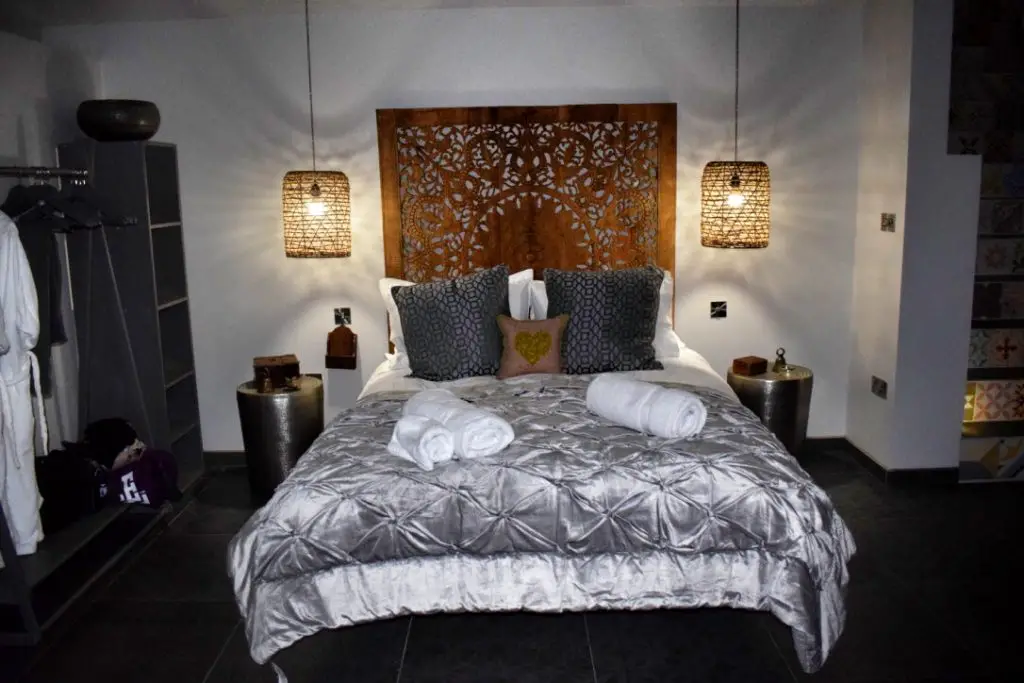 This is where Fallen Angel turns devilish. Here you will find your cosy bed with Egyptian Cotton sheets. Right in front of the bed is a brushed steel bath with views over the village. It is such a nice treat. All you need to do is pop in some bubble bath and light your scented candle and just relax.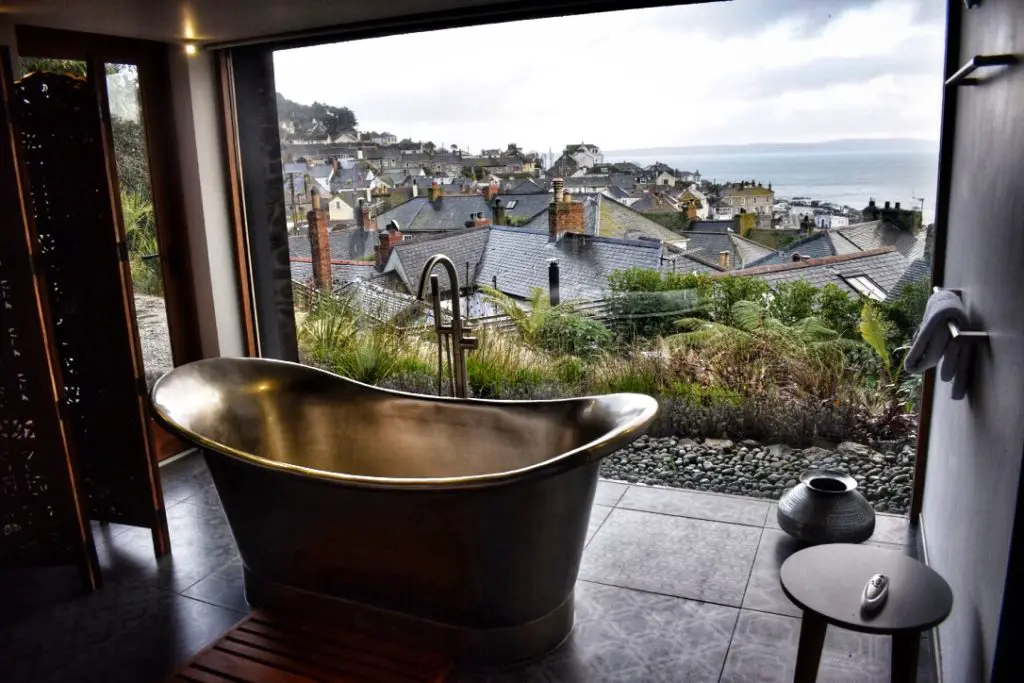 There is also a shower downstairs and this has also been designed for two. It has a rainfall shower head which is just bliss, and a glass panel at the side that gives you some amazing views of Mousehole. Now I will admit I was a little nervous about the glass panel, especially because I am that person at the gym who gets dressed in the toilet for fear of being seen. So I was quite relieved when I realised that the steam from the shower would help save my modesty.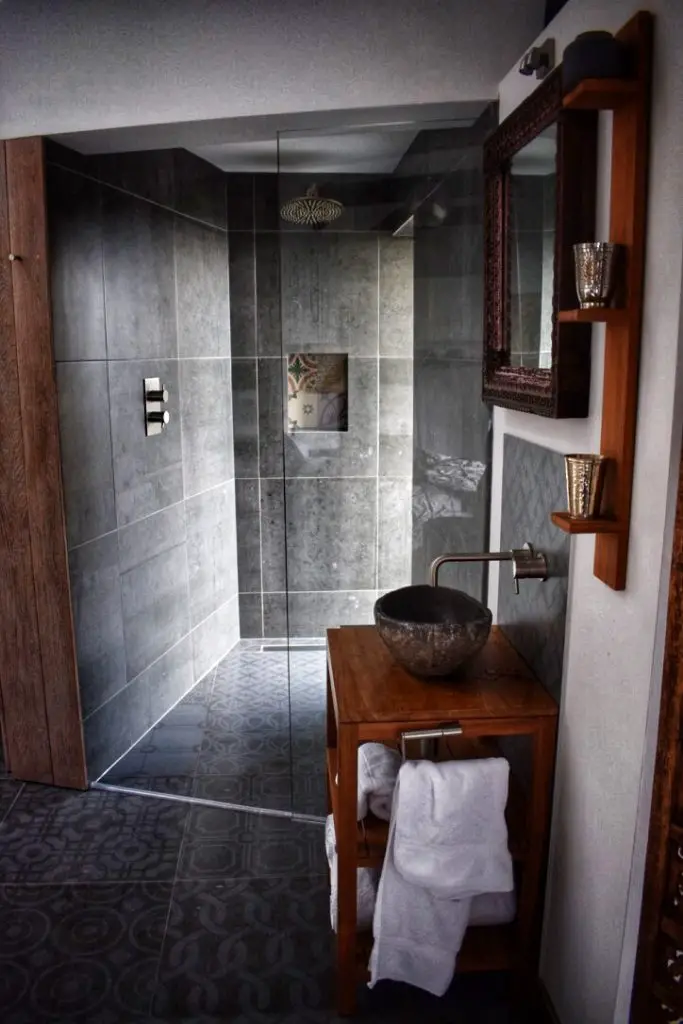 The Garden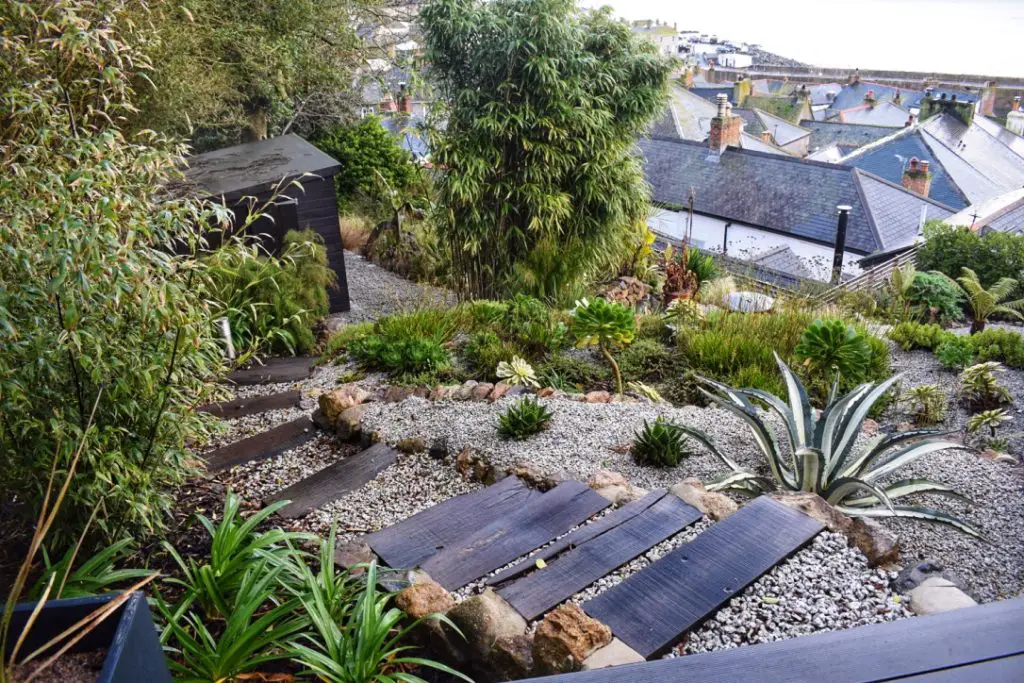 The garden has a distinctively sub-tropical feel to it, which adds to the luxury and privacy that really makes your stay at Fallen Angel unique. One of the best things in the garden has to be the BBQ. It is perfect for lighting a fire and cuddling up around it. We actually sat around it (although didn't light it because of the rain from the previous night) and watched the sunrise both mornings we were there.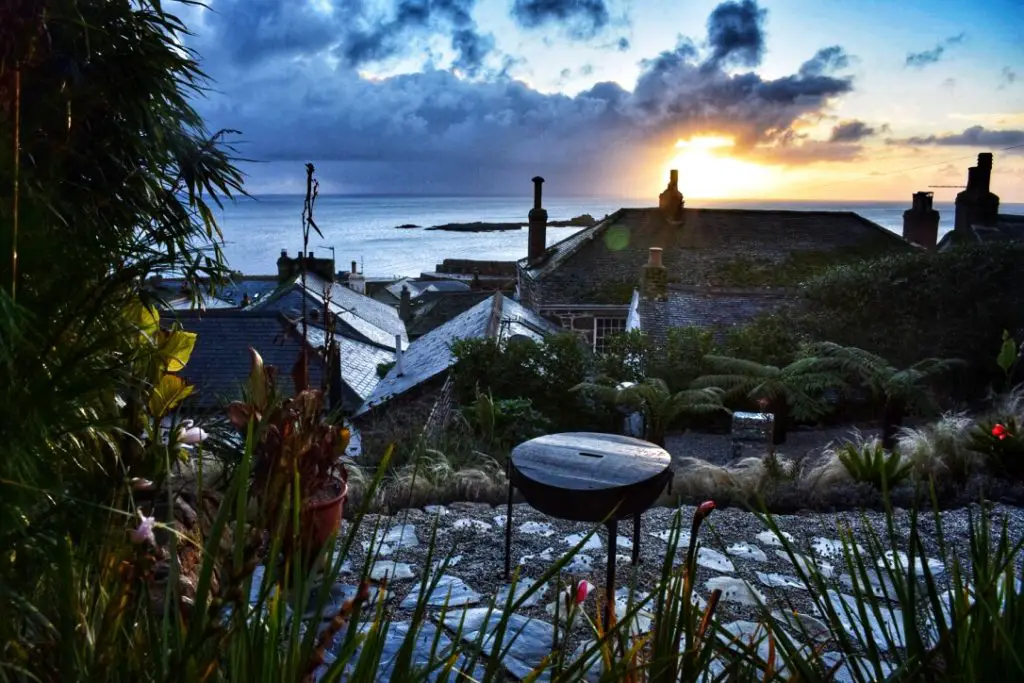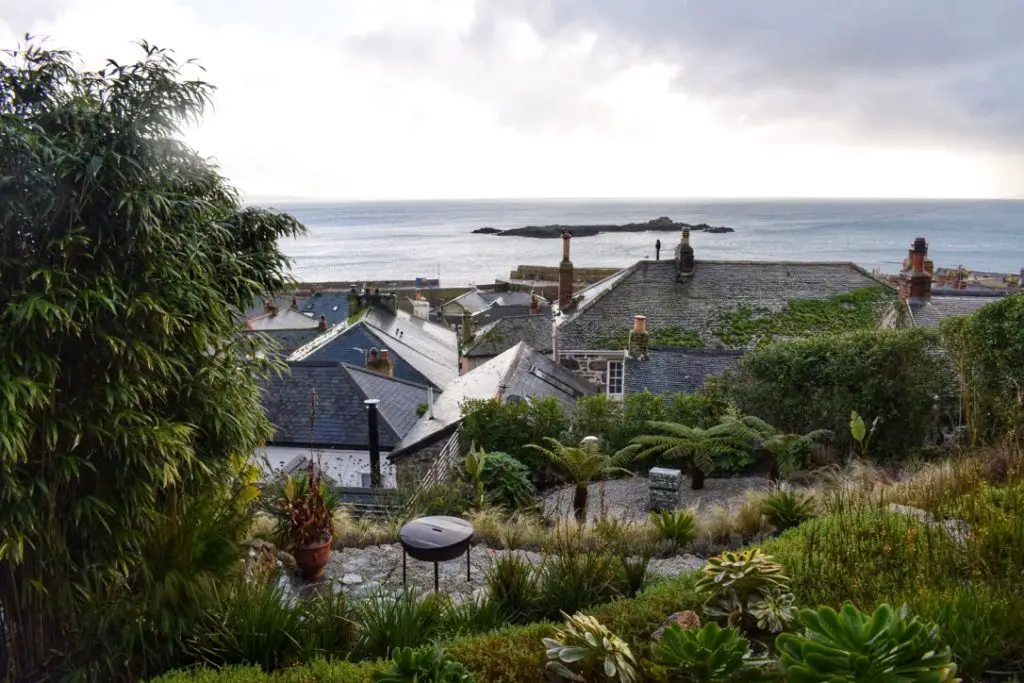 The little things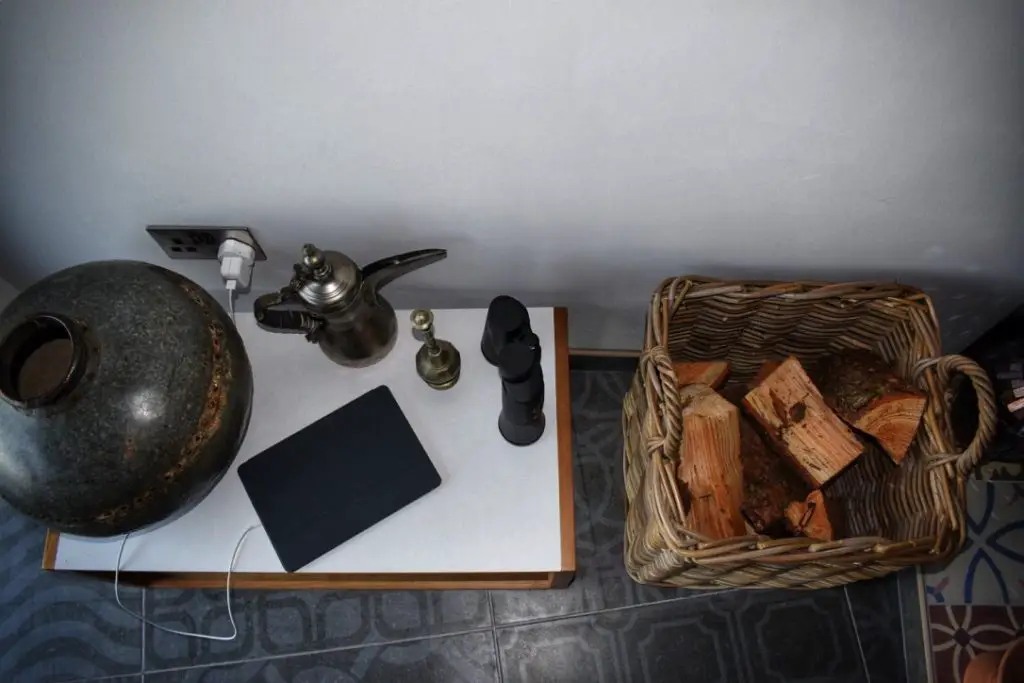 It's the little things that make staying in a place like this so special. For starters there are strategically placed mirrors, for example outside the kitchen window, that ensures that you can see the ocean even when your back is turned. Or the log burner all set up and ready for you to strike a match and get cosy. Our fellow travel lovers will also love the feel of the place that is designed with trinkets from all over the world.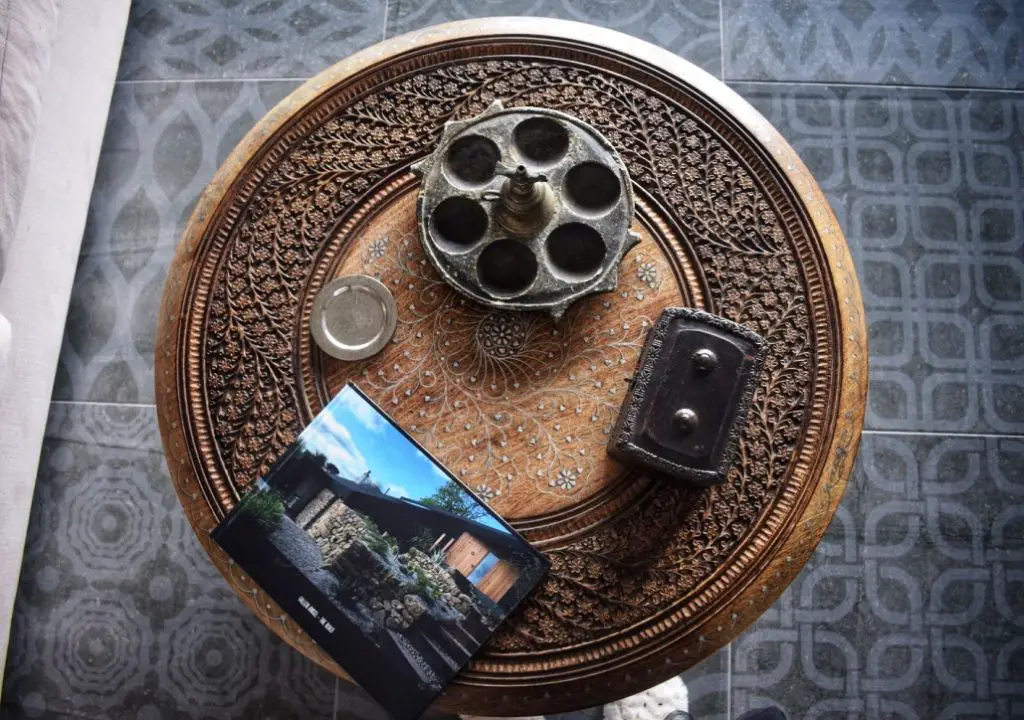 Exploring Mousehole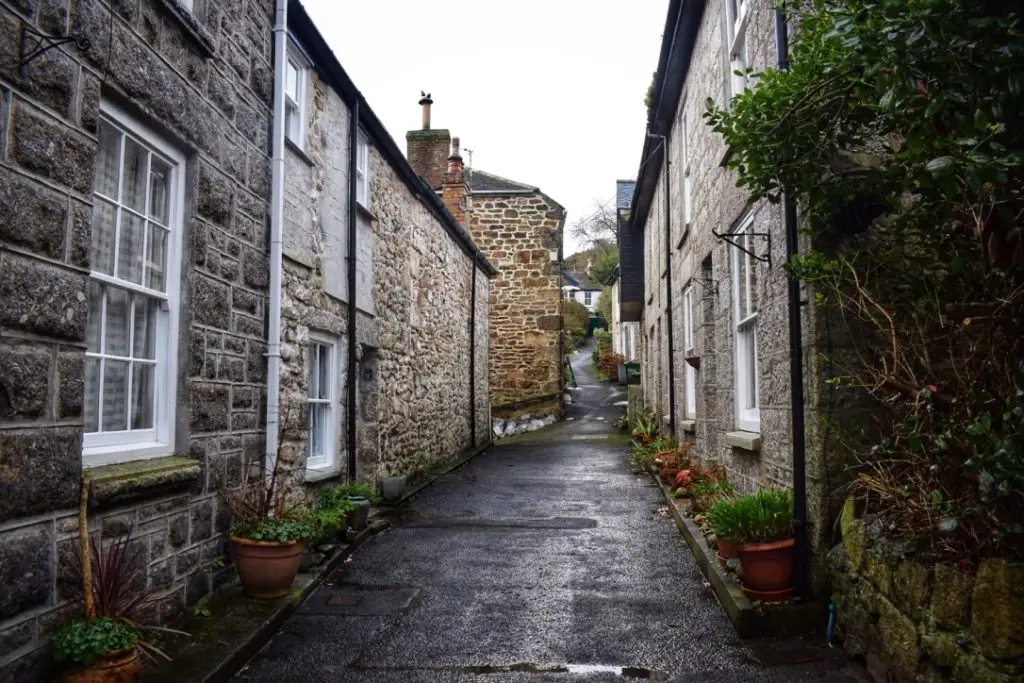 For us Mousehole was the ideal backdrop for our romantic weekend. There are some lovely places to eat and drink such as the Ship Inn, a local pub with a seaside view. The atmosphere was so friendly and so welcoming that we ended up eating here both nights. Mousehole is also a lovely place just to walk around and explore. The best thing is it is not touristy at all, which totally adds to the weekend escape vibe.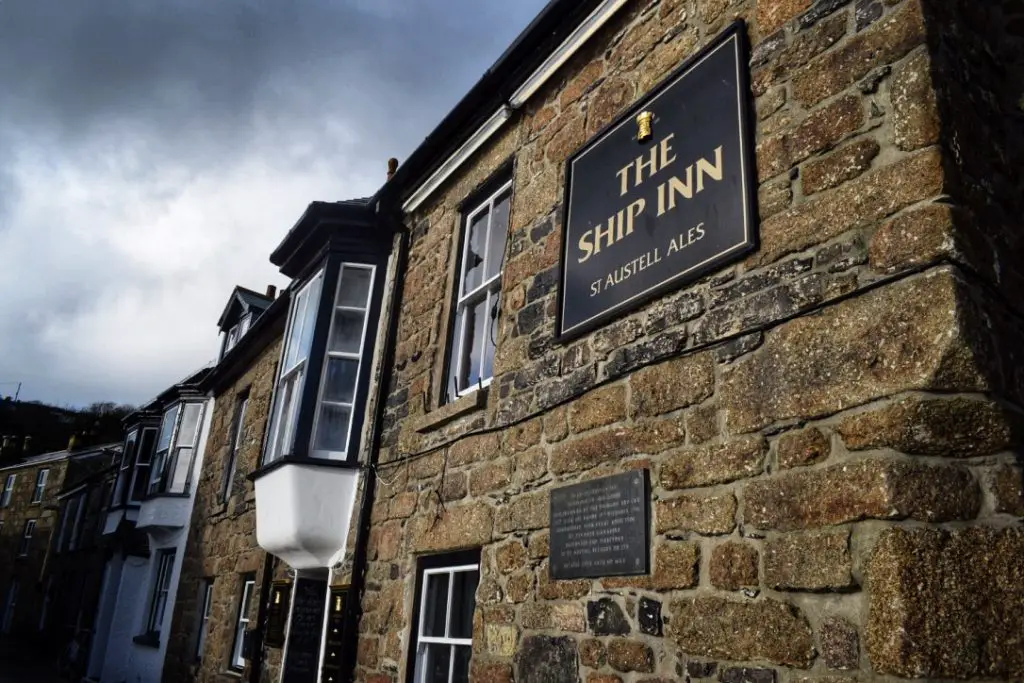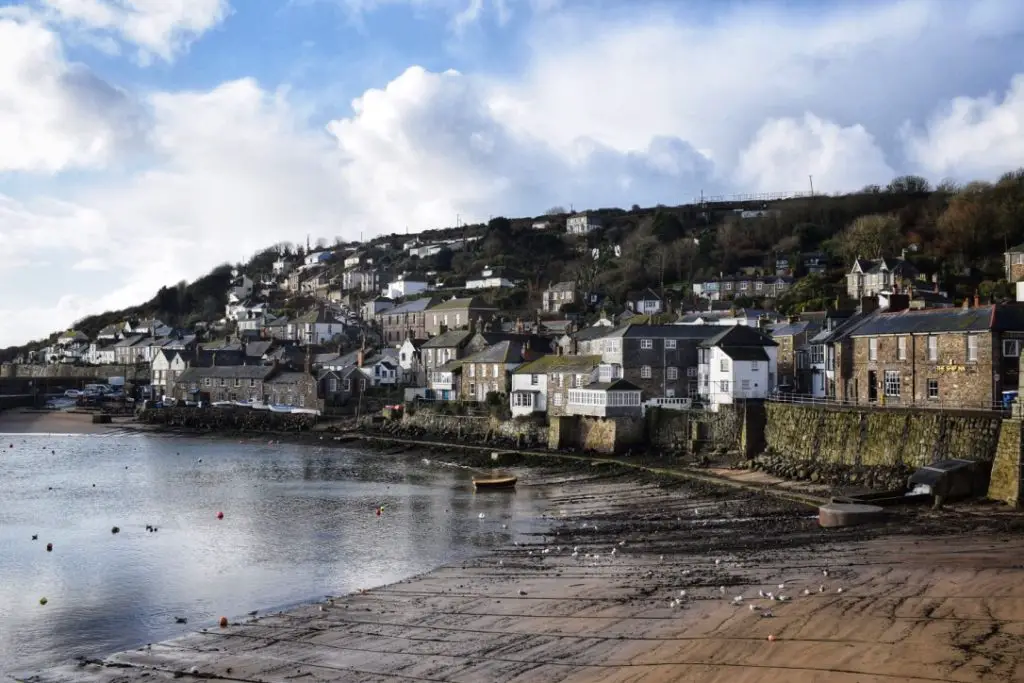 Final thoughts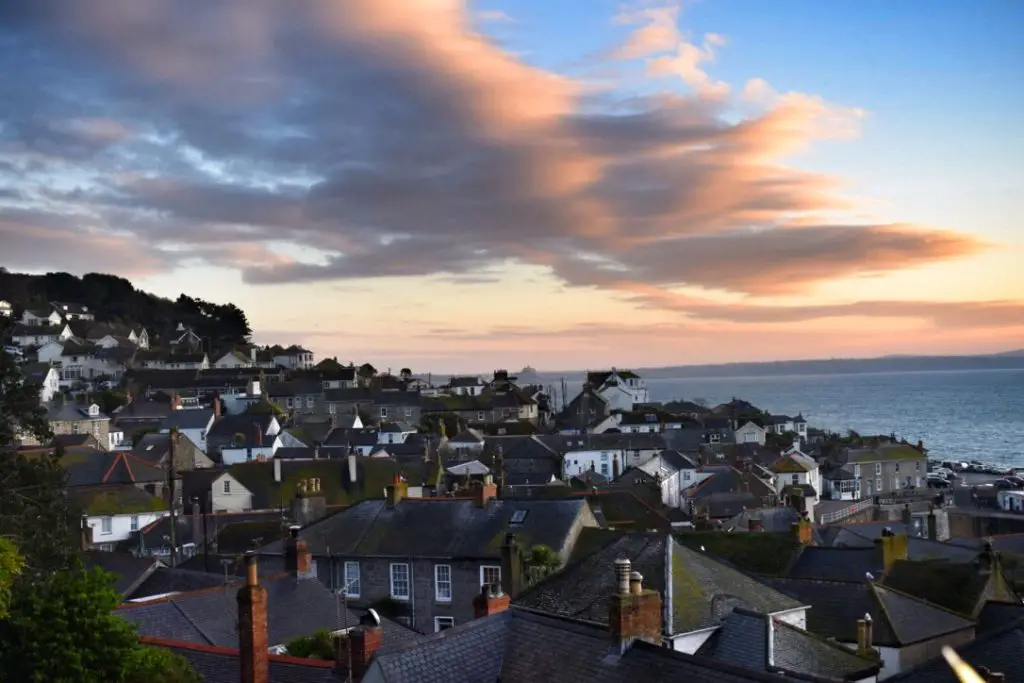 Fallen Angel Cornwall review and recap
Our time at Fallen Angel, while short, was also very sweet. As we walked through the back streets of Mousehole for the last time, luggage in hand, we felt a real sadness. The weekend was over and soon another couple would be star gazing with cups of tea or sitting in front of the log burner, chatting merrily with glasses of wine. I guess the good thing though, is that Fallen Angel is one of those places that is hard to forget. At least we know there is a little cabin in Cornwall we can go to escape the world.
If you are looking for more things to do during your time in Cornwall we have put a 3 day guide together to help you plan.
For all the information you need on how to book your stay, pricing, and availability head over to the Fallen Angel website.
Disclaimer
Mark and Jane were kind enough to allow us a complimentary stay, but as always the opinions in this piece are our own.