One of the best road trips to do in Ireland has to be the Wild Atlantic Way. It is an absolutely incredible coastal drive that spans 2,500 km across the west coast of Ireland. In this guide we have come up with a 5 day Wild Atlantic Way itinerary to help you plan your own trip. We cover some of the more popular tourist attractions as well as showing you some hidden gems along way. So here is our Wild Atlantic Way route planner.
Wild Atlantic Way itinerary and background
If you are starting in the south of Ireland, the Wild Atlantic Way officially begins in Kinsale in County Cork. It then snakes its way up the west coast of Ireland finishing in the Inishowen Peninsula in County Donegal. There are so many places to see and explore in between, and if you are planning to do the Wild Atlantic Way in 5 days you are unfortunately going to have to cut out quite a few stops. Still you will be able to see a lot of the highlights and some hidden gems along the Wild Atlantic Way.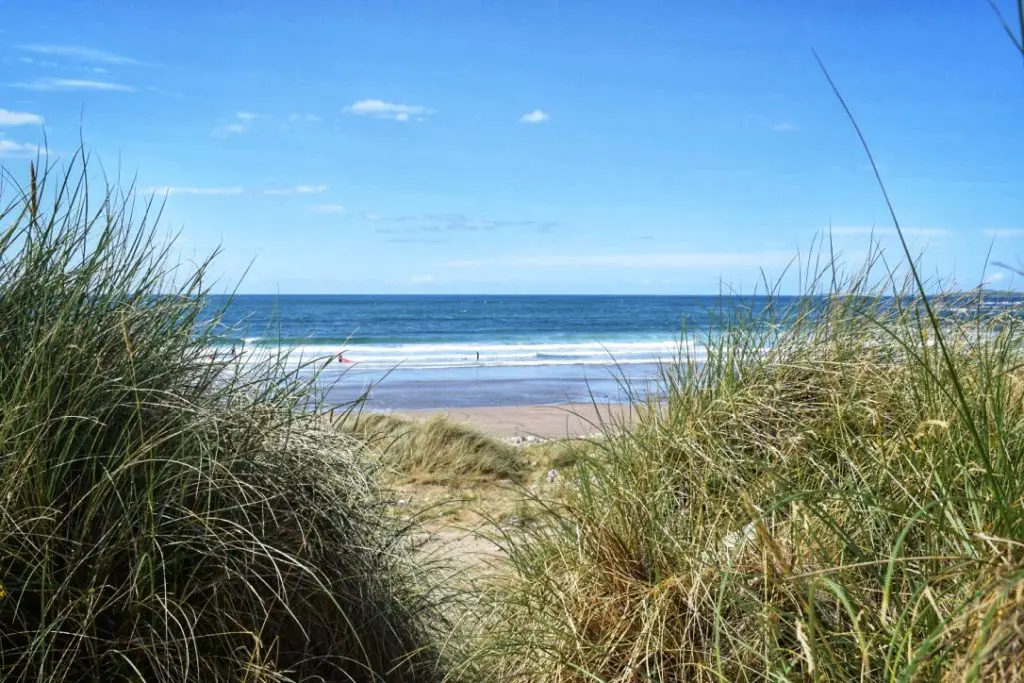 Wild Atlantic Way route planner – tips
The easiest way to come up with your Wild Atlantic Way itinerary is to break it up into sections. The official Wild Atlantic Way website breaks the route up into 6 key sections. Including the Haven Coast, Southern Peninsulas, The Cliff Coast, The Bay Coast, The Surf Coast, and finally the Northern Headlands. In this guide we make our way through each of the sections with the exception of the Northern Headlands. Because we wanted to do the Wild Atlantic Way in 5 days we had to leave a little bit out and unfortunately for us this meant the Northern part. We have added a section if you are planning to visit Donegal though, and if you do have extra time.
Why visit the Wild Atlantic Way
When planning a trip to Ireland you might be wondering why you should visit the Wild Atlantic Way, when there are so many incredible sights to see. We highly recommend it because it really is one of the nicest drives in Ireland. You also get to experience Irish hospitality at its finest as well as a chance to immerse yourself in Irish culture. Along the Wild Atlantic Way you can explore parts of Ireland that inspired poets and artists. On top of that, there's coastal walks, rugged cliffs, and due to its proximity to the ocean some incredible culinary seafood delights.
Wild Atlantic Way guide to getting here
So when doing the Wild Atlantic Way in 5 days, it is important to know where the main airports are. That is assuming that you are flying in from Europe to start your trip. If you are flying in from further afield you do have fewer airport options, but we will go through that below.
Cork Airport
The majority of flights that fly into Cork are European carriers, but even so it is one of the busiest airports in the Republic of Ireland, after Dublin and Shannon. If you are starting your Wild Atlantic way itinerary in the South then Cork airport is perfect and is around a 20 minute drive to Kinsale which is the start of the route. If you are hoping to follow our Wild Atlantic Way route planner, this is a good airport to fly into.
Knock Airport
Knock airport is pretty small, however they have regular flights from the UK and some European destinations. Knock is relatively close to County Sligo which was our last stop during our 5 day Wild Atlantic Way tour. It takes about 45 minutes to get from Sligo town to the airport, although if you get stuck behind a tractor (and yes this has happened to us) it can take quite a bit longer. Again if you are following our Wild Atlantic Way route planner this is another good airport to fly into or fly out of.
Dublin Airport
A lot of International travellers will come in through Dublin Airport. It also has a lot of European flights from destinations that don't fly into Knock or Cork. To get to the Wild Atlantic Way from Dublin you will need to drive a bit of a distance. But luckily we do have an Ireland road trip guide that will give you suggestions for things to see along the way if you have the time. Dublin to County Sligo is just under a 3 hour drive, whilst Dublin to Kinsale is nearly 4 hours depending on traffic. If you choose to go this route, we highly recommend stopping in Cork. Here is a handy guide to doing a road trip around Cork.
Shannon Airport
If you are flying in from the US in particular, then Shannon Airport is a good option. Shannon Airport is in the middle of our Wild Atlantic Way guide. It is about a 3 hour drive from here to Bantry which is one of our recommended starting points if you are doing the Wild Atlantic Way in 5 days. And it is about 2.5 hours to get to County Sligo.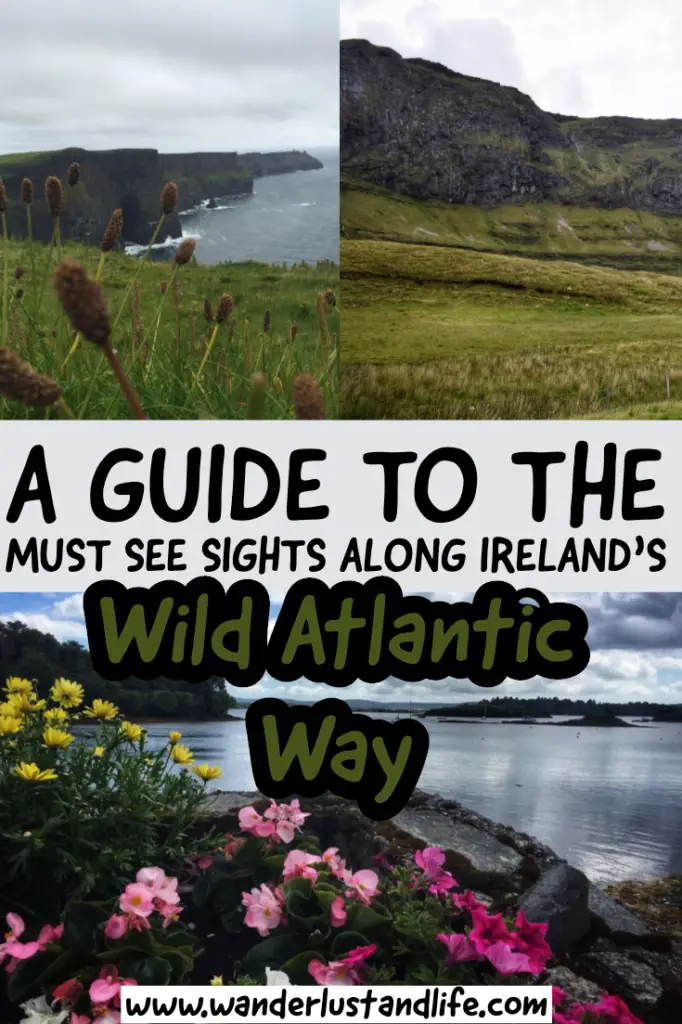 Wild Atlantic Way Route Planner – where to start
When coming up with your Wild Atlantic Way route you are probably wondering where to start. Because the Wild Atlantic Way is linear you will want to pick a starting point at either end to avoid doubling up on yourself. Your starting point will probably be based on your closest airport. So if you are flying into Knock for example you should probably start around Sligo or Donegal. To do the Wild Atlantic Way route in detail you will want to rent a car. This allows you to go at your own pace and to pick and choose the sites you want to see.
Wild Atlantic Way Itinerary -car rental tips
If you are driving the Wild Atlantic Way you will of course need a car. Cars can be rented from all the airports mentioned on the list above. Here are some tips for renting a car and driving around Ireland.
☘ The majority of cars in Ireland are manual (or stick as it is referred to in the US), so if you want an automatic you should book this in advance.
☘Get full insurance, because you never know, anything could happen.
☘ If you are driving in both Northern Ireland and the Republic then keep in mind that Northern Ireland uses miles and the Republic uses kilometres.
☘ Know what kind of petrol your car takes. It is usually either Diesel or Unleaded. Put the wrong one in and you will have major issues.
☘ If you are planning on returning your car at a different location to where you picked it up, then there will be a fee for doing so. It is not so bad if you are renting a car for a long period of time, but more noticeable if you only have the car for a few days.
☘When choosing a car in Ireland, bigger isn't always better. Some of the roads can be incredibly narrow and having a smaller car is a lot better for this.
☘ If you get stuck behind a tractor, only overtake if it is safe to do so. It is pretty standard to have to drive slowly when there is a tractor in front of you. The reason I mention this as a point is because I had never been stuck behind a tractor in my life before driving in Ireland so it was a novelty and a nuisance all at once.
☘ If you are following Google Maps it will often give you what it perceives as the quickest route. This might include back roads and narrow lanes. Sometimes it is better to ignore the map and get onto a main road instead if it is nearby. That being said the back roads are some of the most beautiful parts of Ireland and if you are comfortable driving on these, then go for it.
Wild Atlantic Way in 5 days – what to see
Here is our guide to seeing the Wild Atlantic Way in 5 days and some of the key stops that you have to make along the way.
Bantry
Perhaps it was the promise of fresh fish and chips, or the idea of heading to a sleepy little fishing town that cemented our decision to start our Wild Atlantic Way itinerary in Bantry. It used to be a major fishing centre, but these days its the beautiful coastal scenery that draws people in.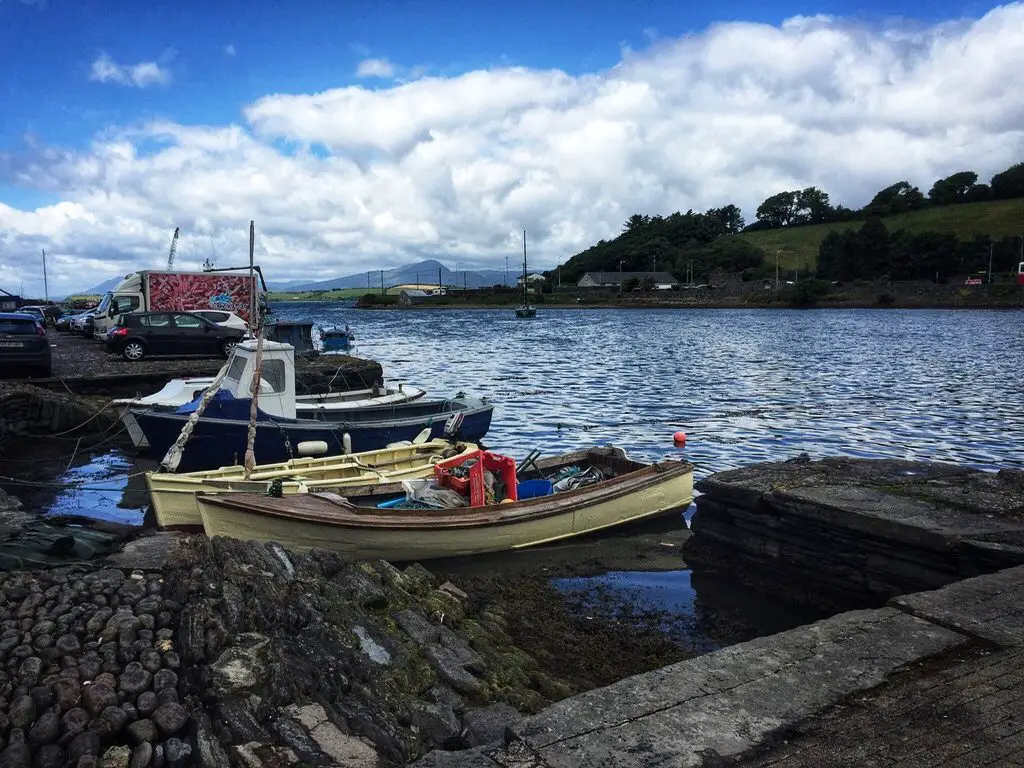 Bantry is a perfect introduction to the Wild Atlantic Way. Its a great place to go for a brisk walk, eat fresh seafood, and go sailing or kayaking. There is a great fish and chip shop just by the car park of the harbour, although don't be a fool like I was and take Instagram photos of your food with the water in the background. Let's just say I had a lot of seagull friends.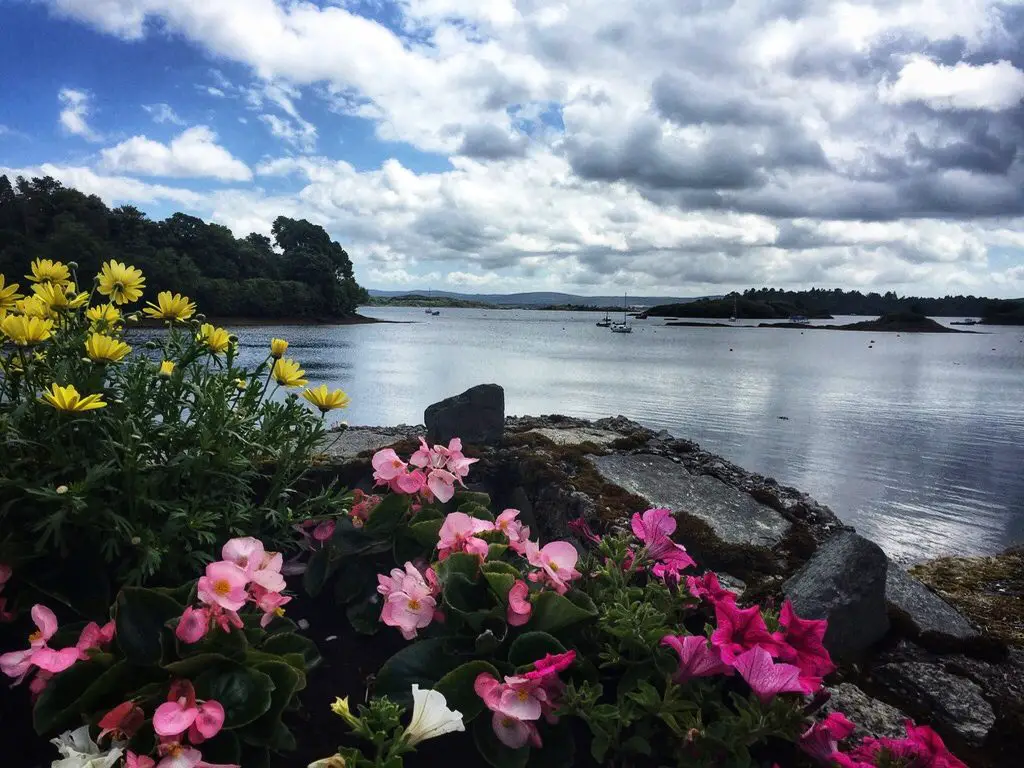 Ring Of Kerry – Kenmare
Kenmare was the town that began our journey through the Ring of Kerry. The Wild Atlantic way does pass through much of the same route as the Ring of Kerry but if you do the full ring you will divert from the coast and pass by Killarney National Park. If you did want to do the full drive have a look at our Ring of Kerry route planner. Kenmare is a picturesque small town and for us one of the hidden gems along the Wild Atlantic Way. If you do have the chance to explore this quaint place then do avail of it. It is also around here you'll encounter a lot of winding roads, and you will discover tunnels built in through the mountainside.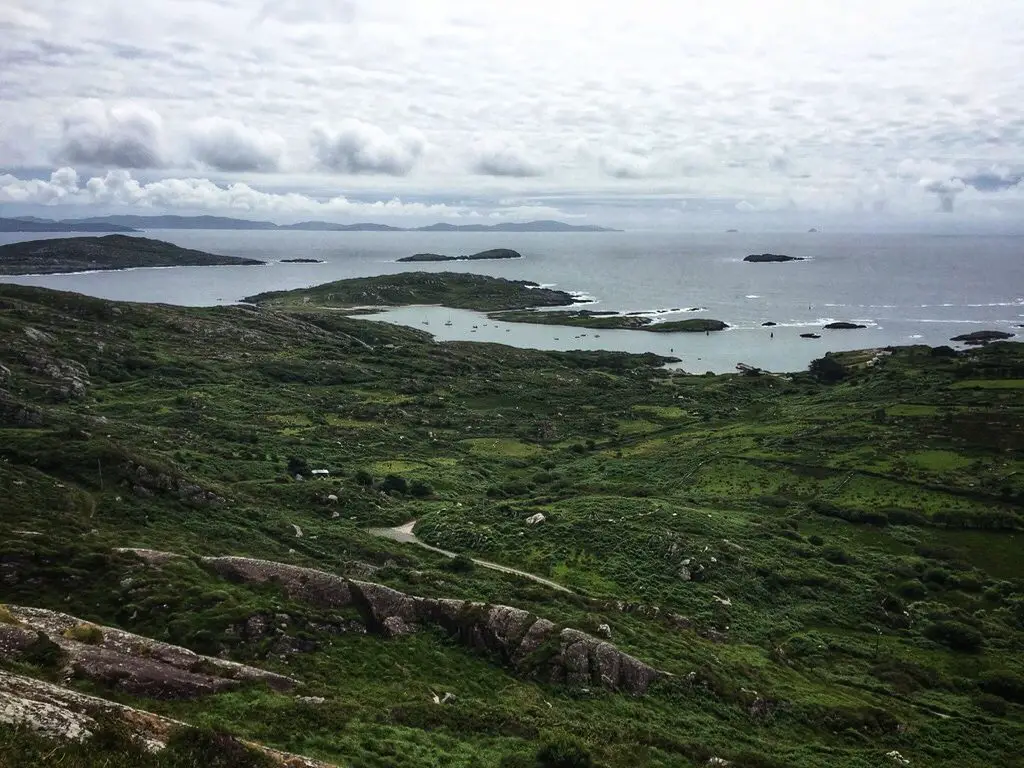 Ring of Kerry – Caherdaniel
Whilst you are driving the Ring of Kerry, do make sure you stop in Caherdaniel. The water is so blue that you almost feel like you are in the Mediterranean as opposed to the coast of Ireland. Mind you the weather will certainly help remind you. We ended up stopping at a pub here for some snacks. It is a great place to stretch your legs and walk around the beach, and we recommend doing so.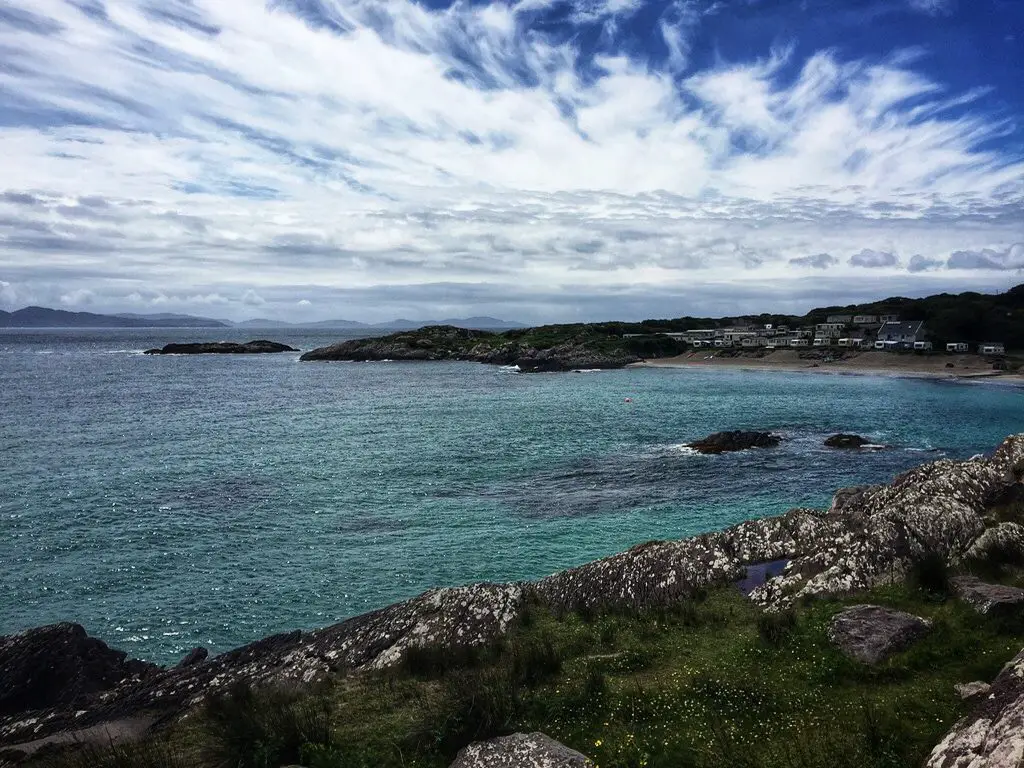 The Ring of Kerry is truly an insight into the Ireland that your guidebooks gush about. The greenery mixed with the blue of the Atlantic Ocean as it crashes against the shoreline is just incredible. It really does remind you why Ireland is one of the most beautiful places in the world.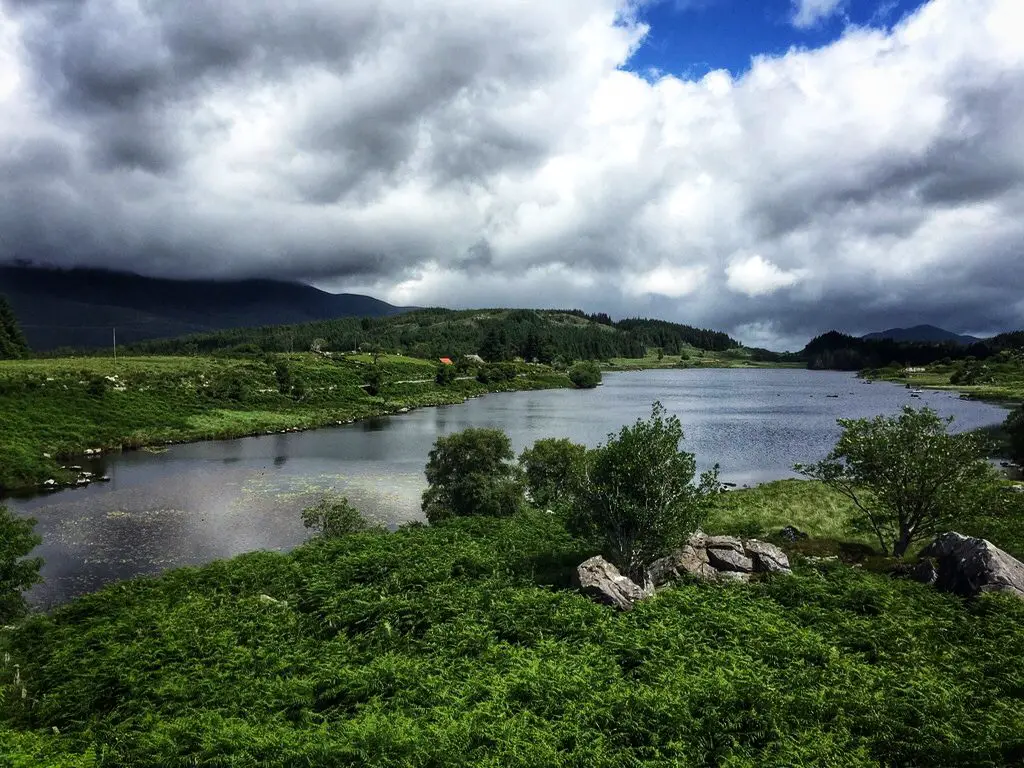 If you have the time, we do recommend taking a detour through Killarney National Park. It will involve a lot more driving but there are some really incredible spots in the park that are worth visiting. Highlights include the Torc Waterfall, and Ladies Gap.
Cliffs of Moher
For us, no Wild Atlantic Way itinerary is complete without scheduling a stop at the Cliffs of Moher. The cliffs are around 203 metres above the Atlantic Ocean and they are just incredible. As you look down at the waves crashing at their base, it really does make you realise just how incredible nature is.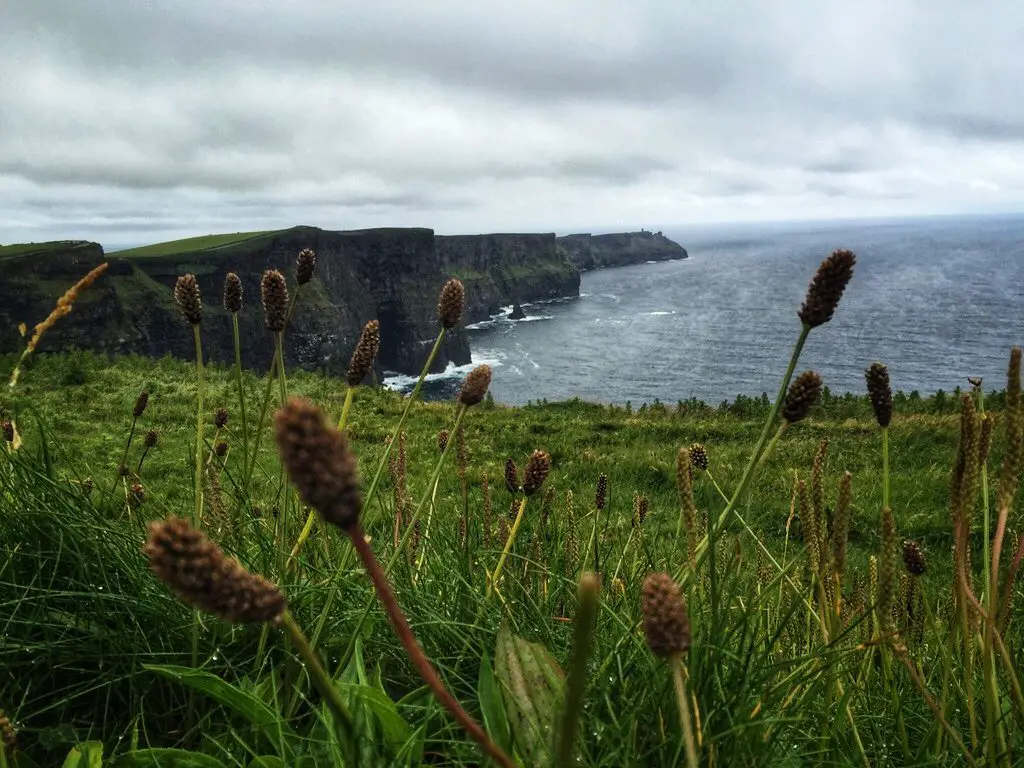 There are some really awe inspiring walks you can take around here, or if the weather really isn't on your side like it was for us, you can explore the visitor centre.
Whilst walking around you will also come across O'Brien's tower. The tower was built in 1835 to serve as an observation point for tourists visiting the cliffs. If you have the time, for a few extra Euros it is worth the entry.
When visiting, we highly recommend packing some decent walking shoes. An umbrella or raincoat wouldn't go astray either, as the weather can be quite unpredictable. We recommend getting there really early or later in the afternoon once the tourist buses have gone. In the middle of the day it gets so busy so just keep that in mind.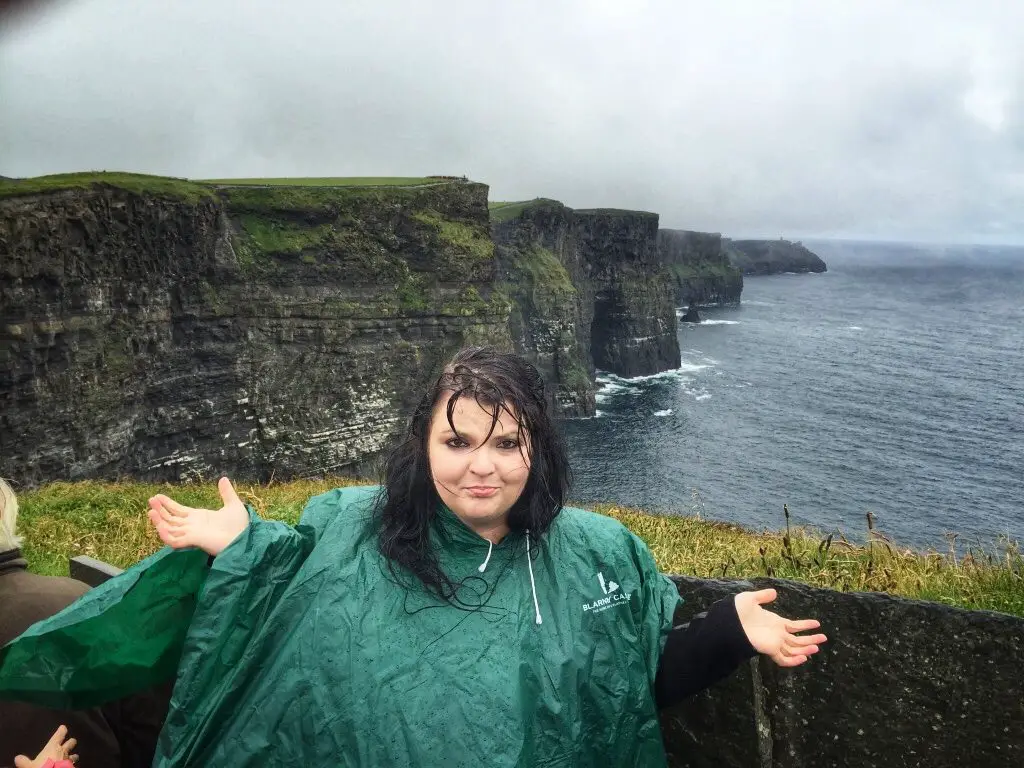 As you leave the Cliffs of Moher, one of the more hidden gems in County Clare has to be the Burren. If you have time, we recommend taking a drive through here. The landscape is rather unique for Ireland, and is made up of limestone. It is a far cry from the green pastures you would have passed elsewhere on the trip.
Galway
We love Galway for a number of reasons. For starters due to its location along the west coast of Ireland the food is absolutely incredible. I don't think we ate as much seafood anywhere else in Ireland. One of our favourite places has to be McDonagh's, a chipper and seafood restaurant that has been going since 1902. There is a lot to see and do in Galway including several markets you can visit, as well as exploring Galway Cathedral.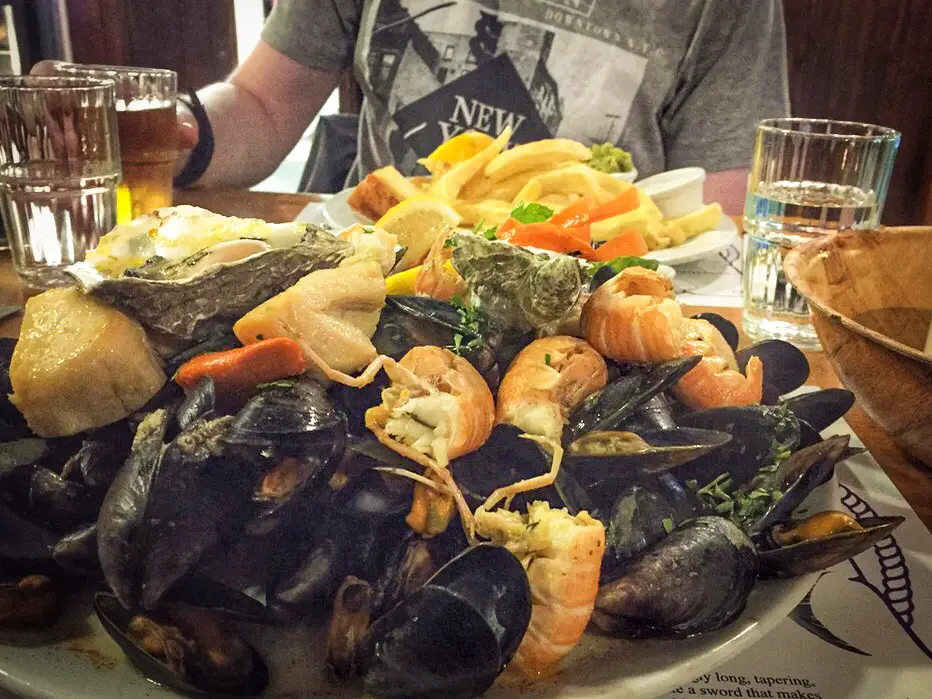 The real charm of Galway though, at least in our opinion is at night. The Latin Quarter comes alive with buskers, and boisterous pub goers. If you pop into one of the pubs and there is a 'trad' band playing then you are in for a enjoyable evening. Everyone is so welcoming and it will certainly be a memorable experience (although that is of course depending on how much you have to drink).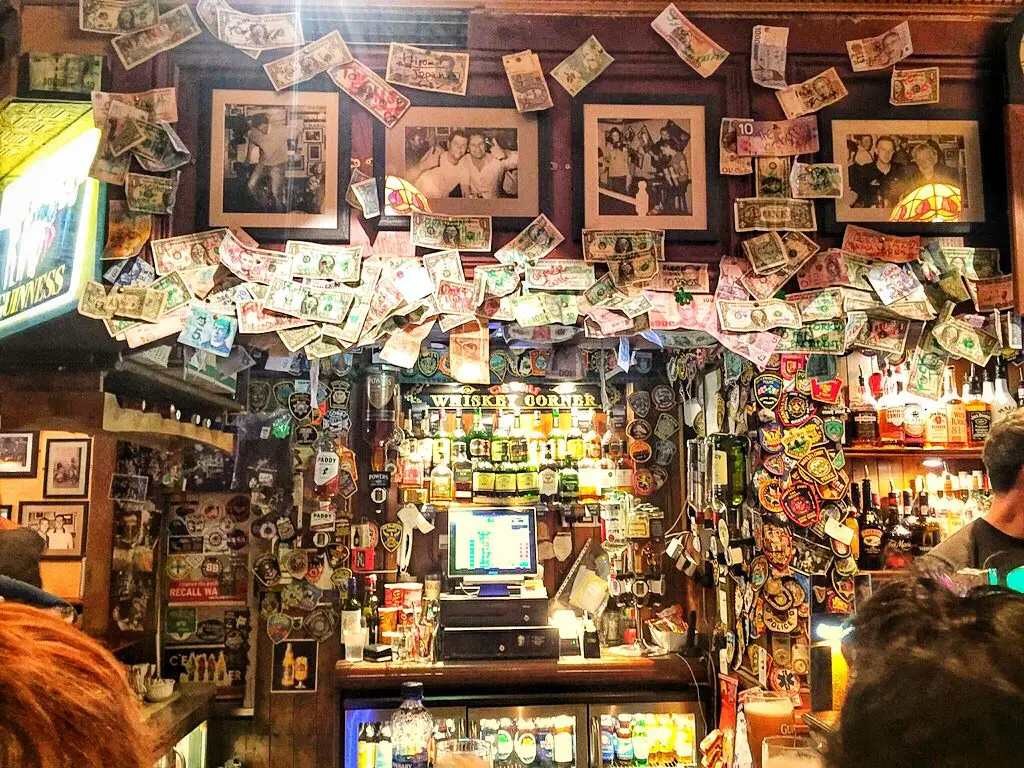 Another great thing about Galway is that it is a harbour city, and you are never far from the sea. Galway has some beautiful beaches that you can explore such as the one we discovered in Salthill.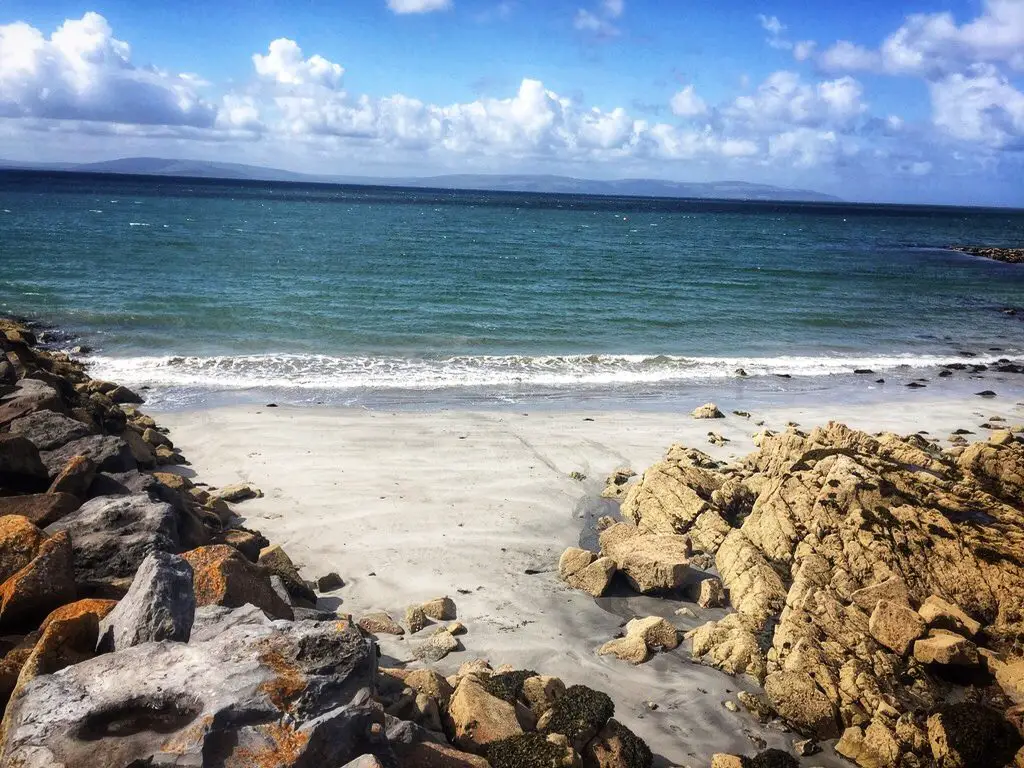 Aran Islands
It would be a mistake to plan to see the Wild Atlantic way in 5 days and not visit the Aran Islands. For us they are one of the hidden gems along the Wild Atlantic Way, particularly the smaller islands like Inis Oirr and Inis Meain. But the easiest island to get to from Galway is the biggest, Inis Mór. You can get a bus out of Galway Centre, to the ferry port in Rossaveal. Here you will board a boat and in around 45 minutes you will arrive in Inis Mór.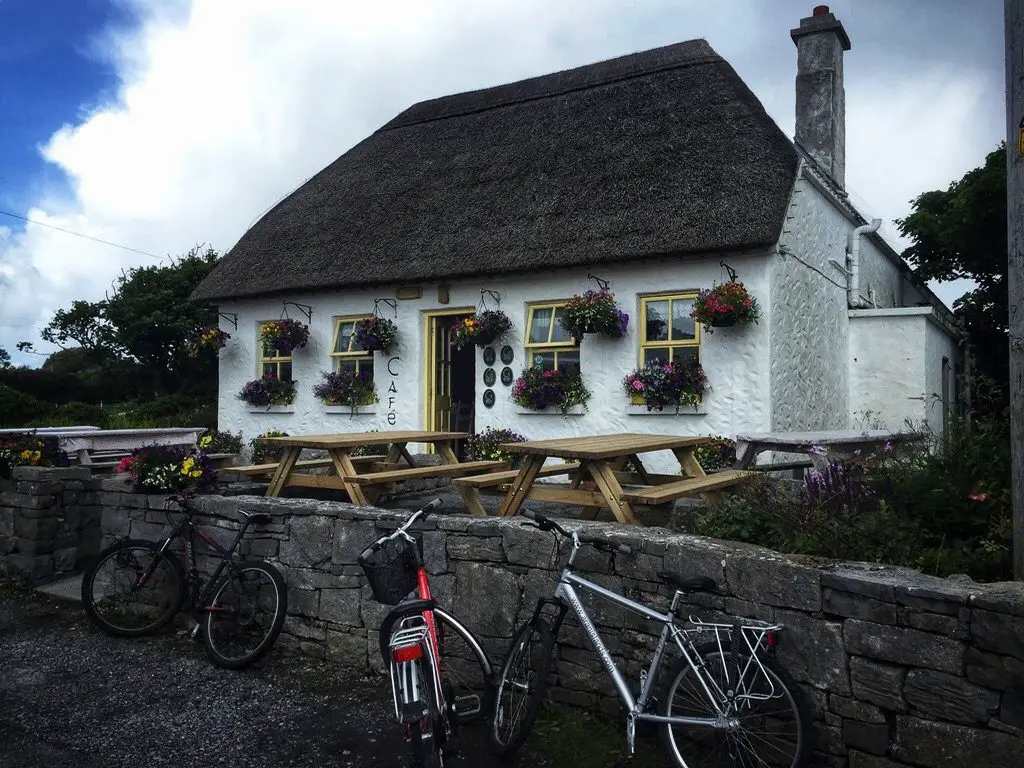 The boat ride over can be a little rough, and admittedly it was the point on our trip when we began to understand why it is called the WILD Atlantic Way. It actually got so rocky on our trip over that I actually said a silent prayer to let it end soon. Dave on the other hand lost all colour in his face and was probably only moments away from getting sick. Thankfully we made it and we were rewarded with the opportunity to explore Inis Mór. We have been told that it is not always like that and a lot of the time the sail over is pretty smooth. I guess we just picked a bad day.
The must see on the island is Dun Aenghus, a prehistoric fort that lies on the edge of a 100 metre high cliff. In some ways this was even more spectacular than the Cliffs of Moher. The views are spectacular and it is far less touristy then the Cliffs of Moher. It is so raw and beautiful and also scary because there is nothing stopping you from just falling over the edge. So do beware!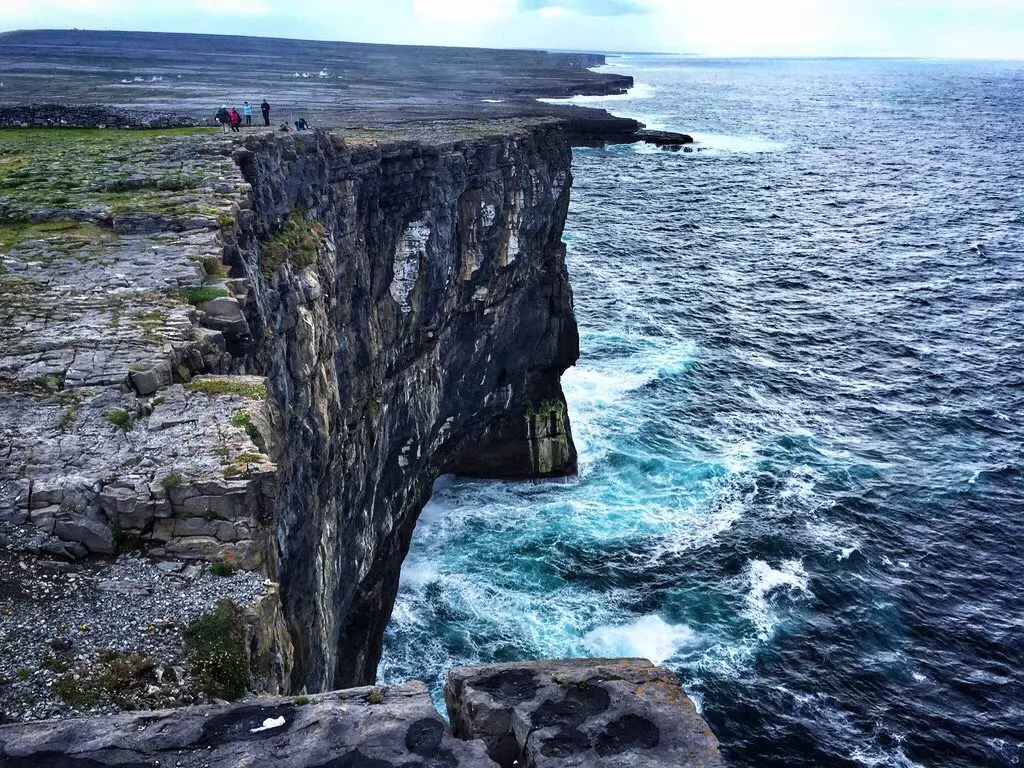 If you are looking for a guide with further information on how to get from Galway to the Aran Islands as well as things to do when you get there then checkout our post. We ended up going on a bus tour of the Islands which was great for us because we saw all the main attractions and got to hear the stories of the island. A lot of people choose to cycle around though, which we were tempted to do but it was pretty rainy so the bus option was more favourable.
Sligo
Sligo is by far one of the best hidden gems along the Wild Atlantic Way route, so if you are looking for somewhere that isn't insanely touristy, then Sligo is a must. We have written an article all about exploring Sligo's Wild Atlantic Way route, so do check it out for some in depth information.
Sligo's beaches are just incredible and without busloads of tourists, at times it can feel like you have the place all to yourself. There are some fantastic walks you can do and some of the Wild Atlantic Way Highlights include:
Standhill – A beach that surfers flock to. There are some great restaurants here as well as some beautiful seaside walks you can partake in.
Rosses Point – If the weather is right this is a great place to go for a swim. In the summer, locals flock here to dip their toes in the water and build sandcastles. There is also a beautiful walk with some incredible views.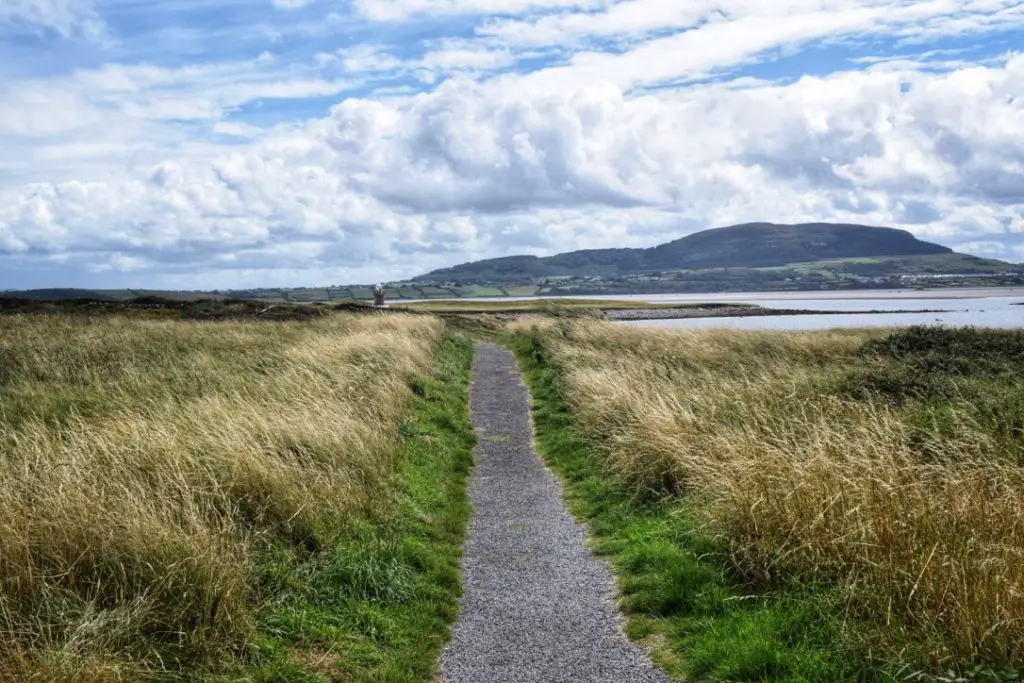 Aughris Head – This is a true hidden gem along the Wild Atlantic Way. Not many people know about it, which makes it perfect if you just want to escape. The views along the cliff walk are stunning, and along the way you will be greeted by fishermen casting their rods into the deep blue water. If you are here in summer then it is absolutely incredible.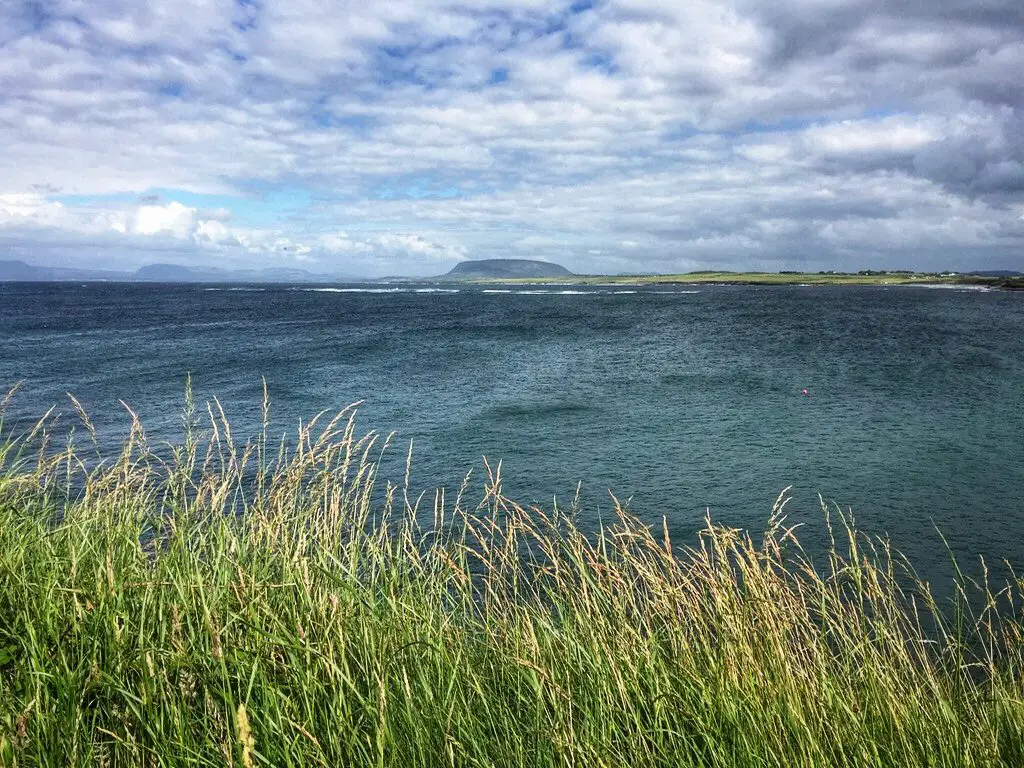 Mullaghmore – A seaside village with some beautiful views and a relaxed atmosphere. One of the best photo spots is by the cliffs with Classiebawn Castle in the background.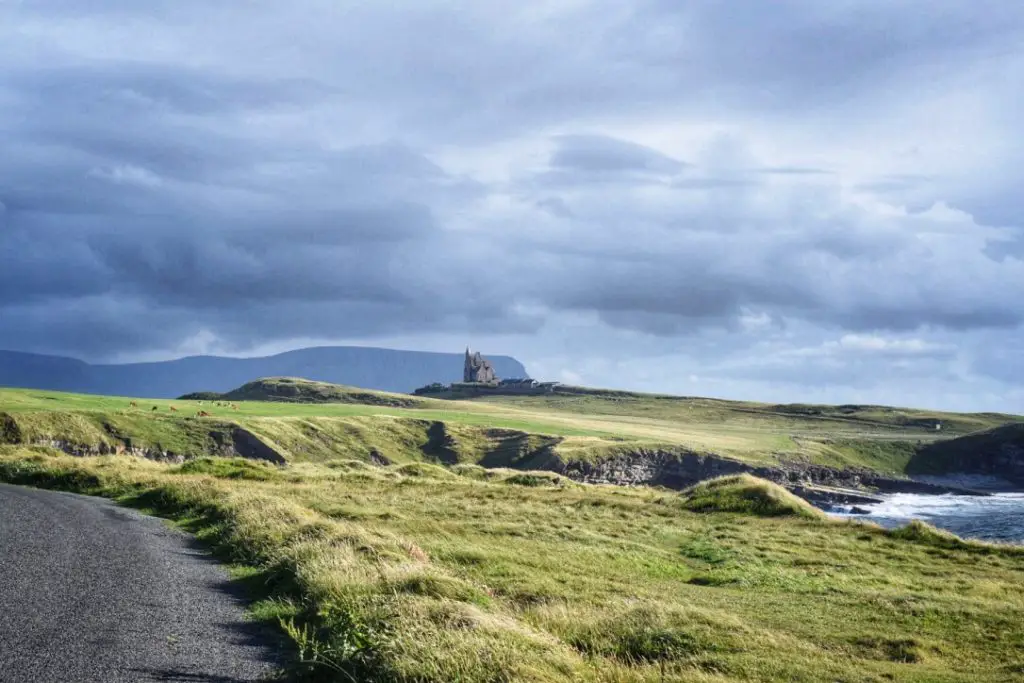 If you deviate from the coastal route near Mullaghmore and head to Gleniff Horseshoe you will not be sorry. Here you will find a six-mile loop of narrow road surrounded by some of the most spectacular mountain views we have ever seen. About 4 or 5 cars drove past us the whole time we were there and we honestly felt we had the whole place to ourselves.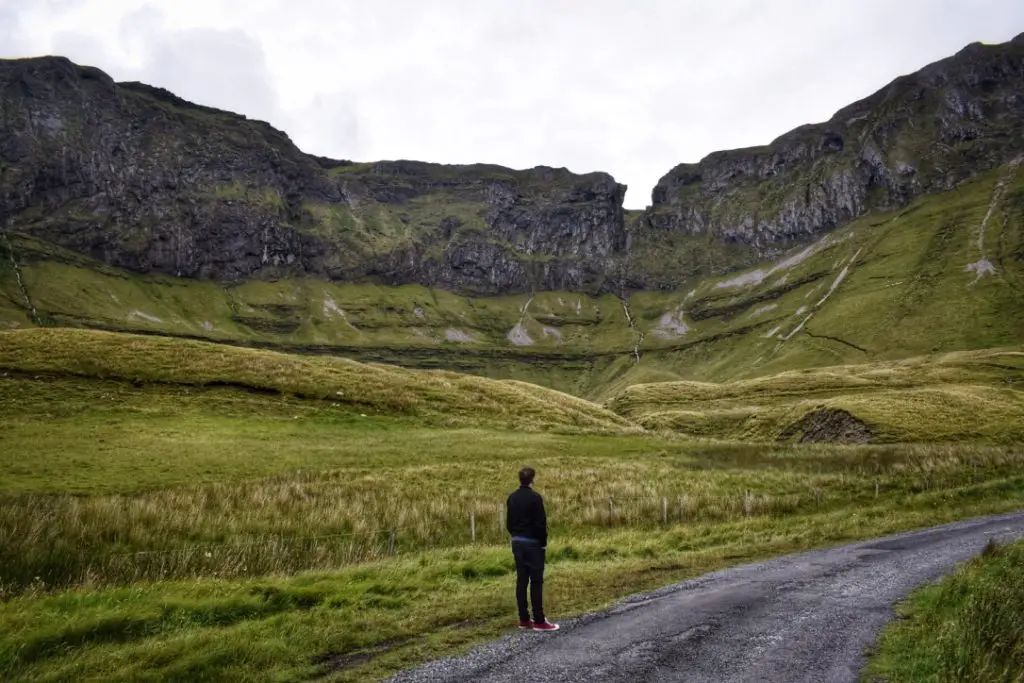 Wild Atlantic Way Itinerary
| | |
| --- | --- |
| Days | Itinerary |
| Day 1 | Bantry – Ring of Kerry (Kenmare & Caherdaniel) |
| Day 2 | Cliffs of Moher & The Burren |
| Day 3 | Galway |
| Day 4 | Aran Islands |
| Day 5 | Sligo |
If you are adding an extra day to your Wild Atlantic Way itinerary we highly recommend visiting Donegal on Day 6.
Wild Atlantic Way Itinerary – Where to sleep
We recommend staying the night along the Ring of Kerry for the first night. If you are willing to deviate from the route slightly there are a lot of good places to stay in Killarney and you can experience the incredible national park.
On days 2, 3, and 4, Galway is a great place to base yourself for the evening. There is a huge choice of accommodation here and the nightlife is also pretty cool.
On the final night, stay in Sligo and get a flight out from Knock Airport the next day. Sligo has a range of accommodation options from larger hotels in town to some beachside B and B's along the Wild Atlantic Way route.
Wild Atlantic Way Route Planner – If you have extra time visit Donegal
If you are able to add one more day to your Wild Atlantic Way itinerary, then it really is worth taking the trip to Donegal. For starters the Slieve League Cliffs are one of the incredible natural wonders you will come across on your Wild Atlantic Way route. They are also one of the highest cliffs in Europe.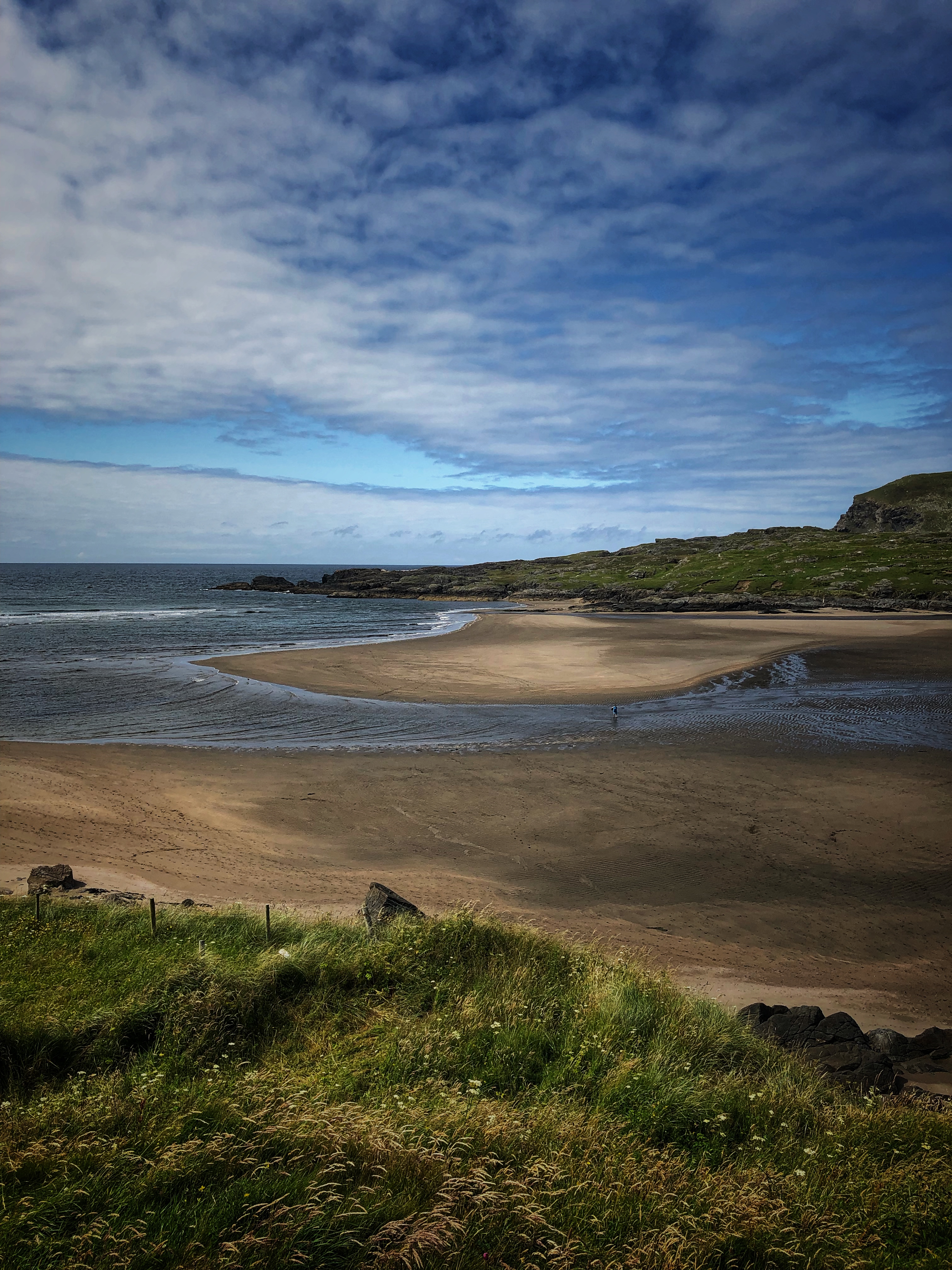 Additionally do check out the Glencolumbkille Folk Village, and the nearby beach.
If you are looking for a good meal and some comfortable accommodation we recommend Harvey's Point in Donegal. It's a great stop off especially if you are making your way to Knock Airport. The hotel is located on Lough Eske which make it the perfect place to end your Wild Atlantic Way itinerary.
Wild Atlantic Way Map
Here is a map for our Wild Atlantic Way itinerary so you can see the distance covered. This is based on the route we took starting in Bantry and ending in Sligo.
Wild Atlantic Way route planner – when to visit
You might be reading this Wild Atlantic Way route planner, and wondering when to visit. Summer is probably the best time to plan your trip. The weather is warm, and it is a great time to drive the coastal roads and enjoy the beaches. That being said August gets quite busy with school holidays so we recommend avoiding this time. Spring is another great time to visit. You won't want to take a dip in the water as it will be a bit cold, but the days are brighter and sunnier on average. You can visit in winter, but keep in mind that the weather is not ideal. You tend to get a lot of rain, and sometimes ice and snow, which is not ideal for driving. It also gets dark earlier so you have limited hours to explore.
Wild Atlantic Way in 5 days – a recap
We hope this guide to seeing the Wild Atlantic Way in 5 days has been useful. It is one of our favourite drives in Ireland and there is so much beauty to discover. If you have longer, you should definitely complete the route up to Donegal as this will allow you to complete the full Wild Atlantic Way route. We also hope you will enjoy Sligo, one of the hidden gems along the Wild Atlantic Way. And the fact that so few tourists know about it makes it all the more special.