This post contains affiliate links, so if you use these links to buy something we may earn a commission, at no cost to you. Thank you for your support.
Stopovers are amazing things. They break up an incredibly long journey and give you time to recuperate. And you cannot beat that feeling of stepping off a 14 hour flight knowing that you can have a short rest and a much needed shower, before falling into a clean and comfortable bed. So when we planned our trip to Australia we broke the trip up by spending 2 days in Dubai. Our time was short, but we did see a lot, and it was great to be able to explore this city that we had heard so much about.
Dubai is one of those places that people either love or hate. One the one hand we have heard that Dubai is expensive, and over rated, but on the flip side, people have said that it's an incredible mix of modern life and ancient Arabian culture. Obviously the only way we would know was to go. Here is our 2 day Dubai itinerary to help you plan your own trip.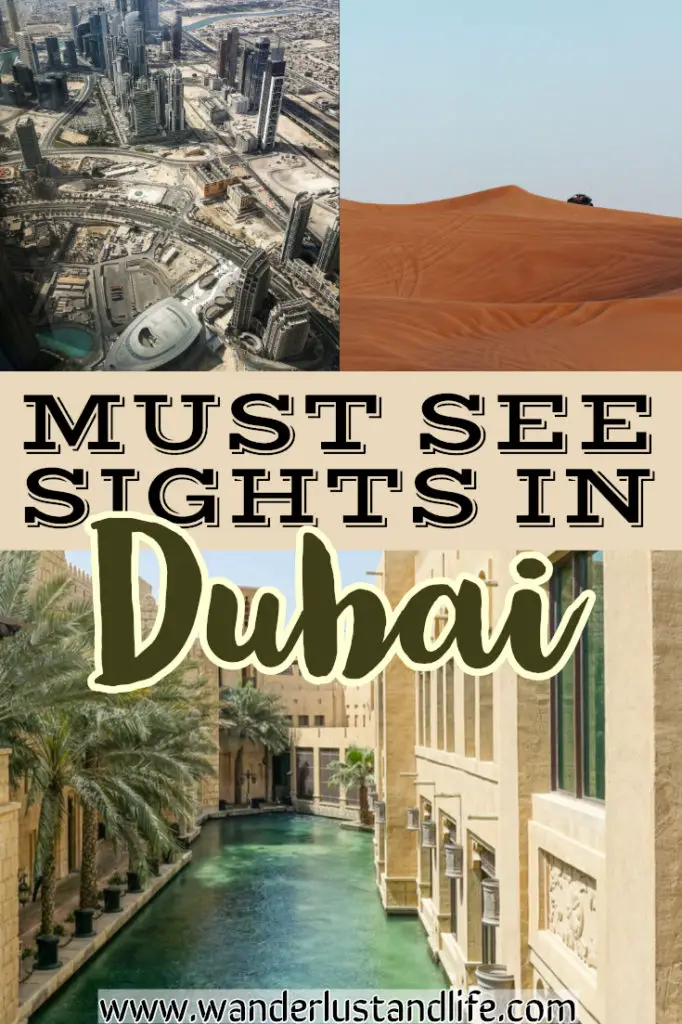 Dubai Factsheet
Country: United Arab Emirates
Languages Spoken: Arabic, although English is widely spoken
Currency: AED or Arab Emirate Dirham
Famous for: Tall buildings, luxury travel, gorgeous desert, and the heat!
Visit if you like: Shopping, great views, hotel resorts
Dubai truly feels like visiting another world. One that is constantly under construction. We once read that due to the fact that Dubai is constantly developing a quarter of the world's cranes are located here. Whether it is true or not, the fact is Dubai is an exciting and ever changing city.
How much money do I need for 2 days in Dubai?
So you might be wondering how much money you need for this 2 day Dubai itinerary. We found Dubai expensive. Although oddly the cheapest thing about our trip was taxi travel. Hotels have been designed to fit a range of budgets from the ultra glamorous Burj Al Arab, which happens to be one of the most expensive hotels in the world, to the more affordable options the city offers. Dubai is known for its luxury so it is easy to get caught up paying a lot of money for things. We ate at restaurants as opposed to going for cheaper meals. A meal for 2 on average set us back around £40 – £50 and that was us trying not to spend a lot.
We would probably recommend budgeting around £150 – £200 a day for spending money on top of your accommodation (US$180- $250). I know that sounds like a lot but when you combine meal costs, tours, and transport it adds up fast. Of course you can do things on the cheap. You don't have to visit every tourist attraction, or spend a lot on food and drink. It all comes down to personal preference.
Weather in Dubai
We visited Dubai in June and we seriously struggled with the heat. In the summer months it can get to around 40 degrees Celsius, although everything is air conditioned so that certainly helps. Peak travel season is from October to April when the weather is a lot milder. On average in winter it usually sits around the mid 20's (Celsius). Keep in mind that a lot of your time in Dubai will probably be spent inside or sat around a pool. Most places in Dubai have air conditioning too, so no need to worry about the heat when you are indoors.
When to plan your 2 days in Dubai
When you only have 2 days in Dubai you need to make sure you visit at the right time. As mentioned above peak travel season in Dubai is October to April. If you visit in the summer you will struggle. We found it really difficult to be outside for long periods of time, unless of course we were sitting in the hotel pool. Another thing to check before visiting Dubai is to avoid visiting during Ramadan. UAE is a Muslim country and Ramadan is a time when Muslims fast during the day. It is probably best to avoid visiting during this time because a lot of places will close.
What to pack for your 2 days in Dubai
Apart from the obvious travel items here is our list of things that you should consider bringing during your 2 days in Dubai.
Light clothes to get you through the heat
Women should consider wearing something light that covers their shoulders
Women should also bring a light head covering e.g a scarf so that you can drape this over your hair if needs be
Men should consider bringing shorts, but also longer trousers when they are away from the beach
Pack at least one nice outfit for going to restaurants
Bring flip flops for the beach and good walking shoes for the rest of your trip
Getting around during your 2 days in Dubai
Before you plan your 2 day Dubai itinerary you will need to know how to get around. The easiest way to get around Dubai is via taxi. It's a lot cheaper than you think, and realistically public transport isn't great especially when you are limited with time. Our hotel had the option for us to book a private car to pick us up from the airport and take us straight there. This was perfect because we didn't have to think much after arriving. We just followed the man holding a card with our names on it. The drive from the airport is incredible and was a nice start to our 2 day Dubai itinerary. We spent most of the time just staring out the window soaking it all in. There is sand everywhere constantly reminding you, you are in a desert but then you have the modern buildings giving Dubai that oasis feel.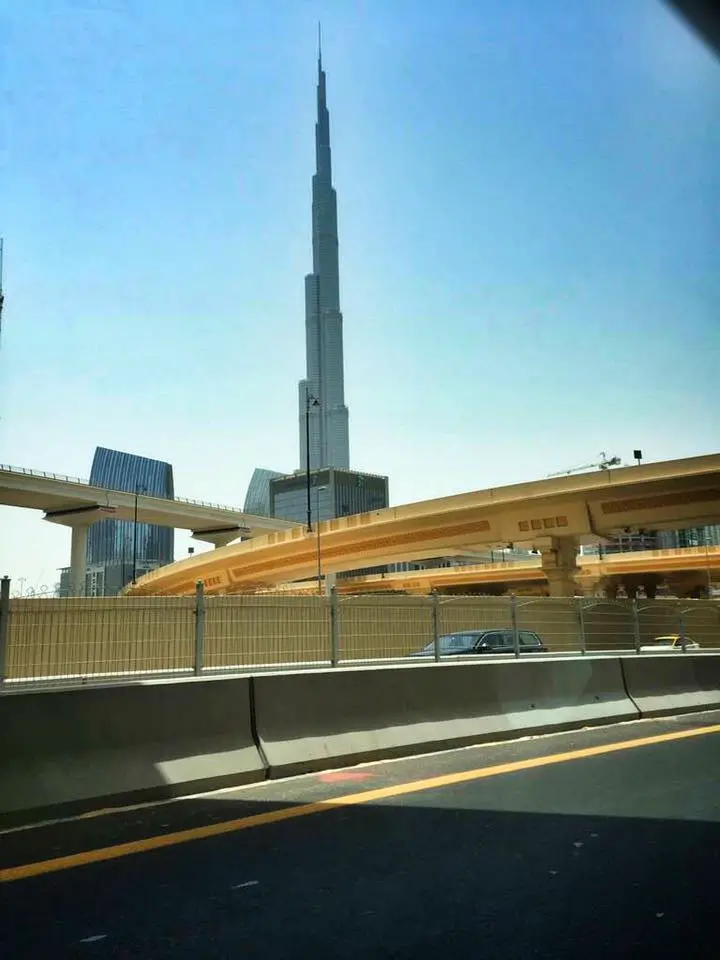 Choosing your hotel for your 2 days in Dubai
If you are only spending 2 days in Dubai you will want to find the perfect hotel. The hotels in Dubai are flashy and luxurious. Ours alone had several pools, numerous restaurants, as well as a Marina view.  You could actually spend days at the hotel just sipping cocktails and floating in one of the many pools. Unfortunately for us time was not a luxury we could afford, however we did spend an afternoon lounging around the hotel. I mean if you are looking for a cure for jet lag what could be better? If you are going to splash out and stay in a resort definitely make sure you give yourself some time to enjoy it.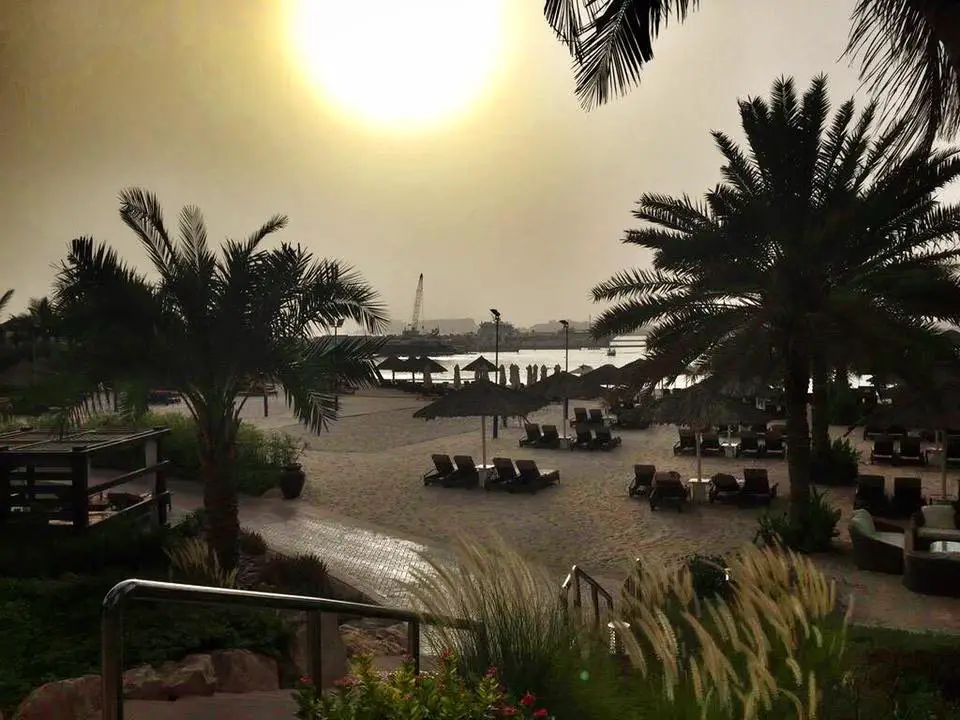 Things to do during your 2 days in Dubai
There is no shortage of things to do during your 2 days in Dubai. Here are some of our top recommendations.
Burj Khalifa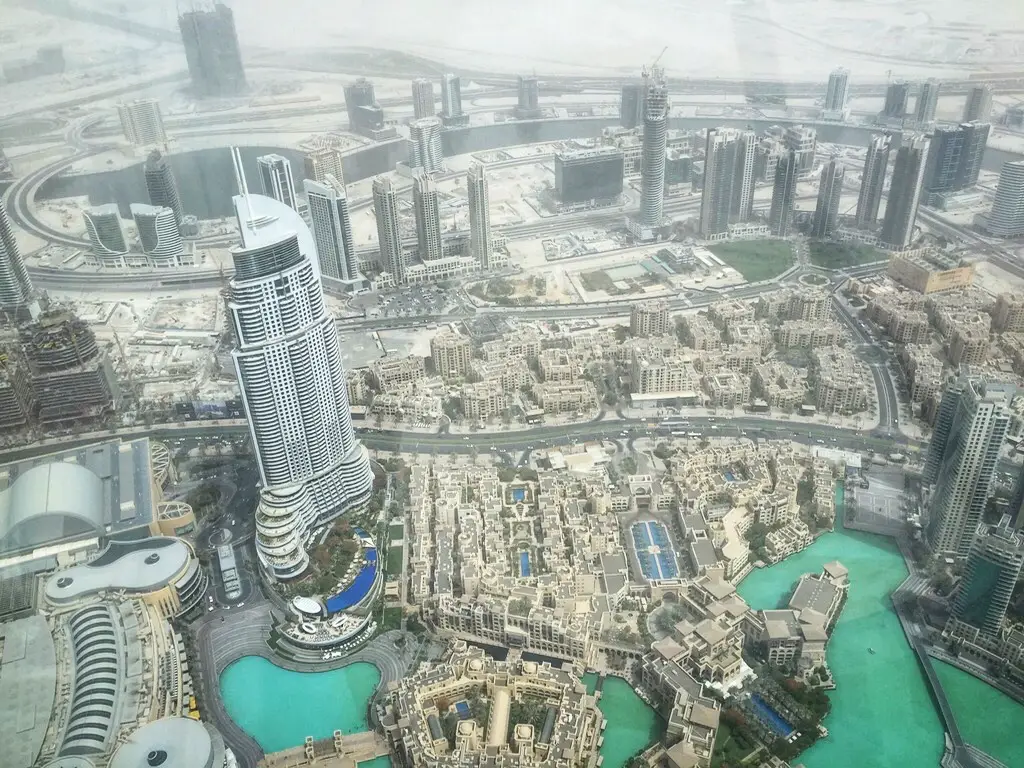 Something that you have to add to your 2 day Dubai itinerary is the Burj Khalifa. The Burj Khalifa is the tallest building in the world at a staggering 828 metres high. It's also the most recognisable building in Dubai. To access the structure, you need to go via the Dubai Mall. You need to pre-purchase a time stamped ticket, so sometimes this means it is not always possible to go up straight away. If you are unable to book online prior and do have to wait then it is not the end of the world because the Mall of Dubai is certainly on the list of things to see in Dubai anyway.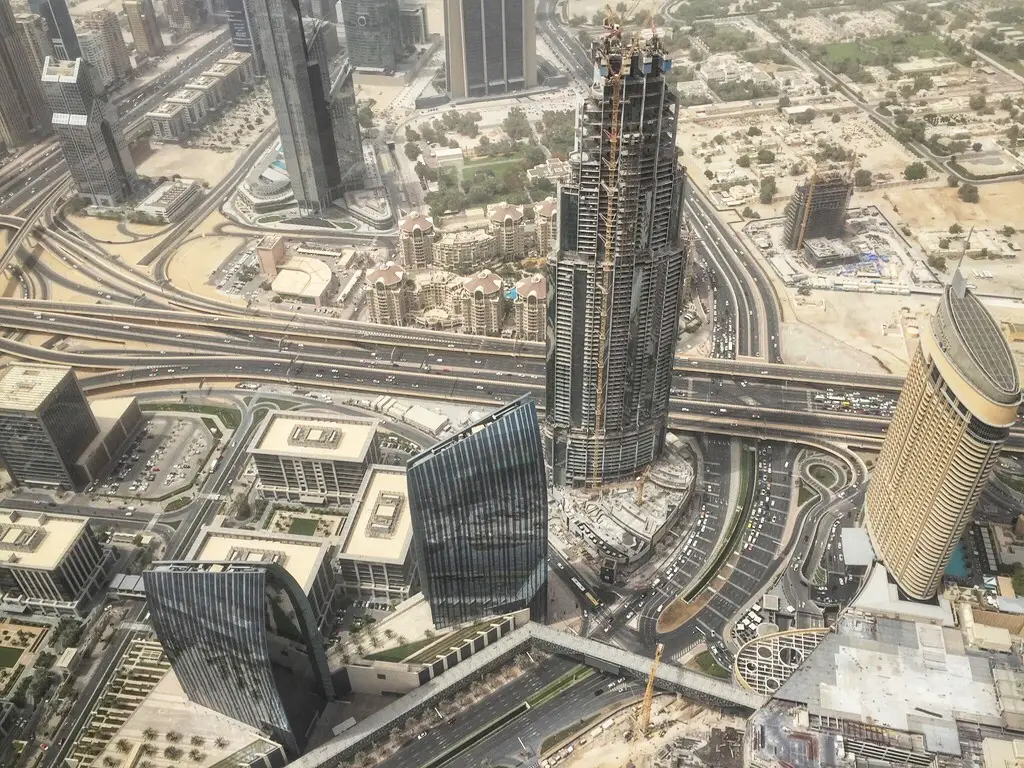 Once up the observation deck is located on the 124th floor of the building. The view is just incredible although ours was slightly skewed as there was a lot of dust in the air. It is definitely not for the faint hearted, as when you look down cars become comparable in size to ants. I am not the best person when it comes to heights and when we step into a lift to get to the top of a tall building I do tend to panic. I then somehow manage to stress Dave out and we are both nervous wrecks by the time we reach the top. In the Burj Khalifa however you are treated to a multimedia presentation in the lift whilst making your way up. It was a welcome yet informative distraction to me.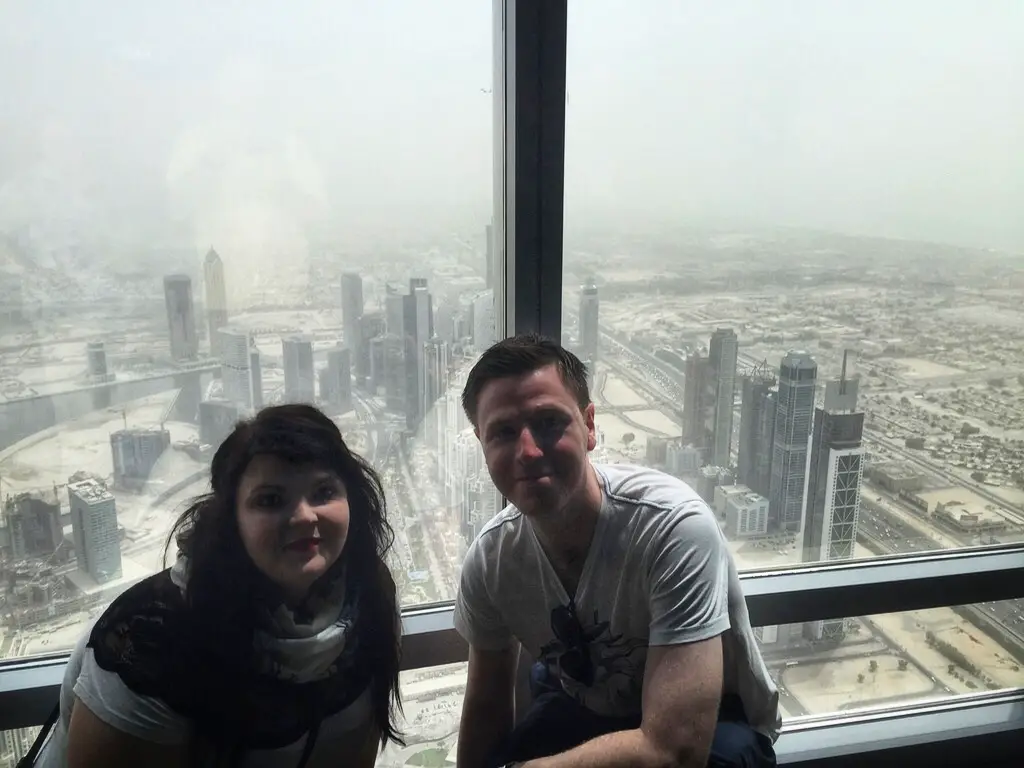 There are a number of different tour packages you can book as part of your visit to the Burj Khalifa, so have a look around.
Dubai Mall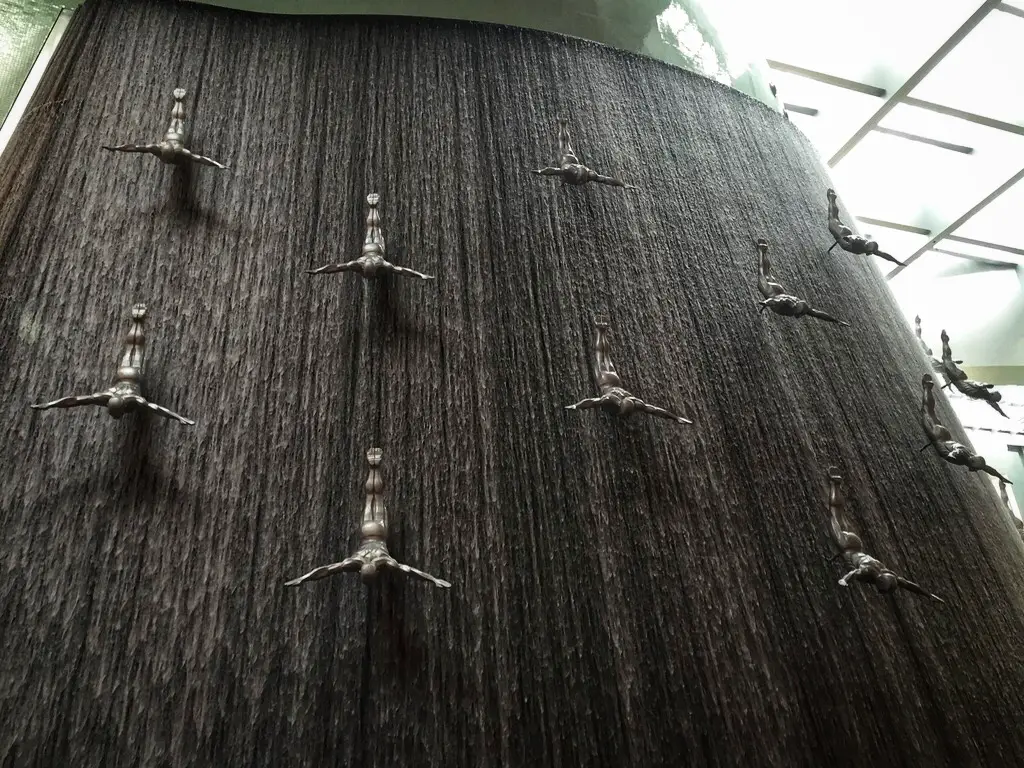 Back on solid ground the Dubai Mall is another must to add to your 2 days in Dubai. Even if you aren't a fan of shopping which truth be told neither of us are, it is still worth a visit. Why? Well, it's actually the world's largest shopping centre which includes all your usual shops and restaurants as well as an amusement park, an aquarium and an ice skating rink. It is well worth the visit especially in those summer months when you learn that air-conditioning is your friend. Next to the mall is the Souq-Al-Bahar with more shopping options as well as some waterfront dining. It's a great experience and is more traditional in design that the mall itself.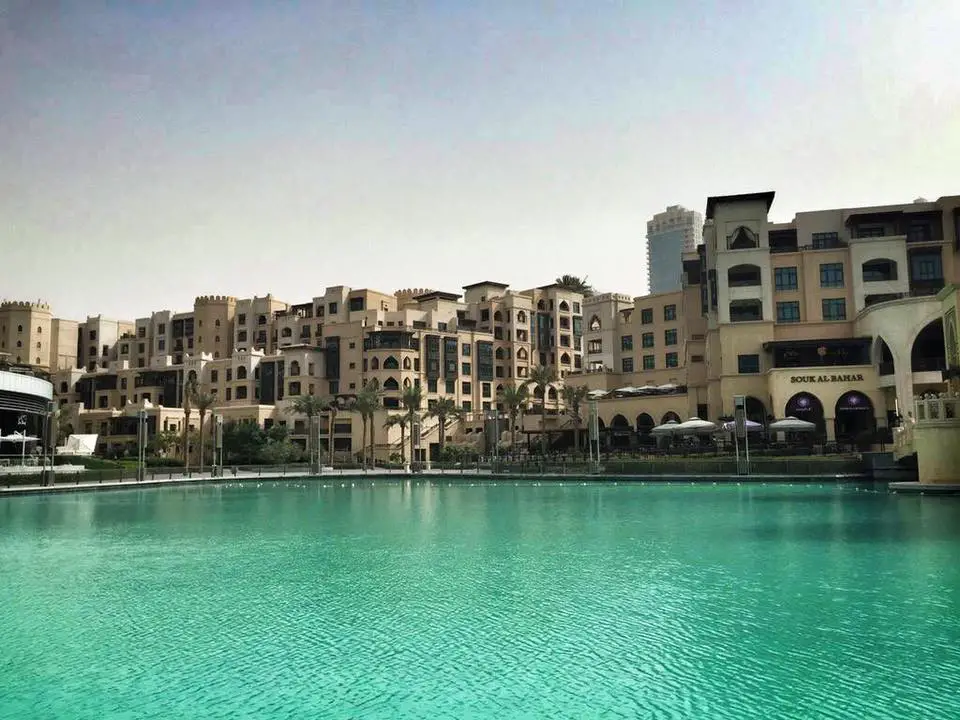 Explore the Souks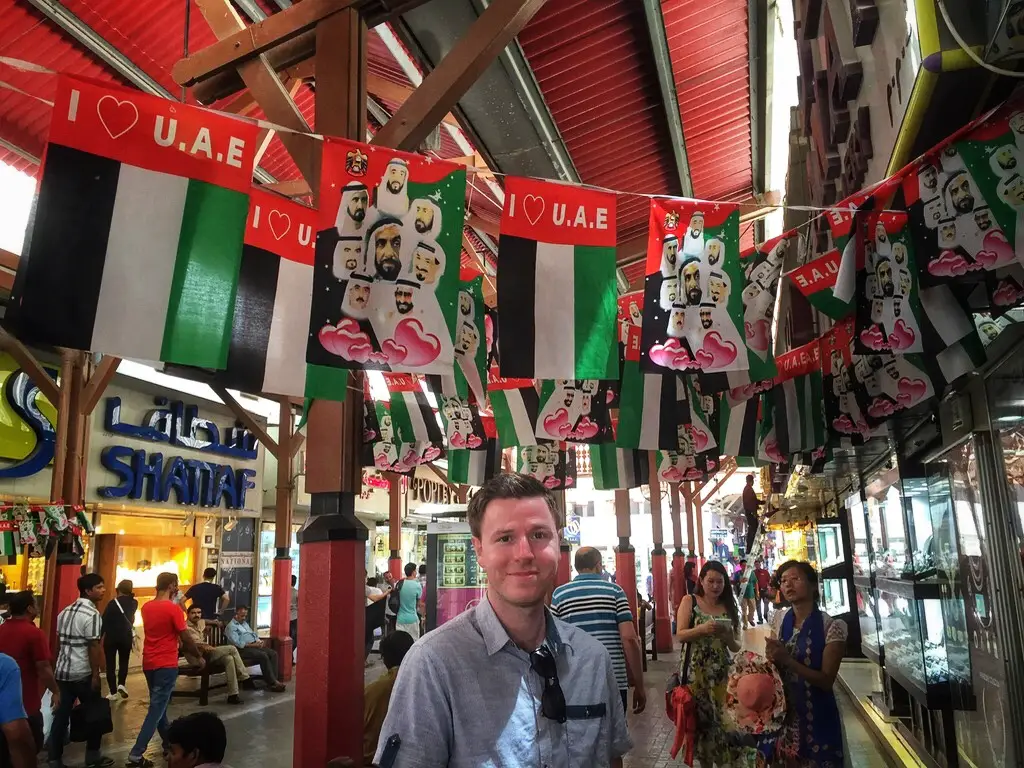 Dubai has a lot of man made and modern wonders so we definitely recommend embracing the traditional side with a visit to the Gold Souk and Old Dubai. In fact this is a must as part of any 2 day Dubai itinerary. We decided to do this as early as possible because of the heat, so we hopped in a taxi first thing in the morning and were whisked away to the souk. The souk has over 300 retailers and most of these do trade exclusively in jewellery however you can also purchases souvenirs such as genie lamps and shisha pipes. Across the creek is Bur Dubai which is the historic part of Dubai where you can get a boat across and explore the many souks and museums.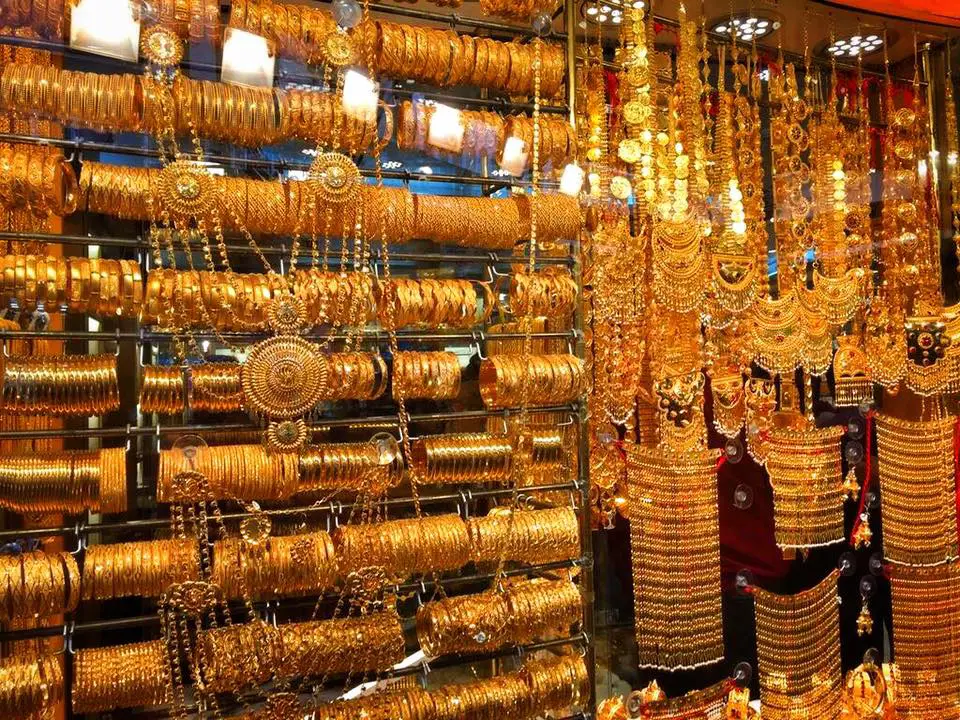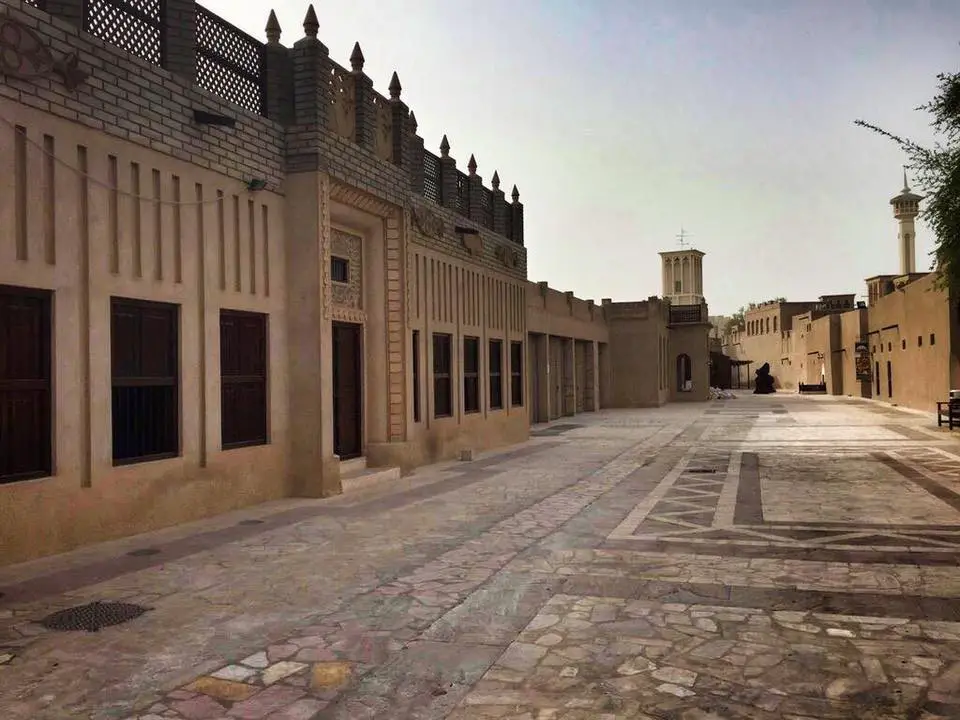 The monorail to the Atlantis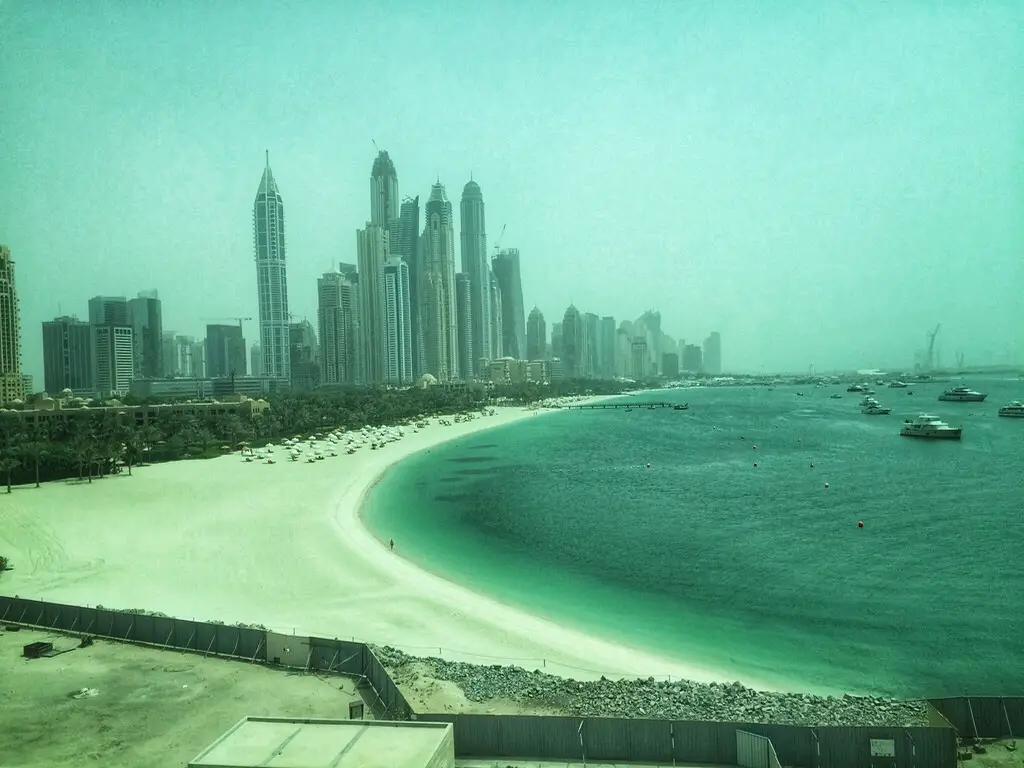 During our 2 days in Dubai we really wanted to checkout the Palm islands and the Atlantis hotel in Dubai.  We got the monorail over and this gives you a fantastic view of the island. The Atlantis itself is such an incredible building and the coolest thing about it has to be the water park. Due to our time constraints we didn't get to spend a lot of time here so it might be one of those things that we add to our never ending "next time" list. Still it was worth the monorail ride. There are a number of taxis near the monorail station as well so you can get one to your next destination.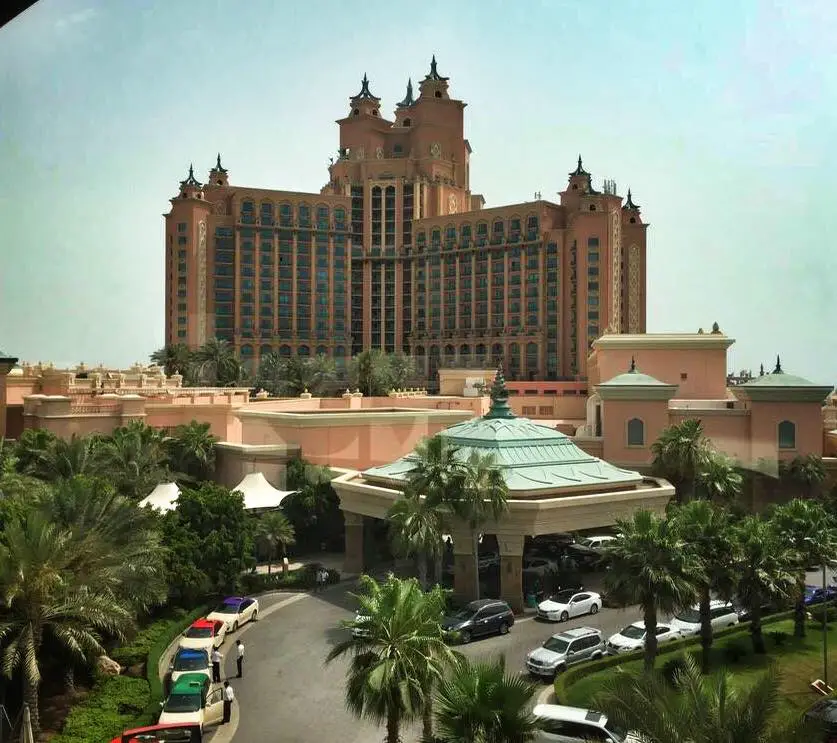 Mall of the Emirates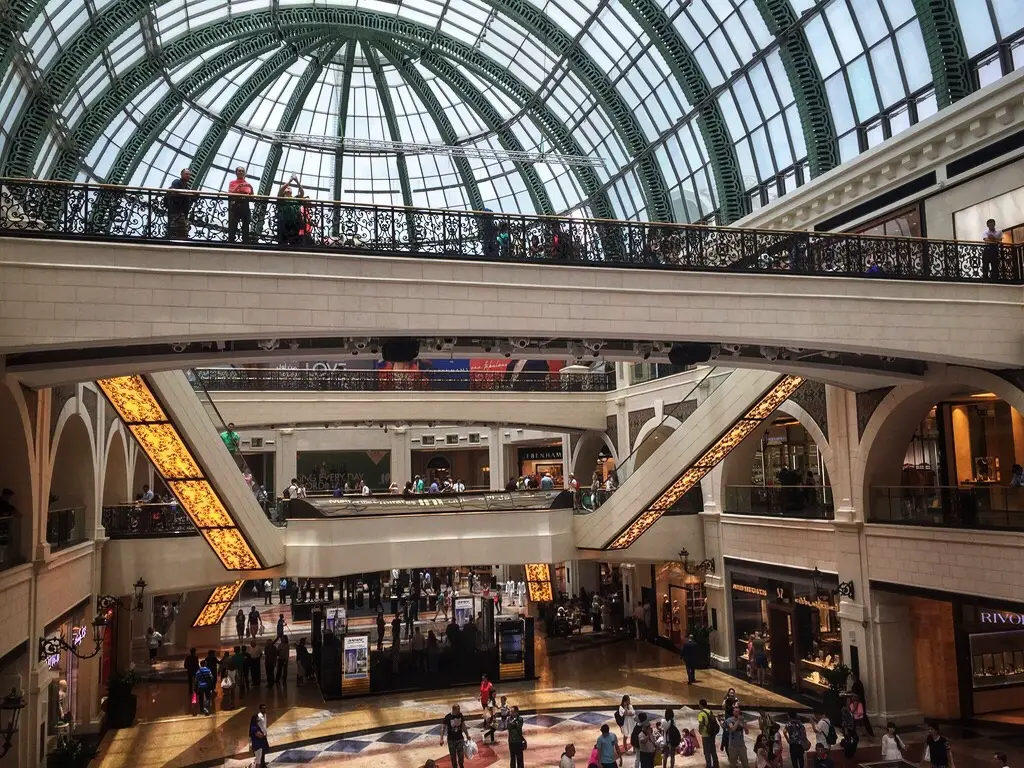 If you get time we also recommend adding a trip to the Mall of the Emirates to your 2 day Dubai itinerary. It is home to over 600 retail outlets as well as Ski Dubai. It is a large indoor ski resort offering skiing and snowboarding lessons, and to be honest it is a welcome relief from the heat outside. Due to the heat residents flock to the malls especially in the summer months.
Jumeirah Mosque
The Jumeirah Mosque is the only Mosque in Dubai that is open to non-Muslim visitors. It's a great place to go to familiarise yourself with Muslim culture and traditions, especially as part of a guided tour. The mosque is really beautiful and made from white stone, which also makes it really popular with tourists. It is open everyday except for Friday as this is a prayer day.
Dubai Creek
Another more authentic experience to add to your 2 days in Dubai has to be visiting Dubai Creek and riding an abra. This is a traditional wooden boat, that carries about 20 people across the creek. It's definitely something to do if you are planning to spend any time in Old Dubai.
Al Fahidi Historical Neighbourhood
This is another must particularly if you are looking to get away from the flashy modern luxuries Dubai has to offer. The neighbourhood basically gives you some insight into what Dubai was like before the Emirates were founded in 1971.  There are stone buildings and alleyways snaking around to get lost in.
Dune Bashing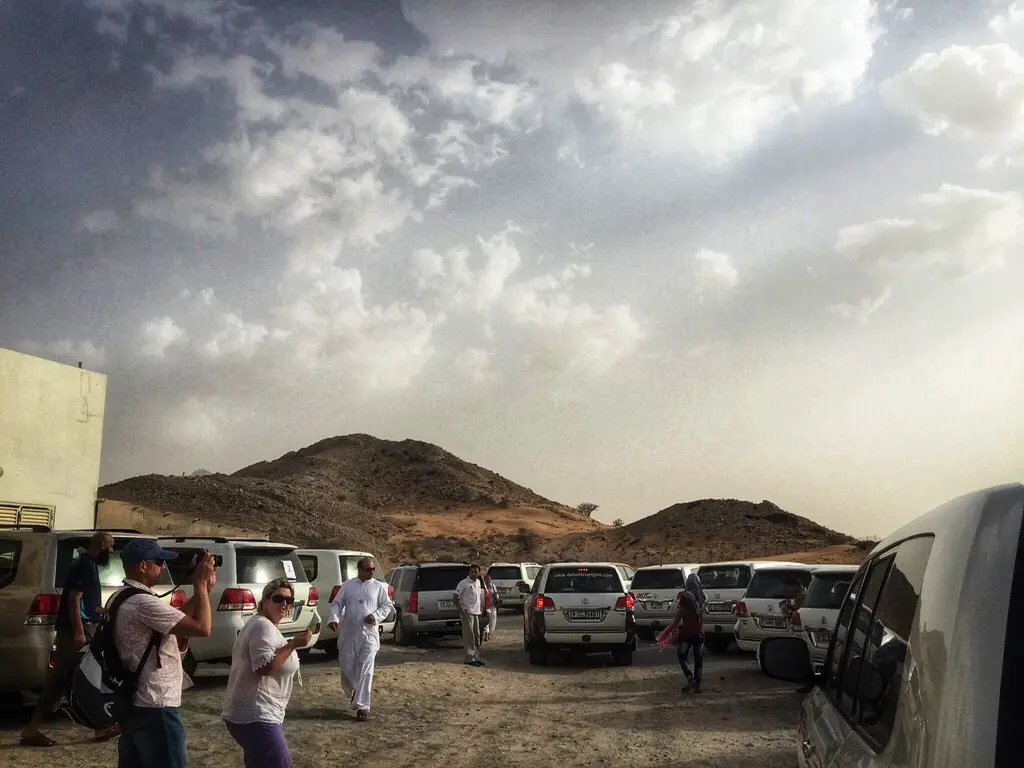 No 2 days in Dubai is complete without a bit of dune bashing. With time running out and a 3am flight to catch this brings us to the highlight of our trip- the dune bashing. A 4x 4 picked us up from our hotel in the evening along with 2 other couples and we headed towards the desert. Eventually you lose sight of the flat scrubland and start to see waves of orange sand dunes. You drive in a convoy with quite a few other 4 x 4's and it is such a thrilling experience. It can also be quite sickly so be prepared. A few of us in our car went incredibly pale afterwards. You also get a chance to take pictures and walk around in the dunes towards the end. It reminds you how vast and incredible the desert really is.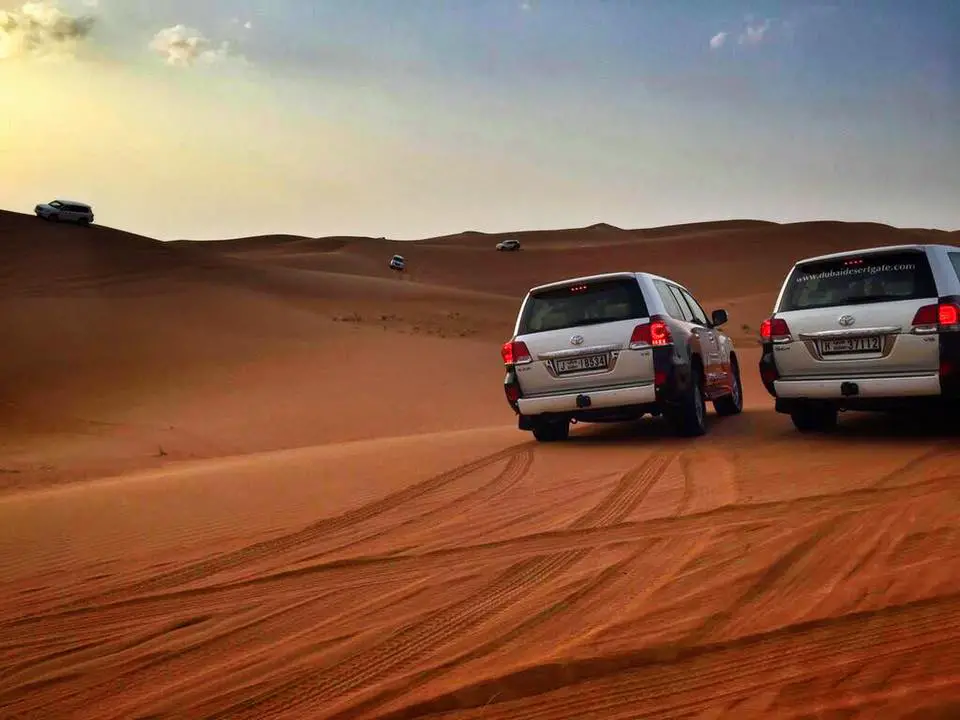 Afterwards you are driven to a desert camp to enjoy dinner and a show under the stars. It is such a beautiful experience and one that we will never forget. You also get the option to go camel riding or sand boarding. We chose the camel ride which I actually really deeply regret as we are now more conscious of trying to be ethical travellers.
2 day Dubai itinerary
Here is our sample 2 day Dubai itinerary to make the most of your own time here.
2 days in Dubai – Day 1
Start your 2 day Dubai itinerary with a visit to the Dubai Mall. Spend the morning wandering around. You can also Land an aircraft with the Emirates A380 simulator. Or why not go Ice Skating? Or even just visit the Aquarium? Grab some lunch here, and don't forget to purchase your tickets to the Burj Khalifa.
The fountain show is also worth a visit as is the Souq just across from the mall. If you aren't sick of malls at this stage you can also visit the Mall of the Emirates – particularly Ski Dubai which is a popular attraction.  
Spend the evening enjoying your hotel pool and resort area, and have some dinner and drinks here too.
On day 2, explore some of the more cultural bits of Dubai. Start the morning visiting Old Dubai and Al Fahidi, taking time to visit a Souk. If you have time why not ride an abra across Dubai Creek as well.
2 days in Dubai – Day 2
In the afternoon why not visit the Jumeirah Mosque? Afterwards why not explore the Palm Jumeirah, and ride the monorail to the Atlantis.
In the evening do a desert safari/ dune bashing for the evening.
Romantic things to do during your 2 days in Dubai
If you are visiting Dubai with your significant other here are some of the most romantic things to do, to add to your 2 day Dubai itinerary.
The Dubai Fountain
If you have ever visited Las Vegas you might be familiar with the Bellagio Fountain show. Well the Dubai Fountain is even taller. The fountain does its thing several times a day where it shoots 22,000 gallons of water 500 ft into the air. Watching the fountain is a lovely romantic moment and the best thing of all – it's free! Or you can do a romantic Dubai night tour which includes a fountain show.
XLine Dubai
If you are a thrill seeker why not fly face down on the XLine Dubai. You will whizz past highways, skyscrapers, and pools from 560 ft in the air. What's the romantic bit you might be wondering? Well you can ride tandem.
Enjoy a pamper session
If you are staying in one of the many resorts in Dubai, why not add a pamper session to your 2 day Dubai itinerary. Nothing says romance more than that.
Desert Safari
Desert Safari's are all the rage in Dubai. And if you have more than 2 days you can actually do an overnight one!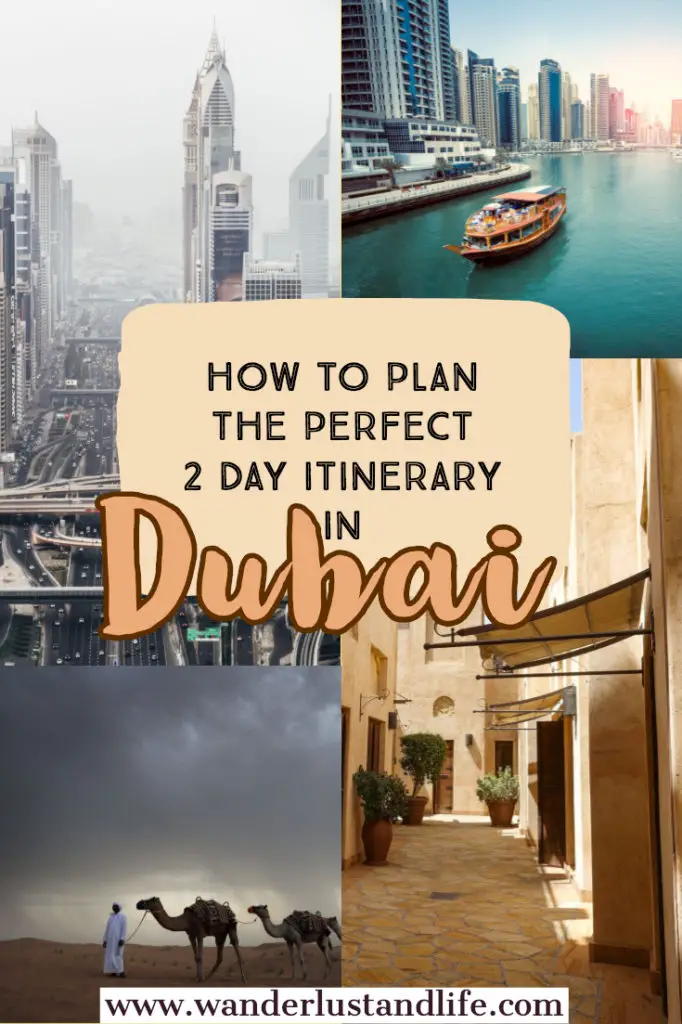 Things you should know before you plan your 2 days in Dubai
Before planning our 2 day Dubai itinerary we had heard so many horror stories about Dubai. The UAE can be a strict country when it comes to certain things, and we always get a lot of questions when we talk about visiting Dubai. Here are some things you should know before you visit.
DRUGS 
It might sound obvious but Dubai has a zero tolerance policy on drugs. This includes your usual narcotics but also some that are legal in your own country. A big example is codeine. Whilst it is legal in the UK it definitely is not in Dubai. We also read a story of a tourist who arrived in Dubai with poppy seeds on his clothes. These had come from eating a bread roll in an airport abroad. He was allegedly imprisoned. It is clearly no joke. If you have prescription medicine that you are bringing always bring a doctor's note, and check what you can and can't bring into the country. Otherwise you could end up in serious trouble . If in doubt, leave it out.
ALCOHOL 
When visiting the UAE there are some places where alcohol is not allowed at all. Dubai is slightly more lenient and non muslims can drink in licensed areas such as hotels. You should be aware that drink driving is a serious no-no. If you are caught driving with even the slightest trace of alcohol in your system you will be arrested. It is also really important to keep in mind that public drunkenness is not tolerated, so try to stay within your limits and avoid making a spectacle of yourself.
DRESS CODE
Despite what some people may believe you do not have to cover yourself from head to toe in Dubai. It is however advised that you dress conservatively. When we visited I was quite conscious of this so I checked with staff at our hotel to find out what was appropriate. They advised not to wear short shorts or skirts, and to make sure that my shoulders were covered. I basically wore leggings under my skirts and made sure my t-shirts covered my shoulders at all times and had no incident. The same rule applied to men. They should dress conservatively and walking around with no shirt is a complete no no (you might think this is obvious but try visiting England when the temperature hits above 20 degrees). Bathing suits are perfectly acceptable though, provided you are at the beach or a pool, anywhere else is not.
PUBLIC AFFECTION 
It is really not acceptable to be kissing and hugging in public even in the malls. It is disrespectful and can be an arrestable offence. Because we weren't married Dave and I avoided holding hands in public, not because we thought someone would stop us and ask to see our marriage license but more so because we felt uncomfortable.
SEXUAL RELATIONS
In Dubai unless you are married you are not allowed to live together. The same goes for sharing a hotel room. Now realistically hotels do not ask for marriage certificates when you check in, and Dave and I had different surnames on our passports and nothing was said. I'm sure hotels are aware that non married couples share rooms, and probably wouldn't say anything, but it's important that you do not draw attention to it either. There have been instances where unmarried couples living in Dubai have conceived and then faced imprisonment so it is something you need to be aware of and take seriously.
SEXUAL HARRASMENT
It is important to be aware that a western man (or any man really) should not address a local woman in public. It is viewed as very disrespectful behaviour. Additionally if you are a women travelling solo or even in a couple for that matter it is best not to draw attention to yourself sexually. I say this even though I strongly believe women should dress how they want. The problem is in places like Dubai there have been instances where women have been raped, reported this and then been arrested themselves. Unfortunately the UAE has some different rules and ideas around feminism then we do in the west. It is important to know this when visiting.
RELIGION
The UAE is a predominately Muslim country. Whilst it is ok for you to practice a different religion, insulting Islam will not be tolerated. Muslims are expected to pray 5 times a day and this is something you should respect. Do not interrupt someone in the middle of prayer. It is also advisable to avoid visiting during the month of Ramadan. This is when Muslims fast from sunrise to sunset. It could be seen as disrespectful if you eat during these times. That being said there are so many westerners in Dubai that it probably isn't a problem, but just something to be mindful of.
All in all though most trips to Dubai go by without a hitch. It's just important that you are aware of the laws especially because what may be seen as normal in your country may be illegal in the UAE.
So should I spend 2 days in Dubai?
So you might be wondering if you should spend 2 days in Dubai? Personally we think Dubai is a great stopover destination, particularly if you are trying to break up a long haul flight. It can be expensive so 2 days is a good amount of time to experience a bit of the city without breaking the bank.
We did actually really enjoy our time here, and would recommend the trip to anyone. Dubai definitely has a bot of something for everyone. But you should also tailor your 2 day Dubai itinerary so that you are doing things that you enjoy. Yes there is a lot of shopping and there are parts of Dubai that feel superficial. But there are also some really amazing parts rich is history and culture.
2 day Dubai itinerary – A recap
Our 2 days in Dubai flew by. Dubai is a wonderful place to visit and we fell in love even for the short time that we were there. It is a great place for a stopover, and you can do this with any Emirates flight at no extra charge. So the next time you need a break between flights look no further than Dubai. Don't forget to Pin our 2 day Dubai itinerary for later!