61 incredible ideas to add to your Ireland bucket list
Ireland is definitely a bucket list destination. With it's green landscape, incredible towns, and rich culture you will find so much to do here. That is why have put this list of top 61 things to add to your Ireland bucket list to help you plan your own trip to the Emerald Isle.
Disclaimer: This post contains affiliate links, so if you use these links to buy something we may earn a commission, at no cost to you. Thank you for your support.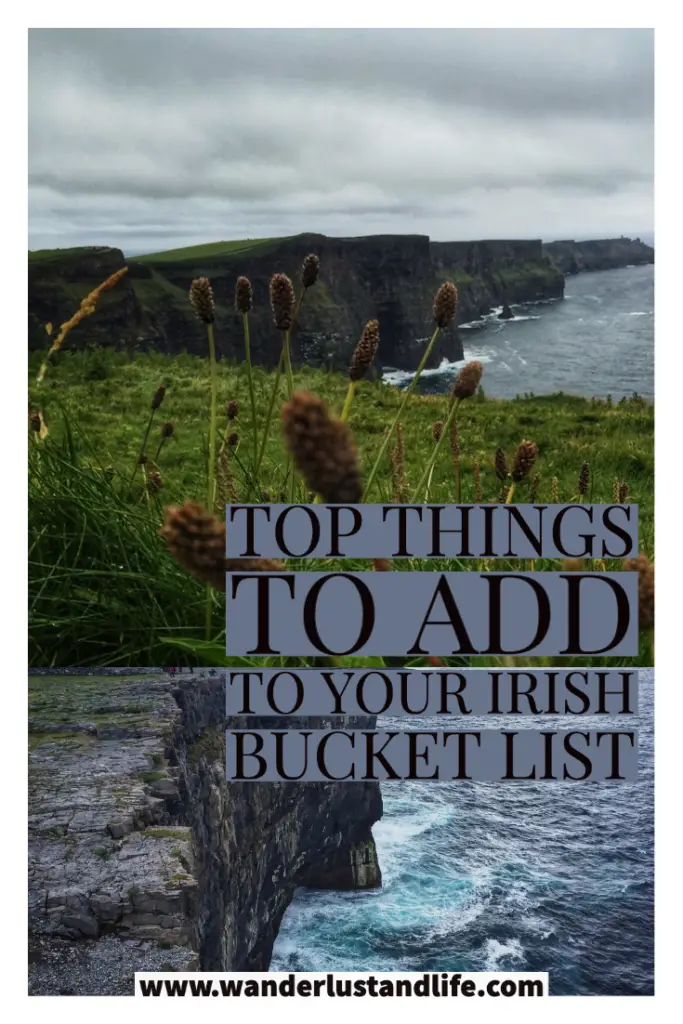 We have broken this Ireland bucket list down into different areas including the Republic of Ireland and Northern Ireland as well as food and drink. Hopefully this will inspire you to tick some of these off on your next trip to Ireland.
And if you are wondering if Ireland is worth visiting this is the post for you!
Ireland bucket list ideas in Dublin
Starting with the Irish capital of Dublin here are some bucket list ideas for when you visit.
1. Visit Trinity College
Trinity College is one of Europe's top universities. Walking around here kind of conjures up this Harry Potter/ Dead Poets Society imagery. The architecture is grand, and there are plenty of cobbled squares and grassy knolls to relax in.
The history of the university is slightly controversial, as it was initially for Protestants. Any Catholics who enrolled here were excommunicated.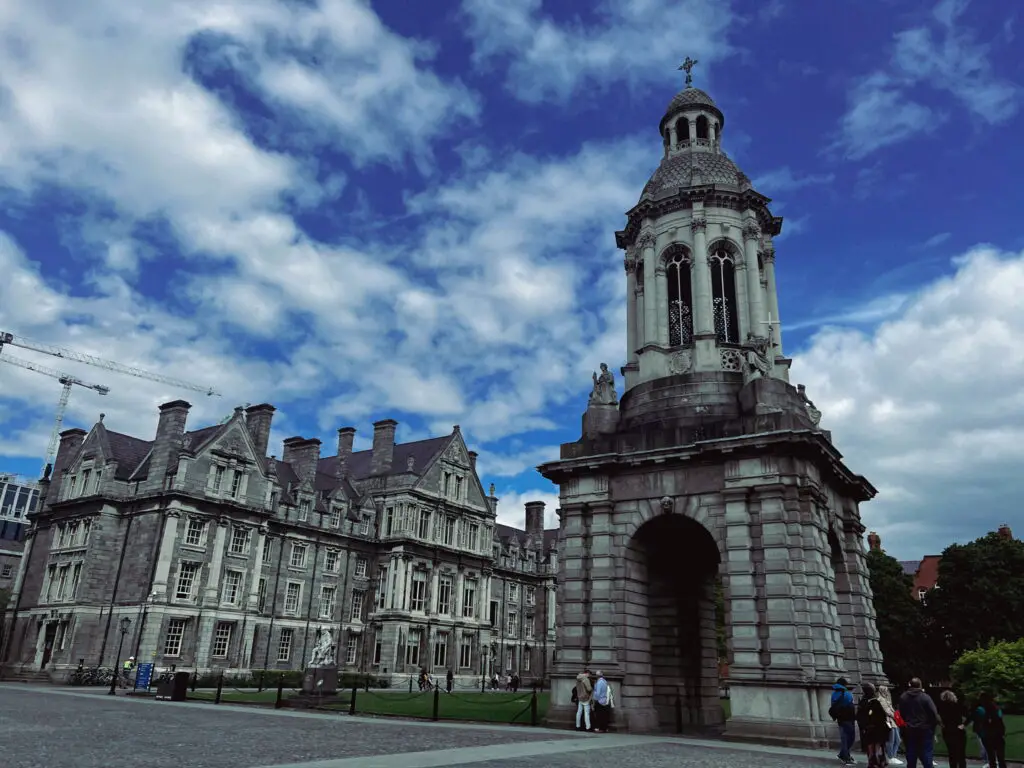 2. See the Book of Kells
The Book of Kells is located in Trinity College, but we are popping this down as a separate Ireland bucket list item as you do need to pay for entry. The Book is a manuscript that dates back to the 9th Century. Admission also includes a tour of the Old College Library which is beautiful.
3. Drink at the Temple Bar
Temple Bar is the cultural quarter in Dublin, and within this area you will find the world famous Temple Bar pub. I'll admit this is a slight tourist trap, and the drinks are pretty expensive, but it has to be done even for just one drink. They usually play trad music and the atmosphere is always lively. If you love good 'craic' as they say in Ireland add this to your Dublin itinerary.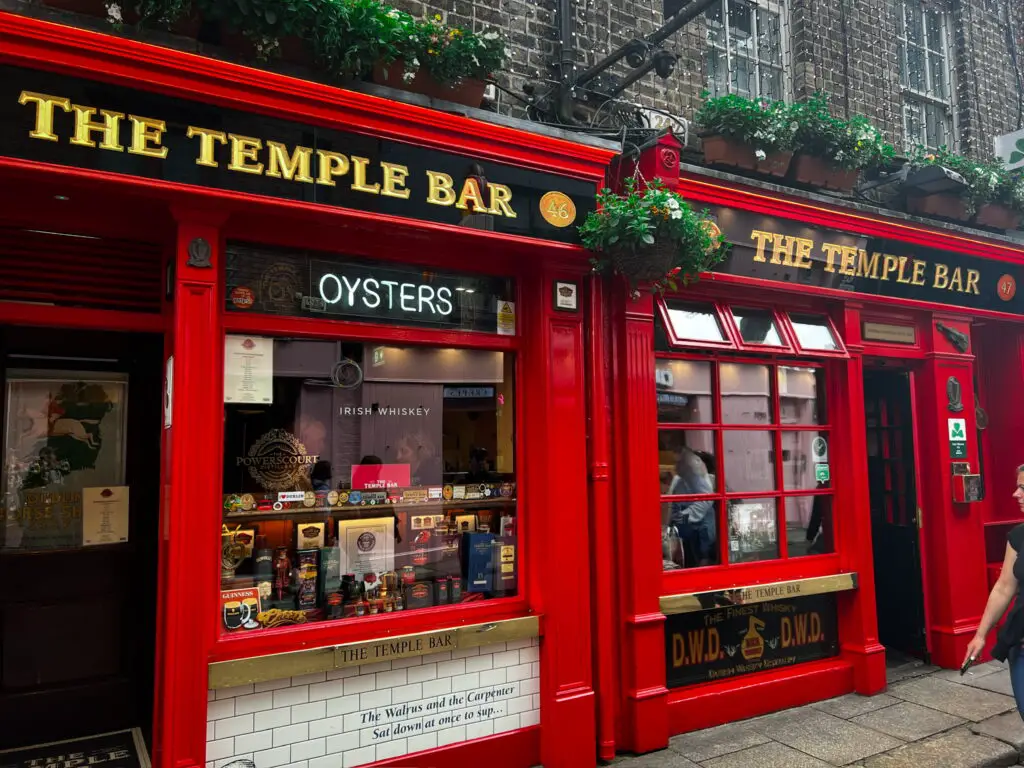 4. Walk over the Ha'Penny Bridge
This pedestrian bridge was built in May 1816 over the River Liffey. It is one of the symbols of the city, and one of the first pedestrian bridges over the River Liffey. It's also a highly instagrammable location in Dublin.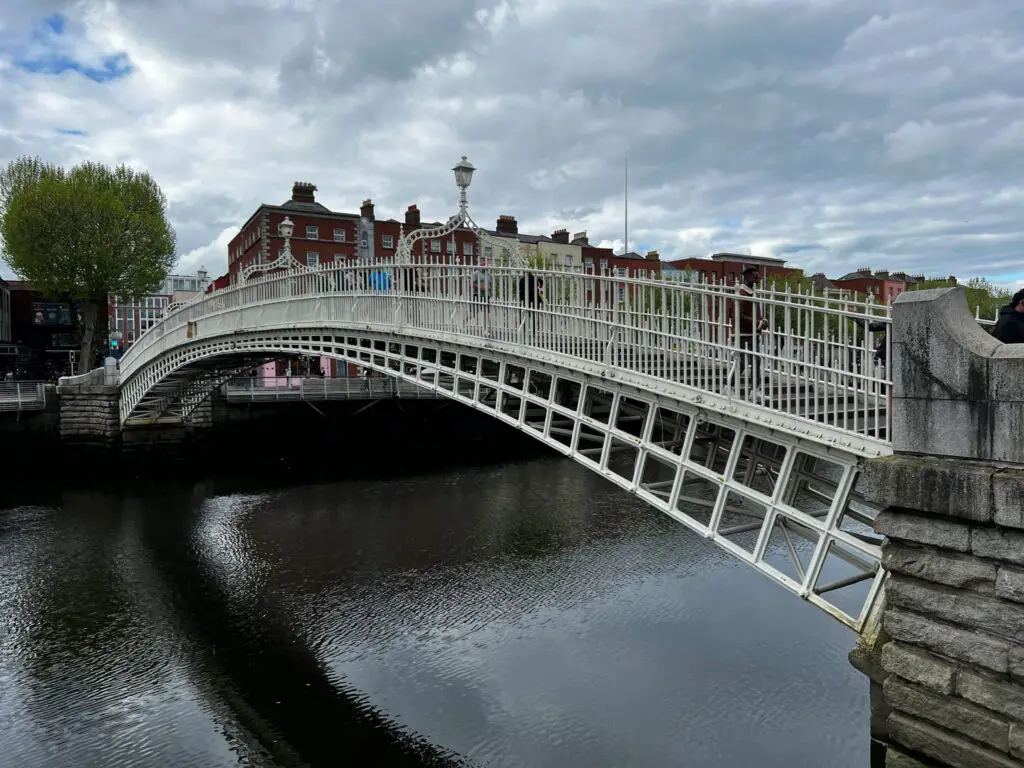 5. Drink at the Brazen Head the Oldest Bar in Dublin
Drinking culture is a big deal in Ireland, so you should definitely visit the Brazen Head when you are in Dublin. It is the oldest pub in Dublin established in 1198. A lot of the original features have been retained, and you get a proper authentic local bar experience.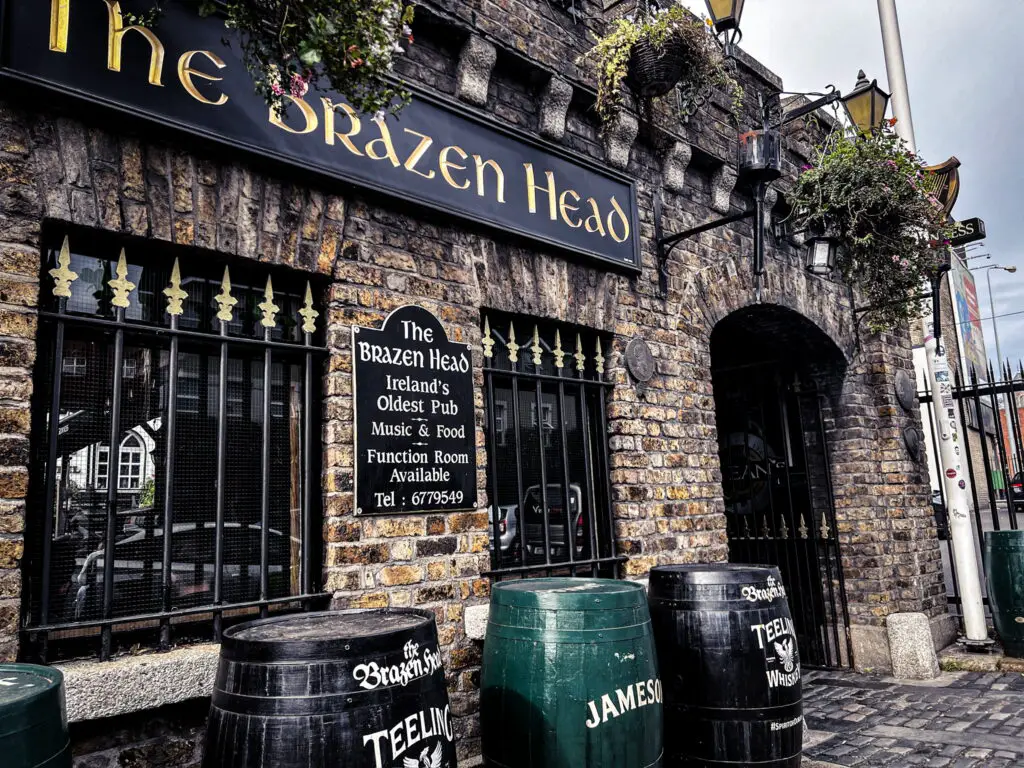 6. Follow in the footsteps of Leopold Bloom at Sweny's Pharmacy
If you have ever read James Joyce's Ulysses then make sure you stop at Sweny's Pharmacy. It's not far from Trinity College, and it is the place where the novels main character goes to purchase lemon soap. The whole store is like a trip back in time, and it is a must do for your Ireland bucket list particularly if you are a literature fan.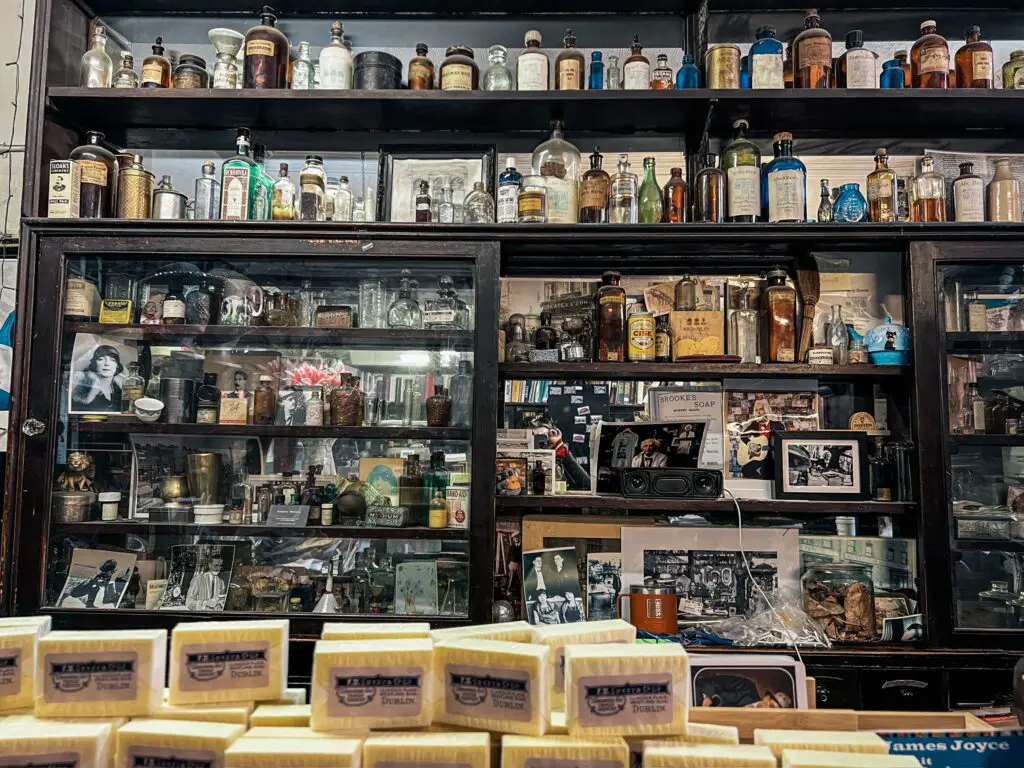 7. Visit the historical General Post Office
The General Post Office or GPO as known to locals is an incredibly historical building in Dublin. Located in the GPO is a museum where you can learn about modern Irish history.
8. Watching a sports match at Croke Park
Croke Park is a huge stadium in Dublin that holds around 82,300 people. It is the 3rd largest stadium in Europe and the atmosphere here on match days is immense. If you can catch a game of hurling or Gaelic football even better.
If you are unable to get tickets to a game then you can visit the museum which goes through the history of Ireland's unique sports of Gaelic football and hurling.
9. Brush up on history at Dublin Castle
 Dublin Castle until 1922 was the centre of UK government rule in Ireland. Since then it has become a major tourist attraction and is used for state dinners as well as the inauguration of presidents in Ireland.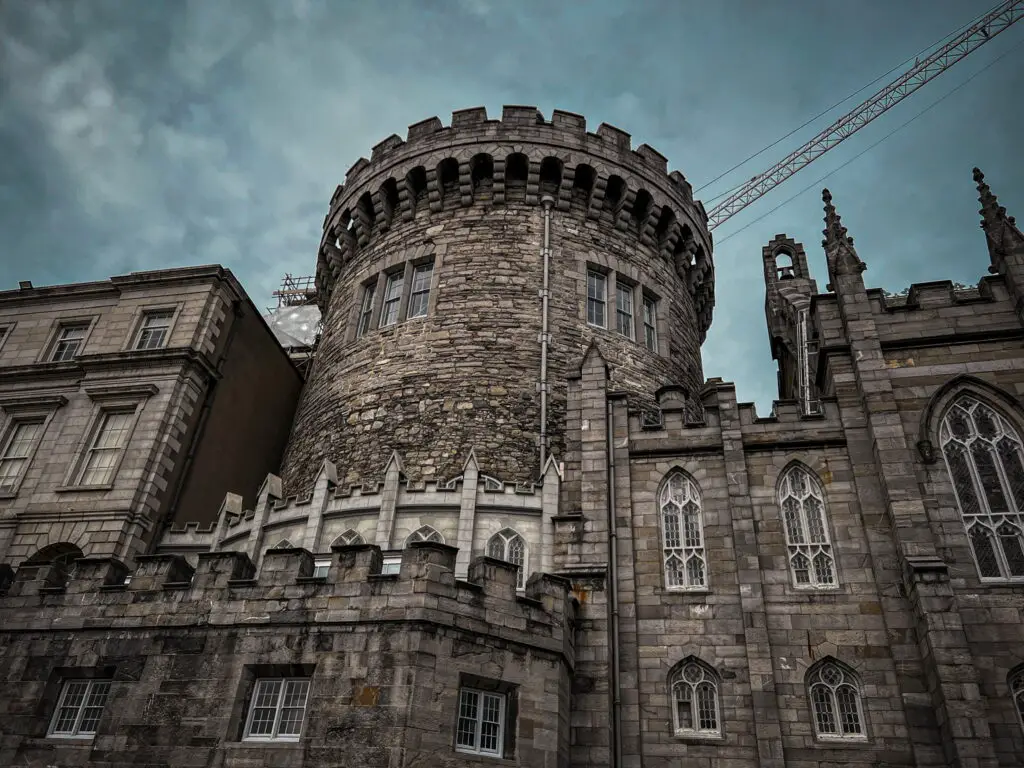 10. Vist Kilmainham Gaol
Kilmainham Gaol is a fascinating bit of Irish history that you absolutely have to add to your Ireland bucket list. The goal is 3.5km out of Dublin centre, but worth the trip. It's an important part of Irish history as many revolutionaries were imprisoned here by the UK government at the time. This is a great place to go to bridge any gaps in your knowledge when it comes to Irish history.
11. Pay your respects at Glasnevin Cemetery Museum
I know a Cemetery is a bit of a strange thing to add to your Ireland bucket list, but hear us out. Glasnevin Cemetery is the final resting place of some well known Irish figures such as Michael Collins and Countess Markievicz. There are a number of tours you can take including an Irish history tour.
If you want to know if Dublin is really worth visiting you can read this post to find out more.
Ireland bucket list ideas in Belfast
Moving on to the Northern Irish capital, here are some Ireland Bucket list items for Belfast. And for more inforamtion on Belfast you can read our guide to spending a weekend in Belfast.
12. Titanic Museum
The Titanic Museum is located on the site where the Titanic was designed, built and launched. The Museum goes through the story of the ship from the initial idea to her unfortunate end.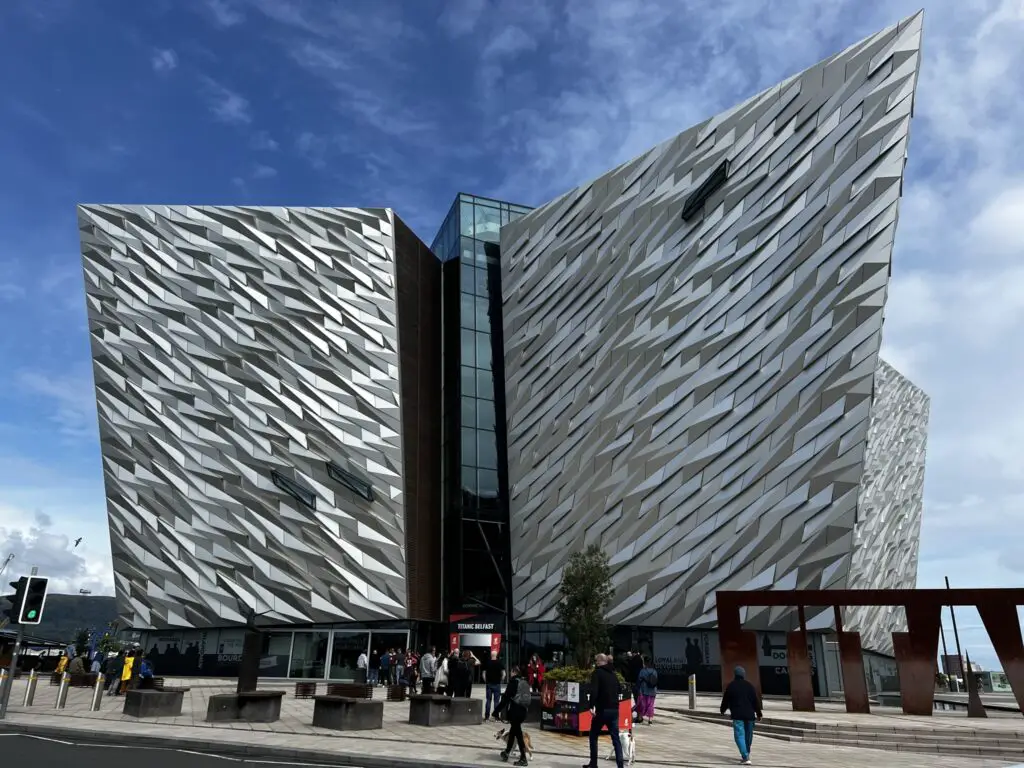 13. Cathedral Quarter
This is an Ireland bucket list item for anyone who loves a bit of nightlife. The Cathedral Quarter is place to go for hip bars, coffee shops, and restaurants in Belfast. The cobbled narrow lanes add to the charm and appeal of the area.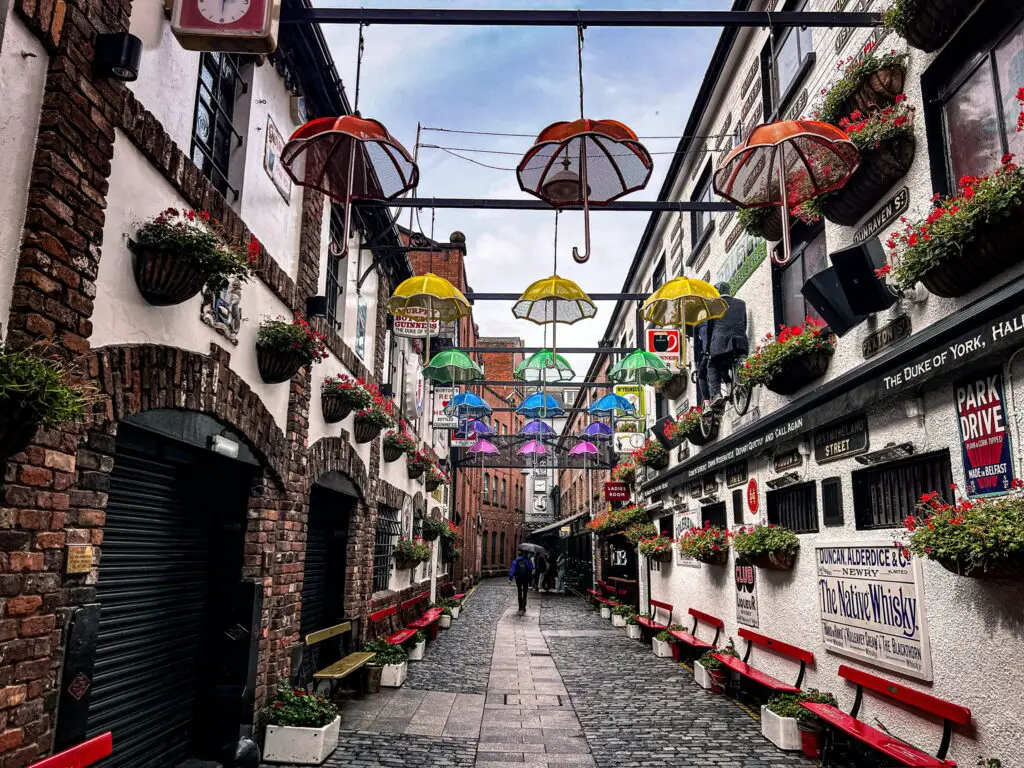 14. Explore Belfast City Hall
Belfast City Hall has to be one of the most iconic buildings in the city. It first opened its doors in 1906 and there are a number of free public tours you can take part in to learn more about its history.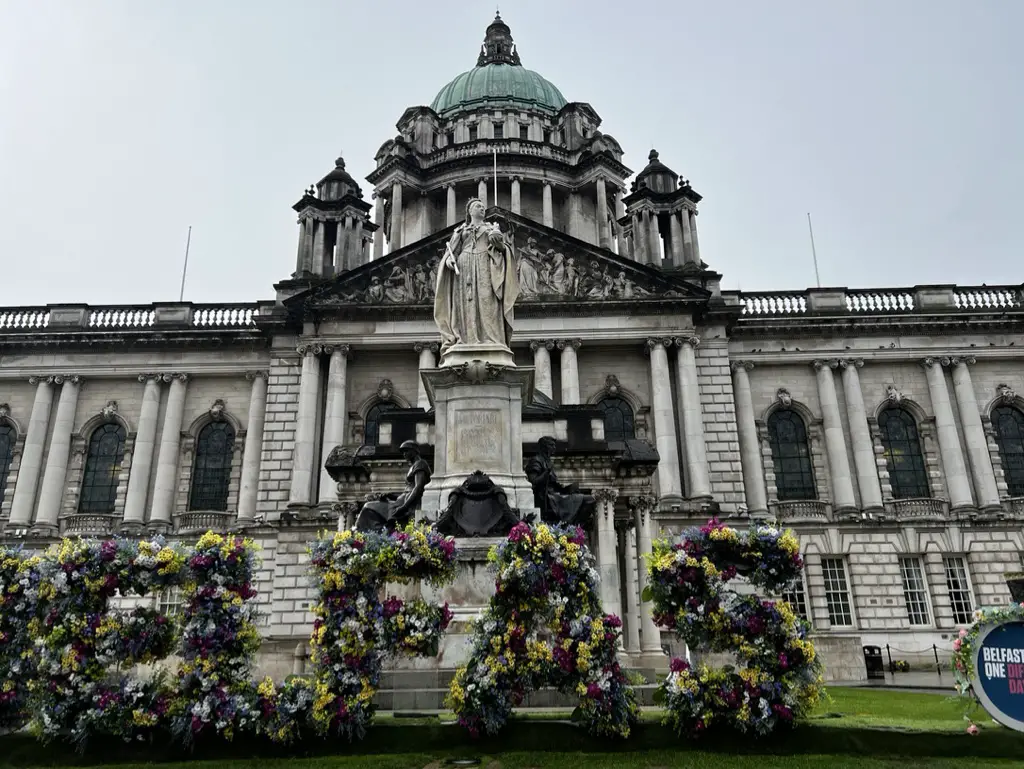 Wondering if Belfast is worth visiting? This is a helpful guide.
Ireland bucket list ideas in the Republic of Ireland
This section is slightly longer as there are so many incredible places to visit in the Republic of Ireland. Here are our suggestions on the absolute must dos to add to your Ireland bucket list.
15. Drive the Wild Atlantic Way
A road trip is a must for any Ireland bucket list, and the Wild Atlantic Way route is one of the best. It essentially covers the west coast of Ireland from Cork to Donegal. We did the Wild Atlantic Way in 5 days and managed to see a large majority of it, but there is definitely a lot we missed, so it's better if you have a week.
Some highlights include Cork and the Ring of Kerry, Sligo's authentic beaches, and Galway and the incredible food scene.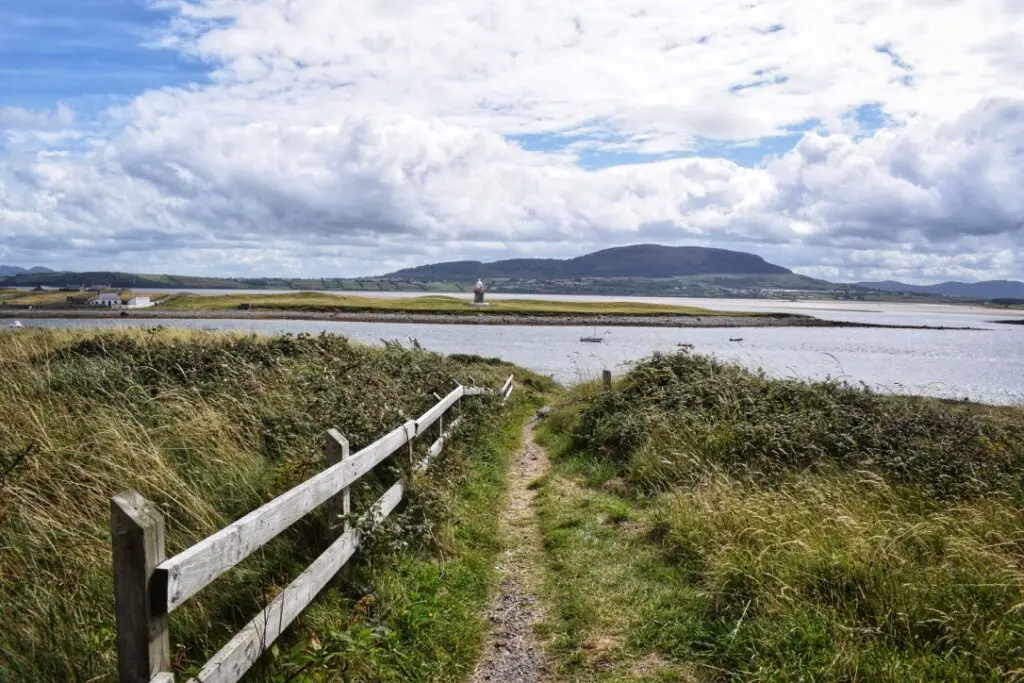 16. Visit Yeats Grave
Located in County Sligo, you will find the grave of W.B Yeats. Literature lovers will known his famous poems, and his connection to Sligo. Yeats is buried in Drumcliff Cemetery close to the Benbulbin Mountains. He died in 1939 in France and placed in a temporary grave before being repatriated back to Sligo.
For more information on things to do in Sligo you can read this post.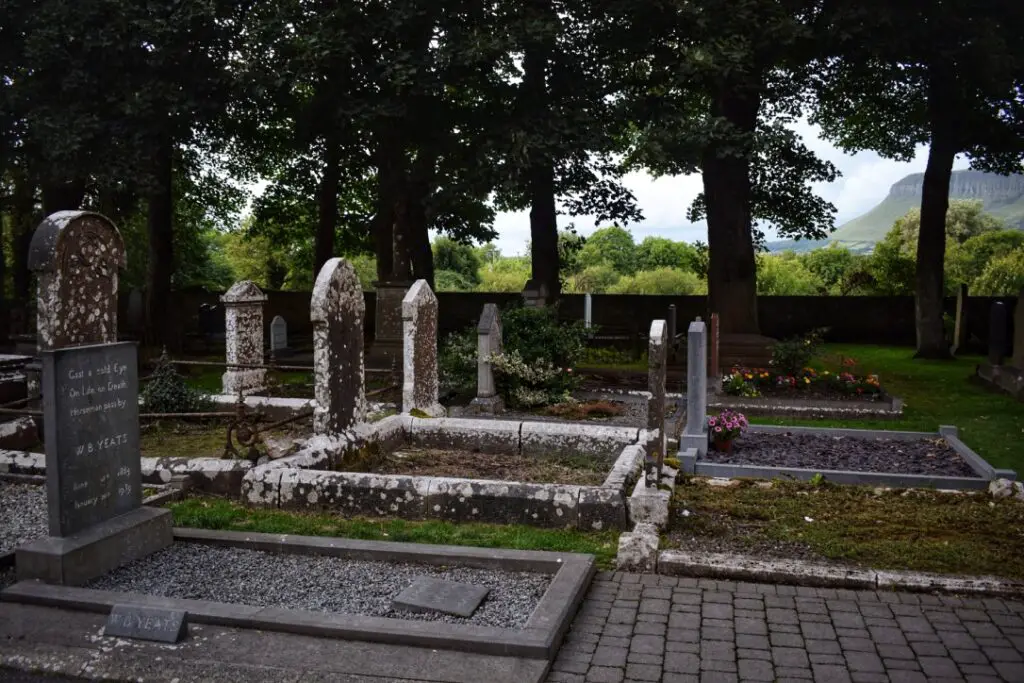 17. Enjoy the nightlife in Galway
Galway is definitely a bucket list city when visiting Ireland. It's a harbour city, and is the perfect place to experience some Irish culture. The Latin Quarter is one of the more lively places to go and experience the nightlife in Galway. It's full of buskers, tourists, and locals all having a great time.
If you are planning to drive from Dublin to Galway here is a handy guide.
18. Visit the Irish speaking Aran Islands
Visiting the Aran Islands is another thing that needs to be at the top of your Ireland bucket list. They are predominately Irish-speaking islands located in the middle of the Wild Atlantic Way. They have a strong sense of Irish culture and lifestyle, and visiting feels like arriving in another world.
Three main islands make up what is known collectively as the Aran Islands. These are Inishmore, Inishmaan and Inisheer, with Inishmore being the largest of the three. Each have their own charm and character.
You will need to get to the islands by boat and this can be done from Galway or Doolin. There are very few cars on the island so you can get around either via tour bus, bike, or by walking.
Here is a guide for getting from Galway to the Aran Islands.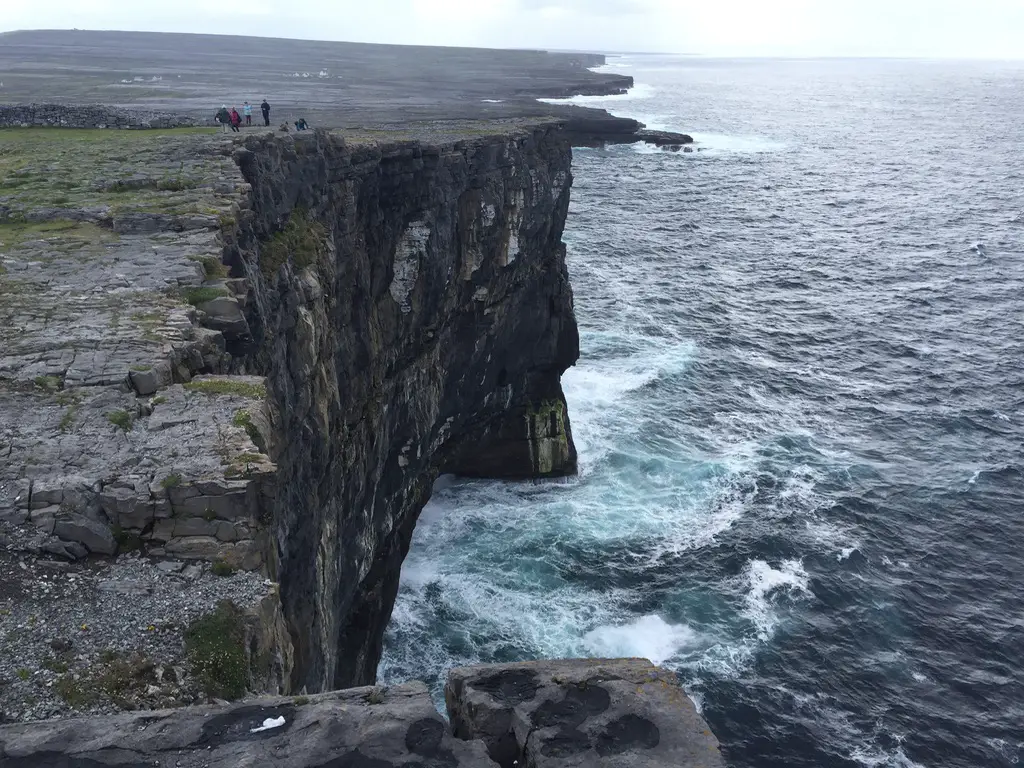 19. Discover the Cliffs of Moher
Visiting the Cliffs of Moher should be high up on your Ireland bucket list. They are arguably the most recognised attraction in Ireland and located in County Clare. The cliffs are 203 metres above the Atlantic Ocean, and are about 14km in length.
If you are driving from Dublin to the Cliffs of Moher here is a guide to help you plan your trip.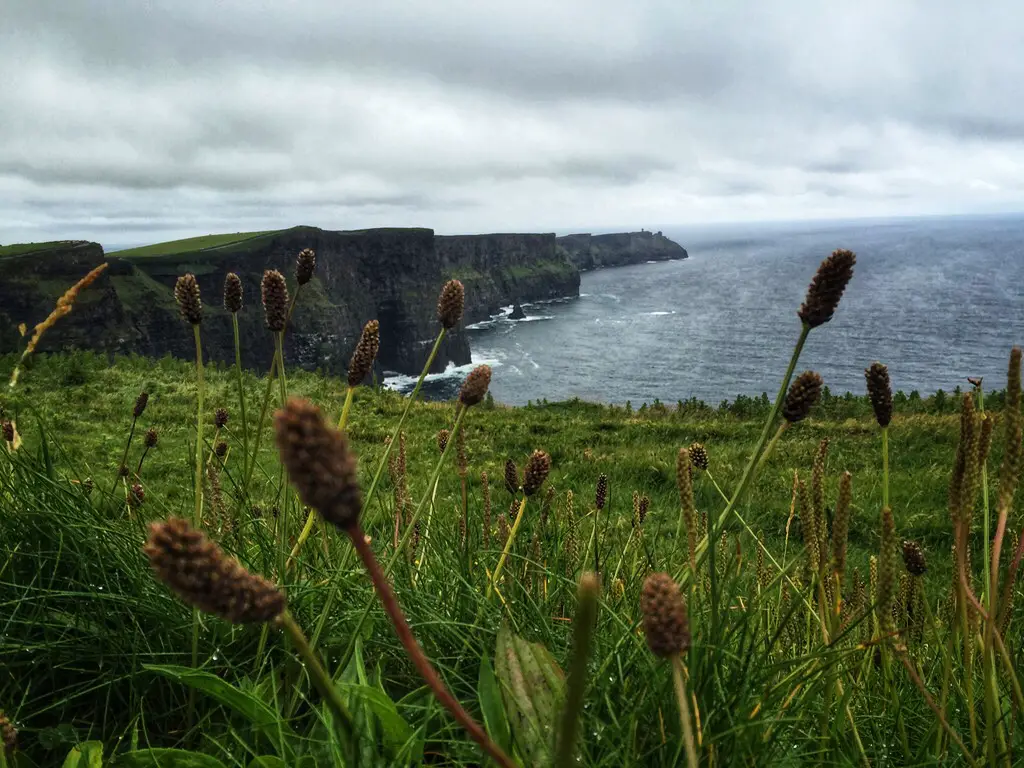 20. Experience the unique landscape of the Burren
The Burren National Park is one of the six national parks in Ireland. The landscape is incredibly unique with its rocky ground, beaches and caves. The area is located close to the Cliffs of Moher so this is a perfect stop off on a day trip.
21. Drive the Ring of Kerry
Another incredible drive to add to your Ireland bucket list is the Ring of Kerry. It's a 111 mile coastal road with some incredible stops along the way. When planning your Ring of Kerry route most people start in Killarney National Park.
We then recommend driving through Kenmare, Caherdaniel, Waterville and Portmagee as a bare minimum for your trip. It is doable in a day and you can either drive yourself or book an organised tour.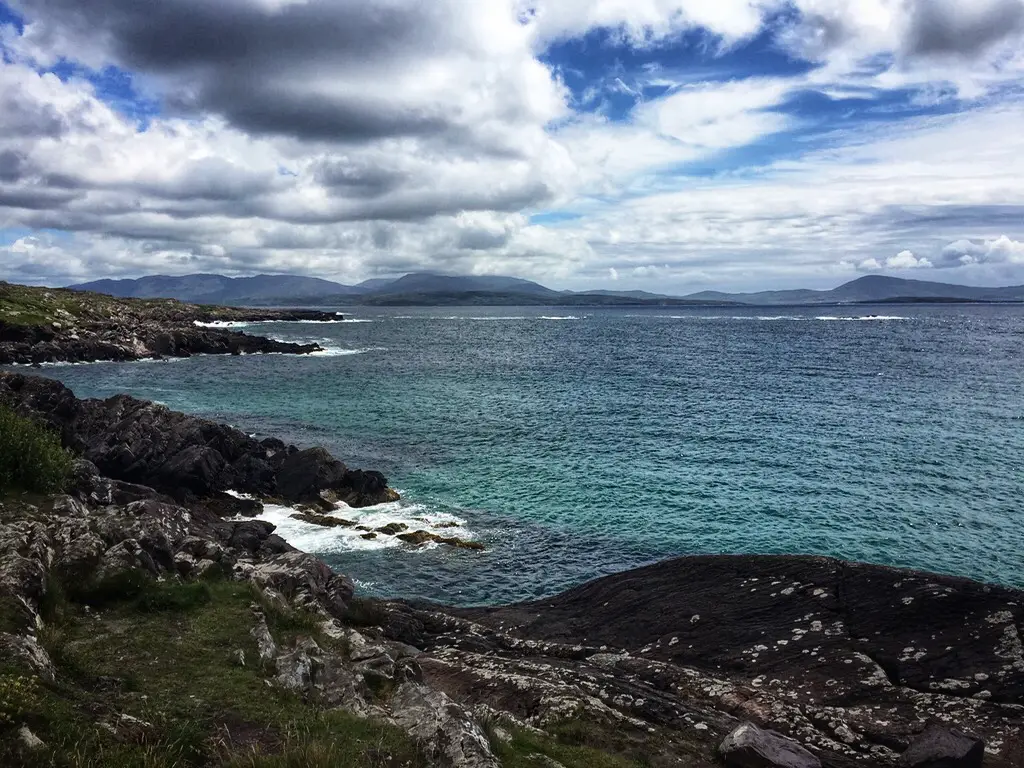 22. Drive through the Wicklow Mountains
The Wicklow Mountains are pretty close to Dublin so will make for the perfect day trip if you are in the area. Driving through the mountains is just beautiful, you have this rugged, green hilly landscape with so few people around- it's just bliss. There are several things you can do in Wicklow such as:
Climb Sugarloaf Mountain
Drive to the Blessington Lakes for some quiet time
Head to Ballinastoe for some incredible views. There are a number of scenic walks you can do around here.
Explore Powerscourt House and Gardens and visit the Powerscourt waterfall
They also make for a great stop over if you are doing a larger Ireland road trip.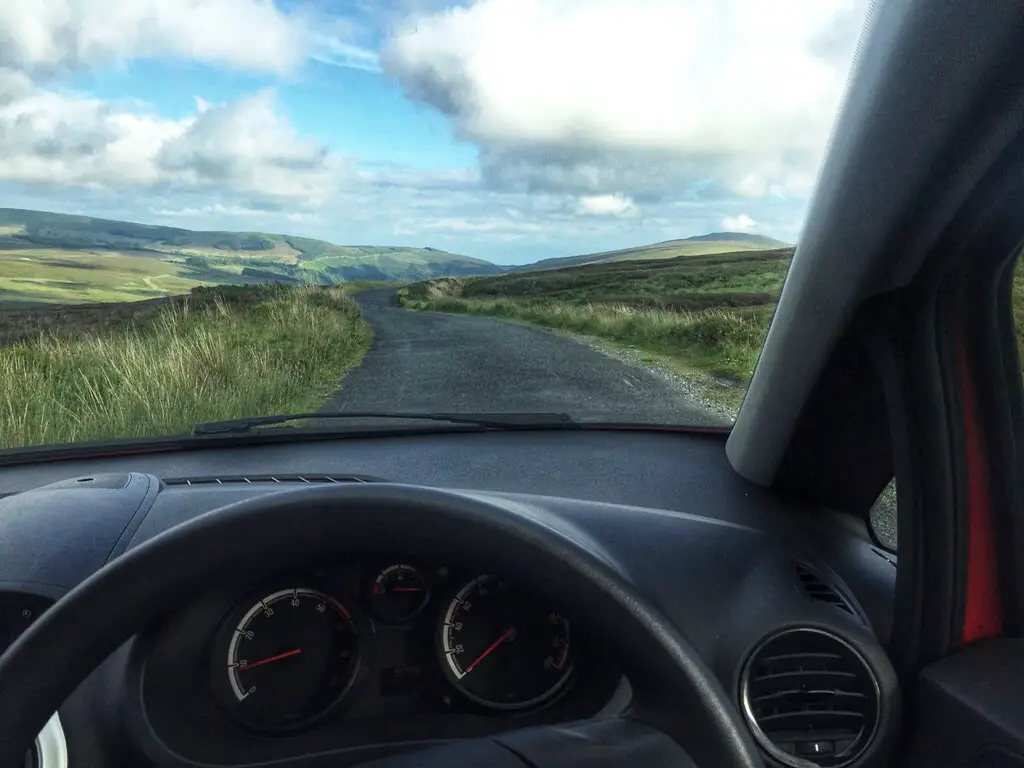 23. Get Spiritual at Glendalough
Located in the Wicklow Mountains National Park is Glendalough Valley. This is home to an early medieval monastic settlement. It was founded in the 6th Century by St Kevin, and it's incredibly spiritual. The rugged mountains and hills and the deep lakes make you feel almost insignificant but in a very spiritual way.
This is a great option for a day trip from Dublin if you are looking to get out of the city.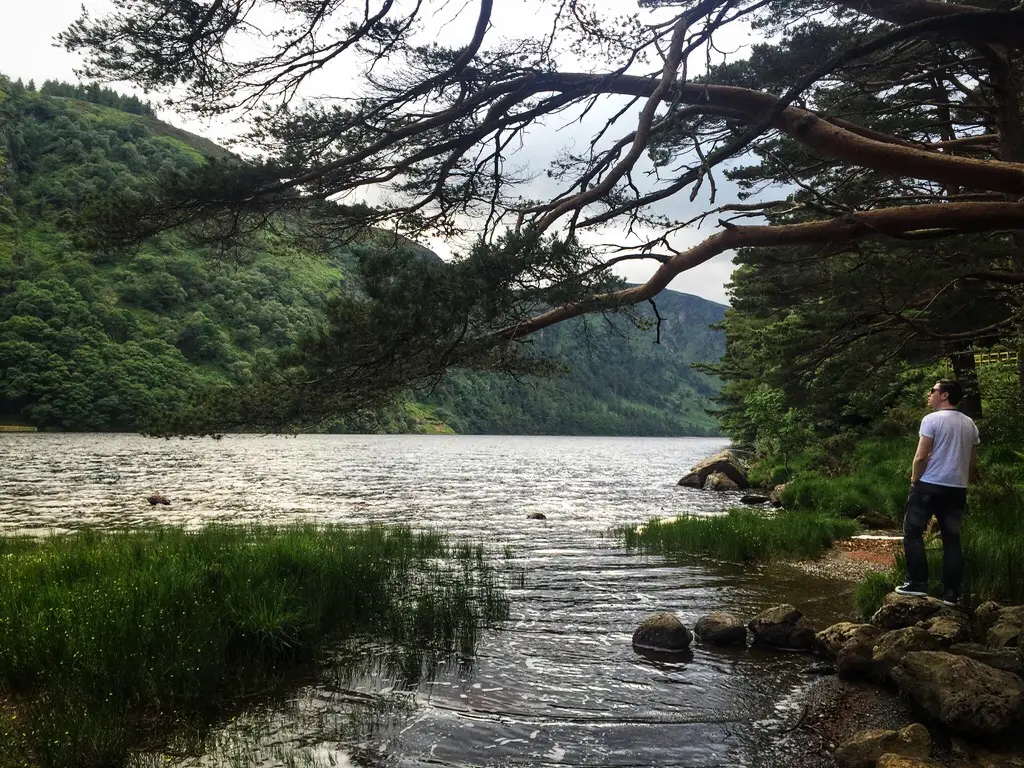 24. Experience Cork City
Ireland's second largest city, Cork, is certainly a bucket list spot when travelling around the Emerald Isle. It is incredibly vibrant with a lot to see and do. Situated on the River Lee this is a food and drink lovers perfect location.
Some must see sights include the English Market, where you can purchase some locally produced foods such as fish and seafood. There are also some excellent tea and cake spots in here too.
St Anne's Church is another highlight as you can climb to the top for 360 degree views of the city. You can also ring the church bells, which can't be great for the neighbours.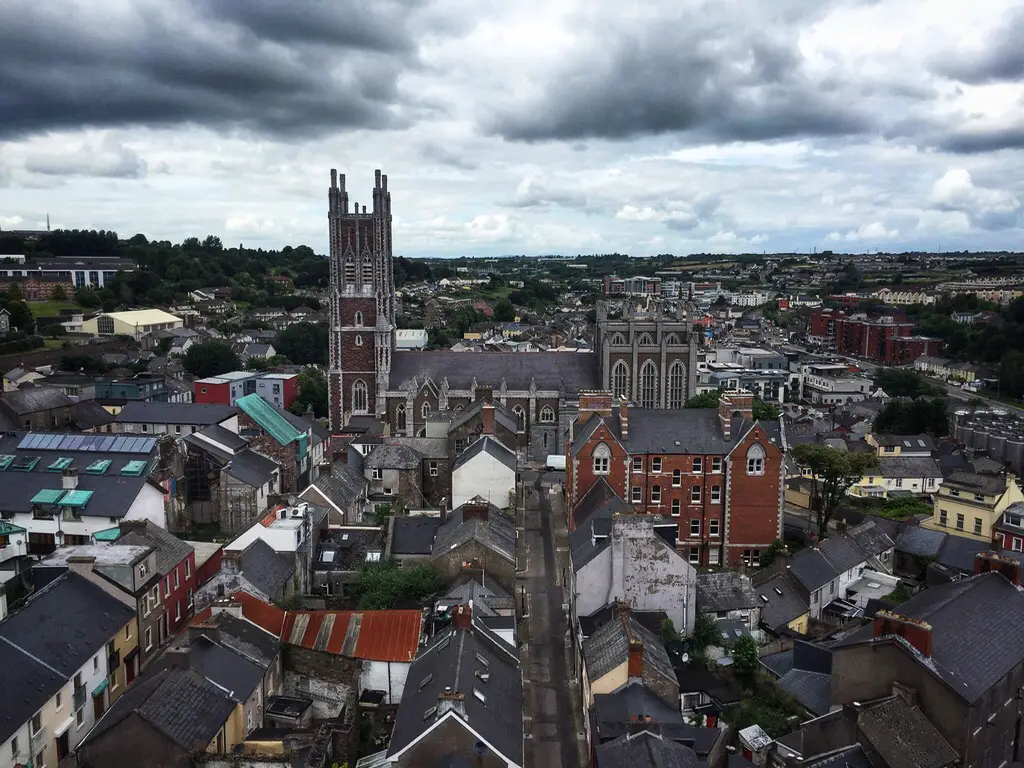 For the ultimate list of things to do in County Cork checkout our guide.
25. Kiss the Blarney Stone
Pop this one high up on your Ireland bucket list, especially if you are shy. Kissing the Blarney Stone is said to give you the gift of the gab. But you will have to work for it.
Firstly you need to climb to the top of Blarney Castle via some narrow winding staircases. Once you reach the top you need to wait in line until you are called forward to kiss the stone. The stone itself is suspended over a severe drop. You need to lay on your back and someone holds your legs as you reach out to kiss the stone.
It's a bit of fun but probably not for anyone scared of heights.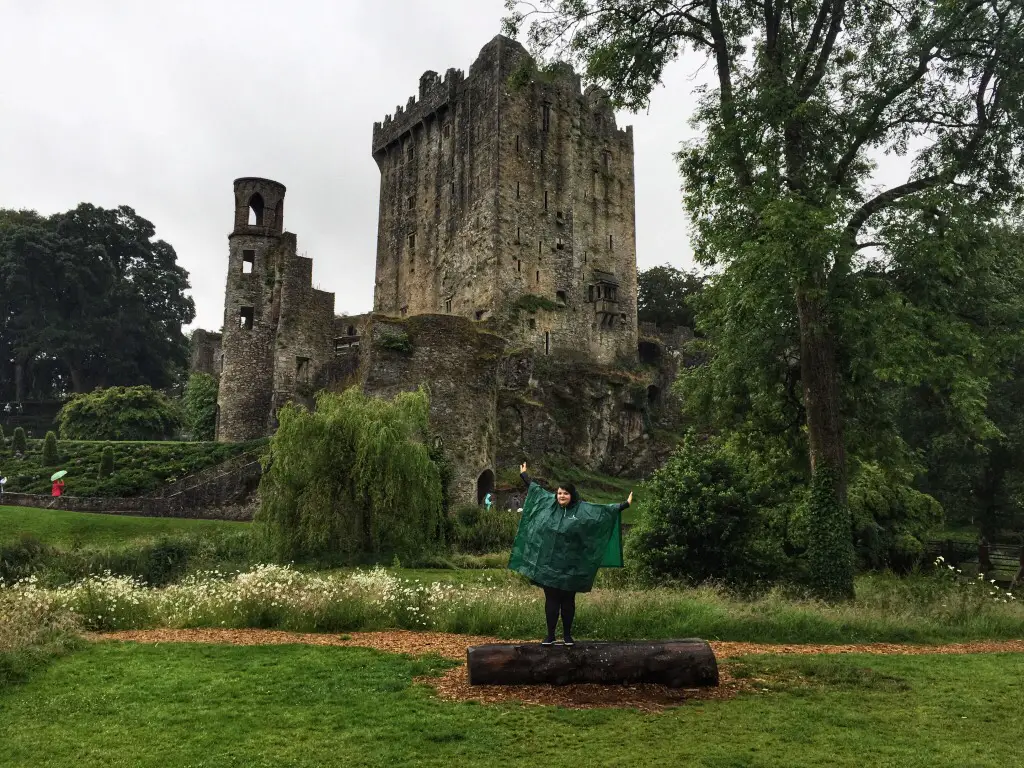 26. Eat Fish and Chips in Bantry
Bantry is a really beautiful and colourful seaside town that you should add to your Ireland itinerary. It's small but there are some lovely back streets you can explore, and some quirky shops to visit. It's also perfect for some freshly cooked fish and chips. Just don't be a fool (like me) and hold your fish and chip box up whilst taking photos. You WILL get attacked by seagulls.
27. Visit Kilkenny Castle
Let's face it your Ireland bucket list isn't complete without at least one visit to a castle. One of our favourites happens to be Kilkenny Castle. It's one of the biggest attractions when visiting the town of Kilkenny so worth a look if you are in the area.
The castle was built in 1195 to control a fording point of the River Nore. A cool fact about it though is that it was transferred over to the people of Kilkenny in 1967 for only £5!
These days for €7 you can do a tour, and wander around the beautiful castle gardens.
Incidentally Kilkenny is a great place to spend a day in and if you are visiting the castle here are some things to do in Kilkenny for inspiration.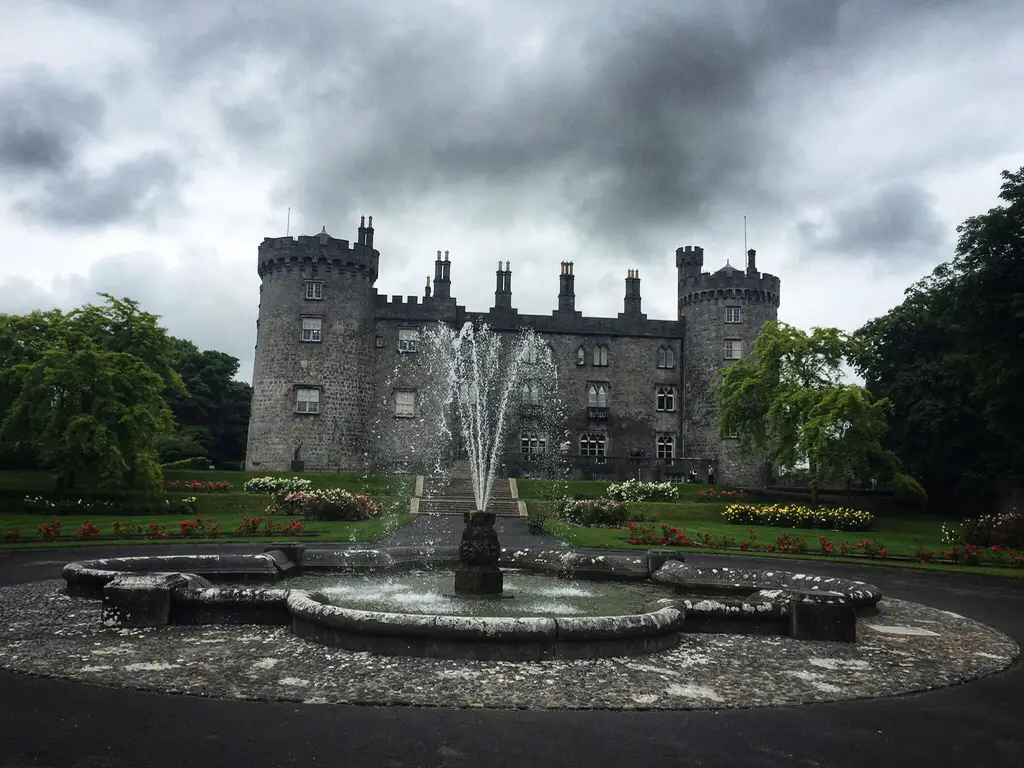 28. Visit the Rock of Cashel
The Rock of Cashel is located in County Tipperary, and is another popular tourist attraction in Ireland. It's an ancient monument and historical site. Included in the monuments is a Gothic Cathedral, and abbey, a round tower, and a Romanesque chapel.
You will probably need about an hour to explore here, and try to get in early to avoid the tourist rush.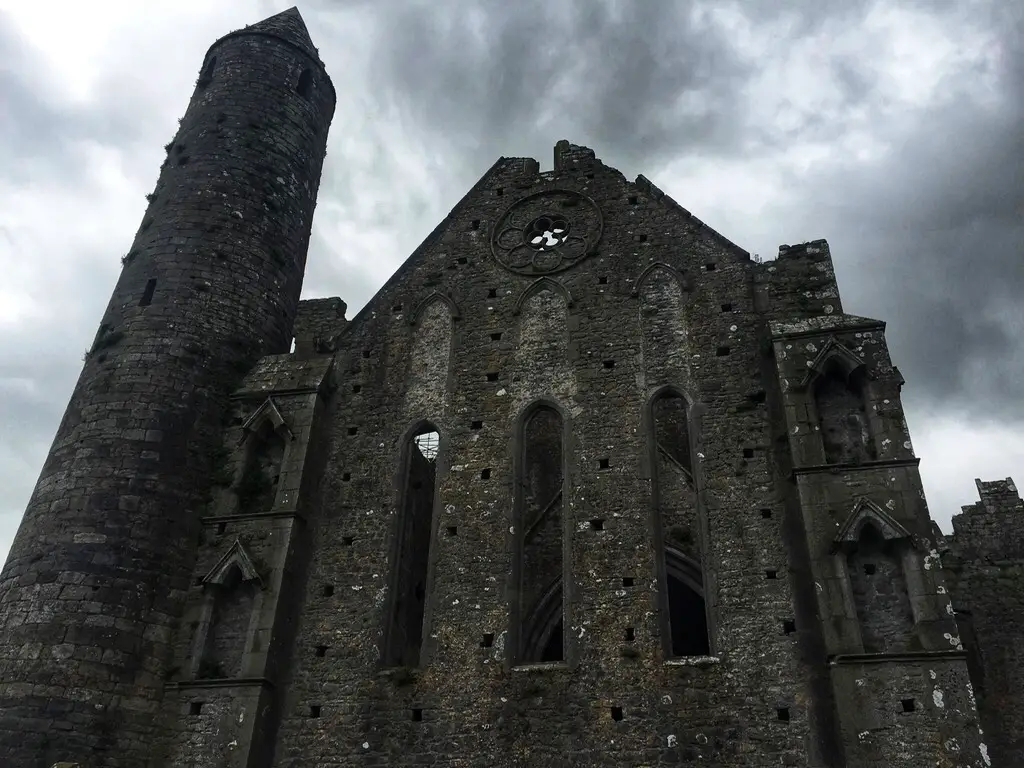 29. Have a night out in Killarney
Killarney is a popular stop when visiting the Ring of Kerry, and Killarney National Park. It's also a really fun place to go for a night out. The pubs are brimming with people looking to have a good time, and you can experience some of that Irish hospitality. There are quite a few pubs here playing trad music (which we go into a bit further down) so it is a great place to spend the night before venturing out on the road again.
30. Hike in Killarney National Park
Killarney National Park is another must for your Ireland bucket list. After you have spent the night in Killarney you should go out to explore the neighbouring national park. There is so much to see here including some of our personal highlights – Torc waterfall and Ladies View. It's best if you rent a car for this one, but if you can't don't worry as you will be able to book day trips from Killarney.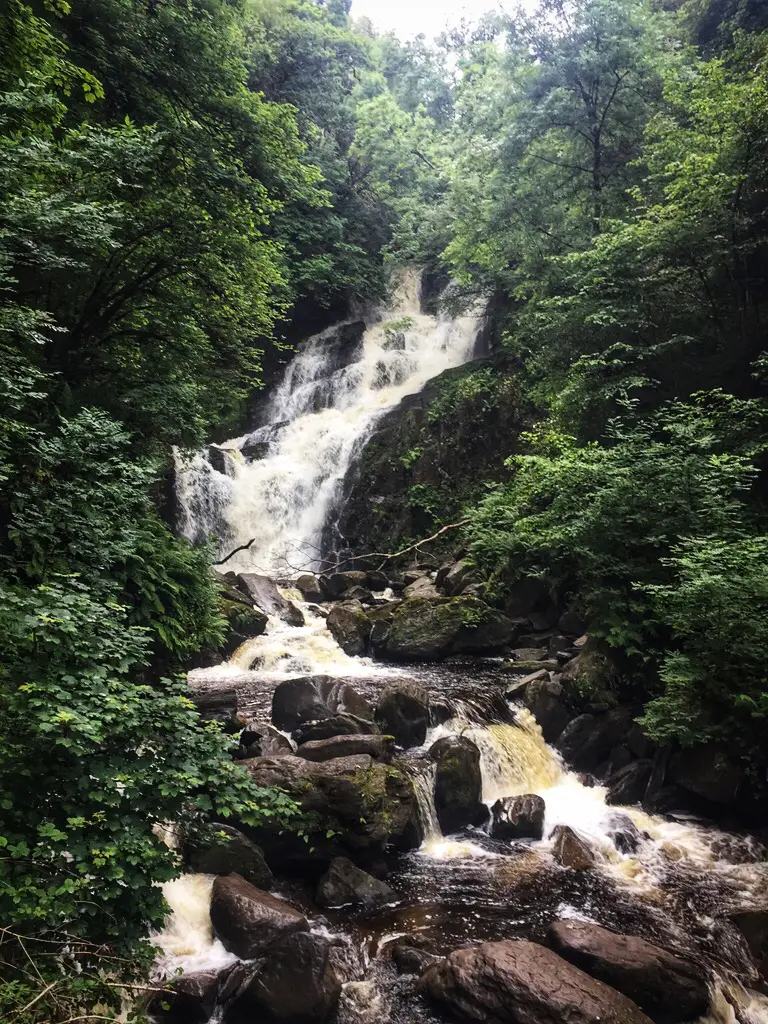 31. Climb Knocknarea in Sligo
Knocknarea dominates the Sligo skyline so if you are in the North West of Ireland then you should try and hike to the top. There is an excellent trail that is a 6km loop that reaches a height of 315m at the summit.
It's also a sacred place as it is said to be the burial place of Warrior Queen Maeve of Connaught.
32. Try the surf school at Strandhill in Sligo
Sligo is one of the best places in Ireland to surf. So if you are visiting the County make sure you head to Strandhill. There is a very well renowned surf school where you can learn how to ride those waves.
Strandhill Beach is also a really beautiful place to explore so even if you aren't into surfing make sure you visit this beautiful beach. There are some excellent food spots here, and you can also walk along the coastal path that takes you through the sand dunes.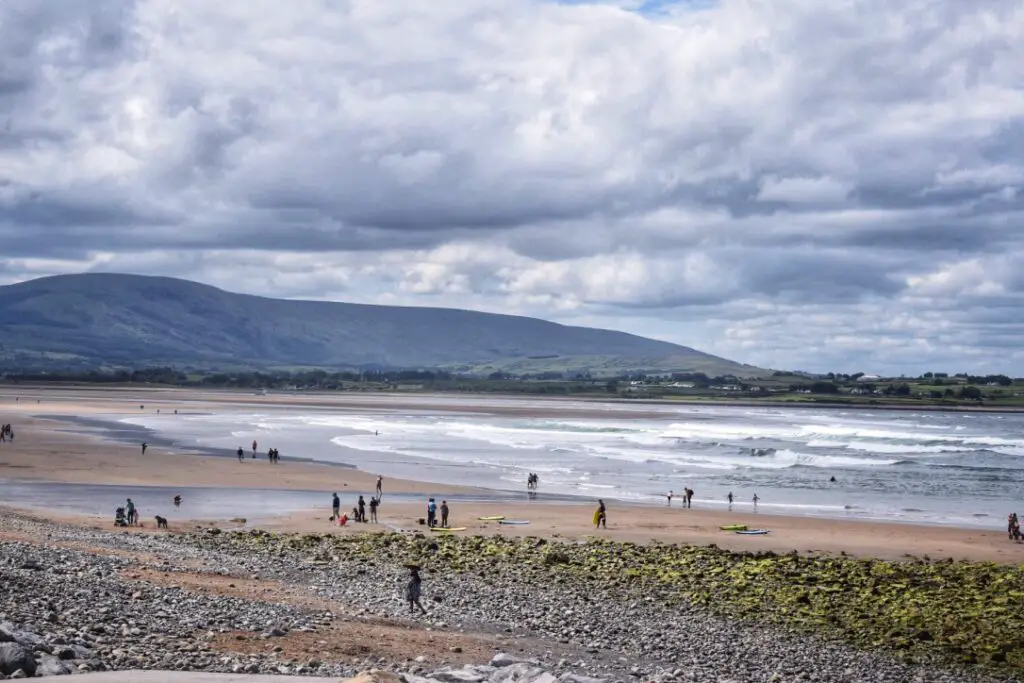 33. Visit Glencar Lough
If you are a literature fan as mentioned above you will want to visit W B Yeats grave in County Sligo. And if you do, we also recommend visiting Glencar Lough which was the subject of Yeats poem 'The Stolen Child'.
Where the wandering water gushes
From the hills above Glen-Car,
In pools among the rushes
That scarce could bathe a star,'
WB Yeats
The Lough is stunning and straddles Country Sligo and Leitrim. You should also visit the nearby Glencar waterfall and hike around the beautiful green surroundings.
34. Admire the Slieve League Cliffs
Slieve League is a mountain in Donegal on the west coast of Ireland. It sits at 601 metres high and is also home to some of the largest sea cliffs in Europe. It's also pretty safe to say that these are some of the best views in Ireland. It's a perfect place to go for hikers and is great if you just want to admire some of the natural beauty that Ireland has to offer.
We recommend visit as part of a larger road trip around Ireland.
35. Photograph the Deck of Cards in Cobh
One of the most photographed houses in Ireland has to be the Deck of Cards in Cobh. It's basically a hilly street with incredibly colourful houses and St Colman's Cathedral featuring prominently in the background.
Cobh is only a small town, but has a very interesting history. In fact it was the last port of call for the Titanic before it set sail for New York.
Here is a useful guide for things to do in County Cork including Cobh.
36. See the Dingle Peninsula
The Dingle Peninsula is a popular landmark located on the southwest coast of Ireland. It's famed for its sandy beaches, and rugged cliffs. The scenery here makes it a must see place for any Ireland bucket list. On top of that you also have some great places to eat and drink, and some quirky shops to venture into.
37. Go ghost-hunting at Leap Castle
Located in County Offaly Leap Castle is said to be the most haunted castle in the world. There are believed to be a number of ghosts haunting the castle so visit at your own risk!
The castle was built way back in the 15th Century and changed hands several times as a result of fights and attacks. The history is quite gory too. According to legend there was a severe rivalry in the O'Carroll clan whom the castle was originally built for. There were two brother who were embroiled in a bitter argument, one who was a priest was holding a mass for family, when the other brother came charging in and plunged a sword into him. Unsurprisingly the chapel is now called 'The Bloody Chapel'.
38. Skellig Islands
The Skellig Islands are about 12km off the coast of Ireland, but they can be accessed by boat. Do do this you will need to go from Portmagee in the South West of Kerry.
They consist of two islands which are Skellig Michael and Little Skellig. It is only Skellig Michael that you can visit as Little Skellig is home to a protected colony of birds.
You do need to book in advance as they only allow a restricted number of people on the islands with only 180 people allowed on at any one time. Getting there is also hugely weather dependant so whether you get to go or not will involved a bit of luck.
Ireland bucket list ideas in Northern Ireland
Here our our best Ireland bucket list suggestions for visiting Northern Ireland.
39. Cross the Carrick-a-Rede Rope Bridge
One of the best things to add to your Ireland bucket list is walking across the Carrick-a-Rede Rope Bridge. The bridge was originally built by fishermen in 1755 to link the mainland to the small island of Carrickarede.
These days it is maintained by the National Trust and costs around £8 to visit. There is a timed ticketing system so only a certain number of people are allowed to cross during a period of time.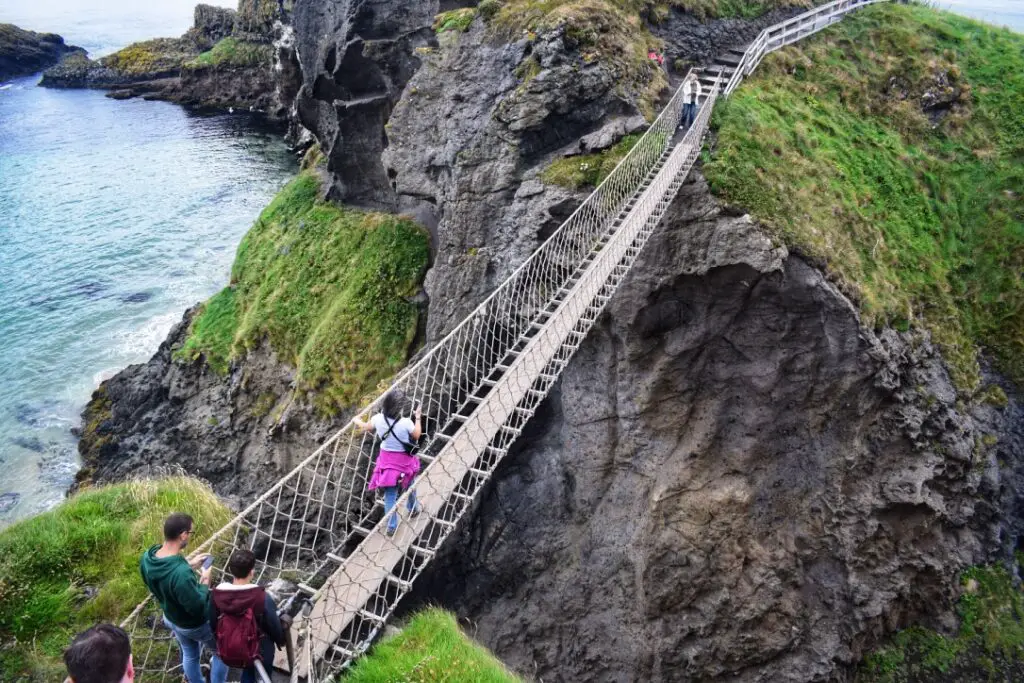 40. Dark Hedges
If you have ever watched Game of Thrones you might recognise the picturesque Dark Hedges. But even if you haven't watched it visiting the Dark Hedges is a must on your Ireland bucket list.
Located on Bregagh Road a pedestrianised street, the trees create a magical and almost otherworldly tunnel that you can stroll through. It's a beautiful walk, but if you want to do it without the masses of people we recommend getting there early. That being said the Hedges are said to be haunted so maybe don't arrive too early.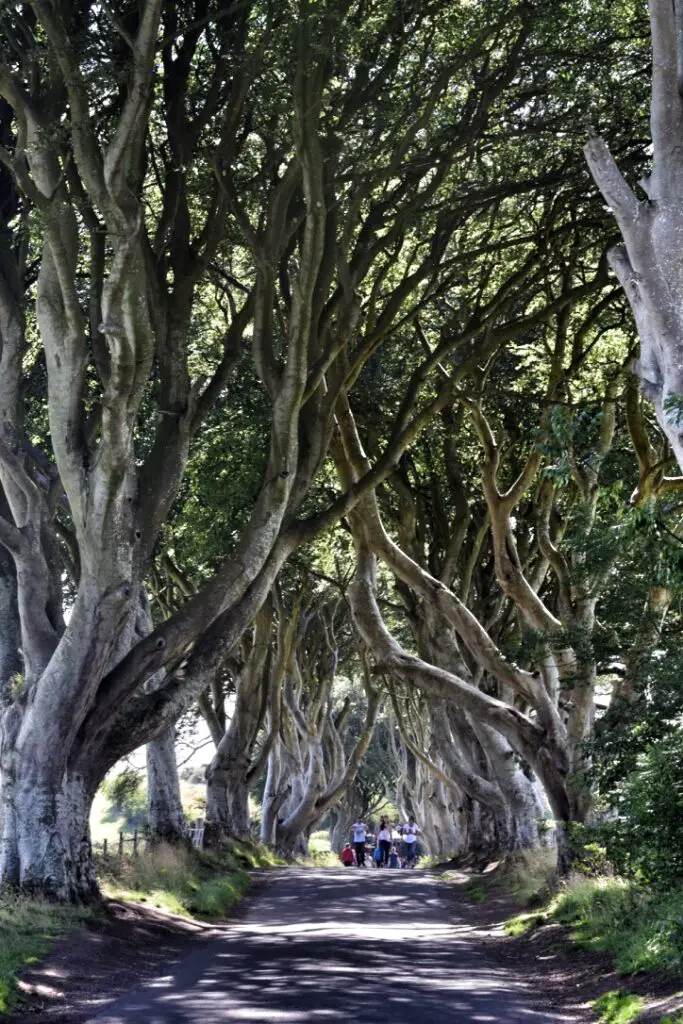 41. Portstewart
Portstewart is a small seaside town in Northern Ireland that is popular with surfers and swimmers. It's honestly a beautiful place to visit because it gives you the chance to enjoy the beaches in the North.
There is also some amazing food here. If you can try Harry's Shack. You get to enjoy beach views and delicious seafood. Booking is recommended as it does get busy, particularly on the weekend.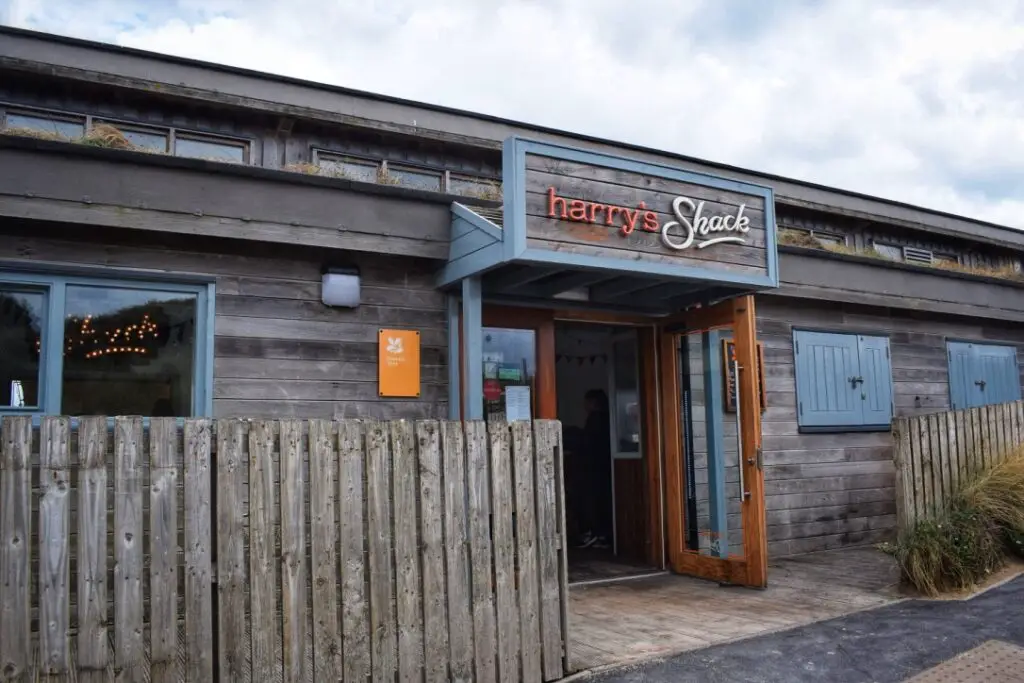 42. Dunluce Castle
Located on some dramatic coastal cliffs Dunluce Castle is a beautiful place to visit in Northern Ireland. It was built by the MacQuillan family in approximately 1500, and has had a turbulent history, with being seized by other clans throughout history.
If you are visiting Northern Ireland, particularly the Causeway Coast then this has to be added to your bucket list. Entry is about £5.50 and it's worth it for those views alone.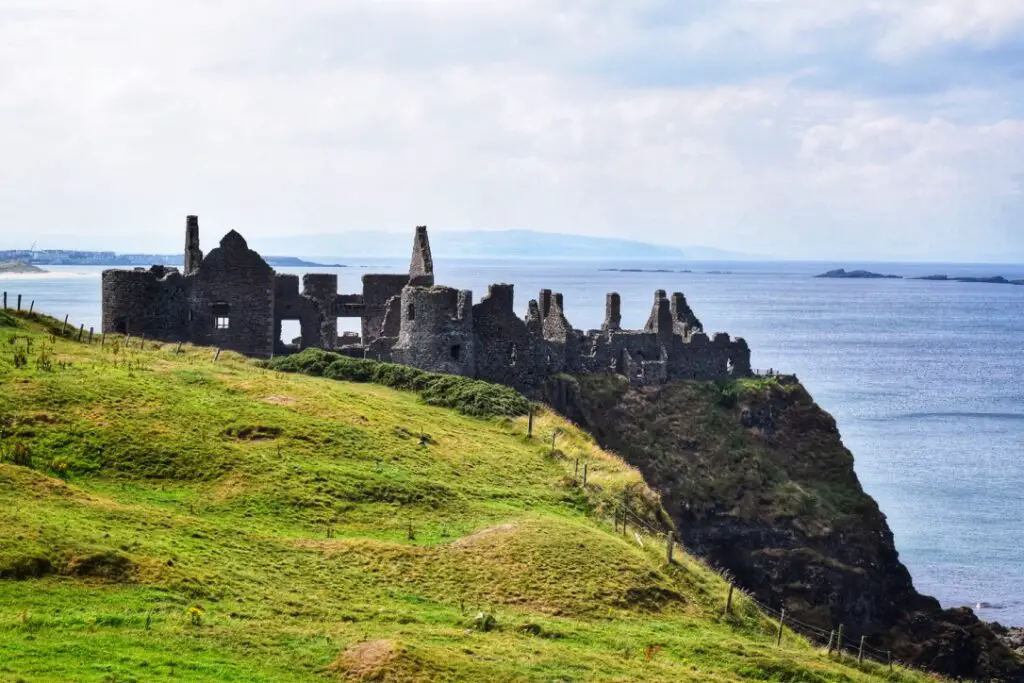 43. Try some Whiskey at the Old Bushmills Distillery
If you like your whiskey then the Old Bushmills Distillery is the place for you. It is the world's oldest licensed whiskey distillery, and over 400 years on it is still making the good stuff. When you visit you can learn all about how whiskey is made as well as trying some too.
44. The Giant's Causeway
One of the top sights and must dos on your Ireland bucket list is to visit the Giant's Causeway. The Causeway is a product of a volcanic eruption something like 60 million years ago. These days it is a UNESCO World Heritage site which is run by the National Trust.
This is a very popular tourist attraction so do get here early before the swarms of people arrive if you want some cool photos.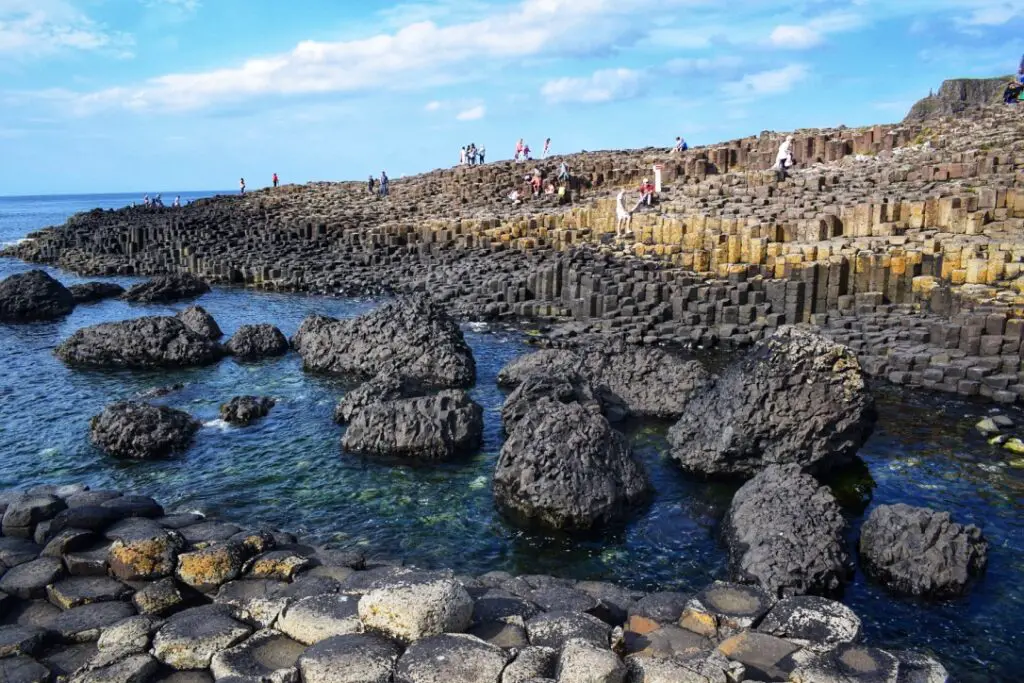 45. Derry
There are so many great reasons to visit Derry. Not only is it the only remaining completely walled city in Ireland, but it's full of so much history that you really have to see it for yourself.
For many years Derry was the centre of The Troubles, and you can visit some moving murals that depict important events throughout this painful history.
Derry is really an up and coming place, with a painful past but the future is bright for this city.
46. Ballintoy Harbour
We are adding Ballintoy Harbour to this Ireland bucket list, mostly for Game of Thrones fans. The Harbour is very close to the Rope Bridge and it is another location where GOT was flimed. It's very picturesque and worth a stop when travelling along the Causeway Coastal Route.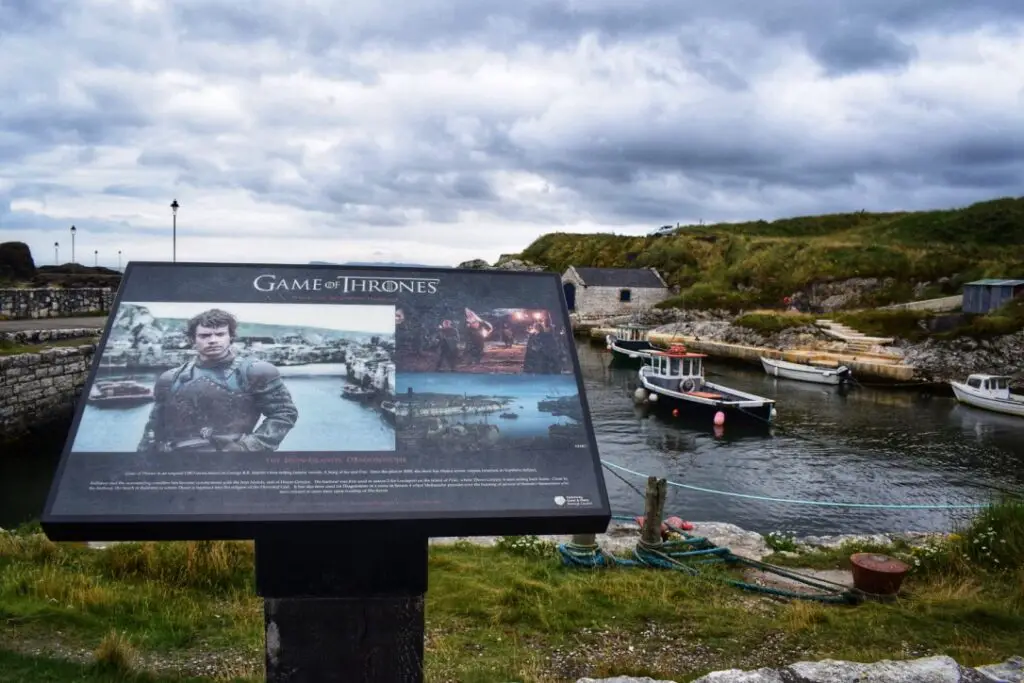 47. Mussenden Temple & Downhill Demesne
Mussenden Temple & Downhill Demise is another picturesque part of Northern Ireland to visit. Mussenden temple is located in the picturesque surroundings of Downhill Demesne, sitting on top of a cliff 120 feet above the Atlantic Ocean. The grounds are prefect for a leisurely stroll and admiring the views.
Ireland bucket list ideas involving food
What kind of an Ireland bucket list would this be if it didn't involve food. Irish food is very traditional and incredibly comforting. Here are some top dishes to try when you are in Ireland.
48. Irish Stew
Irish Stew is a good hearty meal to chow down on before a night of drinking. It's made from mutton or lamb, and root vegetables, with a thick broth. A lot of traditional pubs serve the dish so you shouldn't have any issues finding it in Ireland.
49. Soda Bread
Nothing in this world compares to those cold winter days when you come inside and are served a steaming bowl of soup with some Irish soda bread.
The bread became popular during the famine when only the most basic ingredients could be used. It usually contains soft wheat flour, salt, baking soda and sour milk or buttermilk. It doesn't sound like much but slap some butter on a warm slices and you are in comfort food heaven.
50. Boxty
Another food to add to your Ireland bucket list is Boxty. Boxty is a potato pancake fried in oil to give it a crisp exterior. It's popular in Leitrim, Mayo, Sligo, Donegal, Fermanagh, Longford, and Cavan.
There are places that do modern takes like Gallaghers Boxty House in Dublin. The Boxty fries are out of this world.
51. Barmbrack
Another tasty treat is Barmbrack, also known as Brack. It's a yeasty bread with sultanas and raisins throughout it. It's particularly popular around Haloween. Traditionally you add things like a ring, a coin, a bit of cloth to the cake mixture. Each item has significance to whoever discovers it in their slice of cake.
52. Tayto
Here is a cheap and cheerful bit of food to add to your Ireland bucket list – Tayto. Tayto are crisps (or chips) most famous for their intense cheese and onion flavoured snack. They are an Irish institution so make sure you give them a try.
53. Seafood
The Irish are immensely proud of their seafood dishes, and the country is renowned for its top quality seafood. You have fresh seafood like Dublin Bay prawns, to Atlantic Salmon, and even oysters that can be enjoyed in restaurants around the country.
Galway, Cork, Dingle, and Sligo are some of the great places you can visit for top quality seafood.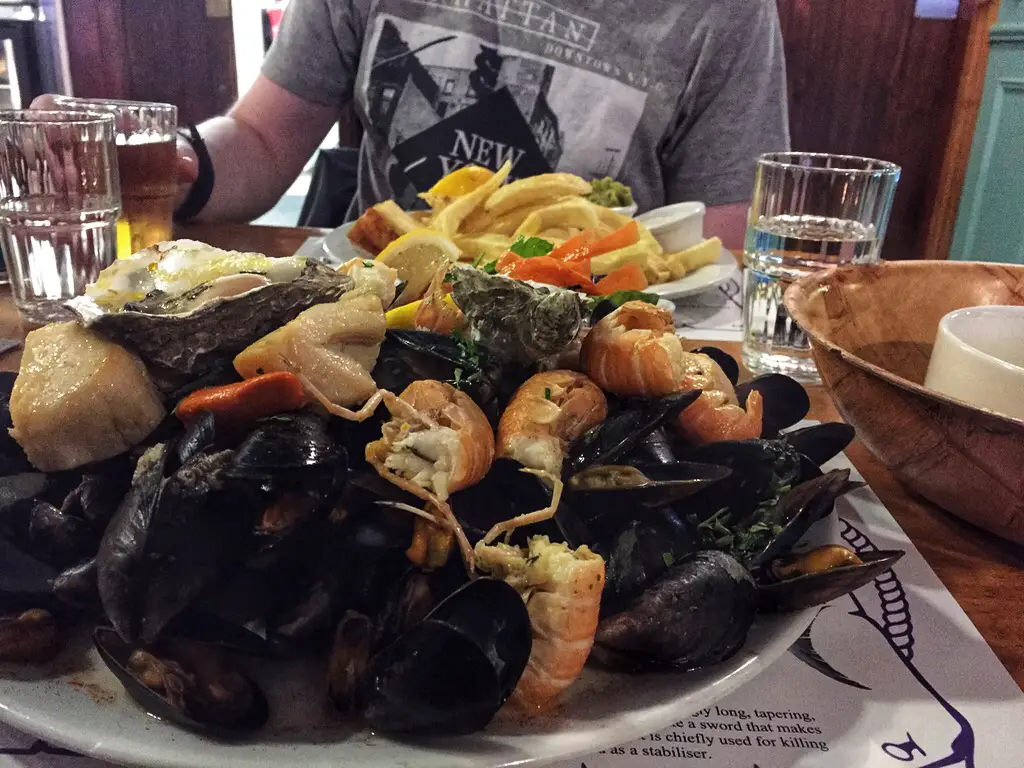 Ireland bucket list ideas involving drink
It wouldn't be Ireland without drinking. Here are some top suggestions to do with drinking that you have to add to your Ireland bucket list.
54. Visit the Guinness Storehouse
Top of your Ireland bucket list when it comes to alcohol has to be visiting the Guinness Storehouse. On arrival you get to do a tour that teaches you all about the history of Guinness. You will learn about everything from marketing campaigns to actually making the black gold as it is sometimes referred to.
At the end of the tour you can sample your own pint of Guinness. The views from the bar are amazing too.
Failing that if you aren't visiting Dublin make sure you order yourself a nice pint of Guinness in a pub somewhere in the country. I can guarantee that it will taste better here than anywhere else in the world.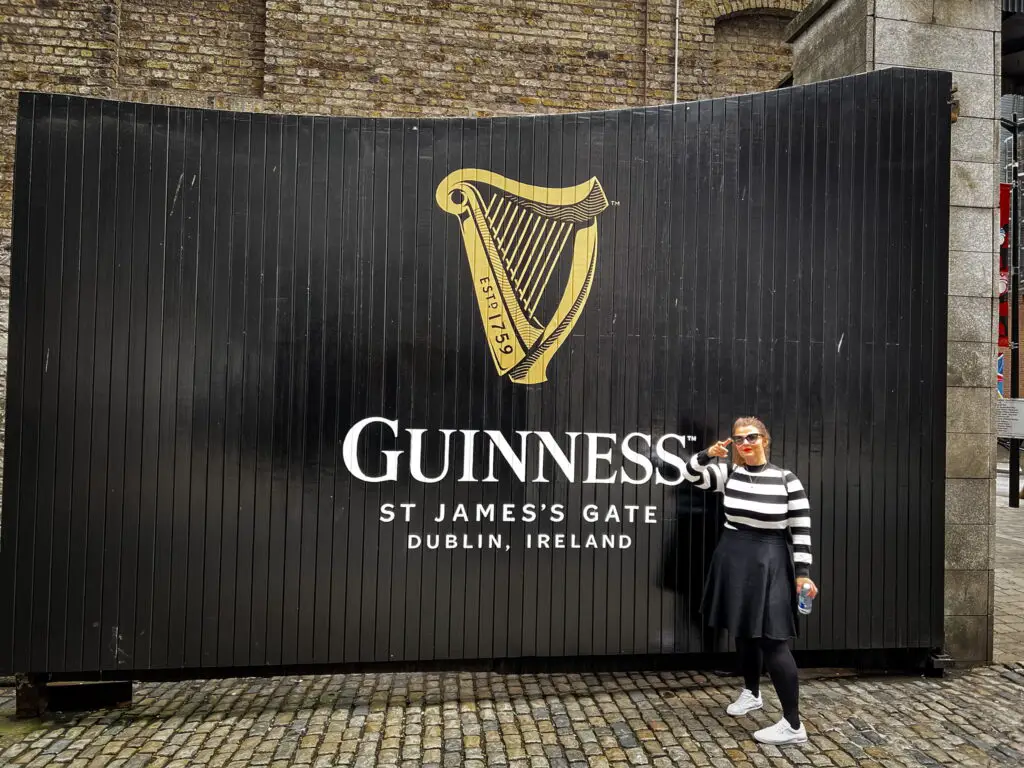 55. Drink at the oldest bar in Ireland
Drinking at the oldest bar in Ireland is another big one for your Ireland bucket list. Sean's Bar located in Athlone, Co. Westmeath is a great place to go for a bit of the old Irish 'craic'. And just to clarify that means 'fun' in Ireland.
56. Irish Whiskey
Ireland's other famous drink after Guinness is Whiskey. So trying a drop of the golden nectar deserves a spot on your Ireland bucket list.
There are several famous distilleries that you can visit to learn how it is made and also taste it. From the Jamesons to Bushmills these are but a few locations you can try.
Alternatively if you are in Dublin head to the Irish Whiskey Museum to try some different kinds of Whiskey. You also get to take a Whiskey glass home with you.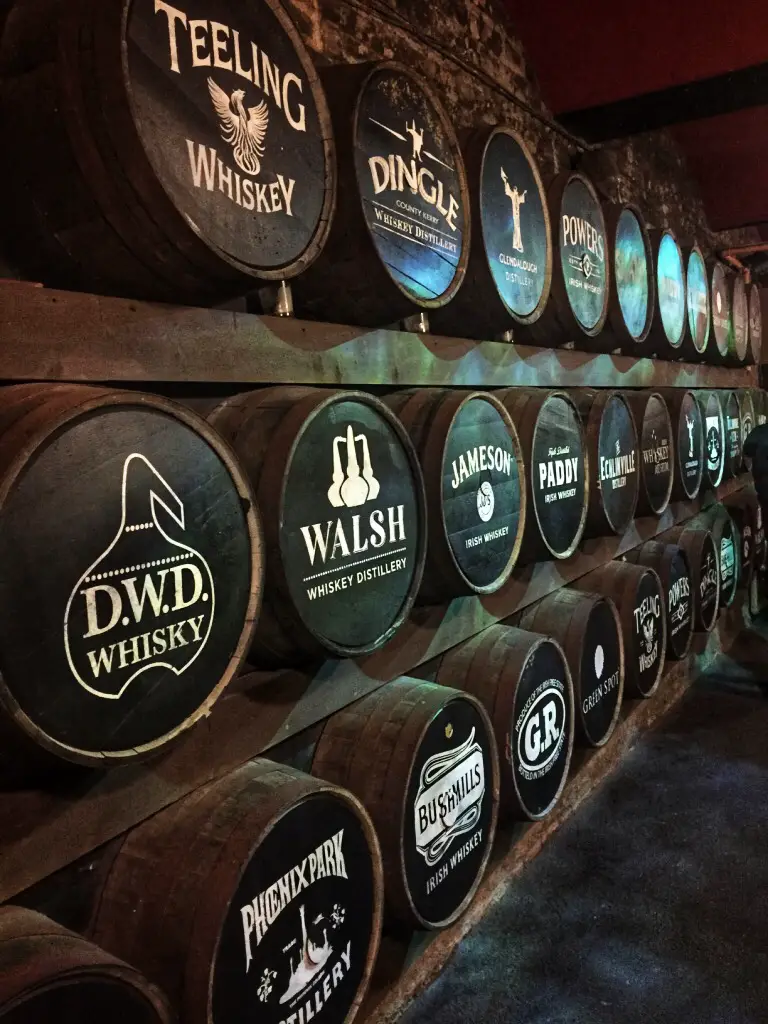 57. Try some Poitín
Poitín is a traditional Irish Spirit that dates back to at least the 6th Century. It's one of those spirits that has many myths around it like making people blind. It was banned at one point and made and sold illegally.
Poitín or Irish Moonshine is worth a try when visiting Ireland. And no that doesn't mean you should try a random case of it brewed in a bathtub. These days it is brewed legally so you can try it as a shot or in a cocktail. We tried it at Bar 1661 in Dublin mixed in cocktails. And before you ask we didn't go blind.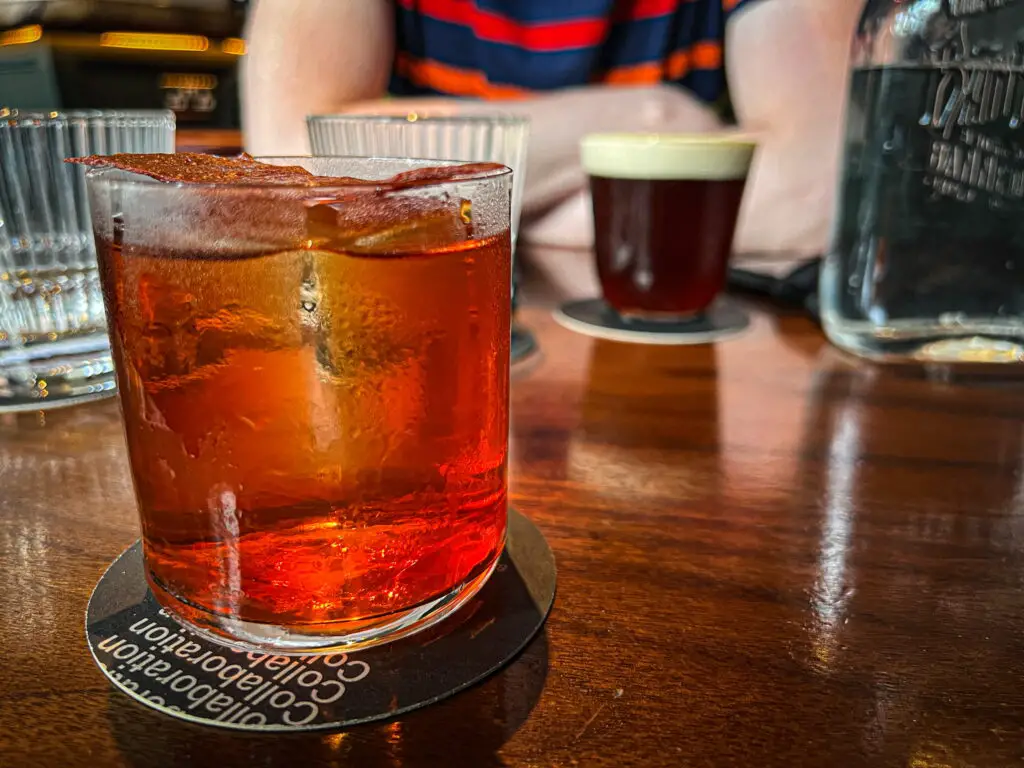 58. Irish Coffee
Another Irish institution when it comes to drinking is Irish Coffee. It's essentially coffee spiked with Whiskey, and topped with cream.
Allegedly it was invited when a bartender by the name of Joe Sheridan working at a terminal near Limerick had to make drinks for a flight forced to turn back. He greeted them with Irish Coffees and when someone asked if the coffee was Brazilian he responded with 'no, Irish'. It became an incredibly popular drink still served today.
There are lots of places that serve and Irish coffee, it's especially popular to have it after a meal. You can also purchase these at the Temple Bar in Dublin. They are a bit on the pricey side, but very tasty nevertheless.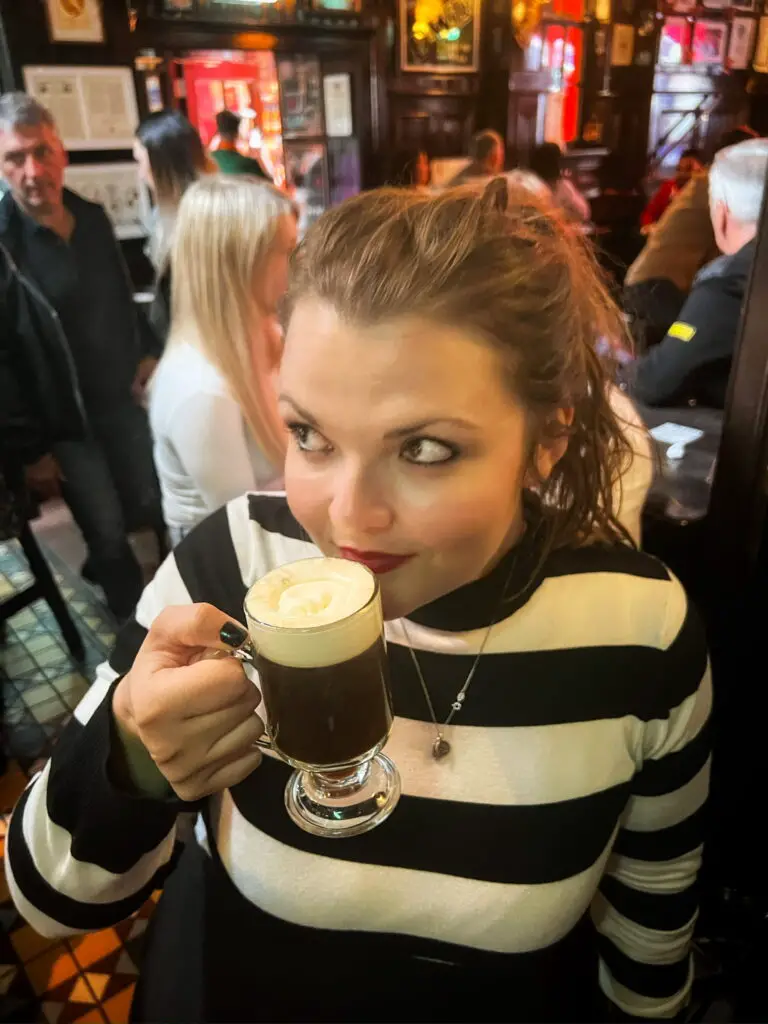 General Ireland bucket list ideas
Finally here are some general Ireland bucket list ideas that didn't quite fit in the other categories.
59. Listen to a Trad session in a pub
A Trad Session is usually a casual gathering of musicians often in a pub who come together and play traditional Irish music. It's a lot of fun and really adds to the atmosphere in the pub.
A lot of pubs in Ireland host these sessions so wherever you are visiting it's a good idea to ask around to find out where and when.
60. Watch some Irish Dancing
Watching Irish dancing is another Ireland bucket list suggestion. You can usually watch the dancing during  festivals, fleadhs or céilís. For some suggestions here are some links for watching Irish dancing in Galway and in Dublin.
61. St. Patrick's Festival
One of the biggest days on the Irish calendar is St Patrick's Day. It's a day that originally was to observe the death of Saint Patrick who is the patron saint of Ireland. In modern times however it has become a celebration of all things Irish and includes parades, music, food, dancing, and a lot of drinking.
Spending St Patrick's Day in Ireland is incredible. The cities come to life, buildings are lit in green colours, and people are jovial. Things have been known to get a bit crazy though so just be mindful and if you are going to drink make sure you have a decent meal beforehand.
Ireland bucket list recap
Hopefully this Ireland bucket list has given you some inspiration on some of the must do things on your next trip. Ireland is a very beautiful country with so much to see and do. We hope you enjoy your trip. And if you found this article useful please do pin it for later.