Planning the perfect Cornwall road trip itinerary – everything you need to know
When Dave and I were offered the opportunity to stay at a new accommodation in Cornwall, called Fallen Angel, we absolutely jumped at the chance. Despite living in the UK for well over 10 years now, neither of us had actually been to Cornwall. And with pristine beaches, unspoilt countryside, and a whole lot more we were really looking forward to planning a Cornwall itinerary. Considering it took us over 6 hours to drive there from Manchester we also wanted to make the most of spending 3 days in Cornwall. So, we hopped in the car and out we went to explore. Here is our Cornwall road trip itinerary to help you plan your own trip to this incredible UK County.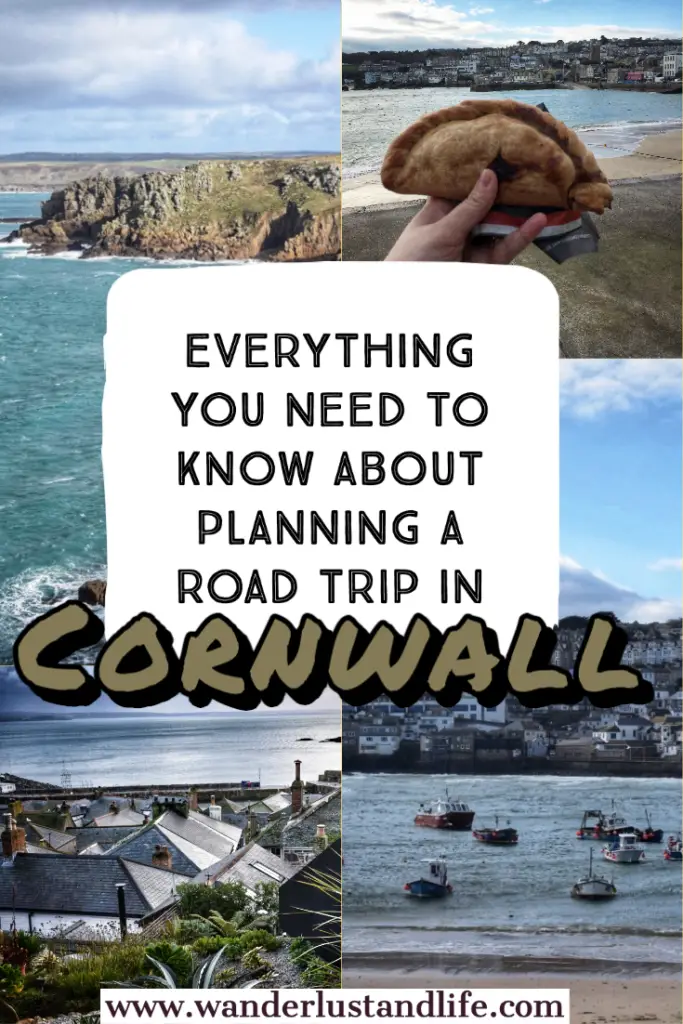 Before we start our Cornwall itinerary here is some background
Cornwall is a county right at the southwestern tip of England. It's known for its beautiful countryside, rugged landscapes and incredible beaches. It is hugely popular with Brits especially in the summer months when everyone flocks to the beach to make the most of the good weather. And apparently it is also a good 4-5 degrees Celsius warmer then other parts of the UK. This makes sense because in Manchester which is way further north it is COLD!
The biggest (and only) city in Cornwall is Truro, everything else is a town or village, and the only other UK County it borders is Devon. Cornwall used to have its own language called Kernewek which is actually making somewhat of a revival of late with some schools opting to teach this. The language is derived form Celtic.
Another cool fact about Cornwall is that it has the longest coastline in Britain, and that is made up of 300 beaches. Which is good news if you are visiting in the summer and want to enjoy the good weather.
Getting to Cornwall
If you are travelling from the likes of London or somewhere in the southern parts of England you have the option of getting the train. There are regular trains between London Paddington and Newquay although it takes over 5 hours so bare that in mind.
There is also the option of flying to Cornwall from one of the other major airports in the UK. In the summer months you can fly from places like Edinburgh, Newcastle, Belfast, and Birmingham. For year round flights your best bet is to fly out of Manchester or London Gatwick. Flights will take you directly to Newquay and you can rent a car from here.
We decided to make the incredibly long drive (over 6 hours) from Manchester to Cornwall. We had to make a lot of stops in between although we did leave really early in the morning so made good time. Most people we spoke to after telling them that we had decided to drive kindly reminded us that there was an airport in Cornwall and we should have used it! That being said, we love a good road trip, so we packed up the car and off we went.
When is the best time to plan your Cornwall road trip?
You might be wondering when the best time to plan your Cornwall road trip is.  We actually did ours in the winter months, which was great because there were no tourists about and everything is way cheaper, but it was cold and miserable at times. Also, the roads aren't always great in Cornwall at this time of year, especially when you venture off the motorway as some of the local roads can be prone to flooding. For that reason, if you aren't an experienced driver especially in the UK we wouldn't recommend a winter trip.
Additionally, summer (especially August) gets very busy with holidaymakers all vying for a coveted spot on the beach. Accommodation fills up really quickly and is more expensive too. So, when is the best time to plan a Cornwall itinerary. We would say spring or early summer before the schools all finish. The weather is delightful and the days are slightly longer in terms of light. September is also a decent time to visit as the holiday season is ending, but the weather is still mild.
Wondering when the best and worst time to visit England is as a whole? Here is a helpful guide.
Is 3 days in Cornwall enough?
3 days in Cornwall gives you ample time to get acquainted with the southern British County, enjoy some time on the beach, and drive around from place to place. In an ideal world though we would probably recommend at least 5 days to explore Cornwall alone. That's because despite people thinking the UK is small – and it is compared to the US or Australia, it still takes time to drive between places. Some places on this itinerary take an hour to get to, which is mostly because of the quality of roads in parts of Cornwall. We picked some key places that we wanted to visit and made sure that they were all kind of close to each other. It did mean missing out on some of the key places like Truro for example, but we were happy with what we did in the length of time we had.
Where to stay during your Cornwall Road Trip?
For our 3 days in Cornwall we decided to stay in Mousehole at the Fallen Angel. It's a beautiful apartment style home that has been converted into the ultimate couple's getaway. Most of the accommodation you will come across in Cornwall will be your holiday homes or apartment rentals. If you are only in Cornwall for 3 days we recommend choosing a base for the 2/3 nights and then travelling to nearby places from there. If you are looking at staying longer in Cornwall then you might be better off choosing different locations throughout your road trip.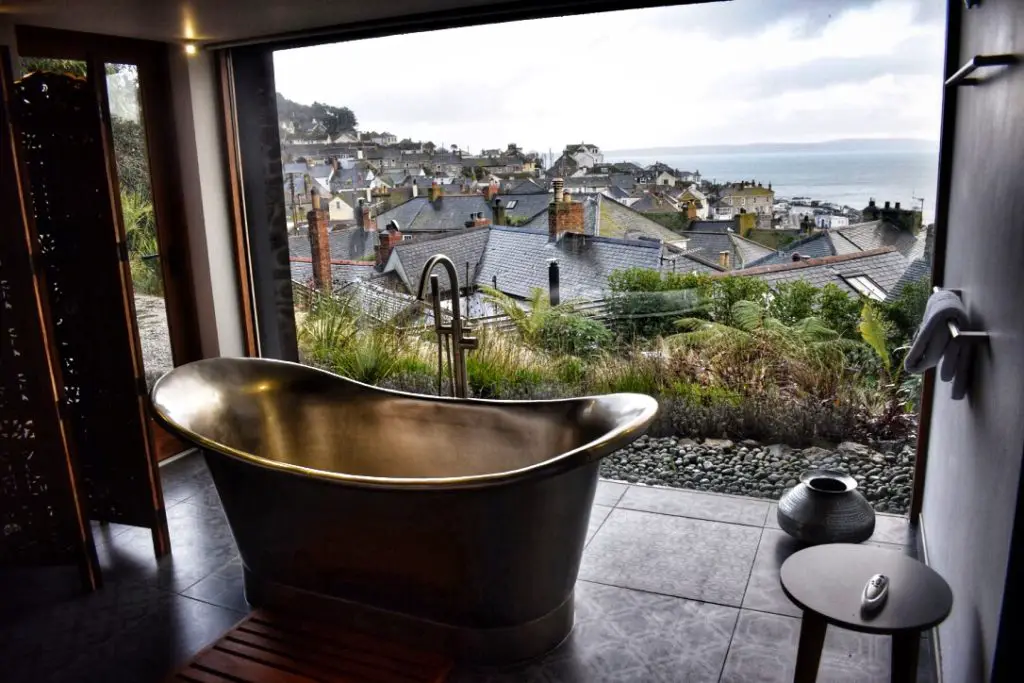 Beautiful places to add to your Cornwall itinerary
Cornwall is quite a big place and driving between points of interest can take longer than expected. The roads can be narrow, and very rural. You might often find yourself driving down a narrow road with room for only 1 car. With this in mind it is probably not possible to explore everything in a weekend, so here are our suggestions for some of the most beautiful places you have to add to your Cornwall itinerary.
Mousehole
Mousehole is a quintessentially Cornish village and perfect for a quiet break. Apparently it was incredibly popular in the 17th and 18th Century among smugglers with salt being the top commodity back then. Obviously it was important because salt was needed to preserve food, the problem was that it was heavily taxed.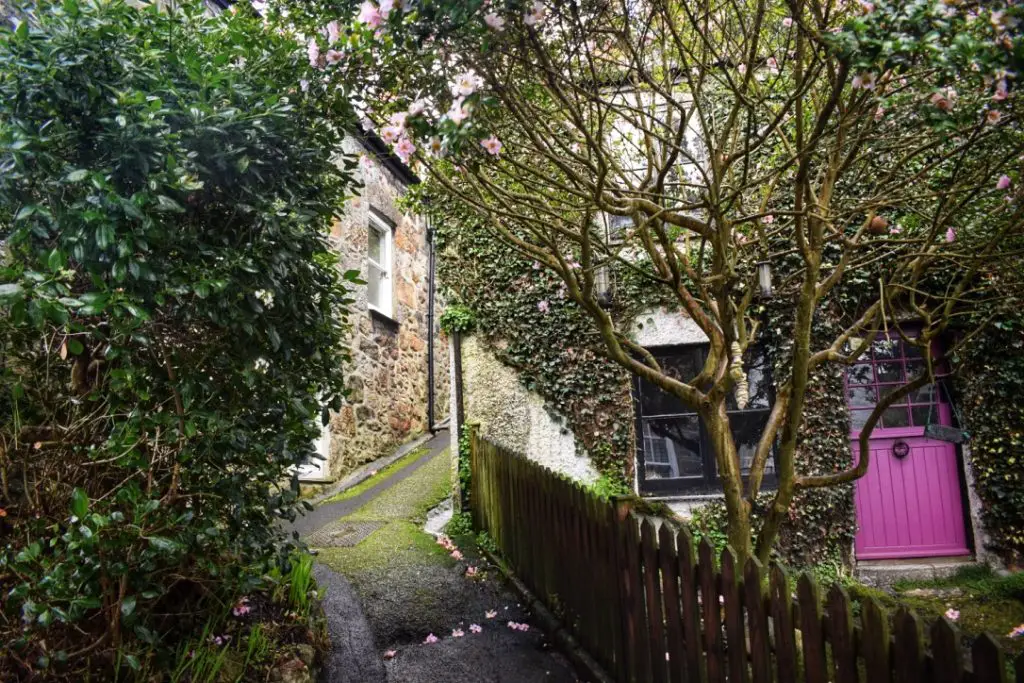 Our accommodation for the weekend happened to be in Mousehole, although it is pronounced Mouzle. It is a small village and fishing port located about 2.5 miles from Penzance. Mousehole is the perfect place to explore. It is mostly accessible by foot, so you will need to ditch your car and go for a wander.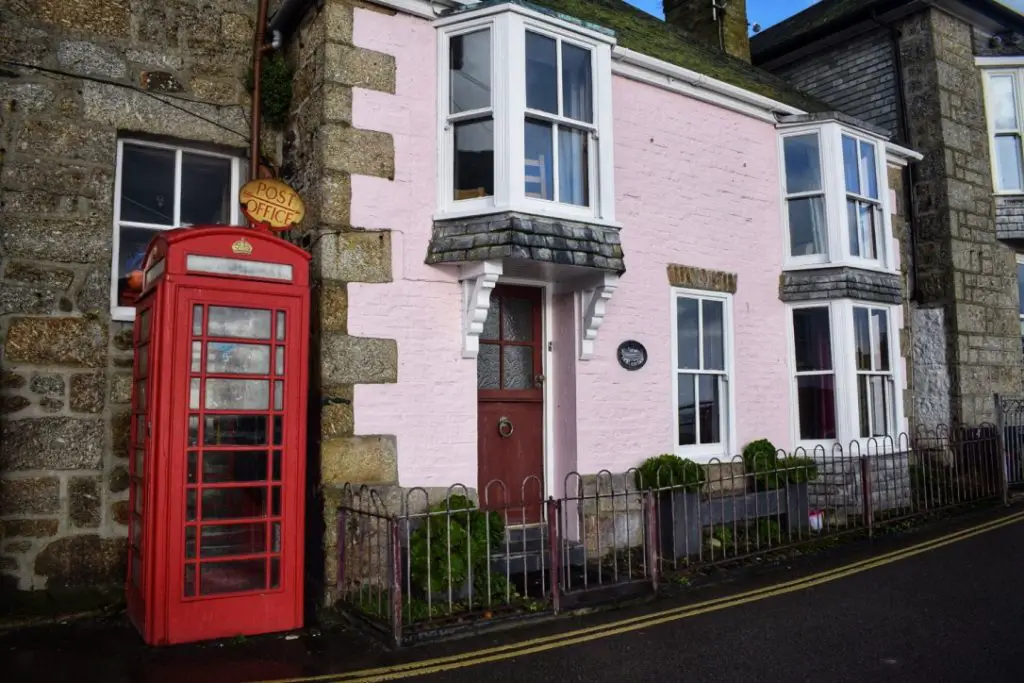 Getting lost in the village's narrow back streets is a real pleasure. It really is a place that exudes a lot of charm, and is just so beautiful. The best thing though is that it is not super touristy. So when you walk around you feel like it is your own little secret place. It is so far removed from all the hustle and bustle which also makes it a great place to relax.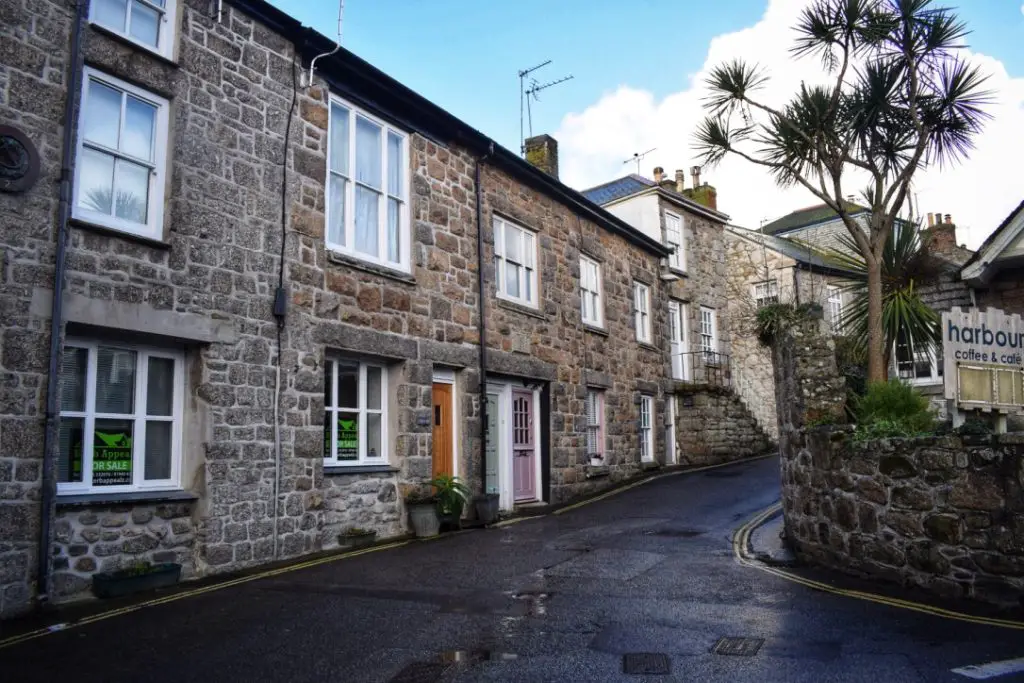 We stumbled upon some cosy pubs, where you can sit by the fire and warm your cockles on those cold winter days. There is also a stunning harbour you can stroll around as you gaze out at the sea.
We also found an absolutely stunning coastal walk around some rock pools that was just gorgeous. There were so many places here you felt you could just unpack a picnic basket and escape from the world.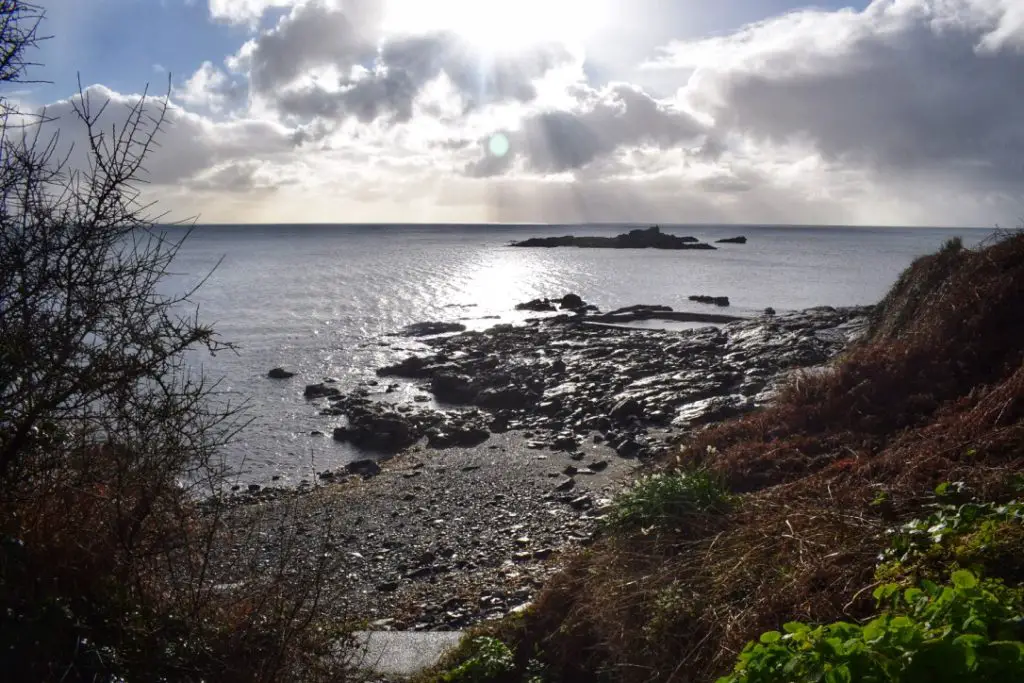 And if you are wondering where to go to eat and drink, well there are a number of restaurants in Mousehole, but only one pub which is  called the Ship Inn. It's very welcoming and the food is great too, so we recommend stopping by on your trip.
Why add it to your Cornwall itinerary?
Mousehole should be added to your Cornwall itinerary because it really feels like an authentic village, and slightly different to some of the more tourist heavy places. It's quaint, it's peaceful, and just really really beautiful.
Penzance
One place we really wished we had of visited whilst in Cornwall is Penzance. It's really close to Mousehole, in fact it is walkable. It takes about an hour to walk there, but it is another example of a quaint fishing village in Cornwall. It's probably not as popular as Mousehole, but you can do a number of walking tours, and there is a very cool pub called the Turk's Head. The pub has a number of tunnels leading down to the harbour that were used for smuggling.
Why add it to your Cornwall itinerary?
This is another authentic Cornish fishing style village, that gives you a real feel for life in the County.
St Michael's Mount
This is another one that we ran out of time to see, but if you love castles you should definitely add this to your Cornwall road trip. This is a national trust site, so you do need to pay entry, but the views from the top of the castle are pretty cool, and the gardens are gorgeous. You can access the castle via the causeway, or alternatively if that is not possible you will have to do a boat crossing to reach the island.
Why add it to your Cornwall itinerary?
Because who doesn't love a castle?
Padstow
I'm not going to lie, we visited Padstow because we both absolutely love Rick Stein. If you aren't British let me explain. Rick Stein is a TV chef from Padstow. He goes to all these amazing places on his show, takes inspiration from their cuisine, and then makes your mouth water with envy as he cooks up these incredible dishes. He is a national treasure so when we started planning this Cornwall road trip I knew we had to stop off in Padstow.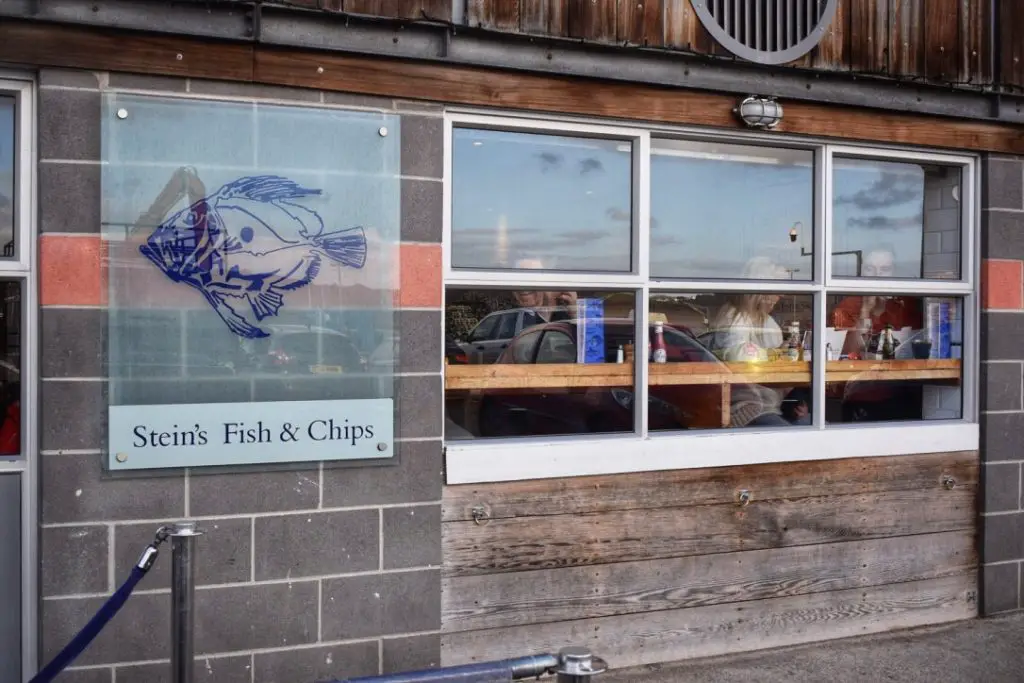 It is another small town and fishing port. Which incidentally makes it the perfect place for fish and chips. When we arrived we eagerly made our way to Stein's Fish and Chips. We were both so excited, and pleased to report that it exceeded our expectations. Rick Stein has a few restaurants in Padstow, and there is also his deli where if you are going to buy anything buy his shortbread biscuits. You will not be sorry.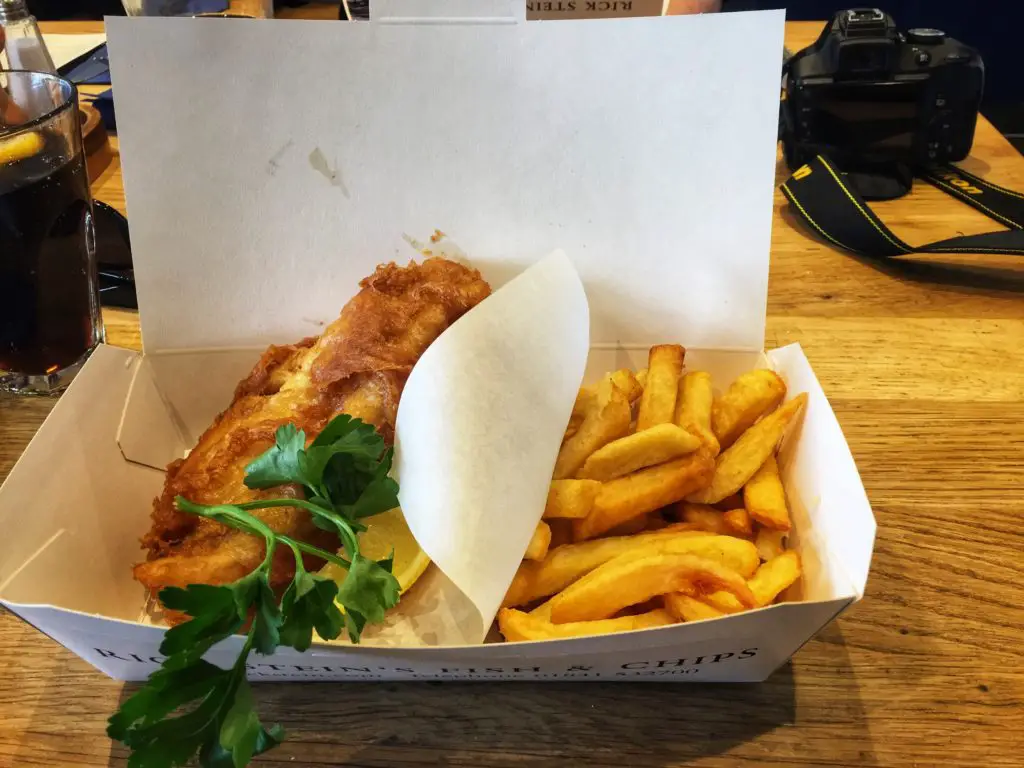 Food aside it is also a quaint little village to walk around and take in the scenery, and that sea air. For us it was the perfect opportunity to walk off the fish and chips.
Padstow does get really busy in the summer months, and parking can be slightly bothersome. We ended up having to park quite a bit away from the main village, but again it made for a lovely walk so we can't complain too much.
In terms of things to do in Padstow, you can take a walk around the harbour, or even get the ferry to Rock, which is another coastal village just opposite.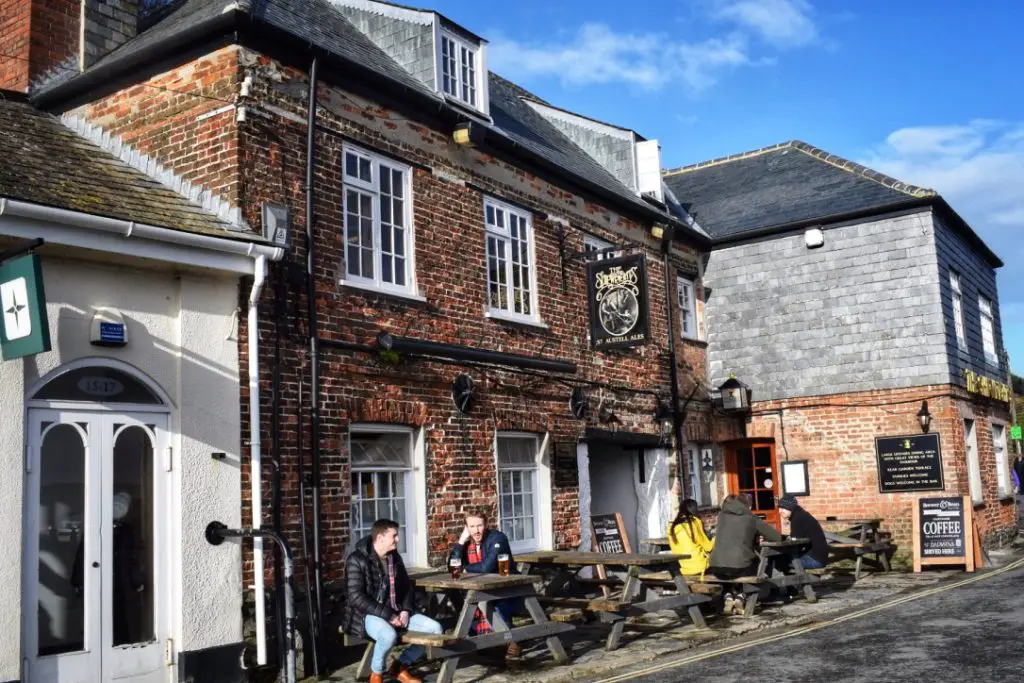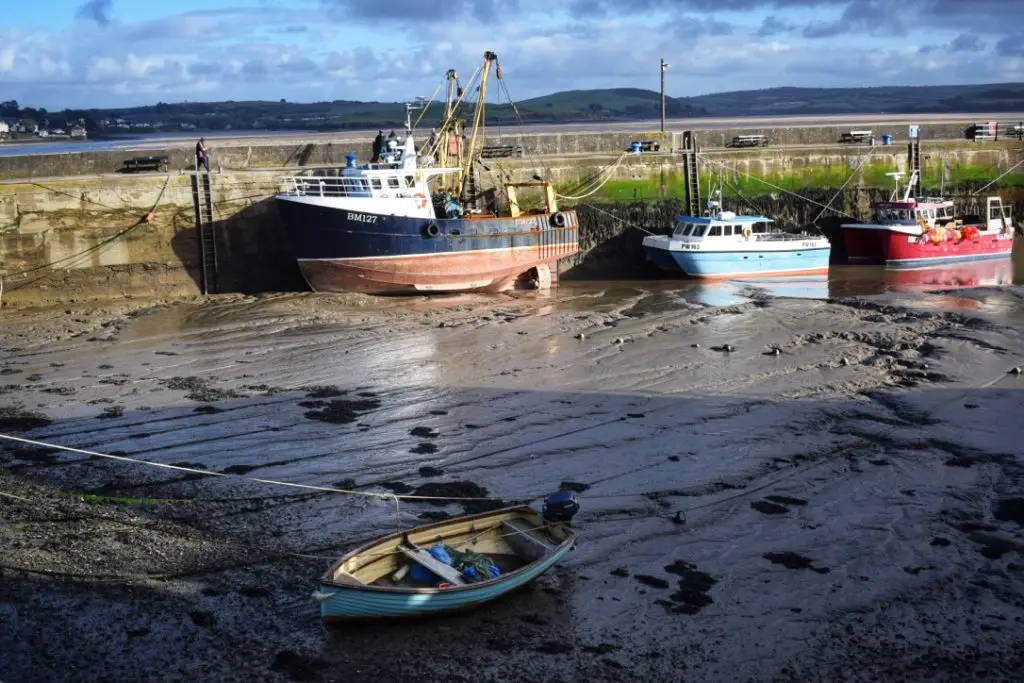 Why add it to your Cornwall itinerary?
For the best culinary experience you have to try Padstow. Again I know I'm biased because I'm such a Rick Stein fan, but they were really good fish and chips!
Land's End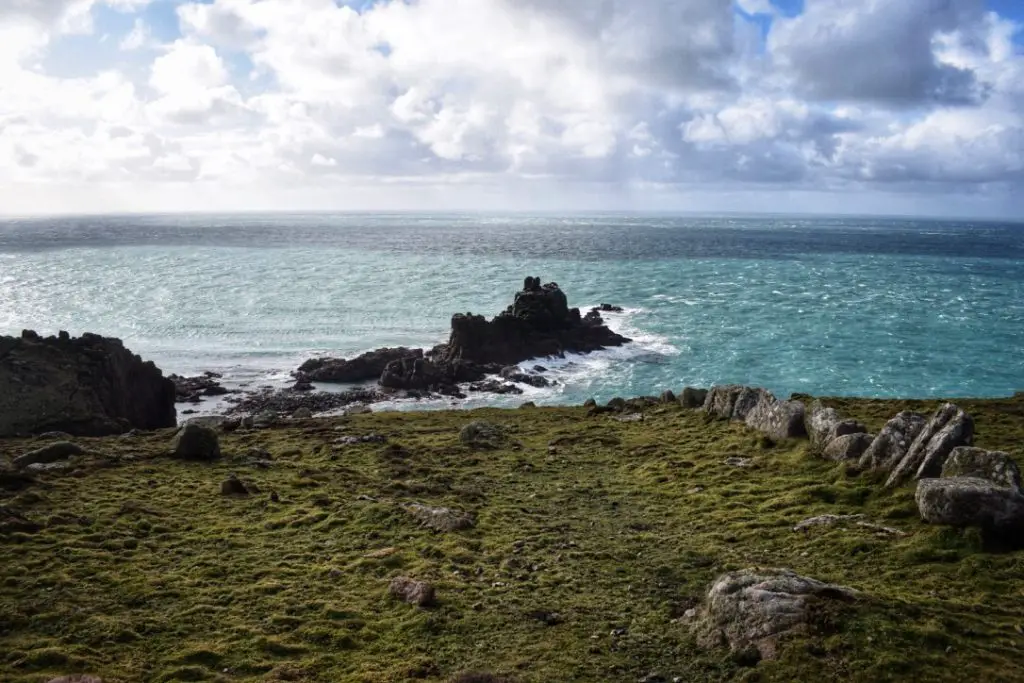 Land's End is the most south westerly point in mainland Britain. When you look out you will see the waves crashing against the 200ft granite cliffs. In the summer there are a lot of attractions open, however we visited in the winter which is of course off season. For us it didn't make much difference. It was bitterly windy as we walked around the rugged coastline, and it really made us feel like we had reached the end of Britain.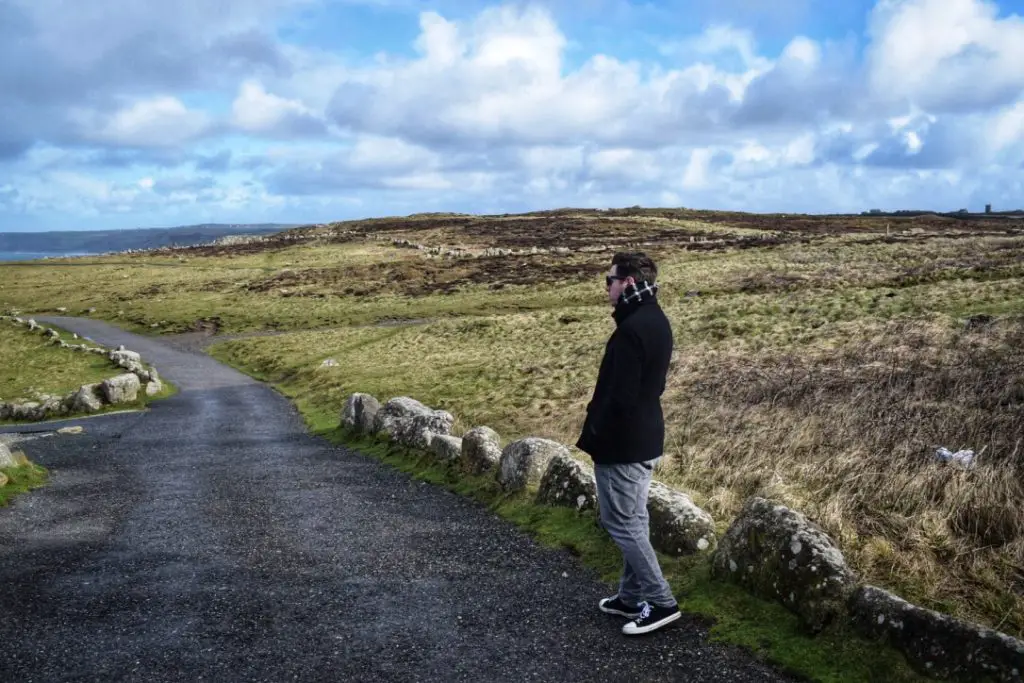 The scenery here is just incredible. Do pack some walking shoes as it is the perfect place to feel at one with nature with several walking trails.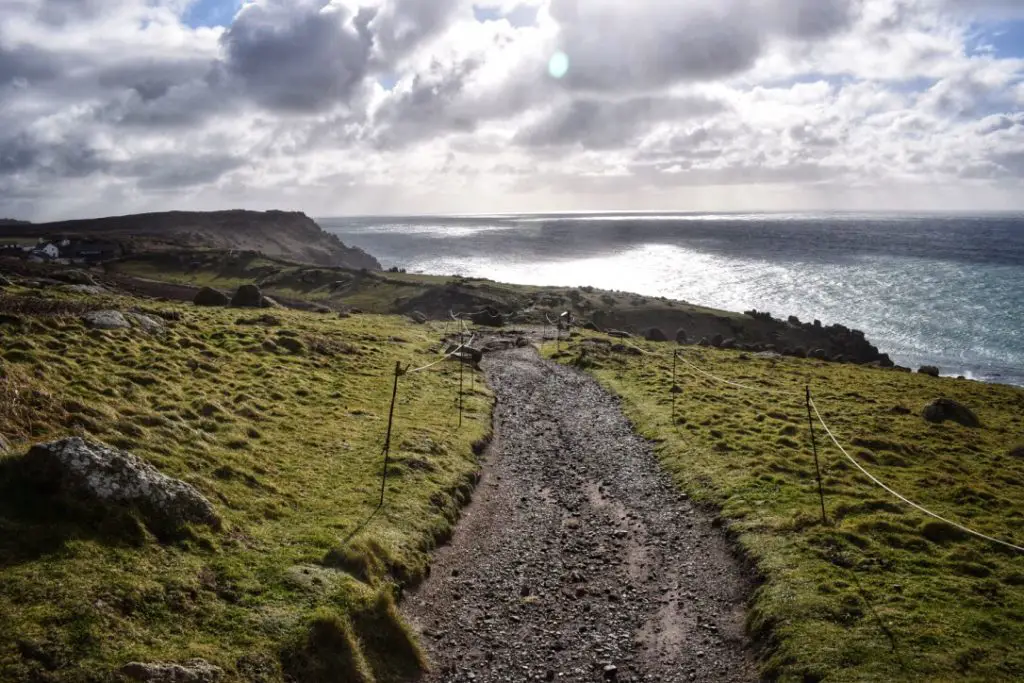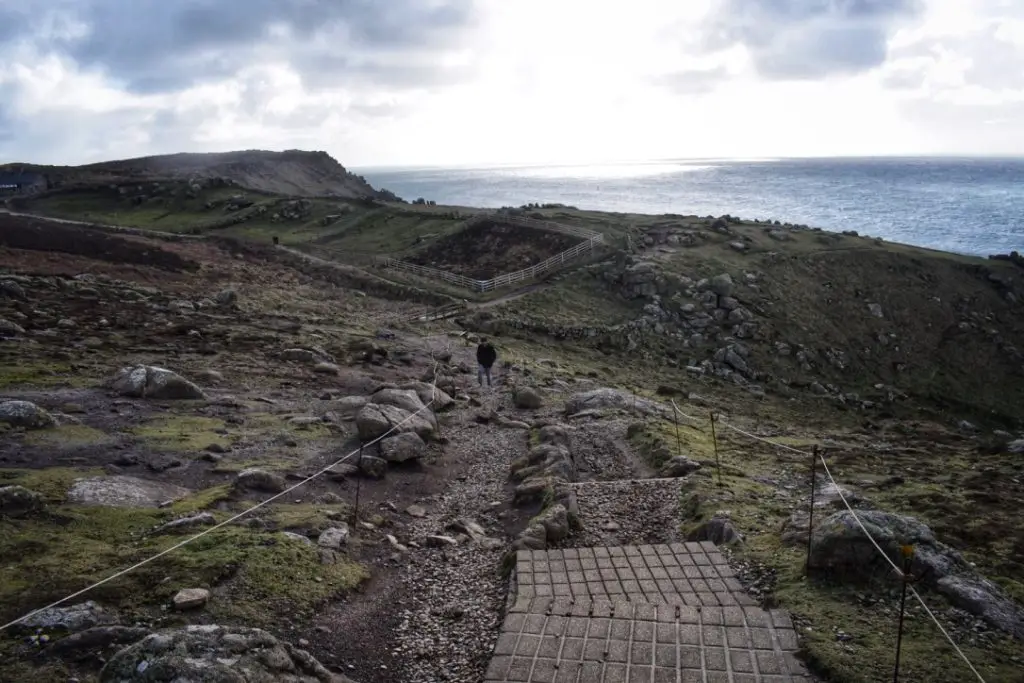 Don't let visiting in winter put you off at all. We loved walking around in the cold and then coming in to the restaurant and bar for a toasty sandwich and a hot cup of tea. It's a lot quieter in winter as well, which is always a bonus.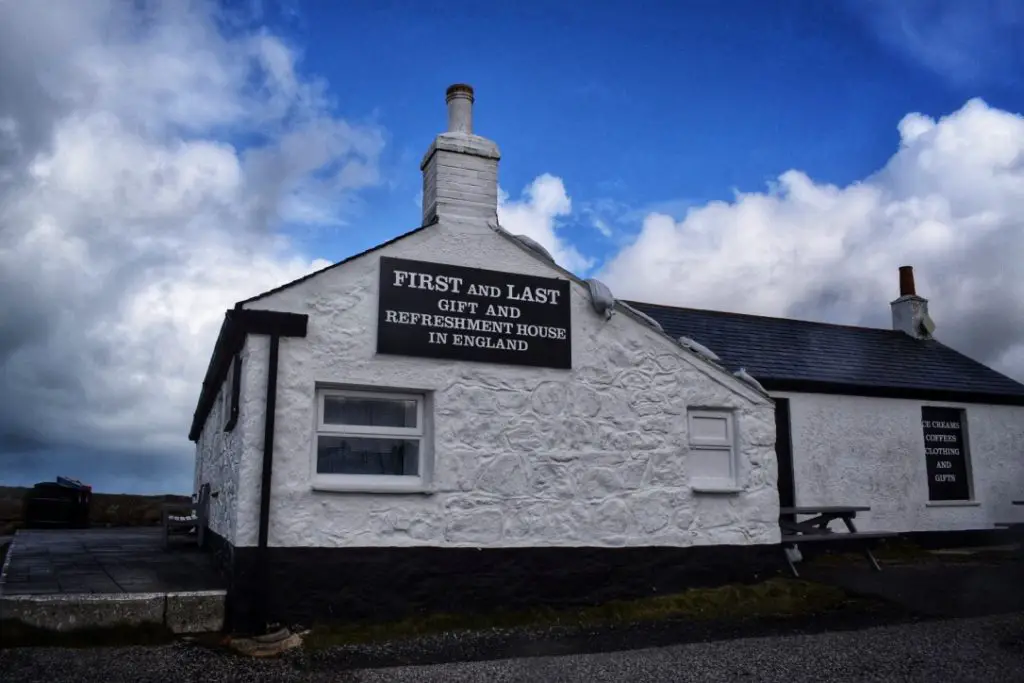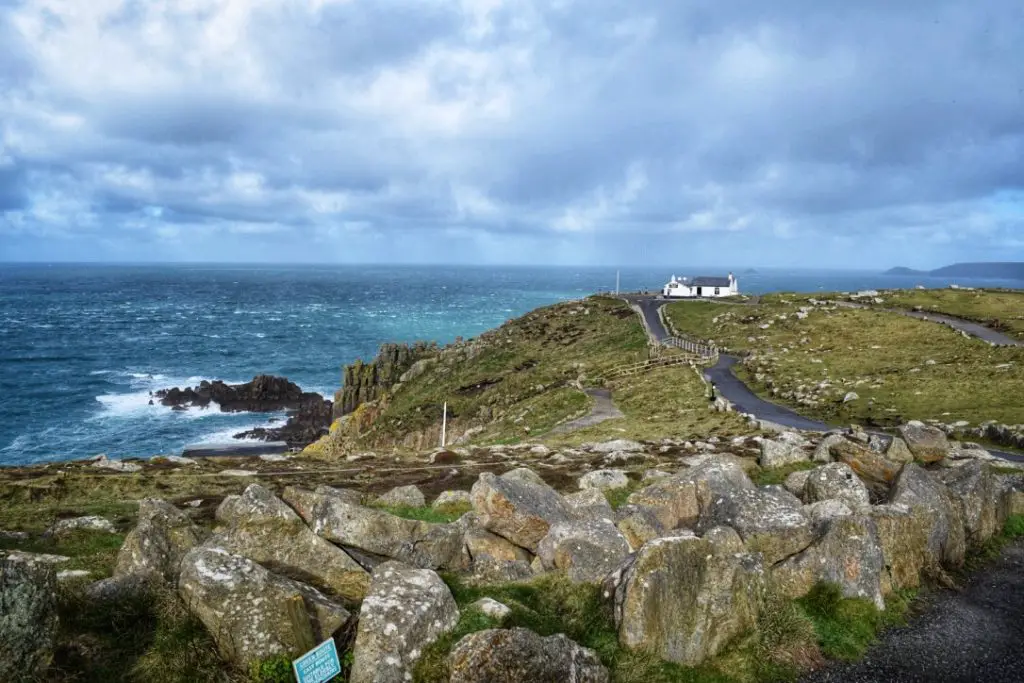 Why add it to your Cornwall itinerary?
How cool is it to say you have visited the most south westerly point in Britain? Also the rugged coastline is beautiful and you feel like you are in the middle of nowhere.
St Ives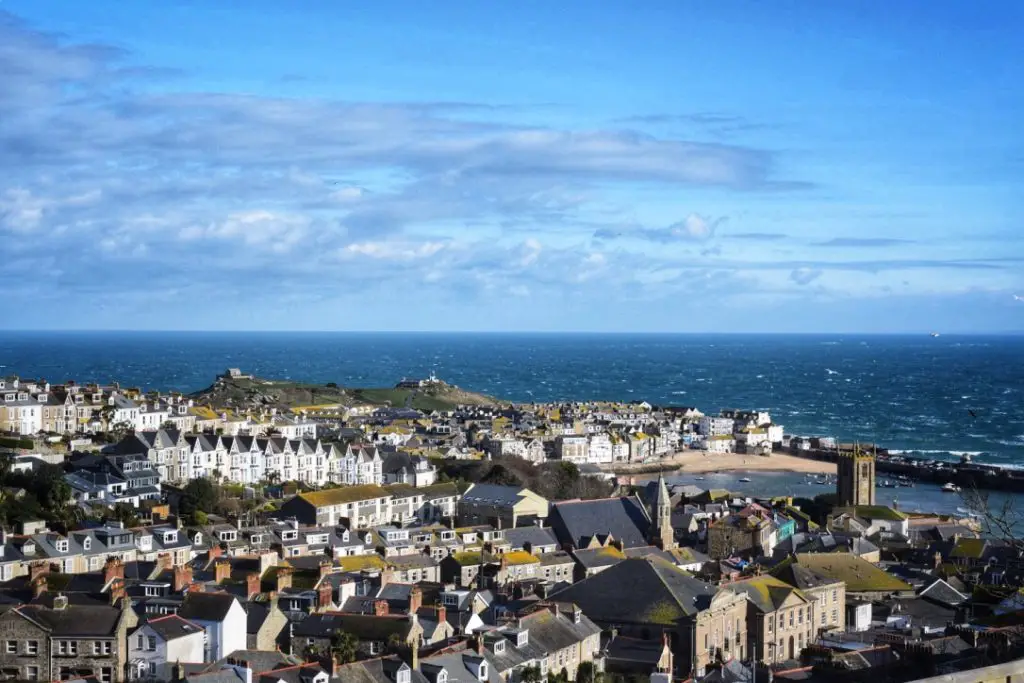 St Ives is probably one of the most popular beaches to visit in Cornwall. Its azure blue water, and relaxed feel certainly adds to its holiday appeal. You can explore the beaches or walk around those back streets filled with character and and old school seaside charm.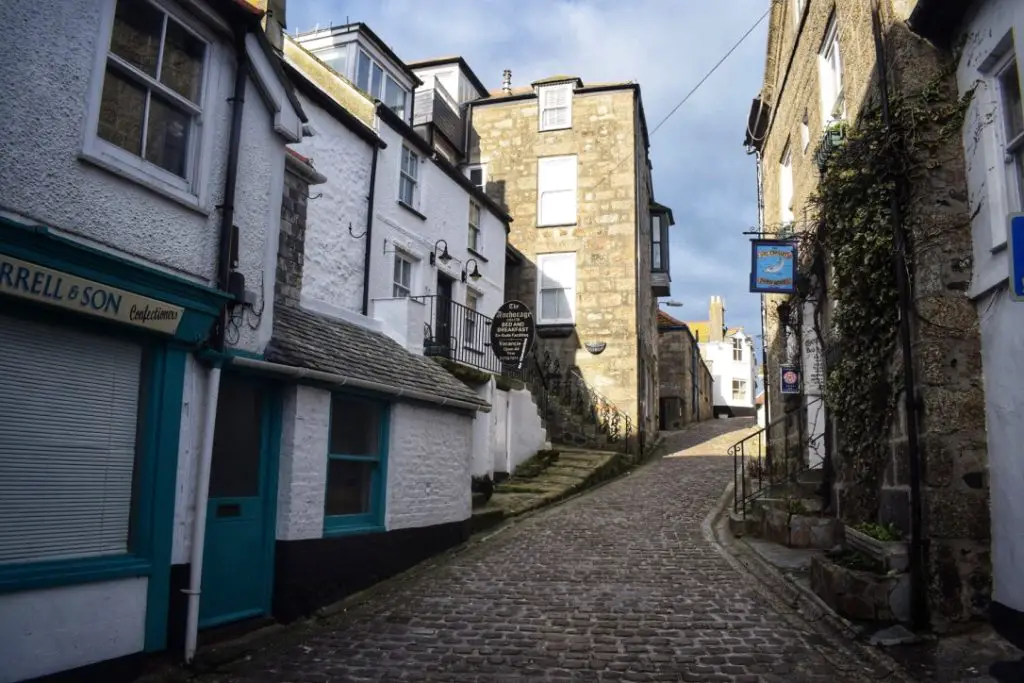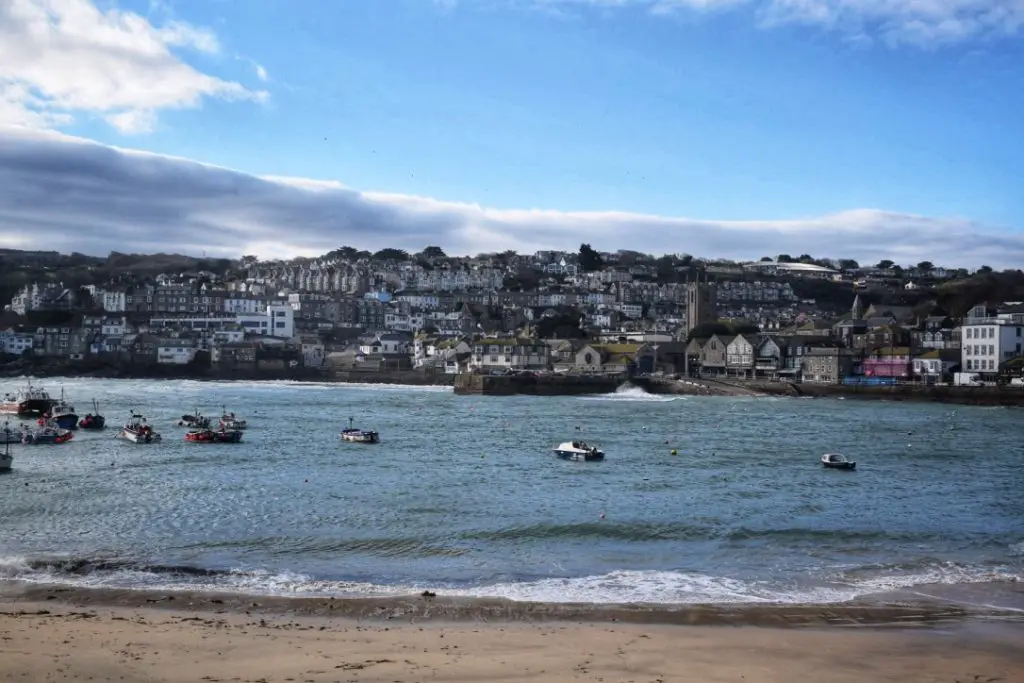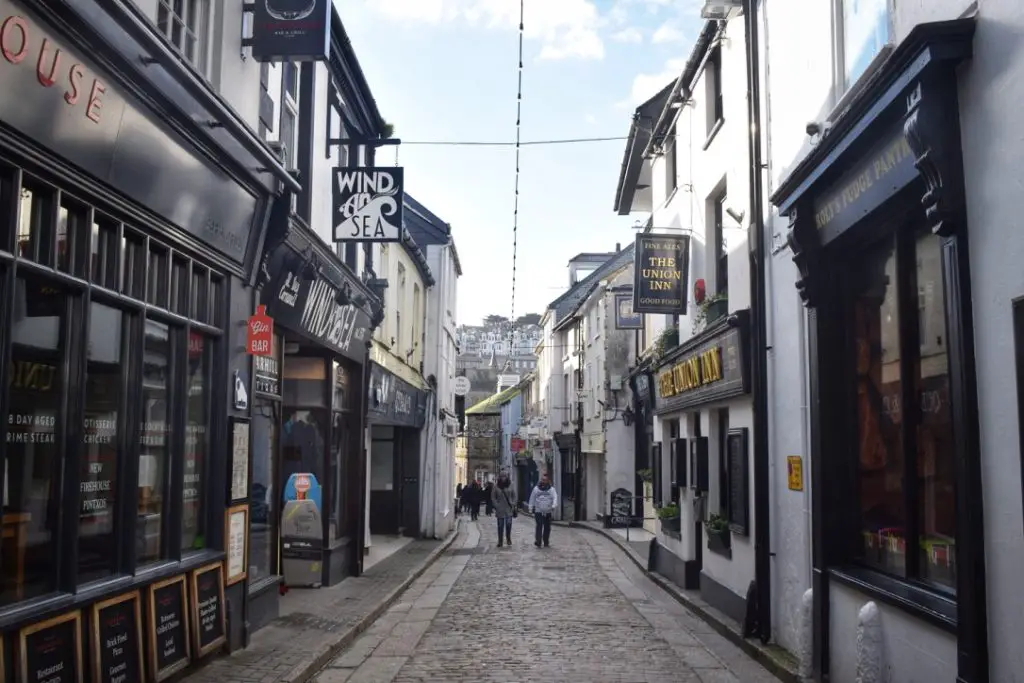 We recommend trying a Cornish Pasty as well. They come with so many different fillings, although I am told the most traditional is beef. Just a word of warning though, if you are going to do one of those Instagram type food shots be very careful with the seagulls. They can be slightly aggressive. I was trying to get a photo of my Cornish Pasty with the beach at St Ives in the background and nearly lost the thing to the birds.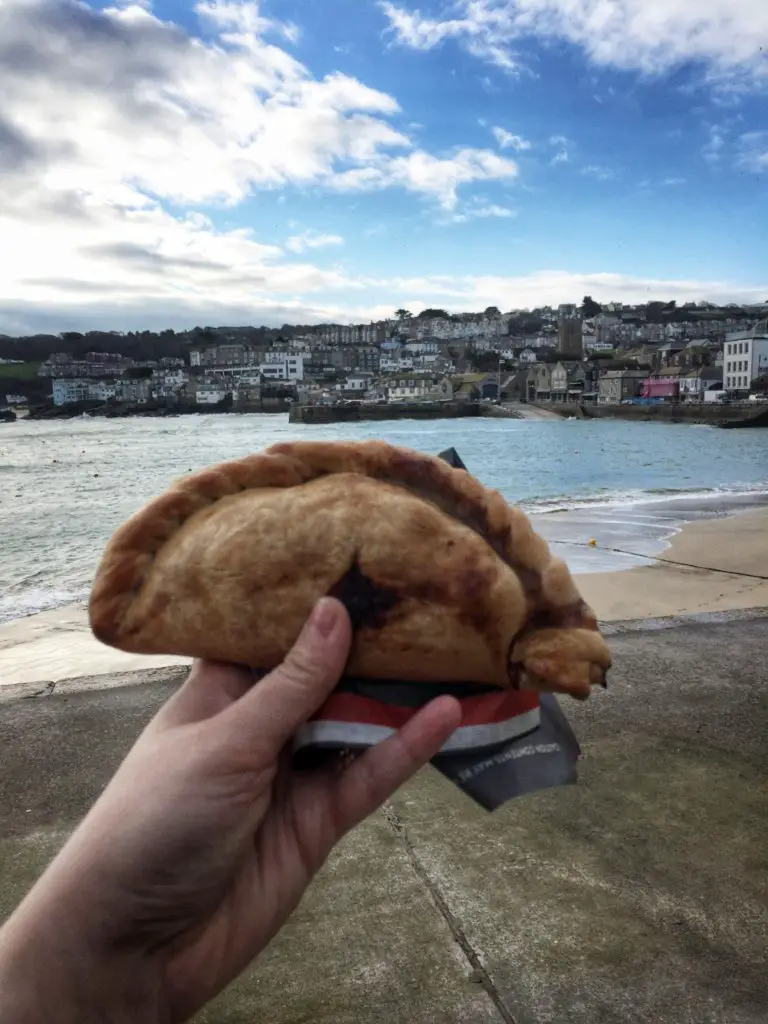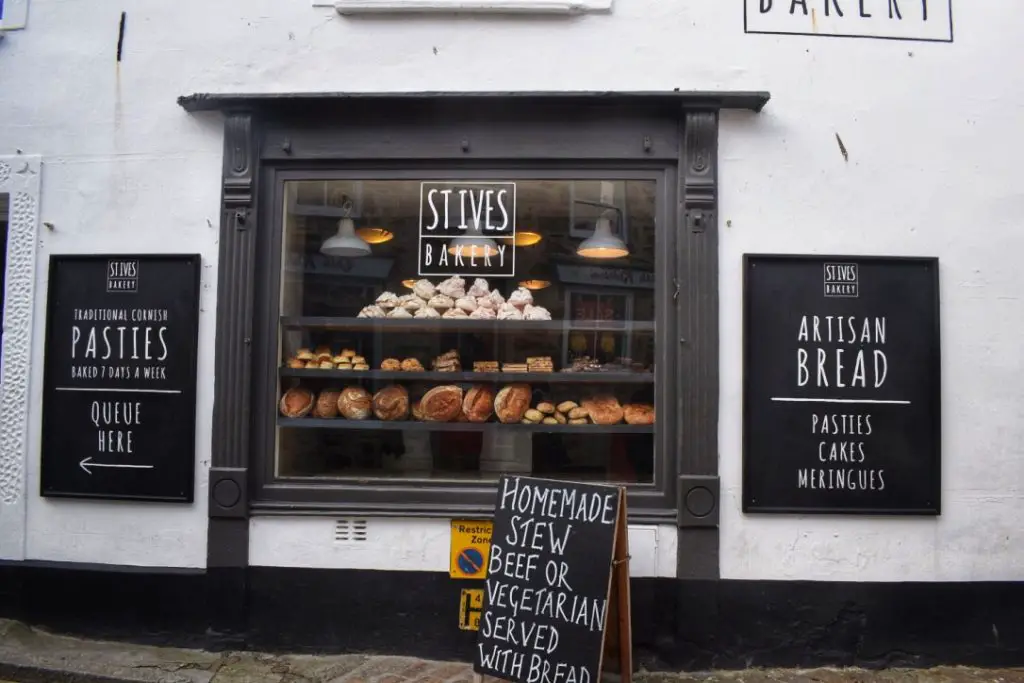 What is also really cool about St Ives is that it attracts a lot of artists and creative types, and with its idyllic seaside setting it is not hard to see why. You can explore some of the galleries and creative spaces that St Ives has to offer. And don't forget about getting cosy in one of the seaside pubs, with a pint of some of that Cider Cornwall is famous for.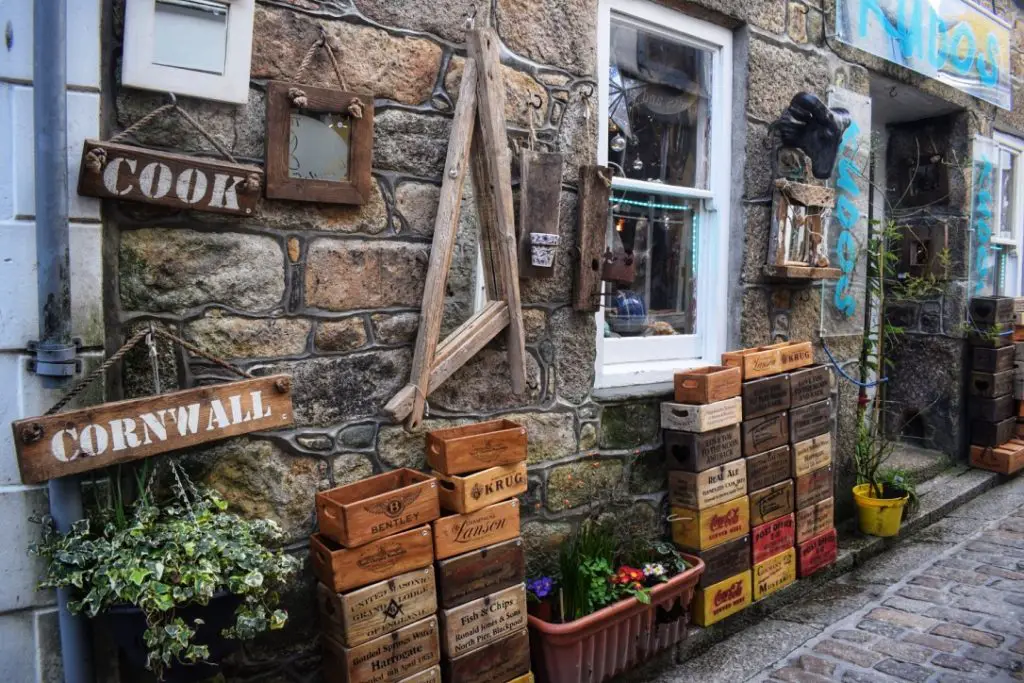 Why add it to your Cornwall itinerary?
It's a very popular holiday destination, and if you are going to do something super touristy in Cornwall it might as well be a trip to St Ives.
3 day Cornwall Itinerary
Here is our more detailed 3 day Cornwall itinerary. As mentioned above we were based in Mousehole. It was a great place for us because it was so secluded and just felt like we were in another world. If you are looking to just escape then we recommend Mousehole. Otherwise most people tend to stay in busier holiday spots such as St Ives.
Cornwall itinerary – Day 1
We left Manchester at about 5am to try and get a good start without getting stuck in traffic. We decided to have breakfast on the road (and by breakfast I mean a Gregg's veggie bake but hey). We eventually arrived in Padstow by lunch time.
We spent the remainder of the afternoon exploring Padstow and scoffing down some Rick Stein quality fish and chips for lunch.
We then drove to Mousehole which is just over an hours drive from Padstow to settle into our accommodation for the evening.
Cornwall itinerary – Day 2
We spent the morning exploring Mousehole. It is so easy to feel completely off the grid here and there are some fantastic little hidden gems to discover.
In the afternoon we drove to Land's End to grab some lunch and do a bit of a hike. We returned to Mousehole early evening for some dinner and a pint by the fire.
Cornwall Itinerary – Day 3
This was another early start as we said goodbye to Mousehole and made our way to St Ives. We do recommend visiting Penzance and St Michael's Mount if you can in the morning and then heading to St Ives in the afternoon.
Cornwall Road trip Map
Travelling as a couple – Romantic things to add to your Cornwall itinerary
If you are lucky enough to visit Cornwall with your significant other then here are some of the most romantic things to add to your Cornwall Road Trip.
Romantic Accommodation
We highly recommend Fallen Angel in Mousehole for a romantic weekend away. As mentioned before it is designed for couples and you can hire a chef, or even a masseuse as part of your couple's stay.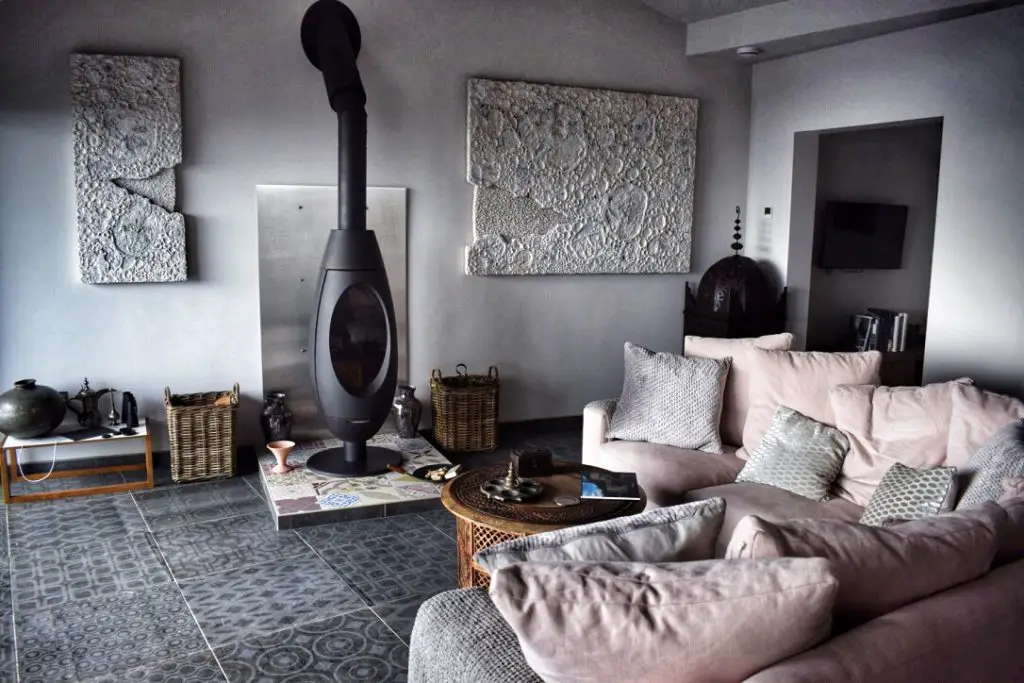 Visit a vineyard
Not far from Padstow you will find the Camel Valley vineyard. It is perfect for a glass of brut with a view.
Sunrise on the beach
As part of your Cornwall road trip make sure that you get up early to watch the sunrise on the beach. Definitely a romantic way to spend a morning.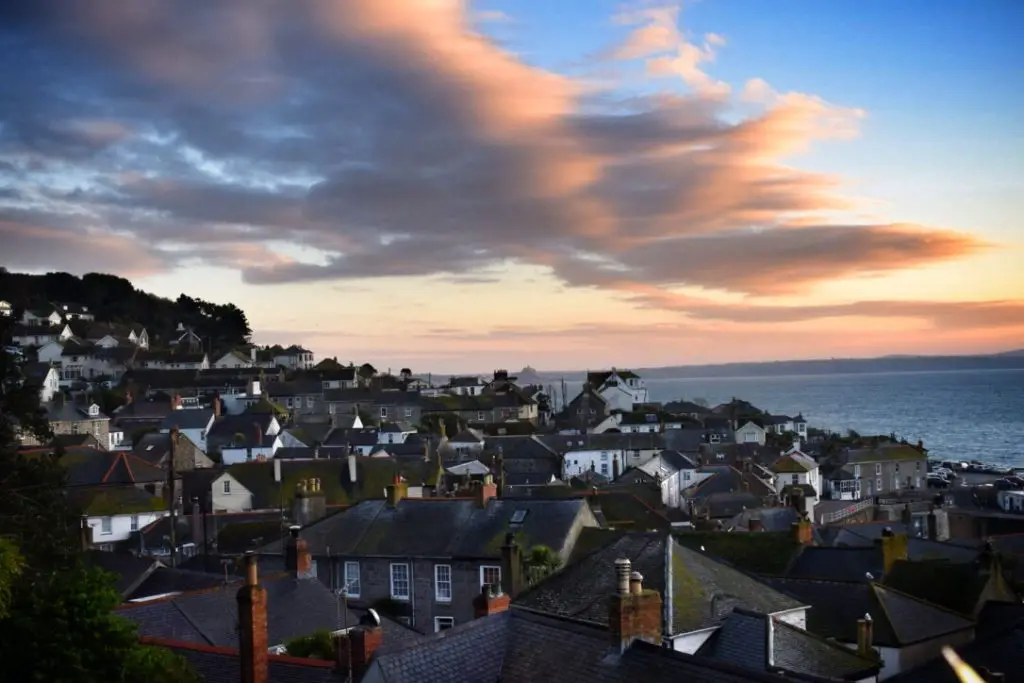 Picnic at the beach
Or why not turn your sunrise into a magical morning picnic with pastries and coffee. Bliss.
Best traditional Cornish food to try during your 3 days in Cornwall
An important part of any Cornwall Itinerary has to of course include food. Cornwall has a number of tasty treats that we really think you should try.
Cornish Pasty
A Cornish Pasty is the ultimate comfort food. It's essentially pastry filled with all sorts of goodness like the traditional potatoes, onions and minced beef. But these days you can get a pasty filled with pretty much anything. Word of warning they are incredibly delicious, not just for humans but seagulls love them too. Be careful when you whip your pasty out near the beach as we have witnessed many a Cornish pasty being snatched!
Cornish clotted cream
Another comfort food, especially when served with scones. It's cream (obviously) made from unpasteurised milk and steam. When it cools it clots, hence the clotted cream.
Cornish Ice Cream
Cornish ice cream is made from clotted cream, and is literally perfect on a hot summer's day sat by the beach.
How much money do I need for my Cornwall Road trip
Cornwall is slightly more expensive than other Counties, in the UK. That being said it is definitely cheaper than the likes of London, although it is debatable by how much. Especially in the summer months prices can be slightly more inflated.
We would say not including accommodation or petrol you should budget around £80- £100 between two per day. You can do things way cheaper, especially if you plan to live off Cornish Pasties and scones and clotted cream.
We recommend booking your accommodation in advance for the best rates. Unfortunately, it is hard to save money on petrol especially these days, but you can often find it slightly cheaper away from the motorways, and in the villages.
What to pack for your Cornwall Road trip
Apart from your standard holiday essentials, here are some things that we think you should pack for your Cornwall road trip.
Hiking boots
Waterproof jacket
Layer clothes for those days when the weather isn't great
Swimwear
Beach Towel
Sun Cream
Water
Phone charger for the car
Sat Nav
Things to know before visiting Cornwall
Here are some pointers when planning your Cornwall road trip.
Be prepared for narrow roads and having to pull over to the side to let traffic pass
Check tide times, especially if you visit St Michaels Mount. Some beaches can completely vanish at high tide as well, so it's probably not worth visiting at these times.
Traffic gets pretty congested in the summer months especially around school holidays.
So should I do a Cornwall road trip?
Yes!!!! Cornwall is beautiful, and a road trip is a great way to see as much of it as possible. No matter how long you have in Cornwall, you will find something amazing to see and do. Make sure you plan your trip well in advance though especially in the summer months, as like we mentioned these tend to be pretty busy.
Tips for renting a car for your Cornwall road trip
Here are our top tips if you are renting a car for your Cornwall road trip:
Do keep in mind roads in the UK can be quite narrow at times so choosing a huge car might not always be your best option, especially if it is only the two of you
Most cars in the UK are manual (or stick, as it is often referred to in some countries). If you require an automatic then make sure you specify in advance, and keep in mind that sometimes this option can be more expensive, or unavailable.
Pay for full insurance because you never know what might happen.
In the UK you drive on the left.
Speed limits are listed in miles and not kilometres.
 In the UK you will not find a lot of speed signs. Instead you need to be aware of the national speed limits. You are best off having a look at the gov.uk website for more information on this
When driving in the UK on a dual carriageway or a motorway you should always stay in the left hand lane unless you are overtaking.
3 days in Cornwall – a recap
One thing we didn't realise during our 3 days in Cornwall was how big it is. We really loved exploring some of the most beautiful places in Cornwall but it also left us hungry for more. I guess we will have to do another road trip around Cornwall in the future. If you found this Cornwall itinerary useful don't forget to Pin it for later.