If you are looking for a romantic European city break destination then chances are your first thought will be Paris. The city d'amour is popular with couples all looking to stroll down the picturesque cobbled streets and eat the incredible food. We spent 3 days in Paris exploring the neighbourhoods and sipping wine, and we loved it. So we have put together a 3 day Paris itinerary with everything you need to know, to help you plan the perfect romantic long weekend in the city.
Paris Factsheet
Currency– Euro
Language – French
French language basics:
Hello: Bonjour
Goodbye: Au Revoir
Please: S'il vous plait
Tipping– not compulsory but leaving a few Euros is always welcomed
Credit Cards – most major credit cards are accepted but do always keep some Euros on you especially for things like using the toilet or tipping.
Famous for – wine, cheese, pastry, fashion
How long do you need in Paris
There is so much to see and do in Paris and the longer you stay the better. Three days in Paris is a good start and will give you the opportunity to see the main sights and come to grips with the city. If you plan your long weekend in Paris properly then you will see the main attractions and still leave time for sipping wine in cafes and people watching.
Where to stay in Paris
If we had our time in Paris again we would probably look at staying in an area like Montmatre. The romantic streets and cafes providing the perfect setting for any 3 day Paris itinerary. Where we actually ended up staying though was right near the Eiffel Tower. Obviously it was great for visiting the Eiffel Tower and it meant we could get there early to line up for tickets, but the area is so touristy. We had breakfast at a cafe and got suckered into paying €8 for an orange juice. There also aren't a lot of restaurants here,  and the ones that are, are very touristy and expensive. On top of that the nightlife in this area is non existent. The good thing was that we were close to a metro station so getting around was stress free. But overall we don't recommend staying around here at all.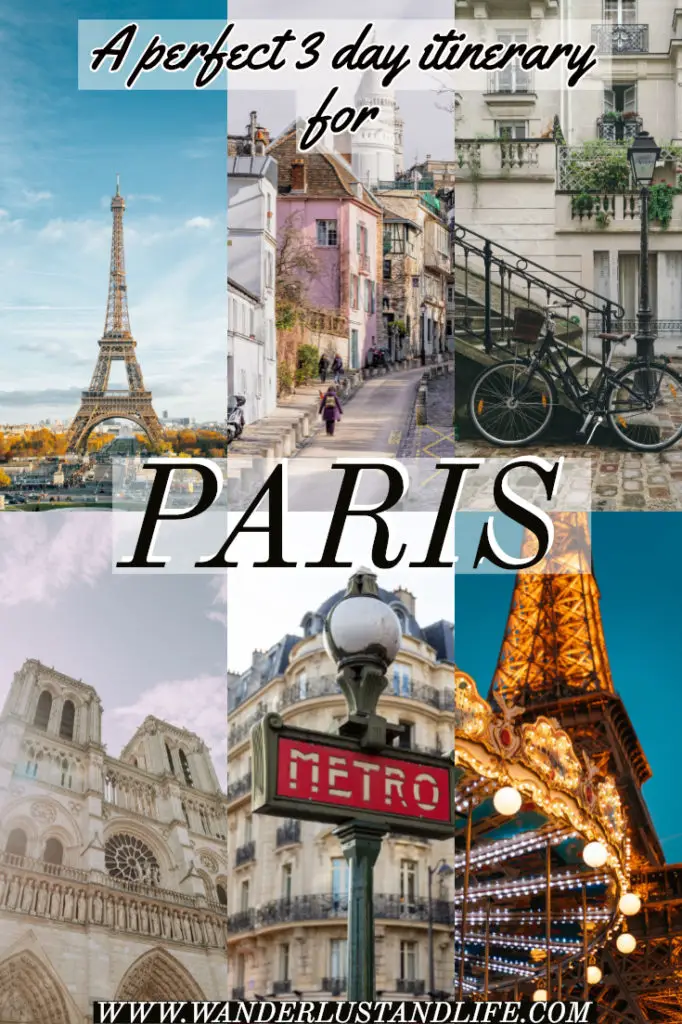 Money Matters for 3 days in Paris
 Despite what you may have heard Paris is not a hugely expensive city. You really just have to know what to avoid. For example, skip the fancy cafes and head somewhere that locals would visit as these places tend to be a lot cheaper. When looking for food and drink avoid the tourist traps or restaurants around the Eiffel Tower and the Champs-Élysées in particular.
Don't drink bottled water in restaurants as the tap water in Paris is perfectly drinkable and you can get charged a lot for it. Also avoid freshly squeezed orange juice unless you are looking to pay €8 for it. Overall Paris isn't cheap but it doesn't have to be super expensive either. Know where to go and you should be fine.
When to visit Paris
So, growing up my Mum would often play that old Cole Porter song 'I love Paris'. The song discusses his love of Paris throughout the seasons, and I have to agree, Paris is beautiful every moment of the year. We visited in autumn leading into winter and it was so atmospheric. Ok the weather wasn't perfect every day but there is something really moody about walking the streets of Paris with the drizzling rain as you overlook the Seine.
I should add, one thing Cole Porter forgot the mention was August. A lot of businesses close down for weeks at a time, as this is peak vacation time. This tends to be common in places like France, Spain, and Italy, so do keep this in mind if you are planning to visit the city in August.
Must see in Paris in 3 days
Here are some of the attractions that you must see in Paris in 3 days. Especially if you are a first time visitor this covers a lot of the touristy things to do. You can also have a look at some of the hidden gems in Paris.
The Eiffel Tower
So any to do list in Paris has to include the Eiffel Tower. If you want to see Paris from above you can either walk up the stairs or get the lift up. The stairs are the cheaper option. For €7 you get access to the second floor, as long as you are prepared to walk the 669 steps. You can also get the lift up for a reasonable €11. Just be aware that the queue is longer for this option. You do also get a choice to purchase an additional ticket taking you from the second floor to the third floor for an additional €6. Check out our post here on all things Eiffel Tower related.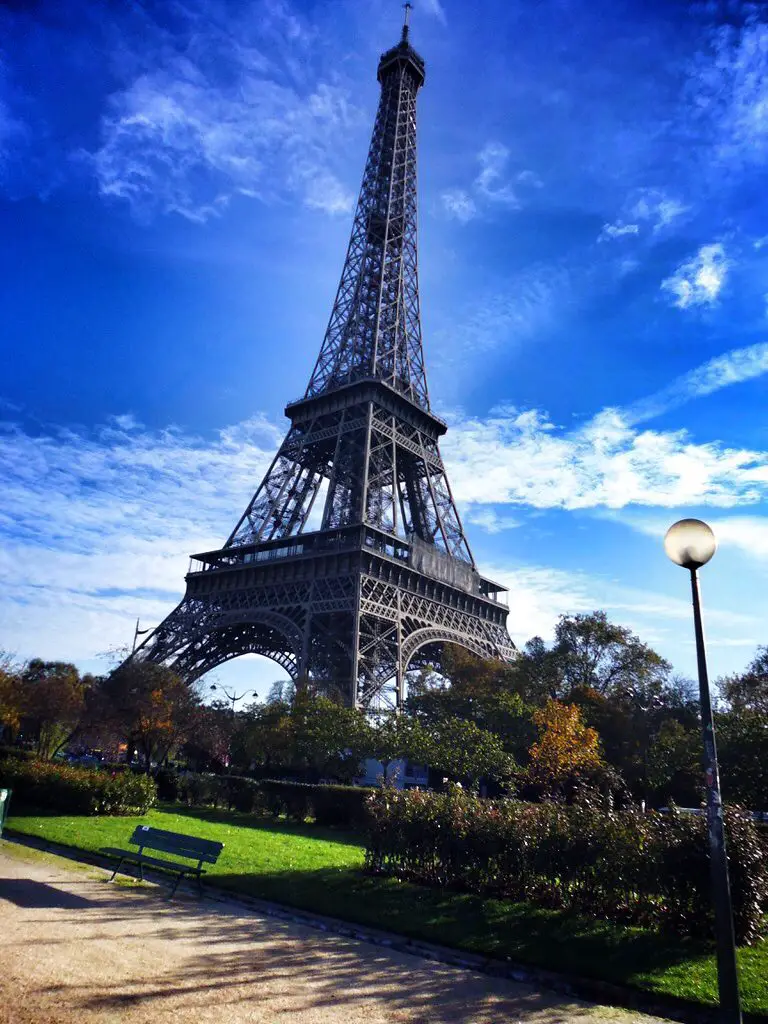 The Louvre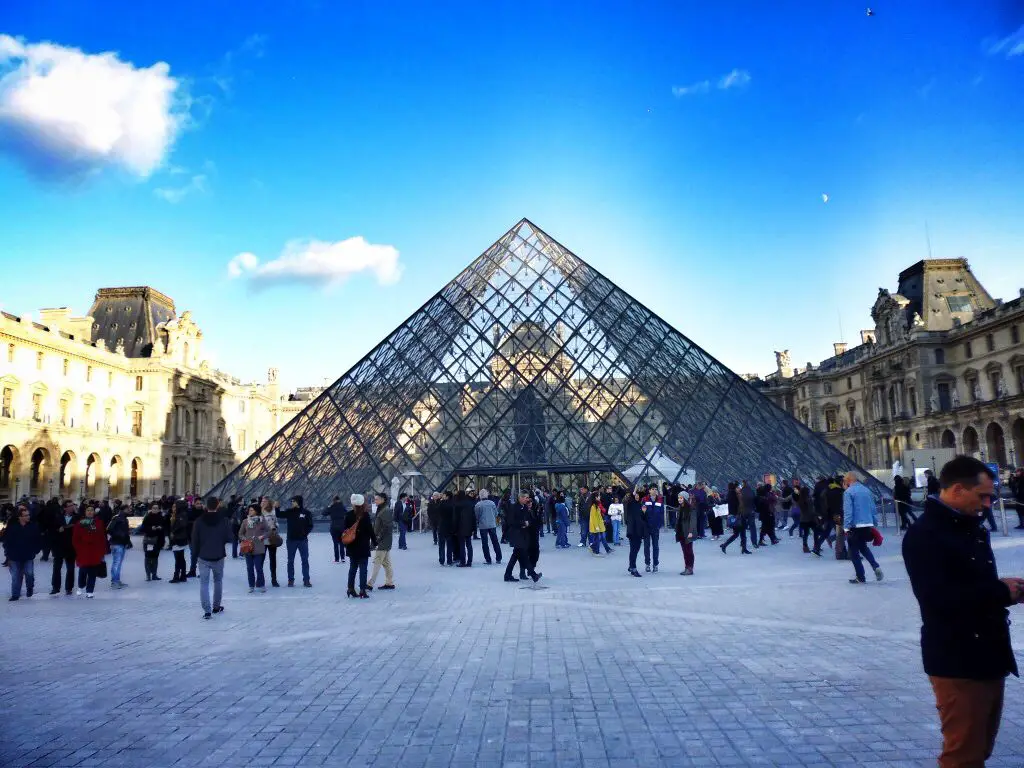 So first things first, the Louvre is huge. It showcases nearly 35,000 works of art and stretches 700 metres along the Seine. It has been estimated that if you actually wanted to look at every piece of artwork it would actually take you about 9 months.
Most people don't have this long to admire the art, so getting straight to it, the two most popular art works in the museum are the Mona Lisa and the Venus de Milo. We managed to catch a glimpse of the Mona Lisa, and I should add that a glimpse is the key word here. Don't expect to stand around and quietly admire this artwork. It is more of a have a look, get your selfie and go type of situation (with a few elbows to the face as someone else tries to get their selfie might I add).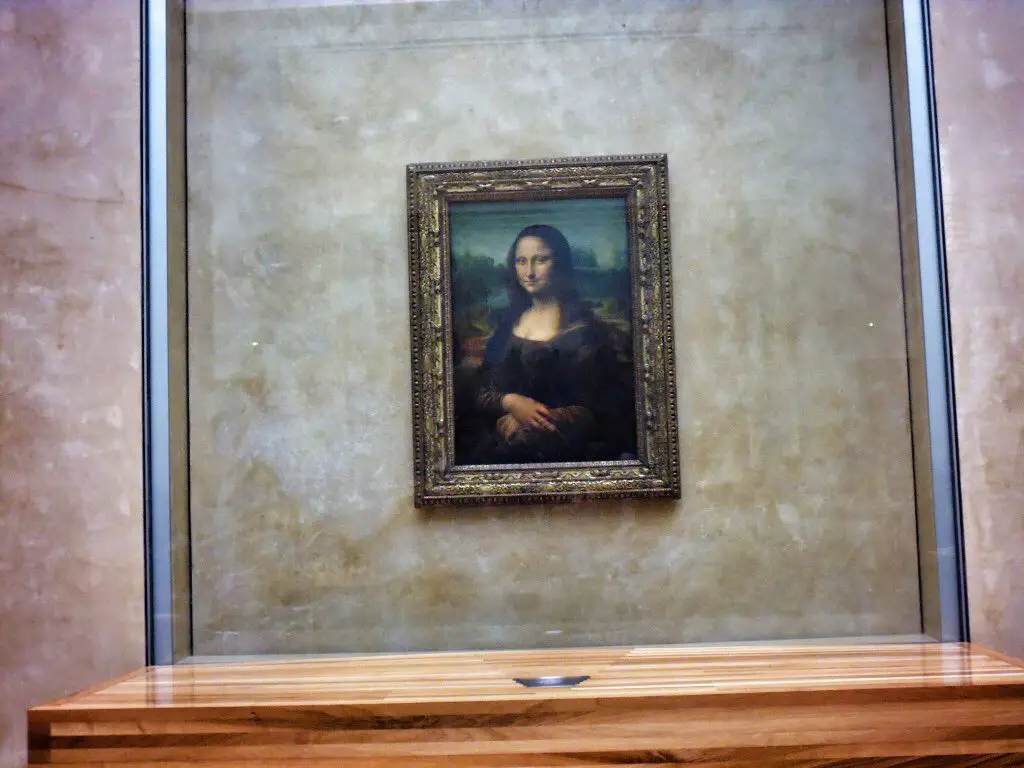 The Champs-Elysee
Nothing feels more Parisian then wandering around the Champs-Elysees. At least in my mind. There is so much going on around here, and don't even get me started on the crazy drivers! Spend enough time here and you will soon tune out the car horns and screeching tyres. The shops around here are all luxury and designer, think along the lines of your Dior, Louis Vitton, and Chanel. Although it's not all just for women, as Dave was hugely impressed by the Ferrari shop located along here as well.
Even though everything was out of our budget it was still amazing to visit. There are some quirky little bars that can be discovered along the side streets as well. And if you can afford it we do recommend forking out for a meal around here, as the atmosphere and the hustle and bustle is really amazing. Another tip is to visit the Laudree store along here. There are a range of decadent cakes and macarons that you can purchase, and it is definitely a hell of a lot cheaper than the Ferrari shop.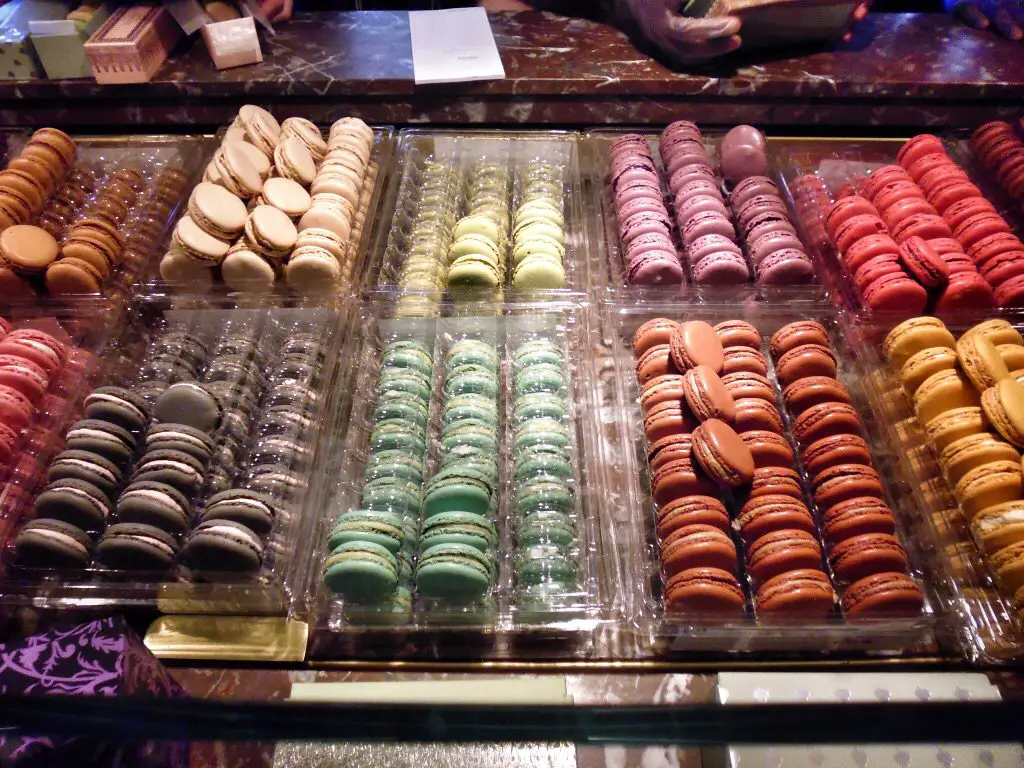 Arc de Triomphe
Another sight which is just as synonymous with Paris as the Eiffel Tower is the Arc de Triomphe. The monument was commissioned in 1806 following Napoleon's victory at Austerlitz the previous year. Whilst Napoleon had fallen from power a decade later the Arc still serves as a symbold of French patriotism to this day. Beneath the Arc lies the tomb of the unknown soldier. This honours the 1.3 million french soldiers who lost their lives in World War 1.
We recommend paying the €12 to climb the 284 steps to the viewing platform at the top of the Arc. You do get a few points to rest along the way, and the view is really worth it. You also get a fantastic view of the Eiffel Tower from here.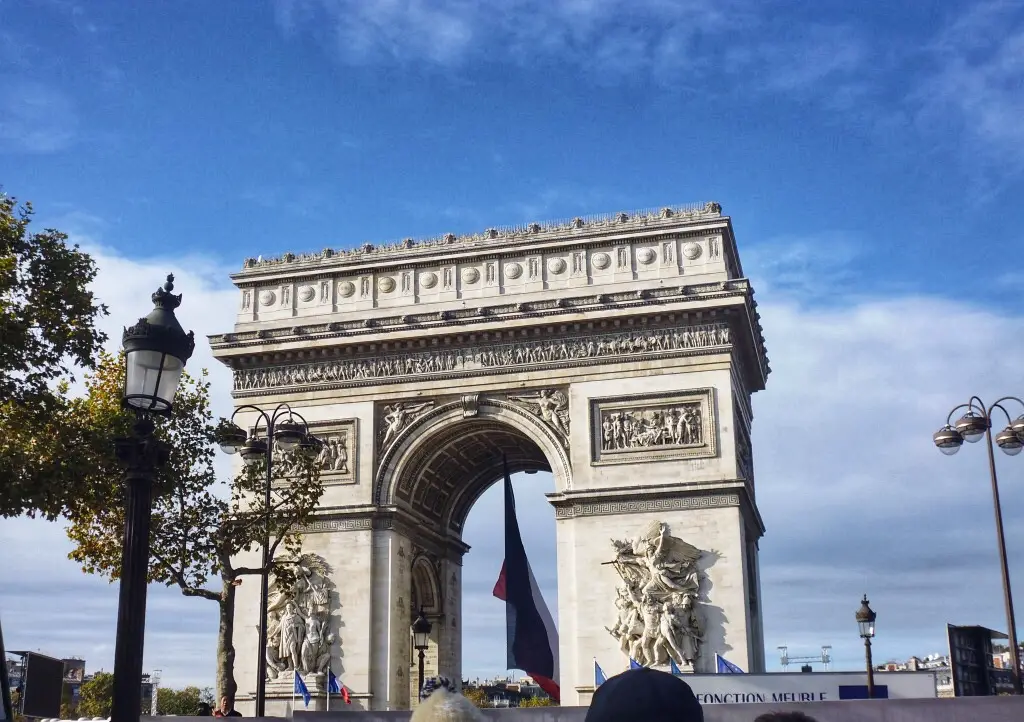 Sacre Coeur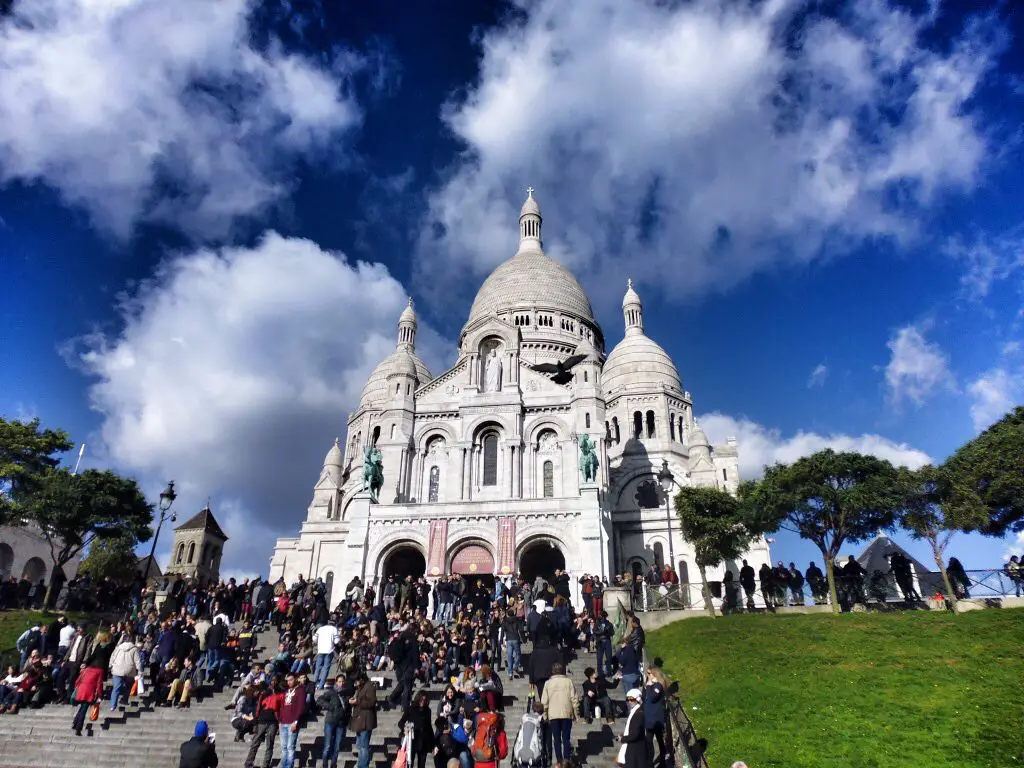 This is one of the most beautiful churches in Paris, so we definitely recommend taking the trip out to Montmatre to admire this beauty. The neighbourhood surrounding the church is also really quirky and a great place to explore, or sit and have a coffee. One tip is to watch out for the people around the church who will try to scam you. We had people trying to tie bits of red string around our wrists. Apparently it is really difficult to get this off and they will make you try and pay for them. The best thing to do is to be forceful and say no. Another thing you might notice are the women begging outside. Whilst it is really heartbreaking to see if you want to help you are better donating to a registered charity.
Notre Dame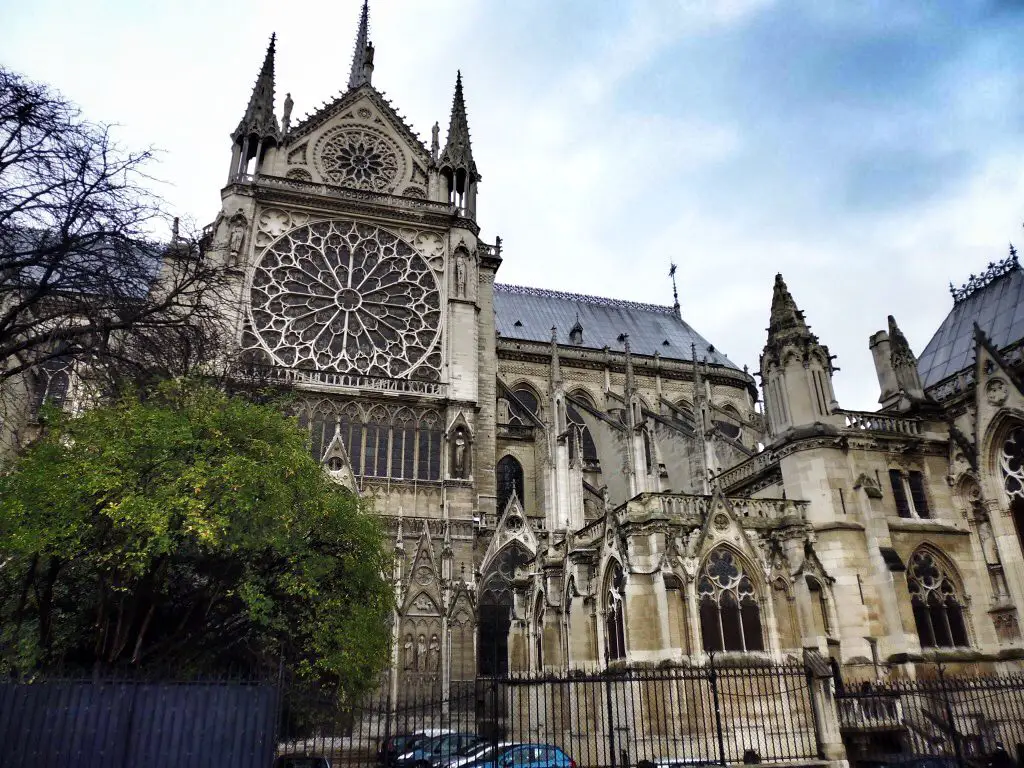 Recognisable by its stained glass windows, spires, and gargoyle statues, Notre Dame Cathedral took nearly 200 years to build. It was actually supposed to be demolished after the damage that was inflicted after the French Revolution. Apparently what saved it was the popularity of the book the Hunchback of Notre Dame. Admission is free so you can pop in and spend as much time admiring the inside as you want.
You also have the option of climbing the towers for €10. You get the opportunity to get up close to the architecture and really appreciate the design. Just be warned though you will need to climb the 387 steps to get to the top and we have been told there are not too many places to rest along the way. Even if you decide not to do the climb, visiting the Cathedral is really memorable. One of our most cherished memories was visiting the Cathedral while a mass was taking place in the centre. The acoustics were perfect for all the hymns and even though it was in French it was just mesmerising.
Take a Seine Cruise
There is something romantic about seeing Paris from the water. You can either do a day or a night cruise and you get to float along the Seine and learn its secrets whilst gazing at the city's attractions from the water. We opted for a day cruise and I will admit that the weather was not the greatest when we went. Still we learnt a lot about the city and its history. Our cruise departed from around the Eiffel Tower and lasted an hour.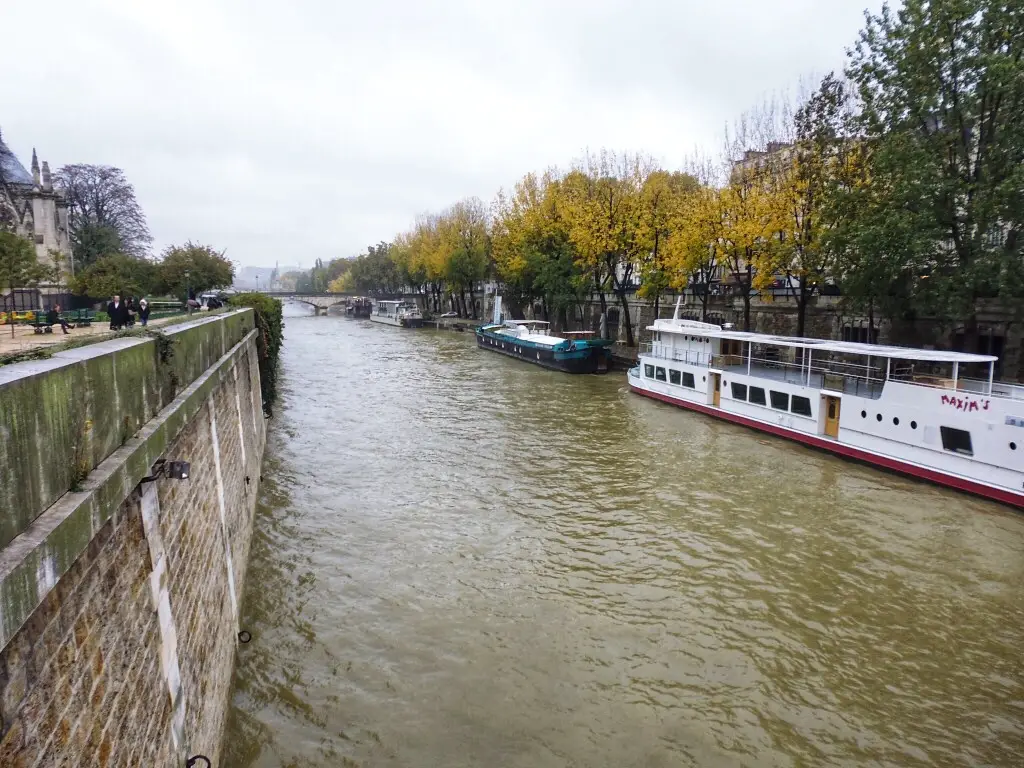 Pere Lachaise
Apparently this is one of the world's most visited cemeteries, and with its beauty and famous occupants it is not hard to see why. You could argue that it is the most fashionable resting place in the world. Admittedly I am not usually one for cemeteries (who is) but there was something oddly peaceful walking around Pere Lachaise.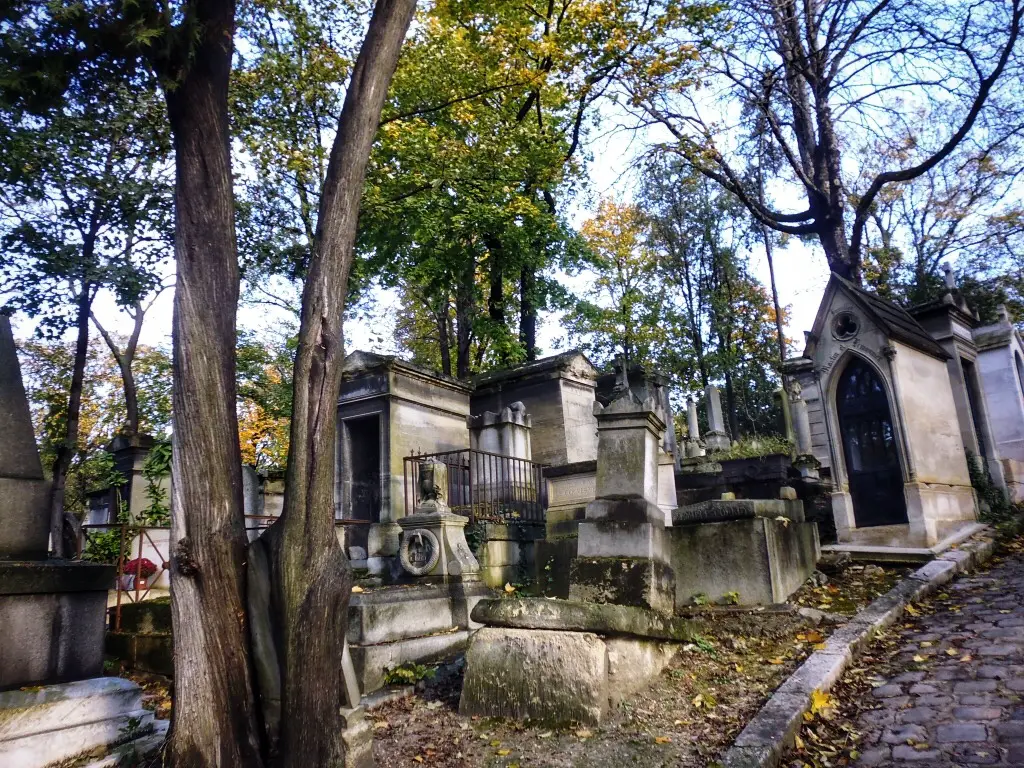 Some of its famous occupants include Oscar Wilde and Jim Morrison. Oscar Wilde's grave stands out as it is not only large but has lipstick kisses all around it. Jim Morrison is buried in a different section of the cemetery attracting a lot of rock and roll fans. Apparently it is not unusual to see security guards posted near his grave because fans would come here to take drugs and have sex on his grave.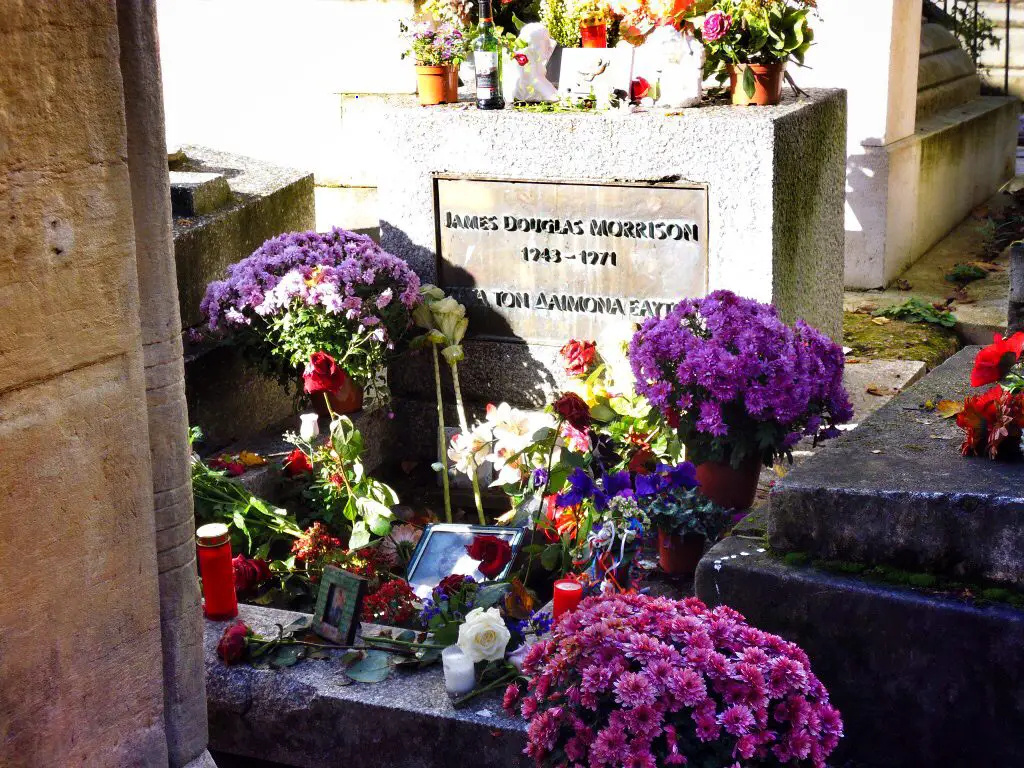 The Moulin Rouge
If you are looking to see a cabaret then the Moulin Rouge is a must. It is located in a pretty seedy part of Paris, but seeing a show here for us was a must. You can't go to Paris without seeing the Can-Can. You can do dinner and a show, or you can just book the show. We got a small bottle of Champagne to drink whilst watching which was a nice touch. The show is extravagant and the costumes are grand. There is a dress code you must adhere to, so definitely don't think about showing up in shorts or a tracksuit.
The show does contain nudity but it is done so in a tasteful and artistic way. The tickets are a bit pricey and you should expect to pay over €100 for a ticket especially at the weekend. If you are wanting dinner alongside the show then this is significantly more.
Itinerary for 3 days in Paris
Here is the perfect itinerary for 3 days in Paris.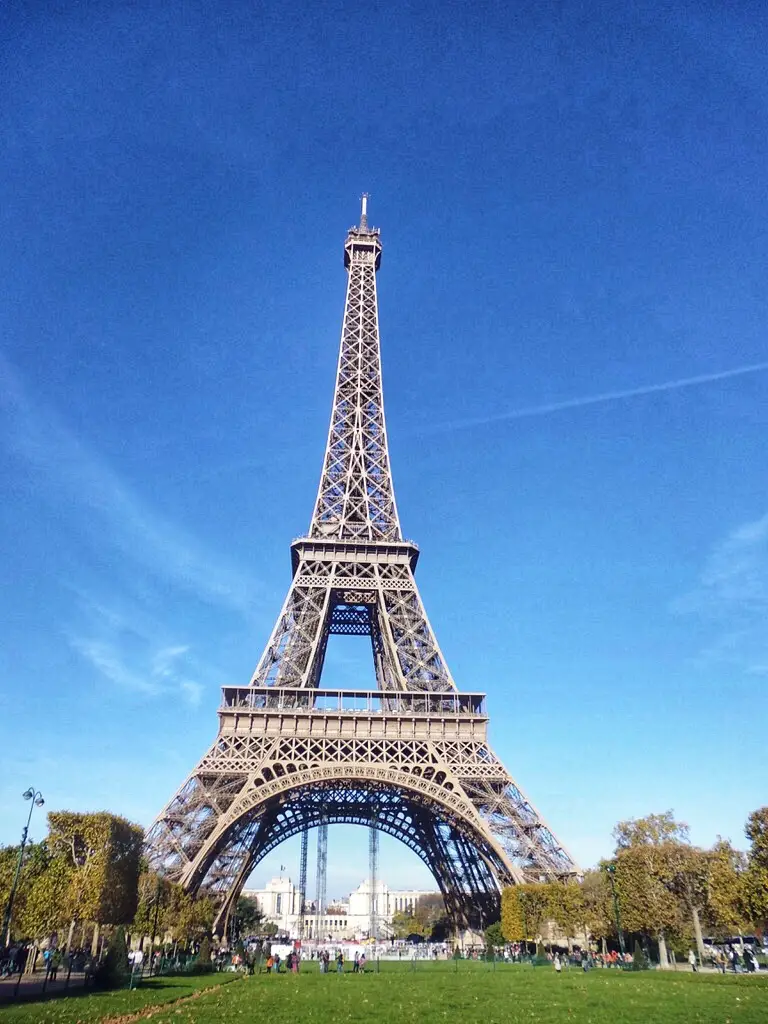 Paris Itinerary – Day 1
Start the morning early by visiting the Eiffel Tower. Particularly if you have not purchased your tickets in advance you will want to get here early to avoid queuing for hours. All in all you will probably need 1-2 hours here particularly if you have booked to go to the highest point of the tower.
After this do a Seine cruise. There are a lot of boats that leave near the Eiffel Tower, and seeing Paris from the water is a great way to see the city.
Then head over to the Notre Dame Cathedral to admire the views. There are some great places to eat around here and the atmosphere is quite lively. Make sure you take the time to sit by the river and sip some wine.
In the evening we recommend going to see the Moulin Rouge. You can either book the show with or without dinner. Make sure you take the time to explore the surrounding area which is quite seedy, but very Parisian.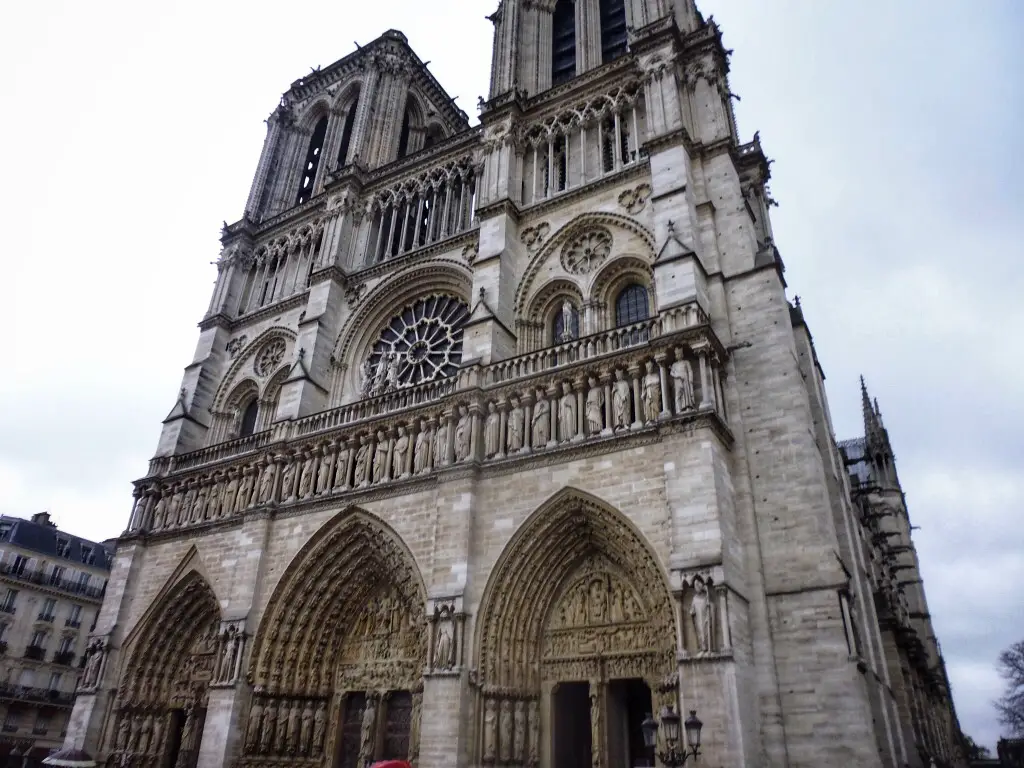 Paris Itinerary – Day 2
We recommend spending the morning exploring the Louvre. You honestly will need a good few hours to explore the museum as there is so much to see and do.
As the afternoon approaches spend some time exploring the Champs-Elysees. There are a lot of places to eat here, and yes a lot of tourist traps but if you head away from the main strip and down some of the side streets you will find some more reasonably priced cafes. Also we highly recommend a trip to Laudree, for some of the most delicious macarons we have ever tasted!
As sunset approaches head to the Arc de Triumph. For a small fee you can climb to the top and experience some incredible views of Paris which include the Eiffel Tower.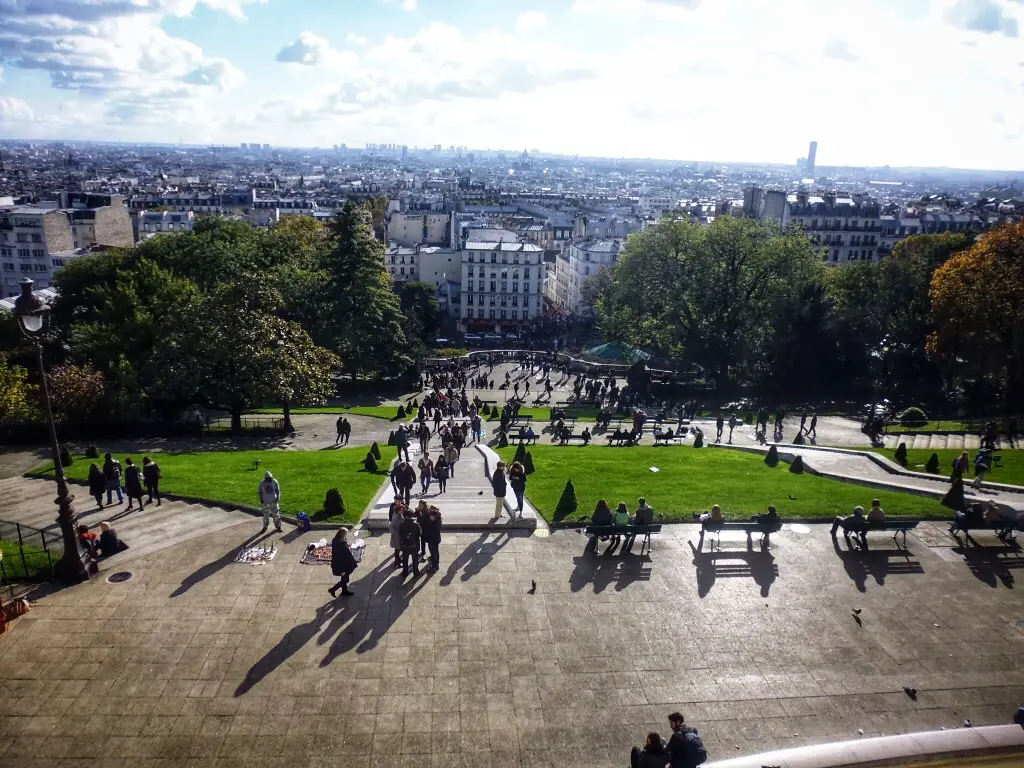 Paris Itinerary – Day 3
On the last of your 3 days in Paris head to Pere Lachaise cemetery. There are some beautiful places to sit and have breakfast around here, before making your way into the cemetery. You really could spend a whole morning just walking through and exploring.
In the afternoon explore Montmartre. There are some gorgeous cafes and places to sip wine around here. You should also visit Sacre Coeur and admire the incredible architecture, as well as the amazing views of Paris from here. We recommend staying into the evening for dinner and a few drinks before retiring for the night.
Tips for spending 3 days in Paris
Here are some tips to help you plan your long weekend in Paris:
❦ Like any busy European city pickpocketing is rife in Paris, particularly in tourist locations. Have your wits about you and store money in different places like your wallet, and leave some in your hotel safe.
❦ You might often encounter people trying to scam you. They are harmless but you shouldn't engage with them. For example in Montmartre people tried to tie a red band around my wrist. The idea is to make you pay for it once you cannot get it off. Be forceful and just say no.
❦ Try to avoid the tourist traps when it comes to food. If you order freshly squeezed orange juice this is quite expensive so stick to the usual. Additionally you might find people leaving food on your table that you didn't order like bread or croissants. The idea is that you start eating it thinking it is free, then the bill comes. Just say no to anything you didn't actually order.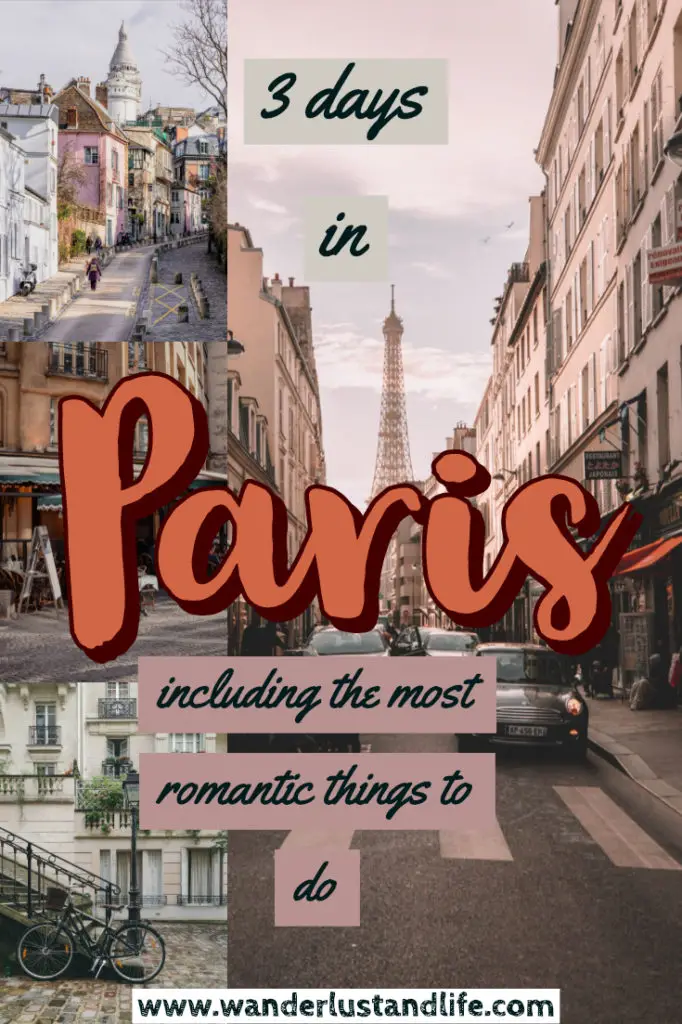 Romantic things to do in Paris
 Let's face it, Paris is renowned for being one of the most romantic cities in the world. We visited around my birthday so we wanted it to be special. Here are some of the most romantic things to do in Paris for all you travel couples out there.
Take a sunset Seine cruise.
Take a stroll along the gorgeous streets of Montmartre.
Visit Pere Lachaise – I know it sounds weird adding a cemetery to a list of romantic things to do but it truly is beautiful and there is something oddly romantic.
Sip wine and people watch in a French café.
Stroll hand in hand around the Seine.
Head to the top of the Eiffel Tower and admire the views.
See a show together- we visited the Moulin Rouge and drank champagne whilst watching the performance.
Itinerary for 3 days in Paris- a recap
Hopefully this itinerary for 3 days in Paris will help you plan your trip to the city of love in the future. There is so much to see and you certainly won't be board during your long weekend in Paris.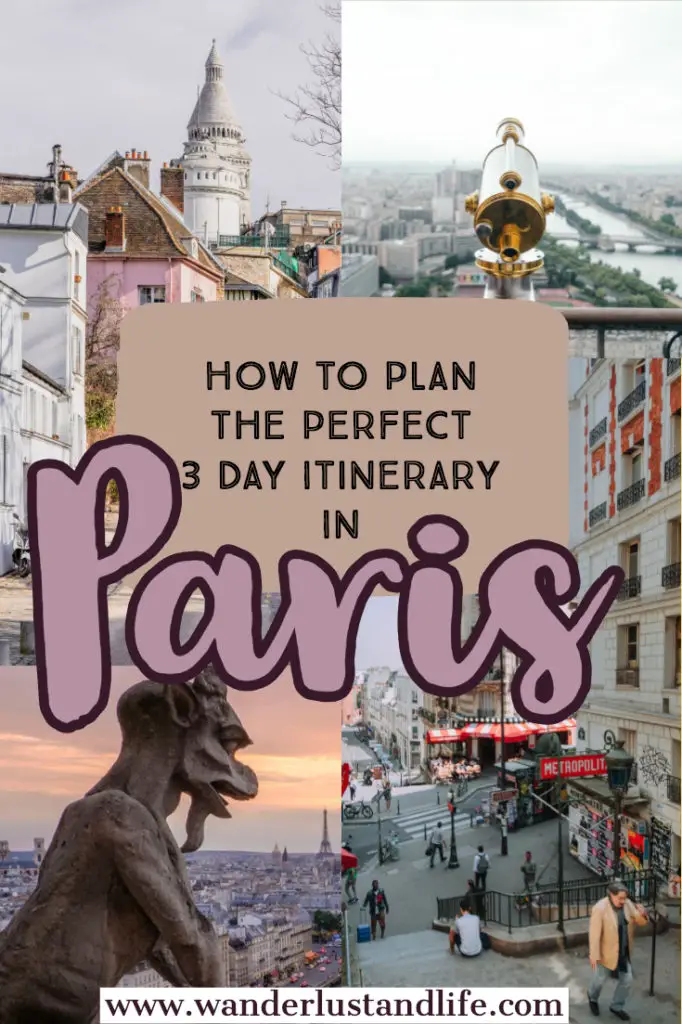 European Destinations