A 2 day Northern Ireland road trip itinerary – how to make the most of a short trip along the coastal road
When it came time to plan our Northern Ireland itinerary, there was so much we wanted to see and do. We have always dreamt of visiting the sights and admiring the incredible scenery. But nothing prepared us for how beautiful it really was. From the castles, to the green open spaces, and the crashing waves along the stunning Northern Ireland coast road, we loved every minute. Our guide includes some of the must see sites in the country, as well as including a drive along the Causeway Coastal Route. Here is our guide to planning a perfect 2 day Northern Ireland road trip.
When is the best time to plan your Northern Ireland and Causeway coastal route trip
You might be wondering when the best time to plan your 2 days in Northern Ireland. We learnt the hard way that June-August is peak season. Schools tend to be on summer holiday in between this time, and there are a lot of tourists about. Accommodation is harder to come by and a lot more expensive. An ideal time to plan your road trip is in the spring or around April- May. The weather is warm, and the days are getting brighter. Winter is still doable, but especially when travelling on the Causeway coastal route, you do need to be aware that the driving conditions are not always ideal.
Northern Ireland Road Trip Factsheet
Country: Northern Ireland (United Kingdom)
Currency: British Pound (GBP)
Famous for: A turbulent history, beautiful scenery, and some game of thrones filming locations
Visit if you like: Beautiful walks, road trips, nature
Northern Ireland is located in the northeast of the island of Ireland, however is actually part of the United Kingdom. It covers a total of 5,459 square miles, which is about a sixth of the islands total land mass.
It is probably best that you avoid discussing politics or religion when you visit Northern Ireland as this is such a sensitive subject.
Northern Ireland Road trip – Where to start
To begin our 2 days in Northern Ireland road trip we flew into Belfast and rented our car from here. Our flight from Manchester landed at about 9.30am which essentially gave us the whole day to explore. There are quite a few car rental companies you can choose from at the airport and this really is the best way to see the sights particularly along the Causeway Coastal route.
Belfast is the second busiest airport on the island of Ireland after Dublin. There are regular flights here from most European destinations, and a few international destinations. Although if you are flying from the US there are more flight options if you go to Dublin Airport.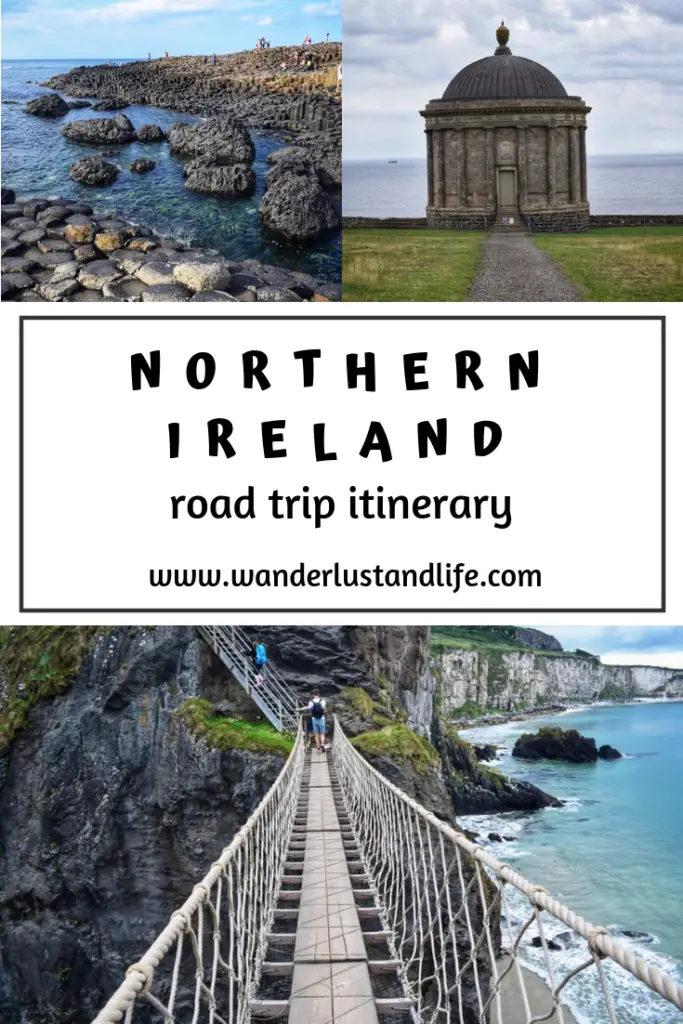 Is 2 days in Northern Ireland enough?
 In all honesty 2 days in Northern Ireland is nowhere near enough to explore all the beauty and hidden gems on offer. It will however give you the opportunity to see some of the main sights, eat some incredible food, and have a really memorable trip. We only had 2 days in Northern Ireland and we did get to see a lot, although as usual there are always things we wish we could have seen as well, but I guess that is what return trips are for. Also because we desperately wanted to explore the Causeway Coastal Route, having our own car meant that we could see more than on an organised tour.
If you are planning a longer trip here is some more information on fun things to do in Northern Ireland including Belfast.
Northern Ireland Road trip – Renting a car
As mentioned above, to make the most of your 2 days in Northern Ireland we highly recommend renting a car. It will make getting around so much easier and you can stop wherever you want along the way. If you do decide to rent a car, here are a couple of tips to help you make it much smoother. Definitely book the car in advance to guarantee the cheapest price. If you decide to return your car at a different location like we did, there is a whopping £175 fee to do so. As we were flying out of a different airport we really had no choice.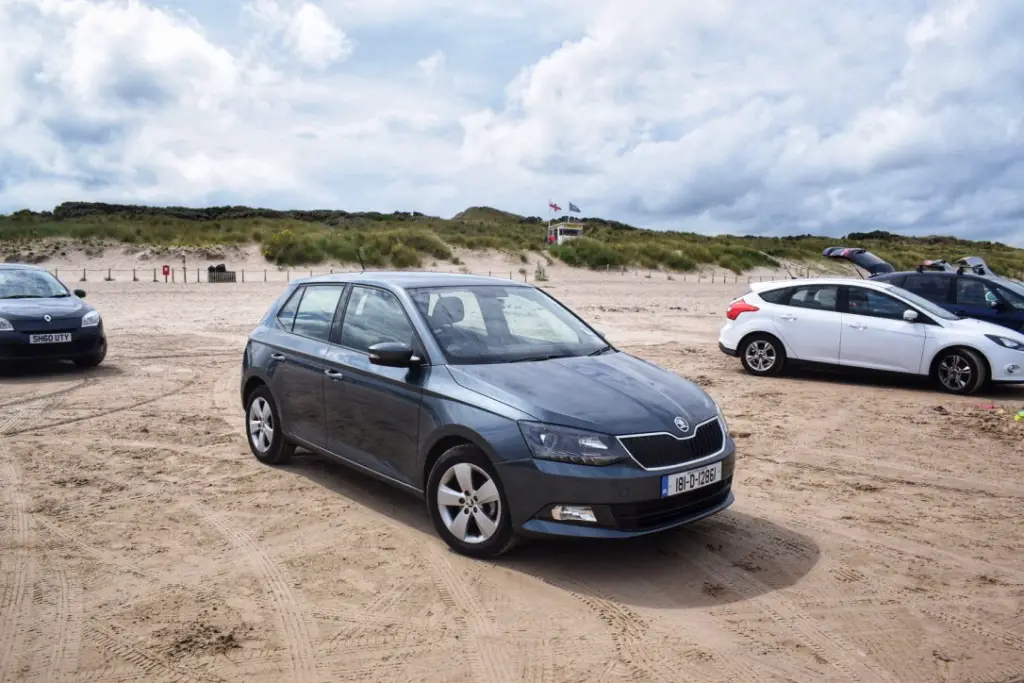 Also if you plan to drive in both Northern Ireland and the Republic then be aware that the North uses miles whilst the Republic uses kilometres. The frustrating thing for us was that our car didn't have miles and so we had to convert the speed limits in our head when driving.  Luckily Dave being Irish is used to this, but if this is something you are uncomfortable with, let the rental company know.
Causeway coastal route – Car Rental Checklist
Below are some of the important things we think you definitely need to know before renting your car, and setting off on your Causeway coastal route road trip.
Before renting a car on your Northern Ireland road trip
Check your license is valid and can be used abroad
Confirm if you want an automatic or manual car (the majority of cars in Northern Ireland tend to be manual so if you want an automatic then specify)
Order any extras like a Satnav or baby seat to ensure these are there for your arrival
Research general road rules i.e the UK uses a national speed limit and you won't see speed signs a whole lot
Before Setting off on your Northern Ireland road trip
 Take the time to check things over particularly if you have not gone for full insurance coverage
Take photos and record any damage before leaving and let staff know
Check the fuel and make sure you understand the fuel policy
Know where your indicators and wipers are
Get to grips with how tolls work in Ireland
Check if the the car showing miles or kilometres and you happy with this
Be aware of any emergency numbers you may need
At the end of your Northern Ireland road trip
 Aim to arrive about 30 minutes before you are scheduled to, to avoid late charges
Make sure the fuel is full or left at the same level you found it or as per your agreement
Ensure all your personal belongings are with you and double check the glove compartment
Where to stay when driving along the Northern Ireland Coastal Road
Because it was school holidays when we planned our Northern Ireland coastal road trip a lot of accommodation had already been booked. We decided to stay at The Hedges Hotel, a three star hotel located right next to the Dark Hedges. The hotel was comfortable and the rooms were clean. And for us the location was perfect in relation to all the things we wanted to see. There was a restaurant in the hotel which was convenient and was where we had breakfast which was included in our booking. There isn't a lot of nightlife around here though, which in fairness was fine because with all the driving we didn't want to be out late anyway. But if this is something you are bothered about perhaps look to stay somewhere else.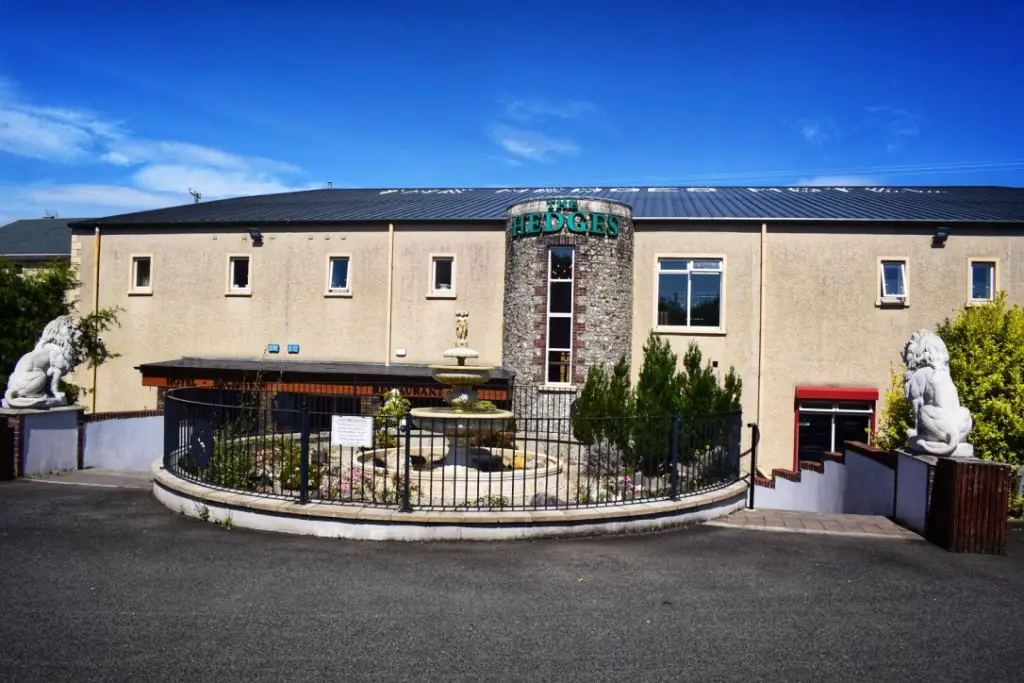 How much money do I need for my Northern Ireland road trip
Before planning your Northern Ireland road trip you might be wondering how much money you will need. Northern Ireland can be expensive depending on where you visit. Also the time of year you visit will have a bearing on costs as well.
If you visit in the summer months for instance hotel costs can be quite high. So make sure you book in advance.
Make sure you budget for things like
Car Rentals: £100 per day on average (depending on car type, what insurance you want to purchase, and any extras)
Petrol: £100 to fill the tank (this will vary depending on the type of car)
Accommodation: A minimum of £100 per night for something mid-range (depending on location, time of year, and amenities)
Attractions: £20 per person per day although this is probably on the high side
Food & Drink: £60 per person per day for standard pub style meals and a few drinks
We would recommend budgeting about £100-£150 per person per day. Costs can be brought down especially if you opt for cheaper accommodation and meals.
Northern Ireland Road trip itinerary in a nutshell
Here is a rough itinerary for your visit to Northern Ireland which includes a good section of the Causeway Coastal Route.
Day 1
Fly into Belfast and drive to the Dark Hedges
Lunch in Ballycastle
Dunluce Castle
The Giants Causeway
Day 2
Carrick-a-rede Rope Bridge
Ballintoy Harbour
Portstewart for lunch
Mussenden Temple & Downhill Demise
Return Car in Belfast
Northern Ireland Itinerary – the specifics
Because we only had 2 days in Northern Ireland, we decided to skip Belfast and head north to see some of the sights Northern Ireland is famous for. These are our recommendations on the best things to see and do along the Causeway Coastal route and beyond.
The Dark Hedges
The Dark Hedges are a row of picturesque beech trees made famous by Game of Thrones. Even if you don't watch the show though it is still worth a visit. Located along Bregagh Road, which is now pedestrianised (though some visitors didn't realise this), the trees create an ethereal tunnel that you can stroll through. If you are trying to get an Instagram perfect photo you probably want to try and get there very early in the morning, as it can get really busy with tourists.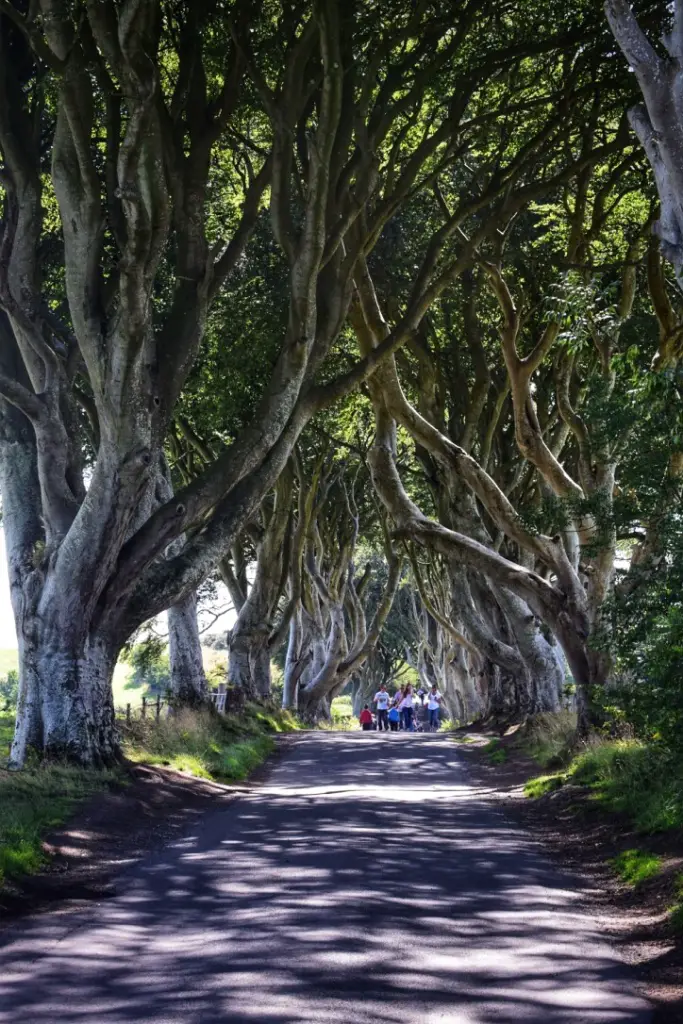 It does make for a beautiful walk and as you look up at the trees with the sun peeking through you can hear them creaking in the wind. The tress originated in around 1755 when James Stuart built a house and wanted to create an interesting approach. So over 150 beech trees were planted.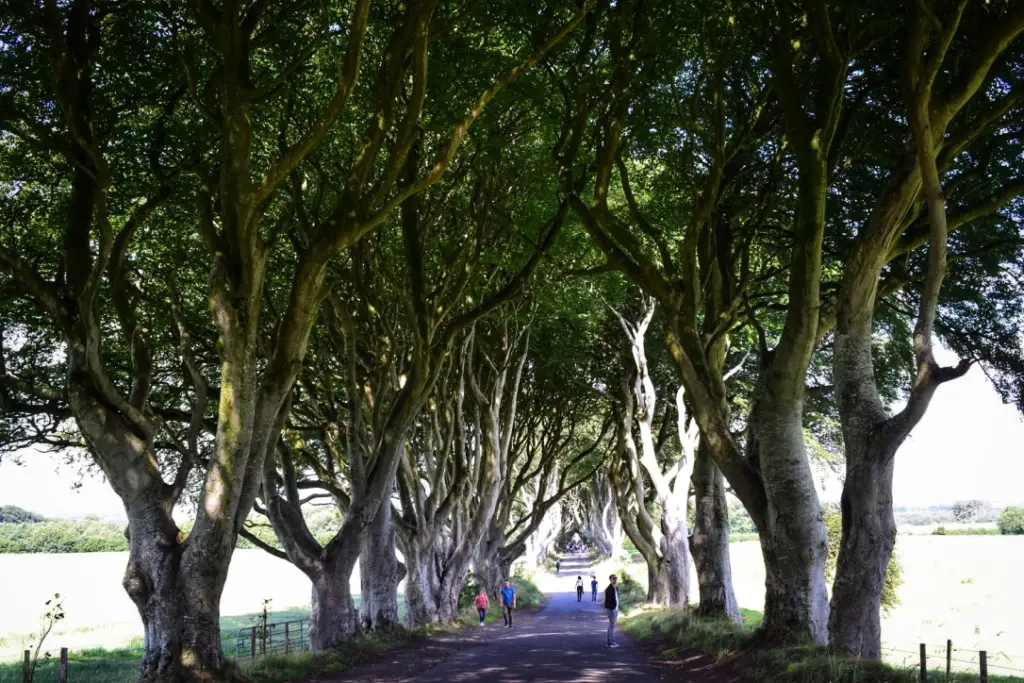 According to folklore the hedges are visited by a ghost called the Grey Lady, who is said to be the spirit of either James Stuart's daughter, or one of the house maids who died mysteriously, or a spirit from an abandoned graveyard beneath the fields. Thankfully though we didn't see any ghosts.
In terms of parking it is important to be aware that Bregagh Road itself is pedestrianised. Parking is available at The Hedges Hotel which is only a couple minutes' walk away. By parking here you can visit the staffed visitor centre and enjoy the forest walkway which will take you to the Dark Hedges themselves. It is important to make sure you park at this designated area as parking near the hedges can lead to potential car accidents as well as causing conservation issues.
Ballycastle
After visiting the Dark Hedges we made our way to Ballycastle, a small but beautiful town in County Antrim. If you get the chance to explore the town centre do. It is very colourful with some quaint shops and some really amazing pubs too.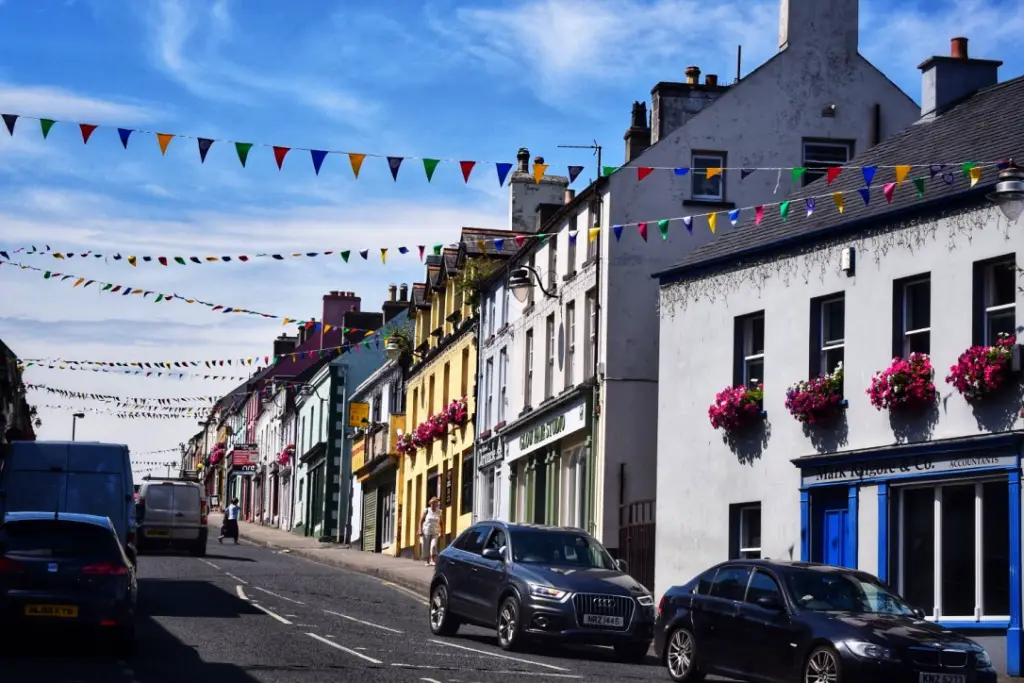 We ended up having lunch at O'Connors Bar and the food was incredible. It is a traditional Irish bar, and the food is designed to cater to all tastes. They also do some pretty amazing seafood. Dave ordered Gambas and was practically drinking the sauce they came with, whereas I ordered the crab claws. Despite having to work hard for my meal it was absolutely delicious and we certainly recommend adding this to your Northern Ireland road trip itinerary.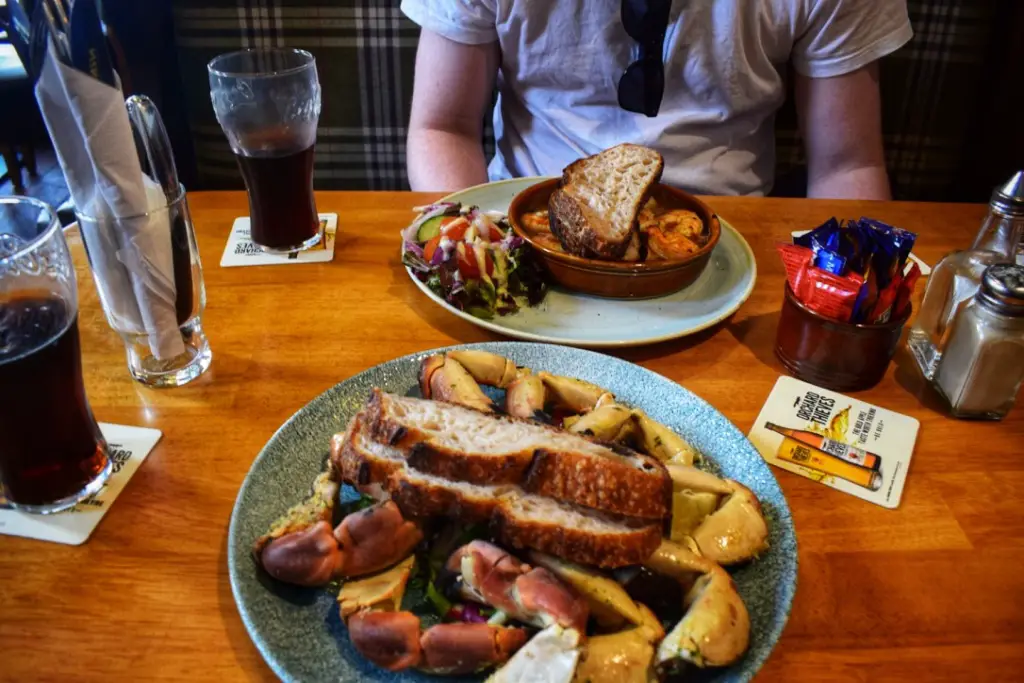 Dunluce Castle
Eventually we made it onto the Causeway Coastal route and our first stop was Dunluce Castle. Parking around here can be a bit tricky as the car park can fill up quickly. So you do need to be patient, but it is worth it. Set on some dramatic coastal cliffs this castle is stunning.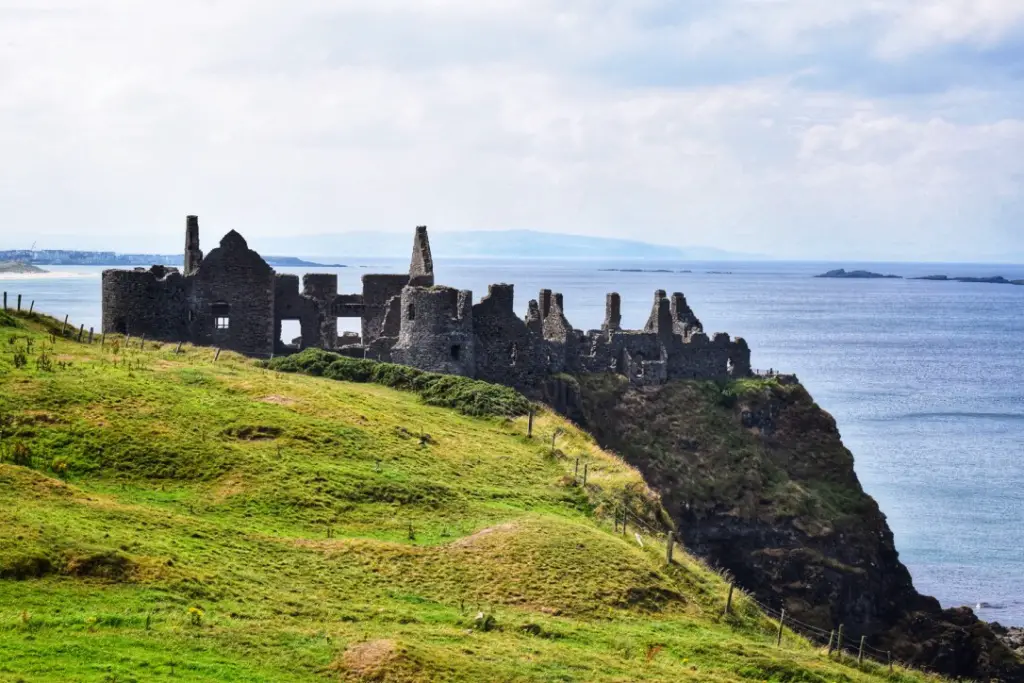 The Castle was built by the MacQuillan family in around 1500.  But has had a turbulent history and was seized by the MacDonnell clan in the 1550's. These days however it is a popular and picturesque tourist attraction.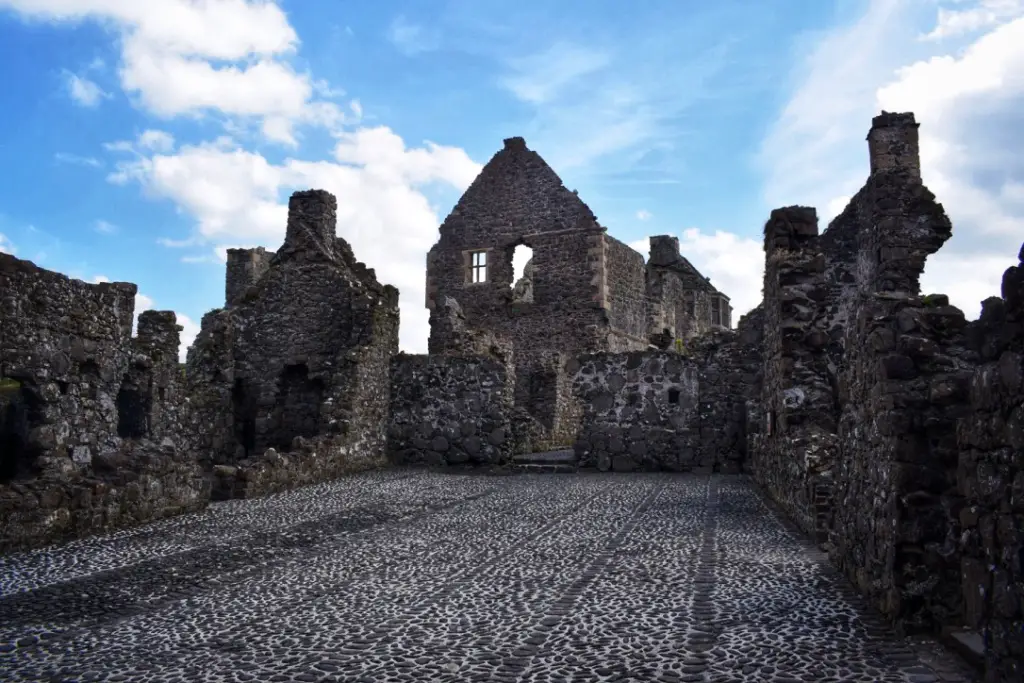 You probably need about an hour to explore the ruins. Entry is £5.50 for adults and it really is worth it as the views are amazing. We loved exploring the nooks and crannies with views of the sea crashing below. This is a beautiful stop along the Causeway Coastal route and the scenery alone will make you glad you visited.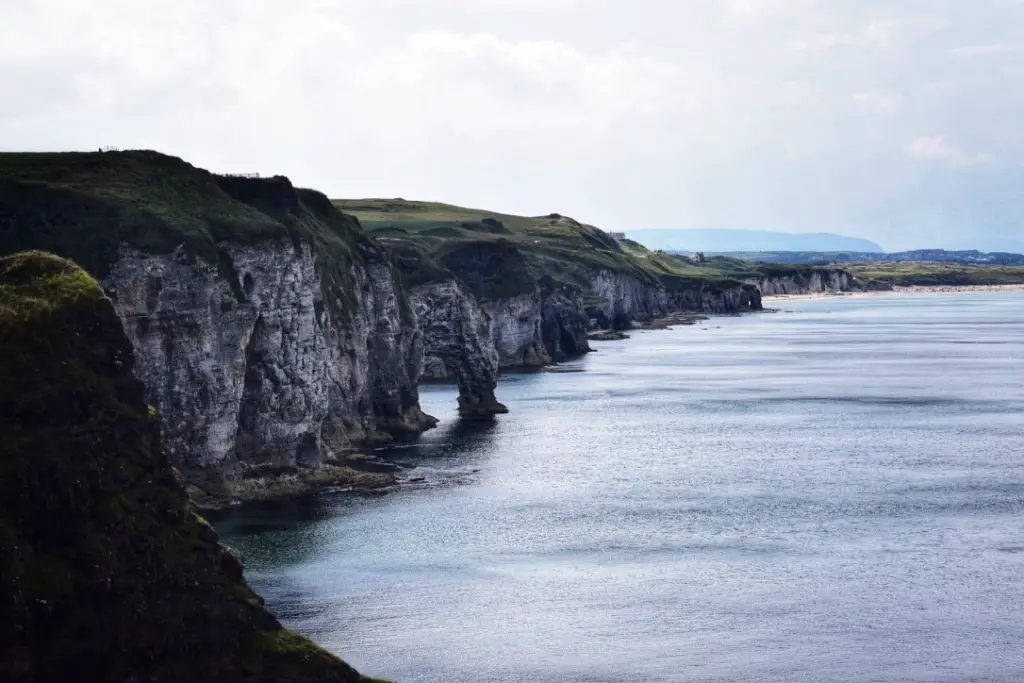 The Giant's Causeway
The Giant's Causeway is made up of around 40,000 connecting basalt columns caused by an ancient volcanic eruption. And by ancient we mean something like 60 million years ago! It is a UNESCO World Heritage site and is currently run by the National Trust. It is also one of Northern Ireland's most popular tourist attractions. If you want to get photos without hundreds of other people photobombing you, then come early.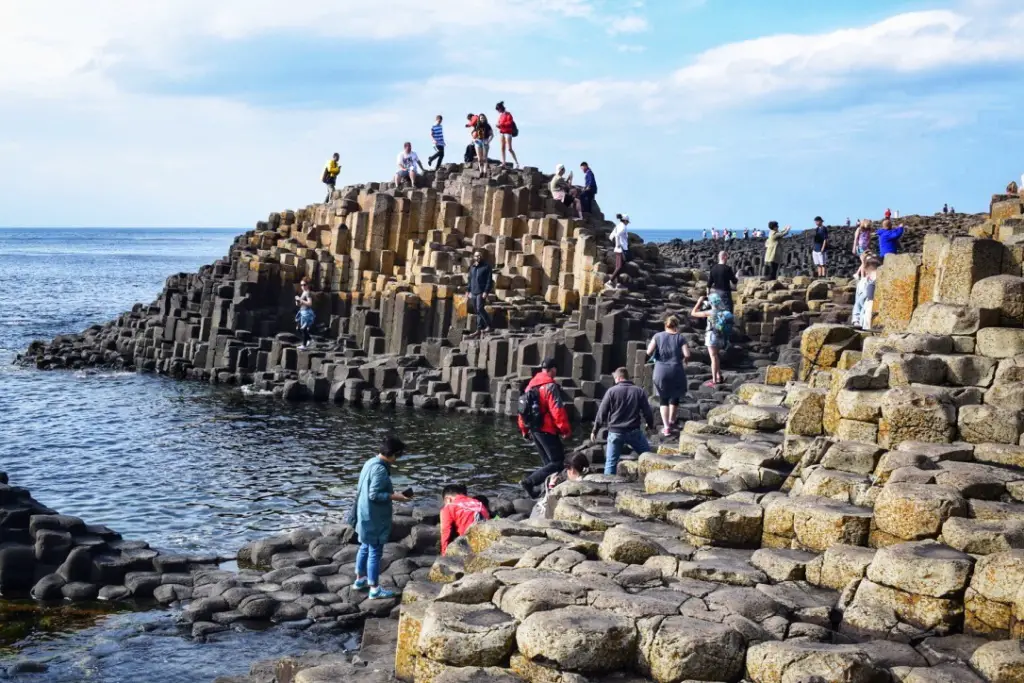 We should also add that visiting the stones of the Causeway is absolutely free. The signs really don't make it all that clear when you go, and we purchased tickets not realising. The tickets are actually only for entry into the Causeway visitors centre, a space we only walked in to for the bathroom. If you are parking outside the visitor centre you do need to buy a ticket, but if you park offsite you shouldn't have to pay.
The perks of buying a ticket though, aside from gaining entry to the visitors centre, is also the option to have an audio guide, or even better a guided tour. We chose to go with the audio guide though because we take ages photographing everything and tend to slow everyone else down.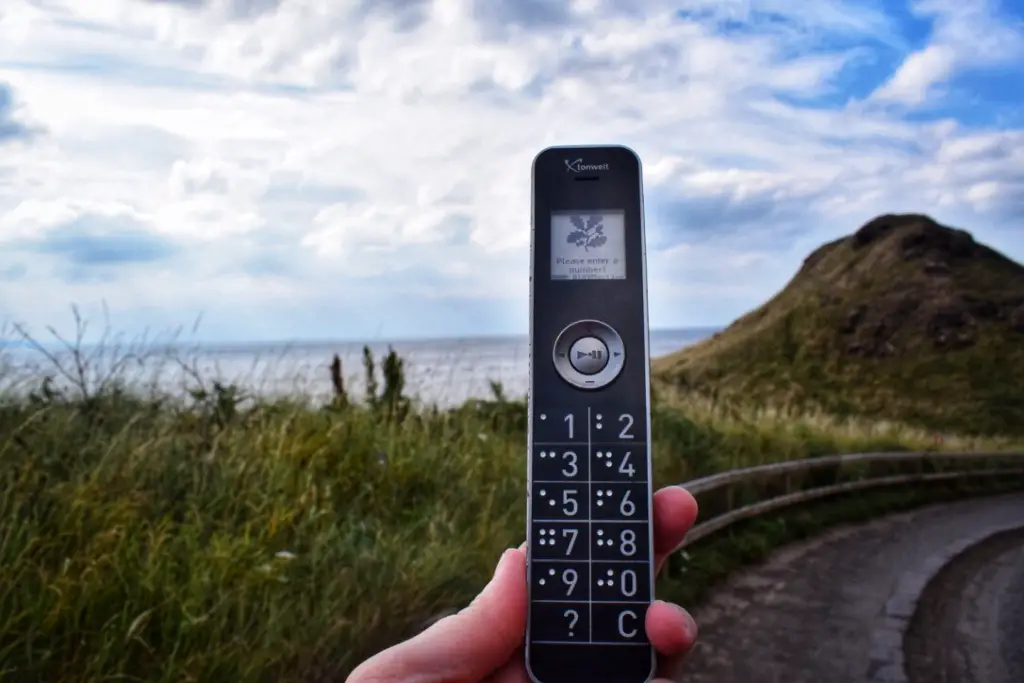 When you leave the visitors centre there is a downhill walk that takes you to the Causeway. It is really scenic and it is a lovely feeling having the wind in your hair as you take it the scenic Causeway Coastal route.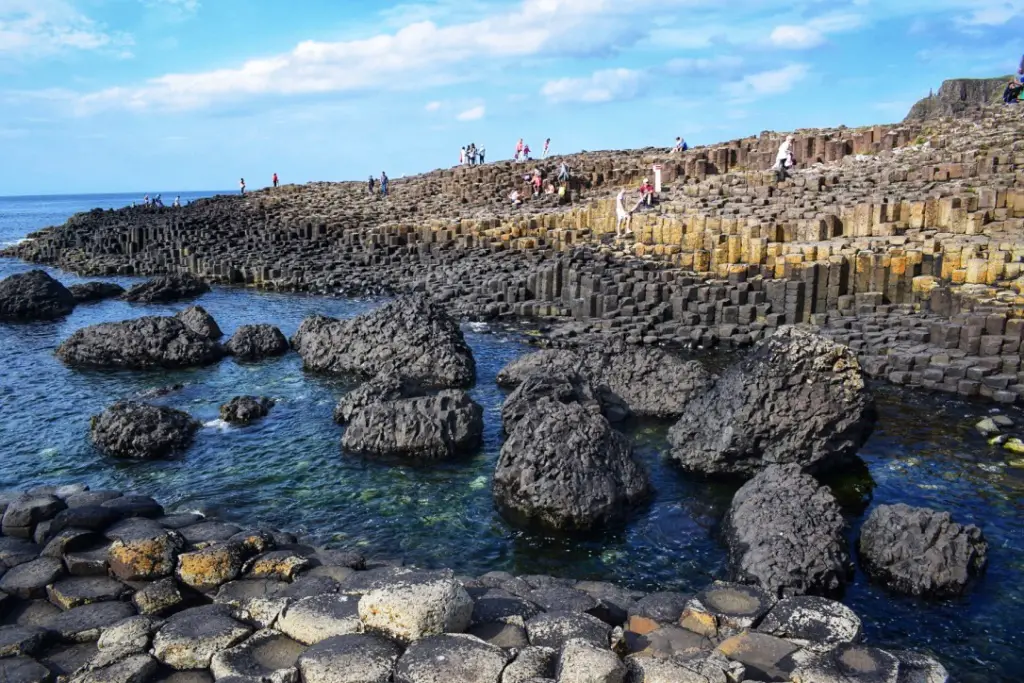 If you struggle with walking then there is a bus, which you do have to pay but it is only £1 each way. We decided to get the bus on the way back up to the visitors centre but chose to walk down on the way to the Causeway.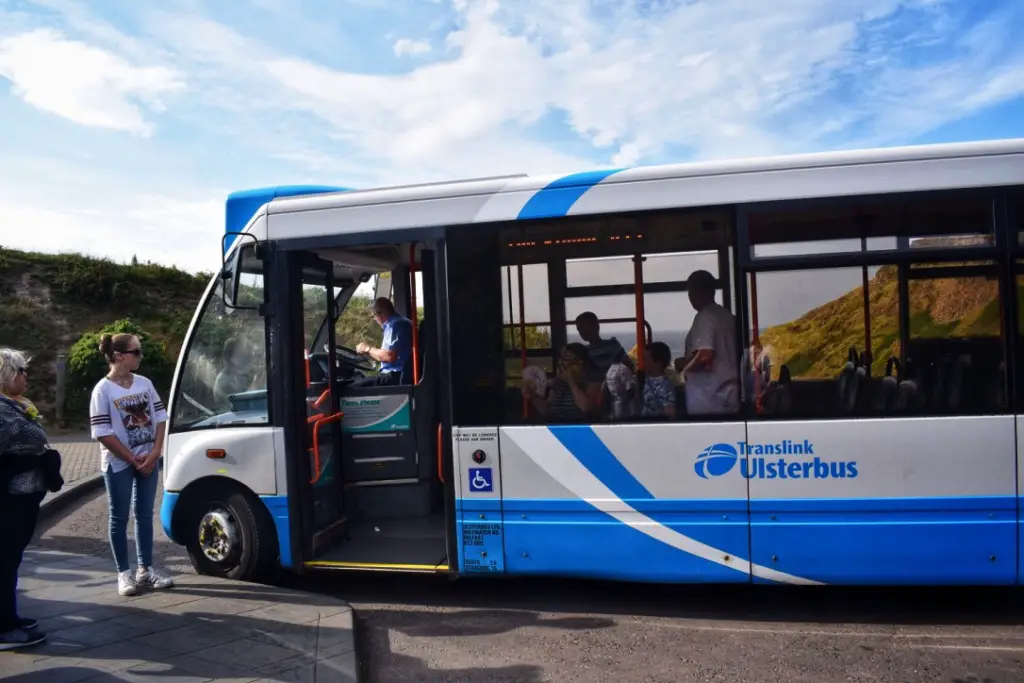 Once you reach the smooth stones you can climb up them and take lots of pictures. There are also a number of walks you can do around here. Our biggest bit of advice is to wear decent shoes as the rocks can get slippery. Also bring a bottle of water with you because once you are on the Causeway you have to trek back to the visitors centre for a drink.
If you want to do a guided tour you will need to book this online in advance.
Carrick-a-rede Rope Bridge
So this was both our favourite and scariest part of our Northern Ireland road trip. The Carrick-a-rede Rope Bridge is a bridge that is 20 meters long and 30 meters high. 30 meters might not sound really high but when you look down at the waves crashing below you it suddenly feels so much higher.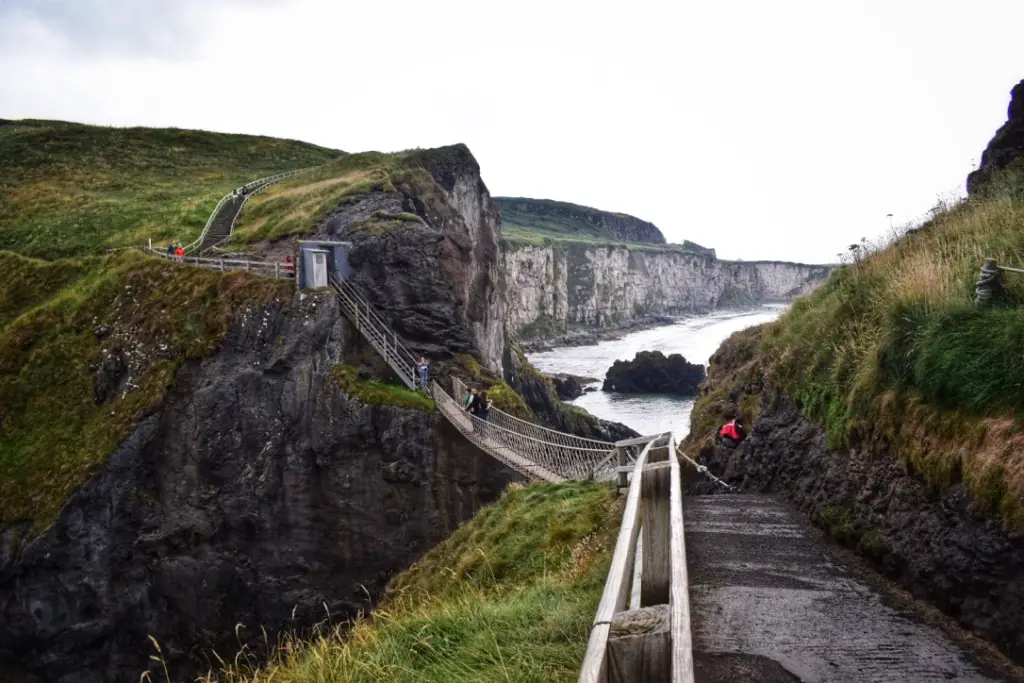 The bridge was first erected by fishermen in 1755 and links the mainland to the very small island of Carrickarede. These days the bridge is maintained by the National Trust, and you do have to pay £8 to cross. There is a timed ticketing system so you purchase tickets for an hour time slot. The bridge opens at 9.30 am and we really do recommend getting there early.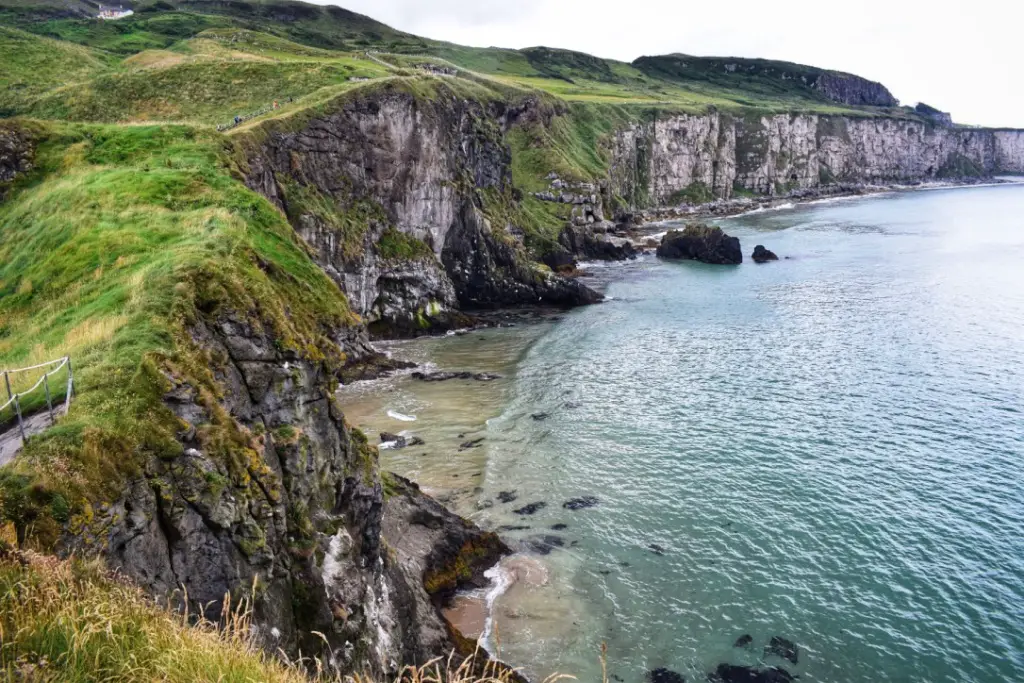 Considering that we were both so apprehensive about crossing the bridge we made sure we were there for 9.30 am as we didn't want to feel pressured by huge crowds to cross. It also gave us the opportunity to explore and take in the scenery without bus loads of tourists.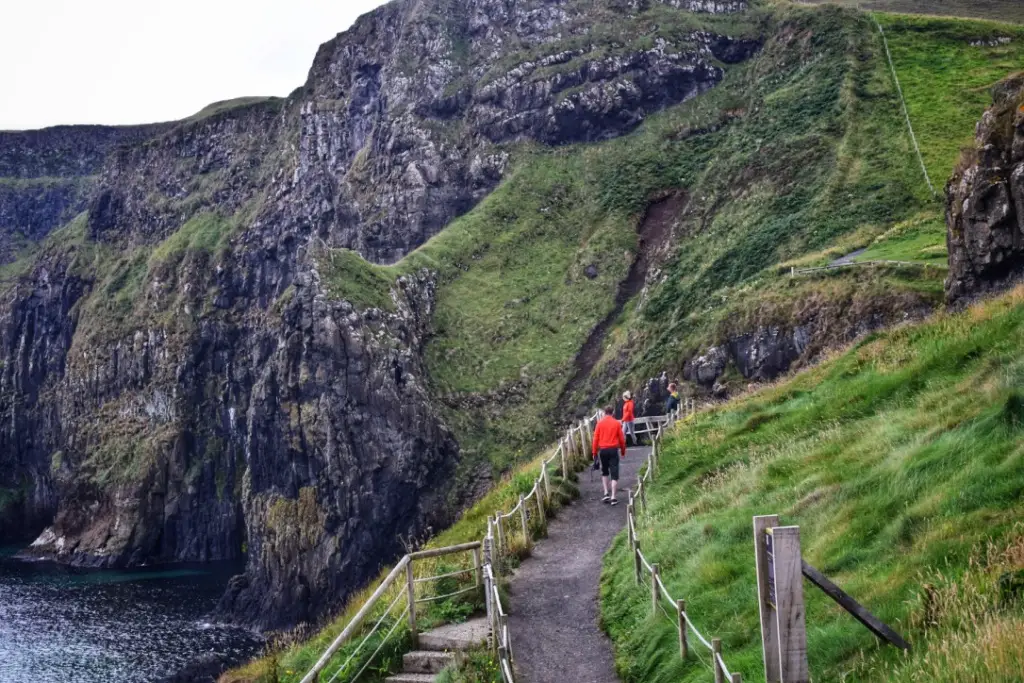 The walk to the bridge is gorgeous. You have incredible views of the rugged cliffs that form part of the landscape in this area and you can see it all in your own time.
Once you get to the bridge you may have to wait to cross. Only 8 people are allowed on it at any one time for safety reasons. Dave went first and I have never seen him walk across a bridge so fast.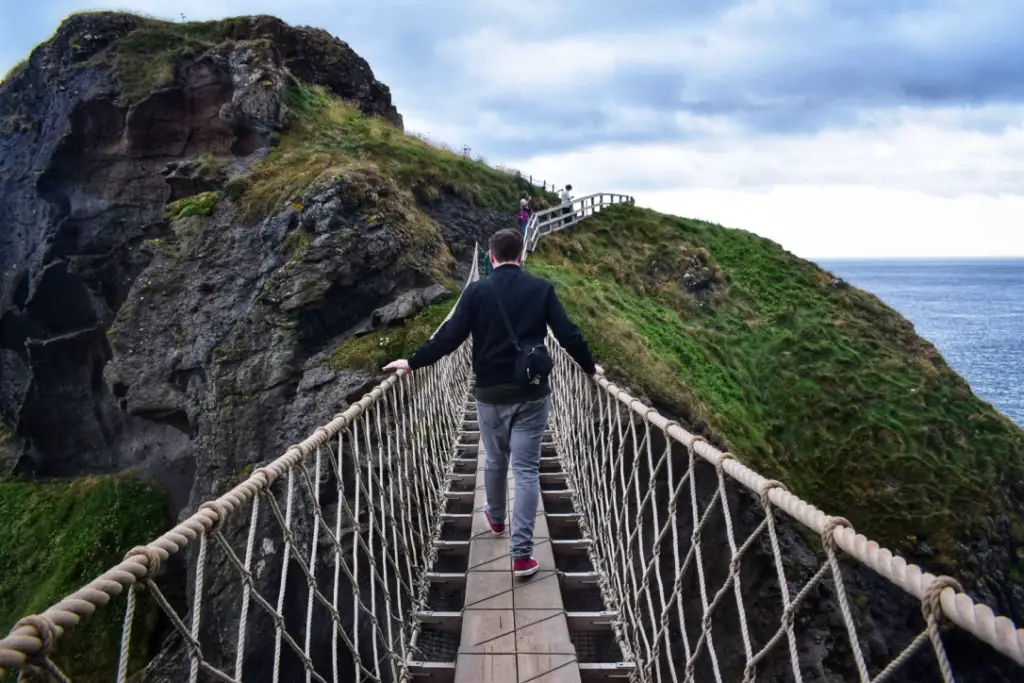 Then came my turn. I couldn't look out and enjoy the view from the bridge I just put my head down and walked. It was a proud moment for the both of us realising we had done it. But there is of course the little matter of crossing back over!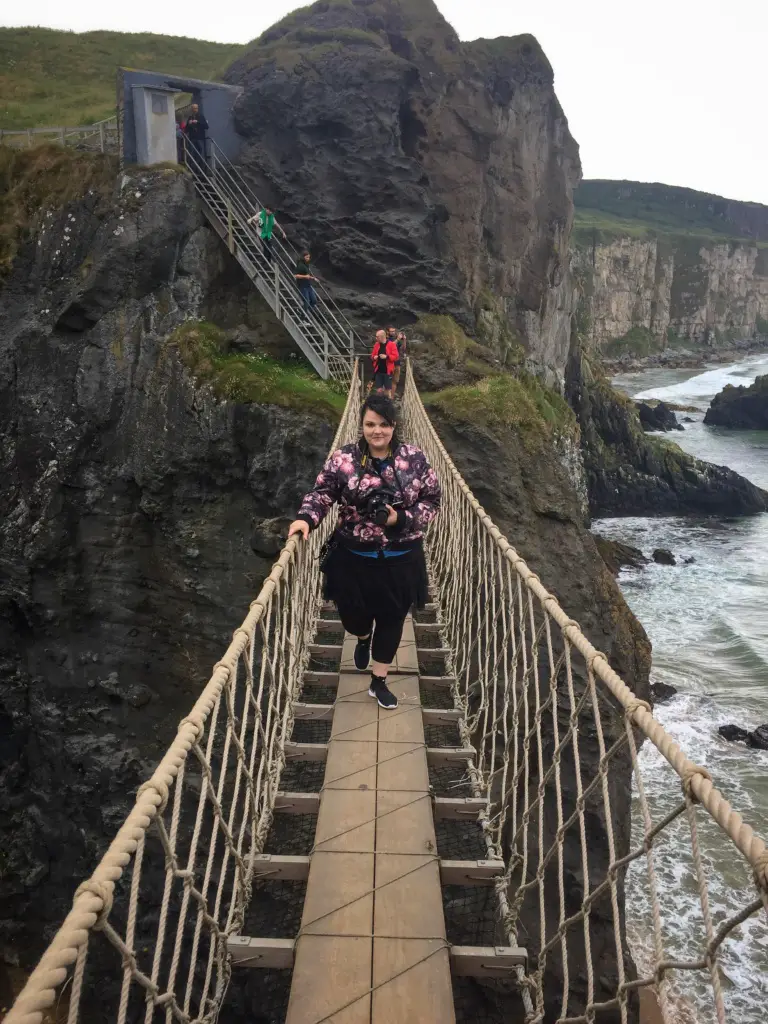 After exploring the island we made our way back across. I think we both agreed that crossing over the second time was scarier because you know what is coming! As you walk back to the entrance there is a spot where you can take some great pictures of the bridge and you actually get to see how high it is. This is definitely something we will always remember.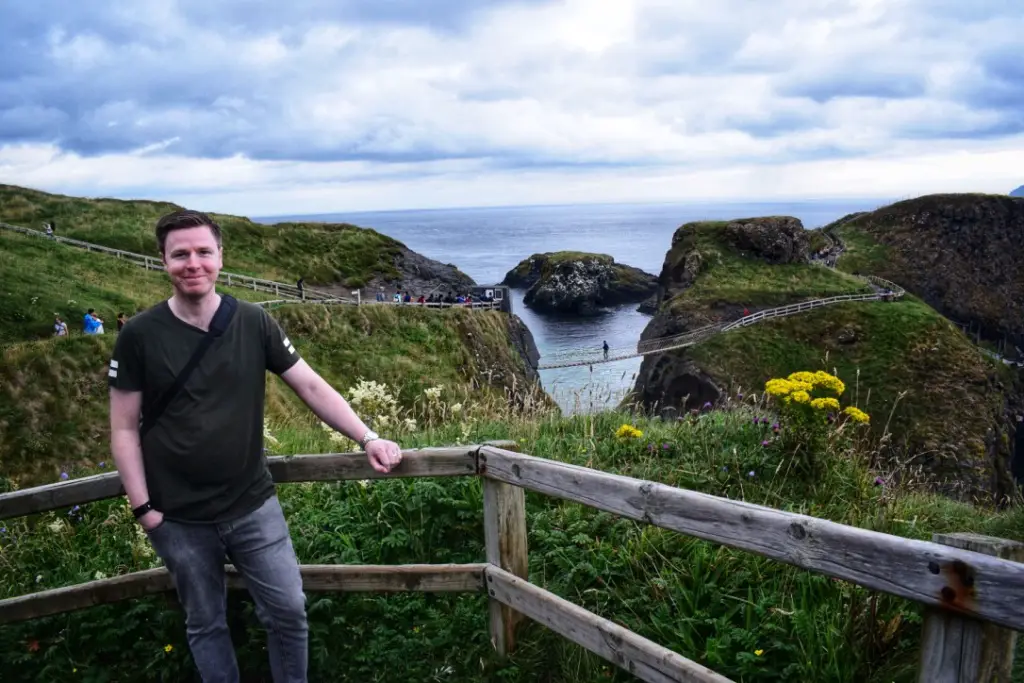 If you want to skip the queue then you can book a private tour of the rope bridge, and learn all about the history.
Ballintoy Harbour
When we stopped shaking and the adrenaline had died down we made our way over to Ballintoy Harbour. It is really close to the Rope Bridge and is another location where episodes of Game of Thrones were filmed.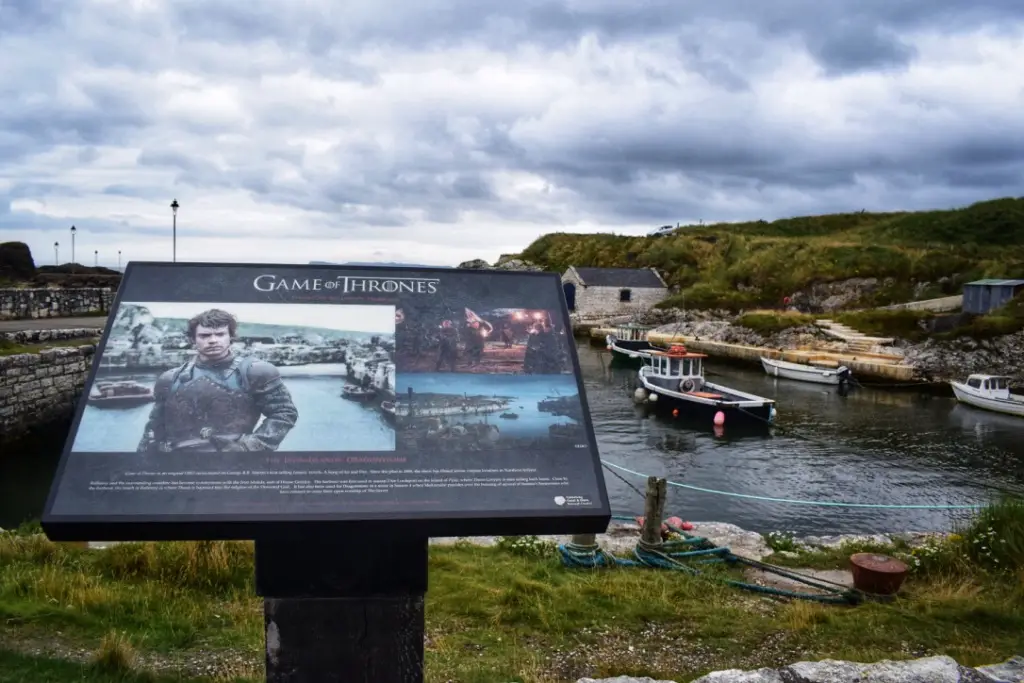 It really is worth the stop to admire the views and take a walk around the quiet harbour. There is a cafe here as well if you do need refreshments. We didn't spend a lot of time here but the little time we did spend really was beautiful.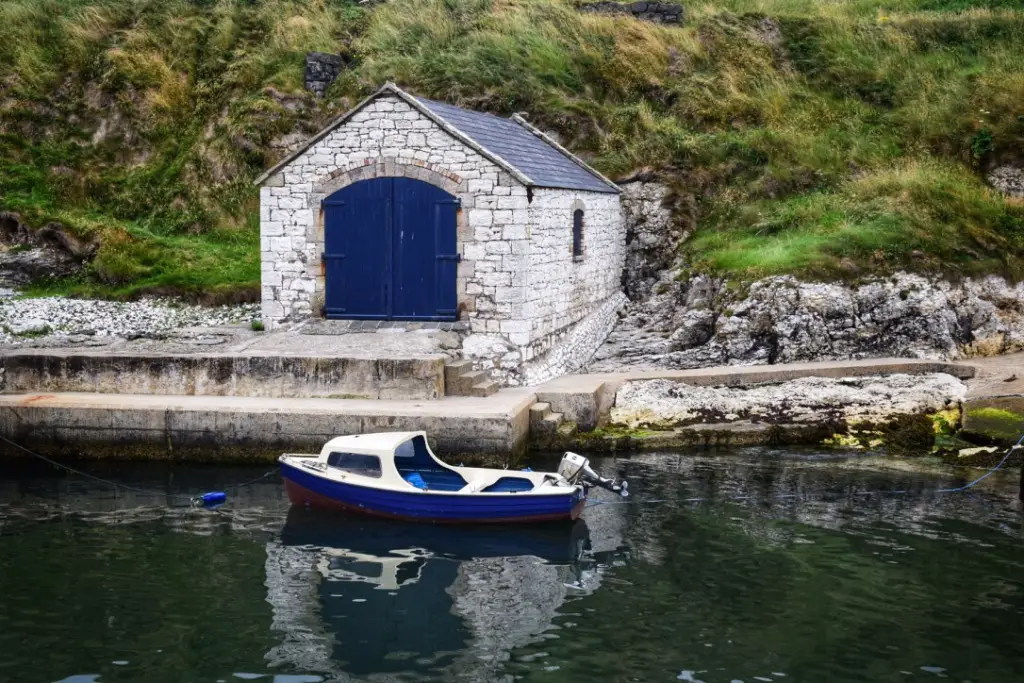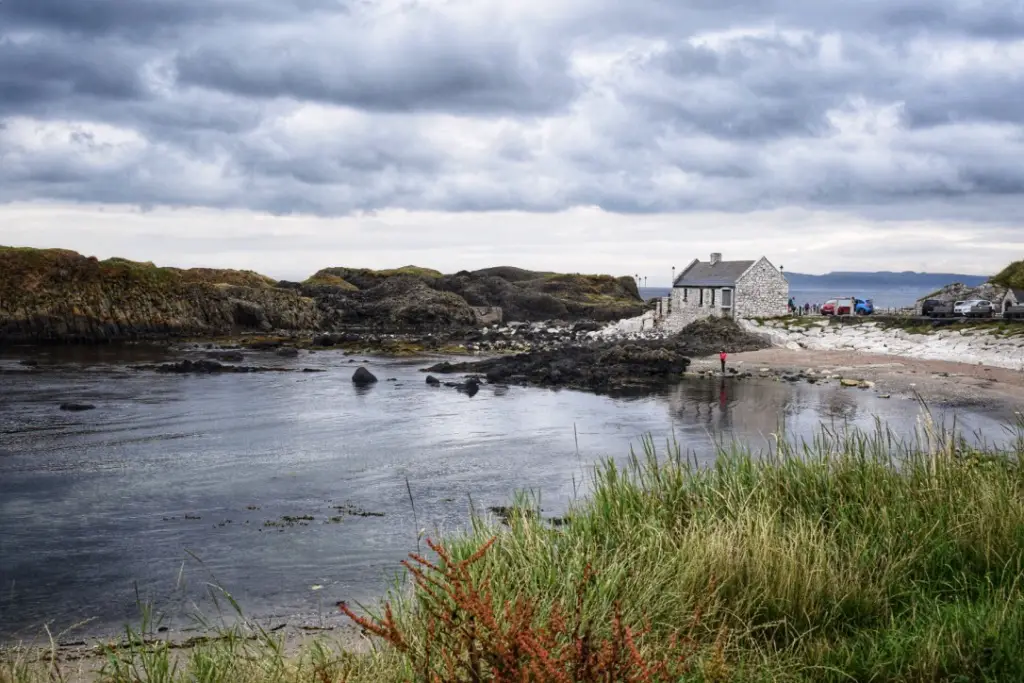 Portstewart
A lot of people we spoke to recommended visiting the small seaside town of Portstewart. There is a beautiful sandy beach popular with surfers and swimmers alike. We visited Portstewart Strand, a 2 mile long beach popular with families. Parking was £6.50 which admittedly was a little steep but we really wanted to explore.
The beach is lovely, and because the water was a little cold when we visited we didn't go in. Instead we dipped our toes in and took in the sea air. There are walking paths around if you have the time, otherwise the beach itself is the perfect place to relax.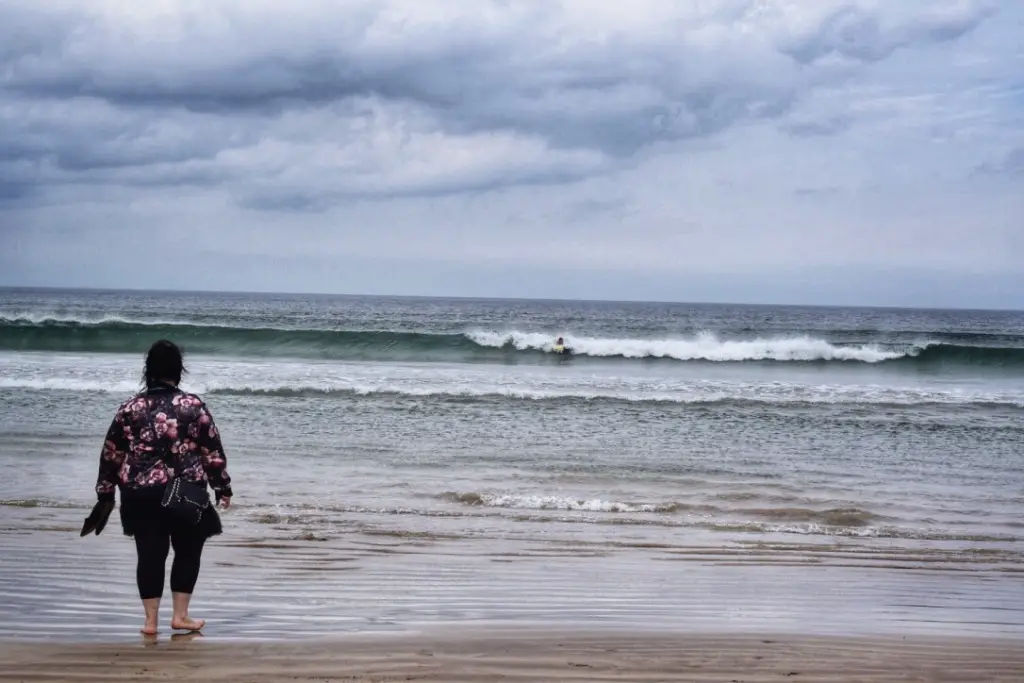 If you are looking for a bite to eat Harry's Shack is perfect. We sat outside enjoying views of the beach and ate calamari and mussels. It is worth visiting just for Harry's Shack alone! Booking is recommended as it does get really busy, although we arrived around 12pm and managed to get a seat outside without a reservation.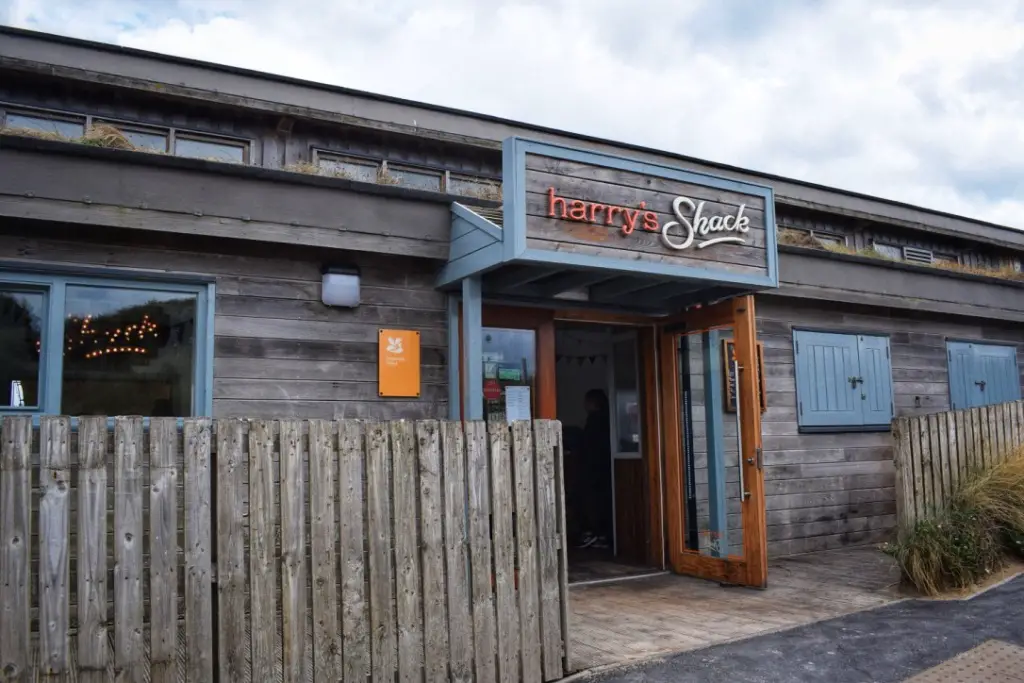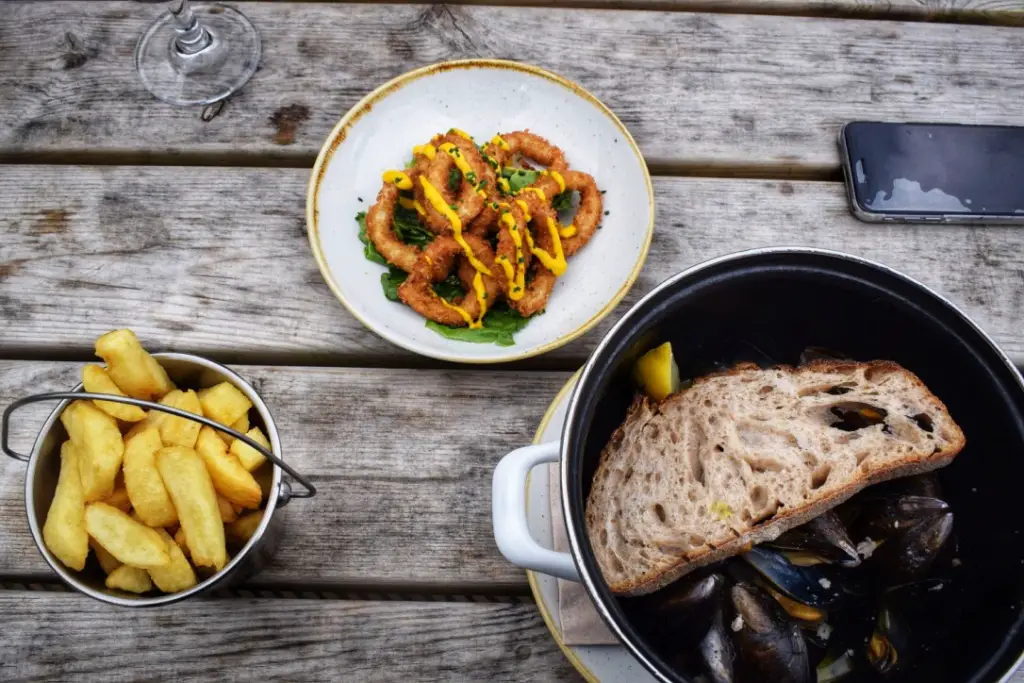 Mussenden Temple and Downhill Demesne
This was our final stop on the Causeway Coastal route and Northern Ireland before heading to the Republic to see Dave's parents. And it really was a nice place to end our trip. The temple is located in the picturesque surroundings of Downhill Demesne. It sits on the top of a cliff top which is about 120 feet above the Atlantic Ocean.
It is a great place to go for a leisurely stroll and you can also explore Downhill House, the dramatic remains of a mansion built in the late 18th century. This is a great place to explore and take photos and if you have the opportunity, bring a picnic as it is the perfect location to relax.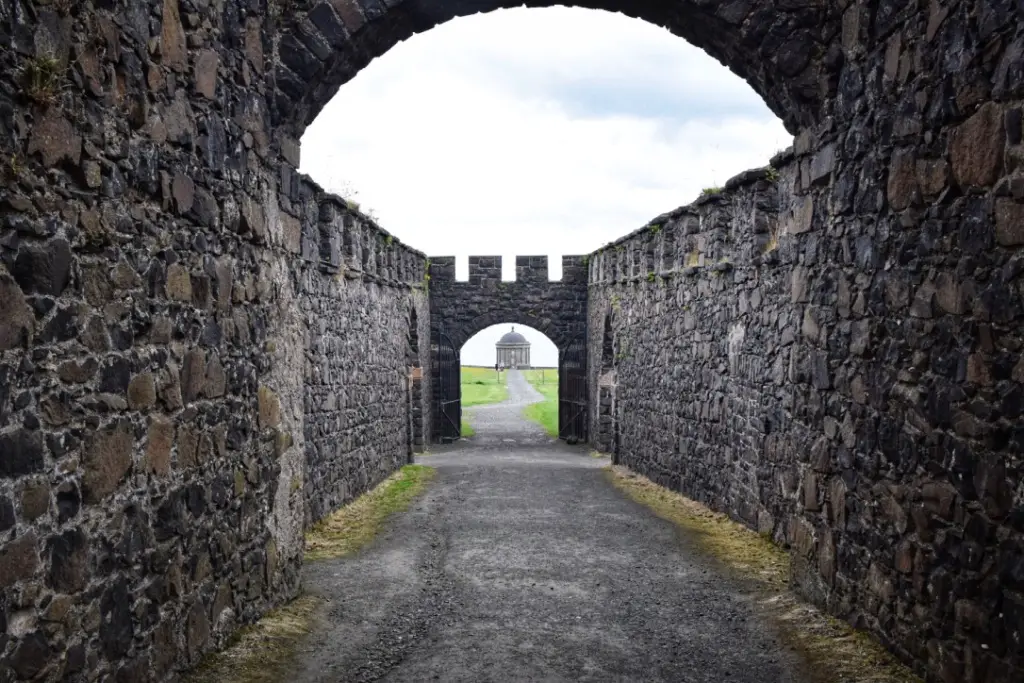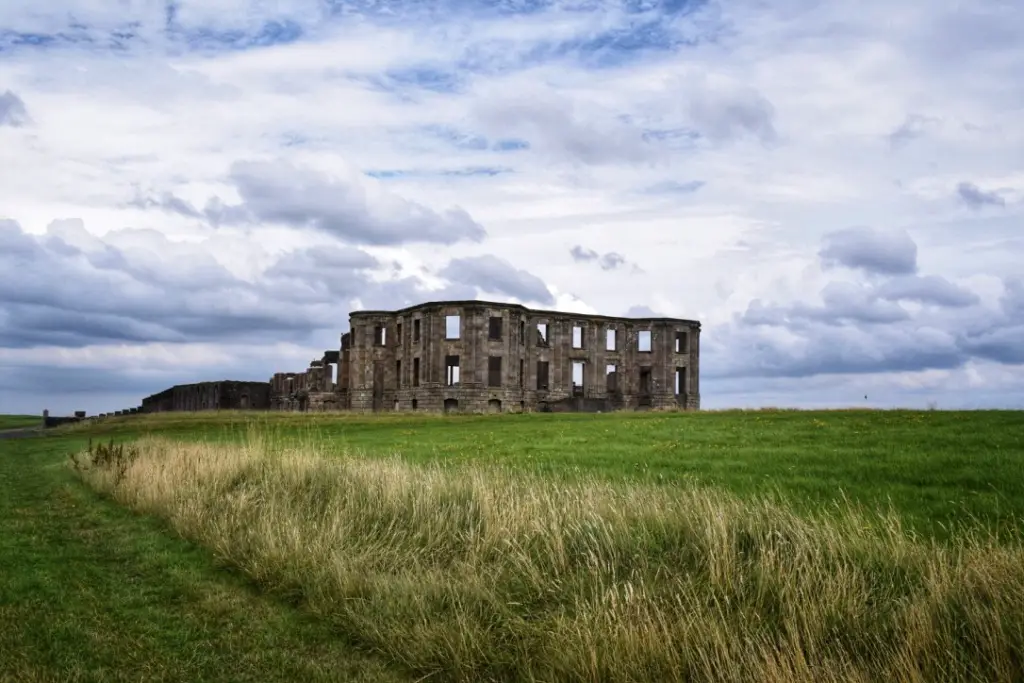 This is another National Trust site so you do have to pay for entry which is just under £5 per adult. There are also some gardens you can explore before making your way up to the temple.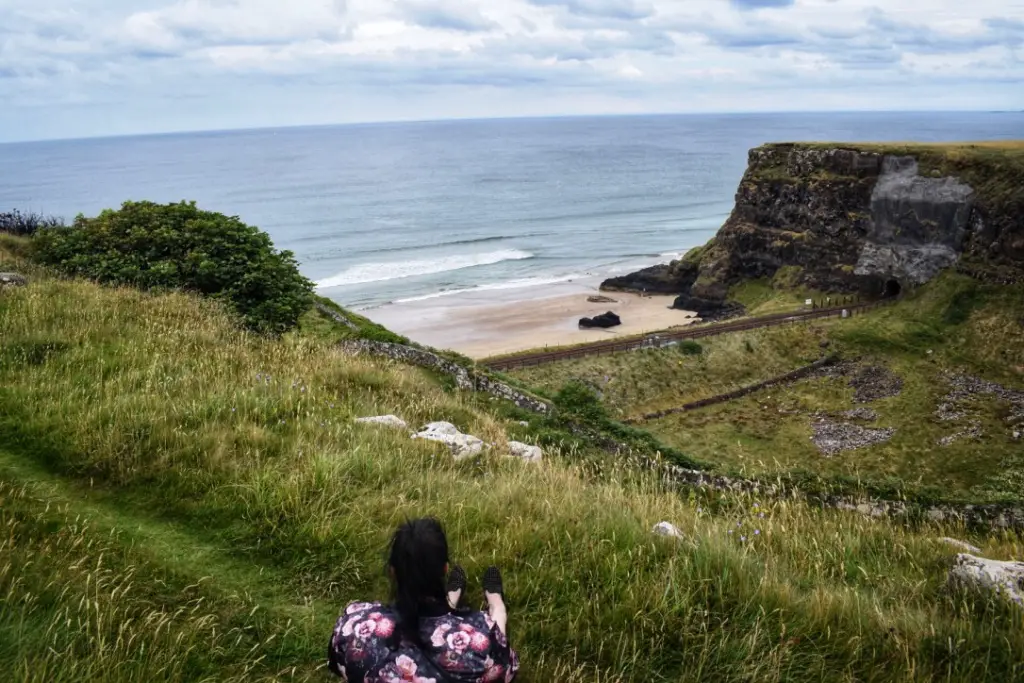 Northern Ireland Road trip itinerary map
 Here is a map to help you plan your 2 day Northern Ireland road trip itinerary based on the route we took. We ended up staying near the Dark Hedges in the nearby hotel so we did end up backtracking slightly on our route. If you don't want to do that you can alter the itinerary slightly. The map is divided up to cover our 2 days in Northern Ireland.
Day 1 Northern Ireland Road Trip Map
Day 2 Northern Ireland Road Trip Map
Causeway Coastal Route Map
Here is our full trip map including the Causeway Coastal Route that we drove through
Final Tips for planning your Northern Ireland Itinerary
Things are a bit politically sensitive in Northern Ireland. Northern Ireland is part of the UK whilst the remainder of the Island of Ireland is part of the Republic. Try to avoid talking about politics but be sensitive if you do.
Northern Ireland uses the British Pound for currency. If you are visiting the Republic of Ireland be aware that they use Euros.
2 days in Northern Ireland – a recap
We really loved this trip and will be thinking about it for years to come. It is such a beautiful picturesque place and with so much to see and do we really felt like 2 days in Northern Ireland was not enough. That being said we really did get to see a lot of this beautiful place and we felt so lucky to have experienced it. You can see and do a lot in 2 days so if you do only have a short time here don't panic. We hope our Northern Ireland itinerary gives you some inspiration to book your own trip and explore this incredible landscape.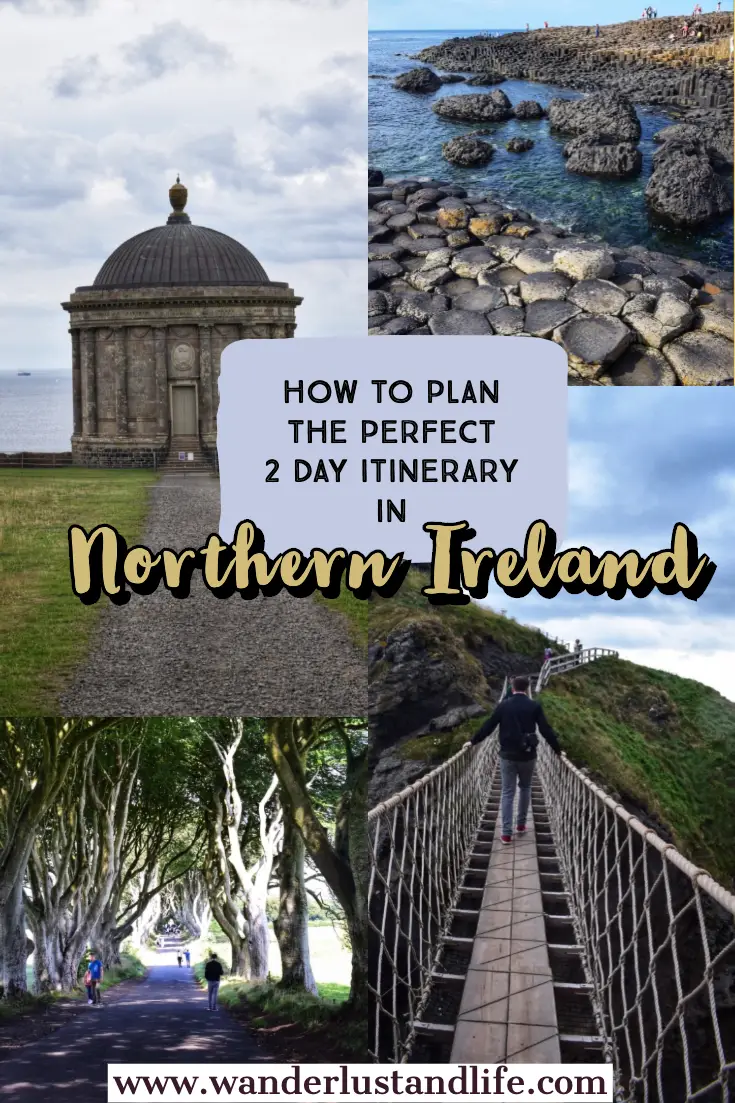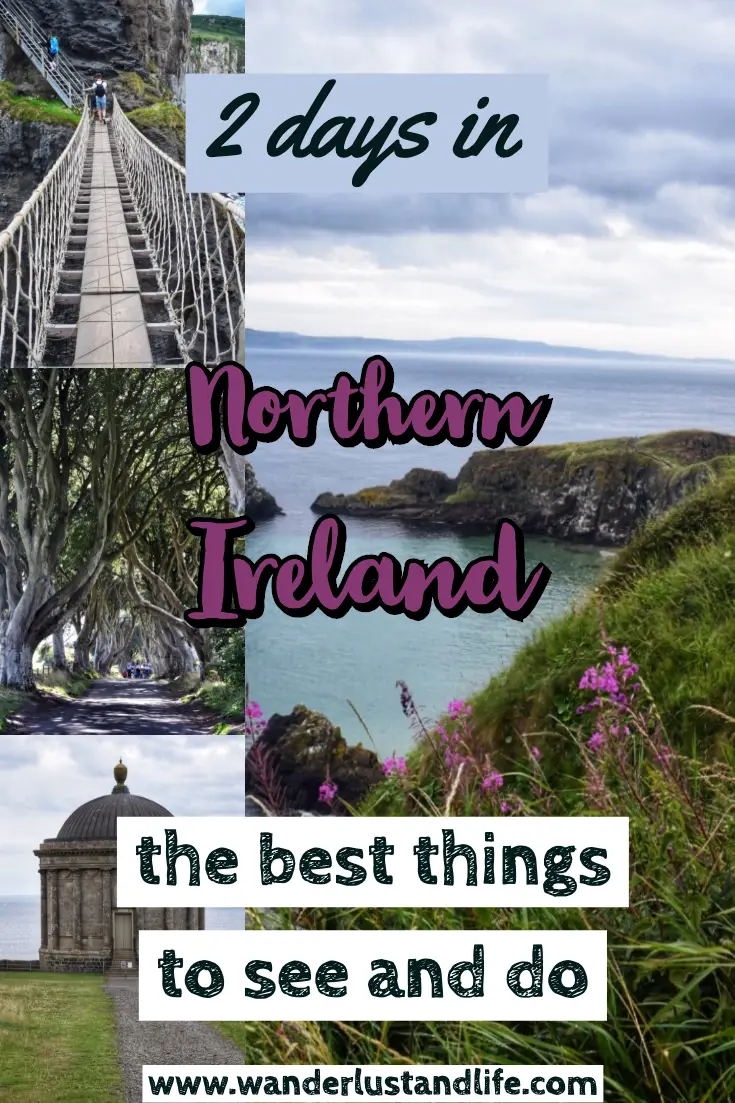 If you are feeling inspired by our Northern Ireland road trip itinerary then check out some more Irish content below: