Planning a trip to Las Vegas and looking to tick some items off your bucket list, well this is the article for you. Vegas is one of those places that you only only get to visit once in your life (well for a lot of us anyway), but it is also one of those places that has some seriously awesome things to do. Here is our guide to everything Sin City, from hotels, activities, and food, this is the ultimate Las Vegas bucket list.
Disclaimer: This post contains affiliate links, so if you use these links to buy something we may earn a commission, at no cost to you. Thank you for your support.
For this article we have broken down our Las Vegas bucket list ideas into different parts such as on The Strip and Downtown Vegas to help you plan the perfect Las Vegas itinerary.
Las Vegas Bucket List ideas on the Strip
Here are the top things to do on the Strip to help you plan your Las Vegas bucket list.
1. See the Vegas sign
The number one thing to do as part of any Las Vegas bucket list is of course to take a picture of the Vegas sign. It's located at the top of the Strip next to Mandalay Bay and is an instagram worthy moment for sure.
The sign was erected in 1959 and designed by a woman by the name of Betty Willis. Apparently a local salesperson had requested a neon sign to advertise the city in the same manner that signs were advertising hotels.
If you want to get a shot without the swarms of people you do need to get here early. Otherwise you will have to get in line and wait your turn.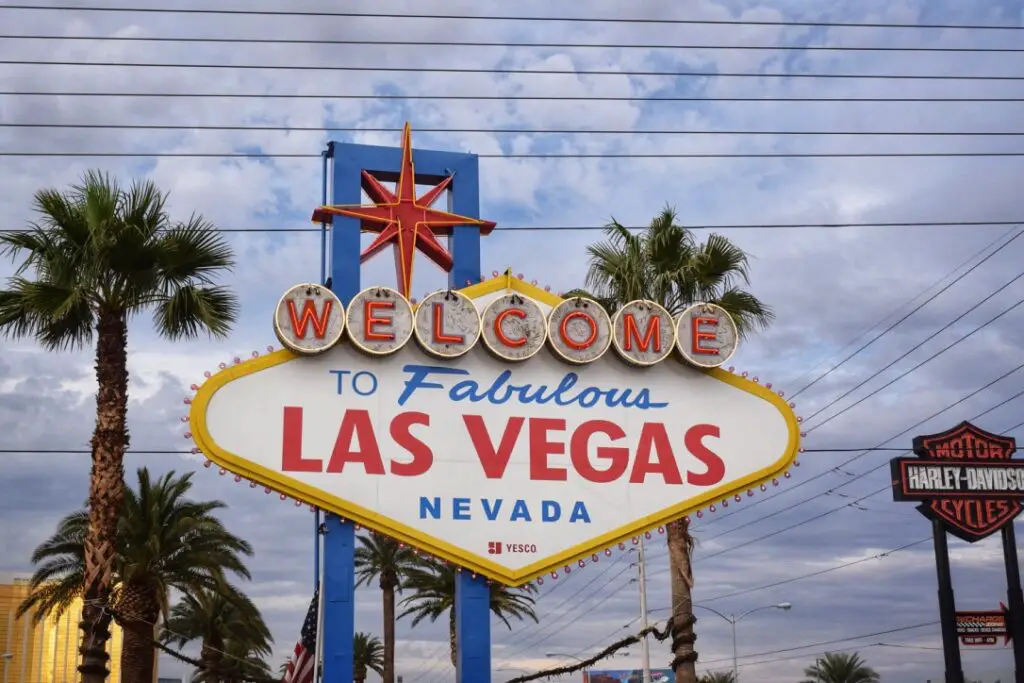 2. Gamble
Vegas is all about the Casinos so gambling is obviously going to be on your Las Vegas bucket list. It's not something that I'm usually into but thought I would give it a go. I did not win but had a great time regardless.
If you are planning to gamble make sure you are being responsible. Set a budget aside for gambling and only do it if you expect to lose – because you probably will.
One cool thing is that if you gamble wait staff will come round offering free drinks. So take advantage of this if you can.
3. Helicopter over Las Vegas
For an unforgettable experience Las Vegas bucket list experience with a bit of adrenaline why not do a helicopter ride over the city. There is no better way to soak in the views and the bright lights.
4. Watch the Bellagio Fountain Show
This is the best free thing to add to your Las Vegas bucket list. The Fountains at the Bellagio spring into action every 15 or 30 minutes, depending on the time of day. People gather round the watch as they put on a spectacular show, usually to some annoyingly catchy music. It's loads of fun and honestly no trip to Vegas is complete without watching at least one show.
5. Cirque du Soleil
Cirque du Soleil is a Vegas institution, so much so that there are now so many different versions to see. When we visited we had choices such as Beatles themed shows to the original Mystere. Whichever theme you opt for it's a fantastic show, and it's incredible watching the acrobatics take place sometimes right above your head.
6. Or any Vegas show
If Cirque du Soleil isn't quite up your street then there are several other shows that you can add to your Las Vegas bucket list instead. These shows are honestly amazing. Just check what is on offer when you visit.
7. Ride the gondola at the Venetian
The Venetian is an iconic hotel located on the Vegas Strip. It's incredibly over the top, and you could be forgiven at times for thinking you are walking the streets of Venice. That being said I don't recall their being an escalator transporting you across the Rialto in Venice.
Whilst walking around the Venetian make sure you do a gondola ride. Yes it's a little cheesy but it's Vegas that is what it is all about.
8. Visit the top of the Eiffel Tower
Another hotel to add to your Las Vegas bucket list is Paris. It evokes all the passion and character of the famous city, and has a rooftop pool, an indoor mall, and of course a replica Eiffel Tower. The view from the top is really amazing, so worth a trip if you have the time. In fact this is probably one of the best views of the Strip but also the Bellagio Fountain Show. It costs around $16 for a standard ticket and you can purchase these at the hotel before you go up.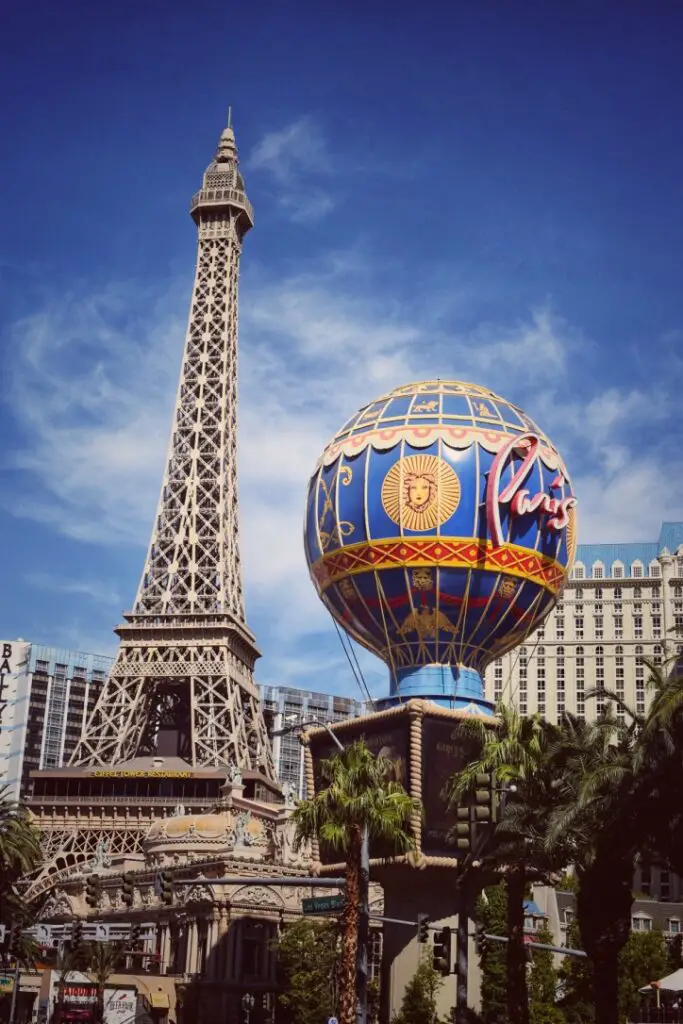 9. Drink at the Chandelier Bar at the Cosmopolitan
The Cosmopolitan Hotel is one of the glitziest hotels on the Vegas Strip. It's modern and sophisticated, with a giant Chandelier over 2 floors. It's the perfect place to grab a cocktail, including some of the tasty signature cocktails.
10. Hit up a nightclub
Clubbing in Las Vegas is a big deal, and if it's something you are into there are several nightclubs you can visit. Not going to pretend this is something that we are into at all but here is a helpful article in case this is something for you!
11. Ride the rollercoaster at New York New York
New York, New York is another distinctive hotel in Vegas. And unsurprisingly due to its New York theme it is also one of the best places to go for Pizza and Hotdogs. When you visit the hotel you can walk around a little Times Square or see some of the features paying homage to NYC's most recognisable buildings.
The really fun thing about this hotel is that they have a rollercoaster which is aptly named The Big Apple Rollercoaster. Here you can whizz around the Empire State and other famous New York Landmarks.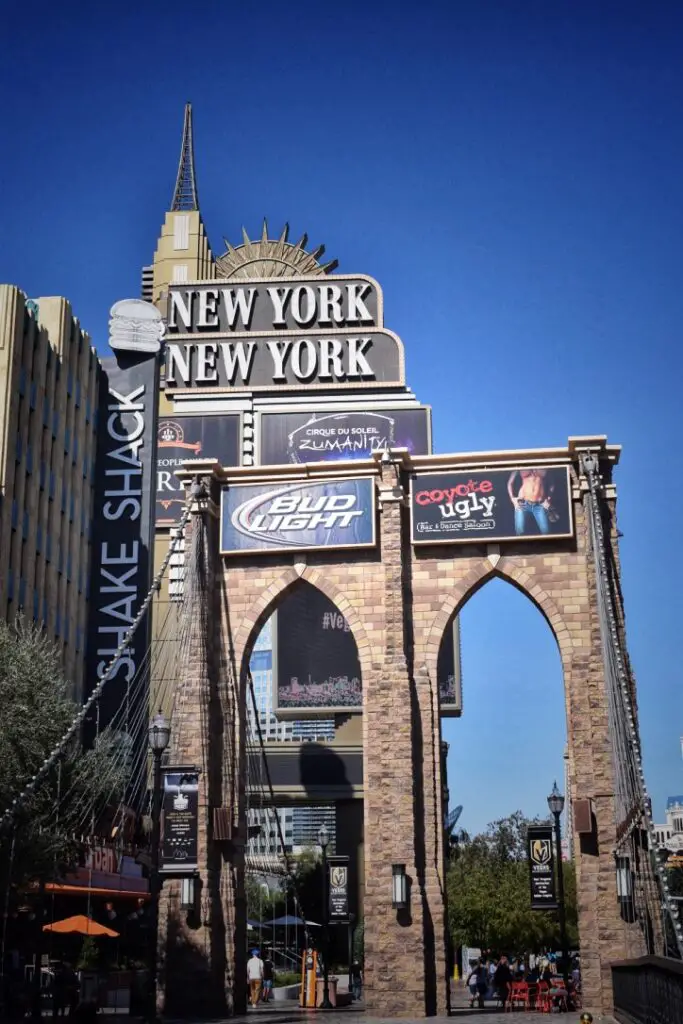 12. Head to a pool party
If you love nightclubs then you will love dayclubs, otherwise known as pool parties in Las Vegas. A number of hotels throw these extravagant events, and what could be better than water and cocktails on a hot day. A Las Vegas pool party is sort of a right of passage, although we accept that they aren't for everyone. If they aren't for you then you should at least make some time to lounge around your hotel pool sipping cocktails.
13. Ride the High Roller at the Linq
The High Roller at the Linq is a whopping 550ft tall, which means that apart from riding a helicopter over the Strip this provides you with one of the best views in Vegas. It takes around 30 minutes to do a complete loop. The cabins are all air conditioned and in true Las Vegas style you can of course drink as you enjoy the views.
Also in case you were wondering the High Roller is actually taller than the London Eye, so if you like ferris wheels make sure you give this one a go.
14. Play topgolf at the MGM Grand
Sports fans will want to add playing topgolf at the MGM Grand to their Las Vegas bucket list. It's essentially a high tech golfing range to provide you with a unique experience. There is also a bar, food and drinks, plus some fun music.
15. Try the rides at the Strat
The Strat Hotel is another must see particularly if you are into thrill rides. The hotel has a skypod and observation deck which are 1149 ft tall. Here you get a 360 degree view of Vegas and beyond. It's also the tallest freestanding tower in the USA.
If that isn't impressive enough there are a number of rides at the top of the tower specifically for those seeking a few thrills. For example you have a roller coaster which hovers over the edge of the SkyPod where you are essentially dangled above the Vegas Strip. You also have the Big Shot where you are propelled 160 ft in the air and down again all on the towers mast. If you are brave enough it's a must.
16. Madame Tussauds at the Venetian
Madam Tussauds at the Venetian was actually the first Madame Tussauds to open in the USA. If you are not aware of the concept it's essentially a museum of waxwork figures resembling celebrities. There is another Madame Tussauds in New York City, but there is something a little more fun about visiting in Vegas.
17. Watch a volcano erupt at the Mirage
So apparently 2023 might be the last year that you can actually witness the volcano erupting at the Mirage, so add this to your Las Vegas bucket list quickly! But if you get the chance to see it at one of the nightly shows you will be treated to a spectacular scene of fire and music.
18. Enjoy a spa day at the Aria
Another thing to add to your Vegas to do list is enjoy a spa day. A lot of the hotels have some world class spas here but the Aria is one of the best. There are a number of treatments you can book in as well as experiencing the sauna, steam room and hot tub. It's the perfect way to pamper yourself after a night of cocktails and dancing.
Las Vegas Bucket List ideas involving food
Food is a big deal in Vegas. In fact we think Las Vegas is worth visiting for the food alone. Here are some food experience that you have to add to your Las Vegas bucket list.
19. Do a Vegas style buffet
I feel like you have to do a Vegas buffet at least once. You basically pay upfront and can eat as much as you want from the selected buffet. There are lots of buffets to choose from in Las Vegas although from our experience the best ones are at The Cosmopolitan Hotel, Caesars, and the Bellagio. You get a large selection of meats, salads, and various dishes as well as some pretty tempting desserts. They are great for lining your stomach before drinking, or curing a hangover – or both!
20. Eat a giant Donut
Donut Bar located in Downtown Las Vegas is a must for anyone with a sweet tooth. You may have noticed already on with the Las Vegas bucket list, that no one does things by halves in this city. Donut Bar is no exception. If you want a donut the size of your head (and why wouldn't you!) then this is the place for you. There are a ton of flavours to choose from like cake batter, or mud pie, and they serve coffee too to help you wash it all down.
21. Pizza at the Cosmopolitan
The reason that pizza at the Cosmopolitan has made our Las Vegas bucket list is because of the secrecy of the whole thing. In an unmarked location you can find some of the best pizza Vegas has to offer. It's certainly worth the hunt as these pies are good.
22. Try the Trash Can Nachos at Guy Fieri's Vegas Kitchen & Bar
If you love celebrity chefs then visit Guy Fieri's restaurant El Burro Borracho. One of the famous dishes at the Trash Can Nachos. According the the restaurants menu they include things like tortilla chips, black beans, queso casero, pico de gallo, pickled red onion, crema, Cotija cheese, cilantro and jalapeños in a trash can. I'm not sure where I stand on them but they are definitely bucket list worthy.
23. Enjoy the Beef Wellington at Hell's Kitchen
Gordon Ramsey's Hells Kitchen is another great place to add to your Las Vegas bucket list. Located in Caesars Palace, the signature dish the Beef Wellington is absolutely worth your time. It's a medium rare medallion wrapped in puff pastry and whilst it might be a little pricey it is good.
24. Carlo's Bakery
Fans of Cake Boss must take a visit to Buddy Valastro's bakery located in The Venetian. Here you will find a range of cookies, cakes, and cannolis, that are incredible. It's probably a good thing that The Vegas Strip is so big because at least you can walk off all the indulgent food.
25. Heart Attack Grill
If you like your food with a side of humour albeit dark humour then you should try the Heart Attack Grill. It's located in Downtown Las Vegas, and diners are expected to put on a surgical gown before sitting down to eat. As you enter a 'nurse' will admit you, and you will be weighed to see if you qualify for a free meal. If you are over 350lbs you can eat unlimited Single Bypass Burgers. It's obviously one of those places that has a wicked sense of humour. And whilst we don't endorse eating unhealthily it's a bit of fun on a trip to Sin City.
Las Vegas Bucket List ideas in Downtown Las Vegas
So we've mentioned a few Las Vegas bucket list ideas for Downtown Las Vegas already, but here are a few more for inspiration.
26. Visit Fremont Street
Fremont Street is the central part of Downtown Las Vegas. This is the rough and ready original Sin City. It's a lot of fun and is a bit more out there than the Strip. There are lots of street performers, cool bars, and old school hotels. The neon signs here are also incredibly cool. Don't just limit yourself to the newer parts of the city, Fremont Street is a world of its own and you could easily spend a day here exploring.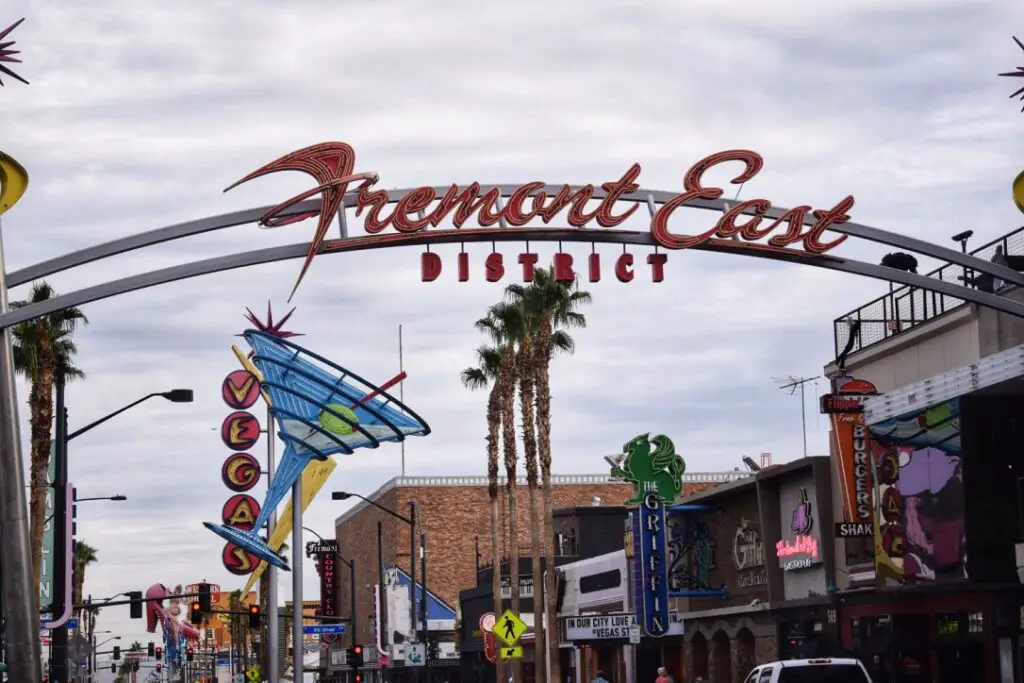 27. Zipline in Old Vegas
If you are looking for a memorable experience in Downtown Vegas then you should zipline across Frement street. SlotZilla is an 11 story gambling themed attraction with some of the best views of Downtown.
There are two options you can book which are Zip-Zilla or the Super-Hero Zoom. With Zip-Zilla you are launched from a platform in a seated position. And I'm sure you can guess with the Super-Hero Zoom that you will be launched in a superman style position.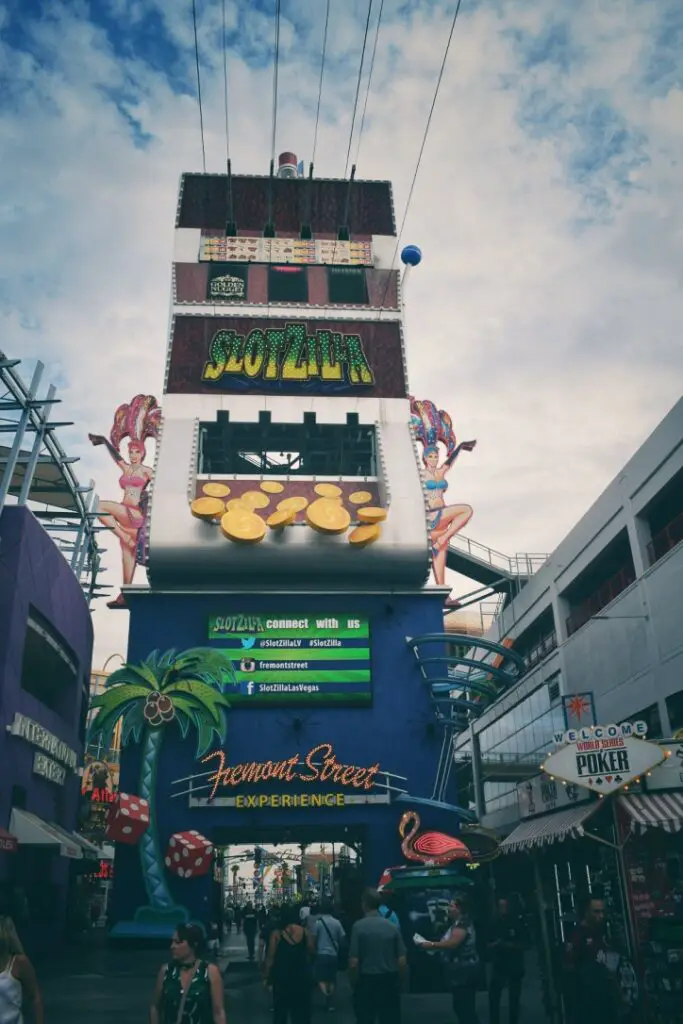 28. Hang out at the Mob Museum
The Mob Museum is an absolute must when visiting Las Vegas. It's located in a former US Federal Courthouse, and this is where some of the mobsters mentioned in the museum even had some of their hearings. The historical mob connection to Las Vegas is huge, and it's really interesting to see what went down in Sin City.
29. Go to the Neon Sign Museum
The Neon Museum is Vegas is spread over 2.62 acres and is essentially a graveyard of retired casino signs. You get a glimpse of Las Vegas in its early days plus it is an excellent spot to take some really cool photos.
30. Viva Vision Light Show
Between 6pm and 2am Fremont Street comes to life with the Viva Vision Light Show. This free show is a graphical interpretation of top songs by popular artists. It is displayed along the canopy above the street, and lasts around 6-8 minutes. The best part about it is that it is absolutely free.
31. Berlin Wall at Main Street Station
I mean we have seen parts of the Berlin wall when visiting Berlin, but never thought we would see it in Las Vegas. If you head to the Main Street Station Hotel and Casino and visit the mens room you will be able to see a part of the Berlin Wall. Don't worry if you identify as a women as you can still see it. You just need to ask security to escort you.
This is definitely one of the more random things to do on our Las Vegas bucket list.
32. Get a photo of Vegas Vic
Vegas Vic is one of the most recognisable neon signs in Downtown Las Vegas. Located on Fremont street this cowboy shaped neon sign was once located at The Pioneer Club circa 1951. He used to wave and greeted you with a friendly 'Howdy'. These days he is still, but still very iconic.
33. Shark Tank at the Golden Nugget
One of the most iconic hotels in Downtown Vegas is the Golden Nugget. Although slightly unassuming from the outside, step inside and you can visit the 200000-gallon shark tank. You do need to make a reservation if you want to get up close to the sharks as there is limited capacity.
34. The Smash Room at Axehole Las Vegas
If you are finding your time in Vegas stressful or you just like smashing things try the Axehole on Fremont Street. For $45 you can spend 15 minutes smashing a number if items with a variety of smashing tools.
35. Zak Bagan's Haunted Museum
If you have ever watched Ghost Adventures on the Travel Channel you have to visit Zak Bangan's Haunted Museum. It's a paranormal museum with 30 rooms in a historic Vegas mansion. There are several paranormal pieces in the museum and the location itself is said to be incredibly haunted.
I won't lie this is not on my Las Vegas bucket list because the thought terrifies me, but if you are brave enough to enter then give it a go.
 36. Downtown Container Park
Back to something a little more lighthearted, the Downtown Container Park. This quirky site is essentially a shopping centre built from old shipping containers. It's great for cheap eats, fun cocktails, and just a generally chilled out vibe.
Las Vegas Bucket List Hotels
A huge part of visiting Vegas is spending time in the over the top hotels. A lot of these hotels are so amazing that you just have to see them for yourself. So here are some of the best hotels to add to your Las Vegas bucket list.
37. Circus Circus
Circus Circus is very much a hotel that pays homage to the old school days of Las Vegas. It's still decked out in those neon style lights, and includes an amusement park and a permanent circus. The hotel has a long history in Vegas, and anyone who has seen Fear and Loathing in Las Vegas might recognise the Horse Around Snack Bar as one of the filming locations.
Circus Circus is located way up on the Northern Part of the Strip so is a bit of a trek depending on where you are staying. It is worth a visit to experience a bit of classic Las Vegas
38. Luxor
One of the most recognisable hotels on The Strip is the Luxor Hotel. . This Egyptian themed hotel is pyramid shaped with a giant Sphinx out the front. And if you are ever lost just look for the giant beams of light projected from the tip of the pyramid.
The hotel itself does draw a younger crowd and it's one of the cheaper hotels on the Strip. It's also supposed to be one of the most haunted hotels as well. Rumour has it that the ghosts of workers who died during the hotels construction still walk the halls to this day.
The Luxor despite not being an ancient piece of architecture is one of the tallest pyramids in the world. For this reason and many more you should definitely add a visit to your Las Vegas bucket list.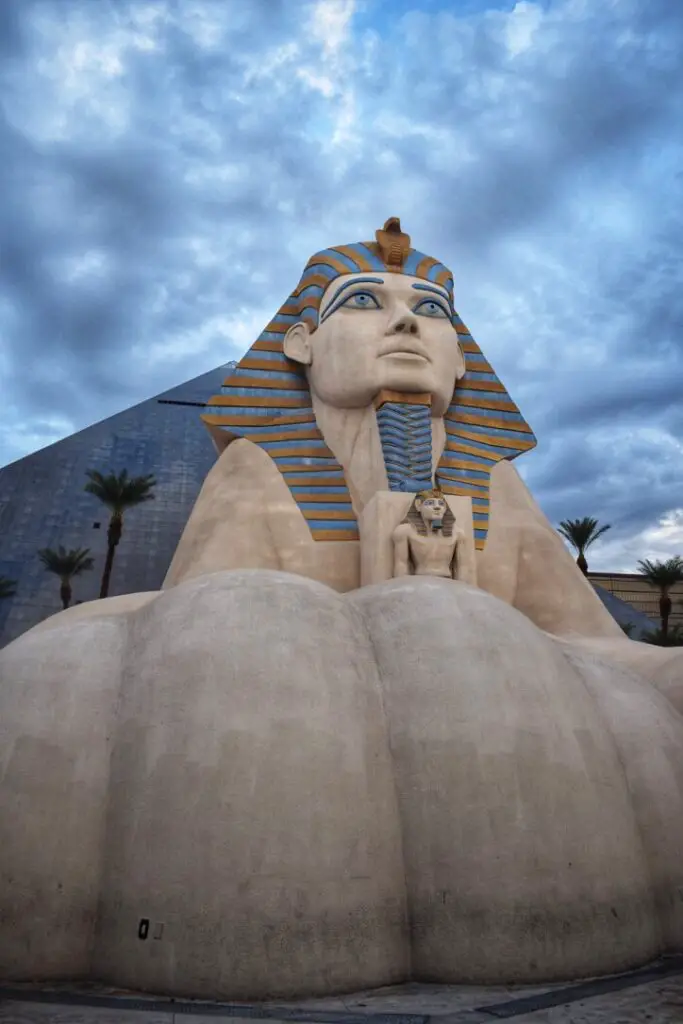 39. Caesars Palace
Another bucket list hotel is of course Caesars Palace. This hotel is Roman themed and incredibly opulent. Like the majority of casinos on the Strip it has pools, restaurants, spas and much more.
The real charm of the hotel though is walking around the grand public spaces. If you want to see a show you can head the the Colosseum (obviously) to see what's on.
The hotel was built in 1966 and was one of the first large casino/ hotel combinations on the Strip. Excess is the name of the game here, everything is over the top and classic Las Vegas.
The hotel has appeared in a number of movies and Frank Sinatra headlined here for a number of years. Also in 1967 Evil Knievel attempted to jump the fountains at the front of the hotel.
It's safe to say this hotel is synonymous with Las Vegas.
40. Excalibur Hotel
Another over the top Las Vegas hotel is the Excalibur. This is medieval themed and the building itself is a giant white castle. It's probably known as the most 'kid friendly' hotel on the Strip.
The hotel opened in 1990 and since its beginnings has hosted the 'Tournament of the Kings', a medieval jousting tournament. When it first opened it was one of the most heavily themed hotels on the Vegas Strip.
41. The Flamingo
Another old school favourite to add to your Las Vegas bucket list is the Flamingo. The hotel is iconic and is recognisable by its flashing neon lights and pink facade. It opened in 1946 and was one of the first hotels to open on the now famous Strip. It was originally owned by members of the Mafia including Bugsy Siegel.
There is a bird habitat in the hotel grounds that includes a flock of Chilean Flamingos. The pool area is also pretty spectacular so this is a must visit for a fun day out.
42. Treasure Island
This pirate themed hotel is another over the top and fun place to visit on the Vegas Strip. It used to be a lot more heavily themed when it opened in 1993. However after being purchased by the MGM Grand Inc the look was upgraded to be a little bit more adult.
If you want to see Mystere the Cirque du Soleil show this is where you will need to come.
43. Planet Hollywood
Another well known hotel to add to your Las Vegas bucket list is Planet Hollywood. The hotel is pretty much in the centre of the Strip and located next to Paris, The Bellagio, and The Cosmopolitan. If you love shopping you will enjoy the hotels Miracle Mile full of shops and cheap eats.
44. Mandalay Bay
Mandalay Bay is the epitome of luxury in Las Vegas. Located close to the Vegas Sign this hotel is a must visit. The hotel opened in 1999, and to this day is still one of the best pool complexes in Las Vegas. There is even a beach here which turns into a concert venue on selected nights.
The hotel is also famous for its huge shark aquarium and underwater tunnel. There are several experiences you can book.
45. Wynn
The Wynn Hotel might not look like much from the outside, but if you head inside you will see why this is a must visit hotel. The hotel atrium has a number of floral installations that are absolutely beautiful. The Lake of Dreams is another unmissable part of the hotel. It's a nightly show that includes lights, puppets, and images to give you an over the top immersive experience.
Las Vegas Bucket List day trips
Not all of our Las Vegas bucket list ideas are in Vegas itself. The next few mentions include some incredible day trips that you can book.
46. Visit the Grand Canyon
A trip the the Grand Canyon is one of the best day trips you can do when visiting Las Vegas. It is a very long day trip but honestly worth it. The Grand Canyon is one of the seven wonders of the world, so a visit is an absolute must. There are different tour options you can choose from including helicopter tours, and bus tours.
We have also included a trip to the Grand Canyon on our West Coast USA itinerary (yes I know technically it isn't the West Coast but when in the USA) so you can have a read if you are planning a longer trip.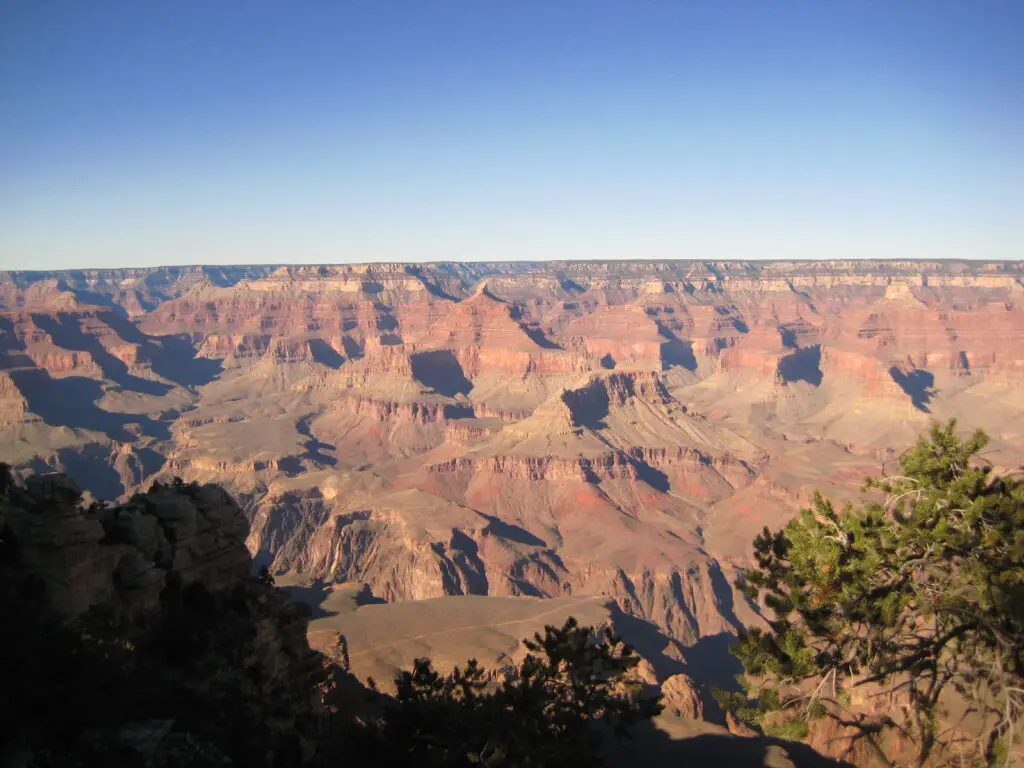 47. Go to the Hoover Dam
The Hoover Dam is a historic landmark that is only around half an hours drive from Vegas. It's an impressive feat of engineering that you have to see to believe. When it was built in the 1930s it was the world's tallest dam, and despite that record now going to the Jinping-I Dam in China, it is still the second largest dam in the USA.
48. Red Rock Canyon
Located in the Mojave Desert is the Red Rock Canyon National Conservation Area. It's the perfect day trip from Las Vegas if you are wanting a break from the hustle and bustle. There are several panoramic viewing spots and incredible hiking trails.
General Las Vegas Bucket List ideas
Finally here are a couple of general Las Vegas Bucket List ideas to help you plan your own trip.
49. Seven Magic Mountains
Located about 10 miles south of Las Vegas you will find the Seven Magic Mountains. They are an art installation by Swiss artist Ugo Rondinone. The art includes seven towers of very colourful stacked boulders that are over 30 ft high. It's a popular place for tourists and if you have spent any time on Instagram you will know what to expect.
50. Get Married
For some people getting married is high on the Las Vegas bucket list. We happen to be those people. We gathered our immediate family together and got married at The Little White Wedding Chapel. It was a very memorable day, and highly recommended if you aren't into the whole traditional wedding thing. We also had our wedding photos taken around Downtown Las Vegas which was another amazing experience.
Las Vegas Bucket List Recap
Hopefully this Las Vegas Bucket List will inspire you to tick off some of these on your own trip. It really is one of those cities where you have to go a little crazy, let your hair down, and forget the outside world.
Whether you are visiting Las Vegas as a weekend trip or part of a bigger USA itinerary this bucket list should give you some serious inspiration.
If you found this useful please pin it for later!
Happy travels!