As soon as we booked our trip to Dubrovnik, I knew that I wanted to take the opportunity to do a day trip to Mostar. Bosnia and Herzegovina has always been high on my list of places to visit as I have always been fascinated by the history, and natural beauty I have heard so much about. And so we went about searching for how to do a Dubrovnik to Mostar day trip. Due to time constraints we booked an organised tour and this guide gives you all the information you need to know about planning your own Mostar day trip.
Dubrovnik to Mostar day trip – Factsheet
Dubrovnik
Country: Croatia
Languages Spoken: Croatian but English is widely spoken
Currency: Croatian Kuna
Mostar
Country: Bosnia and Herzegovina
Languages Spoken: Bosnian, Croatian, Serbian, and many people also speak English
Currency: Bosnian Mark
Dubrovnik to Mostar day trip – getting there
So there are ways to get to Mostar from Dubrovnik on public transport, the main way being via bus. But if you are planning a Dubrovnik to Mostar day trip then realistically your best option is to book an organised tour. The trip from Dubrovnik to Mostar alone is about 3 hours, and on top of that you have to cross the border between Croatia and Bosnia a number of times. We opted for an organised tour which we booked through Get your Guide. By booking this tour a lot of the stress is taken out of your hands. All you need to do is sit back, relax, and watch the world go by.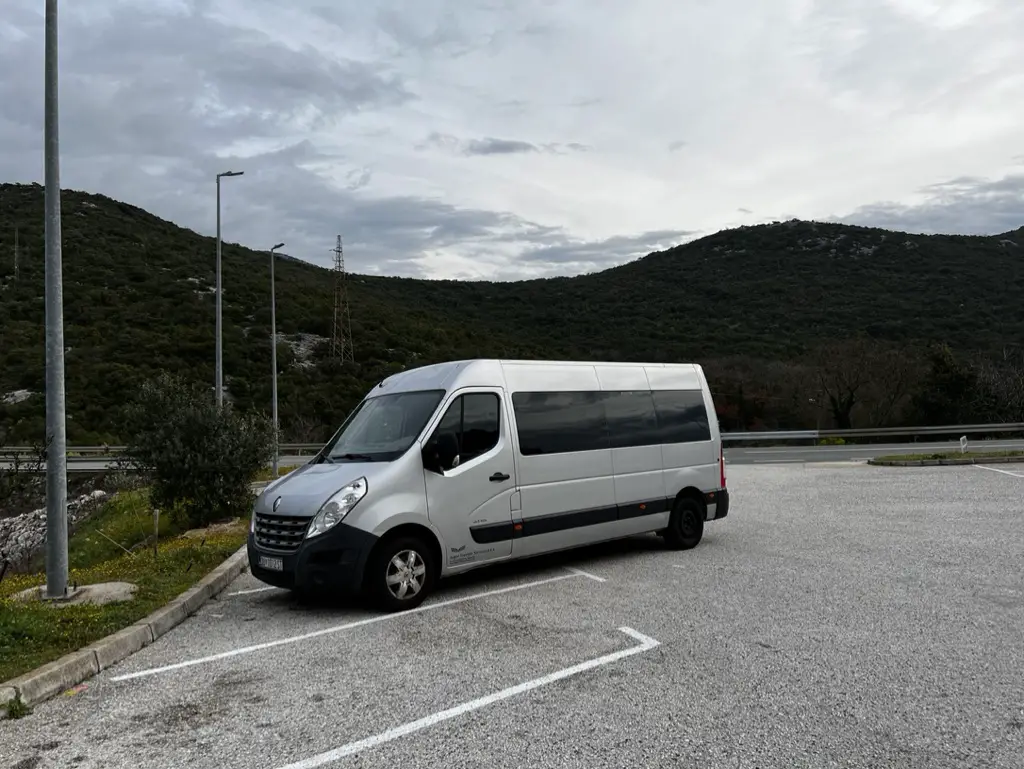 Dubrovnik to Mostar day trip – crossing the border
The border crossing process between Croatia and Bosnia is relatively hassle free. Although I should note that our experience is based on crossing the border as part of an organised tour. I cannot comment on the process if you are crossing the border alone. We pulled up in the bus, handed our passports to our tour guide, who then took these to be processed by the border guards.
Another thing I should mention is that on our tour all passport holders were either part of the EU or British. I'm not sure what the protocol or visa requirements are for other countries.
What to expect on your Dubrovnik to Mostar day trip
The tour we booked was a small group tour so in total there were only about 14 of us. The bus picked us up from our hotel in the morning, and dropped us back off in the evening. All in all we were gone for about 10-11 hours so be prepared for a full day spent away from Dubrovnik. During the drive the tour guide provides you with information about the history of Croatia and Bosnia as well as the best things to do at each stop. The general outline of the day is as follows:
Morning hotel pick up
Drive about 2 hours then stop for a quick comfort break
Visit the Kravica Falls
Stop off in Mostar for lunch and exploration at your own pace. This also includes a guided tour.
Stop off at the medieval town of Počitelj.
Head back to Dubrovnik and get dropped off at your hotel.
Dubrovnik to Mostar day trip – tour tips
Here are some of our top tips before setting off on your Dubrovnik to Mostar day trip.
Bring some cash with you on your trip especially as you will only be able to pay cash for the Kravica Waterfalls
Bosnia has a different currency to Croatia, but the Croatian Kuna is accepted in Bosnia
Not all places in Bosnia accept credit card hence the importance of having cash
When shopping in Mostar not all prices are fixed- you can haggle (although we are so terrible at this)
Tip your tour guide at the end of the trip
Bring your passport (and covid vaccination certificate if applicable) and check visa requirements before entering Bosnia
Bosnia is a predominately Muslim country so be aware that not all restaurants offer alcohol and be respectful of the religion
Be mindful of some of the beggars particularly in tourist areas and just watch your belongings
Mostar is generally pretty safe and a great place to visit so have fun!
Day trip to Mostar – Kravica Waterfalls
The first proper stop on our Dubrovnik to Mostar day trip was Kravica Falls. You do need to pay for entry (10 Euros) and your tour guide will collect this on the bus from you before you arrive. Make sure you bring cash for this. In the carpark there are a number of little shops and cafes selling refreshments (although we visited at the beginning of tourist season so most were closed).
Once you arrive you take a 10 minute walk down to the falls. The paths are decent although do make sure you wear some proper shoes.The falls are really beautiful and you can go swimming here in the summer months. Do take your time and enjoy them and give yourself at least 10 minutes walking time to get back up to the carpark.
When we visited the falls, they hadn't quite opened up for swimming yet, but just a few tips if you do visit in the summer months. It is really slippery on the rocks around the falls, so do be careful. Also, the water here gets surprisingly deep, pretty fast. If you are not a strong swimmer stick to the shore. Finally we are told that the water can be quite cold, even in the summer months, so take your time and let your body adjust to avoid shock.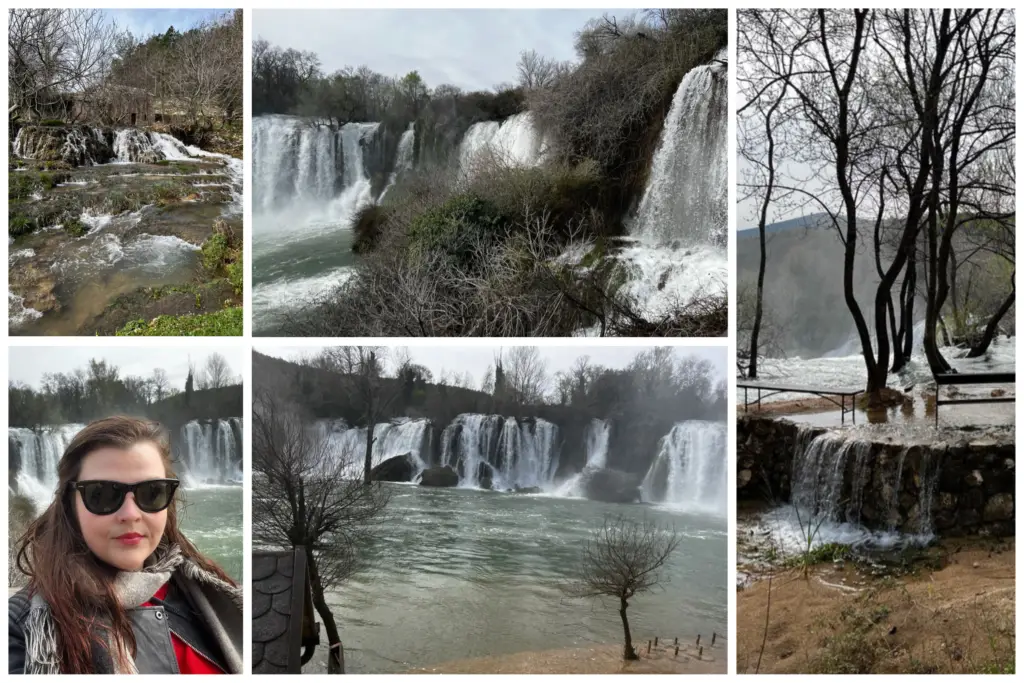 Day trip to Mostar – Mostar
The real highlight of our Dubrovnik to Mostar day trip was obviously arriving in Mostar. We started by going on a guided tour of the cobbled streets and sometimes bullet ridden buildings. Our guide was fantastic, and his memories and thoughts of the war were a big part of the tour.
I don't know what I expected from Mostar but I have to say I was pleasantly surprised at how beautiful it is. Particularly in the Old Town there are so many cobbled streets, enchanting buildings, and so many exotic stalls selling colourful souvenirs.
The Mostar Bridge is one of the most recognisable attractions in the city. It was destroyed in the war but has since been rebuilt and once again draws in tourists as well as daredevils looking to jump off. At the end of the bridge there is a coffee shop located up a set of stairs. If you walk in you will find yourself in a beautifully decorated room where you can order some authentic Bosnian coffee. Made on a small stove you need to make sure you drink it slowly and allow the coffee plenty of time to settle. It is definitely strong stuff but an experience in itself in Mostar.
We were also fortunate enough to grab some lunch in Mostar. This is not included in your tour so you do have a choice of where to eat. Our tour guide recommended a place called Hindin Han, claiming that it was where all the locals ate. I'm always skeptical when recommended places by tour guides, but this place was spot on. The food was incredible. To the point where we are still raving about it long after the trip has ended. They also take card payments, and serve alcohol which not all places do. If you are doing a day trip to Mostar we absolutely recommend eating here at some point.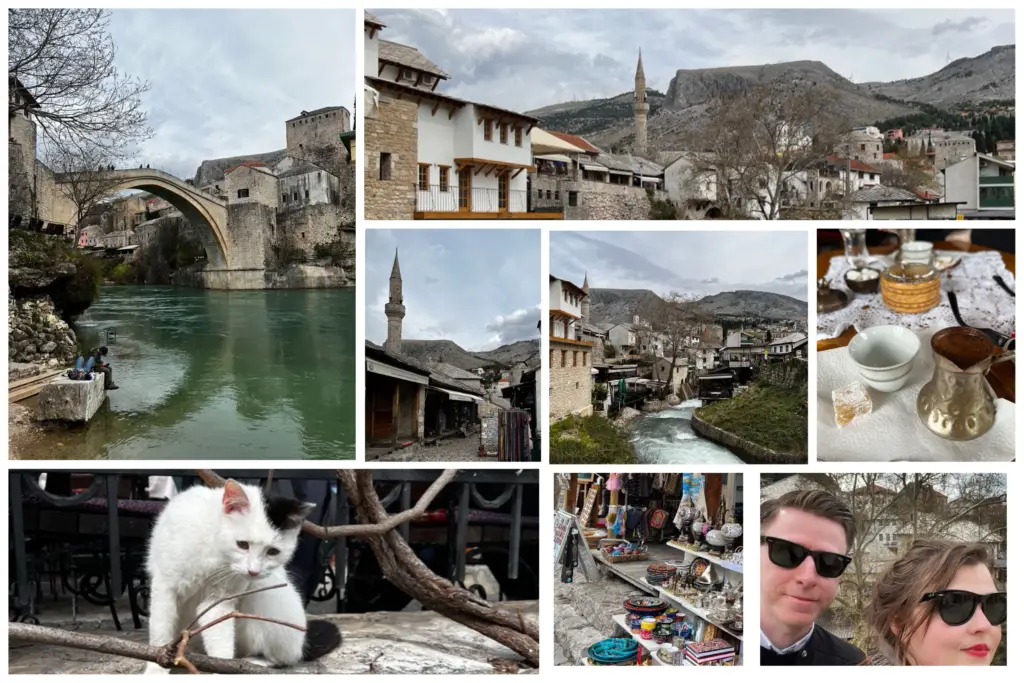 Day trip to Mostar – Počitelj
The final stop on our Dubrovnik to Mostar day trip was Počitelj, a historical village located a short distance from Mostar. We didn't have too long to spend here, which was fine because it is only a small village. It was great to explore the winding cobbled footpaths, and in particular the Mosque which takes a bit of climbing to get to but so worth it.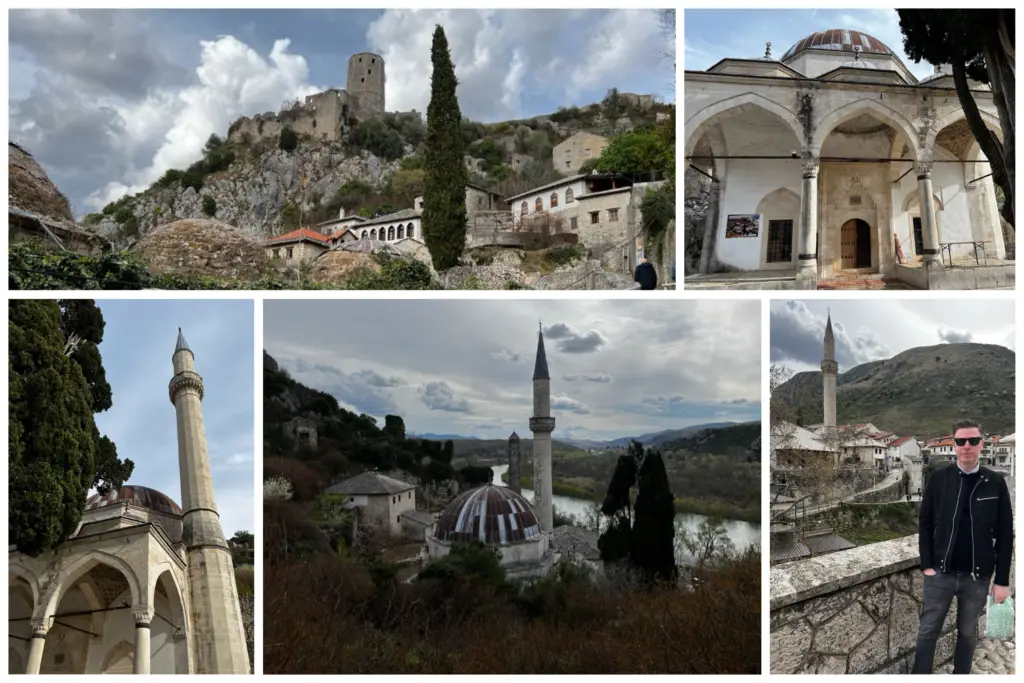 Dubrovnik to Mostar day trip – what to bring
Travel documents including Covid documents, passports etc.
Cash
Water bottle
Sun cream, sunglasses – it tends to get warm in Mostar
Swimming costume – If you plan to take a dip at the waterfalls
Comfortable footwear – you will do a lot of walking on uneven surfaces.
Dubrovnik to Mostar day trip – Why go?
If you are wondering why you should do a Dubrovnik to Mostar day trip here are some reasons:
It's a wonderful break from the tourist heavy Dubrovnik
It's a unique part of Europe that you have to see to believe
You will get an invaluable history lesson
Is a Dubrovnik to Mostar day trip enough time to see it all?
A Dubrovnik to Mostar day trip provides you with a really good amount of time to explore Mostar and some other hidden gems in Bosnia and Herzegovina. Croatia is a relatively easy country to travel too, with a number of European and international flights landing in Split and Dubrovnik. From here it's easy to book a tour to Mostar.
In an ideal world, you want more than just a couple of hours to explore Mostar, but if you are limited due to time then these organised Dubrovnik to Mostar day trips really are worth it. If time is no issue, then realistically we would want to spend a good 2-3 days exploring Mostar and beyond.
How much money do I need for my Dubrovnik to Mostar day trip?
The good news about planning your Dubrovnik to Mostar day trip is that it's not that expensive. The biggest cost will be the tour itself. This will cost €50 upwards. It all depends on whether you want to go a large or small group tour. We recommend a small group tour, just because it is a bit more personalised.
Apart from this cost you will need to pay entry to the Kravica Falls of €10 per person – make sure you bring cash for this.
The rest of your spending money will depend on what you plan to do in Mostar, but this shouldn't set you back a great deal. We had a large lunch with wine that cost us under €20 for two. Souvenirs are also cheap which is another bonus.
We do recommend tipping your tour guide which is an additional cost of €5 -€10.
Dubrovnik to Mostar day trip – Is it worth it?
So is a day trip to Mostar and beyond worth it? For us it really was and it was an almost surreal moment. The war has really shaped the country but the strength and ability to rebuilt is truly inspirational. It has certainly inspired us to see more of the country, as well as the Balkans. For something a bit different or to break up your Croatian beach holiday a day trip from Dubrovnik to Mostar is something we highly recommend.