Ukraine has recently been attacked by Russian Forces. Russia is committing genocide in Ukraine. After we win the war hopefully you will come back and see how beautiful Ukraine really is! Glory to Ukraine. Glory to the heroes!
Ukraine has been on our bucket list for a very long time and for me it has been a really important country. I grew up with Ukrainian grandparents and I learnt to sing the Ukrainian anthem long before I learnt the words to the Australian one. They fed me pork trotters in jelly (it's a thing and it's delicious) and taught me how to say the key words like please, thank you, and I want to eat (Ukrainians are big on food and feeding you so I actually think those might have been my first Ukrainian words).
As you can see Ukraine is a country that holds a very special place in my heart and visiting has always been high on my list. But I have also been really nervous about going too. I mean when you hear about Ukraine on the news it isn't always the best. But when I noticed that Ryanair had opened up a cheap and direct route from Manchester to Kyiv I knew that I had to visit the motherland and hope that Dave would fall in love with this place that has shaped so much of my identity. Overall we spent 5 days in Ukraine although after visiting I now wish we could have stayed longer. We have put this blog post together as a part itinerary, part foodie list, mixed with a lot of practical information for visiting. If you aren't sure if Ukraine is worth visiting or if Ukraine is safe then this article is for you. And just a spoiler, Ukraine is totally worth visiting, and is pretty safe. But more on that below.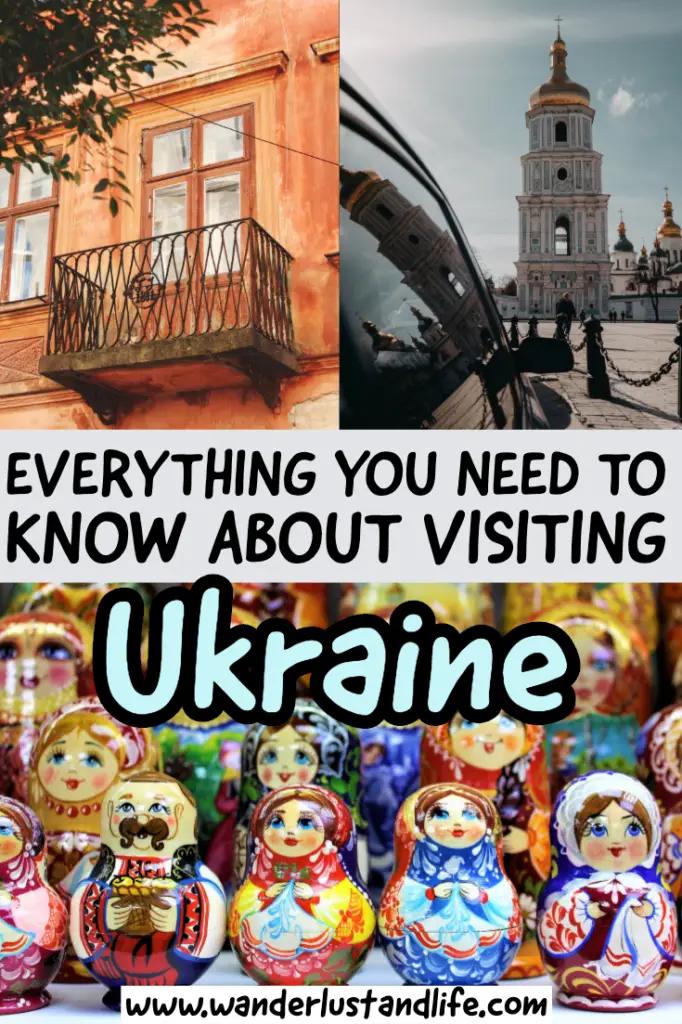 Basic Information
Here are some of the basics you need to know when planning your Ukraine itinerary. We will go into further detail throughout the article.
Currency: Ukrainian Hryvnia
Capital: Kyiv
Language(s): Officially Ukrainian, although Russian is widely spoken in some parts. You will find English speakers in the major cities or at hotels etc, but it's not widely spoken so expect to be doing a lot of gesturing and hand pointing.
Is Ukraine worth visiting?
If you love history, quirkiness, beautiful scenery and some really good food then Ukraine is absolutely worth visiting. It is also pretty cheap too compared to Western Europe which means you get so much more for your money. And despite the language barrier being challenging at times, the warm Eastern European hospitality still shines through (although from personal experience, not at train stations).
Is Ukraine safe?
One questions that gets asked a lot has to be 'Is Ukraine safe', and with good reason. If you are up to date with current affairs you will know that Ukraine is at war with Russia. Places such as Crimea are completely off limits to tourists and this is where most of the fighting is taking place today. If you are planning on visiting Kyiv, or Lviv like we did, then it is perfectly safe. The only reminder of the war are the occasional propaganda posters plastered around the city, and the large amounts of military personnel that you see at train stations on their way to more turbulent places.
Elsewhere in Ukraine life goes on. One thing to perhaps be mindful of is avoiding any kind of political demonstrations in the country. Most of these take place in Maidan Square in Kyiv and in the past have had the tendency to turn violent. That being said Kyiv is a big place so you can still go about your travels.
5 day Ukraine itinerary – money matters
Ukraine is a relatively cheap place to visit, which means that you will get quite a bit for your dollars. The currency is the Ukrainian Hryvnia, and this is a closed currency. This means that you will not be able to exchange your money until you actually arrive in Ukraine.
Euros and US Dollars are the easiest currencies to exchange in Ukraine, and we would recommend bringing these in with you. You should be able to exchange the British Pound as well, but we decided to change our Pounds into Euros then Euros into Hryvnia just in case.
When sorting out your accommodation we recommend booking this before you arrive to guarantee the best rates. We usually book all our hotels with hotel.com in advance. In Kyiv we stayed at the  Senator City Centre Hotel and Apartments. The rooms were of high standard, and it was centrally located which was our main reason for booking. This cost us around £70 per night.
All in all we spent around £100 between us per day in Kyiv (not including our pre booked hotel). Despite being a capital city things are pretty cheap in Kyiv for example public transport costs 8 UAH or just over 20 pence per trip. A meal for 2 people at a mid range place will probably be under $20, which compared to meals elsewhere in Europe is amazing. And the food is really good too (but more on that later).
Lviv was quite a bit cheaper than Kyiv. For starters we booked into the Rius Hotel, a 4 star accommodation with city views and this was only £65 per night. We spent around £150 between us for our 2 days in Lviv and for that amount we ate and drank A LOT!
5 days in Ukraine – getting around
The best way to get around Ukraine in our opinion is by train. You get to see a lot of the countryside, and it is pretty cheap too. We caught the train from Kyiv to Lviv which was relatively pain free. There are several trains going between Kyiv and Lviv each day, but you should be aware that they won't all be the quickest route. The fastest train is the IC+ which leaves Kyiv at around 6pm and arrives in Lviv after 11pm. Tickets can be purchased in advance at the following website, and an email confirmation is sent to you. All you need to do is print the ticket and you are ready.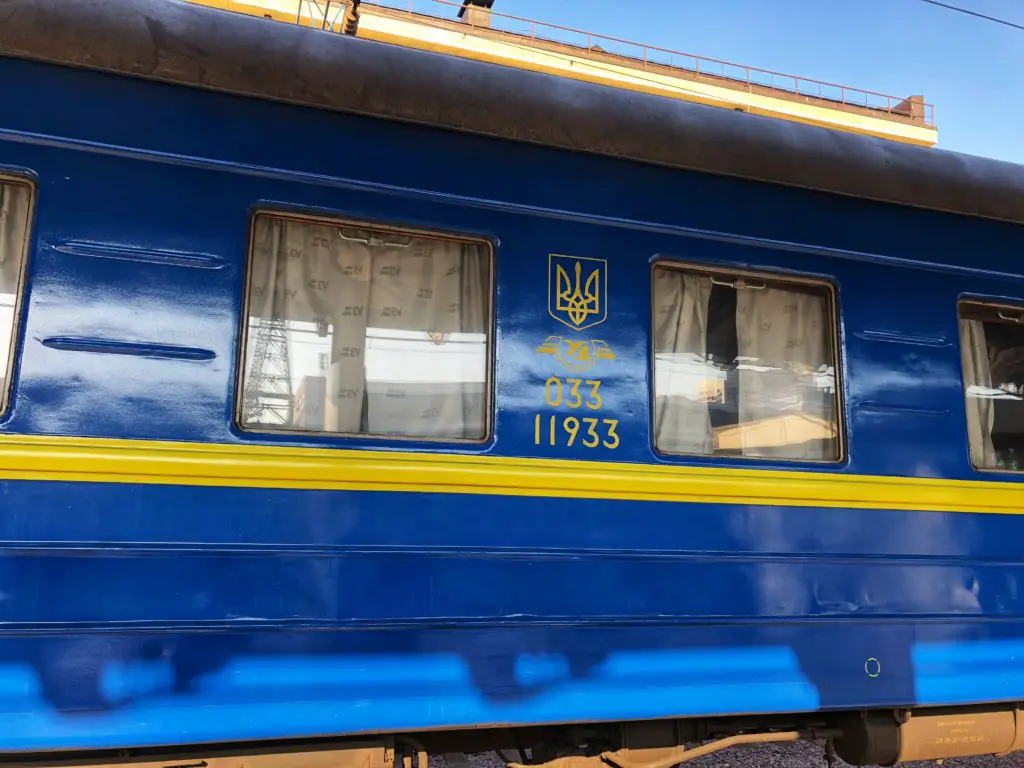 We highly recommend buying your tickets online in advance, especially if you don't speak Ukrainian. The ticket officers at the train station are pretty rude to say the least. Most of them don't speak English either, so if you do decide to purchase a ticket at the station it is advisable to get someone at your hotel to write down exactly what you want.
5 days in Ukraine – itinerary
So 5 days in Ukraine isn't a lot but if you plan it right you can cover a lot of ground. We got a really early flight into Kyiv so had 2 full days there, before getting a 6pm train to Lviv on our 3rd day. We then spent the final 2 days in Lviv. Here are our suggestions on the best things to do and see in both Kyiv and Lviv.
5 day Ukraine itinerary- Day 1-3 Kyiv
St Michael's Golden Domed Monastery
This bright blue monastery with, you guessed it, golden domes on top was one of our favourites in Kyiv. It was originally built in 1108 but in the 1930s during the Soviet regime, it was torn down as it was said to have no historical value. The reconstructed cathedral was completed in 2000.
Kyiv Funicular
Located just behind St Michael's is the Kyiv Funicular. It is worth a ride for some amazing views.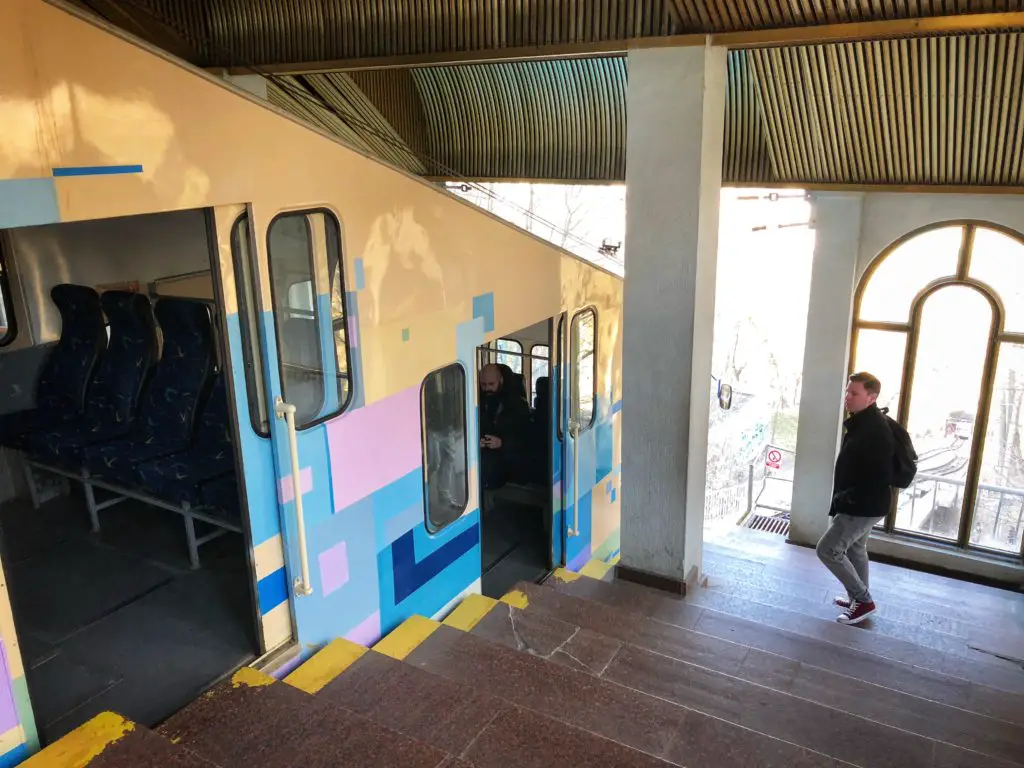 Bessarabsky Market
This is a great place to go if you are interested in seeing a traditional and bustling Ukrainian market.
Maidan Square
This is an important part of the city. Whether it be a festival or protest, people tend to meet at Maidan Square. Make sure you take the time to reflect at the memorial to those heroes killed in the 2014 revolution (heroyam slava).
Golden Gate
The Golden Gate is a restored historical monument based on the original fortifications of Kyiv in the 11th Century. The structure you see now was built in 1982 and the design is only based on interpretations of what the original may have looked like.
Chernobyl Museum
The next best thing to actually visiting Chernobyl is visiting this museum. It is incredibly eye opening and sheds so much light on what caused the disaster and what happened afterwards.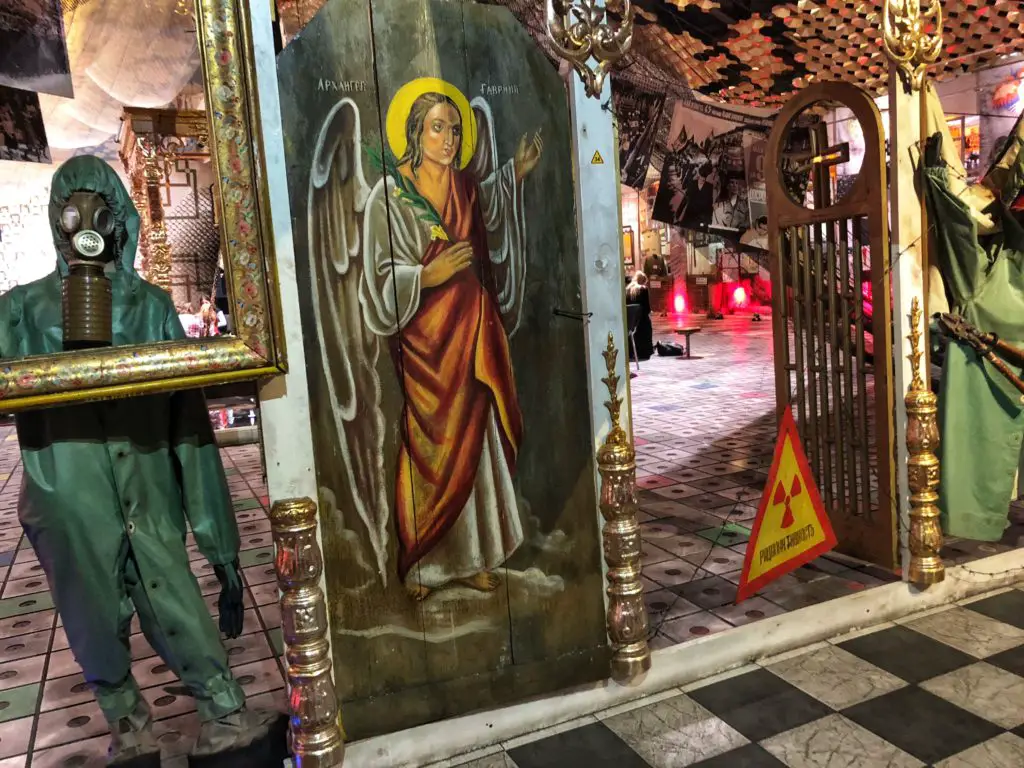 St Andrew's Church
St Andrew's Church is a Baroque style church perched at the top of Kyiv's Upper Town. Its immense beauty, towers over the Podil neighbourhood and is a striking feature of the skyline.
Kyevo-Pecherska Lavra
If there is one thing you see in Kyiv, make it Kyevo-Pecherska Lavra. It is a working monastery and a UNESCO World Heritage site. The true spiritual significance of the monastery lies below ground. There is a cave network that currently displays the bodies of several monks that have been preserved due to the caves' environment.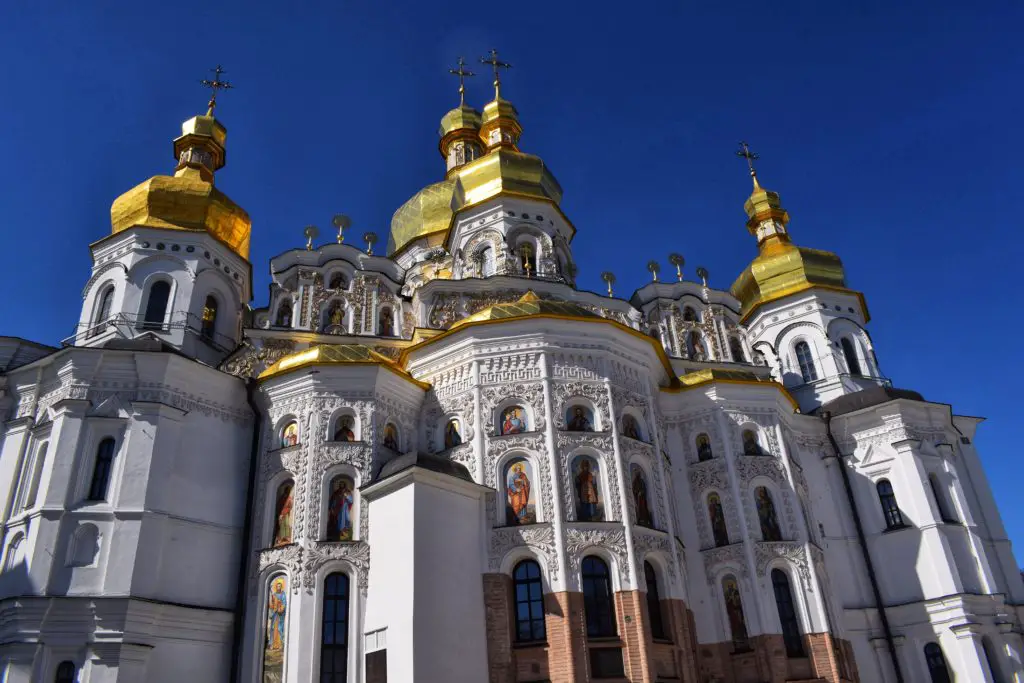 Motherland Monument
Designed as a Soviet war memorial in 1979, the motherland monument is hard to miss. She towers over Kyiv with a shield in one hand and a sword in the other.
St Sophia's Cathedral
This Cathedral is one of Kyiv's most popular and oldest standing churches. It was built in 1037 by Prince Yaroslav the Wise who was also laid to rest inside the Cathedral. It was also named after the Hagia Sofia in Istanbul.
St Volodymyr's Cathedral
This striking bright yellow cathedral was built to celebrate 900 years of Orthodox Christianity in the country. The name St Volodymyr is in homage to the ruler that brought Christianity to the country.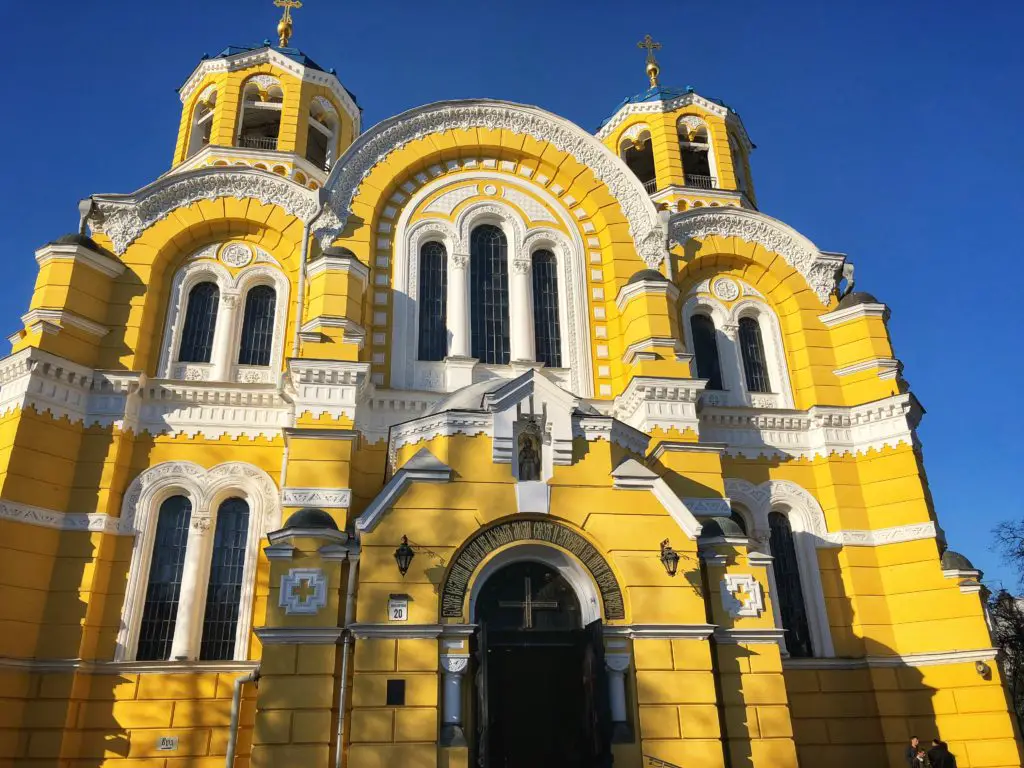 Holodomor Victims Memorial
Holodomor was a famine between 1932 and 1933, and was imposed by the Soviet Government who were in power at the time. Millions of Ukrainians died and the memorial recognises those events as genocide.
Park of Eternal Glory
This is a beautiful park with a very profound World War II memorial. You also get some really great views from here, so definitely take your time exploring.
Andriyivskyy Descent
Referred to as the Montmatre of Kyiv, Andriyivskyy Descent connects Kyiv's Upper Town and the Podil neighbourhood. On the walk down (or up) you will stumble upon souvenir shops, artists selling paintings, street art and some really quirky museums.
Peizazhna Alley 
This is a really quirky Alice in Wonderland themed park full of bright sculptures and mosaics. It is a great place to go to get some quirky shots of Kyiv.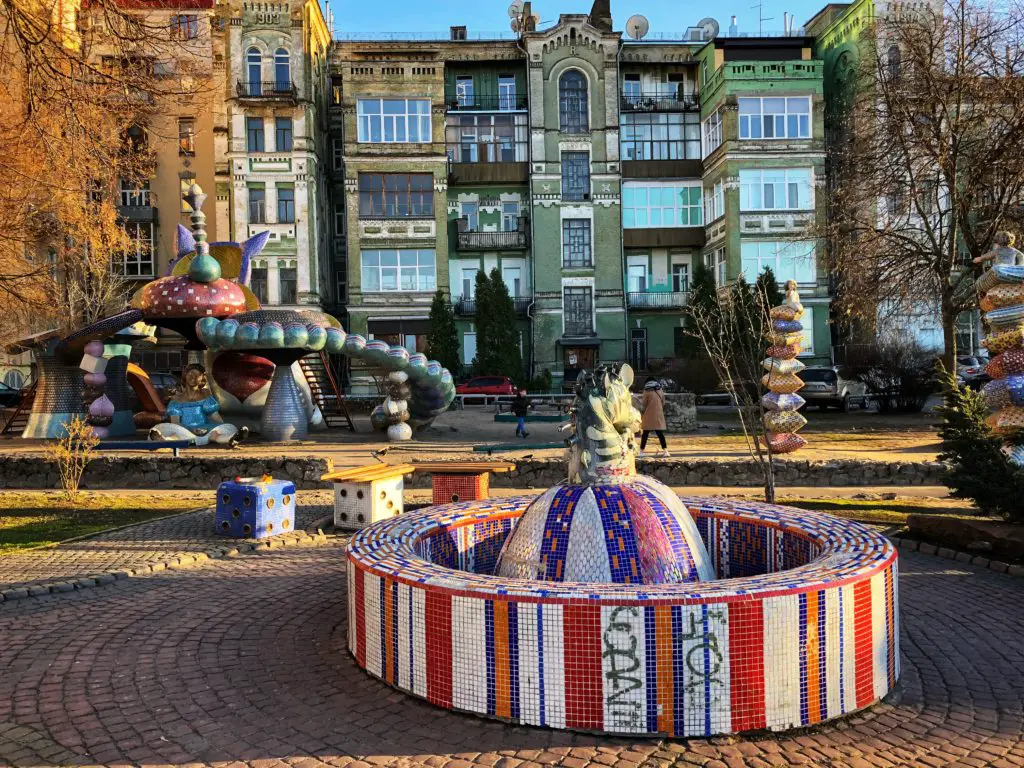 5 day Ukraine itinerary- Day 4-5 Lviv
Old Town and Rynok Square
Lviv's Old Town is the Historic Centre which now has UNESCO World heritage status. It is such a beautiful place to explore. From its cobbled back streets, to the hustle and bustle of Rynok Square. There are a number of churches here which are beautiful and worth exploring, and a very cool book market.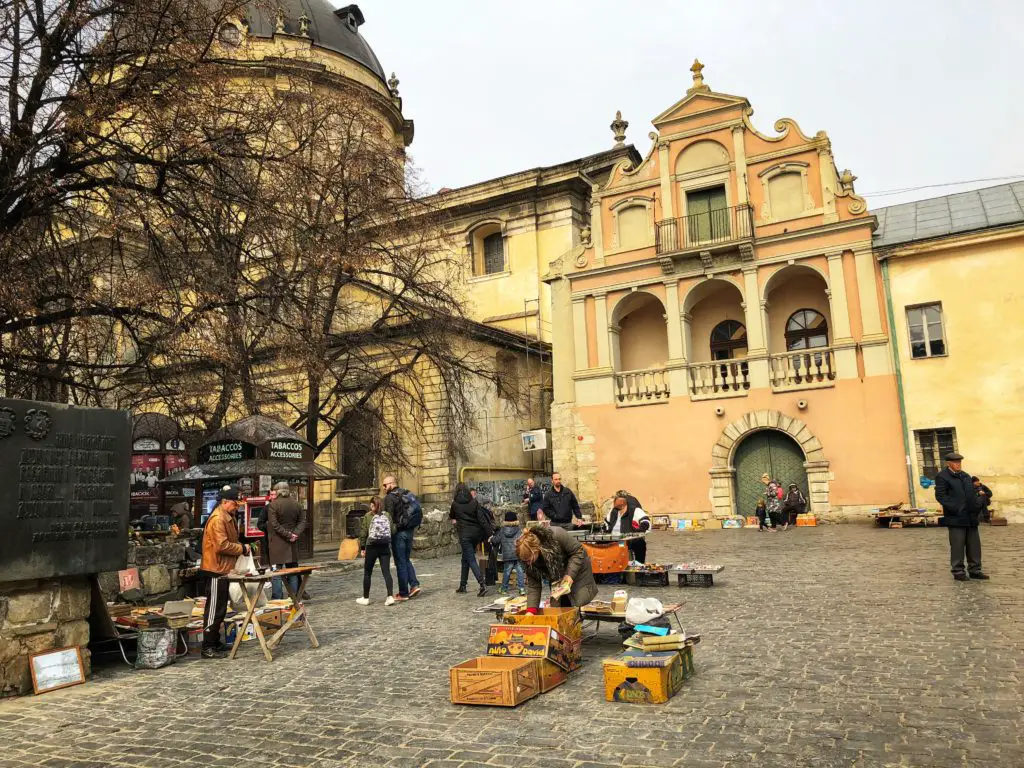 Chapel of the Boim Family
The chapel is only small and was built as a tomb for the very rich Boim family. The inside is really a sight to behold, with intricate artwork and sculptures.
St George's Cathedral
St George's Cathedral is located on a hill overlooking Lviv. The inside is the showstopper as there are gold carvings, and a diverse range of iconography.
Potocki Palace
One of the grandest buildings in Lviv, the Potocki Palace is now home to the Lviv Art Gallery. The gallery itself is beautiful but in some ways the real beauty lies in the creaky palace floors and spiral staircases.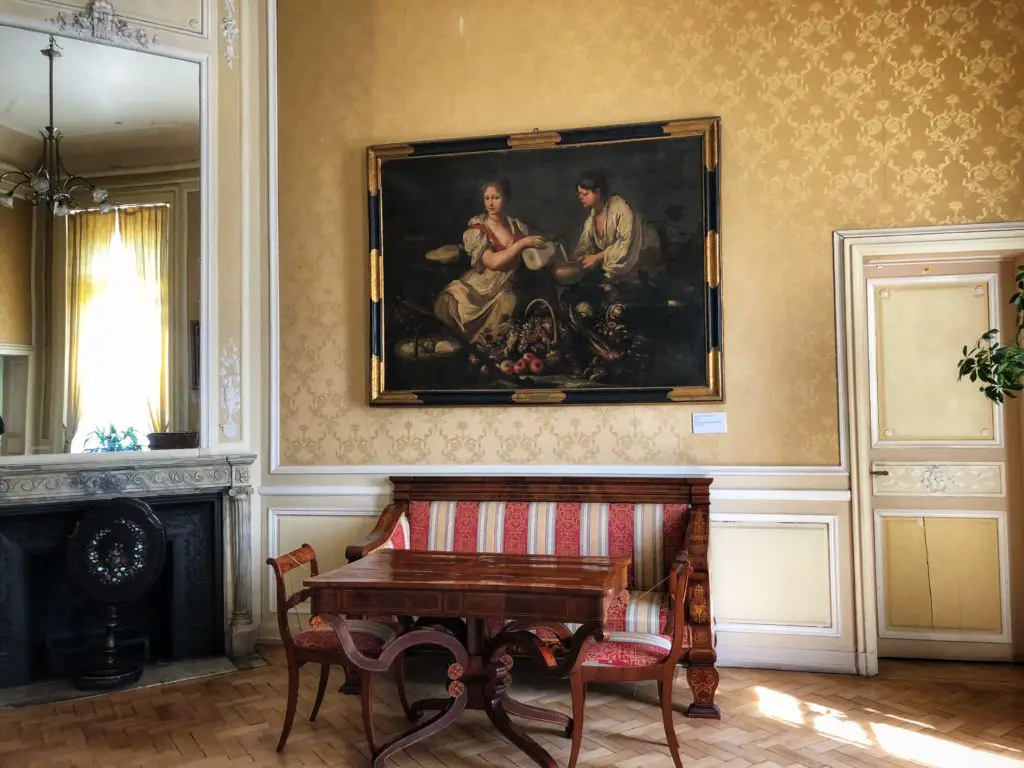 Lychakiv Cemetery
This is a famous and historic cemetery, where a number of notable people are buried. It is also incredibly beautiful and a great place to explore in Lviv.
Krakivsy Market
If you are looking for an authentic Ukrainian experience then the Krakivsy Market is the place to go. They sell all sorts here, but we recommend going for a traditional embroidered Ukrainian shirt.
Yard of Lost Toys
The Yard of Lost Toys, is a good example of Lviv's quirky side. It is basically a yard filled with a number of toys, and is oddly beautiful. It is said to have started when a resident found 2 lost toys and left them outside for the owners to find. While the lost toys were not reunited with their owners, it sparked others to do the same, and expanded dramatically from there.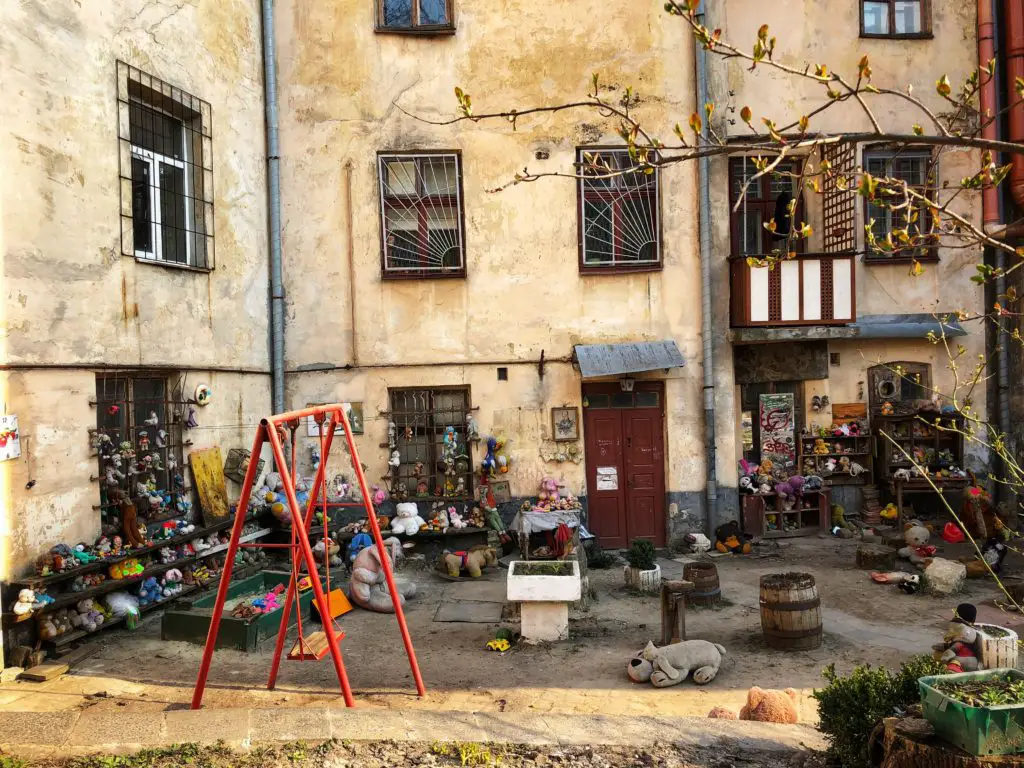 Beer Cultural Experience Centre
This is a must for any beer lovers as you get to learn all about the history of brewing in Lviv, and you can do a tasting afterwards.
The Prison on Lontskoho Street
This prison turned museum was used during the 20th century as a political prison during the Polish, Soviet, and Nazi regimes. Entry is free, and even though most of the exhibits are in Ukrainian we do recommend visiting.
Armenian Cathedral
Unfortunately our visit to the Cathedral coincided with it being closed for renovations. The surrounding area has a sort of old world feel so even though we couldn't get inside we were still glad we visited.
Eating and drinking in Ukraine
One of the best things about our 5 days in Ukraine, had to be the food! Here are some of the must eat foods to fit into your Ukraine itinerary.
Varenyky
I grew up on a steady diet of Varenyky as a kid and it is the best thing ever. Varenyky are little dumplings, and they can be filled with anything from cheese to cherry, although my absolute favourite has to be potato. They are best served with a side of sour cream and fried onions.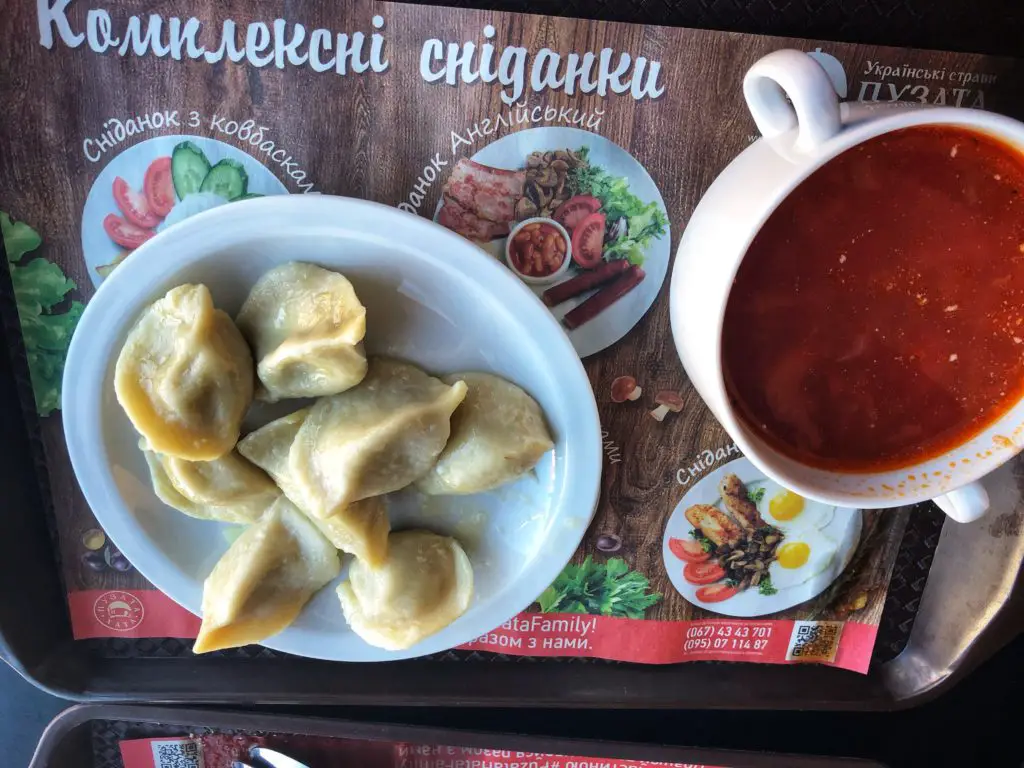 Borshch
A beetroot soup that honestly tastes amazing especially with a good dollop of sour cream.
Holubtsi
Holubtsi are stuffed cabbage rolls usually served with a tomato type sauce over the top.
Chicken Kiev
When in Kyiv it is only polite to chow down on some Chicken Kiev. This dish consists of crumbed chicken with garlic and butter in the middle.
Potato Pancakes
If you aren't too adventurous with food, potato pancakes are perfect. Especially when served with sour cream and fried onions.
Things you should know before visiting Ukraine
Learn a few basic phrases before you go. English isn't as common as in other European countries so knowing the basics will help a lot.
You should probably avoid drinking the water in Ukraine.
You should also avoid talking about the war which is a hugely sensitive subject in the country.
5 days in Ukraine – final thoughts
All in all Ukraine is a fantastic place to visit. As mentioned above it is cheap, welcoming, and for the moment it hasn't yet been invaded by swarms of tourists. Visiting the country is such an incredible experience and we seriously urge you to take the plunge and visit. As usual if you have any other suggestions make sure to leave them in the comment section.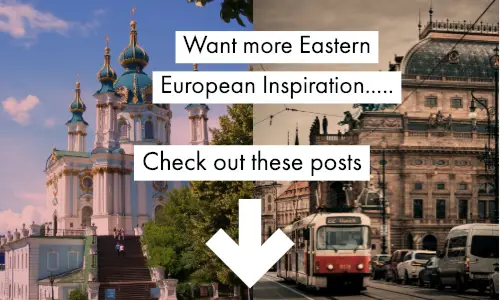 2 week Eastern Europe itinerary
Instagrammable places in Budapest
Best things to do in Lviv Ukraine