Looking  to spend 2 weeks in the USA? This post is for you. We highlight the best cities to visit across the US for first time travellers. As well as providing you with information on the best places to stay and the best things to see and do.
Booking a 2 week USA itinerary can be daunting. I mean there are so many interesting places in the USA to visit, it can be hard to know where to start. In this article we break down the top places to visit for your first 2 week trip to the States. Plus we give you all our top tips, and lessons learnt from our own time traveling around the US.
Here is our guide to planning the perfect 2 week USA itinerary.
Disclaimer: This post contains affiliate links, so if you use these links to buy something we may earn a commission, at no cost to you. Thank you for your support.
Before you leave on your 2 week USA trip
Before you leave on your 2 week trip to the US you need to make sure you apply for your ESTA. The ESTA stands for Electronic System for Travel Authorisation which allows entry to the USA under the Visa Waiver Programme. But this is only for certain countries such as Australia, UK and, Ireland. You will need to fill in a few questions online including your contact details, employment details, and passport information.
You also need to pay the $14 (approx) fee. Most often you will get a quick response as to whether this has been approved but sometimes it can take a few days. Mine took longer because I am a dual national so had to input two lots of passport details that needed to be checked. The ESTA is then valid for a series of multiple trips over a 2 year period. It also only allows you to stay in the USA for 90 days or less.
If you're from a country not covered in the Visa Waiver Programme, you will need to complete a more formal process.
Tips for spending 2 weeks in the USA
2 weeks in the USA should be ample time to get a feel for the country and will allow you to visit the east and west coast. Here are some of our tips we learnt from our own trip:
Check what is happening in a city on the dates you plan to visit. For instance it was only after we booked flights that we realised the Chicago Marathon was happening in Chicago. This meant that hotels were booked up and super expensive. And a lot of roads were closed making it more difficult for us to get to the airport.
Tipping is a big thing in the USA so make sure you tip your servers and tip them well.
Get to grips with the city you are visiting, as there are some areas that are probably best left unvisited.
Also get used to tax, just because something is advertised as being a certain price this more than likely won't include tax.
Laws tend to differ state by state so just be aware when travelling between them.
Make sure that you have travel insurance as a hospital visit will cost you a lot!
The USA is quite divided when it comes to politics, so it might be best to think or gauge your audience before you start rubbishing politicians.
Also, each US state can often feel like a different country, for instance California and New York State are not only geographically different but can often feel worlds apart in terms of culture and lifestyle.
Where to go when you have 2 weeks in the USA
If it is your first trip to the USA then you will want to visit some of the big cities. Our guide includes the following:
Chicago
San Francisco
Los Angeles
Big Bear Lake
Las Vegas
New York City
If you feel too rushed then you can always skip one of the above places. For us though, our aim was to visit as many cities as possible during our 2 weeks in the USA. Also, we wanted to do a mix of East and West Coast, although our next trip will definitely need to include way more East Coast hangouts.
Is a 2 weeks in the USA enough time?
One of the questions you might be wondering is, is a 2 week USA itinerary enough time to see everything? Well, yes and no. For starters 2 weeks in the USA gives you ample time to explore a few major cities, and get to grips with the culture and way of life.
But you have to remember that the USA is big. Really big. Travelling between cities and states can take quite a bit of time. Whether you choose to fly or drive, you have to factor travel time into your itinerary. In an ideal world we felt like we could have spent a good 4-5 weeks alone just exploring the USA.
2 week USA itinerary in a nutshell
So very basically this is our 2 week USA itinerary at a very high level, but we will go into more detail on each of the cities below so make sure you keep reading!
Day 1- Chicago
Day 2- Chicago
Day 3- Fly to San Francisco (4.5 hour flight duration)
Day 4- San Francisco
Day 5- San Francisco
Day 6- Fly to Los Angeles (1 hour flight duration)
Day 7 – Los Angeles
Day 8- Rent a car and drive to Big Bear
Day 9- Drive to Las Vegas
Day 10- Las Vegas
Day 11- Las Vegas
Day 12- Overnight flight to New York – arrive in New York AM
Day 13- New York
Day 14- New York
A more detailed 2 week USA itinerary
So now you have seen our high level USA itinerary, here is each city in a bit more detail including tips on where to stay, what to do, eat, drink, and more.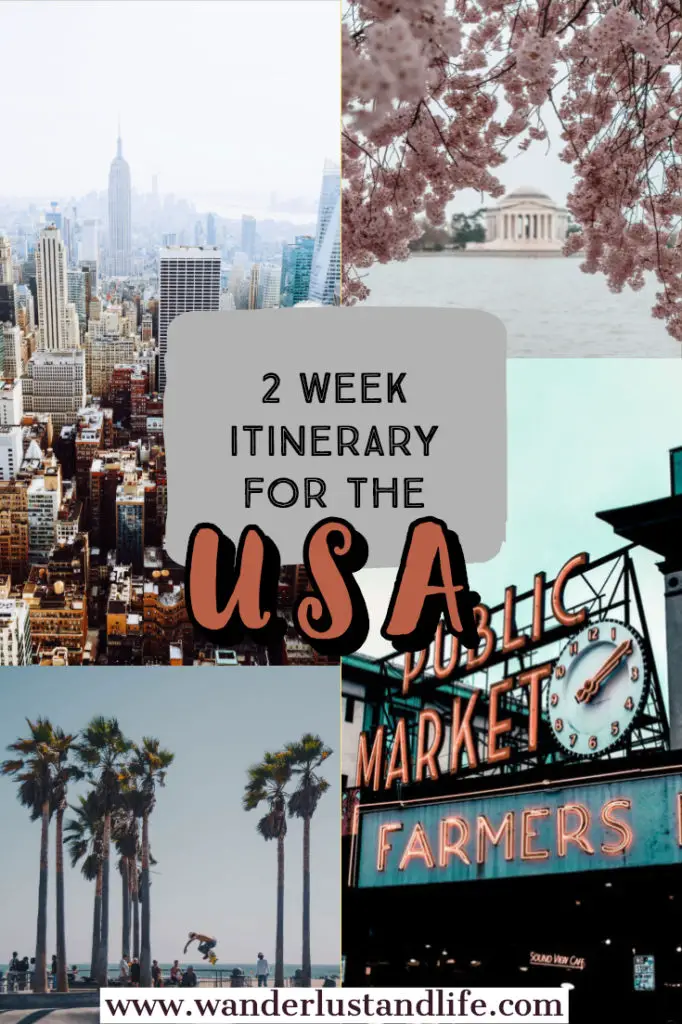 Days 1-2 Chicago
For the first few days of our 2 week USA itinerary we decided to visit Chicago. One of the reasons we flew into Chicago because we wanted to break up the long flight from the UK before heading over to the West Coast. On top of that we have both always been fascinated by Chicago's history. From the prohibition days of Al Capone, to its incredible architecture. All in all we spent two full days in the city before flying out to San Francisco.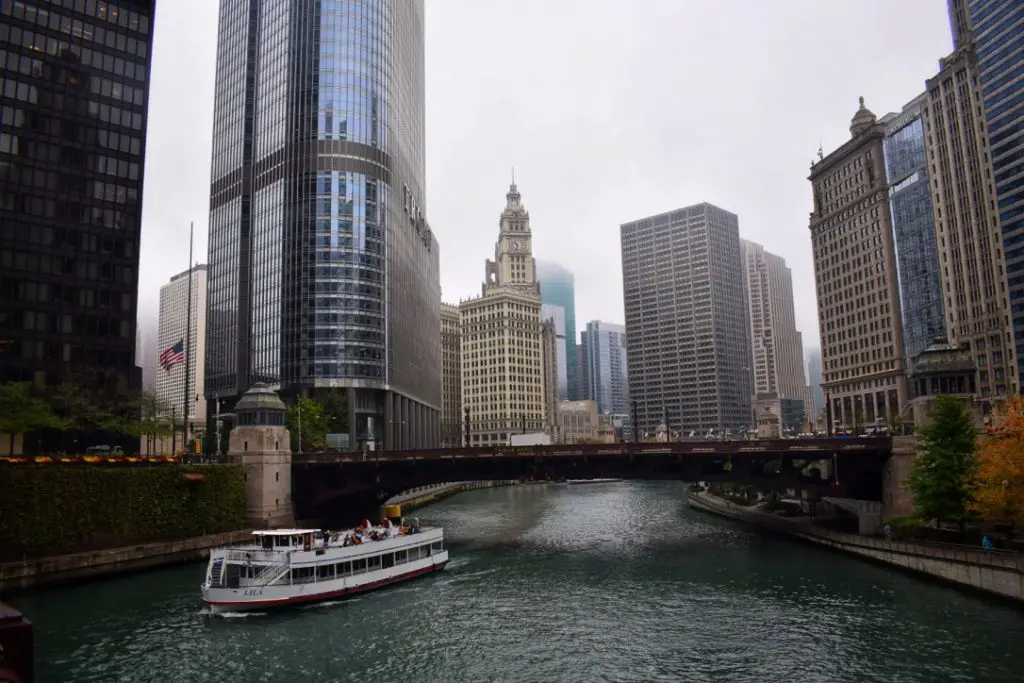 Why visit Chicago
Chicago is a must on any 2 week USA itinerary especially if you love big cities, architecture, and history. There are lots of world class museums in Chicago, and some really good food too.
Chicago is a great introductory city when traveling across the US because it's not as hectic as New York, and it gives you the chance to get used to the culture and customs of the USA.
Things to do in Chicago
You can read all about our two days in Chicago in detail here. But the city highlights include:
Architecture Cruise
You cannot visit Chicago without admiring the city's incredible architecture, and an architecture cruise is a great way to do this. There are a few different tours you can do, and on average they last about 1.5 hours. Not only do you get more acquainted with the city, but you also get to learn about the buildings that shaped Chicago.
It is worth booking your cruise tickets online in advance, because they do get really popular, especially in the summer.
Navy Pier
Navy Pier is certainly iconic in Chicago, and there is a lot to explore here. The pier is 3,300-ft-and located on the shoreline of Lake Michigan. It's one of the best places to go to get a brilliant view of the Chicago Skyline as well.
Once you get to Navy Pier you can enjoy the theatres, restaurants, and rides. One of the key attractions here is the Centennial Wheel. It reaches a height of almost 200 ft and boats some pretty fantastic views of Chicago. Tickets can be purchased online in advance, and you even have the option to skip the queue which is always handy.
Another fun thing to do at Navy Pier is to do a speedboat ride. You can learn about the city whilst doing full 360° spins and more.
The John Hancock Centre (360 Chicago)
The observation deck at the John Hancock Centre, referred to as 360 Chicago is a great place to go for those incredible views over Chicago. One of the best things though is that there is a bar, so you can sit down with a drink and take it all in. Purchase your ticket online in advance to skip to queue.
Willis Tower (Skydeck)
Another observation point in Chicago is the Willis Tower Skydeck. The cool thing about this is that there are glass boxes built into the edge of the building. When you stand in them you feel like you are floating above Chicago. If you are short on time and can't decide between the John Hancock Centre or the Willis Tower here is a handy article to help you.
Again we recommend purchasing your tickets online in advance.
Millennium Park
One of the most popular selfie locations in Chicago is at the Millennium Park Bean. The reflective 110 tonne sculpture is a favourite amongst tourists as you fight the crowds to get that all important selfie. Don't miss the rest of the park including the fountains with pictures of Chicago natives that spurt water every so often. If you want to learn more about the park you can even do a self guided tour.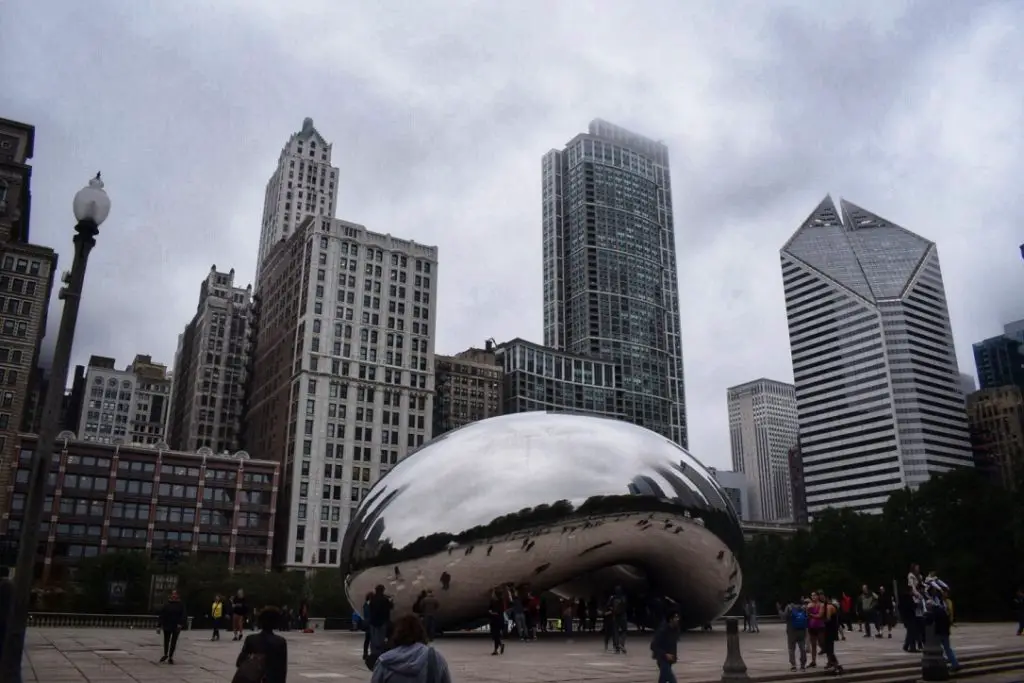 The Art Institute of Chicago
The Art Institute is the second largest museum in the country and is by far, one of the top things to do in Chicago. The gallery houses works from artists from Picasso to Andy Warhol. You can skip the queues and purchase your tickets here in advance.
Hop On Hop Off Bus Tour
When you are short of time sometimes the best way to get to grips with a new city whilst covering a lot of ground is to do a hop on hop off bus tour. You get to see all of Chicago's top sights from the comfort of a double decker bus.
Mob Tour
Chicago obviously has a history laden with gangsters and criminals, so this mob tour is great if you are looking for something a little different. This was one of my favourite memories from visiting Chicago, and I felt like I learnt so much about the seedy history of the city but in a really fun and interesting way.
Street Art Tour
We were kind of surprised at the amount of street art in Chicago, and one thing we wish we could have done was explore the neighbourhoods a bit more. If you want to take the burden of traveling and finding all the cool spots out of your hands you can book onto a tour that will take you to some of Chicago's most eclectic neighbourhoods.
Getting from the Airport
Once you arrive in Chicago there are a few ways to get to the downtown core. The cheapest and often quickest way to get downtown is via the L Train. The Blue Line should have you in the downtown area in approximately 45 minutes.
If you are however severely jet lagged and the thought of negotiating a subway line with giant suitcases scares you (you are not alone), then the next best thing is to get the airport shuttle bus. They are slightly cheaper than a taxi and take you straight to the front door of your hotel. Just be mindful that the journey can be quite long particularly during peak hour.
You can book and pay for your shuttle at one of the designated booths at the airport. The good thing as well is that you can pre book your return trip to the airport too.
If you are feeling extra fancy though you can book a private transfer.
Where to stay in Chicago
If you can, stay in the downtown core. Particularly on a short trip it makes it so much easier to get around in a limited time. We ended up visiting Chicago the same weekend as the Chicago marathon and so we had to book accommodation a little out of the centre. If you decide to book accommodation out of the downtown area then make sure it is close to a subway line.
Eating and drinking in Chicago
Two things that you must do when you visit Chicago are, eat a deep dish pizza and visit a speakeasy. The deep dish pizza is one of those foods that you either love or hate. We happened to love it. There are a number of places in the city that serve it and we ended up at Pizano's. To wash the dish down, you have to visit a speakeasy. Our top recommendation is the Green Door Tavern located in the downtown area.
There are some really cool food tours you can do in Chicago, which is quite the foodies paradise. And these include some famous deep dish pizza.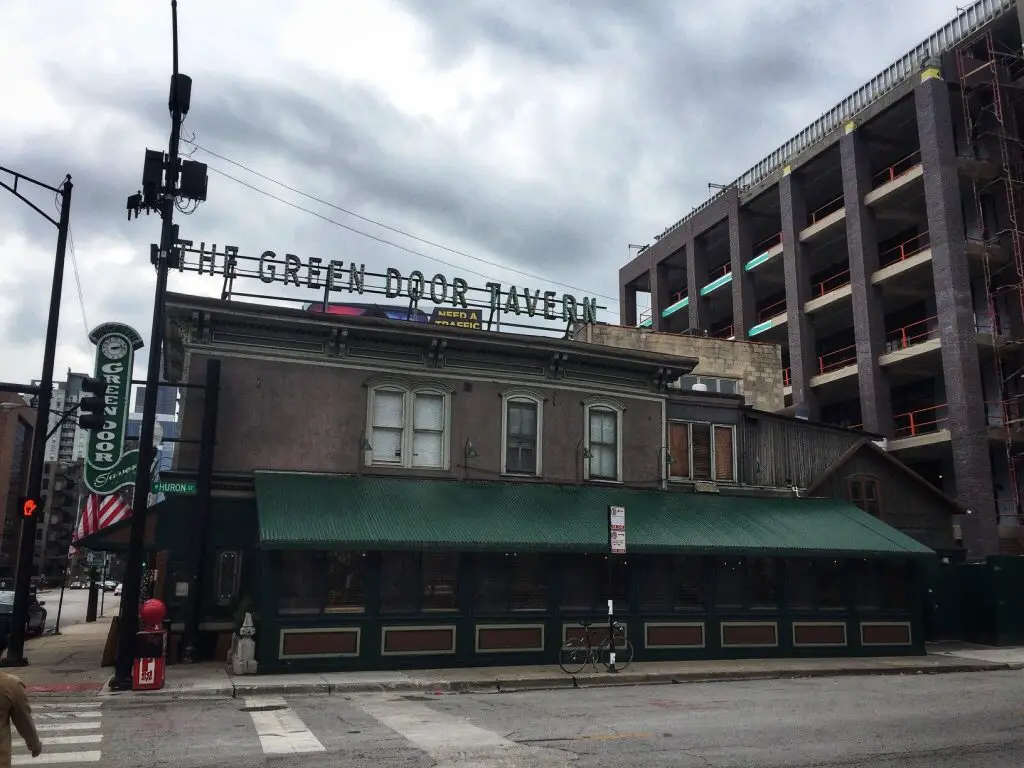 Days 3-5 San Francisco
We left Chicago early morning and it took just over 4 hours flying time to get to San Francisco. It is important to remember that there is a time difference between Chicago and San Francisco. Chicago is actually 2 hours ahead of San Fran. By the time we landed in San Francisco it was early afternoon, so we had a good 2.5 days to spend in the city. Make sure you factor in these time differences when traveling around the US.
Why visit San Francisco
San Francisco is like the polar opposite of Chicago. If you love beautiful scenery, forest walks, and chilled out places, then San Francisco is for you.
Located on the west coast it's one of those places that has a little something for everyone.
Things to do in San Francisco
San Francisco is a bustling hive of activity. You can read in detail about our time in the city by going here. But in the meantime, here is a quick recap.
Golden Gate Park
If you want to explore some of California's natural beauty then the Golden Gate Park is the perfect place to go. One of the highlights of the park has to be the Japanese Tea Garden which is a great place to sit and reflect if you have the time.
Golden Gate Bridge
You cannot visit San Francisco without a trip to the Golden Gate Bridge. One of our fondest memories was walking across the bridge and looking out at the San Francisco skyline. It opened in 1937 and spans the 1 mile wide straight that connects San Francisco to California's northern counties. It is a great place to go to get photos of San Francisco's most iconic structure.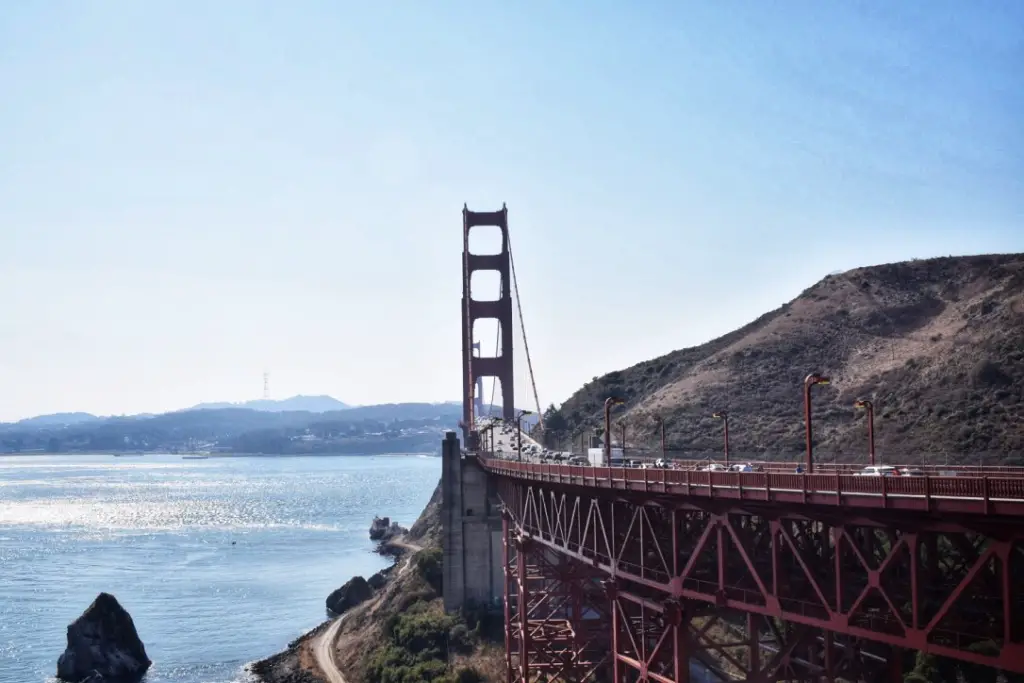 Hop On Hop Off Bus Tour
The best thing about doing a hop on hop off bus tour in San Francisco is that it allows you to get to places that are otherwise hard to visit. The Golden Gate Bridge for instance is one of those. And honestly we will never forget that amazing feeling of being sat on the top of a double decker bus whilst going across the bridge. These tours are really popular so it is advisable that you book online in advance.
Haight Ashbury
Haight Ashbury is a great place to go if you are a fan of the unusual. There are a number of quirky shops and cafes, and it is an area synonymous with the hippie movement in the 1960's.
Chinatown
San Francisco's Chinatown is a must for any bargain hunter. It is actually the second largest Chinatown in the USA, and bartering for goods is highly encouraged. The food around here is also really good and cheap, so do pop into one of the many restaurants if you can. You can also do walking tours that go into the history of the area.
Alcatraz
One of the best tours we have ever been on is at Alcatraz. Make sure you book your tickets in advance as if you don't, there is a high chance you will miss out! You need to book an allocated time and the ferry will take you over to the island to explore. The audio tour here is fantastic and you do get a really good and often eerie insight into what life was like at one of the most notorious prisons in the USA.
This is one of those tours that you HAVE to book in advance as only a certain number of people can visit the island in a day. Booking can be made online and there are options to combine tours and book different attractions in one bundle.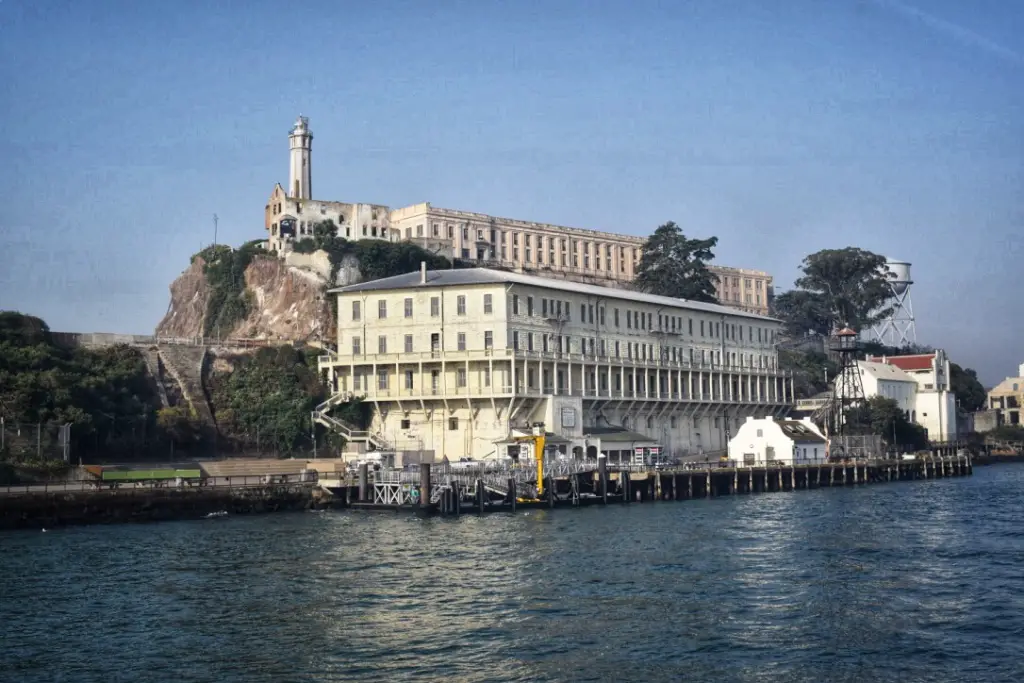 Pier 39
Probably one of the most touristy places in San Francisco has to be Pier 39. But don't let that put you off. It is a great place to explore, and you get some amazing views of Alcatraz from here. The sea lions are also pretty amazing to see and have been drawing tourists in for years.
Do a Bay Cruise
Another highlight in San Francisco is to do a Bay Cruise. It is especially good if you don't get a chance to visit the Golden Gate or Alcatraz whilst visiting San Fran, as you can cruise on right by both.
Historic Cable Cars
You can't say you have been to San Francisco if you haven't hung off the edge of a cable car as it whizzes down one of the city's incredibly steep hills. There are two lines, one that takes you from near Fisherman's Wharf to Union Square and one that goes past Lombard Street.
Postcard Row
To get those postcard perfect shots of San Francisco then you have to checkout Postcard Row, famous for the row of houses called the Painted Ladies that sit with the Skyline in the background. You will probably recognise these houses from TV shows. If TV and Movies are your thing there is a tour you can do that takes you to all the famous San Francisco filming locations.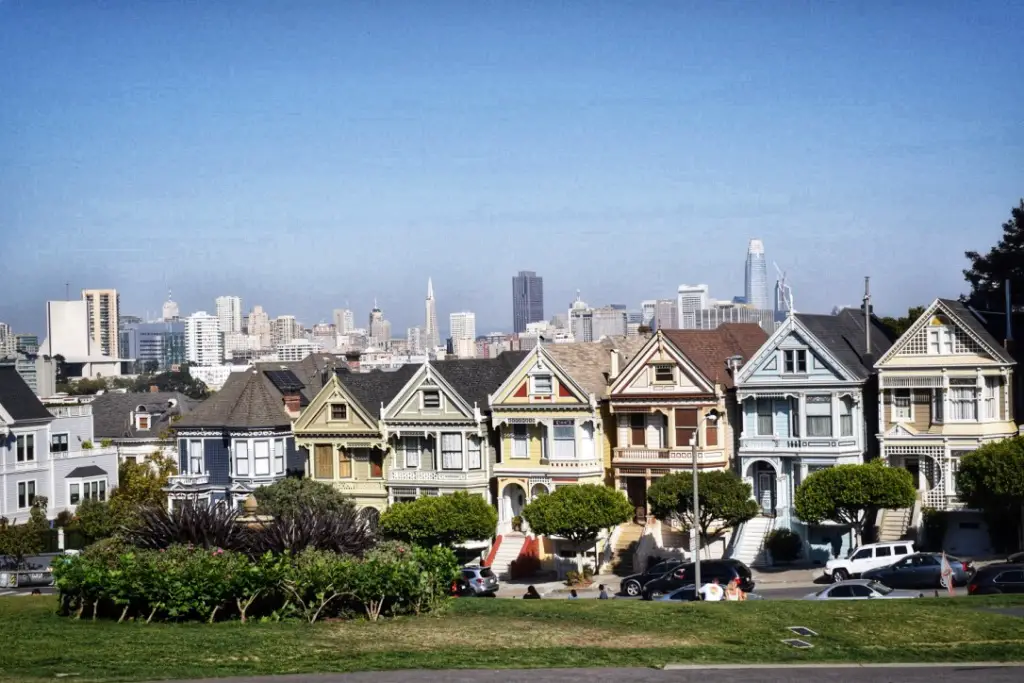 Lombard Street
Lombard Street is often misconceived as the steepest street in San Francisco. It is not, but it is the most beautiful. The heavily zig zagged street was designed this way as the back in the day, cars could not get up such a steep incline. These days, it is mostly tourists who drive down, although you do see the occasional resident too. If you want to experience Lombard Street a little differently you can do a Go Car Tour.
Getting from the Airport
The easiest and cheapest way to get to downtown San Francisco is via the BART, although you are limited with available downtown stops. If you are staying near Union Square then this option is perfect, but if you are staying near Fisherman's Wharf for example you will need to disembark and change onto another form of public transport. You can also get the airport shuttle which will usually drop you straight off at your hotel.
Where to stay in San Francisco
We stayed pretty close to Union Square which was really handy. It was a short walk to Chinatown and a number of restaurants and bars. It was also close to the BART station as well as the MUNI metro.
Eating and drinking in San Francisco
Our top tip in terms of food has to be Chinatown. You have so much choice including Japanese, Chinese, and Vietnamese cuisine and it tastes really good too. It is also relatively cheap. If you are a fan of seafood we recommend heading down to Fisherman's Wharf. They do some pretty good clam chowder bowls and quick bites.
Days 6-7  Los Angeles
Thankfully, LA and San Francisco aren't all that far apart when it comes to flying time. So the good news is that your travel time won't massively eat into to your 2 week USA itinerary. If you are looking for a detailed LA guide then do checkout our post. And you are wondering how long to spend in LA we really don't think that 2 days is anywhere near enough. For starters LA is huge. We were tempted to skip LA altogether on our trip but in hindsight we are glad we didn't, although we would have loved to explore a lot more.
Why visit LA
Honestly LA is one of those places that divides opinion. You either love it or hate it.
So visiting is a great way to make up your own mind. LA is great for first time visitors to the USA because it gives you the chance to explore Hollywood, and the part of the US that movies have made famous. It's great if you love movies, theme parks, and beaches.
Things to do in Los Angeles
Griffith Observatory
For some great views of the Hollywood sign and LA in general the Griffith Observatory is a must. You can also learn all about the cosmos and look through some powerful telescopes.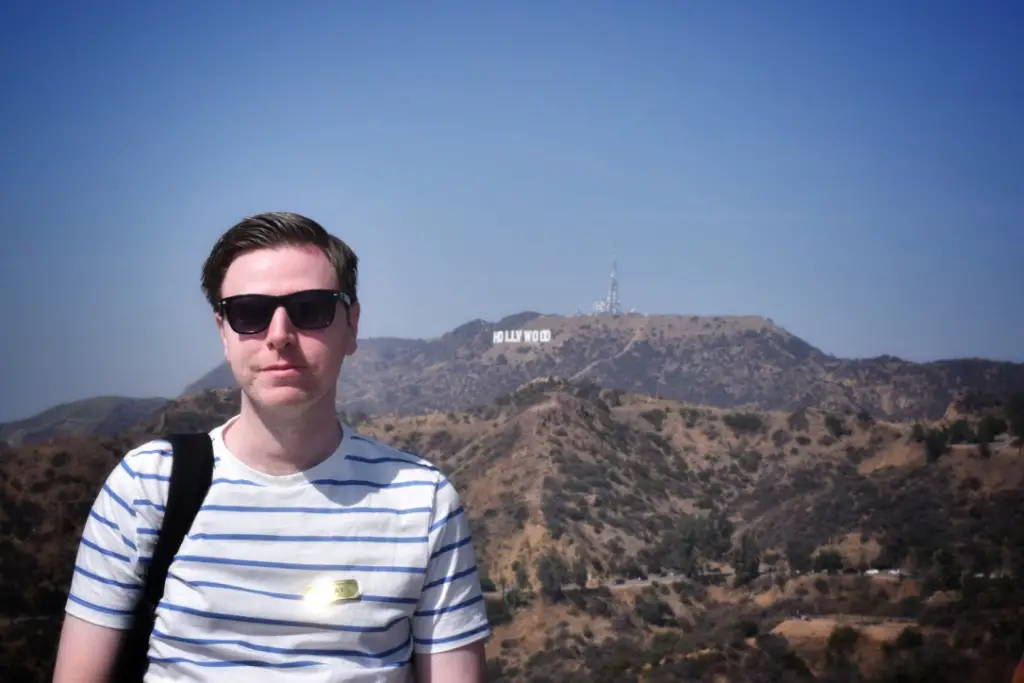 Hollywood
You cannot go to LA without visiting Hollywood. Contrary to popular belief it is not swarming with celebrities, instead you will find your typical tourist activities and wax museums. Some must see parts are the walk of fame as well as the handprints at the TLC Chinese theatre. This is also where you can get those celebrity homes tours from as well. Although we did one, and did not see any celebrities.
Hike the Hollywood Hills
If you want to get a bit closer to the Hollywood Sign you can do a guided tour. You will learn all about Hollywood and the surrounding areas, and the views are incredible too.
Hop On Hop Off Bus
Because LA is so big a Hop on Hop Off Bus tour is a good way to cover quite a bit of ground in the city and see some of the key attractions. There are different routes you can book onto and this can all be done online in advance.
Beverly Hills
For some great views of the Hollywood sign and LA in general the Griffith Observatory is a must. You can also learn all about the cosmos and look through some powerful telescopes. There are also some great hiking spots around here, but do be careful if you do decide to hike and follow the paths at all times. Tickets can be purchased on the day or online in advance.
Venice Beach
One of the true gems in LA is Venice Beach. It is one of the best places for people watching and is about as far removed from the Hollywood glitz and glamour as possible. If you do get the time we highly recommend visiting. Here are some of the best things to do in Venice Beach.
Also a top tip, Venice has some of the best sunsets we have ever seen, so if you get the chance to visit during sunset take it. Here is a walking tour you can do at sunset for good measure.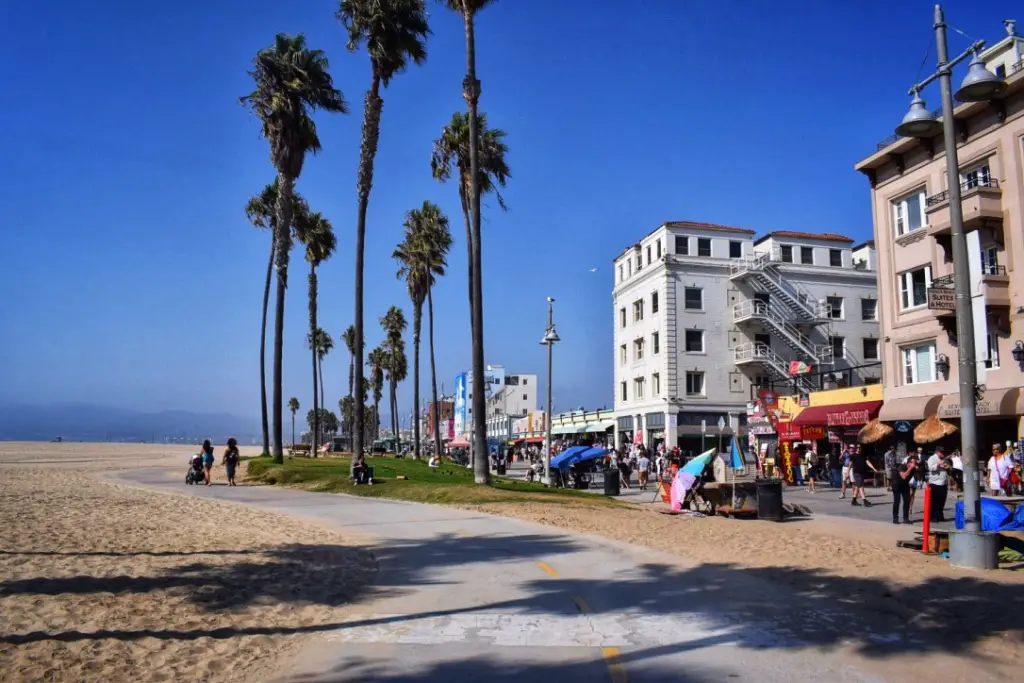 Santa Monica
Just down the road (for LA) from Venice is Santa Monica. The area is slightly more upmarket than Venice Beach and is a great place to go if you like shopping. There is also an amusement park located on the pier which is great for a fun day out.
Universal Studios
You cannot visit LA without a trip to Universal Studios. It's not only rides and gimmicks, here you can tour a real working studio, and learn more about filmmaking. You do need a good day here, especially if you are into rides so give yourself a good amount of time.
Warner Brothers Studio Tour
Another studio you can visit is Warner Brothers, which includes getting your picture taken at a replica Central Perk set.
Getting from the Airport
LA is absolutely huge and so the best way to get to your hotel is via the airport shuttle. It is actually relatively cheap compared to airport shuttles in other cities, and you get dropped off right at your hotel door. You can book the shuttle at the designated booth in the arrivals section of LAX.
Where to stay in Los Angeles
There are so many different parts of LA to explore but one of the best areas to stay has to be Hollywood. There is a lot going on in terms of nightlife and it is much nicer than say Downtown LA. We actually ended up staying in Downtown LA at a nice hotel. The only issue was we didn't really feel comfortable exploring at night so we were confined to the hotel during the evening.
Eating and drinking in Los Angeles
Hollywood is a great place to go for a mix of food. Our favourite place though was Mel's Diner. It is a great place to go for milkshakes and apple pie, which is pretty much all I wanted since we landed in the US.
Day 8 Big Bear Lake
If you want to you could spend an extra day in LA, but we decided to take a break from the city for one night and head out to Big Bear Lake, a popular holiday destination located in the San Bernardino Valley.
Why Visit Big Bear Lake
Honestly the best reason to visit Big Bear is just to escape from the hustle and bustle of US cities and experience a bit of nature.
Things to do in Big Bear Lake
There are so many things to do in Big Bear Lake, like hiking or hiring a boat, but for us it was all about the relaxation. It also depends on what time of the year you are planning to visit. For example in the winter months it is a popular place for skiing whereas in summer it is all about the hiking.
Getting here from LA
We hired a car in LA and drove to Big Bear Lake. It takes around 2-3 hours depending on traffic and the views along the way are absolutely stunning. If you are looking to rent a car in the US then checkout this handy guide we put together.
Where to stay in Big Bear Lake
We highly recommend booking lakeside accommodation. We stayed in a resort right on the lake where the rooms had a cabin feel. It was perfect especially in the evening as we had a fireplace which made everything feel that much cosier.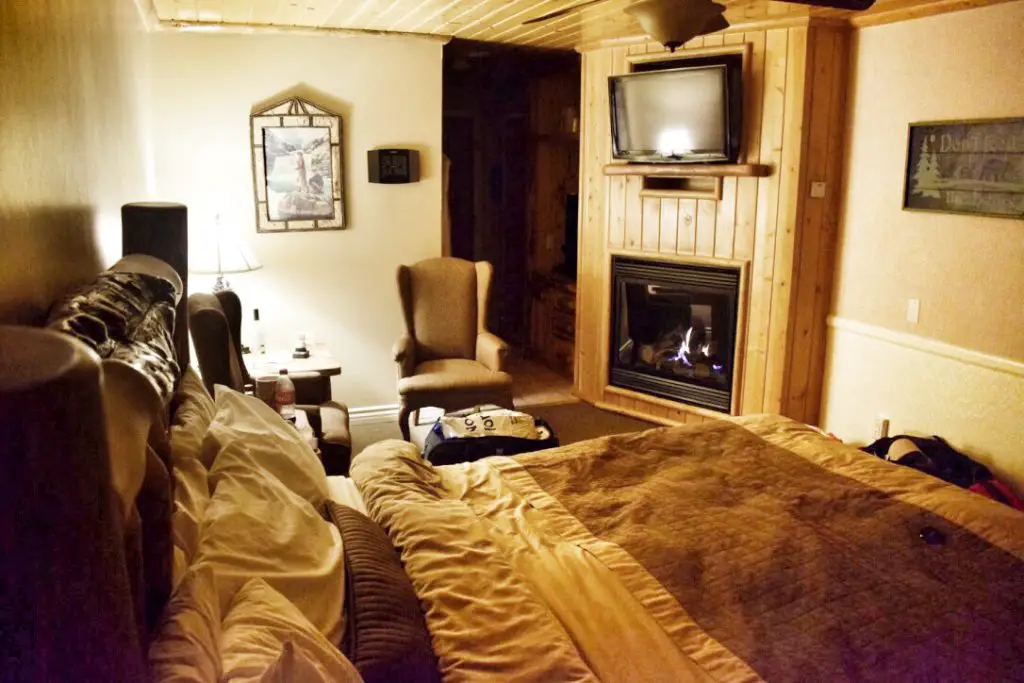 Eating and drinking in Big Bear Lake
If you make your way into the village there are a number of places to eat and drink. Our favourite though had to be the Peppercorn Grille. They do pizzas, burgers, and steak along with other things. They also rustle up a pretty decent cocktail.
Days 9-11 Las Vegas
After a relaxing night we made our way to Vegas. In our opinion Vegas is an absolute must. You literally feel like you are in another world and it is one of those places you have to see to believe. We chose to drive from LA to Big Bear and then on to Vegas. I think we may have watched Fear and Loathing in Las Vegas and kind of had this dream of driving through the desert with the Vegas skyline up ahead, wind in our hair.
Why visit Las Vegas
Las Vegas is basically a playground for adults. Obviously, it has a strong party vibe with all the alcohol and gambling, but actually Vegas is so much more. Where else in the world can you ride a gondola, get to the top of the Eiffel Tower, and visit a pyramid in the same day?
Wondering is Las Vegas worth visiting read this post. 
Things to do in Las Vegas
These are some of the top things to do in Las Vegas, but if you want more info and our Las Vegas bucket list suggestions checkout this post.
Hotel Hopping
You would actually be surprised how long it takes to walk from one end of the vegas strip to the other, so hotel hopping in Vegas can be quite time consuming. Some of the must sees though are the Paris Hotel where you can go to the top of the Eiffel Tower. The Bellagio with its fountain show is another must see as well as the Venetian which was our personal favourite as you even had the chance to ride a Gondola.
Highlights include:
Floating around on a gondola at the Venetian and/or visiting Madame Tussauds.
Riding a rollercoaster at New York New York.
 Gazing out from the top of the Eiffel Tower at Paris.
Riding the High Roller at the LINQ.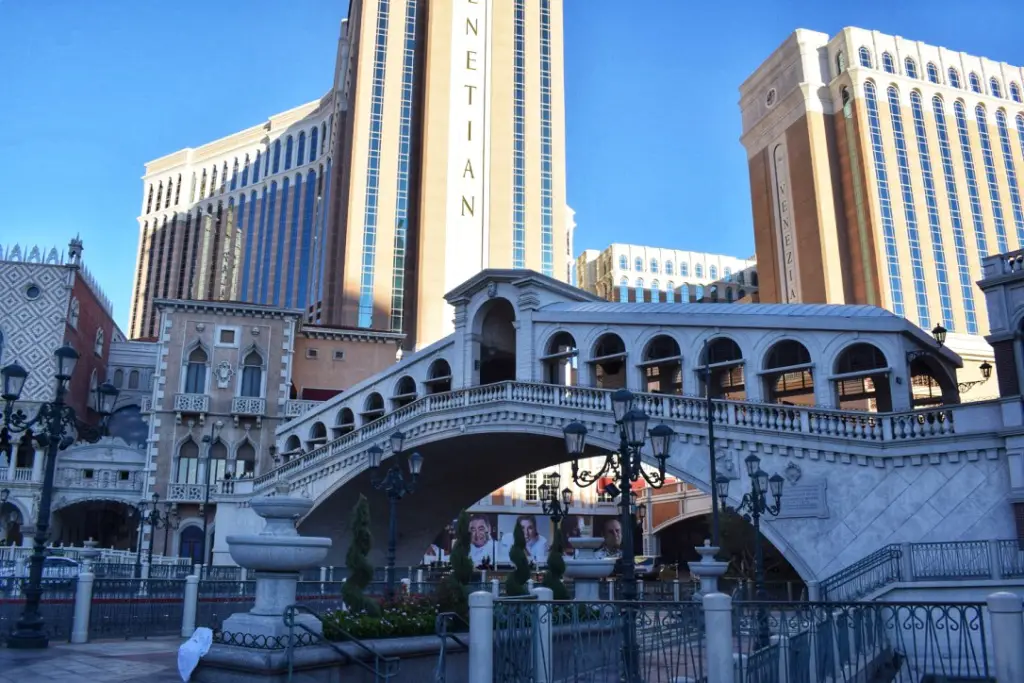 Vegas Sign
No trip to Vegas is complete without a selfie at the Las Vegas Sign. Located at the top of the strip right near the Mandalay Bay Hotel, you will find queues of people along with the occasional bride and groom waiting to have their picture taken. The best time to go is in the morning when it is a lot quieter and you can get photos with less people.
Hop On Hop Off Bus Tour
A fantastic way to get around Vegas is to do a Hop On Hop Off bus tour. Not only do you get taken to all the key attractions, but you also get an opportunity to learn about the history of this amazing city.
Day trips
There are a number of day trips you can do from Vegas, including the Hoover Dam or the Grand Canyon. You can book these tours through your hotel concierge and if you have the time they are a nice break away from the craziness that is Las Vegas. Top tours include:
If you want to be a little fancy and treat yourself you can do a helicopter tour over the Grand Canyon.
Antelope Canyon and Horseshoe Bend
Hoover Dam and Seven Magic Mountains
Freemont Street/ Old Las Vegas
Downtown Las Vegas, couldn't be more different to the Vegas Strip. Nevertheless it is really worth seeing. For starters there are some of the old school casinos in Vegas such as the Golden Nugget. There is also a zip line that whizzes you across Freemont Street at speed. One of our favourite things though was the Mob Museum. It is a fascinating insight into the darker side of US history and the mob's impact on Vegas itself. There is also the Neon Sign Museum which is where you guessed it, Neon Signs go to die. Again it gives insight into old Las Vegas and what the city was like in its heyday.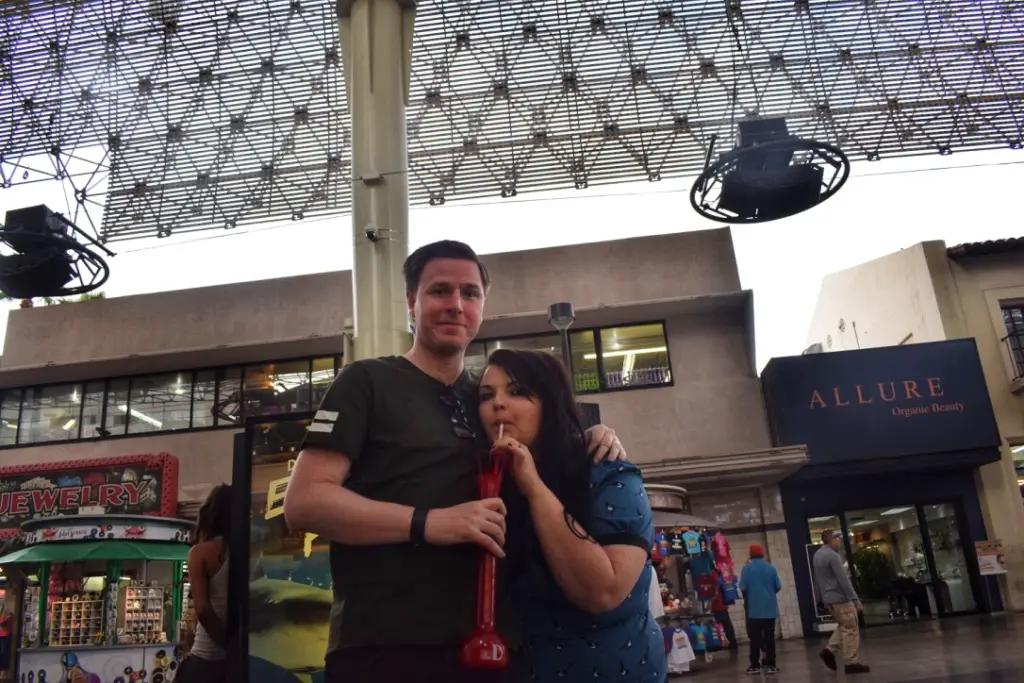 Go to a show
A great way to experience all the glitz and glamour of Vegas is to get yourself to one of the incredible shows in the city. You've got things like:
Getting from the Airport
The easiest and quickest way to get from the airport to the Vegas Strip is via shuttle bus. You may have to wait a while depending on what time you fly in, but the service is great and you get driven straight to your hotel door.
Where to stay in Las Vegas
Ideally you want to stay on the Vegas Strip as this is where most of the action is. We stayed at Paris, and it was centrally located and in the middle of all the action. Hotels in Vegas range in price and also standard so whatever your budget, you will be spoilt for choice.
Eating and drinking in Las Vegas
You will also be spoilt for choice for food and drink in Vegas, from the elaborate hotel buffets to the restaurants owned by celebrity chefs. There are way too many places to choose from and something to cater to all tastes.
Days 12-14 New York
The final city that we highly recommend on any trip to the US is New York. It really is one of the most incredible places we have visited and there is so much to see and do. We ended up getting a red eye flight from Vegas into New York that saved us a nights accommodation and meant we had an extra full day to spend in New York.
You might be wondering why New York is the last place on our 2 week USA itinerary considering that we started in Chicago. Well for us we were trying to get back to the UK and New York was a great final stop before our transatlantic flight. Obviously, you can do this in any order that makes it more convenient for you.
Why visit New York
New York has to be one of the most exciting cities in the world, and for that reason no 2 week USA itinerary is complete without a visit. If you love history, architecture, museums, art, and good food, then New York is a must.
Wondering is New York worth visiting? This post will help you decide.
Things to do in New York
New York is epic and there is probably enough to do for months on end, but we have listed some of the highlights and must sees to help you plan your itinerary. We also have a guide if it just so happens to rain during your time in NYC. 
And if you want more ideas checkout our New York bucket list.
Central Park
Central Park was a must for us especially because we had seen it so many times in the movies or on TV. In fact you can even do a tour of Central Park that takes you to all the famous filming locations. The Park is a bustling hive of activity with rollerbladers, bikes, and tourists travelling in horse and carts.
Some highlights in Central Park include the boathouse where you can rent a row boat particularly in those summer months with the skyscrapers in the background. Another must is the Lennon memorial titled Strawberry Fields.  It is located adjacent to the Dakota Building, which is where John Lennon was living when he was shot returning home on the 8th of December 1980.
Times Square
Times Square is a must when visiting New York. Ok so we don't recommend spending a lot of time here, because it is so touristy, but do visit it at least once during your time in NYC.
Brooklyn Bridge
One of the most iconic structures in New York has to be the Brooklyn Bridge. And taking the walk across is a must do when visiting the city.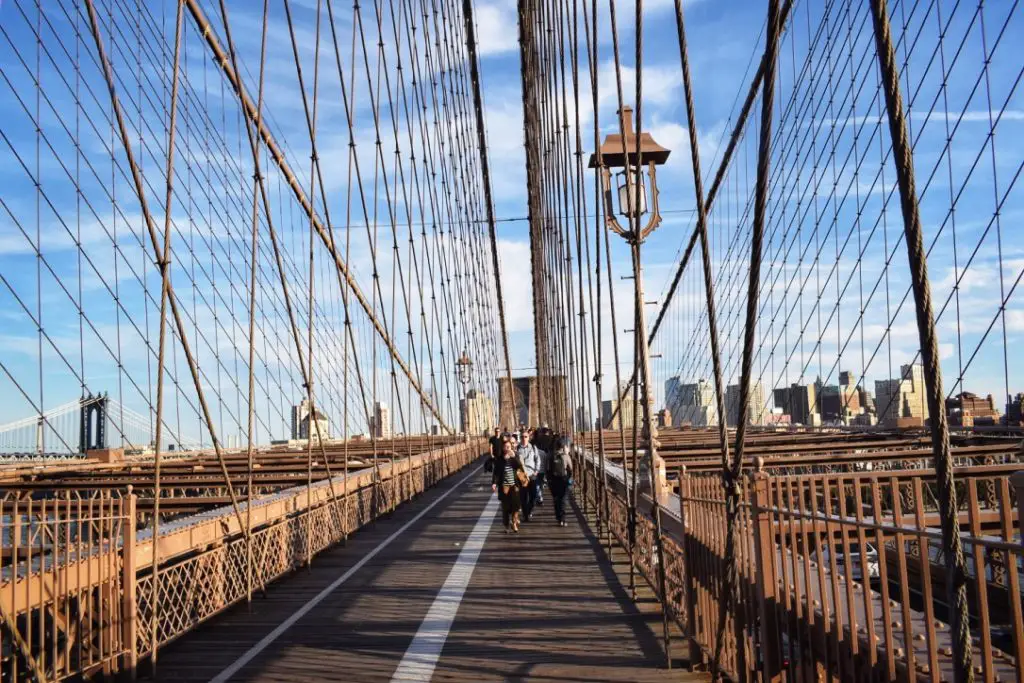 Empire State Building
The Empire State Building is probably one of the most well recognised buildings in New York. Located on 5th Avenue, the Empire State is a 102 story art deco style building. Construction on the building began in 1930 and doors opened in 1931, a mere 13 and a half months after the first beam was laid. You get some awesome views of New York from the 86th floor of the building, just be prepared to be pushed around by crowds of tourists. To skip the lines make sure you buy your ticket online in advance.
Top of the Rock
The Rockefeller centre was created by J.D. Rockefeller Jr, and was designed to be a city within a city. Building was completed in 1933 and since then the building has become a cultural hub.You will get to see the city from the 67th, 69th and 70th floors and like the Empire State the views are incredible. It is generally not too crowded on the observation decks. Plus the cool thing is you can get a picture of the iconic Empire State Building as well.
If you are tossing up between the Empire State and Top of the Rock here is a handy guide to help you decide which one to visit.
Again tickets can be purchased online in advance.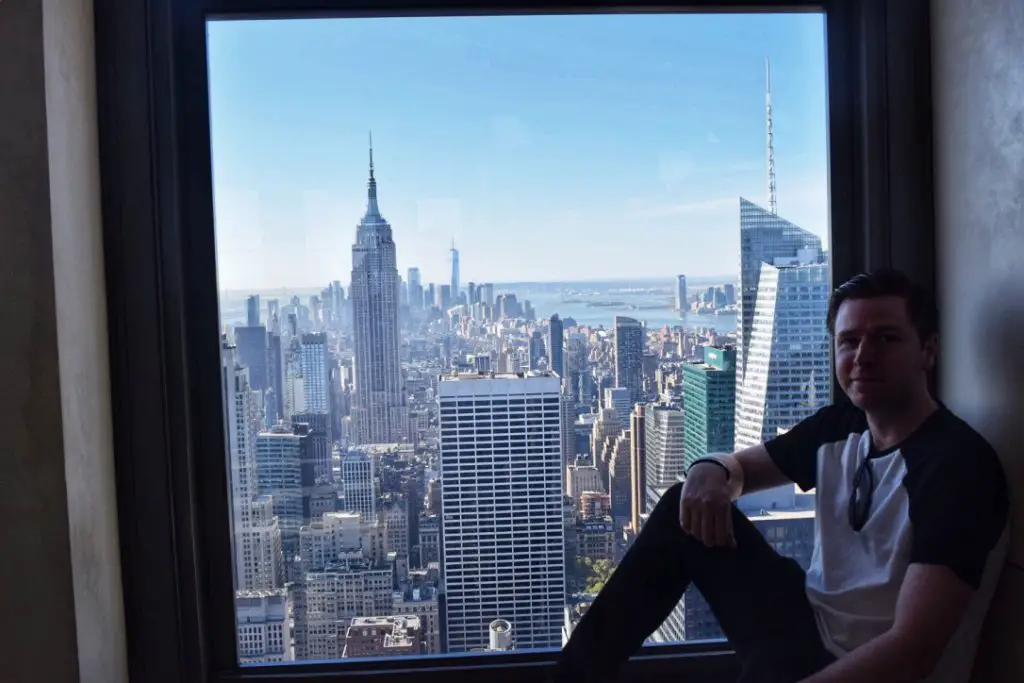 The High Line
The High Line is a 1.45 mile elevated park on a disused train track and is a garden oasis in the middle of a busy city. It is a lovely place to go for a walk or just sit down and take in your surroundings.
Do a helicopter tour
If you are feeling a bit fancy you can live out my dream of flying above the New York Skyline in a helicopter. I may have watched one too many movies, but still one day!
Statue of Liberty
Another New York City icon is of course the Statue of Liberty. To see the Statue up close you can book a boat tour that takes you to Liberty Island and Ellis Island. If you are planning to do this you should set a full day aside and book in advance. It is super busy and you will spend a lot of the day just waiting in line.
We were short of time so we only managed to see Liberty Island to get a few close up shots of the Statue. It is a wonderful experience and we would really recommend it. Alternatively you could get the Staten Island Ferry for a glimpse of Lady Liberty herself, but you certainly don't get as close as you do on the tourist boats.
We tried to buy tickets on the day and spent ages in line, so we highly recommend that you purchase these online in advance.
Museums
New York has some pretty amazing museums, from the Natural History Museum to the Guggenheim. We decided to visit the Museum of Modern Art which houses works from artists such a Van Gogh, Dali, and my personal favourite Andy Warhol. You seriously cannot go to New York without visiting at least one museum.
One of the more sombre but important museums we visited was the 9/11 museum. For my generation there is a question of 'where were you when you heard the news about the planes hitting the tower'. The museum is beautiful, it honours the victims, and looks at the resilience and bravery of New Yorkers.
Hop On Hop Off Bus Tour
Another recommendation in NYC is to do a hop on hop off bus tour. These are really useful when you only have a short time in a city.
Getting from the Airport
There are a number of airports in New York, and most of them have a shuttle bus that will take you straight to your hotel. Just be mindful that New York traffic can be pretty bad. But ultimately it is cheaper than a taxi which is handy.
Where to stay in New York
We ended up staying near Times Square which was great on a short trip, but if you are visiting for a bit longer, we recommend staying in one of the neighbourhoods like the East Village for example. There is a lot more atmosphere and you get to see the less touristy side of New York. No matter where you stay though you really want to make sure you are near a subway station which will make getting around New York so much easier.
Eating and drinking in New York
We actually write a post all about the foods you need to try in New York. There is so much choice and it is hard to narrow down. There are some great places to eat and drink in the East Village including our favourite, a 24 hour Ukrainian dinner called Veselka, it is also a great place for drinks and one of our favourite bars was The Immigrant. Another must is a visit to the Dominque Ansel Bakery which is of course the home of the famous Cronut.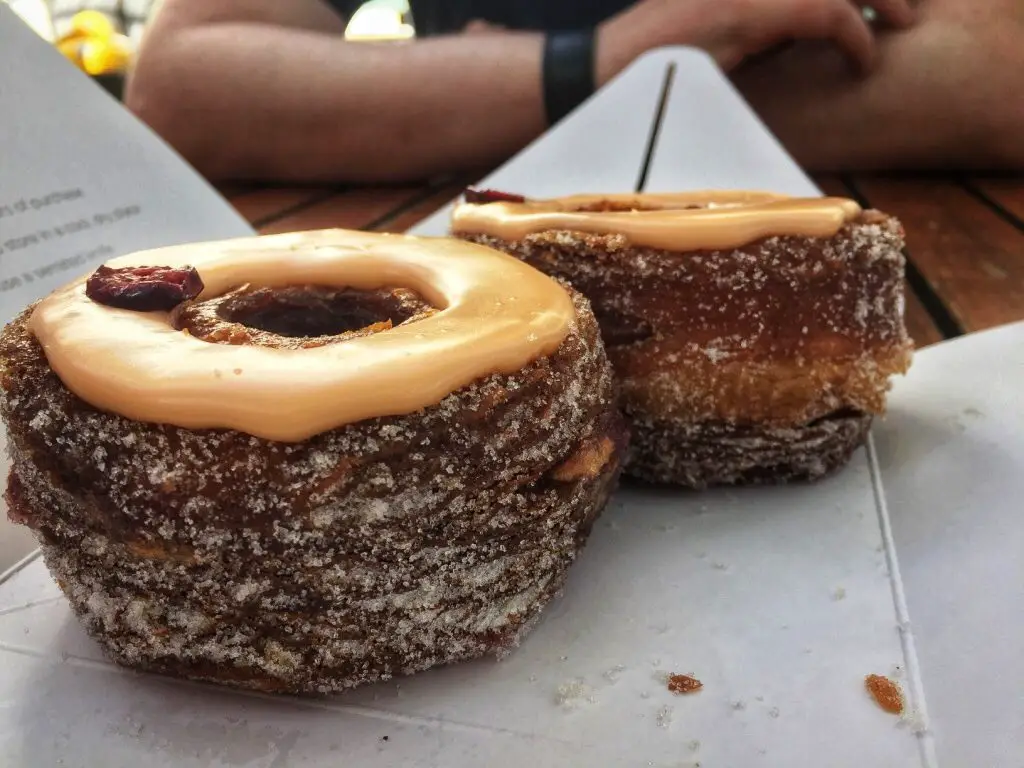 Best time of the year to plan a 2 week USA itinerary
Before planning your 2 week USA itinerary you might be wondering when the best time of year to visit is. Summer is most definitely peak travel season (June – August). And you have that added stress in August of school holidays. If you are planning on traveling around the US at this time make sure that you book accommodation well in advance, as well as your tours and attractions.
The best time really to plan your 2 week USA itinerary will e in the shoulder seasons, so either spring (March- May) or Autumn especially September and October. Personally Autumn (or fall) is one of our favourite times to visit because you get to see the beautiful leaves change colour and begin to fall. It's especially beautiful visiting somewhere like New York City, or Big Bear Lake.
Winters can be harsh in some of the places we have mentioned in this guide, especially Chicago and New York. So adverse weather may hinder your plans to see certain attractions. That being said December in New York is incredible with the build-up to the Christmas season.
How much money do I need for traveling around the US
Ok, so budgeting for your 2 week USA itinerary is a tough one. It will all depend on where you want to stay, and what you want to see. For a mid-range holiday we would probably recommend budgeting about $3000 per person for the 2 weeks.
We found accommodation to be quite expensive in the USA, particularly if you want to stay in a central location in one of the big cities we have listed. On average you are looking at about $200 per night for a mid range hotel room that is centrally located.
Food is slightly cheaper in the US (but don't forget to tip), and you could probably get away with spending about $50 per person if you were trying to budget.
2 weeks in the USA itinerary recap
Hopefully this 2 week USA itinerary has you all excited about booking your trip to the USA. There are so many other cities to visit though and you can check out our East Coast and West Coast itinerary to cover more places you should visit. If you have found this article don't forget to Pin it for later.