When we first arrived in San Francisco we had one of those, we're not in Kansas anymore, kind of moments. The vibe was instantly different to anywhere else we had been in the US. It is way more laid back and for a big city people certainly were a lot more friendly. San Francisco is the perfect weekend destination. There is so much to see and do which is why we have put together the perfect San Francisco weekend itinerary for first time visitors.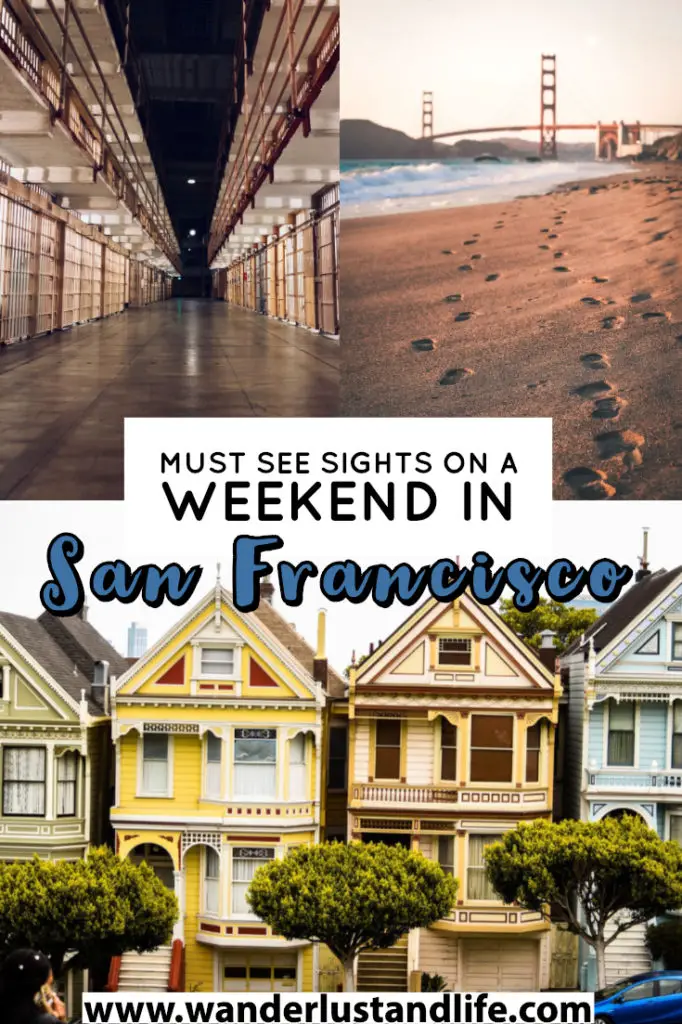 About San Francisco
San Francisco has a rich and progressive history. Popular with hippies in the 1960's and then later a key player in the gay rights movement, it has always been a place where you could come and be yourself unapologetically. It is also a city with a lot of contrasts. On the one hand, you have your ultra hip restaurants and bars, mixed with your tourist populated areas like Pier 39, and your international areas like Chinatown. But you also have your really run down areas such as the Tenderloin. In fact homelessness is actually a large issue in San Francisco. For new visitors this may seem alarming at first but it is a generally safe city.
Basic Information
Country: USA
Languages Spoken: English
Currency: US Dollar (USD)
Famous for: Alcatraz, hilly streets, 
Visit if you like: laid back places, nature, history
When to visit San Francisco
Summer is the most popular time to visit San Francisco. It gets a bit crowded and accommodation prices increase. Weirdly though summer isn't the best in San Francisco weather wise, particularly as this is also when the fog rolls in bringing temperatures right down. We visited in October and the weather was fantastic. It was warm and sunny. There were still a lot of tourists around but it wasn't too bad.
How much money do you need for your 2 day San Francisco itinerary
We ended up spending a little more in San Francisco then we had originally intended. For starters accommodation was expensive. As we only really had a weekend in San Francisco we wanted to stay somewhere central. This was costly.
In the end we spent over $150 per day per person. Eating out was pricey, although that was partly our fault and we should have researched restaurants a bit more. We ate at the Wipeout Bar at Pier 39 which is made for tourists. Our meal and drinks came to about $60 which considering the quality of food was quite high. We also ended up paying about $55 each for a hop on hop off bus ticket on our first day. We probably wouldn't pay for it again, but at least we got to ride over the Golden Gate Bridge. Another big cost was the Alcatraz tour. We absolutely had to do this in San Francisco and this set us back around $40 per person. The good news is there are a lot of cheaper or even free things to do in the city so if you are on a budget you can bring this down significantly.
Getting from the airport
The transport links in San Francisco are really good. When you arrive at the airport you can catch the BART which stands for Bay Area Rapid Transport. Trains are every 15 minutes and it takes about 30 minutes to get into downtown San Francisco.
Where to stay on your weekend in San Francisco
Because we were only in San Francisco for a short time, we wanted to stay somewhere central. So we stumbled upon the Mosser Hotel. Set in a Victorian building we were only a short walk from Union Square. We were also only a minute away from the Muni Metro stop. So for us the hotel's location was a big 10 out of 10. The hotel rooms admittedly are quite small but how much time do you spend in your room when you are in San Francisco? Staff were welcoming and really helpful and the rooms were spotless. If you are looking for something centrally located, we do recommend staying here.
A San Francisco Weekend Itinerary- Day 1
After arriving in San Francisco late the previous evening, we had an early night to catch up on some sleep and prepare ourselves for a busy day. We decided to go for one of the city's hop on hop off tours, especially because we knew that this would ensure we could ride across the Golden Gate Bridge. The tours do get busy so you are best off trying to get there first thing so you aren't waiting around. We got on around Union Square and staff sell tickets around this area before you board the bus.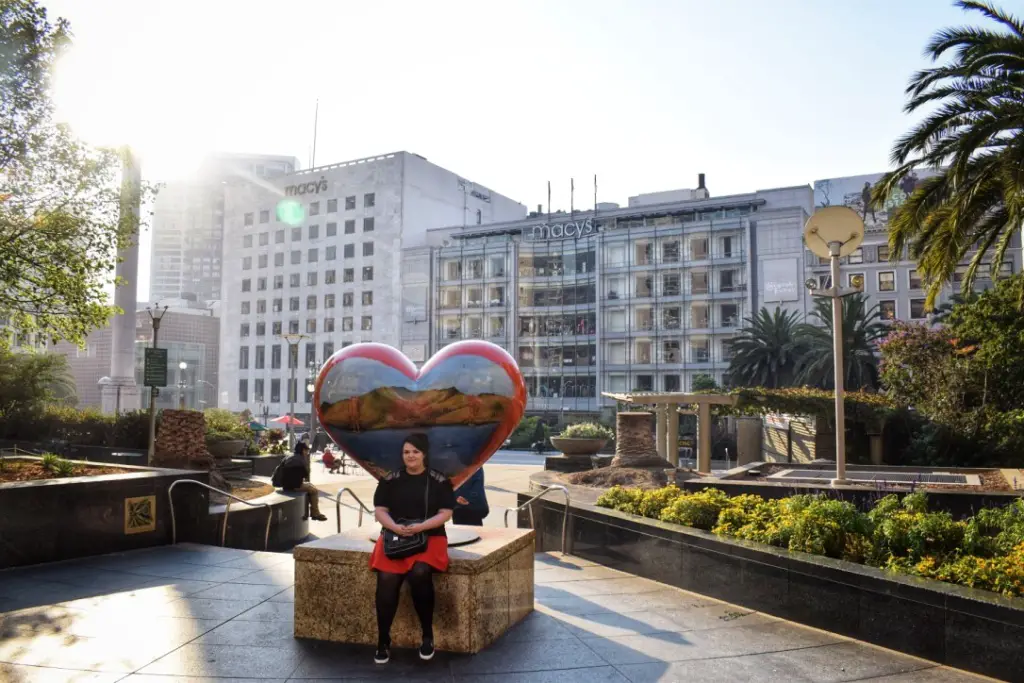 Golden Gate Park
The first stop we decided to get off at was the Golden Gate Park. You cannot visit California without experiencing some natural beauty and this park is an excellent opportunity. You can take a stroll among the redwoods or visit the Japanese Tea Garden. Our  time here was limited, however you could spend the good part of the day exploring. For us though, we had more pressing things to see like the Golden Gate Bridge.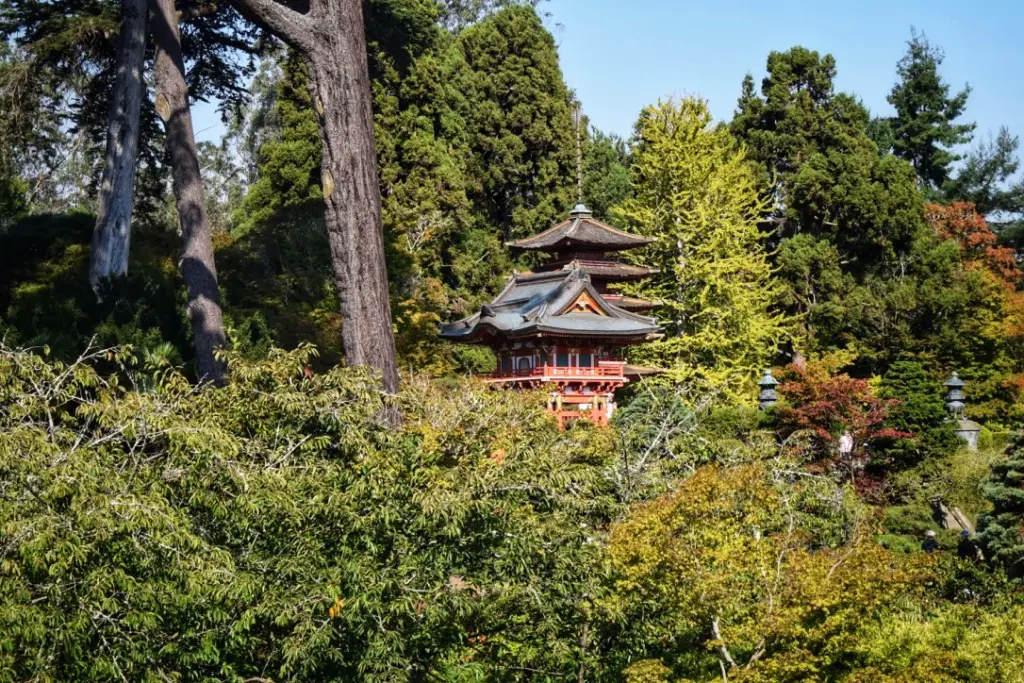 The Golden Gate Bridge
Nothing compares to that moment you drive across the Golden Gate Bridge in an open top bus, the wind violently blowing your hair in every direction. For us, this was a moment we will never forget.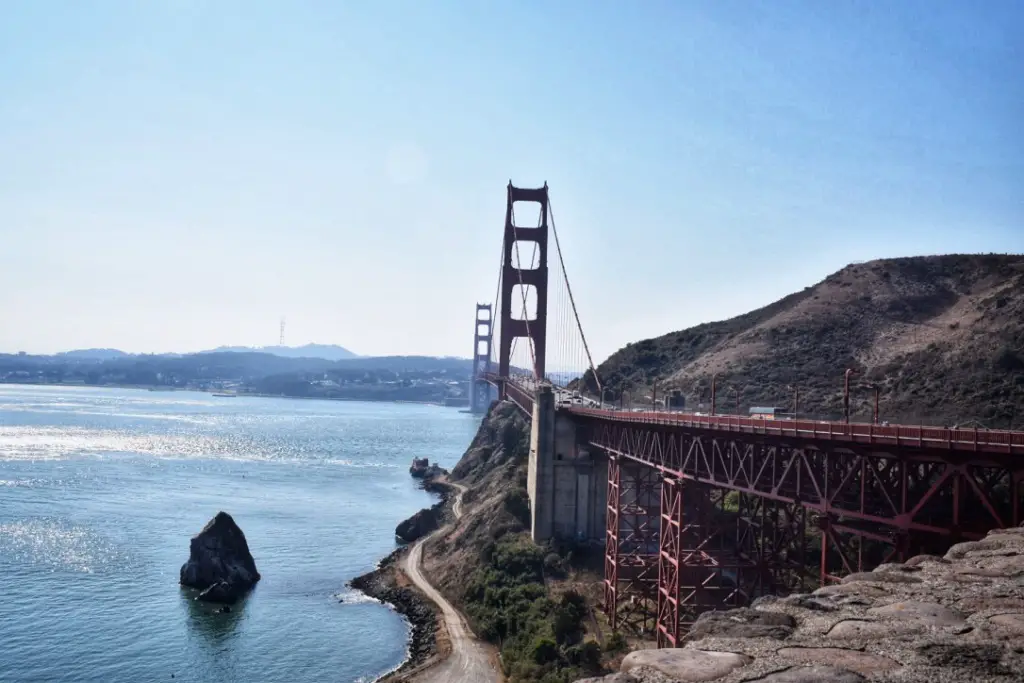 The bridge is one of San Fran's main attractions and you cannot visit the city without seeing it. It opened in 1937 and spans the 1 mile wide straight that connects San Francisco to California's northern counties. When it opened it was the longest and tallest suspension bridge in the world spanning 1280 meters between the 2 towers with a height of 227 meters.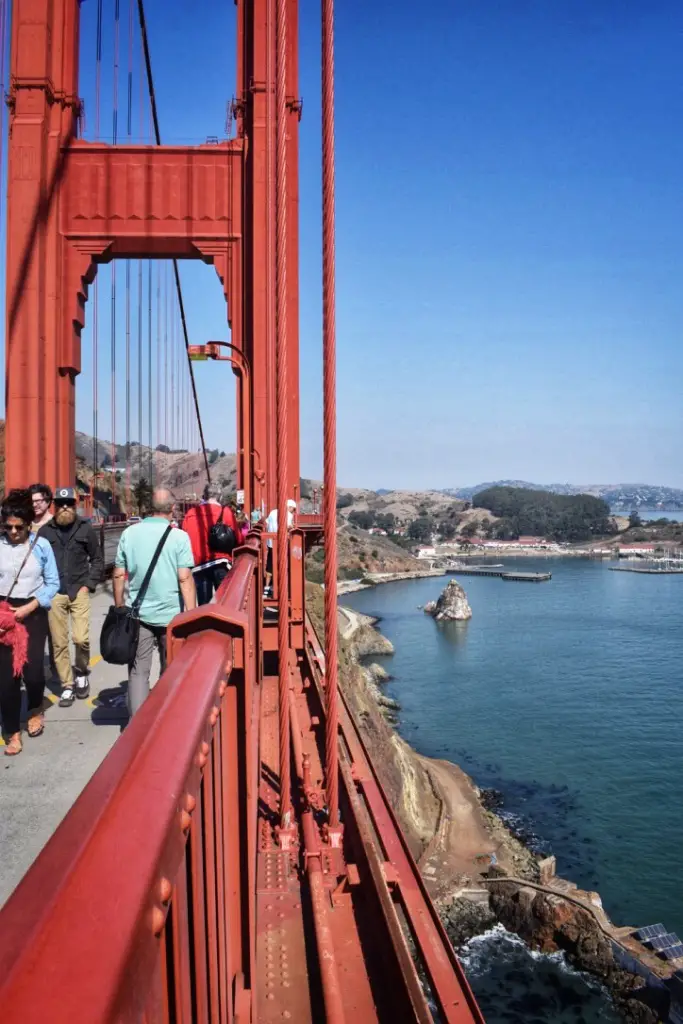 The bus dropped us off at the Visitor's Centre and we made our way over the bridge by foot. Walking across the bridge is not for the faint hearted. For starters it windy, really windy. When you look over the edge it actually hits you how high up you are. Still fears aside, this is a must when visiting the city.
Postcard Row
Channel your inner Michelle Tanner and head over to postcard row, also known as Alamo Square. Here you will find the most photographed houses in San Francisco and you might even, like me, have grown up thinking the cast of Full House actually lived here. This is one of the most photogenic spots in the city and a great place to go if you really do want to get that postcard perfect photo.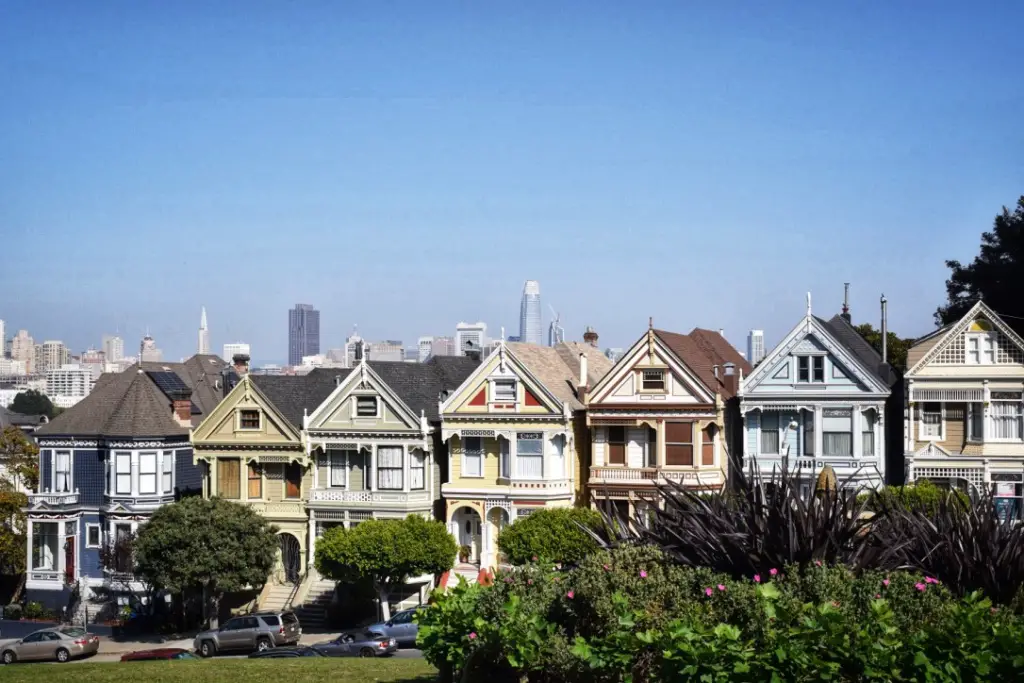 The houses themselves are referred to as the painted ladies. This term isn't actually unique to these houses and it refers to any Victorian or Edwardian houses painted three or more colours. The term for this row of houses was first coined in 1978 in a book called "Painted Ladies- San Francisco's Resplendent Victorians.
The houses were built between 1892 and 1896 and these days are probably the most recognisable homes in San Francisco. I cannot even imagine what it would be like living here as tourists swarm the park in front to take photos everyday. In fact we have heard that some residents have had to keep their doors locked to stop tourists from just walking in! Luckily we are good tourists and took our photos and left.
Haight-Ashbury
This is one of the coolest places in San Fran to explore. In the 60's this was home to the hippie movement. The area has a really friendly feel and one of those everybody is welcome vibes. These days there are some cool shops and some pretty impressive Victorian Mansions. There are also some boutique stores, trendy cafes and super cool restaurants. We didn't have a lot of time to explore which we really do regret. Did someone say return trip?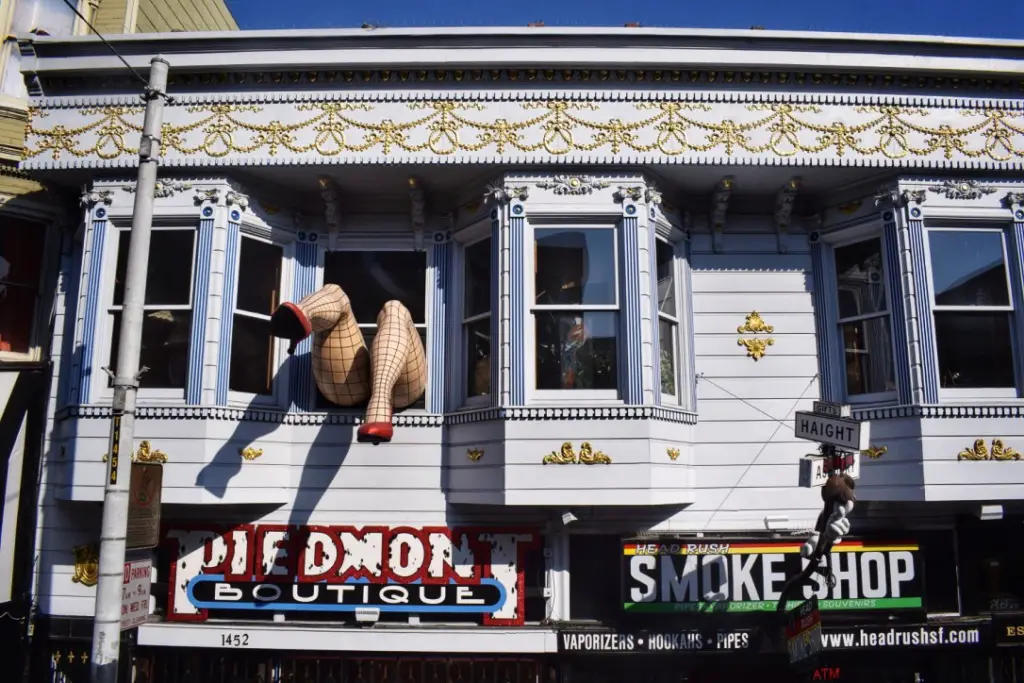 Chinatown
Enter the Dragon's Gate into Chinatown and you could be excused for thinking that you are walking down a back street in South East Asia. Here you will find shops selling all sorts of knick knacks, just don't forget to barter. Also a fun fact is that this is the largest Chinatown outside of Asia and is also the oldest in North America.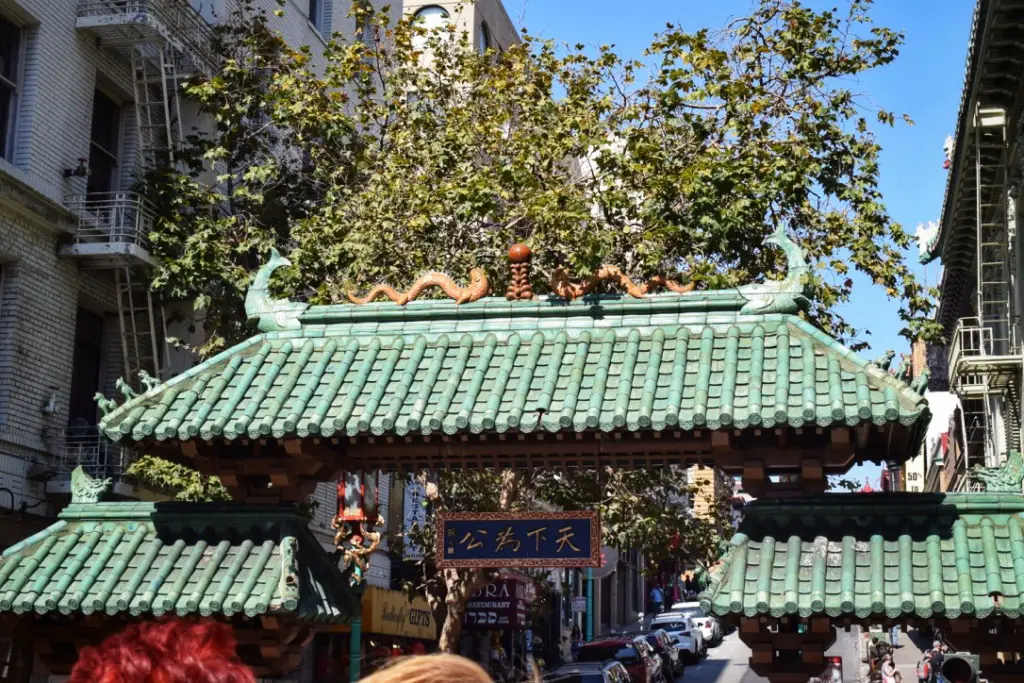 We came here for an evening meal and were overwhelmed with choices. We eventually settled on a small Japanese restaurant serving chicken katsu and bento boxes. It really is worth eating here if you get the chance. There is a lot of choice and the food is really good!
A San Francisco Weekend Itinerary- Day 2
Alcatraz
This is actually one of the most popular tours in the US, and once you do the tour, it is easy to see why. You start on Pier 33 and get the boat over to the Island where you can explore the prison with the aid of an audio tour. Do remember to book in advance because this is a really popular tour. I know a lot of people who actually missed out on this because they didn't book.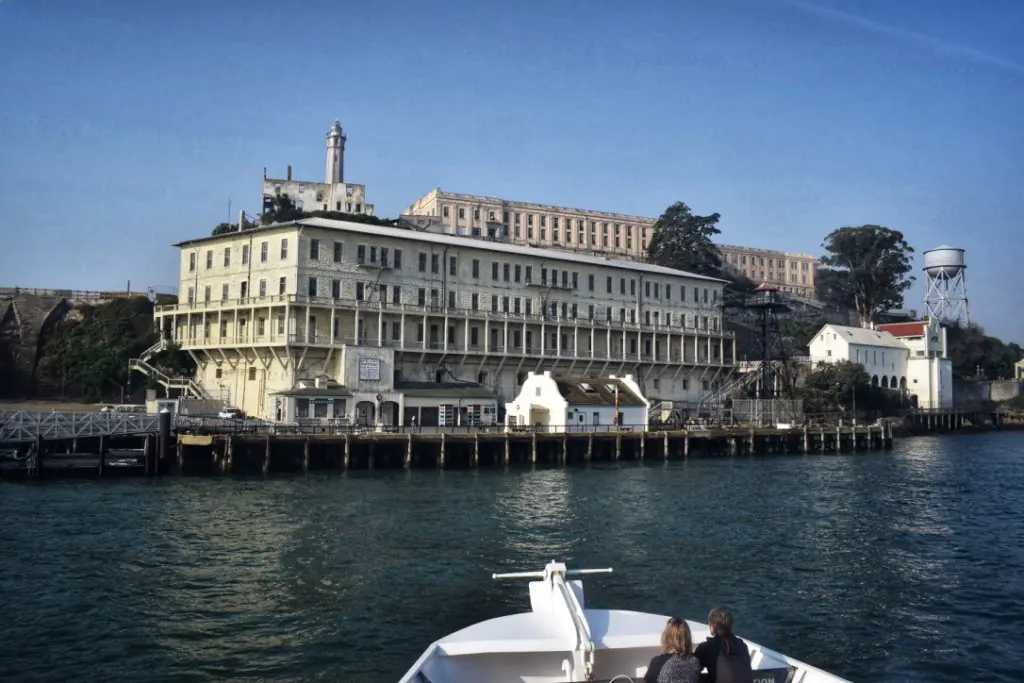 Once you get off the boat you are free to walk around in your own time. The audio tour is one of the best we have ever heard and its a great way to get to grips with what it was really like in the most notorious prison in the US.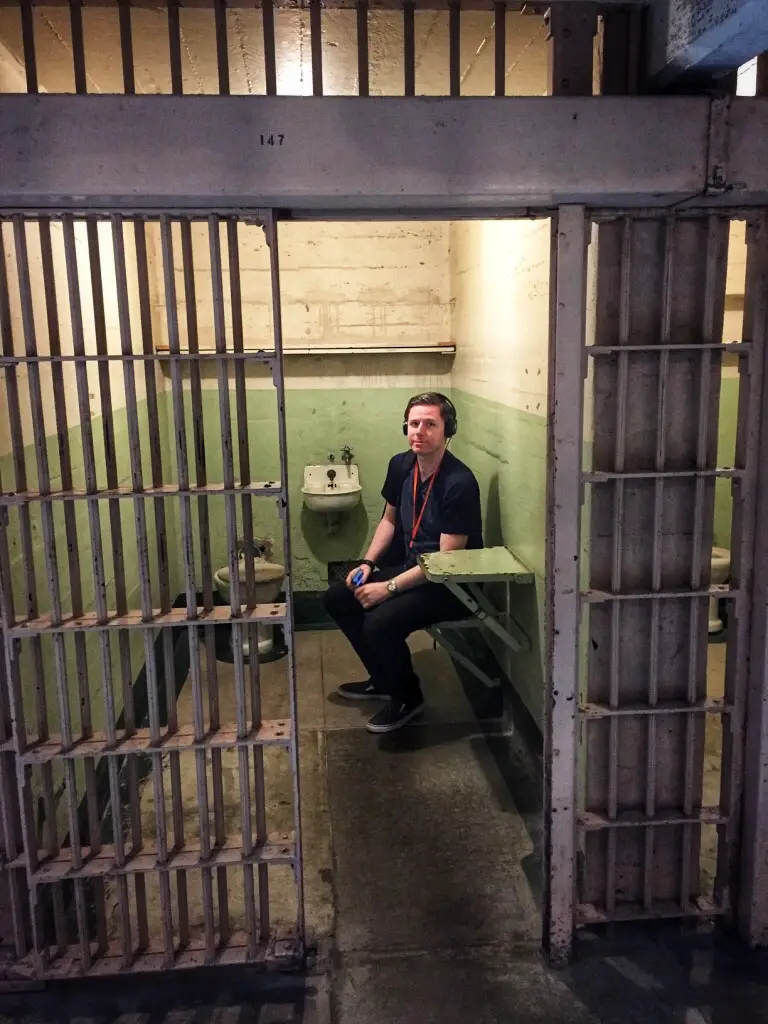 There aren't any places to buy food or drink on the island so keep that in mind and bring your own snacks to keep you going. After touring the actual prison do take a walk around, especially by the water as you get one of the prettiest views of the San Francisco skyline. For more tips on visiting Alcatraz checkout our post.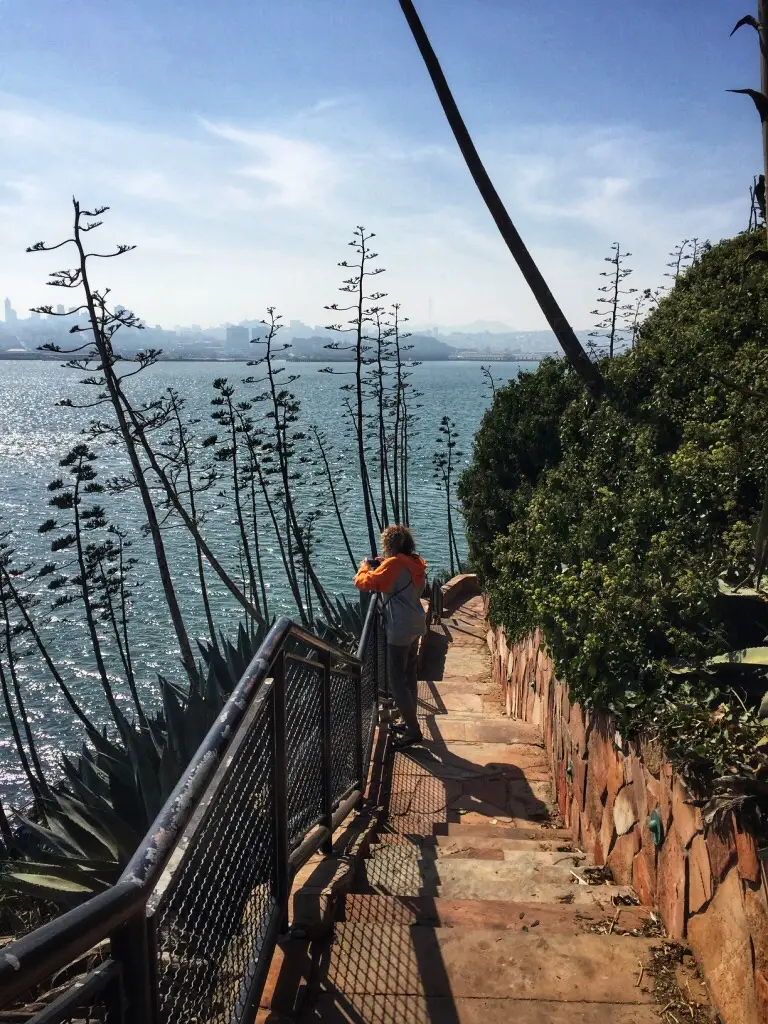 Pier 39
Once our boat docked back on Pier 33 we took a short walk over to Pier 39. It is super touristy but we really loved it.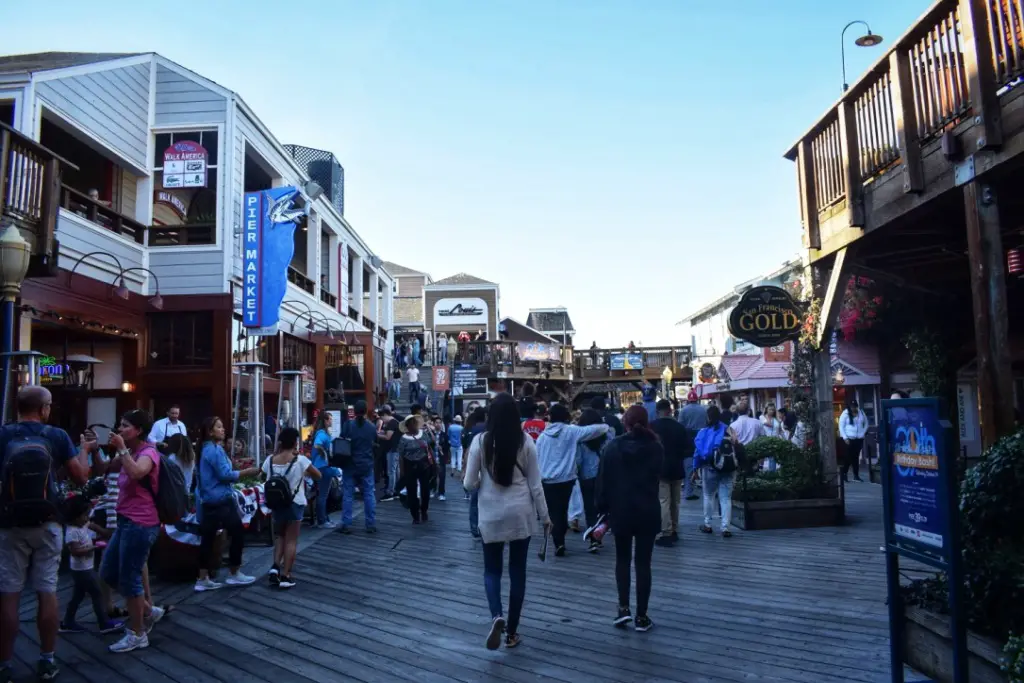 There is a relaxed vibe and some great places to eat and drink. We ended up eating at the Wipeout Bar because it was a sunny day and we really wanted to eat outdoors. And the food looked pretty good too.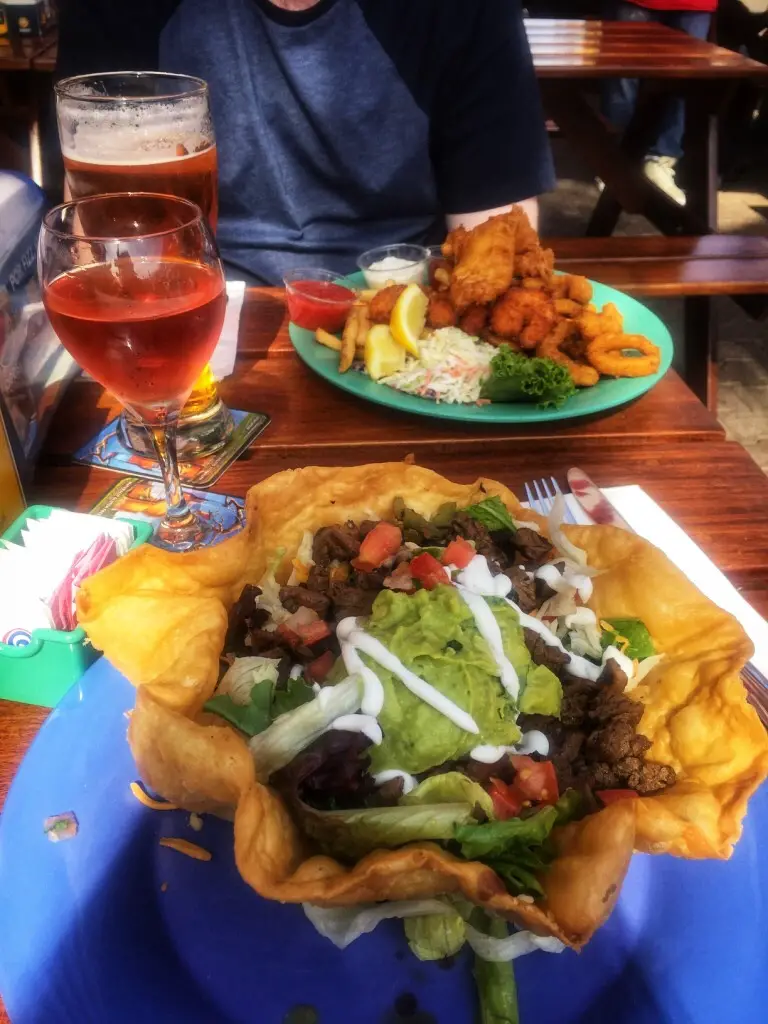 Another culinary highlight are the clam chowder bowls. Whilst clam chowder is technically not a San Francisco delicacy, there is still something unique about eating soup from a giant loaf of bread.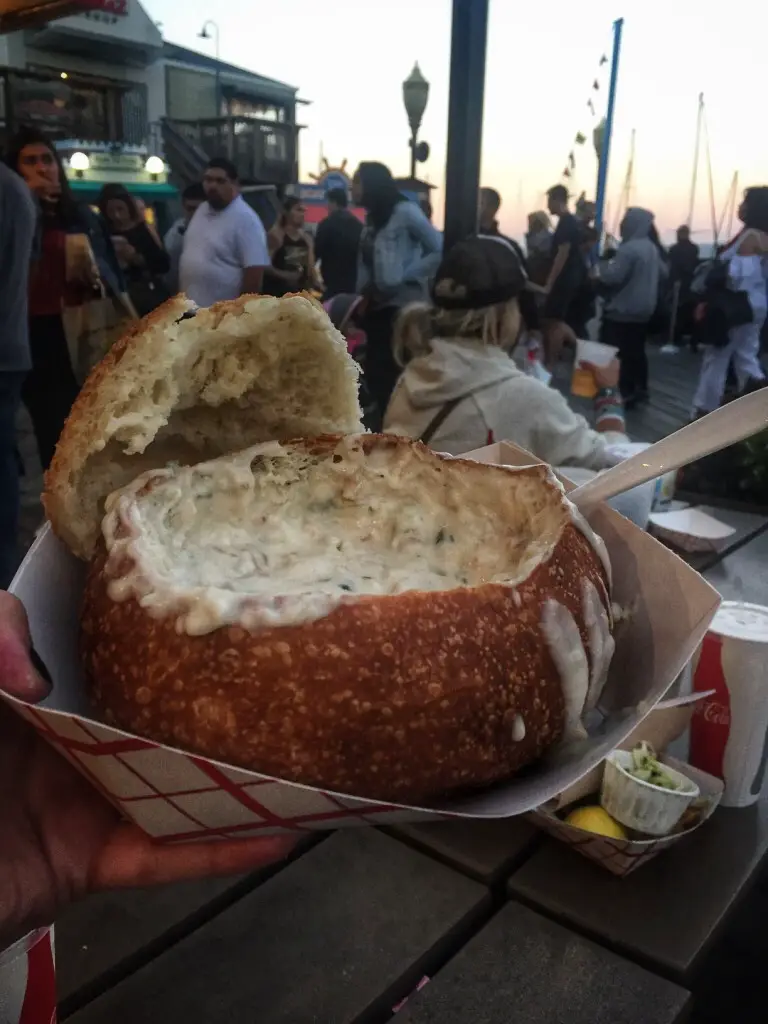 Another highlight has to be the sea lions. People love seeing these noisy, but really cute creatures. No one really knows why the sea lions flock to the bay but there are theories that perhaps they feel safer. Boats used to dock here, but in 1990 after receiving complaints from boat owners, it was decided that the sea lions would stay and the boats would have to go.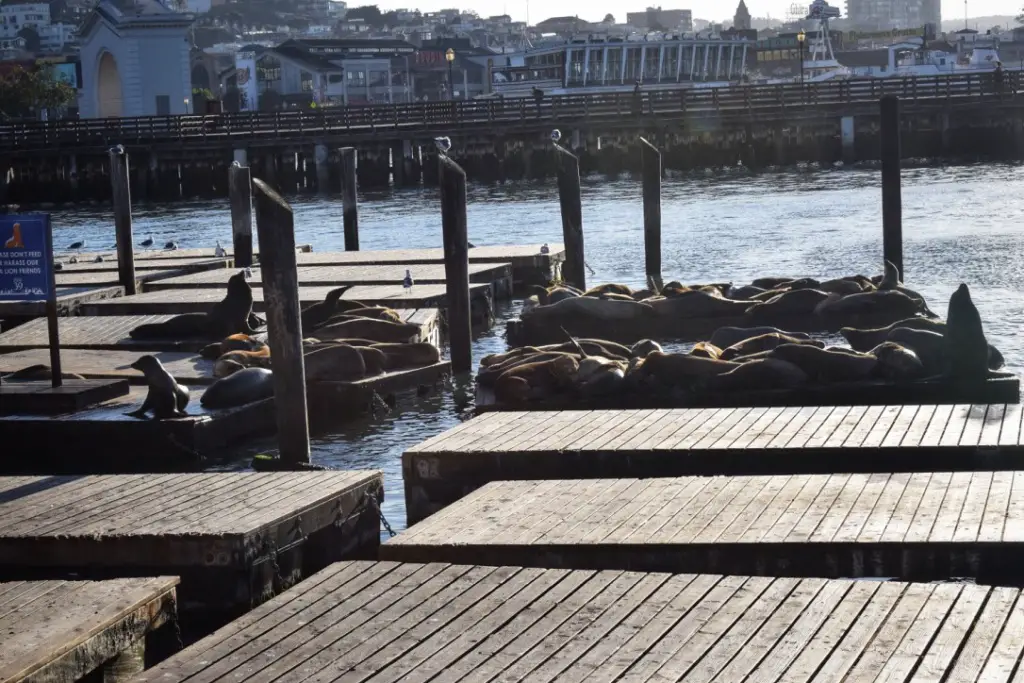 Ride the Cable Cars
Near Pier 39 around the Fisherman's Wharf area, you can hop on one of the city's historic cable cars. This line will take you back to the Union Square area. This really is a uniquely San Francisco experience. It costs $7 each way and I will tell you now it is absolutely worth it.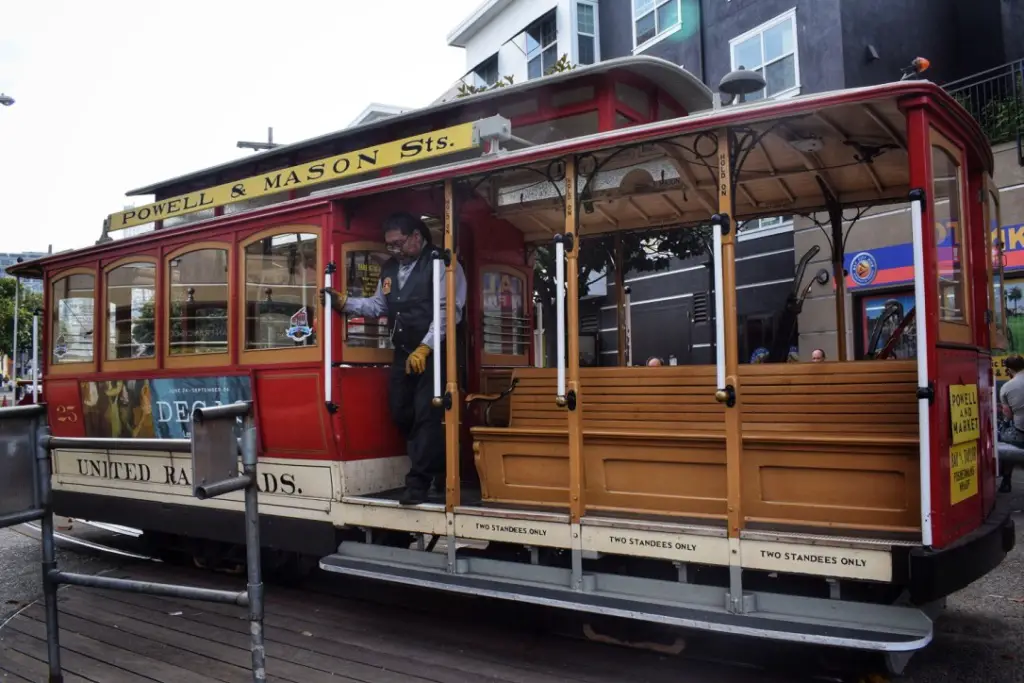 You can either sit inside or stand on the outer steps and hold on as the cable cars climb and descend some of the city's enormous hills. It is honestly so much fun.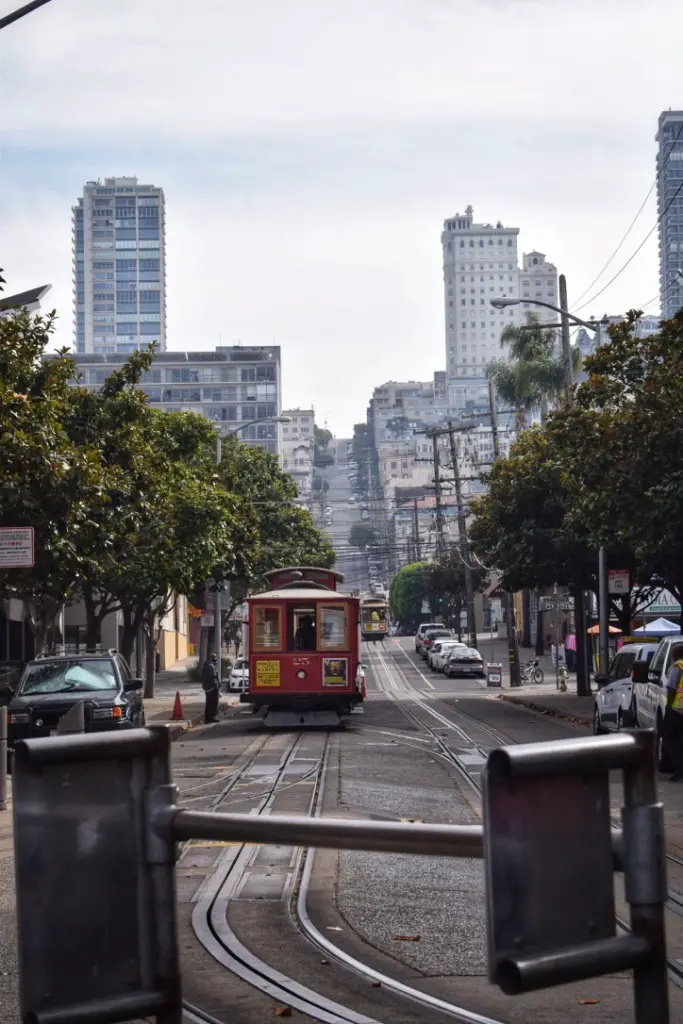 Lombard Street
Another cable car destination happens to be the top of Lombard Street. This is a notoriously steep street famed for its sharp turns, and features in films such as Hitchcock's Vertigo. The street was too steep for the 1920's style cars and it was at this time that property owners decided to install a series of curves.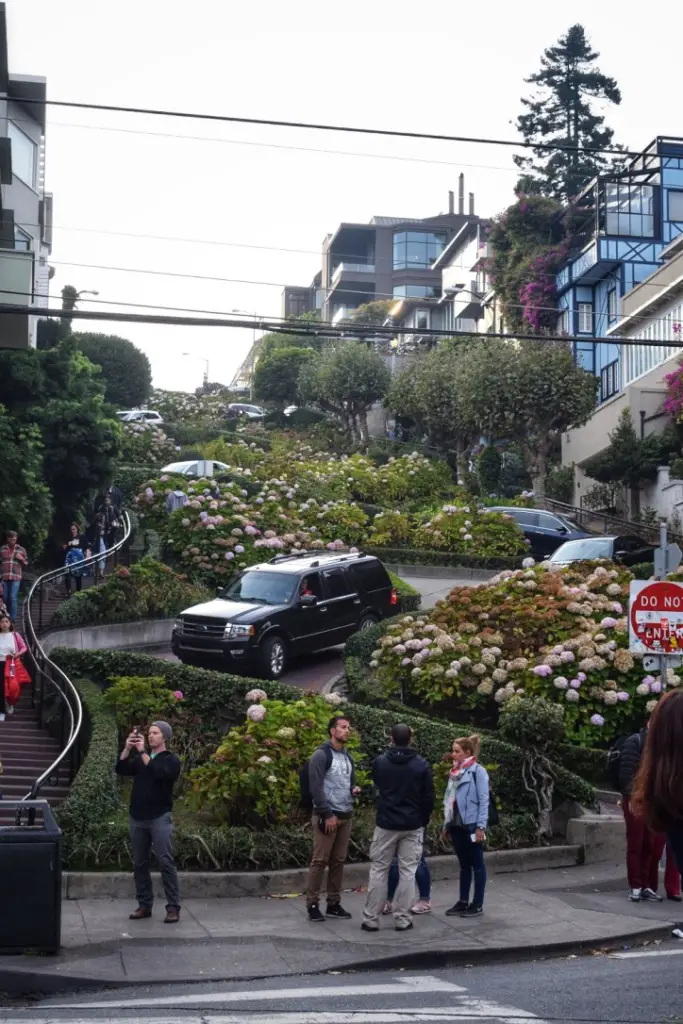 In between these curves are some very well manicured flower beds. We spent a lot of time here just watching the cars filled with tourists, filming their descents on their iPhones as the car brakes squeaked with the pressure. Also the houses are absolutely incredible.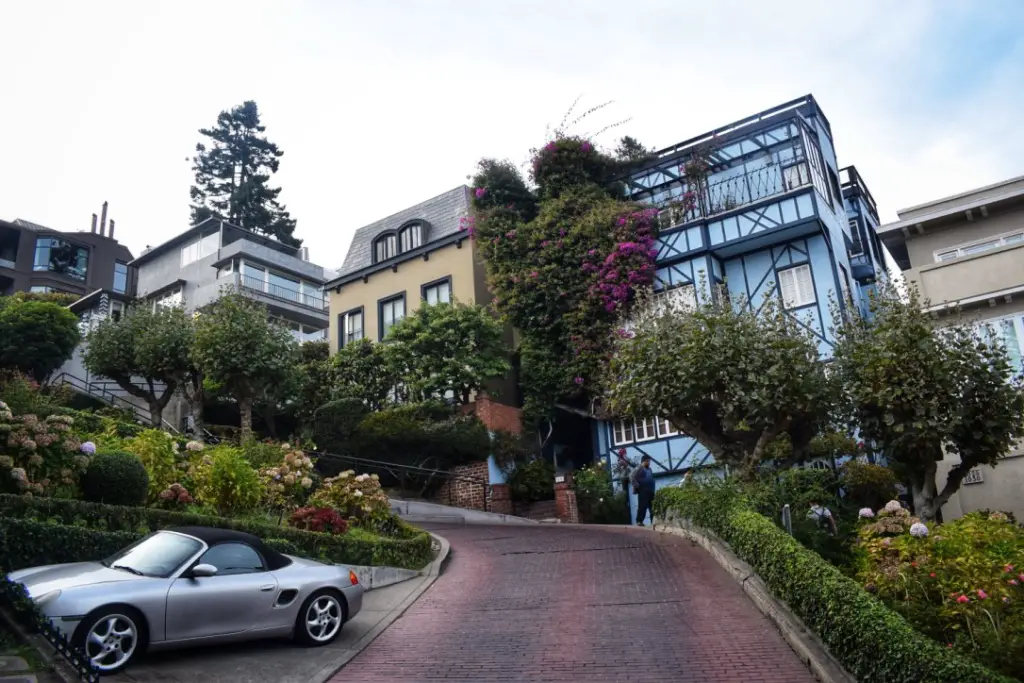 Getting around
On the first day of our trip we got everywhere using the hop on, hop off buses. Once our ticket ran out though we got around on the Muni. This is San Francisco's bus and metro system and we mostly used buses or the F-Line heritage streetcar.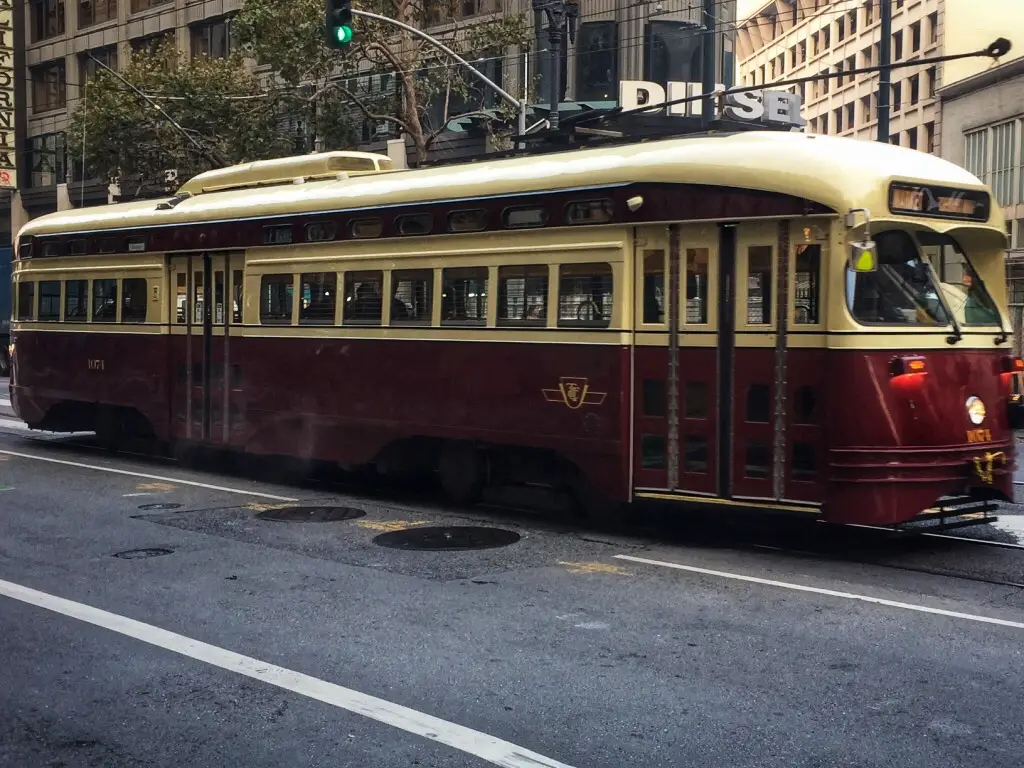 If you do get a chance, a ride on the streetcars is well worth it. We caught the streetcar from just outside our hotel all the way down to Pier 39. The service uses historic equipment from both San Francisco's retired fleet as well as from a range of cities around the world. They are really beautiful to look at too, and add so much charm to such an amazing city.
Romantic things to add to your 2 days in San Francisco
If you are planning on spending 2 days in San Francisco with your significant other then here are some romantic things to add to your itinerary.
Walk across the Golden Gate together
Alcatraz at night tour – nothing like being scared to bring a couple together
Have a picnic in Alamo Square, Full House Style
Do a sunset cruise in the bay
Rent a pedal-boat and float around Stow Lake in Golden Gate Park
Final tips for planning your San Francisco weekend itinerary
Stay central – for a short trip it is better to pay a bit more for accommodation and be in the middle of all the action.
Book your trip to Alcatraz well in advance – the standard advice is 2 weeks before but we recommend at least 4 weeks.
Make sure you pack good walking shoes.
Try and avoid the tourist traps like Pier 39 for food and drinks and do your research.
Weekend in San Francisco itinerary – a recap
A weekend or 2 days in San Francisco is really not enough, but it does give you a good chance to get oriented with the city. We hope our weekend in San Francisco itinerary suggestions will help you plan your next trip to this incredible place. If there is anything you think we should add please do leave us a comment.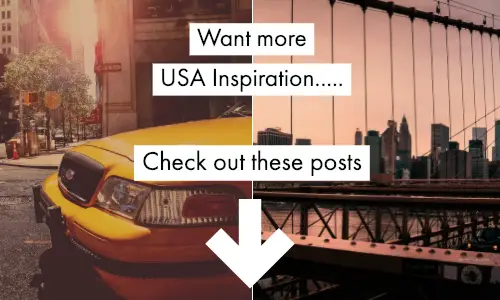 San Francisco 
City Guides
Longer Trips
2 week east coast USA itinerary 
2 week west coast USA itinerary 
Food Guides
Must eat food in New York City
Instagram Guides
Instagram spots in San Francisco
Road trips
Tips for renting a car in the USA