If you have ever visited the USA you will know how enormous the country is. In order to make the most of your time you are best organising a trip based on the East or West Coast. In this post we create a 2 week East Coast itinerary including Boston, Philadelphia, New York City, and Washington DC. We've also included Chicago for good measure, and while it isn't quite East Coast, it is pretty close in case you want to mix it up a bit. So for everything you need to know here is our East Coast travel guide.
Tips for planning a 2 week USA East Coast itinerary 
When planning you USA east coast itinerary here are a couple of things to keep in mind:
Check for any major events happening in a city before you visit. You don't want to arrive somewhere and realise that a marathon is on for example, which means road closures and expensive hotels. 
This guide is based on flying, so if you are driving you might need more time to get between cities. The USA is huge!
USA East Coast itinerary 2 weeks
The more time you can spend on the East Coast the better, as there really is so much to see and do. We have created this USA East Coast itinerary for 2 weeks. This gives you enough time to settle in and explore at least the main cities that make up the East Coast. We are also focusing on mainly the Northern States because if you are looking at Florida and the other Southern States, you will need more time. If you are looking to see more of the USA, checkout our 2 week US travel itinerary here.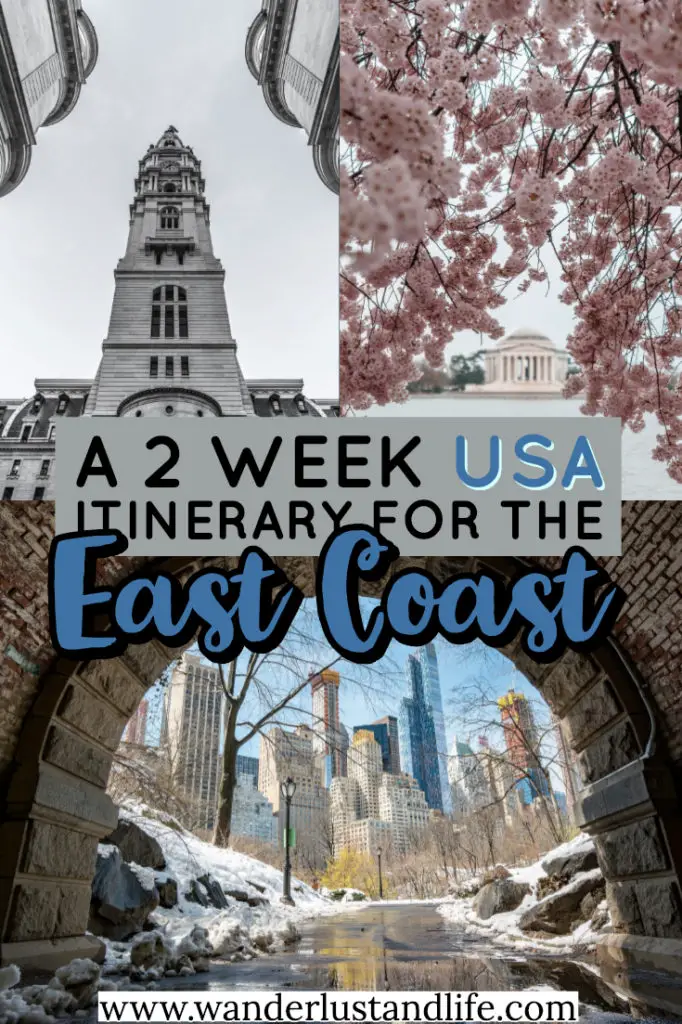 East Coast USA itinerary- day by day
Day 1 – Chicago
Day 2 – Chicago
Day 3 – Fly from Chicago to Washington DC
Day 4 – Washington DC
Day 5 – Washington DC
Day 6 – Fly to Philadelphia
Day 7 – Philadelphia
Day 8 – Travel to New York City
Day 9 – New York
Day 10 – New York
Day 11 – New York
Day 12 – Travel to Boston
Day 13 – Boston
Day 14 – Boston
Where to begin on your 2 week East Coast trip
Days 1-3 Chicago
We recommend flying into Chicago. As mentioned above it isn't really on the East Coast, but it is such an incredible city that so many people overlook, and so we wanted to include it. We also wanted to fly out of New York City so decided to fly in to Chicago as there were a number of flights here. We got into Chicago late at night so we haven't included that in our post. Feeling the effects of jet lag we went straight to bed so the trip really didn't start until the next morning. For a more detailed guide, you can have a look at our 2 days in Chicago, but in the meantime here are the must do's in Chicago.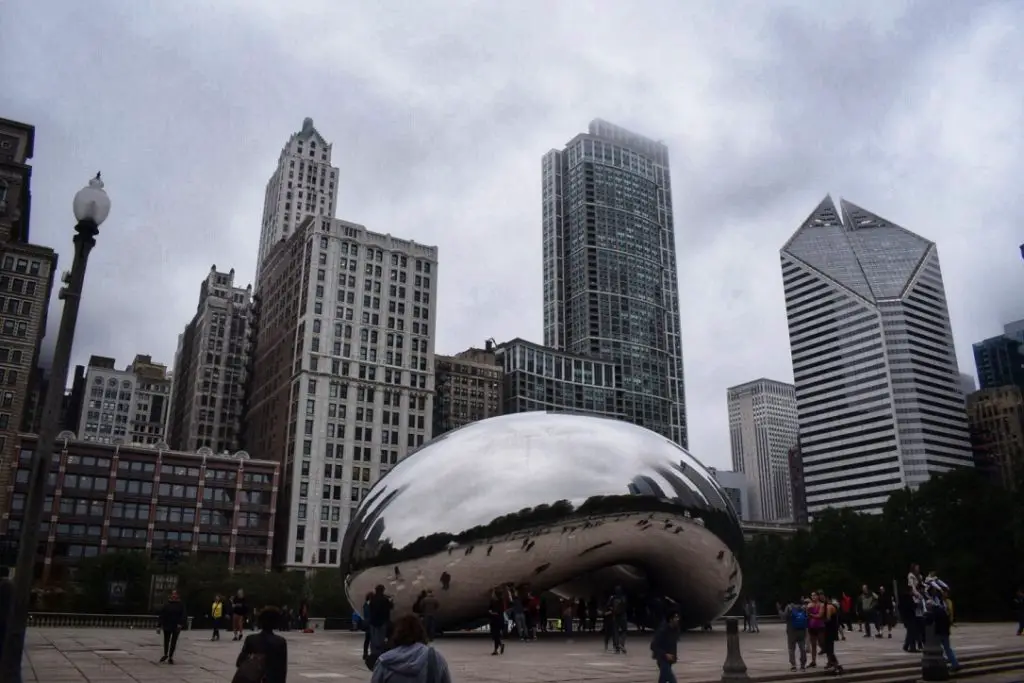 Things to do in Chicago
☞ Architecture Cruise
This is a must in Chicago. The moment you arrive in the city you won't be able to stop looking up, as the buildings are gorgeous. A cruise is a great way to orient yourself with the city, and particularly if you are still jet lagged you can just sit and stare at all the beautiful buildings.
☞ Navy Pier
The Pier is full of rides and restaurants and is a great place to go especially on a beautiful Chicago day.
☞ John Hancock Centre (360 Chicago)
A great place to go for some incredible views over the city and there is also a bar!
☞ Willis Tower (Skydeck)
Another great place to enjoy the views of Chicago, but this time with a glass panel to get some really amazing photos.
☞ Millennium Park
This is where you go to take that selfie with the famous Chicago Bean.
☞ The Art Institute of Chicago
This is one of the best galleries in the country and houses works from Picasso to Andy Warhol.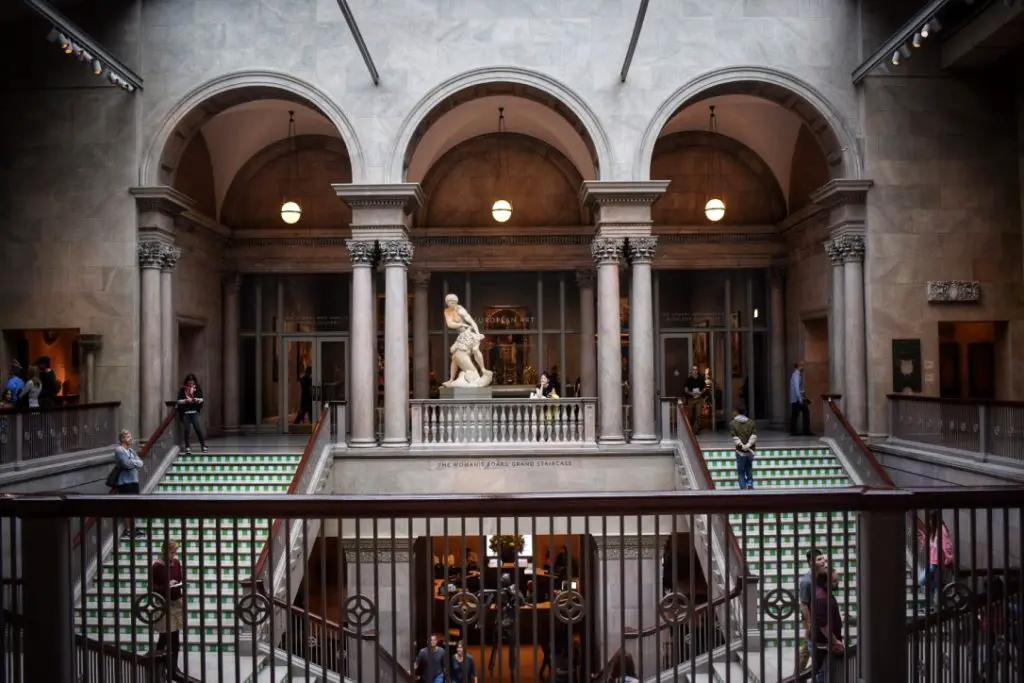 Why visit Chicago
Chicago is a must if you love architecture. It has a rich history, and became infamous during the era of prohibition.
Getting from the Airport
Once you arrive in Chicago there are a few ways to get to the downtown area. The cheapest and often quickest way to get downtown is via the L Train. The Blue Line should have you in the downtown area in approximately 45 minutes. If you are however, severely jet lagged and the thought of negotiating a subway line with giant suitcases scares you (you are not alone), then the next best thing is to get the airport shuttle bus. They are slightly cheaper than a taxi and take you straight to the front door of your hotel. Just be mindful that the journey can be quite long, particularly during peak hour. You can book and pay for your shuttle at one of the designated booths at the airport. The good thing as well is that you can pre book your return trip to the airport too.
Where to stay in Chicago
If you can, stay in the downtown area. Particularly on a short trip it makes it so much easier to get around in a limited time. We ended up visiting Chicago the same weekend as the Chicago marathon, so we had to book accommodation a little out of the centre. If you do decide to book accommodation out of the downtown area then make sure it is close to a subway line.
Eating and drinking in Chicago
Two things that you must do when you visit Chicago are, eat a deep dish pizza and visit a speakeasy. The deep dish pizza is one of those foods that you either love or hate. We happened to love it. There are a number of places in the city that serve it and we ended up at Pizano's. To wash the dish down, you have to visit a speakeasy. Our top recommendation is the Green Door Tavern located in the downtown area.
Days 3 – 5 Washington DC
Flights from Chicago to DC are pretty regular and the flight time is just under 2 hours. Depending on what time you fly, you can either spend your morning exploring the last few bits of Chicago or if you take an earlier flight you can spend your afternoon exploring Washington DC. For a full list of things to do you can checkout our guide.
Things to do in Washington DC
Before we get into things to do in Washington DC, we should add that it is a really interesting place to visit. Most people think of politics when they think of DC and yes there is a lot of that, but there is also a lot of history. There are a lot of museums to visit and so much to learn here and it really is worth your time.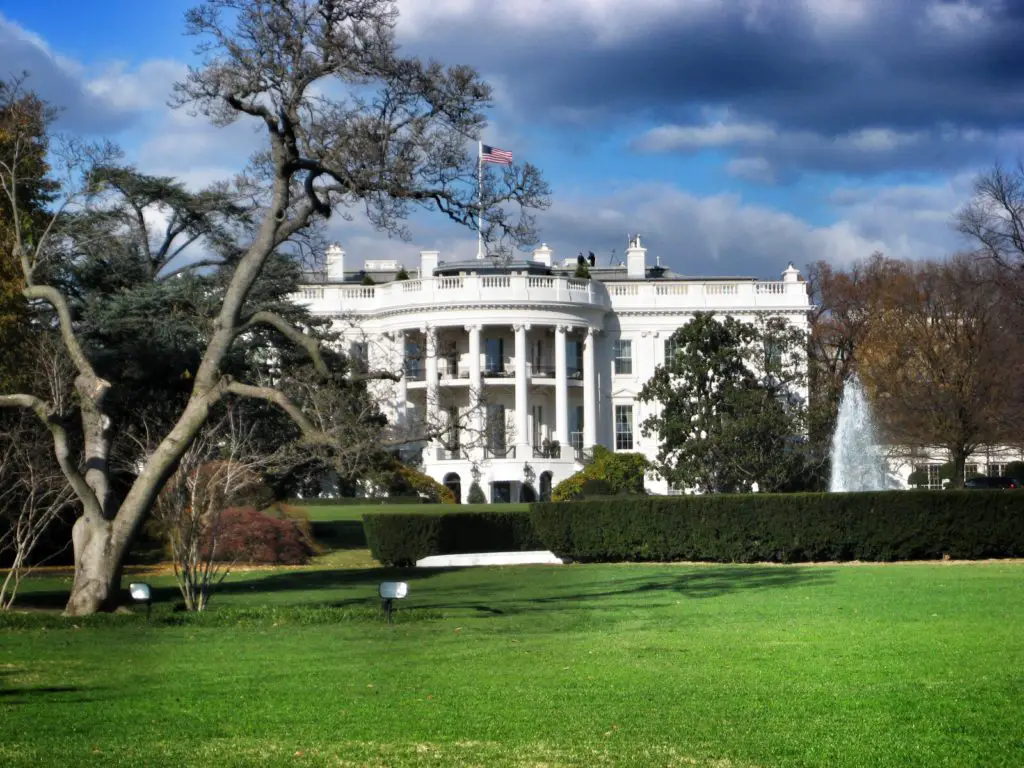 ☞  The White House
This is the obvious attraction. Even if you aren't fond of the person in it, it is still pretty amazing to see.
☞  The War Memorials
This was a poignant place to visit especially when you realise how many people have died as a result of war. The memorials are located in the National Mall and they honour those that fought in World War 2, the Korean War, and the Vietnam War.
☞  The Washington Monument
This is one monument along the National Mall that you cannot miss. It is an obelisk to commemorate George Washington, the first US president.
☞ Capitol Building
This is a truly impressive building, and you don't have to understand politics to see that. You can go on a tour but security is really tight and the lines are really long. Again this is another building you see on TV so much so seeing it in real life is quite incredible.
☞ The Holocaust Memorial Museum
This is probably one of the most moving museums you will ever visit. It really gives you a haunting insight into what happened during World War 2.
☞ Smithsonian National Air and Space Museum
Like most of the museums and galleries in DC this one is free. But the lines can get crazy quickly.Visiting early morning is generally ok and the lines aren't too bad. There are so many cool things to see here from the first airplanes to space capsules. It is a really interesting place to visit as it reminds you of how the pioneers of air and space travel have impacted our lives today.
☞  The Lincoln Memorial
If you are interested in history the Lincoln Memorial is the place where Martin Luther King Jr delivered his "I have a dream speech".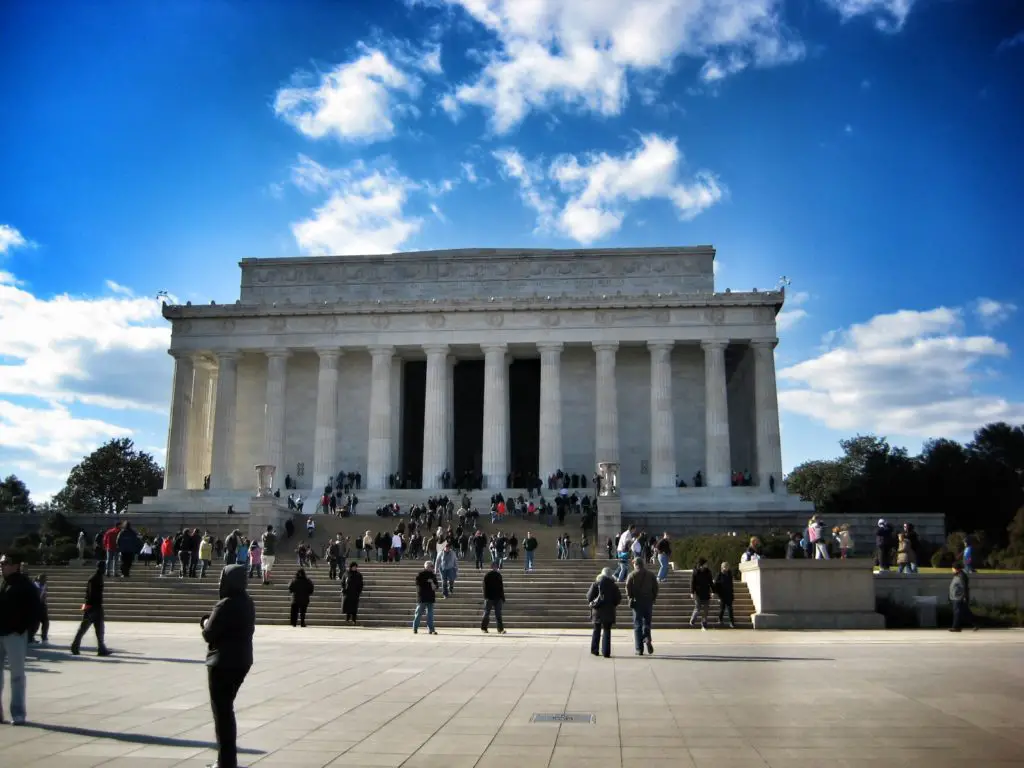 Why visit Washington DC
Washington is great particularly if you are interested in politics. It is also home to some of the best museums in the country so it should not be missed.
Getting from the Airport
You can get public transport into Downtown DC from the airport, but the quickest and easiest way to get to your hotel is to book an airport shuttle.
Where to stay in Washington DC
The main tourist sights and museums are all located around the National Mall, so ideally you want to stay around this area or at least close to a metro station. Downtown DC or Georgetown tend to be quite popular areas, but these areas tend to be slightly swankier and more expensive.
Eating and drinking in Washington DC
Keeping in mind there are a lot of foreign embassies in DC you will notice that food is influenced from all over the world. Chinese and Thai cuisine are really popular as well, and where you eat, will depend on the area you are staying in.
Days 6 – 7 Philadelphia
You can either fly from Washington DC to Philadelphia, get the bus, or the Amtrak. It's under an hour flight time, which is your quickest option but if you are worried about costs you can get the bus. Although keep in mind that this could take around 4 hours depending on traffic.
Things to do in Philadelphia
☞ Liberty Bell
The Liberty Bell is probably the most recognisable symbol of freedom, particularly in the US. Make sure you get that all important Liberty Bell selfie!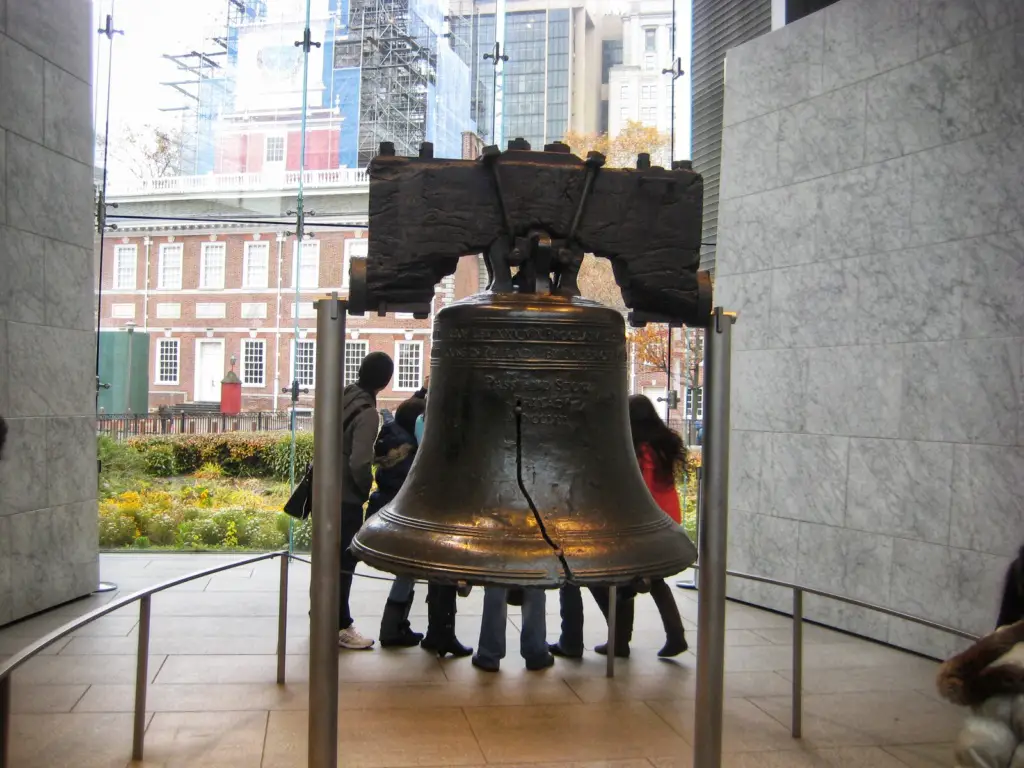 ☞ Independence Hall
This is the place in 1776 where the Founding Fathers signed the Declaration of Independence in the Assembly Room. If that is not impressive enough for you, a mere 11 years later this is where the US Constitution was created as well.
☞ Philadelphia Museum of Art
If you have watched the Rocky Films you will know that the Museum is home to one of the most famous running scenes in movie history. The Museum is also pretty impressive itself and is one of the largest in the country.
☞ City Hall
This is one beautiful building and is actually the largest municipal building in the USA.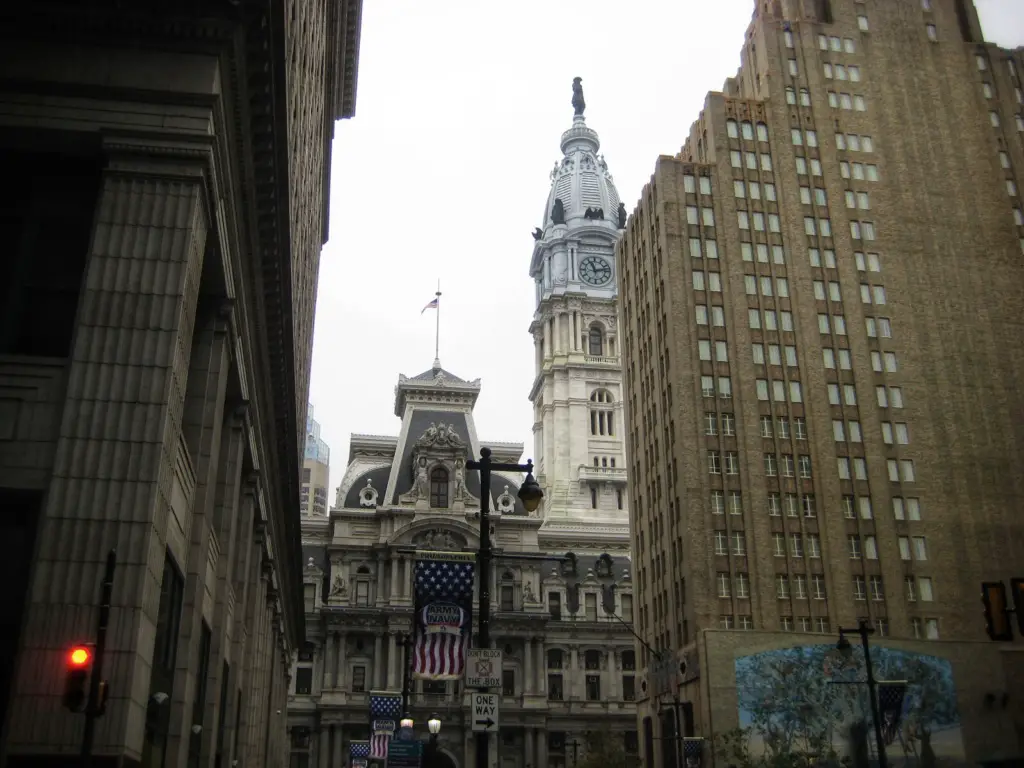 ☞ Reading Terminal Market
This is the USA's oldest farmers market and is a total foodies paradise.
Why visit Philadelphia
Some might say that Philadelphia is the birth place of the USA, so with that in mind who wouldn't want to visit? Plus you have that delicious Philly Cheesesteak so there is that too.
Getting from the Airport
The quickest and easiest way to get from the airport is via the train. There is a regional rail line that picks you up at the airport and gets you to the centre in about 25 minutes, and it is only $8.
Where to stay in Philadelphia
Ideally you do want to stay in the city centre. That way you will be close to transport links as well as the major tourist attractions.
Eating and drinking in Philadelphia
As mentioned above the Reading Terminal Market is a foodies paradise. There are stalls with local produce but also around 30 restaurants to chow down on some good quality food here. And since it is Philadelphia you HAVE to try the Philly Cheesesteak.
Days 8 – 11 New York City
It takes about an hour to fly from Philadelphia to New York City, with several flights leaving everyday. You can also get a bus or travel via Amtrack. If you are driving you are probably looking at about 2 hours drive time. We would recommend getting into New York as early as possible. As they say it is the city that never sleeps and you are going to want to spend as much time here as possible. Here is a comprehensive guide of things to do in case you want to delve a little deeper. We also have a guide for visiting New York when it rains.  
Things to do in New York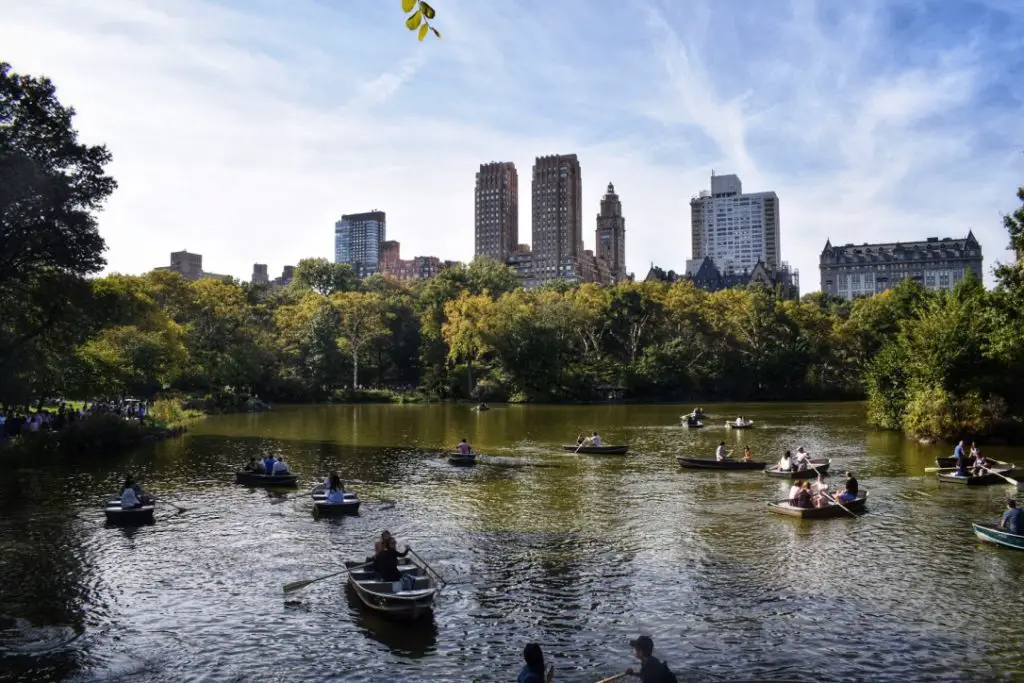 ☞ Central Park
This vast green space in the middle of the city is a must. Here you will find row boats, fountains, horses and carts, and a garden dedicated to the memory of John Lennon, and that is just the beginning.
☞ Brooklyn Bridge
One of the most iconic structures in New York has to be the Brooklyn Bridge. And taking the walk across is a must do when visiting the city.
☞ Empire State Building
Probably one of the most recognised buildings in New York is the Empire State. From the 86th floor you get some incredible views of the city, making you realise just how crowded New York City is.
☞ Top of the Rock
Top of the Rock is a great place to go if you want views of the city which include the Empire State Building.
If you are tossing up between the Empire State and Top of the Rock here is a handy guide to help you decide which one to visit.
☞ The High Line
Created on a disused train track, the High Line is a garden oasis in the middle of a busy city. It is a great place to go to relax and take it all in.
☞ Statue of Liberty
Another must in New York is of course the iconic Statue of Liberty. You can either book a tour that takes you directly to Liberty Island as well as Ellis Island, or alternatively hop on the Staten Island Ferry to catch a glimpse.
☞ Explore the Neighbourhoods
New York has some incredible neighbourhoods. For a comprehensive guide and trip suggestions checkout this post.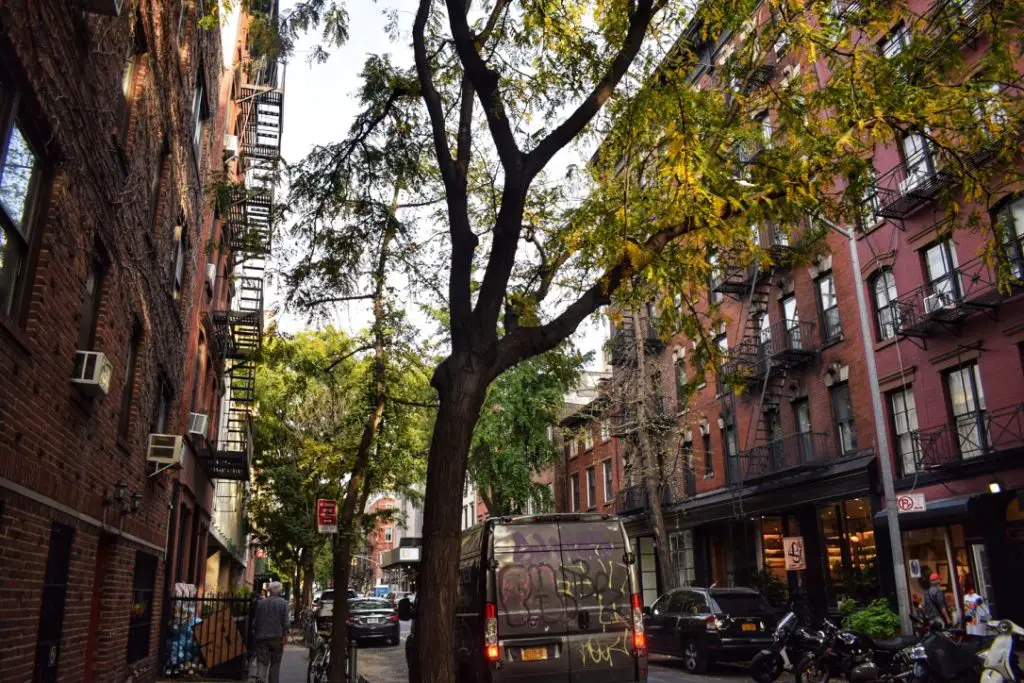 ☞ Visit the Museums
New York has some pretty amazing museums, from the Natural History to the Guggenheim. You cannot visit the city without seeing at least one museum.
Getting from the Airport
There are a number of airports in New York, and most of them have a shuttle bus that will take you straight to your hotel. Just be mindful that New York traffic can be pretty bad. But ultimately it is cheaper than a taxi which is handy.
Where to stay in New York
We ended up staying near Times Square which was great on a short trip, but if you are visiting for a bit longer, we recommend staying in one of the neighbourhoods like the East Village for example. There is a lot more atmosphere and you get to see the less touristy side of New York. No matter where you stay though, you really want to make sure you are near a subway station which will make getting around New York so much easier.
Eating and drinking in New York
We actually wrote a post all about the foods you need to try in New York. There is so much choice and it is hard to narrow down. There are some great places to eat and drink in the East Village including our favourite 24 hour Ukrainian diner Veselka, it is also a great place for drinks and one of our favourite bars was The Immigrant. Another must is a visit to the Dominque Ansel Bakery which is of course the home of the famous Cronut.
Days 12-14 Boston
With our itinerary you don't really get to spend a whole lot of time in Boston, which depending on what you want to do here is either good or bad. If you want more time in Boston obviously you can cut back a day in New York City. The flight from New York is a little over an hour and again there are regular flights daily.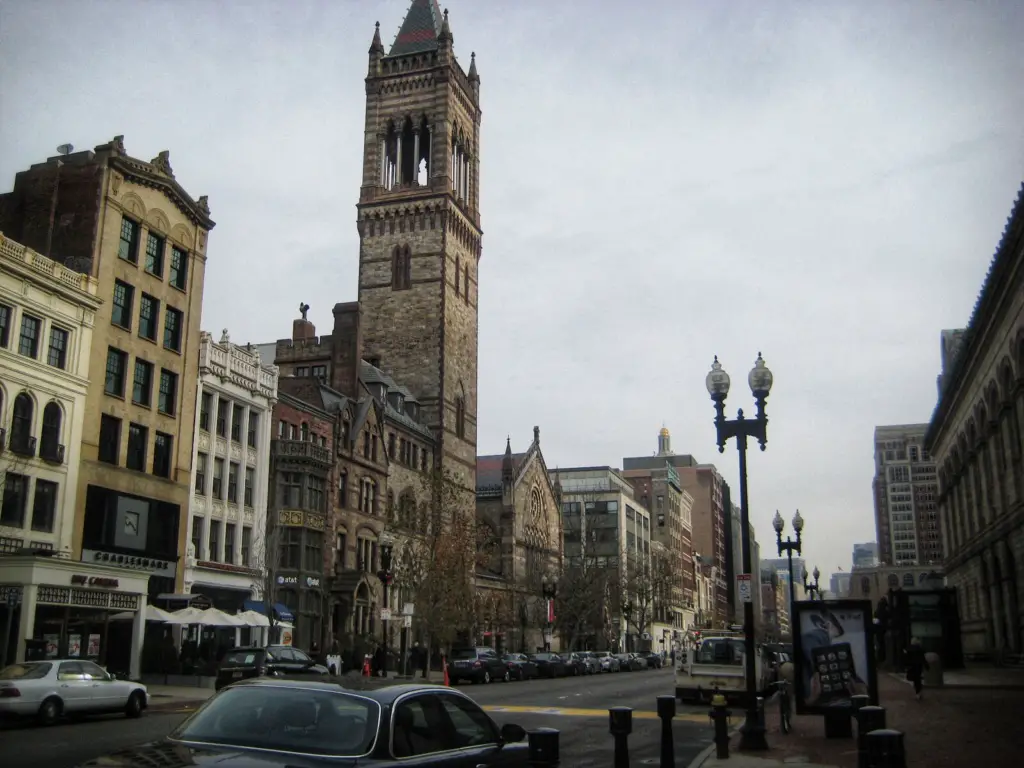 Things to do in Boston
☞ Boston Common
This is the oldest public park in the US and is such a key part of the city's landscape. It is great to visit all year round with the summer months full of people playing sports or reading. In the winter it is a great place to go ice skating.
☞ Museum of Fine Arts
Here is a handy tip – you can actually enter the museum free on Wednesdays after 4pm.
☞  Go to Harvard
If you want to be able to say "I went to Harvard" followed by a very softly spoken 'to visit' then visiting the University is a must. The iconic redbrick walls and stunning architecture definitely make it somewhere you will want to visit.
☞ Freedom Trail
This 2.5 mile long trail takes you past 16 locations that are significant in US history. This is probably one of the best things to do in Boston and is well worth the walk.
☞ Fenway Park
If you love baseball, or even if you don't, Fenway Park is worth seeing. It is actually one of the oldest ball parks in the US and is home to one of the most well known Baseball teams, the Boston Red Sox.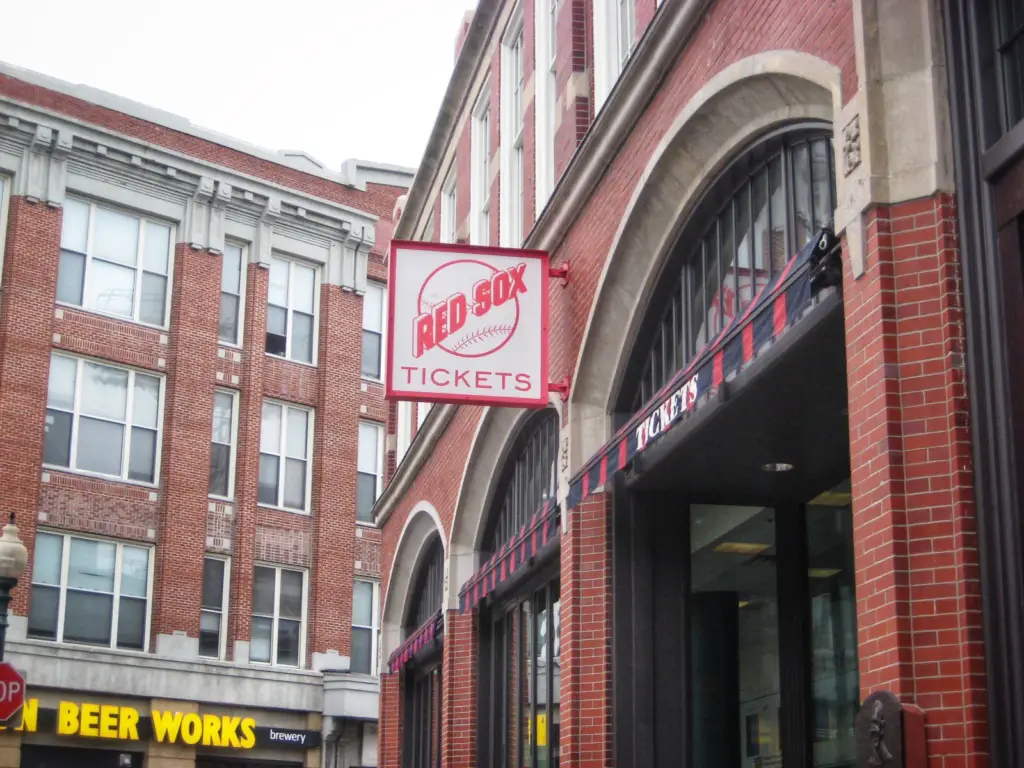 Getting from the Airport
The easiest way to get to Downtown Boston is by bus before transferring to a train. If you hop on the free shuttle this will take you to South Station where you can transfer onto the Red Line train. There is also a water shuttle you can catch particularly if you are staying around the Waterfront area of the city.
Where to stay in Boston
Boston Common and Downtown are one of the more central areas to stay, however the financial district and waterfront are also popular. Boston is a beautiful city and relatively easy to get around so as long as you base yourself around public transport you should be fine.
Eating and drinking in Boston
One of our favourite places to eat in Boston has to be Chinatown. This is home to some of the best dumplings we have eaten. Donuts are also a pretty big deal in Boston, so make sure you eat plenty!
East Coast USA Map
We hope this 2 week East Coast USA travel guide and itinerary will help you plan your next trip. We recommend using this as a guide and tailoring it to suit your own needs. If you want more time in each place, maybe skip Chicago or Washington DC.