A 2 week West Coast USA Itinerary (with map) – everything you need to know to plan the perfect trip
If you have ever been to, or wanted to plan a trip to the USA, you will understand just how big the country is. And it can be so hard trying to just narrow down what you want to see and where you want to go. Put a time cap on top of it and it can be a bit overwhelming. That is exactly why we have put together this 2 week West Coast USA itinerary.
If you only have a limited time to visit, you are best off trying to focus on one section such as the East Coast or the West Coast. In this article we explore some of the must see places along the West Coast including Seattle, San Francisco, Los Angeles, Big Bear, and Las Vegas, in order to help you come up with a 2 week West Coast USA itinerary. We explore the best things to do in each of the places, as well as providing you with tips on where to stay, how to get around and what to eat and drink. So let's start.
Disclaimer: This post contains affiliate links, so if you use these links to buy something we may earn a commission, at no cost to you. Thank you for your support.
Before you leave on your 2 week West Coast USA itinerary
Before you leave on your 2 week West Coast USA itinerary you need to make sure you apply for your ESTA. That is of course if you aren't a US Citizen. If you are then you can skip this bit.
The ESTA stands for Electronic System for Travel Authorisation which allows entry to the USA under the Visa Waiver Programme. But this is only for certain countries such as Australia, UK and, Ireland. You will need to fill in a few questions online including your contact details, employment details, and passport information.
You also need to pay the $14 (approx) fee. Most often you will get a quick response as to whether this has been approved but sometimes it can take a few days. Mine took longer because I am a dual national so had to input two lots of passport details that needed to be checked. The ESTA is then valid for a series of multiple trips over a 2 year period. It also only allows you to stay in the USA for 90 days or less.
When you arrive in the USA for your 2 week West Coast trip, you will probably get asked questions in the airport such as 'purpose of your visit' and 'where are you staying'. You might also get asked about budget and things like that. The USA has a strict immigration policy so these questions are normal when entering the country.
Why should I visit the West Coast in America?
Ok before we get into the nitty gritty of an itinerary, you might be wondering why you should visit the West Coast in America?
The West Coast of America is known for its gorgeous stretch of beaches, particularly in California. So if you love spending time in the great outdoors then a 2 week west coast USA itinerary might just be for you. On top of that you have iconic cities like LA on the West Coast, so if you are a film lover this is a must.
The weather is slightly milder on the West Coast compared to the East Coast. LA for example has decent weather all year round, unlike NYC and Boston that experience super hot summers and icy cold winters. Because of the warmer weather you will find that people are a little bit more laid back on the West Coast as well.
What to expect in this west coast USA itinerary for 2 weeks
Here is what you can expect to find in this west coast USA itinerary for 2 weeks:
Day by day west coast USA itinerary
Tried and tested tips for booking your west coast USA trip
Car rental tips
Accommodation suggestions
Budget recommendations
USA West Coast Itinerary 2 weeks
The more time you have to spend on the West Coast the better, but for the purposes of this article we have come up with a 2 week West Coast USA itinerary. This gives you a decent amount of time to get a taste for life on the West Coast. We have also included Las Vegas which technically isn't West Coast but a quick trip to Vegas is a great way to blow off some steam so we have added it anyway.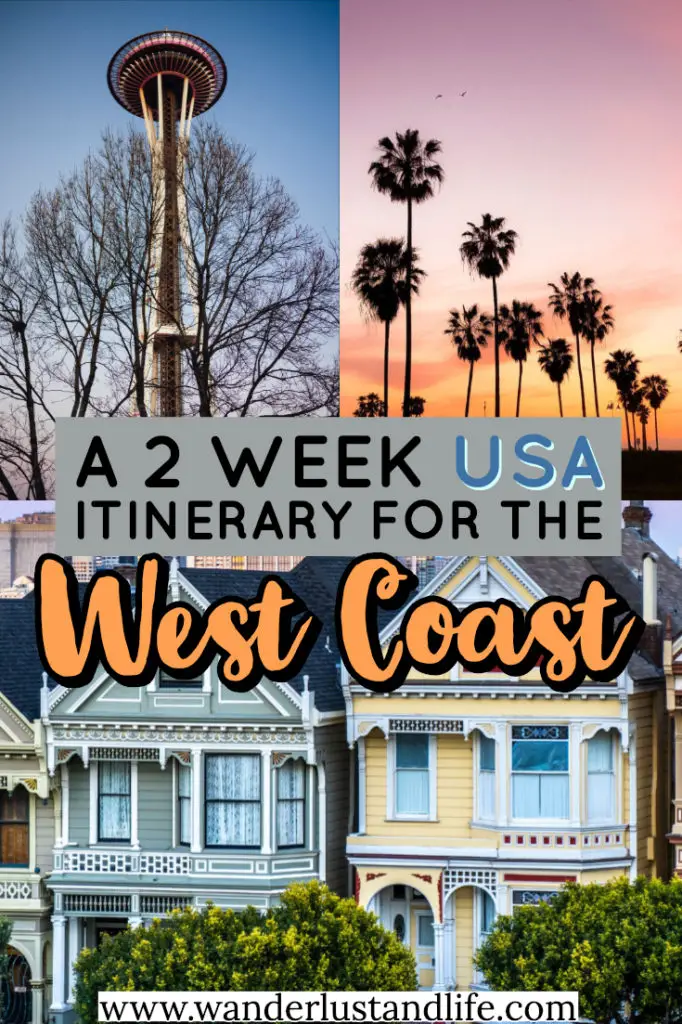 Tips for planning a 2 week USA West Coast itinerary
When planning you USA west coast itinerary here are a couple of things to keep in mind:
Check for any major events happening in a city before you visit. You don't want to arrive somewhere and realise that a marathon is on for example (Chicago I'm looking at you!), which means road closures and expensive hotels.
This guide is based on flying, so if you are driving you might need more time to get between cities. The USA is huge!
If you are arriving from a different country make sure you look at visa requirements before you get to the USA and apply for your ESTA.
Get to grips with tipping in the US. For those arriving from places like the UK or Australia we don't tend to tip as much because servers are paid really well (Australia especially), but in the US tips are required to prop up low wages.
Also get used to tax, just because something is advertised as being a certain price this more than likely won't include tax.
Laws tend to differ state by state so just be aware when travelling between them.
Make sure that you have travel insurance as a hospital visit will cost you a lot!
The USA is quite divided when it comes to politics, so it might be best to think or gauge your audience before you start rubbishing politicians.
Really do your research on the cities you are visiting, and know which areas are good and which are best avoided. LA I'm looking at you in particular.
Also, each US state can often feel like a different country, for instance California and New York State are not only geographically different but can often feel worlds apart in terms of culture and lifestyle.
2 Week West Coast USA itinerary- day by day
Day 1- Seattle
Day 2- Seattle
Day 3- Seattle
Day 4- San Francisco
Day 5- San Francisco
Day 6- San Francisco
Day 7- Los Angeles
Day 8- Los Angeles
Day 9- Los Angeles
Day 10- Big Bear Lake
Day 11- Las Vegas
Day 12-Las Vegas
Day 13- Grand Canyon
Day 14- Las Vegas
Highlights on this west coast USA itinerary for 2 weeks
In this west coast USA 2 week itinerary we cover 4 states and 4 cities
You will get to experience coffee shops, and all things quirky in Seattle
You can visit historical sights like Alcatraz
Experience the beaches of LA
Relax in the beautiful mountain surrounds of Big Bear
Party in Las Vegas
And enjoy one of the 7 natural wonders of the world at the Grand Canyon.
Where to begin on your 2 week West Coast USA Itinerary
When planning where to start on your 2 week West Coast USA itinerary you are either going to want to start in the North (Seattle) or the South (LA/Vegas). That way you can travel in a straight line making it easier to plan.
2 week West Coast USA itinerary Day 1-3 Seattle
We recommend starting your 2 week West Coast USA itinerary in Seattle. It is an incredible city surrounded by mountains, water, and forests. It's also incredibly quirky so a must on any west coast itinerary.
Things to do in Seattle
For more information on things to do in Seattle here is a comprehensive guide. But for an overview read on.
☞ Space Needle
To get a view of the expansive terrain surrounding the city you should head up the Space Needle. From the observation deck you get 360 degree views of Seattle from 520 ft in the air. You can purchase your tickets on the day or online in advance.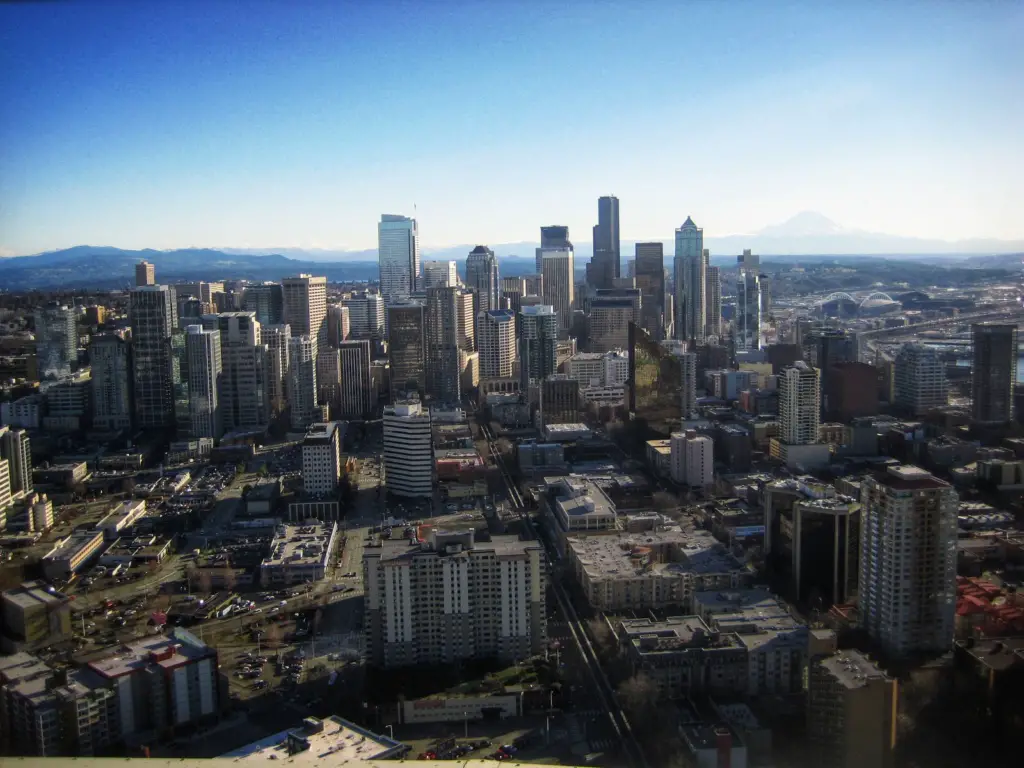 ☞ Museum of Pop Culture
Just a short walk from the Space Needle is the Museum of Pop Culture. It is an immersive museum that contains some rare artefacts including lyrics written by Nirvana and Jimi Hendrix, both prominent acts born in Seattle.
☞ Freemont
One of the quirkier areas of Seattle, Freemont is a fun place to explore with lots of vintage shops and supercool cafes. It is also home to the famous Freemont Troll located under the George Washington Memorial Bridge.
☞ Harbour Cruise
Another must do in Seattle is to do a harbour cruise. You get to enjoy an impressive view of the skyline, as well as visiting one of the world's busiest shipping harbours.
☞ Gum Wall
Only a city as quirky as Seattle can get away with having a wall literally filled with gum as a tourist attraction.
☞ Hop on Hop Off Bus Tour
One of our favourite things to do in a new city is to do a Hop on Hop off bus tour. It's great when you only have a limited time in a city because it gets you oriented with it very quickly.
☞ Pike Place Market
This is one of the best markets we have been to. The seafood here is incredible and it is a great place to get all your Seattle souvenirs too. If you want to do a food tour we highly recommend it. We have included some of the best food tours you can book onto.
For more information on the best Pike Place food tours you can read this post.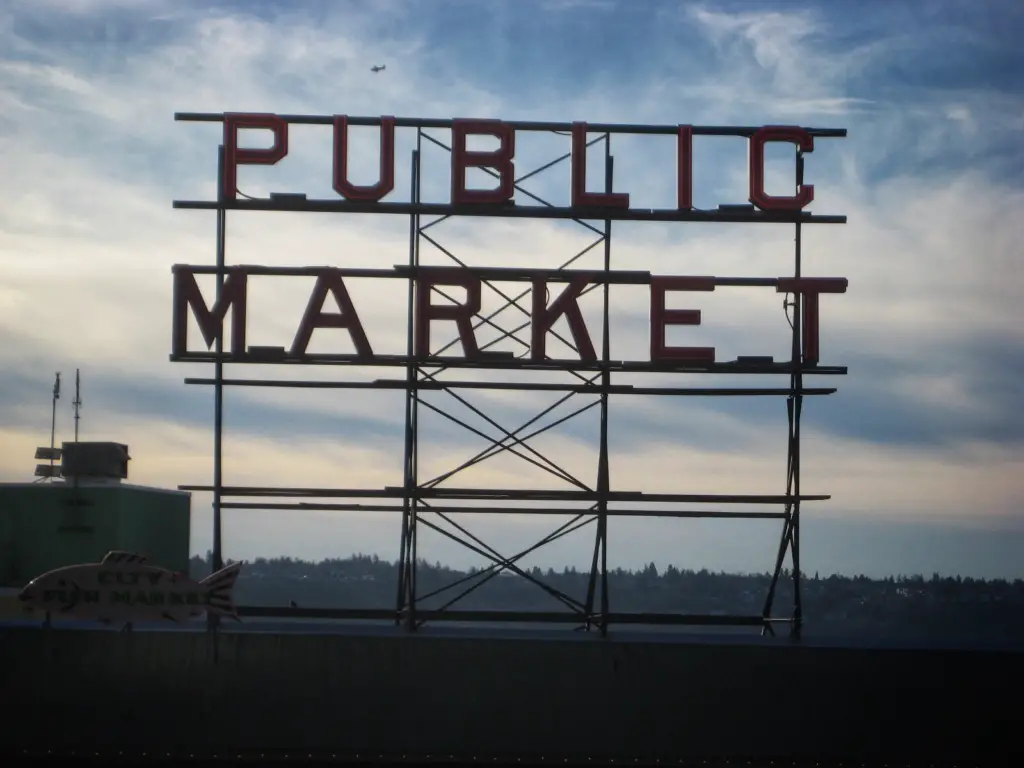 Why visit Seattle
While Seattle is definitely an underrated city, it is an eclectic city and with so much natural beauty too, it is certainly worth a visit. It is also the place the first Starbucks opened and the birthplace of grunge music.
Getting from the Airport
The cheapest and easiest way to get from the airport in Seattle is by Light Link Rail. It takes approximately 40 minutes to get from the airport to downtown Seattle, and will set you back a little over $3. You could also get a shuttle bus which will cost a bit more but takes you straight to your hotel door.
Where to stay in Seattle
The most convenient place to stay in Seattle is the downtown core and whilst it may be a little more expensive it makes it so much easier to visit all the must see tourist spots. It also means you are close to public transport and close to a lot of the action.
Eating and drinking in Seattle
We highly recommend visiting the original Starbucks located at Pike Place Market. It is interesting to see the first store, particularly as you practically get them on every street corner now. Coffee is a pretty big deal in the city, so we also recommend a coffee culture walking tour.
2 Week West Coast USA itinerary Days 4-6 San Francisco
Stop 2 on our West Coast USA itinerary is non other than San Francisco. It is a city filled with laid back vibes, great food, and even better weather.
The flight time from Seattle to San Francisco is just over 2 hours. There are regular flights everyday with a variety of airlines. For a more comprehensive guide of things to do in San Francisco checkout our post, otherwise read on for a brief guide of things to do.
And if you are tossing up between Los Angeles and San Francisco for your next trip you should read this post.
Things to do in San Francisco
☞Postcard Row
To get those postcard perfect shots of San Francisco you have to checkout Postcard Row. It is famous for the row of houses referred to as the 'Painted Ladies' with the city skyline in the background. You will probably recognise these houses from TV shows. And if TV is your thing, there is a tour you can do that takes you to all the famous San Francisco filming locations including Postcard Row.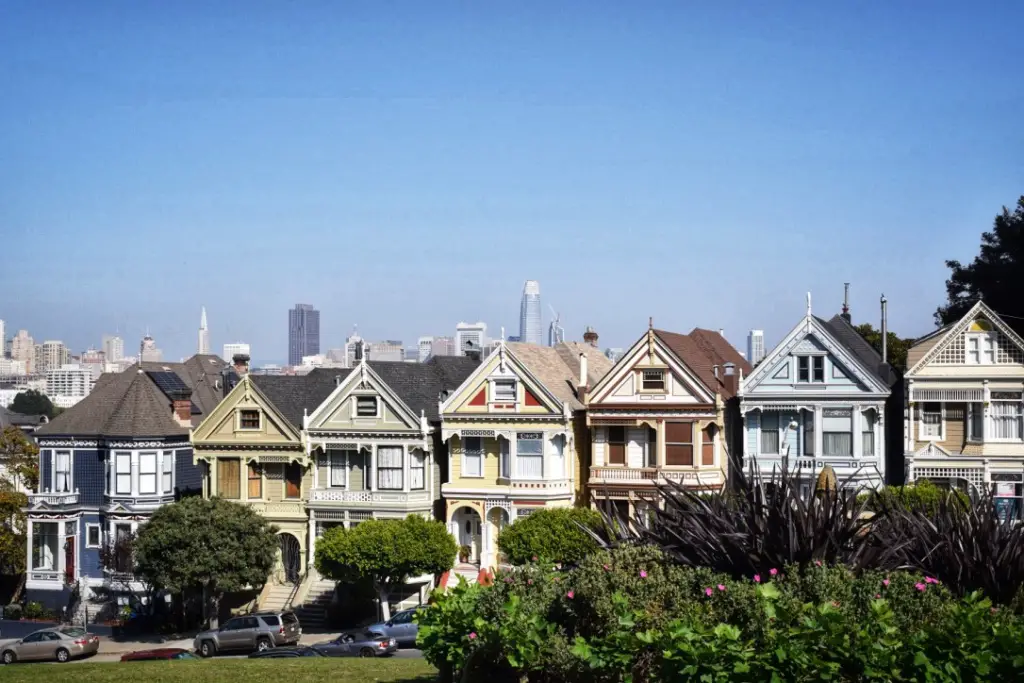 ☞Golden Gate Park
If you want to explore some of California's natural beauty, then the Golden Gate Park is the perfect place to go. One of the highlights of the park has to be the Japanese Tea Garden which is a great place to sit and reflect if you have the time.
☞ Golden Gate Bridge
One of the must do's in San Francisco is walking across the Golden Gate Bridge, one of the city's most iconic structures.
☞ Haight Ashbury
Haight Ashbury is a great place to go if you are a fan of the unusual. There are a number of quirky shops and cafes, and it is an area synonymous with the hippie movement in the 1960's.
☞  Pier 39
Probably one of the most touristy places in San Francisco has to be Pier 39. But don't let that put you off. It is a great place to explore, and you get some amazing views of Alcatraz from here. The sea lions are also pretty amazing to see and have been drawing tourists in for years.
☞  Historic Cable Cars
You can't say you have been to San Francisco if you haven't hung off the edge of a cable car as it whizzes down one of the city's incredibly steep hills. There are two lines; one that takes you from near Fisherman's Wharf to Union Square, and one that goes past Lombard Street.
☞ Lombard Street
One of the steepest and most beautiful streets in San Francisco is Lombard Street. It is mostly tourists who drive down, although you do see the occasional resident too.
☞  Alcatraz
One of the most notorious prisons in US history has to be Alcatraz. If you choose to do a tour make sure you book your tickets in advance as if you don't, there is a high chance you will miss out! You can read our top tips for visiting Alcatraz here. And below are some bundle tours that include Alcatraz that you can book onto in advance.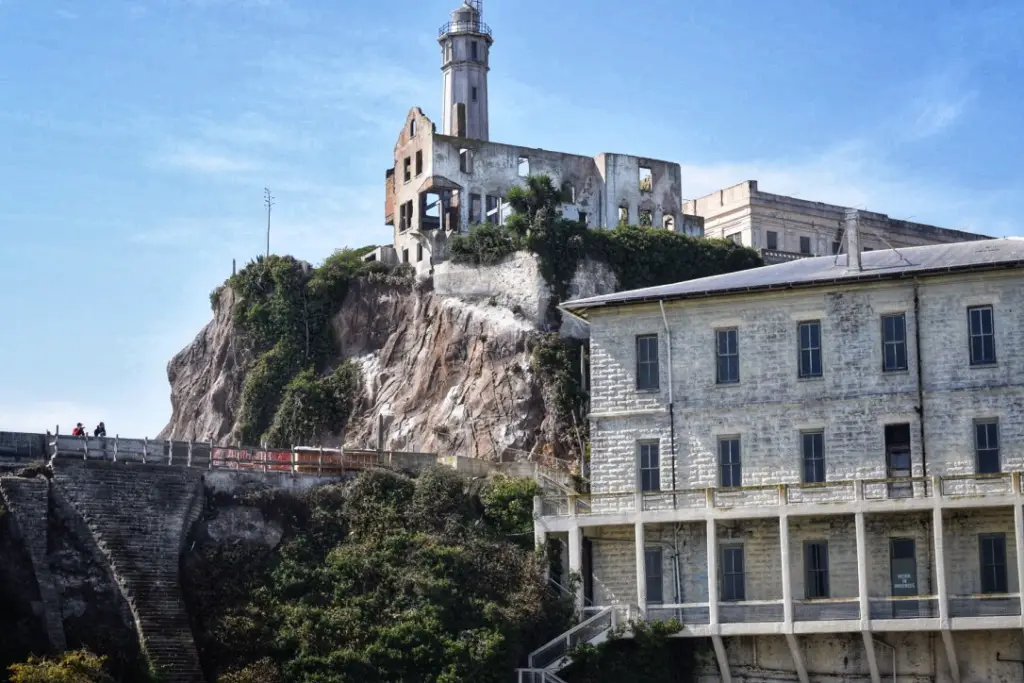 Getting from the Airport
The easiest and cheapest way to get to downtown San Francisco is via the BART. Although you are limited in the stops you can get off within the city. If you are staying near Union Square then this option is perfect, but if you are staying near Fisherman's Wharf for example you will need to disembark and change onto another form of public transport. You can also get the airport shuttle which will usually drop you straight off at your hotel.
Where to stay in San Francisco
We stayed pretty close to Union Square which was really handy. It was a short walk to Chinatown and a number of restaurants and bars. It was also close to the BART station as well as the MUNI metro.
Eating and drinking in San Francisco
Our top tip in terms of food has to be Chinatown. You have so much choice and the food is really good including Japanese, Chinese, and Vietnamese food.  It is also relatively cheap. If you are a fan of seafood we recommend heading down to Fisherman's Wharf. They do some pretty good clam chowder bowls and quick bites.
2 week West Coast USA itinerary Days 7-9 Los Angeles
LA is one of those places you either love or hate. But you definitely need to see it for yourself and make up your own mind about it. A lot of people brush LA off but if you plan ahead and stay in the right areas then it really is a fun place to visit.
There are regular flights between San Francisco and Los Angeles and the total flight time is under an hour. For more information on LA you can read our guide.
Things to do in Los Angeles
☞ Griffith Observatory
For some great views of the Hollywood sign and LA in general, the Griffith Observatory is a must. You can also learn all about the cosmos and look through some powerful telescopes.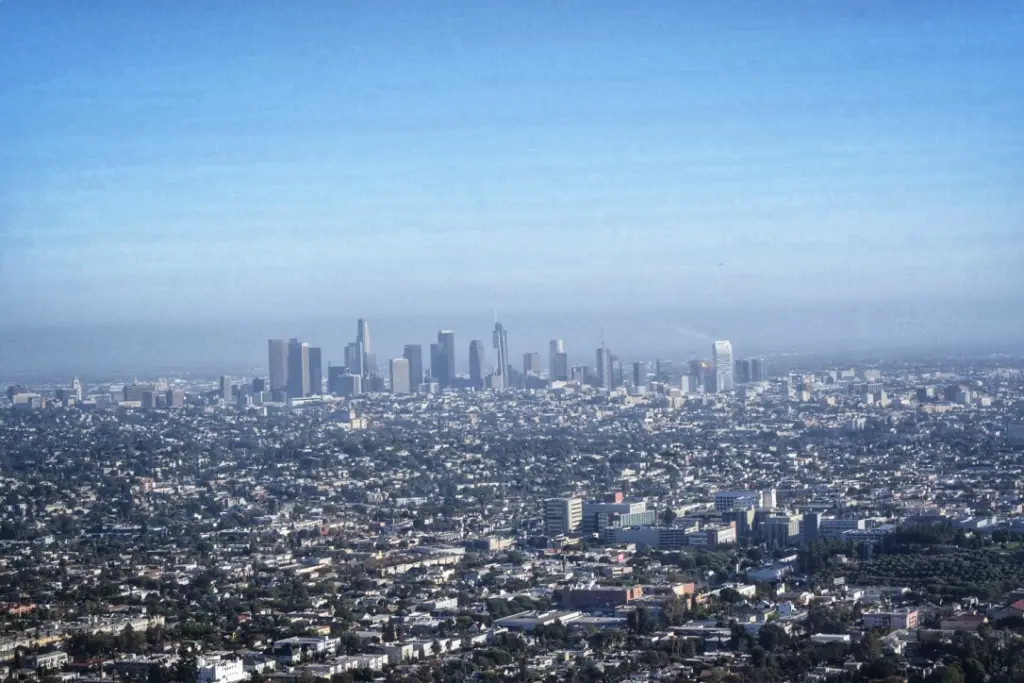 ☞ Hollywood
You cannot go to LA without visiting Hollywood. Contrary to popular belief it is not swarming with celebrities, instead you will find your typical tourist activities and wax museums. Some must see parts are the walk of fame as well as the handprints at the TLC Chinese theatre.
You can also book onto one of those celebrity homes tours, and most of these originate from the Hollywood area.
☞ Hike the Hollywood Hills
If you want to get a bit closer to the Hollywood Sign you can do a guided tour. You will learn all about Hollywood and the surrounding areas, and the views are incredible too.
☞ Beverly Hills
Full of fancy shops, fancy cars, and fancy people, Beverly Hills is where you come to be seen. It isn't everybody's cup of tea though!
☞ Universal Studios
You cannot visit LA without a trip to Universal Studios. It's not only rides and gimmicks, here you can tour a real working studio, and learn more about filmmaking. You do need a good day here, especially if you are into rides so give yourself a good amount of time.
☞ Warner Brothers Studio Tour
Another studio you can visit is Warner Brothers, which includes getting your picture taken at a replica Central Perk set.
☞ Hop on Hop Off Bus Tour
Because LA is so big a Hop on Hop Off Bus tour is a good way to cover quite a bit of ground in the city and see some of the key attractions. There are different routes you can book onto and this can all be done online in advance.
☞ Santa Monica
A great place to go shopping or ride some rollercoasters by the sea, Santa Monica is always a fun day out. It is also very different to Downtown LA or Hollywood so do venture out if you get the chance.
☞ Venice Beach
One of the true gems in LA is Venice Beach. It is one of the best places for people watching and is about as far removed from the Hollywood glitz and glamour as possible. If you do get the time we highly recommend visiting. Here are our suggestions on the best things to do in Venice Beach.
Also a top tip, Venice has some of the best sunsets we have ever seen, so if you get the chance to visit during sunset take it. Here is a walking tour you can do at sunset for good measure.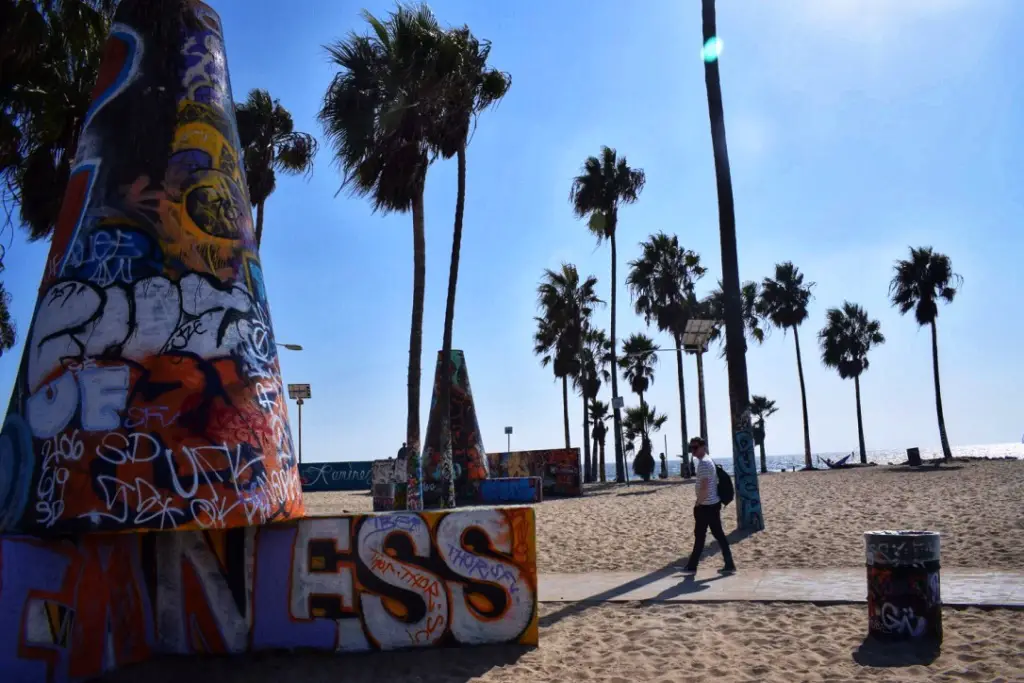 Getting from the Airport
LA is absolutely huge and so the best way to get to your hotel is via the airport shuttle. It is actually relatively cheap compared to airport shuttles in other cities, and you get dropped off right at your hotel door. You can book the shuttle at the designated booth in the arrivals section of LAX.
Where to stay in Los Angeles
There are so many different parts of LA to explore but one of the best areas to stay has to be Hollywood. There is a lot going on in terms of nightlife and it is much nicer than say Downtown LA. We actually ended up staying in Downtown LA at a nice hotel. The only issue was we didn't really feel comfortable exploring at night.
Eating and drinking in Los Angeles
Hollywood is a great place to go for a mix of food. Our favourite place though was Mel's Drive In. It is a great place to go for milkshakes and apple pie, which is pretty much all I wanted since we landed in the US.
2 week West Coast USA itinerary Day 10 Big Bear Lake
This is the part of our 2 week West Coast USA itinerary that is perfect if you want to relax. So if you are wanting a break from the hustle and bustle of cities, and want to be at one with nature we recommend a trip to Big Bear Lake. It's better to rent a car in order to get there, and if you are looking for tips you can checkout this post.
Things to do in Big Bear Lake
Big Bear Lake is great all year round. In the winter it is popular amongst skiers and snowboarders, and in the summer months it is an ideal place for boat trips and hikes.
Getting here from LA
We hired a car in LA and did the drive to Big Bear Lake. It takes around 2-3 hours depending on traffic and the views along the way are absolutely stunning.
Where to stay in Big Bear Lake
We highly recommend booking lakeside accommodation. We stayed in a resort right on the lake where the rooms had a cabin feel. It was perfect especially in the evening as we had a fireplace which made everything feel that much cosier.
Eating and drinking in Big Bear Lake
If you make your way into the village there are a number of places to eat and drink. Our favourite though had to be the Peppercorn Grille. They serve food including staples such as pizzas, burgers, and steak. They also rustle up a pretty decent cocktail.
2 week West Coast USA itinerary Days 11-14 Las Vegas
I know that technically it isn't on the West Coast per se but nothing beats that incredible feeling of driving through the desert into Las Vegas. The drive from Big Bear Lake is about 3-4 hours depending on traffic and whether you stop off anywhere. And as you see Vegas in the distance growing ever larger, the excitement hits you.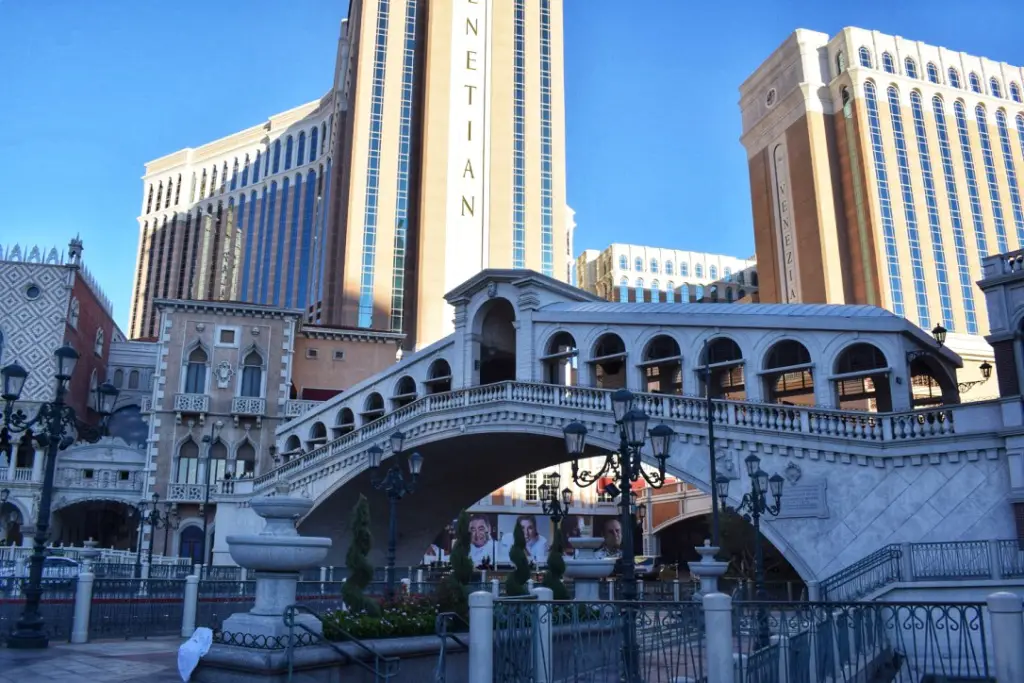 Things to do in Las Vegas
These are some of the top things to do in Las Vegas, but if you want more info and our Las Vegas bucket list suggestions checkout this post.
☞ Hotel Hopping & Gambling
Let's face it, the number one thing to do in Vegas is to hotel/casino hop. The hotels are incredible here and walking into each one is like walking into a different world.
Highlights include:
Floating around on a gondola at the Venetian and/or visiting Madame Tussauds.
Riding a rollercoaster at New York New York.
 Gazing out from the top of the Eiffel Tower at Paris.
Riding the High Roller at the LINQ.
☞ Vegas Sign
No trip to Las Vegas is complete without a selfie in front of the Vegas sign. Located at the top of the strip near Mandalay Bay, you will find queues of people lining up to get a picture of the famous sign.
☞ Freemont Street/ Old Las Vegas
Old Las Vegas comes alive around Freemont Street. There are a number of things to do here from the zip line that whizzes you across Freemont Street at speed, to the Neon Sign Museum. Also worth a visit is the Mob Museum which shows you the fascinating history of the mob in Las Vegas.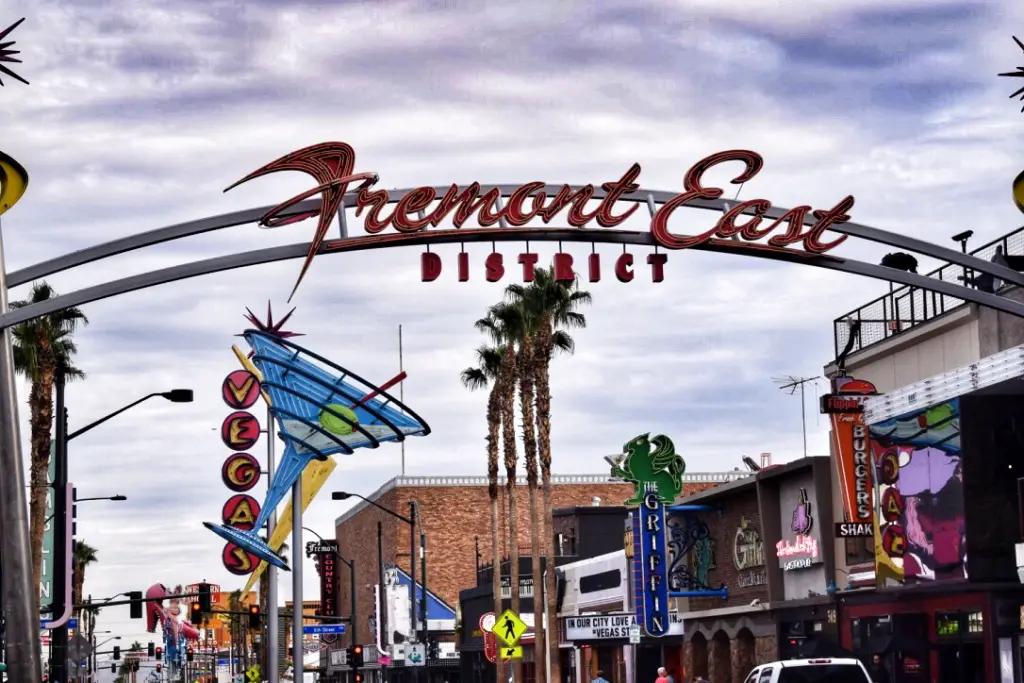 Grand Canyon Day Trip
There are a number of day trips you can do from Vegas, including the Hoover Dam and the Grand Canyon. You can book these tours through your hotel concierge and if you have the time they are a nice break away from the craziness that is Las Vegas. If you plan on visiting the Grand Canyon, just be aware that it is a full day trip leaving early morning back late at night (unless you have struck it lucky and can treat yourself to the helicopter tour), but if you do have the time it really is worth it!
Here are a couple of tours that you can do to give you a bit of inspiration.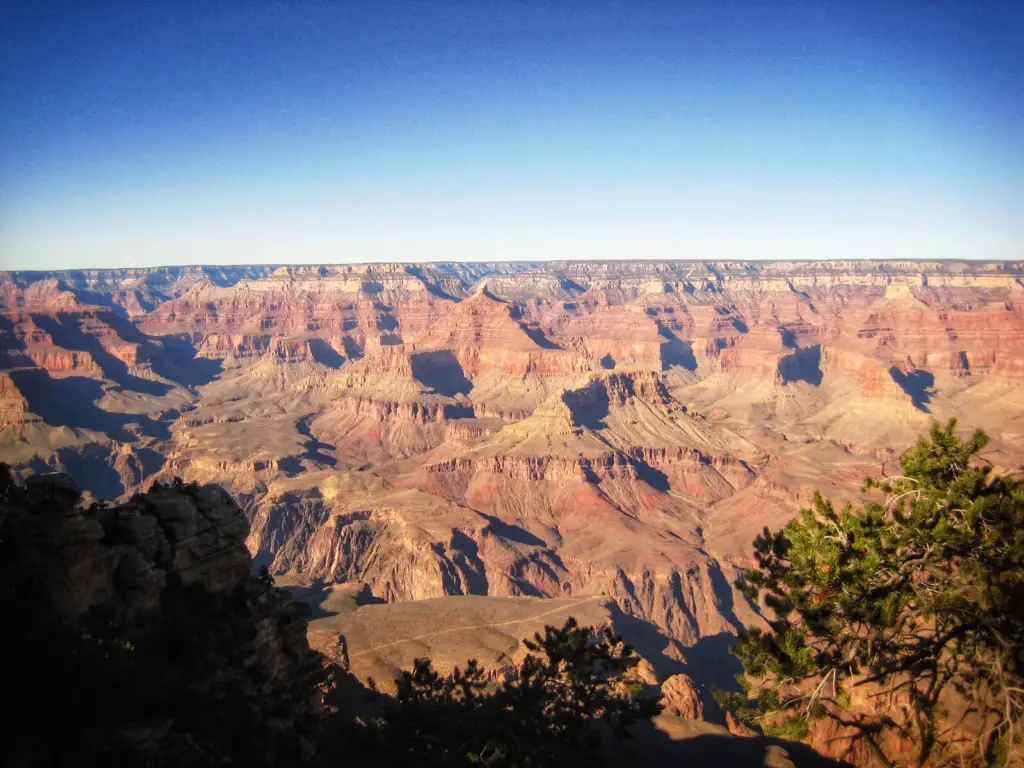 Getting from the Airport
The easiest and quickest way to get from the airport to the Vegas Strip is via shuttle bus. You may have to wait a while depending on what time you fly in, but the service is great and you get driven straight to your hotel door.
Where to stay in Las Vegas
Ideally you want to stay on the Vegas Strip as this is where most of the action is. We stayed at Paris, and it was centrally located and in the middle of all the hustle and bustle. Hotels in Vegas range in price and also standard so whatever your budget, there is a lot of choice.
Eating and drinking in Las Vegas
You will be spoilt for choice for food and drink in Vegas, from the elaborate hotel buffets to the restaurants owned by celebrity chefs. There are way too many places to choose from and something to cater for all tastes.
Wondering is Las Vegas worth visiting read this post. 
2 week West Coast USA Itinerary – Map
Here is our map of all the places mentioned in our 2 week West Coast USA itinerary. Most of our recommendations cover flying (with a small section of driving in the middle), but as you can see it is also pretty drivable, with the largest stint being from Seattle to San Francisco. If you do drive though you might want to add a couple of extra days to your West Coast itinerary as there are so many more stops that you will want to make.
Is a 2 week west coast USA itinerary enough time?
One of the questions you might be wondering is, is a 2 week West Coast USA itinerary enough? Well, yes and no. For starters 2 weeks on the West Coast gives you ample time to explore a few major cities, enjoy a bit of nature, and get to grips with the culture and way of life.
But you have to remember that the USA is big. Really big. Travelling between cities and states can take quite a bit of time. Whether you choose to fly or drive, you have to factor travel time into your itinerary. In an ideal world we felt like we could have spent a good 3-4 weeks alone just exploring the West Coast USA. There are so many places we felt we missed out on, which I guess just means we will have to plan another trip!
Getting Around during your 2 week west coast USA trip
With this itinerary we wanted to focus on flying predominately. Unlike other parts of the world flying is really affordable in the US. Apart from your standard airlines like Delta, American Airlines, and United, you also have a large range of budget carries such as Spirit, Frontier, Southwest and JetBlue. Flights between major cities are frequent, and there are often several flights a day.
Also for my European friends, if you are used to flying RyanAir or Easyjet then the US budget Airlines are similar if not slightly more spacious. To get the best deals book your flights in advance.
In this itinerary there is also a small section that involves driving. So if you intend to rent a car in the USA here are some key points to remember.
You have to be 25 or over to rent a car.
If you are from the UK or Australia remember that you need to drive on the opposite side in the USA.
The roads and therefore the cars tend to be much bigger than in the UK for example, so be prepared to drive on multilane highways.
Get a SatNav especially if you are driving out of LA.
Always get the full insurance when renting a car.
Buy a phone charger for the car.
USA 2 week West Coast Itinerary – Money Matters
One thing that we get asked quite a bit is how much will this trip cost. It is hard to give you a definitive answer because it all depends on what kind of hotel you want to stay in, where you want to eat, and what you want to see.
For example, hotels are quite pricey in the US (compared to Europe) and ideally you will want to stay in the city centre, so you need to factor this in. It also depends on the time of year you visit, as hotels are more expensive in peak season. We probably spent around $1800 on accommodation alone on our trip, which was mid range accommodation, but always in a central location. We also had about $2000 spending money between the two of us for this time, as we did pay for a lot of tours and attractions.
While hotels are expensive, food tends to be quite a bit cheaper than in Australia or the UK. Portion sizes are also a lot bigger so you do get more bang for your buck. Overall the US isn't massively expensive, but again it depends on where you are going and what you are doing.
When is the best time to plan your 2 week West Coast USA trip?
A trip to the West Coast USA is doable at any time of the year, but there are probably some factors that you need to consider. Also keep in mind it will be a completely different style trip depending what time of year you visit.
2 week west coast USA itinerary in summer
Summer will obviously be peak in terms of accommodation and tourism, so things will be a bit more expensive. Also, if you are planning to visit California, but LA more specifically you are looking at temperatures in the 30's (Celsius) or 87 (Fahrenheit).
Las Vegas is also pretty warm in the summer months. And when I say pretty warm, I mean hot and humid. Even days spent by the pool can be a little unbearable.
If you are planning your 2 week west coast USA itinerary for the summer months make sure you book accommodation and tours well in advance. And pack weather appropriate clothes, and suncream!
2 week west coast USA itinerary in winter
Winter tends to be more of the off season on the west coast. In my opinion the cities, particularly LA, Vegas, and San Fran are made for warmer weather, so they can feel slightly disappointing in the winter months. Seattle tends to get colder, whilst LA and Las Vegas are slightly more mild.
2 week west coast USA itinerary the rest of the year
If you can we would recommend visiting during the shoulder season. For example in September and October temperatures are more mild. April and are also good times to visit because things are warming up slightly and the spring time is exceptionally beautiful in places like Big Bear.
There are less tourists at these times of year, and accommodation is much cheaper than the summer.
So should I plan a 2 week West Coast USA itinerary?
If you are on the fence about whether you should plan a 2 week West Coast USA itinerary, then hopefully this will persuade you to go. The West Coast is a truly amazing part of the USA especially if you like sunshine, beaches, and much more.
Hopefully this 2 week West Coast USA itinerary will help you plan your next trip. Please do pin this post for later if you found it useful.