Stepping into Vegas is like stepping into a playground for adults. Where instead of slides and swings you have Blackjack and jello shots. It's indulgent, it's over the top, and it's really really fun! So you have 2 days in Las Vegas and you want to know how to see it all in a short time well, look no further.
In this guide we go through the best things to see, do, and eat, when visiting Vegas. From casino hopping to experiencing a bit of old vegas gangster history, this guide has something for everyone. Here is our 2 day Las Vegas itinerary to help you plan your own trip to this incredible city.
Wondering is Las Vegas worth visiting read this post. 
Disclaimer: This post contains affiliate links, so if you use these links to buy something we may earn a commission, at no cost to you. Thank you for your support.
2 day Las Vegas itinerary Factsheet
Country: USA
Currency: US Dollar
Famous for: Partying, gambling, indulgent hotels,
Visit if you like: Having a good time!
Also known as: Sin city
When planning the perfect itinerary for vegas it's important to remember that more than 41 million people visit the city, and over 22,000 conventions are held here each year. With numbers like that you definitely want to make sure you are planning your 2 day Vegas itinerary well in advance.
It's also probably not surprising that Vegas is considered one of the brightest places on earth, especially with its millions of lights.
The city has come a long way since its origins in 1905. It was founded by a group of developers who were hoping to build a railroad stop between Salt Lake City and LA. The original heart and soul of the city and where the big hotels sprung up, was Fremont Street. It wasn't until 1946 when the first hotel, The Flamingo, opened on the strip as we currently know it. Other lavish hotels were built and eventually the strip became the place to be.
2 days in Las Vegas – Getting there
Most people start their 2 days in Las Vegas by flying into McCarran International Airport. The airport is surprisingly close to the Las Vegas strip although you will want to get either a taxi or a shuttle bus to your hotel. These can all be booked upon your arrival at the airport. Depending on which hotel you are staying at and other drop offs it can take as little as 10 minutes for you to hop in the shuttle bus and be dropped off right at your accommodation.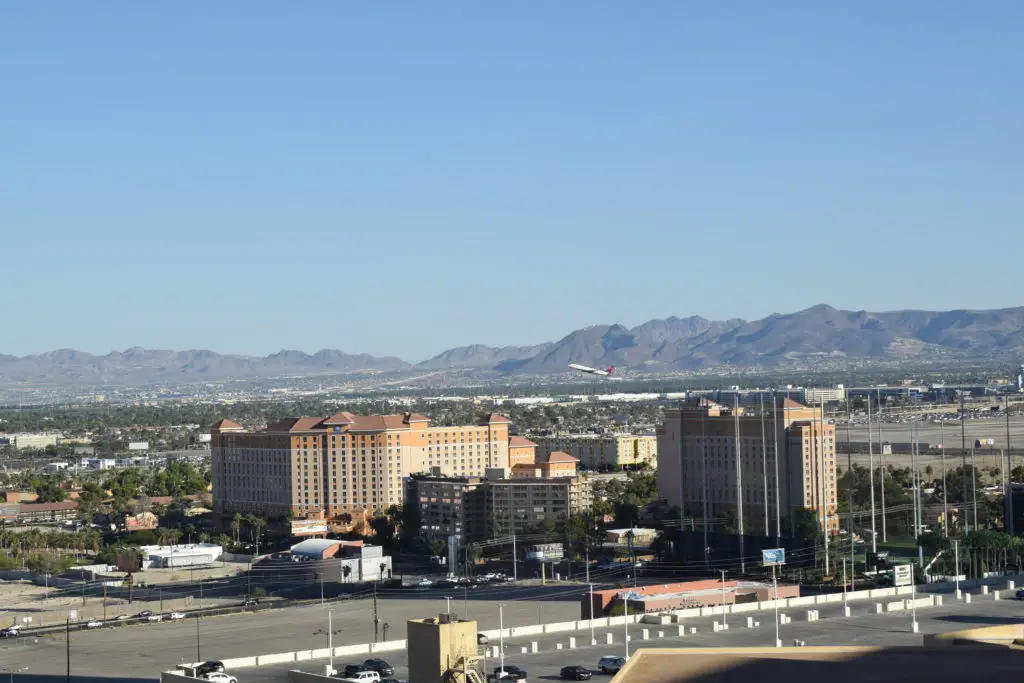 When to plan your 2 days in Las Vegas
Due to its desert location the weather in Vegas is pretty warm. With that in mind we would probably NOT recommend visiting smack bang in the middle of summer. Especially because you don't want to spend your 2 days in Las Vegas suffering from heat stroke. April- May or September- October tend to be good times to visit. The weather is far more mild which makes those walks down the Strip that much more bearable.
If you happen to be visiting Las Vegas in November, here is a really handy guide to help you prepare.
Getting around as part of your 2 day Las Vegas itinerary
So you might be wondering how to get around during your 2 days in Las Vegas. Las Vegas is pretty big, and whilst you probably want to spend some time walking between hotels keep in mind that each hotel is massive, so walking from one end of the strip to the other will take a bit of time. The bus network in Vegas is really reliable and enables you to travel up and down the strip as well as to downtown Vegas cheaply.
We ended up using Ubers to get around most of our time in Vegas. They are plentiful and especially in comparison to the UK prices, quite cheap. One thing to remember in Vegas is that you can't hail a taxi from the street. They need to pick you up at an actual address, such as a hotel taxi queue.
Another cool way to travel around the Vegas strip in particular is by monorail. There are different ticket types you can purchase, but keep in mind the monorail only stops at specific hotels.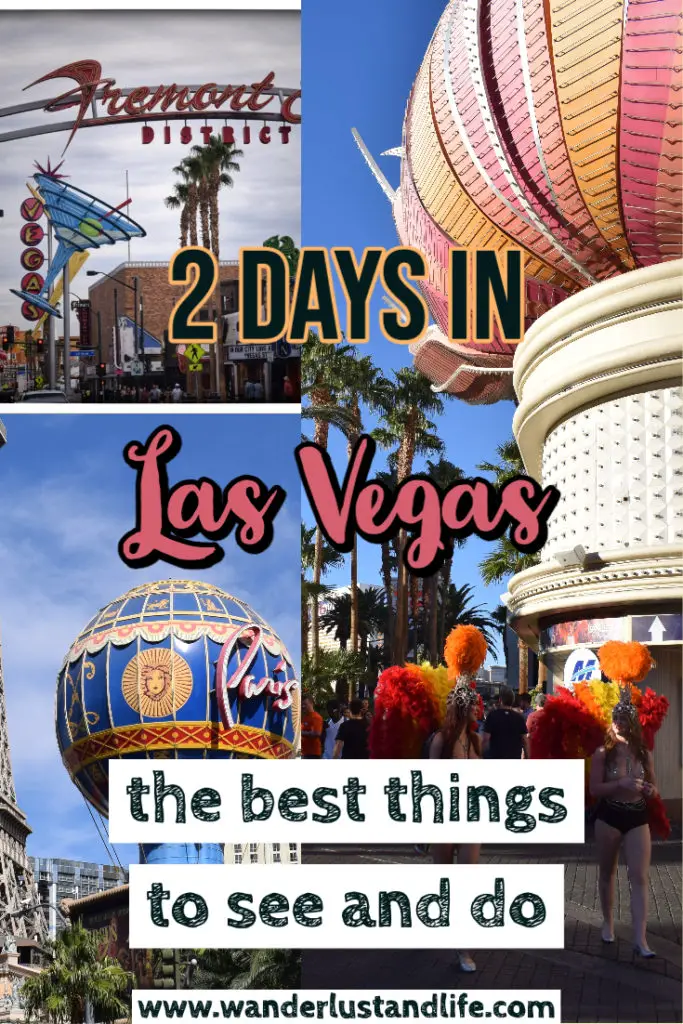 Tips for planning your Las Vegas 2 day itinerary
Here are some top tips when planning your itinerary for vegas that might come in handy for you.
Things are further apart than you might think, so when booking accommodation make sure you are close to all the things you want to see.
Casinos offer you free drinks to keep you gambling, so keep that in mind, it might end up being cheaper playing the slots for a bit then buying tons of drinks at the casino bar.
If you take a photo of one of the 'costumed' characters walking around the Strip, expect to pay them for the picture.
Hotels, especially those on the Strip will charge you a 'resort fee' which often is not included in the price during booking. Make sure you do your research and factor this in to your budget.
Is 2 days in Las Vegas enough?
One question we have found that comes up quite a bit is 'Is 2 days in Las Vegas enough'? Like any destination, it depends on what you plan to do when you get there. If you are hoping to go clubbing all night and then exploring all day, 2 days in Vegas might not be enough for you.
Similarly if you are planning any day trips to the Grand Canyon or the Hoover Dam then you will need more time. It is possible to see Las Vegas in 2 days, but you do need to be strict with what you want to see and make a plan. The ideal amount of time in Vegas is probably around the 5 day mark. Once you have explored the Strip, and gone to Freemont Street, there aren't a ton of things to do in Vegas after this. Also for us our 2 days in Las Vegas formed part of a bigger trip around the USA so we were limited on time.
The good thing about Vegas is that it is close to places like LA and Sedona, so if you are planning a weekend trip from Vegas, it really is a good base.
Best places to stay during your 2 days in Las Vegas
Before you start planning your 2 day Las Vegas itinerary you are going to want to decide on where to stay. The cool thing about Las Vegas is that it has accommodation to suit all budgets. From cheap and cheerful, to living the life of luxury and everything in between. You can get some really good deals on accommodation too if you book in advance and visit during off season. These are our recommendations for best places to stay in Vegas for every budget.
Lower Budget Options
Try the Luxor or Circus Circus. Keep in mind these options are located either on the outskirts of the Vegas Strip or the very end.
Mid Range Budget Options
Try Paris or Caesars Palace, both hotels are in prime locations along the Vegas Strip.
High End Budget Options
The Cosmopolitan, The Venetian, or the Bellagio are our recommendations for higher end budget options. Again all these are located in the middle of the Strip.
We ended up staying at Paris, as we decided to go for the mid-range option. The rooms were clean and the hotel itself was great, so there were no complaints from us. The service in the hotel was fantastic as well. It is obviously a huge hotel, but staff were very helpful and were able to provide us with advice on things to do, as well as offering a smooth and easy check in.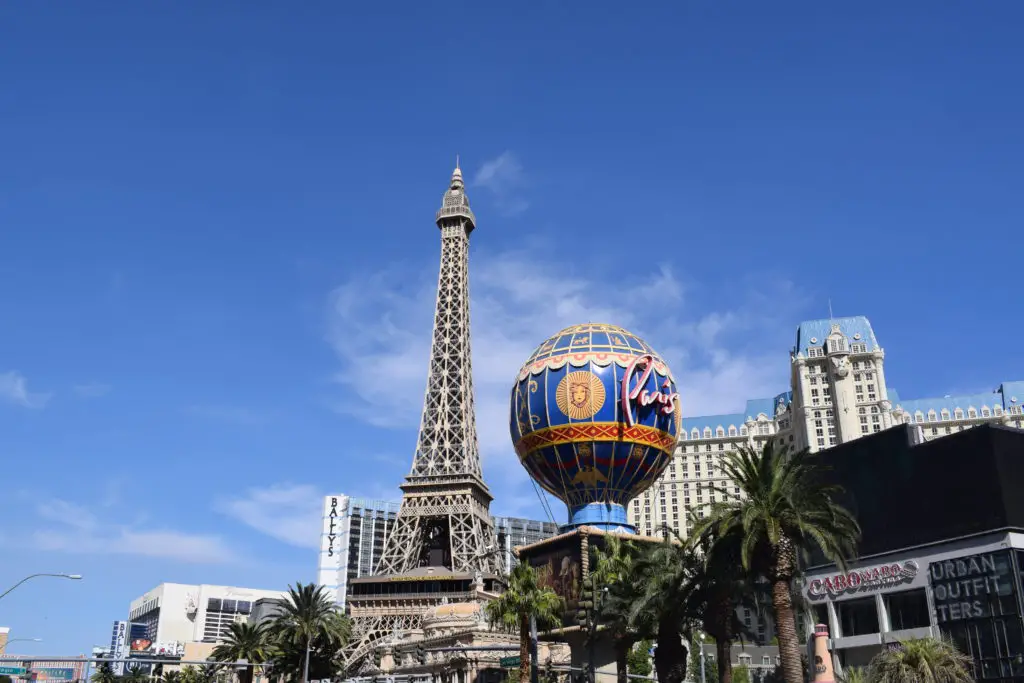 I know that we have mentioned some hotels to suit different budgets above, but we thought it might be handy to go through the best areas to stay as part of your 2 day Las Vegas itinerary.
The Vegas Strip
If you only planning a short itinerary for vegas, then staying on the strip is your best option. Not only are you close to the hustle and bustle but you are close to the main attractions, transport, and bars/ restaurants. Realistically a huge part of planning your 2 day Las Vegas itinerary is to see the strip so you might as well stay here.
As mentioned above there are several accommodation options here to suit different budgets, but our recommendation is to stay somewhere in the middle of the strip like Paris, The Bellagio, or the Cosmopolitan. The location is perfect and you won't have to traipse up and down the strip each day to see the sights because you will be smack bang in the middle.
Downtown Las Vegas
If you want something a bit more retro and historical then staying in Downtown Las Vegas might be for you. This is the original Sin City, with stories of the Mob, and much more. Accommodation here tends to be a lot cheaper than the strip and some people say a lot more fun too.
Best things to do in 2 days in Las Vegas
Here is our list of the best things to do in Vegas over 2 days.
If you want to see more things to do as well as our top Las Vegas bucket list suggestions checkout this article.
Go Hotel Hopping and explore the Strip
Vegas has some of the most incredible hotels in the world. We basically spent a day trying to check them all out. In one day we ate breakfast in Paris, had beers in New York, and gambled in an Egyptian Pyramid (because Vegas, right!). The hotels are opulent and walking into one feels like you are in another world. An absolute must as part of any 2 day Las Vegas itinerary is of course to go hotel hopping. We recommend choosing a section that you want to explore start from your favourite hotel, and see where you end up.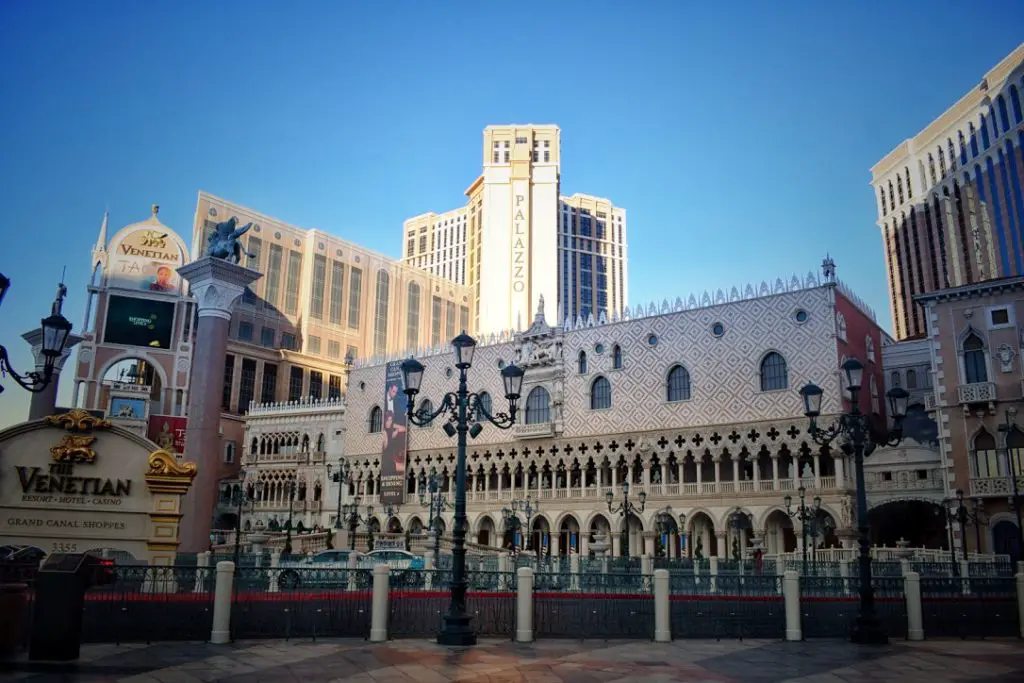 Do a bit of gambling
Ok I know it's an obvious one. I mean Vegas is all about the casinos. Dave and I aren't really gamblers at all, but we decided to give it a shot. It is Vegas after all – just make sure you are including only responsible gambling into your itinerary for Vegas. We both had a specific budget set aside for gambling. Once it was gone, it was gone and we would walk away. Dave ended up winning a little bit whilst I lost it all on the slot machines. I think when you go somewhere like this you need to know how much you can spend and realistically how much you can afford to loose.
One thing that we did notice was that a lot of the attendants in the Casino's were kind of rude. If you looked like you were ready to splash the cash then they couldn't do enough for you, if not they didn't really care. One thing to keep in mind if you are gambling a lot of the casinos have waitresses that walk around offering you free drinks. Just make sure that you tip well, otherwise I can guarantee they will not be back.
Ride a Gondola at the Venetian
Another must as part of a 2 day Las Vegas itinerary is a visit to the Venetian. The hotel is so over the top, that you could be excused for temporarily thinking you are strolling around the streets of Venice. Although the last time I checked the Rialto Bridge in Venice did not have an escalator taking you across it. It is a weird feeling but you can take a relaxing Gondola ride, amongst shoppers and diners inside the hotel's mall. You can book tickets online like this one that includes entry to Madame Tussaud's.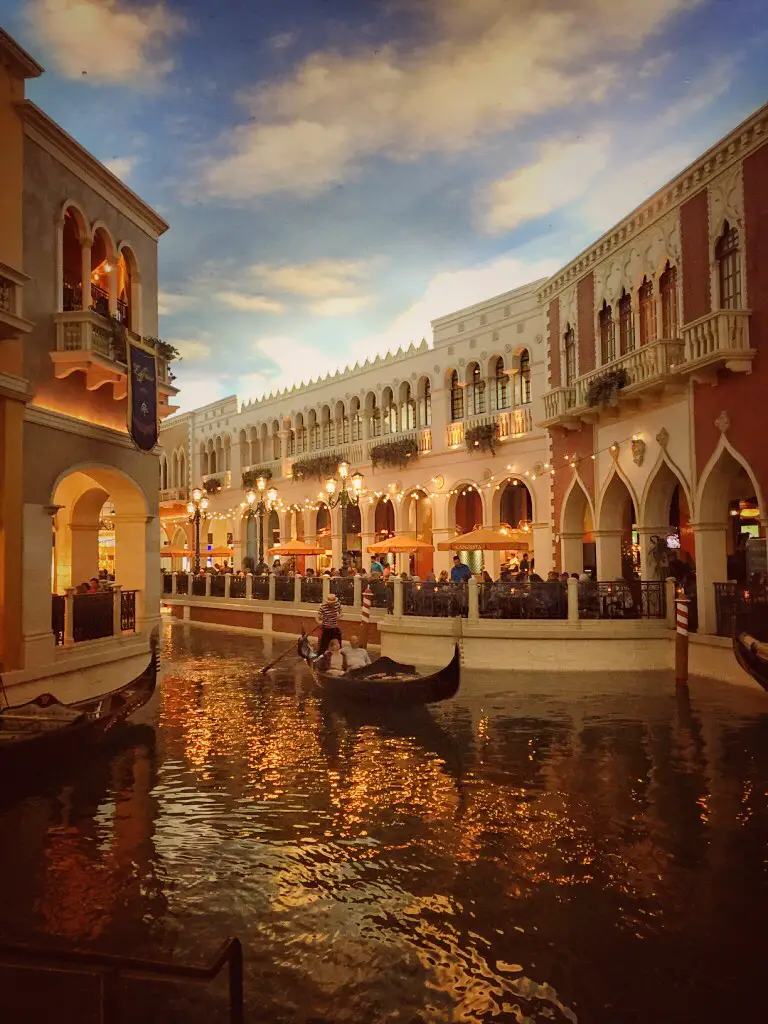 See the sights from the Eiffel Tower
Take a Gondola ride in the morning and ascend the Eiffel Tower in the evening. That is the magic of Vegas! I will admit that I freaked out up here slightly. It is really high up, but the view is amazing. You also have prime position for the Bellagio Fountain show. It costs about $16 for a standard ticket and even though it is a total gimmick we loved it. I kind of think that your 2 day Las Vegas itinerary has to be full of gimmicks, because otherwise were you really in Vegas?
Watch the Fountains dance
The Fountains at the Bellagio do their dance every 15-30 minutes depending on the time of day. People gather round to watch them as they put on a show, usually to an annoyingly catchy song. This Kiss by Faith Hill I'm looking at you!
Go to a show
Vegas is full of glitz and glamour so it is the perfect place to see a show. The choices are overwhelming and we decided to see a Cirque du Soleil show. Even then you have a large choice from the Beatles themed shows to the original, Mystere. We decided to see the latter. The stunts are brilliant and during some parts of the show the acrobatics take place right above your head.
Photograph the Vegas sign
This is a must when you are in Vegas. It is located at the top of the street next to Mandalay Bay. If you want to get a classic photo without the crowds though you absolutely do need to get here super early, otherwise you have to get in line and wait.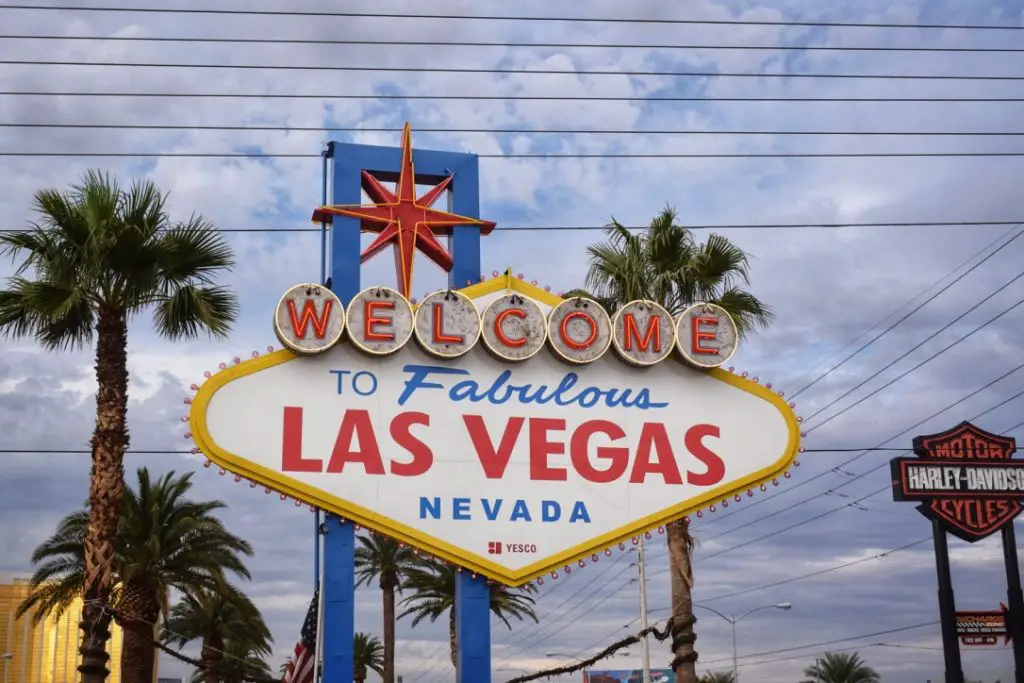 Visit Downtown
It's rough and ready, but is also the original Las Vegas. Here, you get to see those old school neon signs, and where it all began. It certainly is more colourful and a lot more crass and outlandish than the Strip. But it is also a lot more fun. The street performers are a lot more naked then you would find on the Vegas strip as well.
If you are brave enough (which we are not) you could also do the Freemont Street Experience. This is a 12 story zip line that whizzes you across the street. I think we would have needed a hell of a lot more drinks to even try and brave that one.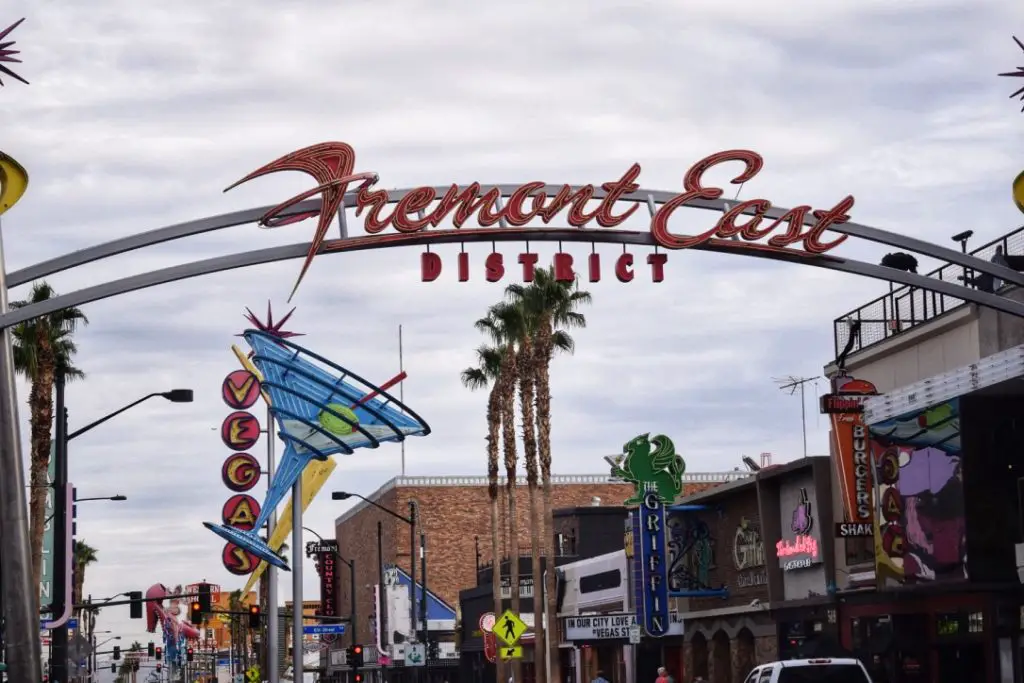 Go to the Mob Museum
The Mob Museum is absolutely fantastic, so if you are in the Downtown area do check it out. It is located inside a historic US Federal Courthouse, where some mobsters actually had hearings. Vegas has a huge mob connection so it was fascinating to see what went down, particularly in the city's heyday. What I liked was that the museum started by almost showcasing the glamorous side to life in the mob. As things progressed you got to see a lot of how they ended up. It was usually quite gruesome. If the opportunity presents itself don't go for the audioguide. My mum did and found it wasn't worth it as everything on the guide is written in the exhibits anyway.
Get married
I'll admit this isn't for everyone, but this was our main reason for visiting the city. We tied the knot in the Little White Wedding Chapel and it was amazing. Although let's be honest you might need more than 2 days in Las Vegas to fit this one in.
Planning a 2 day Las Vegas Itinerary
When you are planning your 2 day Las Vegas itinerary the best thing to do is to spend 1 day exploring the hotels and attractions along the Vegas Strip, and the second day exploring Downtown and Freemont Street. There is such a different feel to each of the parts of Vegas. The Strip tends to be more polished and extravagant, whilst Downtown is way more rough around the edges. Both these sides to Las Vegas are what makes it unique so do make sure you check them both out during your 2 days in the city.
Must visit Hotels during your 2 days in Las Vegas
No visit to Las Vegas is complete without spending a bit of time inside the hotels. They are over the top and lavish, each feeling like you are in a completely different world. In fact sometimes we had to remind ourselves we were actually in the dry Nevada desert and not Paris. You can basically fly to Vegas, but visit, Paris, Rome, New York, and Cairo all in one day. When you only have 2 days in Las Vegas though your time is limited, so here are our top recommendations for the must visit hotels in the city.
The Venetian
The Venetian was our absolute favourite hotel to explore. You can walk around the faux St Marks Square, get an escalator up and down the Rialto Bridge, or ride a gondola in the makeshift Grand Canal. I should note that it is so easy to get lost in this hotel though. There is an indoor mall, that you sometimes need a map to just find your way to natural light. Still even if you are lost the view isn't half bad.
Some of the hotel highlights include Madame Tussauds, where you can rub elbows with the celebrities. Or their wax replicas at least. It is also home to Carlo's Bakeshop, which if you are a huge fan of Cake Boss, is a pretty cool thing.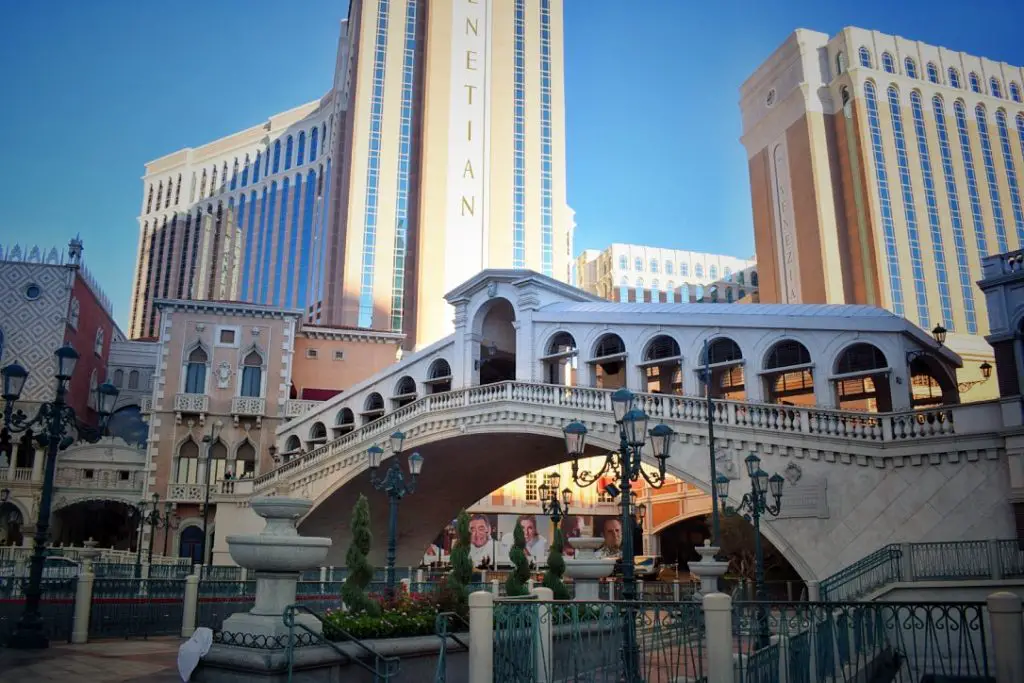 Paris
Sticking to the European theme, Paris is probably one of the most recognisable hotels on the strip. Even with only 2 days in Las Vegas you cannot miss it. The hotels replica Eiffel Tower certainly draws the crowds in. The whole hotel is, you guessed it, French themed, with faux French signs such as Le Toilet or Le Buffet guiding you to the amenities.
Luxor
Another recognisable sight on the strip is of course the pyramid shaped, Luxor Hotel. In the evenings you will always find your way to the hotel by looking for the giant beam of light projected from the tip of the pyramid. To gain entry to the hotel you pass the enormous sphinx and make your way into the atrium which is of course Egyptian themed. Admittedly the Luxor does draw in a younger crowd and the rooms tend to be a lot cheaper than the likes of Paris or the Venetian.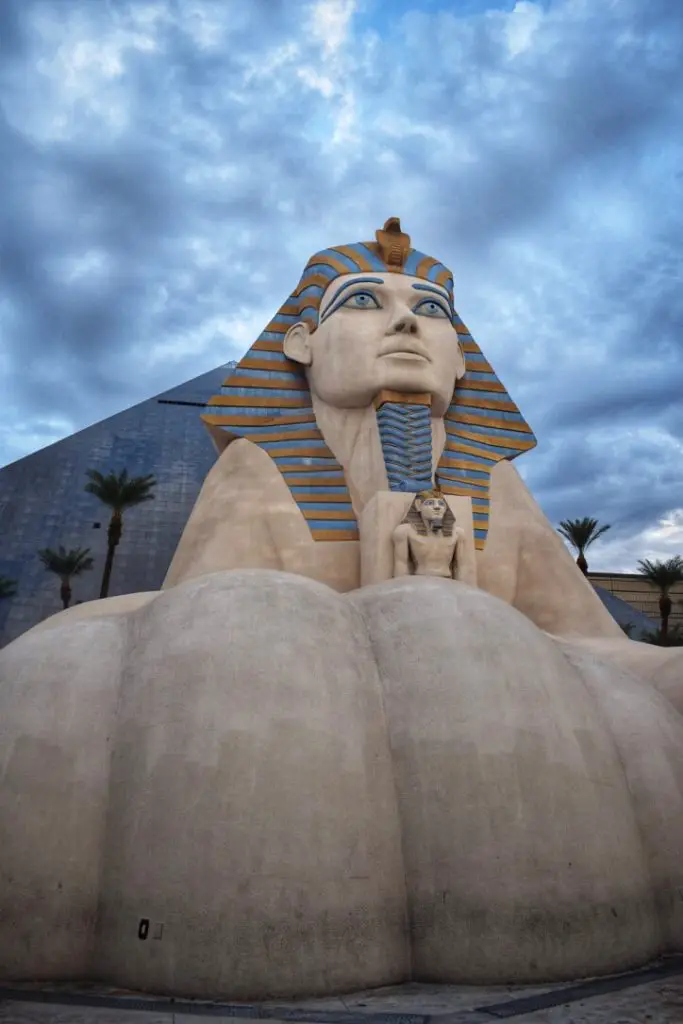 Circus Circus
We didn't get to spend a lot of time here, especially as to hotel is located right at the end of the strip. But the cool thing is that Circus Circus is a homage to the old school days of Las Vegas with it's neon lights. For anyone who is a Fear and Loathing in Las Vegas fan, you will recognise the hotels, Horse Around Snack Bar as one of the filming locations. Although they don't serve alcohol anymore.
The Flamingo
Sticking with the old school theme the Flamingo is another iconic Vegas hotel. Recognisable by its flashing neon lights, the hotel has some strong roots in the city. When it opened in 1946 the hotels original owners were actually members of the East Coast Mafia. It has also been attributed to being the starting point for the current Las Vegas strip, as prior to it's opening most hotels and casinos were located around Freemont Street.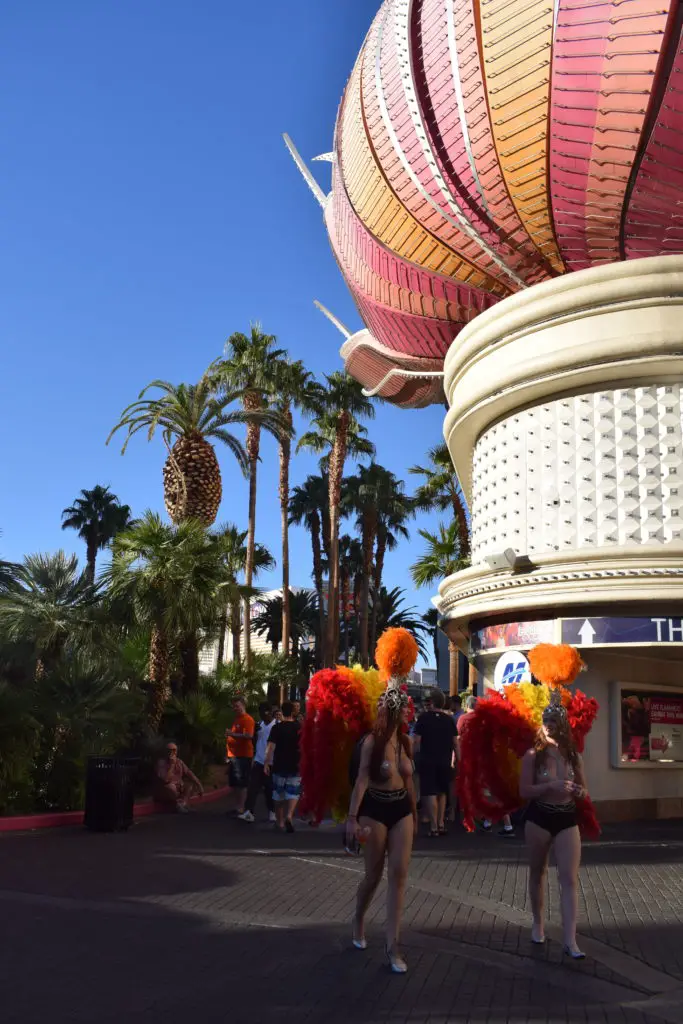 Caesar's Palace
This ancient Roman themed hotel is another highlight on the Vegas Strip. If you walk around Caesars Palace you will come face to face with the Colosseum and the Trevi Fountain, well replicas anyway. We recommend going for the buffet here, because it was one of the best we had in Vegas.
New York, New York
In true New York style, New York, New York, is the best place to go for Pizza and Hotdogs. There is also a pretty good Irish Bar in the hotel as well. You can walk around a little Times Square, and notice and immediate party feel. The hotel exterior is a homage to some of New York City's most recognisable buildings like the Empire State Building. If you want to you can fly by them all by going on the hotels rollercoaster aptly named the The Big Apple Rollercoaster. Just watch out for the whiplash.
Eating and drinking during your 2 days in Las Vegas
Food is a big deal in Vegas, and you will find everything from the super fancy to the super cheap. Most hotels have buffets as well, if you can't decide on what you want. One of the best buffets we had was at Caesars Palace, followed closely by the Cosmopolitan. You will honestly leave feeling the need to roll yourself out of the restaurant.
If you are looking for a breakfast on the go, make sure you visit Eggslut at the Cosmopolitan. Despite the provocative sounding name, I took my parents there for breakfast and they did really love it. It's basically a tastier, more memorable version of a McDonald's breakfast.
When it comes to drinking much like the food in Vegas the options are endless. We did spend a lot of time at the Cosmopolitan hotel and the Chandelier Bar here is a must for a classy cocktail.
Travelling as a couple – Romantic things to add to your 2 day Las Vegas itinerary
I won't lie, Las Vegas is probably the last place I would think of when planning a romantic break. But that being said we did get married here so you know. Here are some of the most romantic things to add to your 2 day Las Vegas itinerary.
Get married
Duh! Obviously, something we are adding to the list, and something that we did. Getting married isn't as straight forward as walking into a chapel and getting it done. You first of all have to head down to the Clark County Marriage License Bureau. You have to have your ID, fill out some forms, pay the $77 and sign some documents. Then you wait in line for someone to check through the forms to make sure it is all legit. 
Then you can head to the chapel and say your 'I dos'. It is certainly a once in a lifetime experience, and if you aren't into the whole big wedding thing, this is perfect. Of course if you are already married this is another great way to renew your wedding vows.
Ride the High Roller
I couldn't work out a more eloquent way to title this bit. But yes riding the High Roller is definitely something to add you to your romantic Las Vegas itinerary. Apparently it is the world's tallest observation wheel, and is a nice way to enjoy a birds eye view of Vegas with your significant other.
Eiffel Tower
It might not be Paris, but you can still enjoy some of the romance offered from visiting Las Vegas' own replica Eiffel Tower. Again, this offers a birds eye view of Las Vegas, and also gives you a great view of the Bellagio Fountain show.
Gondola Ride at the Venetian
Snuggle up with your significant other as you sip champagne is the Venetian's makeshift canals. You can book tickets online in advance.
Do a helicopter ride
If you want some amazing views of Vegas with a bit of adrenaline attached why not do a helicopter ride over the city. It certainly will be an unforgettable experience to add to your 2 days in Vegas.
What to pack for your 2 days in Las Vegas
Apart from your standard holiday essentials here are some of our suggestions on must have items for your 2 days in Vegas.
Comfy walking shoes – especially during the day when you are walking between hotels
Swimming costume – so many pools so little time!
Sunglasses, hats etc for when you are outdoors
A light cardigan or jacket – it does get a bit chilly inside the hotels
A dressy outfit – for at least one night out
More than 2 days in Las Vegas?
If you are lucky enough to have more than 2 days in Las Vegas, then adding a day trip to your itinerary is a good idea. Especially the day trip to the Grand Canyon. I did this a few years ago now, and I will admit that it is a really long day. I got picked up at around 6.30am and got dropped back at my hotel at about 8.00pm. But if you don't mind staring out a bus window for hours on end, then this trip is absolutely worth it. Seeing the Grand Canyon is such an incredible experience and the memory will stay with you for a long time. You can book a tour on all your classic booking sites like Get your Guide, or you can ask your hotel concierge to sort it out for you instead. When booking you want to try and do this at least 24 hours in advance as these tours do tend to be popular and can sell out.
How much money do I need for my 2 day Las Vegas itinerary?
If you are wondering how much money you might need for your 2 day Las Vegas itinerary, then honest answer…..how long is a piece of string? Vegas can be as cheap or as expensive as you want it to be. If you are planning to splash the cash then obviously you will need a lot more than someone who is trying to be frugal. The thing with 2 days in Las Vegas is that it is so easy to splash the cash. I mean the whole city is basically made for spending money.
I would say for a mid-range kind of experience that somewhere between $200 – $250 per person per day is reasonable – not including accommodation.
To put things into perspective, accommodation at a mid-range hotel on the strip will probably set you back around $120 per night. This largely depends on the time of year, and how far in advance you book so this is just a guide price.
Additionally you probably want to budget around $20 per day for transport, particularly if you are planning on getting taxis everywhere.
Food is a little trickier to budget. You can grab fast food on the strip for $15 a meal, but you can also spend a lot more at some of the fancier restaurants.
Entertainment is going to vary as well, but I would say budget something like $60- $100 per day for this. The whole point of Vegas is to have a good time, so why not splurge on that show, or that tour?
So should I spend 2 days in Vegas?
If you want to let loose and have a bit of fun then yes you should sort out your Vegas itinerary immediately. Honestly, it isn't for everyone. It is very loud, and at times vulgar, but it is also a great escape from the real world. There is a lot to do and 2 days in Vegas is a short time to do it all, but it can work. Plan ahead, focus on what you want to see, and book tickets in advance.
We hope that this 2 day Las Vegas itinerary has been useful for you. And if so please pin it for later. Enjoy your 2 days in Las Vegas!