New York is a foodie's paradise! You can pretty much walk down any block in the city and stumble upon a trendy restaurant or a super cool bakery. But some food go beyond trends and are just intrinsically good like your pizza slices or your hot dogs. And yes these are just some of the must eat foods in New York that grace our list. The foods we have chosen are basic and simple but really really good and the good thing is that the foods on this list are also some of the  best cheap eats in New York. Excited yet? Well, read on.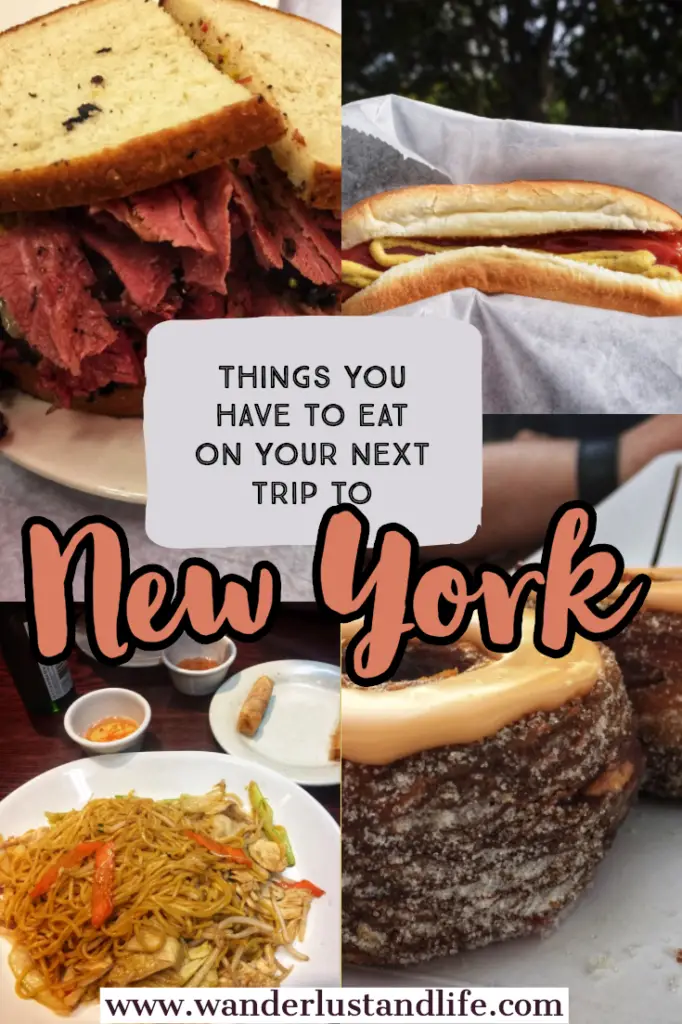 What makes a something must eat in New York?
For us must eat in New York doesn't mean fancy or expensive. It means food that is accessible to everyone and is synonymous with New York. These days a lot of people associate must try foods in the city as being expensive and cooked by celebrity chefs. For us this list was less about that and more about your basic street food, and foods that expressed the different cultures that make up the city. So lets begin.
1- Cheese Pizza
One of the best cheap eats in New York has to be the pizza slice. It is $3 for a slice (sometimes cheaper) and it is without doubt some of the best pizza we have ever eaten. I'm not even ashamed to say that we had a slice pretty much every day we were there.
Spend a few days in the city and you surely will have noticed the amount of pizza joints selling this classic dish by the slice. What differentiates it from the rest is that it is made up of a large but thin dough. When sold by the slice the best way to eat it is to fold it in half. You can get a range of toppings but with the New York pizza slice simple is key and we highly recommend the plain cheese. But if you are feeling a little more adventurous pepperoni is good too.
The dish was brought to New York in the early 1900's by Italian immigrants and was based off the Neapolitan style pizza, which is thin crust pizza with cheese and tomato. In 1905 the first pizzeria opened in the Little Italy neighbourhood and pies sold for 5 cents. So began the life of one of the most iconic foods in the city.  These days it is a little more expensive but just as delicious. So why does it taste so good? Well one theory is to do with the water. Whether that is true or not pizza slices are a must eat food in New York.
Where to buy them: Any pizza place selling it by the slice! There are so many in the city making it easy to find somewhere, and then you're hooked.
2- Hot Dogs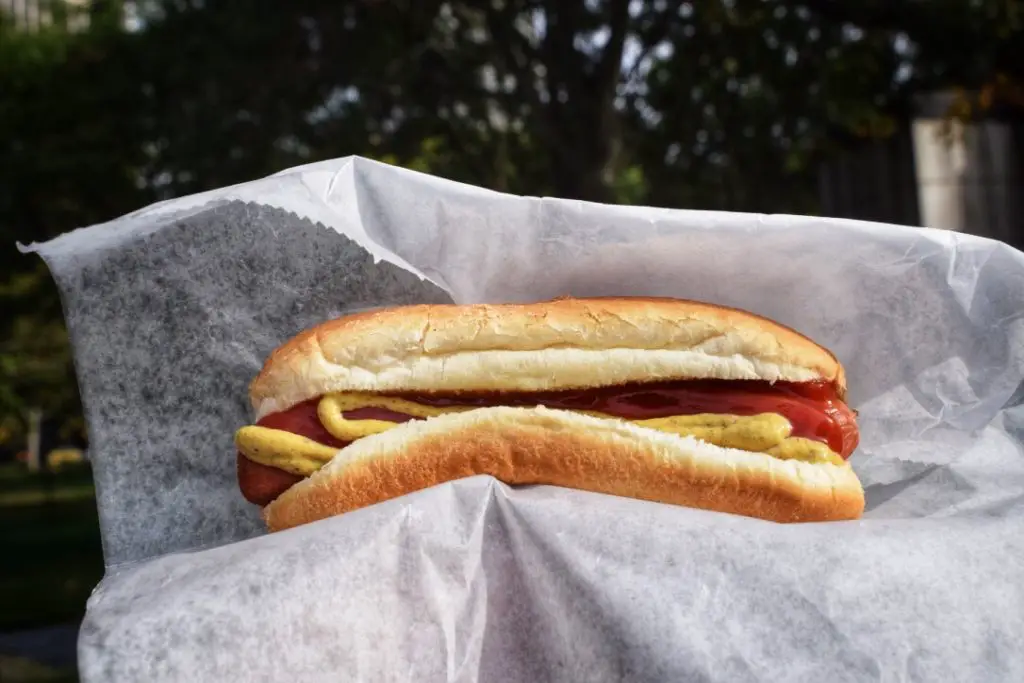 I don't know what could be more synonymous with NYC then Hot Dogs. Walk down any block in Central New York and you will come across a street vendor selling them. I was somewhat skeptical at first but I have to say I am now a street meat convert and proud!
The history of the Hot Dog in New York is traced back to German immigrants. There is a lot of debate and it is unclear who invented the Dog. But the opening of Charles Feltman's shop in Coney Island in 1867 was a milestone for the Hot Dog, and something that flung it into must eat in New York City status. Feltman was a German Immigrant and a baker who came up with the concept of baking a bun and stuffing a Frankfurt sausage inside. The idea was that this would be a quick and easy meal that could be eaten on the go and didn't require plates or cutlery.
It is basically the perfect meal for the busy New Yorker who wants to eat quickly and on the go. These days Hot Dog carts are a staple in city and one of the best cheap eats in New York. You can only splash out and try some of the more culinary dogs being sold but in our opinion simple street meat is best.
Where to buy them: Find a vendor usually on the street corners in Manhattan. We found a lot around Times Square and the Staten Island Ferry.
3- Donuts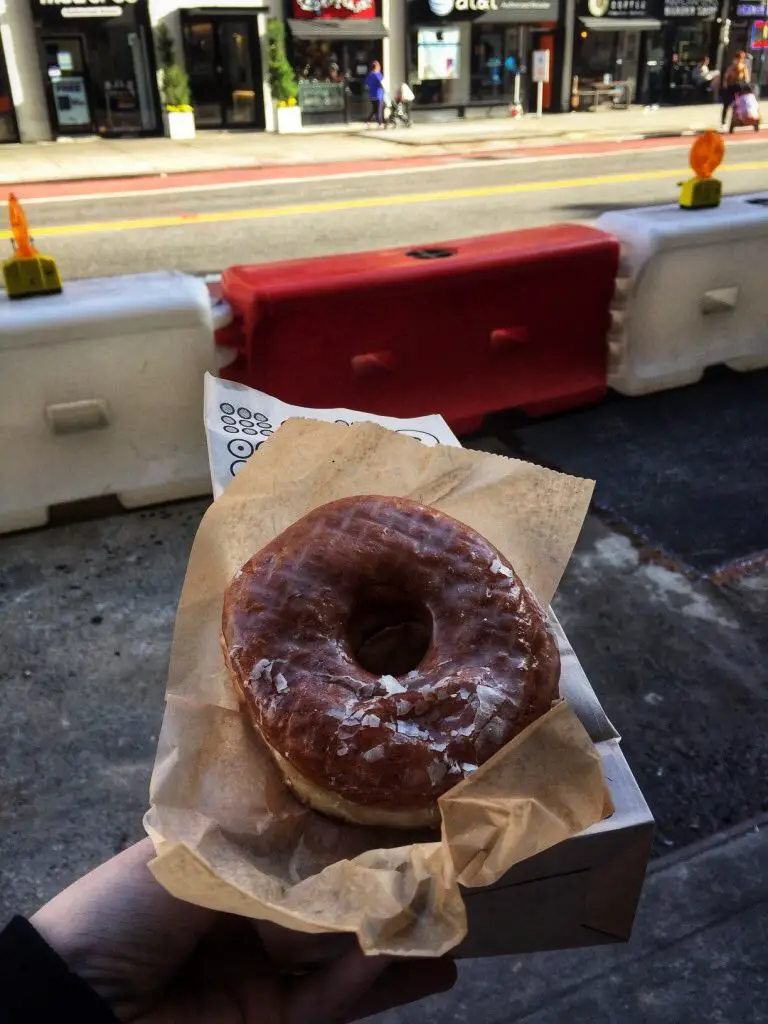 You know that stereotypical New York City cop with a donut in hand image? Well for us that is why donuts are on the list when you visit NYC. Perfect for a quick bite on the go, there are so many amazing places you can pick up one of these soft sweet delights!
It has been said (thank you Wikipedia) that the Donut as we know it originated when Dutch settlers brought them into the city. The first donut shop in the US was opened in New York in 1673 by Anna Joralemon. What further made it a American staple though was that when Ellis Island opened in 1892 the Salvation Army distributed these treats to new arrivals as part of their outreach service.
These days a coffee and a donut have become a food that is a must eat in New York. The donut was also the inspiration (along with the croissant) for the famous Cronut. And if you read on we will tell you more about the most hyped up pastry in the world.
Where to buy them: Donut Plant is a great place to start for some fresh donuts with some creative flavours.
4- Bagels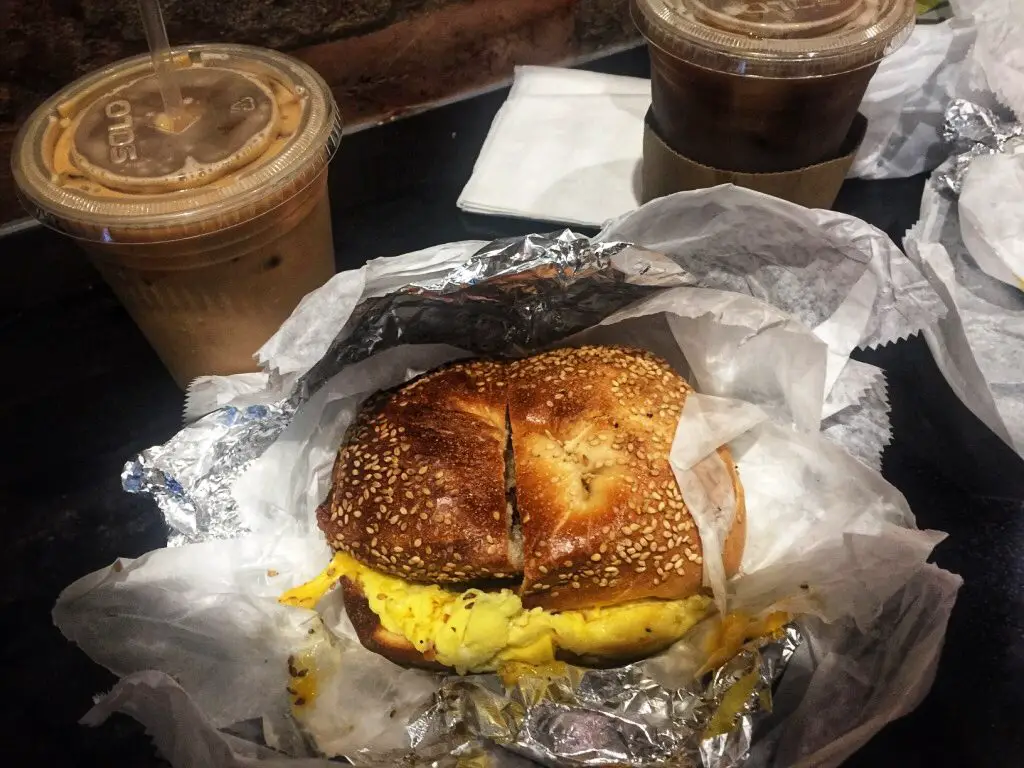 Bagels are another New York institution. Nothing, I repeat NOTHING beats a fresh bagel topped with cream cheese, or bacon egg and cheese. Yum. We had some of the best bagels of our life in NYC.
These days the bagel has become almost a breakfast staple, especially in New York, however the bagel actually originated in Poland. The Jewish community were responsible for creating this culinary delight, of yeasted wheat dough that is shaped into a ring. It is boiled and then baked which is why you get the soft slightly chewy interior and the crispy exterior.
The bagel was once considered a delicacy but by 1980 they were mass produced and made their way into several of the city's grocery stores. Now they are one of the myst try foods in New York City. I know you can get bagels anywhere but like we mentioned with the pizza the New York style bagels are the best in part due to the water in the city. The water has a softer quality due to its perfect ratio of magnesium to calcium.  Because of this the water mixes perfectly with the gluten in the bread creating that soft but chewy texture.
Where to buy them: The very aptly named Best Bagel and Coffee, tops our list.
5- New York Cheesecake
Right I'm not talking about that non cooked cheesecake you find in the UK. I'm talking about the proper baked cheesecakes with that floury texture. Add a little whipped cream and you have yourself a drool worthy dessert. I am a fussy cheesecake eater. I only like my cheesecake baked and vanilla is my flavour of choice. So the New York Cheesecake is like my dream cheesecake.
The history of the New York cheese cake starts with the history of cream cheese. A New York dairyman William Lawrence invented cream cheese, accidentally in his attempt to recreate a kind of soft French Cheese in 1872. With the cream cheese invented it wasn't until the 1900s that Arnold Reuben a German immigrant came up with it. According to cheesecake.com (and who can argue) he became intrigued by a cheese pie he has tasted at a party that in trying to recreate it he came up with the New York Cheesecake.
Where to buy it: Sugar Factory, Row, near Times Square is a great place for your cheesecake or sugar fix for that matter.
6- Ukrainian Food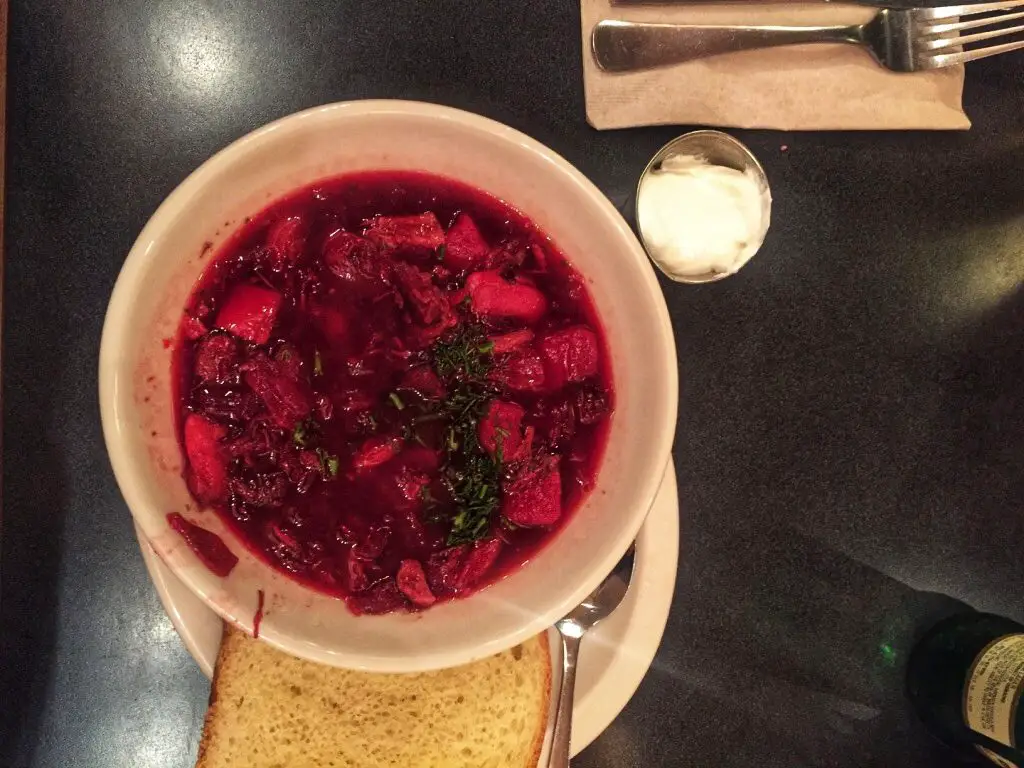 New York is a cultural melting pot so you definitely need to delve into other cultures when eating in the city. Ukrainian food like Pierogis or Veraniki as they are sometimes called are a big deal, especially around the East Village. They are a type of dumpling usually filled with potato, or meat, or saurkraut and mushroom, and are served with fried onions. Originally an Eastern European delicacy they have become so popular there is even a 24 hour Ukrainian diner serving these in the East Village. Also don't forget to try the Borsht or Cabbage Soup. Believe me it tastes so much better than you think.
Where to buy them: Veselka in the East Village.
7- Noodles in Chinatown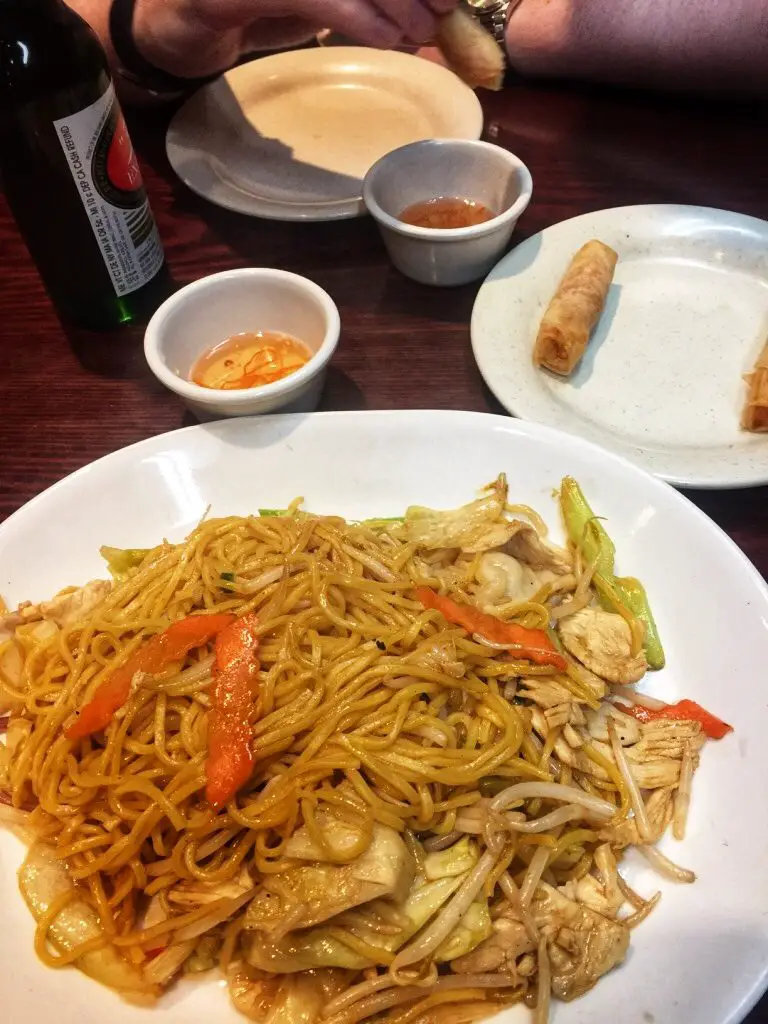 Chinatown is like heaven for foodies. You can walk along the sidewalk and be excused for actually thinking you are in South East Asia. Chinatown is perfect for cheap noodle dishes and dumplings and is an absolute must!
Chinatown originated in the 1870's as the Chinese population gathered together due to a rise in anti-Chinese sentiment. It became a refuge for Chinese immigrants and a place for them to come together.
These days it is is home to the highest concentration of Chinese people in the Western Hemisphere. It is also a popular tourist destination with a lot of shops selling souvenirs and cheap goods, as well as you more traditional Chinese style restaurants and supermarkets.
Where to buy them: Take a walk around, you will genuinely be spoilt for choice.
8- Pretzels
Another must eat food in New York has to be the pretzel. You can grab one on the go from one of the many carts selling them around the city, or you can head to a hip restaurant to have them served with a beer and some mustard. Either way they are a snack not to be missed.
Pretzels date back to 610 AD where an Italian monk would bake strips of dough and fold them into a crossed shape meant to symbolise arms praying.  They would be handed out during holy times or as rewards to children for memorising their prayers. In the 17th century German children would wear them as necklaces for good luck and spirituality. German immigrants introduced the treat particularly in Pennsylvania, and it eventually made its way to New York.
The pretzel was (and still is) a cheap snack an often factory workers would purchase them from vendors who sold them door to door. Now days they are still popular with street vendors and are a must eat food in NYC.
Where to buy them: Go traditional and grab one from one of the many carts selling them in the city.
9- The Cronut
If you love hype then the Cronut is the way to go. You will have to go to the Dominique Ansel Bakery and you will need to be prepared to wait in line. They only do one flavour per month and there is a strict 2 per person limit, but it's worth it, even if it's just to say you did. It is after all one of the most talked about pastries in the city.
A Cronut is a croissant/doughnut hybrid invented by New York pastry chef Dominique Ansel. It was introduced in May 2013 and pretty much became an instant hit. In fact just days after introducing it, foodies and media crews were camped outside the bakery at 6am waiting to get a taste.  The Cronut is usually filled with a flavoured cream and fried in oil. Probably the most interesting thing about it though, is that it takes 3 days to make. The lamented dough needs a lot of rest before being mixed with butter and it is only on the 3rd day where the frying and piping come in.
Whilst the Cronut is extremely popular, don't be fooled by knock offs. A trademark was registered for the name "Cronut" only 9 days after first going on sale, which means that you can only purchase official Cronuts at the Dominique Ansel Bakery in Soho. Of course he also has stores in London, LA, and Tokyo too.   If you want to taste this popular treat you should be prepared to wait in line. When we visited, we had to wait about 20 minutes before ordering.
I should also note that they only do one flavour of Cronut per month and there is a strict 2 per person limit. The flavours are quite seasonal, for example when we visited in October our flavour of choice was Pumpkin Cranberry. In all honesty, you really couldn't eat more than 2 anyway. I mean they are delicious and as you take a bite, the flaky pastry almost melts in your mouth. But they are also really sweet too.
Where to buy them: Dominique Ansel Bakery
10- Pastrami on Rye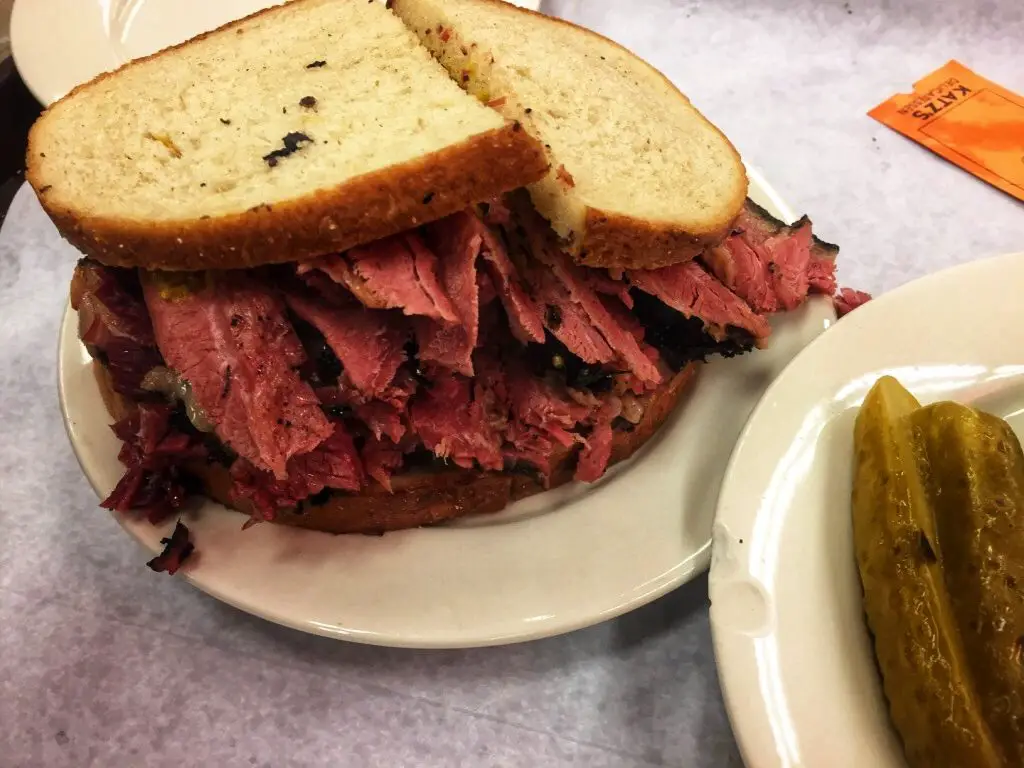 I know what this is because of the movies. You always see those giant meat filled sandwiches that don't really seem to be a thing in other parts of the world. The meat is always so tender and moist, and it is best served with a bit of mustard and a pickle for good measure. The most famous place to get one of these in the city is of course Katz's deli. It is manic from the moment you walk in which sort of adds to the charm. Bring a big appetite these sandwiches are huge!
Where to buy them: Katz's Delicatessen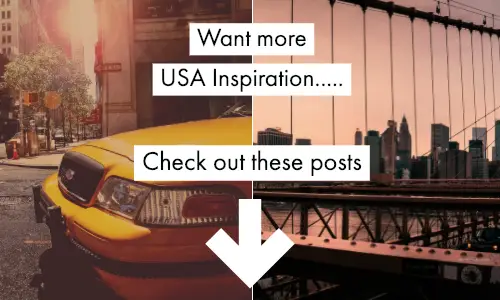 New York Inspiration
Empire State or Top of the Rock?
North American Itineraries
San Francisco weekend itinerary