19 of the best things to do in Venice Beach California that you won't want to miss
This post contains affiliate links, so if you use these links to buy something we may earn a commission, at no cost to you. Thank you for your support.
We've been to Los Angeles a few times now. And every time we visit we get super excited about all the things to do in Venice Beach. Honestly, if you are planning to visit LA, forget Hollywood, or Downtown LA, Venice Beach is where it is at.
I don't know if it is because I grew up playing Tony Hawk's Pro Skater (does anyone else remember skateboarding around Venice Beach trying not to hit people?), or if I'm just a fan of all things weird and wonderful (also true), but to me at least 1 day in Venice Beach is a must.
It's way more than just Muscle Beach and obscene slogans on T-shirts, Venice Beach is home to some pretty spectacular sunsets, fantastic beach walks, and a whole bohemian/ alternative vibe that is hard to find anywhere else in LA. Yes it is touristy, over the top, and at times grimy, but visiting is like stepping into another world.
I think it is fair to say we love Venice Beach. And we hope you do too. That is why we have put this little guide together on all the best things to do in Venice Beach. From attractions, tours, and food, we tell you everything you need to know about visiting.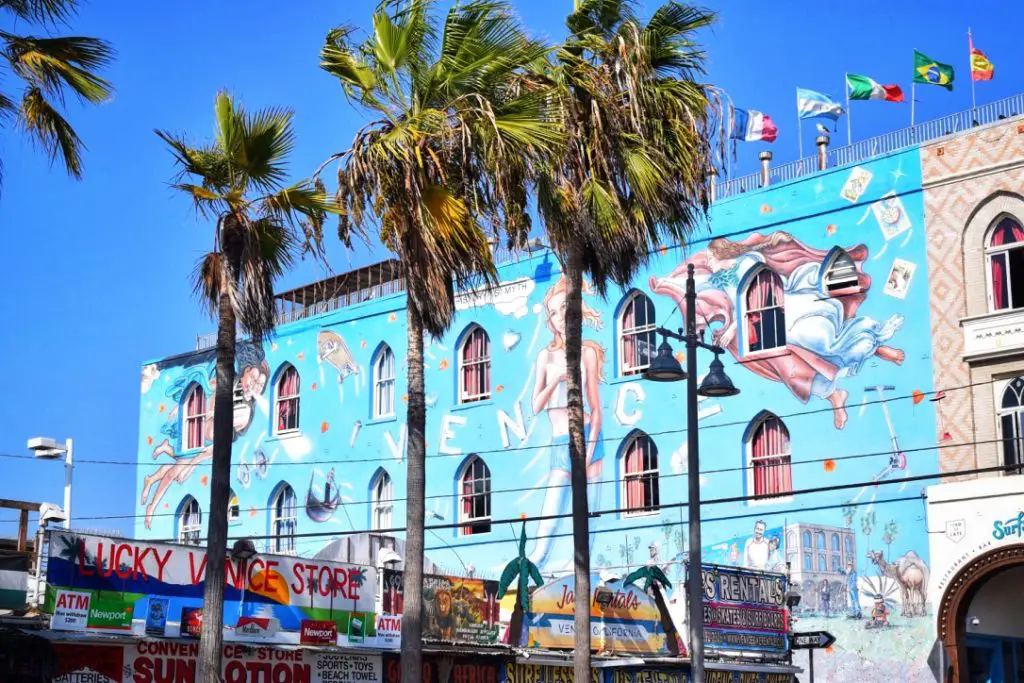 Venice Beach California – Some Background
Before we get to all the super exciting things to do in Venice Beach here is a bit of background. Venice is an LA neighbourhood located (you guessed it) on the beach in the western part of LA. It was actually built in 1905 as a beach resort that essentially took its inspiration from its namesake, Venice in Italy. The idea was to create this area with canals, piazzas and pedestrian bridges that essentially mirrored those in Italy. Venice Beach covers 75 miles of coastline and surfing here is supposed to be one of the best spots in the world.
The design was the brainchild of an eccentric tobacco millionaire called Abbot Kinney. And it only merged with LA in 1926, so before that it was considered independent. In order to bring his dream to life, he dig several miles of canals, drained marshes, and also built a pier in order to promote business growth in the area. Unfortunately financial troubles struck and this is when it merged with Los Angeles.
Since then the area has gone through different phases. In the 1950s it was referred to as the Slum by the Sea due to the neglect it had suffered. There is still a grimey element to Venice Beach these days but it has definitely changed from neglected and run down.
These days Venice is one of the top tourist attractions in LA, made famous due to its eccentric bohemian vibes, and because it has featured as the backdrop in a number of films. It was also where the Doors formed which for us was one of our favourite facts about Venice Beach.
1 day at Venice Beach is it enough?
You might be wondering if 1 day in Venice beach is enough? Well yes and no. We visited as part of a larger West Coast USA trip so we really did only have limited time here. 1 day in Venice Beach will allow you to see all the sights, do some shopping, and take it all in. We do recommend staying overnight in the area though, because it is a great place to have a few drinks, watch the sunset, and enjoy a beachside meal. Overall you shouldn't need more than 2 days in Venice Beach though unless you are staying in the area and want to explore Santa Monica and beyond.
How to get to Venice Beach
Whether you are visiting LA for a weekend or as part of a longer USA trip, chances are you will be arriving into LAX. If this is the case we highly recommend getting an Uber or Lyft from the airport. Public transport in this part of LA can be a slight pain. For example if you are staying in the Downtown LA area you are looking at about 1.5 hours travel time and several bus/metro changes.
Traffic is also a bit of a nightmare in LA, which is why with a Lyft or Uber you can get someone else to do the driving. In peak season parking is quite scarce so you should try and prebook a space to avoid the hassle of driving around aimlessly. In terms of parking you can find some free parking (always check the signs though), or cheap metered parking close to the beach. This does tend to fill up quickly. There are a number of parking lots but expect to pay between $5 and $15 for the day, depending on the time of year you visit.
Best time to visit Venice Beach
LA is one of those places that has pretty decent weather year round. Although I say this as someone who lives in the UK, I'm sure if you ask someone in LA they would be appalled at calling a 20 degree Celsius day good. Obviously Venice Beach get really busy in the summer months (June- August), especially at a weekend, you will struggle to get parking. But it does mean there is a lot going on, and it's great for people watching.
September – November are decent months to visit because there are less tourists, and the weather is still pretty warm. It is easier to get parked up, and there is still a lot going on on the beach.
Either way whenever you do visit, we guarantee that you will love it.
Things to do in Venice Beach
Here are some of the best things to do a Venice Beach, that you certainly won't want to miss on your trip there.
1. Walk the Venice Beach Boardwalk
One of the top things to do at Venice Beach is to walk the boardwalk. It's a hive of activity, and you might see people juggling fire, or playing instruments. This is where the street performers flock to, or you might get lucky like we did and see someone offering hugs for $1. Either way it's basically where all the action happens, and we cannot even begin to explain the madness that is the Venice Beach Boardwalk. It's just something you have to experience for yourself.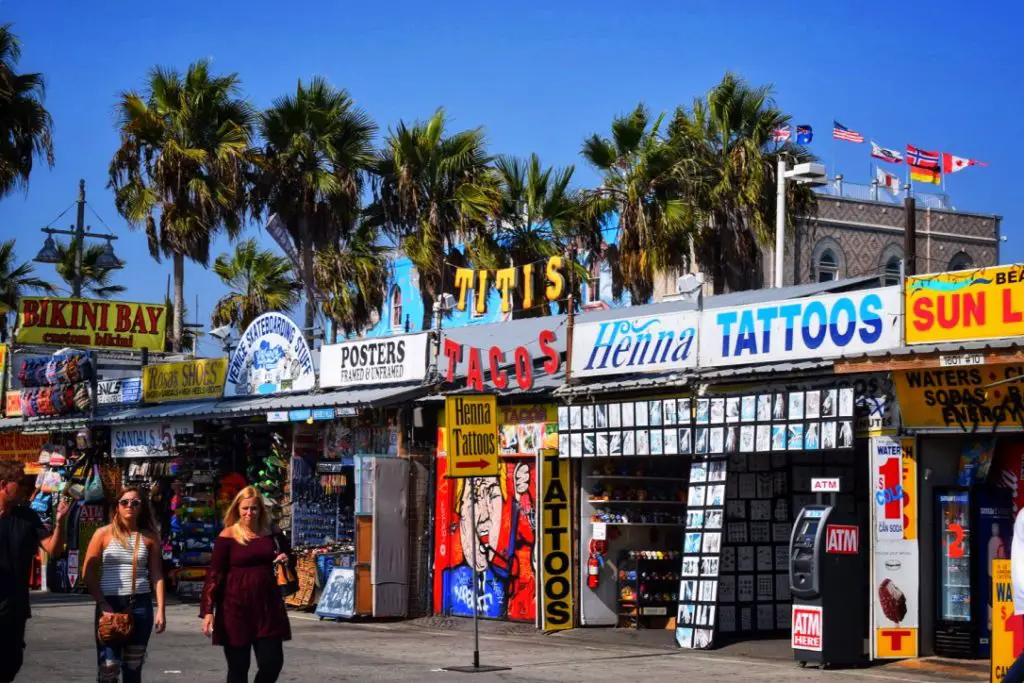 2. Checkout some of the shops along the Boardwalk
Whilst you are completing your walk along the Venice Beach Boardwalk why not pop into one of the ummm shall we say 'interesting' stores in the vicinity. You will find a whole heap of shops offering everything from medicinal marijuana, to t-shirts with obscene slogans. Also if you have forgotten your beach necessities you can purchase flip flops or a bikini here too.
3. Visit the farmers market
If you happen to be out and about in Venice Beach on a Friday morning then we highly recommend you visit the Venice Farmers Market. Open between 7 – 11 am every Friday, this is the perfect place to pick up some fresh produce.
4. Do a bike ride to Santa Monica
Another of the best things to do in Venice Beach has to be a bike ride. You can weave in and out of people, as you enjoy the sea air on your face. We recommend booking a guided tour, that will take you between Santa Monica and Venice, and will also give you ample time to explore the canals and muscle beach. You also have the option of a 3 hour electric bike tour, which is another great choice.
5. Rollerblading
Right I will admit that most of my knowledge of LA before we visited was based on TV shows. So I sort of had this idea in my head that one of the coolest things to do in Venice Beach would be to rollerblade along with a jumper tied around my waist as I weaved in and out of the crowds. Yes I watched a lot of Baywatch growing up! Whilst it might not be exactly like that in real life (and yes the 80's and 90's are long gone), I still think that the idea of rollerblading around Venice Beach is awesome, and I highly recommend it.
6. Explore the canals
As we mentioned above Venice Beach was indeed inspired by Venice in Italy. So it is a no brainer that there are canals here. Apparently you used to be able to ride a gondola up and down them but these days you will have to make do with walking instead. Still, it's a really beautiful area, and worth a stroll gondolas or not!
To find the canals you do need to step away from the beach and head towards the Venice Historic Canal District. The canals give you a glimpse into the old Venice, the one that was built as a beachside resort town back in 1905. There were a lot more canals at this time, and in the 1920's due to the popularity of cars (who knew?!) some of these were filled in to create more roads.
What we love the most about walking around is looking at all the beautiful houses. I can't even begin to imagine how much they cost, but let's just say we won't be buying one anytime soon. We've also heard that the houses get properly decked out with Christmas lights in December, so add that to your list of things to do in Venice Beach if you are visiting over the festive season.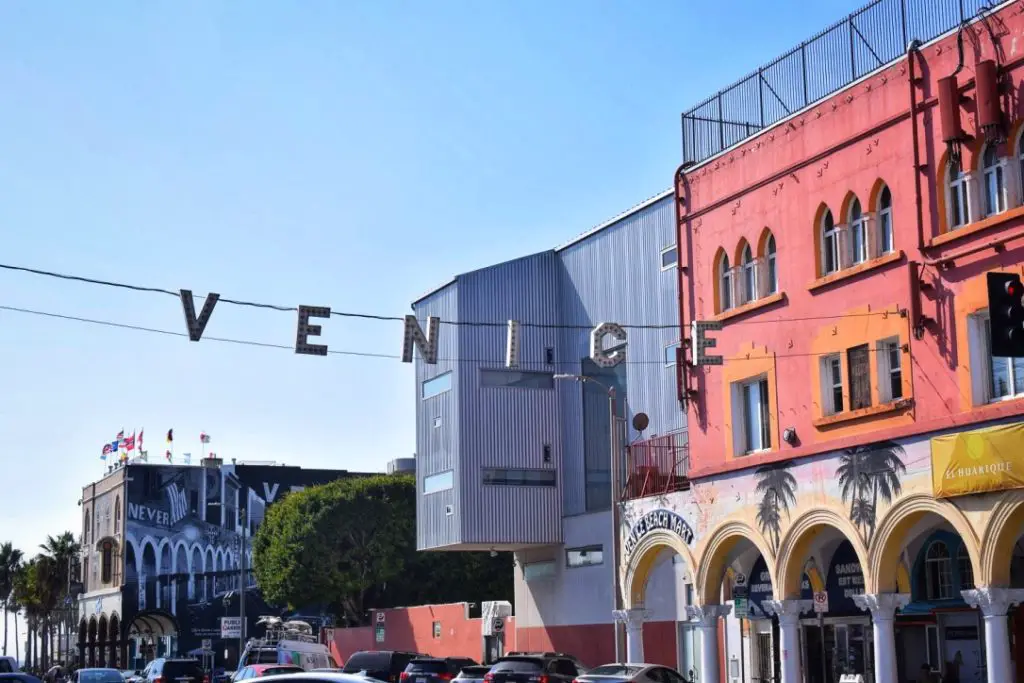 7. Find the iconic Venice sign
If you take a walk down Windward Avenue, at Pacific Avenue you will stumble upon one of the most Instagrammable spots in Venice, the Venice sign. What we would say is don't be ignorant and always watch out for traffic when taking photos here. It's at a super busy intersection so do be mindful.
The sign is a replica of the original put in place by Abbot Kinney, so it's really got those old school Venice Beach vibes. The best time to get a picture is around sunset so keep that in mind.
8. Tour the Mosaic Tile House
I've said it before and I'll say it again. Venice is quirky. And one of the quirkiest things to do in Venice Beach has to be to visit the Mosaic Tile House. Now this one is a bit of a hidden gem, so much so that we didn't actually know about it when we visited. But hence why we have added it to our list of things to do in Venice Beach so that you don't miss out!
It's basically a home covered in mosaic tiles, both inside and out. Cheri Pann and Gonzalo Duran are the couple behind the masterpiece and they are constantly updating and adding to the artwork.
If you are planning to visit, the house is only open on Saturdays, between 1 – 4pm. And you should make a reservation in advance by emailing  [email protected]. It's about $20 for the tour, but it is worth it (we've been told anyway) as the sheer creativity is incredible.
9. Enjoy some time on the Venice Pier
Whilst Venice Pier might not be as famous as say its neighbour Santa Monica, it's still one of the fun things to do in Venice Beach. You might see a lot of people fishing along here, and if you really want to you can join them. The pier is open to the public and you don't need a fishing permit to fish here either. Also a top tip, if you are looking for somewhere to watch the sunset the pier is a good shout.
10. Head to Muscle Beach
I don't know what I was expecting when visiting Muscle Beach but as it transpires it is literally just an outdoor gym. It was made famous by the likes of Arnold Schwarzenegger who would train here during his bodybuilding days.
You see people of all body types working out here, not just your incredible hulk types, and it still hosts bodybuilding competitions from time to time. Definitely something cool to add to your list of things to do in Venice Beach.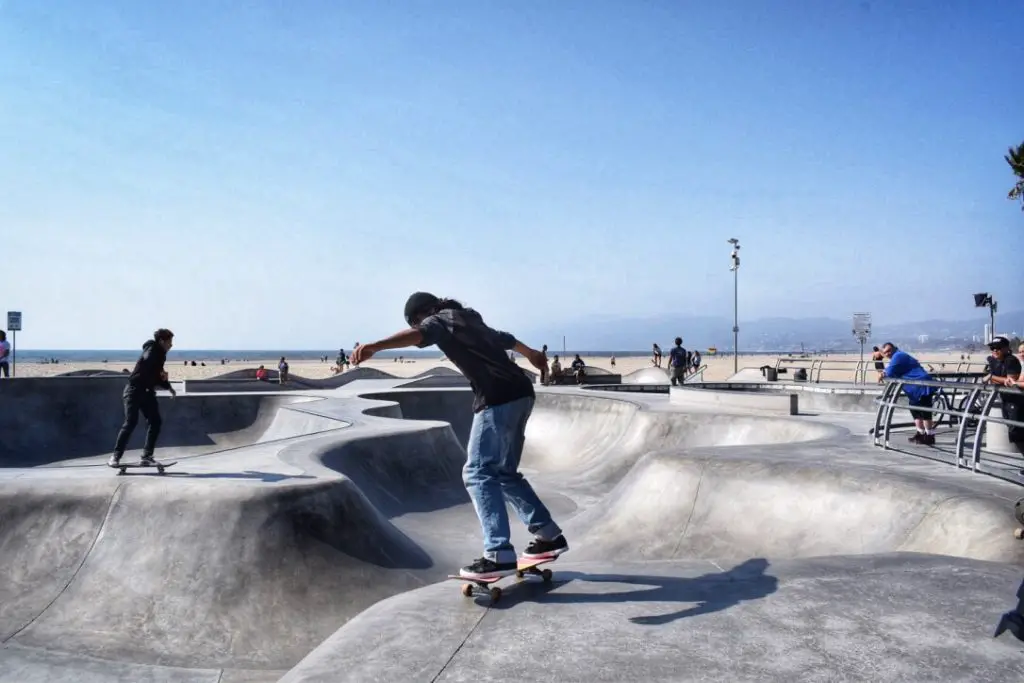 11. Watch the skateboarders (or you know join them)
This is probably one of the most iconic skateboarding locations in California, which in itself is reason enough to check it out. The skate park was built in 2009, and since then has been frequented by skateboarders and also a certain Mr Tony Hawks from time to time.
Even if you can't skateboard, or don't know much about it, it's pretty mesmerising watching these skateboarders some of whom are really good navigate their way through the maze of dips. Obviously you can tell that I know nothing about skateboarding, despite playing Tony Hawks Pro Skater, but I sure did have a lot of fun watching.
12. Marina Del Ray
I know this article is specifically about things to do in Venice Beach, but we do recommend visiting Marina Del Ray whilst you are in the area. It is only a 5 minute drive from Venice Beach, and it really is beautiful. It is a a man made harbour home to about 5000 boats, and it offers some truly spectacular waterside dining. You can even do a champagne brunch cruise from here.
There are also a number of water activities you can do, like paddle boarding and kayaking. In fact one of the best tours we have found will let you partake in these activities, whilst showing you hidden spots and an opportunity to discover some wildlife.
13. Abbot Kinney Boulevard
Abbot Kinney Boulevard is one of the trendiest streets in Venice California, known for its boutique shops, art galleries, and really cool eateries. I won't lie, it's not cheap but well worth a visit and a bit of a wander through. Abbot Kinney Boulevard covers about a mile between Washington Boulevard to Main Street.
There is some cook street art along here, as well as food trucks and other treasures. This is a must to add to your things to do in Venice Beach especially because it often gets the nickname – the coolest block in the USA.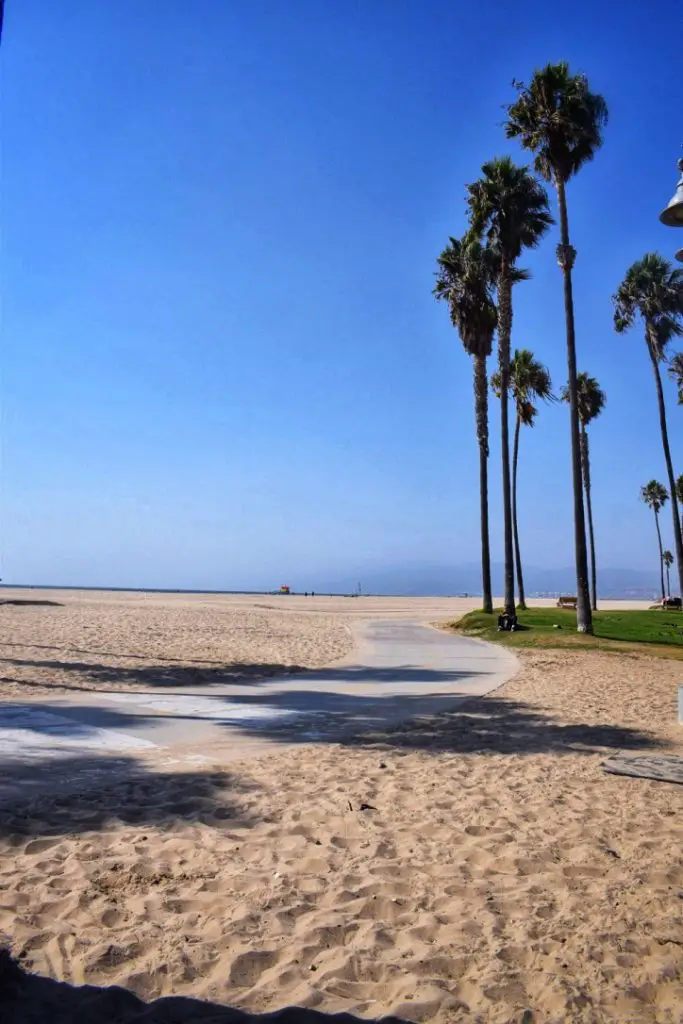 14. Chill on the beach (Picnics encouraged)
Let's face it the main draw to Venice Beach is of course the actual beach. The golden sand and roaring blue ocean makes it the perfect place to sit and just chill. People watching is also highly encouraged. We are big fans of people watching and honestly Venice Beach is the best place in the world to do this. It's just so quirky and there is so much going on.
If you do get the chance to walk along the sand try to find the Venice Pride Lifeguard tower. It was painted in 2017 by Patrick Marston for Venice Pride, and has now become a permanent installation on the beach.
Also, if chilling isn't your thing and you would rather be doing something why not take a walk along the beach to Santa Monica. It's about 3 miles and a really beautiful walk.
15. Find the different filming locations
If you fancy yourself a bit of a TV and movie buff then one of the best things to do in Venice Beach is to checkout some of the more famous filming locations. Some of the obvious ones are Baywatch (the TV show), White Men Can't Jump, and I Love You, Man. Also the new Barbie movie has quite a few scenes filmed here.
16. Do a surf lesson
If you are an adventure seeker one of the best things to do in Venice Beach is of course a surf lesson. It kind of feels like a really Californian experience, and why not do it on one of the world's most famous beaches. There are a range of options including a 2 hour lesson which includes a board and wetsuit. All you need to bring is yourself! Also, the weather in California is always (well almost always) beautiful so no excuses.
17. Get a bird's eye view in a helicopter
Ok this one is probably a mere dream for some, but if you have some extra cash, and you are wanting to see Venice from a different view then a helicopter ride is a must. Obviously it won't be top of everyone's list of things to do in Venice Beach, but you can't tell me that it's not exciting. You can book helicopter tours of the California Coast online, there are some restrictions but all the information can be found in the link provided.
18. Enjoy the sunset
Now this is my absolute favourite thing to do in Venice Beach, and the good news is, it is completely free. Venice Beach does get some pretty epic sunsets I have to say. A few years ago I was travelling on my own and was able to sit on the sand with the orange sky inflamed whilst the graffiti clad buildings act as the perfect foreground.
19. Checkout the street art
Street art is a huge part of Venice Beach and for me this is one of my favourite bits of Venice. It really adds to the quirky, arty character of the place. Our favourite bit of street is located on the beach between the basketball courts and the skatepark. It's certainly a very Instagrammable place!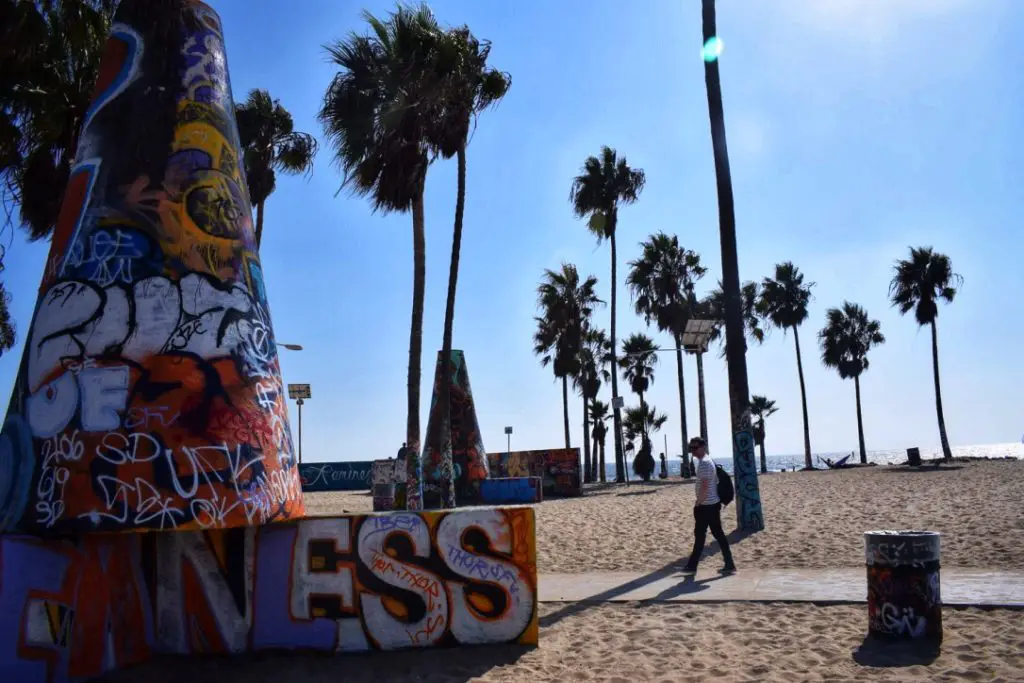 Eating and drinking in Venice Beach
If you are looking for things to do in Venice Beach then obviously food and drink needs to be added to this list. There are so many choices and a number of quaint, hip places to sit down and eat or drink. On top of this you also have your street food on the boardwalk such as pizza and tacos (Tito's Tacos is somewhat an institution here) to name but a few.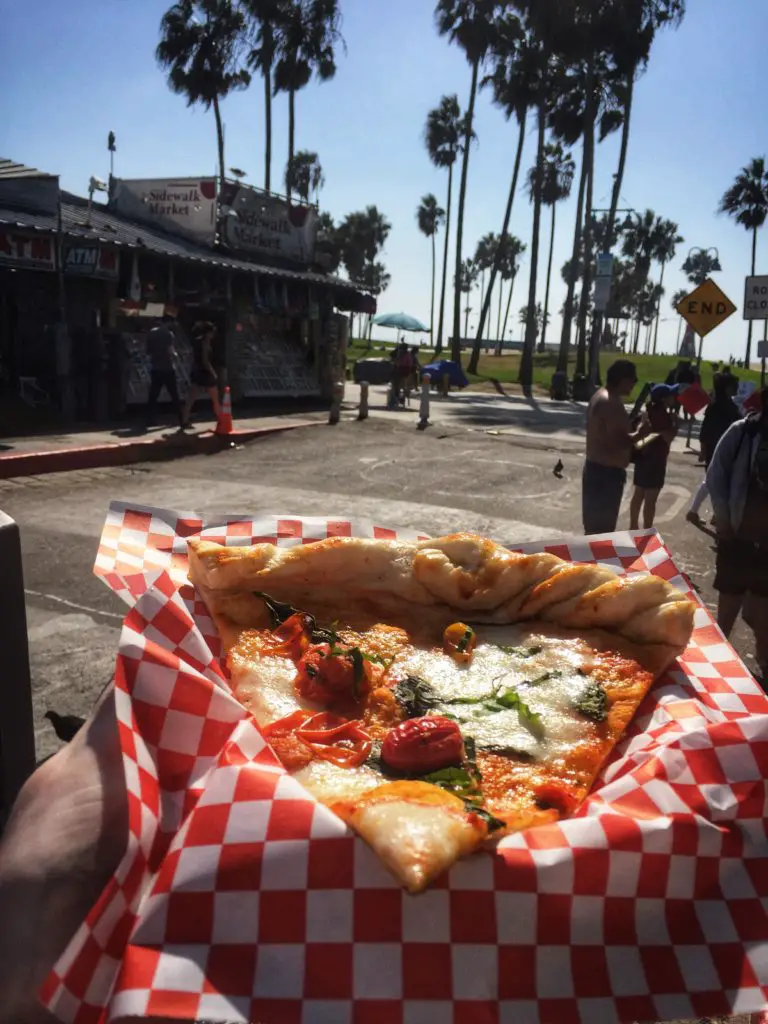 If you are a doors fan one place that we recommend is Hinano Cafe. Open since 1962 this is a great place to go for a beer and a burger and was said to be Jim Morrison's favourite spot in Venice Beach.
Hotel Erwin is also a good shout, as it has a pretty awesome rooftop bar. What could be better than sipping cocktails at sunset?
If you want to blend in with the locals head to James' Beach. It opened in 1996 and since then has been feeding people some really good US comfort food – done their way of course. It was also featured in the film 'I love you man' as having the world's best fish tacos.
Sample Venice Beach day trip itinerary
If you are spending a day in Venice Beach here is a sample itinerary.
Spend the morning exploring the Beach, and visit Muscle Beach, the skate park, and Venice Pier. Keep an eye out for the several photo opportunities and street art. Afterwards get a photo with the Venice sign, and talk a walk by the canals. Head to Abbot Kinney Boulevard for some lunch.
In the afternoon do a surf lesson, or a bike ride to Santa Monica, and spend the evening sipping cocktails at Hotel Erwin. Make sure you catch the sunset from here too.
Longer than 1 day in Venice Beach? Where to stay
If you are wanting to spend longer than 1 day in Venice Beach then you might be wondering where to stay. Here are some of our top recommendations.
Hotel Erwin
Hotel Erwin is probably one of our top suggestions, but that might be because of the awesome rooftop bar. Rooms are clean and modern, and some of them will provide you with some pretty amazing views of the beach.
Inn at Venice Beach
If you are looking for accommodation that is slightly easier on the wallet head to the Inn at Venice Beach. The location is superb which means you can get some great photos of Venice Beach before the crowds arrive.
Venice V Hotel
Movie lovers will be thrilled to stay at Venice V Hotel. It's located in a historic building that was originally called The Waldorf, and was once home to A- Listers like Charlie Chaplin who lived here.
Tips for visiting Venice Beach
Here are some of our top tips for visiting Venice Beach.
We do highly recommend staying the night as it can be difficult to get here especially using public transport.
Worst case though if you can't stay the night, definitely set aside a whole day to visit.
Bring comfortable shoes, flip flops, and beach attire.
But also bring a jacket, as the weather can change and it can be cool and windy in the evenings.
Romantic things to do in Venice Beach
Whilst Venice Beach might not be the most typically romantic place in the world, that doesn't mean you can't find some. If you are visiting with your significant other here are some of the most romantic things to do in Venice Beach.
Marina Del Ray Evening Cruise
Why not take a trip to Marina Del Ray, which is only a 5 minute drive from Venice Beach. Here you can get yourself booked onto a Luxury Boat Cruise with cheese and wine. It's especially glorious at sunset. You do need to book online in advance, but it is definitely one of the more romantic things to do in Venice Beach.
Final thoughts on things to do in Venice Beach
We hope that you take this article as a sign to visit Venice Beach. There is so much to see and do and at least 1 day in Venice Beach is a must for any trip to LA. It has such a different vibe to the rest of LA and it's one of the places that actually made LA worth visiting for us.
We loved every minute of this quirky place and so if you are looking for something a little different to break up your trip head to Venice Beach now!
If you are tossing up between Los Angeles and San Francisco for your next trip you should read this post.
And if you found this useful don't forget to pin it for later.