101 awesome New York bucket list ideas to help you plan the best trip
New York is arguably one of the most exciting cities in the world. There is so much to see and do, it can sometimes feel overwhelming wondering where to start. So we have put this New York bucket list together with some must do activities on your next trip. This list includes everything from your quintessential New York activities, like visiting the Statue of Liberty, to must eat food, and a few hidden gems too.
Disclaimer: This post contains affiliate links, so if you use these links to buy something we may earn a commission, at no cost to you. Thank you for your support.
For the purposes of this New York bucket list we have categorised activities to help you plan a little bit easier. So let's begin!
And if you are wondering if New York is worth visiting, here is an article to help you decide.
New York bucket list ideas involving buildings
It's no secret that New York has a lot of buildings, and so many of them are iconic for different reasons. Here are some New York bucket list buildings that you have to see on your next trip.
1. Top of the Rock
For some of the best views over New York City you should add a visit to Top of the Rock to your bucket list. It's essentially an observation deck that gives you panoramic views over the city. There are three floors to explore, and the really cool thing is that if you are deciding between Top of the Rock or the Empire State, this option lets you take photos with the Empire State in the background.
Make sure you purchase your tickets in advance as these are timed. It's still crowded at the top but worth it for those views.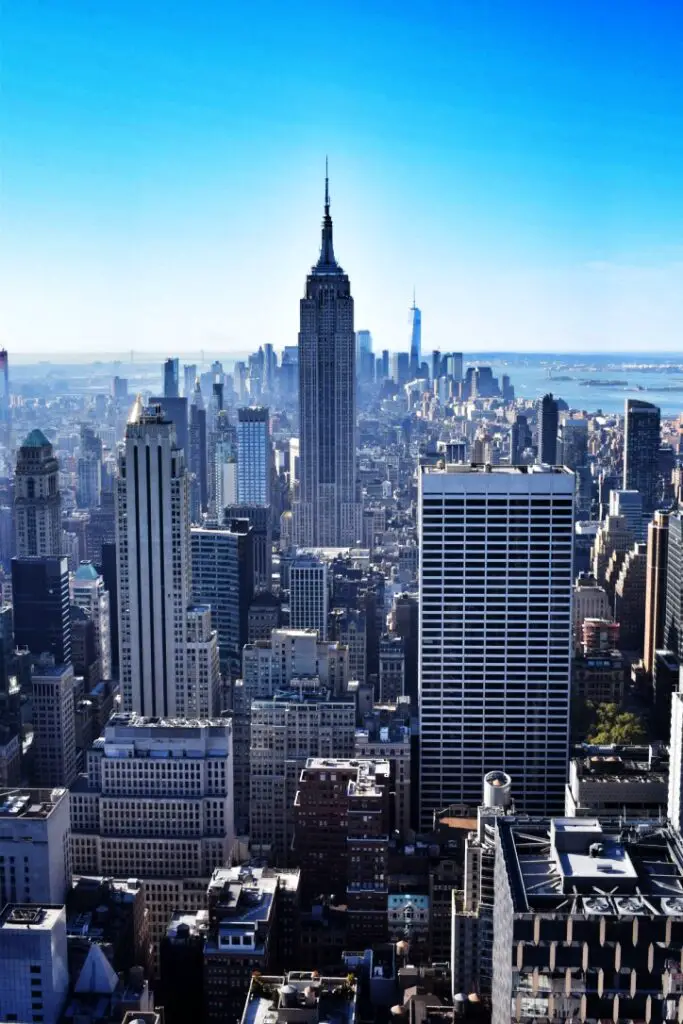 2. The Empire State Building
Let's face it the Empire State Building is probably the most recognisable building in all of New York City. It's an art deco style 102 story masterpiece that you definitely need to add to your New York bucket list.
Construction began on it in 1930 and doors opened in 1931. You might be surprised to hear though that it was only in the 1950s when the building started to turn a profit.
Standard entry which will take you to the 80th and 86th floor will set you back about $37. If you want to go to the 102nd floor this will cost an additional $20.
Personally we don't think the 102nd floor is worth it. For starters it is completely closed in glass and the views are better from the lower floors.
It's a very popular attraction, which I'm sure won't surprise you so get in early if you want to visit with fewer people.
For more information on the best observation decks in New York City here is a handy guide.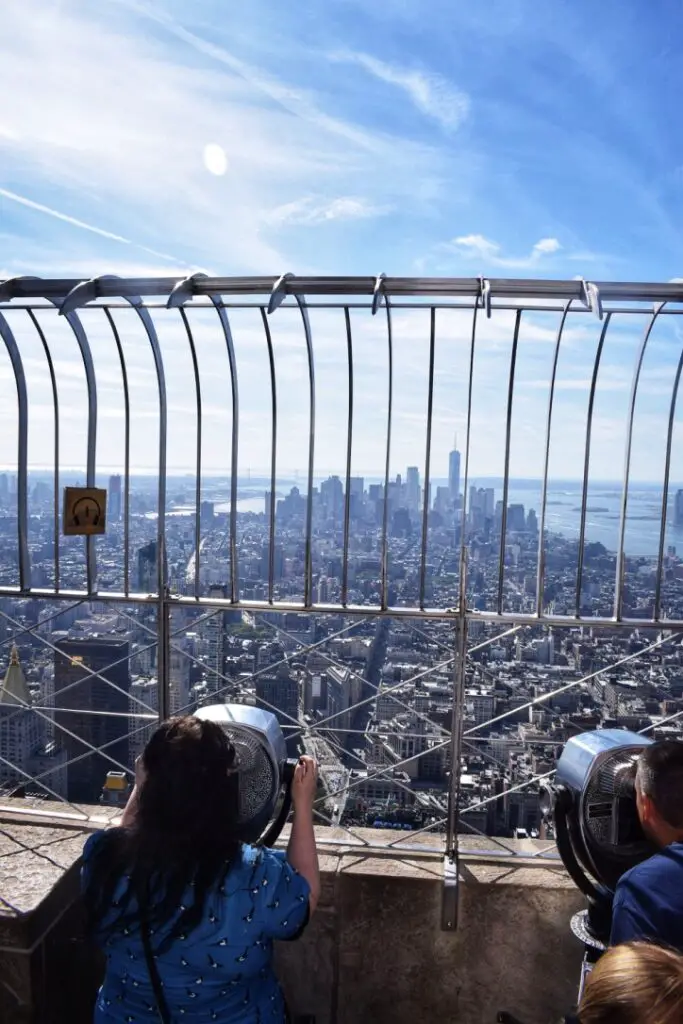 3. New York Public Library
The New York Public Library has a number of branches with the main being in Manhattan. It was founded in 1895 and is the largest public library system in the US.
There are some really cool things held in the libraries like a draft of the Declaration of Independence, a copy of the Gutenberg Bible, and original works by Shakespeare, Virgina Woolf and much more.
The Manhattan branch is the most recognisable and is a Beaux-Arts style marble building. You will know you are in the right place when you spot the two marble lions outside.
You can sign up for a free tour of the library which is definitely worth doing.
4. Grand Central Station
There are a number of reasons you should add a visit to Grand Central Station to your New York bucket list. For starters it's an incredible piece of architecture. The Beaux-Arts style landmark has served as a cultural hub for the city, as well as an important meeting place. Many a New Yorker will say 'meet me at the clock' in reference to the four faced opal clock that is located in the main concourse.
The station opened to the public in 1913, and is not just a train station. In fact it's also a world class retail and dining destination.
It attractions over 750,000 visitors every day making it one of the most popular places to see in New York City. It's very much a classic landmark and you should take the time to visit.
5. Columbia University
Columbia University is an Ivy League institution located in New York. There are a number of campuses but the main campus is the highlight. It's absolutely beautiful, and members of the public can register for historical campus tours. Here you can learn all about the history of the university, the architecture, and famous alumni.
You can check the university website to register for any upcoming tours.
6. Photograph the Flatiron Building
If you are a TV buff then you should add a visit to the Flatiron Building to your New York bucket list. The building is a significant NYC landmark that is often used in shows like Friends, and Veronica's Closet.
The Flatiron orignally known as the Fuller building is a 22 story skyscraper constructed in 1902. It's got a unique triangular shape and you can find it at the intersection of Fifth Avenue and Broadway.
7. New York Stock Exchange
The New York Stock Exchange is another New York bucket list building for a number of reasons. Firstly it is the largest stock exchange in the world and also the oldest dating back to 1972.
It's located on Wall street so if you are in the area you should pay it a visit. Unfortunately since 9/11 the building is closed to the public and you will notice a very heavy security presence at the front. It's still cool to get a picture of the outside, as the building has so much cultural and economic significance.
8. The Oculus
Part of the World Trade Centre transportation hub the Oculus is located in Lower Manhattan. It's directly across from World Trade Tower 1, and honestly you can't miss it. It's not only a transit hub, but also, home to a number of shops and restaurants.
It was designed by Santiago Calatrava a Spanish architect, but in collaboration with Daniel Libeskind who was the architect of the new World Trade Centre. The building design in very futuristic and kind of resembles a whale skeleton.
Every year on September 11 for 2 hours, the retractable ceiling is opened, and a slither of natural light shines through into the main transit hall. It's a very moving moment.
9. The Dakota Building
Constructed between 1880 and 1884 the Dakota Building is a Renaissance Revival Style luxury apartment building. In fact it is the oldest remaining luxury apartment building in New York City.
Historically it has been home to many famous artists, actors, and musicians. One of the most famous residents was John Lennon who was murdered outside the building in 1980.
10. Chrysler Building
The Chrysler Building is another incredibly landmark in New York city. It actually holds the record for being the first building to surpass 1000 ft in height.
It's an art deco building that is 77 floors and is 1046 feet tall. When it was completed in 1930 it was the tallest building in the world, but only for 11 months.
11. Woolworth Building
Home to one of the most exquisite lobbies in the world, this 60 story skyscraper is a must see. Built in 1913 this Neo-Gothic style building once had the fasted elevators in the world when it opened.
The building was designed by Cass Gilbert, who also famously designed the US Supreme Court Building in Washington DC.
If you want to see the building from the inside you do need to book a tour, but it is worth it to see that impressive lobby!
12. One World Trade Centre
One World Trade Centre is the tallest building in the western hemisphere, which is why a visit is a must as part of your New York bucket list. At the top of the building is an observation deck and as you can image you get some pretty impressive views over the city including of Manhattan, Queens, and New Jersey.
13. Visit St. Patrick's Cathedral
Located just across from the Rockefeller Centre is St Patrick's Catholic Cathedral. It's a must for your New York bucket list even if you don't go inside, because it's such a massive juxtaposition a quiet place of reflection located in the middle of a busy city.
Construction of the cathedral was completed in 1878, with a 20 year break in building due to the Civil War. You can do tours of the cathedral or attend mass if you want to see the inside.
New York bucket list ideas involving attractions
There is no shortage of attractions in New York, and these are some that we think are bucket list worthy.
14. Stand in Times Square
Ok I know this is incredibly cliched but we couldn't have a New York bucket list without a visit to Times Square. Seeing all the billboards lit up, and soaking in the hustle and bustle has a real air of excitement to it. Take some cool selfies, enjoy the atmosphere, people watch and then leave is our advice.
15. Walk the High Line
One of the newer New York bucket list items on this list is the High Line. It's a 1.45 mile elevated park situated on a disused train track. It's a really cool place to go to have a chilled out walk in the city.
16. Walk across the Brooklyn Bridge
Walking across the Brooklyn Bridge is a must for your New York bucket list. Not only is it iconic, but it's completely free.
It was built between 1869 and 1883, and is an impressive bit of architectural design. In fact when it was first completed it became the first bridge in the world to be suspended by steel.
The bridge spans the East River all the way from Brooklyn to Manhattan, and is a total of 1834 m long.
If you do walk across my advice is don't look down, especially if you are afraid of heights. It's an amazing moment, but there are points where you can see the water below through the slats which is slightly terrifying!
17. Liberty Island and Ellis Island
You cannot have a New York bucket list without a visit to Lady Liberty herself. Therefore we highly recommend you do a boat tour to Liberty Island and Ellis Island.
You can purchase tickets on the day, but it is advisable that you purchase these in advance as this is a popular tour.
On Liberty Island you can get up close and personal with the Statue of Liberty, and on Ellis Island you can explore the historical immigration centre.
You probably want to set aside a good part of a day to do this because there is a lot to cover.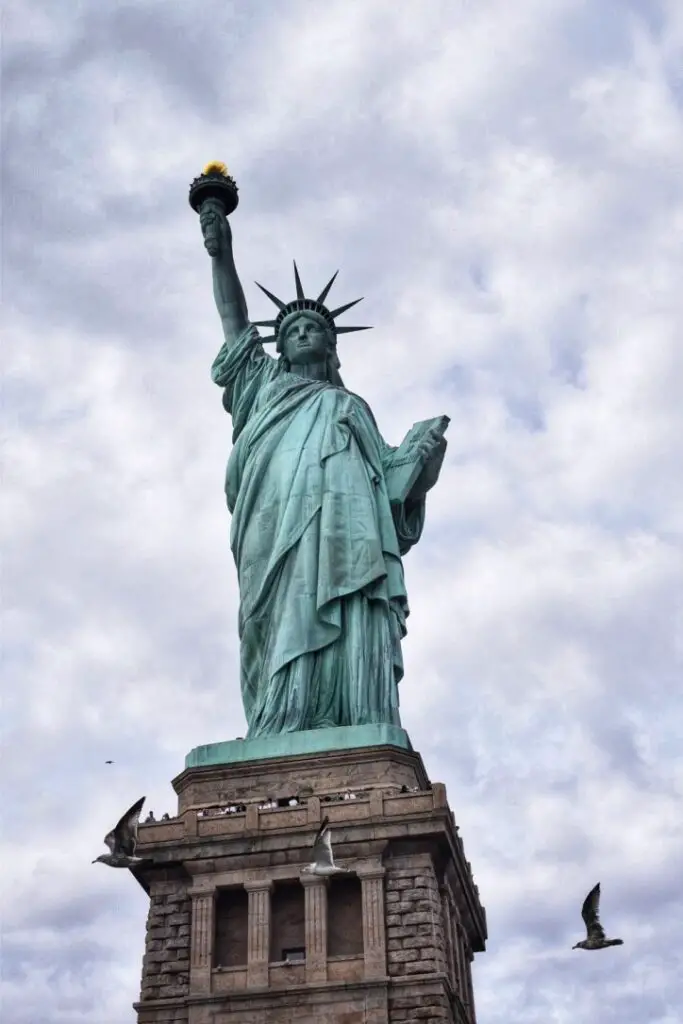 18. Madame Tussauds
If you are a fan of celebrity culture, or just want to take some random selfies, make sure you visit Madame Tussauds.
It's located on 42nd Street near Times Square, and is an incredibly popular attraction.
A city as big as New York also has a lot of hidden gems that not many people know about. These are the ones that we have discovered and added to our New York bucket list.
19. Visit the UN Headquarters
One of the lesser known things to do in New York is to visit the UN Headquarters. New York has been the location of the official headquarters since 1951.
Now officially the site is under the jurisdiction of the UN and no the US government which is an interesting thought.
The good news is, you can actually visit but you can only do so as part of a tour and this has to be booked in advance.
20. Visit the whispering gallery at Grand Central Station
The whispering gallery at Grand Central Station is a hidden gem that not many people know about. It is located between the main station concourse and Vanderbilt Hall.
It's essentially a chamber with a unique sound quirk where two people at opposite ends of the gallery can speak to each other. It's a fun thing to try when you are in the city.
21. Go to a singalong
If you are in the West Village make sure you stop by Marie's Crisis Cafe for a musical singalong. It's a piano bar dating back to the 1800s, and is one of the most welcoming places in the city.
So pop in grab a spot around the piano and sing your heart out. Just keep in mind it is cash only so you might want to hit up an ATM before you arrive.
22. Visit the Edgar Allan Poe Cottage 
This is a New York bucket list item for literature lovers. The Edgar Allan Poe Cottage is you guessed it a former home of the famous writer. It's located in The Bronx borough of New York.
The cottage is where he spent the last years of his life, so a must for any Poe fans.
23. City Hall Station
Another hidden gem for your New York bucket list os the Old City Hall Subway station. The station opening in 1904 and was the first subway station in the city. It stopped being a working station in 1945 but you can do a tour of the space. This can be done as part of a guided tour through the New York Transit Museum.
It's a really beautifully designed station and when it opened it was decorated with stained glass windows, chandeliers, and tile ceilings.
24. The Smallpox Hospital on Roosevelt Island
For something a little spooky, we recommend visiting the Smallpox Hospital on Roosevelt Island. IT was opened in 1856 and a century after it opened it was closed, falling into disrepair. It's a cool place to visit though to get some cool pictures as you explore Roosevelt Island.
New York bucket list ideas involving experiences
There are so many New York bucket list experiences that we simply cannot write about them all. But we have mentioned some highlights for you to try during your trip to the city.
25. Rollerblade in Central Park
This is probably one of those things I have in my head as being super cool because of movies. But in my defense Central Park is actually a really good place to rollerblade in New York. You can actually book lessons as well in case you are a beginner and want to learn.
26. See the city skyline from the harbour
A really magical experience for your New York bucket list is to do a harbour cruise. You get to see some incredible view of the city skyline. You can also book a cruise to suit your mood. Feeling romantic? Book a sunset cruise, or a dinner cruise. If you want a bit of sunshine you can sail along on a schooner. Whatever you decide it is sure to be a magical experience.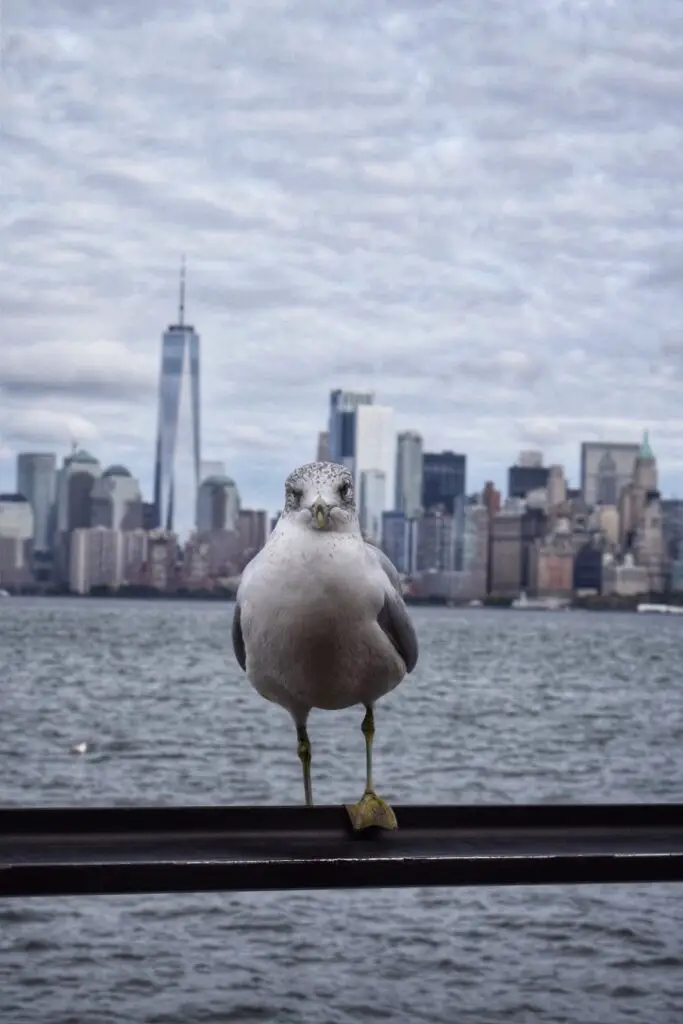 27. Spend the day at Coney Island
Coney Island is a real treat for those of you who are travelling with kids, or are just kids at heart. It's located in the southwestern part of Brooklyn and accessible by subway.
It's like a giant playground with rides and games, and classic fairground food. The amusements are open between Easter and Halloween, whilst the beach and boardwalk are open year round.
28. See the city from a helicopter
If you aren't afraid of heights, and want to get one of the best views of NYC add a helicopter flight to your New York bucket list. There are many companies that offer these flights, where you can literally get a birds eye view of the city.
You can book different flight times from 15 minutes to 30 minutes, and can even choose day or night flights depending on your preference.
29. Watch a Broadway show
Whether you are a fan or not Broadway shows are a huge NYC attraction. For that reason we highly recommend you go to a show at least once for the New York experience.
There are all kinds of shows on Broadway you just need to check what is showing when you visit. Our advice though is you can't go wrong with classics like Wicked or Phantom of the Opera.
30. Go to Carnegie Hall
Carnegie Hall is a famous concert venue in New York. It is one of the most prestigious venues in the world for classic and popular music.
You can purchase tickets to all kinds of shows, you just have to check the venue website.
31. Laugh at the Comedy Cellar
New York is famous for some great comedy, but one of the top clubs has to be Comedy Cellar. It's considered one of the best comedy clubs in the US. It is also where many top comedians have performed.
It's a very popular venue so you need to request tickets online well in advance of the dates you want.
32. Got to an SNL taping
SNL or Saturday Night Live is an iconic show filmed at the Rockefeller Centre in New York. Tickets are incredibly hard to come by but not impossible.
In August each year you can email [email protected] and join the random ticket lottery. You can't request specific dates though, you just have to try your luck.
Alternatively you can show up and queue in the hope you get standby tickets. There is no guarantee though, and these are only given out if ticket-holders don't show up.
33. Shakespeare in the Park
If you can't add SNL tickets to your New York bucket list, no problem, you can always try Shakespeare in the Park, for a classic NYC experience.
Each summer the Public Theatre puts on Shakespeare in the Park, which offers free productions of Shakespeare's work. Some of the shows also include famous actors with celebrities like Meryl Streep, Al Pacino, and many more appearing in shows.
This is another event where tickets are hard to come by but if you persevere you might just get lucky.
34. Shop at Tiffany's
Ok ever since I saw Breakfast at Tiffany's I've had a strange fascination with this store. The flagship store is located in none other than New York at 727 Fifth Avenue in Manhattan. It's recently been refurbed, and yeah the jewellery is cool but the art and pop culture nods to Audrey Hepburn are even cooler.
35. Go shopping along Fifth Avenue
Fifth Avenue, which runs from Washington Square Park to Harlem, is one of the most expensive shopping streets in the world. There is also a section that has coined the name 'Millionaire's Row' due to the number of mansions that were here in the early 20th Century.
There are also a lot of museums along the avenue too, but we will cover museums in another section.
One of the famous buildings along Fifth Avenue is of course Saks Fifth Avenue. Saks is a chain of luxury department stores that is headquartered in New York.
New York bucket list ideas involving museums
There are so many amazing museums to see in New York. We couldn't possibly mention each one, but here are some highlights.
Also as a side note these museums are great to visit on those days that you are wondering what to do in NYC in the rain.
36. Visit the 9/11 Memorial and Museum
The 9/11 memorial and museum are two of the most sobering places to visit in New York. I think it's such. a big thing because in my parents generation the question was 'where were you when President Kennedy was shot'? For my generation the question is 'where were you when the twin towers fell'?
The memorial is beautiful. There are two pools located at the base of where the towers stood, and the names of the victims is etched around the side.
The museum is really well done and very informative. It's interesting to get a greater understanding of the event that shook the world.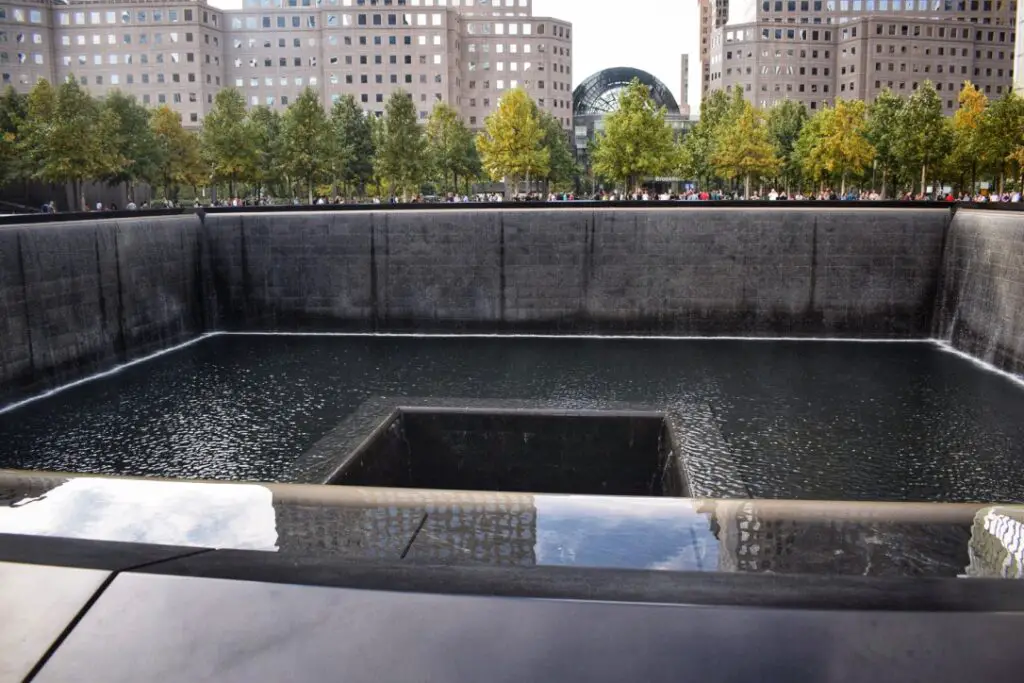 37. See the Metropolitan Museum of Art (The Met)
Known informally as 'The Met' the Metropolitan Museum of Art is aNew York institution. It is also the largest art museum in the Americas.
The permanent art contains over 2 million works, including ancient Egyptian paintings, American Modern Art, as well as exhibits containing musical instruments and costumes.
The museum was founded in 1870 and its purpose was to bring art and education to the American people. And it has certainly delivered on this with over 3 million visitors attending in 2022 alone.
38. Visit the Modern Museum of Art (MoMA)
If modern art is more your thing then make sure you visit the MoMA. It's been referred to as one of the biggest and most influential modern art museums in the world. There are several pieces here by Andy Warhol including his recognisable Campbell's Soup Cans.
39. Explore the Solomon R. Guggenheim Museum (The Guggenheim)
Officially called the Solomon R. Guggenheim Museum, but known in short as the Guggenheim, this is another bucket list art museum to visit in New York.
There are several art works here including an ever growing collection of Impressionist, Post-Impressionist, early Modern, and contemporary art. There are also a number of special exhibitions throughout the year.
One of the distinguishable features of the museum is it's 6 floor, bowl shaped main gallery.
40. Get lost in the Transit Museum 
For something a little different we recommend adding the New York Transit Museum to your New York bucket list. It contains a number of historical exhibits, of the New York subway, bus, and rail systems.
The museum is in a decommissioned subway station in Brooklyn which is another cool feature.
41. Learn in the American Museum of Natural History
The American Museum of Natural History is a natural history museum located just across from Central Park. It has 45 permanent exhibition halls as well as a planetarium and library.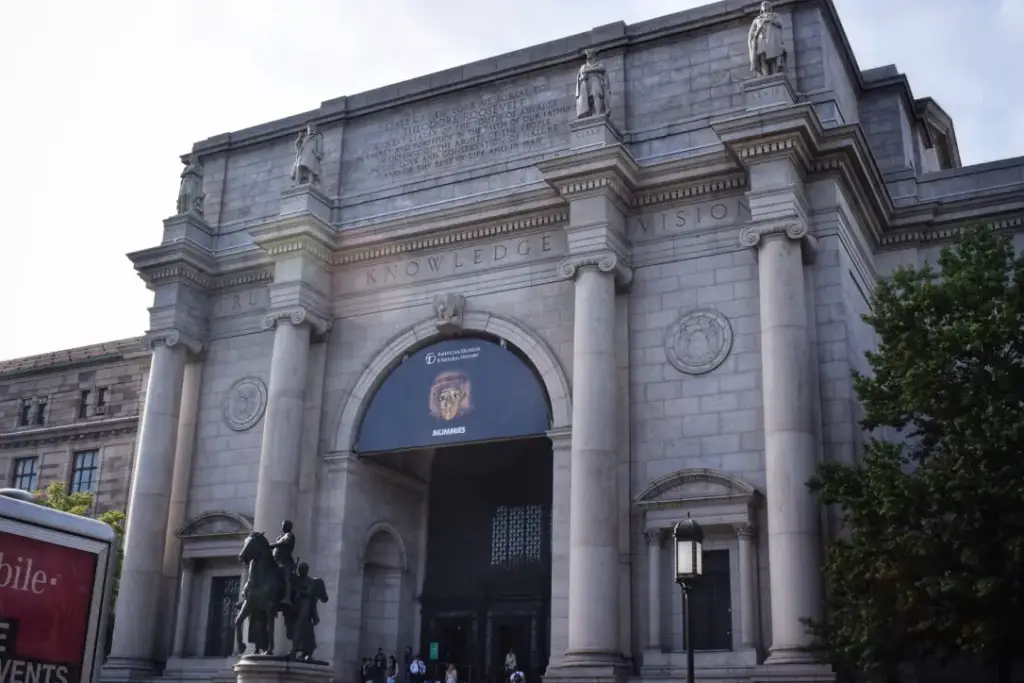 New York bucket list ideas involving neighbourhoods
There are so many really cool neighbourhoods to add to your New York bucket list. They each have their own feel, and character. It's impossible to mention every single one, but here are some highlights.
42. Chinatown
What's cool about Chinatown is that walking down some of the back streets, actually makes you feel like you are getting lost somewhere in Asia.
Chinatown is great for food, particularly noodles and dumplings, and there are also some cool bars mixed in for good measure.
You should also visit the nearby Canal Street for some great shopping bargains.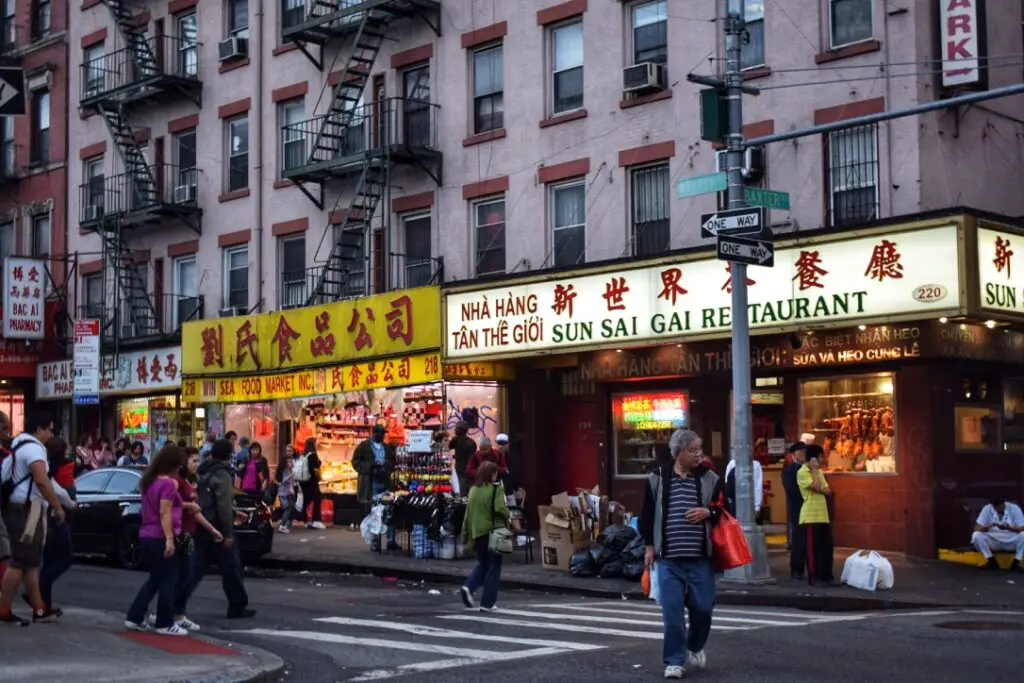 43. Williamsburg
You really should try and get out of Manhattan when visiting New York, and Williamsburg is a great place to visit. It's located in Brooklyn, and is easily accessible by subway. There are several cool bars and restaurants, as well as trendy shops to explore.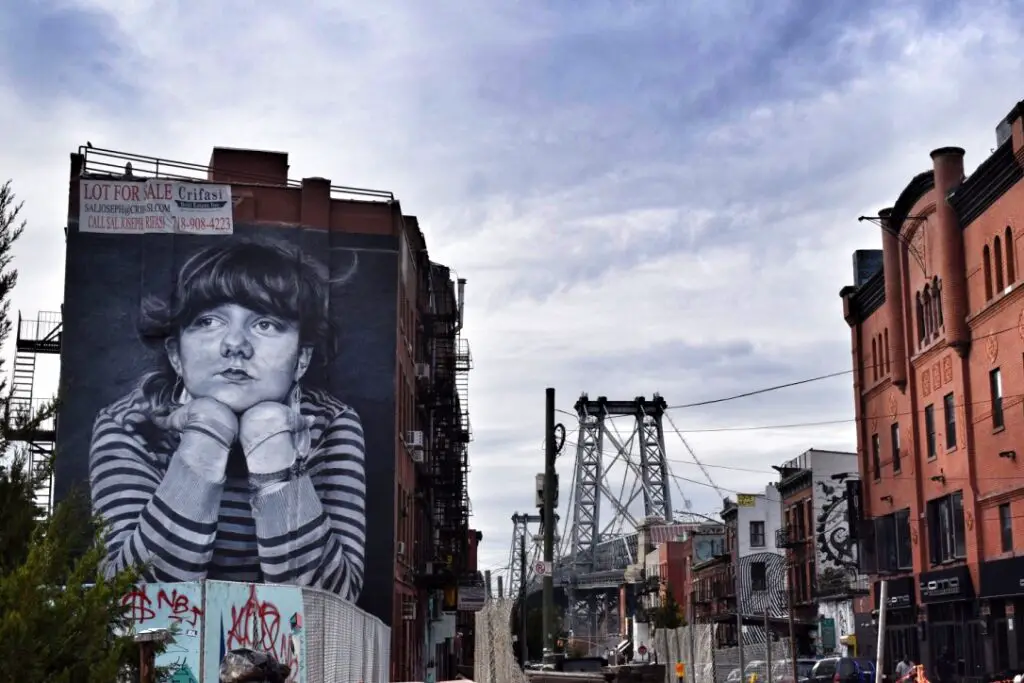 44. The East Village
One of my favourite neighbourhoods in New York is the East Village. It's full of cosy bars, cheap eats, and a general relaxed vibe. One of the highlights is the Ukrainian late night diner called Veselka where you can eat delicious comfort food that remind me so much of the things my Babysya used to make.
Another cool thing about the East Village is that it's great for jazz or blues music particularly as the evening progresses.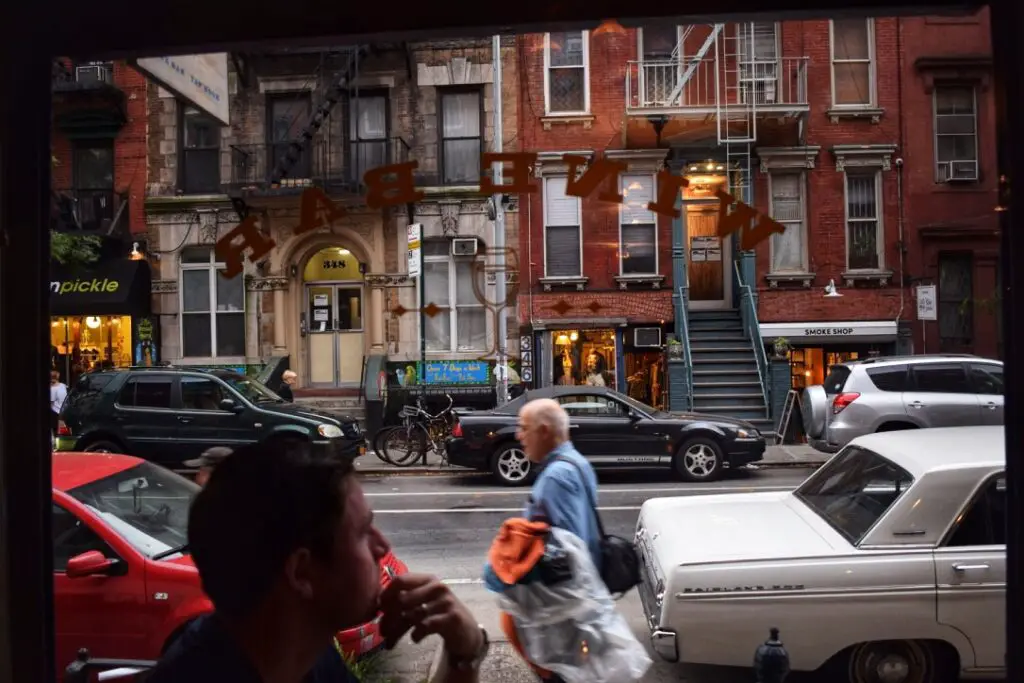 45. DUMBO
DUMBO which is actually an acronym for Down Under the Manhattan Bridge Overpass, is a former industrial part of Brooklyn. It's home to a number of repurposed warehouses, which now sell quirky furniture, and art.
It's a really cool place to sip coffee and watch the world go by. And of course it is also famous for 'that' picture spot.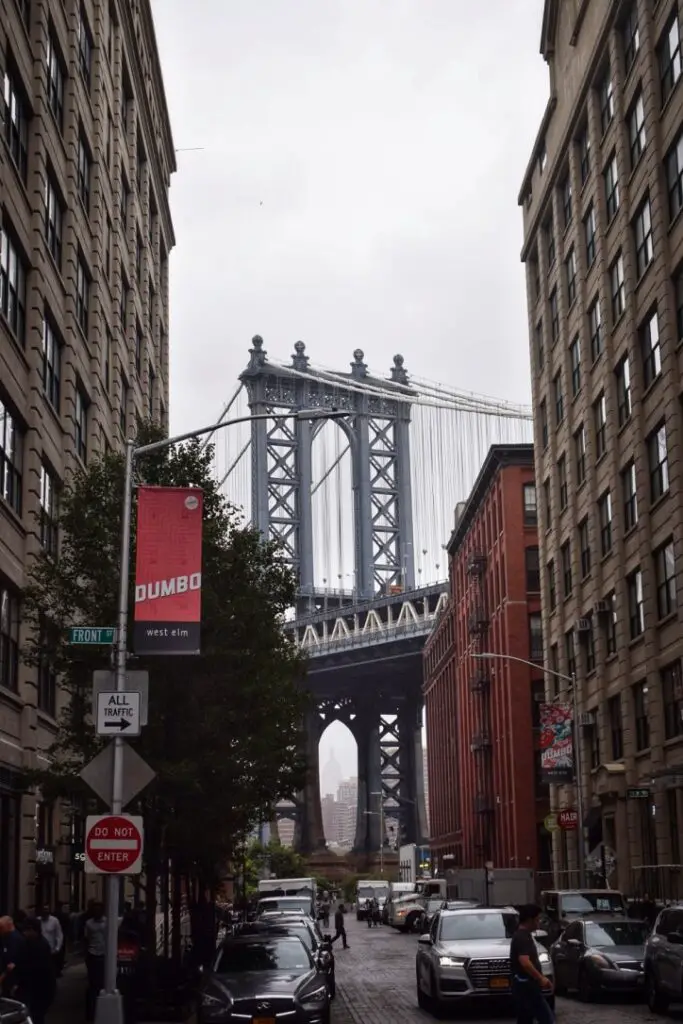 46. Greenwich Village
Greenwich is a great neighbourhood to explore. Not only is is beautiful and full of leafy streets and those famous brownstones, but it was the centre of the 60's counterculture movement.
These days you will find cafes, bars, and restaurants. Washington Square park is also located in the village which is a great place to relax and just people watch.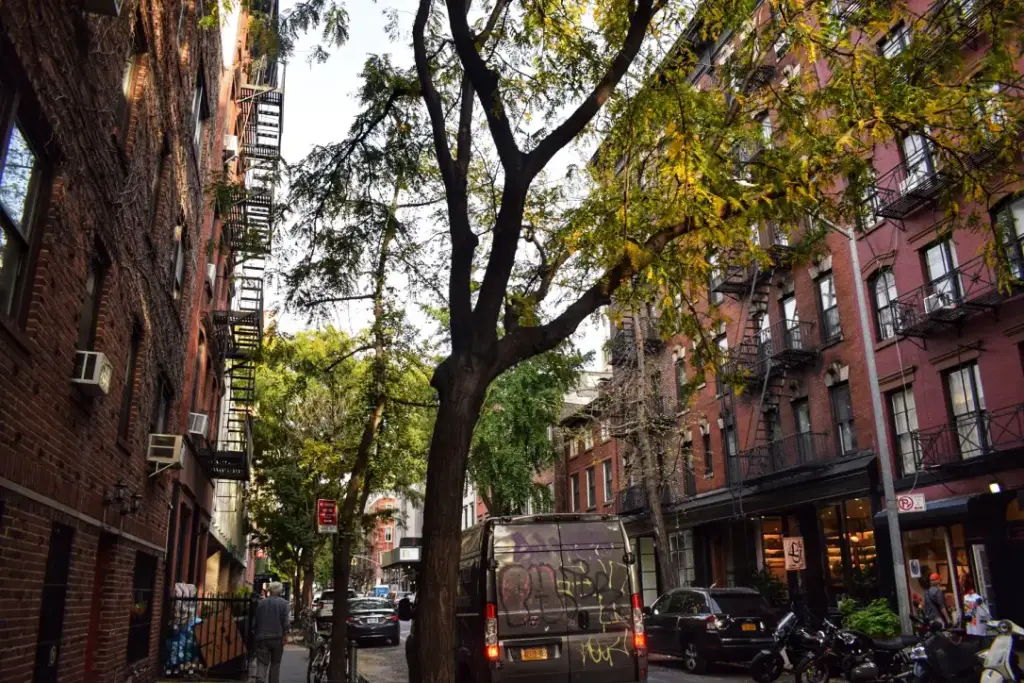 47. West of Central Park
West of Central Park is another cool area to explore, especially after a relaxing day in the park. There are several really cool bars here including our favourite the Dead Poet where you can order cocktails named after your favourite writers.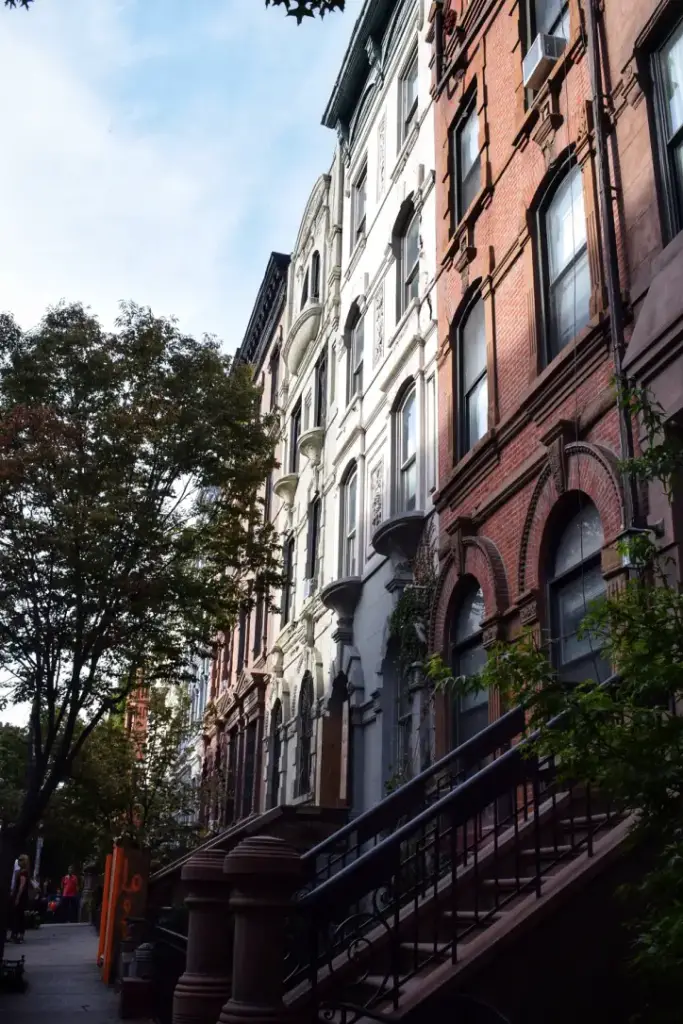 48. Little Italy
Italian immigrants have a long history with New York, which is why Little Italy is one of the must see neighbourhoods in the city. It's located close to Chinatown, and Soho, and is is the embodiment of that old New York atmosphere. It's most famous for its food, so make sure you grab some Italian-American specialties in the area.
New York bucket list ideas involving music
Music is a huge deal in New York City. So many musicians have called the city home and been inspired by the Big Apple. Here are some musical highlights.
49. Walk through Strawberry Fields forever
Ok maybe not forever, but visiting Strawberry Fields in Central park should be on your New York bucket list especially if you love your music. This 2.5 acre section of Central Park is dedicated to the memory of John Lennon. It's adjacent to the Dakota Building which is where he was living when he was shot on his way home in December 1980.
It's a beautiful part of Central Park, and a fitting memorial. In the centre of the garden there is a mosaic with 'Imagine' written across it. You will see lots of Beatle's fans trying to get a picture.
50. Listen to some Jazz
Whilst Jazz officially originated in New Orleans, it has a strong history in New York City too. In the 1920's the so called Jazz Age was in full swing, finding popularity all over the US.
New York's jazzy reputation started with the prohibition era, and artists like Duke Ellington and Louis Armstrong were key players in helping the city gain a reputation for quality jazz.
Visiting a jazz club in New York is a must do, especially if you are into music. There are a number of great clubs to visit, although Time Out have put a list together of the best jazz clubs in the city to help you choose.
51. Radio City Music Hall
Another institution that you have to add to your New York bucket list is the Radio City Music Hall. It is located in the Rockefeller Centre, and is nicknamed 'the showplace of the nation'.
It's a famous venue, that is not only headquarters for the Rockettes, a precision dance company, but has also hosted some of the world's most influential artists.
You can do backstage tours where you get to go behind the scenes at the Radio City Music Hall, and even meet a Rockette.
52. New York Music Month
If you are in NYC in June make sure you check out some of the New York Music Month events all over the city. You can attend concerts in the park, and attend the annual conference all for free. There are events and concerts that cover all musical genres too which is perfect for music lovers.
53. Visit the Apollo Theatre
The Apollo Theatre is another iconic building when it comes to music in New York city. It was established in 1913 in Harlem, and has been an important venue for African American artists.
It is said to be 'where stars are born and legends are made' which is probably true especially because it was pivotal in launching the career of Ella Fitzgerald among others.
It is still a prominent venue today and is a not-for-profit, with concerts, theatre and dance performances and much more.
54. Listen to Jazz at the Blue Note in Greenwich
One of the most famous Jazz clubs in New York has to be the Blue Note in Greenwich. Despite being established well after the Jazz Age, in 1981, it has become a legendary place to hear jazz in the city. A lot of famous musicians have played here so it is definitely worth adding to your New York bucket list, particularly if you are a jazz fan.
New York bucket list ideas involving food
Food is a massive deal in New York. It's so multicultural that you will find some of the best food from all over the world on the streets of New York. Here are some of the staples as well as some of our favourites that you really have to try when you are in the city.
55. Pizza
You might be thinking surely a slice of pizza can't be a New York bucket list food item. Well it is. New Yorkers take their pizza seriously. A slice of cheese pizza in New York will set you back around $3 but oh my gosh it's the best cheese pizza I've ever had.
It's made up of a large very thin dough. Order a slice, fold it in half and dig in. Don't be fooled by crazy toppings either, the plain cheese in the best.
You can buy pizza slices from a number of places all over the city. Honestly you don't even need to look that hard.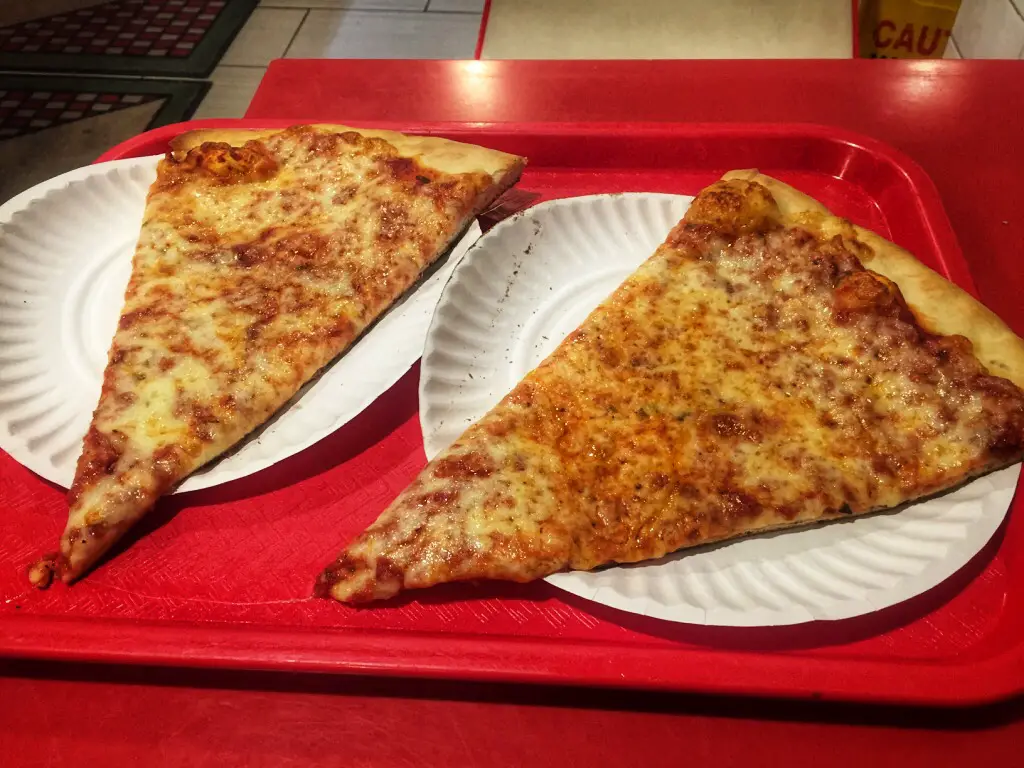 56. Hot Dogs
Don't look at me like that! Hot Dogs happen to be really good in New York City. Don't be put off by the whole street meat concept these hot dogs are worthy.
There is a lot of debate about how the hot dog in New York came about but one story is that it was Charles Feltman a German immigrant and baker who came up with the whole bun and Frankfurt sausage idea. It was supposed to be a quick and easy meal idea that needed no plates or cutlery.
Walk down any block in central NYC and chances are you will come across a street vendor selling them. They are perfect for lunch on the go.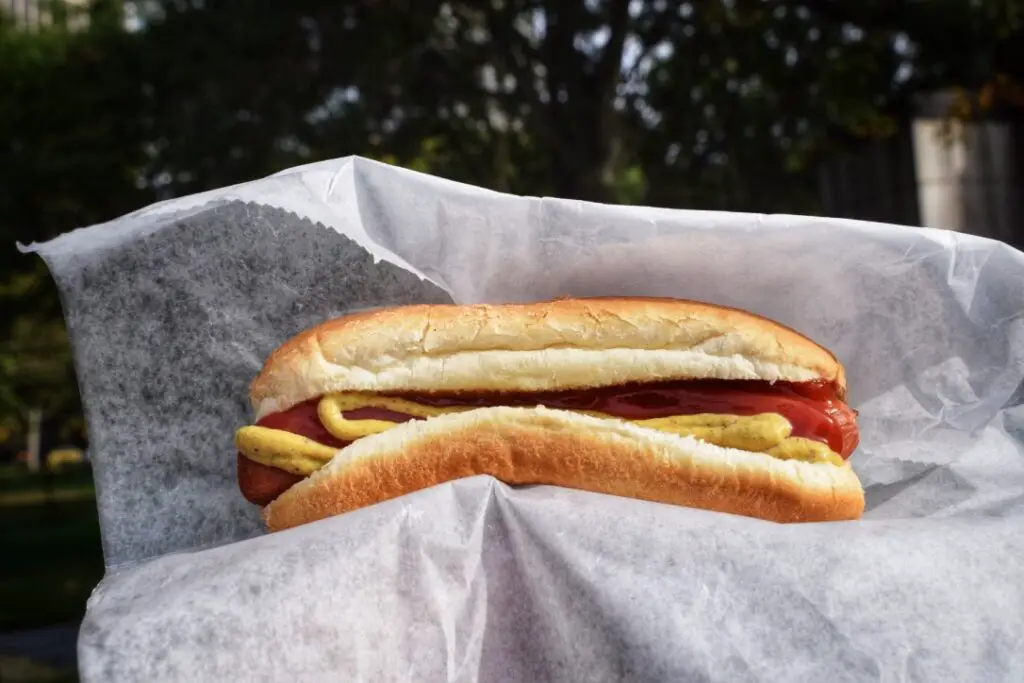 57. Eat a Nathan's Famous Hot Dog at Coney Island
If you aren't tempted by the street meat, instead head to Nathan's Famous at Coney Island. It began in 1916 and was created by Nathan Handwerker. He was actually an employee of Charles Feltman and opened a rival store.
Today it's a franchise, but the Coney Island store still exists. And if you are around on the 4th of July you could also attend the annual hot dog eating contest. You just have to eat as many as possible in 10 minutes. The record is a whopping 74!
58. Magnolia Bakery
Magnolia Bakery has long been a badly kept secret in New York. Famous for their incredible cupcakes, the bakery started as one store in the West Village in 1996. There are now over 30 stores worldwide, and the cupcakes are pretty darn good.
You might be wondering why these cupcakes are New York bucket list worthy, well one they are good! But they were also included in an episode of Sex and the City, which is when word really got around about these cupcakes.
There are 8 branches in New York alone, so no matter where you are in the city you can get a cupcake fix pretty darn quickly.
59. Katz's Deli
We couldn't have a New York bucket list without mentioning Katz's Deli. It's the oldest deli in New York, and you probably know it from 'that' scene in When Harry Met Sally. The sandwiches here are delicious, with tender and moist meat, and soft bread. Add a bit of mustard and a pickle and you have yourself a winner.
It's manic from the moment you walk in, but that kind of adds to the charm. Also come on an empty stomach because the sandwiches are huge.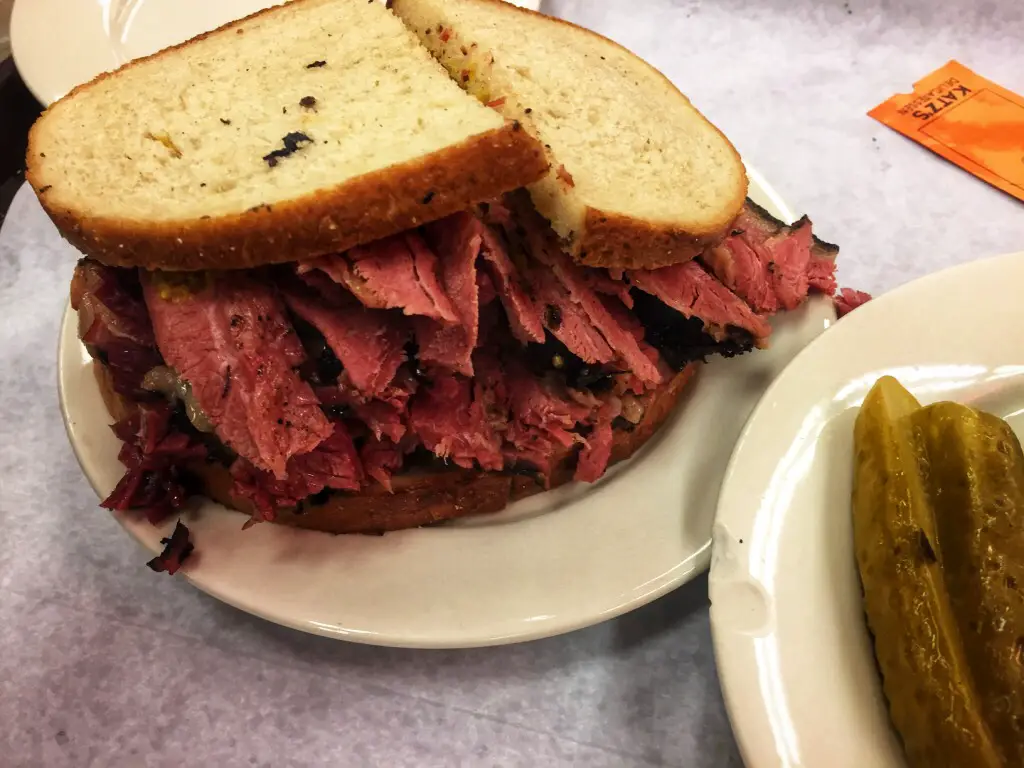 60. Veselka
So I'm biased with this one I know but I don't care. My family are Ukrainian and the food was something I grew up with. That is why I have added visiting Veselka to this New York bucket list. Located in the East Village this late night diner serves some cheap but delicious Ukrainian food.
One of the foodie highlights are Pierogis or Veraniki as they are sometimes called. They are a type of dumpling usually filled with potato, or meat, or saurkraut and mushroom, and are served with fried onions.
Also don't forget to try the Borsht or Cabbage Soup. Believe me it tastes so much better than you think. Ukrainian comfort food is honestly the greatest thing ever.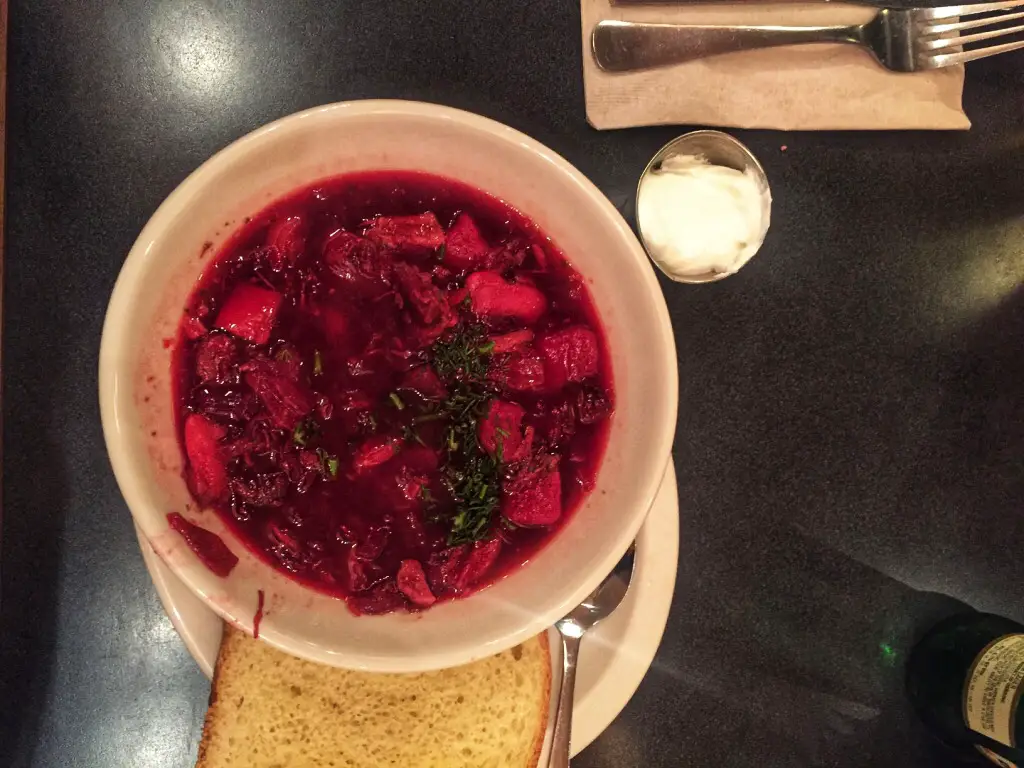 61. Dominique Ansel Bakery
If you love hype then the Cronut is the way to go. You will have to go to the Dominique Ansel Bakery and you will need to be prepared to wait in line. They only do one flavour per month and there is a strict 2 per person limit, but it's worth it, even if it's just to say you did. It is after all one of the most talked about pastries in the city.
A Cronut is a croissant/doughnut hybrid invented by New York pastry chef Dominique Ansel. It was introduced in May 2013 and pretty much became an instant hit. In fact just days after introducing it, foodies and media crews were camped outside the bakery at 6am waiting to get a taste. 
The Cronut is usually filled with a flavoured cream and fried in oil. Probably the most interesting thing about it though, is that it takes 3 days to make. The lamented dough needs a lot of rest before being mixed with butter and it is only on the 3rd day where the frying and piping come in.
Whilst the Cronut is extremely popular, don't be fooled by knock offs. A trademark was registered for the name "Cronut" only 9 days after first going on sale, which means that you can only purchase official Cronuts at the Dominique Ansel Bakery in Soho.
Of course he also has stores in London, LA, and Tokyo too. If you want to taste this popular treat you should be prepared to wait in line. When we visited, we had to wait about 20 minutes before ordering, which is actually short compared to some people's experience.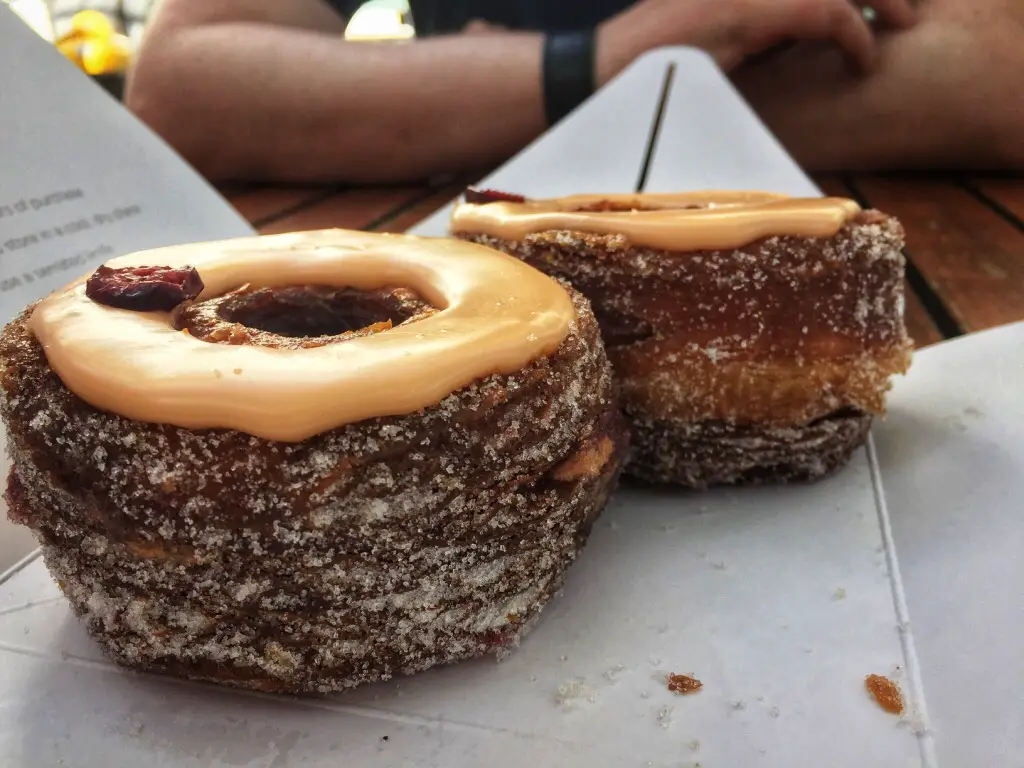 62. Donuts
Donuts are another New York City institution, and there are honestly so many places that you can pick these up in the city.
The Donut was brought into US cuisine by the Dutch. And the first donut shop opened in 1673 by Anna Joralemon. What further made them an American staple though was that when Ellis Island opened in 1892 the Salvation Army distributed these treats to new arrivals as part of their outreach service.
These days there are tons of places to buy artisan and classic donuts throughout the city. Donut Plant is a great place to start for some fresh donuts with some creative flavours.
63. New York Cheesecake
New York cheesecakes are immense. They are perfectly baked fluffy centred cheesecakes that honestly make me drool thinking about them.
The history of the New York cheese cake starts with the history of cream cheese. A New York dairyman William Lawrence invented cream cheese accidentally in his attempt to recreate a kind of soft French Cheese in 1872. With the cream cheese invented it wasn't until the 1900s that Arnold Reuben a German immigrant came up with it. According to cheesecake.com (and who can argue) he became intrigued by a cheese pie he has tasted at a party that in trying to recreate it he came up with the New York Cheesecake.
There are so many places to buy a New York cheesecake for something quick and easy we recommend  Sugar Factory, Row, near Times Square.
64. Ellen's Stardust Diner
I don't think you can visit the US without going to a diner. Ellen's is one of the coolest in New York. It's a multi-level 50s themed place that serves classic food like pancakes, burgers, and some pretty intense milkshakes. Oh and the waiters and waitresses sing to you!
65. Eat Noodles in Chinatown
Chinatown is like heaven for foodies. You can walk along the sidewalk and be excused for actually thinking you are in South East Asia. Chinatown is perfect for cheap noodle dishes and dumplings and is an absolute must!
Chinatown originated in the 1870's as the Chinese population gathered together due to a rise in anti-Chinese sentiment. It became a refuge for Chinese immigrants and a place for them to come together.
These days it is is home to the highest concentration of Chinese people in the Western Hemisphere. It is also a popular tourist destination with a lot of shops selling souvenirs and cheap goods, as well as you more traditional Chinese style restaurants and supermarkets.
66. Pretzels
Ok so this is another cliched New York street food, but a darn tasty one at that. Pretzels date back to 610 AD where an Italian monk would bake strips of dough and fold them into a crossed shape meant to symbolise arms praying. 
They would be handed out during holy times or as rewards to children for memorising their prayers. In the 17th century German children would wear them as necklaces for good luck and spirituality. German immigrants introduced the treat particularly in Pennsylvania, and it eventually made its way to New York.
You can grab one on the go from one of the many carts selling them around the city, or you can head to a hip restaurant to have them served with a beer and some mustard. Either way they are a snack not to be missed.
67. Bagels
Bagels are another classic to add to your New York bucket list. Nothing, I repeat NOTHING beats a fresh bagel topped with cream cheese, or bacon egg and cheese. Yum. We had some of the best bagels of our life in NYC.
These days the bagel has become almost a breakfast staple, especially in New York, however the bagel actually originated in Poland. The Jewish community were responsible for creating this culinary delight, of yeasted wheat dough that is shaped into a ring. It is boiled and then baked which is why you get the soft slightly chewy interior and the crispy exterior.
The bagel was once considered a delicacy but by 1980 they were mass produced and made their way into several of the city's grocery stores. Now they are one of the myst try foods in New York City.
I know you can get bagels anywhere but there is something about New York style bagels maybe it's the water in the city. The water has a softer quality due to its perfect ratio of magnesium to calcium.  Because of this the water mixes perfectly with the gluten in the bread creating that soft but chewy texture.
Bagels are common throughout the city, although the very aptly named Best Bagel and Coffee, tops our list.
68. Sushi Donut Shop
New York is famed for its wild food and culinary experiments. One of the newer crazes is the 'Sushi Donut Shop' where you can eat well you guessed it sushi donuts. They are made from rice which is shaped as a donut and you can top it with classic sushi fillings like salmon, and avocado.
69. Grab some food at Chelsea Market
One of the bucket list places to grab food in New York is Chelsea Market. There are a number of restaurants inside selling an international fare. They do some pretty awesome tacos here so make sure you give them a try.
New York bucket list ideas involving drinking
If you like sipping cocktails, after a long day New York is one of the best places in the world to do it. Here are some drinking highlights in the city.
70. Sip cocktails at a rooftop bar
New York honestly has some pretty incredible rooftop bars. And with incredible views and bright lights, why limit yourself to basement drink when the sky (or the roof) is the limit! There are so many cool places to try in the city with a lot of rooftop lounges particularly around Times Square.
That being said you can checkout this article for some of the best in the city.
73. Try a Martini at the Knickerbocker Hotel
I'm a huge cocktail fan, and I love learning all about where famous cocktails were invented. This is why I have added Martini's at the Knickerbocker Hotel to our New York bucket list.
Although the exact origin may be disputed, it is claimed that one of the first Martini's ever served as at the hotel in 1912 by bartender, Martini di Arma di Taggia.
The hotel is located in the Times Square area, and if you travel up to the fourth floor you will find the hotel cocktail lounge called Charlie Palmer.
74. Sip Manhattan's in Manhattan
Another famous New York City drink is the Manhattan, said to be invented at the Manhattan Club. Although this story is highly disputed and put down to legend it's still worth grabbing a Manhattan at one of the swanky bars along Broadway.
75. Have a Cappuccino at Caffe Reggio 
Caffe Reggio opened in 1927 and is the first caffe in the United States to serve Cappuccino. The popular Italian drink was introduced in the US by the original owner Domenico Parisi. Located in Greenwich this is a must visit for coffee lovers everywhere.
76. Do a Prohibition pub crawl
Prohibition era bars are a big thing in New York so you should definitely do a prohibition era pub crawl to learn more. It's a great way to escape from the hustle and hustle of NYC, and you can hear all about various gangsters and bootleggers. This is a tour we highly recommend below.
77. Sip Cocktails at Employees Only
One of our favourite bars in New York happens to be Employees Only. So even if you decide not to do a prohibition pub crawl you should still checkout at least one prohibition themed pub.
Located behind a secret entrance in Greenwich (look for the fortune teller) here you will find some of the most inventive cocktails in the city. And if you are visiting Sydney anytime soon you can also visit the Sydney branch.
78. Have a Drink at "Please Don't Tell" (PDT) 
Another cocktail favourite in the East Village is Please Don't Tell. You need to enter through a phone booth in Crif Dogs, where you can sip cool cocktails in a dark space. Try to make a reservation in advance so you don't miss out as it does get busy.
New York bucket list ideas involving sports
Sport an be a slightly divisive topic in New York City, probably much like it is all around the world. If you want a true New York experience then checking out a game is a must. Here are some of the top sports to get into on your next trip.
79. Get into Major League baseball
New York has not one but two Major League Baseball teams in the city. Which can make supporting this sport incredibly divisive. You have the Yankees based in the Bronx and the New York Mets based in Queens. Who you support is up to you, but do try and get to a game if you can. Alternatively you can book a stadium tour of either stadium.
80. Madison Square Garden
One of the most famous stadiums in New York has to be Madison Square Garden. It's home to both the New York Knicks who are a basketball team and the New York Rangers, who are an ice hockey team. It also hosts other sporting events like rodeos, and much more. If you get the chance to tour the stadium this is a sports lovers dream!
81. Watch a hockey game
Hockey is another sport that people go crazy for in New York City. The biggest team in the city are the New York Rangers who play in the NHL. Tickets are hard to come by as the games are massively popular but you can always try your luck.
82. Watch a basketball game
If you are into basketball why not checkout a New York Knicks game. As mentioned above they usually play at home at Madison Square Garden. They are a Manhattan based basketball team that compete in the NBA. Alternatively if you want to get out of Manhattan you could also checkout the Brooklyn Nets who are a Brooklyn based team.
General New York bucket list ideas
There are some New York bucket list ideas that don't fit neatly under other sections, so here are some general ideas.
83. Chill out in Battery Park
Battery Park, or rather The Battery as it is now known is a park that covers 25 acres at the southern tip of Manhattan. It's a quintessential New York experience because it is so close to all the action in the city. It's also home to the SeaGlass Carousel. It's a fish themed carousel, that you probably won't find anywhere else in the world. It's close to a number of ferry terminals, so this is a perfect stopping point before getting the ferry to Staten Island or Liberty Island.
84. Ride the subway like a New Yorker
In all likelihood you will need to ride the subway to get around New York anyway and we have added a bit more information on that towards the end of this post. Riding the subway is a classic New York experience. It's pretty standard to get lost, go the wrong way, or accidentally hop on an express train going who knows where. It's all part of the New York experience.
85. Get a photo of the charging bull
If you are exploring the Wall Street area and wondering what on earth the groups of people are taking photos of on a street corner, it's probably the Charging Bull statue. Standing on Broadway in the Financial District this bronze statue is a hugely popular tourist attraction.
It was designed by Arturo Di Modica after the 1987 stock market crash. The statue was illegally dropped outside the NYSE building, in 1989 before eventually being installed at Bowling Green. Getting a photo with the bull is a must, but come early if you want to avoid the crowds.
86. Ride a yellow cab
Is there anything more New York than sticking your hand out as you hail a taxi? I think movies make this feel a little more romantic than it actually is.
It's not the most practical of transport options because city traffic is pretty crazy, particularly in rush hour. And it's not the cheapest either but still it is iconic.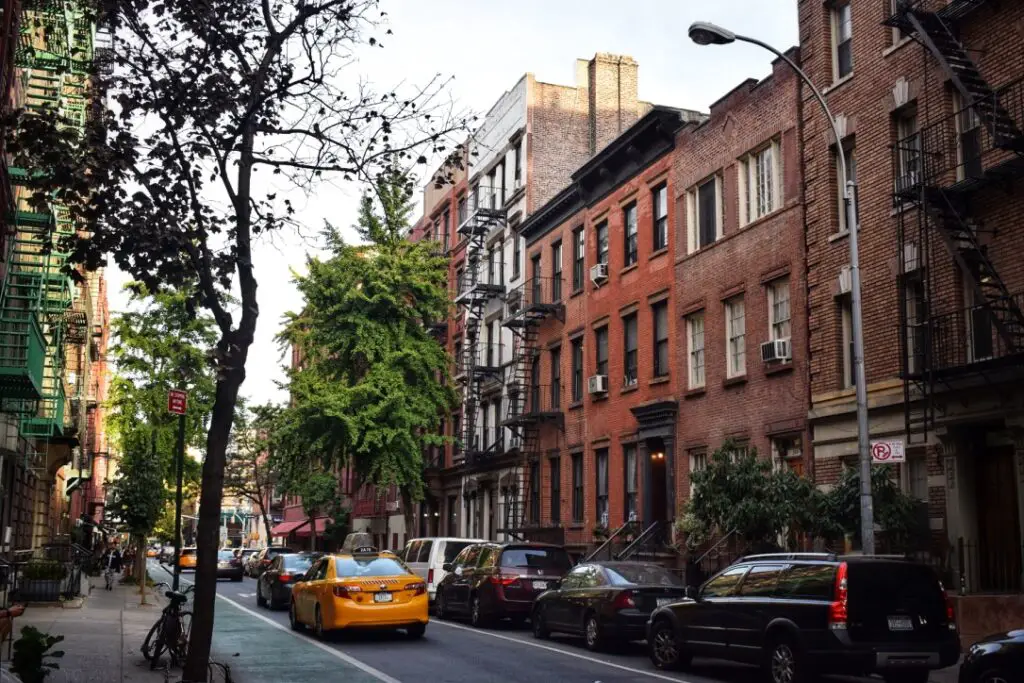 87. Staten Island Ferry
A ride on the Staten Island Ferry is an absolute must for your New York bucket list. Not only is the ferry free, but you get some of the best views of New York from the water. It's also a good way to get close to the Statue of Liberty without paying a fortune for a tour.
You can get the ferry from the Staten Island Ferry terminal which is right next to Battery Park. You simply line up and board the next ferry. My recommendation is to sit or stand at the back of the ferry for the best views.
The service operates every 30 minutes although during rush hour it's slightly more frequent. It will take you about 25 minutes to get to Staten Island, and you do have to get off when you get there. But if you go when it's a bit quieter you should be ok to get off and board the same ferry.
New York bucket list ideas in summer
New York definitely comes alive in the warmer months. If you happen to be in New York in the summer here are some of the best things to do that you need to add to your bucket list.
88. Attend a Bryant Park Picnic Performance
Bryant Park picnic performances is a free outdoor festival that invites people to experience the culture and arts of New York City.
It's a fantastic celebration of theatre and dance, and over 75,000 people attended last year alone. You basically just turn up to the park to enjoy the performances, and you can borrow a picnic blanket and purchase food and drink. Performances usually run from around June – September.
89. Rent a row boat in Central Park
Central Park is an iconic summer spot in New York. So why not rent a row boat and relax in the sunshine. There are some gorgeous skyline views, and if row boats aren't your thing you can even rent a Gondola. Of course there are professionals that will operate it for you.
Boats are available from April to November and usually form 10am until dusk, weather permitting. It costs $20 for the hour and you will need cash to pay for it.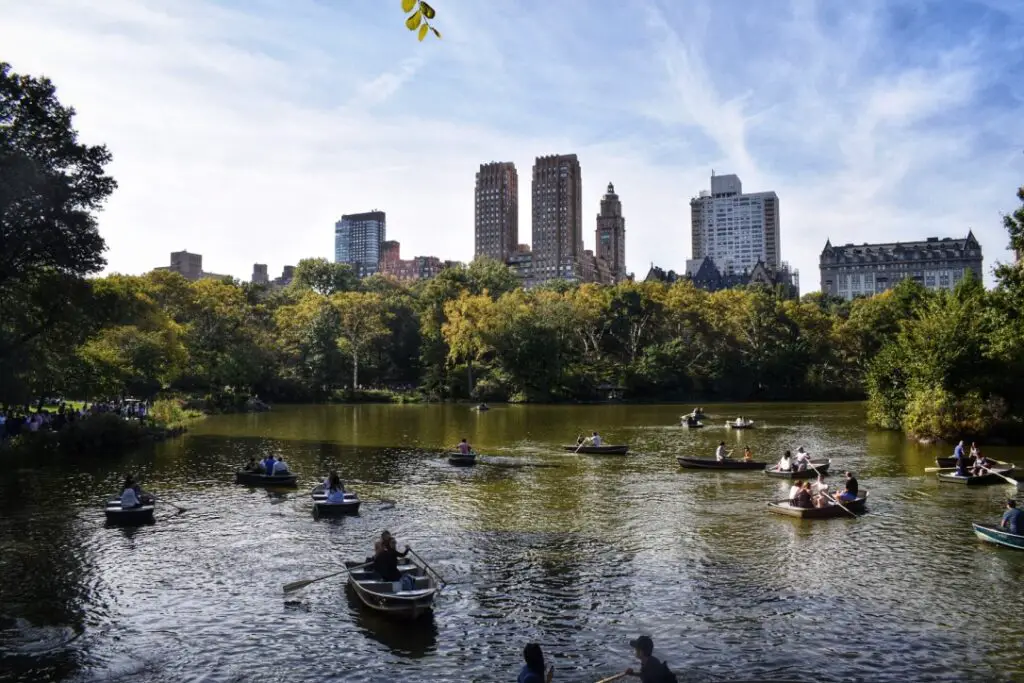 90. Picnic in Central Park
If you don't want to row, why not do a classic summer picnic in Central Park. You can either arrange it yourself by picking up some snacks on your way to the park. Alternatively if you want something a little fancier you can pay for a picnic experience which covers food, drinks, blankets, pillows, and clean up. You can find more details here.
91. Go to the Summer on the Hudson Festival
Summer on the Hudson festival is a yearly outdoor arts and culture festival that takes place in Riverside Park. There are a number of concerts, dance performances, wellness activities, and movies under the stars type events you can attend.
It's all free and events take place between May – October.
92. Kayak on the East River
Another awesome thing to do in New York in the summer is to kayak along the East River. You need to make a reservation at the Brooklyn Bridge Park Boathouse, where you will be able to rent a kayak for free. Although a small donation is advised.
93. Smorgasburg
Another awesome summer festival in New York is Smorgasburg. It's a food event that pretty much means the start of summer in the city.
It typically highlights some of the best food places and vendors across 3 locations. The locations are Williamsburg, Prospect Park, and the World Trade Centre.
The festival usually opens at the end of March/early April and goes on until October. So if you love food, sunshine, and the outdoors this is for you.
94. Rooftop Cinema Club
The Rooftop Cinema Club is essentially what it says. A place you can go to watch a movie on the rooftop of a NYC building. It's very much weather dependant which is why we think it is the perfect summer in New York bucket list idea.
They show cult classics and new releases, and they also do some pretty awesome food and drink. For more information and show times you can checkout the Rooftop Cinema Club website.
New York bucket list ideas in winter
If you are planning on visiting New York City in winter here are some of the must dos.
95. Christmas in New York
There is definitely this romantic idea of New York City around Christmas time. It's probably thanks to countless Christmas movies, like Miracle of 34th Street, Home Alone II, and Elf to name a few. But either way Christmas in New York gives us the warm and fuzzies.
There is so much to do at this time of year, like ice skating, attending the Christmas markets, or just admiring the gorgeous Christmas lights.
96. Watch the ball drop on NYE
There is nothing more iconic than watching the ball drop in Times Square on New Years Eve. The ball drops from the top of 1 Times Square at 42nd Street, and there is a large space surrounding the building where you can watch the ball drop.
This is one of those things where you need to get there early. People start attending from 3pm desperate to get a good spot. So be prepared for a lot of waiting around.
97. Skate at the Rockefeller centre
Another hugely iconic thing to add to your New York bucket list in winter is to do a little ice-skating. The best place to do this is at the Rockefeller Centre. It's pretty much synonymous with the Christmas season in New York.
The rink was first opened on Christmas Day 1936, as a temporary exhibit. It became so popular that it eventually became permanent.
It usually opens at the beginning of November, although it does get pretty popular particularly around the holidays.
New York bucket list ideas involving festivals
There are so many incredible festivals that you can add to your New York bucket list. Here are some of the best to give you some inspiration.
98. Attend the Tribeca Festival 
The Tribeca Festival celebrates storytelling in multiple forms like film, TV, music, audio, gaming, and immersive. It's all about independent film and creative expression.
The festival started after the September 11 attacks to help in the economic and cultural revival of lower Manhattan after the event.
It's held in spring each year with a number of events, talks, and interactive exhibits taking place.
99. Museum Mile Festival
The Museums Mile Festival is a great chance to tick off the museum section of this New York bucket list. It's essentially a free yearly event where a number of museums along the 'Museum Mile' stretch of 5th Avenue open their doors to the public. The event is pedestrianised and it's not just the free museums you can take advantage of but also, street musicians, cool food vendors, and much more.
100. Pride Month
New York City pride month falls in June, and honestly it's one of the brightest, most fun festivals in the city. There are so many amazing events scheduled over the course of a month, but the absolute highlight is the Pride March.
101. 4th of July Fireworks
If you are in New York City on the 4th of July you absolutely have to add the 4th of July fireworks to your New York bucket list. There are a number of places to go to see the fireworks, both official and unofficial. Here is a guide for the best locations to see the fireworks.
Best time to visit NYC
New York is honestly one of those cities that you can visit at any time. Winters tend to be incredibly cold, with temperatures often plummeting below freezing. But that doesn't mean the city shuts down. In December the city becomes a magical Christmas wonderland with ice skating rinks, Christmas lights, and festivities taking place.
January and February tend to be cooler, which is a great time to experience the museums, and shops the city has to offer.
Summers in New York tend to be incredibly humid and busy. There are a number of festivals that take place all over the city and it's a great time to enjoy the outdoors.
The best times to visit New York are April- June and September – November. The weather is decent enough to enjoy the outdoors, but not as hot or cold as the rest of the year.
Where to stay in NYC
Deciding where to stay when you visit New York can be incredibly overwhelming. The accommodation options are endless, and there really is something to suit every budget.
The next hurdle is deciding on which area to stay in. When we booked our first trip to New York we ended up deciding on a hotel near Times Square. We wanted to be close to transport and in the middle of all the action. In hindsight we wouldn't do it again. It was way too touristy, and the nightlife was terrible.
To avoid making the same mistake as us here is a rundown on the best areas to stay in New York. This is by no means an extensive list, and it is probably more suited to first time visitors.
Midtown
Midtown is good for those travelling as a family. It's close to key spots like Times Square and the Rockefeller Centre. There are excellent transport connections, and it's that busy chaotic city experience that you might expect from New York.
The downside is that it is really touristy. Which is great if you are on a short break, but there aren't a lot of quality restaurants and bars in the area. If you want a bit of nightlife avoid midtown, particularly around Times Square.
Upper East Side
The Upper East Side is a lot more expensive than other parts of New York. There are a lot of boutique style hotels, and more upscale restaurants and bars.
This isn't great for budget travellers, but if you can splash the cash a little then go for it.
Greenwich
Greenwich is a super cool neighbourhood, and it gives you a great insight into life in New York. There are a lot of cool restaurants and bars, so it is great for some relaxed evenings.
The only downside is that it is slightly out of the way, so if you are on a short break you may want to be closer to the action. It can also be a bit loud in the evening.
East Village
The East Village is another super cool area in the city. There are so many amazing restaurants and bars around, and again you get a bit more of an authentic NYC feel. This is another part of the city that is slightly away from the attractions, so stay here if you don't mind that fact, and you do want a good night out.
Queens
Finally if you are looking for budget accommodation you should look at Queens. It's way out of Manhattan but on the plus side you do get a pretty impressive view of the skyline from here.
How long do you need in NYC?
If you are trying to complete this New York bucket list, it might take you a good while to do. This is for sure a multi trip list!
So you might be wondering how long you need for a standard trip to New York. Our honest answer is the longer the better. We would say a 4 day trip to New York, is your minimum in terms of time in the city. This will give you time to see some attractions, eat some good food, sip some cocktails, and get to grips with some of the cool neighbourhoods.
Ideally though you might want a week or two to really get out there and explore in a bit more depth.
Getting around New York
Getting around New York is relatively easy. We recommend using the subway to get to the main attractions on this list.
Google Maps will also help you by directing you to the station and advising which train to catch. the bit we found slightly confusing was trying to work out if we needed to go uptown or downtown but once you figure it out you will be riding the subway like a pro.
To buy a ticket you can purchase a metrocard or use contactless. The metrocard is probably better value for money, as you can purchase a card to cover a certain number of days.
Is this New York bucket list expensive?
You might be wondering how much this New York bucket list is going to cost you. That all depends on what you want to get out of your trip to the city. If you do absolutely everything on here then yes it will cost you a pretty penny. But the good news is that many of our bucket list attractions are free. Here are some examples of free things to do in New York:
Visit Central Park
Walk the Brooklyn Bridge
Visit the High Line
Ride the Staten Island Ferry
See the 9/11 memorial
Explore the trendy neighbourhoods
See Times Square
Checkout Grand Central Station
You can make your visit to New York as cheap or as expensive as you want. Even the majority of food on our New York bucket list is relatively cheap. For instance you can grab a bagel and coffee for $7. Similarly those awesome pizza slices that you see being sold all around the city will only set you back $3.
Obviously there are a lot of really expensive things on this list like taking a helicopter flight over the city so if you have the financial means the sky is the limit – literally- in New York.
New York bucket list – a recap
As you can see there are so many amazing things to do in New York City. It truly is the city that never sleeps, and admittedly you might not be able to either if you want to fit all these New York bucket list ideas in.
If you need more East Coast USA inspiration you can checkout this article.
If you have found this article useful please pin it for later.
Happy travels!