The best touristy things to do in NYC in the rain
So you have arrived in New York City armed with a bucket list full of adventures. There is just one problem, it is raining. And when it rains in New York it really rains. The good news is though, that the trip is totally salvageable because there are so many things to do in NYC in the rain.
You might have to forget about your picnic in Central Park, at least for the time being and trade it in for something a little more weather friendly. Luckily there are a ton of museums, bars, restaurants, and a whole lot more to entertain you. So here is our guide to the best touristy things to do in NYC when it rains.
Disclaimer: This post contains affiliate links, so if you use these links to buy something we may earn a commission, at no cost to you. Thank you for your support.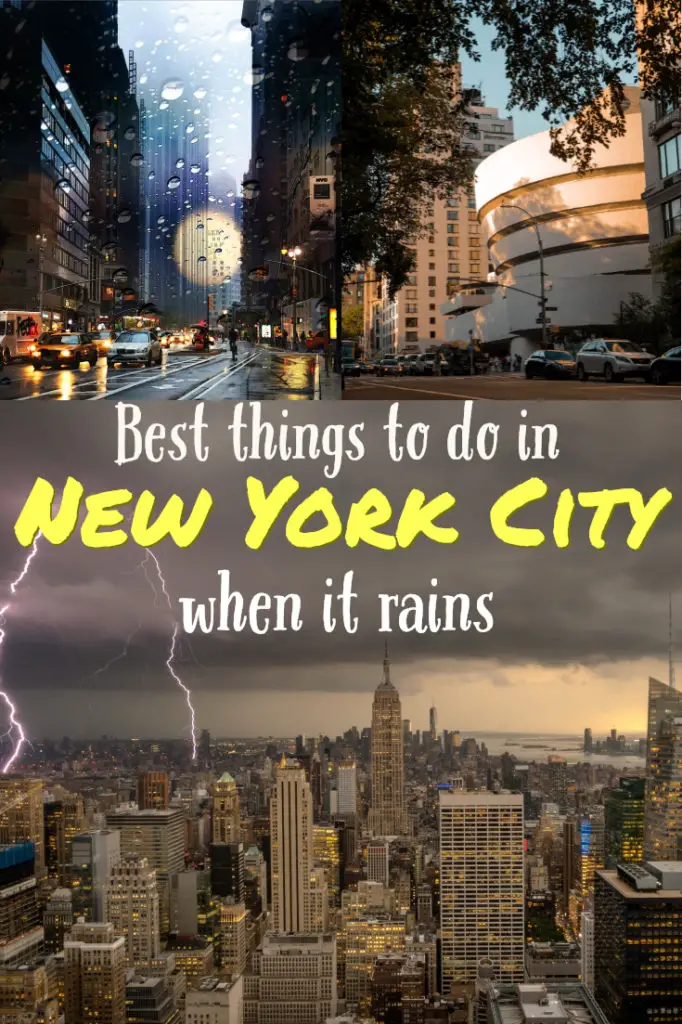 Before we get to the best things to do in NYC in the rain here is a little factsheet
Country: USA
Currency: US Dollar US$
Also known as: The Big Apple, the city that never sleeps
Famous for: Being the financial capital of the world, the statue of liberty, Being the setting for every TV show under the sun
Visit if you like: Thriving nightlife & bustling cities
Wondering is New York worth visiting? This post will help you decide.
Things to do in NYC in the rain
We wanted to write this post on things to do in NYC in the rain, because when we planned our trip to NYC we had so many things we wanted to do. And it was great until it started to rain.
We begrudgingly cancelled our trip to the Empire State for the day, because no one wants to pay to look at rain, even if it is from a great height. So after spending ages deliberating on what we should do we finally managed to salvage our day.
But this guide is for anyone who finds themselves in NYC on a cold rainy day, and is wondering what to do.
And if you want more ideas checkout our New York bucket list.
Things to do in NYC in the rain – museums
One of the best things to do in NYC in the rain, has to be to visit a museum. And New York has no shortage of museums. Here is our list of some of our favourites in the city, because there is no way we can mention each and every one.
Metropolitan Museum
The New York Metropolitan Museum is a popular museum in the city where you can explore places like Ancient Egypt and see well-preserved tombs. Basically if you are a fan of ancient civilisations then this might be for you. There is also a highlights tour if you want to save time.
The American Museum of Natural History
Located in Manhattan's Upper West Side, the American Museum of Natural History is one of the largest museums in the world. You could actually spend a whole day here checking out all of the exhibits. Some of the highlights include the planetarium, and Dave's absolute favourite, the dinosaur section. Standard admission starts at around $23 but if you wanted to see some of the special exhibitions you will need to pay an additional amount. Information on prices can be found here for your information.
And if you want to book your tickets in advance then you can do so on Get Your Guide here.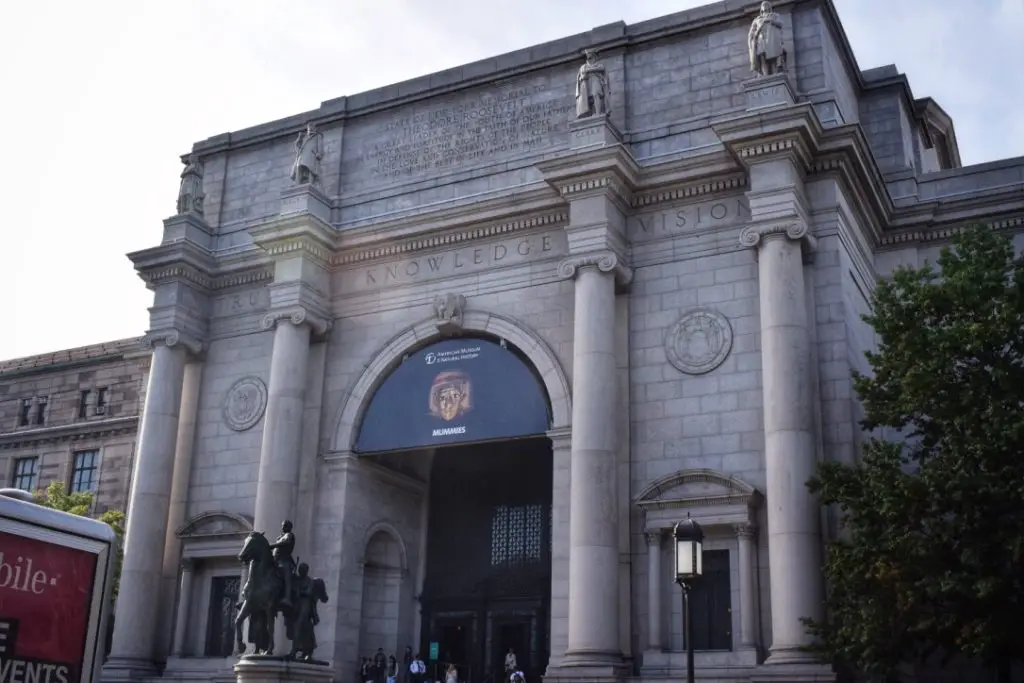 Metropolitan Museum of Art
This is another hugely popular museum in New York, and it attracts nearly as many visitors per year as galleries like the Louvre or the British Museum. Here you can see 5,000 years of art history from places like Pompeii, and Ancient Egypt.
You can book a guided or semi private tour here.
9/11 Memorial
The 9/11 Memorial is such an important part of New York City history. The museum explores the events that took place on September 11 2001, as well as how this currently affects the city and the world. It is thought provoking and can be particularly emotional. Admission starts at $24, and all in all it will probably take you about 2 hours to explore the museum.
You can pre-purchase a timed ticket in advance here.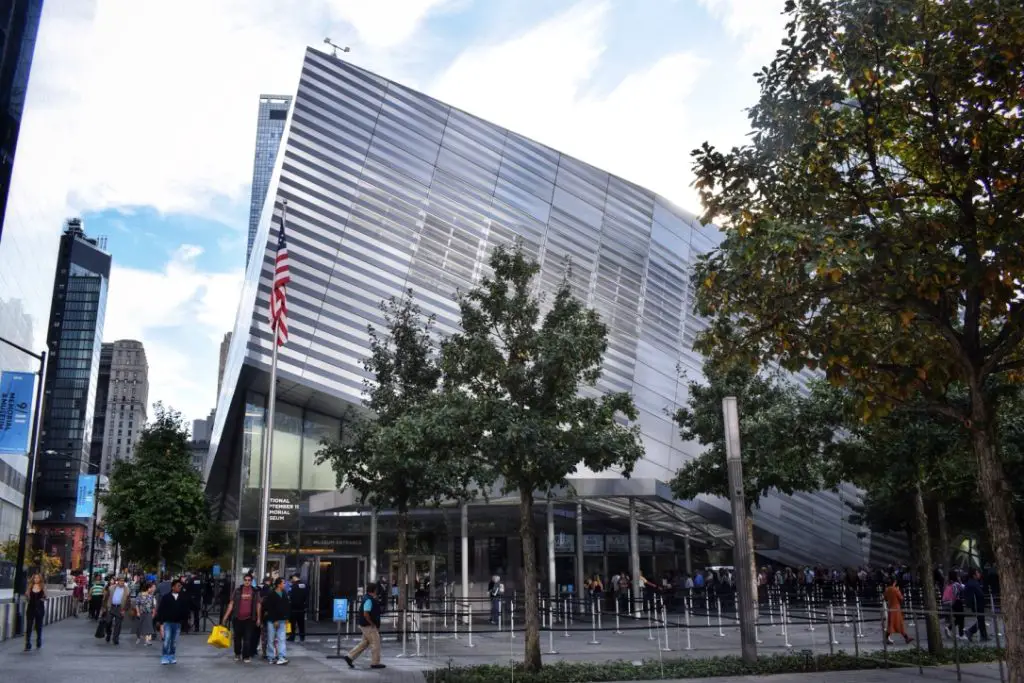 Guggenheim Museum
Art lovers will enjoy the Guggenheim, which houses various impressionist, early modern, and contemporary artworks. Entry is $25 for an adult and it really is worth it. One of the coolest things about the Guggenheim or at least in our opinion is the building itself. The design is cylindrical and the top is actually wider than the bottom. A visit is an absolute must when you are looking for things to do in NYC in the rain.
You can either purchase tickets on the day or online in advance.
Museum of Ice Cream
For something a little different on your rainy day in New York, why not visit the museum of Ice Cream. It's an immersive experience dedicated to Ice Cream. And the best part is you can savour some treats along the way. Book your tickets in advance here.
Museum of Modern Art
The MOMA or the Museum of Modern Art is another must for art lovers. It houses works from artists such as Van Gogh, Dali, and my personal favourite Andy Warhol. During our visit, the museum was undergoing quite a bit of renovation so a lot of the exhibits were unfortunately closed, which was disappointing, especially as we still had to pay the $25 ticket price. But this was a while ago, so chances are you will be fine when visiting.
Here is a link to buy tickets on Get Your Guide.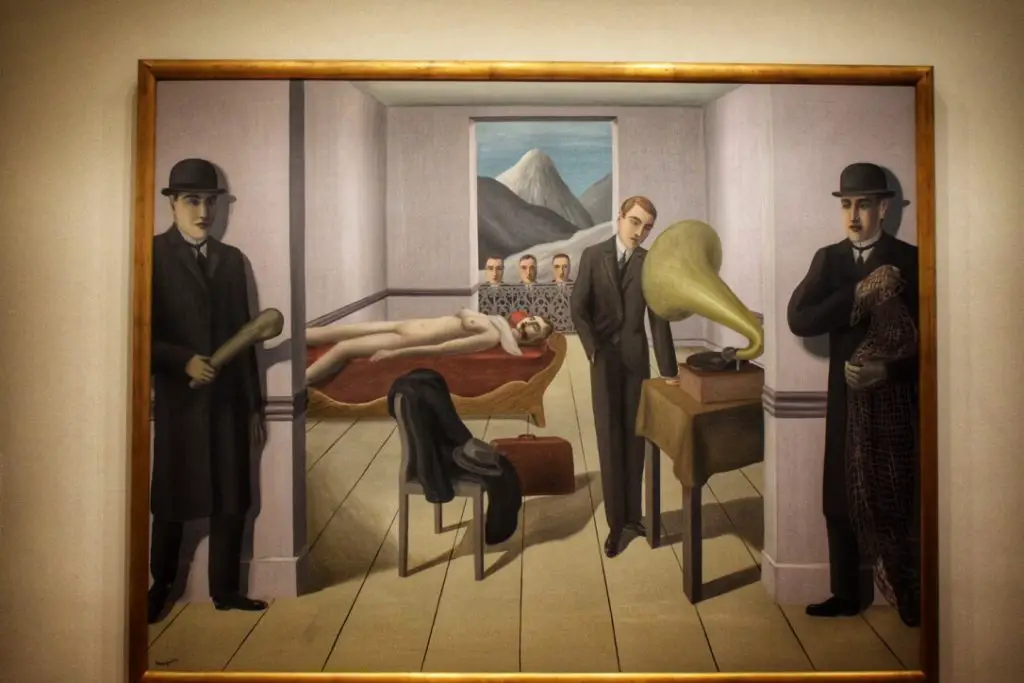 Things to do in NYC in the rain- that aren't museums
Don't worry if museums aren't your thing. There's plenty of alternatives NYC has to offer.
Ride the Staten Island Ferry
So the best thing about riding the Staten Island Ferry is that it is free. Which is why we have included it in our touristy things to do when it rains in NYC post. Even in the rain you get a pretty cool view of the city skyline which is always worth it. The crossing takes about 25 minutes each way but all in all you are looking at an hour return trip.
Get the subway out to Coney Island
So if this is your first visit to New York you might not know that the subway is not just an underground network. There are a lot of routes that take you past some incredible views on an elevated track. Like the subway over to Brooklyn that crosses the Manhattan Bridge. Or if you are heading to Coney Island the B and Q line trains are elevated most of the way after leaving Manhattan so you get some pretty cool views of Brooklyn without getting wet in the rain.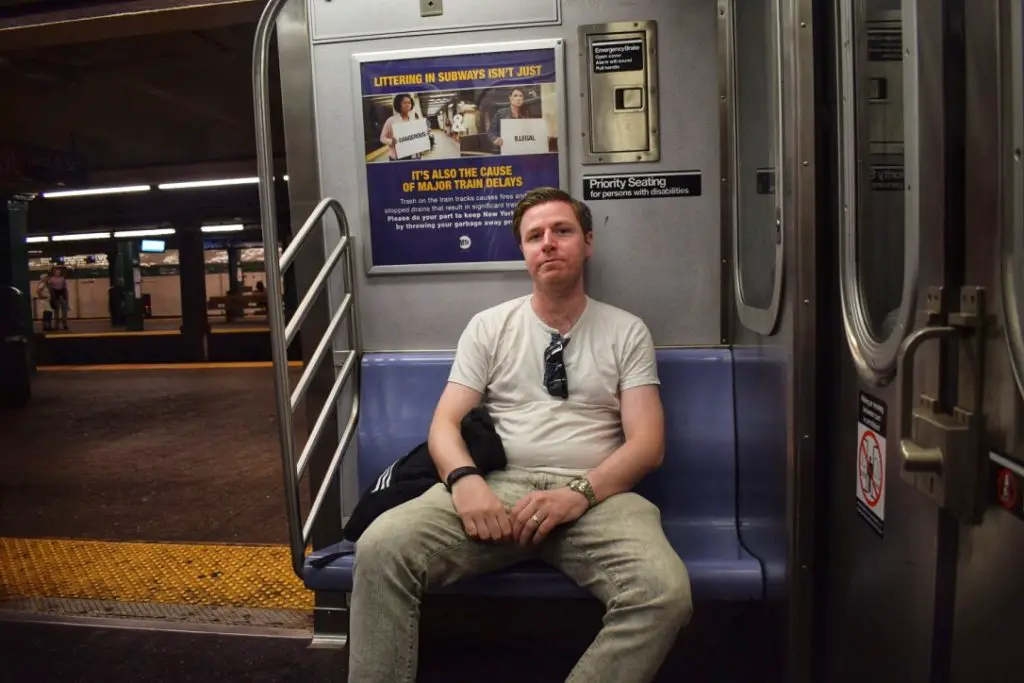 Rockefeller Centre
The Rockefeller Centre is probably most known for the Top of the Rock Observation Deck. Obviously when planning things to do in NYC in the rain an observation deck isn't the best thing to do. But there is a lot to do at the Rockefeller Centre. For starters, you can do an NBC studio Tour, or a Radio City Stage Tour. If they don't float your boat, you can even do a Rockefeller Centre Tour for $25 which guides you though the history of the building.
Do a Madison Square Garden Arena Tour
Madison Square Garden has to be one of the world's most famous arenas. So if you are thinking of things to do in NYC in the rain, why not do a tour here. You get to go behind the scenes and learn all about the famous moments that happened inside. This is perfect for sport lovers, music lovers, and even movie lovers. Book your tickets online in advance.
Grand Central
Grand Central is not only a transport hub, it is also a New York City icon. It is also one of the best touristy things to do in NYC in the rain. The building itself is incredible with impressive chandeliers and designs. Make sure you pop in for some photos, and whilst you are there grab some food or do some shopping. You can also do a Grand Central Secrets tour like this one. For instance did you know there is a hidden tennis court in the station? Neither did we!
Go on a shopping spree
Speaking of shopping, one of the best things to do in NYC in the rain is to embark on a shopping spree. Where you go depends on your budget and what you are looking for, but New York really does have some of the best stores in the world. My favourite has to be Strand, a bookstore which has a whole section upstairs dedicated to rare books. Another cool thing to do is to head to Greenwich and have a look at some of the quirky shops in the area.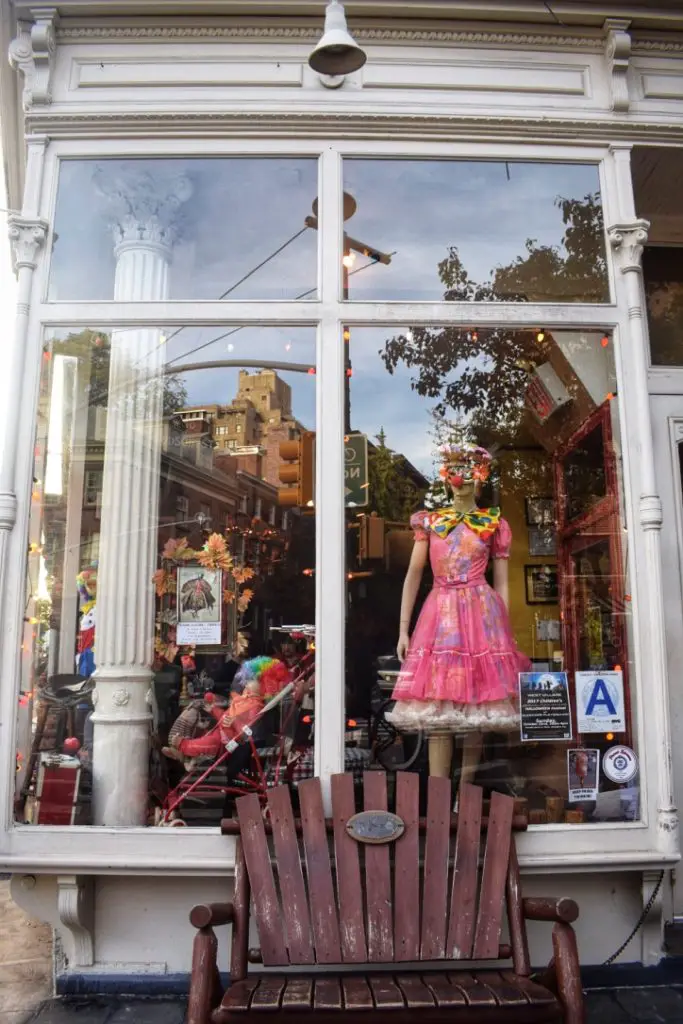 Checkout an indoor market
New York City has some incredible markets that you simply have to explore. And don't let some bad weather put you off, because there are some really good indoor ones too. For example the Chelsea Market where you can gorge on some incredible food and shop to your heart's content. Look out for the shop Artists and Fleas selling all things trendy, like jewellery and vintage clothes.
The Metropolitan Opera
If you are an opera fan why not take advantage of a rainy day in NYC and go to the Metropolitan Opera. You can choose from a variety of classical operas. Tickets can be purchased here in advance. And they do change each season.
New York Public Library
Another touristy things to do in NYC when it rains, is to head to the public library. It has appeared in a number of films and TV shows. It is stunning inside and out and definitely worth exploring.
Check out some of the attractions around Times Square
Times Square might not be the first place you think of when thinking of things to do in NYC in the rain. But there are a ton of rainy day activities around here. You have the Ripley's Believe it or Not Museum, or Madame Tussauds if wax statues of your favourite celebs are your thing. There is also the M and Ms store and the massive Hershey's Chocolate World.
Listen to some live music
If you are a music fan then New York is the place to be. For us we really wanted to listen to some jazz and so we stumbled upon Rue B in the East Village, a really unpretentious bar that has live jazz music every night from 8.30pm. The cool thing is when we were there the owner of the bar got involved and sang during some of the numbers.
Find a cosy bar
A rainy day in New York city will not bother you one bit if you find a cosy bar to sit in and watch the world go by. One of our favourite rainy day bar locations has to be the East Village with bars like The Immigrant that you can get snug in and forget about the rain.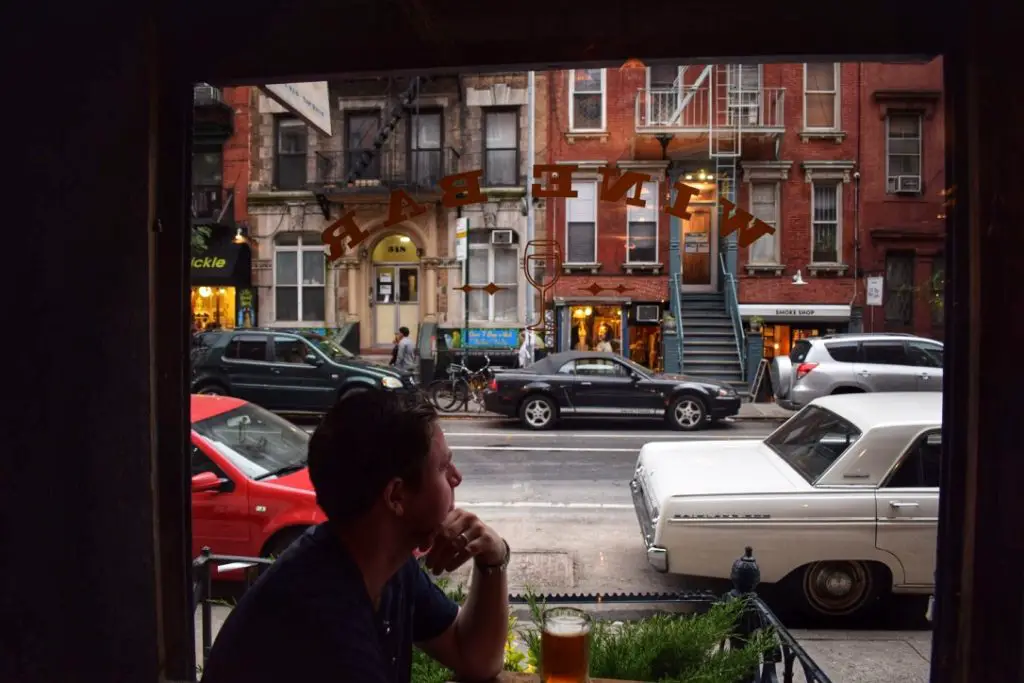 Line up for Cronuts
Ok so the main reason this is a good thing to do in NYC in the rain is because the one place you can get a Cronut in New York is Dominique Ansel Bakery. And the Cronut is so popular here that you have to queue. So what could be more perfect on a rainy day in New York then a pastry and a coffee?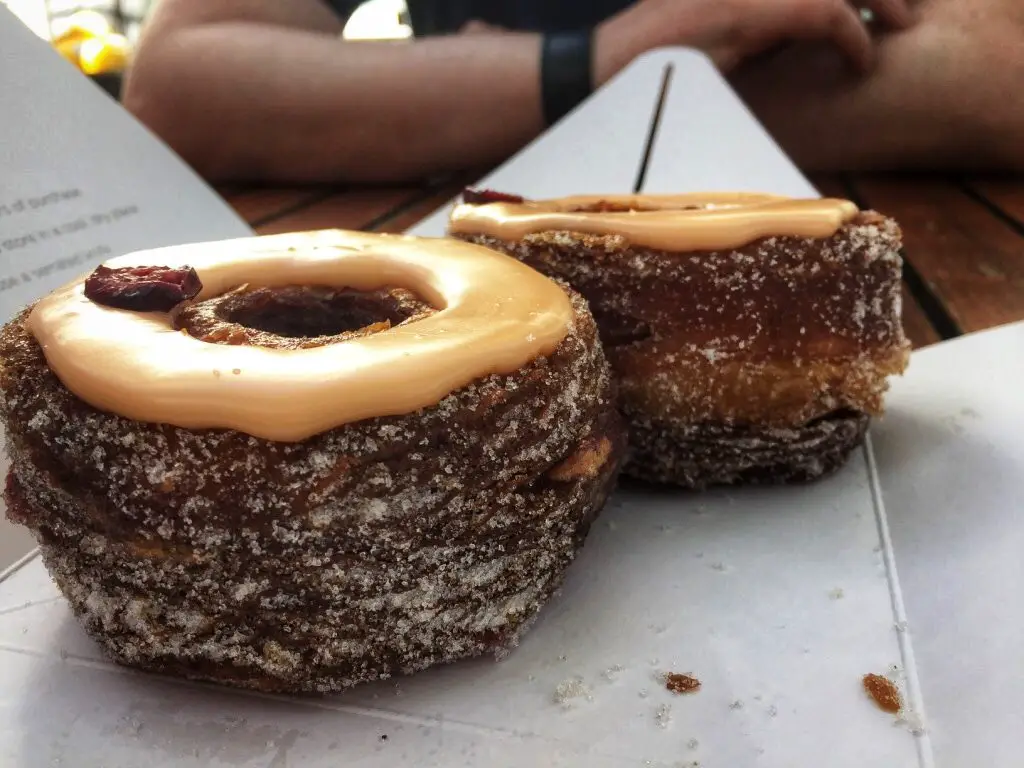 Eat
New York has so many incredible restaurants from your Michelin Star dining, to those drool worthy $3 pizza slices you get on almost every street corner. The cool thing about New York as well is that it is so multicultural you could go from one side the world to the other in a day in terms of cuisine. Some recommendations if you are feeling peckish and want to escape the rain are Veselka, a 24 hour Ukrainian diner located in the East Village. Chinatown is also worth going to for a sit down meal of dumplings and noodles. We also recommend visiting Katz's Deli, which is exactly where we took refuge during a rain shower in the city.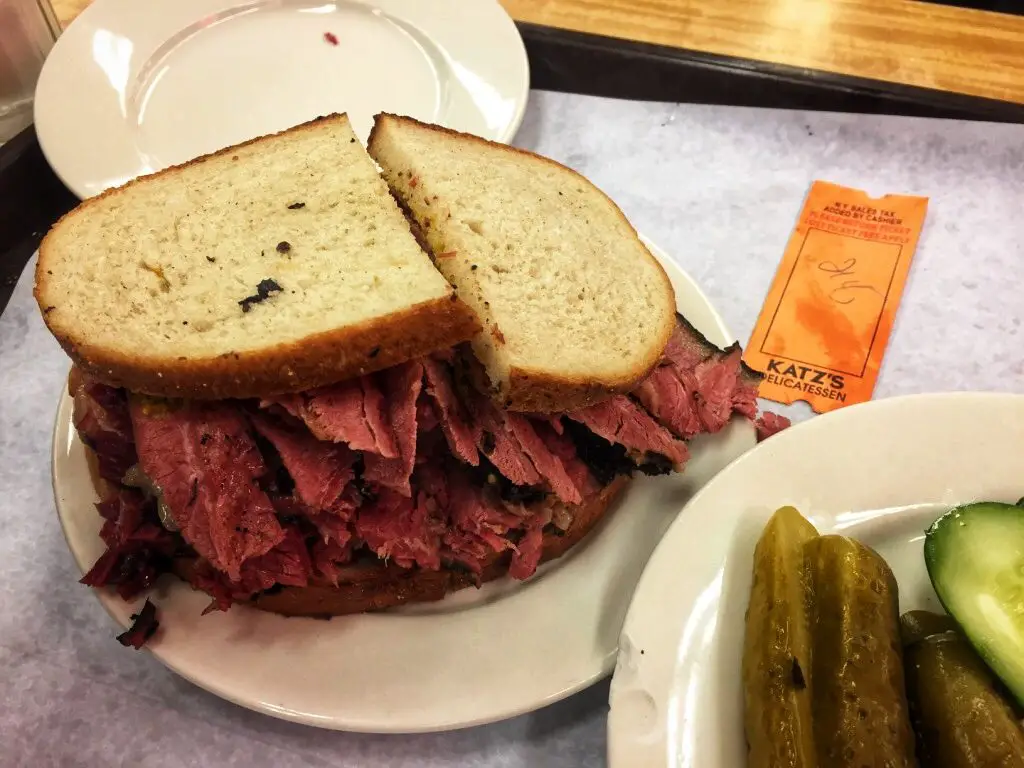 Visit a speakeasy
Transport yourself to the times of prohibition and visit a speakeasy style bar. Our favourite has to be Employees Only in the West Village. Because it is supposed to be tucked away and hidden it is so easy to forget about the rain. And obviously the incredibly strong cocktails help too!
Alternatively there are a number of prohibition bar tours that you can do like this one. Or this Speakeasy and Prohibition tour.
Go to a comedy club
Whether you are into Open Mic nights, or Stand Up Comedy you will find something to make you laugh in New York.
Take in a Broadway show
A list of touristy things to do in NYC when it rains is not complete without mentioning a Broadway show. Just head to the theatre district and book tickets to one of the incredible theatre performances. And if you are a massive Broadway fan then there is actually a Museum of Broadway (sorry I know another museum) that you can visit.
When is the best time to visit New York?
You might be wondering when the best time to visit New York is? And especially if you are reading this article you might be wondering what time of year you can visit NYC to avoid googling things to do in NYC in the rain.
Summers in NYC are hot and humid, with long days, and good weather. The only downside in visiting during the summer months (July-August specifically) is that it is peak tourist season due to school holidays. It can also be unbearably hot at times. You do get a bit of rain in the summer especially with heavy downpours and storms.
In contrast the winter months (January & February) can be quite cold and harsh and temperatures can drop below freezing (and that is without factoring in windchill).
The rainiest month in New York is May with an average of around 12 days rain. The driest months are September and October with an average of about 8 rainy days. Overall the city gets an average of 121 days of rain. So no matter what time of year you visit you still might find yourself wondering what the best things to do in NYC in the rain are.
Things to do in NYC in the rain – Getting there
Here are some tips on starting your New York holiday and hopefully you won't be googling things to do in NYC in the rain immediately after you get here. Chances are your trip to NYC will start at one of the main airports. Here is some info on getting to the city from the airport.
JFK
If you are flying in from another country you will probably end up landing at JFK. Once you arrive you will need to jump on the AirTrain to Jamaica Station, where you can change onto the Subway. The subway should then take you into the city.
LaGuardia
Another popular airport, but this time for domestic flights is LaGuardia. From any of the airport terminals you can hop on the M60 bus to 125th Street in Manhattan. From here you can hop on the subway to your final destination.
Newark
Newark Airport has an AirTrain service so for around $15 you can get from the airport into Manhattan.
For most of the airports you can also get a taxi or pay for a private transfer direct to your hotel.
Things to do in NYC in the rain – where to stay
Here is a run down on where to stay in New York, especially if you are a first time visitor.
Midtown
The good things about Midtown is that it is close to places like Times Square, and the Rockefeller Centre, as well as the broadway theatres. The subway has a number of lines that run through midtown too, making it easy to navigate to where you want to go. It is good for first time visitors, or maybe those of you who only have a short time in NYC and want to be near the main attractions.
The downside though, is that like we said above it is swarming with tourists. It didn't feel hugely authentic either. There weren't as many food and drink options as other areas, and the options available were larger kind of chain eateries.
Upper East Side
While being close to a lot of the city museums the Upper East Side is a bit more expensive than other parts of New York. It's also smack bang on the edge of Central Park. It's great if you are looking for a luxury boutique style hotel, in an area far quieter than Times Square.The only drawbacks really are the prices, you will be hard pressed finding cheaper accommodation, and similarly the restaurants and bars are also a bit more upscale. Not ideal for a budget traveller but great if you want to splash out.
Greenwich
If we had the choice again we would probably stay somewhere like Greewich Village. It's a more accurate representation of life in New York, and the restaurants and bars are smaller but way more authentic than Midtown.
It is a little bit out of the way, but with good transportation links you will be seeing the sights in no time. The only other downside is that because it is an arty sort of entertainment district it can be a bit loud, but at the same time most of New York is.
East Village
This is another area that in hindsight we would have loved to have stayed in. The East Village is certainly very hip and happening, and another authentic taste of life in New York. There are tons of restaurants and bars, here too, and you get an insight into life in NYC. It is a little further away from the main attractions though so keep that in mind if you are thinking of staying here.
Queens
If you want to get away from Manhattan and are looking for something a little cheaper in terms of accommodation for your time in New York, Queens might be for you. It is obviously further away from a lot of tourist attractions but you do get some great views of the Manhattan skyline.
Things to do in NYC in the rain – a recap
So hopefully after reading this you will come to appreciate the beauty of NYC in the rain. There is still so much to see and do and if you are in New York for a long period of time (like we were and you can read about that here) it is always good to have some rainy day activities prepared.
For more New York inspiration here is a guide to spending 4 days in New York.
And if you found this article on things to do in NYC in the rain useful make sure you pin it for later.
Happy Travels!