So you have arrived in New York City armed with a bucket list of adventures. There is just one problem, it is raining. And when it rains in New York it really rains. The good news is though, that the trip is totally salvageable and NYC in the rain is actually a pretty amazing place. You might have to forget about your picnic in Central Park, at least for the time being and trade it in for something a little more weather friendly. Luckily there are a ton of museums, bars, restaurants, and a whole lot more to entertain you. So here is our guide to the best touristy things to do in NYC when it rains.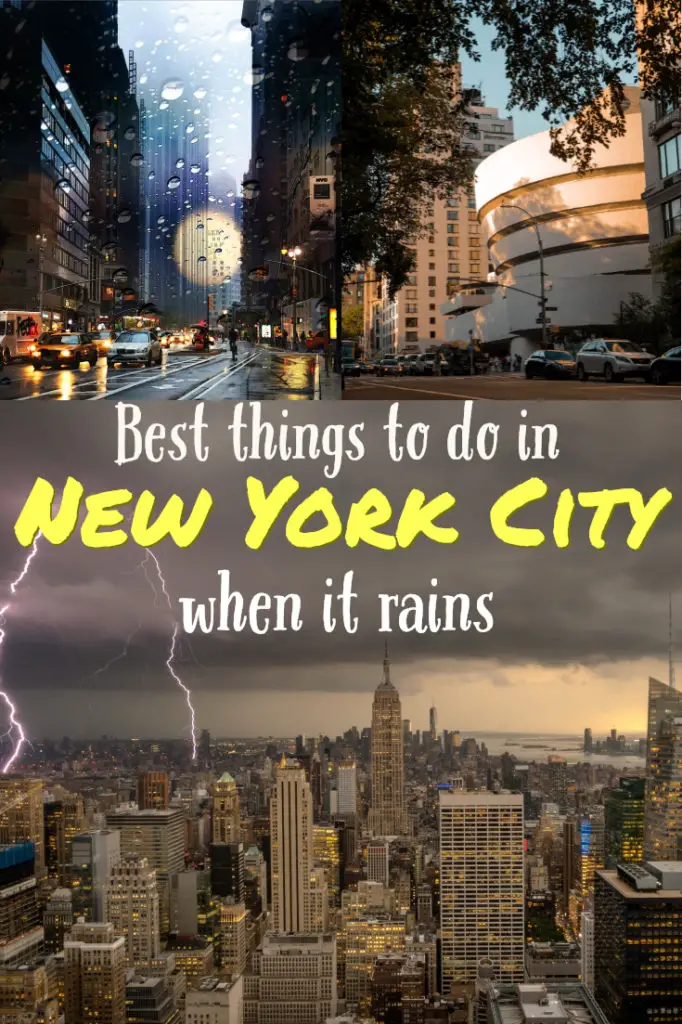 Visit a museum
The perfect touristy thing to do in New York when it rains, has to be to visit a museum. And New York has no shortage of museums. Here is our list of some of our favourites in the city.
The American Museum of Natural History
Located in Manhattan's Upper West Side, the American Museum of Natural History is one of the largest museums in the world. You could actually spend a whole day here checking out all of the exhibits. Some of the highlights include the planetarium, and Dave's absolute favourite, the dinosaur section. Standard admission starts at around $23 but if you wanted to see some of the special exhibitions you will need to pay an additional amount. Information on prices can be found here for your information.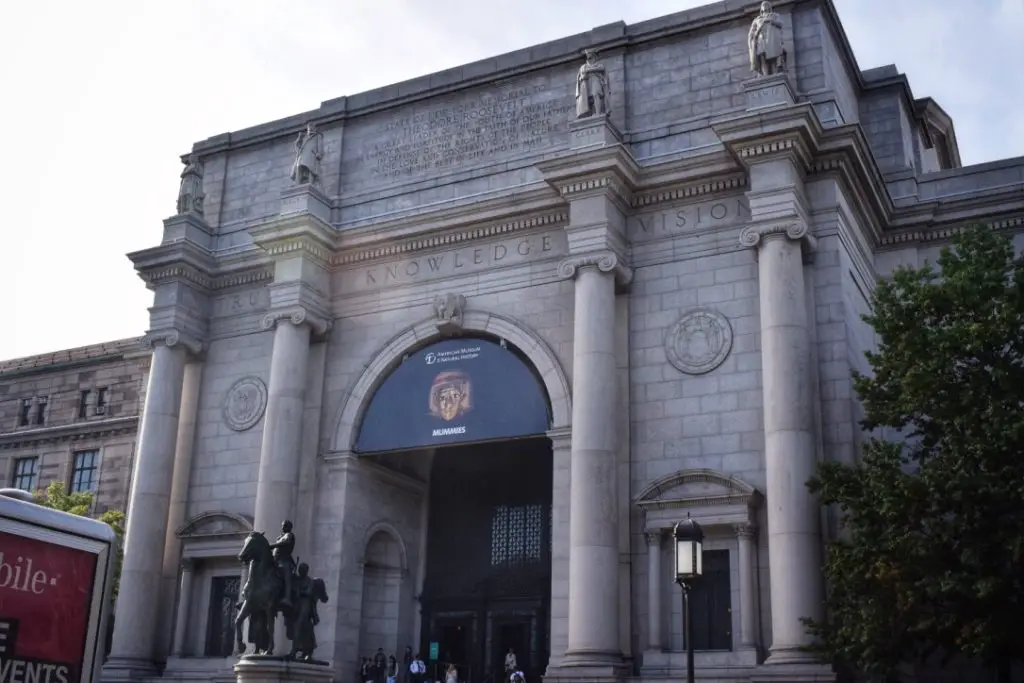 9/11 Memorial
The 9/11 Memorial is such an important part of New York City history. The museum explores the events that took place on September 11 2001, as well as how this currently affects the city and the world. It is thought provoking and can be particularly emotional. Admission starts at $24, and all in all it will probably take you about 2 hours to explore the museum.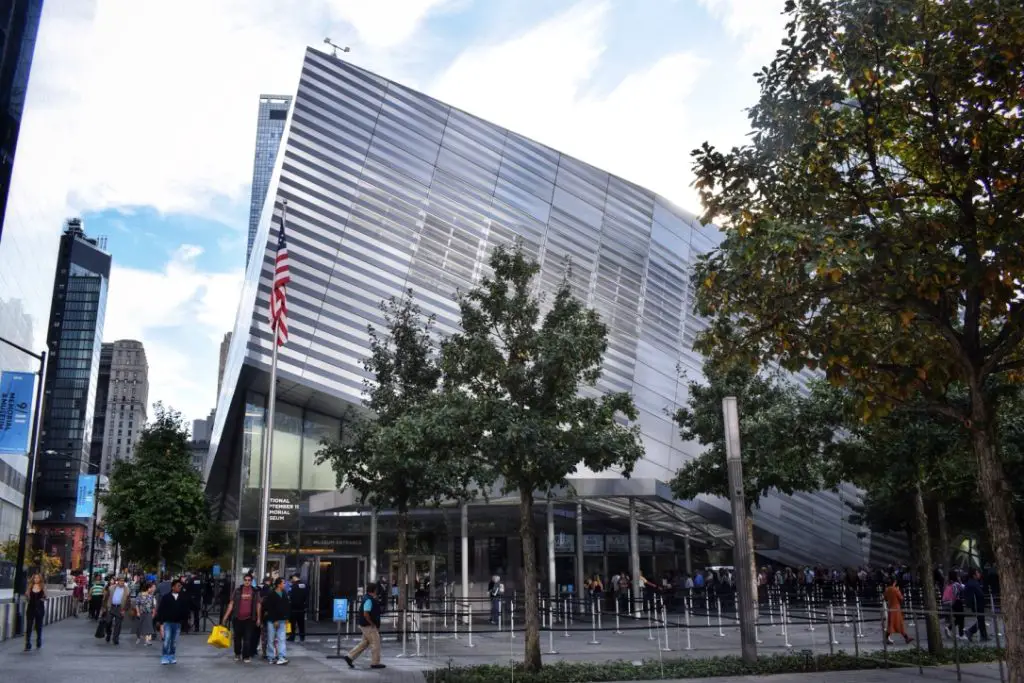 Guggenheim Museum
Art lovers will enjoy the Guggenheim, which houses various impressionist, early modern, and contemporary artworks. Entry is $25 for an adult and it really is worth it. One of the coolest things about the Guggenheim or at least in our opinion is the building itself. The design is cylindrical and the top is actually wider than the bottom. A visit is an absolute must when you are looking for things to do in NYC in the rain.
Museum of Modern Art
The MOMA or the Museum of Modern Art is another must for art lovers. It houses works from artists such as Van Gogh, Dali, and my personal favourite Andy Warhol. During our visit, the museum was undergoing quite a bit of renovation so a lot of the exhibits were unfortunately closed, which was disappointing, especially as we still had to pay the $25 ticket price.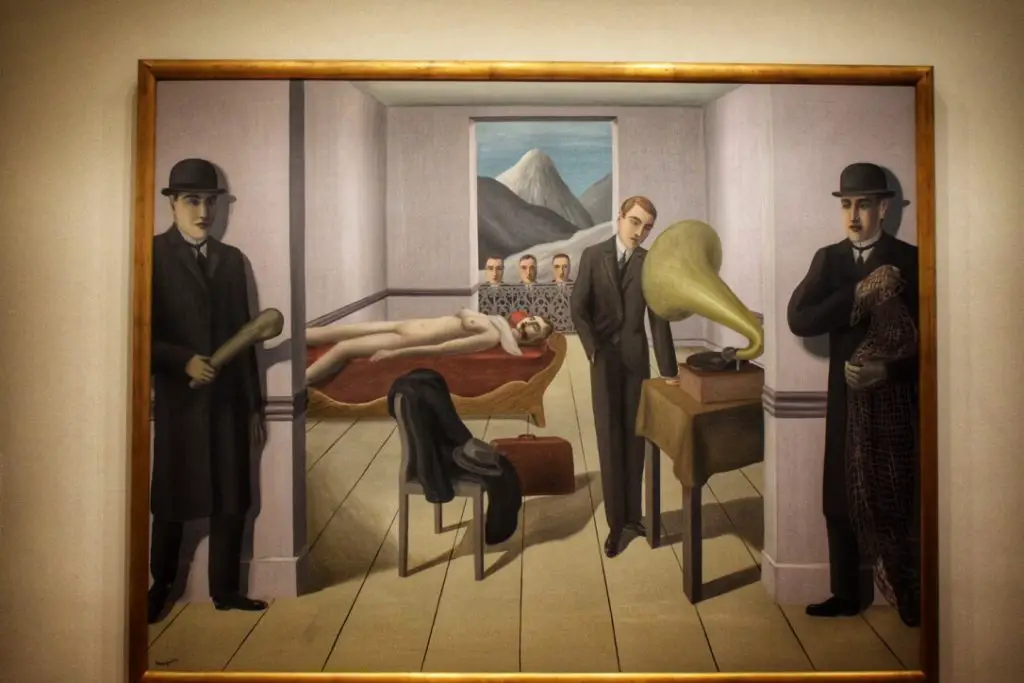 Don't worry if museums aren't your thing. There's plenty of alternatives NYC has to offer.
Ride the Staten Island Ferry
So the best thing about riding the Staten Island Ferry is that it is free. Which is why we have included it in our touristy things to do when it rains in NYC post. Even in the rain you get a pretty cool view of the city skyline which is always worth it. The crossing takes about 25 minutes each way but all in all you are looking at an hour return trip.
Get the subway out to Coney Island
So if this is your first visit to New York you might not know that the subway is not just an underground network. There are a lot of routes that take you past some incredible views on an elevated track. Like the subway over to Brooklyn that crosses the Manhattan Bridge. Or if you are heading to Coney Island the B and Q line trains are elevated most of the way after leaving Manhattan so you get some pretty cool views of Brooklyn without getting wet in the rain.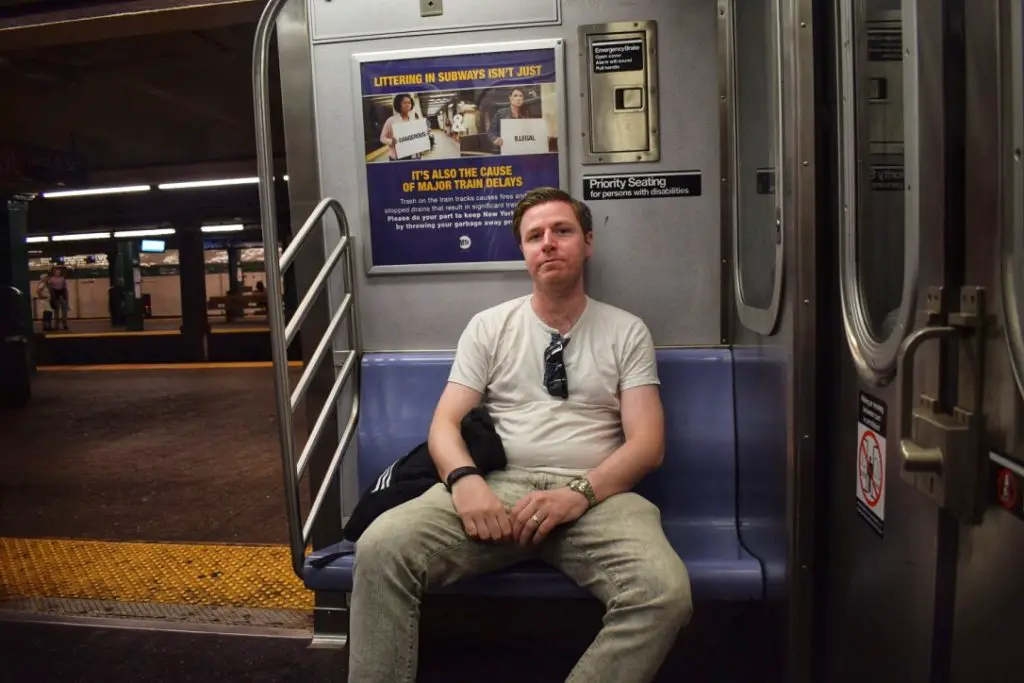 Rockefeller Centre
The Rockefeller Centre is probably most known for the Top of the Rock Observation Deck. Obviously when planning things to do in NYC in the rain an observation deck isn't the best thing to do. But there is a lot to do at the Rockefeller Centre. For starters, you can do an NBC studio Tour, or a Radio City Stage Tour. If they don't float your boat, you can even do a Rockefeller Centre Tour for $25 which guides you though the history of the building.
Grand Central
Grand Central is not only a transport hub, it is also a New York City icon. It is also one of the best touristy things to do in NYC in the rain. The building itself is incredible with impressive chandeliers and designs. Make sure you pop in for some photos, and whilst you are there grab some food or do some shopping.
Go on a shopping spree
Speaking of shopping, one of the best things to do in NYC in the rain is to embark on a shopping spree. Where you go depends on your budget and what you are looking for, but New York really does have some of the best stores in the world. My favourite has to be Strand, a bookstore which has a whole section upstairs dedicated to rare books. Another cool thing to do is to head to Greenwich and have a look at some of the quirky shops in the area.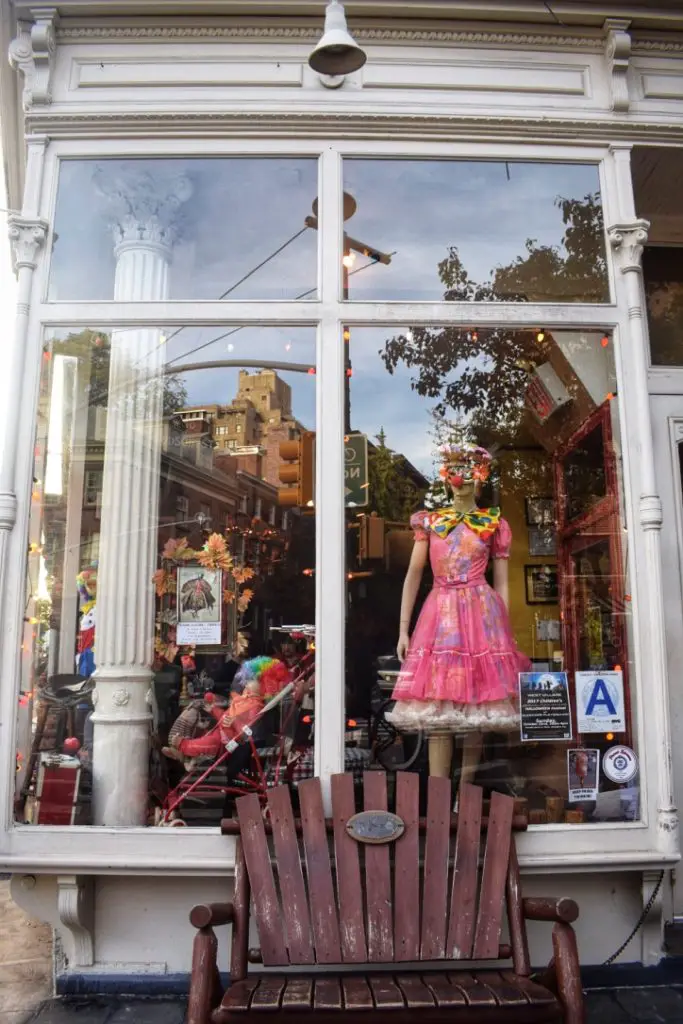 Checkout an indoor market
New York City has some incredible markets that you simply have to explore. And don't let some bad weather put you off, because there are some really good indoor ones too. For example the Chelsea Market where you can gorge on some incredible food and shop to your heart's content. Look out for the shop Artists and Fleas selling all things trendy, like jewellery and vintage clothes.
New York Public Library
Another touristy things to do in NYC when it rains, is to head to the public library. It has appeared in a number of films and TV shows. It is stunning inside and out and definitely worth exploring.
Listen to some live music
If you are a music fan then New York is the place to be. For us we really wanted to listen to some jazz and so we stumbled upon Rue B in the East Village, a really unpretentious bar that has live jazz music every night from 8.30pm. The cool thing is when we were there the owner of the bar got involved and sang during some of the numbers.
Find a cosy bar
A rainy day in New York city will not bother you one bit if you find a cosy bar to sit in and watch the world go by. One of our favourite rainy day bar locations has to be the East Village with bars like The Immigrant that you can get snug in and forget about the rain.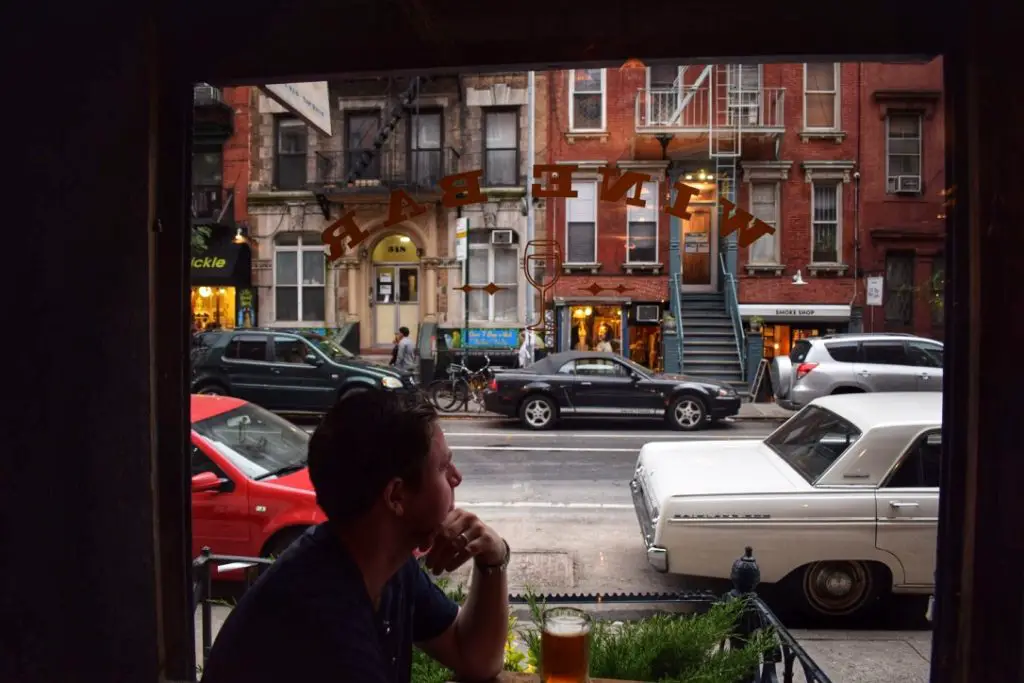 Line up for Cronuts
Ok so the main reason this is a good thing to do in NYC in the rain is because the one place you can get a Cronut in New York is Dominique Ansel Bakery. And the Cronut is so popular here that you have to queue. So what could be more perfect on a rainy day in New York then a pastry and a coffee?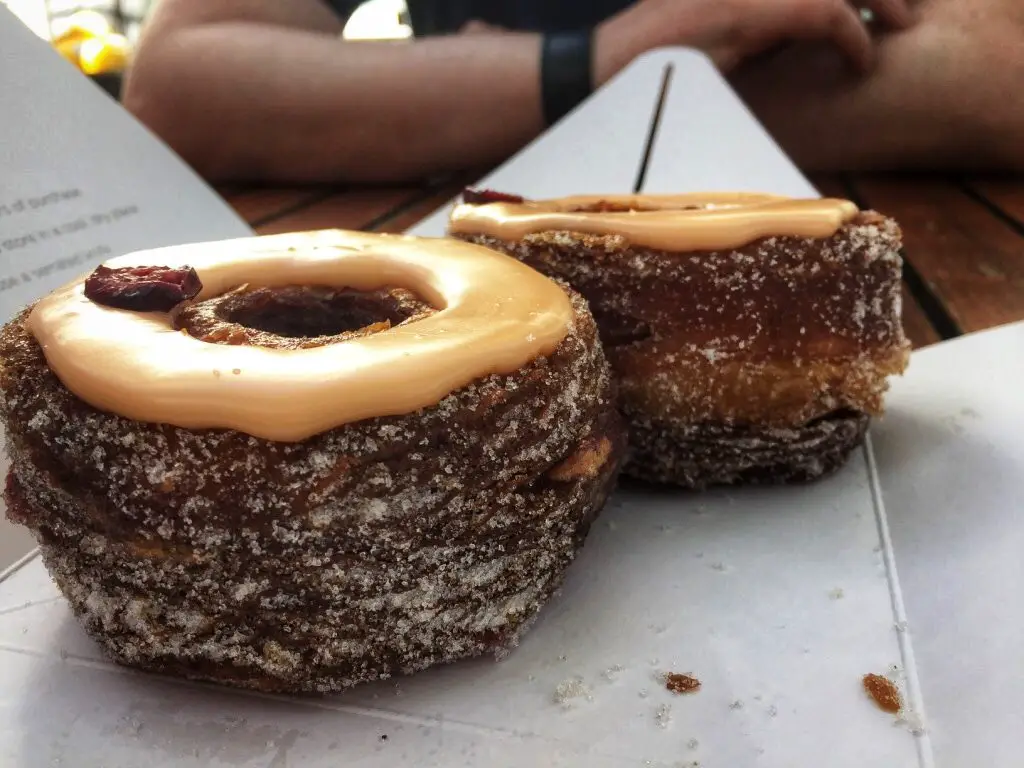 Eat
New York has so many incredible restaurants from your Michelin Star dining, to those drool worthy $3 pizza slices you get on almost every street corner. The cool thing about New York as well is that it is so multicultural you could go from one side the world to the other in a day in terms of cuisine. Some recommendations if you are feeling peckish and want to escape the rain are Veselka, a 24 hour Ukrainian diner located in the East Village. Chinatown is also worth going to for a sit down meal of dumplings and noodles. We also recommend visiting Katz's Deli, which is exactly where we took refuge during a rain shower in the city.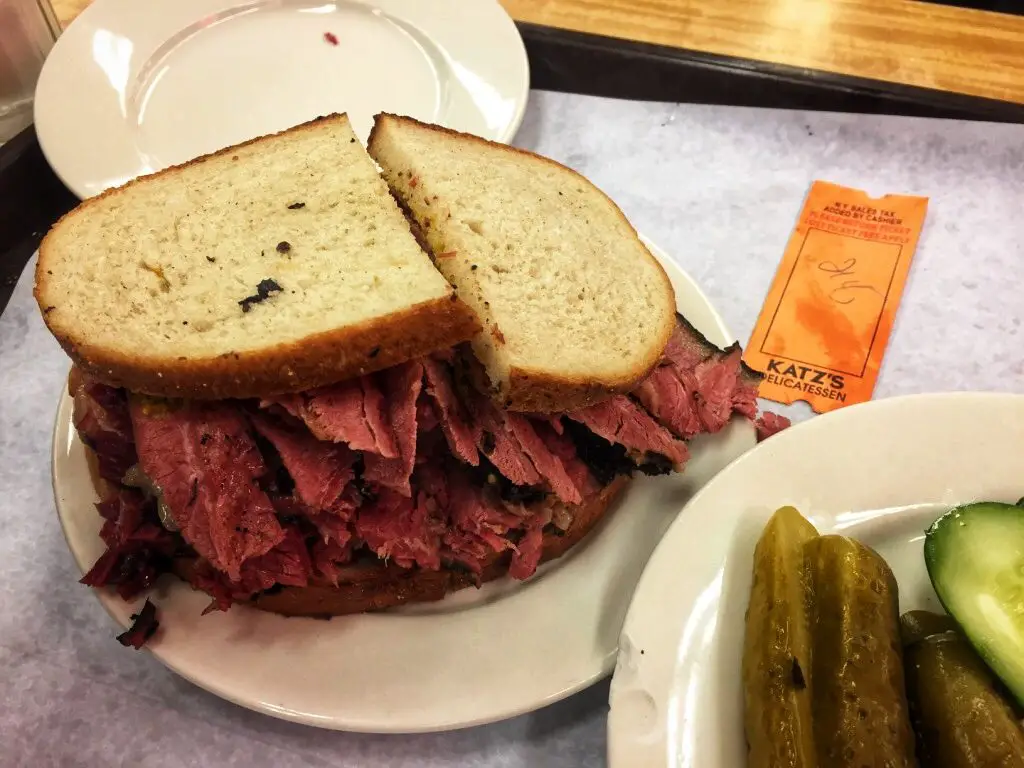 Visit a speakeasy
Transport yourself to the times of prohibition and visit a speakeasy style bar. Our favourite has to be Employees Only in the West Village. Because it is supposed to be tucked away and hidden it is so easy to forget about the rain. And obviously the incredibly strong cocktails help too!
Go to a comedy club
Whether you are into Open Mic nights, or Stand Up Comedy you will find something to make you laugh in New York.
Take in a Broadway show
A list of touristy things to do in NYC when it rains is not complete without mentioning a Broadway show. Just head to the theatre district and book tickets to one of the incredible theatre performances.
NYC in the rain – a recap
So hopefully after reading this you will come to appreciate the beauty of NYC in the rain. There is still so much to see and do and if you are in New York for a long period of time (like we were and you can read about that here) it is always good to have some rainy day activities prepared.