This post contains affiliate links, so if you use these links to buy something we may earn a commission, at no cost to you. Thank you for your support.
If romantic and historical settings are your thing, then you will absolutely love the Northern English city of Chester. Located about 1.5 hours from Manchester by train, this historic city is the perfect place to plan a day trip or a short overnight stay. We have come up with a 1 day Chester itinerary to help you plan the best things to see and do in 24 hours in Chester. 
Getting There
Most people arrive in Chester by train, with the closest airports being in Manchester and Liverpool. The main train station is close to all of the sights making it easy to find your way around this city.  Once you are in the city it is pretty easy to walk to most attractions. Chester is also close to Wales, so can be included in an itinerary if you are planning on heading that way. 
Where to stay – 24 hours in Chester
Chester is a popular tourist destination so you will find hotels covering all price ranges. If you decide to spend 24 hours in Chester,  there are a few hotels located right near the train station which is lucky when carrying those heavy bags. If you are looking at booking your best bet is to go with a hotel booking sight like hotels.com where you can compare different prices. Chester is not a large place but our top tip is to try and get something central because you want to be close to the sights and the nightlife. There are also a lot of spa hotels in the city which if you are there for a romantic break is always a nice touch.
Things to do- Chester in a day
Here are our recommendations of things to do when spending one day in Chester.
Do a Hop on hop off sightseeing tour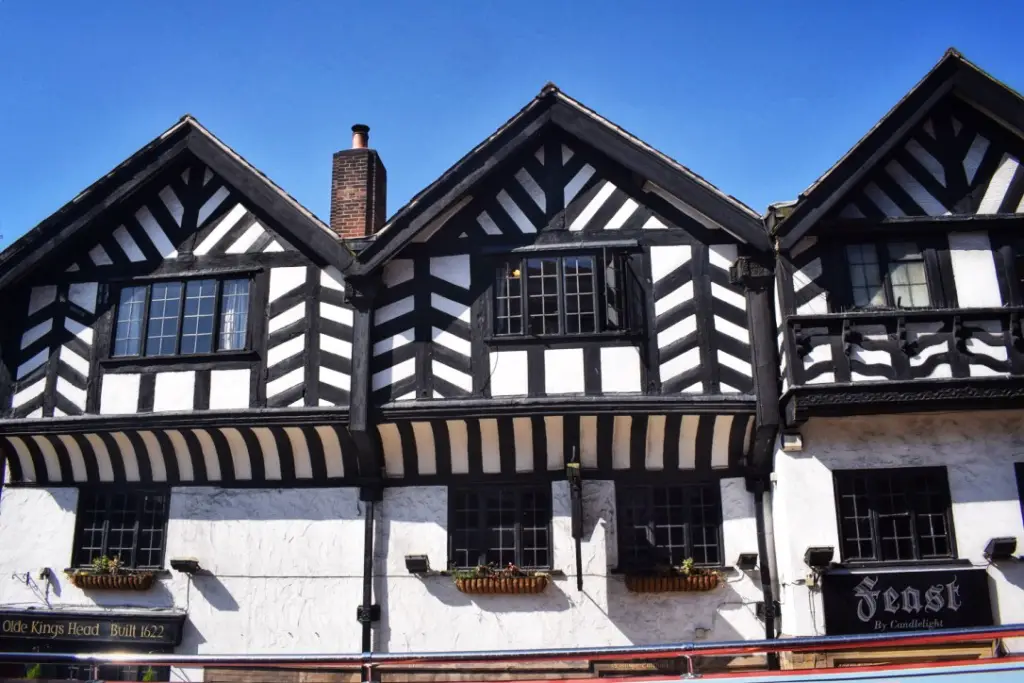 If you only have 24 hours in Chester our top tip is to do a sightseeing Hop On, Hop Off tour. We hopped on the tour right opposite the train station. It cost us £12 each and it helped us orientate ourselves with the city. We were also lucky enough to have a knowledgeable guide on the bus as opposed to a recording. It was a great opportunity to ask questions and learn all about the city before going out and exploring on our own. If you do the tour you can buy tickets for the boat tour as well at a discount so keep that in mind. But if you forget, you can still get £1 off boat tickets if you show your bus ticket. And as they say every little bit helps.
Stroll through Grosvenor Park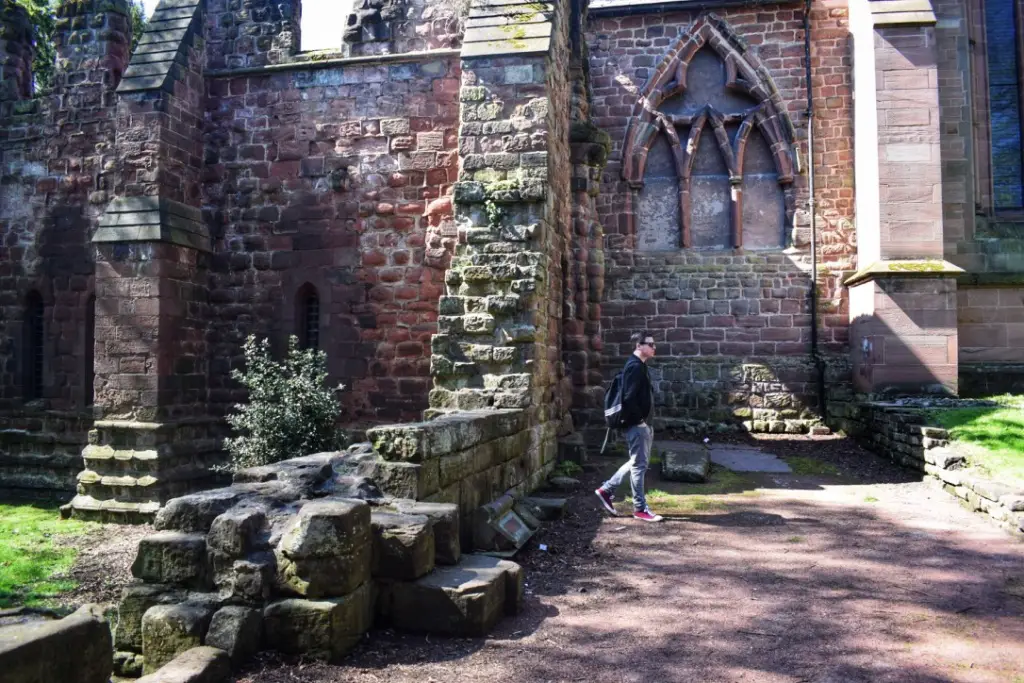 After doing the full circuit on the bus we hopped off at Grosvenor Park. Here you can walk around and admire the gardens. We started at the ruins of St John's church and then made our way into the gardens. The gardens really are beautiful and so green. You can stroll around at your own leisure which is what we did. It is the perfect place to relax and take in the scenery.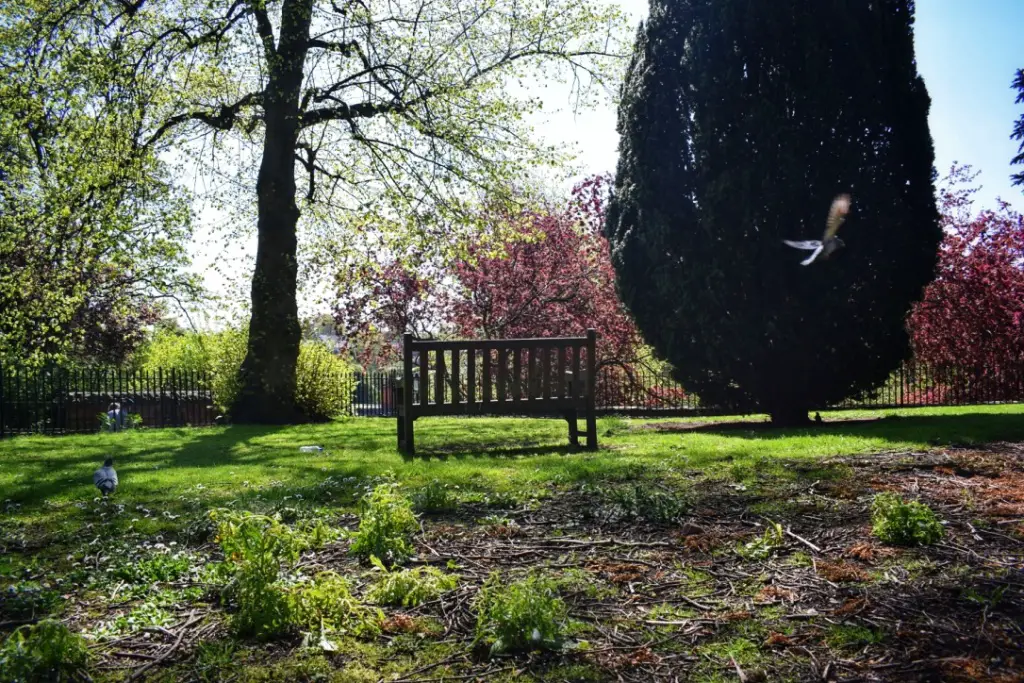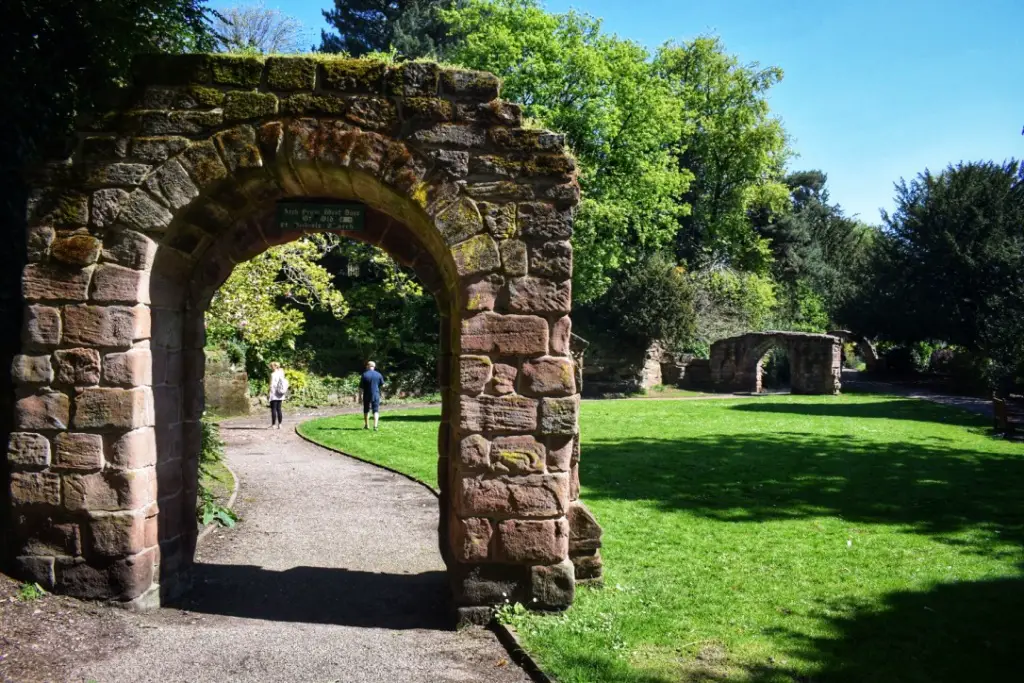 Take in the atmosphere around the River Dee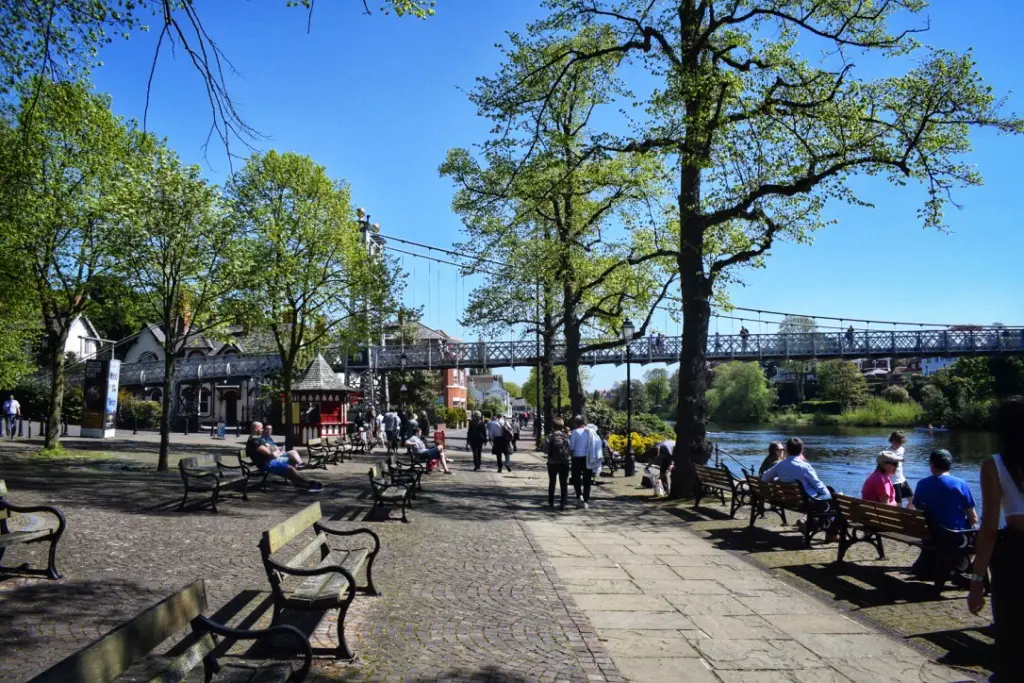 The River Dee is a 70 mile river that runs through Chester and Wales. Close to Grosvenor Park is a paved section with promenades, park benches, restaurants, and stands selling ice cream.  It is a great place to stroll around with an ice cream cone in hand. If you cross the bridge to the other side you can go for a walk along the river. It is also the perfect place to have a picnic and lie in the grass. The atmosphere along the river is incredible especially on a sunny day. You get to listen to the murmur of the tourists and locals alike as they soak in the views as well as the songs from buskers set up along the river.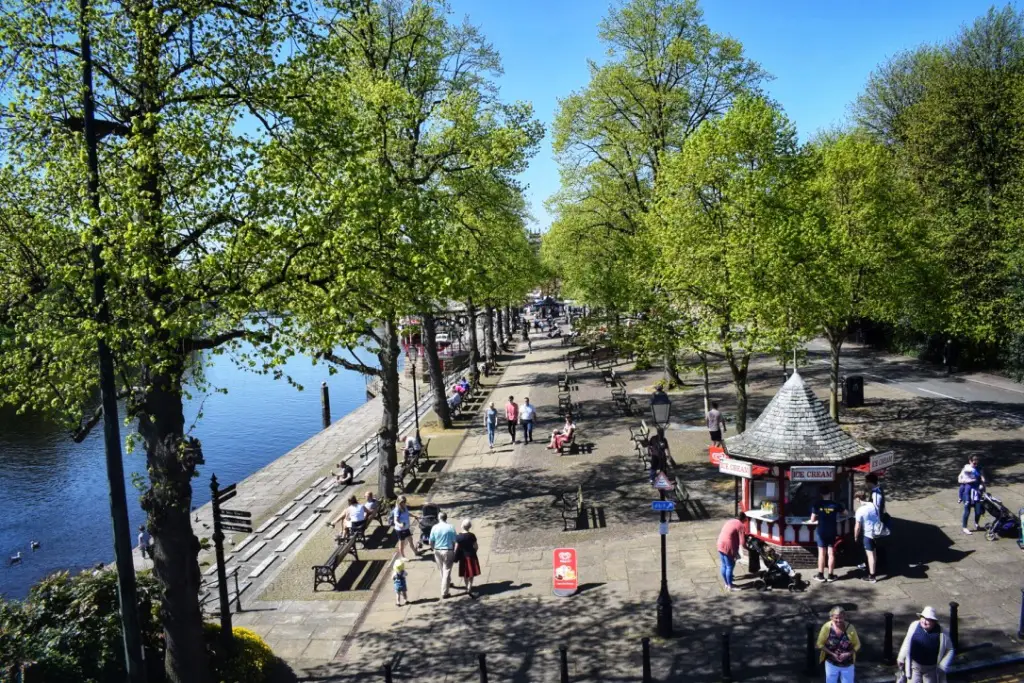 By the time we had reached the river it was lunch time. We decided to grab a bite to eat at Hickory's, a southern USA style restaurant serving some great food. They also do a mean cocktail like the Campfire Old Fashioned, which is one of the best presented cocktails we have ever seen. We absolutely loved it here. We got a seat with a wonderful view over the river. It is fantastic on a warm day as well because there is a lot of outdoor seating. There is nothing like great food, great drinks and fresh air!
Do a boat trip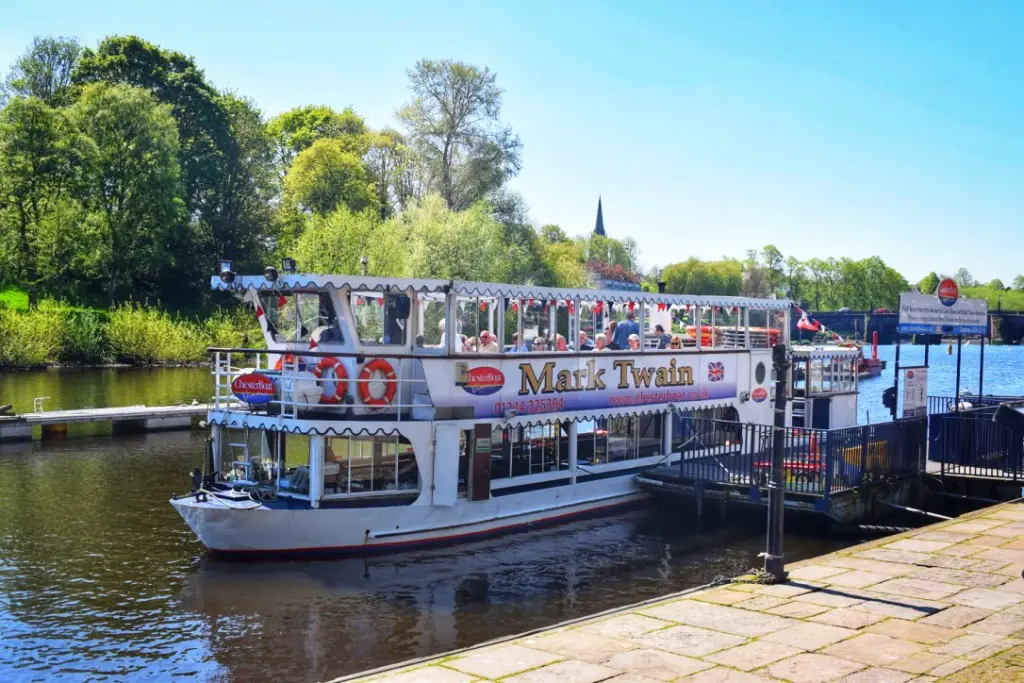 If you have the time we certainly recommend doing a boat trip on the River Dee. We went with Chester Boat and it cost £7.50 for a half hour trip. There is a bar on board which we made full use of, particularly as the weather was lovely. The tour was very tranquil and gave us the opportunity to see some amazing riverside properties all laced with so much history. You can book tickets online in advance or purchase them on the day.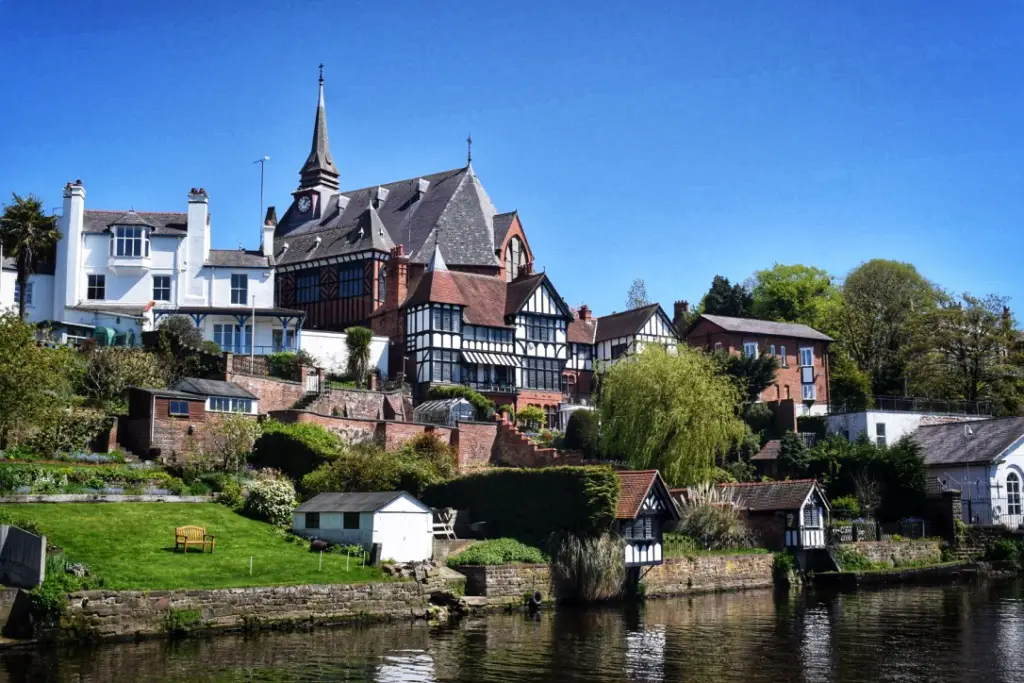 Alternatively you can rent your own motorboat or paddle boat and explore the River Dee yourself. Either way a boat trip is definitely a must for any romantic weekend break in Chester.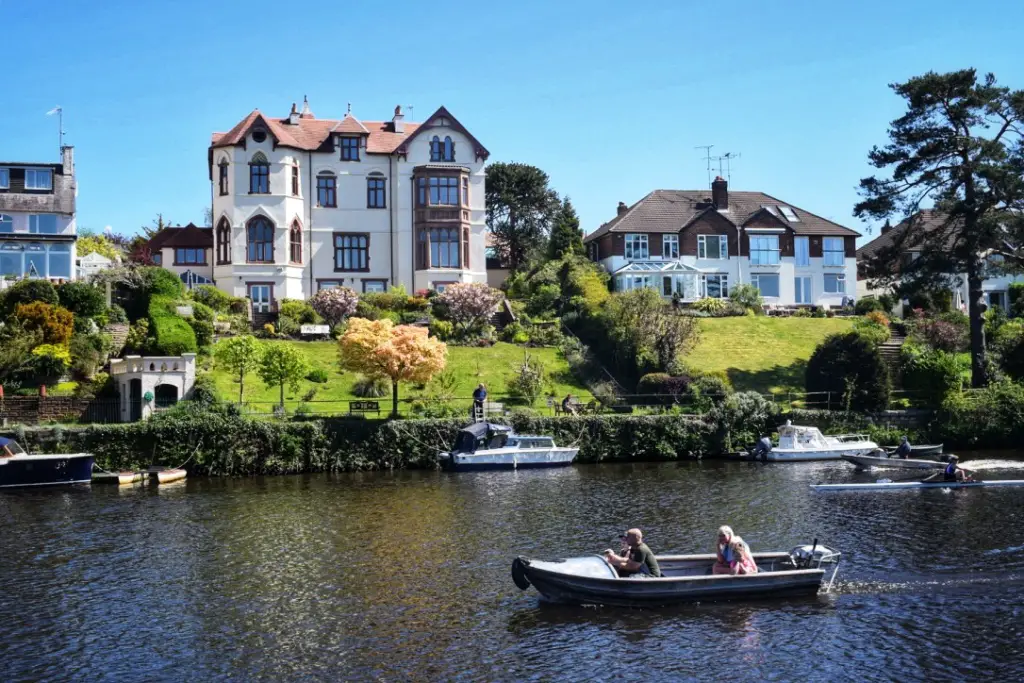 Explore the Roman Gardens and visit the Amphitheatre
History buffs will love Chester as there is so much to see. The Roman Gardens are another must, and they contain fragments from old Roman Buildings. It is a beautiful place to sit or lay in the grass and relax. Nearby is the Amphitheatre which is apparently one of the largest stone built Roman Amphitheatres in the UK.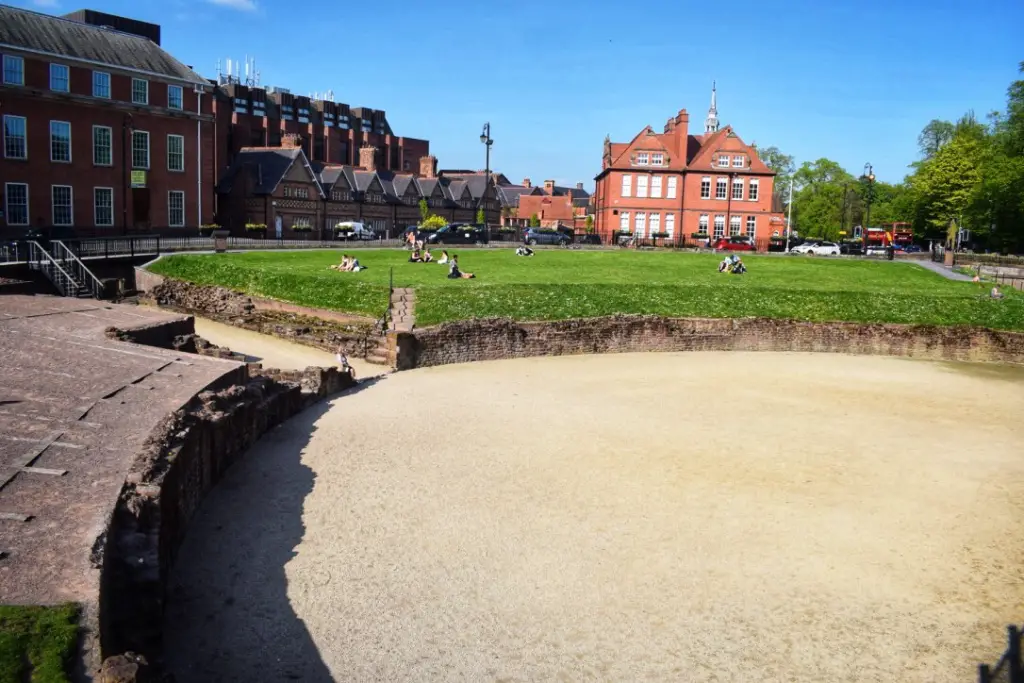 Walk the City Walls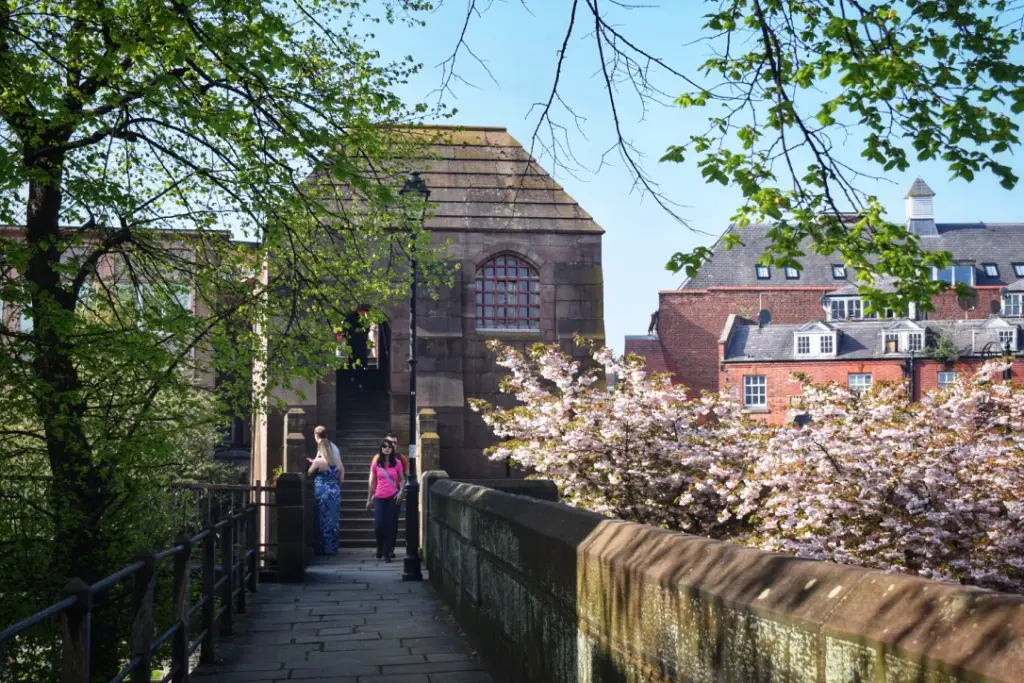 The City Walls in Chester are the best preserved walls in the UK. In fact you can actually make your way around the city walls in about 1 hour. You get some really beautiful views of the city, and we do recommend stopping off and taking in the views every so often. Chester is also the only city in Britain that has retained the full wall. Built originally to defend the city it is believed that the walls were completed by the mid 12th century. It makes for such a scenic and romantic walk and is a great way to explore the city.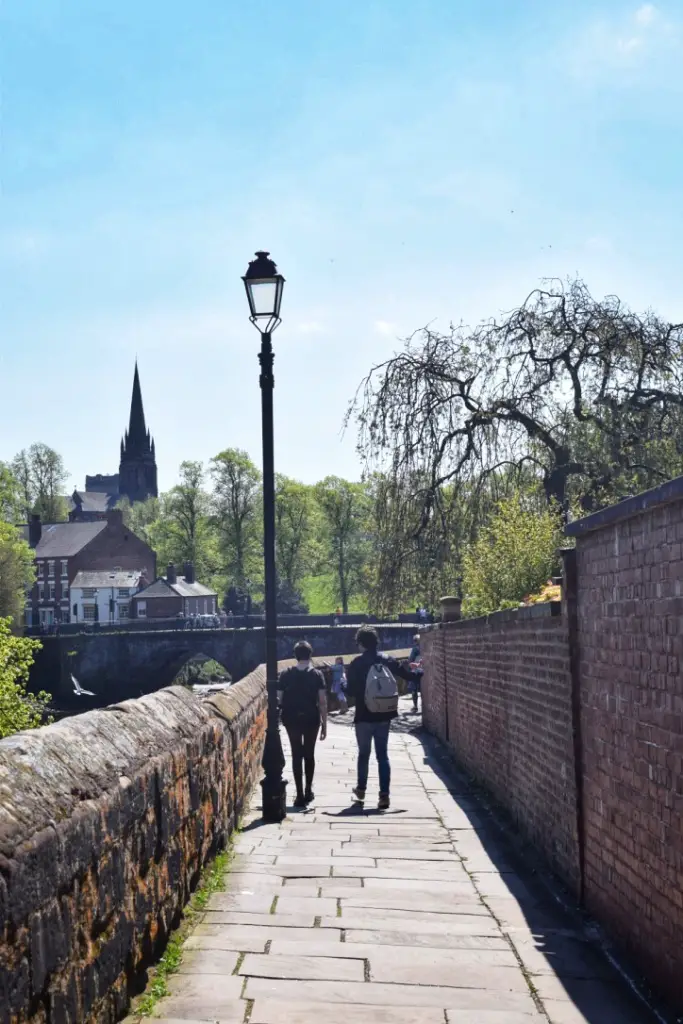 Explore the Rows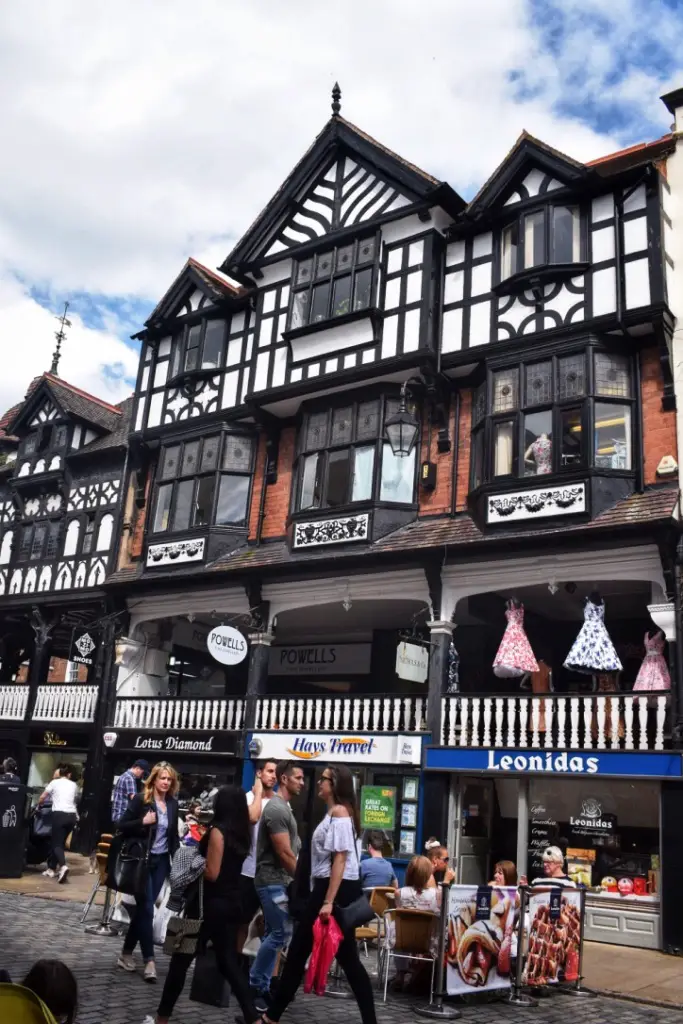 Unique to Chester, the Rows are a set of half timber galleries that you walk up a set of stairs to reach. They form a second row of shops above ground level and they are a great place to explore. You will find quirky shops, and cafes up here and it really is worth exploring.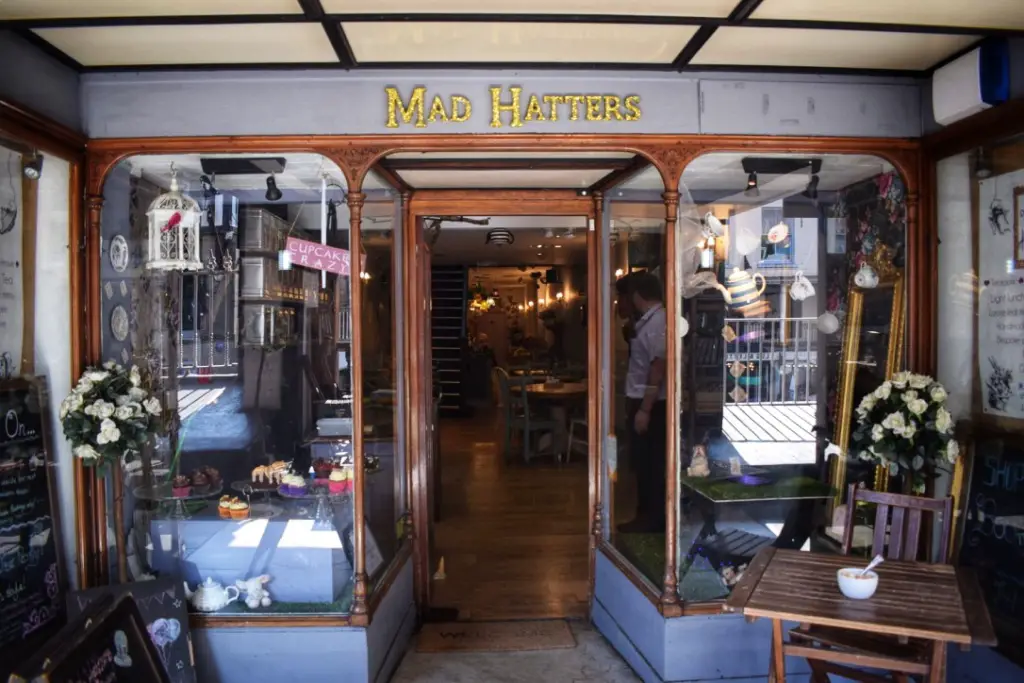 Whilst having a look around the Rows we came across the Mad Hatters Tea Room, where we absolutely had to stop by for afternoon tea. As the name suggests the inside is really quirky, and we also had some of the nicest cupcakes. I went for the cookie dough flavour which was devoured pretty quickly whilst Dave opted for the chocolate and strawberry cupcake. Again his did not last long. Thankfully we got one photo though!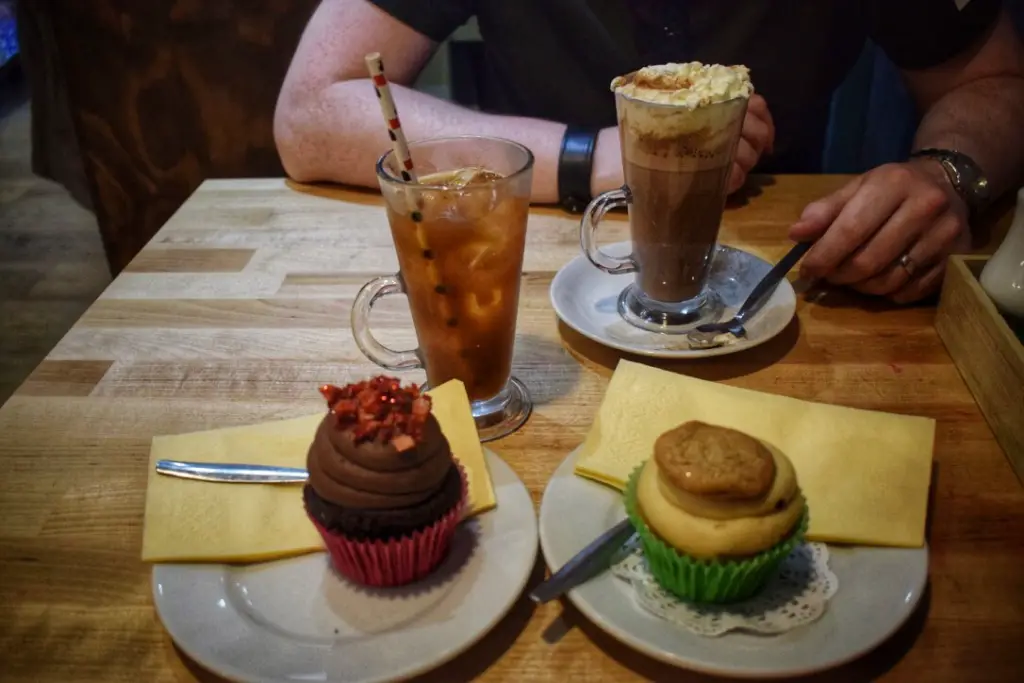 Visit Chester Cathedral
One of the highlights for us was visiting Chester Cathedral. For starters entry is free so even if you are on a budget you can still visit. Although I should add that donations are welcomed. You can tell when you enter it is the real home of the community. We were so lucky to visit when a full choir and orchestra were performing . The gardens are also incredible and there is a really tranquil space with a water fountain and several benches to sit on.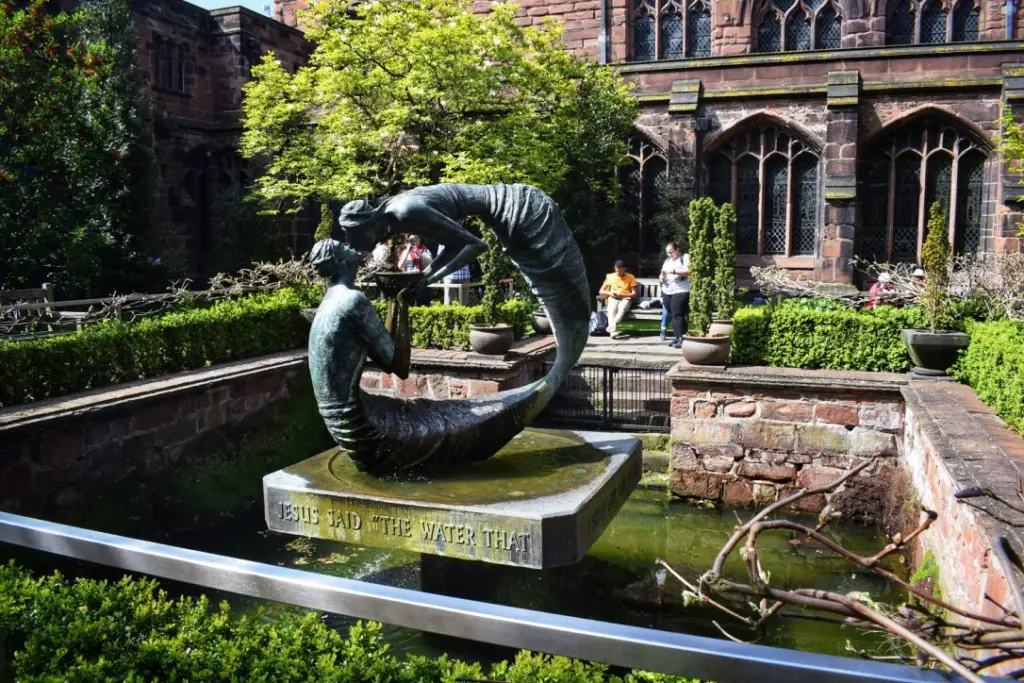 Discover the town centre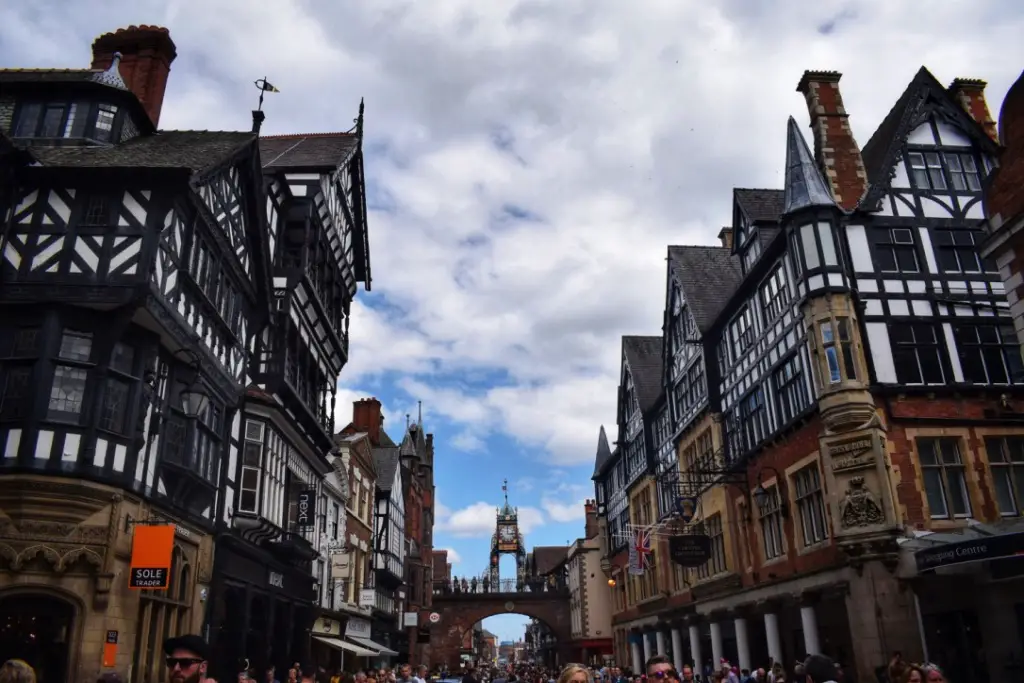 Chester town centre is a great place to shop and an even better place to admire the old buildings. The centre particularly around Eastgate is a bustling hive of activity with buskers, shoppers and tourists making the most of the historical setting. Just don't forget to look up!
See the Eastgate Clock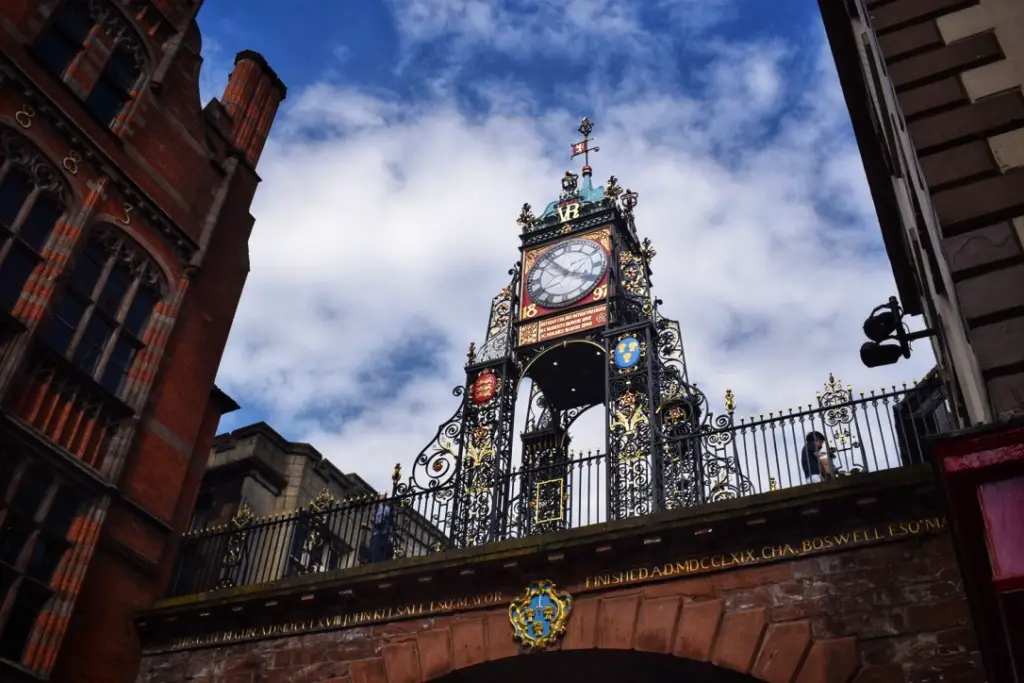 The Eastgate clock can be seen as you make your way across the city's walls. It is a really beautiful decorative piece and is one of the most photographed clocks in the UK, after Big Ben of course.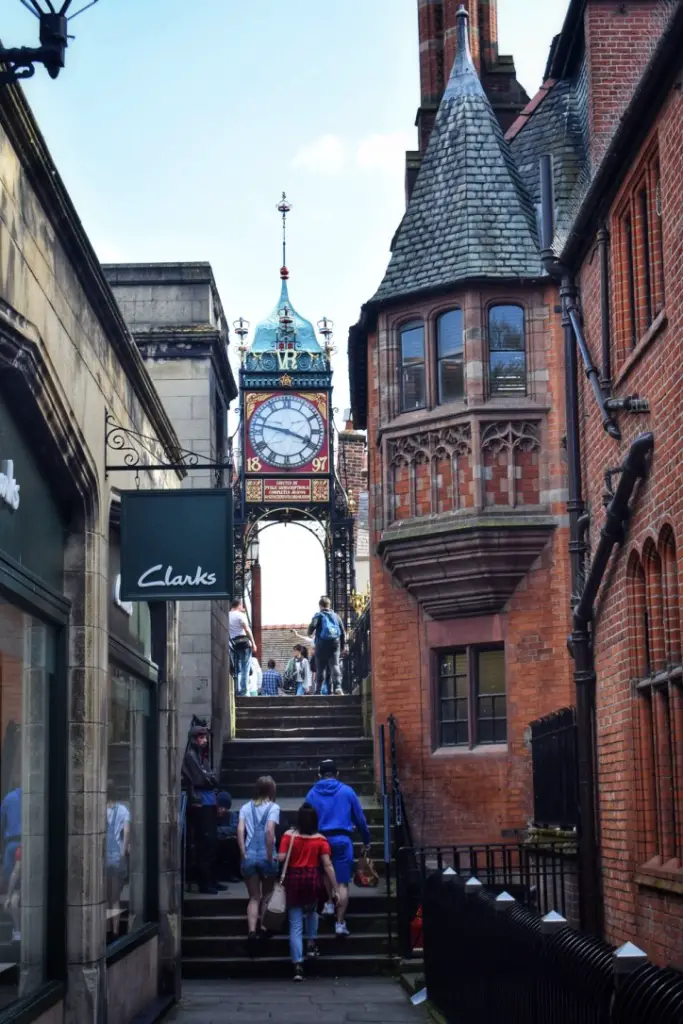 We really loved our time in Chester. The ancient walls and buildings provided the perfect backdrop for our romantic weekend in the city. If you are a looking for a relaxing break with some amazing sights, then we really do recommend you visit Chester. For more things to do in Chester or even Cheshire for that matter visit the Cheshire Tourism website. And if you loved Chester then you will definitely love York, another Northern City with ancient city walls and incredible architecture.
1 day Chester itinerary
Morning
After arriving in Chester in the morning nip across the road from the train station and do the hop on hop off bus tour, in order to familiarise yourself with Chester. Once you have done the full circuit hop off at Grosvenor Park. Take a wander through the park, whilst eventually making your way towards the River Dee. Head out on a 30 minute boat tour to see the beautiful houses and surroundings.
Afternoon
Have lunch at Hickory's by the river. When you have finished make your way to the city walls to walk off the lunch. You will eventually reach the town centre, and once here visit the Chester Cathedral. Make sure you also checkout the Eastgate clock before having some afternoon tea at Hatters.
Late Afternoon
Before making your way back to the train station make sure you stop by the Amphitheatre and explore the Roman Gardens.
Chester in a day- a recap
If you do decide to stay longer in Chester then you should spend your evening exploring some of the funky cocktail bars in the city. We only spent 1 day in Chester, so we missed out on experiencing the nightlife in the city, but it is certainly something for our next visit. Hopefully this guide will help you plan the perfect day in Chester. There is a lot to see, but if you plan your day carefully you really can make the most of spending 1 day in Chester.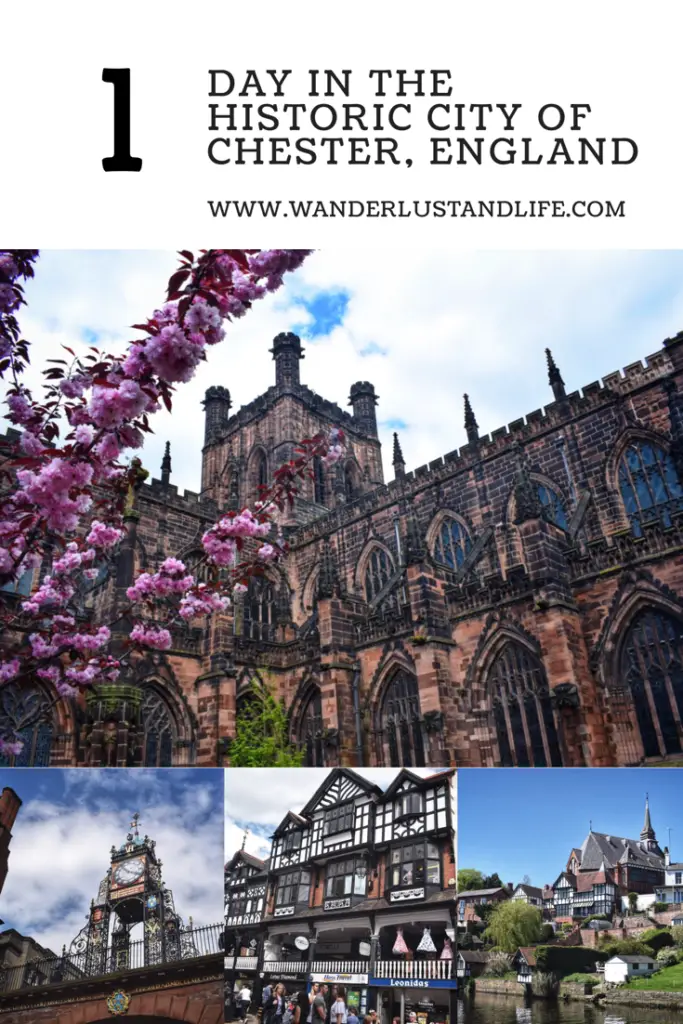 This post contains affiliate links, so if you use these links to buy something we may earn a commission.