Edinburgh is probably one of the most amazing places in the world. The whole city is steeped in so much history and every building and every street has a story. So it is no surprise that it is also one of the most haunted cities in the world. In fact, going on a ghost tour is one of the top things to do when visiting. Even if you don't believe in ghosts, it is still a great way to learn all about the often gruesome events that took place in Edinburgh.  Here we share some secrets from an Edinburgh Graveyard tour.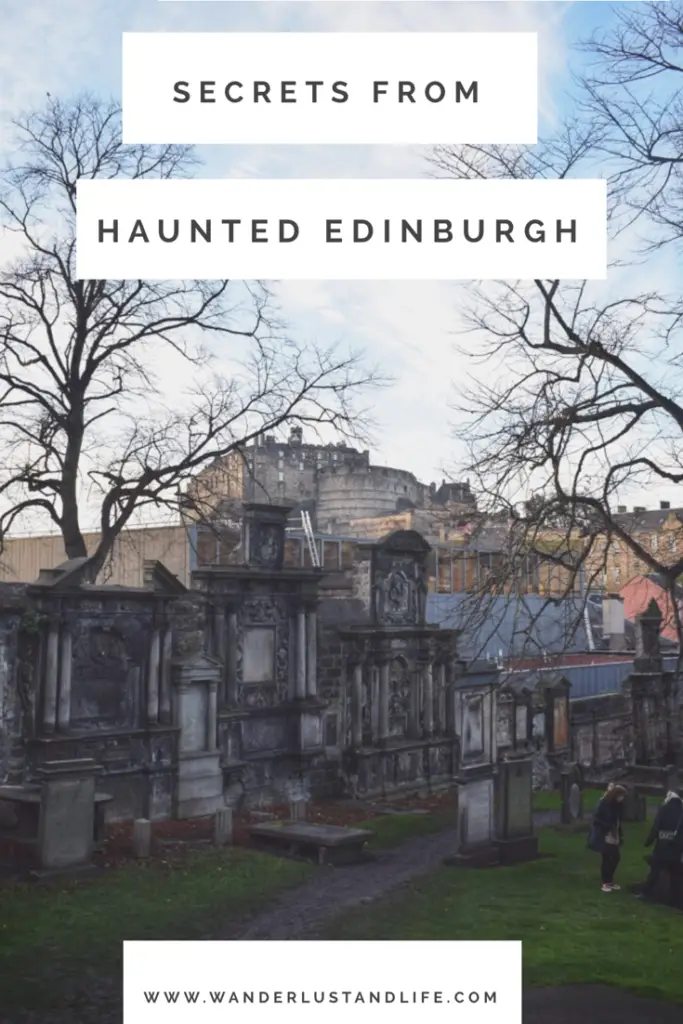 Which tour to choose
As you walk along the Royal Mile you will be inundated with companies trying to convince you to take an evening ghost tour with them. There are a number of tours to choose from, each exploring different parts of the city. On our recent visit to Edinburgh we decided to go with the City of the Dead- Haunted Graveyard Tour. We had done an underground tour previously and this time around we wanted something a little different. So we purchased our tickets and were told to meet the tour guide at 8.30pm.
Things you should know before you go
You need to book your tour ahead of time and make sure you wear some decent walking shoes. When we walked through Greyfriars Kirkyard as part of our tour it was dark, so it was sometimes hard to see loose stones and things like that. There is also a warning on the tour company's website saying that you do the tour at your own risk. If you are easily scared or have a heart condition this tour might not be best for you. Whilst the guides try to be entertaining and include humour in the tour, there are certain bits where you might get startled unexpectedly.
Greyfriars Kirkyard Ghost Tour
Our tour took us through Greyfriars Kirkyard. The cemetery is famous as it is where the story Greyfriars Bobby was inspired. The story is about a little terrier who used to sit by his owner's grave in the cemetery every day. I'm sure I don't need to tell you that dogs and cemeteries don't mix. Whilst some tried to discourage the dog from entering the cemetery, he kept finding his way back. Before you reach the Kirkyard you will encounter a little statue of the pup and a pub named after him too. Is the story true? Well there has been some debate with some calling it a marketing ploy whilst others are adamant of his existence.
Secrets from the Kirkyard
As you walk through to the Kirkyard you might notice a slight incline. The level inside and outside of the church yard are quite different. If you are wondering why, well this is because bodies were dumped here during the plague in a mass grave. Back in the days of the plague it was not possible to do individual burials and therefore mass burials were common.  The spooky thing is that in the past on really rainy days bones have been discovered poking through the soil.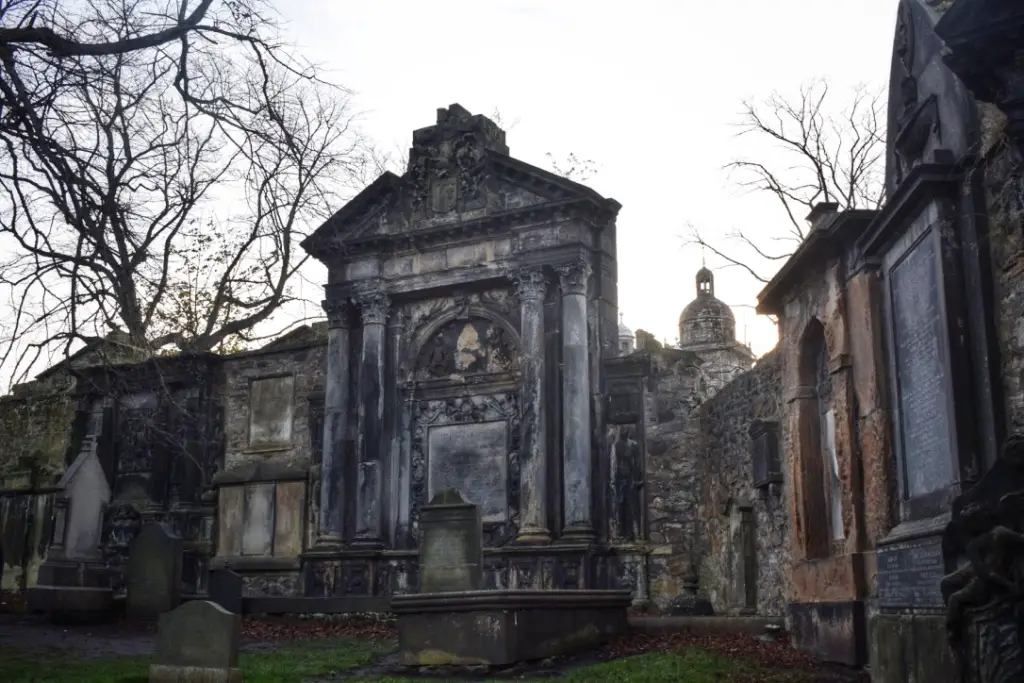 It attracted grave robbers
When walking around the cemetery you might notice metal grills that cover some of the graves. The reason for this was that at the beginning of the 1800's the University of Edinburgh was one of the pioneer institutions in regards to medical studies. Medical students needed corpses in order to learn about anatomy. There were strict rules as to the types of bodies that could legally be used for dissection. Usually they were the bodies of those that had died in prison. But in the end there was a shortage. And so an underground trade began. Body snatchers would dig up fresh graves, exhume the bodies and sell them for use by medical students. It actually got so bad that they had to protect the graves with these metal cages which went deep into the ground.
This became problematic for the so called body snatchers who profited greatly from the sale of corpses. Two Irish immigrants called William Burke and William Hare therefore decided to be innovative in the worst way possible. Between 1827 and 1829 they went on a killing spree suffocating several victims and selling their corpses to a doctor at the medical college.
Hare testified against Burke in exchange for immunity, and as was the thing to do back then, he was executed by hanging in January 1829. The freaky thing is that he was then publicly dissected at the Medical College and if you really want to you can see his skeleton which is on display at the college museum. Even more disturbing is a book made from his skin which sits in the police museum.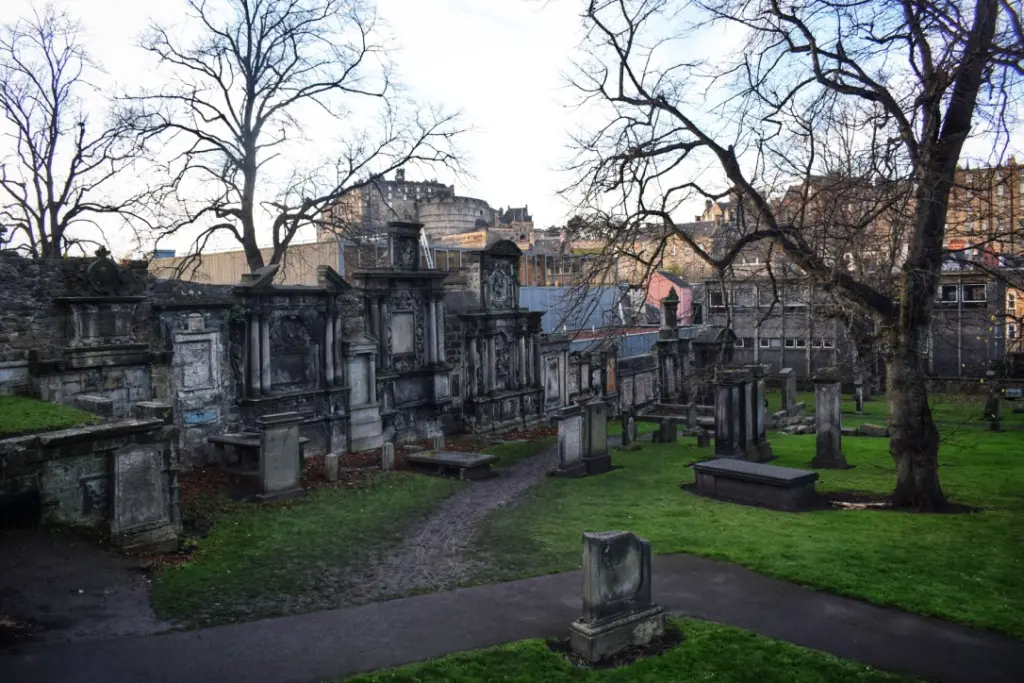 It might be the most haunted place in the city
There have been reports of hauntings taking place in the cemetery. It is believed that the ghost of Sir George MacKenzie, who was responsible for the imprisonment and execution of Covenanters, haunts the cemetery to this day. The Covenanters were a group who had revolted against new religious reforms set out by King Charles I. The place where the Covenanters were imprisoned is connected to the Kirkyard.  The conditions were horrid and not many of them made it out alive. Sir George then earned the title of "Bloody Mackenzie". He died in 1691 and is buried in Greyfriars Kirkyard in a large mausoleum.
These days it is said that the Mackenzie Poltergeist haunts the graveyard. Or more specifically a mausoleum inside the prison called the "Black Mausoleum". There have been reports of people on tours leaving with scratches, bruises and burns. The fear is so real that the mausoleum is in an area that is locked and only tour guides on the City of the Dead tour have access.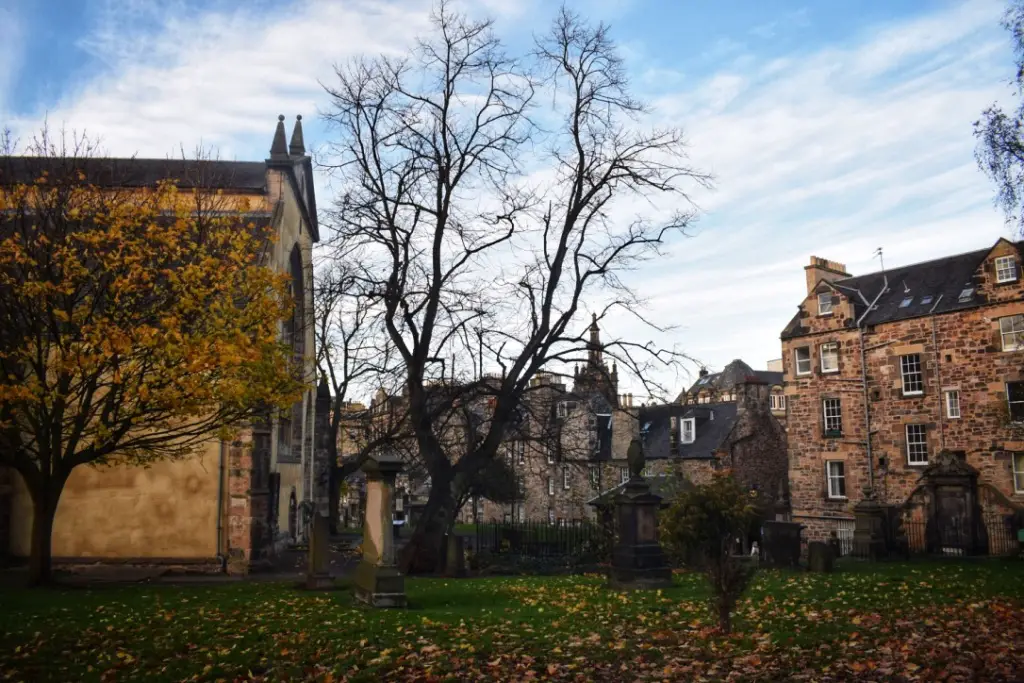 Edinburgh graveyard tour and the aftermath
Thankfully we did not encounter any ghostly activity on our tour. I did spend most of it clutching Dave's hand tightly just in case though. Even if you are a non believer the tour is really worth going on. You learn so much about Edinburgh's history and get to hear some fascinating stories. On top of that, experiencing the atmosphere and the mood of walking through a graveyard by torchlight, listening to ghost stories is definitely memorable. One tip we have is to make sure you come back and visit in the day, as it is beautiful and you can get some amazing photos.  If you want tips on more things to do in Edinburgh we have written an article about the best things to see and do in 3 days.