Ok you might be thinking who needs ANOTHER 5 day New York itinerary. I get it New York has basically been blogged and written about to death. Despite that we still wanting to put our opinions on the city out there into the world. Why? Mostly because we love New York. It's exciting, vibrant, and fast paced. There are so many things to do, so many in fact that we couldn't fit them all into this guide that's for sure.
The other reason we wanted to write about our 5 days in New York, was because this was our honeymoon. Alright, I will admit that when we started planning our honeymoon in New York, it wasn't our first thought of destination. I mean in an ideal world we would have been snorkelling in the Maldives or getting cosy in a ski chalet in Switzerland. But as usual, time and money came into play and so we settled on New York (and let's face it, NYC is a pretty amazing city to have to settle on). Literally every blogger and their dog have been to and written about New York, so we thought we would add a hint of romance and write about the city from the eyes of two people on their honeymoon….us. This is our 5 day NYC itinerary.
New York City  Itinerary Factsheet
Country: USA
Currency: US Dollar US$
Also known as: The Big Apple, the city that never sleeps
Famous for: Being the financial capital of the world, the statue of liberty, Being the setting for every TV show under the sun
Visit if you like: Thriving nightlife & bustling cities
There is so much that we could write about when it comes to New York. It often feels like the centre of the world, and interestingly nearly 40% of the population are actually from another country. This is evidenced by the city's history, culture, and even the food.
It is also worth noting that New York is made up of 5 boroughs, Manhattan, The Bronx, Queens, Brooklyn, and Staten Island. So that is a lot of exploring. The city population is well over 8 million, but keep in mind that is the city alone, and is not to be confused with New York State.
When is the best time to plan your 5 day New York itinerary
You might be wondering when the best time to plan your 5 day New York itinerary is. Honestly,New York is such a beautiful city, and I think it is one of those places that you need to visit several times, and at different times of the year to get a real feel for it.
Summers in NYC are hot and humid, with long days, and good weather. The only downside in visiting during the summer months (July-August specifically) is that it is peak tourist season due to school holidays. It can also be unbearably hot at times.
In contrast the winter months (January & February) can be quite cold and harsh and temperatures can drop below freezing (and that is without factoring in windchill).
So when is the best time to plan your 5 day New York itinerary? April – June are idea as the weather is mild, and there are slighter fewer tourists then in the summer months. October& November are also great because as autumn approaches the city has a completely different vibe than summer. The leaves start to turn and this just adds to the beauty of the city.
December is also popular as a lot of people love Christmas in New York (and if Home Alone has taught me anything it's that you have to spend at least one Christmas in NYC). But seriously the Christmas lights come out, store window displays become little festive delights, and of course you have the lighting of the Rockefeller Centre Christmas Tree which is a big deal.
Getting from the airport
Chances are the start of your 5 days in New York it will be via one of the city's 3 main airports. So here is some guidance on how to get from each one into the city.
JFK
If you are flying in from another country you will probably end up landing at JFK. Once you arrive you will need to jump on the AirTrain to Jamaica Station, where you can change onto the Subway. The subway should then take you into the city.
LaGuardia
Another popular airport, but this time for domestic flights is LaGuardia. From any of the airport terminals you can hop on the M60 bus to 125th Street in Manhattan. From here you can hop on the subway to your final destination.
Newark
Newark Airport has an AirTrain service so for around $15 you can get from the airport into Manhattan.
For most of the airports you can also get a taxi or pay for a private transfer direct to your hotel.
5 days in New York – Is it enough?
We planned our honeymoon in New York as part of a bigger trip around the USA. We ended up only having 5 days in New York, and you might be wondering is that enough? The short answer is no. But that is because it feels like no amount of time spent in New York is ever enough. But if you only have 5 days in New York then it is a good amount of time to get to grips with the city and explore. You just have to make sure you plan things in advance.
Also you need to accept that you won't see it all. We didn't get to see everything we wanted, for example I really wanted to visit Coney Island, and Dave wanted to go to a baseball game, but due to the time of year we visited and other constraints we had to sacrifice. Oh and in case you visit NYC when it rains, check out this guide. 
Where to say during your 5 days in New York
I'm sure it will come as no surprise that the accommodation options in New York City are endless, and truth be told when booking accommodation it can all feel slightly overwhelming. As a whole accommodation in New York can be quite expensive. If you are looking to stay somewhere for your 5 days in New York then we highly recommend booking your accommodation well in advance to get the best deals.
We ended up staying right near Times Square because we wanted to be in the thick of all the action, and it was good because yes we were close to a subway stop, and close to a lot of attractions. But, we probably wouldn't stay there again, because it was really touristy, and the nightlife in the area isn't great.
Here is a run down on where to stay in New York, especially if you are a first time visitor.
Midtown
We stayed in Midtown as mentioned above. The good news is that it is close to places like Times Square, and the Rockefeller Centre, as well as the broadway theatres. The subway has a number of lines that run through midtown too, making it easy to navigate to where you want to go. It is good for first time visitors, or maybe those of you who only have a short time in NYC and want to be near the main attractions.
The downside though, is that like we said above it is swarming with tourists. It didn't feel hugely authentic either. There weren't as many food and drink options as other areas, and the options available were larger kind of chain eateries.
Upper East Side
While being close to a lot of the city museums the Upper East Side is a bit more expensive than other parts of New York. It's also smack bang on the edge of Central Park. It's great if you are looking for a luxury boutique style hotel, in an area far quieter than Times Square.The only drawbacks really are the prices, you will be hard pressed finding cheaper accommodation, and similarly the restaurants and bars are also a bit more upscale. Not ideal for a budget traveller but great if you want to splash out.
Greenwich
If we had the choice again we would probably stay somewhere like Greewich Village. It's a more accurate representation of life in New York, and the restaurants and bars are smaller but way more authentic than Midtown.
It is a little bit out of the way, but with good transportation links you will be seeing the sights in no time. The only other downside is that because it is an arty sort of entertainment district it can be a bit loud, but at the same time most of New York is.
East Village
This is another area that in hindsight we would have loved to have stayed in. The East Village is certainly very hip and happening, and another authentic taste of life in New York. There are tons of restaurants and bars, here too, and you get an insight into life in NYC. It is a little further away from the main attractions though so keep that in mind if you are thinking of staying here.
Queens
If you want to get away from Manhattan and are looking for something a little cheaper in terms of accommodation for your 5 days in New York, Queens might be for you. It is obviously further away from a lot of tourist attractions but you do get some great views of the Manhattan skyline.
Things to do as part of your 5 day NYC itinerary
So if you are looking for things to do as part of your 5 day NYC itinerary, then you will not be bored. There is so much to do that we cannot possibly list everything in our itinerary. That being said we will do our best and list some of the things we did during our 5 days in New York.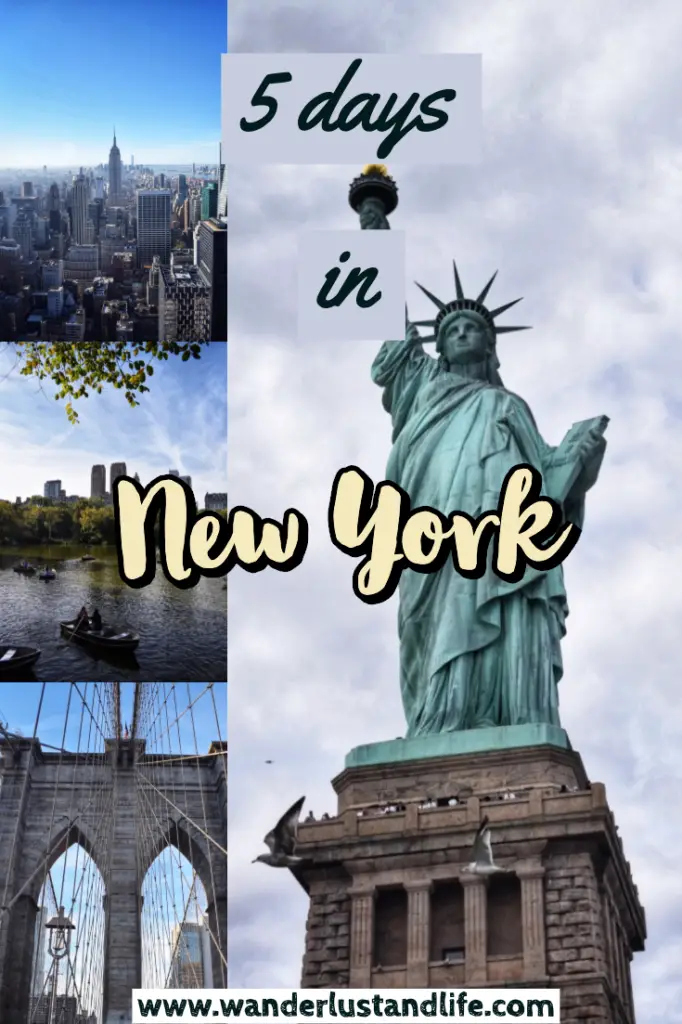 Times Square
I'll be the first to admit that Time's Square wasn't my favourite part of New York. It is super touristy, and crowded. But it is almost like a right of passage, and you have to see it at least once when you are in New York. It's probably slightly nicer at night when all the billboards are lit up, and it has an air of excitement. Either way we couldn't write a 5 day New York itinerary without adding a visit to Time's Square.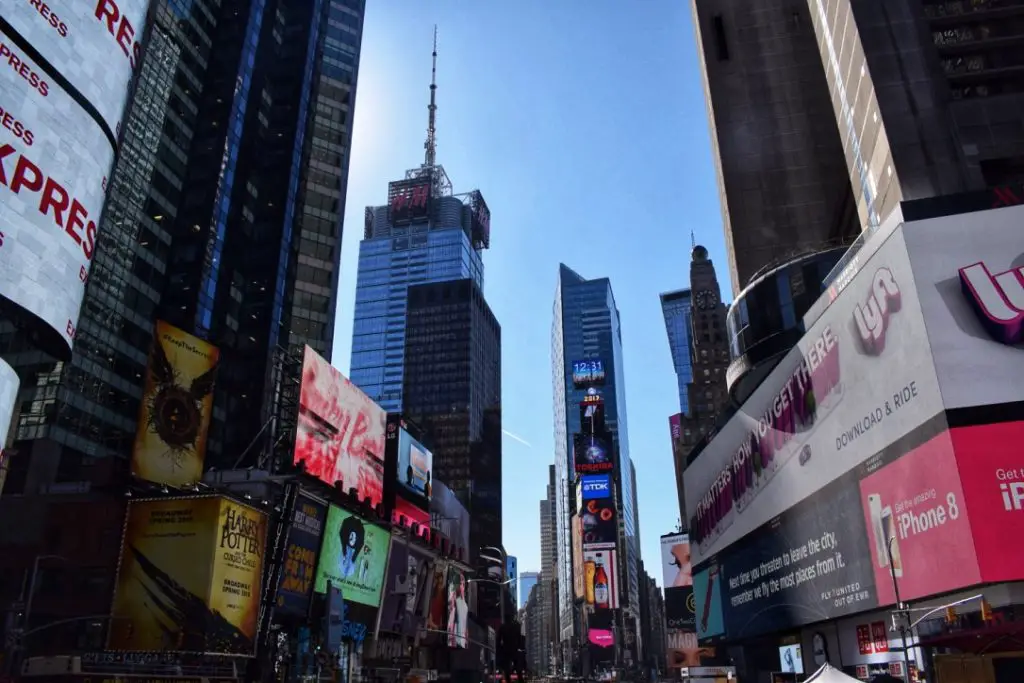 Top of the Rock
One thing we did right in the chaos that was New York was purchase tickets for Top of the Rock. You generally cannot show up and expect to head up the tower straight away, so don't forget to purchase your tickets in advance.
Top of the Rock is essentially an observation deck giving you panoramic views of New York City. And what is also really cool is that you have 3 floors to explore. The visits here are timed so you need to be here for your specific time slot. The good thing about this is the queues aren't too bad. Before you know it you are admiring the views across the city. It is crowded at the top and you do get pushed around a bit but seeing New York from up above is a must!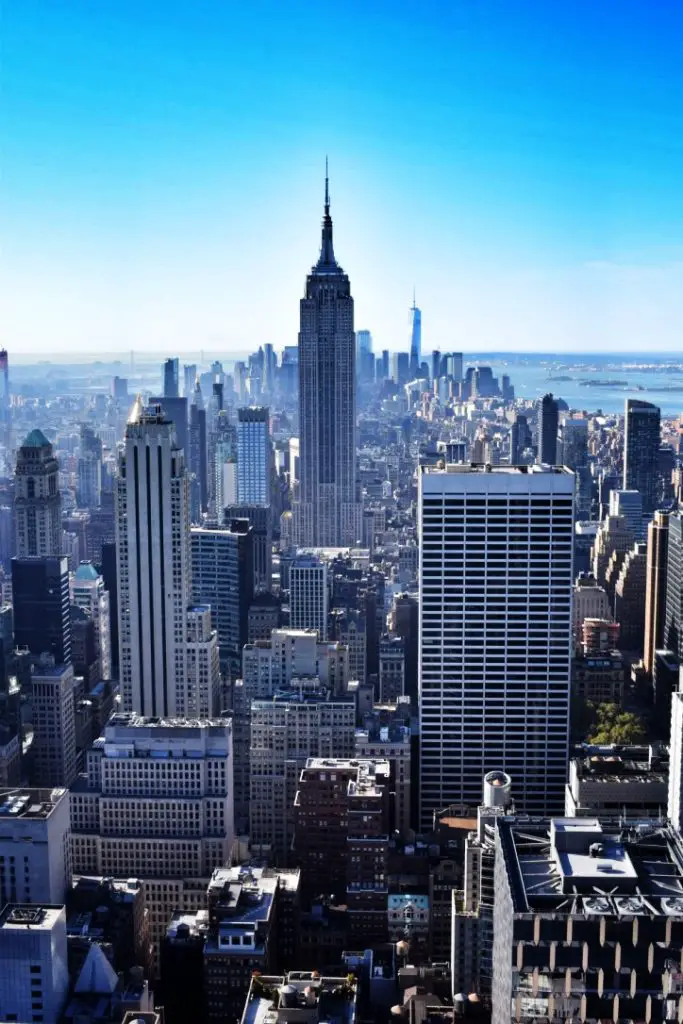 Central Park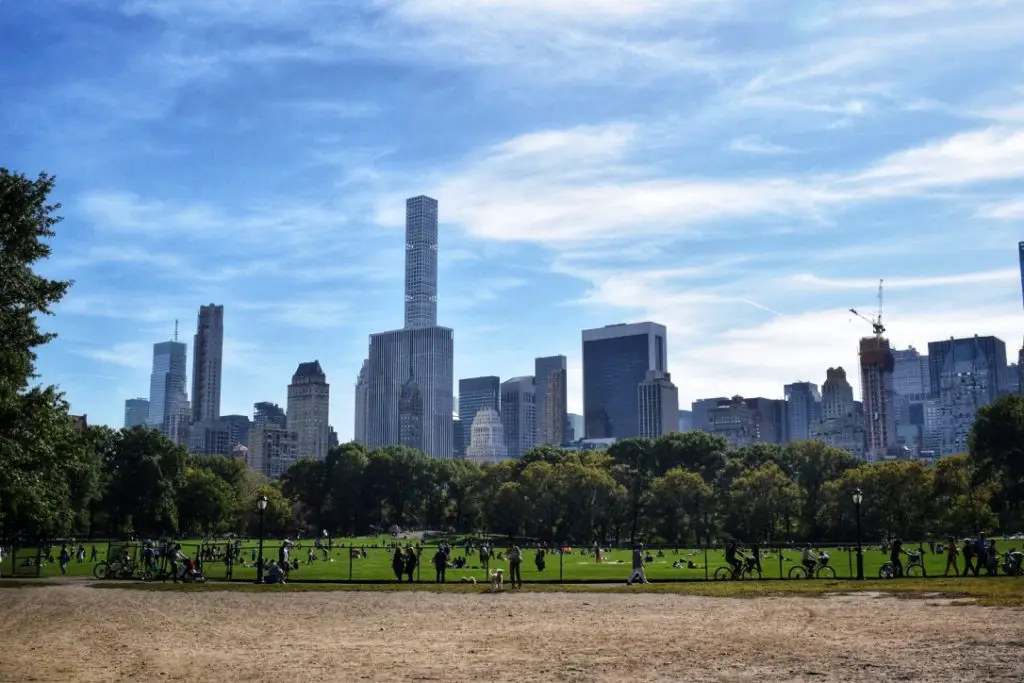 Another must for any 5 day New York itinerary is of course visiting Central Park.
To me Central Park was exactly what I imagined from the movies. There were horse drawn carriages and families rollerblading and laughing as they tried not to fall. This was what I wanted for our honeymoon. We strolled around the park stopping to purchase some over priced ice creams from the various vendors stationed on the corners.
Central Park is huge, and because we only had 5 days in New York we did not have enough time to explore everything, although we made sure to visit Strawberry Fields and the Lake.
Strawberry Fields
In memory of John Lennon's life and talents a 2.5 acre area was dedicated to him and was named Strawberry Fields. It is located adjacent to the Dakota Building, which is where John Lennon was living when he was shot returning home on the 8th of December 1980. In the centre is a mosaic with Imagine written across it, where you will find keen visitors trying to get photos taken.
The Lake
The iconic Central Park Lake, where you can rent paddle boats was another must see for us. It's such a beautiful place to sit, take in the skyline and the calming waters before you. Alongside the row boats we also saw a random Gondola which was confusing but oh well it's New York right?!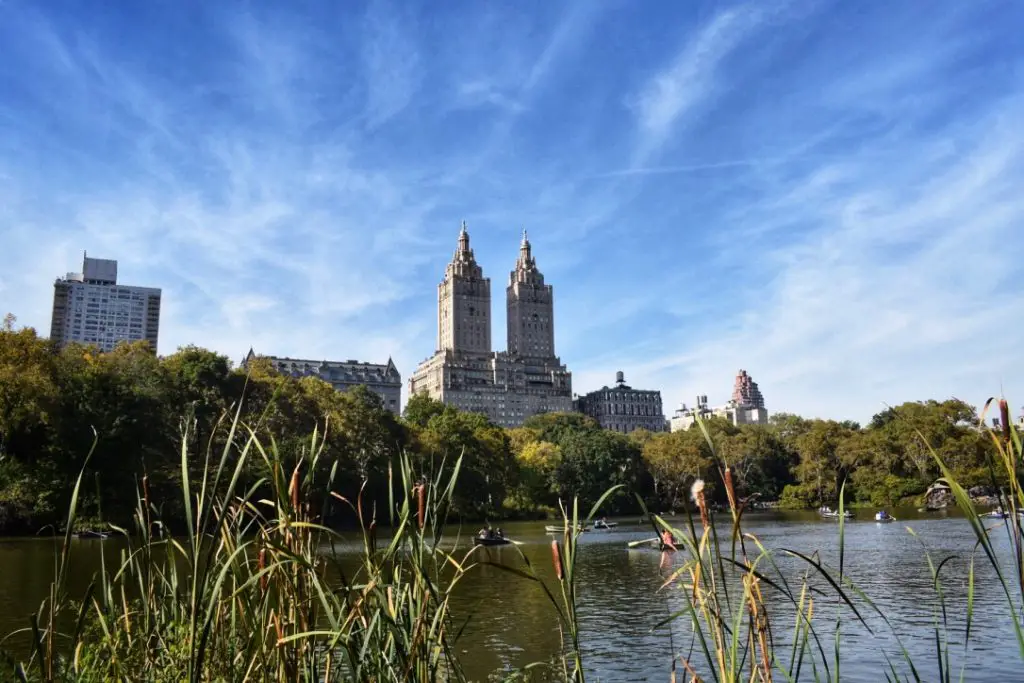 The Empire State Building
A visit to the Empire State Building is another classic thing to do in NYC. We bought tickets through our hotel concierge and could use these tickets at any time. Because of this the queues are quite intense here.
I sort of feel that this might be one of the most overrated tourist attractions in the world. I mean it was great being there, especially as the building is a New York City icon, but it was so busy. We ended up just getting pushed around and waiting patiently for a space to open up where we could look out without our view being impeded by someone's head. Still the Empire State Building is a classic New York attraction and we just had to do it.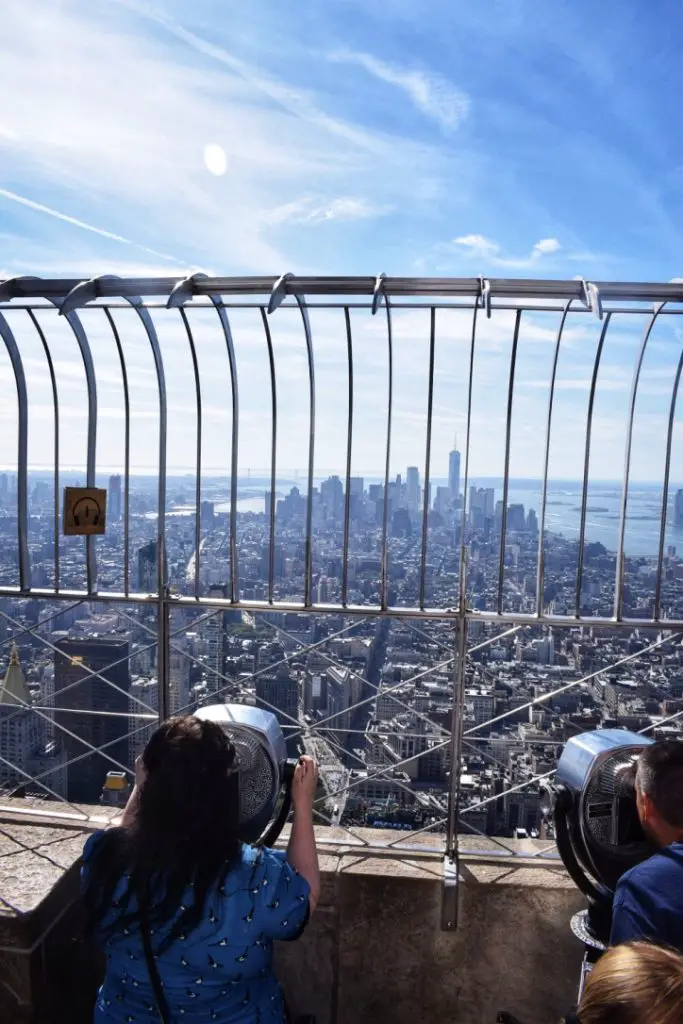 The High Line
One of the newer attractions in NYC is the High Line, a 1.45 mile elevated park on a disused train track. For us this was a lovely place to sit and just chill out. It was still pretty busy, but it's a nice break from the so called concrete jungle, and it gives you an opportunity to appreciate some greenery.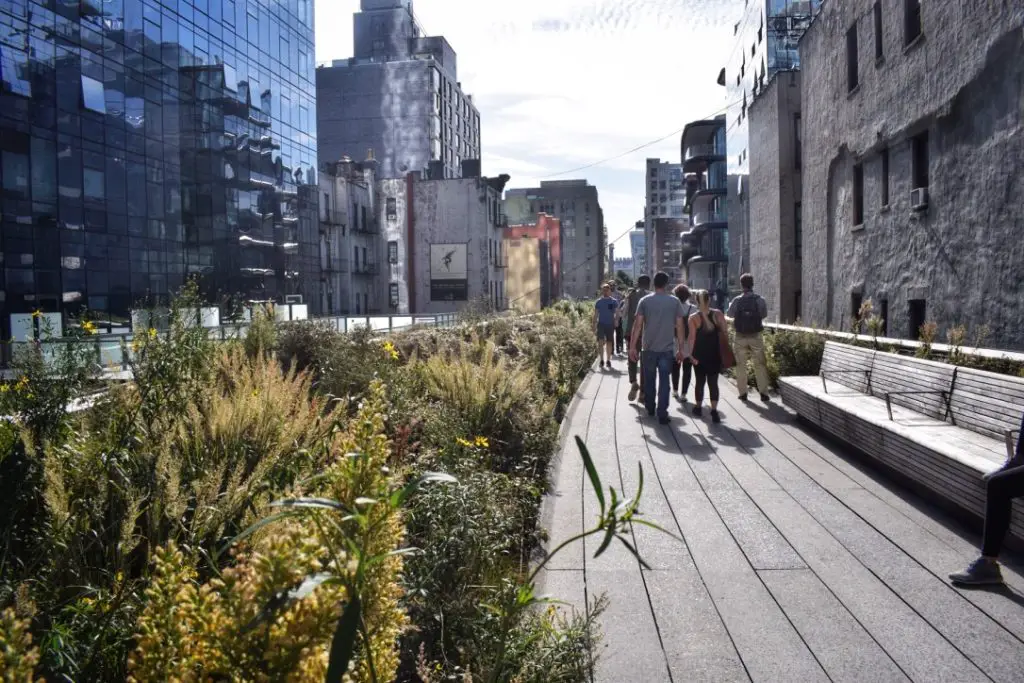 The 9/11 memorial
This was genuinely a sobering moment that I am struggling to put into words. For my parents the question of their generation was "where were you when Kennedy was shot"? For my generation it's more where were you when the twin towers fell. I was only 13 when it happened and couldn't really understand the full magnitude. There is a memorial at the base where each of the twin towers stood. Water rushes down into a centre that you cannot see and the names of all the victims are etched around the pools. It is both beautiful and terribly heart-breaking. There is also a museum you can visit which has more information about that day.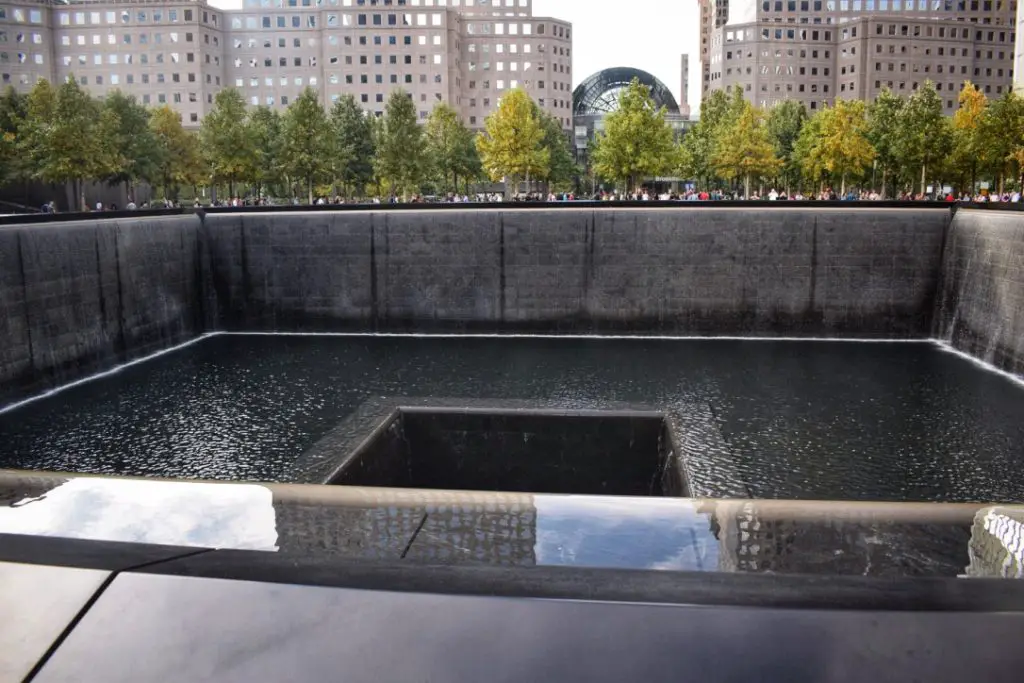 Brooklyn Bridge
Another must do in New York (how many times have I said that so far in this article???) is the Brooklyn Bridge. I am going to be honest walking across the bridge was actually a terrifying moment for me. We walked across the Manhattan side, and I didn't even get to the middle before I freaked out. Architecturally it is a pretty awesome bridge, so for me I did feel disappointed that I couldn't walk across the whole thing.
When you get to a certain point on the bridge you can actually look down and it dawns on you that the only thing holding you up are some wooden slats. You can also see the water below through the gaps in these slats. That is a big nope from me. At one point a jogger came past and I swear the nail in the wooden slat was loose and it shook. This was certainly too much for my fear of heights. Fortunately, we got some nice pictures before departing.
Chinatown
Chinatown is well worth a visit as part of your 5 days in New York. We got off the subway and made our way up Canal Street, which is a shopper's dream. When we reached the back streets of Chinatown however it was actually like being transported to somewhere in Asia. It is definitely a foodie's paradise with so many dumpling and noodle shops, with a few bars mixed in for good measur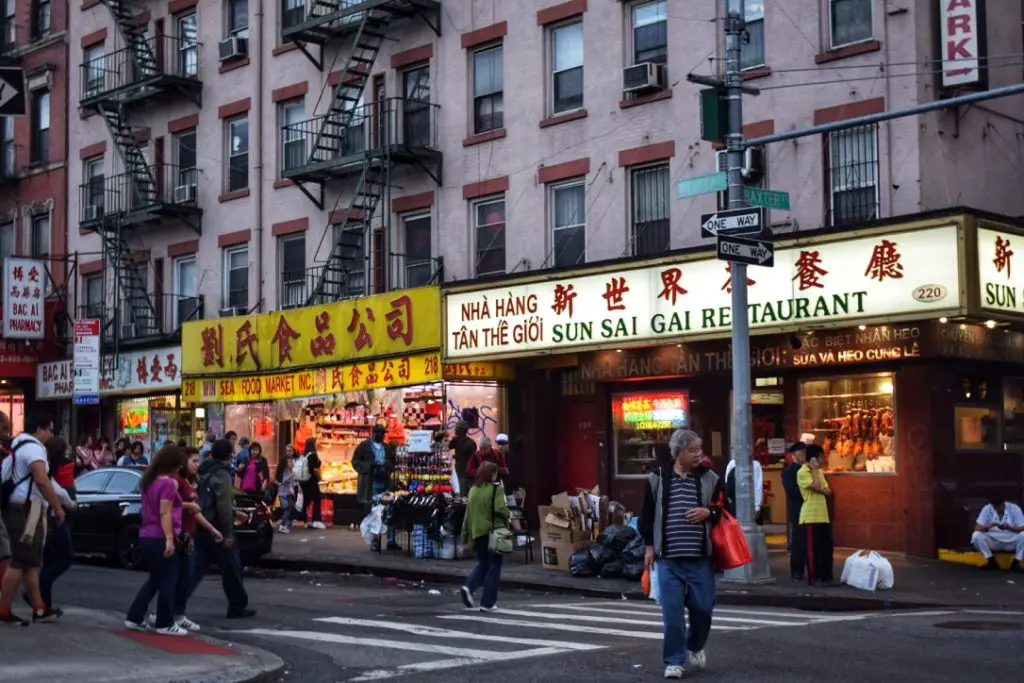 Liberty Island and Ellis Island
Another must for your 5 day New York itinerary is to see the Statue of Liberty. So just to clarify the Statue of Liberty is located on Liberty Island and the famous immigration centre is located on Ellis Island. To get to both you need to pay the $18.50 per person and hop on an overcrowded ferry full of fellow tourists ready to elbow you in the face to get that perfect shot of the statue and the NYC skyline from the boat. But despite this we felt it was a must do for our 5 day New York itinerary. 
If you are planning to do this you should set a full day aside. It is super busy and you will spend a lot of the day just waiting in line. We were short of time so we only managed to see Liberty Island to get a few close up shots of the Statue. It is a wonderful experience and we would really recommend it. Alternatively you could get the Staten Island Ferry for a glimpse of Lady Liberty herself, but you certainly don't get as close as you do on the tourist boats.
Another thing to stress is book your tickets in advance. We spent ages waiting in line to purchase the tickets and that was before even getting on the boat.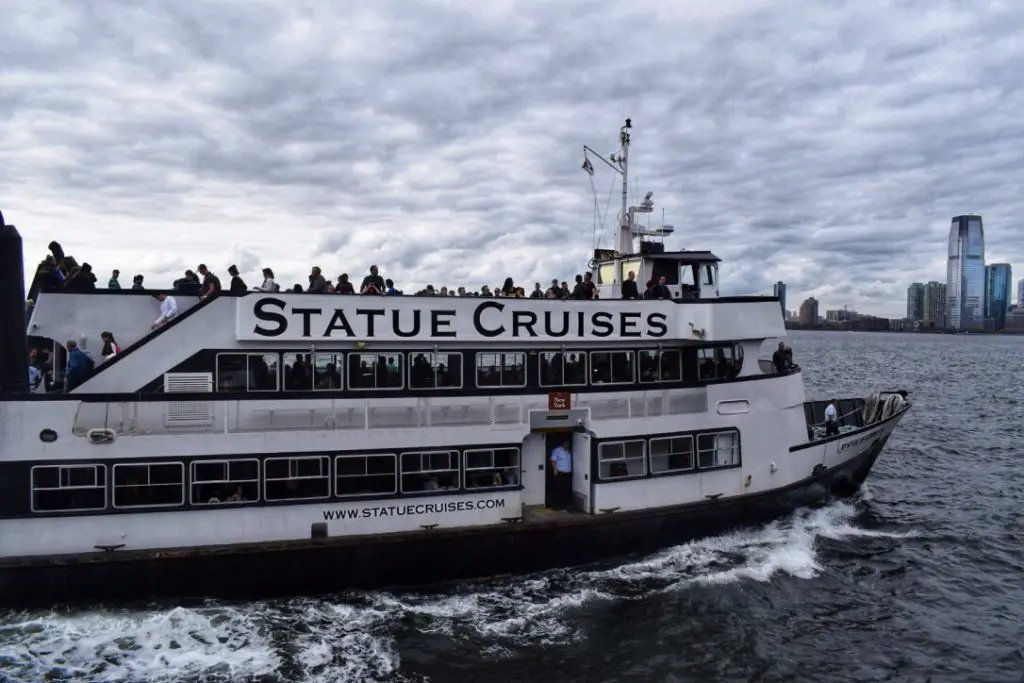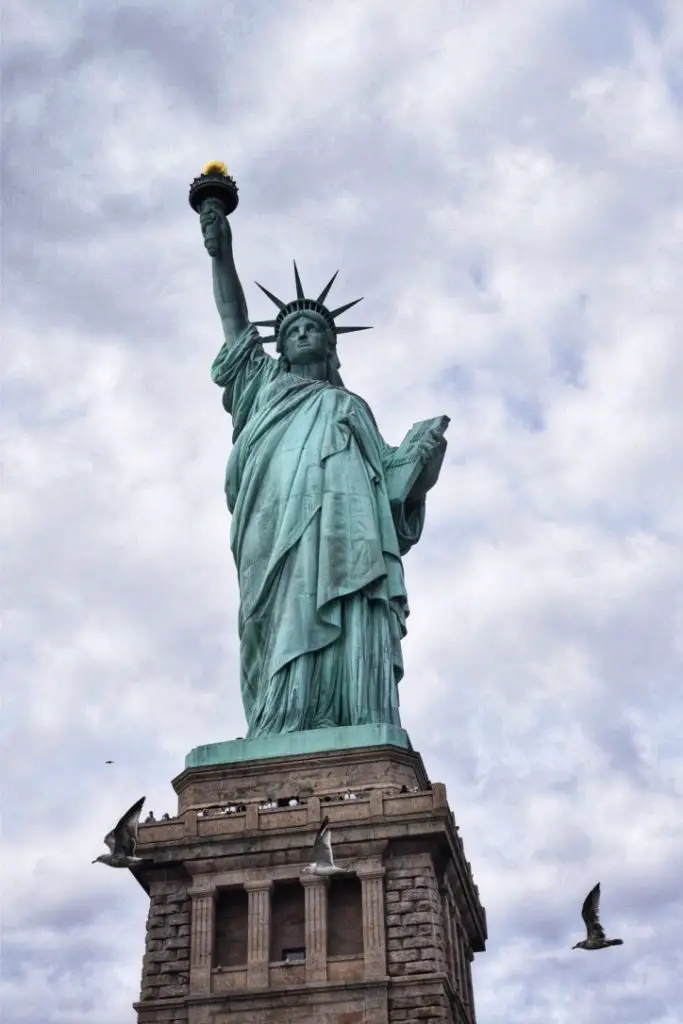 Visit one of the many museums in the city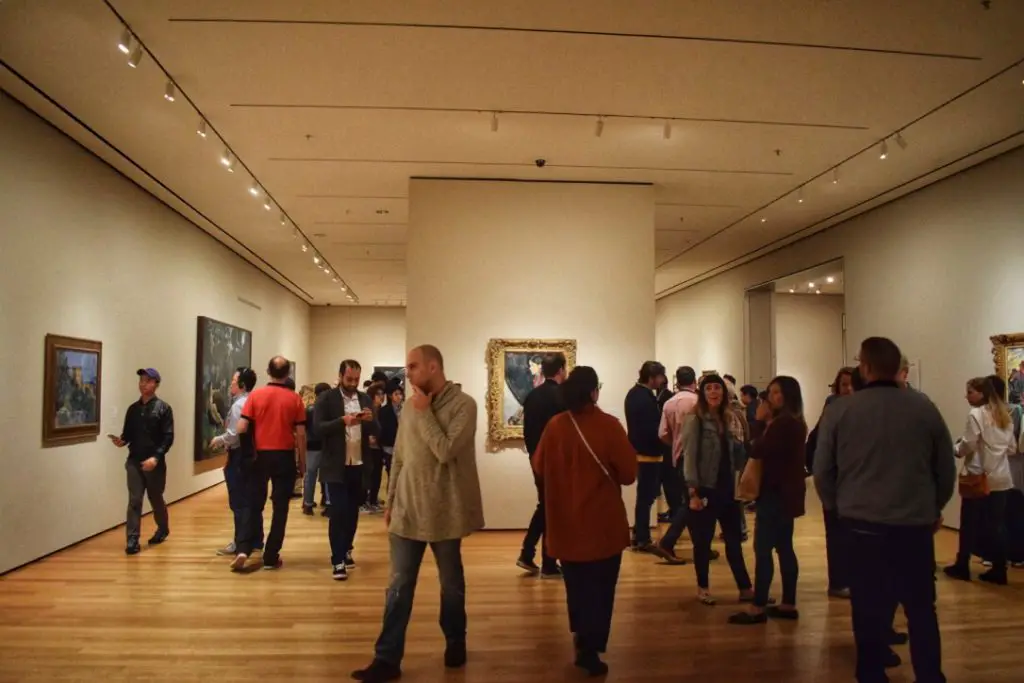 With our 5 days in New York nearing an end, we desperately wanted to take advantage and visit one of the city's amazing museums. We eventually settled on the Museum of Modern Art. It houses works from artists such a Van Gogh, Dali, and my personal favourite Andy Warhol.
We were actually really disappointed during our visit. For starters half the exhibits were closed due to maintenance. I understand that this has to be done, but it's kind of frustrating when you are paying full price and not really getting the full service. One of the reasons I wanted to visit was because I read it was home to Andy Warhol's Soup Cans.
We spent a good while looking for them to no avail. When I asked one of the staff members where the Andy Warhol stuff was she looked at me like I had threatened her first born. "It's not stuff" she spat and pointed me in the general upward direction. Still no soup cans. We eventually realised the exhibit was undergoing maintenance so we left.
In hindsight it probably would have been better to visit the Guggenheim instead, but that's just something we will need to add to our list in the future.
Best Neighbourhoods to visit as part of your 5 day NYC itinerary
Apart from the standard tourist attractions which we have included in this 5 day NYC itinerary we also suggest exploring some of the incredible neighbourhoods. Here are some of our favourites.
Williamsburg
Williamsburg was probably one of our favourite areas in New York. Williamsburg is full of super hip bars, trendy shops, and some chic restaurants. If you are looking for an excuse to get out of Manhattan and head over to Brooklyn this is it. Williamsburg is a great place for a cocktail or a coffee. Make sure you get a window seat though because it is the perfect place for people watching. You will find some boutique stores, a lot of trendy cafes and bars, as well as some super cheap eateries. There is also some really cool street art that adds to the overall trendy vibe of the area.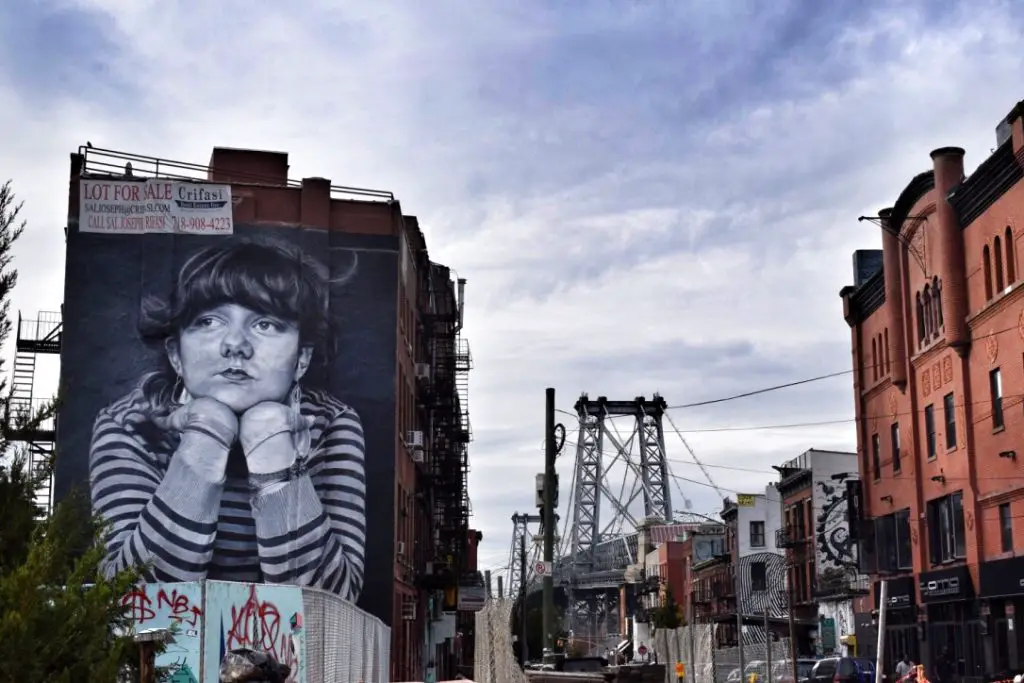 The East Village
Another trendy area we decided to explore was the East Village. There are a lot of cosy bars and super cool restaurants. Our favourite bar was definitely The Immigrant, a cosy and intimate bar which is a great place for people watching.
Graffiti decorated walls, leafy streets and some super cool bars, this is why we loved the East Village. To top it all off this is where you can get some amazing international food. For starters there is a 24 hour Ukrainian diner as well as several asian dumpling houses. As the evening progresses it is also a really cool place to go listen to some jazz or blues at one of the super chic bars.
DUMBO
DUMBO is actually an acronym for Down Under the Manhattan Bridge Overpass. When you walk around you can tell that this area used to be industrial, with repurposed warehouses now selling swanky furniture and art pieces. It's another cool place for coffee and you can sit and watch life go by. It is also one of the most picturesque parts of Brooklyn with beautiful views of the Manhattan skyline as well as the Brooklyn and Manhattan Bridges.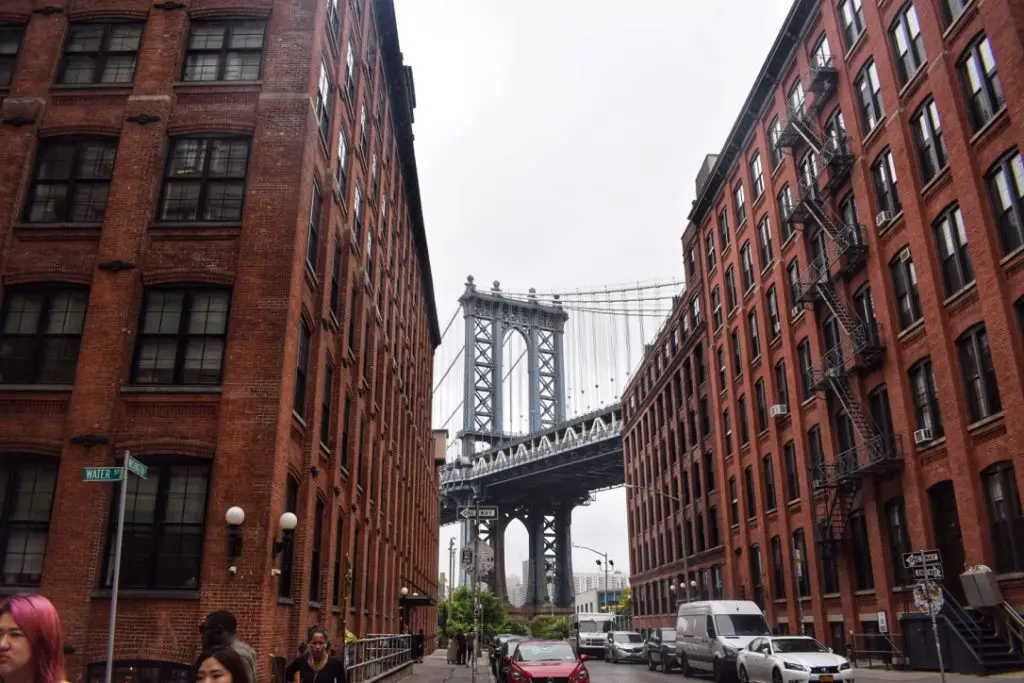 Greenwich Village
During your 5 days in New York we highly recommend making your way to the always trendy Greenwich Village. It's great for food and drink. One of the best bars we found was Employees Only, a prohibition style bar with some really creative cocktails. It's sort of hard to find and there is actually a psychic doing readings near the front door, which can throw you off. Once you are inside though the atmosphere is bustling. Expect to have to queue to get in! We also had some really good Mexican Food a couple of blocks away and got to walk around and admire the beautiful streets in this area.
Sample 5 day NYC itinerary
Here is a sample 5 day New York itinerary to give you a feel for the city. This sample itinerary is ideal for first time visitors who want to see some tourist attractions, but also explore some of the neighbourhoods in New York.
5 days in New York – Day 1
Start the day in typical New York tourist style by visiting the top of the Rock, before making your way to Central Park to explore. In the later afternoon make your way to Greenwich Village for dinner and drinks.
5 days in New York – Day 2
Another touristy morning, take your time exploring Times Square and the surrounding Hell's Kitchen Area.
In the afternoon head over to Williamsburg to get away from the tourist hustle and bustle.
5 days in New York – Day 3
In the morning check out the Empire State Building, making sure you get their early to avoid the crowds of people. Spend the afternoon exploring the High Line, before making your way to the 9/11 memorial.
Afterwards checkout Wall Street, before walking across the Brooklyn Bridge. Head to Chinatown for dinner and drinks.
5 days in New York – Day 4
Get up early and start your day right with some Cronuts from Dominque Ansel Bakery. Then spend the day exploring Ellis Island and Liberty Island.
In the evening head to the East Village for dinner and drinks.
5 days in New York – Day 5
Start the day in DUMBO and get some cool photos, whilst exploring the area. For lunch make your way to Katz's Deli, and then spend the afternoon enjoying one of the city's incredible museums or art galleries.
Travelling as a couple – Romantic things to add to your New York itinerary
As mentioned earlier our 5 days in New York also happened to be our honeymoon. So if you are thinking of adding some romantic things to your itinerary here are some suggestions.
Do a romantic dinner cruise
One of the most romantic things to do in New York City has to be to do a dinner cruise. There are lots of different cruises you can book, most including a glass of champagne to sip as you sail down the Hudson, and gaze up at the NYC skyline.
Listen to some Jazz
New York happens to have a very vibrant Jazz scene, so we recommend finding a Jazz Bar and having a night of cocktails and music. One place we recommend is Rue B a really unpretentious bar that has live jazz music every night from 8.30pm. The cool thing is when we were there the owner of the bar got involved and sang during some of the numbers
Central Park
Central Park has so many opportunities for romance. For starters you can hire a horse and carriage, which has to be the most quintessentially romantic thing to do in New York. Alternatively, why not have a picnic in the park. Or rent a row boat on the lake?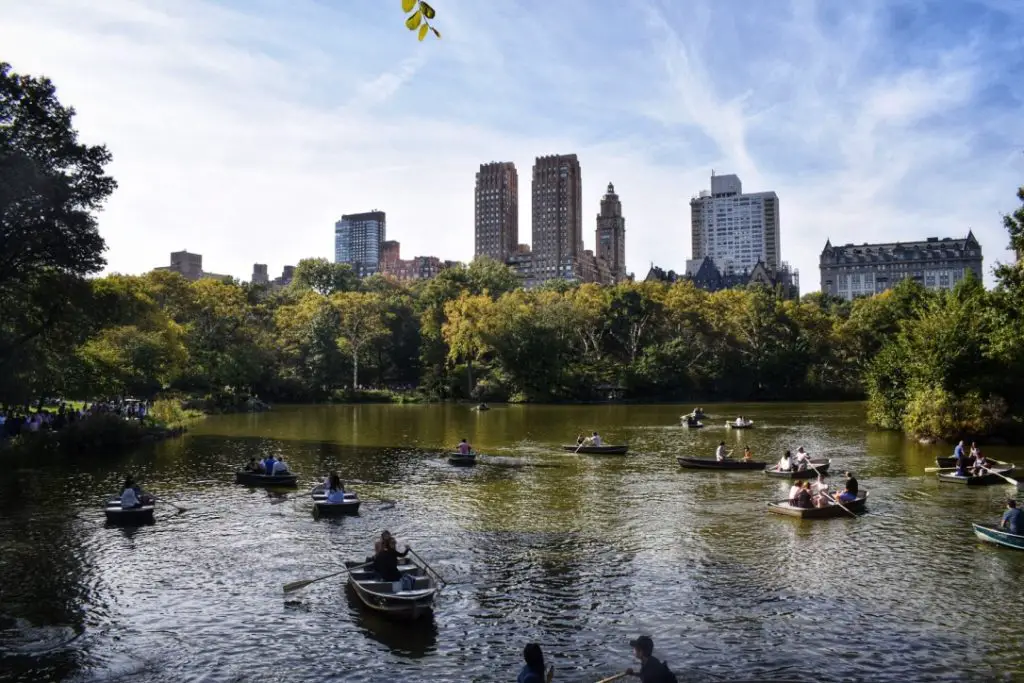 Eating and drinking during your 5 days in New York
Let's be fair food is a massive part of any trip and our 5 day New York itinerary is no different.
Here are some of the must eat street foods you have to chow down on in New York.
Pizza
You cannot, I repeat, you CANNOT spend 5 days in New York without eating a cheese pizza slice. It is $3 for a slice (sometimes cheaper) and it is without doubt some of the best pizza we have ever eaten. I'm not even ashamed to say that we had a slice pretty much every day we were there.
Spend a few days in the city and you surely will have noticed the amount of pizza joints selling this classic dish by the slice. What differentiates it from the rest is that it is made up of a large but thin dough. When sold by the slice the best way to eat it is to fold it in half. You can get a range of toppings but with the New York pizza slice simple is key and we highly recommend the plain cheese. But if you are feeling a little more adventurous pepperoni is good too.
The dish was brought to New York in the early 1900's by Italian immigrants and was based off the Neapolitan style pizza, which is thin crust pizza with cheese and tomato. In 1905 the first pizzeria opened in the Little Italy neighbourhood and pies sold for 5 cents. So began the life of one of the most iconic foods in the city.  These days it is a little more expensive but just as delicious. So why does it taste so good? Well one theory is to do with the water. Whether that is true or not pizza slices are a must eat food in New York.
Where to buy them: Any pizza place selling it by the slice! There are so many in the city making it easy to find somewhere, and then you're hooked.
Hot Dogs
 Another must eat bit of street food is the Hot Dog. Walk down any block in Central New York and you will come across a street vendor selling them. I was somewhat sceptical at first because why would I trust someone selling meat on a street corner, but I have to say I am now a street meat convert and proud!
The history of the Hot Dog in New York is traced back to German immigrants. There is a lot of debate and it is unclear who invented the Dog. But the opening of Charles Feltman's shop in Coney Island in 1867 was a milestone for the Hot Dog, and something that flung it into must eat in New York City status. Feltman was a German Immigrant and a baker who came up with the concept of baking a bun and stuffing a Frankfurt sausage inside. The idea was that this would be a quick and easy meal that could be eaten on the go and didn't require plates or cutlery.
It is basically the perfect meal for the busy New Yorker who wants to eat quickly and on the go. These days Hot Dog carts are a staple in city and one of the best cheap eats in New York. You can only splash out and try some of the more culinary dogs being sold but in our opinion simple street meat is best.
Where to buy them: Find a vendor usually on the street corners in Manhattan. We found a lot around Times Square and the Staten Island Ferry
Bagels
Bagels are another New York institution. Nothing, I repeat NOTHING beats a fresh bagel topped with cream cheese, or bacon egg and cheese. Yum. We had some of the best bagels of our life in NYC.
These days the bagel has become almost a breakfast staple, especially in New York, however the bagel actually originated in Poland. The Jewish community were responsible for creating this culinary delight, of yeasted wheat dough that is shaped into a ring. It is boiled and then baked which is why you get the soft slightly chewy interior and the crispy exterior.
The bagel was once considered a delicacy but by 1980 they were mass produced and made their way into several of the city's grocery stores. Now they are one of the myst try foods in New York City. I know you can get bagels anywhere but like we mentioned with the pizza the New York style bagels are the best in part due to the water in the city. The water has a softer quality due to its perfect ratio of magnesium to calcium.  Because of this the water mixes perfectly with the gluten in the bread creating that soft but chewy texture.
Where to buy them: The very aptly named Best Bagel and Coffee, tops our list.
Then there are those places in the city that are such an institution themselves you just have to go. Here are some places that you should consider adding to your 5 day NYC itinerary.
Katz's Deli
was an absolute bucket list thing for me. I know it is a total cliche but it had to be done. It was really made famous by that ahem scene in When Harry Met Sally, but the food here is good enough even without the Hollywood connection. When you first walk in it is chaotic and confusing. We had no idea what was going on, but somehow managed to wedge in to a spot at the counter to order. We ordered a pastrami sandwich to share because these things are not only huge but also over $20.00 per sandwich. Ignoring the price it is an experience you cannot miss.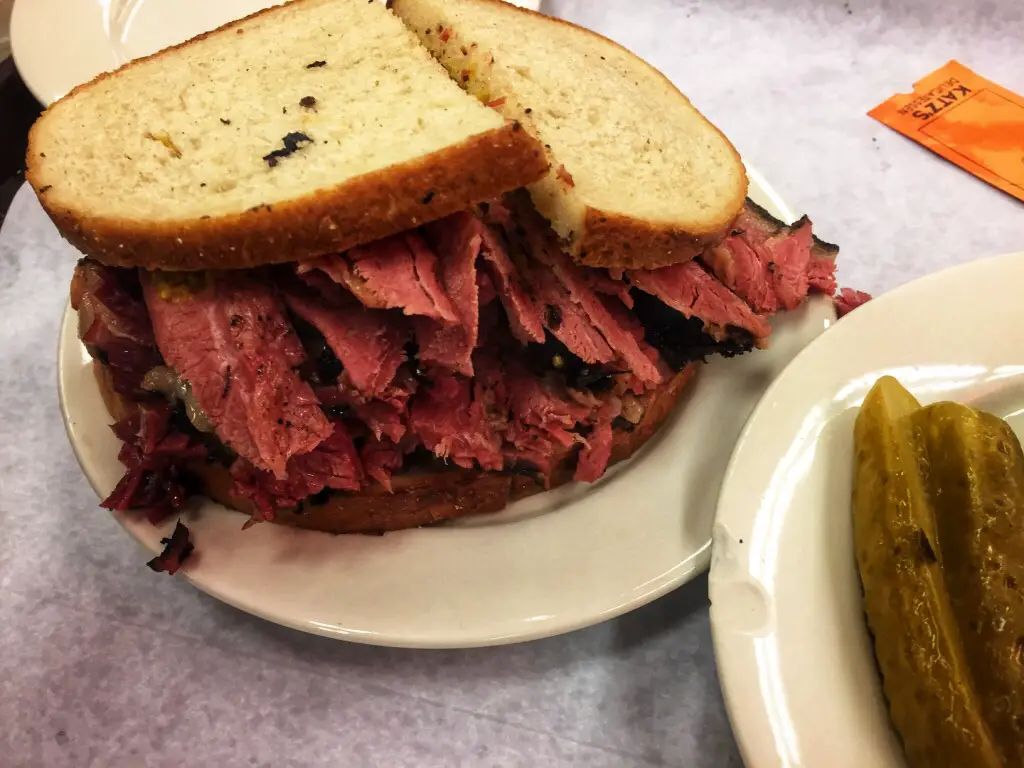 Veselka
Next is Veselka – I might be biased here because of my Ukrainian heritage, but this was honestly the best food we ate all trip. Veselka is a 24 hour Ukrainian style diner with all the best food from my childhood. We feasted on Borsht (a beetroot soup which tastes better than it sounds) and Veraniki (dumplings filled with potato or whatever you want really! and served with fried onions.
Dominique Ansel Bakery
Dominique Ansel Bakery is another must. We genuinely thought the line would be insane and we would be spending the whole day waiting to eat this incredible creation. So we were pleasantly surprised to find that after a mere 20 minutes of standing in a queue we were ready to devour the Cranberry and Pumpkin flavoured pastry.
The pastry was great, but the flavour wasn't my favourite. I should note that you only have the choice of one flavour, and this does change each month. You also have a 2 cronut minimum per person and you should get in early in case they sell out!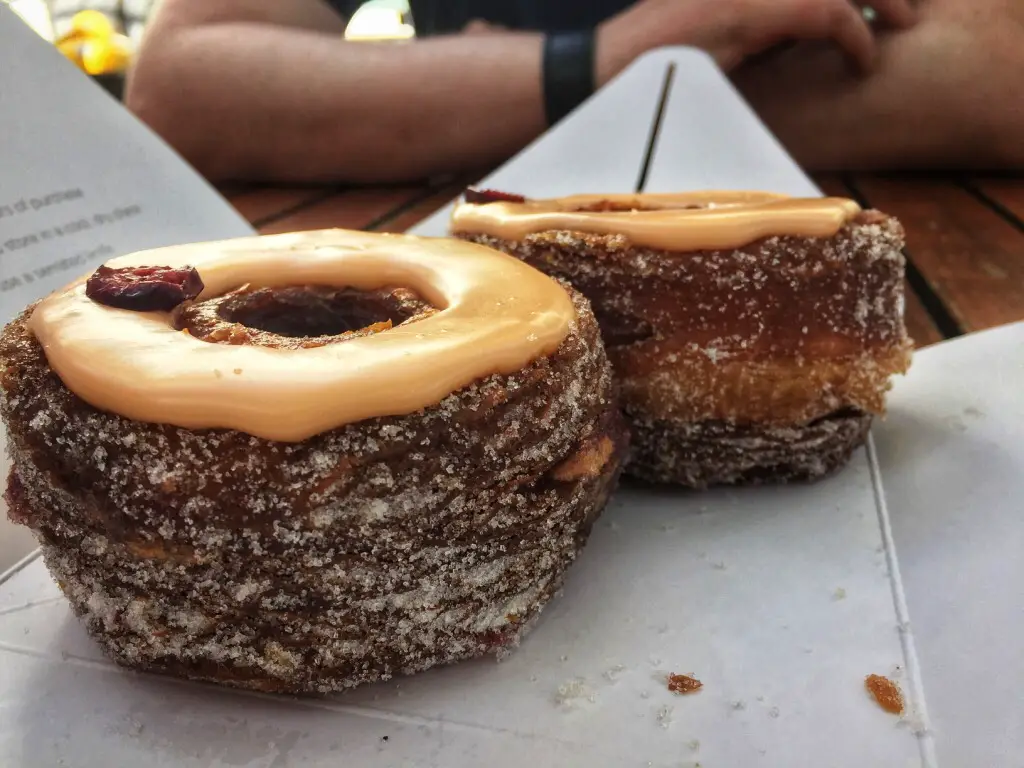 How to get around as part of your 5 day New York itinerary
Transportation links in New York are pretty good, and without getting into too much detail on the public transport system, what we will say is the subway is your best bet when it comes to getting around the city. Admittedly it took us a while to get the hang of it, but after a day we were riding the subway like pros.
The New York subway is one of the largest in the world, in terms of station numbers as well as being one of the busiest.
To use the subway you first have to find a station, which are all very clearly signposted. Then work out which line you want and whether you are going uptown or downtown. We might have messed it up a few times, but that is the fun of it. If you get on the wrong subway just get off at the next stop and go back. To buy a ticket you can purchase a metrocard or use contactless. The metrocard is probably better value for money, as you can purchase a card to cover a certain number of days.
How much money do I need for my 5 days in New York
There is no beating around the bush with this one, NYC is an expensive city. Your subway fares, hotels, and food costs will add up and before you know it you have spent a good chunk of cash. Between us we probably spent about $250 per day not including accommodation. But included in this we did do a lot of sightseeing. Accommodation is also quite pricey unless you plan to stay way out of Manhattan but you are probably looking at anything upwards of $200 a night for mid range accommodation.
What to pack for your 5 days in New York
Apart from your standard packing list, here are some things that we definitely think you should bring on your trip to New York.
Comfortable walking shoes – you will do a lot of walking!
A good jacket in the winter, and a light jacket in the summer.
A good day bag to carry all your necessities, but make sure it is secure.
Bring a nice outfit in case you want to go to the theatre, or a fancy bar or restaurant.
Tips for planning your 5 day New York itinerary
Try not too look like too much of a tourist, particularly if you are lost. Have your wits about you.
Don't stare at people on the subway or make conversation.
Yellow cabs are quite expensive, and actually a lot slower in most cases than walking or the subway. Only get one if you really have to.
Don't be that person who stops in the middle of the sidewalk and takes photos!
Check the reputations of certain neighbourhoods before you visit, especially at night.
Always tip your server!
So Should I spend 5 days in New York?
Yes, Yes a thousand times yes. New York is one of the most exciting cities in the world. There is so much to see and do, and no 5 days in New York might not feel like enough time, but I don't think any amount of time is ever enough in New York.
And what about 5 days in New York for my honeymoon?
We honestly couldn't think of a better honeymoon destination than New York. We aren't the kind of people who spend days sitting on the beach relaxing, we would rather be out and about exploring a city. And New York really is perfect for exploring. There are enough romantic things to do, to make it an idea honeymoon destination without it being too over the top.
Hopefully you have found this guide useful, and not just another 5 day New York City itinerary. Please do pin this post for later, and happy travels.