It is often the case that when you live somewhere long enough, you stop appreciating it as you did when you first arrived. That is definitely the case for us with Manchester. That is why when we were given the opportunity to collaborate with hotels.com on a post about Manchester, we jumped at the chance to rekindle that initial enthusiasm for the city that has been home for the last 8 years. We wanted to spend a weekend in Manchester through the eyes of a tourist. We explored some new places and hidden gems the city has to offer.
In this guide we tell you everything you need to know about spending 24 hours in Manchester, including where to stay, what to see and do, and most importantly where to eat and drink.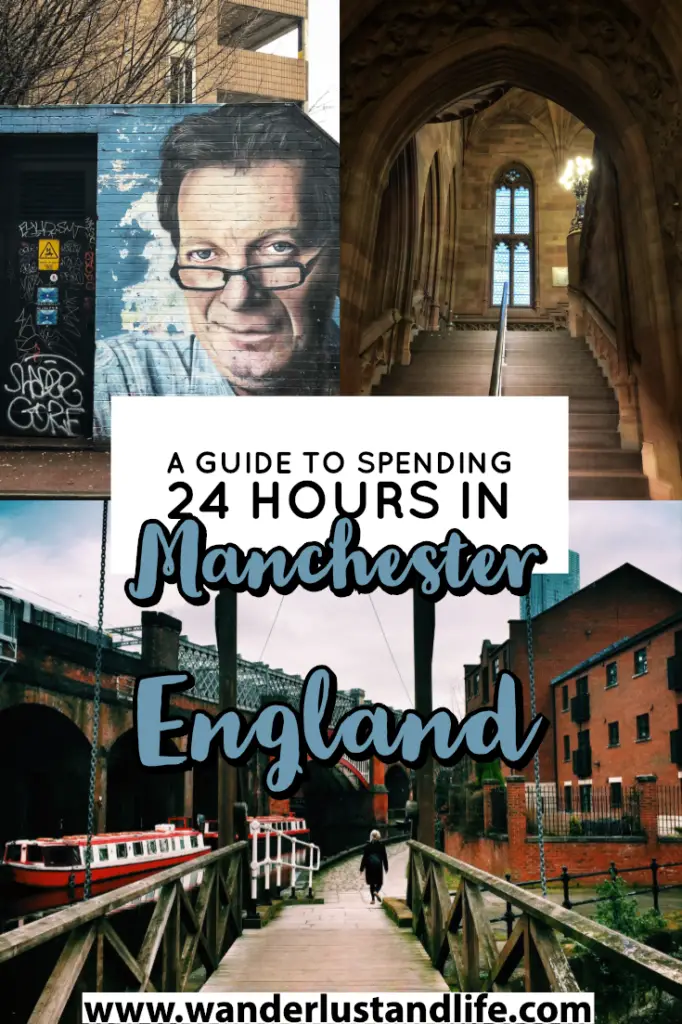 Where to stay during your weekend in Manchester
There are a number of hotels in Manchester that you can choose from. Although if you are only planning a weekend in Manchester we do recommend that you try to stay somewhere central, as this will make exploring the city so much easier.
We would recommend staying around the Northern Quarter or Ancoats area. This is because there are lots of bars, restaurants, and things to do in this area.
How to get around during your weekend in Manchester
In terms of getting around, Manchester city centre itself is pretty walkable. If you are planning to go further afield during your time in Manchester, then the tram and bus network in the city is easy to use. Most major tourist attractions are accessible by tram such as your football stadiums, and museums. You just need to tap your credit/debit card before you board and remember to tap off once you have disembarked.
What we got up to in 24 hours in Manchester
We all know how important it is to start the day with a good solid breakfast. Although in our case by the time we got up and dressed it was more brunch, but you get the point. We decided to head to the Northern Quarter, which is a trendy area in the city centre filled with bars, restaurants, and quirky shops. We settled on Federal, an Antipodean coffee bar that serves up an incredible breakfast along with top quality coffee. I opted for a classic eggs benedict whilst Dave and his sweet tooth went with a French toast with berries and salted caramel. A word of warning, if you do decide to visit, it can get busy, particularly at the weekend, and you may have to wait for a table. Trust us though, it really is worth it!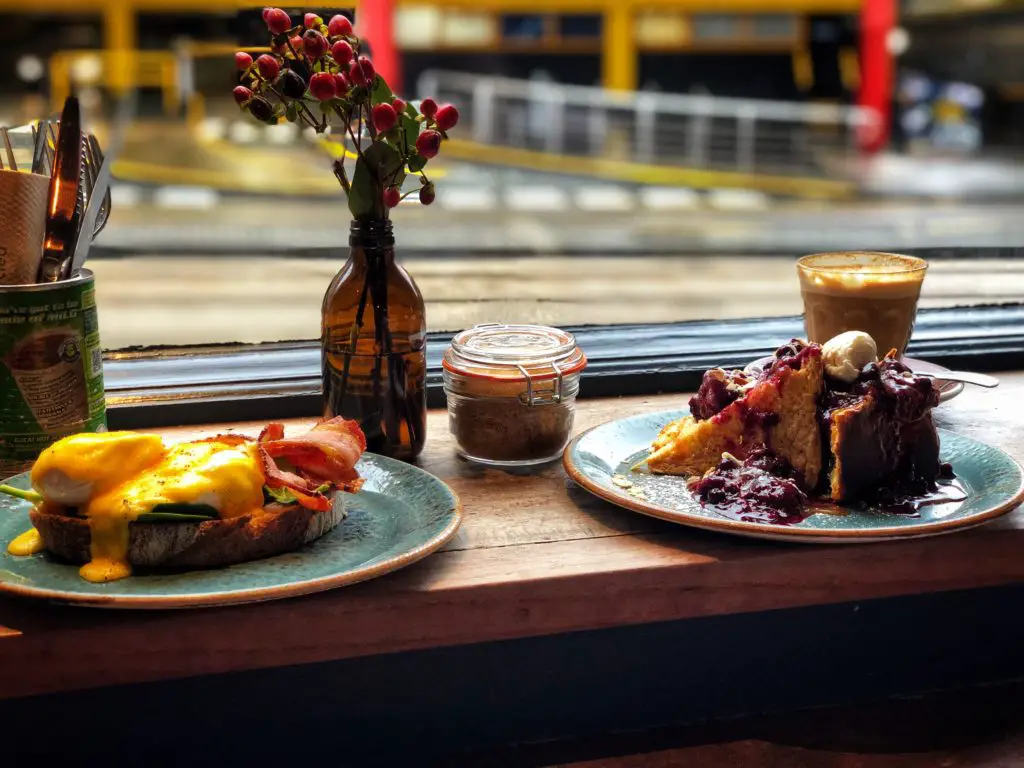 With full bellies, we spent the early afternoon exploring the Northern Quarter. What we really love about the area is that there are so many quirky shops. If you are after an inflatable flamingo, or a pug lamp, or anything in between, chances are there is a shop somewhere in the Northern Quarter that sells it.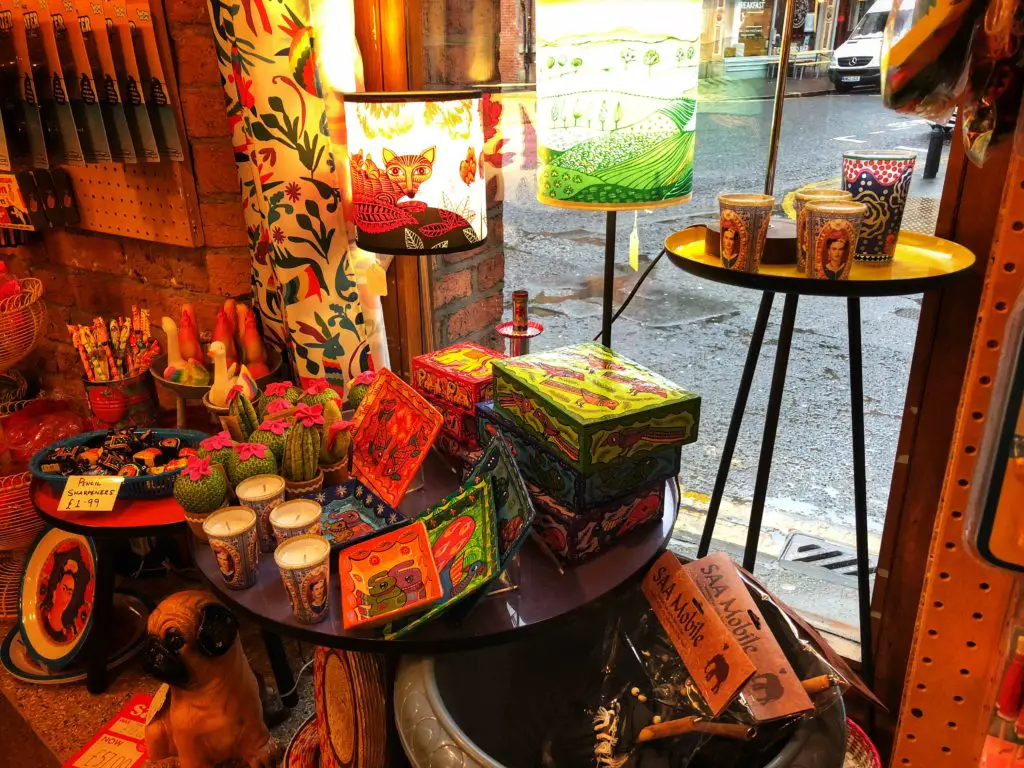 Speaking of shops, somewhere that we have always meant to venture into was Afflecks, which is an indoor market with independent stalls and small boutique shops. Considering that it is pretty much an institution in Manchester, I am ashamed to say that we really hadn't spent much time here in the past. Something we most certainly had to rectify.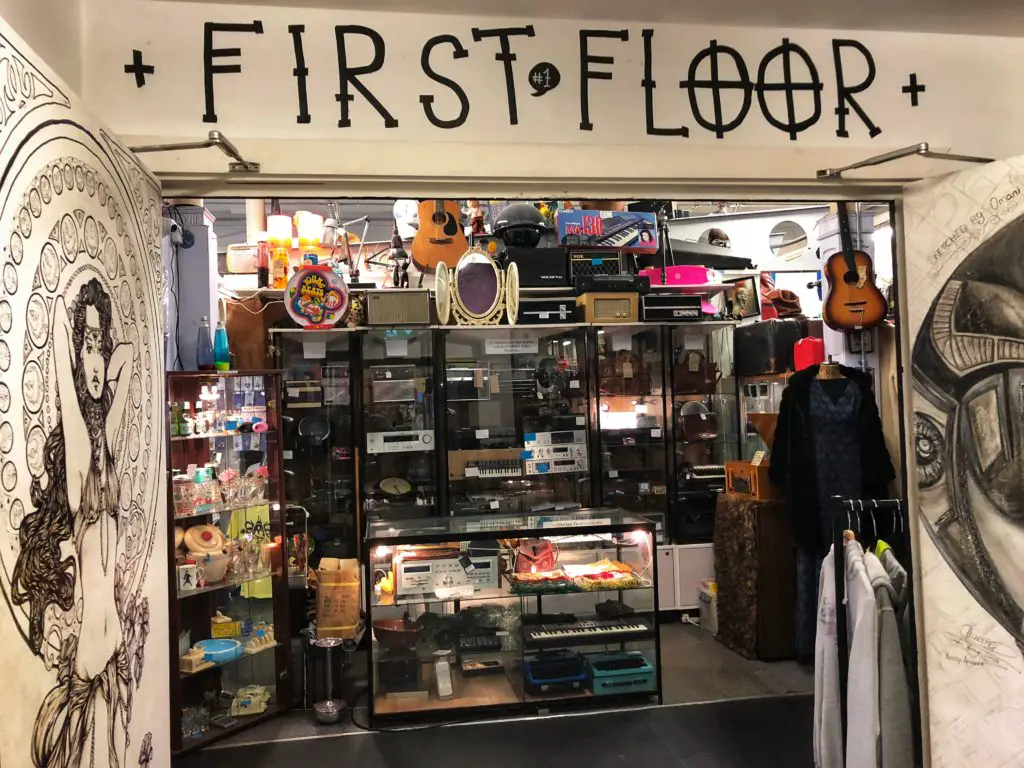 One of the cool things about Afflecks is that it has become the go to place for alternative and indie culture. You can buy your indie band T-shirts, your retro games, and vintage clothes all in one space. And because Manchester has such a big music history, Afflecks has become a must for music lovers.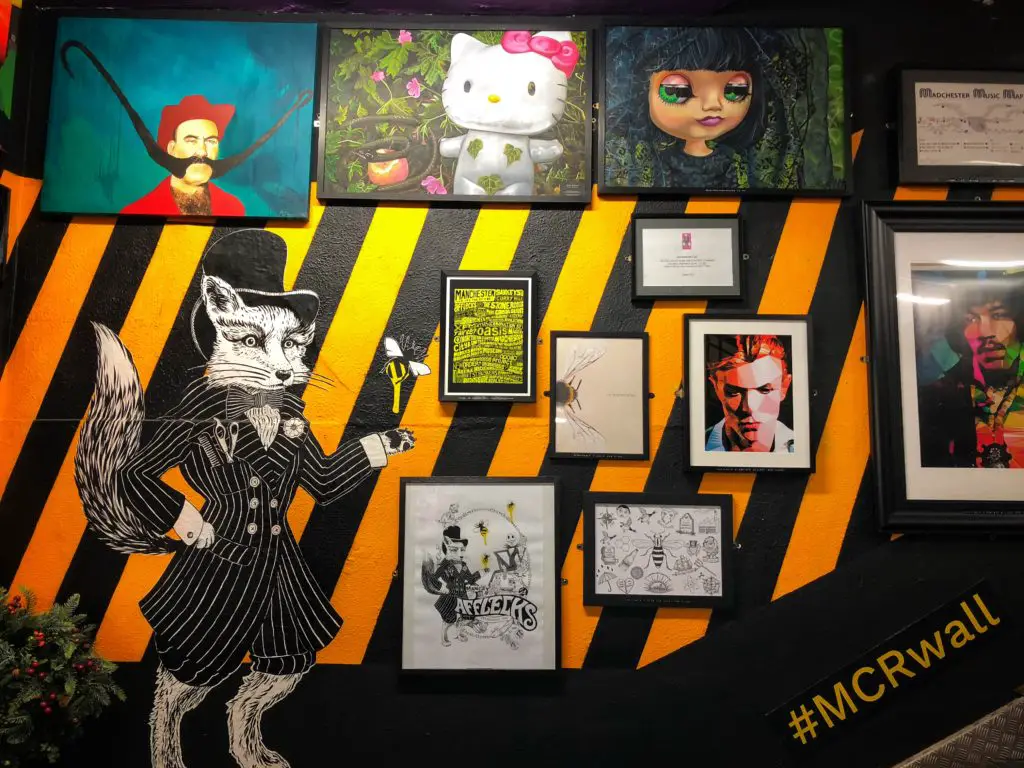 Another thing that we love about the Northern Quarter is the street art. You can get some really funky pictures here. Our favourite piece of street art that we discovered was the image paying homage to Tony Wilson, the legend behind some of Manchester's most famous bands.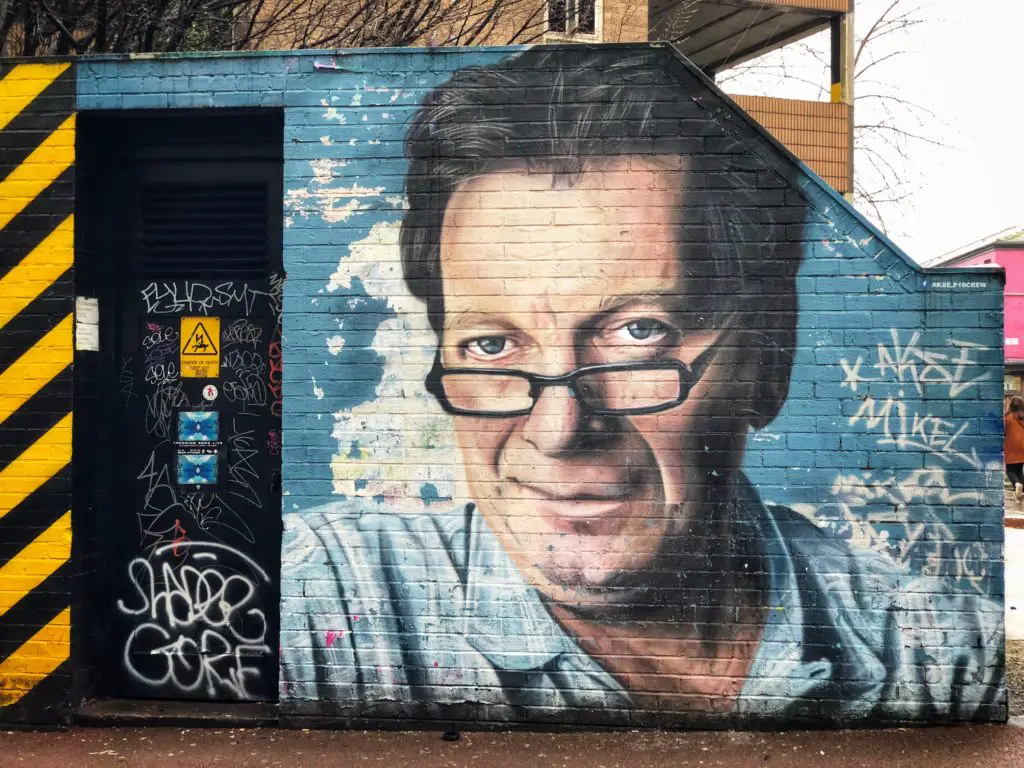 As afternoon approached, we decided it was time for another first for us in the city, and we made our way to the Museum of Science and Industry (MOSI). The museum provides a fascinating insight into Manchester's contribution in science and technology, particularly during the industrial revolution.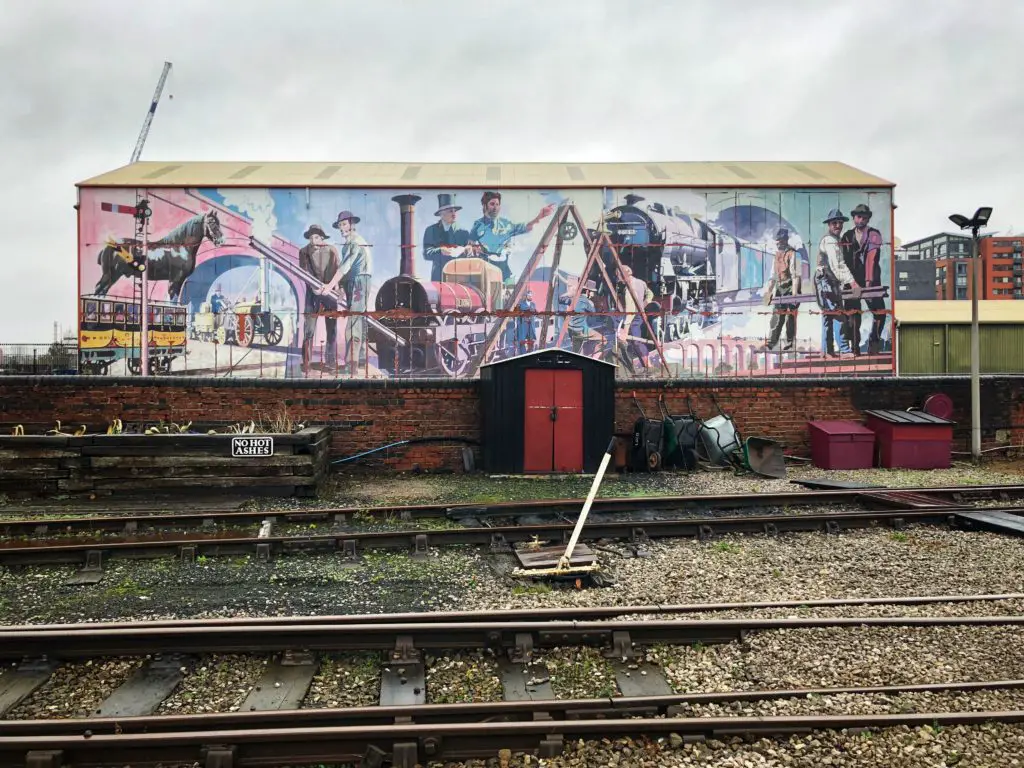 The MOSI is pretty interactive and we actually learnt a lot by visiting. One of our favourite parts of the museum is that it is home to the oldest surviving passenger railway station in the world. The Manchester to Liverpool line was the first steam powered intercity train line in the world, and heralded a revolution in the way we travelled. Entry to the museum is free although you are encouraged to make a small donation to help with the upkeep.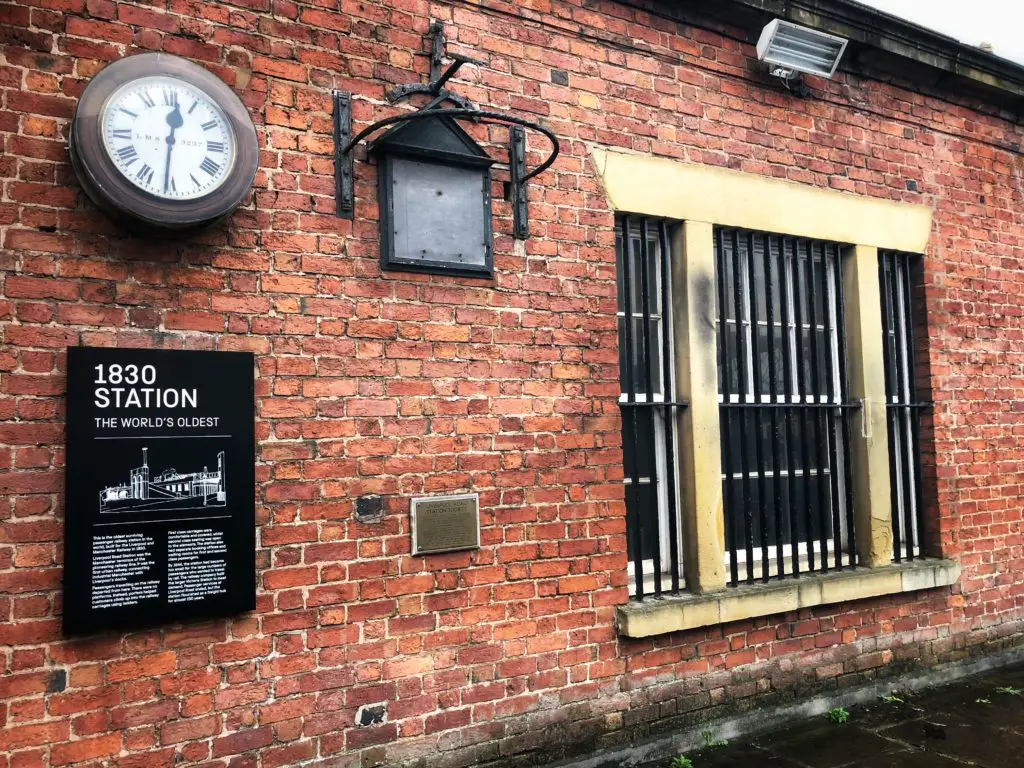 After visiting the MOSI we took a quick detour to the John Rylands Library, before making our way back to the Norther Quarter for some dinner and evening drinks. A lot of people compare the inside of the library to something out of Harry Potter and so we had to see for ourselves. We have walked past the library so many times while living in Manchester, and we are so glad we finally decided to venture inside.
The exterior whilst quite ornate and striking is nothing compared to the interior. In particular the reading room, with its incredible collection of books, and cosy alcoves is breathtaking. It really is a fantastic place to visit to take your mind away from the hustle and bustle of the Manchester City Centre outside.
In the evening we decided to enjoy a few cocktails and dinner in the Northern Quarter. There are so many amazing bars in the area which makes it really hard to choose where to go. But considering we were in the mood for cocktails we decided to visit the Whiskey Jar for a salted caramel old fashioned which tasted as good as it sounds.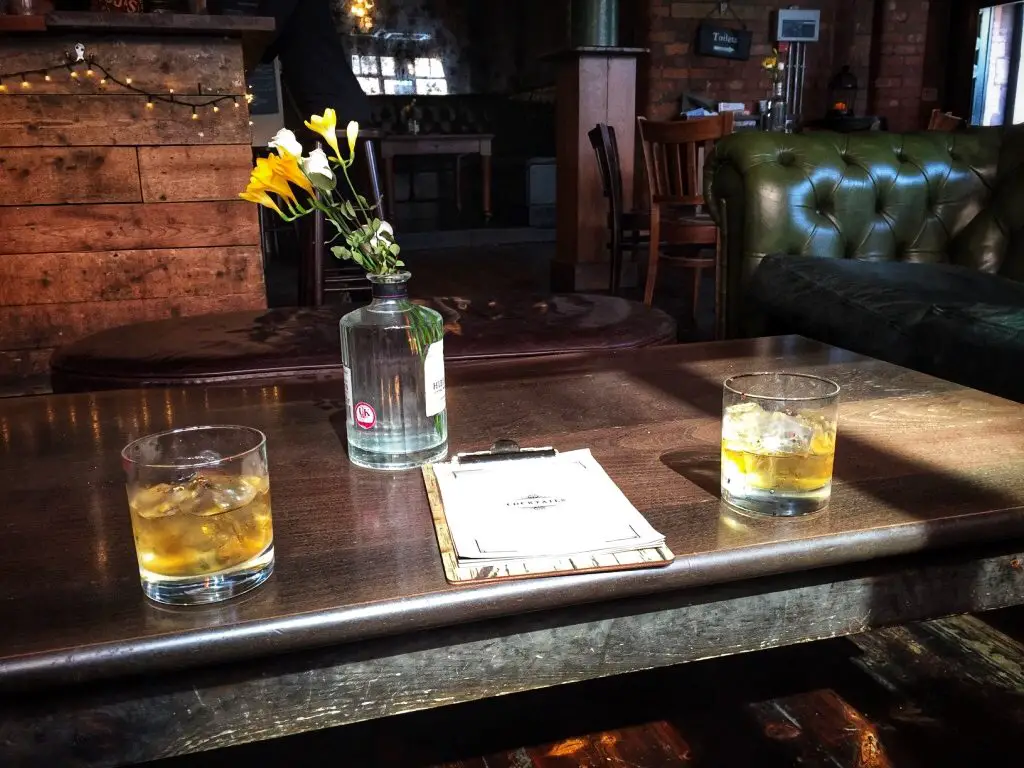 The next place we decided to go is a bit of a secret. Or at least a badly kept one. I had heard so much about this secret bar called The Washhouse in Manchester, where you enter what appears to be a laundromat, pick up the phone and discuss how many loads of washing you wish to put on. So knowing we were writing this post we decided to book ahead earlier in the morning. Thankfully they had room for us, and we finally got the chance to be let in on the secret.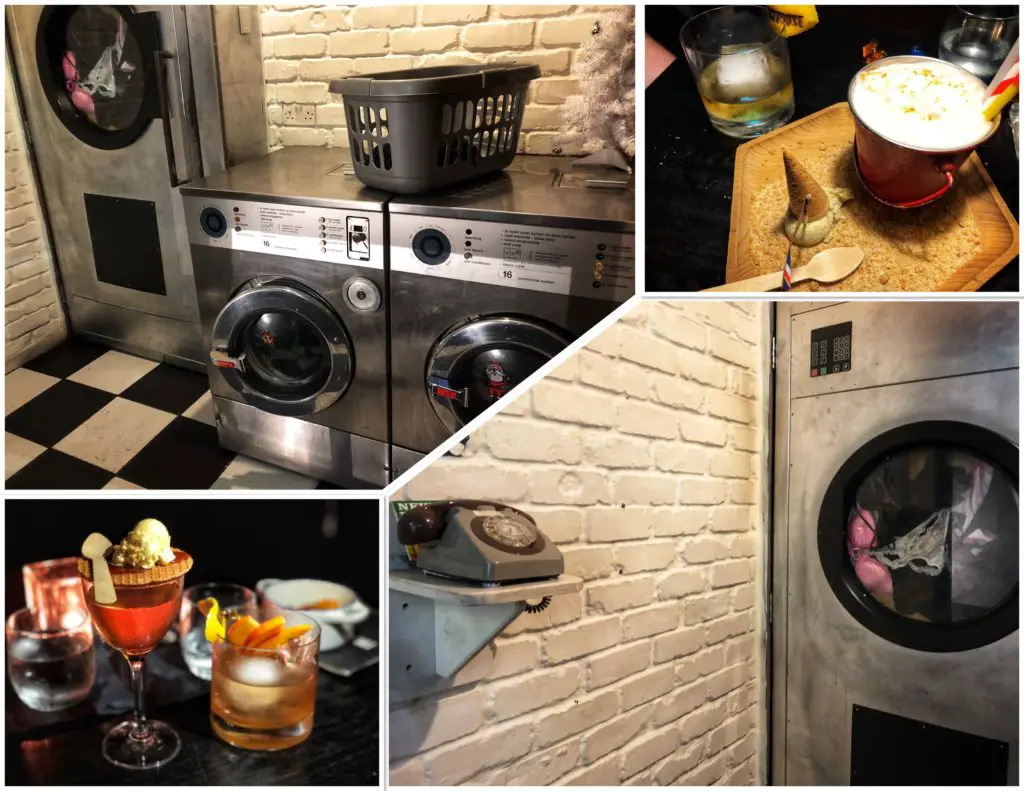 As you would expect with any secret bar, the cocktails are extravagant and a little on the pricey side. But the whole thing is a lot of fun and really adds to your evening in the city. My favourite cocktail was the 'Waffling On' which was served with some ice cream and a small waffle, whilst Dave's was the Matsuri Ol' Fashioned.
After some very nice (and very strong) cocktails, food was definitely on the agenda. We decided to head to Mackie Mayor to fulfil all our food loving needs. Located in a grade II listed early Victorian building, it has now become a must on the Manchester foodie scene. There are a number of places to eat and drink within this indoor market setting. It is a great place to end your night after a few cocktails in the Northern Quarter. I opted for a roast whilst Dave went for a classic margherita pizza.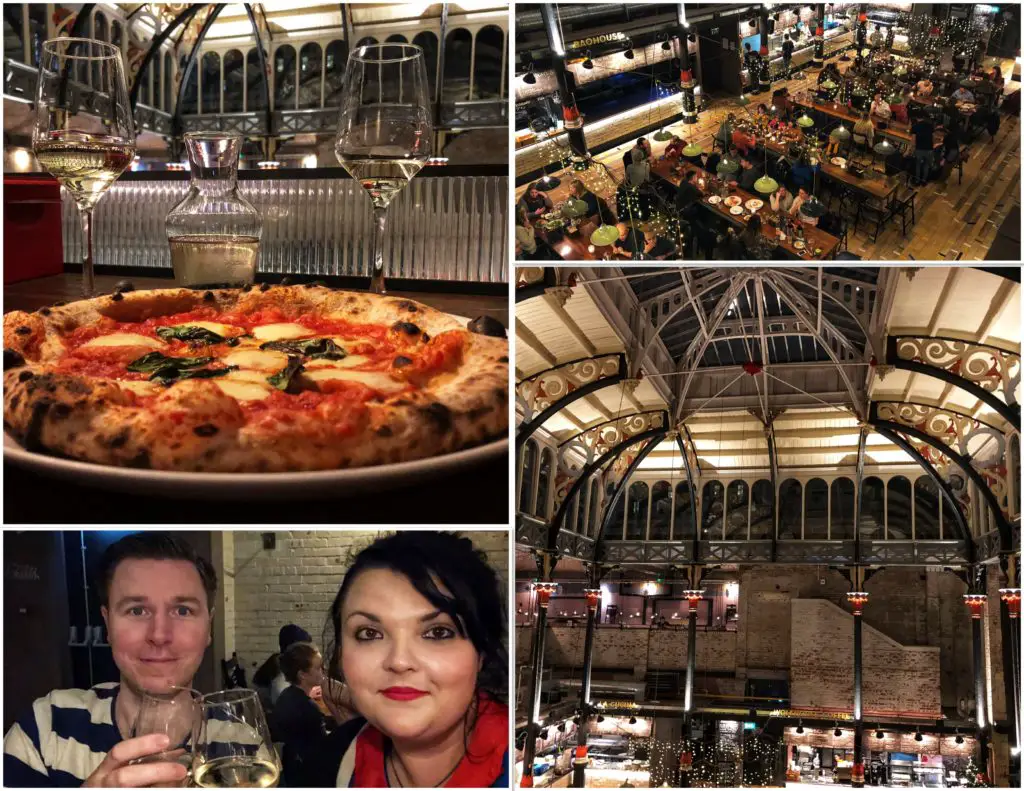 The next day we woke up bright an early to conclude our 24 hours in Manchester itinerary. We decided to start the day in good stead so we made our way to Teacup Kitchen which is a tea and brunch spot located in the Northern Quarter. There always seems to be a line every time we walk past this place, which is a good sign. But thankfully on the day we decided to try it, we were seated straight away.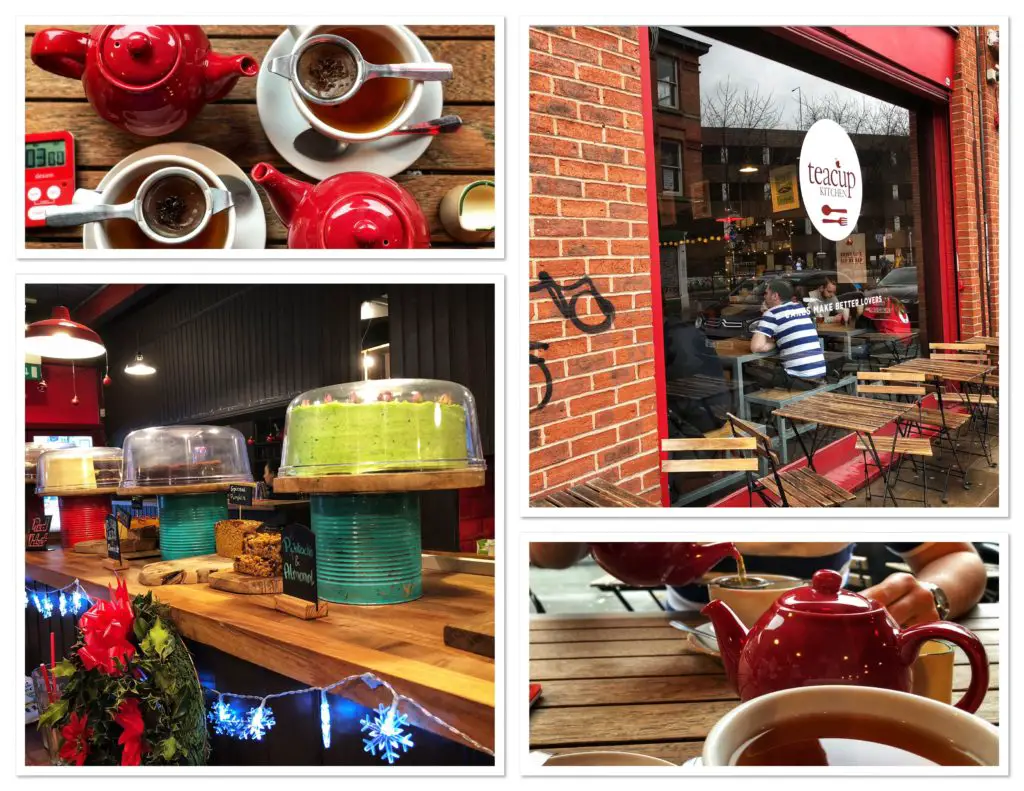 If you love good tea, and delicious cakes then this place is for you. There is a really good selection of loose leaf tea, which comes served with a timer so you know exactly how long to let it brew for the perfect cup. Teacup is great especially if you are spending a weekend break in Manchester, as it gives you the chance to sit down and reflect upon your time in the city whilst drinking some amazing tea. Unfortunately teacup has recently closed but in place of this we recommend exploring the Northern Quarter and visiting the Smithfield Social for some tea, coffee, and brunch instead.
Feeling fully hydrated, we decided to spend the rest of the morning exploring the Manchester Art Gallery. On the way though we made a quick detour to Manchester Town Hall. It is one of the most beautiful buildings in the city with its neo-gothic architecture and clock tower, and a must see on a weekend break in Manchester.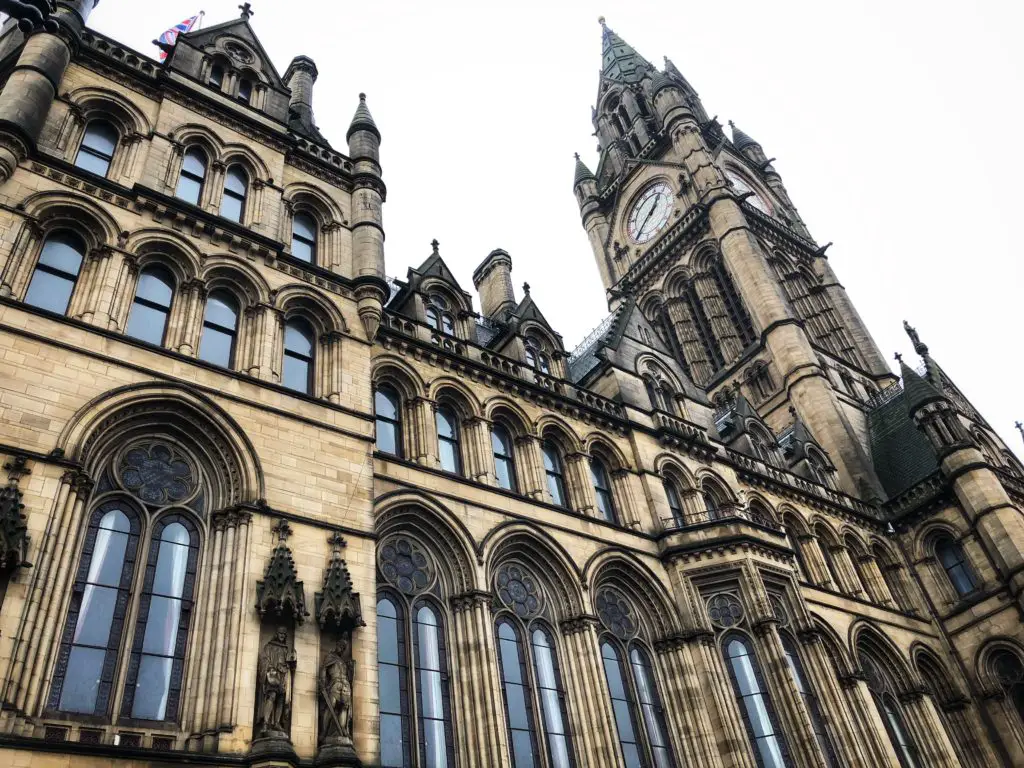 And so we concluded our 24 hours in Manchester itinerary with a visit to the Art Gallery, because who doesn't love a big old slice of culture to end a weekend break? The gallery is free to enter, and it is a great place to learn all about Manchester's art history as well as admiring paintings from international artists. One of our favourite sections is where you can travel back in time through paintings of the city where transport was a horse and cart, and no cars to be seen. The interior of the gallery is also pretty cool so it is worth stopping by even to admire that, if you aren't hugely into art.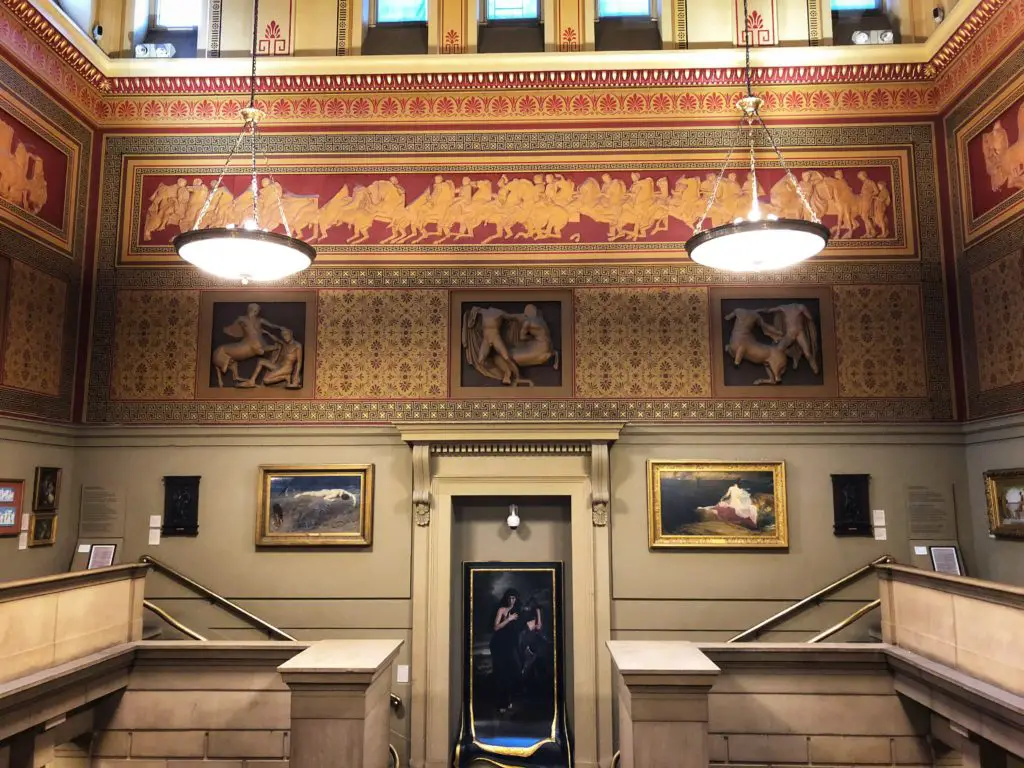 For us a great way to conclude our 24 hours in Manchester was visiting the mindfulness exhibition in the gallery. It is here you can explore the relationship between art and mindfulness. You can even take a seat in front of a painting and practice the art of being mindful. And so we will leave you with this image.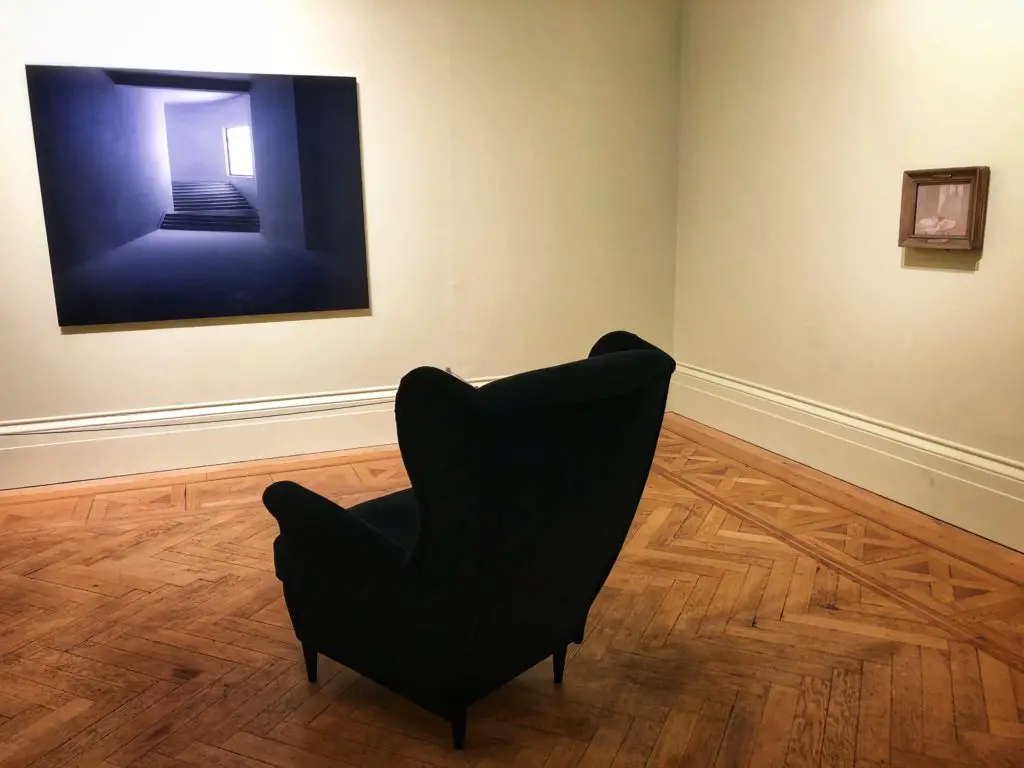 Other things to do during a weekend in Manchester
Visit Old Trafford
If you are a football fan you certainly have to visit one of Manchester two Premier League Football Stadiums. Admittedly we've not done the Manchester City stadium tour, so will have to stick to the Manchester United (Old Trafford) stadium tour instead for the purposes of this guide. It's a fantastic tour and you get to take a peak in the dressing rooms, as well as having the opportunity to walk from the tunnel to the pitch.
Tours don't operate on match days (for obvious reasons) so do make sure you book and plan in advance.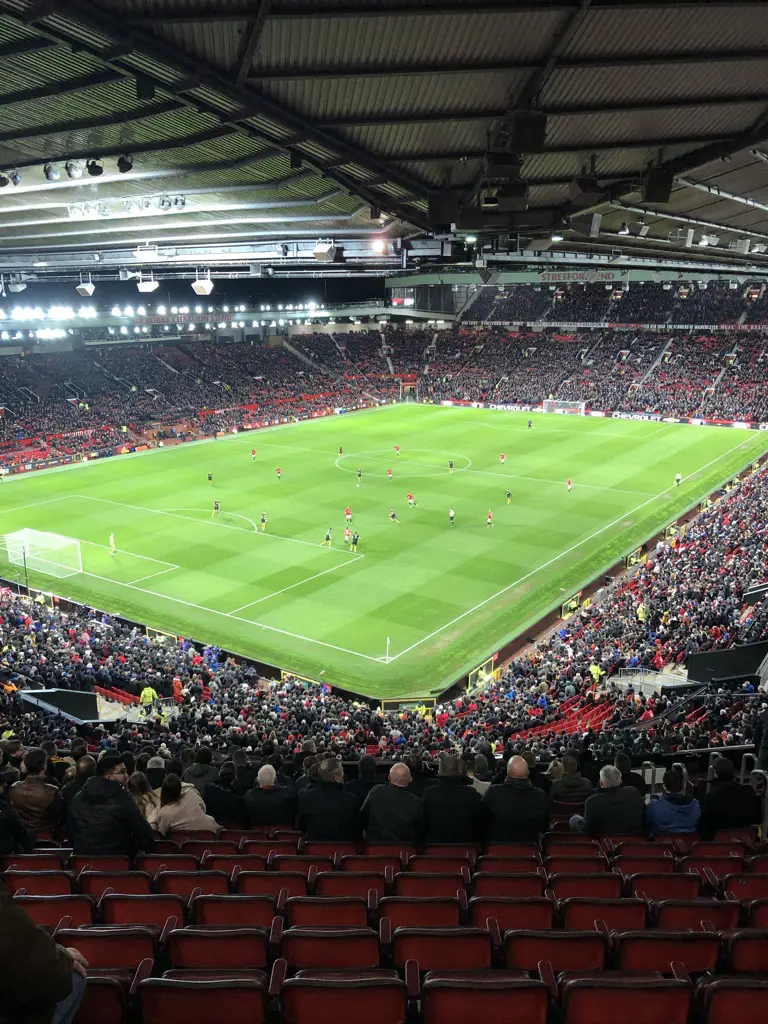 And just in case you are a Manchester City fan, here is the link for the tour of the Etihad stadium instead.
Hop on Hop Off Bus Tour
A hop on hop off bus tour is always a good way to orient yourself with a city. If you have 24 hours in Manchester this is a great option because not only do you get the chance to learn all about the city's industrial past, but it is also a great way to explore Manchester and Salford Quays by simply hopping on and off.
Visit Salford Quays
If you have time on your weekend in Manchester we recommend visiting the nearby Salford Quays. It's a very quick tram ride from the city centre (just hop on the Media City UK Line and get off at Media City). Salford Quays is home to a number of water sport activities,  a monthly makers market, restaurants, bars, and of course the BBC and ITV studios. Also worth a visit is the imperial war museum.
Do a canal cruise
Spend 24 hours in Manchester and you will certainly hear about the city's industrial past. The canal network was obviously a large part of this, so a canal cruise is a must do when visiting. You start in the centre, and cruise down past Old Trafford, to Salford Quays.
National Football Museum
To say Manchester is football mad is an understatement. The game has certainly influenced the city as well as the whole of the UK, and you can learn all about this at the National Football Museum. It's quite interactive and you can take your photo with some of the trophies – if that is your thing.
Coronation Street Tour
Good news for TV lovers, Manchester isn't all football! It's also home to the set of Coronation Street. Located in Media City, you can explore the set and get to grips with a day in the life of your favourite soap characters. Tickets can be purchased online in advance.
Romantic things to do on a weekend in Manchester
If you are lucky enough to be spending your weekend in Manchester with your significant other here are our suggestions on some of the most romantic things to do.
Enjoy a night out in the Northern Quarter
The Northern Quarter is one of our favourite parts of Manchester. It's filled with quirky shops, cool street art, and some really cool bars and restaurants. It's basically the perfect place to plan a date night during your weekend in Manchester. Some of our recommendations include:
Cocktails at Dusk Til Pawn
Old Fashioned's at the Whiskey Jar
Prohibition era drinks at Fitzgerald's
In fact, there are so many awesome places to go in the Norther Quarter, you might need more than 24 hours in Manchester.
Brunch in the city
Manchester does some pretty good brunch which is pretty much perfect for dates. From Federal – which we mentioned in our main article, to Moose Coffee you will find something tasty to munch on before a hectic weekend in Manchester.
Drinks and activities
My perfect date night has to be drinks, and an activity. And Manchester has so many cool places you can choose from. You can drink beers, whilst playing baseball at Base Bar. Or why not crazy cocktails with some even crazier gold at Junkyard Golf. Or one of my favourites, try your hand at darts, at Flight Club.
Afternoon tea with a view
Another romantic option for your weekend in Manchester is to book in for some afternoon tea at Cloud 23. Located on (you guessed it) the 23rd floor of Manchester's Beetham Tower, also known as the Hilton hotel is a bar with a pretty incredible view of the city. They do cocktails and dinners, but one of our favourite things has to be the afternoon tea.
Take a stroll around Castlefield  
One of the most romantic parts of Manchester has to be Castlefield. This picturesque area is located on the canal, and honestly, it's great to stroll around or sit and people watch. It's also where some parts of Peaky Blinders was filmed so see if you can spot where.
How much money do I need for a weekend in Manchester?
Manchester is probably mid range when it comes to expense. It certainly isn't as costly as London for example, but not as cheap as your towns or rural areas. A lot of the attractions are cheap or free (especially the museums), and you can do things cheaply if you want. On average we would recommend about £100 per person per day not including accommodation. This recommendation though is factoring in trying some of the bars and restaurants the city is famous for.
Eating and drinking during your weekend in Manchester
Manchester has no shortage of incredible bars, and restaurants, and you certainly will be spoilt for choice during your weekend in Manchester. Here are some of our absolute favourite food and drink spots that we highly recommend trying.
Food for your weekend in Manchester
Ramona
This is our absolute favourite place for a meal on the weekend in Manchester. They serve Detroit style pizza, with cocktails in a very chilled out environment.  You should probably book a table in advance especially on Friday and Saturday nights but they do usually allow some walk ins too.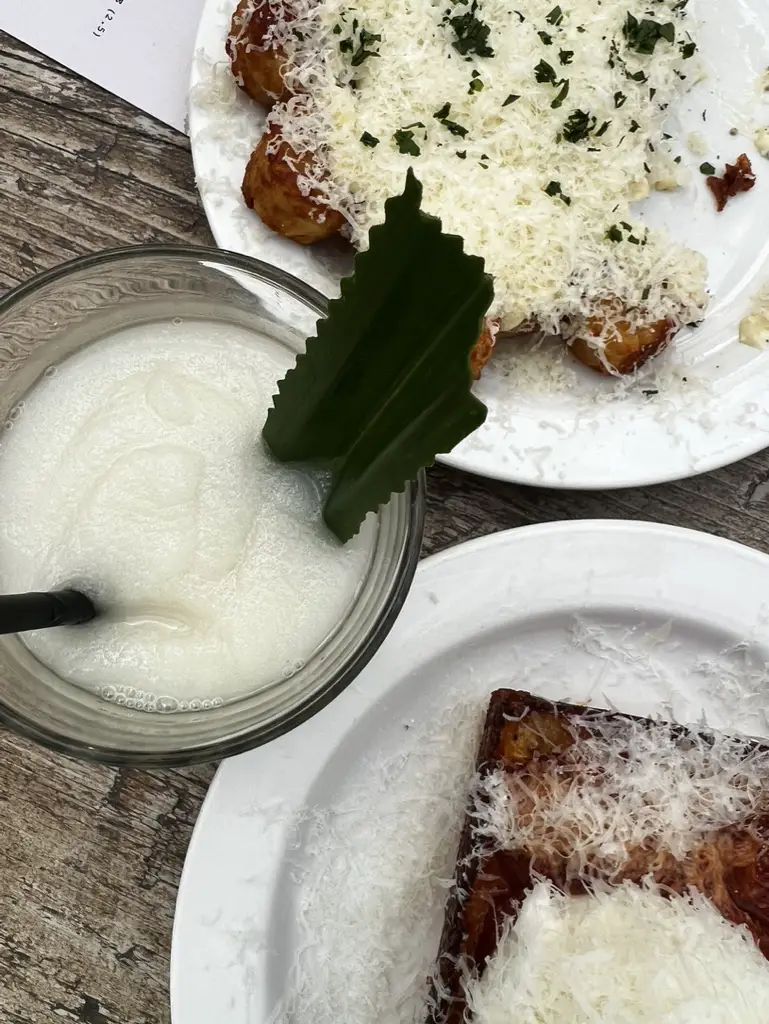 Rudy's
This is the best place in Manchester for pizza hands down. You don't need to book in advance because it is walk in only. I don't know what they put in the dough but these pizza's are so good, and probably the closest thing you will find to Napoli in Manchester.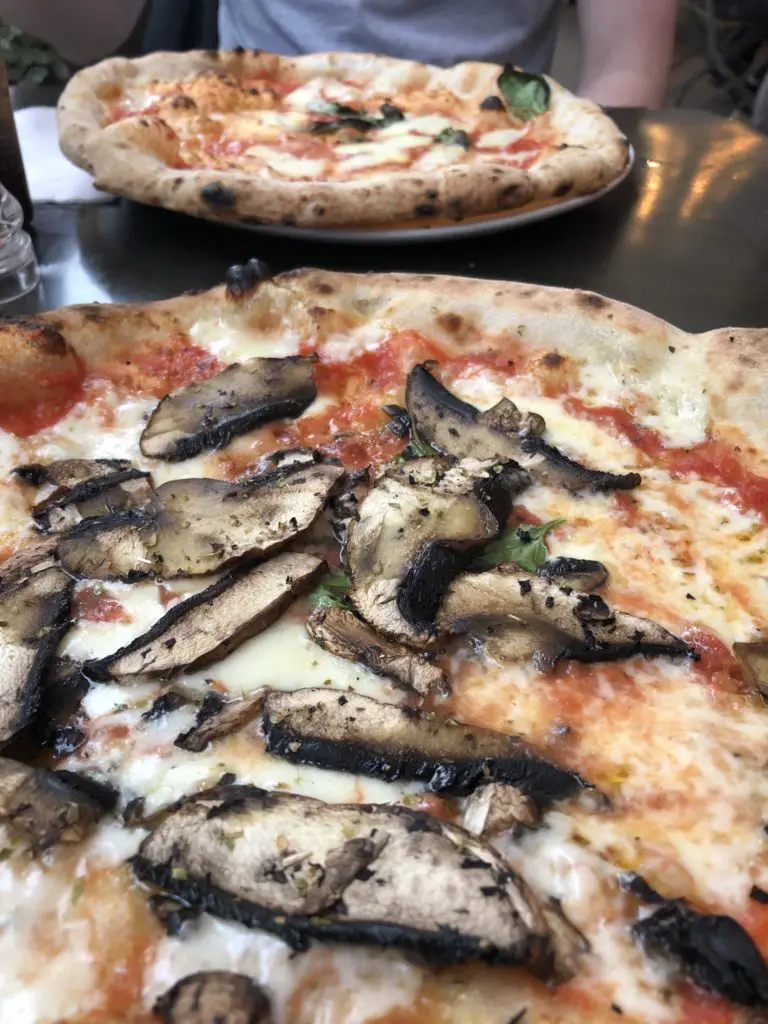 El Gato Negro
Tapas fans should try El Gato Negro located in the city centre. It can be a bit pricey but the food is good and so is the service. Booking are highly recommend.
The Sparrows
The Sparrows is a true hidden gem in Manchester and the ultimate in comfort food. You do need to book in advance to get a table, but if you do you will be treated to attentive personalised service and some really good food. It's a central European style eatery specialising in dumplings and pasta, and you can pretty much taste the love and care in every dish that you order.
Cottonopolis
This is one of my favourites for food, although it can be a bit pricey. It's Japanese style food, where you can order lots of little plates. The food is really well prepared, and it is really popular so you do need to book in advance.  
Porta
This is probably one of the best tapas restaurants we have been too, although in fairness it's not quite Manchester – rather Salford. The food is good, and so are the prices.
Brunch for your weekend in Manchester
Federal
Federal is an Australian/ New Zealand themed café that has two city centre locations. It's walk in only but do get there early because it is really popular. The food is fantastic especially the French Toast!
Moose Coffee
Another popular brunch spot is Moose Coffee. It's great for your weekend in Manchester especially if you are trying to nurse an intense hangover. There are so many different food options it can be hard to decide sometimes.
19 Café Bar
Spend just 5 minutes perusing 19 Café Bar's Instagram and you will immediately want to come here. This is another great brunch spot in Manchester, but do keep in mind it gets super busy so you are best to get up early!
Feel Good Café
Adding this one if you want positive vibes only on your weekend in Manchester. They have some really tasty brunch options, in a chilled out space.
Cocktails for your weekend in Manchester
Schofields
If you go anywhere for cocktails during your weekend in Manchester – make it Schofields. They do cocktails and they do them well. The staff are also so welcoming and despite the prices it really isn't in the least bit pretentious.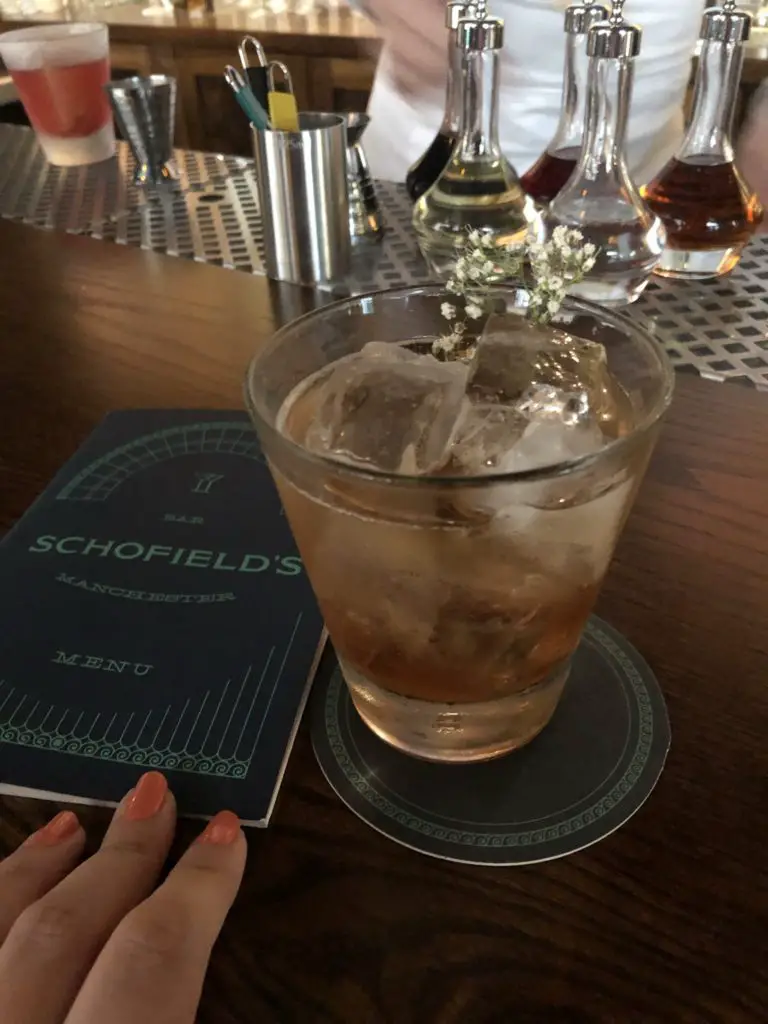 Dusk till Pawn
Located in the Northern Quarter Dusk til Pawn is a pawn shop themed bar, serving some really fun cocktails. They also have an outdoor seating area for those rare sunny days.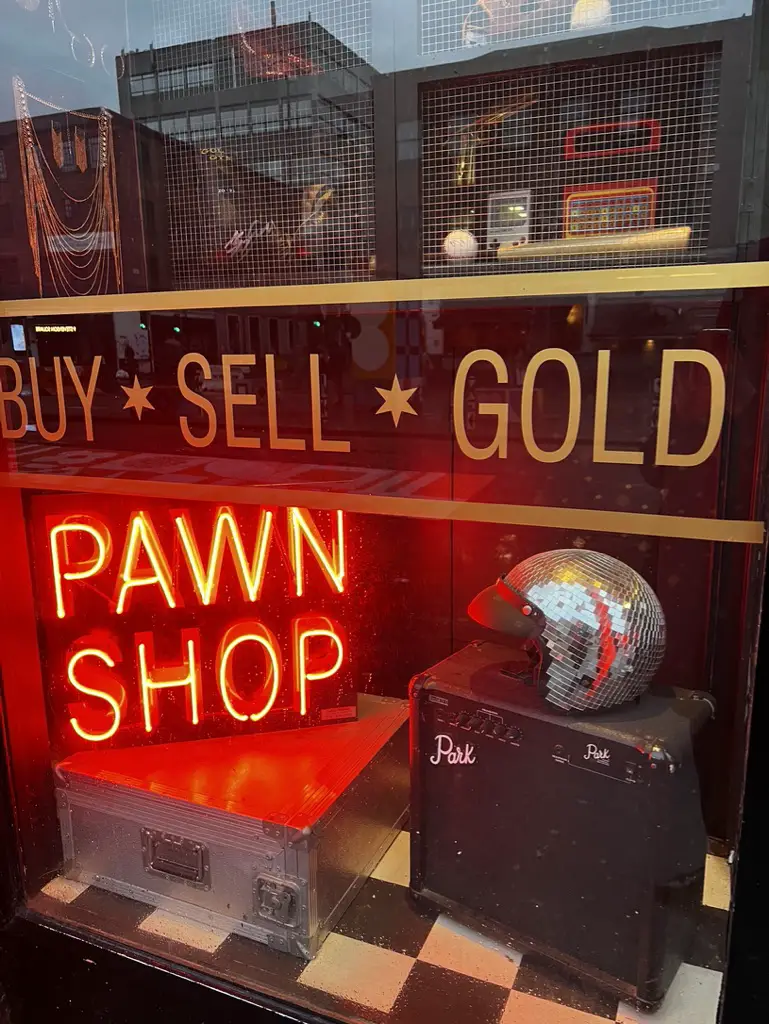 Behind Closed Doors
If you find this bar, then well done. This secret bar kind of has an old school pornography theme going on. That doesn't necessarily mean it's trashy though. This bar is a lot of fun, hidden in a Northern Quarter basement. They do some great drinks and there tends to be a really fun atmosphere especially on weekends.
Fitzgerald's
For a prohibition themed bar head to Fitzgerald's. It's a very dark atmospheric bar in the Northern Quarter and it does transport you back to the 1920's.
20 Stories
Located in Spinningfields this bar is great if you are looking for sweeping city views. The drinks are a bit on the pricey side, but the views make up for it.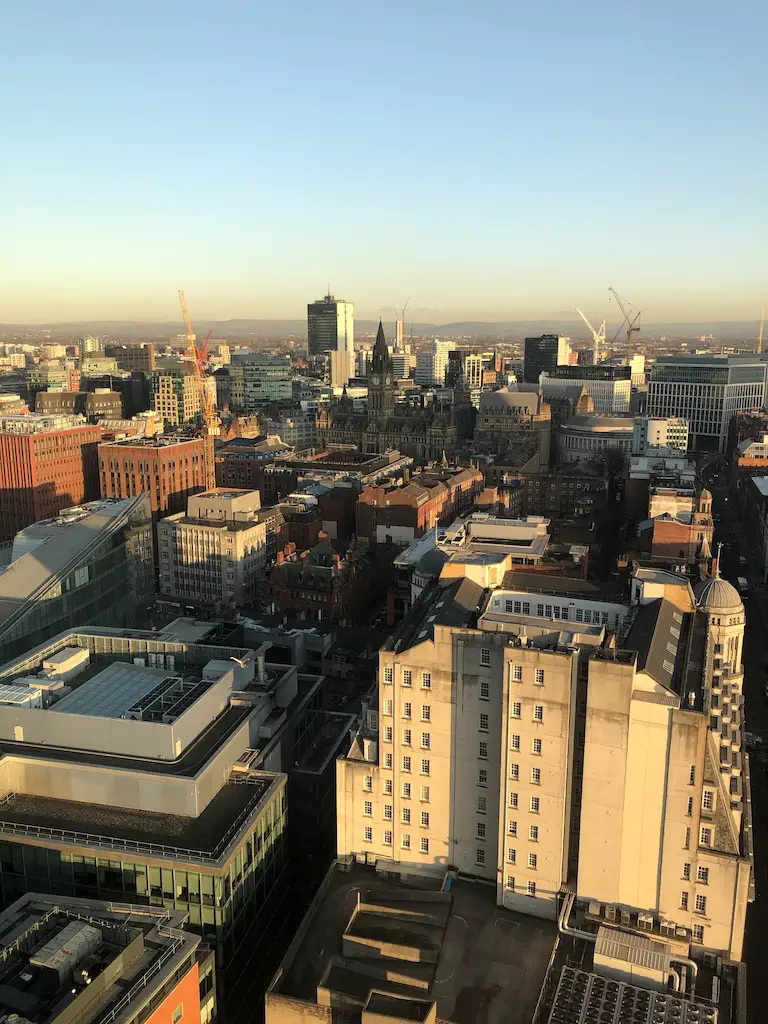 Chilled out drinks for your weekend in Manchester
Salut Wines
If it's wine you are after then head to Salut Wines, located close to St Peter's Square. You will get to choose from a large amount of wines on the menu as well as trying out the wine vending machine.
Ad Hoc
If you are in the Northern Quarter and in need of wine head to Ad Hoc. They sell bottles of wine and beer for takeaway or you can pull up a chair and drink on premises.
Terrace
Terrace is great if your weekend in Manchester coincides with some sunny weather. Head up to the rooftop garden terrace and grab a few drinks in the sunshine.
Corbiers
Indie music lovers should definitely head to Corbiers for some good music and good drinks.
Day and Night Café
For live music Day and Night Café is a really cool place to go. It's very chilled and probably one of our favourites in Manchester.
Best areas for Nightlife during your weekend in Manchester
If you are planning a night out during your weekend in Manchester here are some of the best areas.
Spinningfields
Spinningfields has a bit of a fancy vibe to be honest. It's home to places like 20 Stories, and The Ivy, where the drinks are a bit more expensive. A lot of offices are in the area so you will probably find a lot of business types flocking here after work on a Friday.
Northern Quarter
The Northern Quarter is our absolute favourite area for a night out in Manchester. There are so many different bars and restaurants. From your grungy dive bars, to you fancy cocktail spots and pretty much everything in between.
Ancoats
Ancoats is the new trendy area in Manchester. There are lots of bars and restaurants, with a more chilled out vibe.
Canal Street
Canal Street also known as the gay village is world famous, and a huge part of Manchester history. It's a very lively night out, and always good for a party.
Oxford Road
This is the more studenty area as it is close to both University of Manchester and Manchester Met. The bars are a bit cheaper around here, although probably best to avoid it during freshers week!
So should I spend a weekend in Manchester?
I know that we are completely biased here, but yes we absolutely think you should spend a weekend in Manchester. There is a lot to do, and see, and the nightlife in Manchester is absolutely phenomenal. It's a really walkable city too, and perfect for a weekend break.
Don't forget to pin this guide to 24 hours in Manchester to look back at later.
Manchester truly is a wonderful city with so much to explore, and we really hope this piece has inspired you to book your own weekend break in the city. Also if you are looking for some of the best photo spots in the city you might enjoy this article.
This post was written as a collaboration with hotels.com. The spending money was gifted by Hotels.com, but all views are our own.