London has to be one of our favourite cities. It's full of museums, beautiful buildings, and awesome places to just explore. Living in Manchester means that we get to visit quite often. Every time we go we turn into instant tourists, cameras at the ready. There is so much to see and do in the city, and it can be hard to decide where to start, so we have put together a 7 day London itinerary for first time visitors.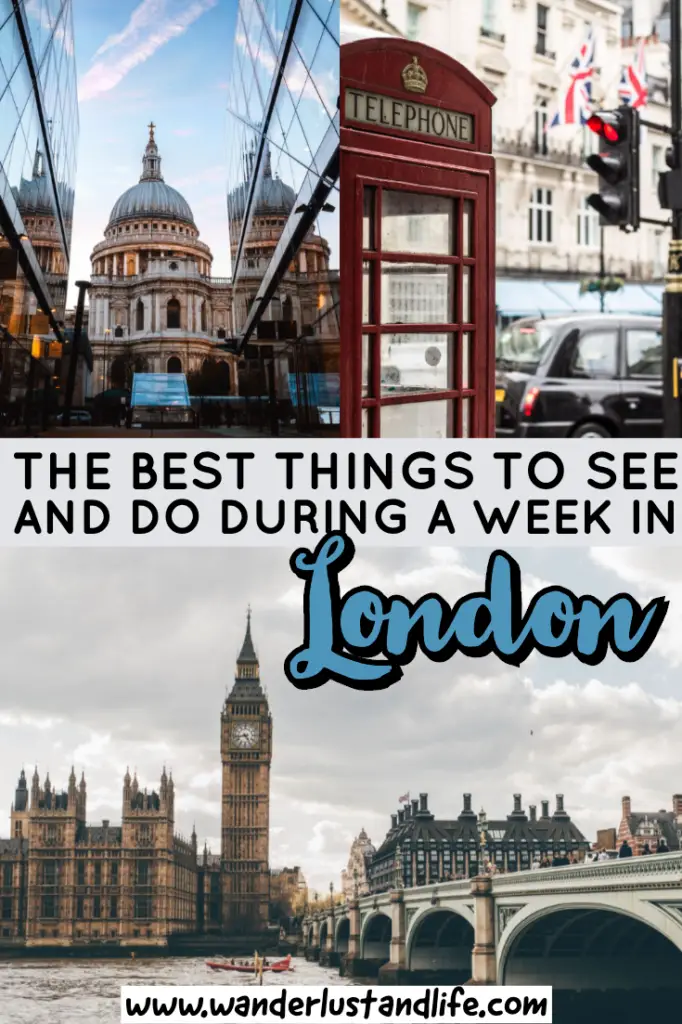 London Itinerary Factsheet
Country: England
Languages Spoken: English,
Currency: British Pound – GBP
Famous for: Big Ben, the Tower of London, Buckingham Palace, the London Eye, Red Buses, Royalty…..the list goes on
Visit if you like: history and culture, theatre, and really old buildings
7 days London itinerary – Getting there
Before you embark on your 7 days in London you probably want to know how to get there. Well, good news, London is probably one of the easiest cities to get to. There are 4 airports that you can fly into including, London City, Stansted, Gatwick, and the busiest, Heathrow. There are good public transport links from all airports and you can easily hop onto the tube and get yourself into central London.
If you are arriving from within the UK the train is usually your best option, with most National Rail services stopping at Euston Station. We recommend looking at Trainline website for some great deals. You can even get the bus to Victoria Station if you are trying to save your pennies. Before you start to plan your 7 days in London we highly recommend that you book your train in advance. The cheapest tickets are found well in advance. 
7 days in London – Getting around
A 7 day London itinerary is going to involve a lot of travel around the city. Once you are in London the easiest way to get around is via the Tube. You should purchase an Oyster card and top up with the required credit. Alternatively you can download the app, or use your debit card to tap in and out of stations. For more information on this we recommend having a look at the Transport for Greater London website.
Public transport is brilliant in London and most major attractions can be accessed by Tube, but admittedly it can get tricky when signal failures or planned engineering works strike. It can look daunting at first but study the Tube map, and once you know how the stations connect you will be commuting like a pro in no time. Google maps is also a Godsend and you can easily navigate your way around on the Tube and the buses with it. 
If you are spending 7 days in London you can purchase a Travelcard. These are valid for either 1 day or 7 days depending on the option you pick. You can also choose what zones you would like it to cover as well. For more information here is a handy link for you.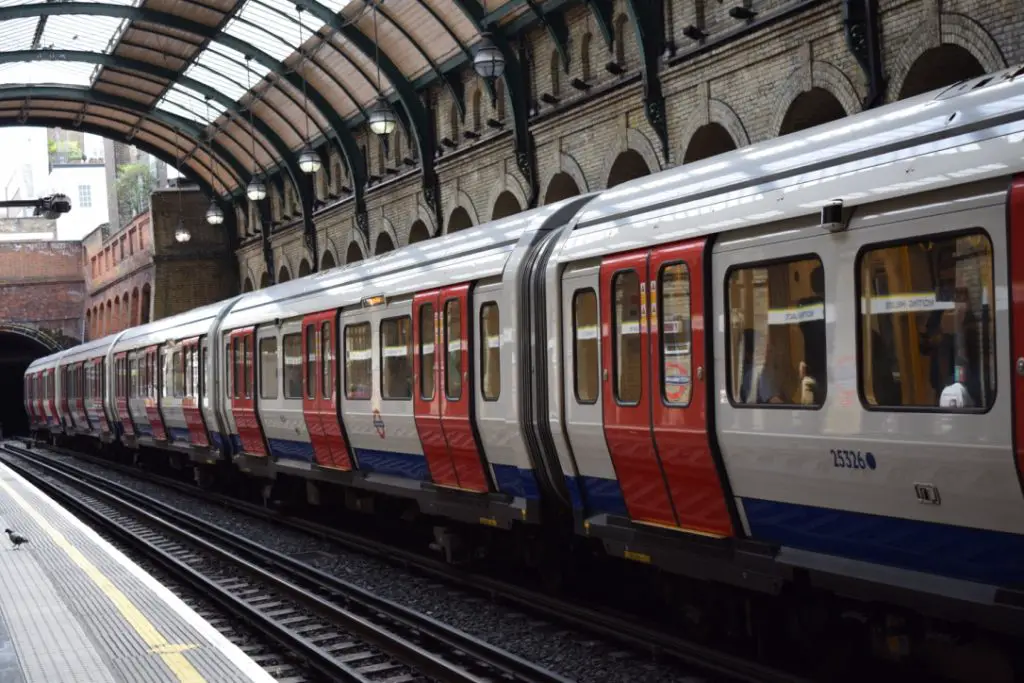 7 days London itinerary – Where to stay
Accommodation in London ranges from the super expensive to the more budget friendly options so you have a lot of choices when planning your 7 day London itinerary. Just keep in mind the more budget you go, the less amenities in the hotel and the further away it will be from the main city attractions. We have found some excellent deals at hotels.com over the years so we do recommend starting there.
On our last trip we decided to stay at the Assembly Hotel which was located a couple minutes from Leicester Square tube station. The hotel was very modern with clean rooms and a very central location. The only downside was that there was no TV or coffee/tea making facilities in the room. This can be standard in London and to be honest who wants to sit inside and watch TV when you are in London anyway? 
Best areas to stay for your 7 days in London
When planning your 7 day London itinerary you will need to think about where you want to stay. London is huge! Like seriously HUGE! And therefore deciding on where to stay can be quite overwhelming at times. For that reason we wanted to list a couple of our favourite areas. This list is by no means comprehensive, but hopefully will give you some ideas when planning your own 7 days in London.
Covent Garden
Our top area to stay in for 7 days in London is definitely Covent Garden. It's a really well connected area in terms of transport, and there are a number of attractions located around this area too. Accommodation can be a bit expensive, but we think it is worth it. For starters there are a number of restaurants, and bars in the Covent Garden area, which makes it a fantastic base particularly if you want to enjoy a few nights out.
Notting Hill
Notting Hill is another great area, especially if you are after something a little quirky. It's a little less touristy then Covent Garden (only just) and is close to the Portobello Road Market too. There are lots of bars and restaurants in the area, and it's definitely a lot cooler than Covent Garden. It's a good area if you are travelling as a couple.
Westminster
Accommodation in Westminster is certainly on the more expensive side, and rooms are smaller here too as space is at a premium (although it pretty much is anywhere in London). Westminster is great if you want to be close to a lot of the tourist attractions, and public transport. Although not so great if you are planning to have some wild nights out. The nightlife in the area is pretty much non-existent.
South Kensington
South Kensington is another good all-round area to stay in. It's close to some cool restaurants and bars, as well as being close to a number of museums. It's a central location with good transport links, and is often suggested as one of the best locations to stay in London for families.
Camden
One of our favourite neighbourhoods in London has to be Camden. Admittedly it is a little further out then say South Kensington, but still has great transport links. It's also close to the London Zoo if that is your thing. What really makes this area great though is the nightlife. There are a lot of indie rock bars, grungy markets, and a lot of different restaurants serving international cuisine. Camden probably attracts a slightly younger, partygoing crowd, so if its peace and quiet you want this might not be for you.
Best time of year to plan your 7 days in London
You might be wondering when is the best time to plan your 7 days in London. Well London really is one of those cities that can be enjoyed year round. Here is our seasonal breakdown on the best time to plan your 7 day London itinerary.
Winter (December – February) 
Winter in London is great because there are way less tourists. So you won't have the queue for hours to visit the big attractions. It does get cold and rainy in winter, though so you will want to limit your time outdoors. If you want to take advantage of the museums and the galleries then this is a good time to go. In December there are a number of Christmas markets to enjoy as well as ice skating rinks, in preparation for the holidays. 
Spring (March-May)
Spring is probably the best time to visit London in our opinion. The weather is mild, and whilst it is busy with tourists, it isn't as chaotic as the summer months. Spring is also a nice time to enjoy walking through the parks with the daffodils in bloom. 
Summer (June – August)
Summer is peak tourist season so expect a very sweaty warm, and crowded 7 days in London. The weather is at its best, and there are a number of summer events that take place in the city. A lot of schools are finished for summer holidays so there are a lot of families around, and a lot of activities for kids and adults alike. If you visit in summer make sure that you book things like accommodation and attractions well in advance. It can get really warm in London over summer, so remember this particularly as travelling on the tube squashed up against other commuters in 30 degree heat is not fun. 
Autumn (September – November)
Autumn is another good time to book your 7 days in London. The weather starts to cool, but hasn't quite reached the cold temperatures of winter. It also isn't as busy as the summer months with tourists. 
Is 7 days in London enough?
Realistically, 7 days in London is a good amount of time to really get to grips with the city. It gives you the chance to explore some of the neighbourhoods, eat a lot of British  food (or visit a lot of British pubs more to the point), and see the key tourist attractions. That being said, London is such a vibrant and incredible city that there is always something to do. We honestly don't think even 2 weeks in London is enough. And ask some of our friends who live there, even years in London isn't enough. But in all seriousness, a week in London is doable, particularly if you want to immerse yourself in the place.
What to do in London for 7 days 
London can be really daunting, because there is literally so much that you can see and do. With 7 days in London sometimes this can be overwhelming so it is good to have a plan. These are our recommendations for things to do. Further down in the article we have a 7 day London itinerary to help you plan your trip. This guide is probably best for first time visitors as it covers the key tourist attractions in London, but also a few hidden gems as well. 
Westminster Bridge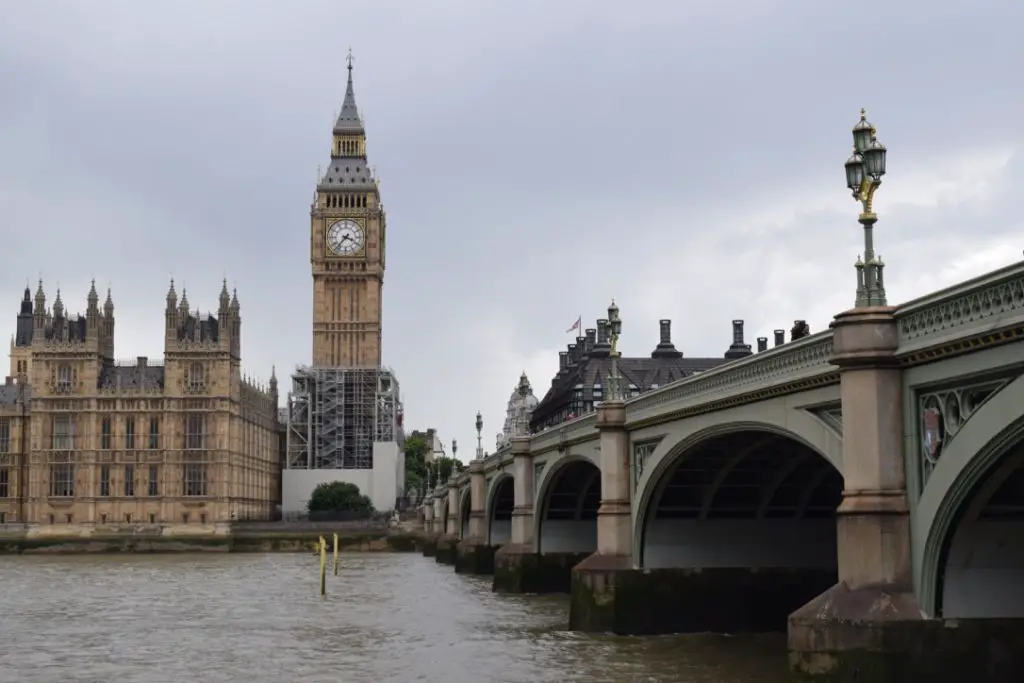 Every time we come to London we take a walk along this bridge. To me this really symbolises London. Get off at Westminster Station and the first thing you will be greeted with is the Houses of Parliament looming over you. I like to start the walk on Westminster Bridge on the left side walking towards the London Eye. You can then cross over on the way back and face the Houses of Parliament for an excellent view.
What I love about the bridge, and London in general has to be the intricacy, and the designs. Make sure you take time to appreciate the little things like the beautiful street lamps on the bridge. Directly opposite the Houses of Parliament instead of turning towards the London Eye walk under the tunnel and you will find a secret photo spot where you can take a picture of Big Ben. 
Getting Here
Get the Tube to Westminster Station and take a short walk past the Houses of Parliament to the Bridge. 
Southbank
A 7 day London itinerary is not complete without a visit to Southbank. This is one of our favourite places just to people watch. Here you will find street performers, and skateboarders, as well as tourists gazing out at the Houses of Parliament.  The Sealife centre is also here, if time allows as well as the main attraction, the London Eye.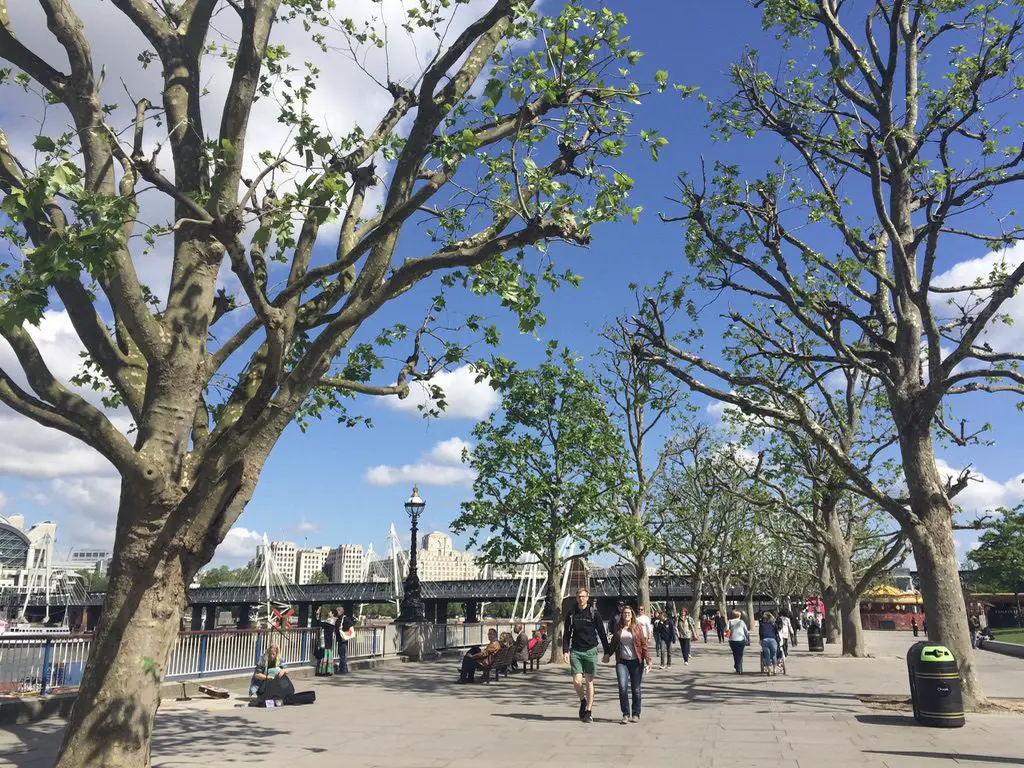 Getting Here
Get the Tube to Westminster Station and take a short walk past the Houses of Parliament and across Westminster Bridge. 
The London Eye
We have done this a few times now and whilst some people may say it is over rated we love it. It costs about £36 although if you get advance tickets this can be cheaper. You can visit their website for further information. It takes about 30 minutes to do a full rotation and you really do get an amazing view of London.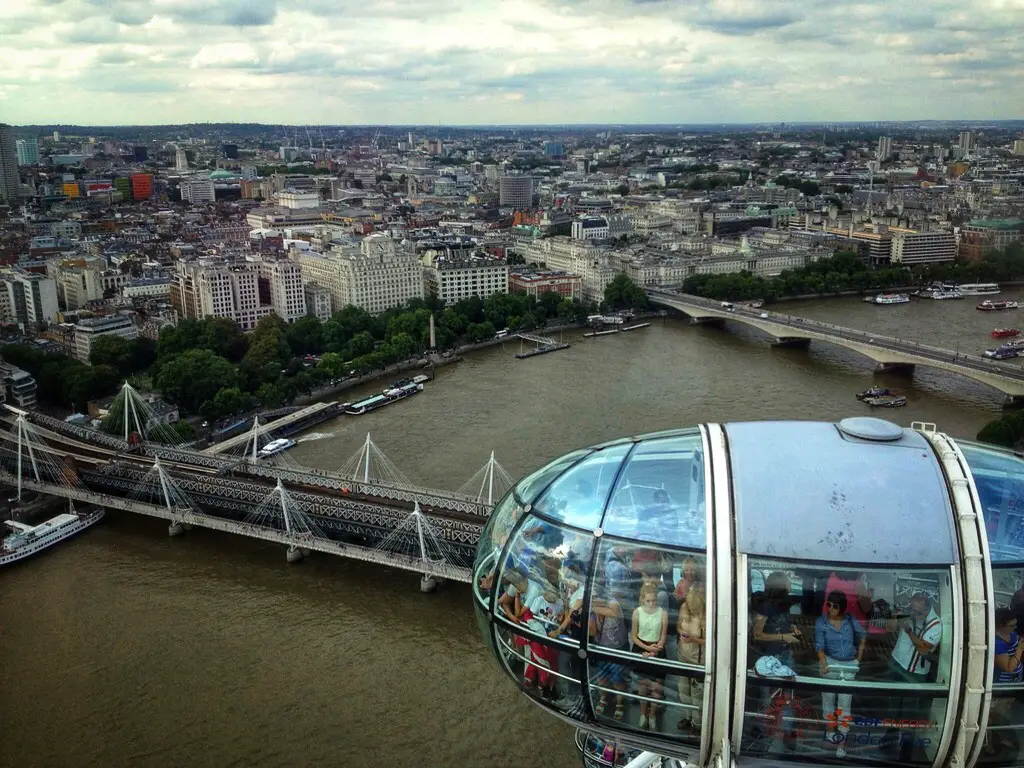 Getting Here
Get the Tube to Westminster Station and take a short walk past the Houses of Parliament and across Westminster Bridge. 
Westminster Abbey
Westminster Abbey is a beautiful gothic cathedral which is a short walk from the Houses of Parliament. If you are into the Royal Family, then you will recognise it from a lot of Royal Weddings, including Prince William's wedding to Kate Middleton. It is also the traditional place of both coronation and burial for English Monarchs.  You can see the inside of the Abbey for £25 or if you are short on funds you can admire it from the outside.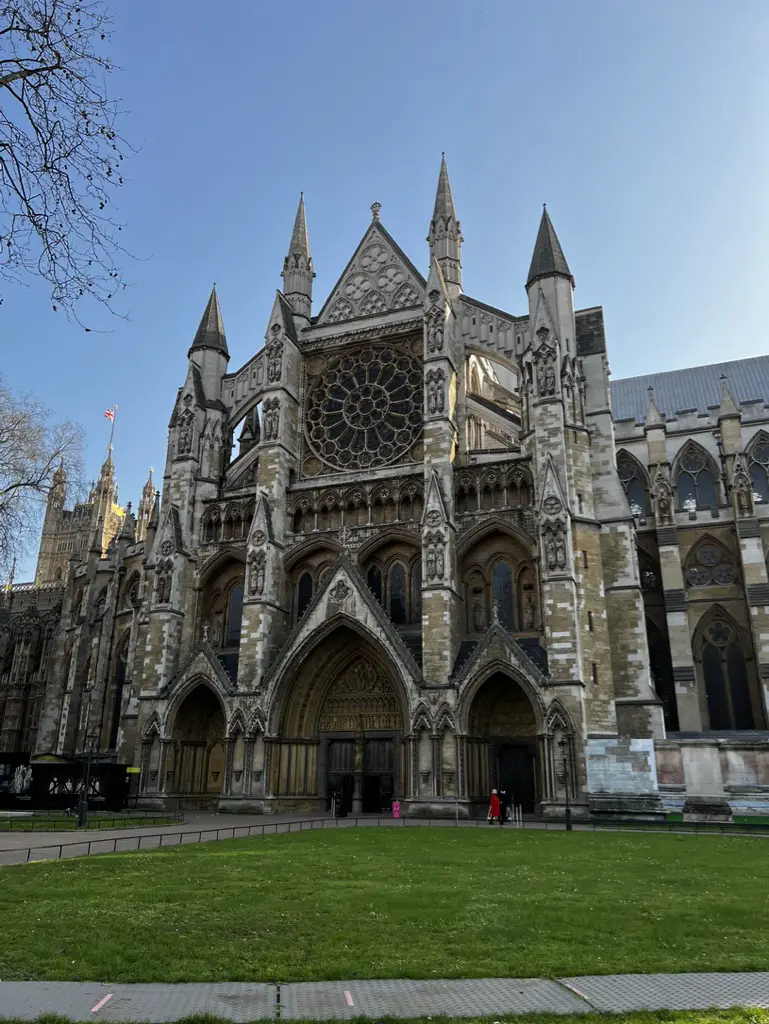 Getting Here
Get the Tube to Westminster Station and take a short walk away from the South Bank. 
Trafalgar Square
Another must for your 7 days in London has to be a visit to one of the most photographed public squares in the city. Trafalgar Square was built to commemorate the Battle of Trafalgar that took place in 1805. These days it is swarming with tourists all trying to get those iconic shots of the fountains and the lions.
I actually remember visiting the Square as a kid and it being filled with pigeons, in fact I even remember feeding bird seed to them. If you visit these days however you won't find many. In fact you may even see some of the trained birds of prey that fly around discouraging pigeons to visit. Apparently pigeon droppings caused some of the Square's monuments to erode and so pigeon feeding was banned.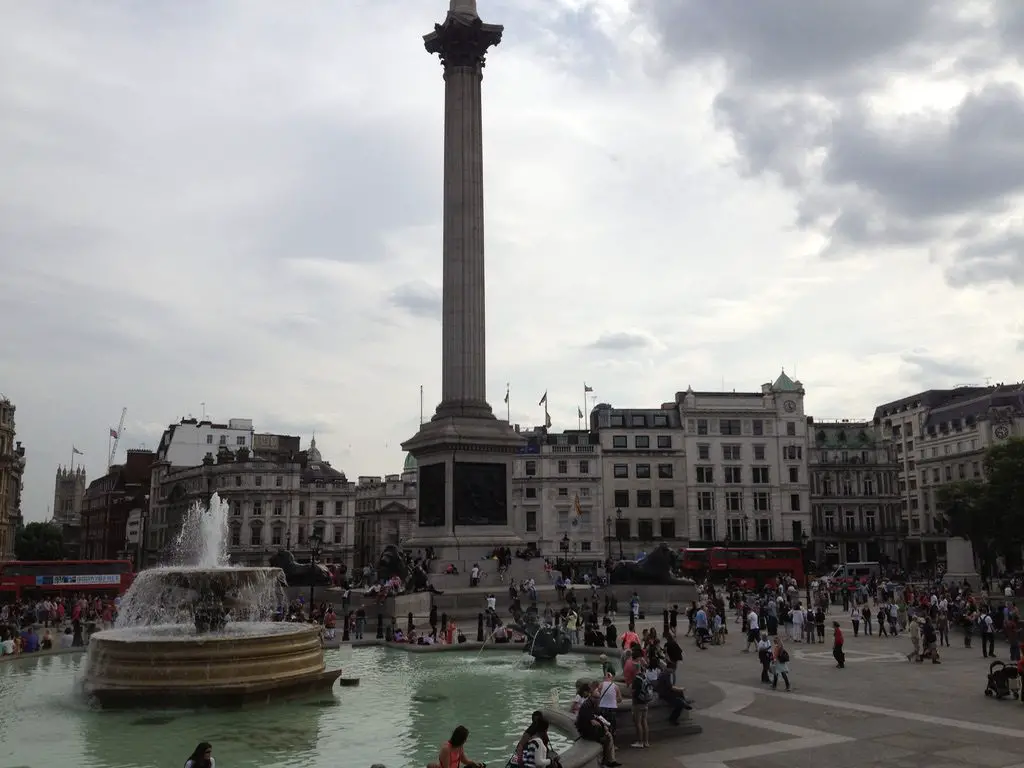 Getting Here
Charing Cross is the closest Tube Station, but it is also walkable from Piccadilly Circus and Leicster Square. 
The National Gallery
The National Gallery which is located right at Trafalgar Square, houses a collection of over 2,300 paintings. Entry into the main exhibits is free although for special or visiting exhibits you do need to pay for entry.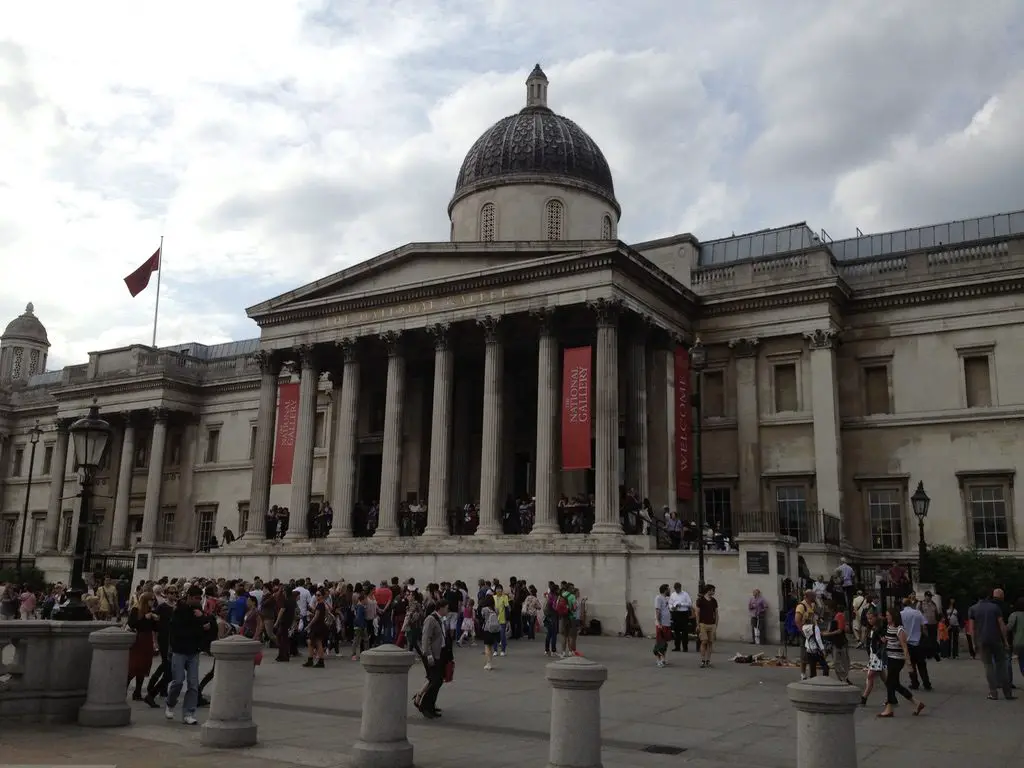 Getting Here
Charing Cross is the closest Tube Station, but it is also walkable from Piccadilly Circus and Leicster Square. 
Buckingham Palace
The Palace is the official headquarters and residence of the British Royal Family. If you are a fan of royalty then make sure you add this to your 7 day London itinerary, even though it does get really busy with tourists. One of the most amazing things to witness is the changing of the guards. It is a daily ceremony where the old guards welcome the new guards to take over the duty of guarding the Palace and St James Park. You really do need to get in early for a good view and it is best to check the Palace website for up to date information on times.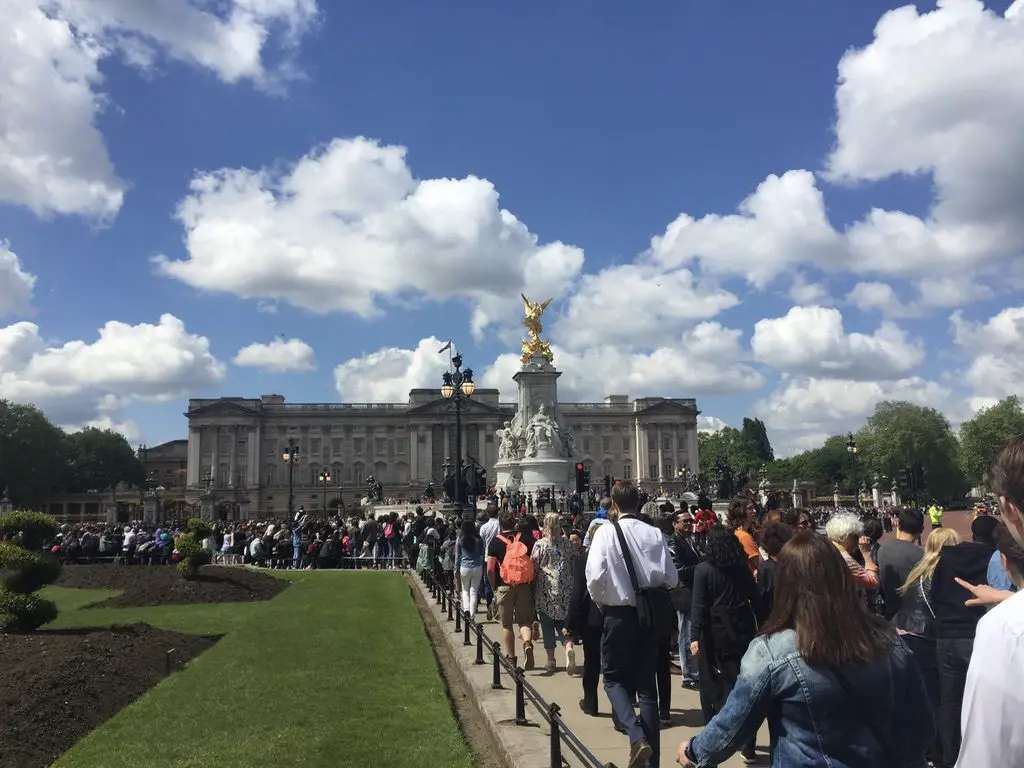 Getting Here
Buckingham Palace is only a 15 minute walk from Trafalgar Square. 
St James Park
Located just next to Buckingham Palace St James Park is a lovely place to take a stroll. It also has a wonderful view of Westminster Abbey and the London Eye when you stand on the Blue Bridge and look west.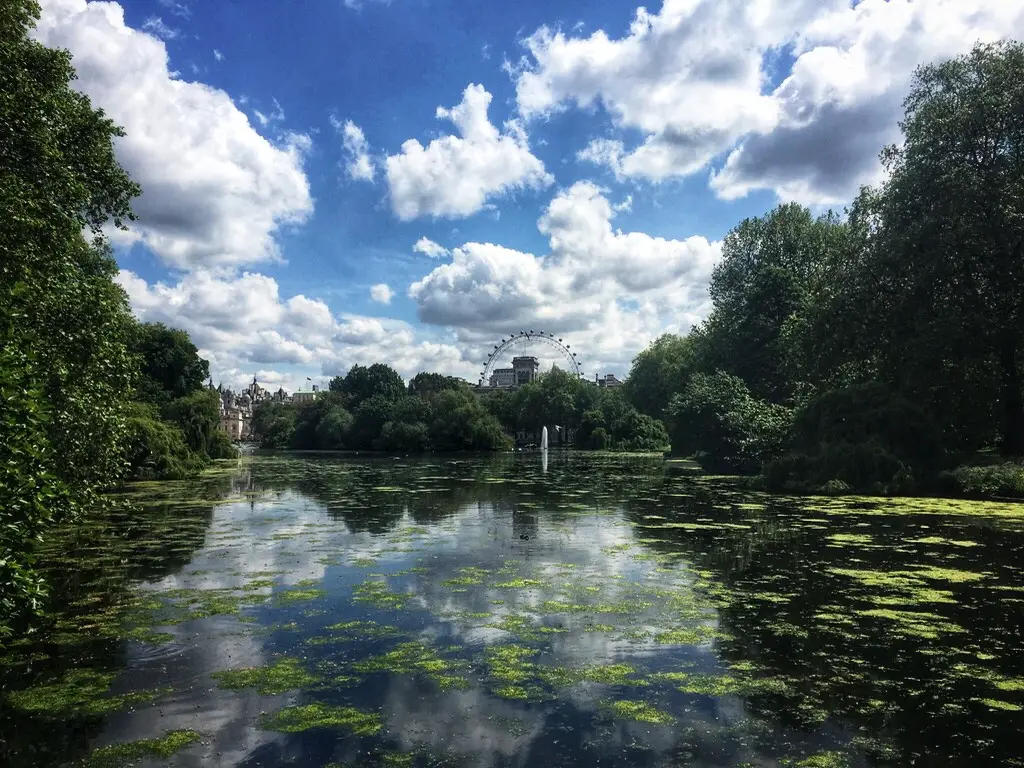 Getting Here
The park is located right next to Buckingham Palace. 
Hyde Park
Speaking of parks, the most famous park in London to visit is of course Hyde Park. It is a wonderful place to sit and feed the ducks, go for a stroll or rollerblade, or even take a boat ride on one of the lakes.
The Park is huge but one of our highlights include Speakers Corner. This is a place where speakers get on soap boxes to try and convince the masses of particular points of view. There is no set schedule to whom you may find here but if you like your debates then this is the place for you. Famous speakers have included Karl Marx and George Orwell.
The park also includes the famous pedal boats you can hire on the Serpentine, which makes for a really beautiful summers day out. There is also the Diana Memorial which is a must for any Royal fans. Bring your walking shoes if you do want to do a proper explore of Hyde Park as it is massive.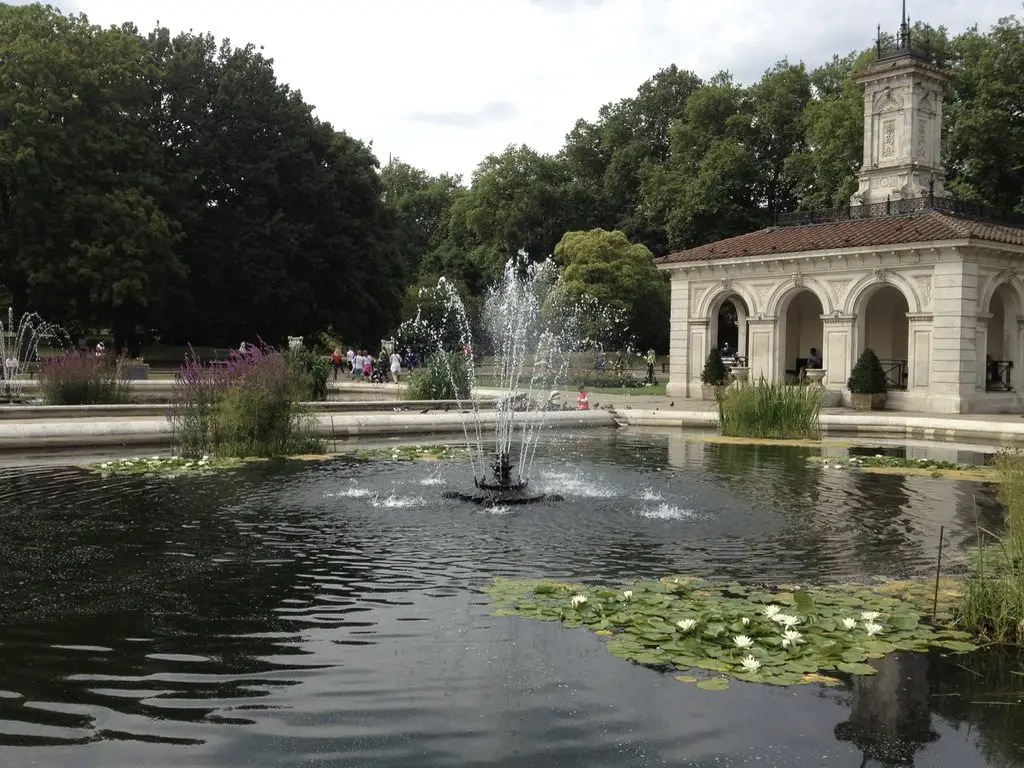 Getting Here
Considering Hyde Park is huge there are a number of Tube Stops that you will lead you here. The main stations around the park though are:
Lancaster Gate 
Marble Arch 
Hyde Park Corner
Knightsbridge 
Natural History Museum
The Natural History Museum is the place to go for all your natural history needs. With exhibits ranging from dinosaur bones to collections relating to botany and zoology. The best thing is this museum is free, although be prepared to wait in line especially during peak season in the summer (usually around the August summer holidays). Even if you aren't into museums it is a great place to visit to marvel at the architecture. Construction was finished on the museum in 1880 and it really is an architectural dream.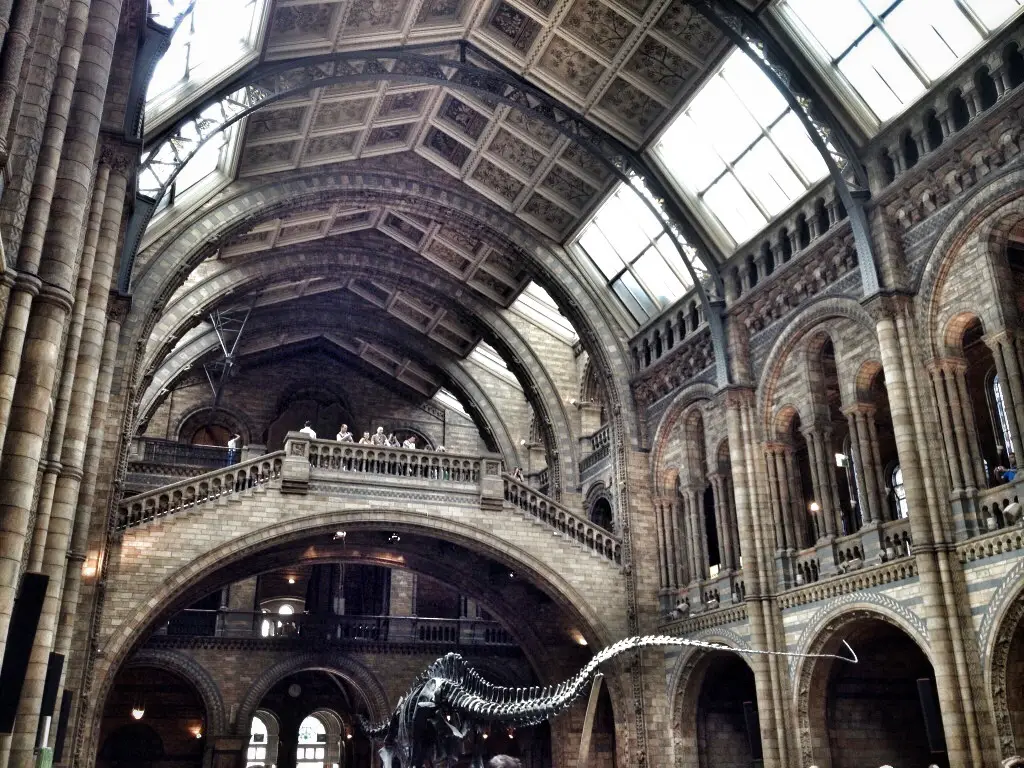 Getting Here
The best station for the Natural History Museum is South Kensington. 
St Pauls Cathedral
The cathedral is one of the most famous sights in London and has been the location for a number of Royal weddings and funerals, much like Westminster Abbey. The interior is worth a look, and if you are brave enough you can actually climb to the viewing platform for some incredible sights over London.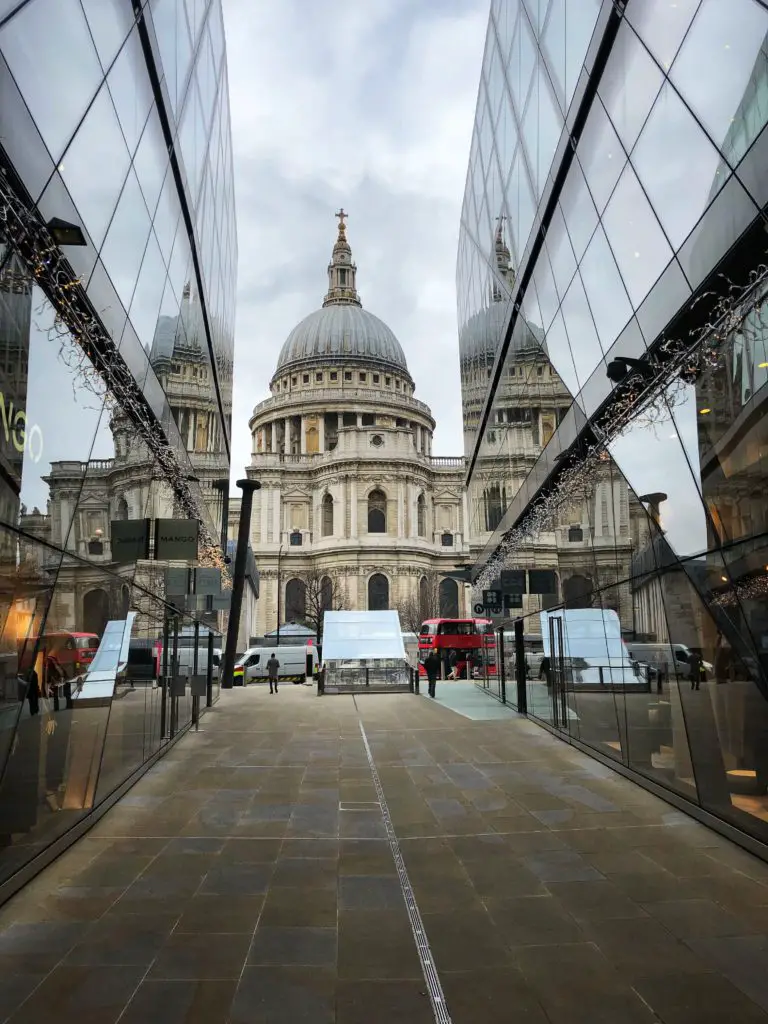 Getting Here
The aptly named St Pauls station on the Central Line is your best best for getting here. The cathedral is only a 2 minute walk away. 
Covent Garden
If you are looking for restaurants and quirky bars then head to Covent Garden. There are so many places to eat, drink and be merry. If you get the chance explore the area and see if you can find the secret Neal's Yard courtyard. Neal's Yard is basically a small alley with restaurants and shops and very colourful buildings.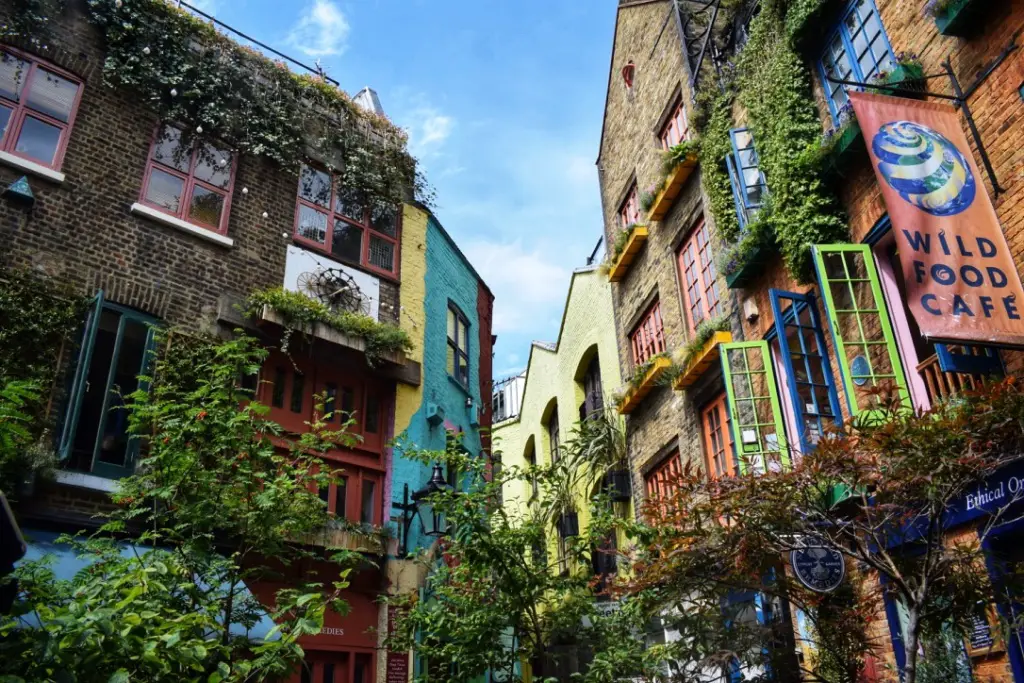 Getting Here
Conveniently the closest Tube Station is Covent Garden on the Piccadilly Line. 
Camden Town
Ok so Camden is our absolute favourite part of London. It is sort of an alternative/indie paradise. You can explore the markets and pick up some quirky T-Shirts. There are also some amazing indie music inspired bars where you can sit and have a drink. Our favourite bar has to be the World's End located just across from the Camden Tube Station.  Overall Camden is a great place to go if you want to buy anything from funky jewellery, to souvenirs, to sunglasses. The atmosphere in Camden is almost an anything goes kind of feel. It's also a great place for people watching.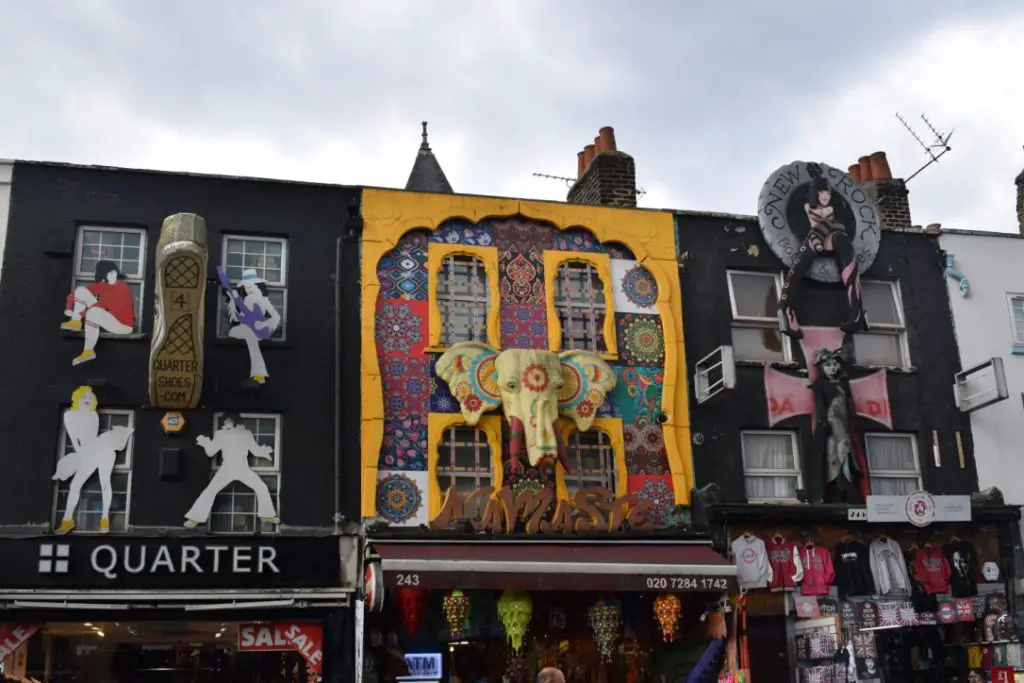 Getting Here
You will need to get on the Northern Line and take the tube to Camden Town. 
Churchill Arms
If you are looking for the prettiest pub in London then look no further than the Churchill Arms. Its located a short walk from Notting Hill Gate Tube Station, and it is a great place for a pint or some pub food. The pub is decorated form head to toe in flowers and its even quirkier inside.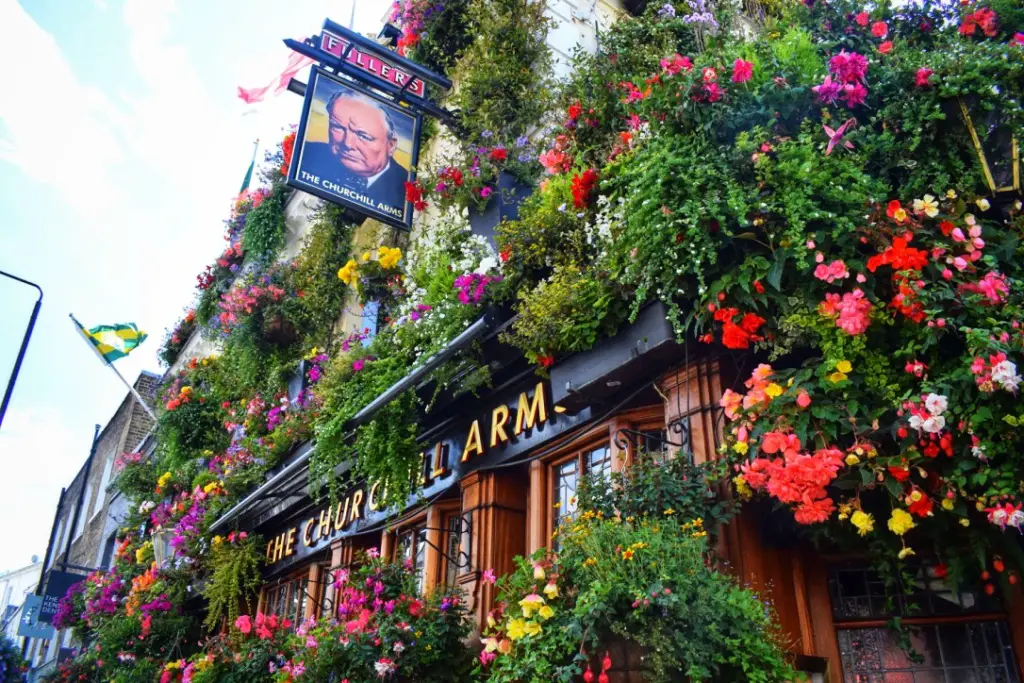 Getting Here
Notting Hill Gate or High Street Kensington are your closes Tube Stations with the pub being a short walk from both. 
Tower Bridge
Another of London's most famous monuments that often gets confused with London Bridge, is Tower Bridge. The bridge was completed in 1894 which makes it nearly 123 years old. You can pay for entry into the Tower Bridge Exhibition, and more information can be found here.
The area around Tower Bridge is also great to explore. There are some lovely bars and coffee shops nearby with wonderful views of the bridge. 7 days in London will involve quite a bit of walking so we recommend popping into Vicinity which is a bar and restaurant with prime views of the Bridge.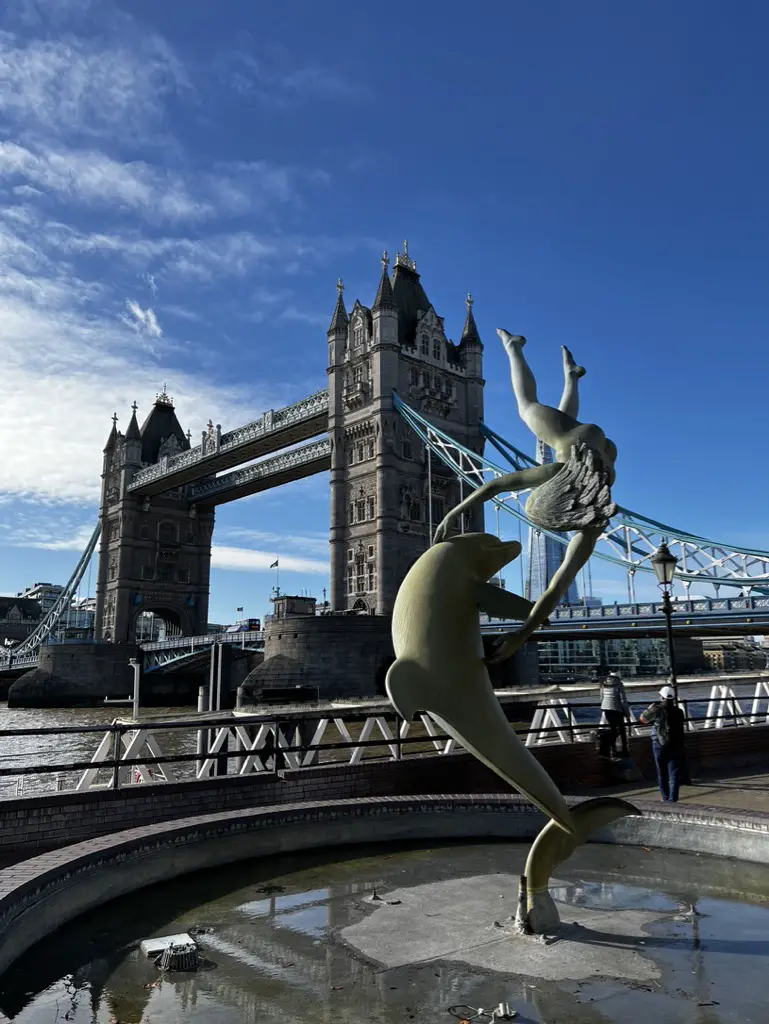 Getting Here
The bridge is about a 5 minute walk from the Tower Hill Tube Station. 
Tower of London
Located next to Tower Bridge is the Tower of London a historic castle founded in 1066. If you are into history this is a fascinating place to visit as you get a full understanding of the history of the castle. This includes its time as a Royal residence and even a prison. Entry for adults is £21.50 but do keep in mind that this is a popular attraction and the queues can be long so you are best booking in advance.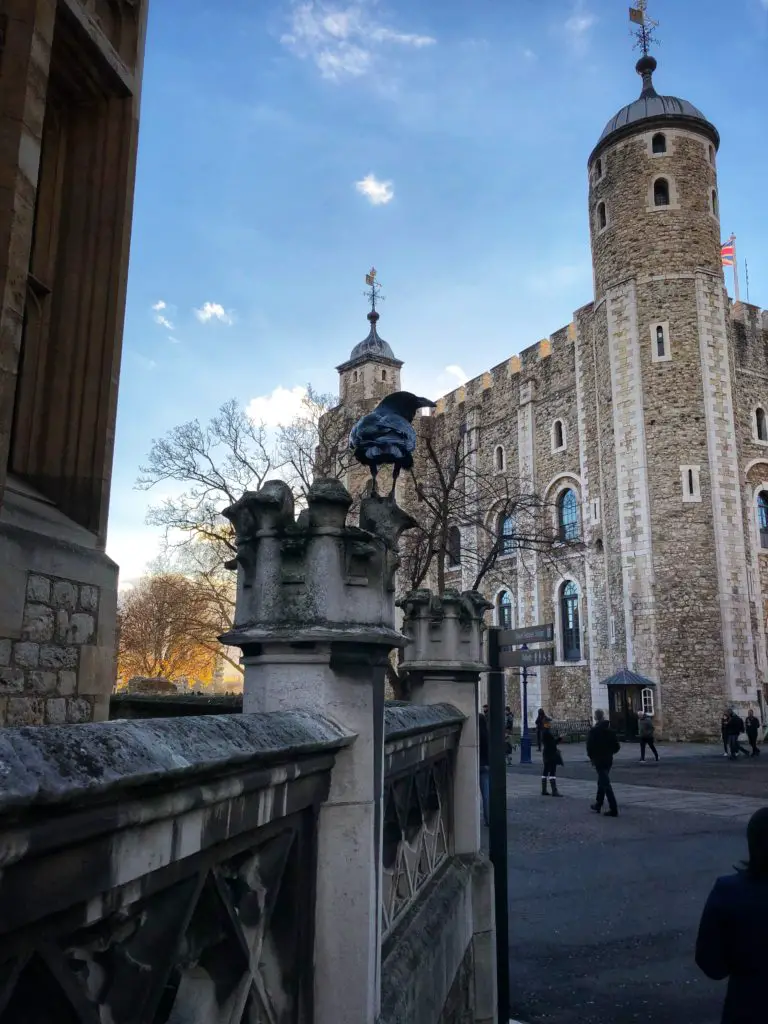 Getting Here
Again this is a short walk from the Tower Hill Tube Station.
Piccadilly Circus
Home to the iconic advertising hoarding that you will see other tourists trying to get a picture of, Piccadilly Circus is one of London's busiest squares. I should also note that if you are expecting to find a circus acts this is not your place. In this context circus actually refers to the fact that it used to be a roundabout.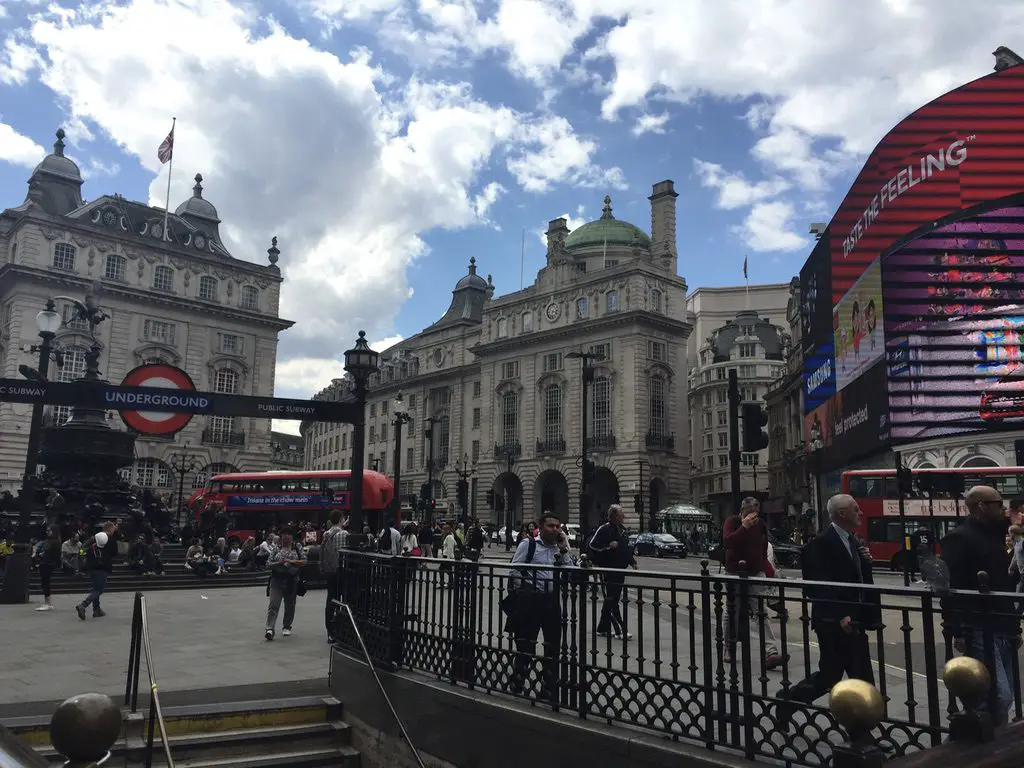 Getting Here
Get off at the Piccadilly Circus Tube Station. 
St Dunstan in the East
This is a quaint little garden on the site of a former church that was damaged in 1941. Whilst they decided not the rebuild the church the remains add to the atmosphere in this secluded garden. This is a real hidden gem in London.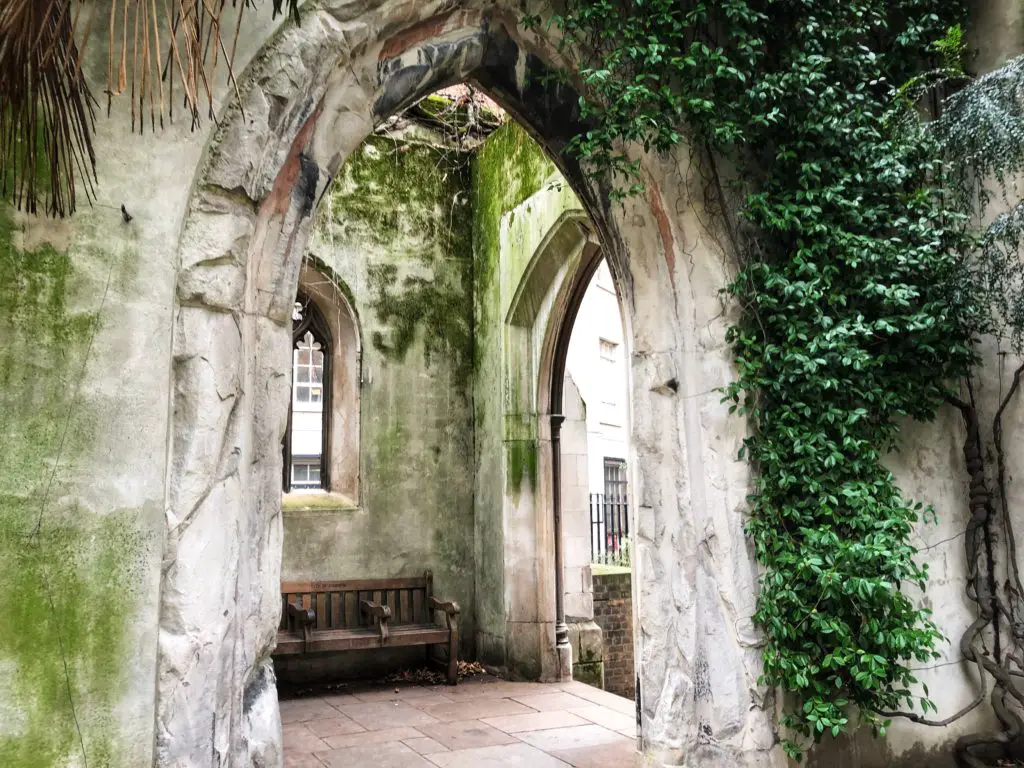 Getting Here
Either Tower Hill or Monument will be your closest stations and you will need to take a short walk from both to get here. 
Imperial War Museum 
The Imperial War Museum is another of London's amazing museums and it is free. Here you can learn all about Britain's involvement in historical wars. One of the most haunting parts of the museum has to be the section documenting the Holocaust. There were some bits where it was so hard to keep reading, but it is so important to document what happened in the past in the hopes that we can learn from these atrocities.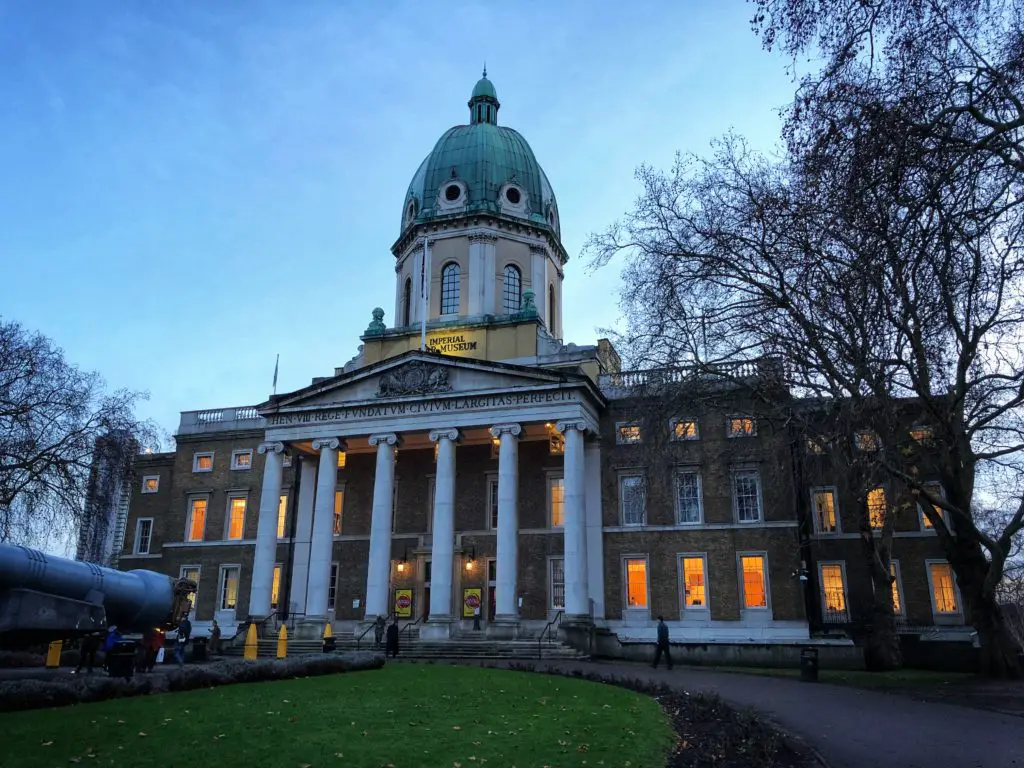 Getting Here
You can either get the Tube to Lambeth Road and walk (7 mins) or to Elephant and Castle and walk (10 mins). 
Churchill's War Rooms
This is another fascinating insight into Britain's involvement in war. This time documenting Churchill's involvement in the second world war. The museum is housed in an underground complex where the government operated a command centre during WWII. You do have to pay for entry but it really is worth it.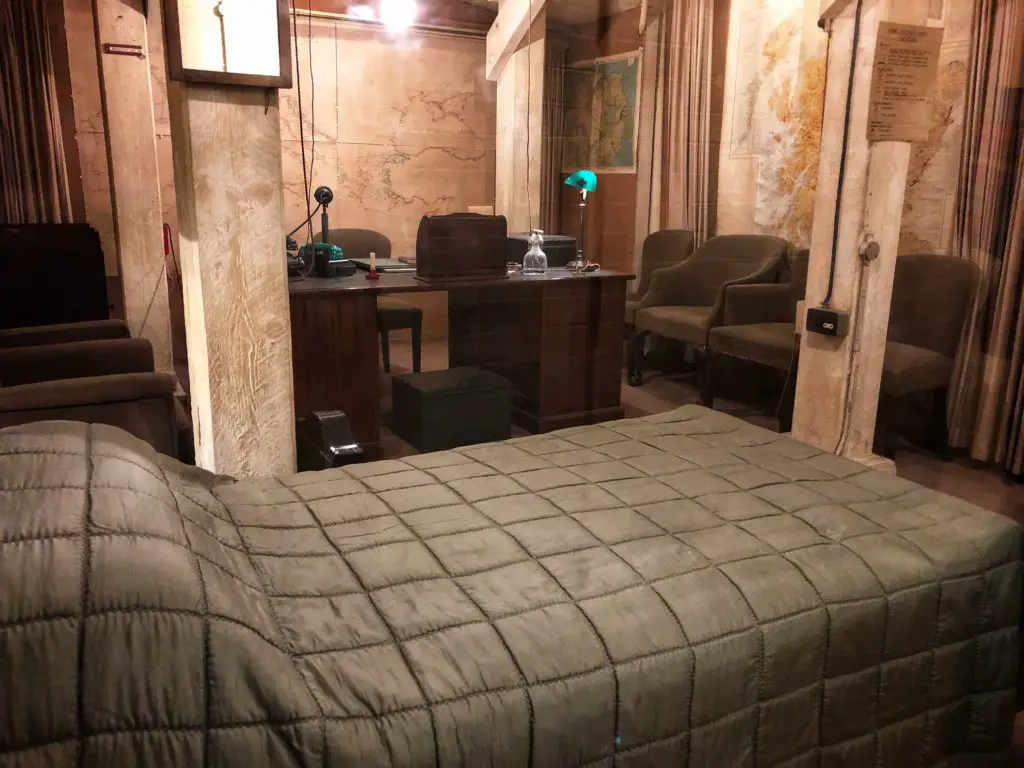 Getting Here
Get off at either St James' Park Underground station or Westminster. 
Leadenhall Market
One of the prettiest places in London has to be Leadenhall Market, a victorian era building with shops, restaurants and bars. It is a great place to explore and take those all important social media photos.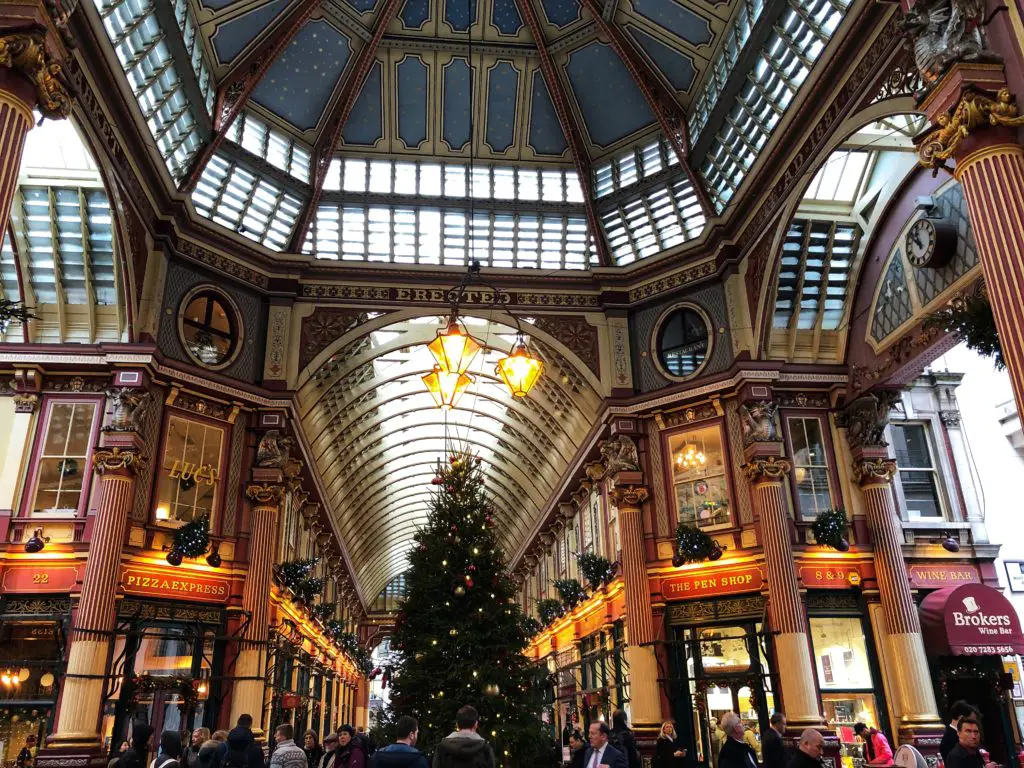 Getting Here
The closest station is Monument. 
Harrods
Harrods is one of the world's most famous department stores. It is ideal if you want to purchase luxury goods and designer clothes. But if your budget doesn't cater for that it is still worth a visit. We purchased a tin of hot chocolate and left with the satisfaction that we ticked 'shopping in Harrods' off our London bucket list.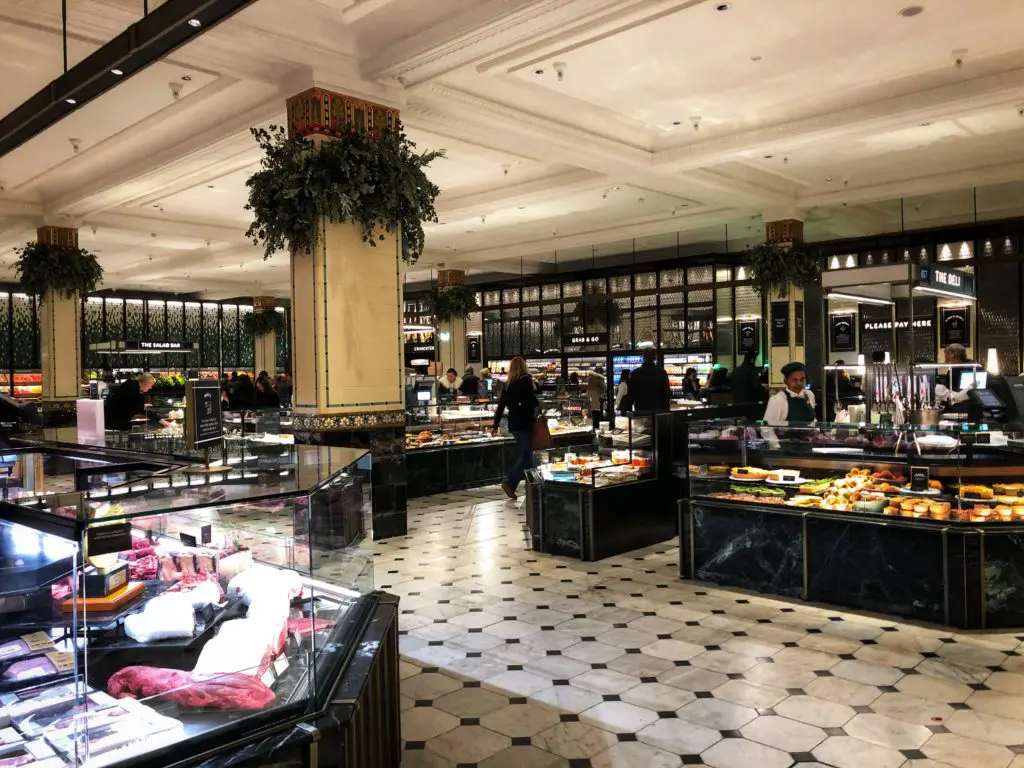 Getting Here
Knightsbridge is your closest station. 
Tate Modern
The Tate is a must for art lovers. Located just across the Thames from St Paul's Cathedral the building houses works from artists from around the world. This is another attraction that is free to visit, unless you want to go to one of the special exhibitions in which case you will need to pay.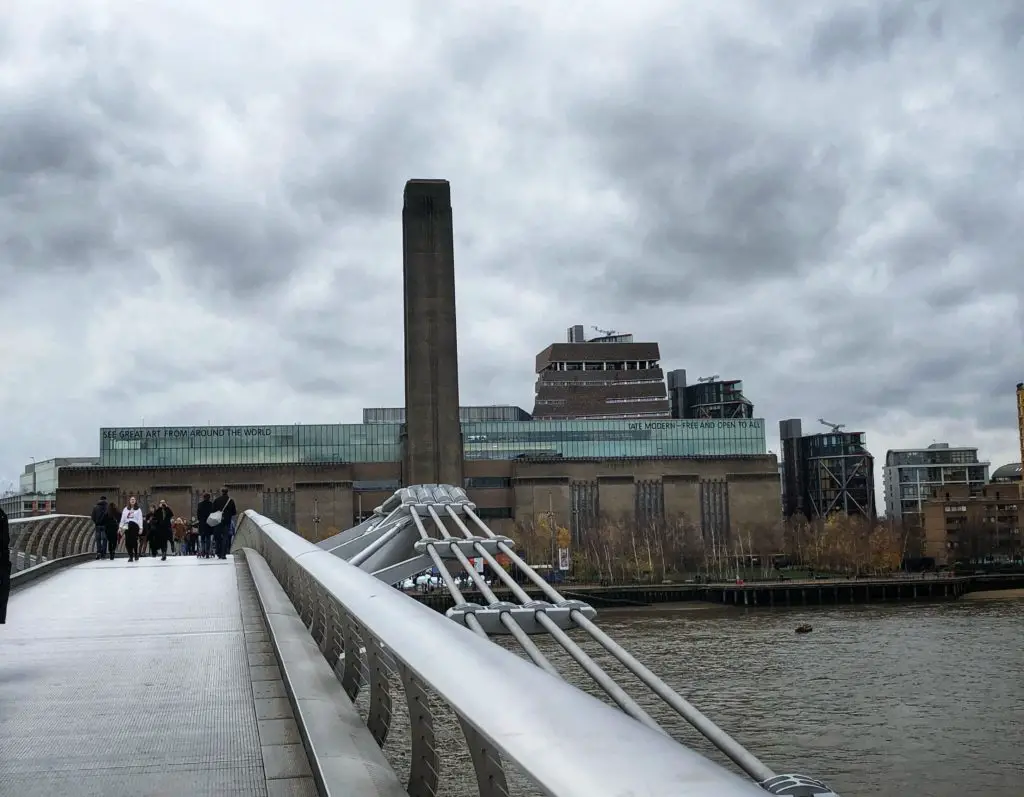 Getting Here
Blackfriars is the closest station right near the Tate Modern, but a lot of people also walk from London Bridge Station which is about 10 mins away. 
Chelsea 
Chelsea is one of the most affluent areas of London and certainly a great place to walk around and explore. In fact there are a lot of really cool things to do in Chelsea. If you get the chance visit some of the back streets with those pastel houses that you see all over Instagram. Do be mindful that people live here though so have a peak and then leave, and don't trespass on other people's property.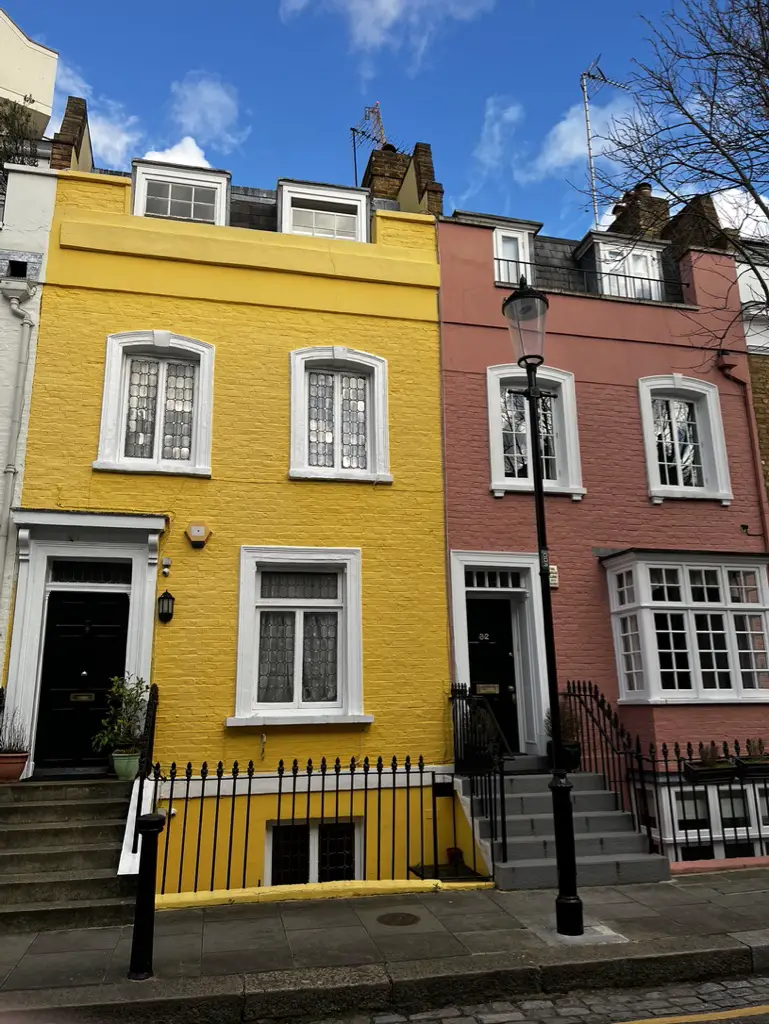 Getting Here
Sloane Square is probably your closest Tube Station and it is a bit of a walk to get to Chelsea from here. 
Nunhead Cemetery 
I know adding a cemetery on a list of things to do in London, might sound weird, but Nunhead Cemetery is truly beautiful. It is a really old cemetery that was left to go to ruin before being restored by the council. It's fascinating looking at the really old graves that have become overgrown with plants and vines, which to me is a symbol of life going on after death. Nunhead is accessible via the overground network, so you will need to get a tube to Victoria and change there.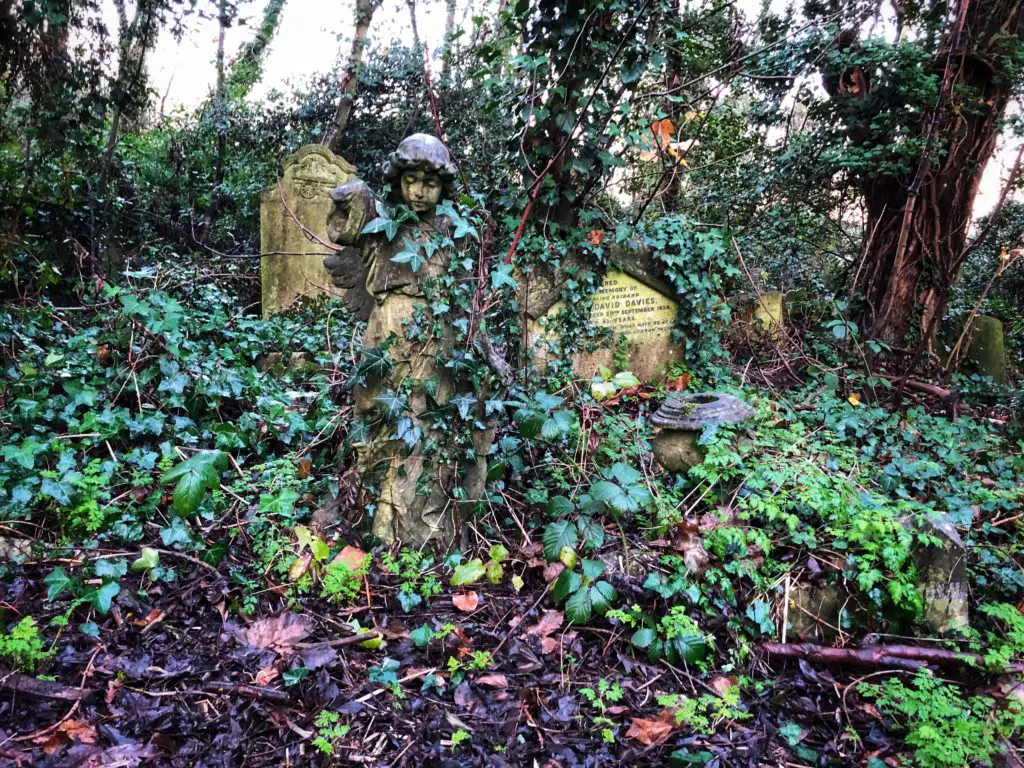 Getting Here
You do need to get the overground to Nunhead Station, and the cemetery is a short walk from there. 
Thames cruise
Departing from Westminster Bridge a Thames cruise is a really nice way to see London from the water. Plus its also an awesome opportunity to get up close to some of London's beautiful bridges.
Getting Here
The cruise departs from different locations but if you are leaving near Westminster Bridge then Westminster Station is the closest.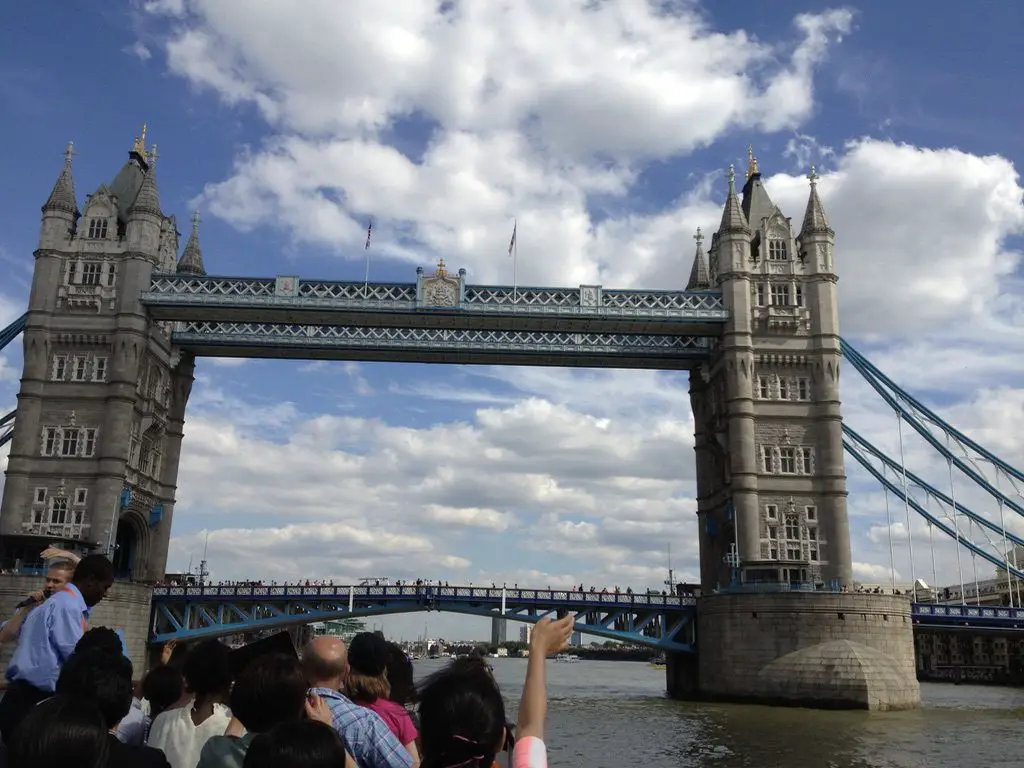 1 week London itinerary 
So now you have seen our list of things to do in London in 7 days, here is our sample 1 week London itinerary. 
Day 1
We recommend starting your 7 day London itinerary by getting acquainted with the Westminster and Southbank areas. Start the day at Southbank and check out some of the street performers and the incredible views of the Thames and Houses of Parliament. Be sure to ride the London Eye for some amazing city views. 
Afterwards cross Westminster Bridge and do a Thames cruise, before checking out the Houses of Parliament, Westminster Abbey before finally making your way over to Trafalgar Square. Once you get your selfie with a lion head into the National Gallery. 
For dinner there is a great pub called the Admiralty that serves the most amazing selection of pies that you simply have to try. 
Day 2 
7 days in London is not complete without a visit to Buckingham Palace. Afterwards check out St James' Park before making your way to the Natural History Museum in the afternoon. 
In the evening head to Covent Garden for dinner and do visit Neals Yard which is one of the hidden gems of London. 
Day 3
Head to St Pauls Cathedral, and if you are both brave and fit enough you can climb to the top and enjoy the views of London. Afterwards cross the Millennium Bridge and make your way to the Tate Modern.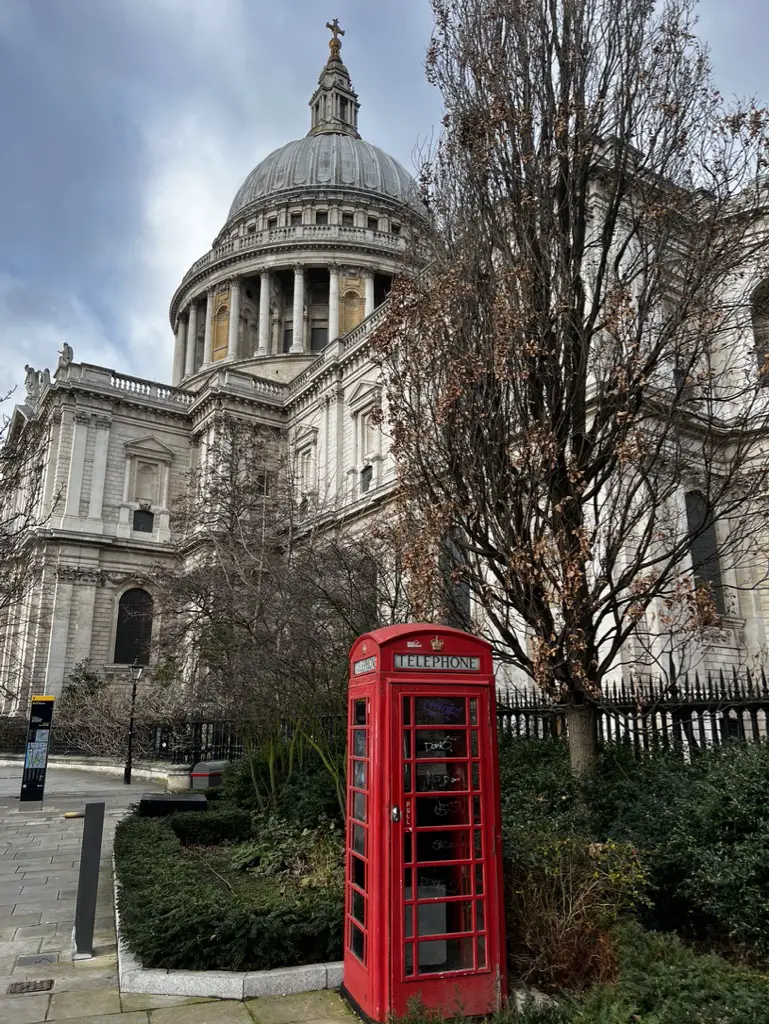 In the evening/ afternoon head to the Churchill Arms near Notting Hill to rest your weary legs and grab some pints and dinner. 
Day 4
In the morning explore Leadenhall Market, before making your way over to St Dunstan in the East in the afternoon. Take a trip to Chelsea and explore the neighbourhood and get some photos of those incredible pastel houses. Checkout Piccadilly Circus, and Oxford Street in the evening. 
Day 5
Start the morning with a visit to the Tower of London. You will probably spend a good few hours here taking you to the afternoon. Afterwards walk towards Tower Bridge to see it up close. Explore the surrounding area and see if you can find the girl with the dolphin statue. Grab some lunch here and some drinks with a view.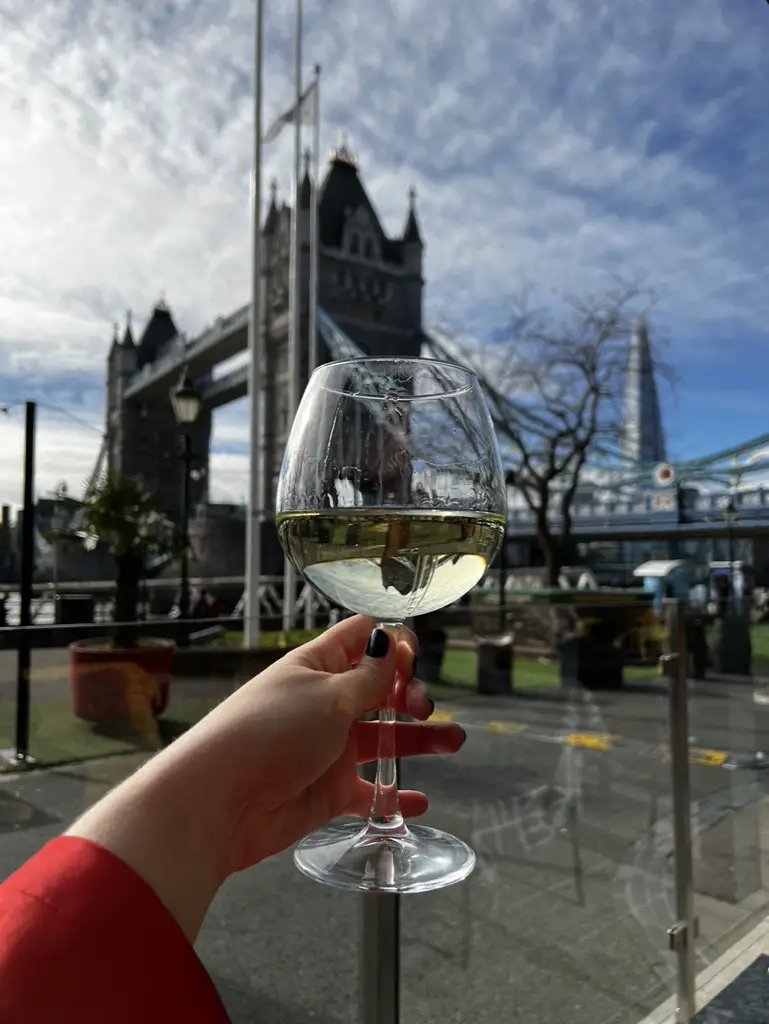 In the late afternoon head to Camden Town to explore before having some dinner and drinks there in the evening. 
Day 6 
In the morning visit the Imperial War Museum. Entry is free and in all honestly you could spend a good day exploring. In the late afternoon get a bus to the Churchill War Rooms. Along the way make sure you take a photo of the classic red phone boxes with Big Ben in the background. 
In the evening head to Harrods to see it all lit up and explore the food hall. If you are feeling flashy grab some dinner here, otherwise grab something cheaper in the area.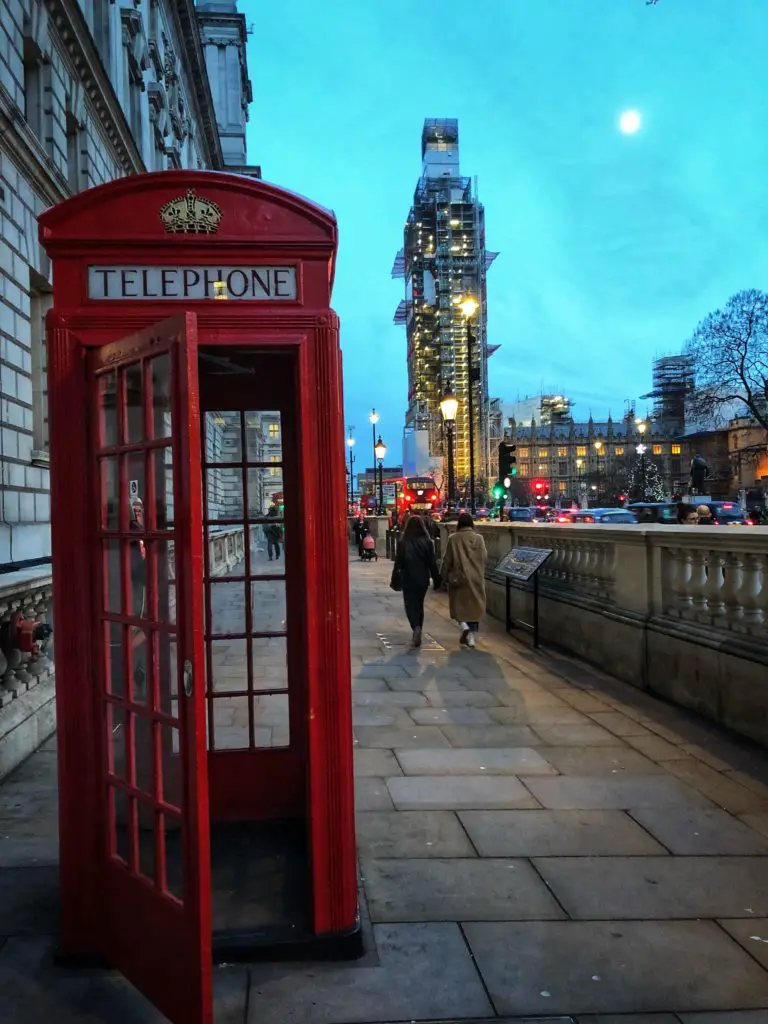 Day 7 
Take a trip out of the city and head to Nunhead Cemetery. It is a great place to walk around and whilst there see if you can spot the framed view of St Paul's Cathedral. Take the rest of the afternoon to explore Hyde Park. we recommend having dinner and drinks in Shoreditch afterwards. 
Other cool activities to add to your 7 days in London
If you are looking for some fun experiences to add to your 7 day London itinerary here are some of our favourites.
Rock and Roll London tours
Let's be honest London is pretty synonymous with some of the greatest musical acts of all time. So a rock and roll style tour of London is something that music lovers should immediately add to their 7 day London itinerary. There are a couple of tours we recommend, like this London Rock and Roll history tour taking you to places such as Jimi Hendrix's flat and Abbey Road.
Or if you are a straight up Beatles fan then do the Beatles London tour that takes you to all the key Beatles' locations in the city.
Climb the roof of the O2 Arena
If you fancy yourself a bit of a daredevil this might be the tour for you. It gives you the chance to climb one of the city's most popular entertainment venues, but also to get a completely different view of the city.
Do a bike tour
A guided bike tour is actually a really fun way to see London, and there are so many different ones to choose from during your 7 days in London.
Jack the Ripper Tour
London's most famous serial killer has to of course be Jack the Ripper. We highly recommend doing a Jack the Ripper tour, that takes you back to historical London, as you walk in the footsteps of the killer and his victims.
Travelling as a couple – Romantic things to add to your 7 day London itinerary 
If your week in London happens to be with your significant other than there are a lot of romantic things to do in the city. Here are a few to give you some inspiration.
London Eye
The London Eye itself is pretty romantic, that is if you think sharing views of the cityscape with your significant other constitutes as romance. But there is actually a champagne package that you can purchase. It might be a little pricey at £55 pp but can you really put a price on love?
Little Venice
One of the more romantic spots to add to your 7 day London itinerary has to be Little Venice. Here you can do a canal boat ride, or even just sit at a café and soak up the views.
A romantic river cruise
Another romantic option for London is to do a river cruise with dinner. What could be more romantic than sailing up the Thames devouring a three course meal and drinking wine?
Ice skating
In the winter months take your significant other to the pop up ice skating rink outside the Natural History Museum. Not only is the setting beautiful but you can skate hand in hand in the cool London air.
Hyde Park Picnic
One of my favourite romantic things to do in London is to have a picnic in Hyde Park. Why not grab some bread and cheese from one of the local supermarkets, and enjoy them whilst people watching in the park.
Do a tour in a mini cooper
This one is advertised as a bit of a romantic treat. You get a 90 minute tour in a classic Mini Cooper, which is such a British thing to do. Plus you can sip on champagne whilst being driven around the city.
There are also so many restaurants and cocktails bars to plan the perfect date night in places like Camden or Covent Garden. London is literally your romantic oyster.
7 days London itinerary tips
Here are some tips for planning your 7 days in London. 
Book attractions in advance when you can
Book restaurants and bars in advance to avoid missing out
Bring decent walking shoes – because you will want to get out there and explore
Be prepared for things to be more expensive than other parts of the UK
Tipping isn't customary in the UK, but some restaurants will add an additional service charge to your bill. You can request for this to be removed, but if the service was good do leave it. 
Bring a waterproof jacket/ umbrella. It's London- it rains!
If you are not from the UK you should remember to look right when crossing a road. 
Choose public transport over a taxi. It is way cheaper and you will get where you need to go much faster. 
Eating and drinking during your 7 days in London
London is massive and you honestly have so many places to choose from when it comes to eating and drinking. If you are spending 7 days in London we recommend that you explore a different area each evening. Some of our favourites include:
Camden
We highly recommend spending a bit of time around Camden as part of your 7 day London itinerary. The World's End is a must when visiting. It is somewhat an institution in London and attracts an eclectic crowd. It is genuinely one of those places that you feel that everyone is welcome. 
Another favourite, particularly if you love indie music is the Dublin Castle. It is a live music venue/ pub with great music and chilled out vibes. 
Covent Garden/ Chinatown
If you are after something a little more upmarket Covent Garden is a great night out. With a mixture of pubs and cocktail bars you can never go wrong. We really like Eve which is a dimly lit cocktail bar serving some quirky cocktails in a sort of Garden of Eden type setting. Cocktails can be a bit expensive (£17 on average) but they are nice and it is a good place to stop by for a few drinks. You should book before visiting, especially if you are planning to go around 6pm/ 7pm as it gets very busy. 
Another quirky cocktail place is Mr Fogg's Society of Exploration. It is a speakeasy style bar with an around the world theme. Cocktails are grouped into location and there are quite a few to choose from. What we like about this bar is that it is a lot of fun without feeling pretentious. 
Our final recommendation of bars is Opium which is a little out of Covent Garden and situated in Chinatown. It is a 1920's Shanghai themed bar serving some tasty Dim Sum as well. You definitely should book a table if you want to visit although they do try to fit you in, you just might be waiting for a while. 
Best traditional food to try as part of your 7 days in London
If you are a first time visitor to London you might be wondering what traditional foods you should add to your 7 day London itinerary. Here are some of our suggestions.
Fish and Chips
I don't know what is more quintessentially British then a good serving of fish and chips with mushy peas. If you are going to give them a try the best fish and chips are found at your local 'chippy' takeaway and not a restaurant.
English Breakfast
Commonly referred to in the UK as a 'fry up', English Breakfasts are very popular and a must try if you are visiting London. It includes things like eggs, bacon, sausage, baked beans, fried bread, mushrooms, tomatoes, and black pudding.
A good old London Pub
One of the things London is famous for (and the whole of the UK for that matter) is of course the pub. Pubs in London can be traced back to Roman times, where they started the idea of the Tavern, a place visitors, importers, and soldiers could visit to quench their thirst. Ale was one of the more popular things brewed in the UK, which is another must try when you are in London.
There are so many pubs dotted across London, although one of the prettiest has to be the Churchill Arms in Notting Hill.
Pie and Mash
No 7 day London itinerary is complete without chowing down on some good old English comfort food. And Pie and Mash is certainly one that we recommend. Originating as a working class meal from the Industrial Revolution, a good Pie and Mash usually consist of a steak and ale pie, fluffy mashed potatoes, peas, and then a whole lot of gravy.
Food tours to add to your 7 day London itinerary
If you are wanting to add some food tours to your 7 days in London here are some suggestions.
British food tour
If you are struggling to find the best places to go to indulge in some British food why not do a food tour. There are so many different tours to choose from that all guarantee good food, and good company.
Historical Pub Walking Tour
A 7 day London itinerary is not complete without a visit to the pub. So a pub tour is a great way to experience some of the more historic pubs in the city.
More than 7 days in London
If you have a little bit longer in London or if you are wanting to explore a bit more of the UK as part of your 7 day London itinerary, you could do a day trip. Here are some of the best day trip ideas from London.
Oxford
Oxford is another good choice for a day trip. You can do an organised tour like this one that takes you to Oxford and the Cotswolds. Alternatively you can get to Oxford yourself by train in about an hour.
Surrey
Surry itself might not sound like the most exciting place to visit but it is home to Denbies, a wine estate with wine tours and accommodation. If you are thinking of a day trip here, there are some wonderful walking trails and of course some wine tasting at the end. It takes about 1 hour to get here by train with a 20 minute walk at the end.
Brighton
One of my favourite day trip options from London has to be Brighton. If you are looking for a beach escape this one is for you. On average it takes about 1.5 hours on the train to get to Brighton. This one is obviously weather dependant so try and plan this for a dry day.
What to pack for your 7 days in London
Depending on what time of year you are visiting London you will need to pack accordingly. In the winter months make sure you wrap up warm with a heavy coat, scarf, and gloves.
If you are visiting in summer London can get quite hot so carry a bottle of water around with you (especially on the Tube), and wear sunscreen. Summer evenings can be chilly as well so bring a light jacket.
In general it does tend to rain a fair bit in London so an umbrella is a really good shout when visiting London. Or you could be a super tourist in one of those giant rain ponchos!!! Also make sure you bring a good pair of shoes with you because you will do a lot of walking in London we can guarantee it.
Is London expensive?
Short answer yes, London is quite an expensive city. Particularly in comparison to the rest of the UK where you might find items are a lot cheaper. In fact we judge how expensive London is in terms of the cost of a pint of beer. It depends where you go in London but a pint can cost you around £5 and up whereas in other parts of the UK you can purchase a pint for £3 or less in some places.
That being said a lot of things in London are free. The museums are completely free, and even seeing a lot of the attractions is free. It doesn't mean you necessarily have to go in to them. The Tube can be costly and so is food and drink, but it also depends on how much you want to spend.
So, how much money do I need for my 7 day London itinerary?
You might be wondering how much money you need for your 7 days in London. In reality London is a pretty expensive city. To put it into context a mid-range hotel room around the 3 star mark will probably cost you upwards of £100 per night. And these rooms tend to be small, particularly the closer you get to central London. If you stay a little bit further out you can save a bit of money but anything that you do save in hotel prices will probably end up being spent on transport trying to get back into Central London.
The good news though is that in terms of other essentials like transport, with an Oyster Card the Tube is capped at £7.70 per day as long as you stick to Zones 1 & 2. In fairness most of the tourist attractions are within this area anyway.
Tourist attractions can also be a little pricey depending on what you want to do. For example, a ticket on the London eye will set you back around £36. Obviously, it all starts to add up.
We would recommend budgeting around £100 – £150 per person per day not including your accommodation. You can spend less if you avoid actually entering the tourist attractions. For example, the London Eye is still pretty cool to see even if you don't go on it. And you can further bring costs down by eating at cafes and local pubs as opposed to restaurants. Also as mentioned above do keep in mind there are tons of free things to do in London as well like museums and public gardens to help you save your pennies.
Speaking of money matters, London as well as the rest of the UK use Pound Sterling (GBP). We recommend carrying some cash on you for things like tipping, or emergencies, but you can get away with just using your credit card here too as most places will accept these.
If you do take out cash you will find that ATMs dispense notes such as £20 & £10. Although some may dispense £5 notes too.
 A £50 note is rarely used in the UK, and if you do find yourself with one, you might discover that a lot of places won't accept this. And if they do, they may examine the note, to make sure that it is real and not counterfeit. Don't take offense to this, this is pretty standard.
Coins are made up of Pence – and come in 50p, 20p, 10p, 5p, 2p & 1p. You will also come across £1 and £2 coins too. The £1 coins come in handy particularly for tipping, or paying for public bathrooms (as do the 20p).
So should I spend 7 days in London?
7 days in London is a really good amount of time to get to grips with the city, explore the vast majority of the tourist attractions, and basically have a really good holiday. London is such a fascinating city, and there is basically an endless number of things to do. We have visited so many times now, and find something new and exciting to do each time we go. It might be expensive and overwhelming at times, but London is one of the greatest cities in the world, and we absolutely recommend visiting.
7 days in London – a recap
Hopefully this guide will help you plan your own trip to the British capital and has answered your questions about what to do in London in 7 days. It really is an incredible city with so much to see and do. and if you plan ahead you will be able to cover a lot of ground in a week.  Don't forget to Pin this 7 day London itinerary for later.