We recently returned from a trip to Marseille. We found some cheap flights, good accommodation, and started to get excited about our trip to the South of France. But then I started to read up about Marseille, and it left me with so many questions like is Marseille safe, and is Marseille worth visiting? If you are in a similar position and not sure if you should book your trip to the French city, then this guide is for you. We go through our experience in Marseille in detail to help you decide if Marseille is worth it!
Disclaimer: This post contains affiliate links, so if you use these links to buy something we may earn a commission, at no cost to you. Thank you for your support.
Before we answer the question 'Is Marseille worth visiting' here is some background
Marseille is the second most populated city in France after Paris. Located in the south of the country it is a port city and has a long history of immigration and trade since it's foundations in around 600 BC. This also makes it the oldest city in France.
Marseille is part of the French Riviera, although is probably not one of the more popular Riviera spots likes Cannes or St Tropez. That being said it has a number of tourist attractions and bustling food and drink scene. It also became the European Capital of Culture in 2013, which has helped elevate the city into a popular travel destination.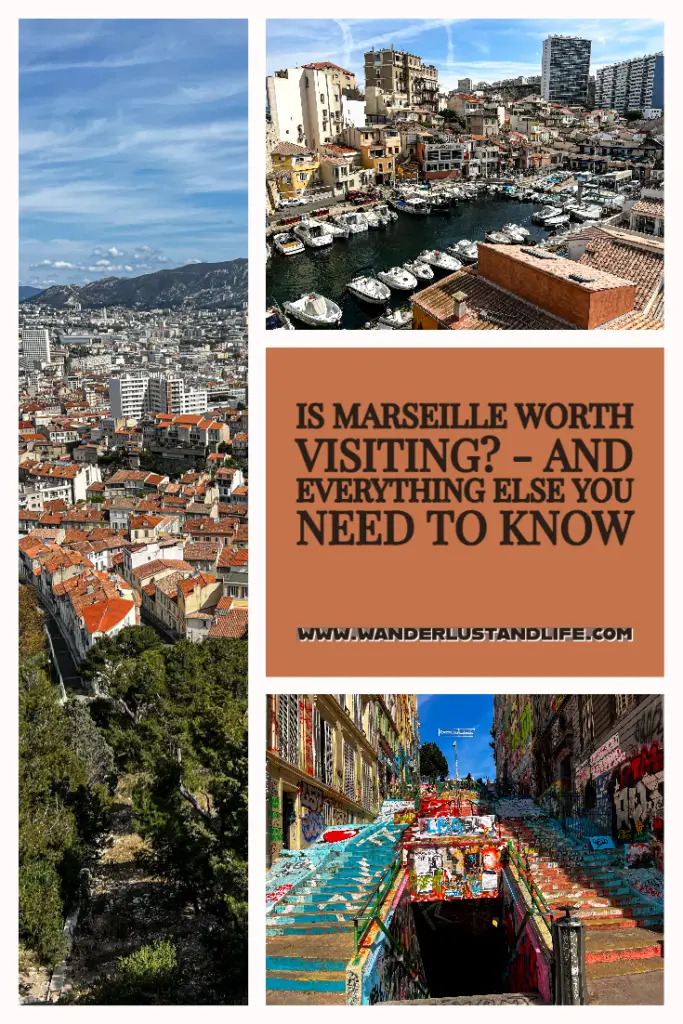 Is Marseille expensive?
We didn't find Marseille particularly expensive by European standards, but it wasn't super cheap either. Marseille is moderately priced which we were pleasantly surprised about because we assumed the French Riviera would be expensive.
For a mid range holiday which includes eating out, having a few drinks here and there, and visiting the key tourist attractions we would recommend budgeting around €95 – €100 per person per day. This doesn't include accommodation. For a 4 star hotel in the Old Port area you are looking at around €200 per night.
A meal for 2 at a nice restaurant with wine set us back around €80, whilst a glass of wine on average is around €5. Marseille might not be as cheap as places like Lisbon or Prague but also not as expensive as Oslo or Copenhagen.
Do I need cash in Marseille?
The vast majority of places in Marseille will allow you to pay with your credit or debit card. If you wish to pay with Amex you should check with staff as not all places accept this. The only time we really needed cash was to pay for the bus or to tip at a restaurant. In which case we do advise carrying some cash with you – but not a lot.
What language do they speak in Marseille?
The official language in Marseille is French. And honestly it will help you a lot if you learn some basic words. There is a real tendency for people here to speak French to you, as opposed to English. Which makes complete sense because obviously it is France after all, but in other countries we have visited like Croatia or Germany people don't mind speaking English with you if they can.
Try to at least great people in French with a Bonjour (before 6pm) or Bonsoir (after 6pm) and don't just expect people to speak English to you. It's also super useful to learn what different foods are in French. For example le poussin is chicken and poisson is fish. A lot of the menus we came across were completely in French so some of it was a bit of a guessing game, but we managed as we (well mostly Dave) has some basic French.
Is Marseille easy to get to?
Marseille is an easy enough city to get to. For starters there are a number of European and International Airlines that fly to Marseille. You also have a number of low cost European carriers like RyanAir and EasyJet that fly here.
Once at the airport the quickest way to get to town is to get an Uber. It's around 20 minutes driving and will set you back around €40. We would recommend this option if you are arriving late at night, as your other option is a bus that takes you to Saint Charles train station which can be a bit sketchy.
The bus is a lot cheaper though at €10 per person and takes about 30 minutes depending on traffic. Just remember that you still need to make your way to your accommodation from here.
How long should I spend in Marseille?
We found that 3 days in Marseille was a good amount of time to explore the city, see the sights, and indulge in some incredible food. Travelling around Marseille to the key attractions is quick and easy so you won't have to spend a long time travelling. If you are planning some day trips especially to the Calanques National Park then you might need a little bit longer, otherwise 3 days should be enough.
Is Marseille safe?
One of the questions we had when planning our trip was is Marseille safe. We had heard a lot of horror stories about visiting Marseille. But I really started to feel nervous when everyone I spoke to about our upcoming trip commented on how rough the city is.
In our experience visiting Marseille was no worse than certain spots in Rome or Paris. Yes there were some areas that made us feel slightly uneasy, but if you stick to the main tourist spots you should be ok. We also took a lot of precautions when visiting. For instance it's probably advisable to avoid walking around at night alone, and research the areas you plan to visit thoroughly. The northern neighbourhoods in Marseille are generally a no go, but again do your research before you visit.
Pickpocketing is another big thing in Marseille, particularly in tourist spots like the Old Port. Have your wits about you, keep your belongings close, and avoid walking around alone late at night, and you generally should be fine.
Try not to let stories of safety put you off visiting. It really is a beautiful city. Yes there were a number of people sleeping rough, and yes there were times when we saw some shadier characters to say the least, but we never felt unsafe. We took precautions, perhaps more so than other European trips, and we were fine.
Is Marseille worth visiting compared to other French cities?
Marseille definitely has its own vibe and culture. It's also very different to other French cities we have visited. It's slightly cheaper than other French Riviera cities like Nice, and has a bit more of a urban grunge and bohemian feel. The beautiful port, and various beaches also make it a great alternative to Paris. All in all we think Marseille is worthy of being added to your French bucket list.
Can I use public transport in Marseille?
Public transport is quite easy to use in Marseille particularly if you also have GoogleMaps to accompany you on your trip. The three main modes of public transport are trams, buses, and the metro. You can purchase tickets at tram stops or at the metro station. You can also purchase tickets from bus drivers directly but you do need cash for this.
Make sure you validate your ticket when you board any public transport. You can transfer onto any mode of public transport within an hour.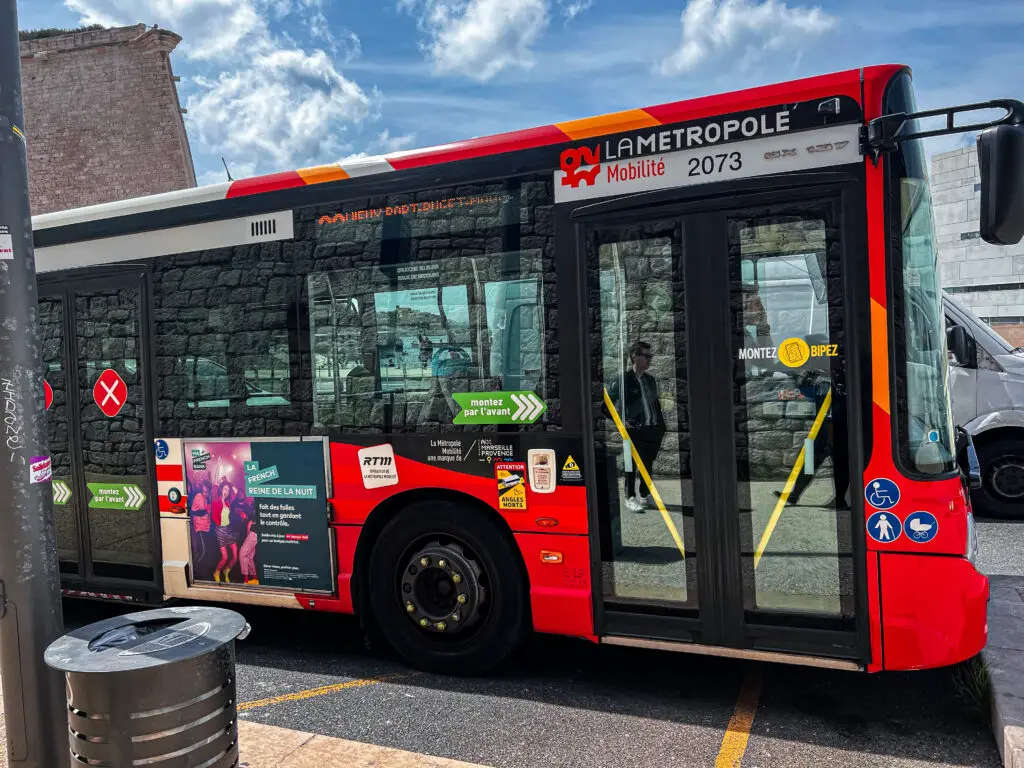 What is there to do in Marseille
You might be wondering is Marseille worth visiting for the attractions alone. We found that there was so much to see and do in Marseille. Here are some of our favourites to help you plan your own trip.
Vieux Port
Vieux Port is the beating heart of Marseille. Once a prominent trade and immigration centre, it is now a popular tourist spot. There are several cafes and restaurants serving French Cuisine and seafood that surround the port, as well as an early morning Fisherman's market. If you want to book any boat tours this is also the best place to do it.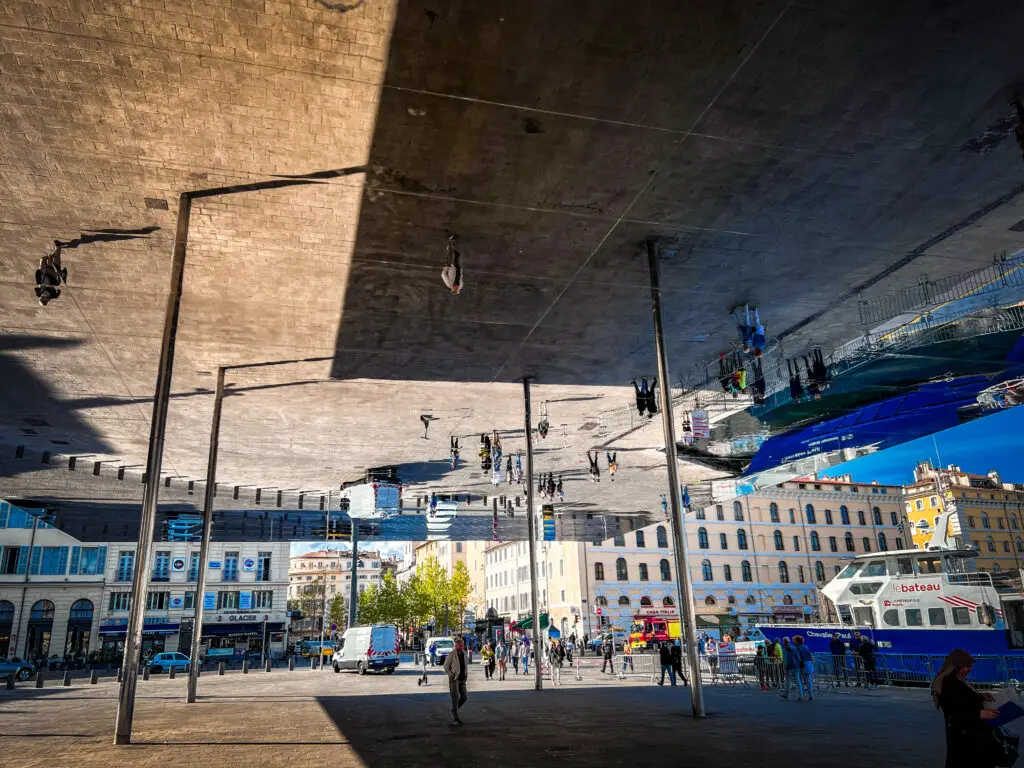 Petit train de Marseille
One of the quirkier ways to see Marseille is to hitch a ride on the Petit train de Marseille. There are 3 different routes that you can choose from that will take you to different parts of the city.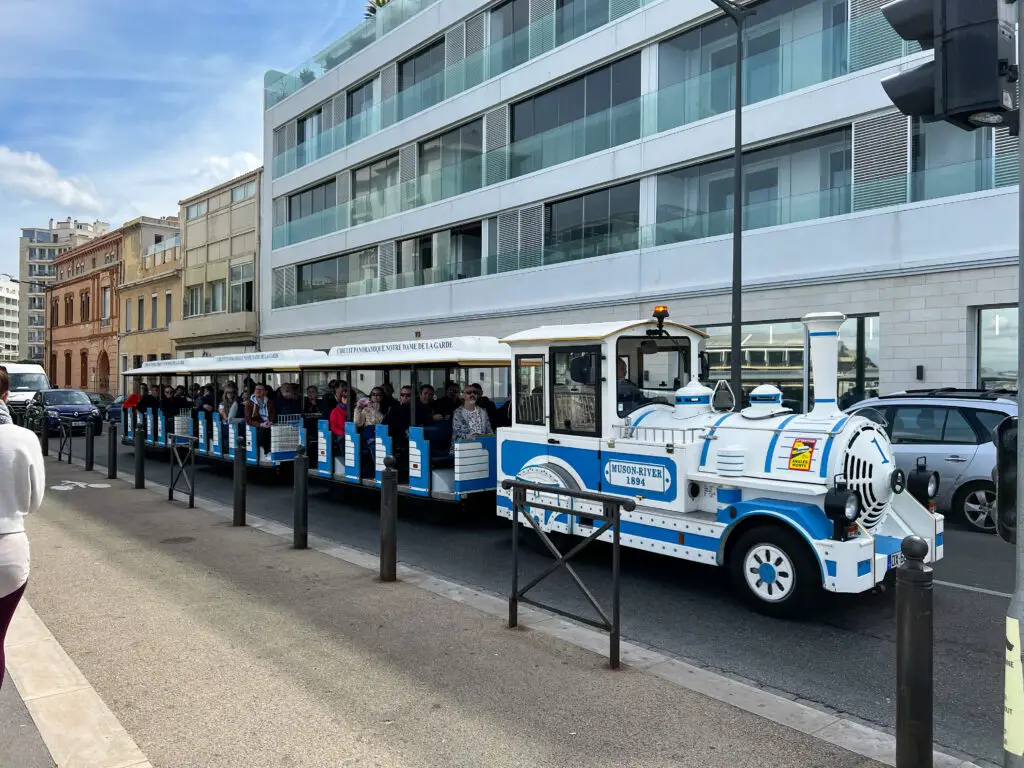 MuCEM
The MuCEM is one of the top attractions in Marseille, located near the Old Port area. It is an architectural delight, but also a museum dedicated to 21st century civilisations and Mediterranean culture.
Cathédrale de la Major
Another attraction near the Old Port area is the Cathédrale de la Major. It was actually built in the 19th Century which is quite late as no other cathedrals had been built for 200 years. The design was thought up to represent the multiculturalism of the city with Oriental and Roman elements. The cathedral is free to enter, and is a nice place to visit for a bit of a break from the hustle and bustle of the city.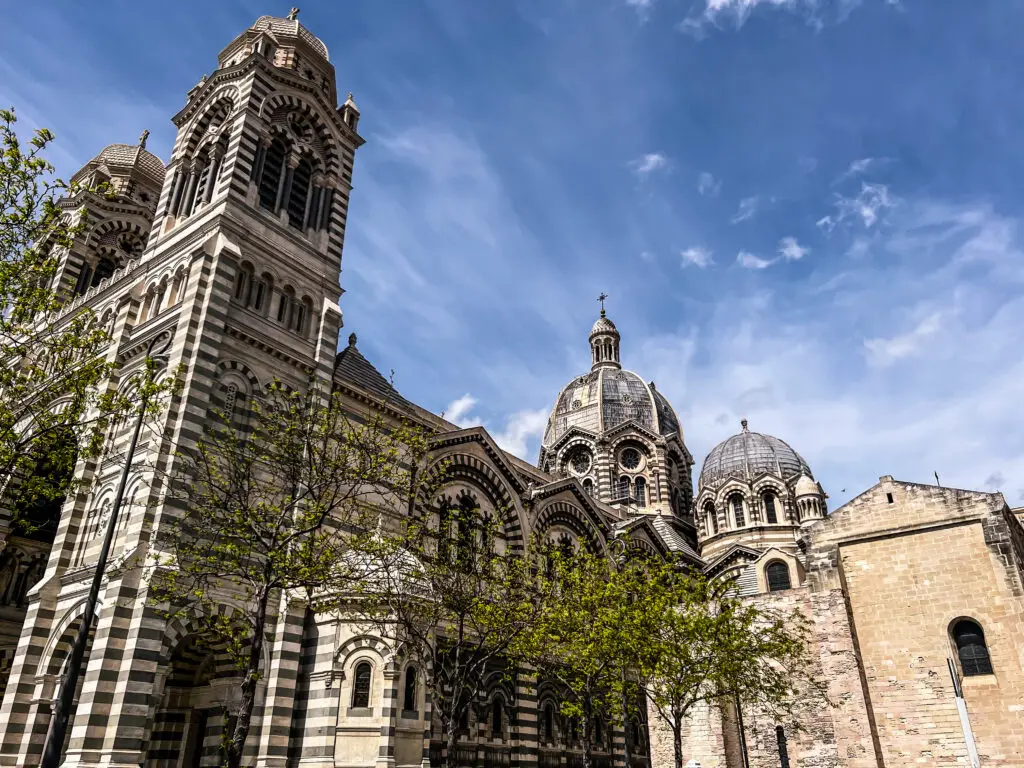 La Corniche
A walk around the La Corniche area in Marseille is another must when visiting. It's a 3 km walk from Catalan beach to Prado that has some of the most exquisite views and landscapes in Marseille. Along the way you will pass many beautiful beaches, mansions, and fishing ports. There are also some pretty amazing restaurants along the way.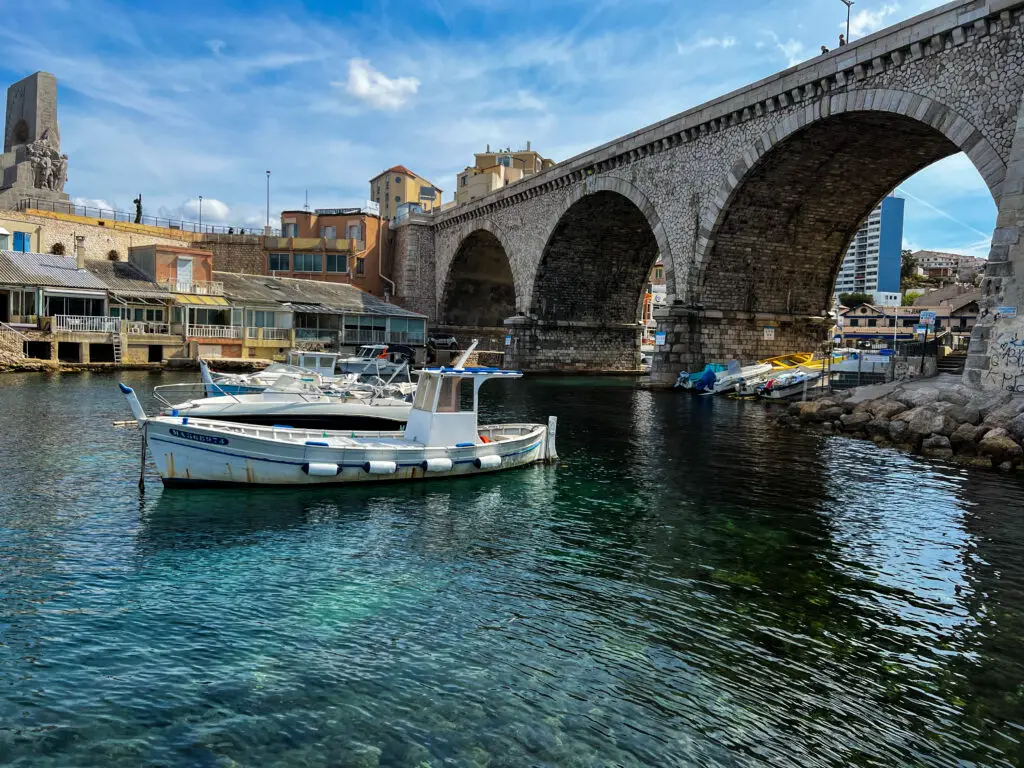 Vallon des Auffes
Vallon des Auffes is one of the most beautiful spots in Marseille. It's a traditional fishing spot with several restaurants, and cafes in the area. If you have the time grab some lunch at one of the establishments and enjoy the views.
Le Panier
If you love quirky shops, picturesque cafes, and narrow graffiti filled alleyways then a visit to Le Panier is a must. You could honestly spend hours getting lost here. It is also a great place for food and wine.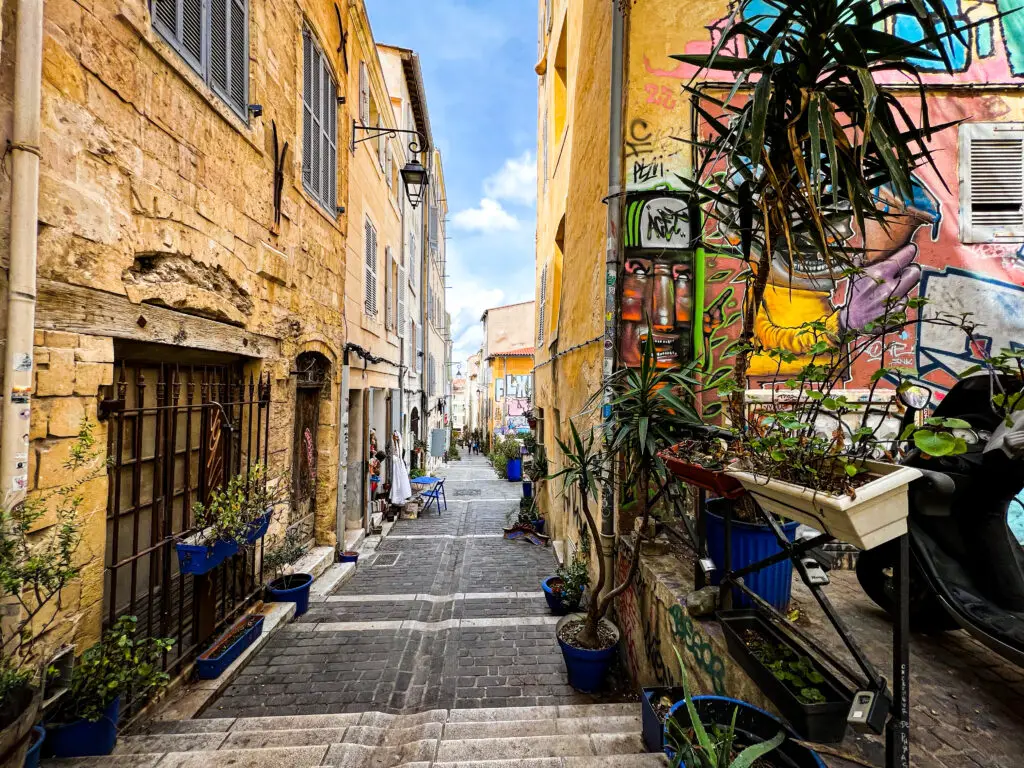 Cours Julien
Another trendy neighbourhood that you should explore is Cours Julien. It's the hip arty district in Marseille with second hand stores and cool cafes by day and vivacious bars by night.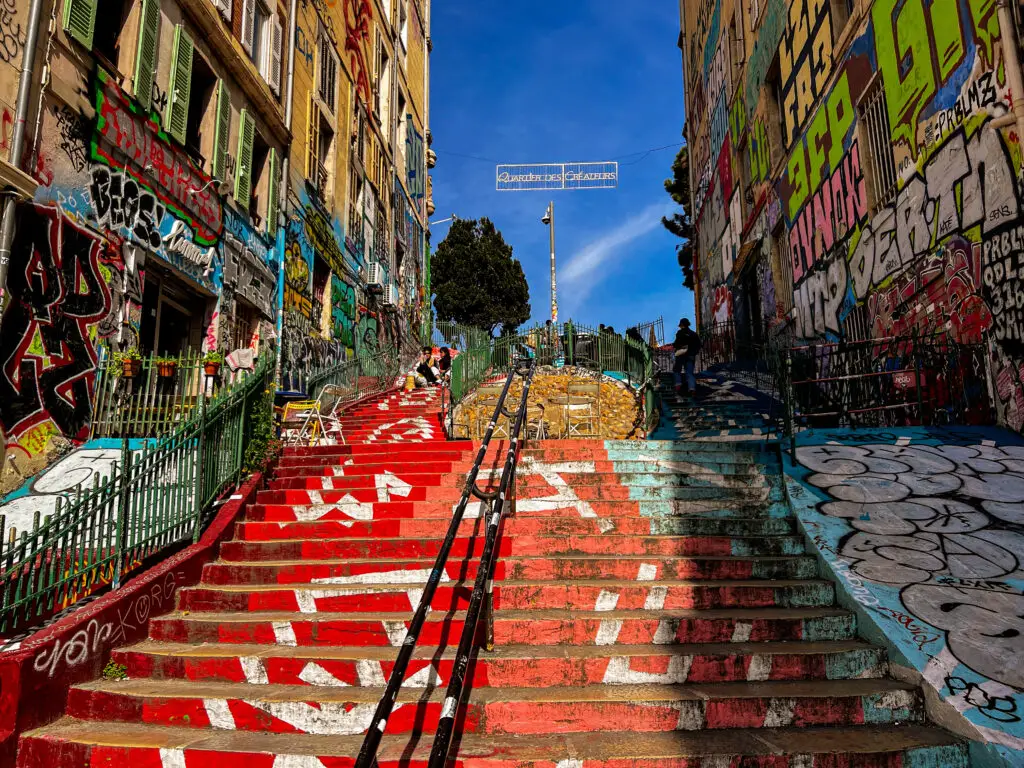 Basilique Notre-Dame de la Garde
The crowning jewel of Marseille is the Basilique Notre-Dame de la Garde. Located at the top of a very steep hill this basilica is the symbol of the city. Entry is free and well worth your time. And if you aren't into religious buildings the views from the outside over Marseille are incredible on their own.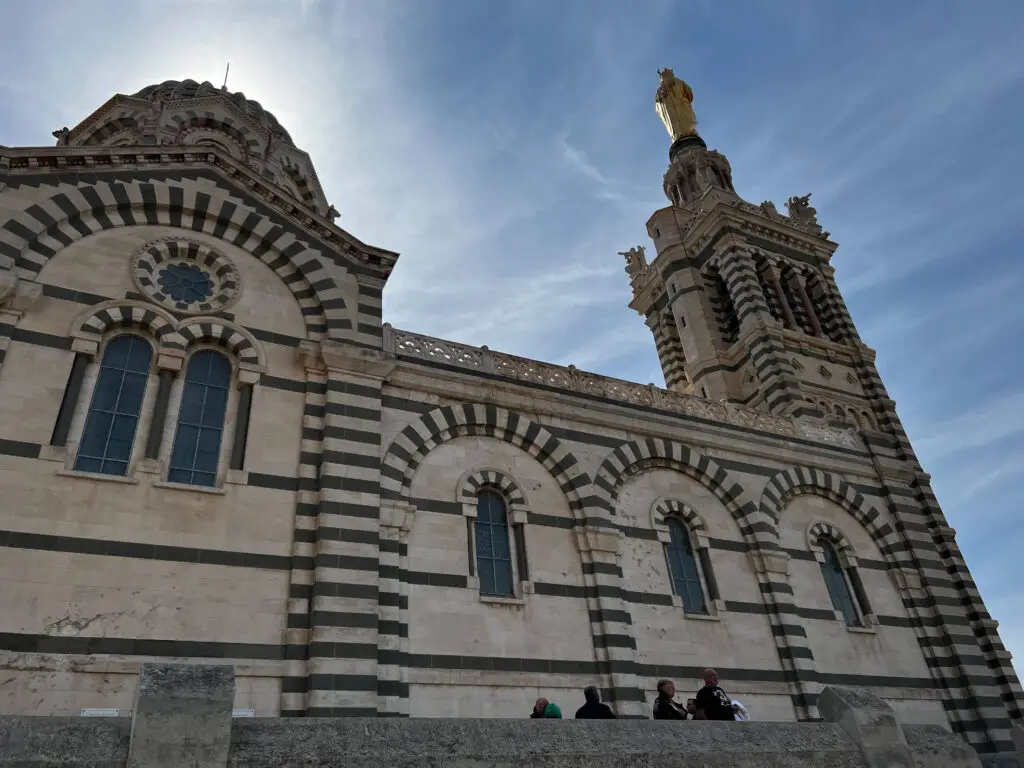 Palais Longchamp
You would be forgiven for thinking that Palais Longchamp has anything to do with royalty as it is quite a grand piece of architecture. It was however designed to bring water into Marseille after a 1835 cholera outbreak.
To the left of the fountain is the Museum of Fine Arts. It was founded in 1801 and is the oldest museum in Marseille. And to the right you have the Natural History Museum.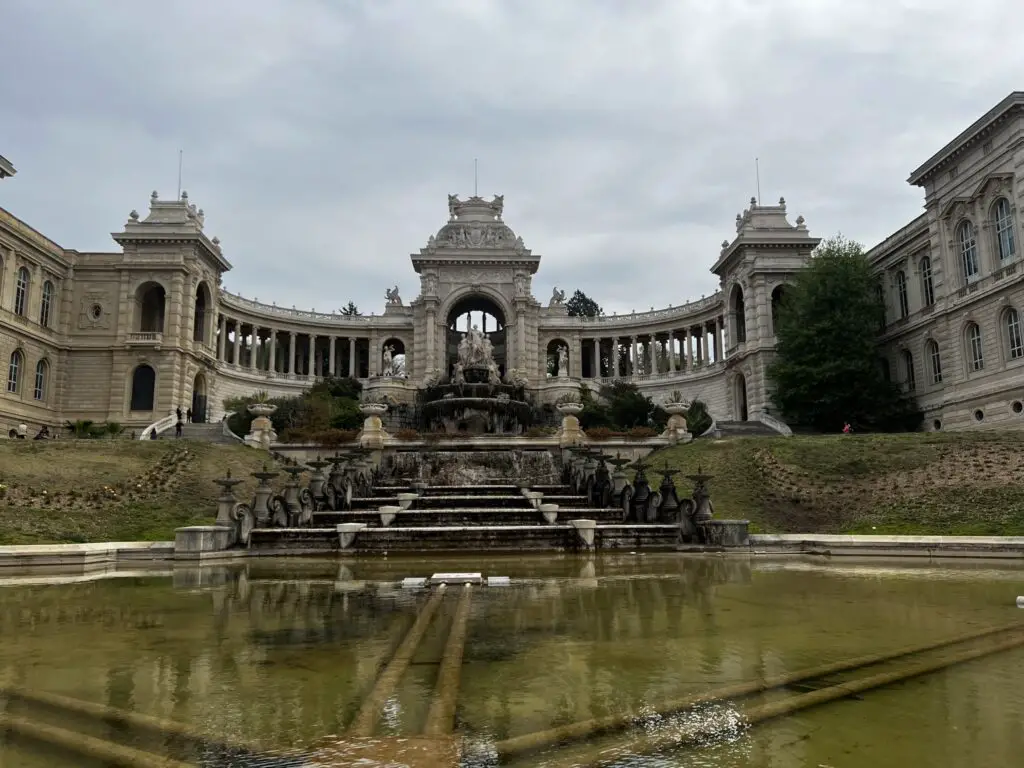 Château d'If
If you are a book lover or are interested in history you should try to make time to visit Château d'If. Originally built to protect Marseille, it also served as a prison in 1540. The famous book The Count of Monte Cristo has a few chapters where the protagonist is imprisoned at the Château.
To get to the island you will need to book one of the boat tours departing from Vieux Port. It takes around 20 minutes to cross, although boats will not depart during rough seas.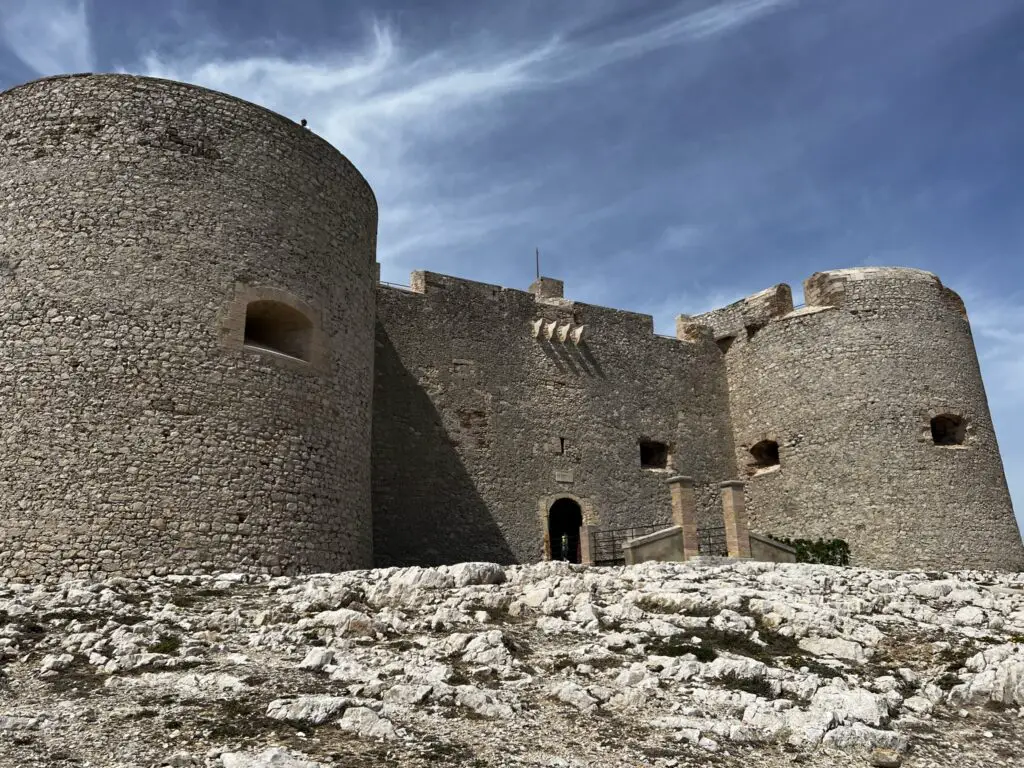 L'Estaque
If you love the beach head to L'Estaque, which is popular with locals. It's great for relaxing or bringing a picnic with you. There is a village here too which has some great food, although it is a bit of a walk from the beach area.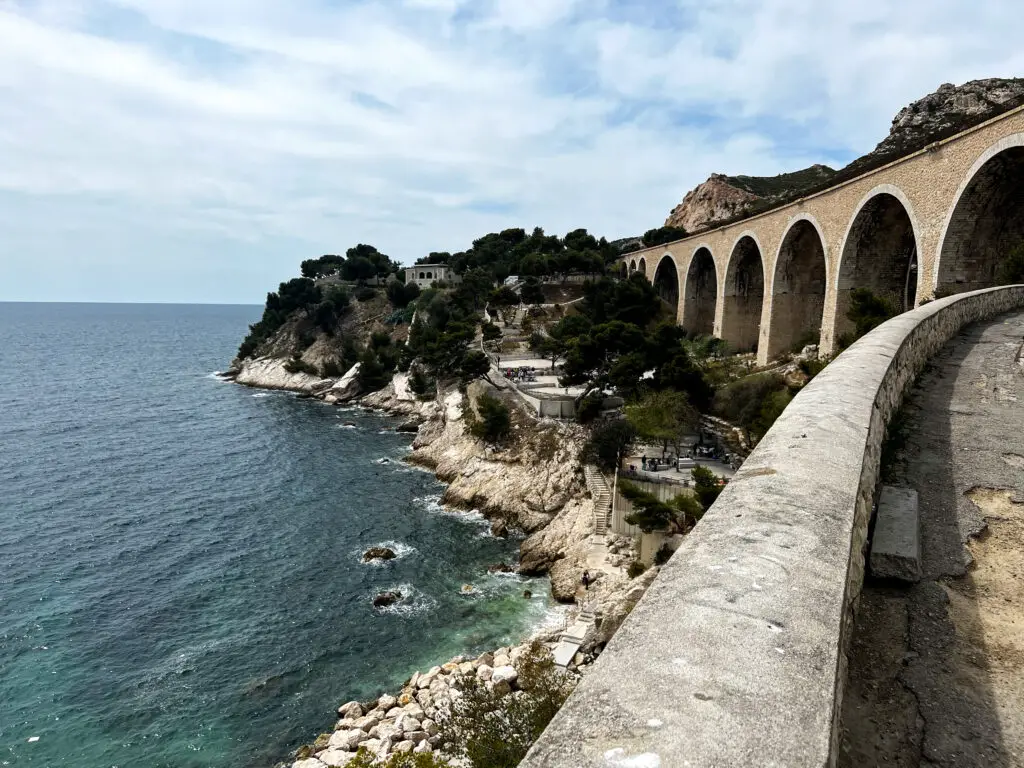 Plages du Prado
Located on the south side of Marseille is Plages du Prado. An artificial seaside development with rides, restaurants, and bars. It's a great place to take the kids and enjoy the sunshine.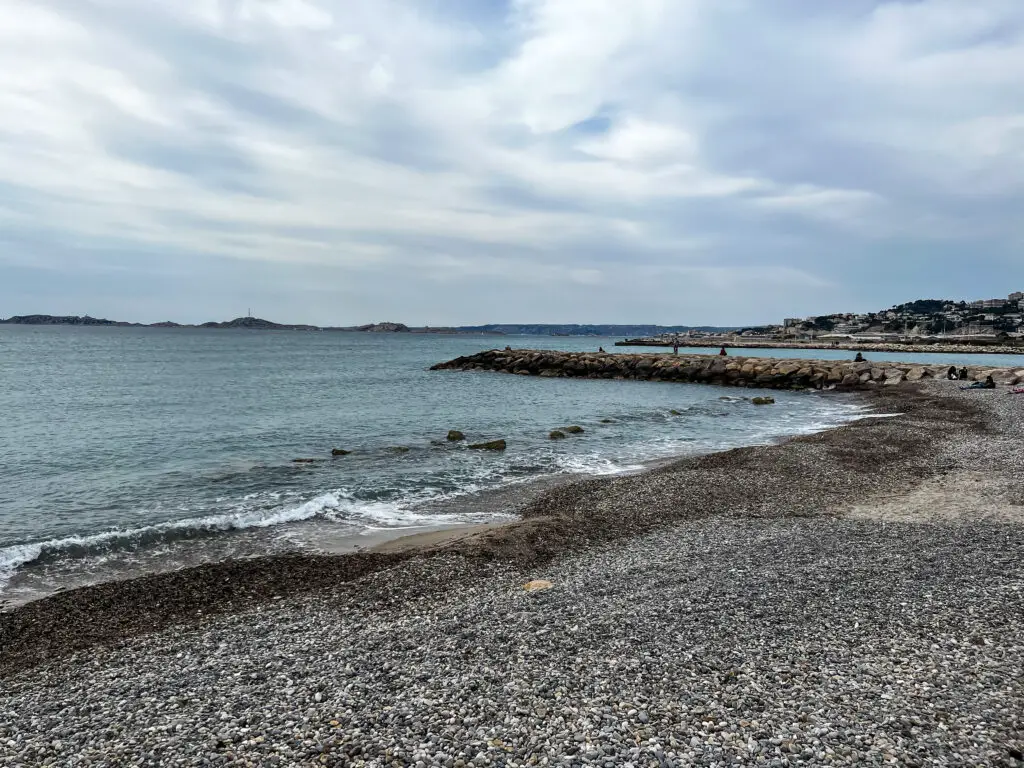 Is Marseille worth visiting for solo travellers?
If you are a solo traveller visiting Marseille as a general rule you should be ok visiting. I think that you definitely should take precautions though. Try to avoid walking alone at night, and get a taxi over public transport – particularly the metro. Stick to well lit tourist friendly areas, and try not to look like a tourist would be our advice.
Is Marseille worth visiting for couples?
We visited Marseille as a couple, and we definitely think Marseille is worth visiting for couples. You have so many great places to eat and drink – making it perfect for date nights. There are also some gorgeous areas like Le Panier and Vallon des Auffes that are perfect for exploring as a couple.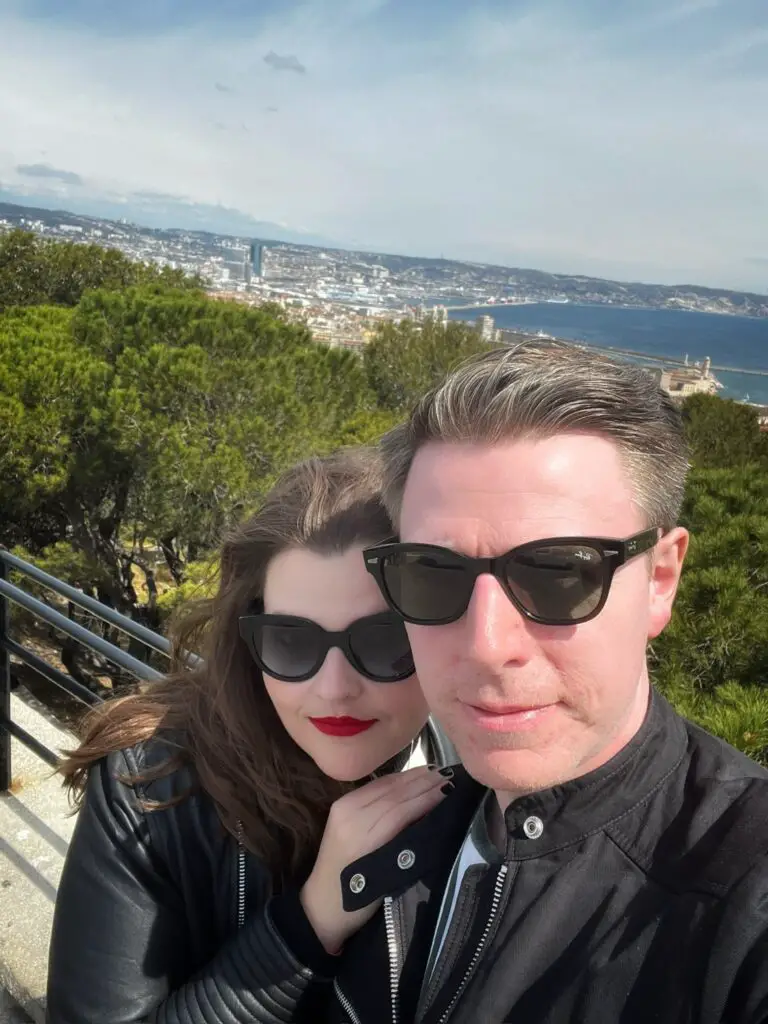 Is Marseille worth visiting for families?
We wouldn't say Marseille is necessarily a kid friendly place – or at least no more so than Paris or Rome. There are a number of tourist attractions and museums that are great to explore as a family. We noticed a lot of young families on the Petit train de Marseille and the boat over to the Château d'If so it is absolutely doable. The beaches especially Plages du Prado are another great family area. That being said if you want a chilled family holiday there are probably better places in the south of France to visit but I wouldn't discount it either.
Is Marseille worth visiting for foodies?
We were very pleasantly surprised to find that Marseille was a fantastic city for culinary delights. The food scene has a lot of international influences, and you can find a lot of really decent Middle Eastern and African food in Marseille.
Marseille is also famous for bouillabaisse which is a garlicky fish stew. Just make sure you research the best places to eat it. Anything under €60 for bouillabaisse is not worth your time!
We found that Marseille was full of really authentic restaurants with great food and great drinks at really good prices. Try to avoid eating anywhere with an English menu. The best and most authentic places usually have a french menu on the wall and only a few specialties.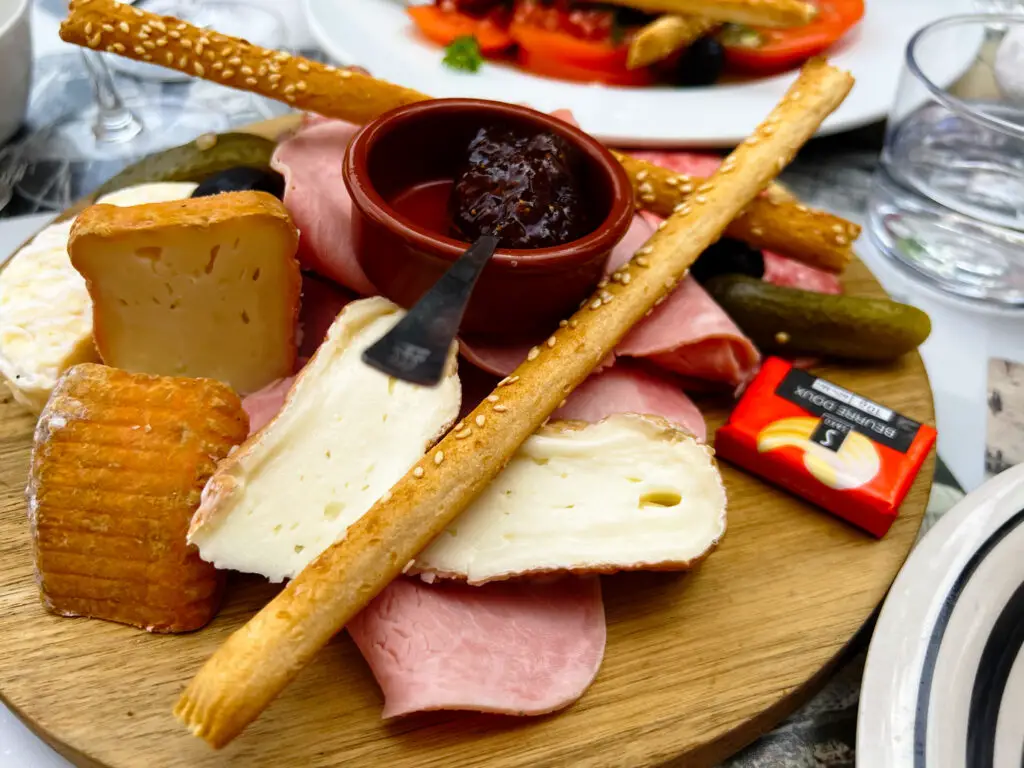 Is Marseille worth visiting for the nightlife?
Whilst it might not compare with Paris, the nightlife in Marseille is still pretty vibrant. One of the best late night areas is Cours Julien as there are several quirky bars in the area to enjoy. We aren't into clubbing so can't really comment on that but in terms of bars there was a lot of choice in the city. Most places tend to have these amazing outdoor spaces perfect for the summer months.
Is Marseille worth visiting for nature lovers?
Considering Marseille is a city, you will need to go a bit further out to enjoy some of the natural beauty on offer. The Calanques National Park nestled between Marseille and Cassis is a great place for nature lovers. It's perfect for hiking or swimming with crystal clear water and postcard worthy views.
Is Marseille worth visiting for history buffs?
Marseille is actually the oldest city in France, so it is a must for history lovers. From Phocaean settlements, to its long history with trade and immigration Marseille's history is truly fascinating. You should make the time to visit the MuCEM, Château d'If, Palais Longchamp, as well as historical neighbourhoods like Le Panier to get a real understanding of the history in this city.
Is Marseille worth visiting in the summer?
The summer months in Marseille are peak tourist season. It is the perfect time for hitting the beaches, partaking in water activities, or just lounging around with a cocktail. Temperatures range from 23 – 30 degrees celsius although temperatures tend to be manageable. Traditionally a lot of locals tend to leave Marseille in the peak summer months for cooler northern climates, but tourists still flock here in the droves. If you are planning to visit in summer just remember to book your accommodation well in advance.
Is Marseille worth visiting in the winter?
Winters in Marseille are quite mild ranging between 5 and 13 degrees celsius. It very rarely gets below zero, although it can be wet and windy. It's low tourist season too, so if you want a cheaper holiday then winter might be your best bet. There are still a lot of things to do in winter like visit the museums, or stroll the gorgeous streets of Le Panier, just make sure you dress warmly. We would be more inclined to not visit in winter, but that is because for us a huge part of the charm of Marseille was walking along the coastline, and sipping drinks in the sunshine. But it depends what kind of holiday you want to have.
What to pack when visiting Marseille?
Apart from your standard travel items here are some packing suggestions for visiting Marseille.
Layered clothing
A light jacket in summer as it does get cool with the wind, especially at night
A warm coat in the winter
Sun protection like sunglasses, sun cream, and a hat
Lip balm – it's very windy!
Comfy walking shoes
A cross body handbag with zips that you can keep close to you
What should I know before visiting Marseille?
Here are some things we think you should know before visiting Marseille.
Know some basic French especially around food as most of the menus we encountered were in French.
Try to avoid places with 'English menus' as the food won't be great.
Also be picky where you try the bouillabaisse anything under €60 for the dish makes it inauthentic.
Research the best areas to visit in Marseille as particularly in the northern parts it can be slightly dangerous.
Carry some cash on you especially for bus fare.
Do not criticise the Olympique de Marseille – they take football seriously here.
Book a table if there are particular restaurants you want to eat at – it does get busy.
Be careful walking around at night by yourself certain parts of the city can be sketchy.
So Is Marseille worth visiting?
So you are obviously wondering is Marseille worth visiting. Personally we think it is. We genuinely felt anxious wondering is Marseille safe and yes it is rough in parts, but if you have your wits about you it is very much worth visiting. There are some truly beautiful parts of the city that deserve to be explored and we highly recommend you do. If you love food, sunshine, and street art Marseille is the place for you.
We hope this article has been useful for you and you are no longer wondering is Marseille safe or expensive. And if it has helped make sure you pin it for later!