This post contains affiliate links, so if you use these links to buy something we may earn a commission, at no cost to you. Thank you for your support.
So you want to spend 1 day in the Lake District. We think this is a must if you are planning a trip to the UK. Known for its incredible beauty, rugged mountains, and quaint villages, you will never find a shortage of things to do here. In this post we help you plan a Lake District Day trip, including how to get here, where to eat, and what to see. This itinerary includes scenic gardens, lakeside walks, caves, and boat rides, as part of our recommended 1 day Lake District itinerary.
About the Lake District
The Lake District is an area of outstanding beauty, and the largest national park in the UK. It contains around 16 lakes (with way more Tarns or small pools), and 150 high peaks, which includes the tallest mountain in England, Scafell Pike. It is also a UNESCO World Heritage site, and attracts tourists from all over the globe. The Lake District has inspired several writers and poets with its incredible landscape including Beatrix Potter and William Wordsworth.
Planning your Lake District day trip
For a Lake District day trip, you want to pick a specific area of the lakes and stick to it. The area itself is bigger than you would think and it does take time to get between the towns and villages. Also the roads can be quite narrow and winding so you will need to factor that it. In this guide because we were driving from Manchester to we chose to stay around Windermere and Ambleside for our Lake District day trip.
Is a Lake District day trip enough?
Because we live in Manchester, a Lake District day trip is pretty doable for us. The drive is around 2 hours, and it gives us a good amount of time to explore for the day. That being said if you are coming from further afield, you might want to stay a little longer, because there is so much to see and do. Here is a 4 day Lake District itinerary to give you some ideas if you do have more time.
1 day in the Lake District – how to get here
Now that you have decided to plan your Lake District day trip you might be wondering how on earth you get there. If you do only have 1 day in the Lake District then realistically you want to drive. From Manchester you will need to take the M61 and M6, and you should get to the Lake District in around 2 hours. We highly recommend leaving early because traffic can be a bit of a nightmare during peak times. The good thing is that when driving in the UK you will find the motorways very well signposted, so getting to the Lake District is relatively easy.
You have the option to get the train as well, but again if it is a day trip you are hoping to do it might be more difficult with the trains. There is a regular train from Manchester to Oxenholme, in the Lake District, but from here you do need to change to get to your onward destination. Also the train station in Windermere for example is a bit of a walk to the actual Lake so keep that in mind as well.
Alternatively for your 1 day in the Lake District you can book yourself onto a pre-organised tour.
When to arrange your 1 day Lake District trip
When planning your 1 day in the Lake District you might be wondering what time of year is best to visit. Personally we think that the Lake District is beautiful year round. But there are some pros and cons to each season. For starters, the weather is obviously going to be better in summer, and the days are longer meaning you can stay out later when hiking or exploring. But summer is also peak season. Accommodation tends to be booked out particularly in August during school holidays. Traffic is also slightly worse, particularly in and around popular spots like Windermere. If you only have 1 day in the Lake District you don't want to spend it stuck in traffic or queuing for attractions.
Winter tends to be way quieter, but keep in mind the days are much shorter and you might not be able to pack in as much as in the summer. That being said there is something really beautiful about walking around in the middle of a frosty winters day, and retreating to a pub with a fireplace and a hot meal to warm up. If you can plan your Lake District day trip for a crisp and dry day then I definitely wouldn't discount a winter trip.
We think the perfect time to visit the Lakes is either in Spring or Autumn. The bright floral hues of spring and the red leaves of autumn are a perfect addition to the incredible scenery.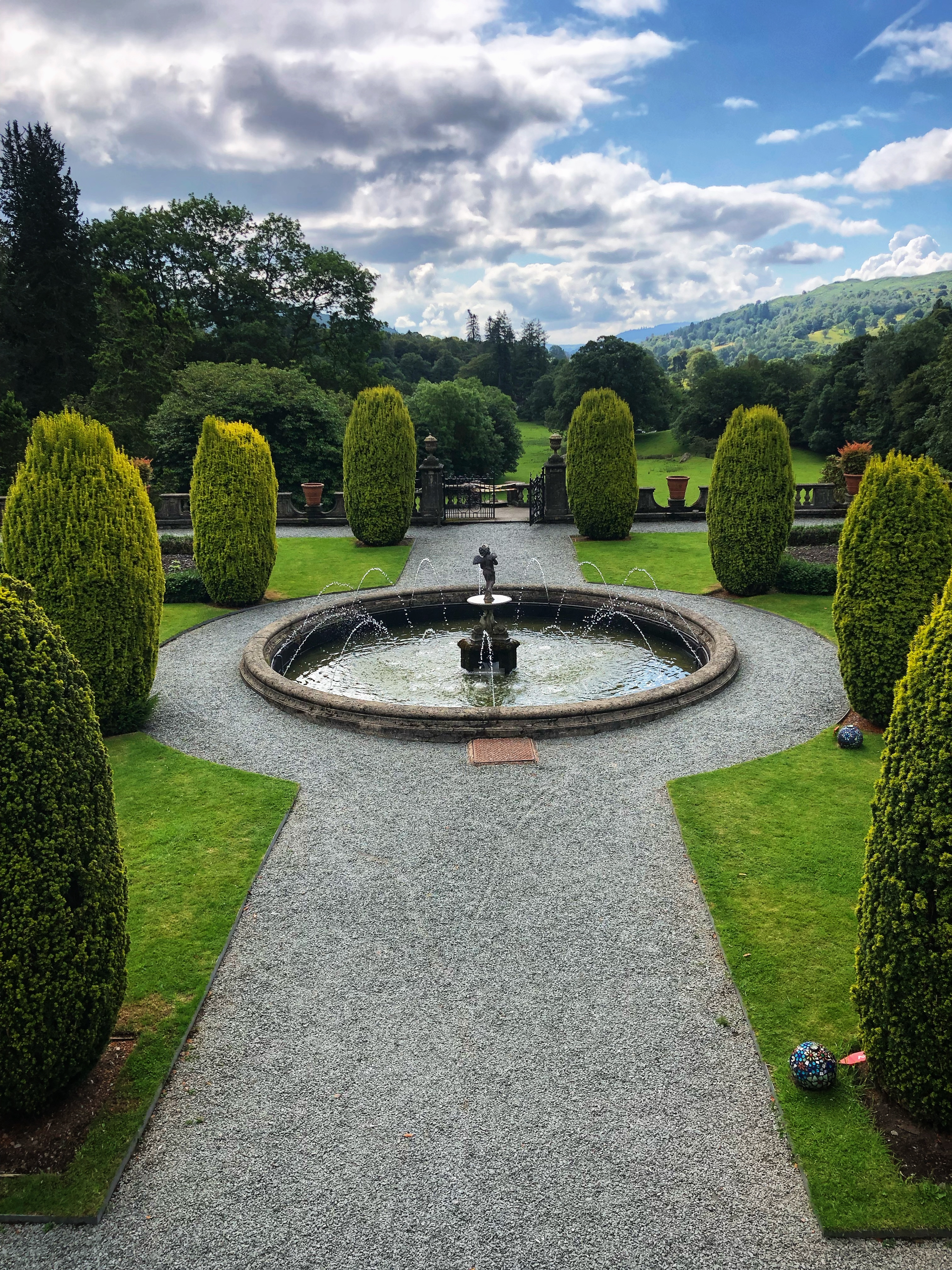 Lake District road trip advice
Realistically to make the most out of your 1 day in the Lake District you are going to want to drive. It is the easiest way to get to each attraction, especially if you only have 1 day to explore.
If you are visiting the UK we recommend having a read of this article with tips on renting a car in the UK.
Here are some of our tips for planning a road trip in the Lake District
Roads are narrow but generally in good condition making driving around quite easy
Keep an eye out for weather forecasts and road conditions, flooding can be quite common during the rainy season
Make a plan but don't pack things in too tightly as you may want to stop at a hidden gem you discover along the route
Be prepared to pay for parking, particularly at the more touristy places
You do get a lot of winding roads so take care around corners as to avoid oncoming traffic
Always follow the speed limit but do not feel pressure to do the maximum speed. Sometimes locals may get frustrated when you don't do the max speed on the roads. Obviously they are used to the roads so don't feel pressure to speed up. Try and pull to the side if it is safe to do so and let them pass you.
Where to go for your 1 day in the Lake District
Now that the formalities are out of the way here are some of our favourite places to help you plan where to go on your Lake District day trip.
Bowness-on-Windermere
Bowness-on-Windermere is a must when you only have 1 day in the Lake District. It is located on Lake Windermere which also happens to be the largest of the lakes. We recommend making it your first stop on your Lake District itinerary because it is very touristy and if you want to beat the crowds (particularly in the summer months) you need to get there early.
Bowness is a great place to explore and we highly recommend taking a walk around the water and taking in the scenery. It is also worth popping into the shops especially if you have a sweet tooth as you will find all sorts of tasty treats like fudge and mint cakes. We ended up buying some bird seed so that we could feed the swans although they did get a little too excited when they saw us walking around with our brown bag full of food! It basically resulted in me being chased by a swan who then grabbed the bag and gobbled up all the seeds.
Practicalities
There is a lot of parking at Bowness though you will need to pay. It's also easy to get here at it is heavily signposted.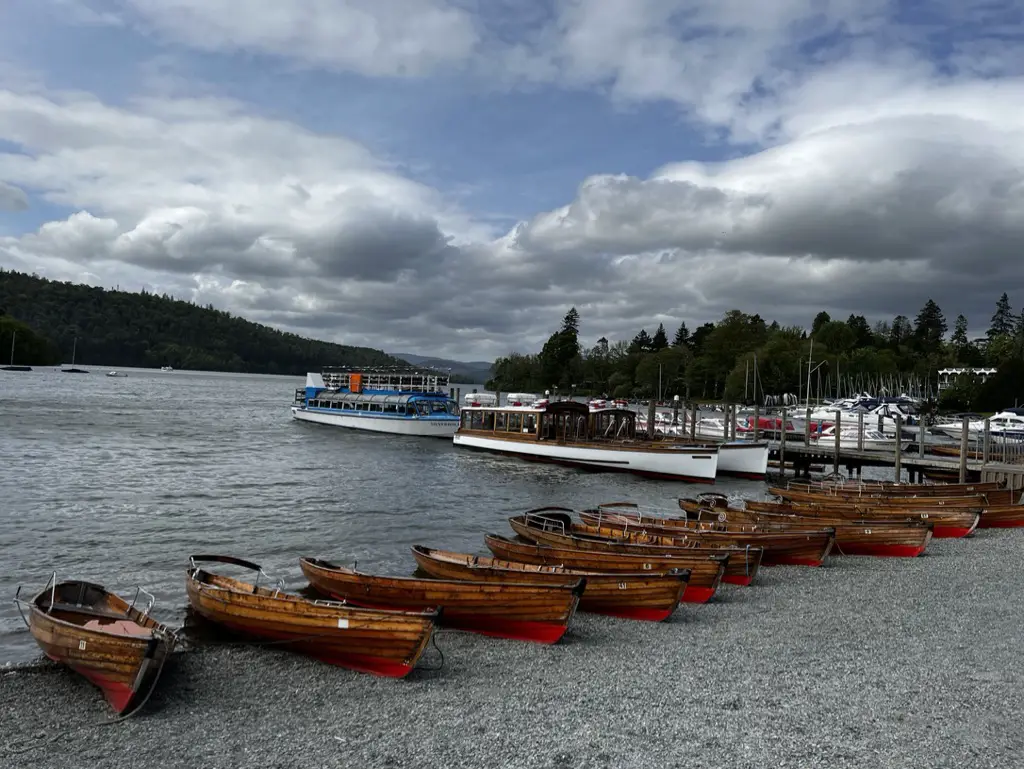 Lake Cruise
A visit to the Lake district would not be complete without doing a lake cruise. At Bowness there are a variety of different cruises you can choose from, or if you are feeling more adventurous you can rent a motorised boat and do it all yourself.
We have visited the Lakes a few times and we have done both. The motorised boat was a lot of fun, but keep in mind it can be quite expensive and you have to return the boat within an hour(or within a set amount of time depending on how long you have agreed to rent it for). We also had a few close shaves with the ferries as we frantically tried to get out of their way.
The good thing with the cruise is that you can literally sit back, relax, and listen as someone tells you all about Lake Windermere. You can also get off the boat at one of the designated stops, explore, and catch the next ferry back.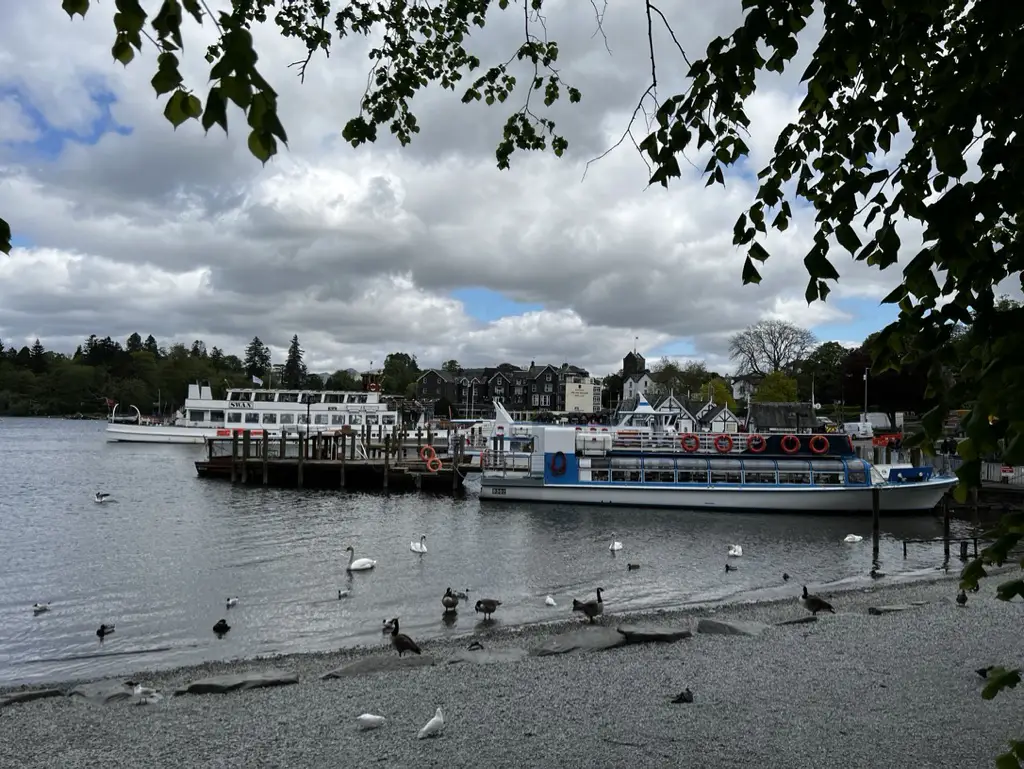 We did the 'yellow' cruise which is a 90-minute cruise to Lakeside and back. At Lakeside you do get the option to  also book onto the Steam Railway, which we do recommend, as the scenery is really beautiful. I'm conscious that this is a Lake District day trip itinerary, so if you feel 90 minutes is too long, then there are shorter cruises.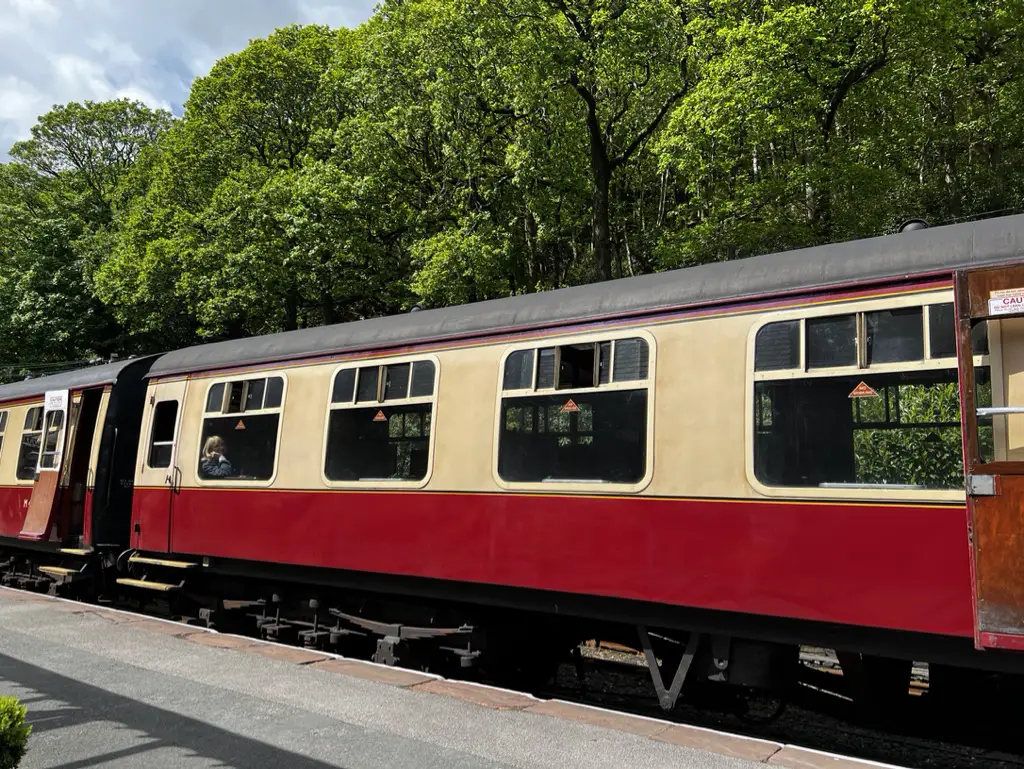 Ambleside
Also located along Lake Windermere is the town of Ambleside. Depending on which cruise from Bowness you choose Ambleside (Waterhead Pier) may be one of your stops. It's much quieter here than Bowness and it is really beautiful particularly if you are here when the sun starts to set.
Practicalities
The only downside if you are trying to explore Waterhead Pier is that there isn't a lot of parking close by. If you do manage to get a spot though it is worth the visit.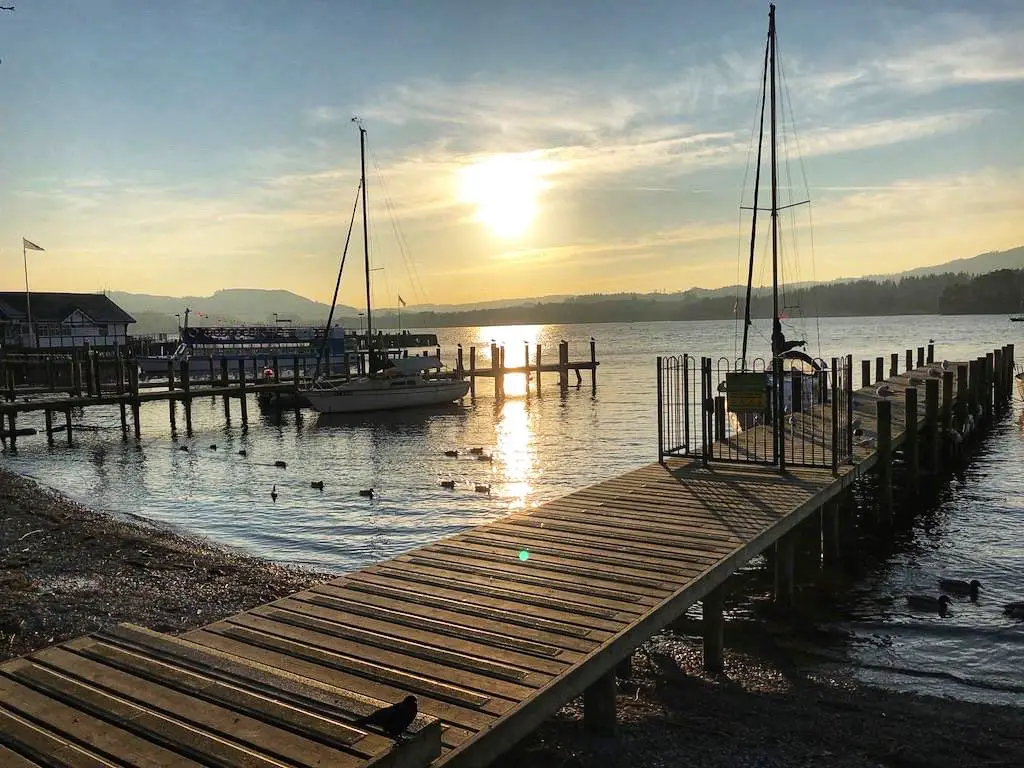 Rydal Hall
Rydal Hall is one of those hidden gems that you have to add to your 1 day in the Lake District. Or at least in our opinion. It is a former 17th century mansion turned hotel with around 34 acres of grounds including manicured gardens, and waterfalls. Apart from having to pay for parking (more info below) it is free to explore the gardens. One of our favourite parts of the gardens is the grotto pictured below. Apparently William Wordsworth was also a fan which you will see why if you visit.
Close to the hall you will find Rydal Mount and gardens, which is the childhood home of William Wordsworth. You do need to pay to explore the house and gardens (around £7.50 for both) but this is a must for all literary fans.
Practicalities
There is onsite parking if you are visiting the Hall, but it is scarce. It is also a bit steep in terms of price. We paid £10 but we did end up leaving the car here whilst we had lunch and did a long walk around Rydal Water and the caves. All in all we probably left the car here for half a day. Once you have a parking space you need to go to the reception at the hall, pay the fee, and provide your number plate. You are then given a slip to display on your dashboard.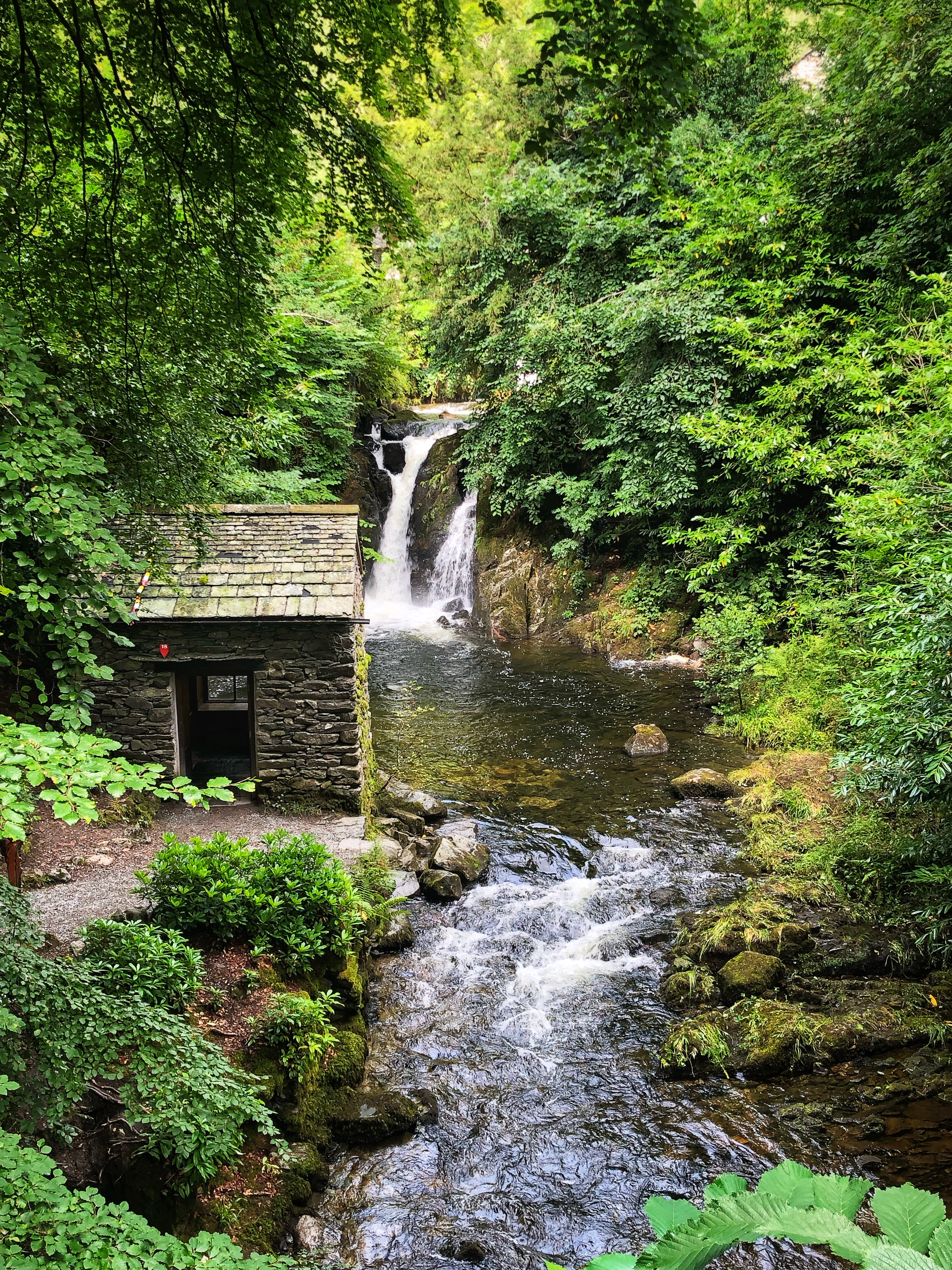 Rydal Water Walk
Rydal Water walk is a 2.8 mile walk with gorgeous lakeside scenery. If you want to do the full walk you need to pencil in about 2 hours. If you are only spending 1 day in the Lake District it might not be possible to do the full walk, but it is worth a visit regardless. There are also a lot of places you can just sit and admire the views. We started the walk by the Badger Bar which incidentally is where we recommend you pop in for a pub lunch.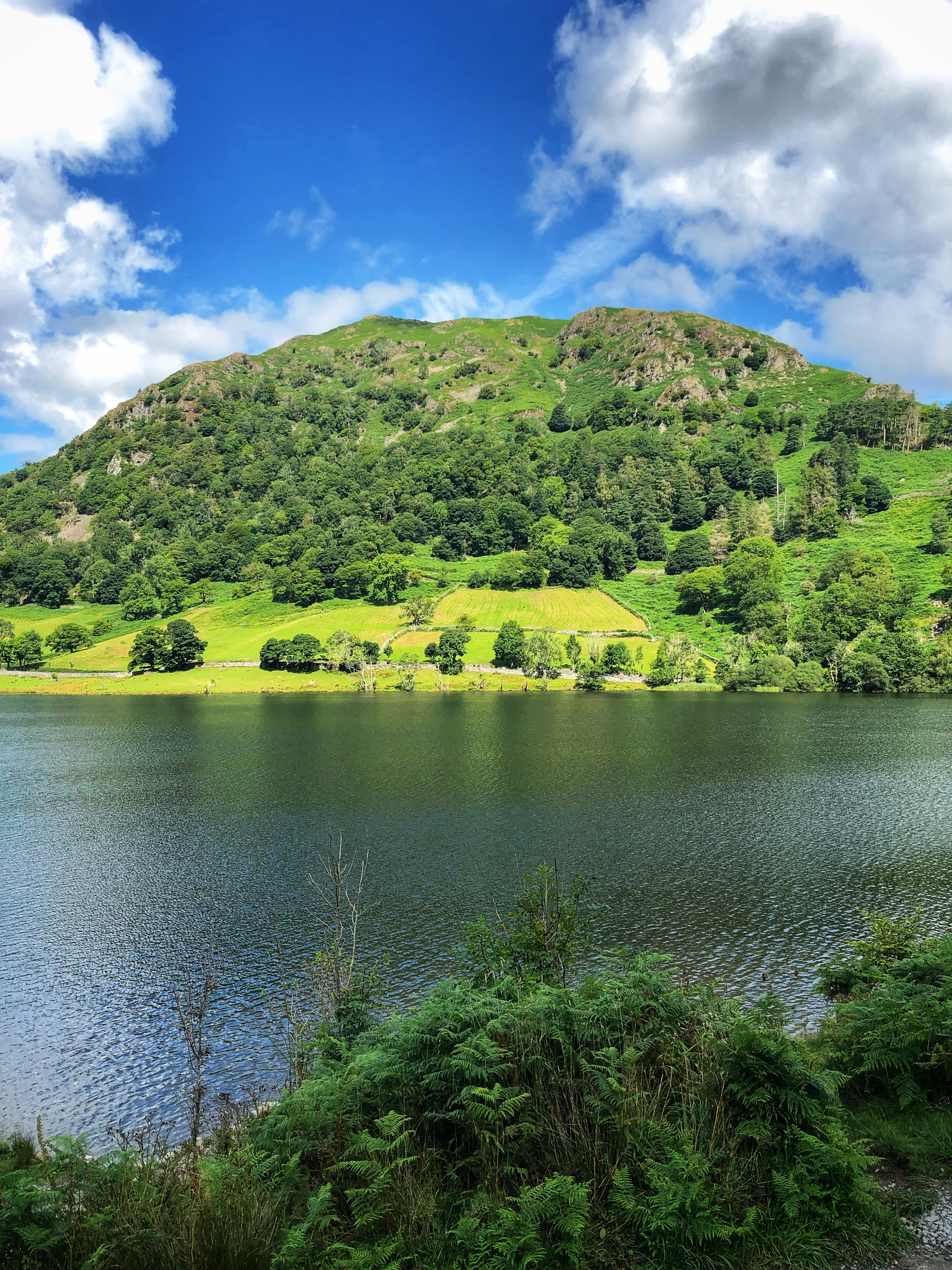 Find the Rydal Cave
If you take a short forested walk from Rydal Water you will stumble upon the Rydal Caves. The route is pretty well signposted so you shouldn't get lost. There are a number of stepping stones that you need to navigate which will lead you into the cave. The caves are actually man made which I was quite surprised about, but apparently they are a product of quarrying for slate.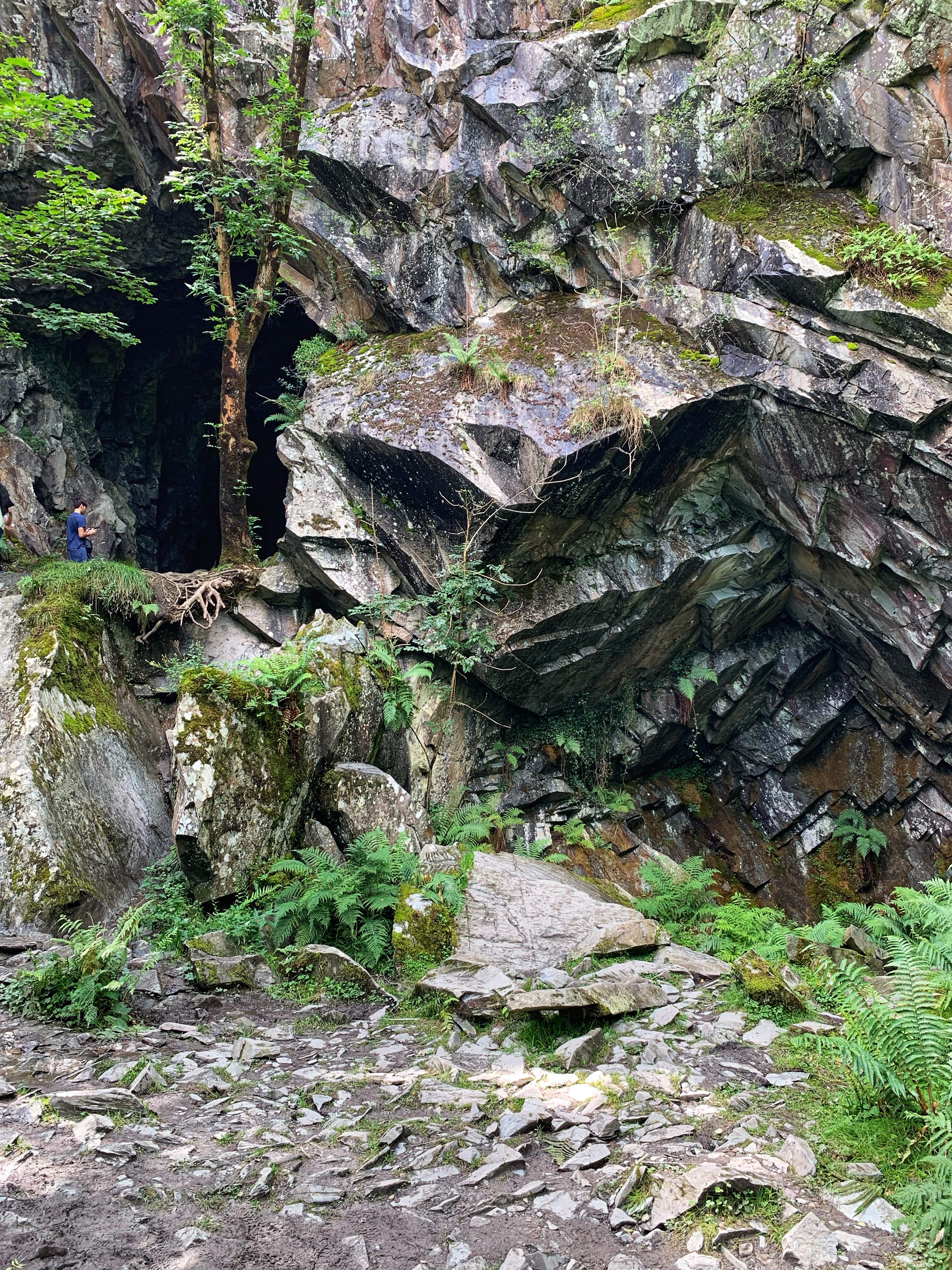 1 day Lake District itinerary (including map)
| | |
| --- | --- |
| Morning | Visit Bowness-on-Windermere and walk around the Lake |
| | Cruise from Bowness-on-Windermere |
| Lunch | Badger Bar in Ambleside |
| | Rydal Water and Cave Walk |
| | Visit Rydal Hall |
| Late Afternoon/Evening | Walk around the Lake in Ambleside at sunset/ early evening (depending on the time of year) |
| Evening | Head back to Windermere for a pub dinner before heading home |
Eating and drinking on your Lake District day trip
1 day in the Lake District is not complete without chowing down on a delicious pub meal. There are a lot of really good pubs to eat in so it is hard to narrow it down to just one or two. That being said if you are following our 1 day Lake District itinerary as above then we recommend the Badger Bar in Ambleside for lunch. They serve all your english pub favourites like pies, and of course fish and chips. It is a great place to stop and refuel before doing a walk around Rydal water.
Another favourite in Bowness is the Stags Head. They do a good pub meal at reasonable prices, and they have a fireplace to warm you up after a long walk. Food is served until 7pm so make sure you get in before that if you are planning on having dinner here as per our itinerary.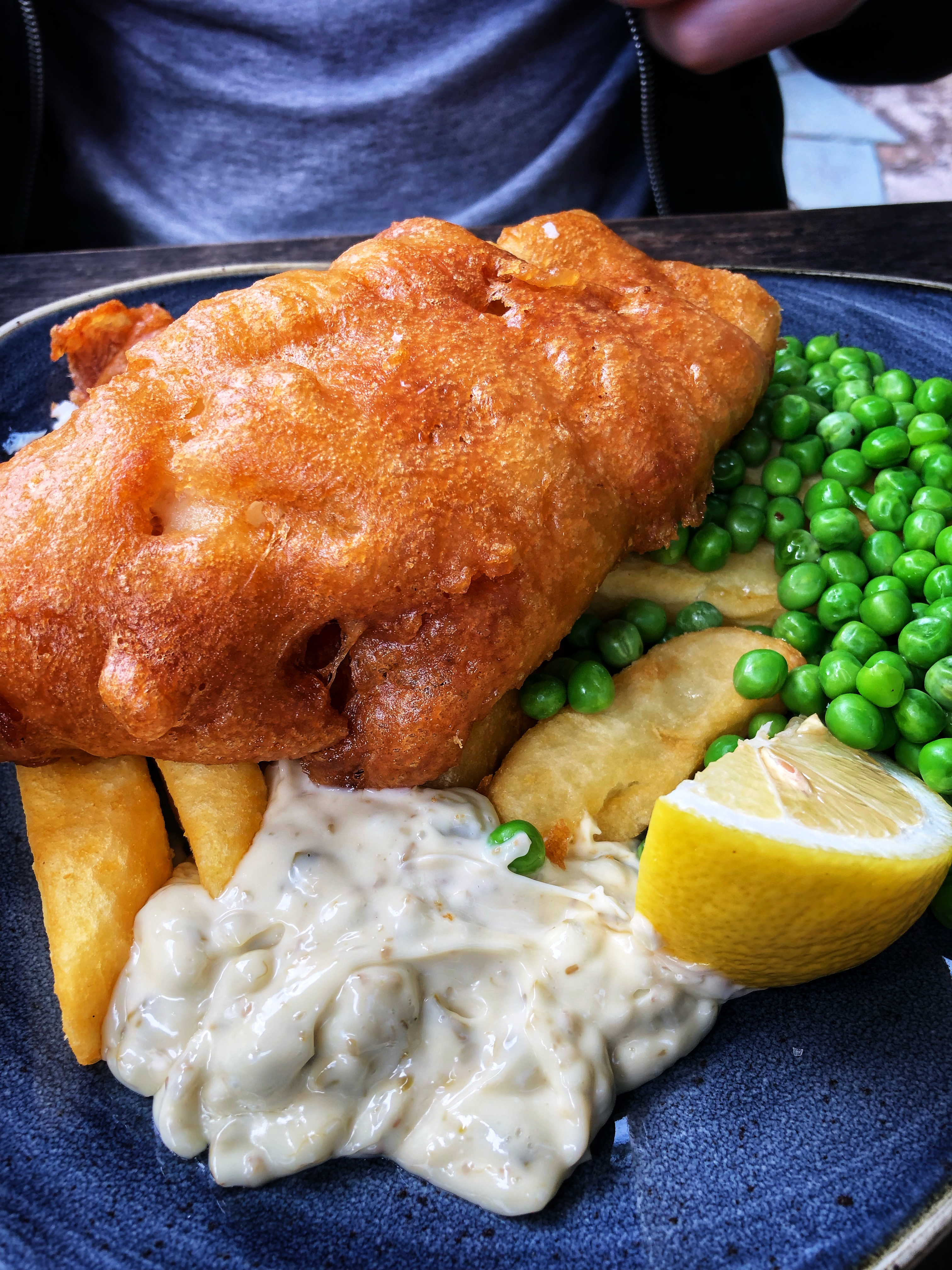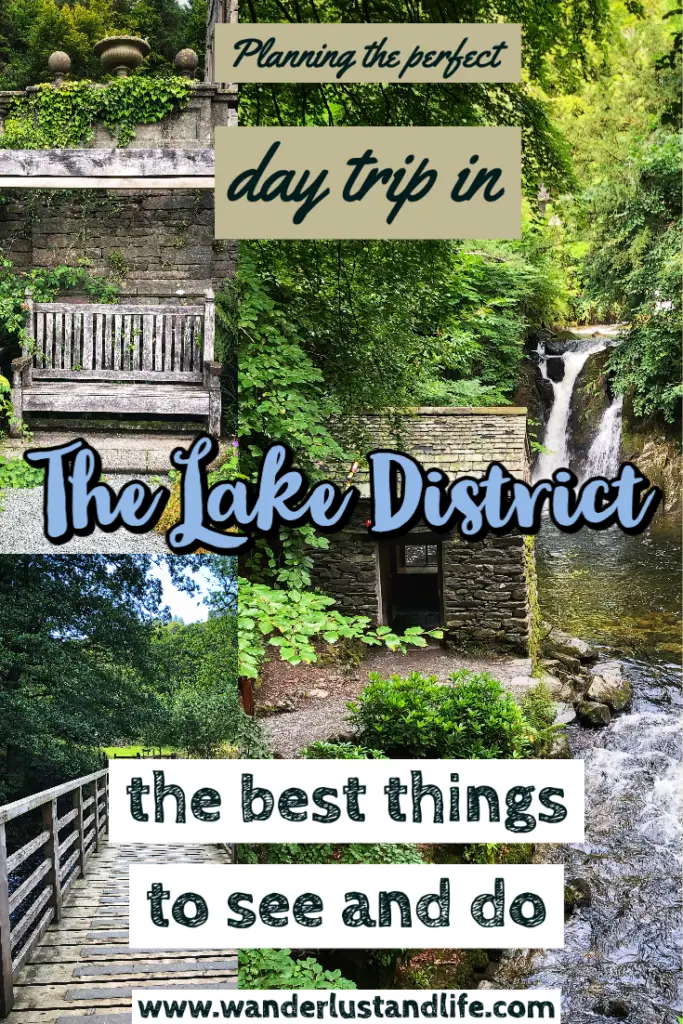 More UK day trips
If you are looking for some more UK day trip ideas you can check out these articles: