When we started planning our weekend in Liverpool, one thing was absolutely certain, we wanted to experience as much culture as possible. Liverpool truly is a cultural gem located in the North of England. In fact in 2008 it was crowned the European Capital of Culture. It was actually the first English city to gain the title, and walking around it is not hard to see why. Famous for its rich musical history, and a little band called the Beatles, people flock to Liverpool from all over the world to see where it all began for the Fab Four.
We should stress though that Liverpool is so much more than just The Beatles. It's full of incredible music venues, museums, art galleries, and a prestigious Institute of Performing Arts. But this is just the beginning of what Liverpool has to offer. Here is our Liverpool itinerary with everything you should see and do during a weekend in the city.
Disclaimer: This post contains affiliate links, so if you use these links to buy something we may earn a commission, at no cost to you. Thank you for your support.
Liverpool Itinerary Factsheet
Country: England
Currency: British Pound
Known For: Music and culture
Visit if you like: The Beatles (obviously), music, museums, art galleries
Liverpool is a maritime city located in the northwest of England. Located on the River Mersey the city was a key trading port in the 18th – 20th Century. In fact, the location is perfect because it is right where the River Mersey meets the Irish sea. It's also not surprising that about 75% of Liverpudlians have Irish roots. Due to its close proximity a lot of Irish people fled Ireland during the famine and settled in Liverpool.
Another cool fact is that in 2004 Liverpool gained UNESCO World Heritage Site status., due to its number of 19th and 20th Century buildings. So, architecture lovers will absolutely love Liverpool! As will museum lovers. Liverpool is only second to London in terms of the highest number of galleries and museums in the UK.
And speaking of culture Liverpool is also home to the oldest professional symphony orchestra the Liverpool Philharmonic . The venue was founded in 1840 and has an incredible interior that is most definitely worth a look for music fans everywhere.
Things to do during your weekend in Liverpool
Here are some of the best things to do during your weekend in Liverpool, from museums, galleries, and walks, we cover everything you need to know for the perfect stay.
Albert Dock
One of our favourite places to spend a weekend in Liverpool has to be Albert Dock. It's very reminiscent of Liverpool's industrial history with several old docks and warehouses located along the waterfront. These days there are several museums, and cafes, to enjoy. Although in itself it is a really lovely part of Liverpool to walk around and explore.
Mersey Maritime Museum
One of the museums located on Albert Dock is the Mersey Maritime Museum. This is the perfect place to go to learn all about Liverpool's industrial history. Liverpool used to be a major gateway connecting Britain to the world and the pride that Liverpudlians feel about this history is certainly evident when visiting the museum.
Tate Liverpool
Another of the museums located in Albert Dock is the Tate. It's one of the most popular museums in the UK and is home to a large range of contemporary and modern art.
Spot the Beatles Statue
So obviously the most famous act to come out of Liverpool was the Beatles. It is something that the city has been proud of ever since. There is a statue by the Royal Liver Building of the Fab Four to commemorate this. It's not just statues that show the city's pride, there are also Beatles tours you can go on and there is even a museum dedicated to them. So if you do anything Beatles related during your weekend in Liverpool this statue is a great place to start.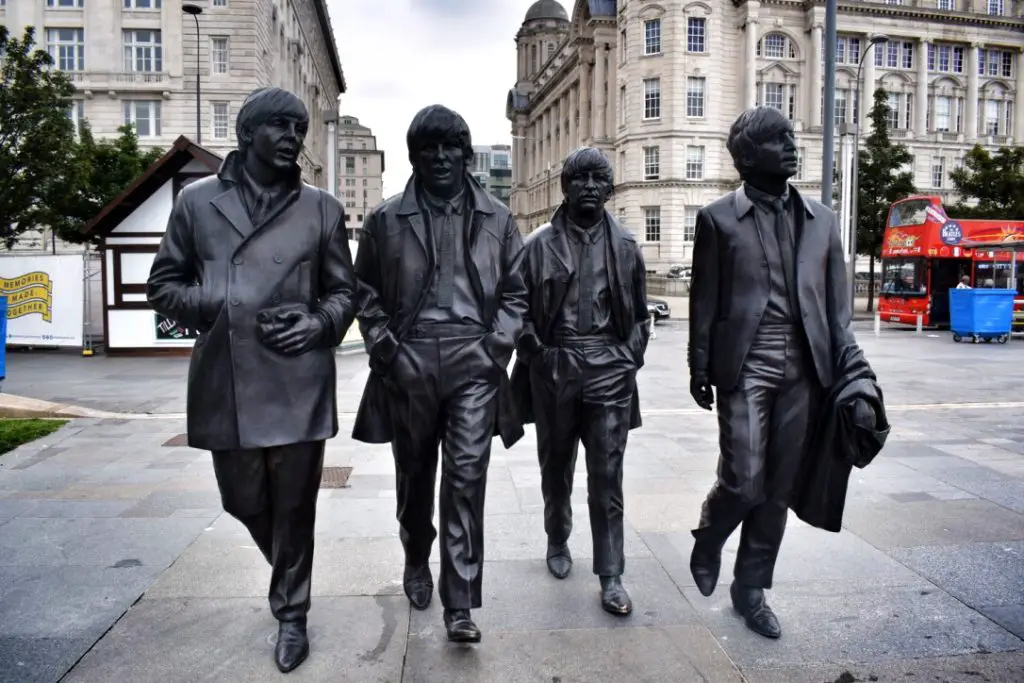 The Beatles Story
The Beatles Story is an interactive and informative museum, and is a must for any Liverpool itinerary. Located in…you guessed it Albert Dock, there are some amazing exhibits including a recreation of the Cavern Club, the centre of Liverpool's rock and roll scene in the 60's.
There is also a yellow submarine you can walk through as the museum takes you through the Beatles more experimental era. The museum offers an unique insight into those heady days of Beatles mania. Right at the end of the museum the last room you go into is completely white. There is a piano and the song "Imagine" is played on repeat which is a beautiful tribute to Lennon.
This is one of the best museums I've visited, it's fascinating and really takes you back to the days of the Beatles. A must for your Liverpool itinerary. We recommend purchasing tickets online in advance as this is a very popular attraction.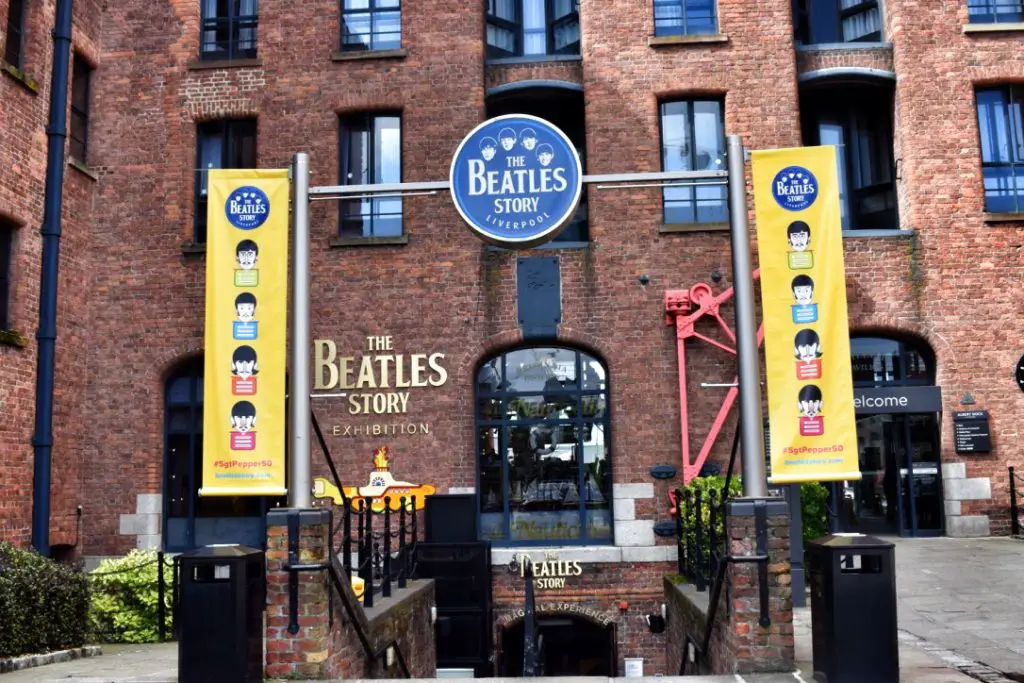 Visit the Liver Building
One of the most beautiful buildings in Liverpool has to be the Liver Building. And just in case you were wonder it's not pronounced liver like the bodily organ, but instead think of it as rhyming with diver. The building is Grade I listed and was built between 1908 and 1911. If you have a good look at the top of the building you will see two clock towers with two liver birds at the top.
We recommend doing a tower tour as part of your Liverpool itinerary to get some 360 degree views of the city. You also get to hear all about the history of the building, which is great because this is one of the most beautiful buildings in Liverpool.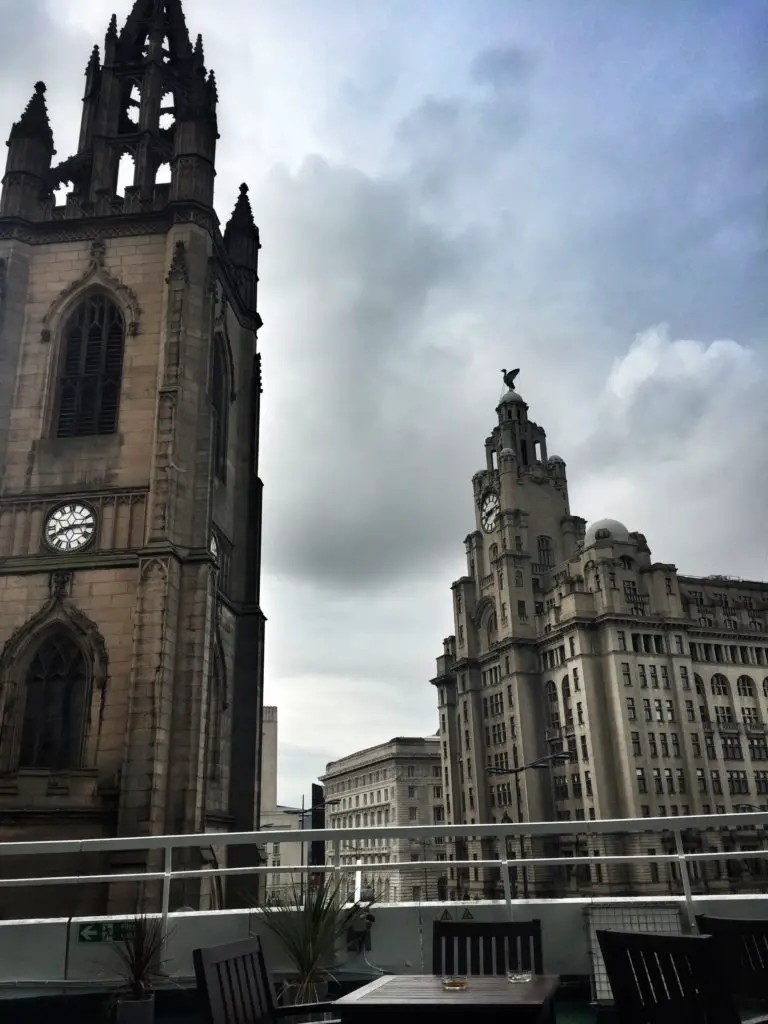 Get a Ferry across the Mersey
Like the famous Gerry and the Pacemakers song, you too can 'ferry cross the Mersey' by doing a River Cruise. It's a great opportunity to see Liverpool from a different perspective, and sail across the famous river. There is audio commentary as well which will give you all the information you need. You can pre purchase your tickets on Get Your Guide.
Visit a football stadium
Football (or soccer depending on which part of the world you are from) will not be short of things to do in Liverpool. The city is home to 2 Premier League Football teams, Liverpool and Everton. Both stadiums offer tours, although we recommend booking these in advance, and not on match days. Obviously if you want to go to an actual football game you will need to check for match dates, and book these well in advance.
For tickets to Anfield you can book these in advance here.
The Magical Mystery Tour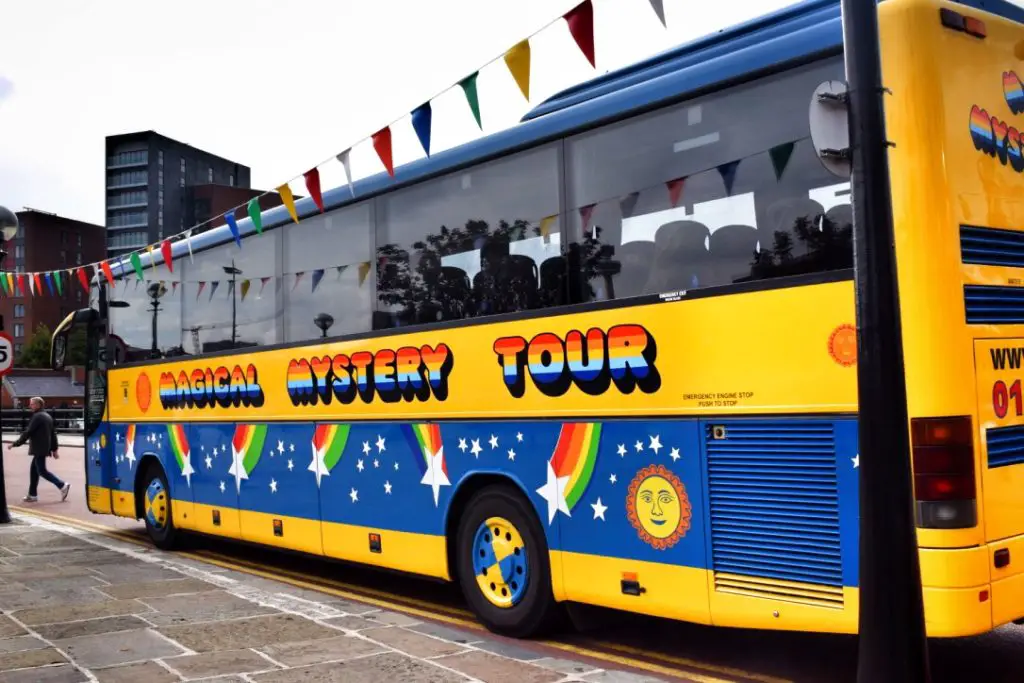 Departing from the Albert Dock is the brightly coloured bus ready to take you on the Magical Mystery Tour. It is a really informative 2 hour tour that takes you to some of the most poignant locations in Beatles history. The tour costs around £17.50 and you really should book in advance as there are only a set number of tours that depart throughout the day.
There are plenty of photo opportunities and you get to leave the bus to see George Harrison's birth place (which incidentally was his childhood home), Penny Lane, Strawberry Fields, and Paul McCartney's childhood home.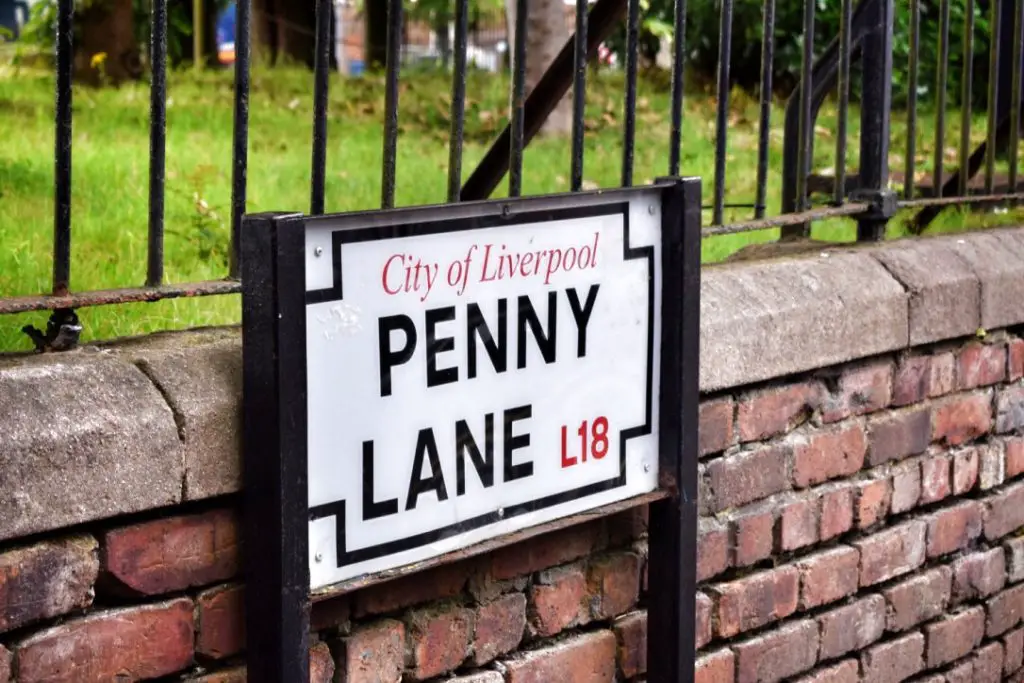 The guides are really knowledgeable and we learnt so many things about the Beatles and how they started. The best thing is that you can participate in a number of singalongs on the bus. So get your vocal chords ready. It's a lot of fun and Beatles fans should absolutely add this to their weekend in Liverpool.
Visit the WWII Museum
This is actually one of my favourite museums in Liverpool (apart from the Beatle's story). Here, you get to explore a former top secret underground war bunker hidden under the streets of Liverpool. You get the chance to learn all about what happened in the bunker during WWII and explore the labyrinth of rooms that people worked in during the war. It's really eye opening, and very engaging. If you like history this museum is an absolute must.
The Cavern Club
Another must for any Liverpool itinerary is to take a stroll down Matthew Street, which is the home of the Cavern Club. The current venue is in the same location as the original. In fact, it is a near exact replica of the club back in the day. It was built with some of the original bricks and was built off the exact plans as the original Cavern Club.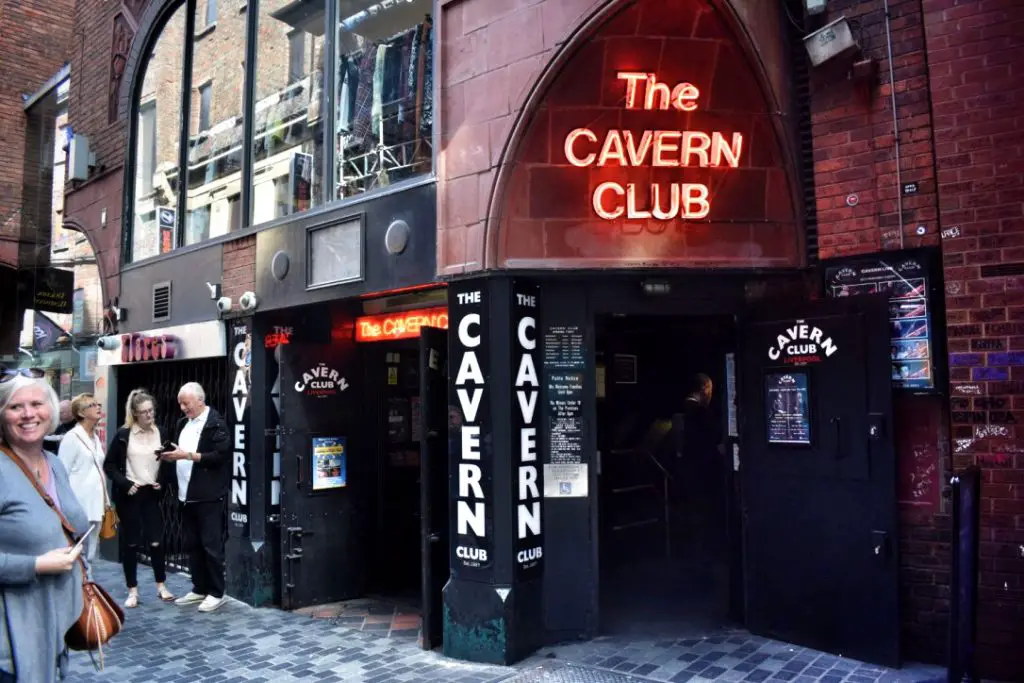 It originally started as a Jazz club and then evolved to become the centre of rock and roll in Liverpool in the 1960's. The Beatles would often play here, sometimes at lunch time. And so, the workers used to come down and listen to them. Which I have to say is better than pretty much any lunch I have ever had at work!
These days the Cavern is still home to live music. We were treated to two acoustic sets in the afternoon by Jon Keats and Richard Batty. They were fantastic and played a lot of Beatles songs as well as songs by artists from the same era.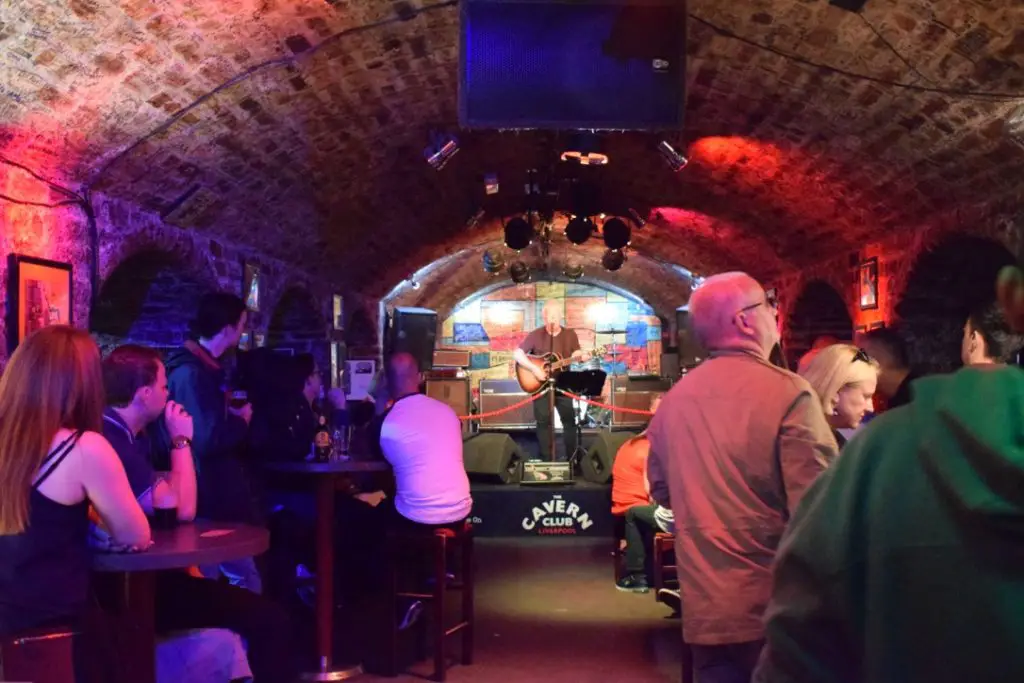 It is such an incredible atmosphere. Everyone literally loses their inhibitions (yes the drink may help but I really think it is more then that) and are united by their love of music and the Beatles. When we visited the audience were singing and dancing along and this was on a Monday afternoon. The Cavern Club is so much fun.
At first, I thought it was going to be so cheesy, but it's not. It's just a lot of people have a really great time listening to some great music and singing along. This is another must for your weekend in Liverpool even if it is just for one drink.
John Lennon Statue
Located on Matthew Street not far from the Cavern Club you will find a statue of John Lennon. It's a great place to stop for a quick photo.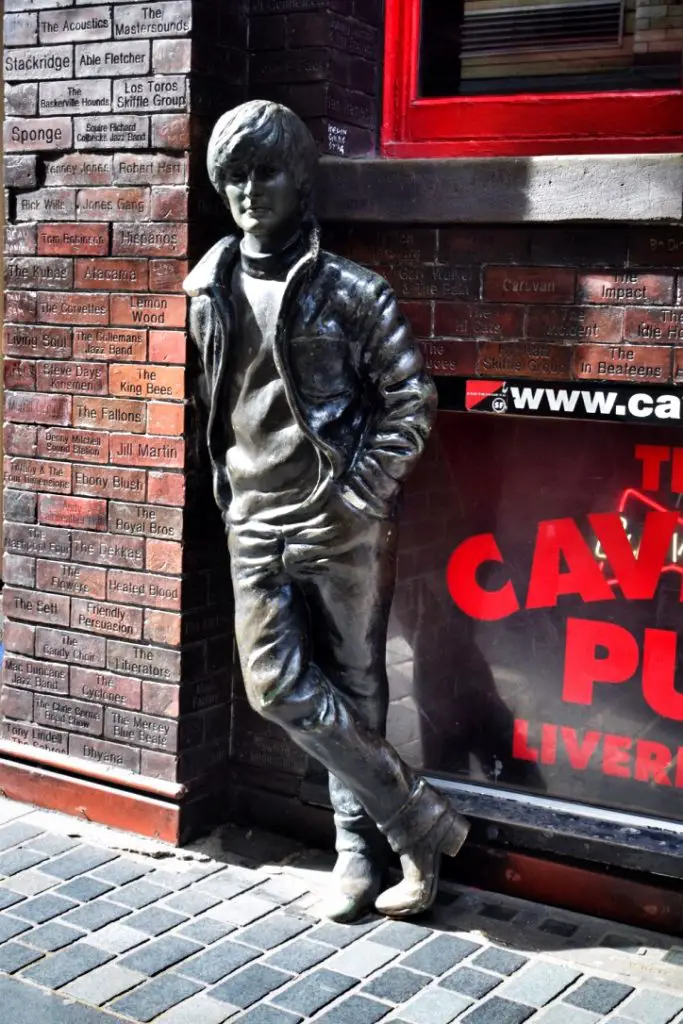 Liverpool Cathedral
For something a little more traditional to add to your Liverpool itinerary we highly recommend visiting the Liverpool Cathedral. Not only is it the largest religious building in Britain but is also the 5th largest in the world.  It's open to the public every day and often it hosts art exhibitions and charity dinners, so you are best checking the website in advance for more information.
Visit Crosby Beach
Crosby Beach is a lovely place to enjoy a bit of down time, and reflect on your weekend in Liverpool. It's especially stunning at sunset.
The Beach is only about 20 minute's drive from the centre of Liverpool, and here you will get to dip your toes into the start of the Irish Sea. It's also a cool place to visit for art lovers as it is here that you will come across Anthony Gormley's 'Another Place' installation.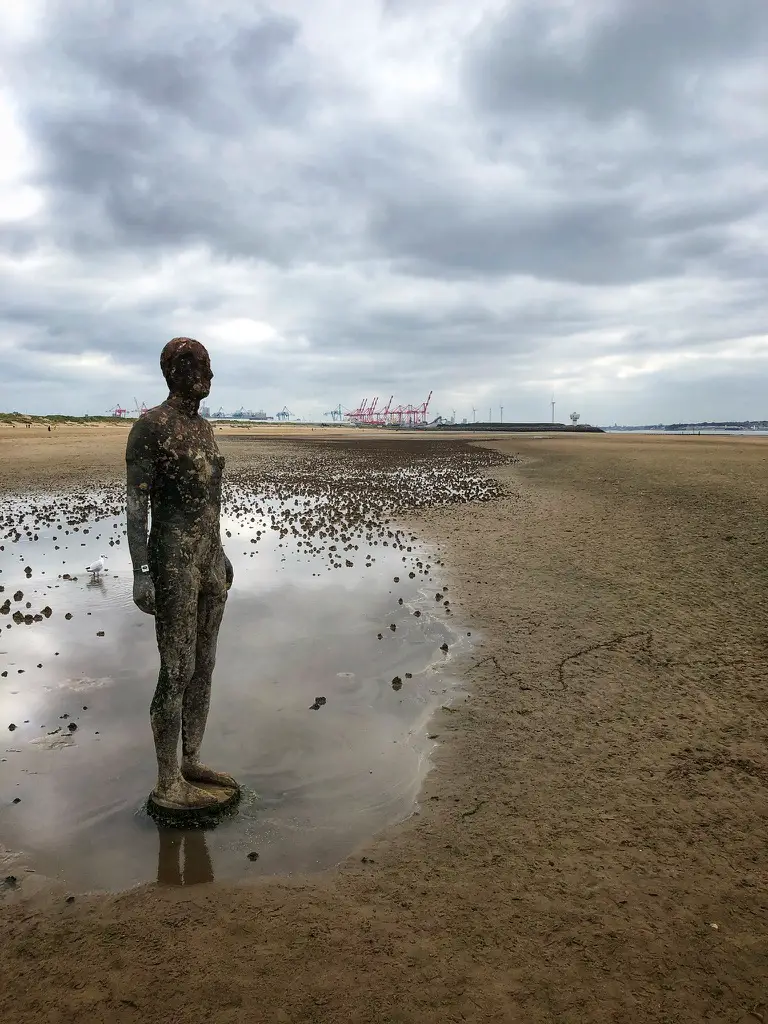 Chinatown
Liverpool's Chinatown is actually home to the oldest Chinese community in Europe. It's easy to spot because you will see the large arch welcoming you to the area. It's also the largest arch of it's kind outside of China. The food here is fantastic, and it's a great place to grab some dinner during your weekend in Liverpool.
When is the best time to plan your Liverpool itinerary
If you are wondering when to plan your Liverpool itinerary you are in luck. Liverpool is one of those cities that you can actually visit year-round. For starters most tourist activities tend to be indoors, such as your museums, and galleries. In the winter months you can visit the Christmas Markets, and the football season is in full swing so it's a great time to catch a game. Just make sure you wrap up warm.
Peak season is the summer months, but more specifically August when the school holidays fall. The days are long, and the city comes alive with various festivals.
If you don't like the cold, and you want to avoid school holiday season (we don't blame you) September is a great time to plan your weekend in Liverpool. Things are way quieter and hotels and restaurants are easier to book into too.
Getting to Liverpool
Liverpool is an extremely well-connected city in terms of transport. Again, this is one of the reasons a weekend in Liverpool is a must! There are a number of ways to get to Liverpool – here are the top suggestions.
Fly
If you are coming from Ireland or mainland Europe flying into Liverpool is a great option. Liverpool John Lennon Airport, is 7 miles from the city centre. There are regular buses leaving from the airport that will take you into the centre. There is no direct train route from Liverpool Airport to the centre, but you can get a bus to Liverpool South Parkway Station and then hop on a train from there.
Train
If you are getting from the likes of Manchester or London say, you can catch a train to Liverpool. The main station is Liverpool South Parkway, and it is a short walking distance from here to all the main tourist attractions in the city. From London you can expect a journey of a little over 2 hours, and from Manchester you are looking at about an hour. Although that can change depending on whether you get an express train or not.
Is a weekend in Liverpool enough?
We think that a weekend in Liverpool is the perfect amount of time to explore, see the main attractions, and get a real feel for the city. A lot of the main attractions are actually close together, so you won't have to travel too far to see everything you want. Ideally we would recommend planning your Liverpool itinerary for a weekday as it is a very popular weekend destination. That being said if you plan ahead and book your activities in advance, then a weekend in Liverpool will work well. The city really comes alive at a weekend, and with so much personality and a friendly vibe you won't be bored!
How to get around during your weekend in Liverpool
Like we mentioned above Liverpool is a pretty walkable city, especially when the main tourist attractions are concerned. But if you are wanting to visit the key tourist attractions and get around the city, why not kill two birds with one stone and purchase tickets to the Liverpool hop on hop off bus. Not only do you get a guided tour, but you can use it as your transportation! There are a couple of different companies that you can book your tour with, and we have included a link below to help you plan.
Where to stay during your weekend in Liverpool
Liverpool has a lot of accommodation options, so it might be overwhelming trying to decide where to stay. For your weekend in Liverpool we highly recommend staying either in the City Centre or near the docks. That way you will be close to the main attractions, and some of the nightlife in Liverpool too. Here is a little bit more information on each of the areas.
City Centre
The Liverpool city centre, is close to Liverpool One which is the main shopping centre in Liverpool. The area is filled with lots of shops, bars, restaurants, and most importantly (well in our minds anyway) the Cavern Club. But more on that later!
Albert Dock
Albert Dock is kind of the cultural hub of Liverpool, and there are a number of museums. It is also on the waterfront (hence the dock bit) and some of the hotels around here have some pretty impressive views of the River Mersey.
We ended up staying at the Mercure Liverpool Atlantic Tower Hotel. We were lucky enough to be offered a night here in exchange for a review, and honestly it didn't disappoint. It's a 4 star hotel located only a short walk from Albert Dock, and just across from the famous Liver Building. Also the views from the hotel are pretty awesome, as we were able to get a fantastic view of the River Mersey from our room.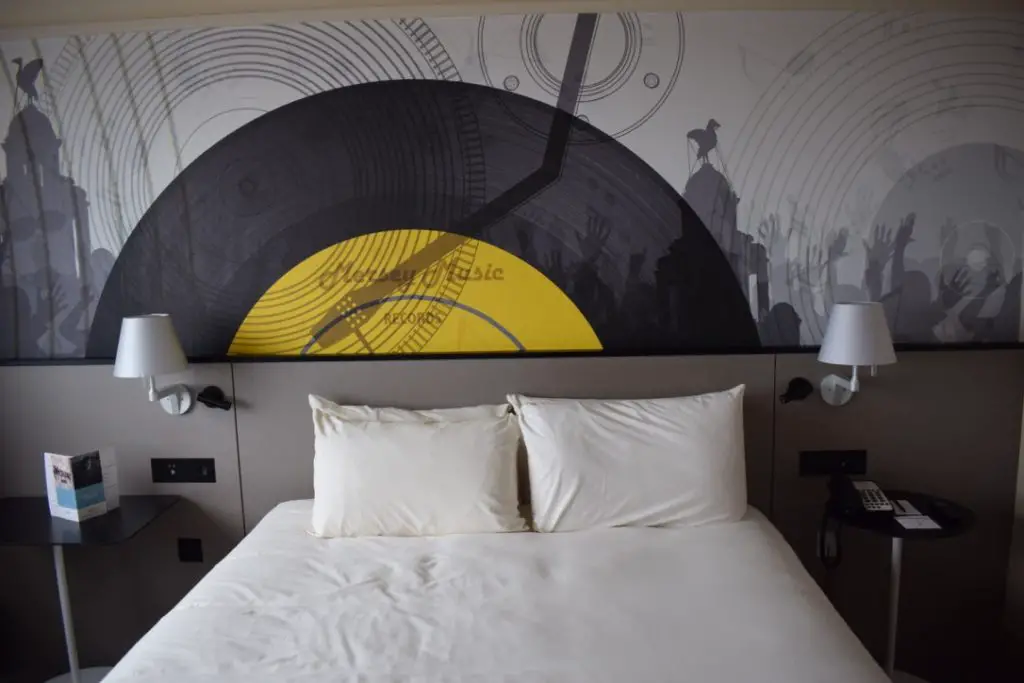 Sample Liverpool itinerary
Here is a sample Liverpool itinerary to give you a bit of inspiration when planning your trip.
Day 1
Start your Liverpool itinerary with a hop on hop off bus tour to get acquainted with the city. Some highlights include the Liverpool Cathedral and Chinatown. Also make sure you get off around the Liver Building and do a building tour. Also visit the nearby Beatle's statue.
Then make your way to the WWII museum if this is of interest. Grab some lunch nearby.
Head out to Matthew Street in the evening for some evening entertainment including the Cavern Club.
Day 2
On day 2 of your weekend in Liverpool we recommend spending they day around Albert Dock. You can do a Mersey Boat tour, or just have a stroll around.
Visit the Beatles Story, and the Tate Modern in the morning. Grab some lunch around the Docks.
In the afternoon book onto the Magical Mystery Tour to explore the key Beatles sites in Liverpool.
If you have time head out to Crosby Beach for sunset.
How much money do I need for a weekend in Liverpool
If you are wondering how much money you might need for your weekend in Liverpool you have come to the right place. Liverpool is a cheap city, particularly in comparison to somewhere like London. It's popular with students so you can definitely nab some good deals. We would probably budget around £100 – £120 per person per day for Liverpool. We do tend to budget on the higher side, and you can do things a lot cheaper.
This amount will include entry to museums and any tours you might want to do, as well as food and drinks in the city. A hotel in the city will probably set you back about £120 on average per night. And keep in mind that hotel prices tend to go up in Liverpool on the weekend.
Romantic things to add to your Liverpool itinerary
If you are lucky enough to visit Liverpool with your significant other, and you are looking for some romantic things to add to your Liverpool itinerary here are our top suggestions.
Liverpool Philharmonic Hall
As we've mentioned several times Liverpool truly is a cultural hub, and if you want to get a little romantic with that culture then why not visit the Liverpool Philharmonic Hall. It's a great place to listen to some classic music for the perfect date night.
Afternoon Tea
Another romantic thing to add to your Liverpool itinerary is going for a spot of afternoon tea. Panoramic 34 is a great place to do this, as it boats some spectacular views over Liverpool and beyond.
Stay at the Titanic Hotel
So the Titanic Hotel is a pretty big deal in Liverpool. It happens to be one of the most luxurious and unique places to stay in the city, and on top of that you can relax with some spa treatments.
Visit Sefton Park
Another romantic thing to add to your weekend in Liverpool is a walk through Sefton Park. Just south of the city centre you will find this gorgeous green space, perfect for afternoon strolls and picnics alike.
If you have longer than a weekend in Liverpool and wondering what is nearby here are some suggestions:
York
York is about a 2.5 hour drive from Liverpool, and is a fantastic location particularly for history lovers. You can walk the city walls, climb York Minster, and walk along the cobbled streets.
Chester
Even closer is Chester, which is another historical UK location. If you are a fan of architecture, roman ruins, and river cruises, Chester is a great option.
Lake District
If you are looking to get away from city life, then a visit to the Lakes is a great way to do this. Here you can explore the hiking trails and be at one with nature.
Manchester
For another city break you could head to Manchester. It's about an hour away and is a great city to carry on to especially if you are a fan of musical history.
Peak District
Another excellent location particularly if you want to get away from the hustle and bustle of city life is the Peak District. There are so many beautiful villages to visit, and we highly recommend a trip here.
So should I spend a weekend in Liverpool?
Honestly yes! Liverpool is such a fantastic city, and in our opinion one of the true cultural hubs of Britain. It's also super friendly and really down to earth considering how much it has brought to the world stage. If you are visiting the UK, and you are considering a weekend in Liverpool then we really do recommend it. It's the perfect mix of music, culture. nightlife, football, and nature.
We hope that you enjoy your weekend in Liverpool, and remember to pin our Liverpool itinerary for later.