If you are interested in history then you are going to want to visit the ancient city of Pompeii.  For Dave particularly this had been on his bucket list for years. So when we planned our trip to Rome we knew we would have to arrange a day trip to Pompeii. Located in the Campania region of Italy, it is about a 3 hour drive from Rome depending on traffic. Here is our guide on arranging your Rome to Pompeii day trip and some of the must see sights when you get there.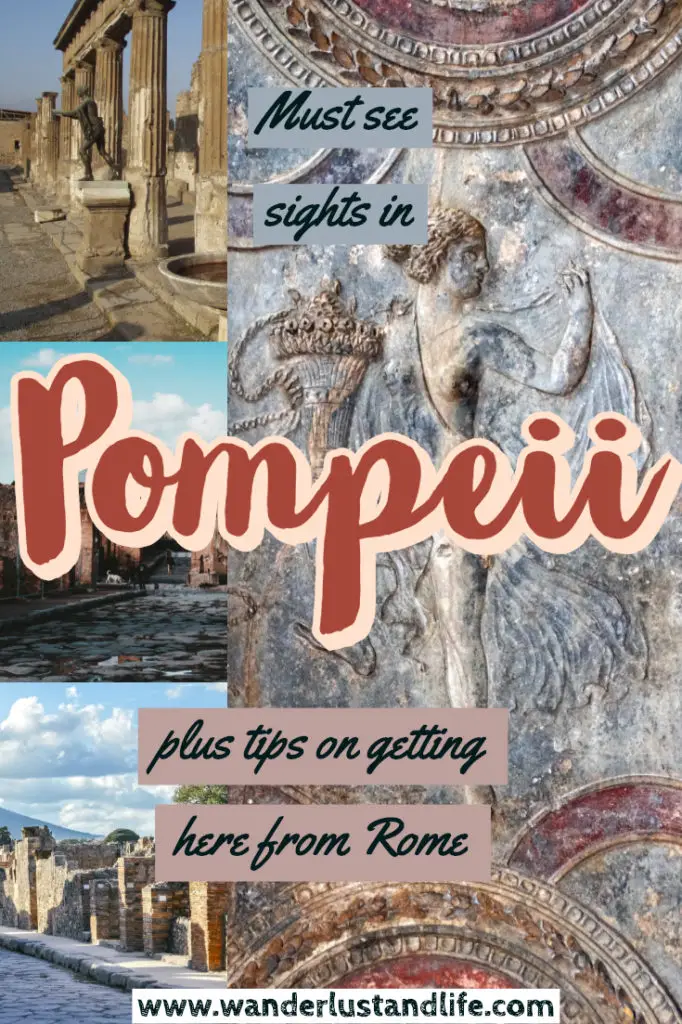 Rome to Pompeii day trip
If you are staying in Rome then you will need to spend a full day getting to Pompeii and seeing the sights. Some people choose to get the train, however if you are short of time we recommend doing a tour. We booked online before we arrived in Rome and our Rome to Pompeii bus tour also included a brief stop over in Naples. Depending on what time of year you visit though you can also book a tour that includes a visit to Mt Vesuvius.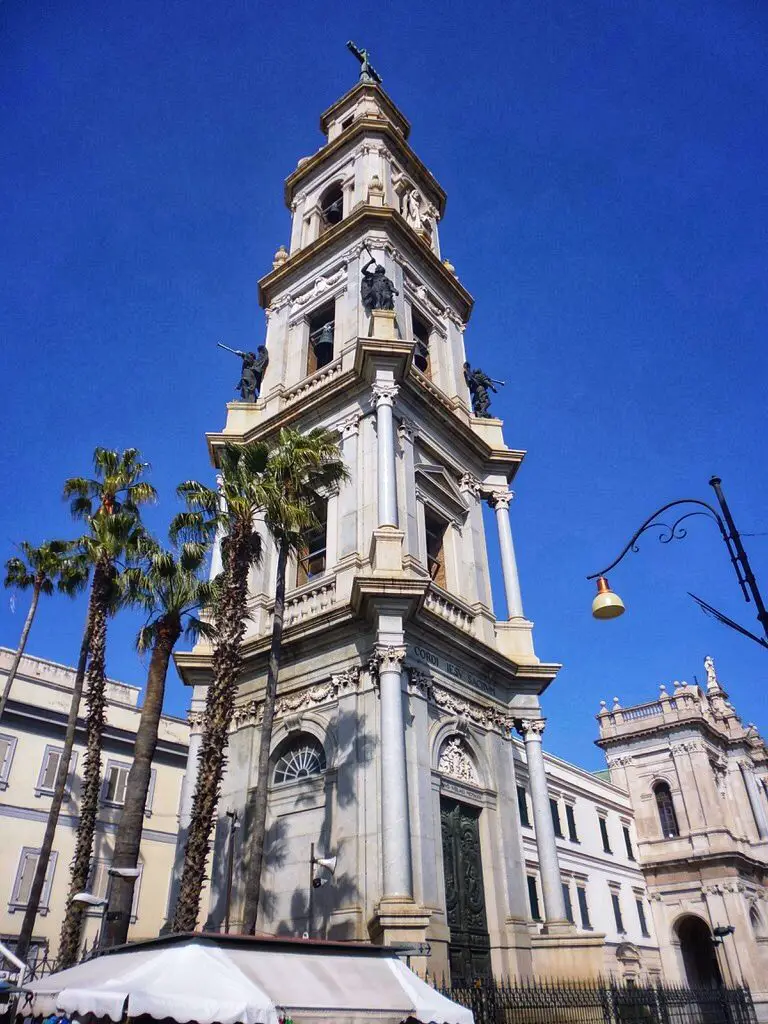 The whole day lasts about 12 hours and you are picked up from your hotel and driven to a larger coach that will take you all the way to Pompeii. If you can make your own way to the meeting point we recommend doing this and getting there early. Unfortunately we were one of the last groups to arrive and Dave and I got separated and had to sit on opposite ends of the coach with strangers. It is not ideal especially when you are paying over £100 per person for the tour. Even though the tour was quite expensive we wanted to take the hassle out. We looked at getting the train but booking a bus tour was just so much easier. You literally sit down and everything is organised for you. Although this has some pros and cons as we will discuss shortly.
Distance from Rome to Pompeii
The distance from Rome to Pompeii is around 150 miles. Pompeii is located south of Rome and as mentioned about its closest city is Naples. Because of the large distance between Rome and Pompeii you really do need to set aside a full day for the trip
Best time to plan your Rome to Pompeii day trip
We do recommend visiting during the off season. This is usually between November to March. One of the main reasons is because it is not as crowded (although believe us there are still crowds), but also because the weather is mild. There is not a lot of shade around Pompeii and it can get warm very quickly.
Pros and Cons of traveling from Rome to Pompeii by bus
Pros
You can sit back and relax and let someone else plan your trip
You get into Pompeii a lot quicker
You get access to a guide included in the bus ticket price
You get a lot more information and tips on these tours
Cons
You have to adhere to someone else's schedule. This often includes visiting places you don't want to go to, or places that the bus company has special arrangements to drop you off
It is expensive
We felt we would have like to have spent longer in Pompeii instead of visiting Naples
You can stay as long as you want
Booking your trip
There are a lot of different trip options at different prices. One thing we will say is book in advance. Don't leave it until you arrive in Rome to book your trip as you really do run the risk of it selling out. Even when we booked we were limited on days as a lot of the trips had sold out, so definitely plan ahead to avoid disappointment.Our bus was also really full so Dave and I did not get the opportunity to sit together which was a shame.
Stopping in Naples
Part of our bus tour included a very brief stop over in Naples. And believe me when I say it was brief. I think we left the coach for about 10 minutes in total. We did get a guided tour from the coach though which was interesting.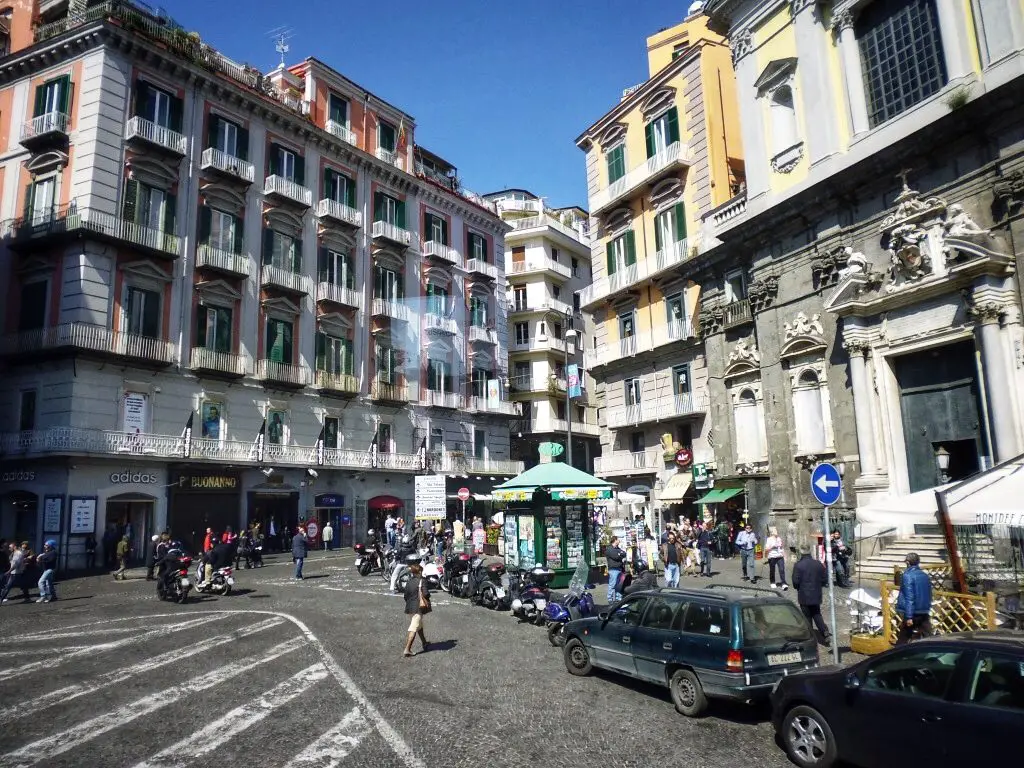 Lunch was also included for us. It was pretty standard food. We got some pasta and garlic bread, although I will add that standard pasta in Italy is better than most pasta at home so we really can't complain.
Some background
Pompeii was located 5 miles from Mt Vesuvius with a population of around 20,000. It was a rather distinguished city attracting a lot of well to do Romans. Filled with extravagant houses, markets, and even a brothel, Pompeii was the place to be back in the day. In 79AD Mt Vesuvius erupted burying the city under  a thick layer of volcanic ash. A lot of people managed to escape however those that didn't, suffocated due to the levels of ash in the air.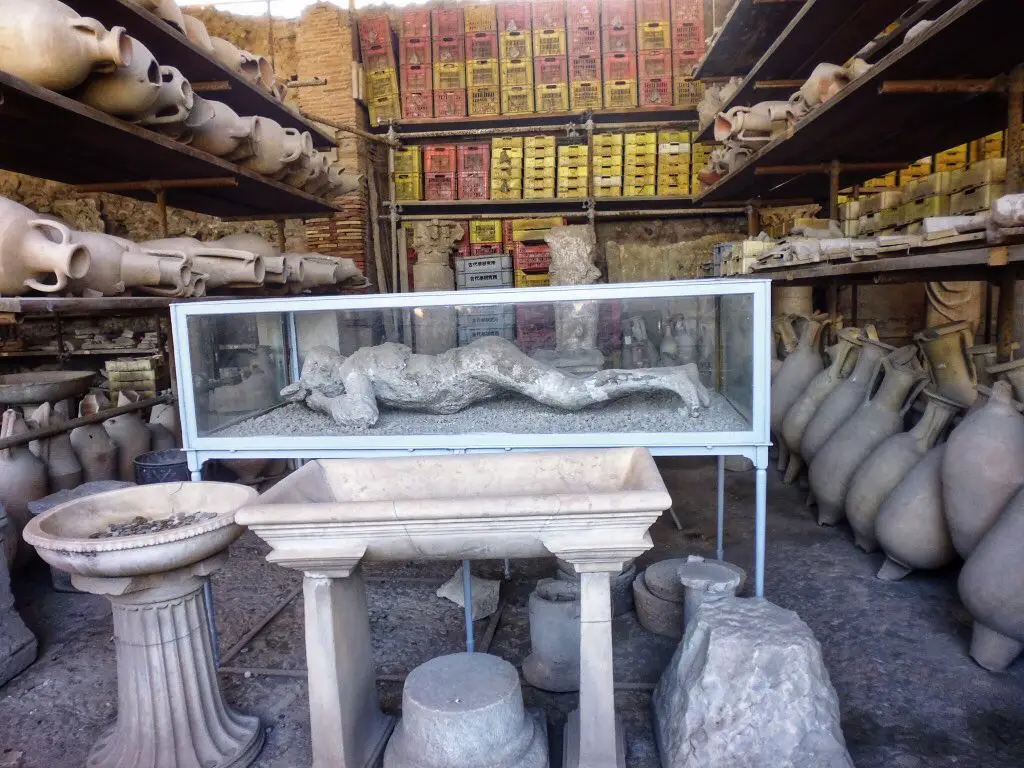 Pompeii remained untouched until 1748 when a group of explorers stumbled upon the ancient city. What amazed them was the fact that under all the ash and dust the city was pretty intact. The ash had moulded itself to the remains of the victims indicating that they had died pretty suddenly. The fact that the city was so well preserved has enabled us to gain an accurate insight into what life was like at that time.
Must see sights in Pompeii
As part of the package, we got a guided tour of Pompeii which is great when you are pushed for time. We got shown all the main sights with expert commentary.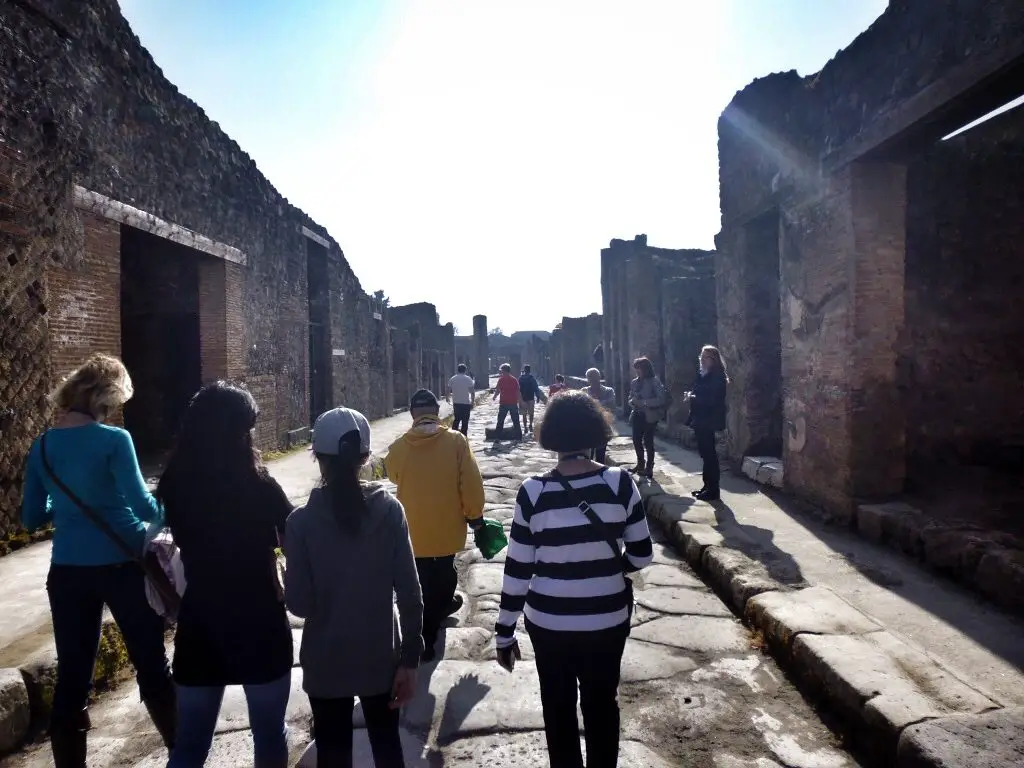 At first glance it is pretty apparent that you could spend weeks walking around Pompeii. Due to our limited time though a guided tour was perfect. We got to see the key sights and could ask questions along the way. If you are pushed for time then these are the sights we recommend:
The Forum
This was the religious, economic, and political centre of life in Pompeii. A lot of shops, temples and even courthouses were located in this area so it is definitely a must see. It really does gives a great insight into life in Pompeii.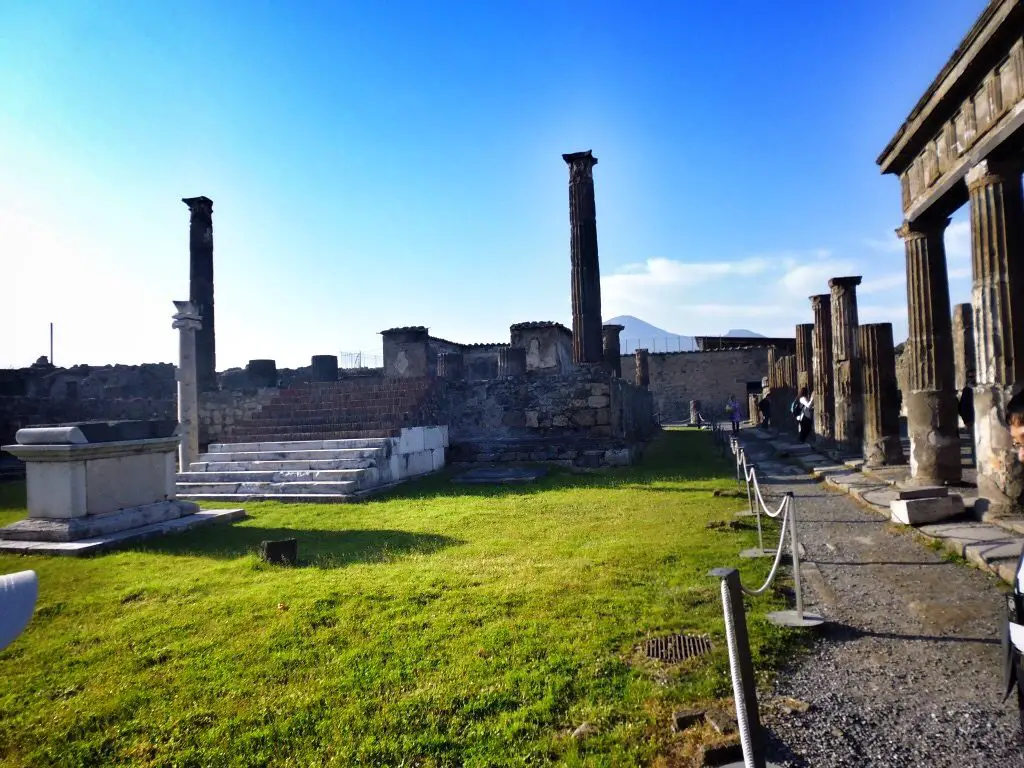 Lupanar
he Lupanar or the brothel is a must see. It might sound crass but it gives an incredible insight into life in Pompeii. The brothel was stretched out over two floors and your class determined what floor you went to. The downstairs contained 5 rooms each with a stone bed. There are also pictures on the walls, which I guess served as "inspiration".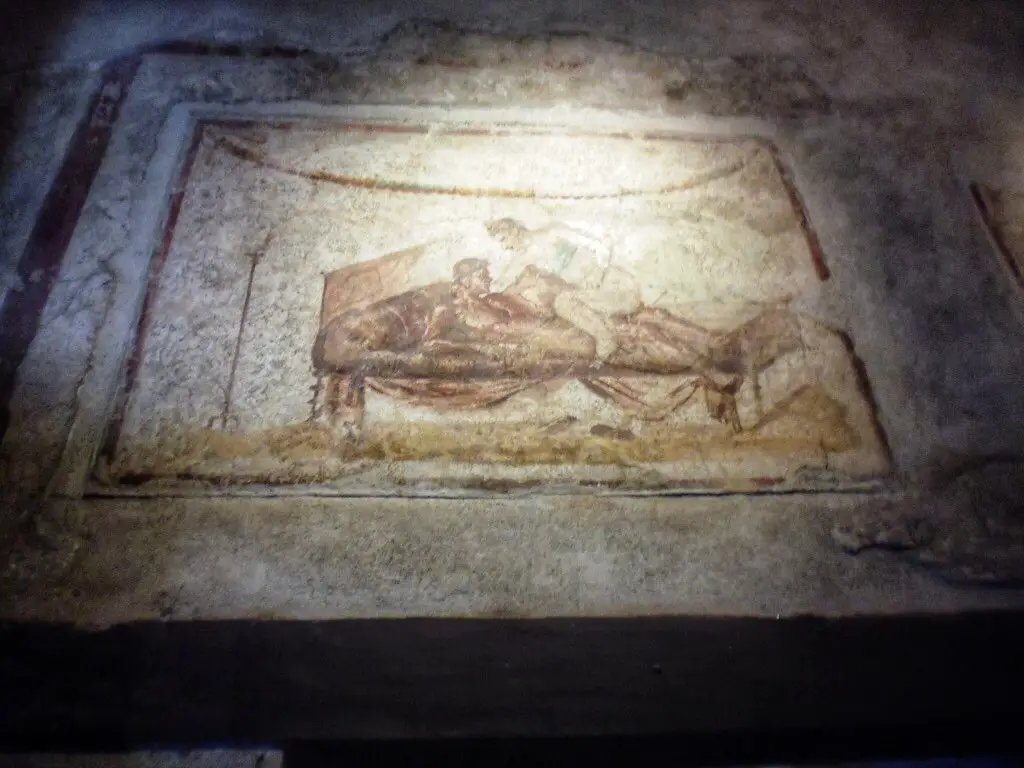 A handy tip, if you are looking for the brothel is to follow the the direction of the stone penises carved into the walkways and buildings.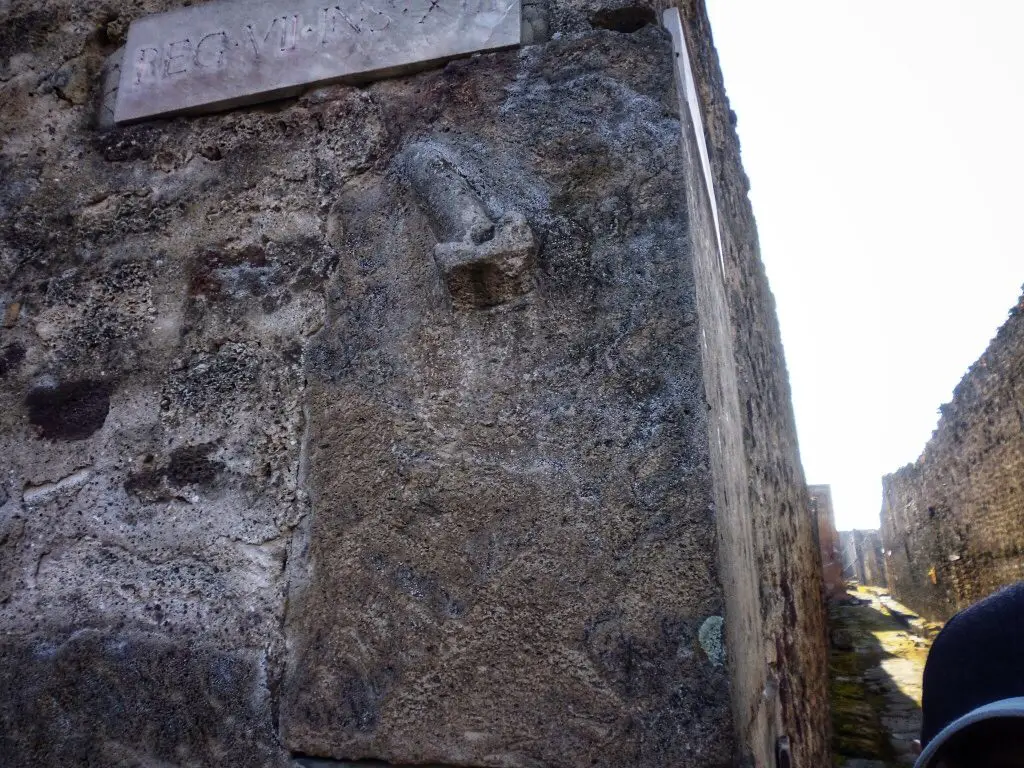 The Amphitheatre
Apparently this is the oldest stone building of its kind to be discovered. It dates back to 80BC and seated around 12000 spectators.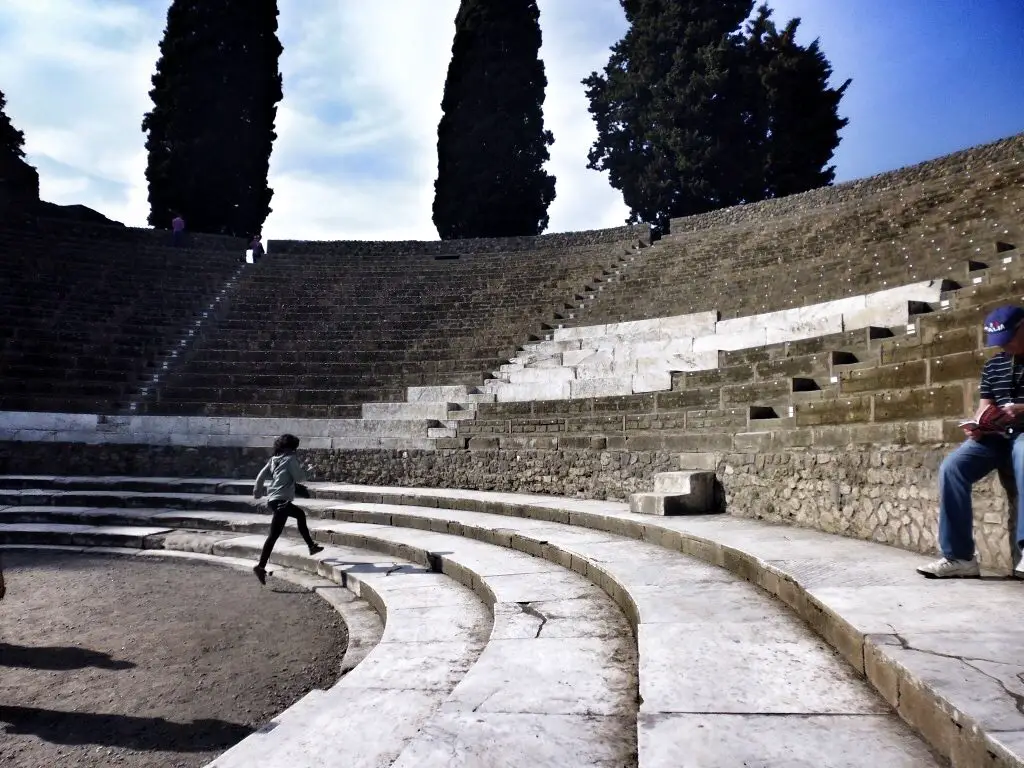 The Baths
Terme Stabiane is one of the largest and best preserved of the baths in Pompeii. Here you can see the baths up close and get an understanding of how they were heated. The male and female baths were separated by the stoves used to heat the water.
House of Vetti
Said to be the home of two well off brothers, this house is an amazing look into life in Pompeii. The kitchen even contains cooking utensils. One of the most beautiful things though has to be the garden. It has since been replanted to show what it would have looked like when people lived here.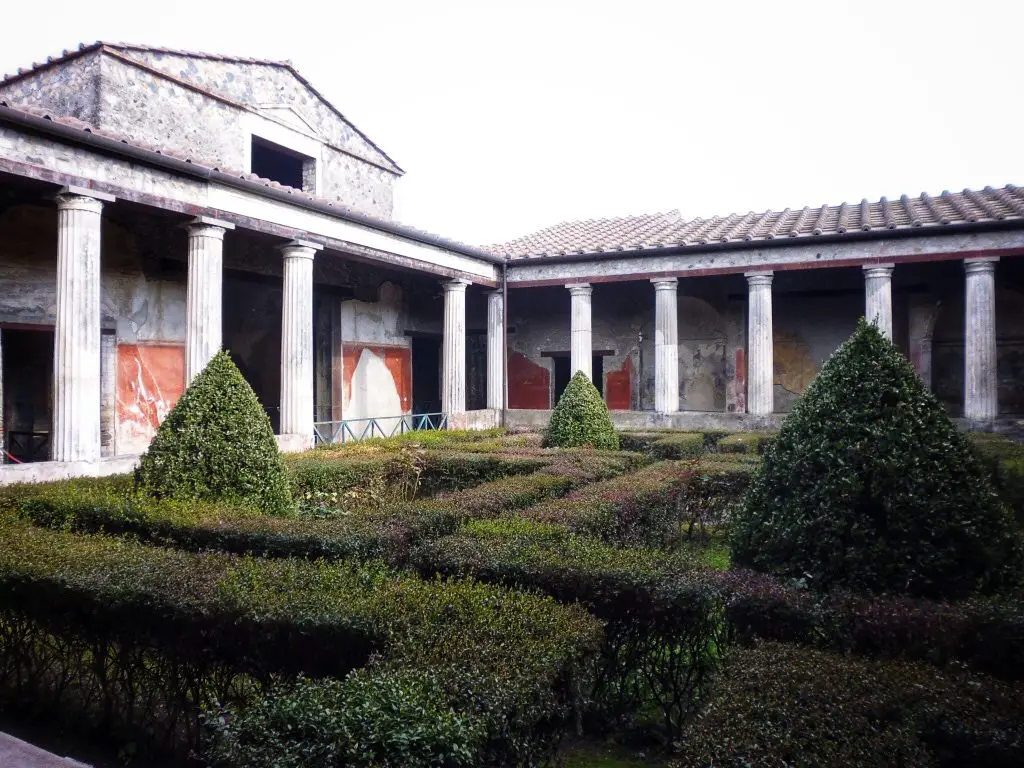 Some tips for your Rome to Pompeii day trip
Bring water. It gets really hot and there is not a ton of shade either. So make sure you are dressed appropriately and you stay hydrated.
If you are pushed for time take a tour. The guides are really knowledgeable and this gives you the chance to ask some questions as well.
Rome to Pompeii by bus – do we recommend it?
Considering there is such a distance between Rome and Pompeii for us the bus was certainly a quick and easy way to get there. If we had of had more time to prepare though we probably would have taken the train and tried to the do the trip at our own pace. If you want to avoid the stress of checking train times, booking tickets, and creating your own itinerary then visiting Pompeii by organised bus tour is the way to go.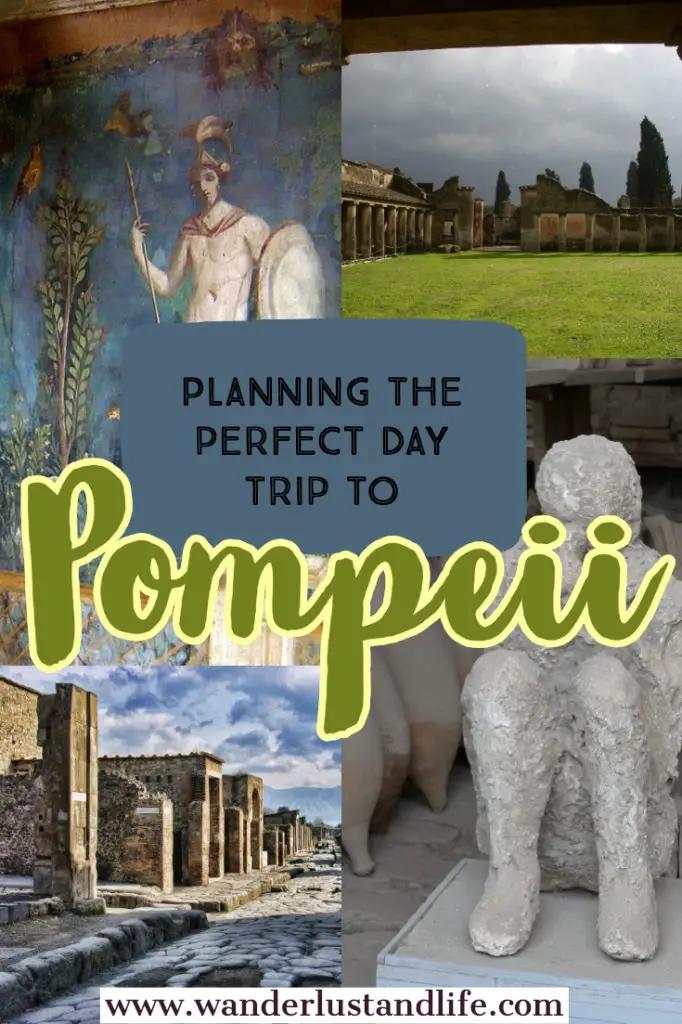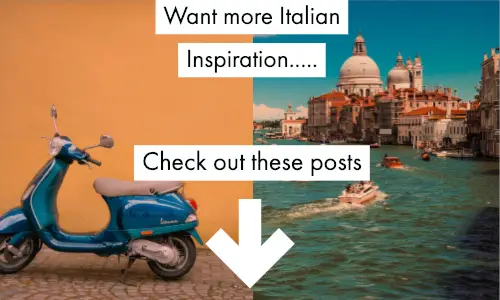 Handy tips for first time visitors to Rome