If you are looking to visit the England of storybooks with green rolling hills and quaint villages then planning a Peak District itinerary is a must. There are so many things to do in the Peak District and it can be slightly overwhelming trying to decide what to see first, especially if you only have 1 day. So to help you plan we have put together this guide with some of our favourite scenic locations and attractions, as well as top tips for visiting.
Disclosure: This post contains affiliate links, so if you use these links to buy something we may earn a commission, at no cost to you. Thank you for your support.
When to plan your 1 day in the Peak District
If you only have 1 day in the Peak District then summer is the optimum time to visit. The weather is obviously a lot warmer and the days are brighter longer, which is important because you will do a lot of walking. That being said we recommend avoiding visiting in the school holidays (August particularly) as it gets very busy.
Autumn or spring are also good times to visit, as it isn't too hot. We actually visited in winter which was nice although a bit cold and blustery. If you visit in winter wrap up warm and make sure you have solid hiking boots as the paths can be quick mucky.
What to bring on your day trip to the Peak District
Below is a checklist of things we think you should bring on your day trip to the Peak District. The weather can be quite temperamental in the Peaks so make sure you are wearing appropriate clothes, including waterproofs. Bring plenty of water and wear sunscreen. Also one thing that we wish we had of brought on our hike was lip balm, as windburn is not our friend!
✓ Waterproof jacket
✓ Comfortable shoes/ hiking boots
✓ Camera
✓ Plenty of water
✓ Hiking snacks
✓ Sunglasses
✓ Lip Balm
How long do you need for your Peak District driving itinerary
This guide has been put together as a Peak District driving itinerary and is intended to guide you to plan your own day trip to the Peak District. If you are relying on public transport you will not be able to visit all the sites we recommend in one day. Ideally if time is no issue you probably want to spend at least 2 days exploring the Peak District. There are so many villages and scenic spots and you will find yourself wanting to stop in between locations.
If you are short on time though 1 day in the Peak District is possible and you will still be able to see a lot if you plan well. A lot of people think that things will be close together in the Peak District, but you can be looking at over an hours drive to get from one place to the other. Roads can also be narrow in places which is another thing to keep in mind when getting from A to B.
If you are wanting to visit more of the Peak District or some of the other incredible national parks in the UK, you will obviously need a lot longer.
Peak District day trip without driving
Whilst this itinerary specifically caters to those who are driving, you can also plan a Peak District day trip by doing an organised tour. One of the examples below leaves from Manchester, which is a great base.
Tips for planning your day trip to the Peak District
Here are some of our top tips for planning your day trip to the Peak District
Plan what you want to see in advance as well as your driving route
Bring a jacket as even in the summer it can get cooler in the evenings
Wear comfortable shoes you will do a lot of walking
If there is a particular place you want to eat try book this in advance otherwise you might miss out (particularly in summer)
Be prepared for winding roads, and make sure you fill the car with petrol before you go as you might not always find a petrol station close by.
Peak District driving itinerary tips
Driving really is the best way to see the Peak District. If you are renting a car we have a separate article to with everything you need to know about renting a car in the UK.
A lot of the roads around the Peak District are narrow so take care when driving
Don't feel pressure to do the maximum speed limit. If someone is close behind you pull to the side and let them pass if it is safe to do so
Listen to the SatNav but also trust your gut. The SatNav directed us down a dirt track which we immediately knew was wrong so we turned around very quickly
Have a look at the weather conditions before you go, as this will have an impact on the drive.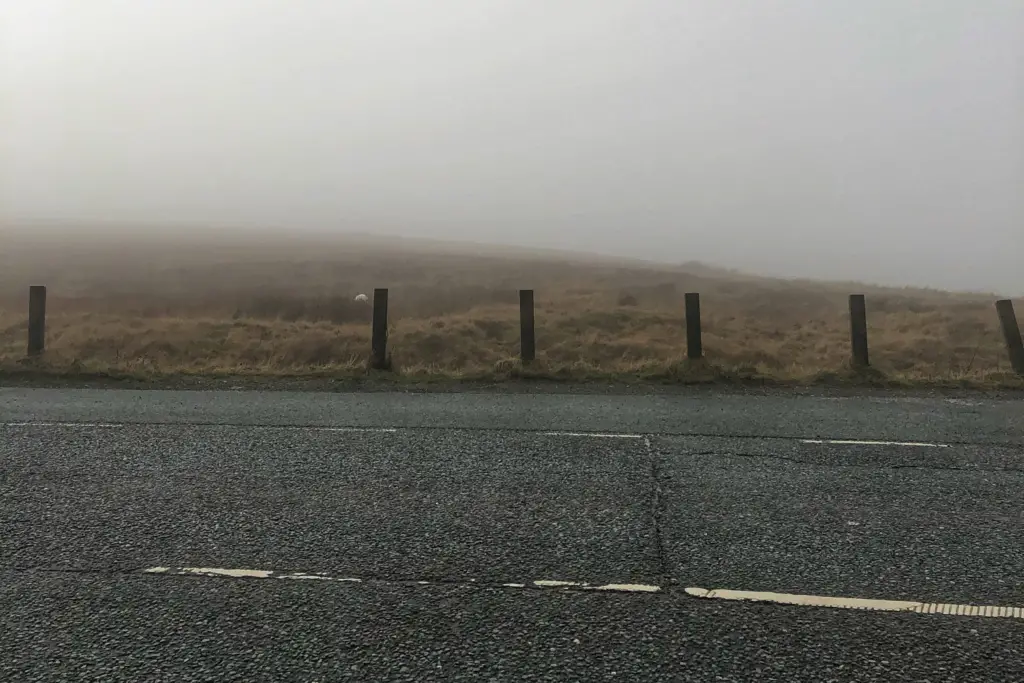 Best things to add to your Peak District itinerary
Here are some of our favourite things to add to your Peak District itinerary.
Lyme Park
Ok so technically Lyme Park is nestled on the edge of the Peak District, but once you take a walk away from the house and garden you will experience the vast landscapes and beauty the Peaks have to offer. The Park is a National Trust site, so you do need to pay for parking and to visit the house. It is worth it though because you will feel like you have walked into an old British drama. Speaking of British drama Pride and Prejudice (the Colin Firth edition) was actually filmed here. And yes that does include the pond scene!
If you venture past the house and gardens you can do one of the walks of the surrounding area, and get an incredible view of Manchester in the distance whilst you are at it.
You probably want to schedule in a good half day at Lyme Park at the very least, especially if you plan to venture out and do a bit of a hike. There is a cafe where you can purchase food and drink, and there are also toilet facilities – basically everything you need to start off on your Peak District itinerary.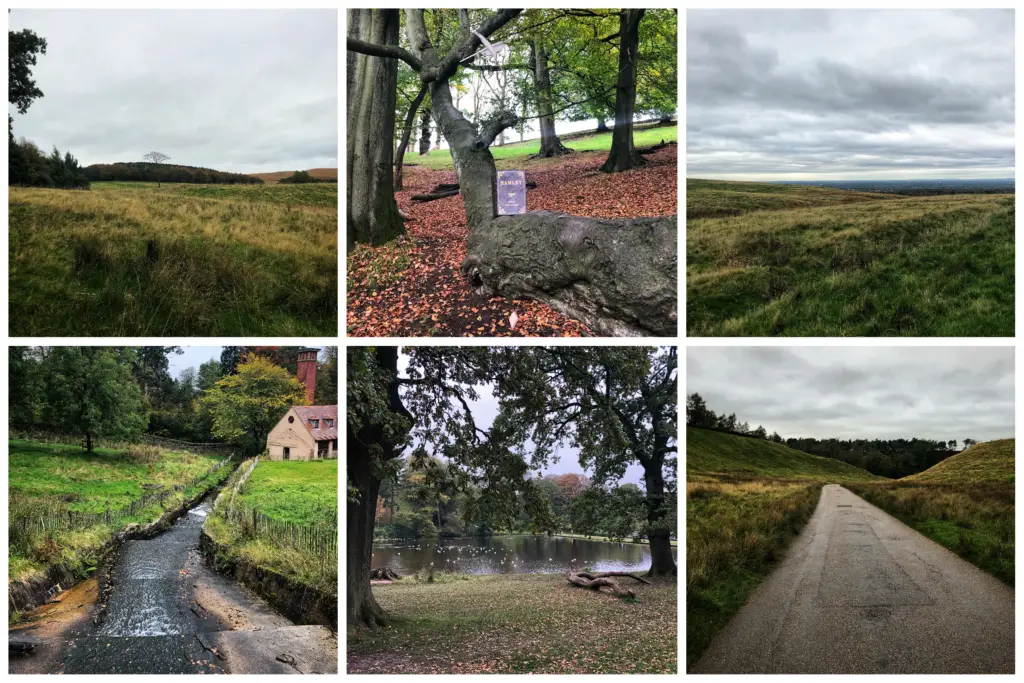 Buxton
Located about a 30 minute drive from Lyme Park is Buxton, or more specifically Poole's Cavern and Buxton Country Park which sits at the edge of Buxton. Poole's Cavern is an almost 2 million year old natural limestone cave. For around £15.00 you can book yourself a guided tour of the caves, which is well worth it. The tour lasts about 45 minutes and is really informative. It is recommended that you book tickets in advance to avoid missing out.
We also recommend making some time to do the wooded walk around the caves. About 20 minutes from the cavern you will Solomon's Temple and some breathtaking views across the high peak.
Again there is paid parking here, and several facilities such as toilets and a cafe to purchase light refreshments. All in all your probably want to spend a couple of hours here, which makes it a great place to stop as part of your Peak District itinerary.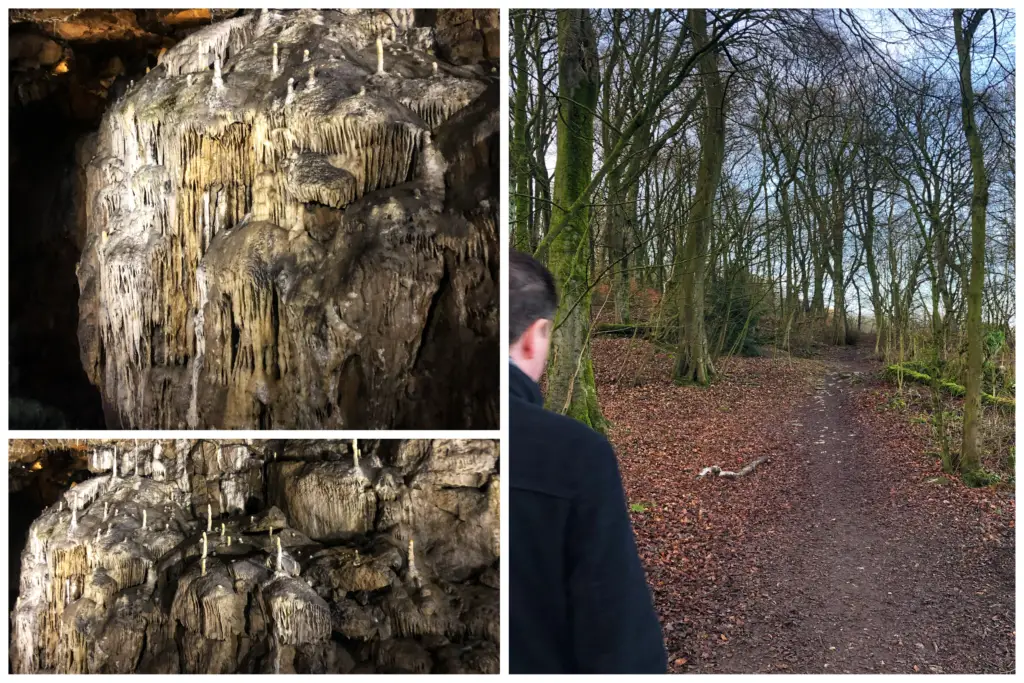 Castleton
Of all the things to do in the Peak District a visit to Castleton has to be our favourite. Castleton is a very picturesque village located in the heart of the Peak District National Park. Here are some of our top things to do in Castleton:
Visit Peveril Castle
Visit one of the 4 caverns
Hike Mam Tor
If all that exploring has you looking for a good feed, you are in luck. There are a number of pubs and cafes selling everything from homemade cakes and hot chocolate to proper British pub food. If you go during peak times or at a weekend we recommend making a pub reservation in advance especially if there is somewhere you desperately want to eat at. There are also a number of quirky shops selling all sorts of trinkets so plan some time to pop inside.
In terms of practicalities there is pay and display parking near the Castleton Visitors Centre which is centrally located. This is probably a place where you want to spend a good few hours, and if you are planning to go on a hike especially up Mam Tor you will need to spend a full day here.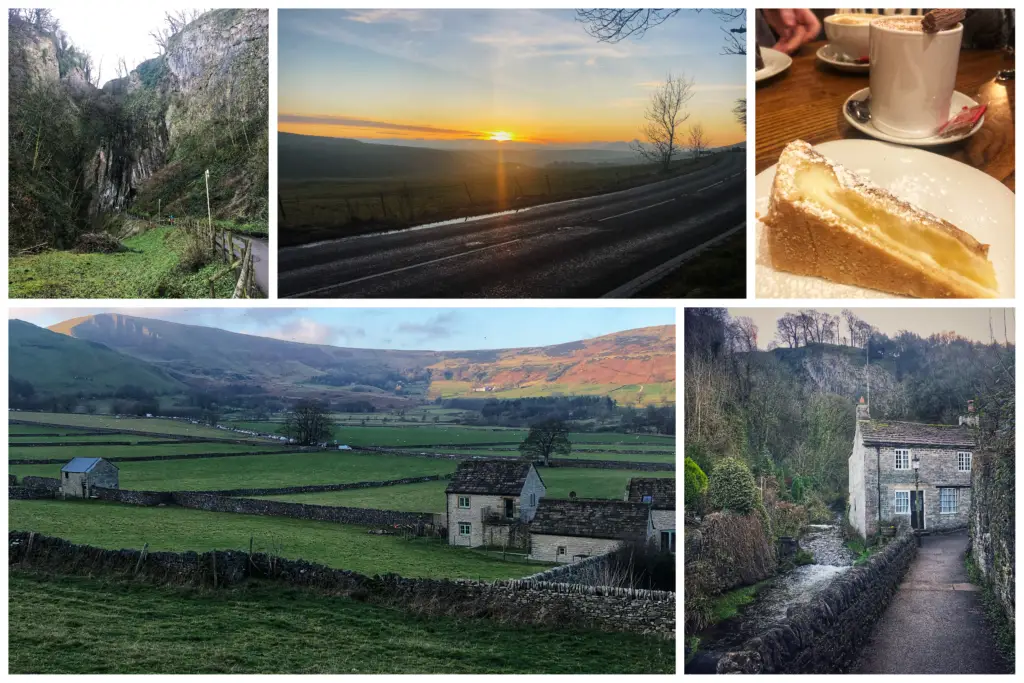 Dovestone Reservoir
The Dovestone Reservoir is another spectacular place to add to your 1 day Peak District itinerary. It's located on the western edge of the Peak District and is great especially if you are driving from Manchester as it is quite close. You can do a nice walk around the reservoir, or you can climb one of the hills for some amazing views. It's quite an easy walk as well compared to other hikes in the Peak District so we recommend this one for beginners.
There is paid parking close to the reservoir, which is handy especially if you are doing a quick stop off. Make sure you bring plenty of water and snacks as there are not a lot of places that sell these, particularly if you are visiting on a summer evening.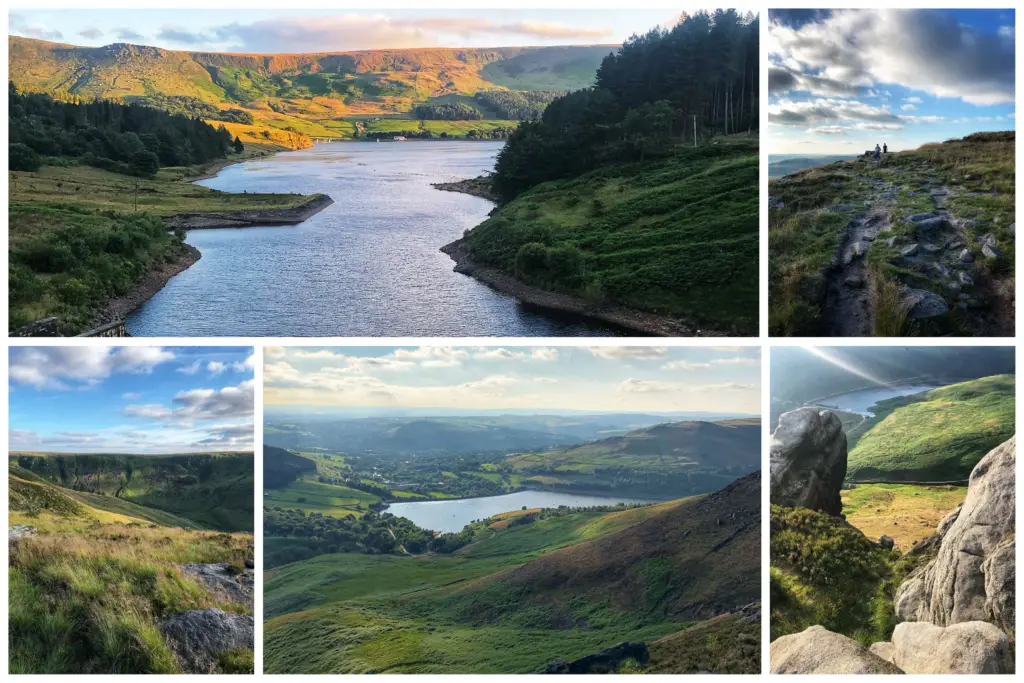 Putting your Peak District Itinerary together
These are just some of the places we have visited but honestly there are so many more incredible places to see and things to do in the Peak District. In all honesty you won't be able to do everything in 1 day, unless you spend limited time in each place. We recommend maybe sticking to two sites when planning your itinerary and spending a half day in each.
Peak District Itinerary Map
Below is a map with all the key places mentioned in this article so you you can see the distance between each one.
So should I do a Peak District day trip
Absolutely. The Peak District is one of our favourite day trip destinations, especially because we live so close in Manchester. It's such a beautiful place to visit and gives you a chance to take a break from the hustle and bustle of the city centre. The rolling hills, incredible lakes, and countryside setting make it the perfect place to get lost, unwind, and just have a great time.
More UK day trips
If you are looking for some more UK day trip ideas you can check out these articles: