Lviv is somewhere that holds a very special place in my heart. My grandfather is from there, and my 3 remaining grandparents were also Ukrainian. I grew up wearing vinoks (flower wreaths) on my head, and eating good old fashioned Eastern European food. So when we finally decided to plan a trip to Ukraine, I knew we had to spend at least a weekend in Lviv. Overall we spent 2 days in the city which is often referred to as the cultural capital of Ukraine. We have put together a comprehensive 2 day Lviv itinerary with everything you need to know about visiting, as well as a list of the best things to do in Lviv.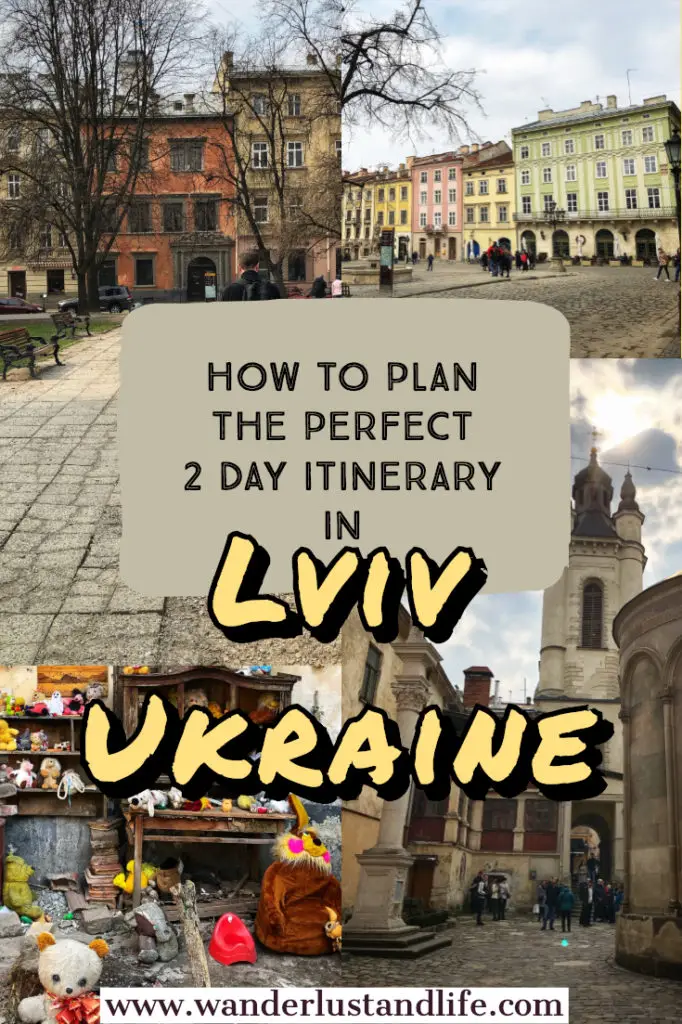 Background
Before we get into the nitty gritty of things to do in Lviv, I wanted to share some background of the city as its tumultuous and oppressive history is intertwined in its DNA. Lviv is located on the western side of Ukraine and is relatively close to the Polish border. The city itself has throughout the years found itself under the rule of Poland, the Austro-Hungarian Empire, and the Soviets, before being a major key player in Ukrainian independence in 1991.
These days Lviv is known as the cultural capital of Ukraine, with a number of theatres and concert halls, as well as cultural festivals happening at various times during the year. It is also fiercely nationalistic which you will notice in subtle ways during your trip. Ukrainian is widely spoken here, whereas in other parts of Ukraine, due to historical reasons Russian is also common.
What makes Lviv so special is the fact that since 1998 the Historic Centre is classed as a UNESCO world heritage site. The city's architecture is distinctively European although you will notice a few Soviet era monuments erected throughout the city. Tourism is on the increase so if you want to experience this historic city without the crowds then now is the time to visit, before the secret gets out.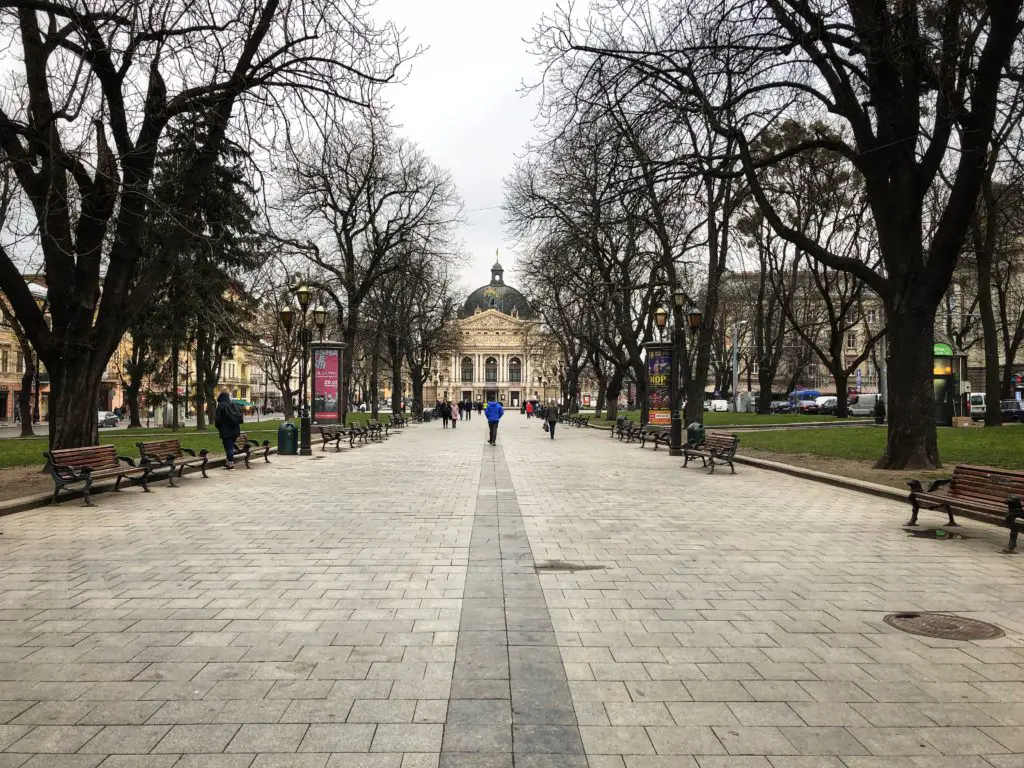 Fact sheet
Country: Ukraine
Languages Spoken: Ukrainian
Currency: Ukrainian hryvnia (UAH)
Famous for: Chocolate, culture and Ukrainian literature
Visit if you like: Quirky places and historical architecture
Getting Here
Lviv is becoming a lot easier and cheaper to visit thanks to recently opened cheap direct flights from the UK operated by Ryanair. They also have direct flights from London and Manchester to Kyiv. We actually flew the first direct flight from Manchester to Kyiv with Ryanair and the flight time was approximately 3 hours. We then took the train from Kyiv to Lviv which is around 5 hours on an express train.
Getting Around Lviv in 2 days
Lviv is a pretty walkable city. Most of the main attractions are within walking distance, however you may find yourself needing to catch public transport during your trip. We caught the tram a couple of times which is actually pretty easy to use. The fare costs 5.00 UAH per person regardless of the distance travelled.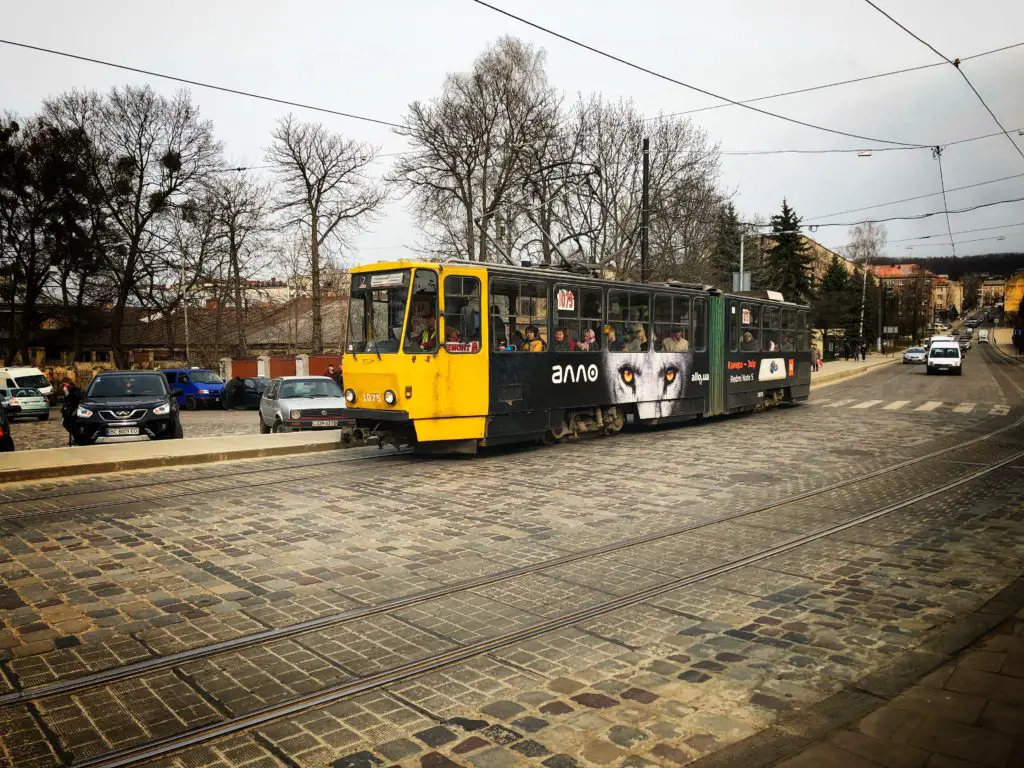 You hop on the tram, walk to the front where you will see a small compartment to place your money. The driver will then give you a ticket and your change if necessary. If you are buying more than 1 ticket make sure you specify!
How much money do you need for a weekend in Lviv
One of the really cool things about Lviv is that things can be relatively cheap. For example we booked accommodation directly in the city centre. The room was huge and it was a 4 star hotel. This cost us around £65 a night. The equivalent in the UK would be at least £100 per night. A cup of coffee is just over £1 in Lviv and a meal for 2 including drinks never cost us more than £15. Overall Lviv for us was a cheap city. And yes we made it slightly more expensive by eating out for every meal and staying in up market accommodation, but if you are after a cheap trip Lviv is a great option.
Where to stay
There are a number of hotels in Lviv to suit all budgets. We decided to stay at the Rius Hotel. It is geared towards business people, and is centrally located. The hotel occupies the 6th and 7th floor of a downtown building and a lot of rooms have a balcony. We decided to splash out a bit and got a room with a couch and coffee table. The room was really big and reasonably priced.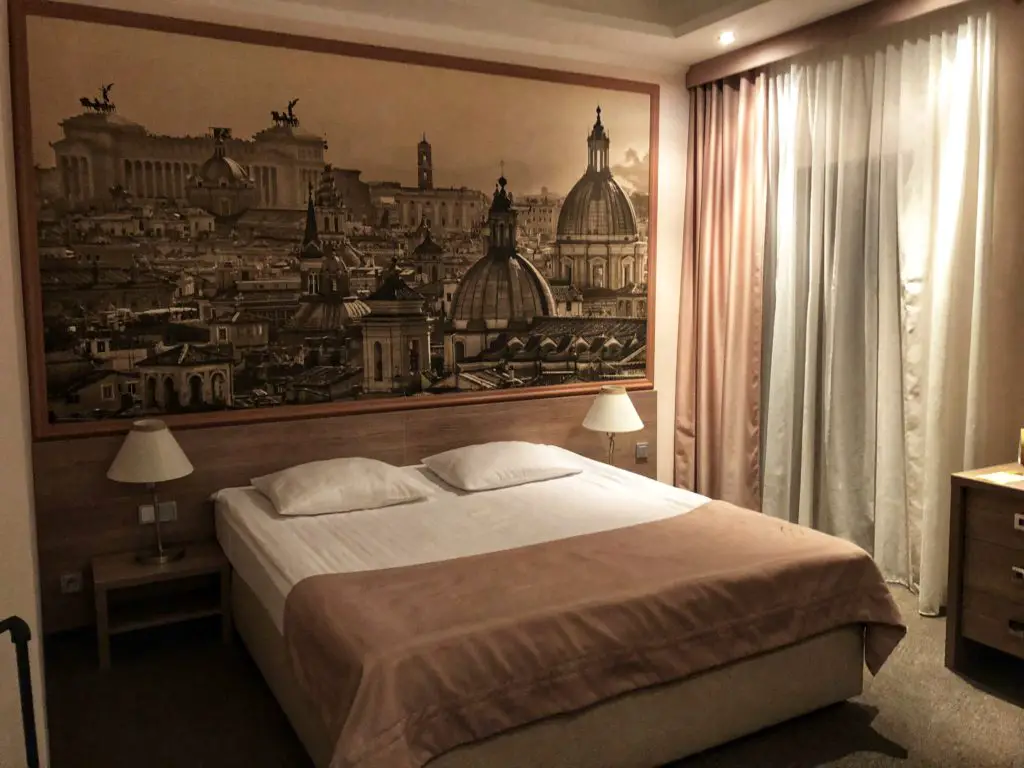 When to visit
Our trip to Lviv was in April. This was just before peak season which starts in the summer months, but right after the cold winter months. We actually think April is a fantastic time to visit. The weather was mild, ranging between 2 and 12 degrees Celsius, and the best thing was we had a lot of sunshine.
Lviv in 2 days -packing list
The time of year you visit Lviv will determine your packing list. That being said there are some staples that you should bring with you.
A decent jacket– even in the summer months the evenings can be cool so this is definitely something to have with you all year round.
Good pair of walking shoes– you will want to walk around a lot and there are a lot of cobblestoned streets.
A Ukrainian phrasebook– this is crucial as it helps to know the basics of the language like numbers, and please and thank you as English is not widely spoken.
Sunscreen– Dave got sunburnt in April. Enough said.
Best things to do in Lviv in 2 days
Here is a list of some of the best things to do in Lviv in 2 days.
Visit the Old Town
Lviv's Old Town is the Historic Centre which now has UNESCO World heritage status. When we planned our trip to Ukraine I had this stereotypical idea of what a Ukrainian city would look like. I imagined it to be filled with those old Soviet tower blocks, and with very little personality. Upon visiting Lviv's Old Town these ideas that I held were completely shattered.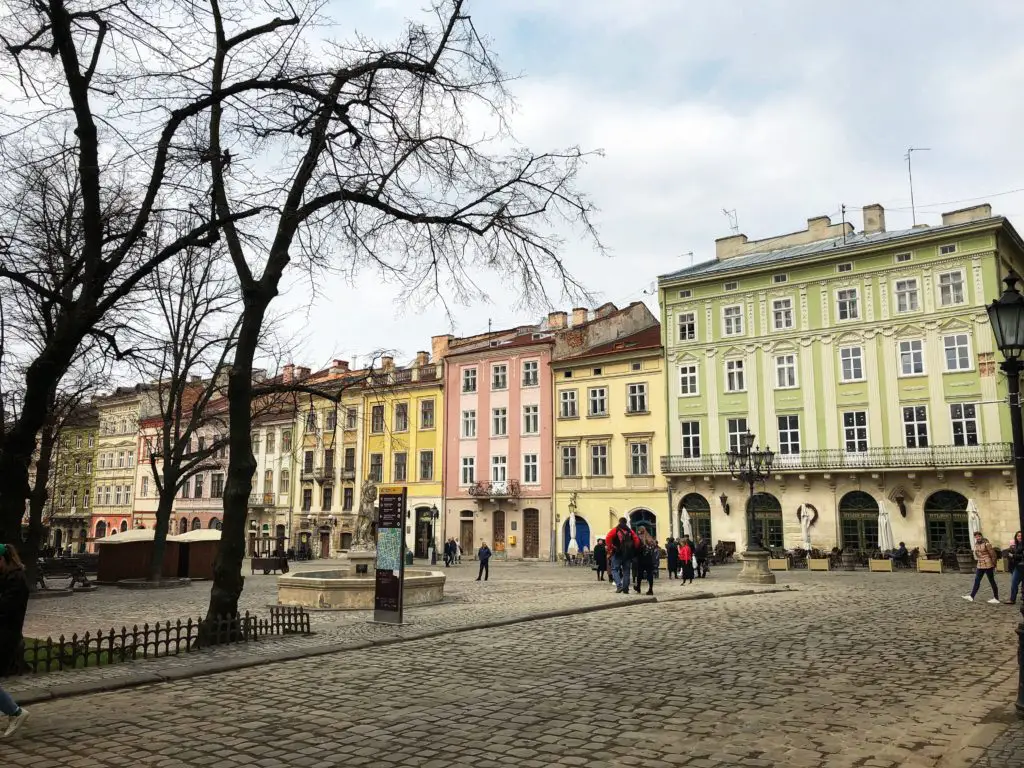 The Old Town is very European. In fact if it wasn't for the distinctive Cyrillic writing you could be excused for thinking you were in any other European city. In the centre of the Old Town is Rynok or Market Square. The area is full of cobbled streets, colourful architecture, and a number of shops and cafes. The Old Town is full of so much character, currently unspoiled by mass tourism. It is a delight walking around and you can discover so much.
Old Town Book Market
So the Old Town Book Market is quite obviously in the Old Town, but it is such a quirky sight that I wanted to give it its own bullet point. Everyday, vendors set up here selling old books. You honestly never know what you might find. It really captures the old world charm and character of Lviv.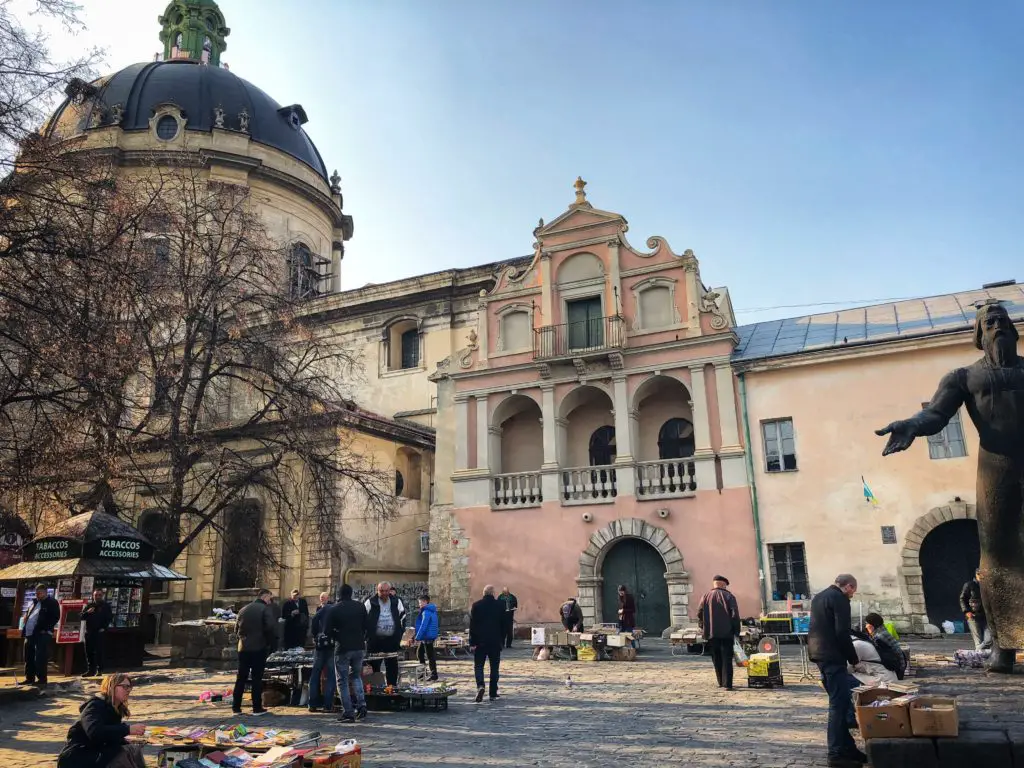 Get your picture taken with a tram
Right next to the Book Market is a tram that has been turned into a tourist office and souvenir shop. The slogan 'Just Lviv It' is painted across it and it is a great place to get your picture taken.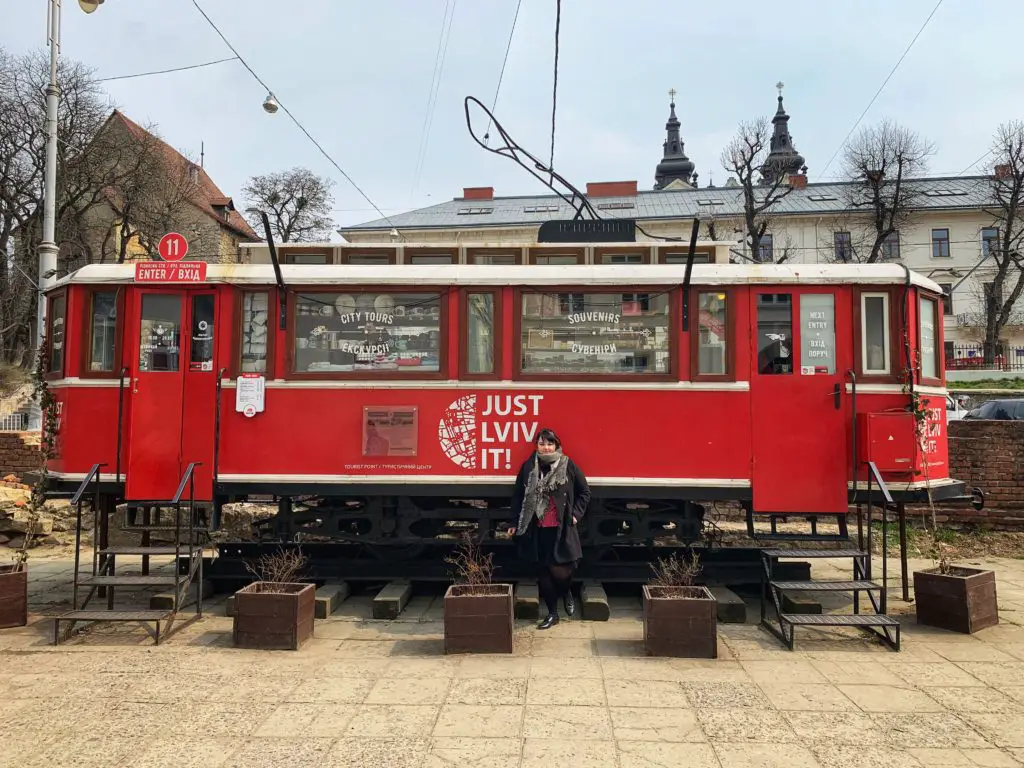 St George's Cathedral
Located on a hill overlooking the city of Lviv you will find St George's Cathedral. The cathedral is of great historical importance as this was the mother church of the Ukrainian Greek Catholic Church during the 19th and 20th Centuries.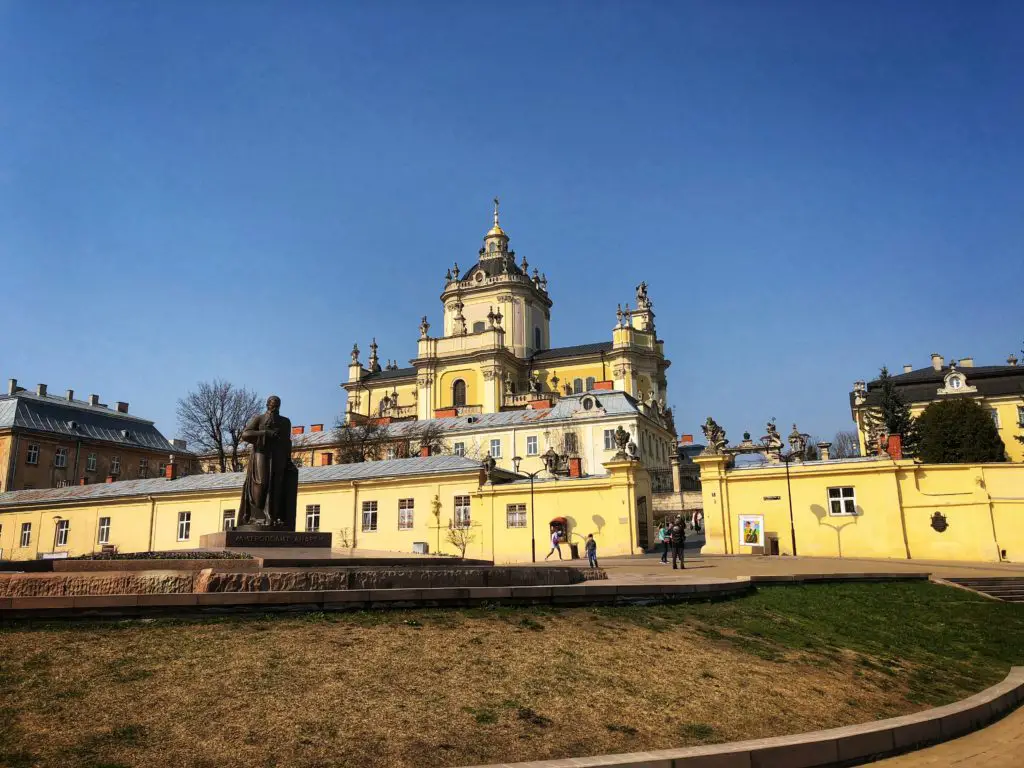 The cathedral is well worth a visit, particularly the inside which is just spectacular. There are gold carvings, and a diverse range of iconography. We were lucky enough to stumble inside whilst a mass was taking place which was a moment of tranquility in our chaotic day of sightseeing.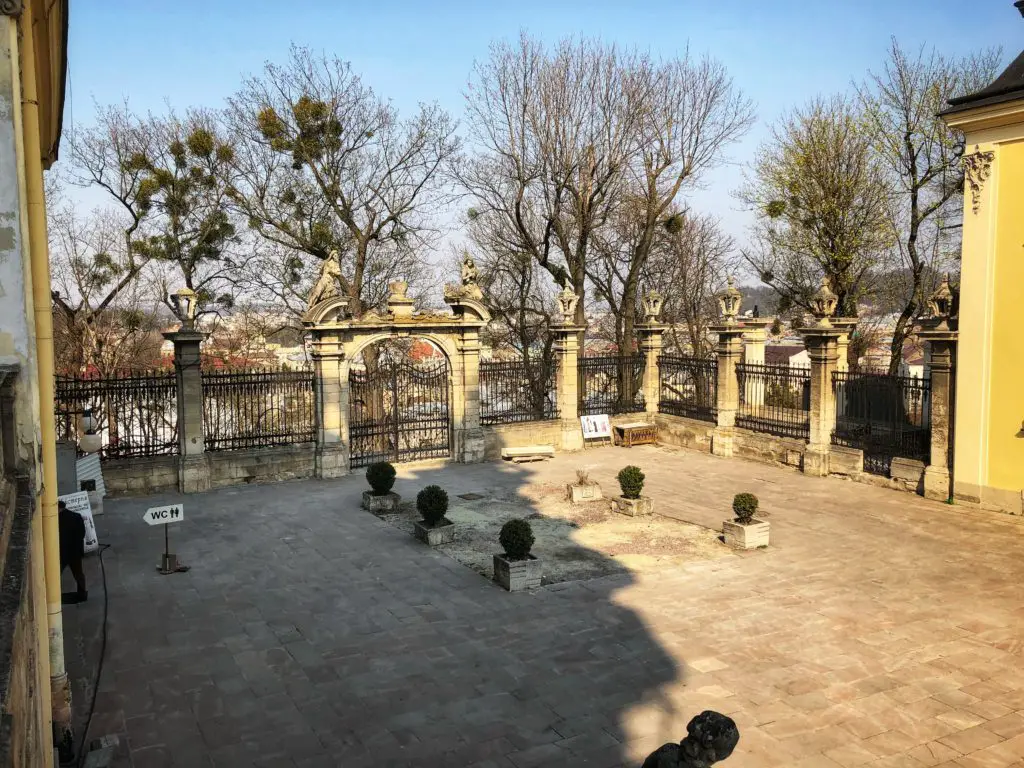 Potocki Palace – Lviv Art Gallery
Potocki Palace is probably one of the grandest buildings in Lviv. And again completely shattered our illusion as to what a Ukrainian building might look like. The Palace honestly would not look out of place if you were to stumble upon it in somewhere like Vienna. It was built in the 1880's and apparently no expense was spared in order to make it into a noble residence.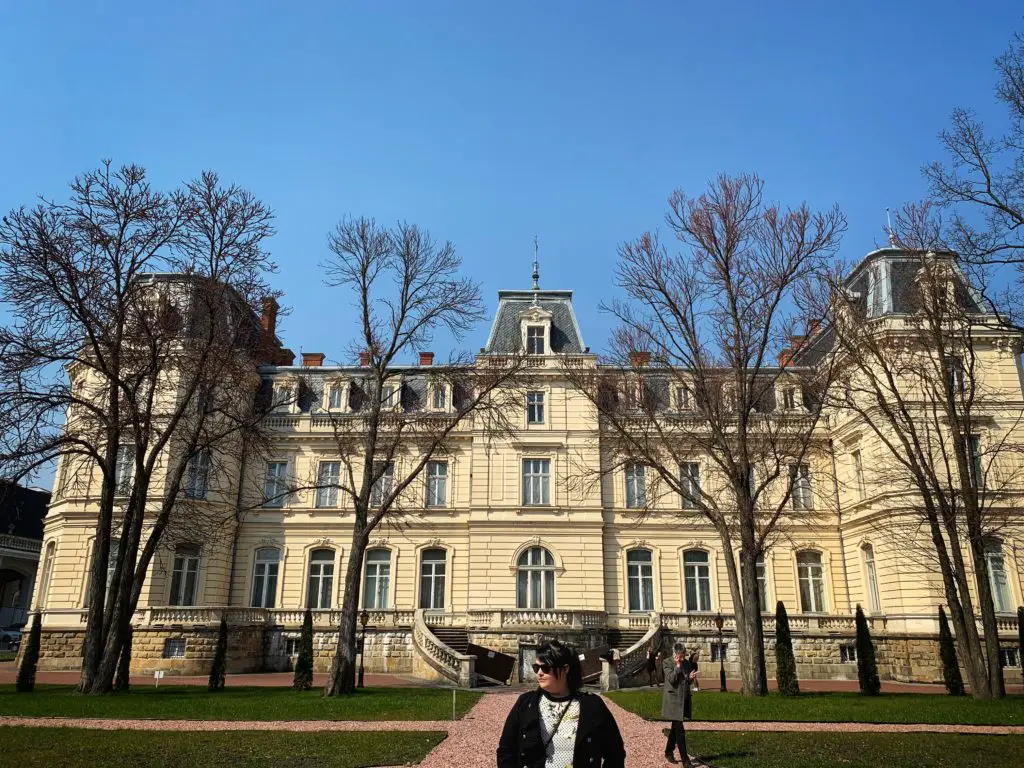 These days it is also home to the Lviv Art Gallery. Even if you don't like art a visit here is a must. The interior of the Palace is incredible. Filled with creaky floorboards, impressive chandeliers, and spiral staircases, walking around inside is an experience in itself.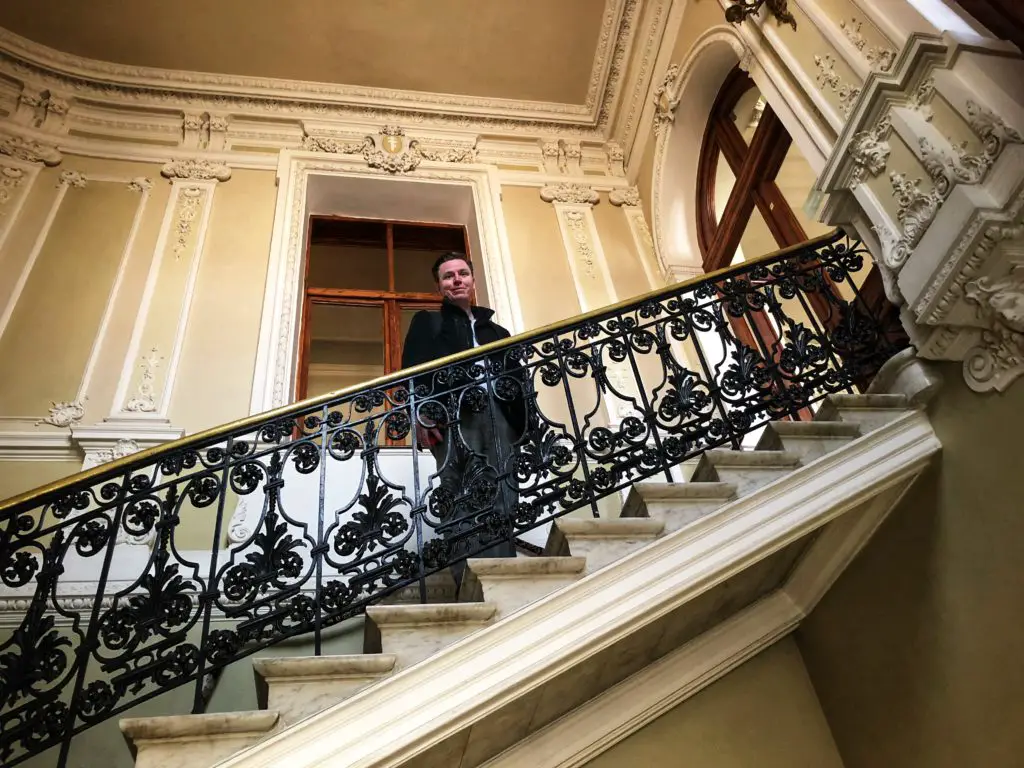 National Museum and Memorial of Victims of the Occupation Regimes
This museum, also known as the prison on Lontskoho street, was used during the 20th century as a political prison during the Polish, Soviet, and Nazi regimes. It serves as a reminder of Ukraine's oppressive past and entry is free (at least that's what we think they said- my Ukrainian is a little bit rusty these days).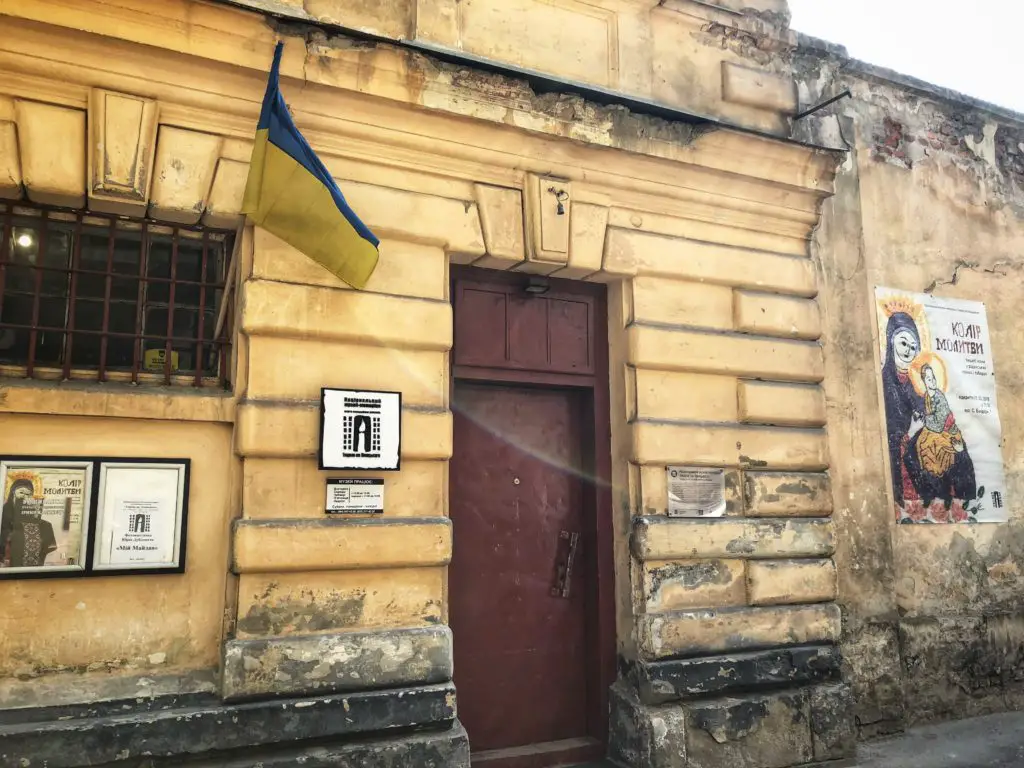 A good majority of the exhibits are in Ukrainian but even so we would recommend a visit. One of the rooms includes several stories of Ukrainians who were held as political prisoners and these are written in both English and Ukrainian. Some of the pictures and stories are gut wrenching. I know a lot of terrible things happened particularly under the Soviet and Nazi regimes, but to see the faces of those that were imprisoned for wanting a free Ukraine makes you realise how lucky we are in western society.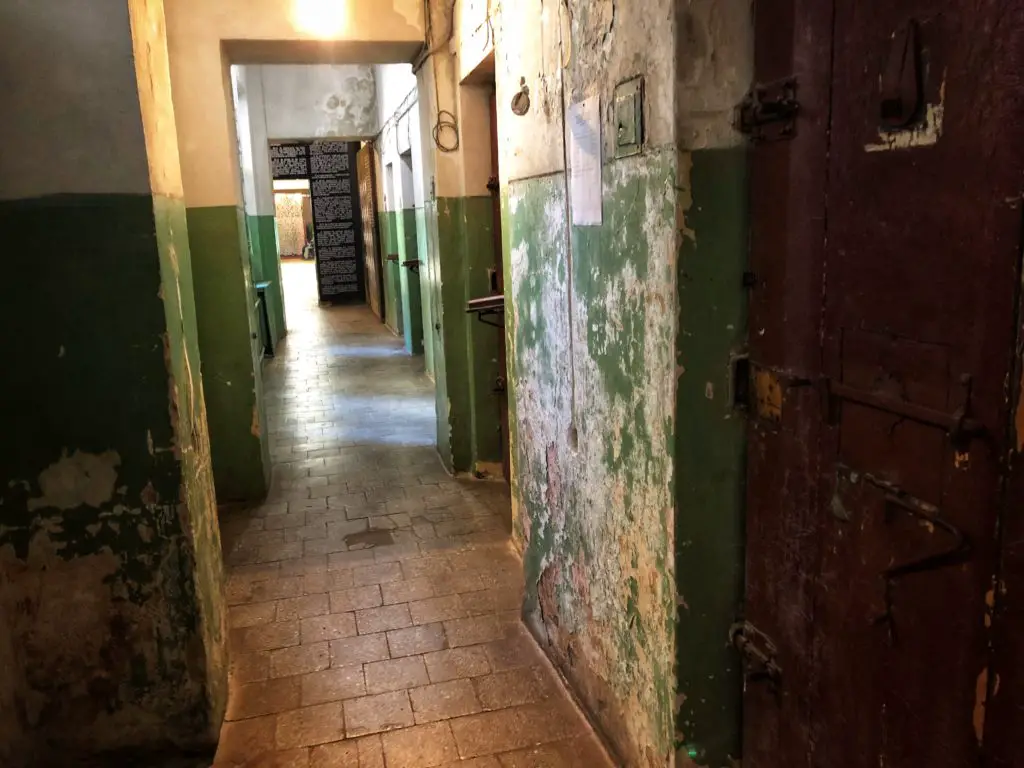 Chapel of the Boim Family
This is truly one of the real gems in Lviv. When we first arrived we looked at the outside and it was impressive, but we weren't sure about paying to see the inside. We are both so glad we did because this interior, constructed between 1609 and 1615 is so intricate, you could spend all day looking at it.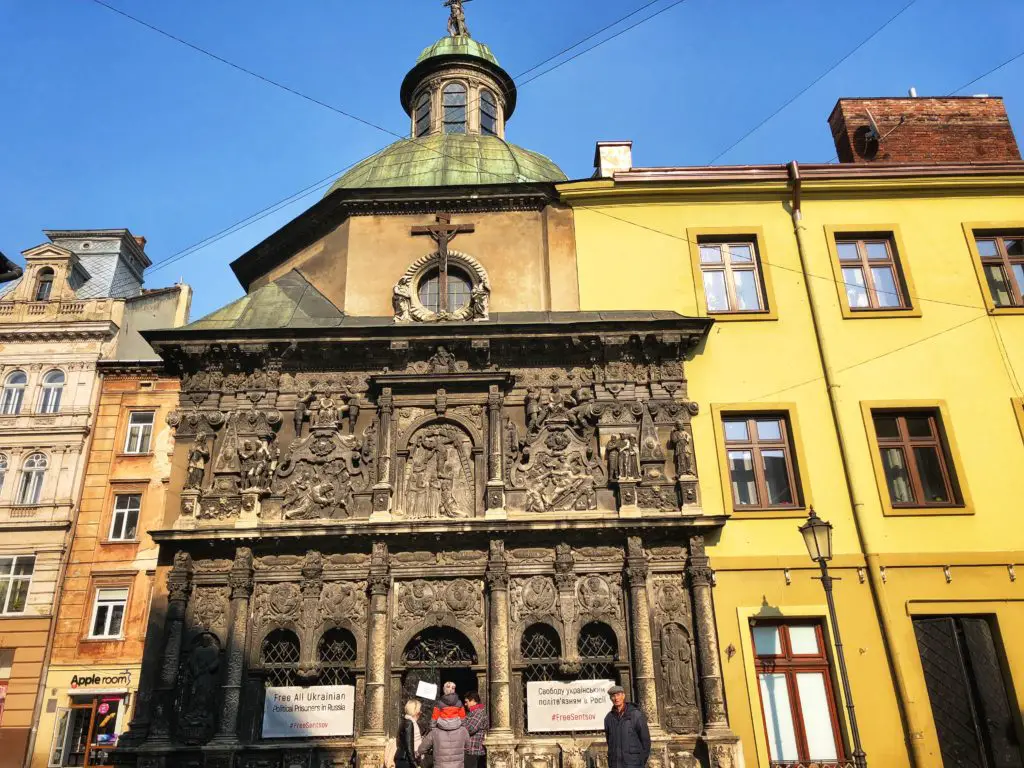 The chapel is only small and was built as a tomb for the very rich Boim family. In total 14 members of the family were buried here and by some miracle the chapel has survived to this day. The photos we took don't even begin to do the chapel justice, and it really is something you need to see for yourself if you are ever in Lviv.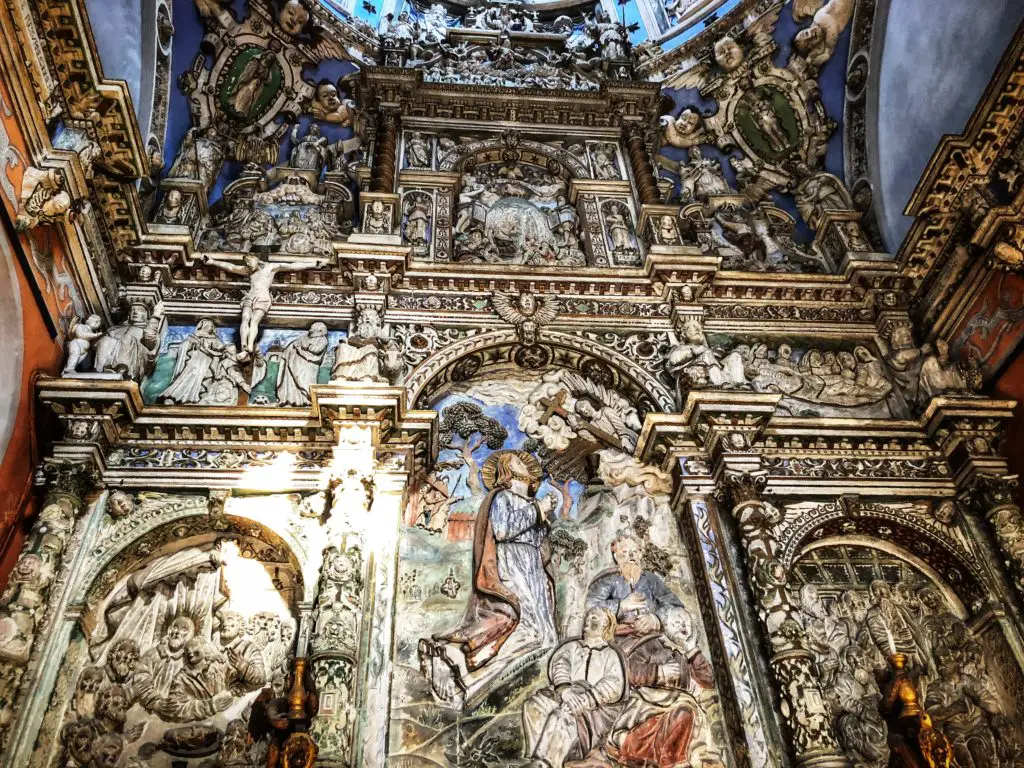 Armenian Cathedral
When we visited the Armenian Cathedral it was actually closed for renovations, which was a real shame because the pictures we have seen of the interior are just incredible.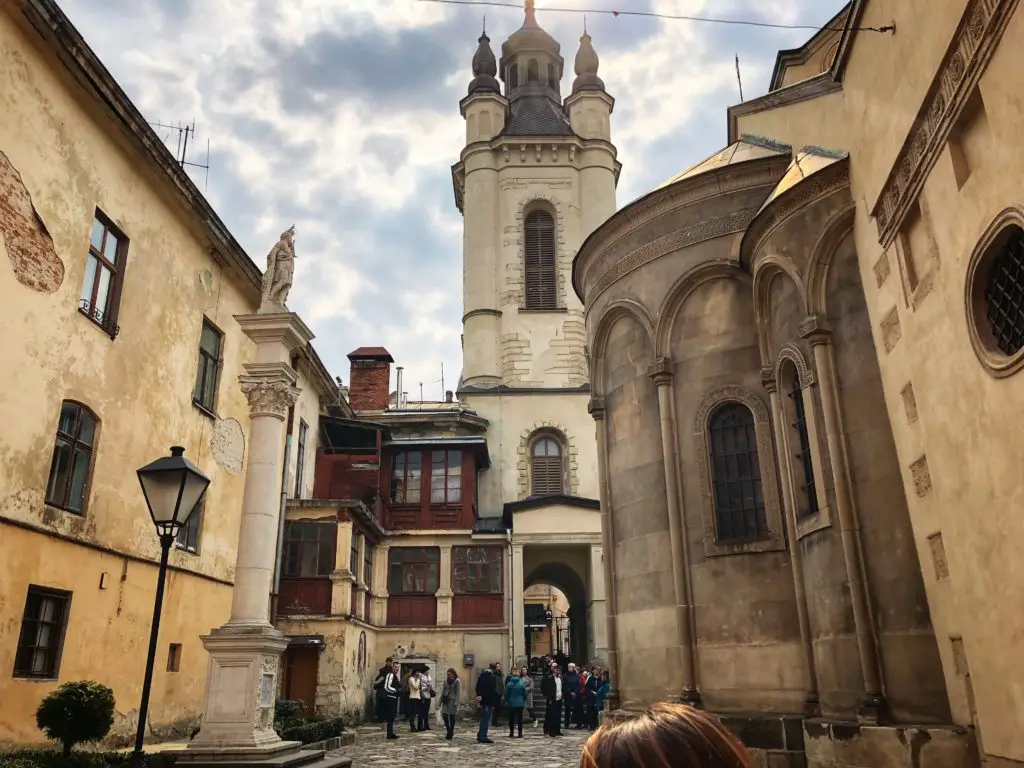 Nevertheless we did enjoy walking around the area and got some cool photos of the exterior. The surrounding area has a sort of old world feel so even though we couldn't get inside we were still glad we visited.
Lychakiv Cemetery
I know it is a weird thing to say, but this cemetery is beautiful. It is a famous and historic cemetery, where a number of notable people are buried. The most notable for me had to be Ivan Franko, a Ukrainian poet and writer who I grew up admiring as a child.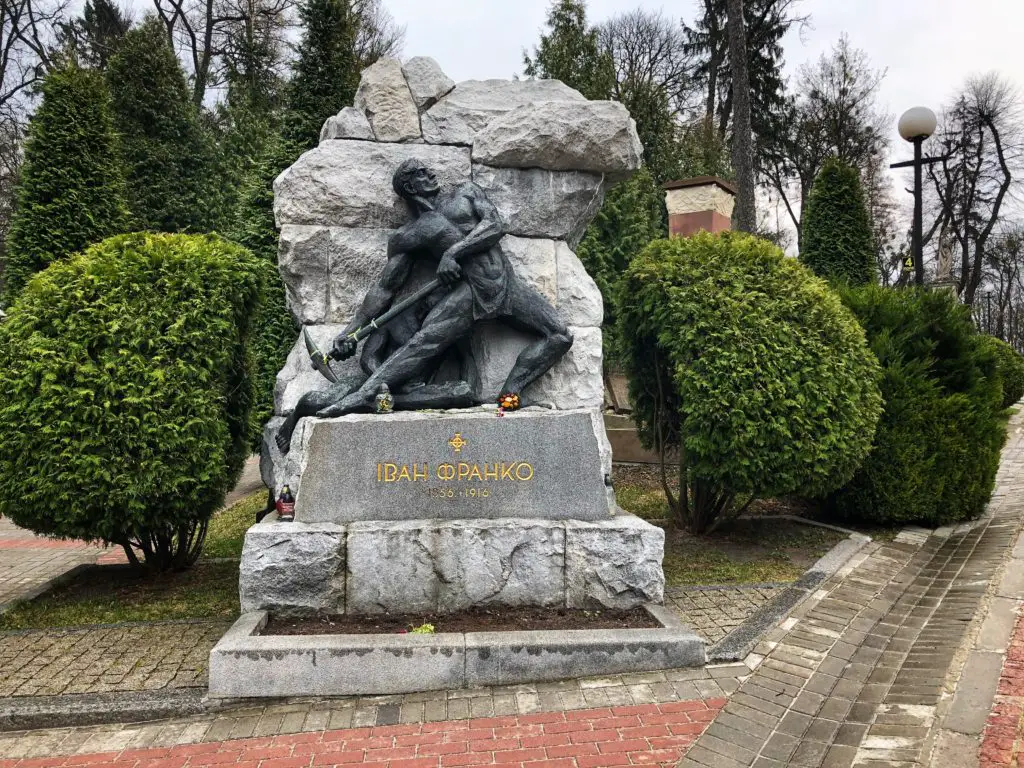 Even if you aren't a literature fan, the cemetery is still impressive. It reminded us a lot of Père Lachaise in Paris, although Lychakiv is actually older than its French counterpart. The graveyard was the final resting place particularly for the wealthy and some of the graves and monuments are so grand, they almost look like they belong in an art gallery.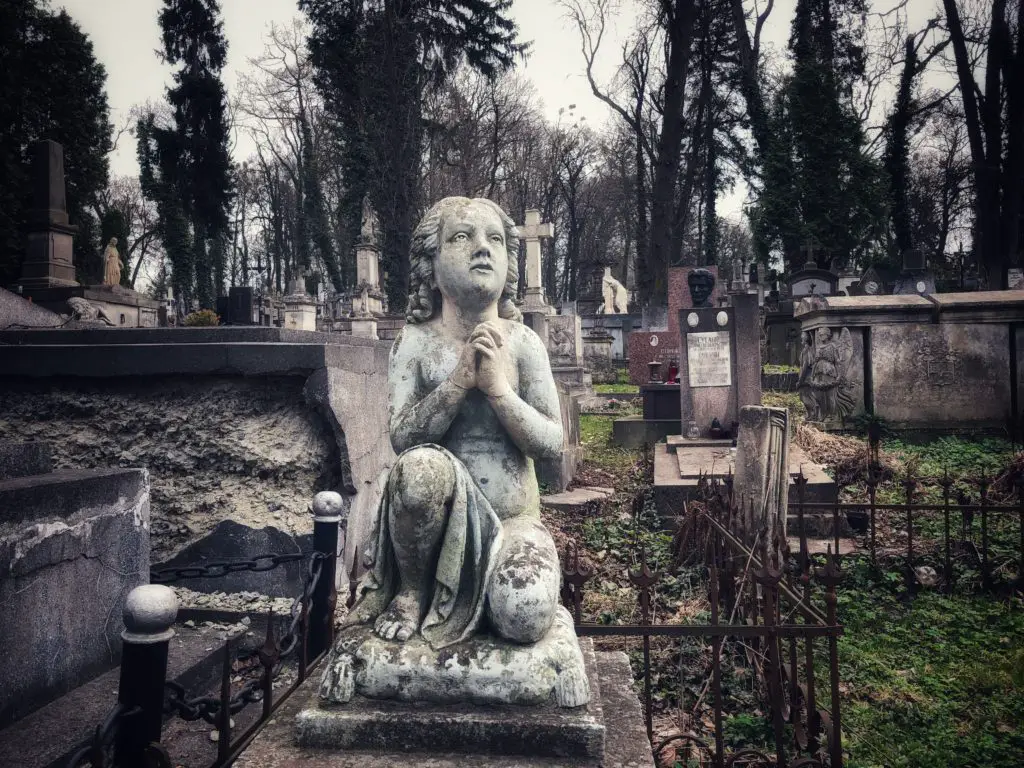 We spent a good part of a morning walking around here, listening to the birds chirp, and looking at some of the crumbling gravestones. Some of the cemetery was destroyed during Soviet occupation following World War II, so it is a blessing to be able to walk through here today and admire some of the ancient gravestones.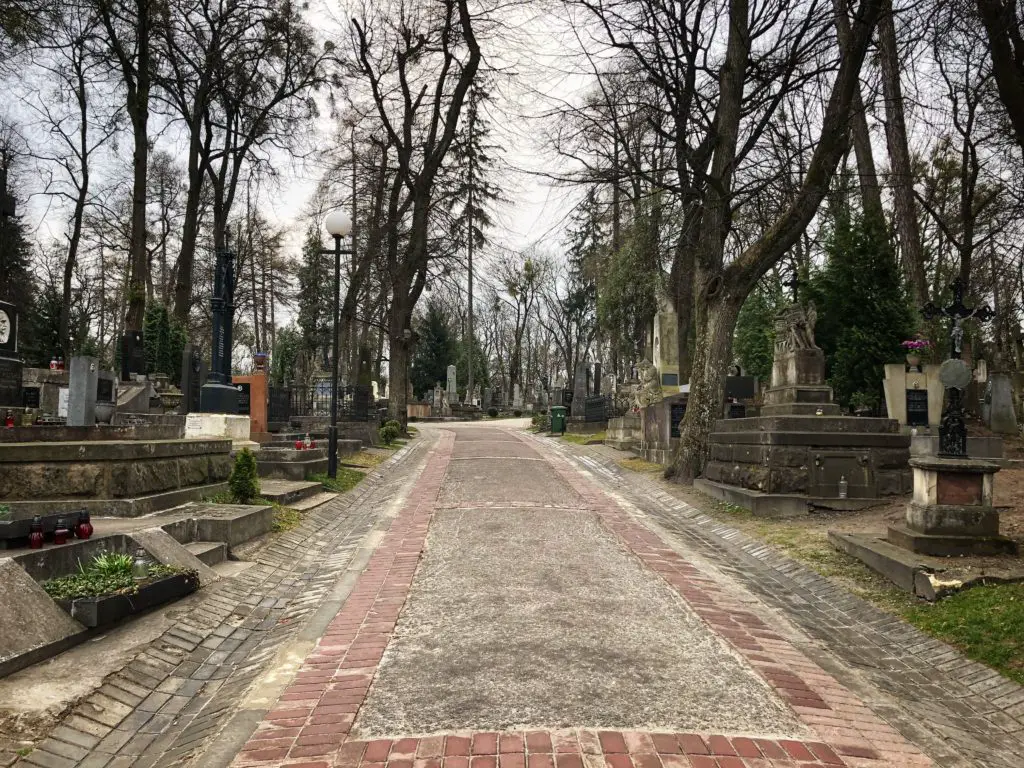 Krakivsky Market
If you are looking for an authentic Ukrainian experience then the Krakivsy Market is the place to go. Here you can find a lot of cheap items like sunglasses and winter hats. There are also a number of stores selling traditional embroidered Ukrainian shirts at a good price. We recommend avoiding the tourist shops and coming here instead.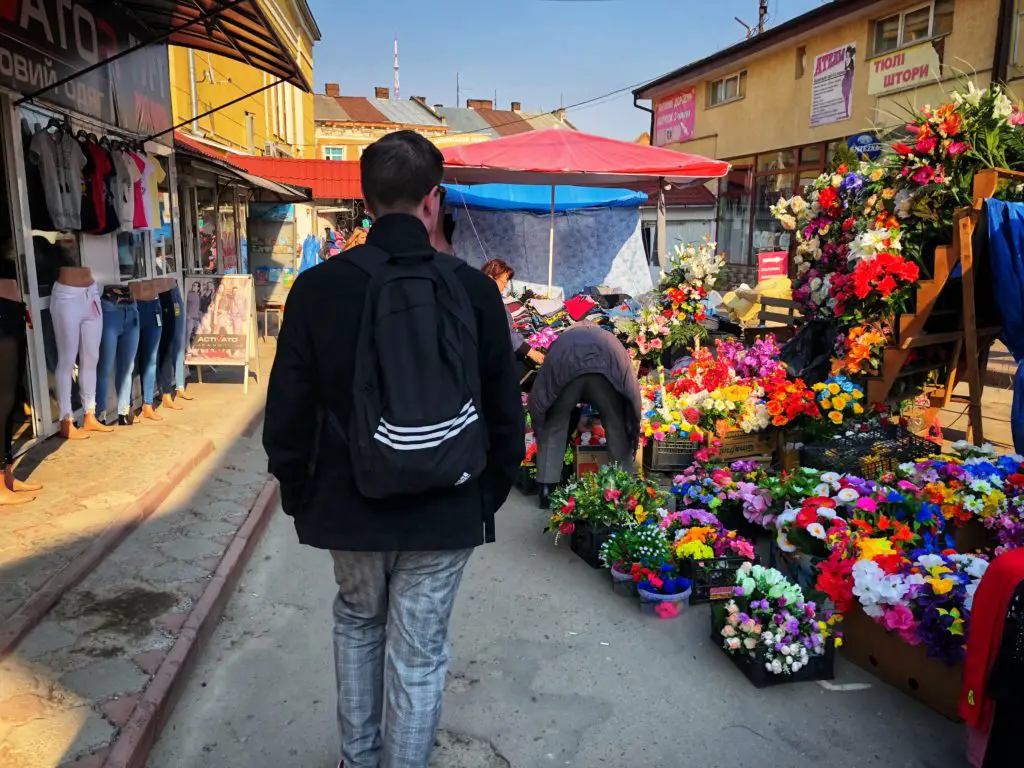 Beer Cultural Experience Centre -Lvivarnya
If you are a beer fan then a trip to the Beer Cultural Experience Centre is a must. You get to learn all about the history of beer in Ukraine and the best bit is at the end you get the opportunity to do a tasting.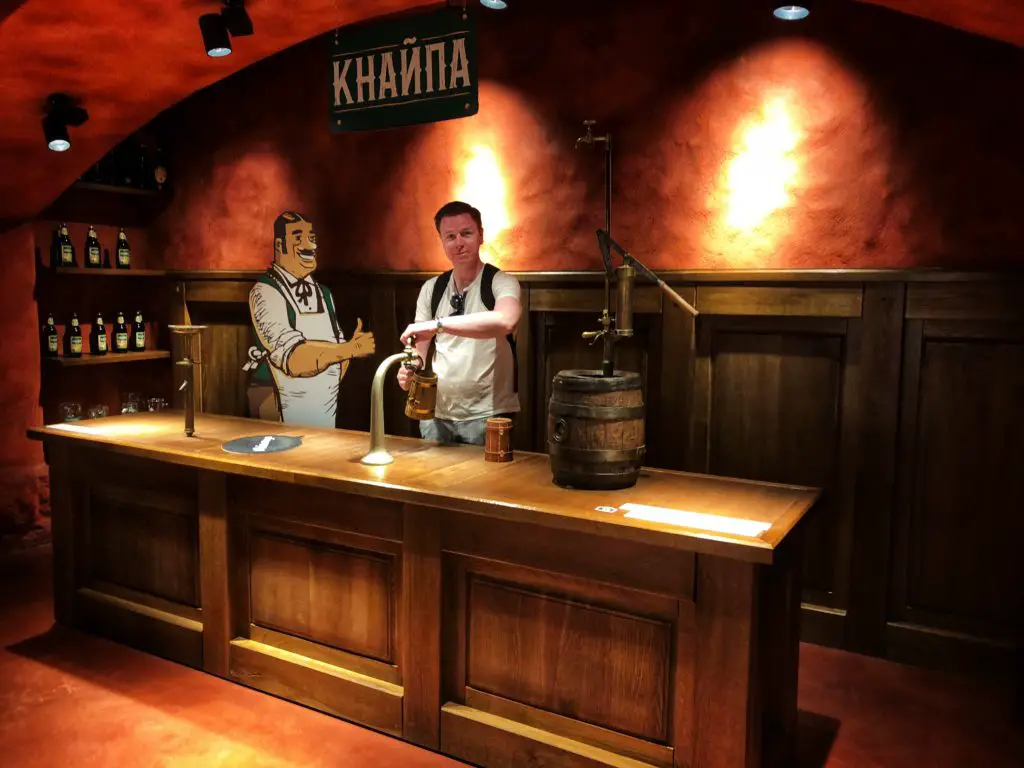 Yard of Lost Toys
The Yard of Lost Toys, is a good example of Lviv's quirky side. It is basically a yard filled with a number of toys, which is oddly beautiful. It is said to have started because, a resident of the apartment block which the toys are displayed in front of, found 2 lost toys. He left them on display in case the owners turned up. They didn't, but it has since became a shrine to all things lost as nowadays people keep adding to the collection.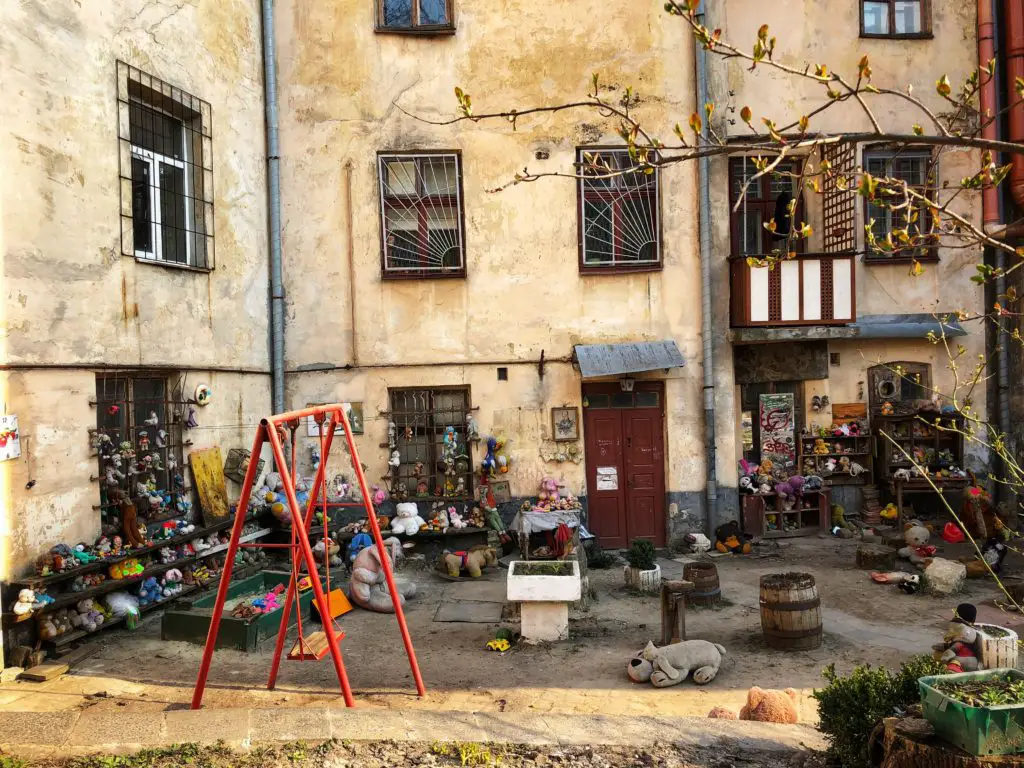 Eating and drinking in Lviv
Here are some of the places that we stumbled upon for eating and drinking during our 2 days in Lviv.
Lviv Chocolate
I learnt the Ukrainian word for chocolate at an early age, so as soon I heard chocolate was a big deal in Lviv I was on the lookout. There are various different stores dotted around the country, so don't worry if you miss out in Lviv. We ended up buying a lot of chocolate here, and I do mean a lot! Visiting sort of reminded me of a much smaller scale Wonka Factory. There is a lot of chocolate to choose from and upon entering the shop you get to see how some of it is made too.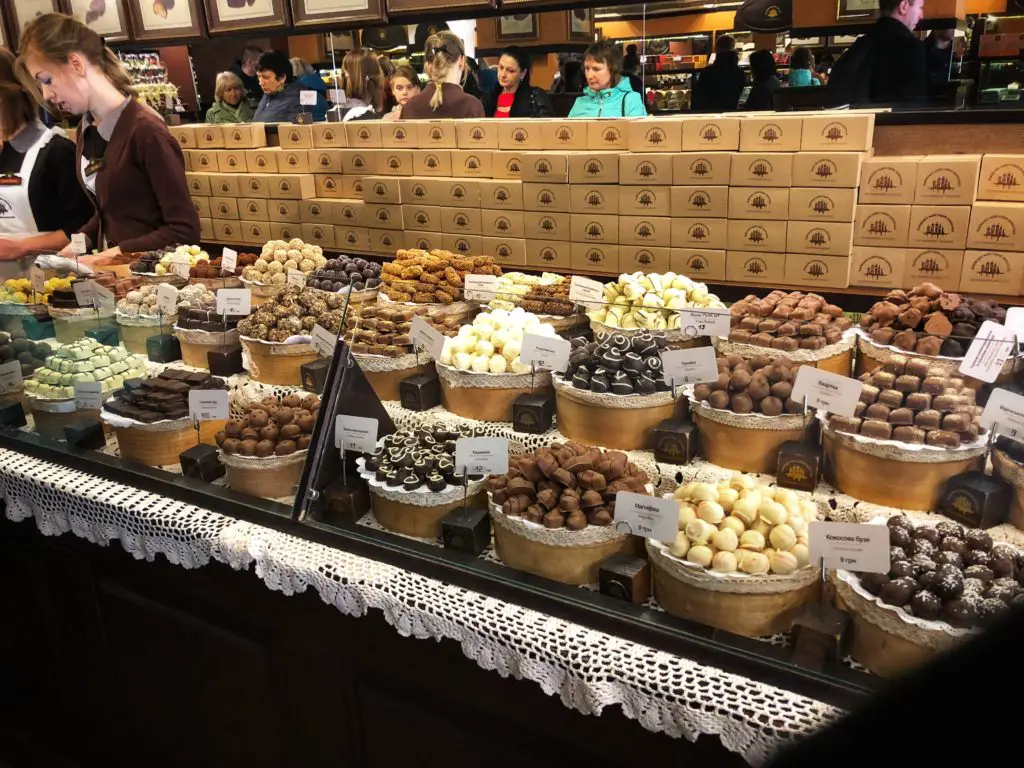 Mining Manufacturing Coffee shop
Lviv is famed for its coffee culture, and the mining manufacture coffee shop might look pretty standard at ground level. If you head underground however you are given a hardhat and get to explore the coffee mine. We stayed above ground, partly because we didn't realise when we were there that you could explore underground, and partly because we were slightly hungover. The coffee is amazing though I must say and it was a great place to sit, relax, and try and get through our hangovers from the night before.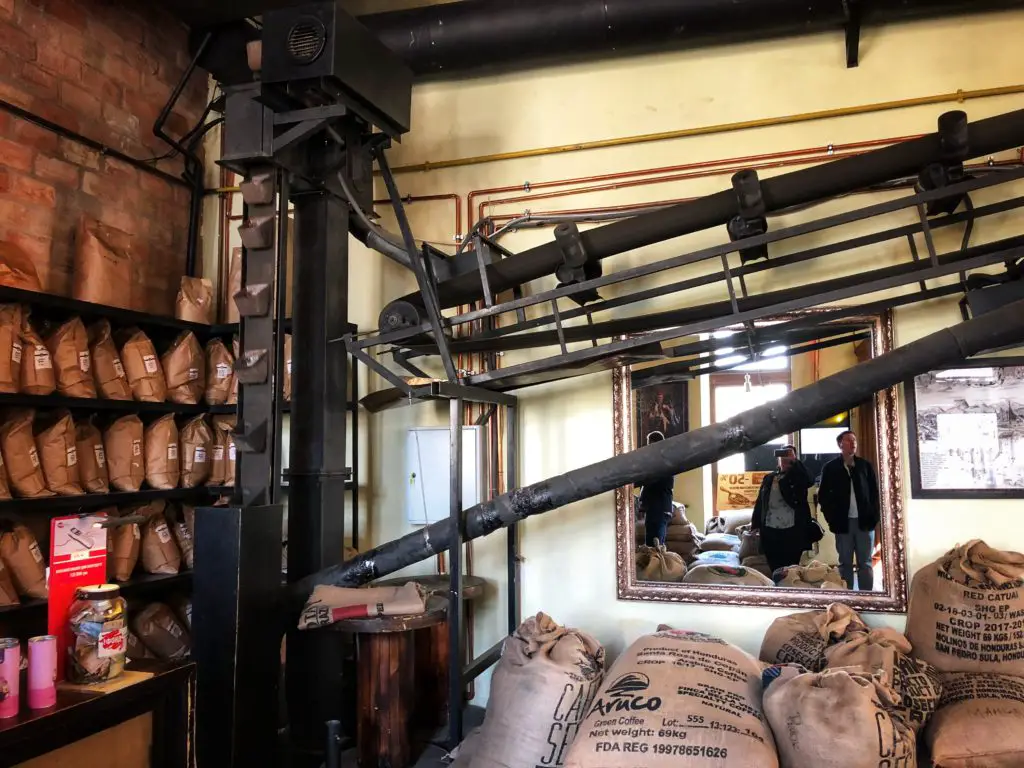 Lviv Croissants
You know how in the US you find a Starbucks literally on every corner. Well, it's kind of the same with Lviv Croissants. It almost felt like everywhere we turned we saw a Lviv Croissant shop. Which is actually fine considering how tasty the food is. The pastry is fresh and you can create your own filling. We had ham and cheese (standard), salami and salad, and banoffee. There is an English menu which you can ask for which explains how the menu works and what you can order. We came here twice during our 2 days in Lviv, that's how good it is.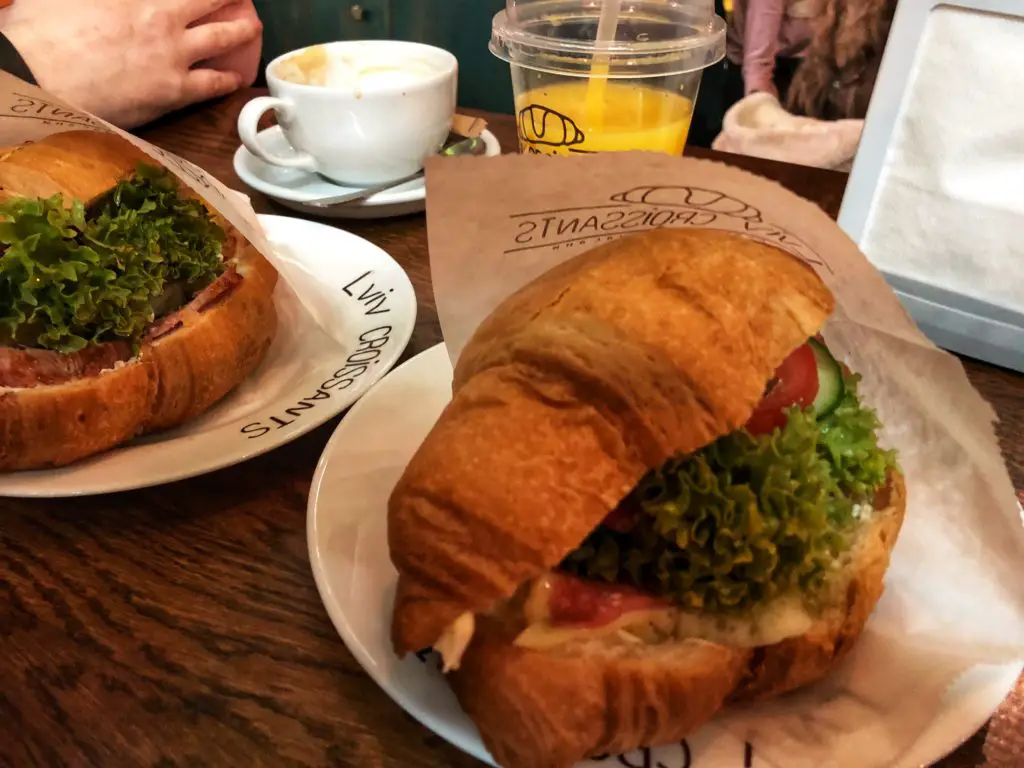 Marusya
My cousin very kindly recommended this place which I am glad about because we probably wouldn't have found it ourselves. If you like varaneky (Ukrainian dumplings) then this place is for you. There are a lot of flavours to choose from and they are served in a little box which makes eating on the go a breeze.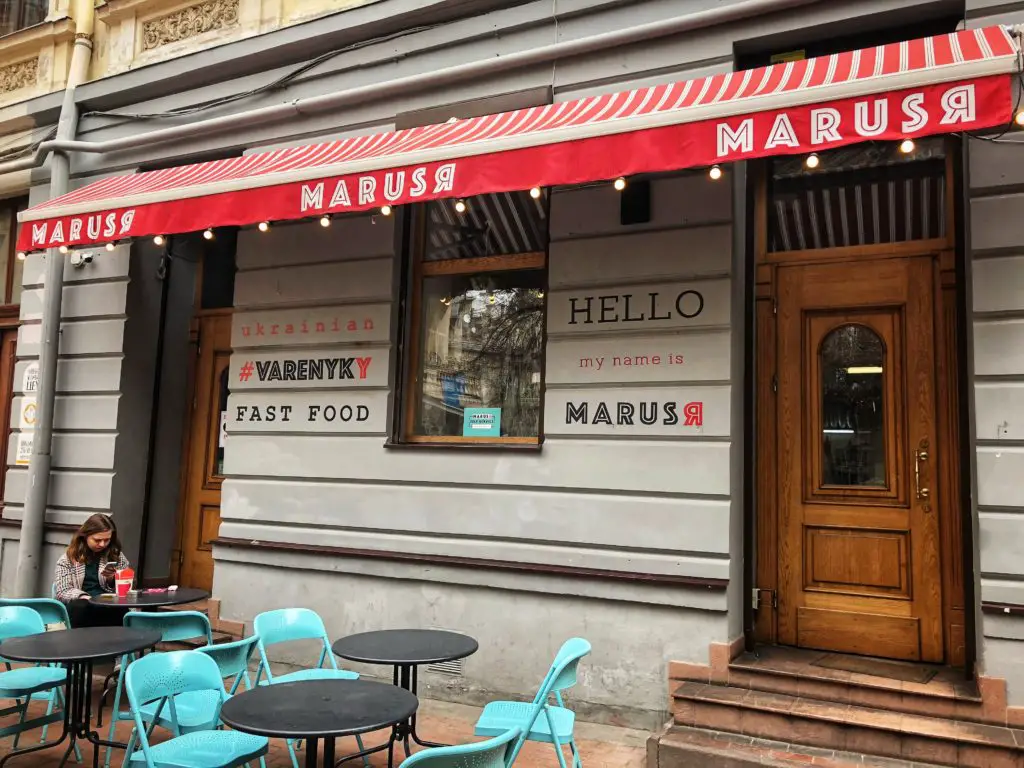 Kryivka
Lviv is a very nationalist place like I mentioned before, and that becomes pretty obvious when visiting a place like Kryivka. Kryivka is a secret bar in Lviv. You have to find the door, knock and you are greeted by a gentleman in full military attire who asks for the password. The password is "Slava Ukraini" (which translates as Glory to Ukraine). Once you are in you are given a shot to down and then make your way into the underground bunker.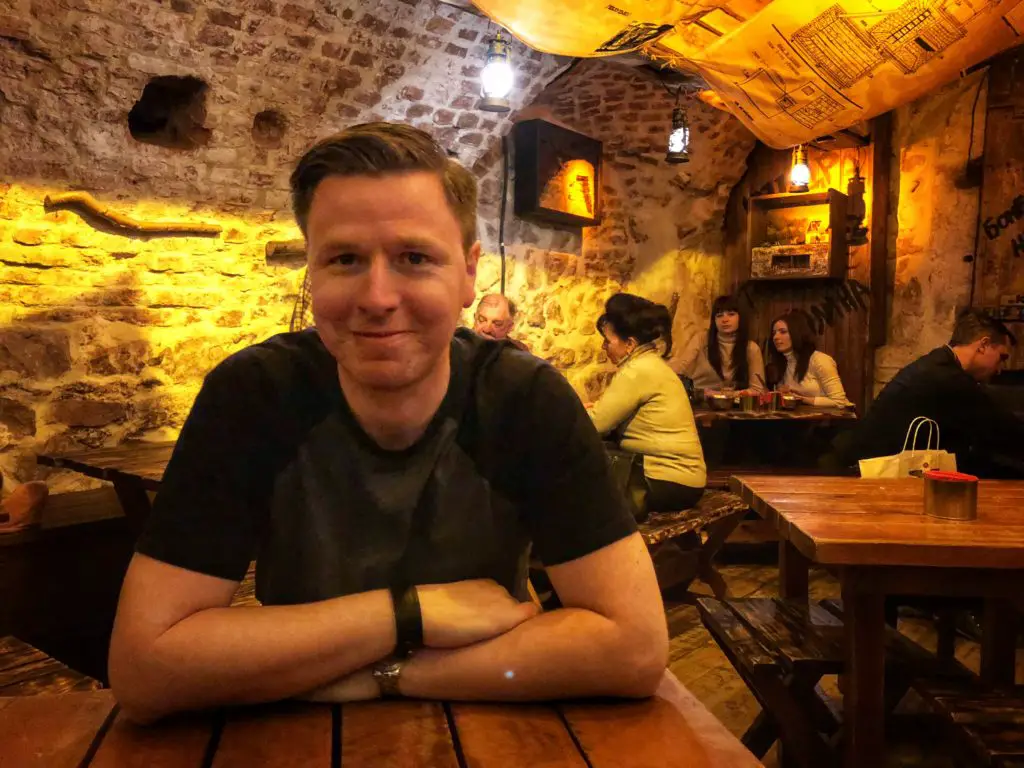 Inside you will find several tables to sit down and order your food and drinks. The food here is great if you are after something traditional, and the beers are pretty good too. One of the signature beers is 'Putin Huilo' which translates to Putin is a dickhead. Dave wanted to try the beer but unfortunately they had sold out. The bar is decorated with rifles and wartime memorabilia, and there is also a target with Putin's head on it that you can apparently shoot at.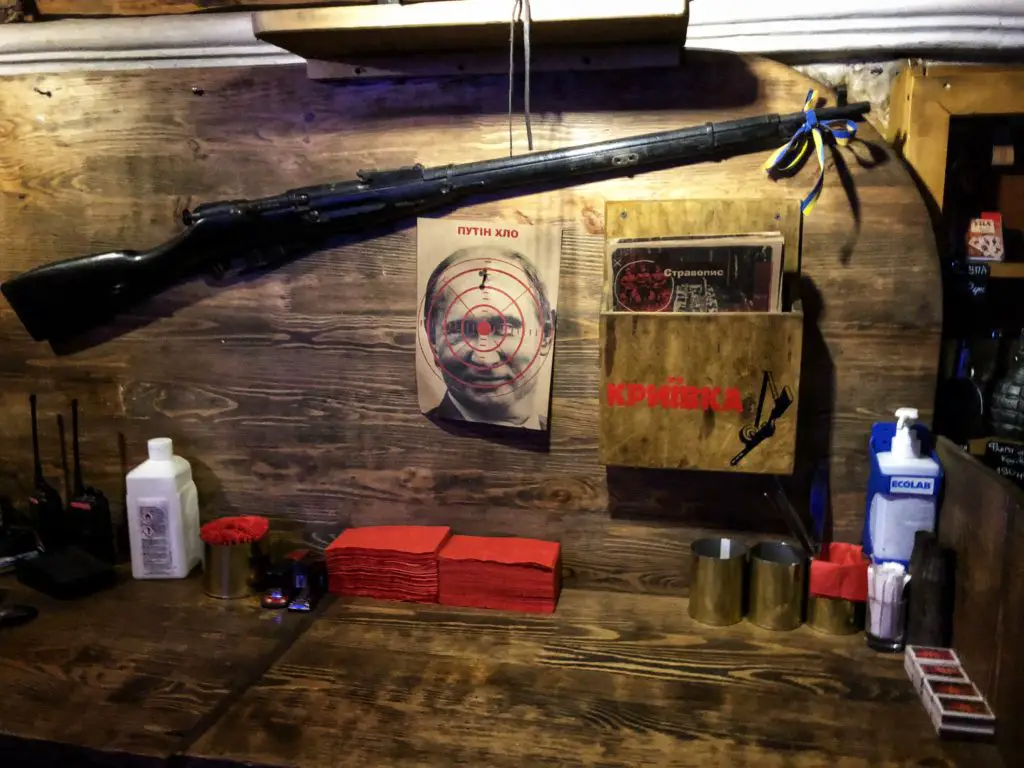 7 Piggies
If you are after some authentic Ukrainian food then 7 Piggies is a must. The restauraunt is located a little out of the Old Town so keep that in mind, but in our opinion it is worth the trek. Our waiter didn't speak English so I got to test out my incredibly rusty Ukrainian. Fortunately our food did arrive so that was a good sign. At 7 Piggies you can order things like vareniky (dumplings) and holubtsi (stuffed cabbage). It is also fantastic value for money.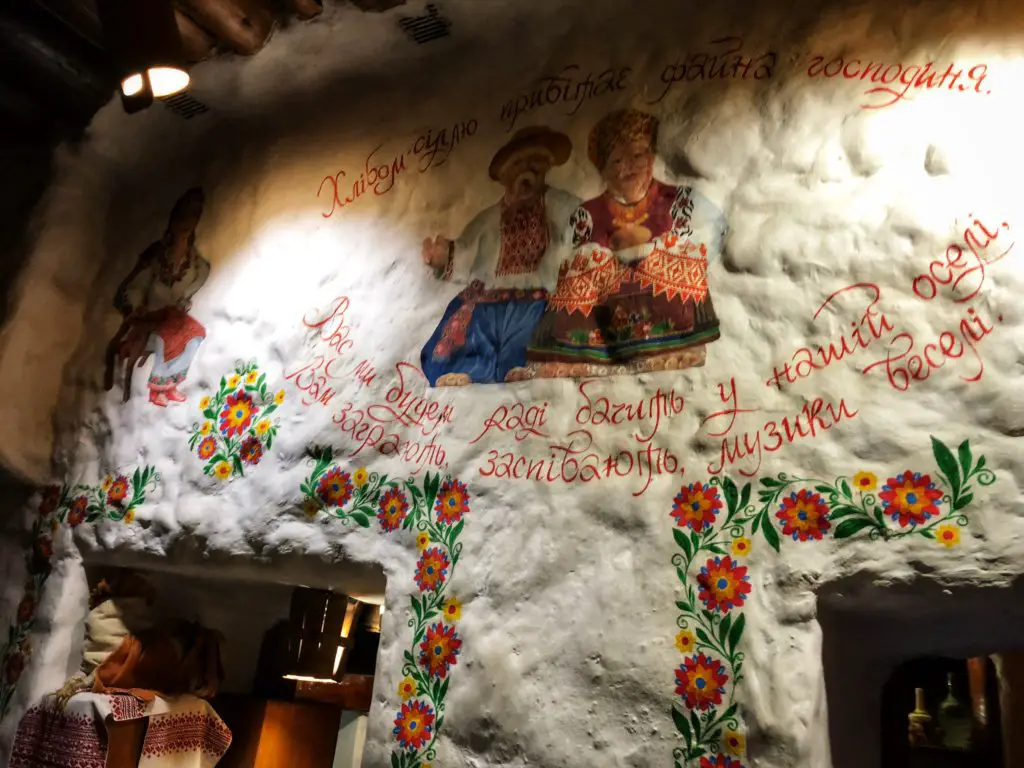 Drunk Cherry
Located in a prime position on Rynok Square, Drunk Cherry specialises in Cherry Liqueur. You will know you are in the right place when you see the groups of people gathered outside drinking. We really enjoyed sipping our drink, whilst standing out side and people watching.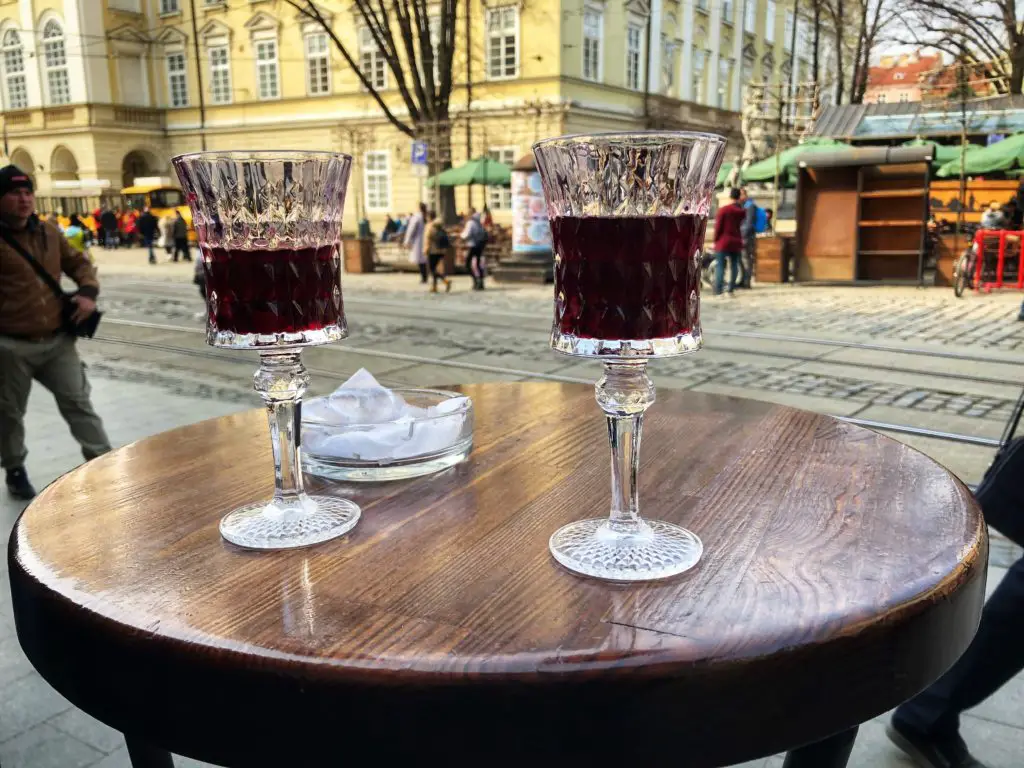 Pravda Beer Theatre
If you are a beer connoisseur you will definitely want to visit the Pravda Beer Theatre. You get to taste some local beers, something which Dave loved. I don't usually drink beer but decided to try a gingery flavoured one. It was certainly a lot stronger than I expected and I left Pravda feeling a whole lot more merry than when I arrived that's for sure.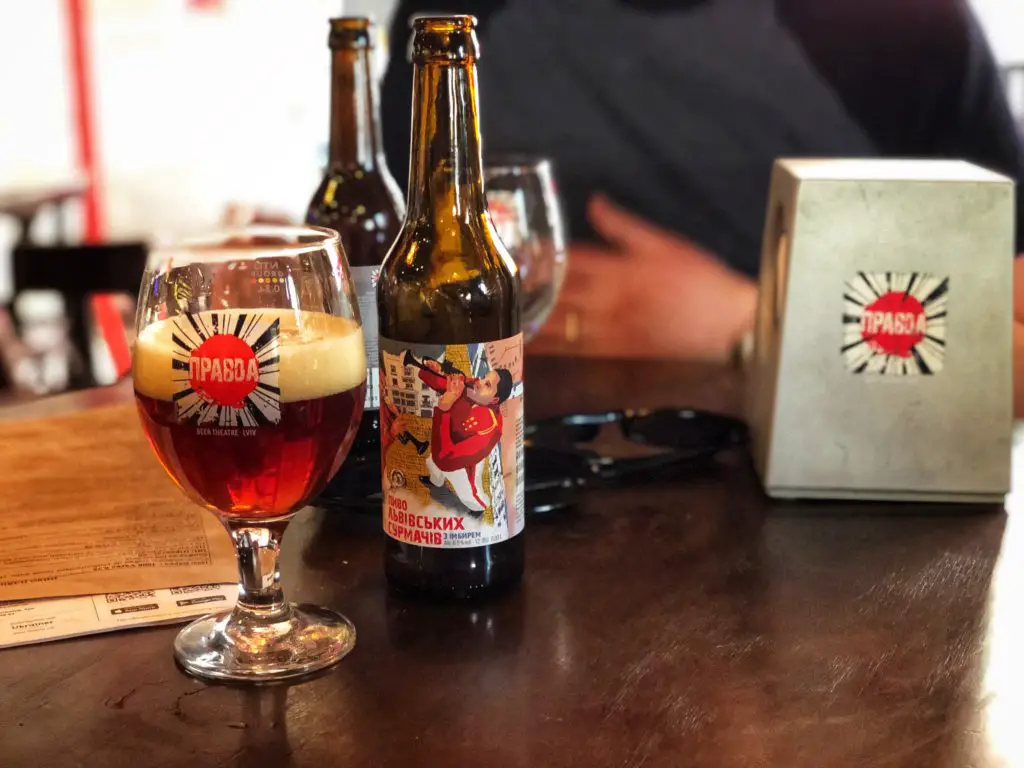 Dublin Irish Bar
So this one does what it says on the tin. And because Dave is Irish, he dragged us in.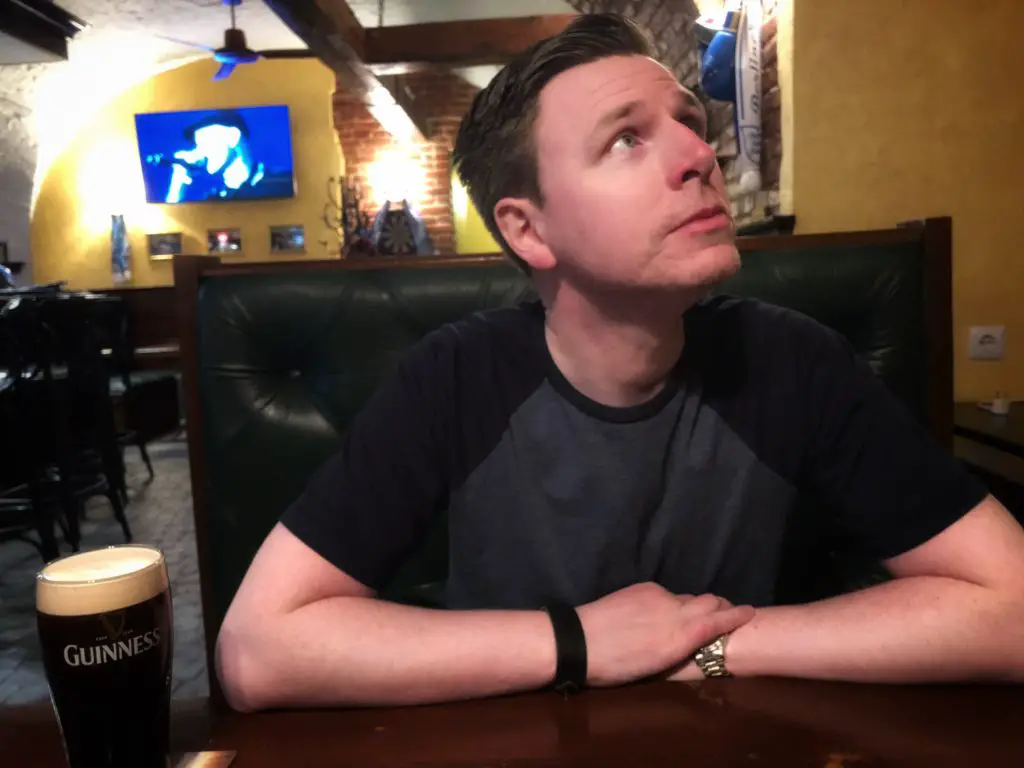 2 day Lviv itinerary
Here is our 2 day Lviv itinerary. We covered a lot of ground and saw a lot of things during our 2 days in Lviv, and our itinerary includes a lot of walking and exploring.
Day 1
Start the morning with some breakfast, if you are in a rush we recommend Lviv Croissants, followed by a coffee at Mining Manufacturing Coffee shop. Get on the number 7 tram to Lychakiv Cemetery and spend the rest of the morning exploring.
In the afternoon get the 7 tram back towards town and get off around Pidvalna Street. Here you will find the Book Market, and Dominican Cathedral. It is a great area to explore and you will also find the 'just Lviv it' tram here too. Take your time exploring the Old Town as well as the Armenian Cathedral and the Chapel of the Boim Family. If you are looking for a quick bite, head to Marusya in between.
In the late afternoon head over to Pototski Palace and have a look at the Art Gallery. Do keep in mind it closes at 5pm and you will probably want to spend a good 1-2 hours here.
In the evening enjoy some drinks in the Old Town and make sure Kryivka is on your list for food and drinks.
Day 2
Start your day with a coffee and breakfast at one of Lviv's coffee shops. Then make your way to the Yard of Lost Toys. Afterwards hop on a tram to St George's Cathedral.
After exploring the Cathedral and surrounding area head to Lontskoho street to visit the National Museum and Memorial of Victims of the Occupation Regimes. If you are after some lunch, 7 Piggies is just around the corner and a great place to go for some traditional food.
In the afternoon we recommend heading to the Brewery for a tour and taster session. If you decide to walk back to the main square, pop by the Krakivsy Market.
Final tips for your weekend in Lviv
Here are some final tips to ensure you make the most out of your weekend in Lviv.
Learn some Ukrainian phrases, or even numbers from 1-10. This will help when paying for public transport or ordering in restaurants.
Don't drink the water in Ukraine. It is recommended that you boil the water before drinking it.
2 days in Lviv – a recap and why you need to visit
I'm in two minds on how much I want to recommend Lviv as a travel destination. On the one hand, it is a beautiful place and part of that beauty is due to the fact that it hasn't lost its soul due to a barrage of western tourists. On the other hand, I want everyone to experience this incredible city. Lviv is a little rough around the edges, but it is totally authentic and a real hidden gem in Europe.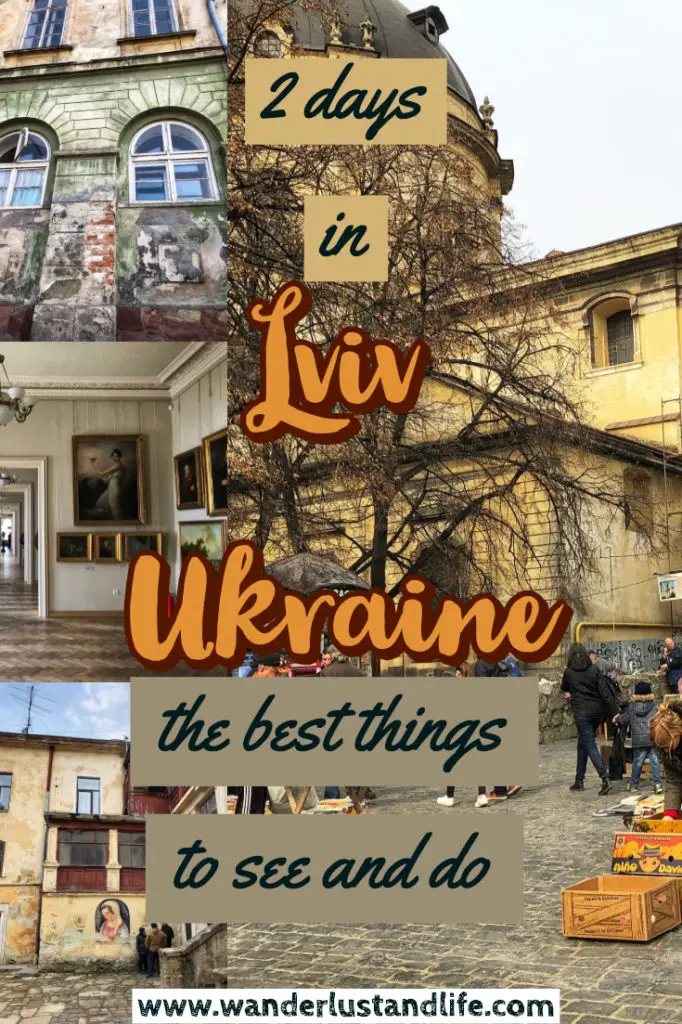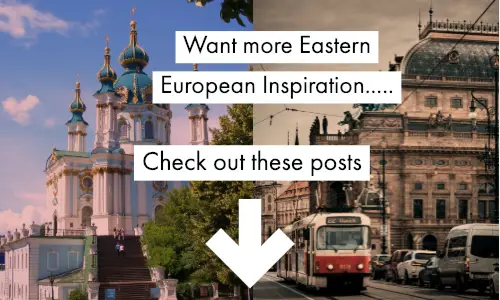 Visiting the Charles Bridge at sunrise