So you have arrived in Lisbon, and now you are wondering what to eat? Well you have come to the right place. Portugal for us was an unassuming foodies paradise. We all know what Spanish food is like, or Italian but little is known about Portuguese food in comparison.  There are so many foods you must eat in Lisbon, from seafood dishes to those famous egg tarts, in this guide we will go through our favourites and tell you where to find them. So read on for our foodies guide to Lisbon.
What to eat in Lisbon
For us eating is such a bit part of travelling, just look at this post on must eat foods in New York City, we made our way through on our trip. So when we visited Lisbon, we did quite a bit of research to make sure we tasted all the best foods the city has to offer. Here are some of the best things to eat in Lisbon
🍴 Pastéis de nata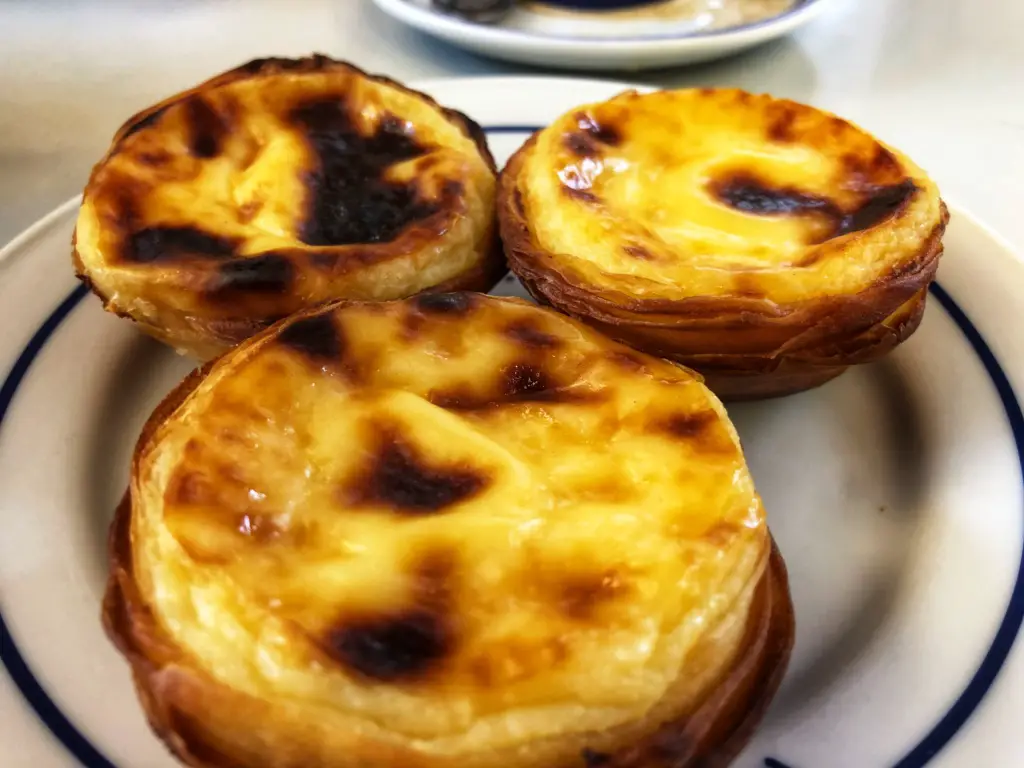 If you are compiling a list of foods you must eat in Lisbon then pastéis de nata have to be mentioned. These custard tarts with a dusting of cinnamon are absolutely incredible with a perfect custard to pastry ratio. But not all Pastéis de nata are created equal. If you are after the cream of the custard tart crop then head to Pasteis de Belem, located in well Belem obviously. The recipe dates back to 1837 and follows the method used at the Mosteiro dos Jerónimos nearby. At the time a lot of monasteries would use egg whites for starching clothes and the leftover egg yolks were used for making pastries. The Portuguese tarts here are heavenly, and served fresh with a crispy light base and a delectable custard filling, with a hint of sweetness. It is perfect with a cup of coffee.
🍴 Sardines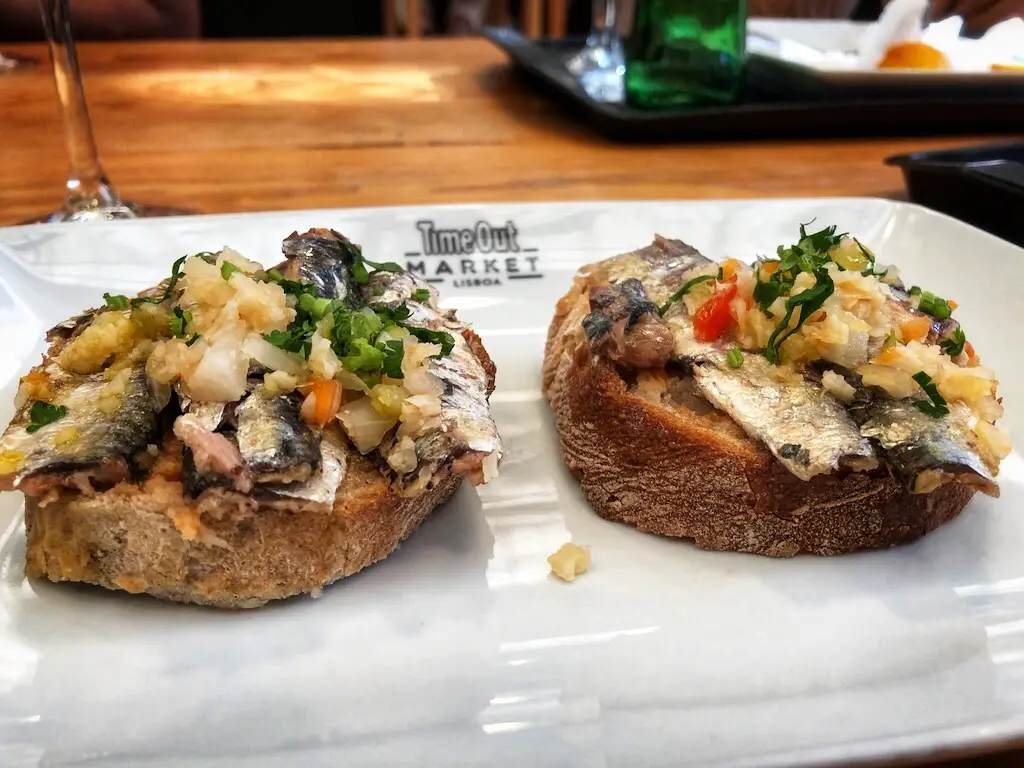 No foodies guide to Lisbon is complete without mentioning Sardines. It seems like every restaurant in the city has a dish including the oily fish delicacy in some form. In fact Sardines are such a big deal in Lisbon there is even a festival in their honour. Well kind of. The festival is to honour St Anthony who is the patron saint of Lisbon. He would often preach to the people of Rimini, in Italy. It was said that the people ignored him but the sardines came to the shoreline to listen to him. During the festival you will find grilled sardines served on a small slice of bread. At other times of the year you will find variations of the dish, like the one above we discovered at the Time Out Market which was a bruschetta like sardine dish.
🍴 Peixinhos da Horta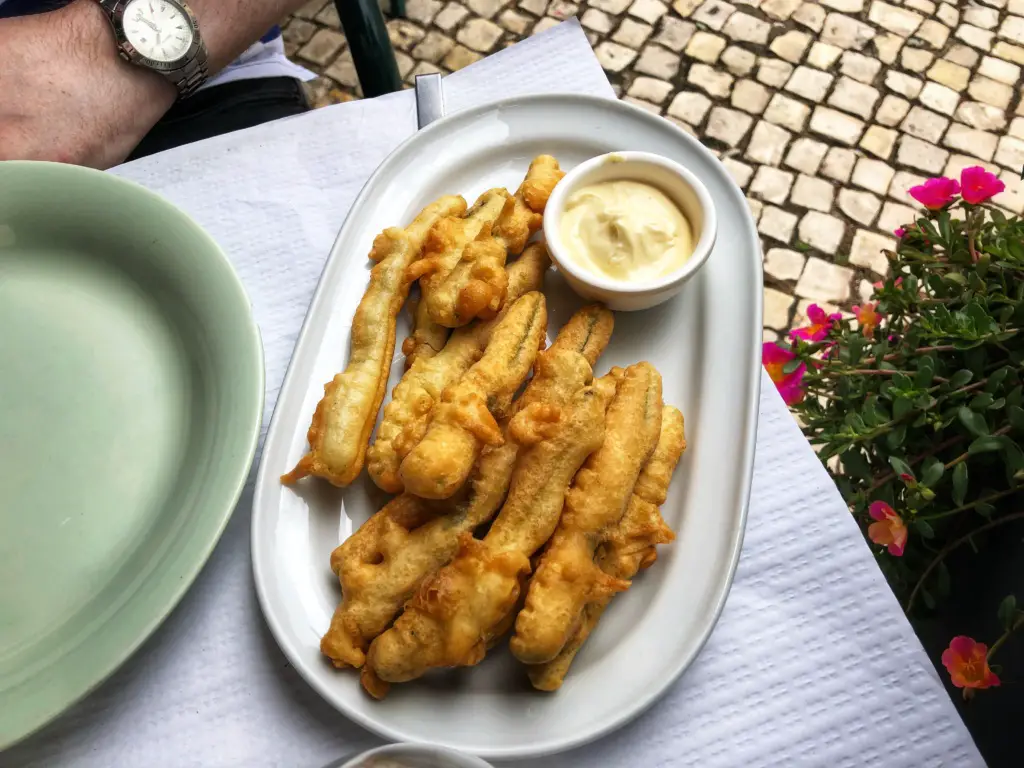 So here are a couple of things we learnt when we visited Lisbon. The first is that tempura was actually invented in Portugal and not Japan, and the second was that green beans in batter taste awesome. The first point, that tempura is a Portuguese creation was probably the most shocking because lets face it deep fried anything tastes pretty good- just look at this article on Edinburgh where we tried the deep friend Mars Bar! It is thought that Portuguese visitors to Japan in the 16th and 17th centuries brought the recipe to the country. Peixinhos da Horta which is a dish consisting of green beans and tempura is a centuries old dish and was said to have been made initially on Portuguese ships to keep the vegetables from going bad. These days you can find it on the menu at several traditional Portuguese restaurants. The ones in the above photo were quite heavy on the batter, but the dish is usually cooked in a slightly lighter batter.
🍴 Salted Cod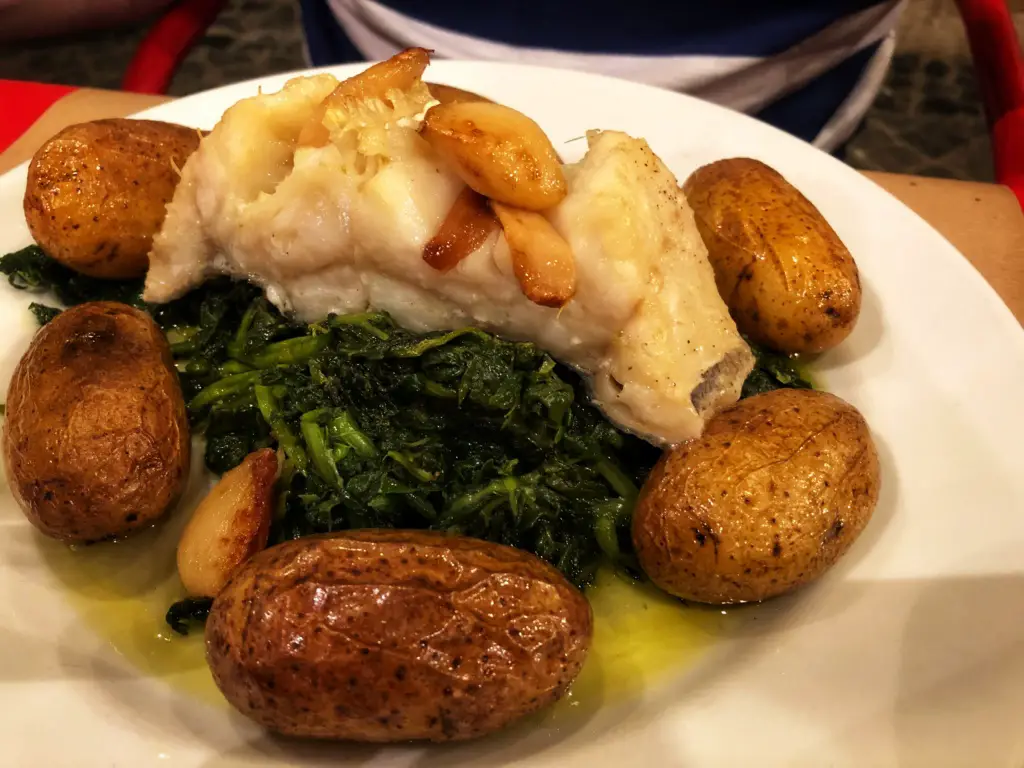 Salted Cod is a pretty big deal in Portugal. The simplicity and versatility of the fish means that you find it in several dishes in Lisbon. In fact it has been said there are over 356 ways to prepare a salted cod dish, which means you could have something different every day of the year.  The classic way is pictured above with a salted cod fillet served with potatoes. Salted cod is mad by dousing the cod is copious amounts of salt, it is then dried. In order to eat it you need to soak it in water for at least a day to reduce the salt levels. Just a warning don't order this dish expecting it to taste like your typical fish and potatoes. The salted cod has a distinct flavour and is a little harsher then the usually sweet tasting cod fillets. 
🍴 Cod Cakes
One of the variations on how to eat salted cod is the cod cake, or cod croquette. The Portuguese refer to it as the Pasteis de Bacalhau and it is usually served as a starter or as part of a light meal. The cod cakes are crispy on the outside and relatively fluffy on the inside. Usually made with a combination of codfish, mash potato, onion, egg, and parsley, the mixture is moulded into a round shape before being deep fried and served immediately after. 
🍴Bacalhau à Brás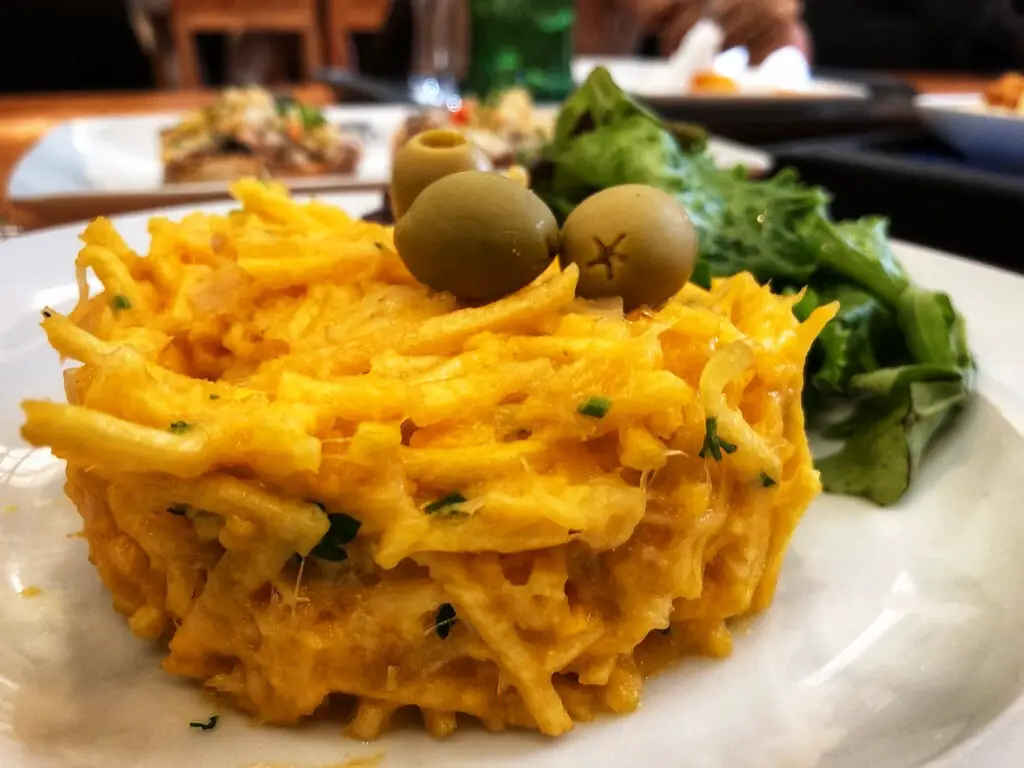 Bacalhau à Brás is said to have originated from the Bairro Alto district of Lisbon. It is a dish that includes shredded codfish, thinly cut potatoes, onions, and parsley and is held together with scrambled egg. Out of all the salted cod dishes we tried this was actually my favourite. The thinly cut potatoes add an element of crunch to the dish, and whilst the salted cod is the main flavour in the dish, I really liked the texture of the egg as a binding agent. Whilst the salted cod and potatoes wasn't anything to write home about in my opinion, the Bacalhau à Brás certainly made me realise why the Portuguese are so into their codfish. 
🍴 Seafood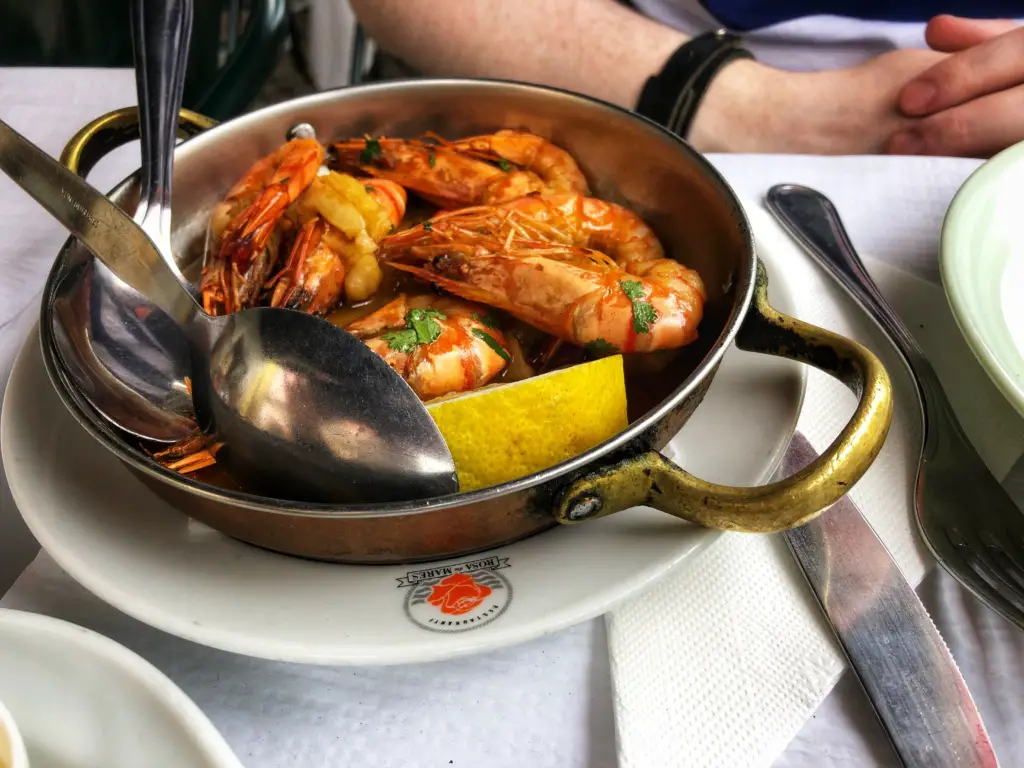 Seafood is a pretty big deal in Lisbon and any foodies guide to the city has to include some sort of seafood dish. We ate a lot seafood dishes in the city, from clams to, calamari, to the garlic prawn dish pictured above. Portugal is in prime location for fishing and so this means that fresh seafood is always available. Make sure you take advantage of this when you visit. 
🍴 Piri Piri Chicken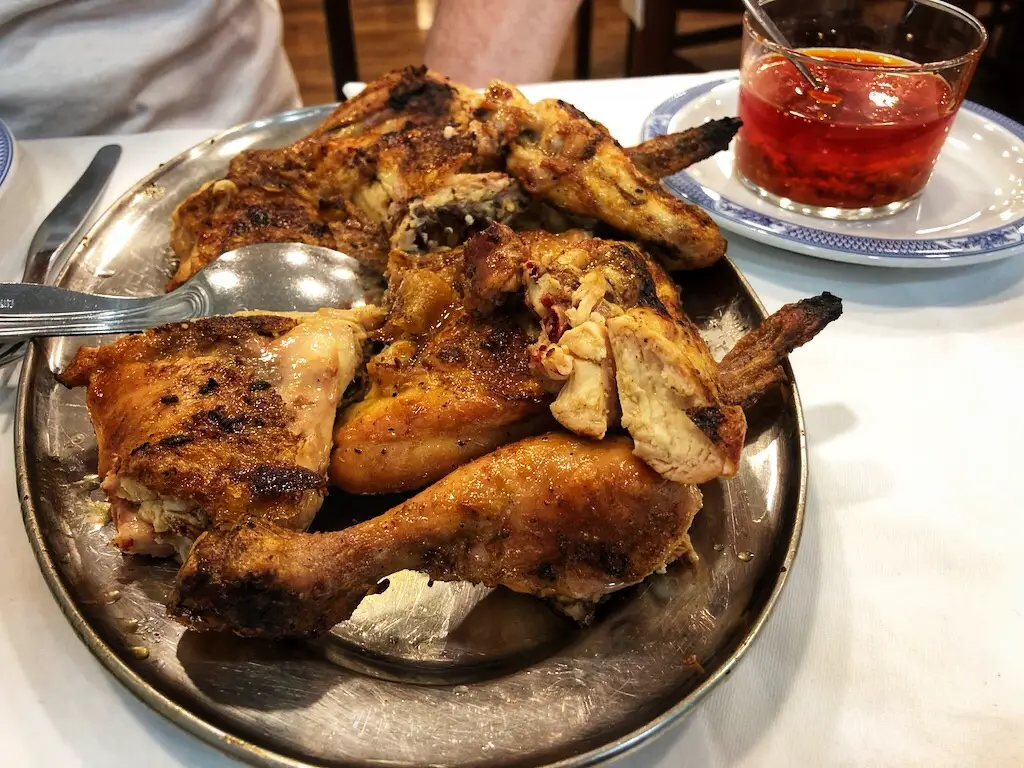 Ok I know this is a bold statement, but we ate some of the best Piri Piri chicken of our life in Lisbon. Served with rice or chips, and a side of a oily chilli type sauce this is one dish we could not get enough of on our trip to Lisbon. Piri Piri originated in Africa and became a Portuguese national dish. The chicken is moist with a crispy skin and the flavour is so good it will have you wanting more. Luckily the portions are very generous, although we practically needed to be carried out of the restaurant we were so full. 
🍴 Ginja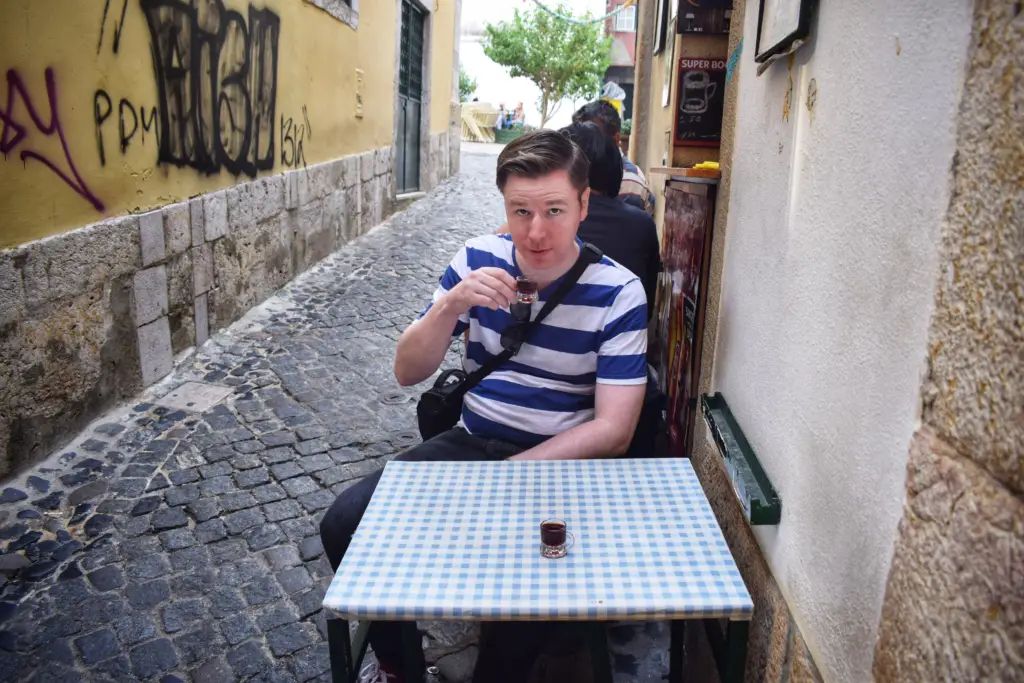 Ok so I am fully aware that Ginja is not a food group, but sometimes you can get it served in little edible chocolate cups, and for that reason it has made our list of top things to eat in Lisbon. Ginja is a sweet cherry liquor that originated in Lisbon. You will find it in several hole in the wall type bars in the city, and it is best sipped. Be warned though it is pretty potent and it is easy to drink so make sure you take it easy.
Food to eat in Lisbon- Where we ate and what we loved
For the perfect custard tarts head to Pasteis de Belem you will not be sorry. You might notice a line outside the door, but trust us these tarts are really worth the wait. Usually the line outside is for takeaway food, so feel free to wander inside and grab a table.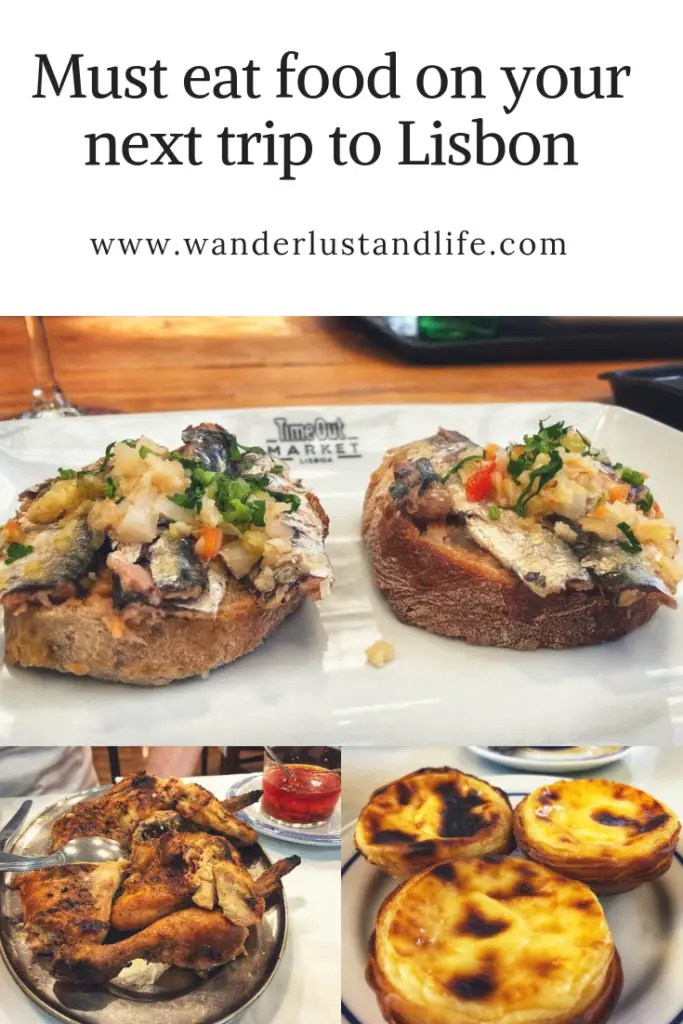 If you are after some traditional Portuguese food (and everything in between) head to the Time Out Market. The concept here is to bring together a mix of foods from top chefs, and make them accessible to the public. You can order everything from sushi, to cod cakes, and so much more. We decided to eat at Miguel Castro E Silva, where we nibbled on sardines served bruchetta style, Bacalhau à Brás, and some calamari. The market has become a tourist attraction in its own right, and is one of those places that lives up to the hype.
For the Piri Piri chicken we made our way to a restaurant called A Valenciana. We read so many reviews and heard that it was one of the top Piri Piri places in the city. It is also the place where Rick Stein visited on his trip to Lisbon, so you know it has to be good!
Things to eat in Lisbon – A recap
Hopefully this guide has helped you decide on some of the best things to eat in Lisbon. The city truely is a food lovers paradise just waiting to be explored, so make sure you bring an open mind and an empty belly. And if you are looking for even more Lisbon inspiration then have a look at our post on the most Instagrammable spots in the city.