The moment we stepped foot in Rome we felt slightly overwhelmed. For starters we only had 2 days in Rome, and with so much to see and do we really didn't know where to begin or how to fit it all in. If you are only spending a short time in the city like us your best bet is to wake up early and plan ahead. We have put together this 2 day Rome itinerary to help you make the most of your time in the city.
Rome Factsheet
Language Spoken: Italian
Currency: Euro
Closest Airports: Leonardo da Vinci International Airport and Ciampino (think Ryanair)
Population: 2.8 million
2 days in Rome – Getting around
Before you plan your 2 day Rome itinerary you will need to know how to get around the city. Driving in Rome is, well, to put it politely a little bit crazy. In the first few minutes of exploring the city we got beeped at repeatedly for not crossing the road fast enough, and were nearly hit by a scooter even though we had a green pedestrian light. So driving was never going to be an option.
Public transport is your best bet and in all honestly it is really easy to negotiate. You can purchase a pass that will allow you access to buses (which run 24 hours by the way) and the subway. Tickets can be bought at the train station via a vending machine, or if like us you are terrible at using foreign ticket machines (the shame) you can also purchase them from any tobacconist. Always remember to validate your ticket before you ride. There is actually a 3 day tourist pass you can purchase for a little over €10 which is convenient if you are staying that little bit longer or if you need to get to the airport the next day.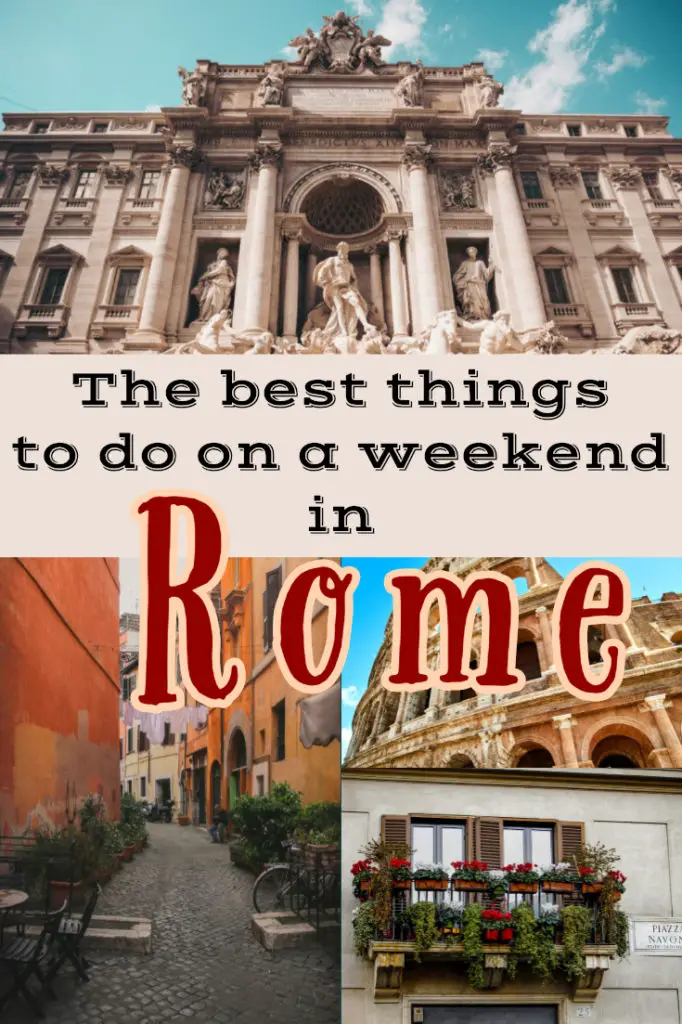 Where to stay as part of your 2 day Rome itinerary
We stayed near Termini Station which is the main train station in Rome. There are a lot of hotels around here, but I should warn you that on the outside the area can look a little rough around the edges. That being said it is pretty safe as long as you have your wits about you, and because there are so many hotels around you will find people walking around at all hours. One thing we liked about the area was that there were lots of restaurants and bars around here, and it was close to public transport. 
 There is so much choice when it comes to accommodation in Rome but our best advice is to make sure you are close to public transport links. 
When to plan your 2 days in Rome
 We planned our 2 day Rome itinerary in March which was good because there weren't too many tourists around, or at least not as many as you would find in the summer months. The weather was pretty mild, although on our last day we did have a massive downpour of rain whilst exploring the Roman Forum. I should add there is not a lot of shelter there, so it wasn't fun!
June – September tends to be the peak season in Rome, but we don't advise visiting during this time. Not only do things like hotel prices become inflated but you have to line up for ages just to get in anywhere. It is also really hot.
In our experience the ideal time to visit is around March or April. The weather is mild although you do get the occasional bout of rainy weather so keep this in mind.
How much money do you need for 2 days in Rome
 We actually ended up spending far less money than we had anticipated after our 2 days in Rome. That's not to say that Rome is incredibly cheap, but we tried to be a little bit savvy when it came to money. For starters as mentioned above we stayed near Termini Station. It isn't the nicest area, but it is safe, and lots of tourists do stay here. You also tend to find cheaper hotels, that are still pretty decent.
In terms of tourist attractions, a lot of them are actually free. For example, the Pantheon and St Peters Basilica are totally free. So is looking at the Colosseum from the outside. If you do want to go in it is about €12 and this includes entry to the Roman Forum and Palatine Hill.
Food can be expensive but if you avoid the tourist traps then it isn't too bad. We also practically lived off cheese pizza in Rome and whilst it is not the healthiest thing, it is cheap. And you know when in Rome right?!
2 day Rome itinerary – What to do
So here is our round up of what to do as part of your 2 day Rome itinerary. This includes the main attractions as well as eating some good food and drinking some fantastic Italian wine.
The Colosseum
No 2 day Rome itinerary is complete without a visit to the Colosseum. Probably the most iconic monument in Rome, the Colosseum is awe inspiring. What struck me when we first saw it was that no photograph can prepare you for seeing it with your own eyes. It was built in 69-70 AD  which when you think about it, is incredible that it is still standing. The Colosseum has a bloody history as it was famously where tens of thousands of animals and gladiators met their gruesome ends as crowds looked on.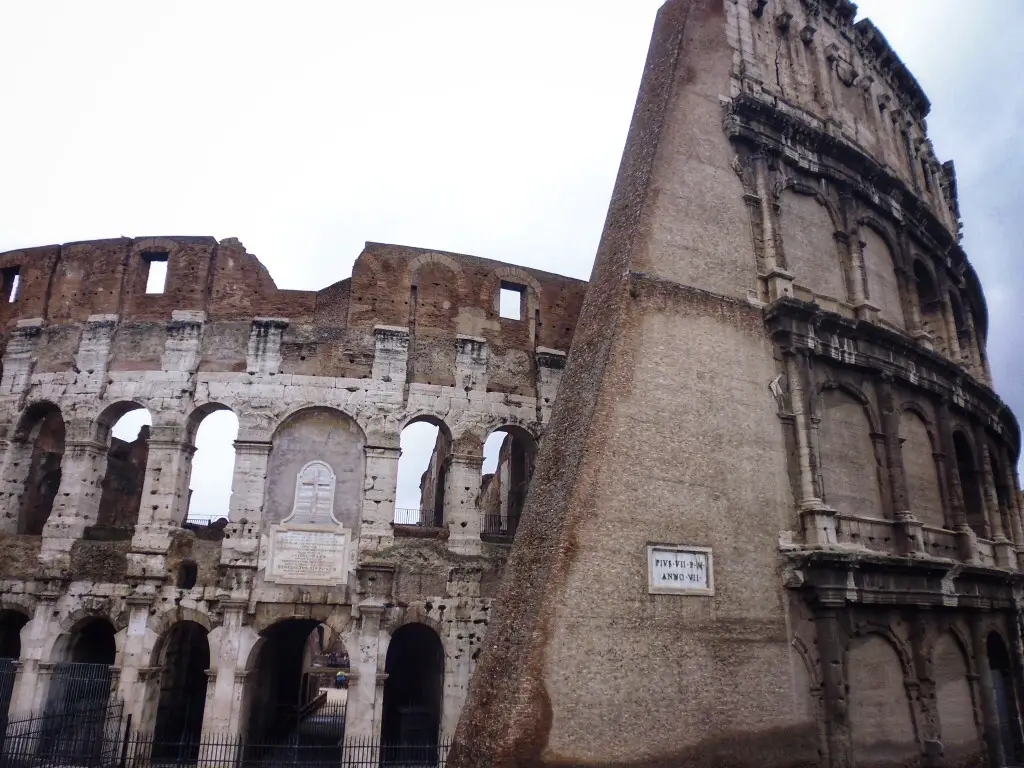 When you visit be aware that this is one of the most popular sites in Rome so it does get busy. Expect to have to queue when purchasing your tickets inside. Obviously you don't have to go inside but we highly recommend it. Standing near the bottom looking up gives you a sense of what the gladiators must have seen before meeting their demise.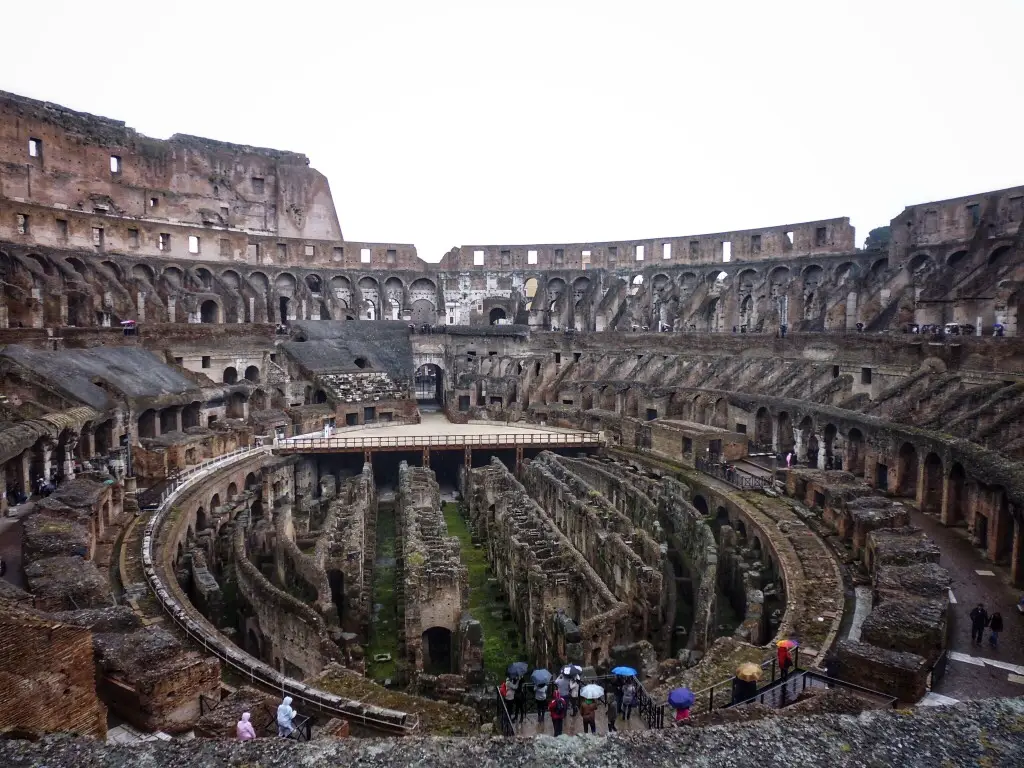 Pizza, Gelato, and Prosecco
I don't think you can plan a 2 day Rome itinerary without eating pizza and gelato. A little tip when ordering pizza is the plainer the pizza the better. Roman pizza is more about the dough and the cheese as opposed to loading every topping under the sun on the pizza. If you are into wine make sure you head out in Rome. Wine is pretty cheap and we definitely recommend a few glasses of Prosecco with an aperitif!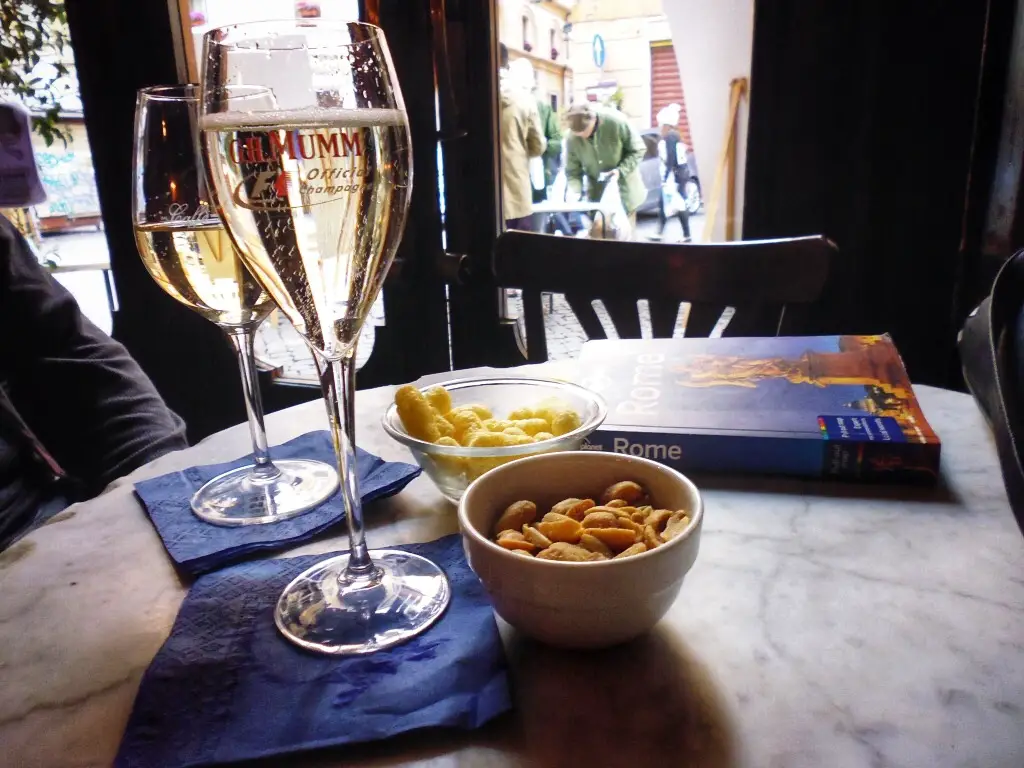 Pantheon
This former Roman temple turned church is another of Rome's most iconic sights. It is also one of the city's best preserved sights too. With 2 days in Rome you should make time to go inside and appreciate the true magnificence of this building. When looking at the Pantheon from the outside it was a shock to realise that the inside is round. The columns at the front are truly misleading. Apparently Michelangelo upon seeing the Pantheon was said to have described it as the work of angels not humans. Considering its age, durability, and beauty,  he may actually have a point!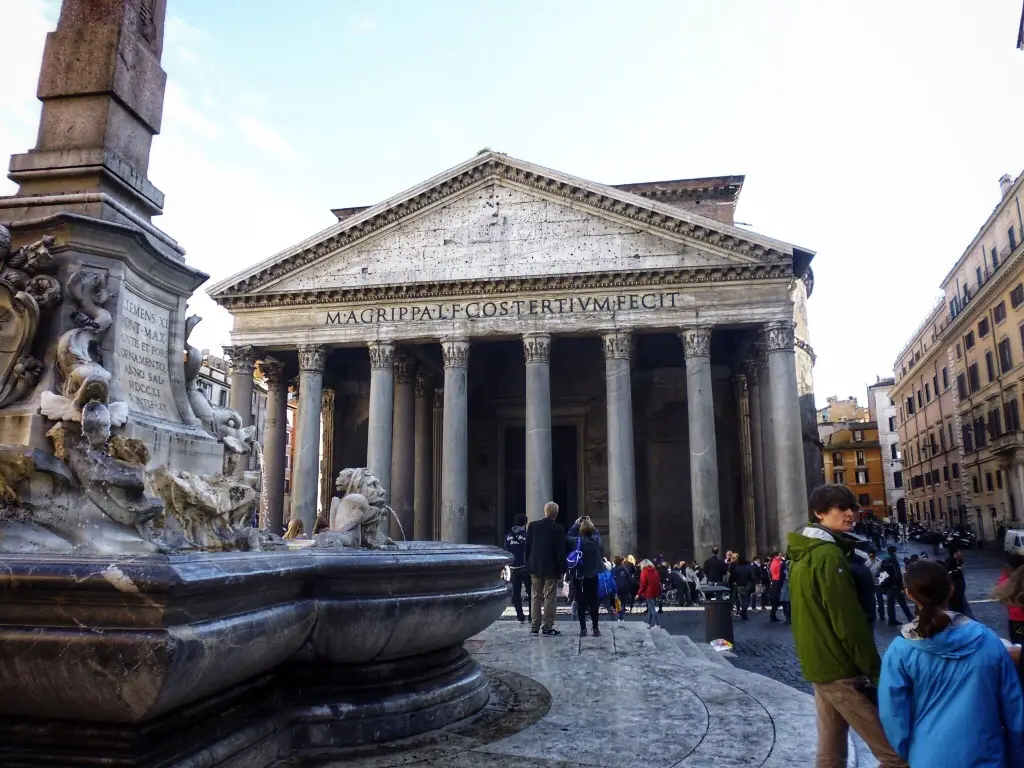 Inside the Pantheon is the dome which has a hole in the top. This is referred to as the eye or oculus of the Pantheon. Water can get in when it rains but only a small amount and  it drains through the slanted floor of the structure. The good news as well is that it is free to enter the Pantheon, however you can pay for guided tours if you wish. A small tip is to make sure that you keep your hand over your bag when gazing up at the dome. Pickpockets have been known to frequent tourist attractions and often you won't even notice until it is too late. For more tips on things you should know before you visit Rome checkout our article.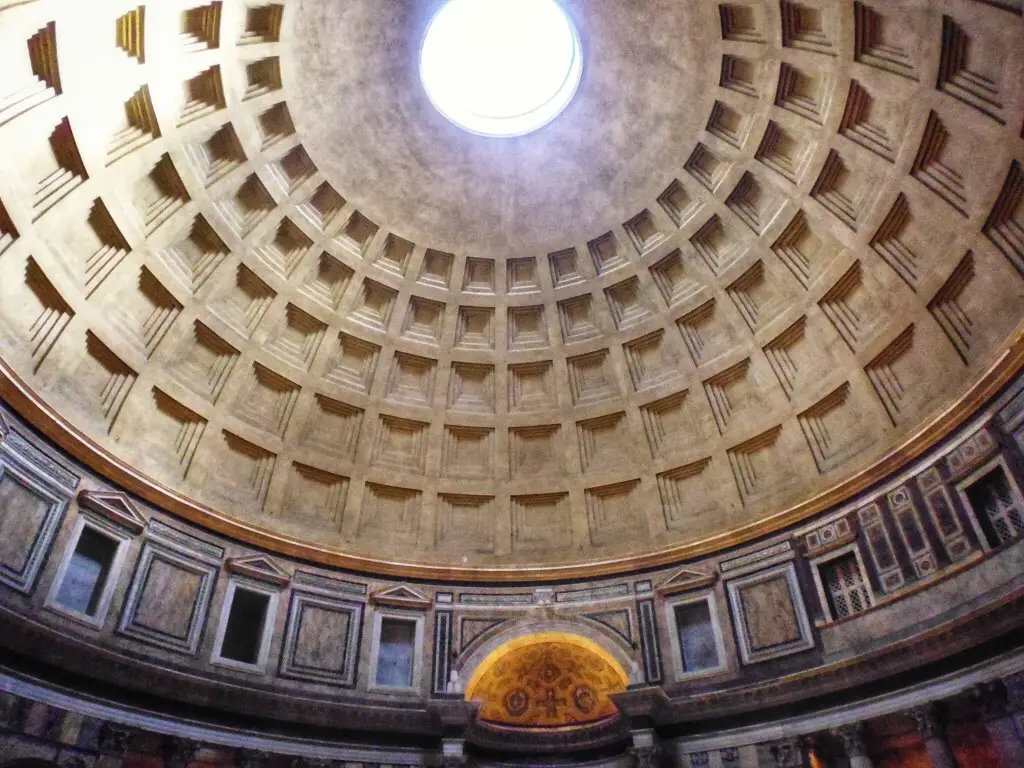 The Vatican Museum
Home to about 7km of exhibitions, the Vatican Museum is famed for housing one of the world's greatest art collections. You could realistically spend all day here admiring the exhibits, though for the more time conscious, the Sistine Chapel is a must see. The chapel roof was actually one of Michelangelo's most challenging creations. It is such an incredible piece of artwork, but be warned it is strictly prohibited to take photos inside. And if you even try you will be told off by one of the several guards. I guess you will just have to buy the postcard instead.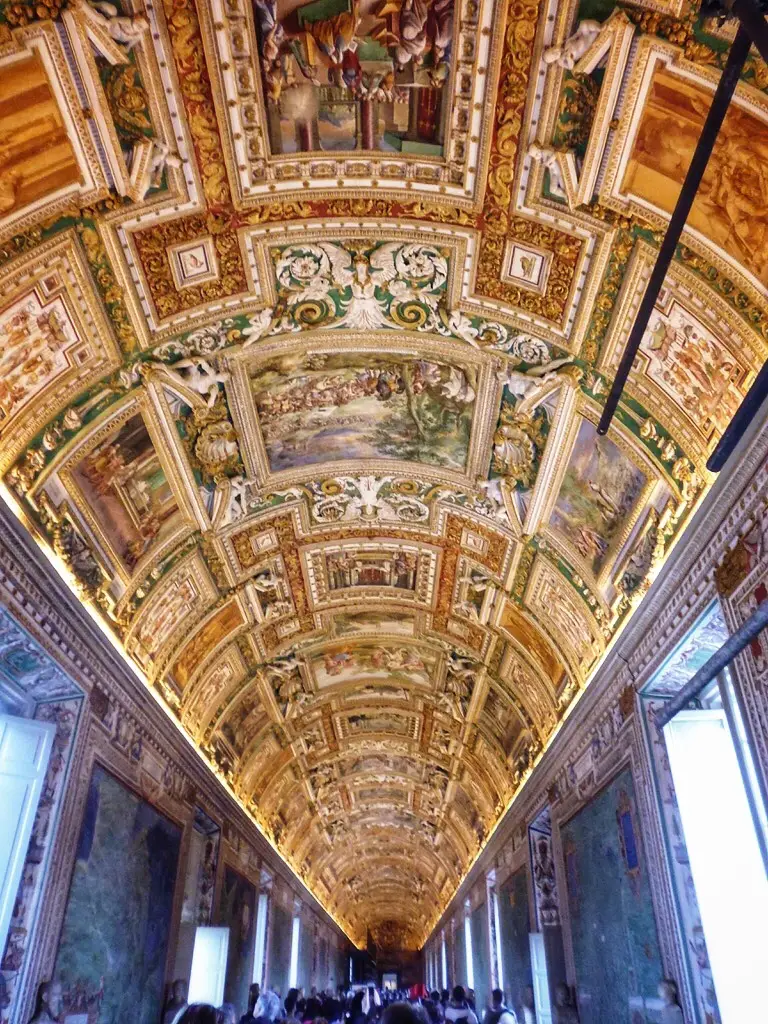 St Peter's Basilica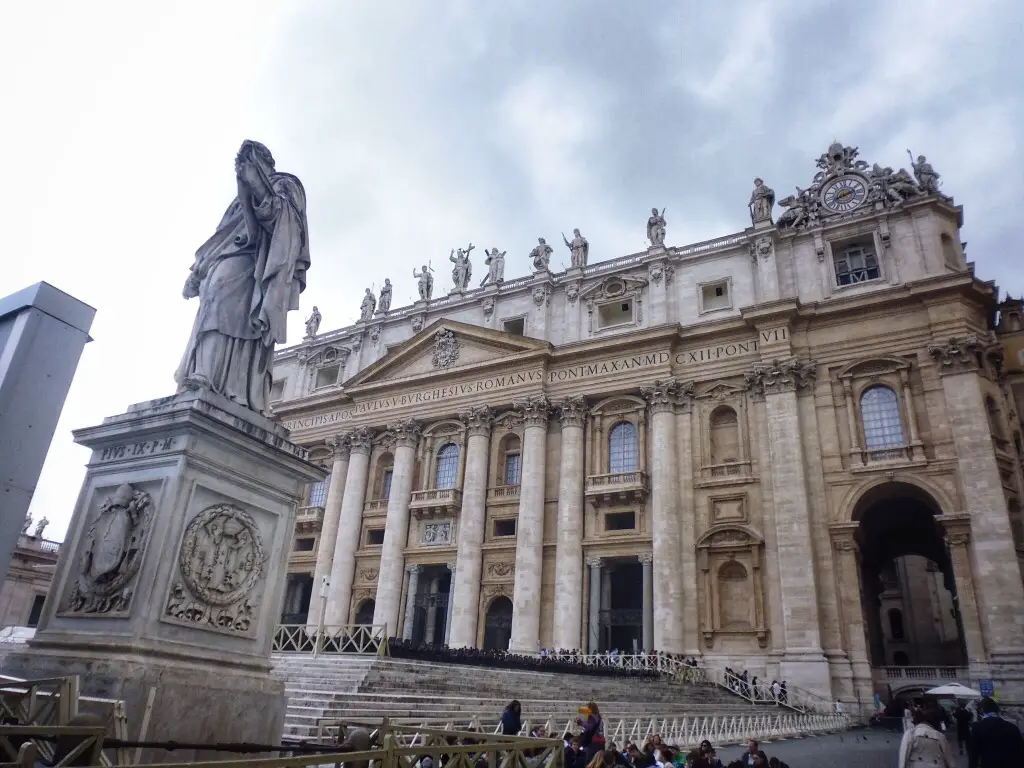 Around the corner from The Vatican Museum is St Peter's Basilica. Although I should point out that technically the museum and St Peter's Basilica are not in Rome or Italy, but Vatican City instead. So you can tick that off your country list.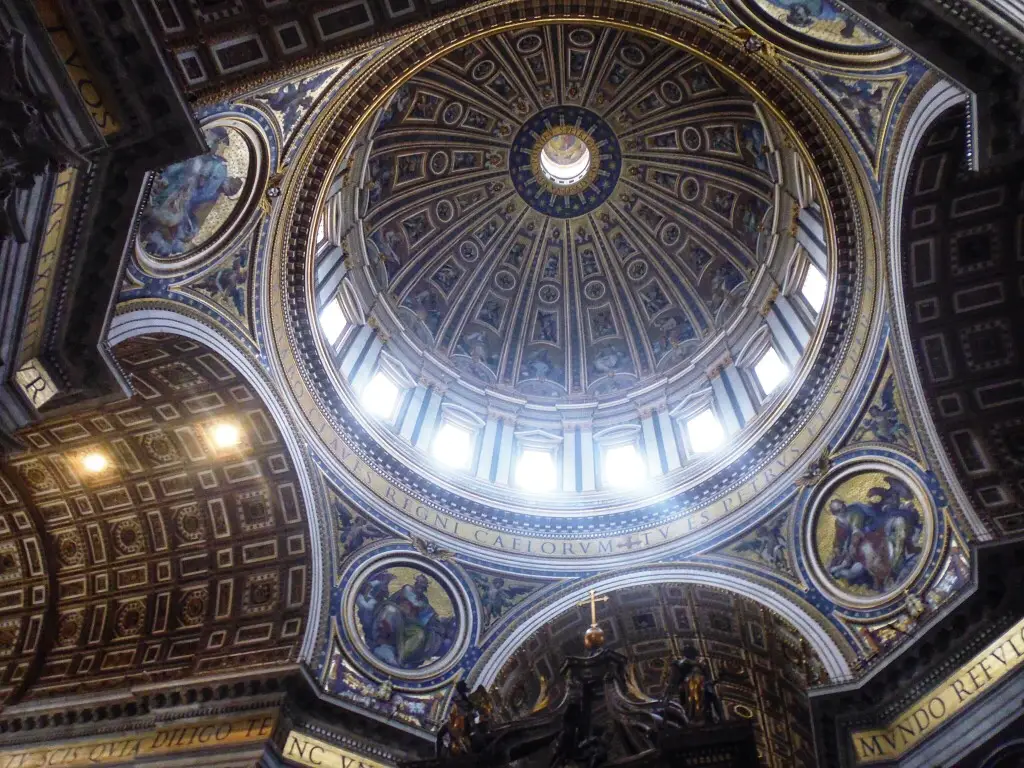 This makes sense though as of course the Catholic Church is headquartered in Vatican City. If you are planning to visit it is important that you adhere to the strict dress code. You cannot wear shorts or mini skirts and shoulders must be covered. St Peter's Basilica is one of the most incredible churches I have ever set foot in so do make sure you add this to your 2 day Rome itinerary.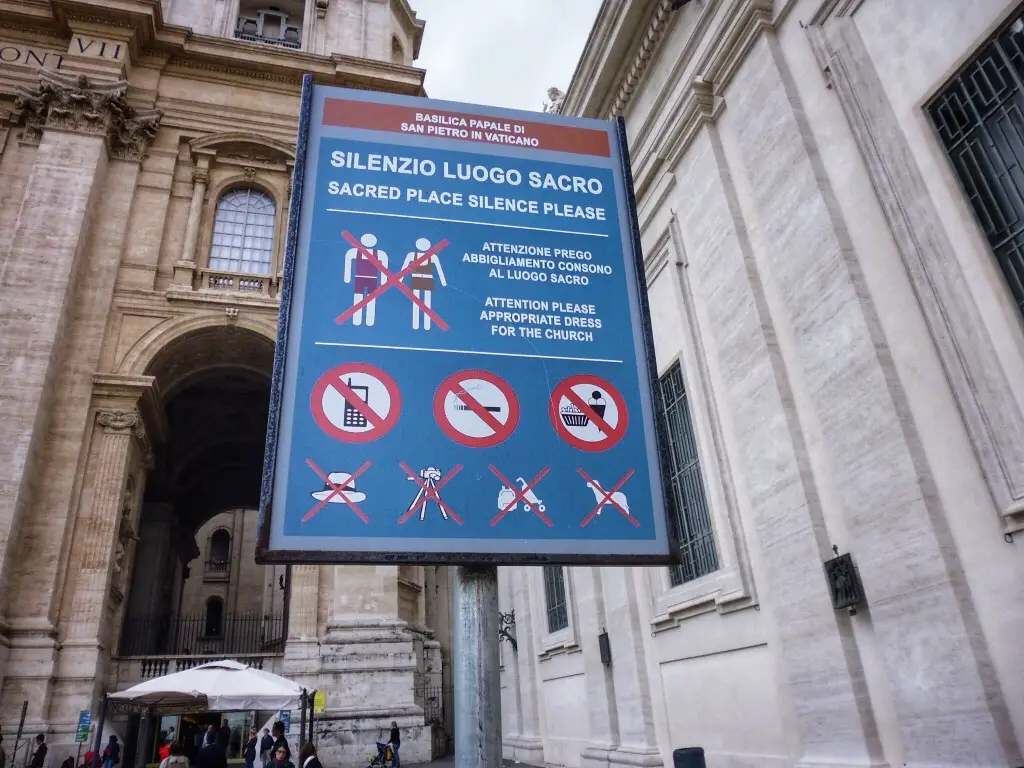 The Spanish Steps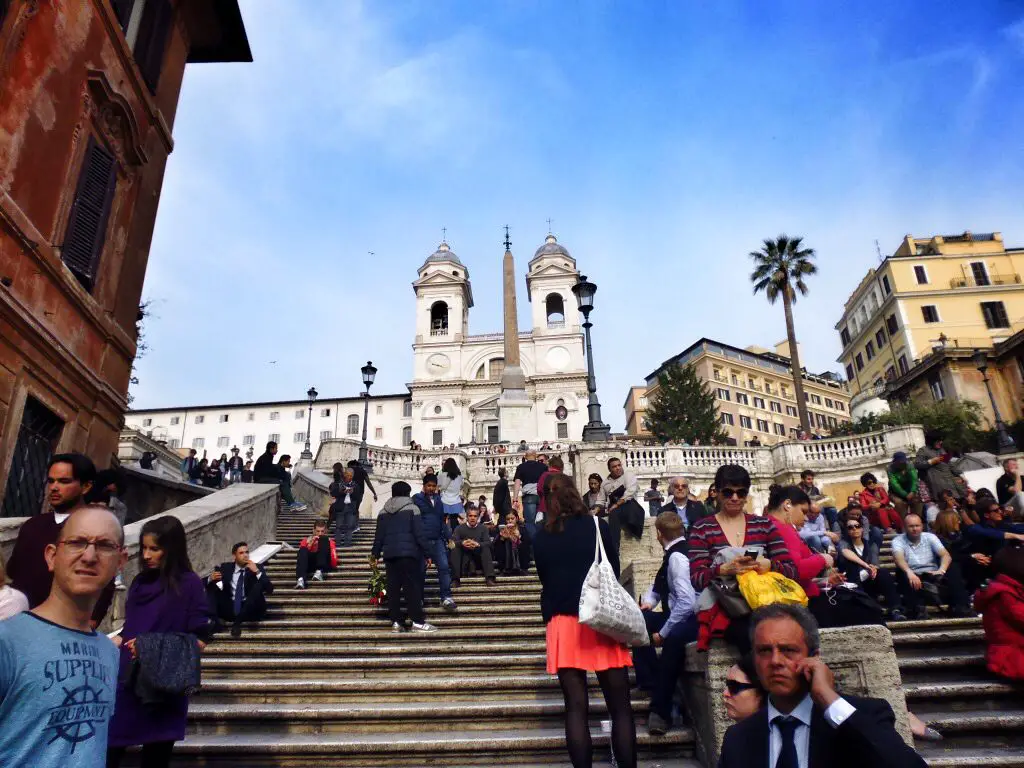 The Spanish Steps are a set of steps between the Piazza di Spagna at the base, and Piazza Trinita dei Monti, with the church of the same name at the top. The steps are a great place to sit and take in some of the sights. Just be warned that it is very touristy which also means you have a lot of people trying to sell you things on the street. Especially roses. Don't engage and just keep walking. I should also mention that all those photos of the steps with barely anyone on them are actually taken really early in the morning. Don't expect to get the steps all to yourself unless you are willing to get up early.
Trevi Fountain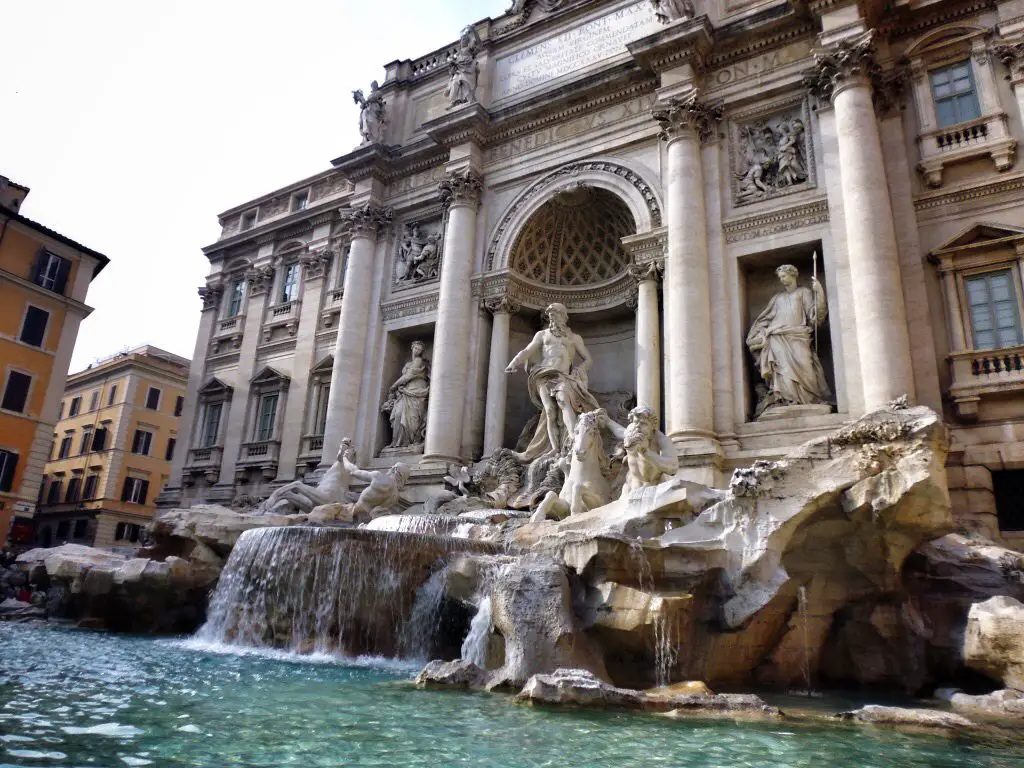 Like the Colosseum no photo can prepare you for the sheer beauty of the fountain. The first thing that struck me was how big it was. The fountain dates back to ancient Roman times and is one of the oldest water sources in Rome. It is tradition when visiting to toss a coin over your shoulder into the fountain. This ensures that you will be back in the city one day. Fingers crossed! During our 2 days in Rome we went twice just to doubly make sure we would be back!!!
If you have wondered where all that money goes to it is collected and donated to charity, and it is actually a crime to steal money from the fountain. One bit of advice is to be wary of people offering to take your photo at the fountain. They want money so it is best to just take your own photos or ask a fellow tourist to help you out, unless you are willing to fork out a bit of money.
Palatine Hill and the Roman Forum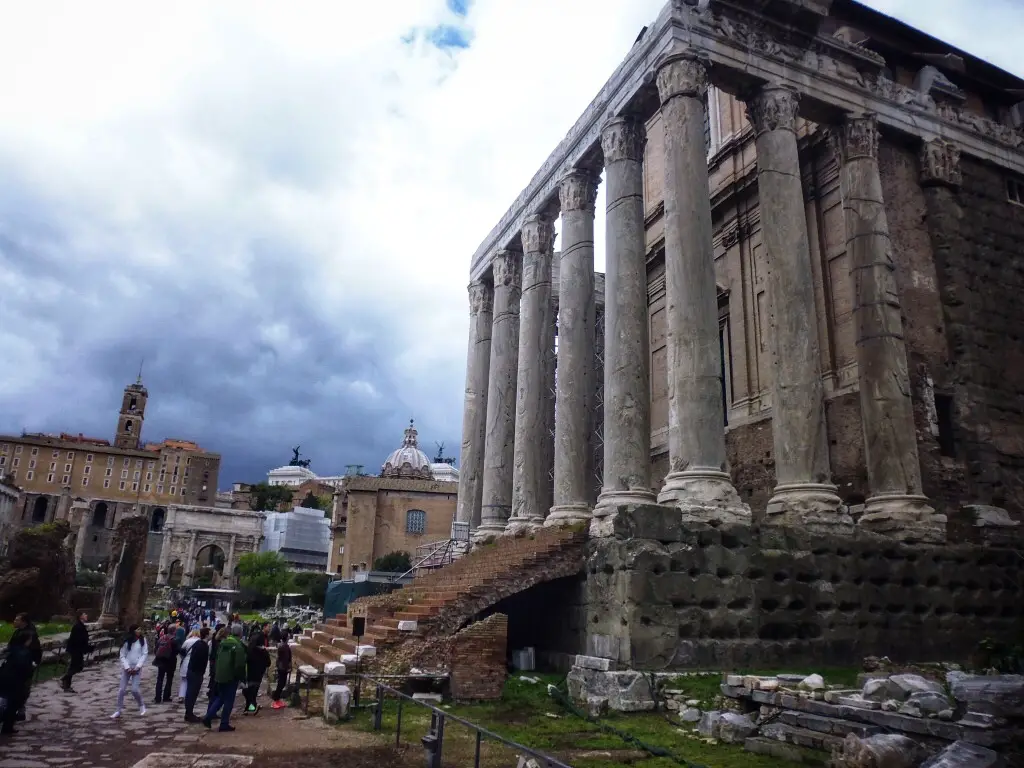 One of the most ancient sites in Rome is Palatine Hill. Located next to the Colosseum Palatine Hill is one of the seven hills of Rome. Apparently in ancient times Palatine Hill was prime real estate. The Palatine is home to the Roman Forum and Circus Maximus, and is basically an archeological site. Some of Ancient Rome's most famous legends were said to have taken place here such as Romulus and Remus being found in the cave by the she-wolf.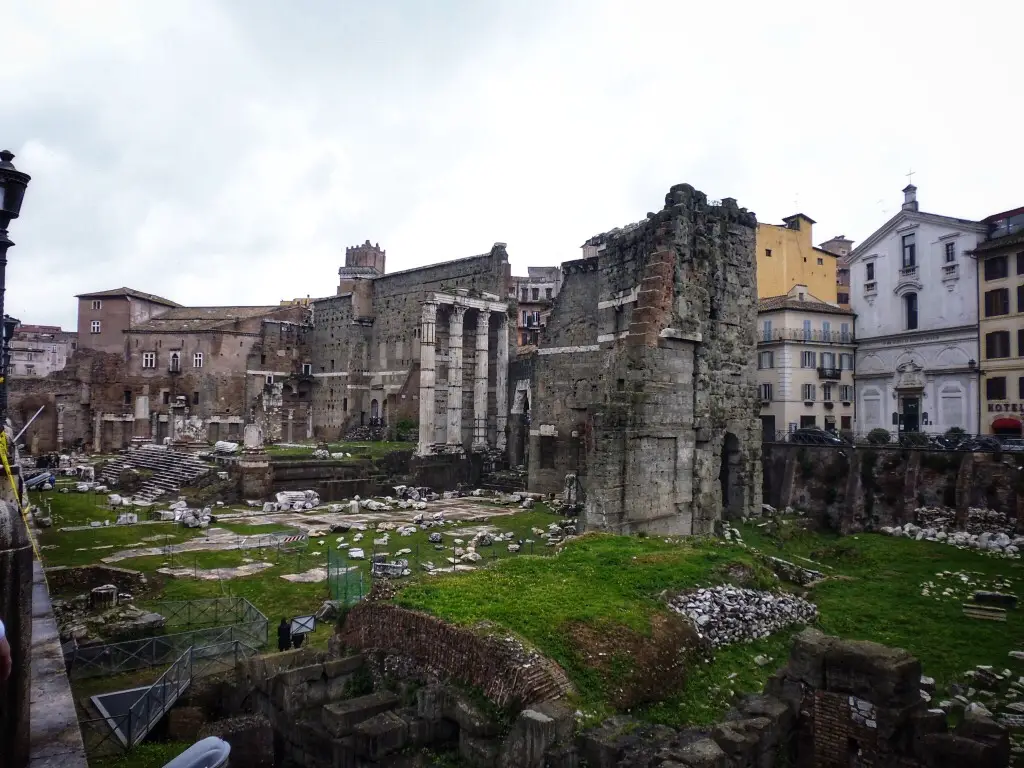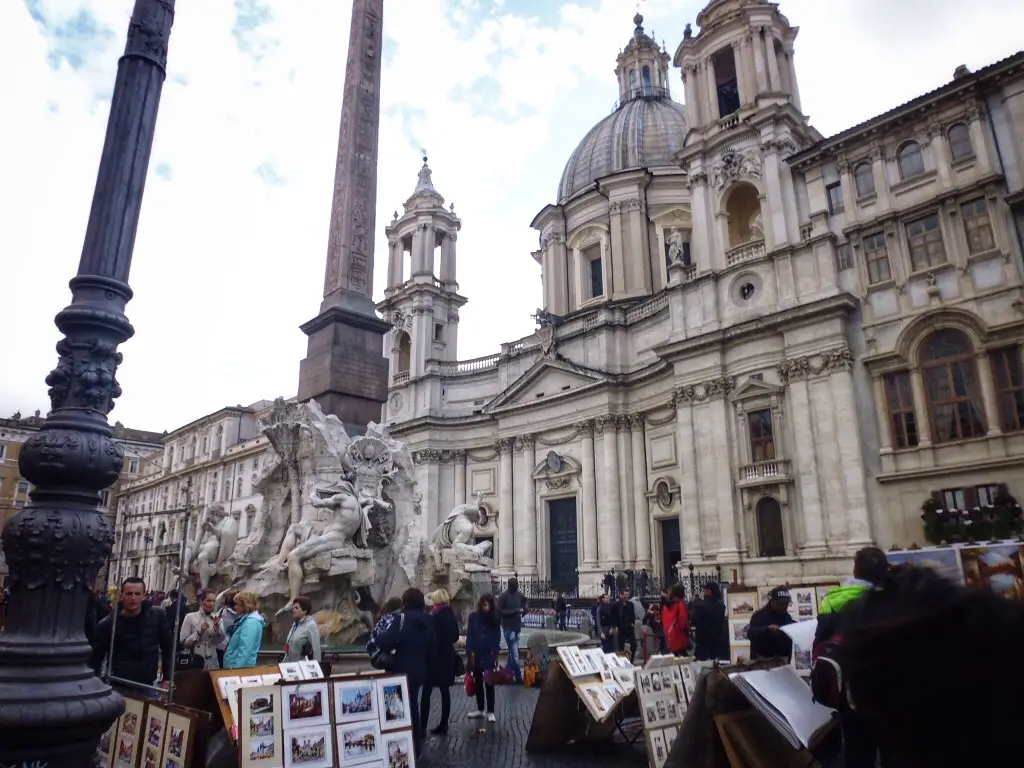 Piazza's seem to be the place to hang out in Rome. One of our favourites and a great place for people watching is Piazza Navona. Here you can sit by the fountains and watch the various hawkers and street artists. These Piazzas are really where Rome comes alive. Even historically the Piazzas were the centre of life in Rome. In ancient times markets were held here, and even executions!
Get lost in Rome's back streets
If you want to see the true character and get a real feel for Rome then get away from the tourist spots and explore some of the back streets. You will find some amazing neighbourhoods with cute streets and trendy bars. Plus you will find some of the more authentic restaurants that actual Romans eat at, not just the tourists. It is important to note that wine is actually pretty cheap in Rome, so that is a good excuse to get exploring.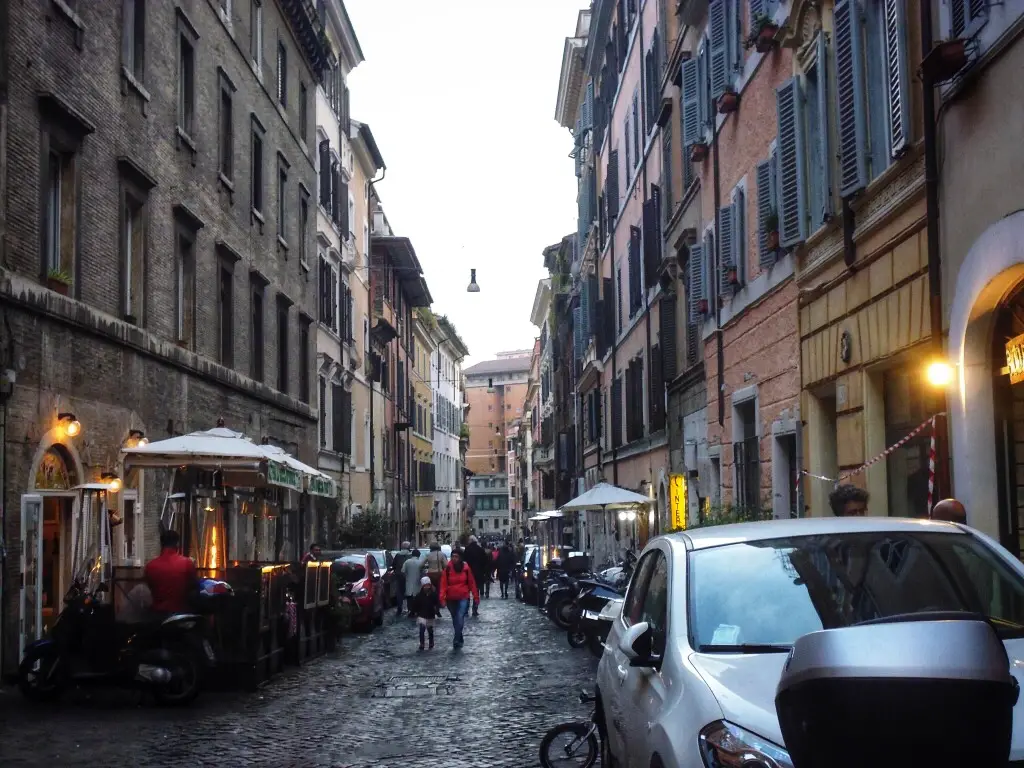 2 Day Rome itinerary in detail
Here is our 2 day Rome itinerary. You really can see the main attractions in 2 days, but you need to be organised and you do need to start the day early. That might mean laying off the wine the night before, or walking around with a bit of a hangover. But hey when in Rome right!
2 day Rome itinerary – Day 1
Day 1 of this 2 day Rome itinerary is all about getting up early(ish) and heading over to the Colosseum. Ideally you will want to purchase your tickets in advance. If you get the chance pay a bit extra to do one of the guided tours. They are so interesting and you will learn so much. You will probably end up spending around 2 or so hours here. Then don't forget all the pictures you need to take from the outside too.
One you are all photographed out head over to Palatine Hill and the Roman Forum for some further history lessons. Once you are done grab a pizza and gelato and make your way over to the Pantheon to explore.
By late afternoon/ early evening head to Piazza Navona and take in the atmosphere. Once you have finished exploring the square there are a number of restaurants and bars in the area to finish off the evening.
2 day Rome itinerary – Day 2
Day 2 of our 2 days in Rome and you guessed it, another early start. This time head to the Vatican Museum to try and beat at least some of the crowds. The Museum is huge so you probably want to spend a few hours here at least. And one of the main attractions is of course the Sistine Chapel. Once you have finished in here, head over to St Peters Basilica and be amazed at the incredible architecture.
After exploring the Museum and Vatican City, grab some lunch in the area then head over to the Spanish Steps, followed by the Trevi Fountain. As evening approaches head back to Termini but keep walking in the direction of the Colosseum. There is a quaint little area of bars and restaurants where a lot of the students frequent which is perfect for an evening out.
Weekend in Rome – must have packing list
 No matter what time of year you decide to plan your weekend in Rome, here are some handy items that you should bring.
Solid backpack to fit things like a water bottle etc in. Rome is infamous for pickpockets so make sure you don't have something flimsy and easy to steal.
Travel belt. Like we mentioned about pickpocketing is a thing so make sure you keep your money safe.
Obvious I know.
Comfy shoes. You will do a lot of walking so this is a must.
Tips for your 2 days in Rome
We have put together some tips to help you prepare for your 2 days in Rome, but if you are looking for something more detailed you can have a look at this article on things you should know before visiting Rome for the first time.
Whenever you can book your tickets in advance. Especially if you are only spending 2 days in Rome, this will help you avoid really hefty queues.
Avoid the tourist traps. There are a lot of restaurants in touristy areas that we recommend avoiding. They are usually overpriced and poor quality. Try to find something down a back street or away from the main tourist thoroughfare.
Rome is generally safe, but pickpocketing is an issue. Keep your wits about you, and don't flash your cash or your mobile phone around.
People can be pushy in Rome, particularly the people walking around trying to sell you roses on the street. You need to be firm and keep moving.
Be careful when crossing the roads in Rome. Seriously the driving here can be quite scary!
Romantic things to add to your 2 day Rome itinerary
Considering we spent most of our spare time travelling as a couple we couldn't write a post all about our 2 days in Rome without writing a list of the most romantic things to do in the city. Here are some suggestions: 
Make a wish in the Trevi Fountain – if you want to guarantee that you and your love will return to Rome head to the Trevi and throw a coin over your shoulder. We recommend heading here in the evening as it is a bit more atmospheric.
Sit down to a delicious meal – eating is a HUGE part of any trip to Rome and there are so many incredible restaurants to enjoy a candle lit dinner.
Gelato – grab a spoon or two and go for a gelato date.
Admire the Sistine Chapel – visiting the Sistine Chapel is one of those breathtaking moments that is even more special when you share it with the one you love.
Wander the backstreets – there is nothing better than strolling hand in hand as you wander down the backstreets of Trastevere one of Rome's oldest neighbourhoods.
Soak up the atmosphere in Piazza Navona – filled with Baroque architecture and ostentatious sculptures Piazza Navona is great for people watching as a couple. There are also some amazing bars around here particularly if you wander around the back streets.
Watch the sunset from the Spanish Steps – yes you are sharing the moment with hundreds of other people but as soon as that sun starts to set and the sky changes from blue to pink, it is easy to forget the crowds.
More than 2 days in Rome – Day trip ideas
If you have a little more time or you are looking for some day trip ideas from Rome here are some suggestions:
Pompeii
History lovers have to visit the ancient city of Pompeii famously destroyed by Mt  Vesuvius in 79 A.D. There are a number of tour operators who will take you there or you can get there by train.
Naples
Located close to Pompeii Naples is the perfect day trip from Rome, particularly if you love Pizza.
Florence
Florence is actually only 1.5 hours by train from Rome. You won't be able to get an in depth look at the city, but you should be able to see s lot of the main sights if you book in advance.
2 day Rome itinerary – A recap
Hopefully this 2 day Rome itinerary has helped you plan your own trip to this incredible city. And whilst 2 days in Rome might not seem like a lot hopefully with this guide we have shown you that you really can see the main attractions and have a fantastic weekend in Rome.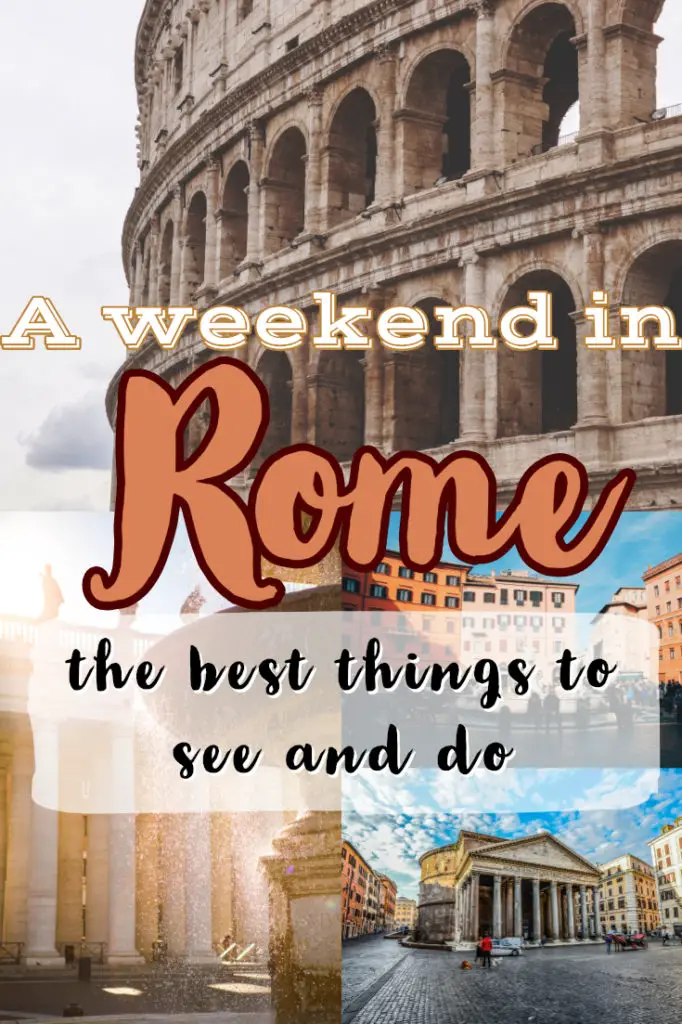 This post contains affiliate links. Clicking on these links will be no extra cost to you but we will receive a small commission for any products purchased.  We only recommend products that we would actually buy ourselves. We hope you will find some value in these links. 
European Destinations