Truth be told Brussels has never been high on my list of European cities to visit. I have heard a lot about it some good and some bad. Some reviews even going so far as to say there aren't that many things to do in Brussels. So when we found a super cheap flight we were dubious over whether to go for it or not. In the end we booked 2 days in Brussels, and decided to make up our own minds. And we are so glad that we did. Not only did we love it but we ended up wishing we could move there. So here is everything you need to know when planning your own 2 day Brussels itinerary, including where to stay, what to eat, and what to see.
And if you are wondering if Brussels is worth visiting this article is for you.
Disclaimer: This post contains affiliate links, so if you use these links to buy something we may earn a commission, at no cost to you. Thank you for your support.
Brussels itinerary – Factsheet
Country: Belgium
Language Spoken: French, Dutch, German – English is also widely spoken
Currency: Euros
Famous for: Chocolate, Beer, the EU
Brussels is the capital of Belgium, but also the political capital of Europe. The city is home to the EU headquarters with over 40,000 employees living in the city. Unsurprisingly around 27% of people living in Brussels aren't actually Belgian born.
Starting your 2 day Brussels itinerary – Getting here
If you are travelling to Brussels then chances are your 2 day Brussels itinerary will start at the airport. There are two airports in Brussels. Brussels Zaventem Airport which is the main airport, and Brussels Charleroi.
From Zaventem you can get the train into Central Brussels within about 20 minutes. Trains are frequent with about 8 per hour. You also have taxi options which will be slightly more expensive.
Charleroi is about an hour away from the centre of Brussels, and transport options are limited. You will need to get the Flibco shuttle bus which leaves every 30 minutes, and takes just under an hour to get into Brussels. The bus will drop you close to Midi Station, and you will need to make your way into the centre from there.
Alternatively another popular way to get to Brussels is via train. The Eurostar also arrives into Midi Station and it is only a short train journey from here to the centre of Brussels.
Where to stay for your 2 days in Brussels?
If you are only spending 2 days in Brussels we highly recommend staying around Grand Place. Yes accommodation is slightly more expensive, and the rooms are smaller, but it is ideal because not only is this where a lot of tourist attractions are, there are also a number of bars and restaurants in this area. We ended up staying at Hotel Hubert and it was perfect for our 2 days in Brussels. It cost us just over €100 per night. The rooms were modern, and yes admittedly the room we had was small, but it had everything we needed. The location was fantastic as well. It was only 5 minutes walk to Grand Place, and a short distance from the metro in case we wanted to venture out a bit further.
If you are arriving into Brussels Midi Station late in the evening and want nearby accommodation we recommend YOOMA Urban Lodge. Because our flight was so late in the evening, and the bus from Charleroi takes under an hour to get to the station, we decided to book nearby accommodation for one night. Again the price was around the €100 per night mark, and the rooms were modern, and certainly much larger than Hotel Hubert.
One thing to be mindful of is that the prices quoted for accommodation especially on booking websites don't include tax. We had to pay a city tax at each hotel, but it wasn't much, and something along the lines of an extra €3-€4.
Is 2 days in Brussels enough?
Before we planned our 2 days in Brussels, we had read a lot of articles saying there isn't a lot to see in Brussels. With that in mind we decided to only spend 2 days there. Looking back this was a mistake. You could easily spend at least 3-4 days in Brussels if not more. We felt like we had only started to scratch the surface of things to do.
A big part of enjoying Brussels is wandering around the back streets, looking at street art, and visiting the many museums and galleries. Then of course there is the food and drink. Belgium is famous for beer, waffles, and frites, and you want to take your time tasting them all without rushing from place to place.
Things to do in Brussels
Here are some of the the best things to do in Brussels. We did only have 2 days in Brussels, so of course there is so much more to see and do, but these are some of the highlights.
Grand Place
One of our favourite things in Europe has to be exploring the grandiose city squares and marvelling at the architecture. Grand Place in Brussels is definitely a sight to behold. It is the central square of Brussels and is surrounded by some pretty incredible architecture. Some of the buildings include the former Guilds of Brussels, which were the centre of economic life in the late medieval and early modern periods, as well as the Flamboyant Town Hall. And before you ask, Flamboyant is actually a style of architecture.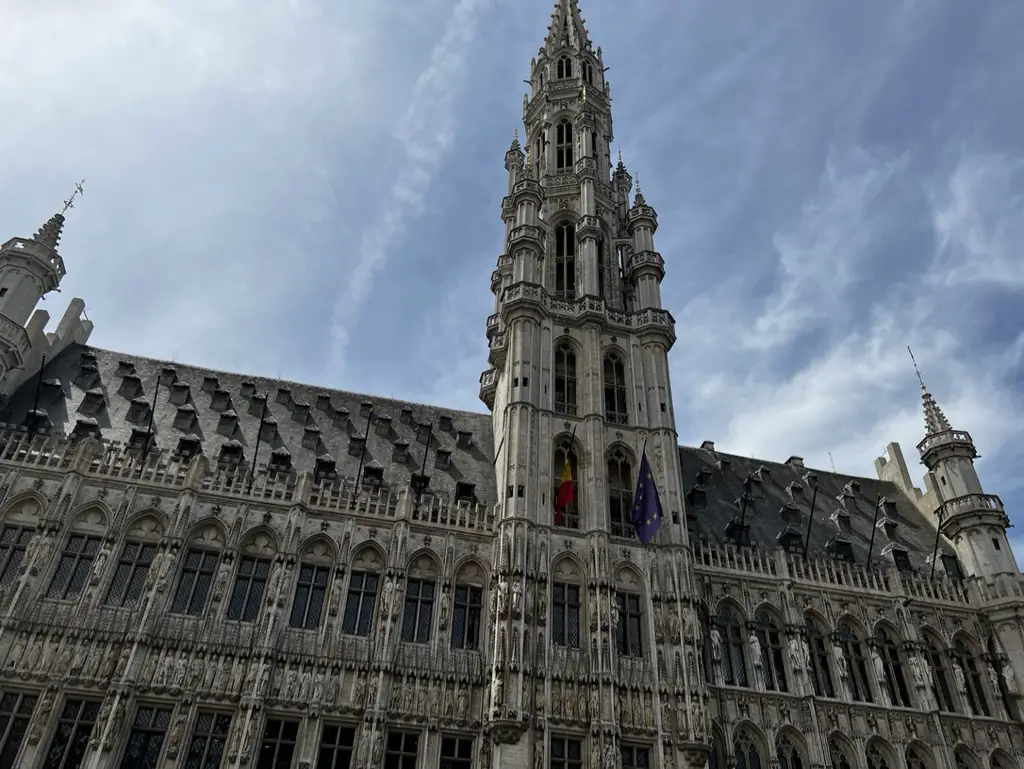 Royal Palace of Brussels
Speaking of architecture another beautiful place to add to your 2 day Brussels itinerary is the Royal Palace of Brussels. It is the official palace of the King and Queen in Brussels, but not used as a royal residence. Apparently it is used for State visits and the like.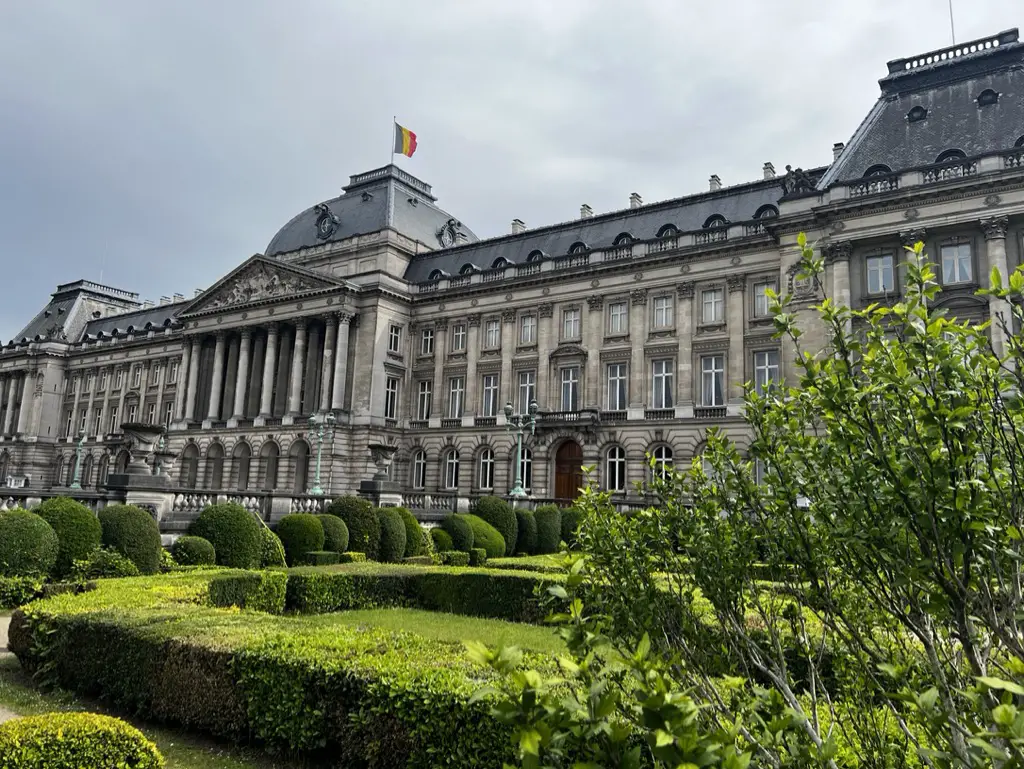 Manneken Pis
So one thing that we noticed on our trip to Brussels is that they do love a good peeing statue. Manneken Pis is the more famous of them and is only a 5 minute walk from Grand Place. It is basically a small bronze statue of a naked boy peeing into a fountain. The statue attracts many visitors and even dresses up for different occasions. For instance on our visit the statue was decked out in full graduation gear.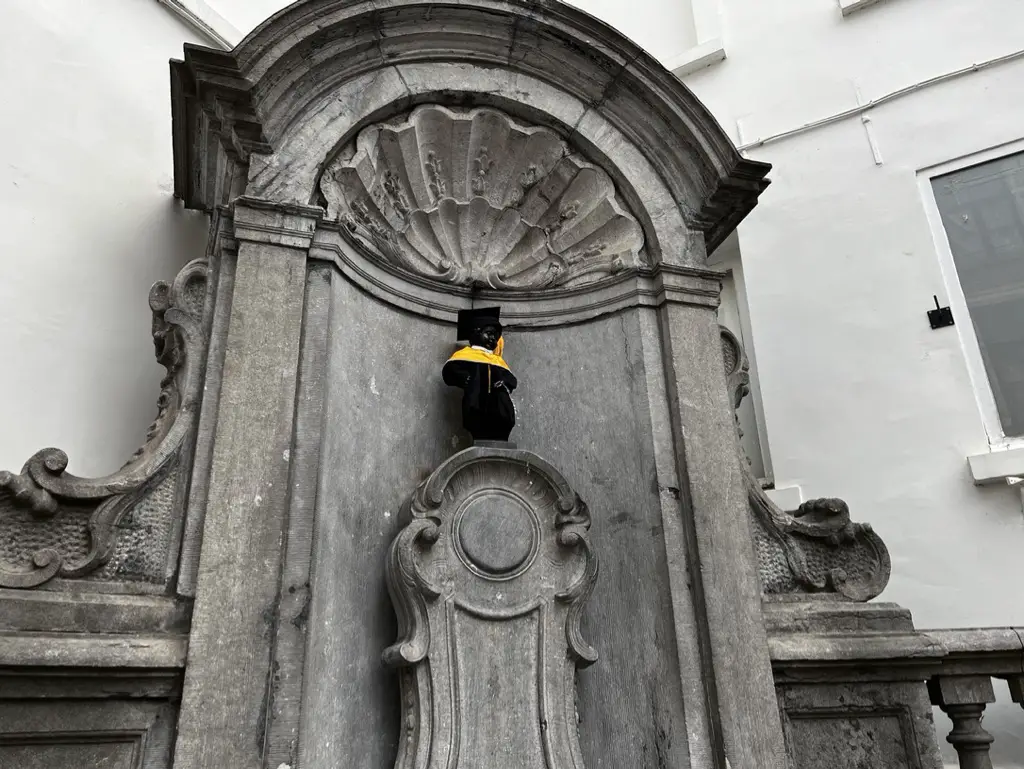 Atomium
Paris has the Eiffel Tower, Rome the Colosseum, and Brussels has the Atomium. The Atomium has become the symbol Belgium and is probably one of the most popular things to do in Brussels. It was originally constructed in 1958 for the Brussels World Fair, and has become a tourist attraction ever since.
Not really sure what to expect we decided to visit and were met with long queues. Still, we purchased some tickets online and soon we were being whisked away into the world of the Atomium. It was actually a lot of fun, exploring the different spheres, and being treated to museums and light shows.
If you do decide to visit we recommend purchasing tickets online in advance. As long as you select the day, you can attend at any time.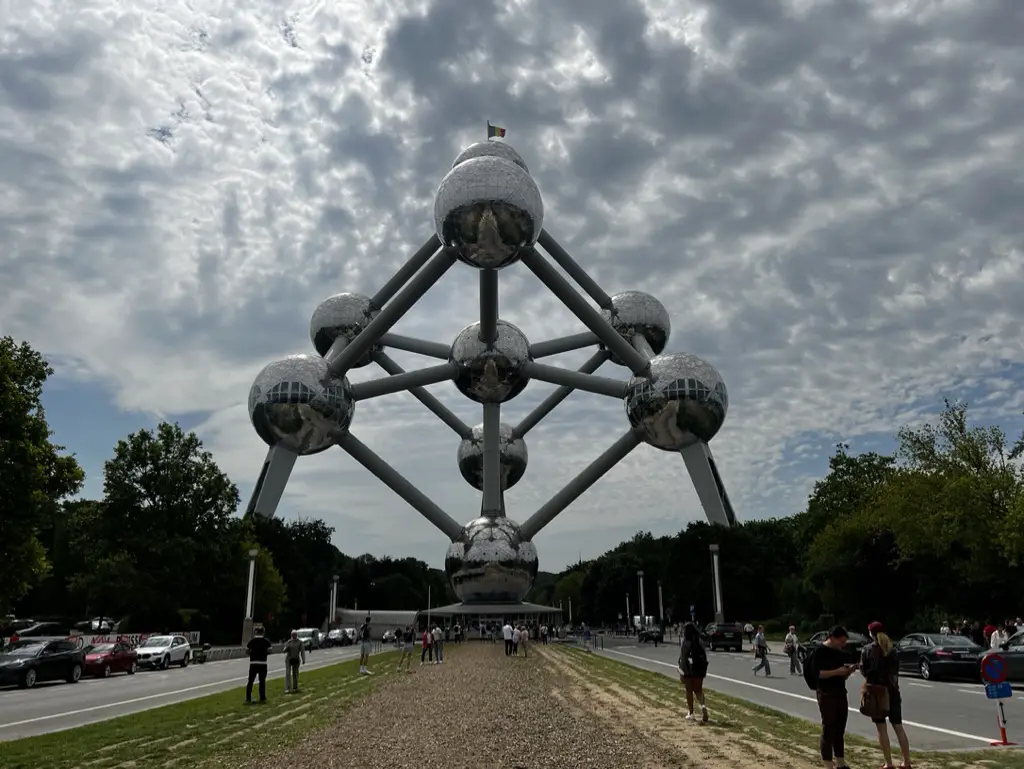 Mini-Europe
If you are interested in all things Europe then a visit to Mini-Europe is something that you should add to your list of things to do in Brussels. Here you can walk around miniature sculptures of different European nations, and learn all about the EU. Tickets can be purchased on the day or online in advance.
Belgian Comic Strip Centre
One of the coolest things to do in Brussels has to be to take a visit to the Comic Strip Centre. It is essentially a museum dedicated to comics and the history in Belgium. It includes Tintin and the Smurfs which I was surprised to discover were both Belgian creations. It is worth a visit during your 2 days in Brussels, particularly if you are looking for something a little different.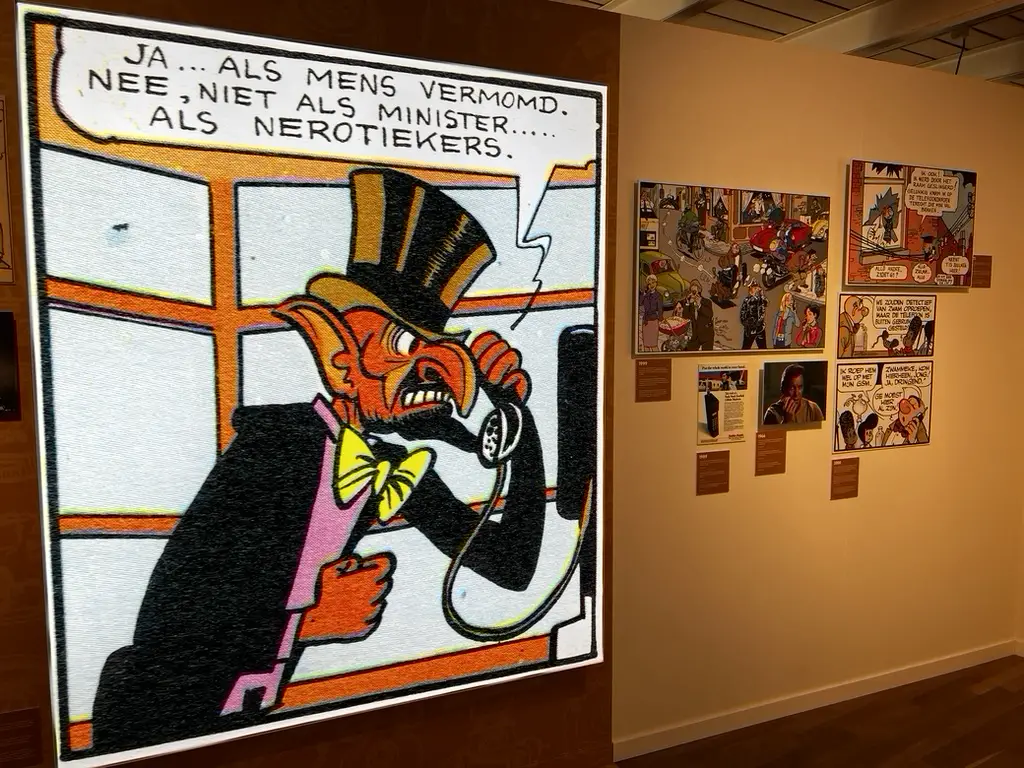 The Royal Gallery of Saint Hubert
I know adding a shopping arcade to the list of things to do in Brussels, might be a bit controversial, but it really is worth a visit. For starters the Royal Gallery of Saint Hubert is only a short walk from the Grand Place. It also lures visitors in with its high end shops and incredible window displays.
Admittedly we did spend a bit of time drooling over some of the chocolate shops in the arcade. What makes this a key point during your 2 day Brussels itinerary though is the fact that this is not only one of the oldest shopping arcades in Europe it is arguably one of the most beautiful as well. If shopping at expensive stores isn't your thing though, you can grab a cup of coffee at one of the cafes and watch as the world walks on by.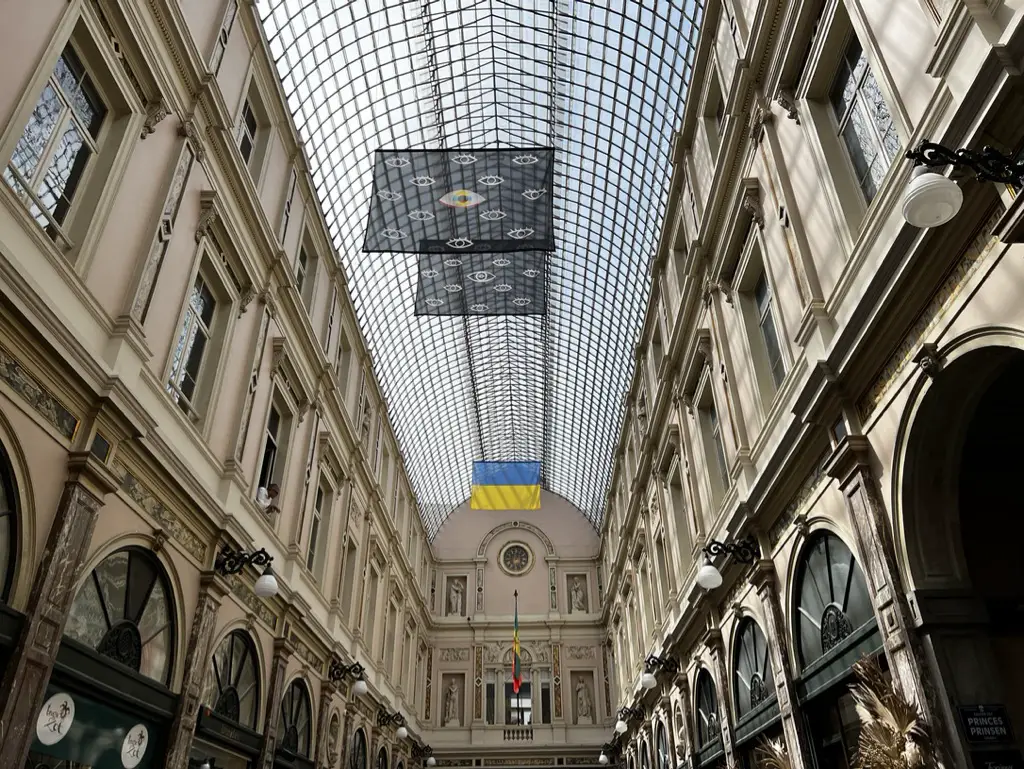 Brussels Park
Just across from the Royal Palace you will find Brussels Park, which is the largest urban public park in the city. And it was also the city's first public park. We were so impressed by the large amount of green spaces in Brussels, and it was so nice to have a break from all the buildings and hustle and bustle. The park has some cafes just opposite the Palace, and they are great for relaxing whilst sipping a cold Belgian beer.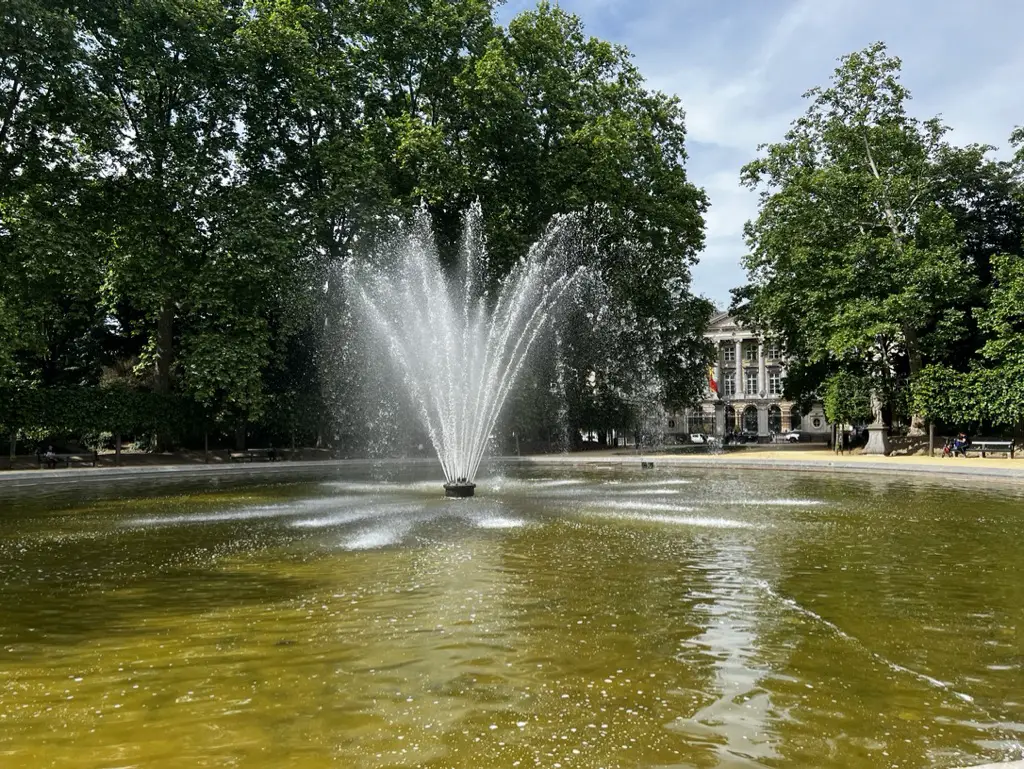 Comic Strip Walk
Another one of the quirky things to do in Brussels, is to do the Comic Strip Walk. Basically all across the city you will stumble across walls paying tribute to Franco-Belgian comic book characters. There is a specific route you can take, or you can just keep your eyes peeled as you move around the city.
You can also book onto a tour that will take you to some of the key bits of artwork and go through the history of each. With the tour that we have linked in this paragraph you also get taken to specialist comic book stores, and other sites in Brussels.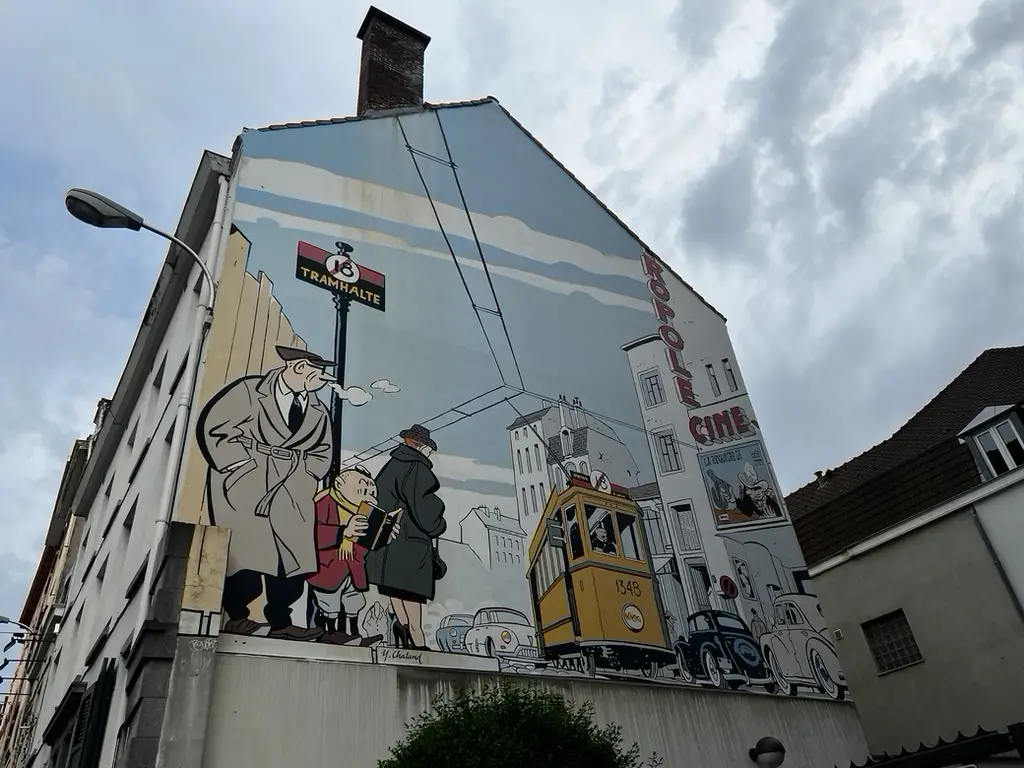 Chocolate Museum
Lets face it, when you think of Belgium you probably think of Belgian Chocolate. That is why we recommend adding a visit to Choco-Story to your 2 day Brussels itinerary. You get to learn all about the history of chocolate, and more importantly get to try some along the way. You can purchase tickets on the day or online in advance.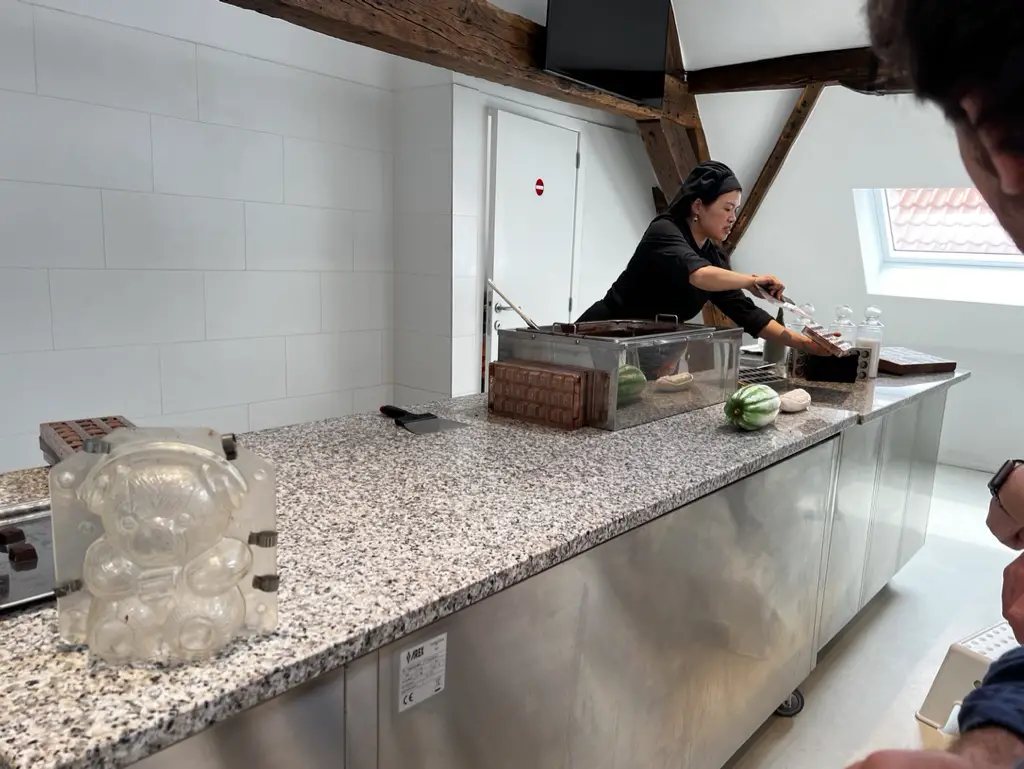 Old England
The Old England is another example of the beautiful architecture in Brussels. The Art Nouveau style building was once home to a large retailer, but is now where you will find the Musical Instruments Museum.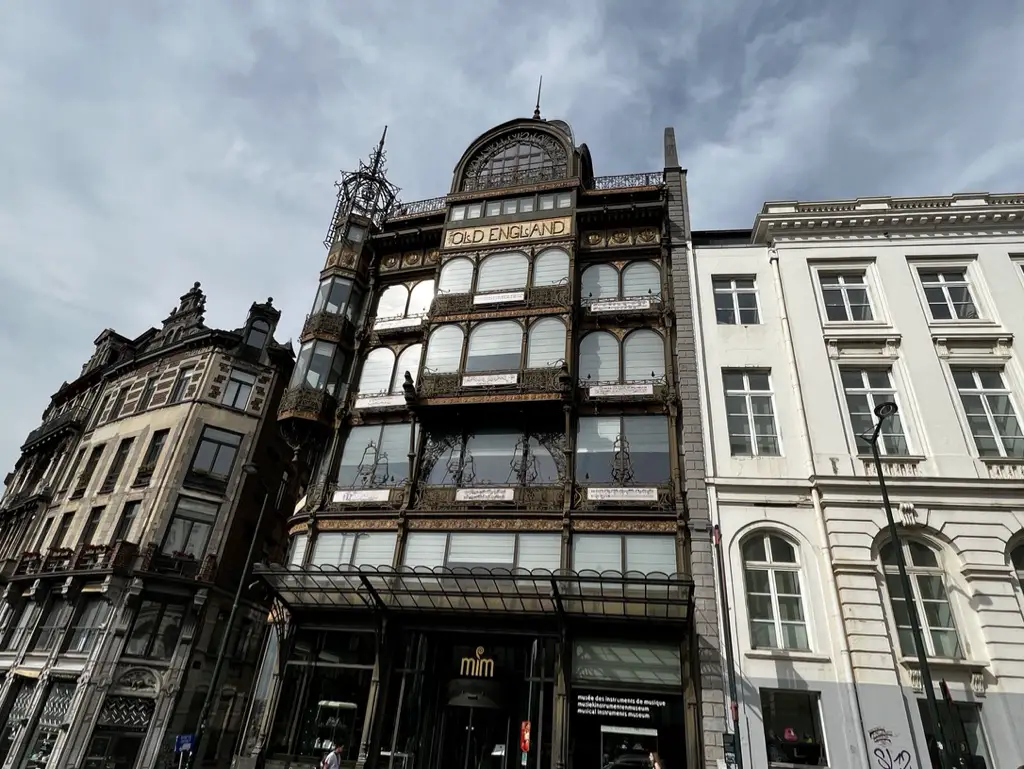 Mont des Arts
Mont des Arts official is an urban square in the heart of Brussels that contains important buildings such as the Royal Library of Belgium and the National Archives. It is also home to a public garden and you will find lots of people enjoying their time in the sunshine. We have added this to our list of things to do in Brussels because we ended up spending a lot of time just sitting here people watching. There were also buskers playing music nearby which added to the overall vibe of the area.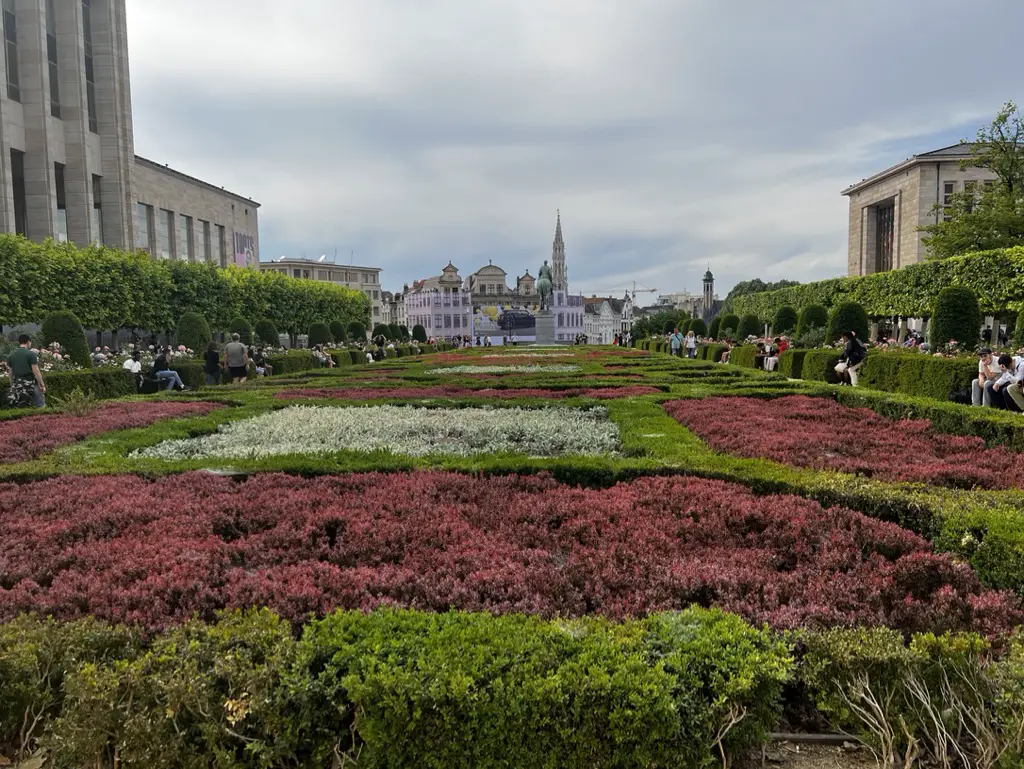 Hop On Hop Off Bus
One of our favourite things to do in a new city (as cliched as it sounds) is to do a Hop On Hop Off Bus tour. Particularly when you are short of time its a great way to orient yourself with a new place, and it doubles as transport for the day as well.
Sample 2 day Brussels itinerary
Here is a sample 2 day Brussels itinerary to help you plan your own trip. We have included our favourite things to do in Brussels, and hope that you will love them too.
2 days in Brussels DAY ONE
In the morning head over to the Royal Gallery of St Hubert for some coffee and breakfast at one of the cafes. Then make your way to Grand Place to admire the architecture. Visit the chocolate museum and Mannekin Pis and grab some Frites and waffles for lunch.
In the afternoon walk over to the Old England Building and explore the Musical Instrument Museum. Enjoy the rooftop cafe for some fabulous views. Afterwards make your way towards the Royal Palace Brussels, then Brussels Park for some drinks,
In the evening walk through Mont des Arts, and explore some of the nearby bars and restaurants.
2 days in Brussels DAY TWO
Start your day with breakfast at Woodpecker 20, in the heart of Brussels, before catching the metro to the Atomium to explore.
In the afternoon try and take in some of the street art including the comic strip walk (don't forget to stop off for Belgian beer along the way). Afterwards visit the Comic Strip centre and spend the afternoon enjoying some Belgian beer and classic Belgian food.
Eating and drinking during your 2 days in Brussels
Now that we have covered off all the things to do in Brussels, here are some suggestions of places to eat and drink during your time there. Because we only had 2 days in Brussels, a lot of our recommendations are centred around Grand Place, which is also where we stayed.
Eating in Brussels
Eating some of the delicious Belgian food the city has to offer, is a must for your 2 day Brussels itinerary. Street food, such as Pomme Frites, or Belgian Waffles are a must in the city, and you will find stores selling these mouthwatering delights all around the city. Or if you are feeling a bit more creative you can even do a waffle making workshop.
Devouring as much chocolate as possible is of course another must on your 2 days in Brussels. But if you want to learn more about how it is made then you can do your own chocolate making workshop.
If you are looking for something a little more substantial though here are some food recommendations.
Woodpecker 20 – arguably the best brunch spot in Brussels. Here you can have savoury Belgian Waffles for breakfast, alongside other classic brunch favourites like Eggs Benedict. It does get really busy especially on weekends so be prepared to queue.
Frank – tucked away at the side of the Opera House Frank serves everything from Eggs Benedict to Pancakes, and some killer coffee to boot.
Drinking in Brussels
If you enjoy the occasional drink, you can't plan a 2 day Brussels itinerary without tasting some of the Belgian Beers on offer. And there are so many quirky and fun places to try it as well. Here are some highlights.
Le Cercveil – A coffin themed bar close to Grand Place, that is worth a visit if you are after something a little quirky. They serve Belgian beer as well as cocktails and wine.
Le Fleur en Papier Dore – If you want to sip different beers or even grab a bite to eat Le Fleur en Papier Dore is a must. It's a historical bar that back in the day would attract a lot of artists. Looking at the picture below of the walls it isn't hard to see why.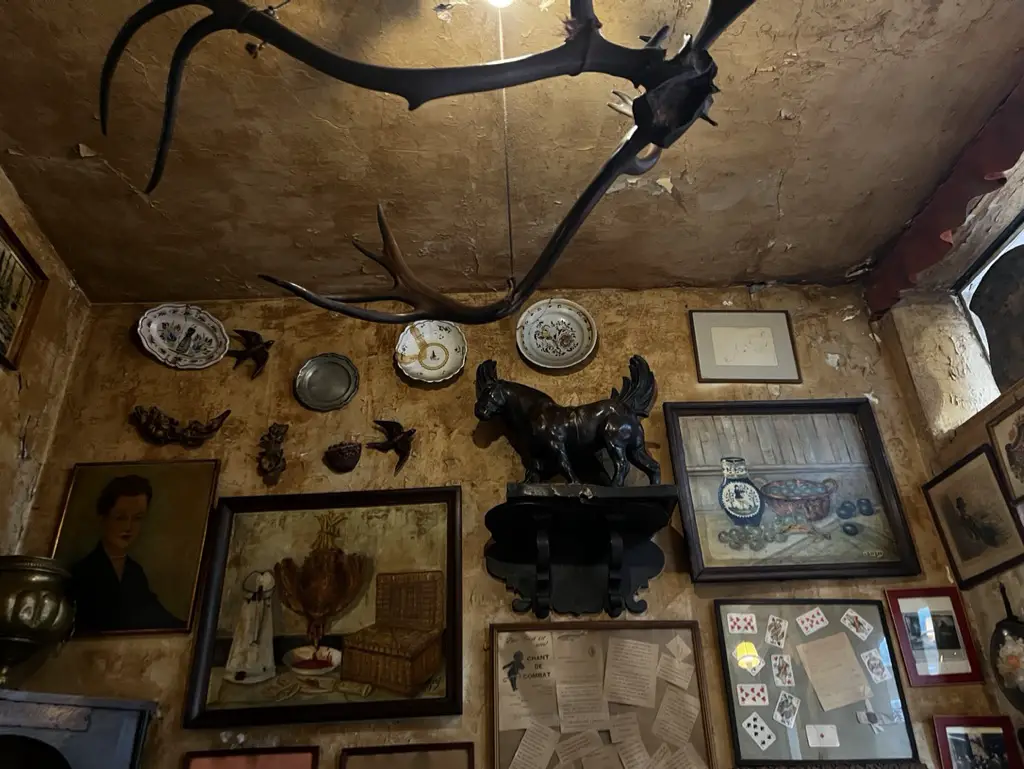 A La Becasse – Perfect for a more traditional beer house vibe. There is a good selection of Belgian Beer here, and a good atmosphere as well.
A La Morte Subite – This is a typical Belgian cafe, and is great for beers, and food. Grab a cold Belgian Beer and nibble on some cheese, it is literally bliss.
Goupil Le Fol – This dimly lit bar with its weird and wonderful decor is a must, particularly when you are feeling a little sick of Belgian Beer. They serve some amazing flavoured wine, with some dive bar vibes.
La Pharmacie Anglaise – Another place to go when you are feeling a little beered out. This bar does cocktails, and does them well. The decor is also very cool and vintage. Although we won't ask about what is in all the little jars on the shelves on the top floor.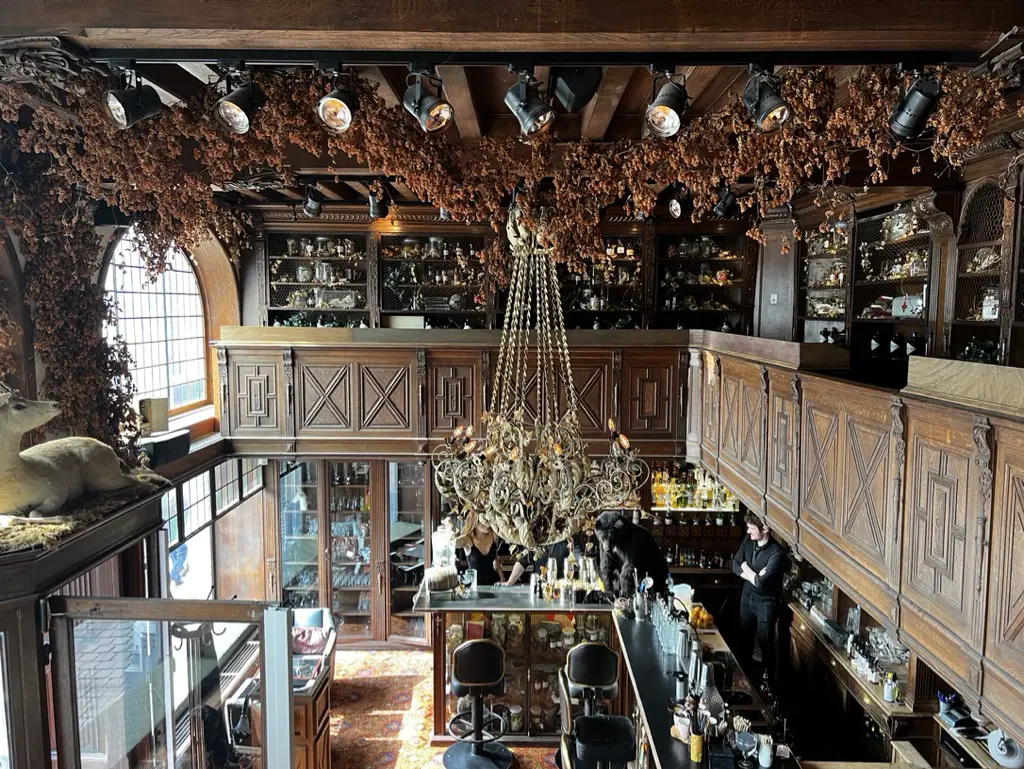 Obviously Belgian Beer is a big deal in Brussels so one of our recommendations if you are short on time is to do a Beer tasting tour. That way you can drink some beer but also get to know what is in your glass too.
This tour is another option if you are wanting to visit some bars in Brussels and taste some beers.
How much money do I need for my 2 days in Brussels?
We were actually surprised at how affordable Brussels was. Between us as part of our 2 day Brussels itinerary we spent under 200 Euros a day for food, drinks (there were lots of those), souvenirs, tourist attractions, airport transfers, and public transport. You could also do things a whole lot cheaper so all in all it's not a hugely expensive place.
We should mention that this price isn't including accommodation, which we booked well in advance. Accommodation in the city varies in price but honestly it was pretty reasonable in the scheme of things. For a mid-range hotel expect to pay somewhere between €100- €150 per night.
Tips for planning your 2 day Brussels itinerary
Plan all the things to do in Brussels in advance and book them online
Be careful if you are drinking a lot of Belgian beer, that stuff is strong!
Most people speak English in Brussels, so if you can't speak French or Dutch this won't be a problem.
More than 2 days in Brussels – day trip ideas
Even though there are so many things to do in Brussels, you might want to add some other Belgian cities to your itinerary. You can check out this comprehensive guide to the best day trips from Brussels, but for a quick rundown read on.
Ghent
In the space of about 30 minutes you will get from Brussels to Ghent by train. The journey costs around 11 Euros and is well worth it if you are looking to get away from the city. Ghent is a port city, with medieval architecture, and a great nightlife scene.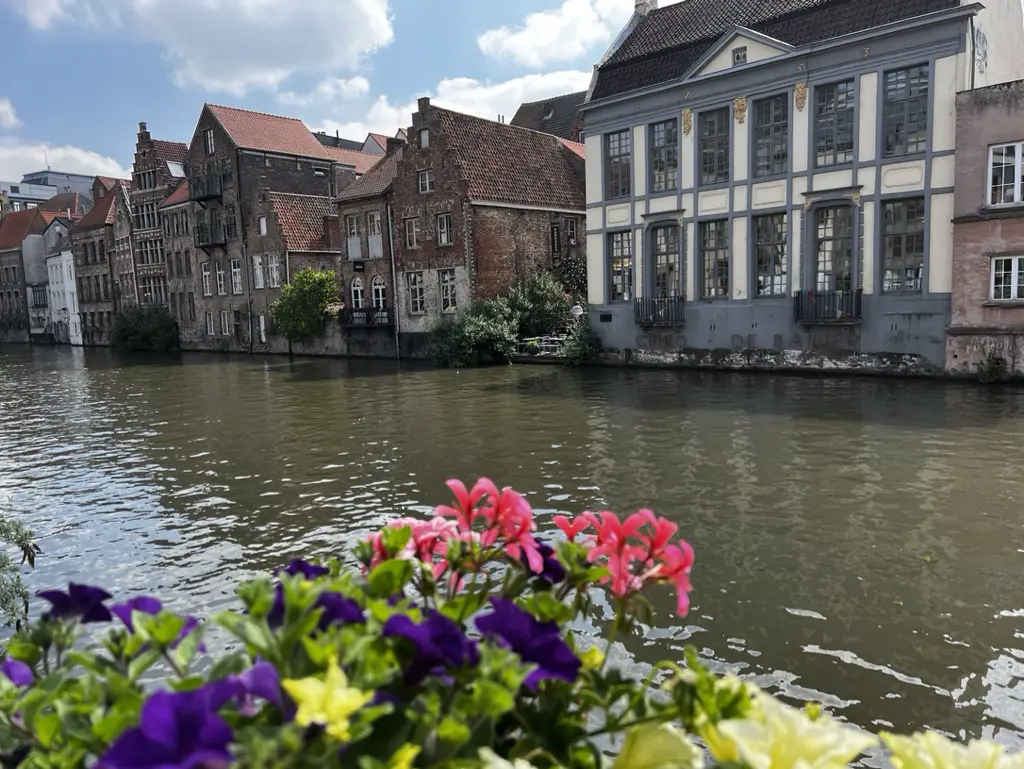 Bruges
Bruges is another beautiful city a stones throw away from Brussels. It takes just over an hour to get from Brussels to Bruges, but its cobbled streets, canals, and medieval buildings make it feel like an age away from Brussels.
Getting around during your 2 day Brussels itinerary
Public transport in Brussels is exceptional. We really only ended up using the tram and metro network, which made things a lot easier for us. You can purchase tickets at all metro stations, and can either get a single journey or a day ticket.
It is also worth nothing that a lot of the main attractions in our 2 day Brussels itinerary are within walking distance from Grand Place with a few exceptions such as the Atomium.
Best time to plan your 2 days in Brussels
If you are wondering when the best time to plan your 2 days in Brussels is, then we honestly think Brussels is one of those places that you can visit any time of the year. It's the perfect place for a city break. In the winter months you can visit the museums, and enjoy some comfort food, and in the summer you can explore the many parks and outdoor restaurants.
One thing to keep in mind is that the summer months in Brussels are a lot busier. August especially coincides with school holidays so you might find that accommodation costs are slightly higher. Although one good thing about August is that you get to see the city when it is covered in flowers.
The shoulder months of April, May, September & October, are great if you want to visit without the crowds but want to make the most of the milder weather.
Winter in Brussels gets quite cold, but in December you have the Christmas Markets which are very popular with tourists and locals alike.
So should I plan a 2 day Brussels itinerary
If you are on the fence about whether or not you should plan a 2 day Brussels itinerary, we highliy recommend you do. I know I eluded to the mixed reviews we had read before visiting. We also had a lot of people told us that there weren't that many things to do in Brussels, and therefore we wouldn't need much time there.
After visiting, I'm pleased to say that this was wrong. There are so many things to do in Brussels, from the tourist spots, to the museums, to the incredible food and drink. Our 2 day Brussels itinerary flew by, and we really loved every moment of our time in the city.
If you found this guide to spending 2 days in Brussels useful please do pin it for later. Enjoy your trip! And don't forget to eat a ton of chocolate and waffles.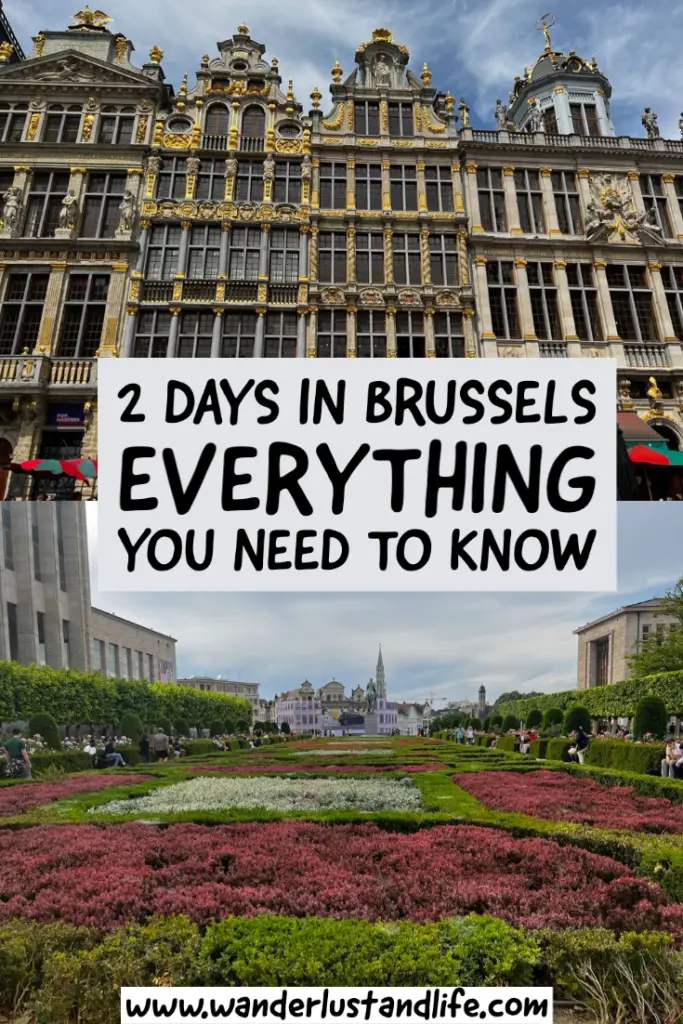 If you want some more European inspiration then do check out some of these articles:
Newcastle to Amsterdam by Ferry