A 3 day Venice Itinerary – How to see it all in 3 days
For us Venice is the ultimate couples destination. You can stroll side by side as you wander down some of the city's back alleys. Or you can people watch as you sit at one of the many canal side bars whilst sipping Prosecco or cocktails. The city just oozes romance, from the lapping canals to the decadent buildings. Venice is a must see for any couple. In this guide we have put together a 3 day Venice itinerary to help you plan the perfect couples break.
And if you are wondering if Venice is worth visiting then read on.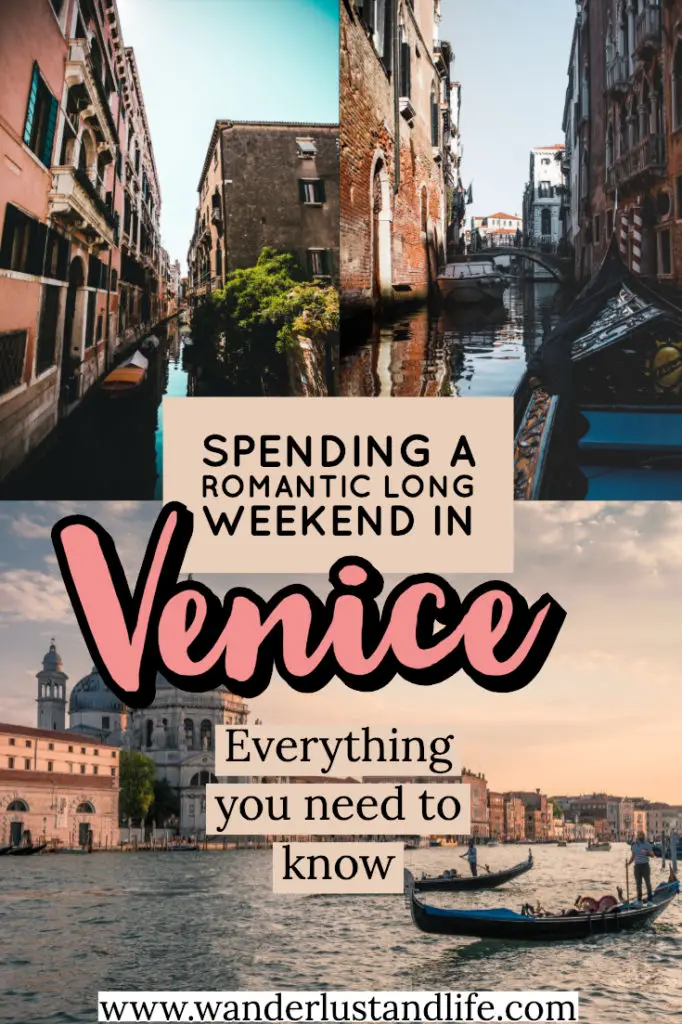 3 days in Venice – Before you go
Country: Italy
Languages Spoken: Italian- although English is widely spoken
Currency: Euro €
Famous for: Glorious canals, architecture
Visit if you like: romantic holidays
What time of year should I plan my 3 day Venice itinerary
So, you might be wondering when the best time is to plan your 3 days in Venice. Peak tourist season is the summer, usually around July and August. Whilst the weather is hot (sometimes too hot) it gets crowded and the mosquitos are out in full force (don't forget Venice is right on the water). And speaking of water the summer months can also bring some unpleasant smells along with it too. Carnival in February is also a busy time and accommodation is even more expensive so keep this in mind.
We visited in March and were blessed with some good weather. You will probably need a coat as it does get chilly, but there are far less tourists than at other times of the year. April and May are also good times to visit as the weather warms up after a cold gloomy winter but peak tourist season has not yet started.
3 days in Venice – Getting there
Once you have booked your 3 days in Venice you might be wondering how to get there. Well the good news is getting to Venice is easier than ever with a lot of budget airlines flying from the UK and all over Europe to Marco Polo Airport. One of the highlights of our flight was getting a birds eye view as we flew over the alps before coming into land in Venice.
The airport technically is not in Venice, but on the mainland. From the airport you can either get a bus over the Ponte della Liberta, a road that connects Venice to the mainland. Or if you have the money even better, you can arrive in style with a water taxi. Nothing says Venice than riding around in a water taxi with the wind your hair. Unfortunately we were on a budget so the bus it was.
How much money do I need for 3 days in Venice
I'm sure it will come as no surprise for you to read that Venice is expensive. For starters accommodation in Venice is not cheap. Space is at a premium and this is reflected in the high hotel prices. We paid well over £100 per night for a really small room that looked out at a brick wall. And every time we tried to shower the tiny bathroom would be soaked because the shower was practically on top of the toilet. If you are wanting to save some money we would recommend staying in Murano or even Lido. You can get the Vaporetto into Venice every day but accommodation is substantially cheaper.
There are also a lot of tourist trap restaurants that will charge you a fortune for average food. Try to avoid these to save money. The good news with Venice is that you will probably end up doing a lot of walking so you don't have to fork out a lot of money for attractions.
All in all, we would recommend budgeting around £250 per person for 3 days in Venice. This is not including accommodation. We did eat at some expensive places during our stay so you can definitely bring these costs down if you need to.
3 days in Venice – Is it enough?
You might be wondering if 3 days in Venice is enough? Fortunately Venice is a very compact city so you won't spend ages travelling to get between each major attraction. As mentioned above it is an expensive city so 3 days in Venice (in our opinion) is actually the perfect amount of time to see everything without breaking the bank. 
And if you are deciding between Rome and Venice here is some further reading.
Where to stay when you have 3 days in Venice
Accommodation in Venice is expensive. Space is at such a premium here so you will find yourself forking out quite a bit of money for a really small room. Ours was so small in fact that the shower was almost over the toilet and every time we washed, the bathroom would be left soaking. Unfortunately this is just how it is in Venice. We recommend having a look on hotels.com for a deal. The best part is if you sign up to their loyalty programme for every 10 nights you get 1 free, which is not to be scoffed at.
3 day Venice itinerary – Eating and drinking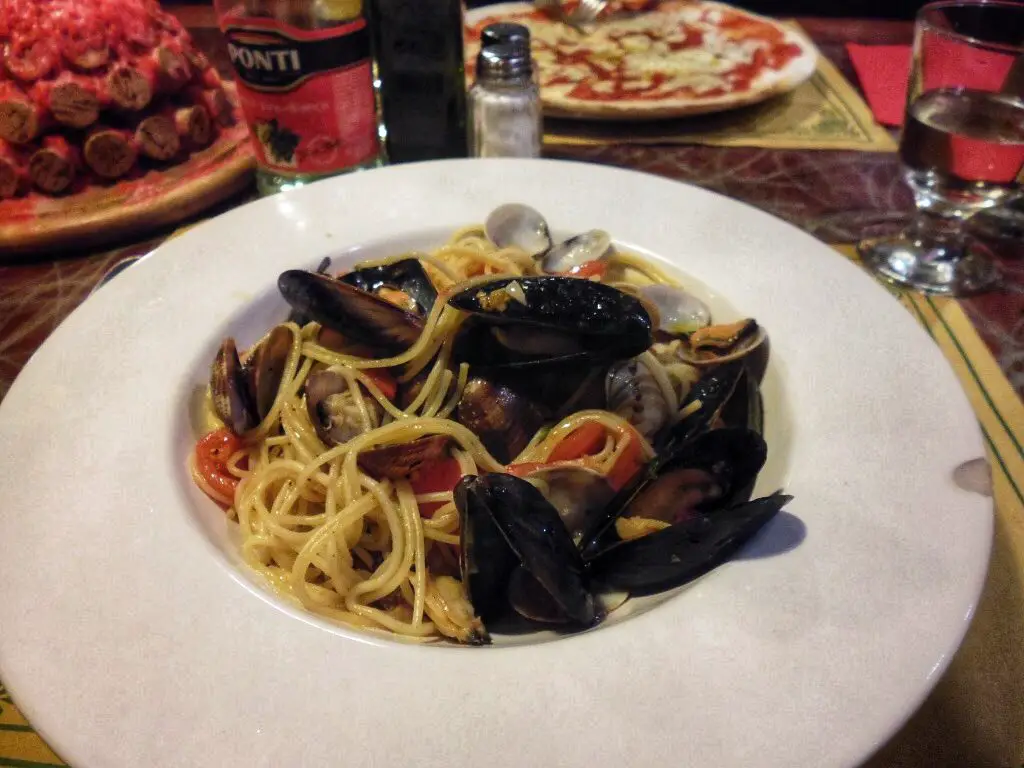 One of our biggest tips is to avoid the tourist traps when looking for places to eat in Venice. Definitely avoid the flamboyant restaurants around St Marks Square or the Rialto bridge. We fell for one place and the food was so overpriced and mediocre at best. It is times like this that the guide books come in handy and we had our lonely planet to hand which gave us restaurant ideas for a range of budgets.
The good news is, if you like wine then it is really cheap here. Usually at around €3 a glass wine can sometimes be cheaper than water in Venice.  We also recommend sitting in one of the many canal side bars and have some cocktails. It's so nice just watching the world go by.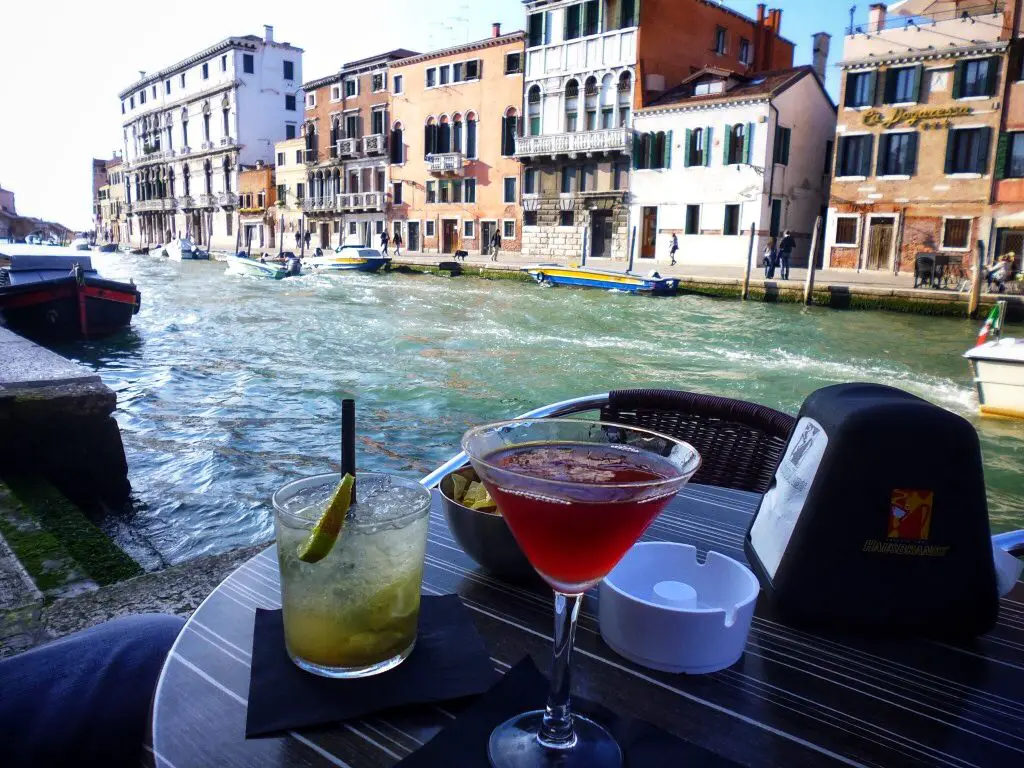 3 days in Venice – Getting Around
When planning your 3 day Venice itinerary you will need to know how to get around. The best thing to do is to get yourself a Vaporetto or ferry ticket. It really is the best way to get around Venice and some evenings we just stayed on riding along the Grand Canal taking in the views.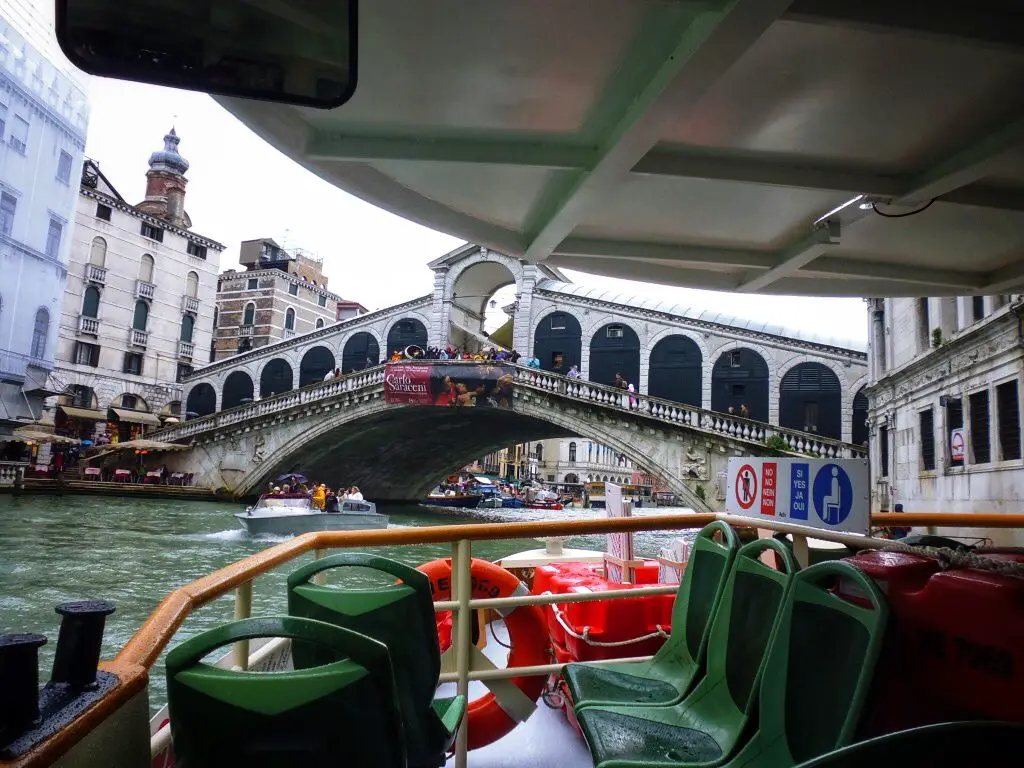 Things to see in Venice in 3 days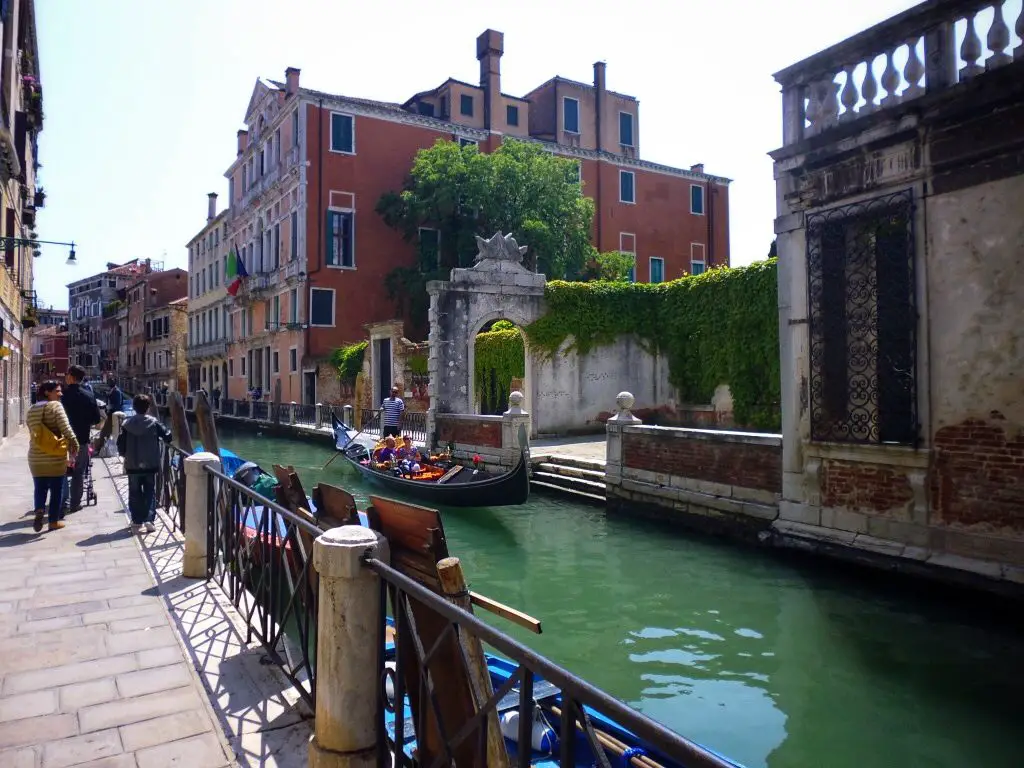 When you have 3 days in Venice our top tip is to just walk around and explore. It is the kind of place that you visit and it is just so beautiful and photogenic that you want to explore every nook, cranny and side street. Some of our top suggestions or places to start though are as follows.
San Marco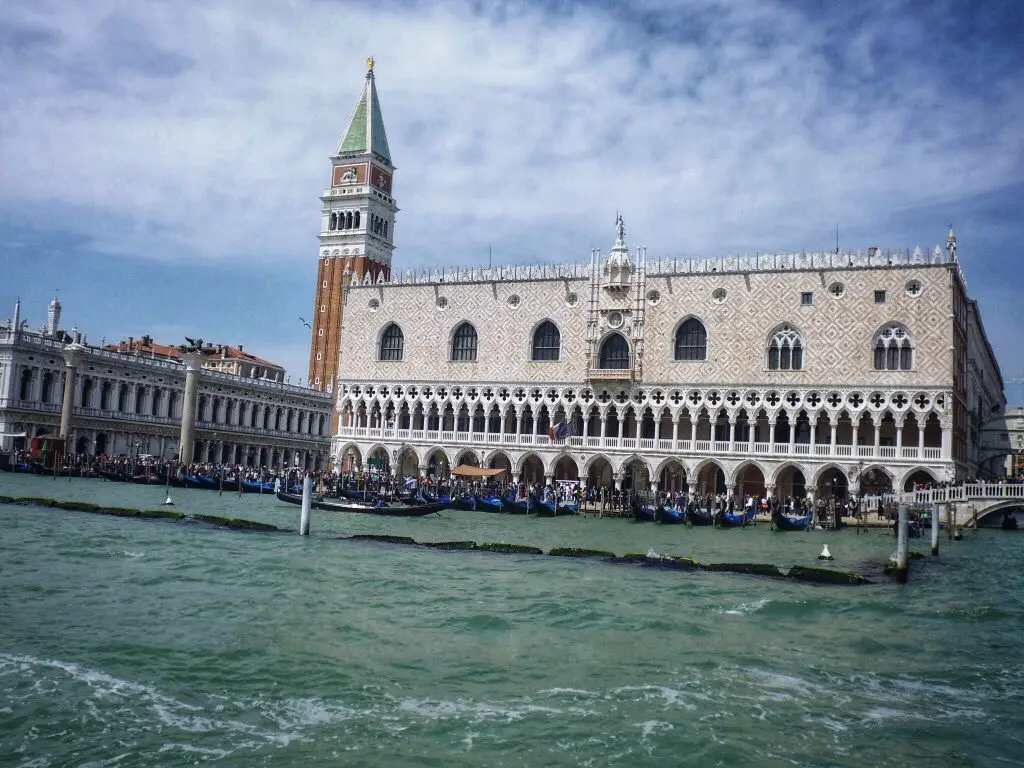 No 3 day Venice itinerary is complete without a visit to San Marco. San Marco or St Mark's Square is perfect for people watching. Just try to avoid the tourist trap restaurants. Ordering a drink and sitting in the square can be costly. So much so that we have heard of people being charged an ambience tax alongside their glass of wine in the square.
One of the squares top sights is of course the Basilica di San Marco. The line can be long to get inside but it really is worth it. Just don't bring bulky backpacks as you will not be allowed inside with them.
Palazzo Ducale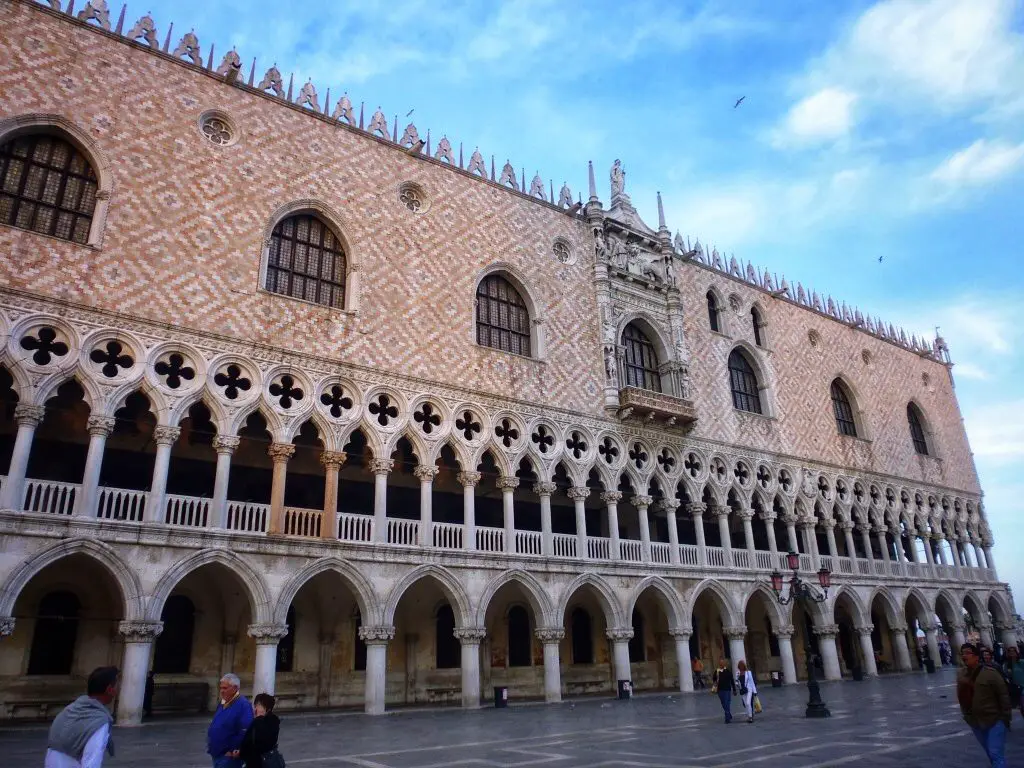 This light pink checkered building near St Mark's Square is not to be missed. The attic housed a prison that Cassanova himself was held in. There is also a secret passages tour here that we unfortunately didn't get a chance to do, but it is on our list for next time.
The Bridge of Sighs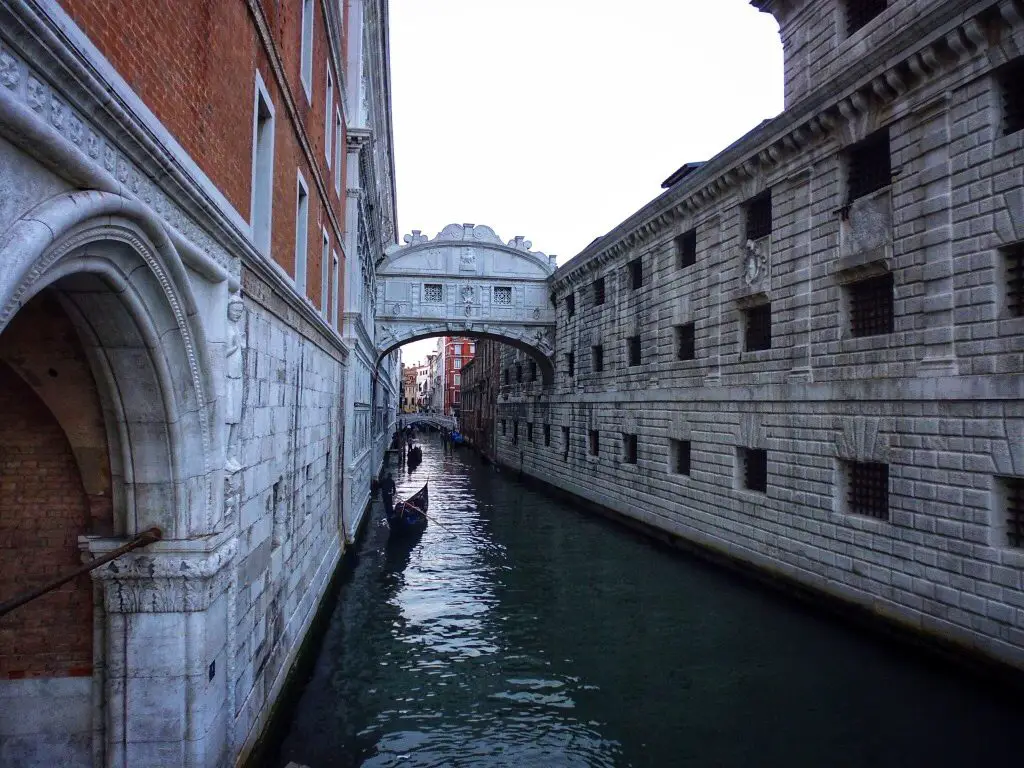 This small limestone bridge is one of the most popular in Venice. It was built to move prisoners between buildings, and has been romanticised in literature. It has been said that the bridge was the last view of the outside world for criminals being sentenced to their deaths. As they viewed the world for the last time they would take a final sigh. Although much of this is said to be unfounded. There is also folklore that says if you kiss under the bridge your love will last forever. Considering that the only way to do this is by Gondola some might argue this has been started by the Gondoliers to increase business.
Explore some of the Islands in the Veneto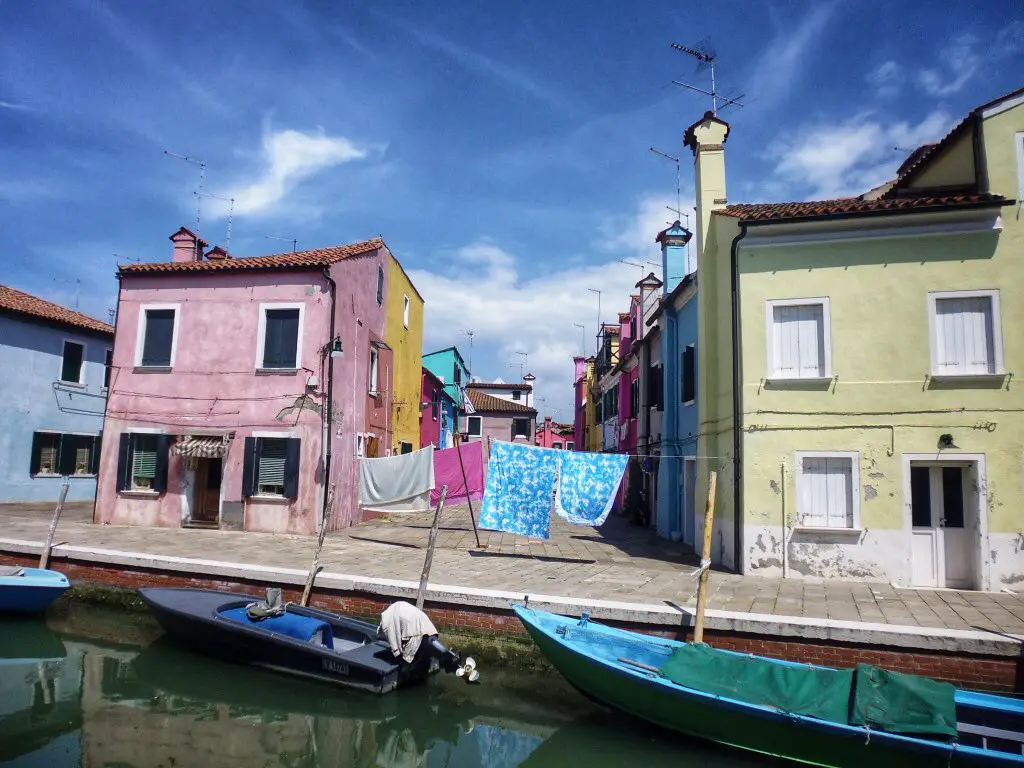 If you have the time we really recommend getting on the Vaporetto and discovering some of the other islands around Venice, such as Murano, Burano and the Lido to name a few. Have a look at our blog post about this for more inspiration and wanderlust.
Gondola Ride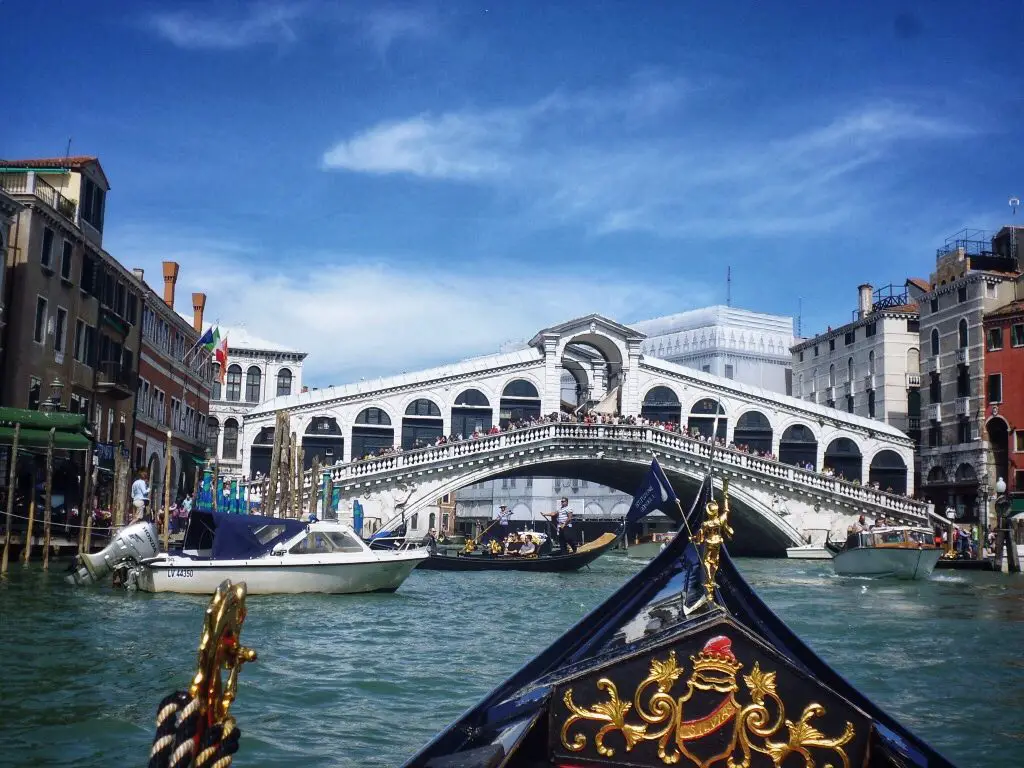 A 3 day Venice itinerary is not complete without a ride on a gondola, BUT be prepared to fork out €80 between you for this one. I know it is pricey and really touristy but this was actually one of the highlights of Venice for us. You can get a Gondola from several locations around Venice. A lot of people tend to depart from around San Marco, but we decided to hop on around the Rialto. If you are worried about the price you could try your hand at bartering as I know some people have gotten it down to €60 with some gentle persuasion.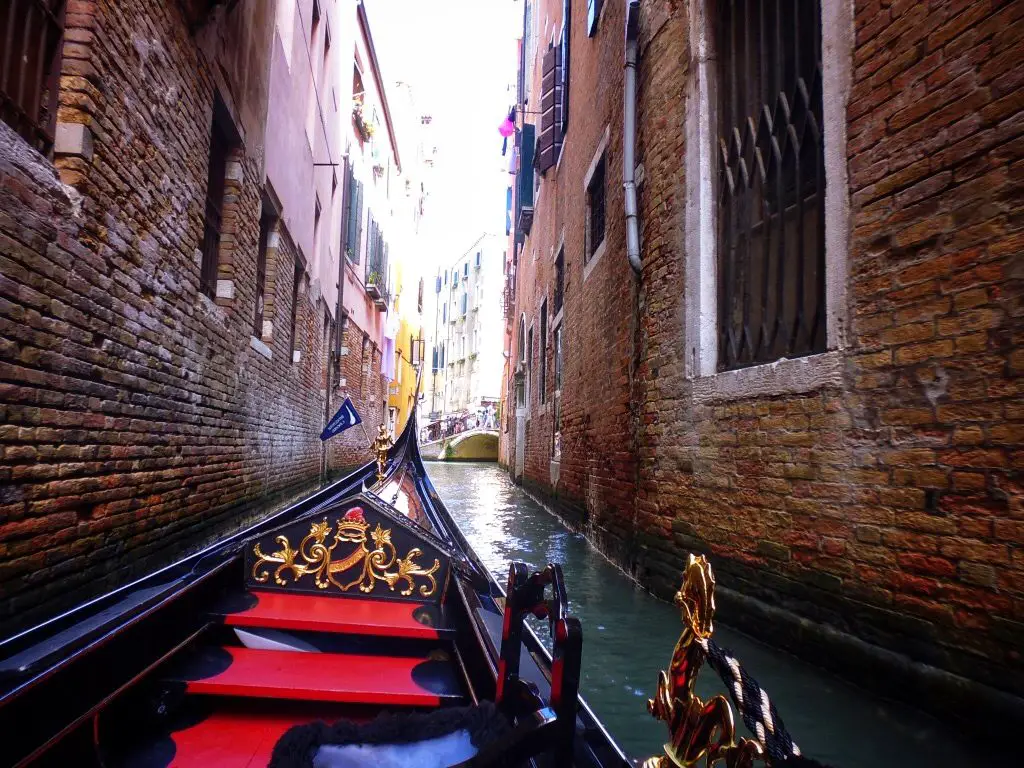 Rialto Bridge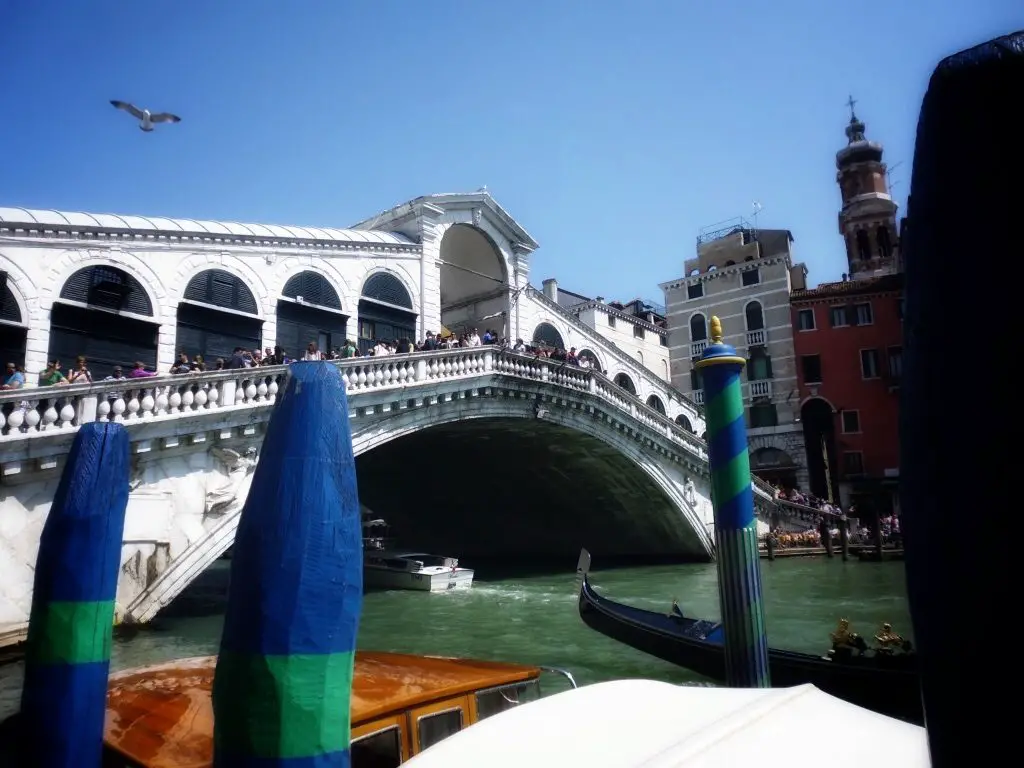 The oldest and possibly grandest bridge in Venice is the Rialto. You literally have to jostle your way through crowds of tourists to cross over. Once you are at the top of the bridge you get an amazing view of the Grand Canal. Have your cameras ready for that all important bridge selfie.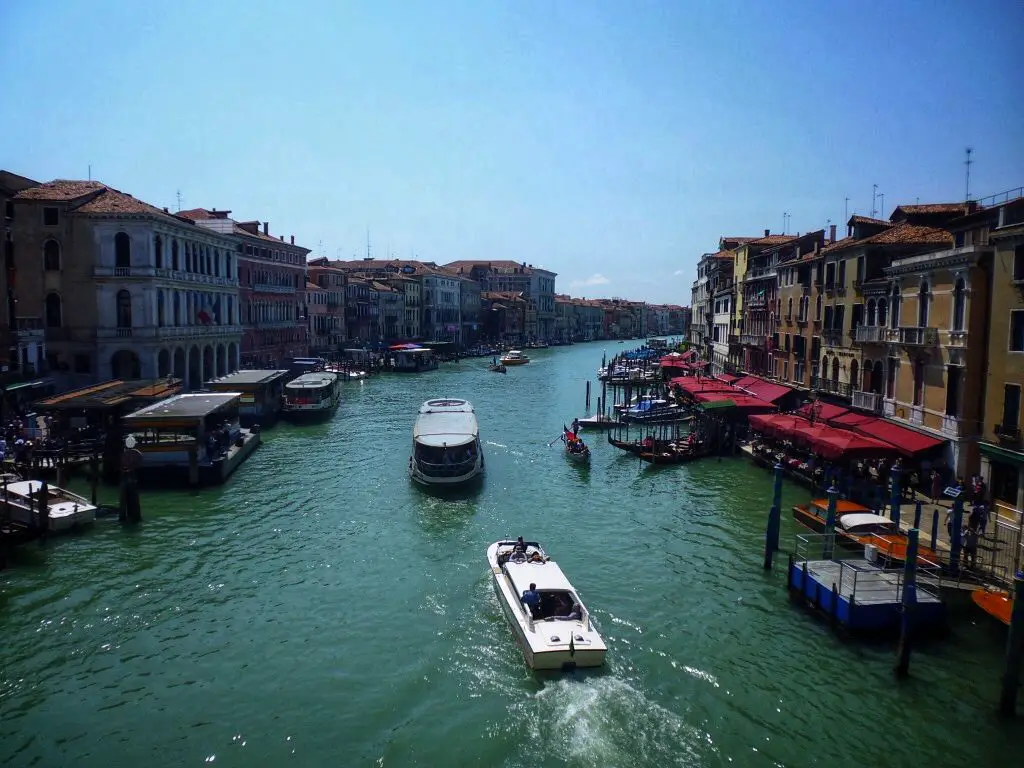 These are some of the prominent landmarks in Venice, but believe us they are just starting points. Venice is one of those places you need to get lost in to appreciate. It is best visiting without too much of a plan, and just walking around taking it all in.
Venice itinerary 3 days
When planning your 3 day Venice itinerary we recommend that you divide your time into different areas of the island. 
3 day Venice itinerary- Day 1- Start your day in San Marco and then move on to explore the areas of Cannaregio and Castello. Cannaregio and Castello are slightly less busy than San Marco and will provide you with a respite from the crowds and overpriced restaurants. 
3 day Venice itinerary- Day 2– Take a break from Venice and head to the Islands of Burano and Murano in the morning and then explore the Venetian neighbourhoods of San Polo and Santa Croce. Highlights include the Rialto Bridge which is the perfect spot to go on a gondola ride. 
3 day Venice itinerary- Day 3– In the morning check out the Lido, and spend the afternoon exploring the Dorsoduro area of Venice. There are a number of museums here and it is also a great place to go to enjoy the nightlife. 
Things to do in Venice at night
Venice at night is a magical place and one of our favourite times to explore has to be at night. From canal-side bars to gondola rides at sunset, it really is a romantic time in the city. There is also a casino where you can try your hand at the likes of Blackjack and Roulette. Other things to do in Venice at night include ghost tours documenting the gruesome history of the city, or heading to a show that showcases the fine arts. 
Romantic things to add to your 3 day Venice itinerary
Let's face it Venice is probably one of the most popular holiday destinations for couples looking to add a little romance to their lives. Here are some of the most romantic things to do during your 3 days in Venice.
Ride a gondola – this is an absolute must. And if you want to add a little extra romance why not do a sunset gondola ride?
Have dinner by the canal – with so many canal side restaurants it's a great opportunity to sit and have a romantic meal
Sit by the canal and snack on gelato
Have cocktails by the canal
Visit a vineyard and sip Prosecco in Mazzorbo (next to Burano)
Stroll hand in hand and get lost down some of Venice's alleyways
Get cultural and watch some opera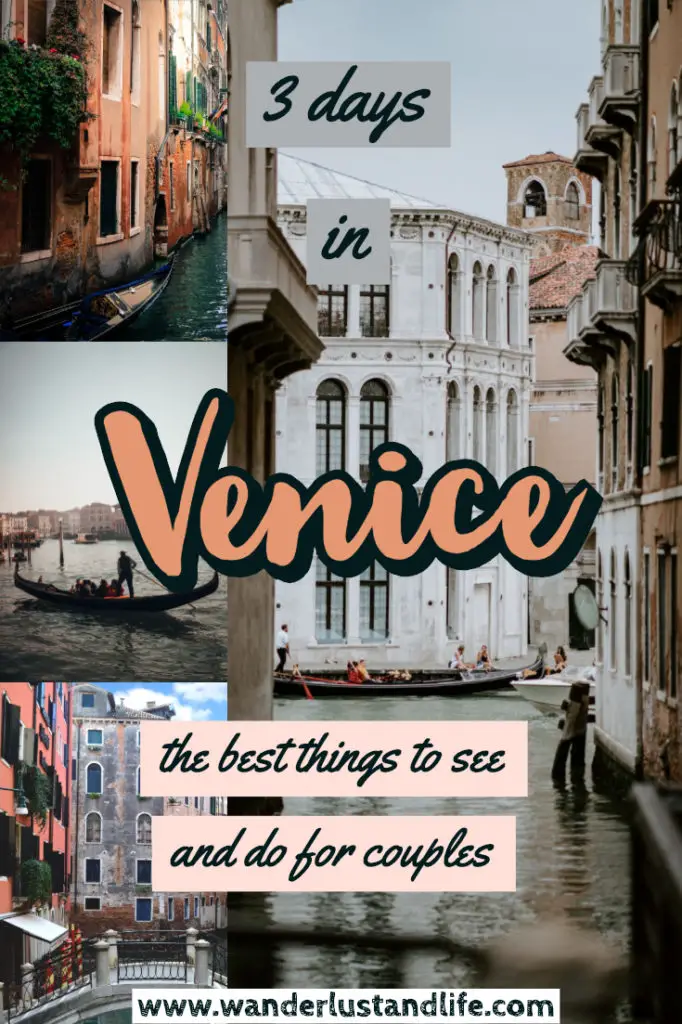 Venice itinerary 3 days– a recap
 For us Venice was just so magical. We loved walking around exploring the alleyways, and stopping to sip wine in the sunshine. It was a fantastic experience, but our only gripe really is the cost. It was by no means a cheap 3 days. It was worth it for a 1 off trip and yes, we would love to go back, but the sheer cost probably means we won't be back for a long time.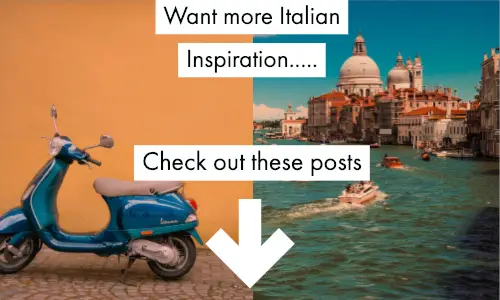 Most photogenic places in Rome