If you are ever in Venice and looking to do something a little different then why not plan a trip to Burano from Venice. Located in the Venetian Lagoon, it is famous for its colourful houses and lace work. It really is a one of a kind place to visit, just make sure you bring your camera! This article lists some of the best things to do in Burano as well as letting you know how to get to Burano from Venice.
So how do you get to Burano from Venice?
The cheapest and easiest way to get to Burano from Venice is to hop on the Vaporetto. You need to hop on the 12, which is the line that will take you all the way to Burano. There are a couple of stops where you can get on the ferry, but the main one is San Zaccaria which is near St Mark's Square. It takes around 45 minutes and it is a lovely boat ride. You will pass Murano and the connecting island of Mazzorbo. Depending on what kind of ticket you have it is around €7.50. But if you are in Venice for a few days, you should probably look at getting a travel card that covers you while you are there.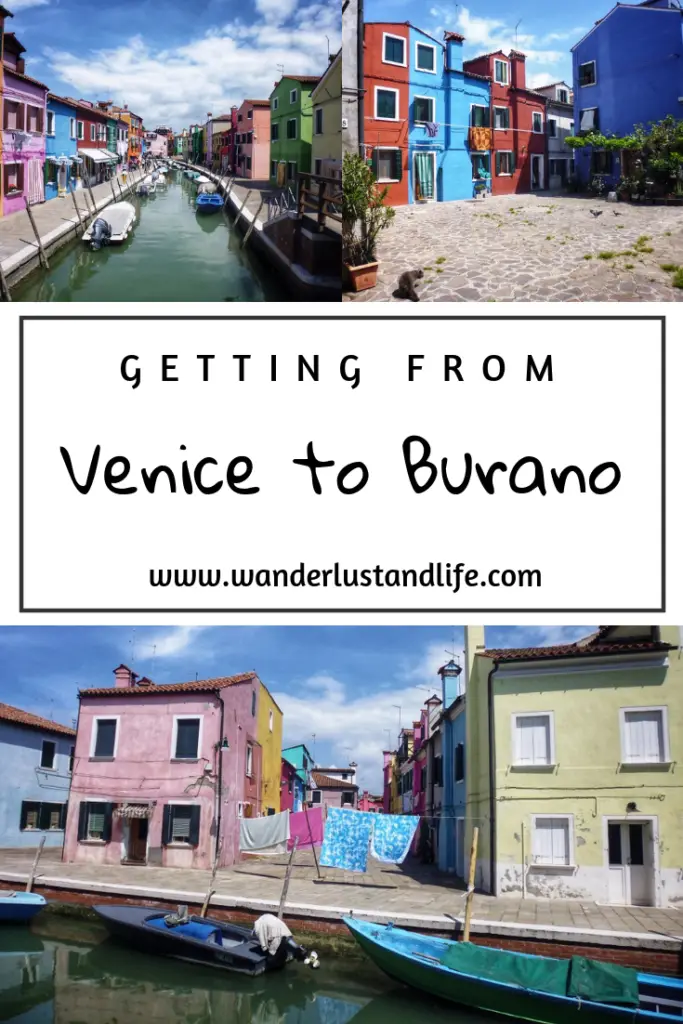 Arriving in Burano
The moment we stepped off the vaporetto and looked around Burano we were in awe. For starters, there was a little black cat that came running towards the crowd of people looking for attention. This is just a small reminder of the difference in the way of life here compared to bigger cities. The island is quite small and there are no cars so you will need to explore on foot. It really is the best way to see everything and make the most of your trip to Burano from Venice.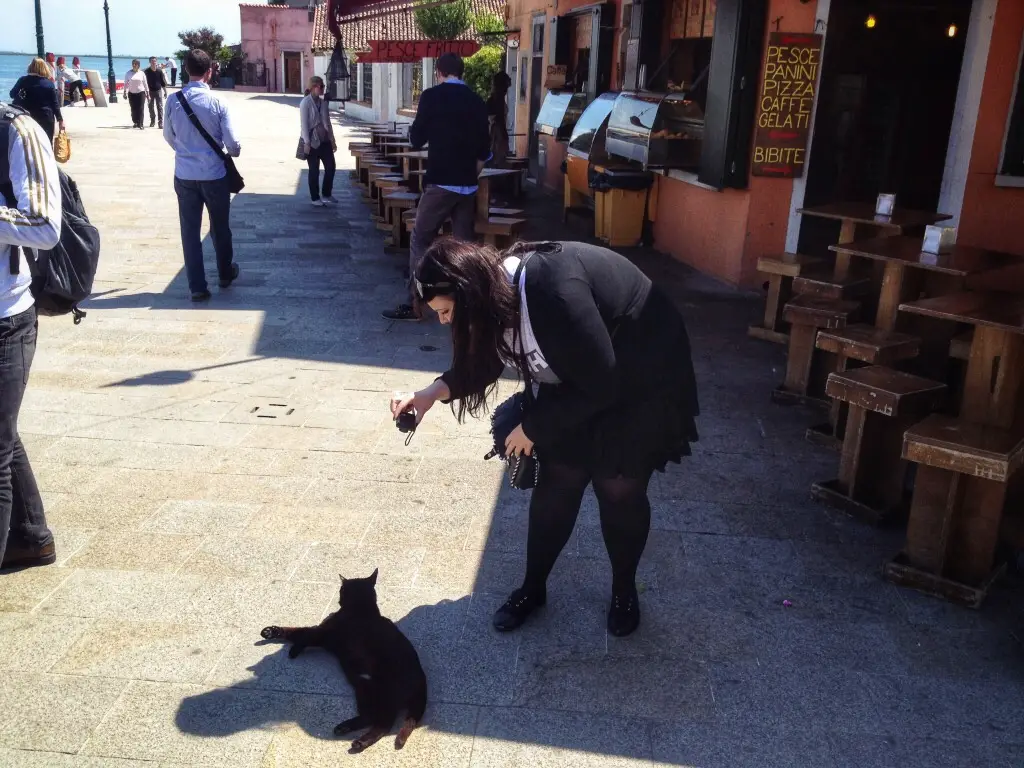 How long do you need in Burano?
Another question that we get asked a lot is how long do you need in Burano? We would recommend setting aside at least half a day, if not the full day. It is such a beautiful place and you really should take your time exploring. You will want to take photos of every house, and you will want to explore every shop. Also the food is amazing, with lots of fresh seafood, it might just be the best food you will have in Italy!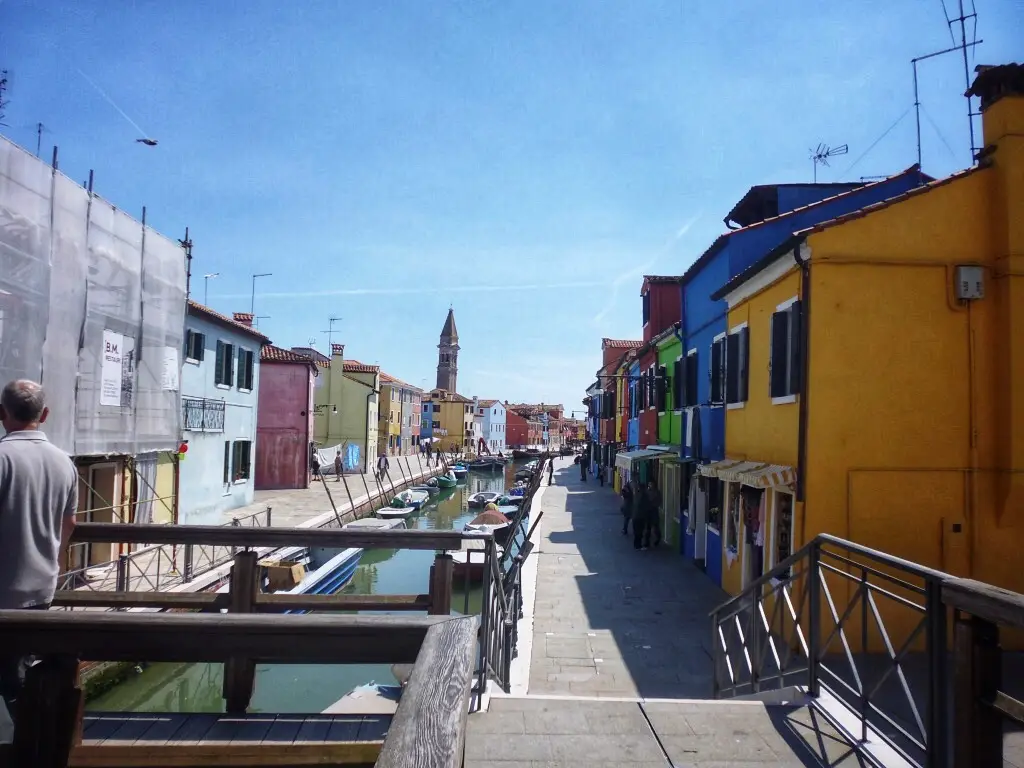 Things to do in Burano
If you are looking for things to do in Burano then you will find no shortage. Here are some of our top tips.
Buy some handmade lace
Burano is famous for its handmade lace. In fact some of the lace takes months to complete. A lot of the lace these days is made by machine, but if you want to buy some authentic handmade lace, be prepared to spend quite a bit. Lace became significant for Burano in the 16th century when women on the island began making lace by hand. It then became popular with wealthier Europeans. If you are interested in the history or how it is made, make sure you stop by the Lace Museum.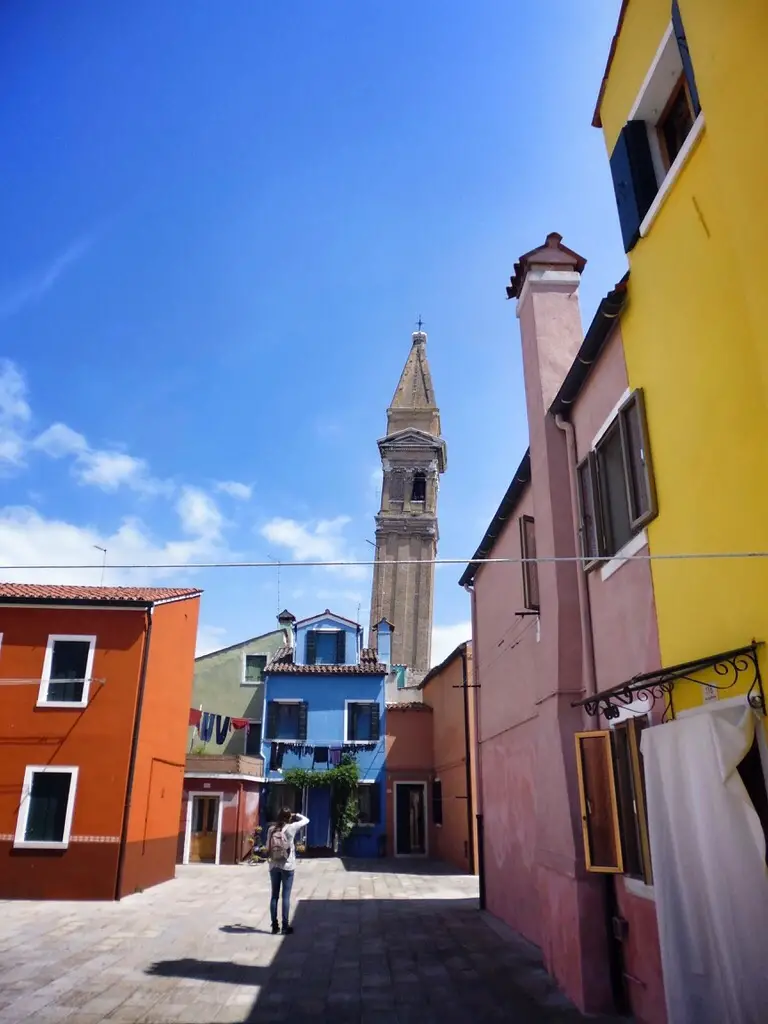 Checkout the leaning Bell Tower of Burano
And you thought Pisa was the authority on leaning towers. The Bell Tower of St Martin's church was built in the 16th century and you guessed it, tilts at a slight angle. When you see it up close compared to the houses, the lean is pretty obvious. It is said to be because of the island's marshy landscape, and it has undergone several restorations in its time. Although if you ask a local, they will probably tell you it was doomed from the start as the weight of the iron cross on top was not calculated correctly. Either way, it does make for a pretty cool photo.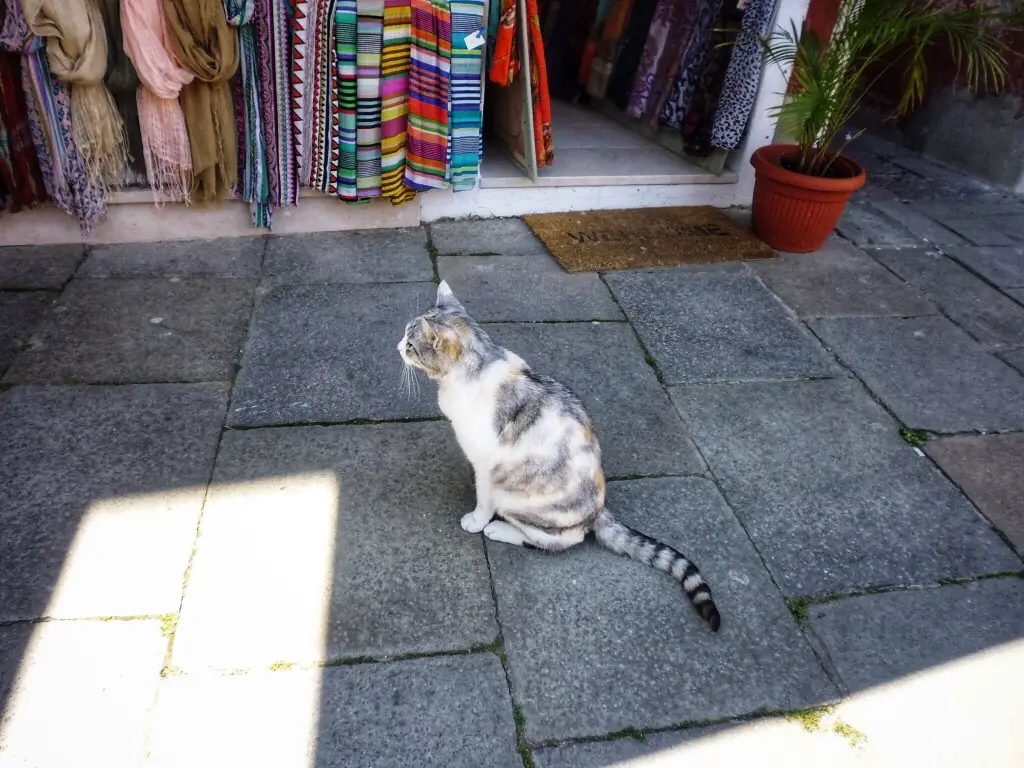 Pat all the cats
If you are a cat lady like me (much to Dave's frustration), then Burano is the heaven you never knew existed. There are so many cats living on the island, you just might want to take the time to pat them all.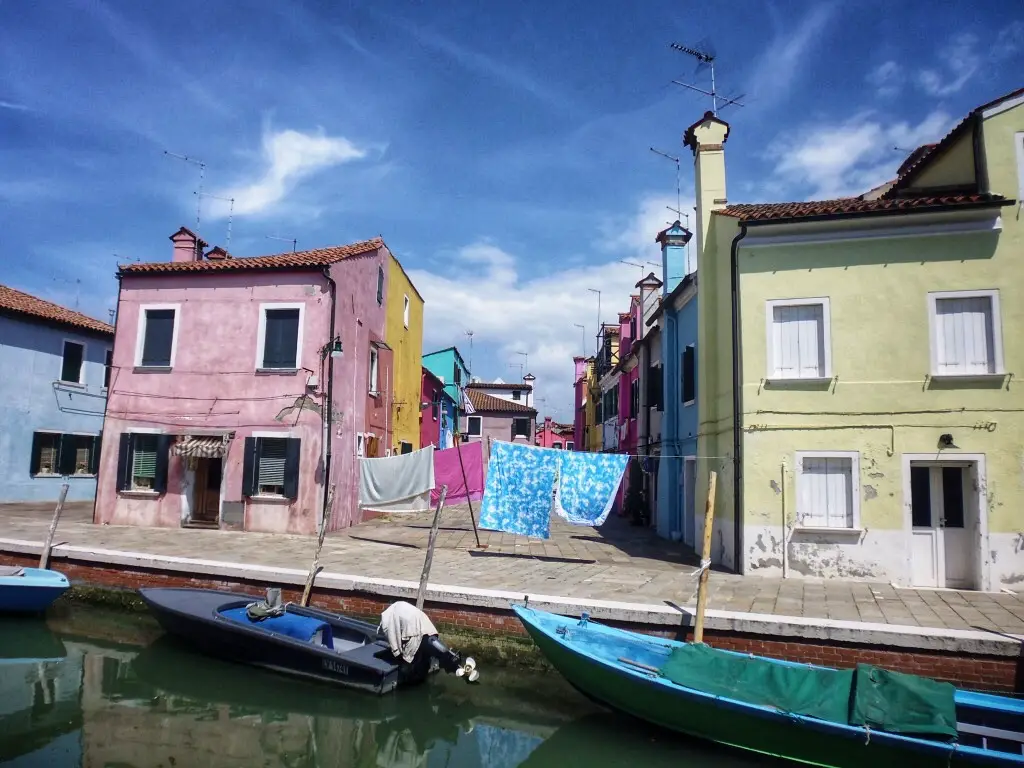 Take photos of everything, shop, and eat
The main thing to do in Burano is to just walk around and explore. I mean how often will you get to see such a colourful place? We advise getting lost down the back passageways and taking it all in. In the main square you will find a lot of restaurants, which are actually a lot cheaper then their counterparts in Venice. The food is good and fresh, and let's not forget about washing it all down with some cool gelato. The shopping is also a lot of fun. Aside from your typical tourist shops selling postcards and fridge magnets, you will find places selling scarves and of course a lot of lace.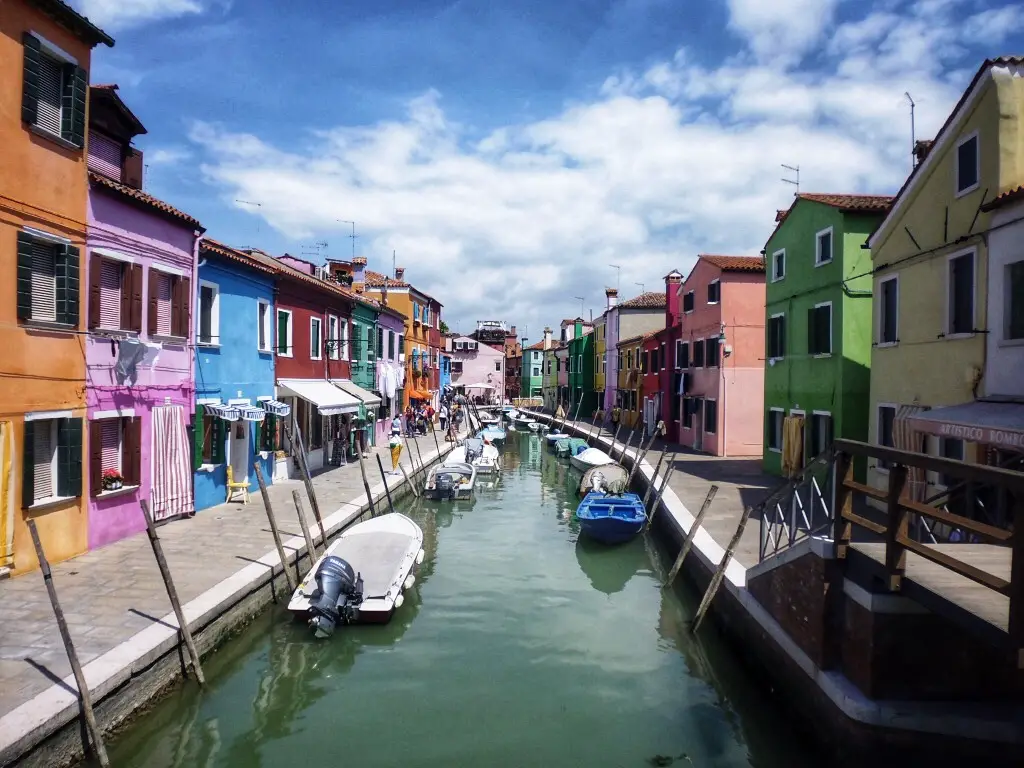 Pop over to Mazzorbo
Linked to Burano by a small bridge a lot of the houses in Mazzorbo are also brightly coloured. It is certainly worth a walk around. There is also a vineyard that you can take a stroll through. There is a restaurant on the property and you can also pop in and have a glass of wine too. Which is of course exactly what we did.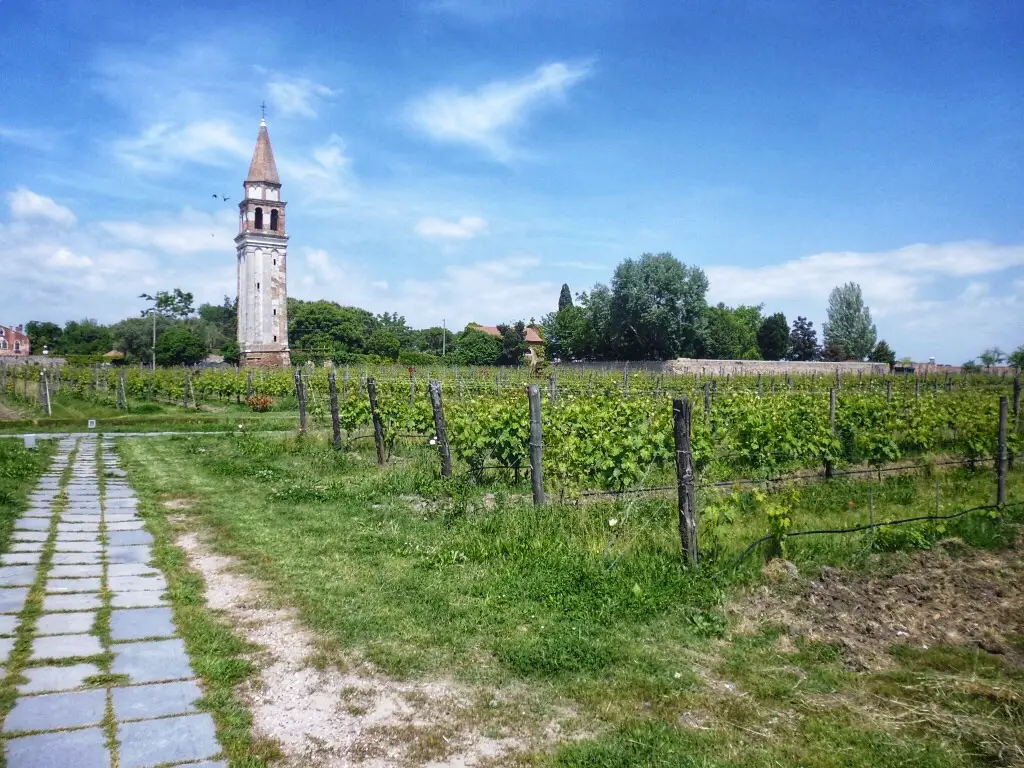 If you want a high quality glass of prosecco then this is the place for you. Wine is really cheap in Italy so you might be a little shocked at the higher prices here, but we really do recommend it. It was lovely to spend some time having a quiet drink and taking in the the tranquility of the vineyard.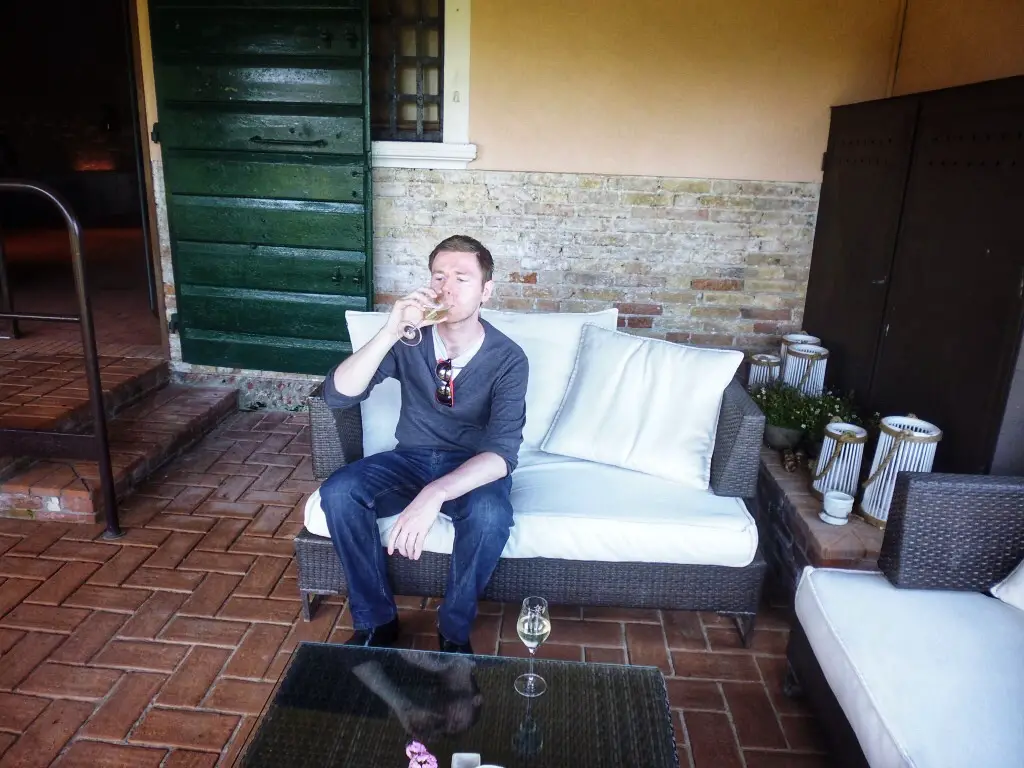 Some fun facts
Burano was originally home to fishermen, which is probably pretty obvious when you walk around. I mean it is an island after all. The houses were painted brightly so that returning fishermen would recognise their houses from the sea which was often cased in thick fog. Also the colours that you see on the houses aren't picked randomly. In fact if you want to paint your house you will need to check with the government who will allocate a colour to you.
Other tips
Do remember that you are walking around people's actual neighbourhoods. The houses are all at footpath level so don't be pressing your head against the windows trying to look inside like we saw someone do! People actually live in Burano so be mindful and respectful of this fact. There are a few public toilets on the island that are clean and in good condition. You usually have to pay €1 or €2 for the privilege which is pretty standard in Venice and most of Europe anyway.
Other day trips from Venice
If you are looking for other day trips from Venice we wrote an article that includes Murano and the Lido. They are both worth the visit if you have the time.
What to do in Burano- a recap
Hopefully this guide has helped you decide on the best things to do in Burano and how to get there from Venice. It really is an incredible place to visit and we highly recommend you take the time to visit.