If you are looking for a European city break then why not think about spending 2 days in Berlin. It's effortlessly cool persona, intense history, and exciting nightlife, make it a great place to discover. Berlin is much more than just the Berlin Wall or the Brandenburg gate, it's a city full of culture, filled with museums, historical sites, and world class bars.
In this guide we provide you with everything you need to know when you are trying to see Berlin in 2 days. If you want to know about accommodation, food, drink, attractions, and getting around in Berlin then read on.
Basic Information for planning 2 days in Berlin
Here are the basics that you will need to know before spending 2 days in Berlin.
Country: Germany
Languages Spoken: German – English is widely spoken though
Currency: Euro
Famous for: History, nightlife, culture
Berlin is the capital of Germany, and is also one of the most popular cities in Germany to visit. Another cool fact is that it is also the greenest city in Germany with about 30% of the city being green space or woodland.
It's also hugely multicultural, with 4 universities and a number of private institutions enticing international students each year. But more than that people from 190 countries live in Berlin with the highest numbers coming from Poland and Turkey. The really cool thing about that is this multiculturalism is very much reflected in the food in Berlin, which we will go into a bit more detail further down in the article.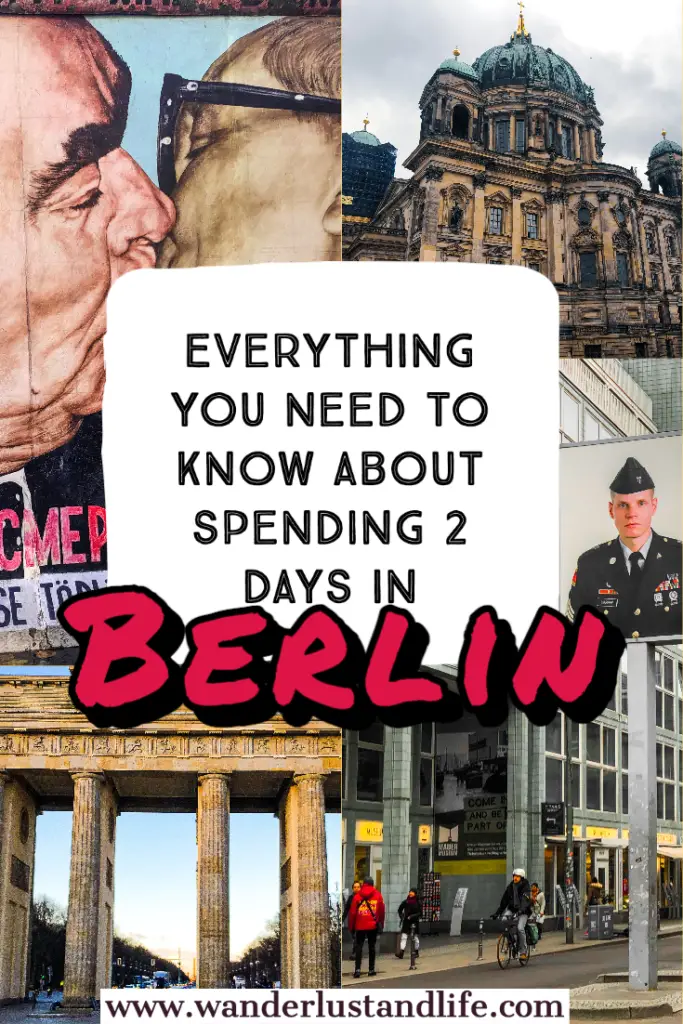 2 days in Berlin – getting here
Chances are your 2 day Berlin itinerary will probably start at the airport. The cities main airport is Berlin Brandenburg Airport which opened in 2020.
The airport is very well connected when it comes to public transport. The quickest and easiest way to get into Berlin city centre is to get the Airport Express from station T1-2. Trains depart 4 times an hour, and take around 30 minutes to get you into Berlin Central Station. From here you then make your way to your hotel/ destination by using the S Bahn (to the outskirts of Berlin) or U Bahn (Berlin city) networks.
What to see in Berlin in 2 days
Berlin is huge and you definitely will not be short of things to do during your time here. We have listed some of the must see sights, as well as a few hidden gems to help you plan your own 2 day Berlin itinerary.
Visit the Reichstag
Personally, I don't think your 2 day Berlin itinerary is complete without a visit to the Reichstag. The Reichstag is the seat of German Parliament (the Bundestag), in Berlin. The cool thing is this is open to the public (well some bits anyway), provided that you book a ticket online in advance.
The best thing is, it is completely free. You just need to register, and select a particular date and time. We advise doing this well in advance so that you don't miss out.
When you arrive, you need to go through a number of security checks, and you will then be escorted by elevator to the base of the famous glass dome. You will then make your way up the slanted walkway to the top. You can take as much time as you like, especially as you will get some incredible views of Berlin from here.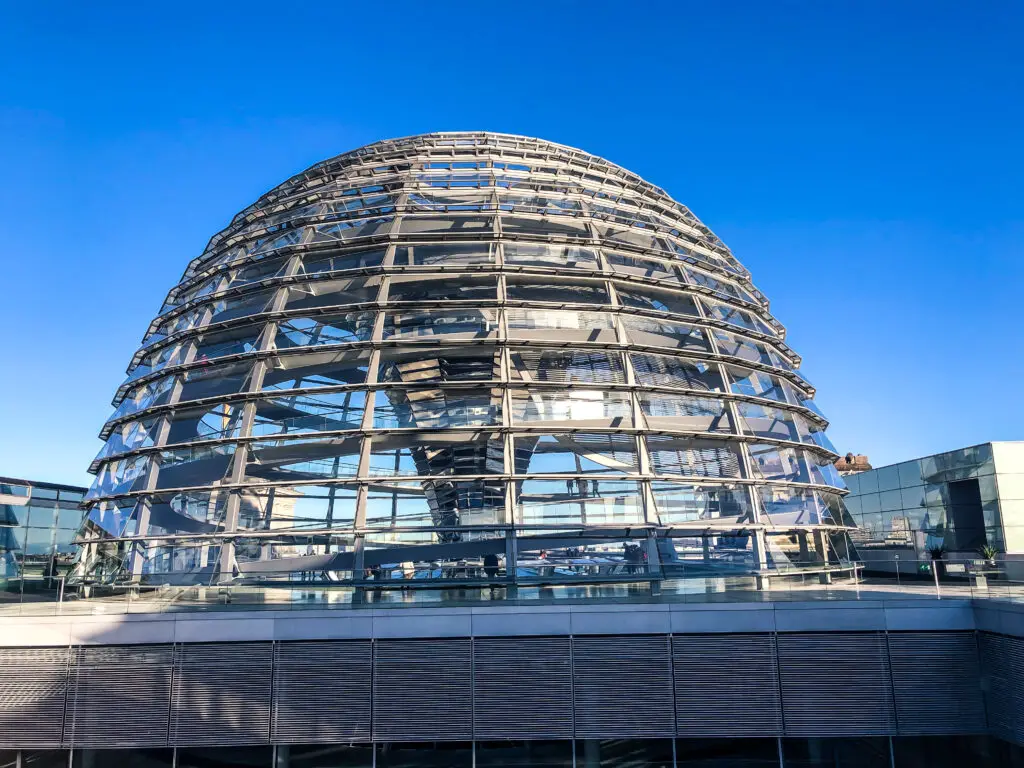 If you are into politics and government there are a number of parliament style tours you can also do to get to grips with the area.
Walk under the Brandenburg Gate
Another must, for your 2 days in Berlin has to be a visit to the Brandenburg Gate. Fortunately it is very close to the Reichstag, so you can kill two birds with one stone so to speak.
The Brandenburg Gate is one of Berlin's most recognisable structures, which is synonymous with peace and unity. Interestingly though, during the Cold War, it became a kind of observation deck for those wanting to get a sneaky glimpse at life on the other side of the Iron curtain.
The best time to visit is early morning when there are less people around, and you may also be lucky enough to get a glimpse of the sunrise behind it, depending on which side you are standing on.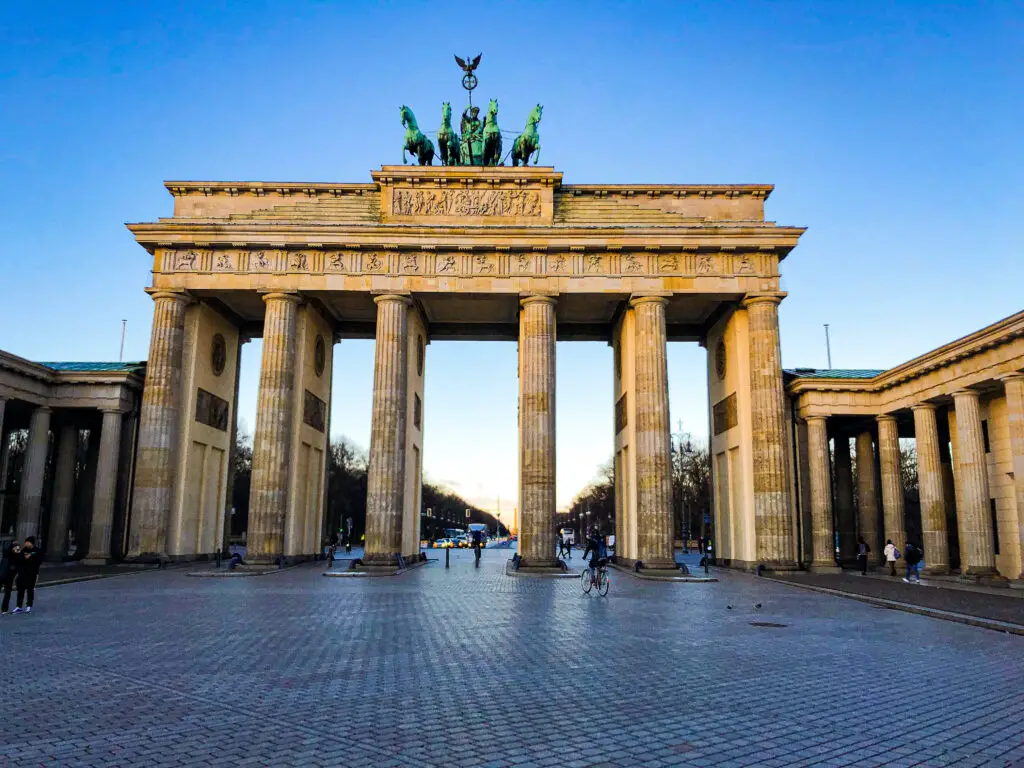 Check out the East Side Gallery
Another popular attraction that you should definitely add to your 2 day Berlin itinerary is the East Side Gallery. It spans about 1.3 km which makes it the largest open air gallery in the world. It is also the longest continuous section of the Berlin wall that exists today.
It is free to visit the East Side Gallery, but you can also see it as part of a guided tour, where you can learn a little bit more about the various artworks and the history of the wall.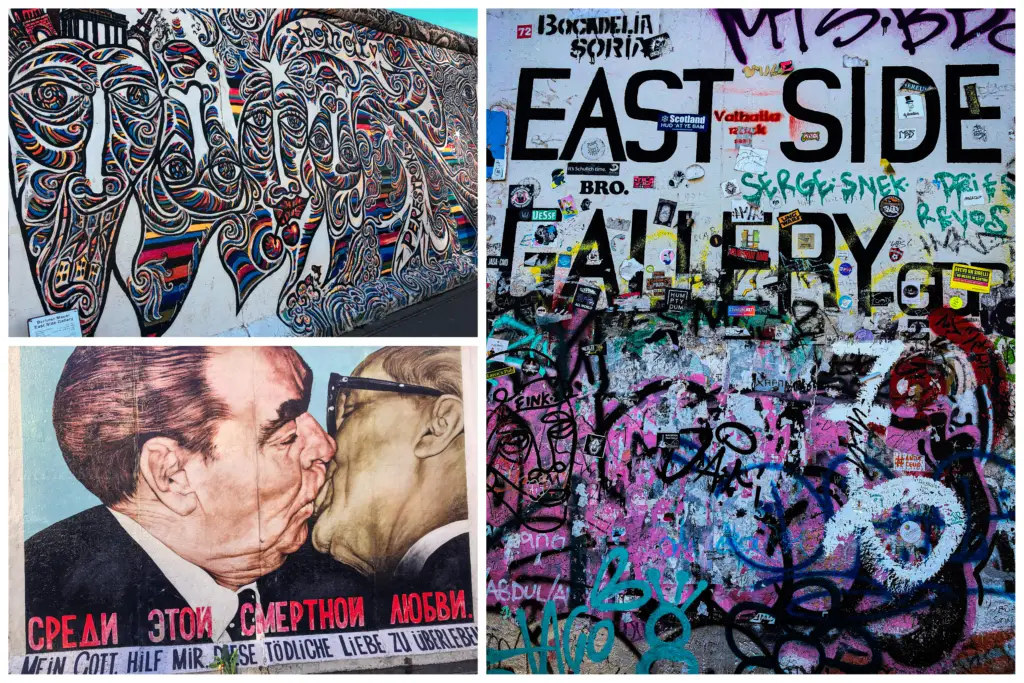 Go inside the Berliner Dom
One of our observations about Berlin is that unlike other European cities, it doesn't have a lot of old school European architecture. Now obviously that is the case because of the history of the city. But one of the buildings that was reconstructed after suffering considerable damaged during World War 2 was the Berliner Dom.
The cathedral was only completed in 1905, and is located on Museum Island. You can go inside for a small fee, or you can admire it from the outside for free.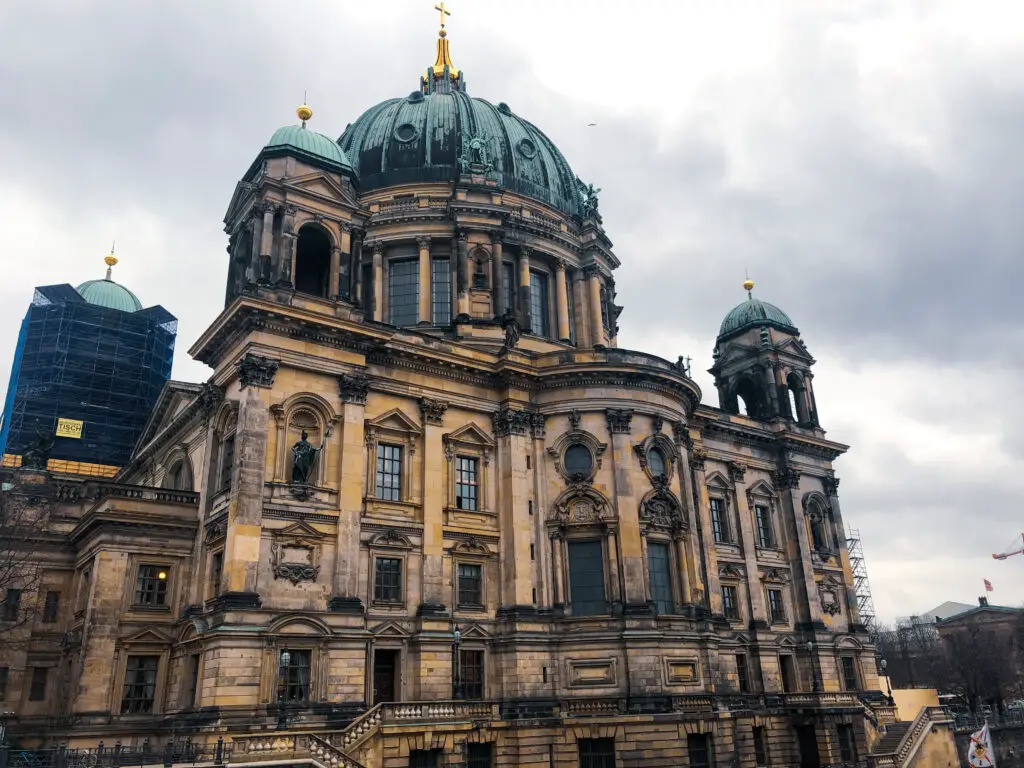 Do a Hop On, Hop Off bus tour
We always think a great way to familiarise yourself with a city, is to do a hop on hop off bus tour. Not only is your transport for the day sorted, but you also get to learn about Berlin, and it's most famous attractions.
You can book your tickets online in advance here.
Do a city boat tour
Another great way to see Berlin is to do a city boat tour. The tours usually last about an hour and you get to see some of the best attractions, like the Berliner Dom, and Reichstag from the comfort of a boat. Try and grab a seat at the top for the best views, but in case of rain, there is plenty of seating downstairs undercover.
Now, you might not immediately think of a boat tour as being something to do in Berlin. After all, that sounds like a Venice or Amsterdam kind of trip. But interestingly enough, Berlin has more canals than Amsterdam, so a canal cruise really is a must here.
You can book your tour here online in advance.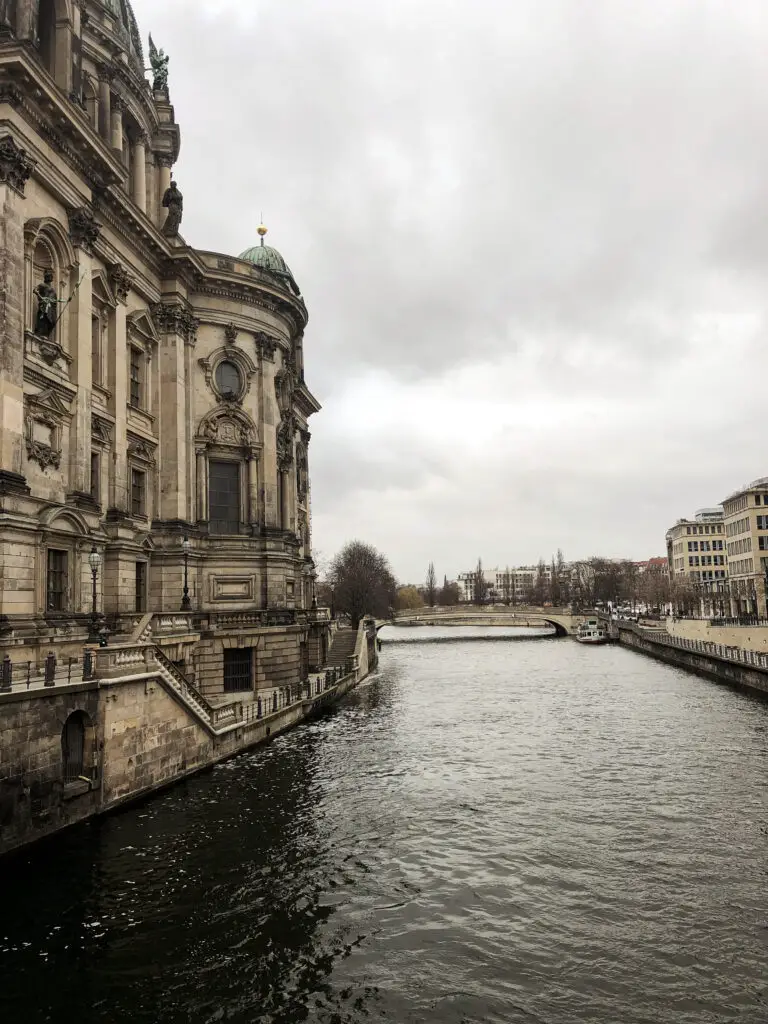 Enjoy the views from the TV Tower
For some of the best views of Berlin you should consider taking a trip up the TV Tower. You can pretty much see the TV Tower from most parts of the city, and it is also the tallest building in Germany.
It sits at a height of 368 metres, although that includes the antenna. The observation deck is 203 metres above ground.
It is one of Berlin's most popular tourist attractions, but you might be surprised to hear that only 400 people are allowed in the sphere at the same time. Which in fairness makes a lot of sense, when you think about safety and space.
If you want to visit, you should book a ticket online in advance, to guarantee you entry. There is a restaurant in the Sphere, that you can also book in advance to eat at.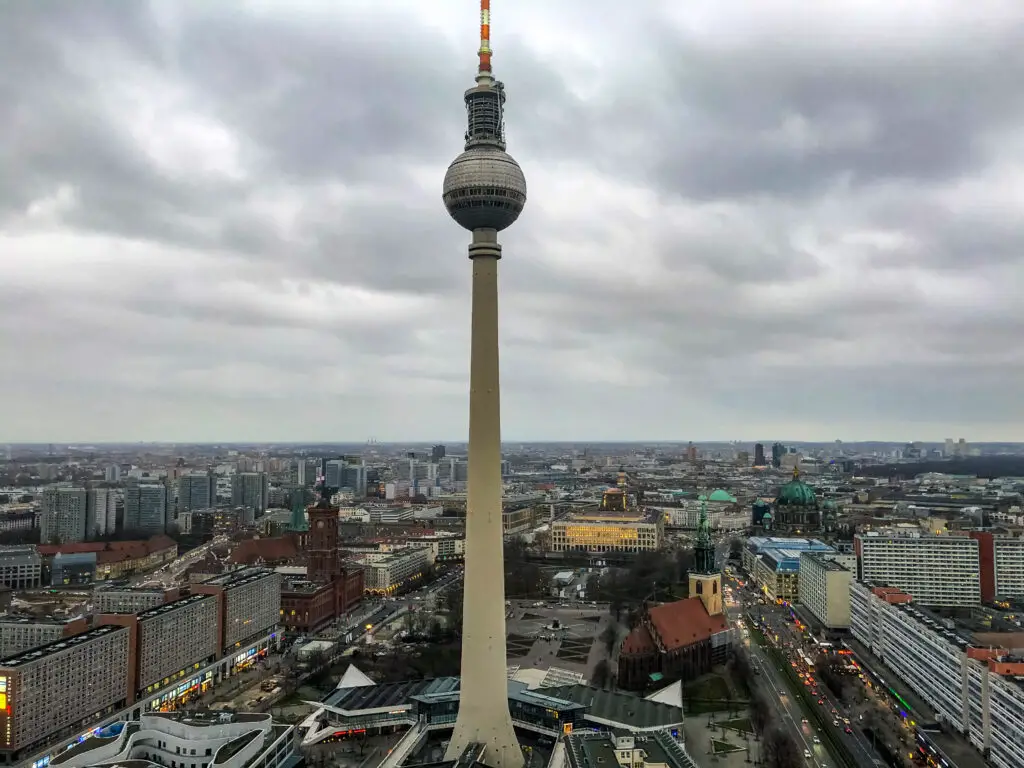 See Checkpoint Charlie
One of the more overrated attractions we experienced during our 2 days in Berlin, was visiting Checkpoint Charlie. We heard so much about it before the trip as it is such a historical place in Berlin. If you don't know, Checkpoint Charlie was one of the most well known crossing points between East and West Berlin during the Cold War.
The weird thing about it now though, is that it is surrounded by a KFC and a McDonalds. It is also smack bang in the middle of a busy street. We still think it is worth a visit, but maybe not a long one.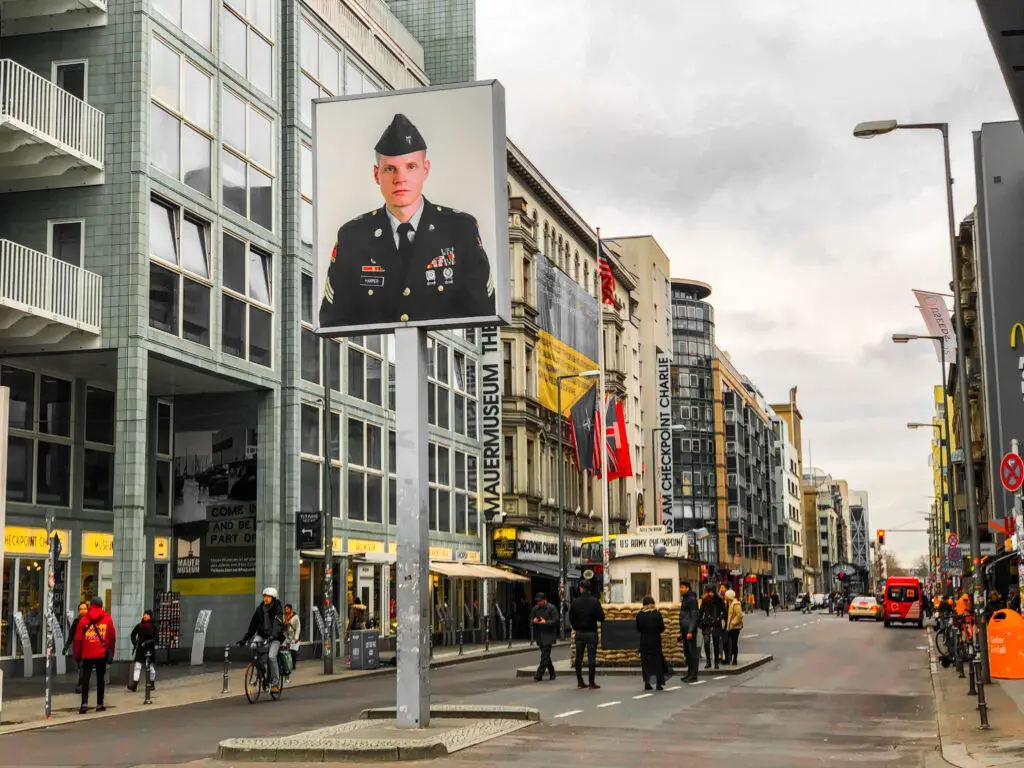 Explore Museum Island
If you love museums, then the aptly named Museum Island might be for you. It is home to five large museums, granted you won't be able to visit them all as part of your 2 day Berlin itinerary.
It's also a UNESCO world heritage site, so even if you don't go into a museum it's fun to walk around. Even the architecture for the various buildings is impressive.
We did venture into one of the museums, and when we were deciding which one to visit, we were told the Pergamon Museum is the most popular and therefore the best for anyone in Berlin on a short trip.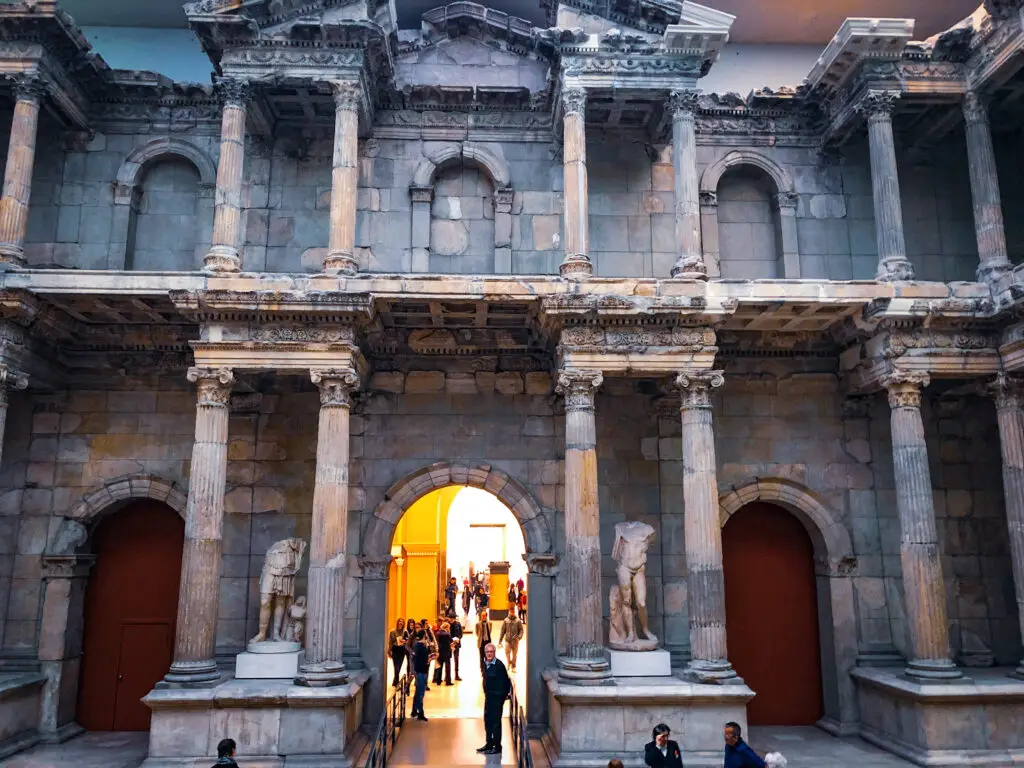 Learn about history at the Topography of Terror
For a moving, and raw account of the history of Berlin, but also the Nazi regime you should visit the Topography of Terror. It's located in a former Gestapo Headquarters, and documents the rise and fall of the Nazi party. It's often difficult to read about the atrocities that were committed, but it is a really important place to visit in the city.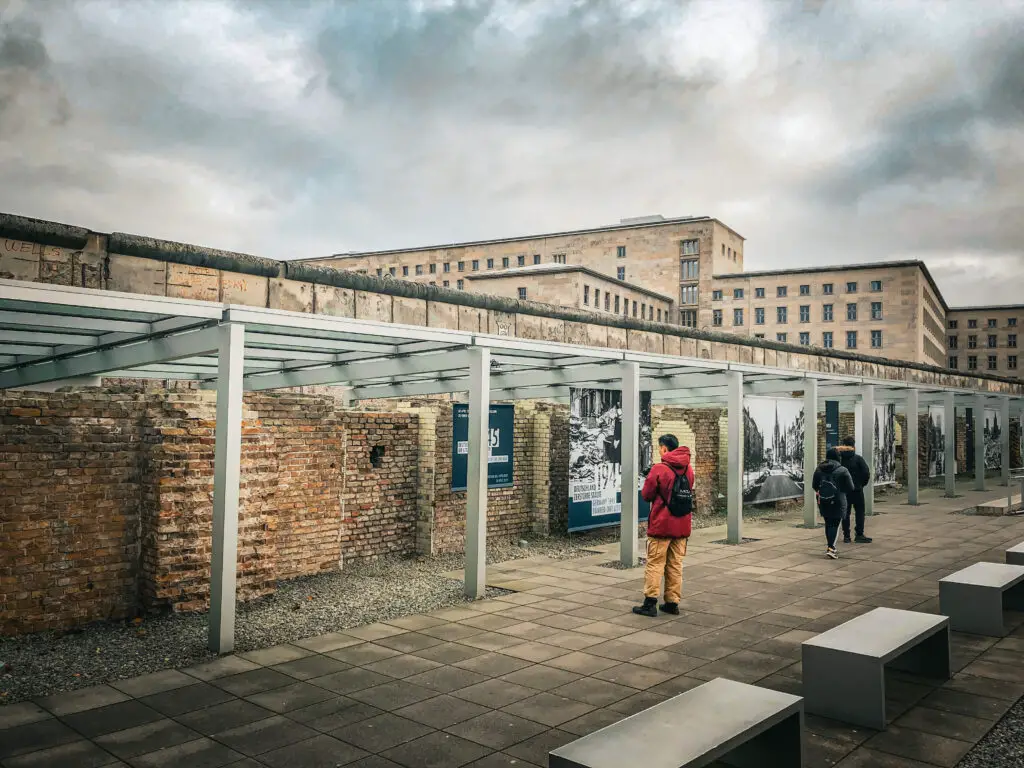 Interact at the DDR Museum
The DDR Museum is probably one of the best museums I have visited due to its interactive displays. You really get a sense of what life was like in East Berlin here. They have rooms decorated like East Berlin style apartments, and you can even sit in a Trabant.
Tickets can be purchased in advance or on the day.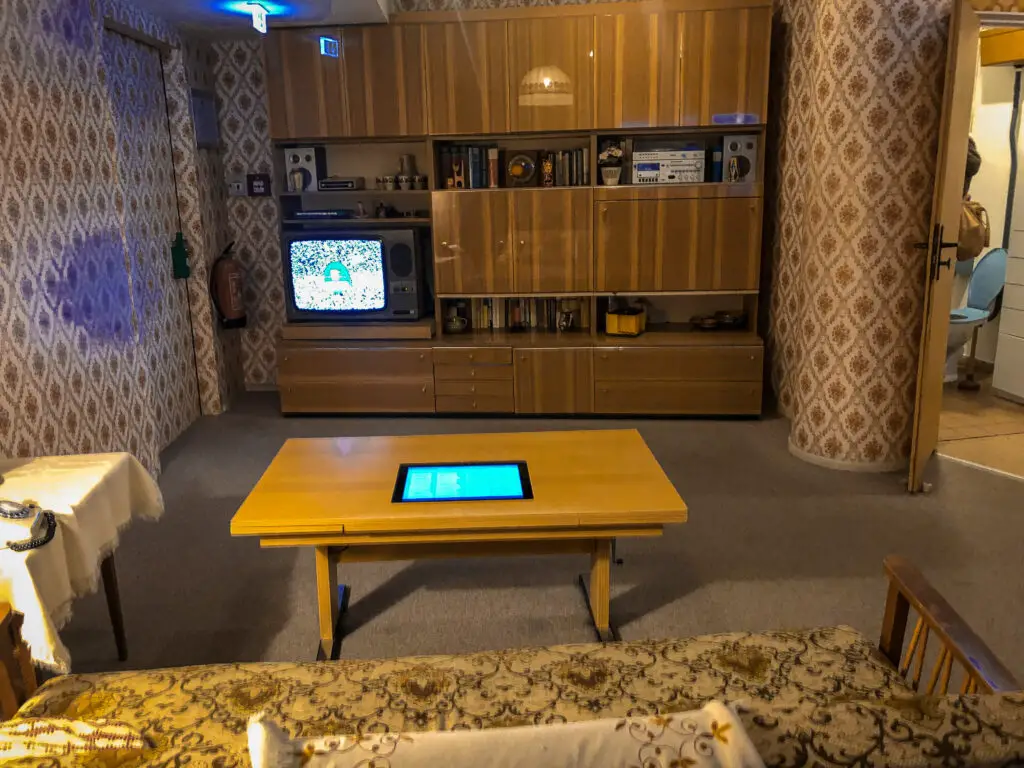 Visit Charlottenburg Palace
If your idea of a European mini break involves palaces, then never fear because Berlin has over 30 palaces which will transport you back to the days of Prussian Kings and Queens. Charlottenburg is one of the more popular palaces, with its Baroque architecture and lavish gardens.
You do need to pay to see the inside, or you can explore the gardens for free. Either way it's a nice break from the business of central Berlin.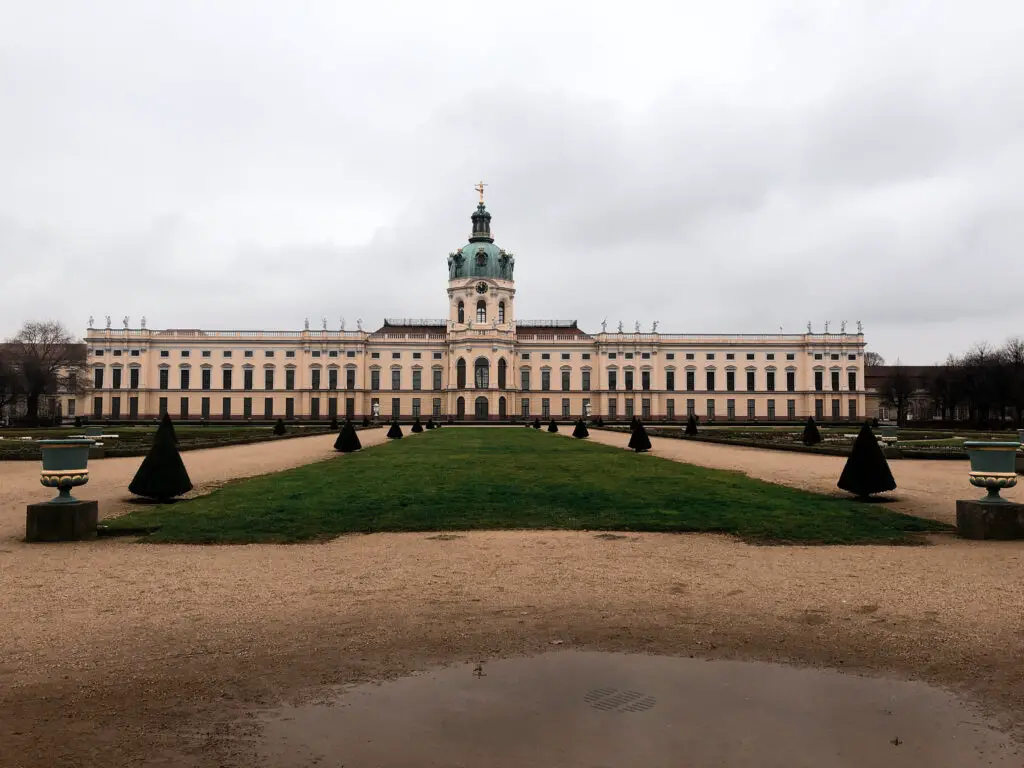 Hidden gems to add to your 2 day Berlin itinerary
If you are looking for something a bit different to add to your 2 day Berlin itinerary, here are some of our suggestions.
Walk around Natur-Park Südgelände 
For something way less touristy in Berlin head to the Schoneberg district where you can visit a park that was once a railway yard.
Here you will find decaying buildings and train tracks, overtaken by nature, as well as some cool sculptures and art installations. It was really quiet when we visited, and honestly was just a nice break from the hustle and bustle of Berlin.
It is a little bit further out or the city, so you may not have time to go if you only have 2 days in Berlin. But if you do get the chance it is certainly worth a visit. It's also one of those places that is great for some unique Instagram pics.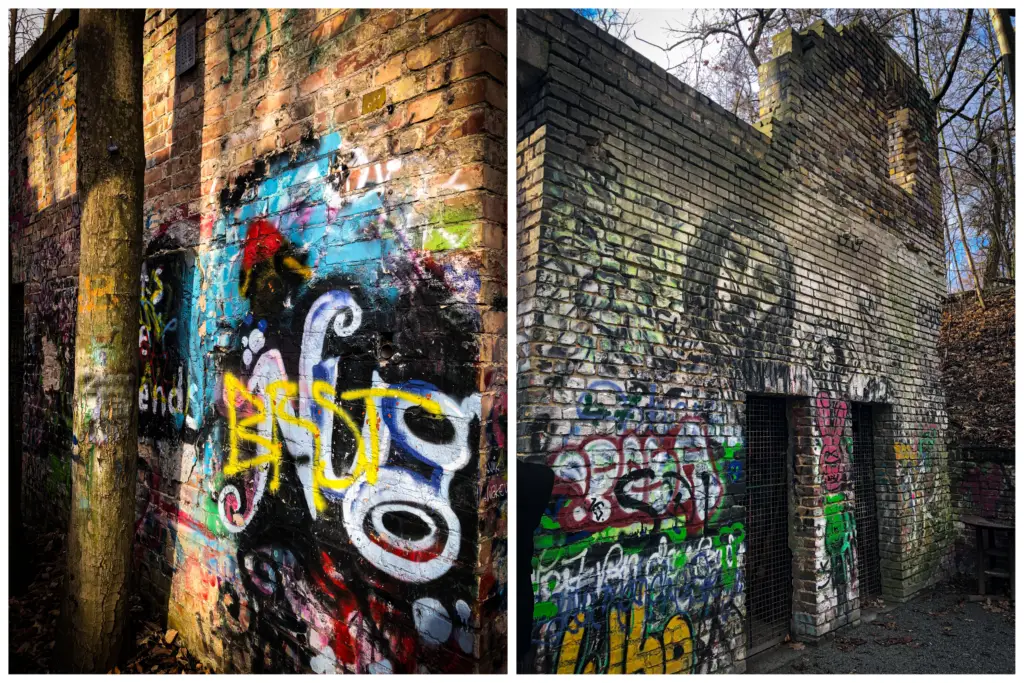 Explore the Hackescher Markt 
Another hidden gem that you will be pleased to hear is centrally located, is the Hackescher Markt. Located in the Mitte neighbourhood in Berlin, it's a great hidden alleyway to explore with several galleries and shops. The highlight though is the Courtyard of Haus Schwarzenberg, a space filled with galleries, coffee shops, and lots of graffiti and artwork.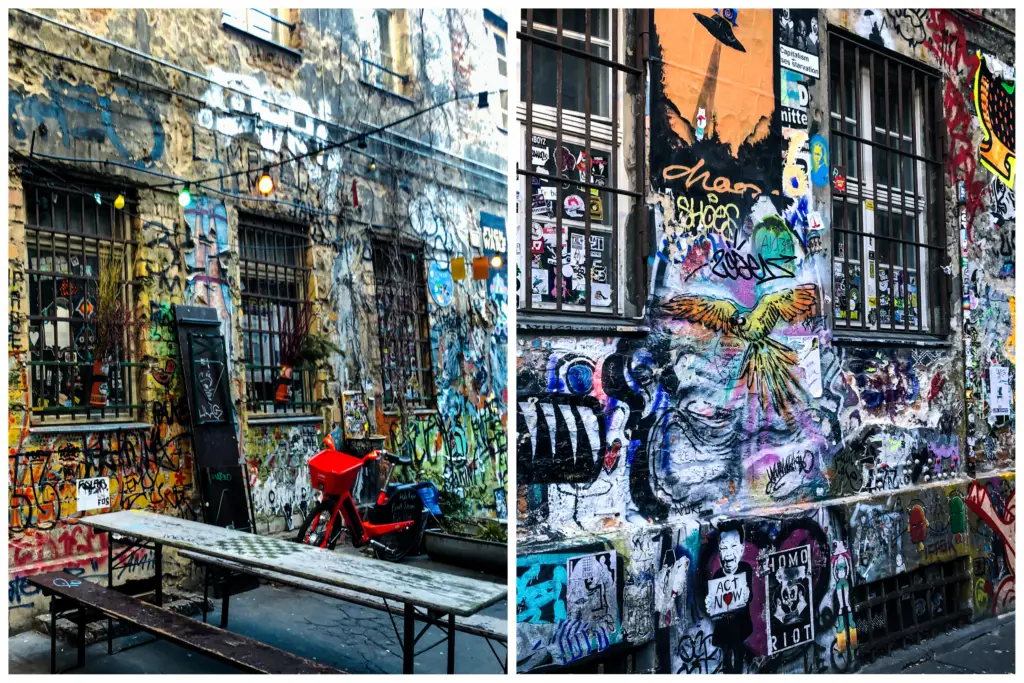 Enjoy the views from the Park Inn Hotel
Why on earth is a Park Inn on our list of hidden gems in Berlin you might be wondering? Well, we happen to think the hotel is home to one of the best views in Berlin. We mentioned visiting the TV Tower on our list of things to do in Berlin, but if you want to enjoy similar views at a fraction of the price visit the Park Inn Hotel instead. Members of the public can visit for 6 Euros, and the best thing about it is that not only do you get to experience incredible city views, but you get a photo with the TV tower as well.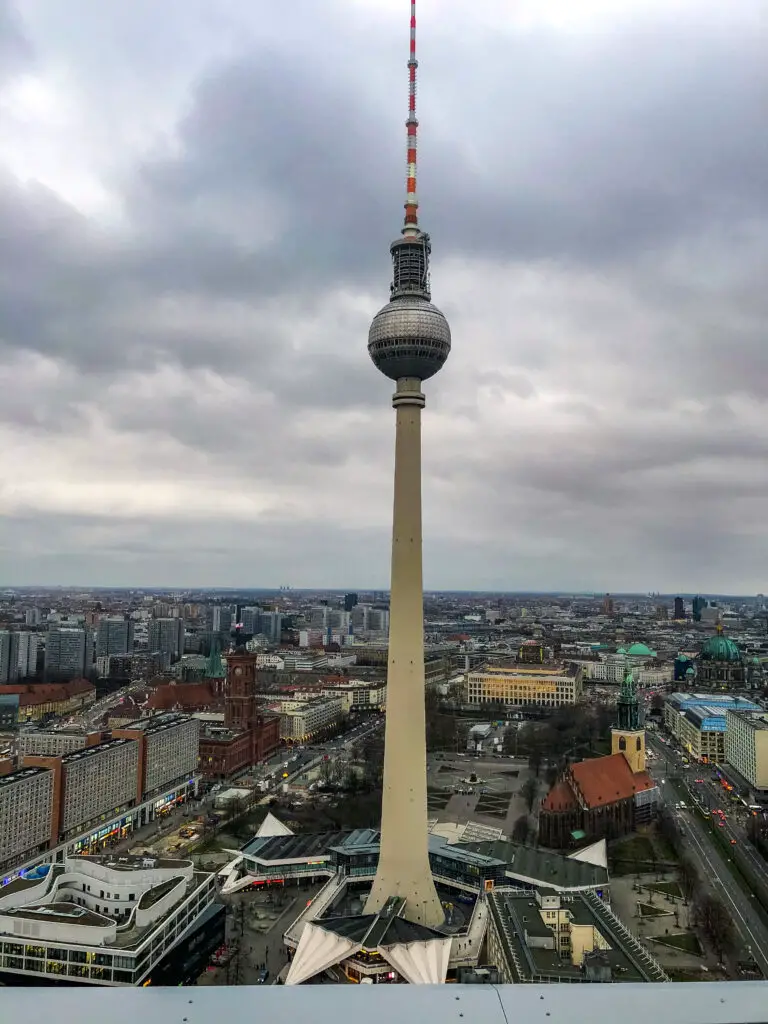 See some art at the Berggruen Museum
If you decide to visit Charlottenburg Palace during your 2 days in Berlin, and you love art, then we highly recommend a visit to the Berggruen Museum. It's only a short walk from the palace and it is absolutely brilliant. It houses a number of modern art pieces including works by Picasso. The collection was put together by Heinz Berggruen who left Nazi Germany in 1936 for the US.
Eating during your 2 days in Berlin
If you are anything like us, then your 2 days in Berlin will involve a lot of food and drink. I mean who doesn't love indulging in the local cuisine on holiday? Here are some of the must eat foods, and drinks, to add to your 2 day Berlin itinerary.
Currywurst
First things first, you absolutely have to try Currywurst when you are in Berlin. It's a very cheap, quick, fast food style meal, that consists of bratwurst, a bread roll, and ketchupy/curry like sauce. Apparently the Currywurst was invented in Berlin, so it would be rude not to give it a go.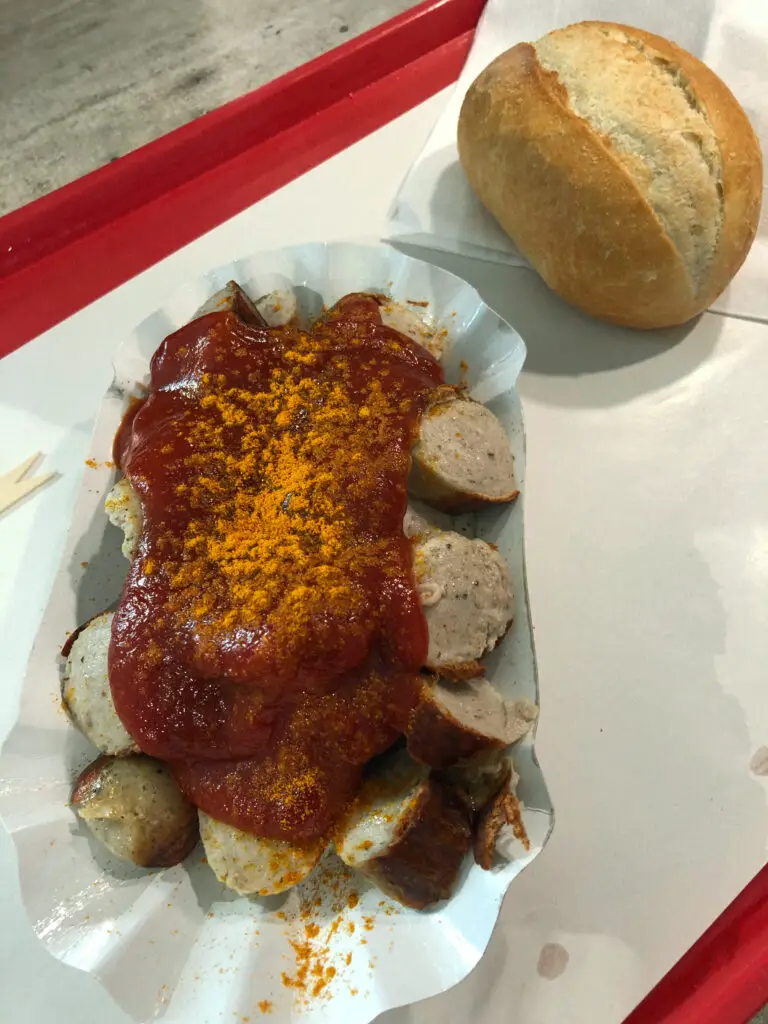 Donner Kebab
I know that a Donner Kebab doesn't sound very German, but it's a super popular dish and staple in Berlin, thanks to Turkish immigration throughout the years. The kebab has evolved since its introduction in the city, so it might be a little different to kebabs that you may have tried in Turkey.
Schnitzel
Traditionally Schnitzel, (or Weiner Schnitzel to be more precise) is an Austrian dish, but it is still popular in Berlin. Usually served with a side or sauerkraut, and potato salad it is the ultimate comfort food. The original Weiner Schnitzel is served with veal, but you can also get pork or chicken schnitzel too. I'm not a veal fan at all, so tend to go for chicken.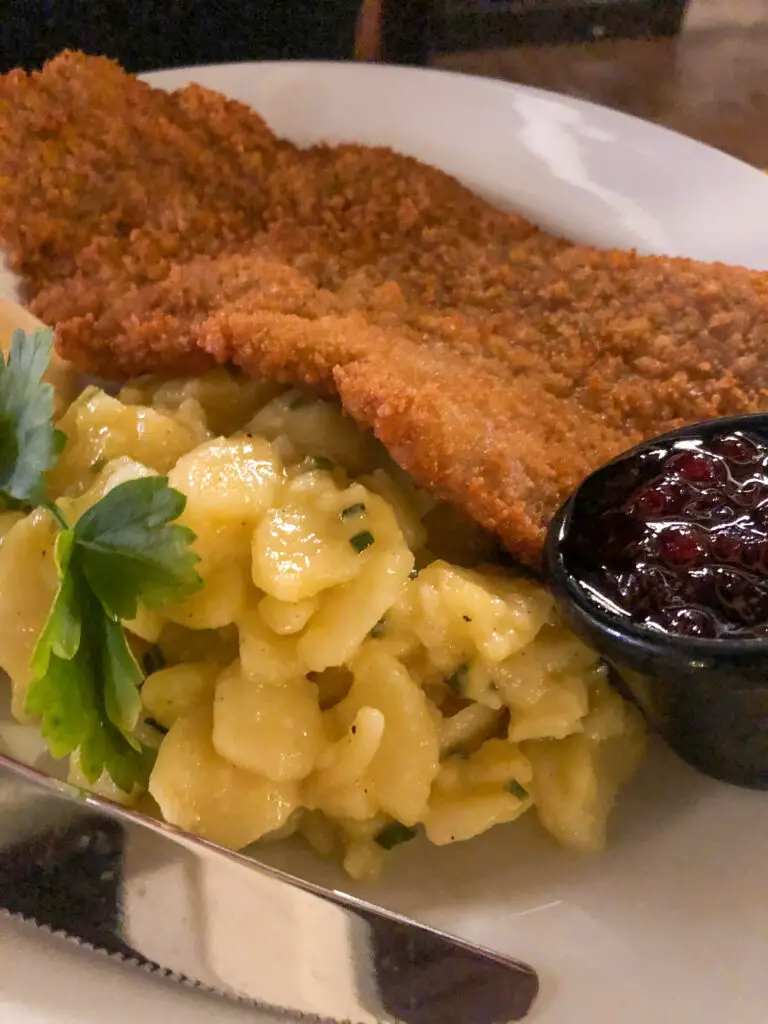 Traditional German style food
If you have this idea of pork knuckles and large steins of beer in your head, when visiting Berlin you will be disappointed. This sort of traditional style food, is Bavarian, and not so common in Berlin. But all is not lost if you are looking for a 'traditional' German meal.
Augustiner am Gendarmenmarkt is your best bet for schnitzels and pork legs, with cold steins of beer. You also have Hofbräu Wirtshaus which is very touristy but will certainly give you your fix of 'German' style food.
Tajikistan Tearoom
This is another testament to the multicultural city that is Berlin. The Tajikstan Tearoom allows you to sip tea (and vodka) whilst sat on floor cushions. It's a fun atmosphere and you get to try some Eastern European food like dumplings and borsht.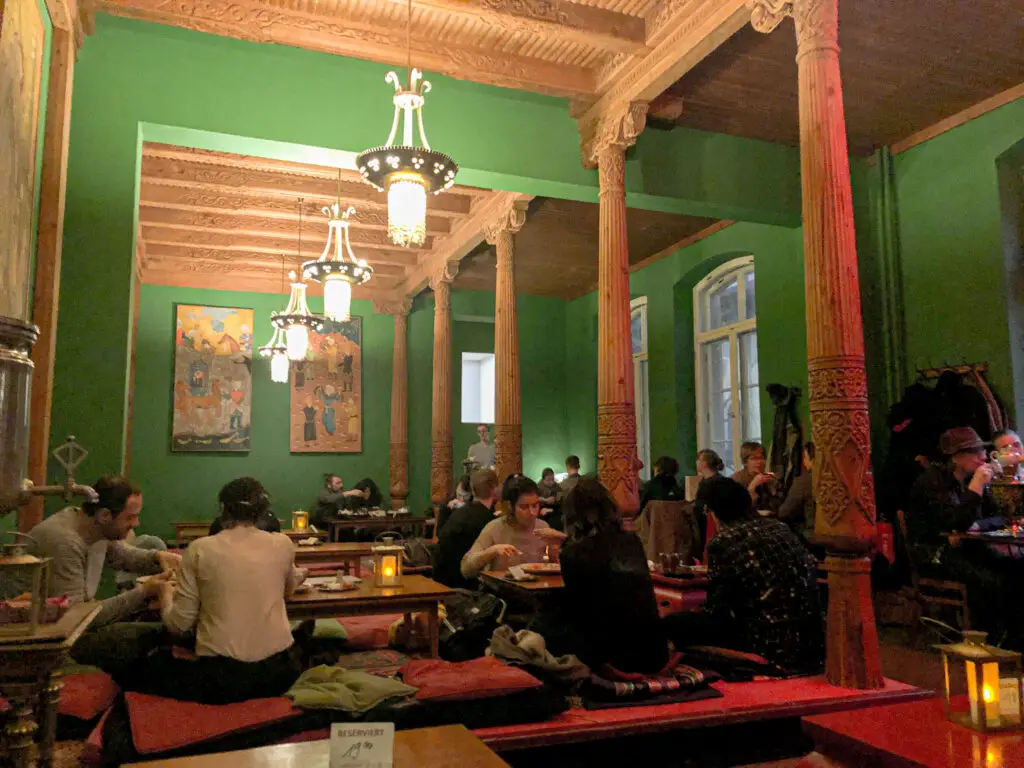 Of course if you are short on time and want to do some guided food tours there are a number of great options for your 2 days in Berlin.
Drinking during your 2 days in Berlin
The nightlife scene in Berlin is hip and happening, and one of our highlights when we visited was trying out some of the cities bars. A word of warning though, most bars tend to open quite late in Berlin (around 8pm), and things don't start happening really till after 10pm.
Kreuzberg is one of the super cool places to drink, with several bars, and secret speakeasy style cocktail lounges.
Here are some of our favourites from our 2 days in Berlin.
Fairytale Bar
One of our favourite hidden cocktail bars in Berlin is the Fairytale Bar. It's Alice in Wonderland themed, and honestly it is hard to feel like you haven't fallen down the rabbit hole here. To get in you knock on a secret door, and wait to be seated. The drinks, are really good as well, and served in very creative ways.
MacLaren's Pub
Mentioning this one in case there are any How I Met Your Mother fans our there. It's styled after the bar MacLaren's in the show, and they serve some pretty good beers, cocktails, and burgers.
Madame Claude
If you are in Kreuzberg then head to Madam Claude. It's an upside-down bar with bit of furniture hanging from the ceiling. It also used to be a brother which adds to the character that much more.
Stagger Lee
Admittedly we love our cocktails, and Stagger Lee was another of our favourites in Berlin. It's a saloon style bar with wooden furnishings and very creative cocktails.
Schwarze Traube
If you visit any bar during your 2 days in Berlin make it this one. Schwarze Traube is a dimly lit speakeasy, that you will need to knock on the door to gain entry. The really hip thing though is that there are no menus here. Bar staff will ask your flavour preferences and get to work on creating you something that you might like.
Getting around during your 2 days in Berlin
Berlin is a big city, but don't let that put you off trying to see Berlin in 2 days. The transport network in the city is incredible. The most common way to get around is using the U-Bahn – an underground train network similar to the London underground or the subway system in New York. The U-Bahn operates 10 different lines, and takes you to pretty much every corner of the city. This will be your most common bit of transportation for your 2 days in Berlin.
Buses and trams are also popular modes of transport, and we recommend using these alongside Googlemaps to help get around. Trams are only found in the eastern part of the city.
If you are travelling to the outskirts of Berlin you may find yourself on the S-Bahn. It isn't as frequent as the U-Bahn but still reliable.
When you buy a ticket it is valid on all forms of public transport in Berlin, just as long as you are travelling in the zones specified. You can purchase single tickets on public transport or purchase a 24 hour, or 7 day ticket.
Where to stay during your 2 days in Berlin
It can be overwhelming when trying to decide where to stay for your 2 days in Berlin. So we thought we would give you a bit of a breakdown on the different areas to help you decide.
Mitte
If it is your first time on Berlin, or like us you have 2 days in Berlin, then our recommendation is to stay in Mitte. This is where many of the key tourist attractions are such as the Brandenburg Gate, and the Berlin Wall. There are also a large number of restaurants and bars in the area, which makes it a great place to base yourself.
Kreuzberg
This is where we want to stay the next time we visit Berlin. That's because it is the more 'alternative' district in the city. There is a lot going on and the nightlife is incredible. It's not too far from the centre of Berlin and has excellent transport links.
In terms of the accommodation itself you will find a lot of air bnb's and boutique hotels. If you want something a little different, and you plan to visit a lot of bars in Berlin this is the area for you.
Prenzlauerberg
Prenzlauerberg is great if you want to stay somewhere a little more laid back. It's a bit more residential, and less chaotic than say Mitte. It's probably a good place for families or those of you that want to travel at your own pace. It's also not too far from the main attractions in Berlin, and is very well connected when it comes to transport.
Friedrichshain
If your purpose for visiting Berlin is to dance the night away then Friedrichshain is possibly the area for you. It has some of the best nightlife in the city, and a hip and gritty vibe, similar to Kreuzburg.
Where we stayed during our 2 days in Berlin
We ended up staying at a hotel right near Checkpoint Charlie for our 2 days in Berlin, called Select Hotel Checkpoint Charlie. It's a 4 star hotel, not too far from public transport links. The hotel was clean and modern and we definitely had no complaints. That being said, we would recommend you avoid staying around the Checkpoint Charlie area. There aren't that many restaurants or bars in the area so it's not great for nightlife. Unless you want a KFC or McDonalds.
It is close to public transport so you can of course use this to travel to different areas. But when you only have 2 days in Berlin (in our opinion anyway) you want to be close to the nightlife.
How much money do I need for my 3 day Berlin itinerary
I don't know why, but when we arrived in Berlin we sort of had this idea that it would be really expensive. Thankfully we were pleasantly surprised. That being said it isn't super cheap either, it's just an average priced European city.
We budgeted about €100 per person for day, not including accommodation. You could probably get away with a bit less, but we wanted to have nice meals and go out for a few cocktails in the evenings.
Accommodation will set you back around €100-€120 per night for something mid range. Just make sure you book this well in advance.
Is 2 days in Berlin enough?
You might be thinking is 2 days in Berlin enough? Honestly no. We were really surprised at how much stuff there is to do in Berlin. We would recommend 4 days at least just to get to grips with the city, see the main tourist sights, and of course experience some of that famous nightlife.
Berlin is a big city and is a bit spread out too, so you do loose a bit of time trying to travel between sights. If you only have 2 days in Berlin though all is not lost. We recommend making a plan about what you want to see, and sticking to it. Also, book any attractions or restaurants in advance to save time queuing.
When is the best time of year to plan your 2 day Berlin itinerary?
So you might be wondering when the best time to plan your 2 day Berlin itinerary is. We think Berlin is one of those places you can visit at any time of year. It's a vast city, and you will find something to do no matter the weather.
Summer is the peak season to visit Germany, and Berlin in particular. The weather is mild, and perfect for sipping pints of beer outdoors. August is by the far the busiest month due to school holidays, so if you do visit at this time expect crowds and long lines at tourist attractions.
Whilst winter isn't always a favourite in terms of travel, if you wrap up warm you can still have a pretty decent break in Berlin. There are so many museums and bars where you can seek shelter from the elements. December is popular in the city because of the Christmas Markets.So not only do you get to explore the city, you also get to experience the magic that is Berlin at Christmas.
If you are wanting a relaxed holiday with fewer tourists, but mild weather, we recommend visiting in November or April and May.
More than 3 days in Berlin? Day trip ideas
If you have more than 2 days in Berlin or you just want a change of scenery for your onwards travels here are some day trip ideas.
Potsdam
40 kilometres southwest of Berlin you will find the historic city of Potsdam. Filled with incredible parks, and lakes, this former imperial city is only a train ride away from Berlin.
Dresden
If you want to travel slightly further afield, then we recommend Dresden. It's about 2 hours from Berlin, and is one of Europe's beautiful Baroque cities. It was destroyed during WW2 and has since been restored making it a popular destination in Germany.
Hamburg
Hamburg is a good option if you are looking to explore another city. It's about 2 hours on the train away from Berlin, and there are 33 trains per day between the two cities. Hamburg is a beautiful port city and well worth a visit, although you might want to stay a bit longer.
Tips for planning your 2 day Berlin itinerary
Before jetting off for your 2 days in Berlin here are some things that you need to know.
Some bars and restaurants are cash only so make sure you have some cash on you especially if you are used to paying everything on card. You could end up like us ordering food and then one of us having to run around Berlin trying to find a cash machine to pay for the meal. And of course the closest ATM was not working!
Don't stick to traditional German food when eating in the city, branch out and share in the multiculturalism of the city.
Bars open late in Berlin, so check opening times before arriving.
So should I spend 2 days in Berlin?
If you are on the fence as to whether you should spend 2 days in Berlin, let this be your sign to go. Berlin is such a vibrant and fun city and there really is a bit of something for everyone. It's got culture, food, history, and one hell of a nightlife scene. Even if you only have 2 days in Berlin you will see a lot, and have a really awesome time. Enjoy your trip.
And if you found this useful please pin our 2 day Berlin itinerary for later.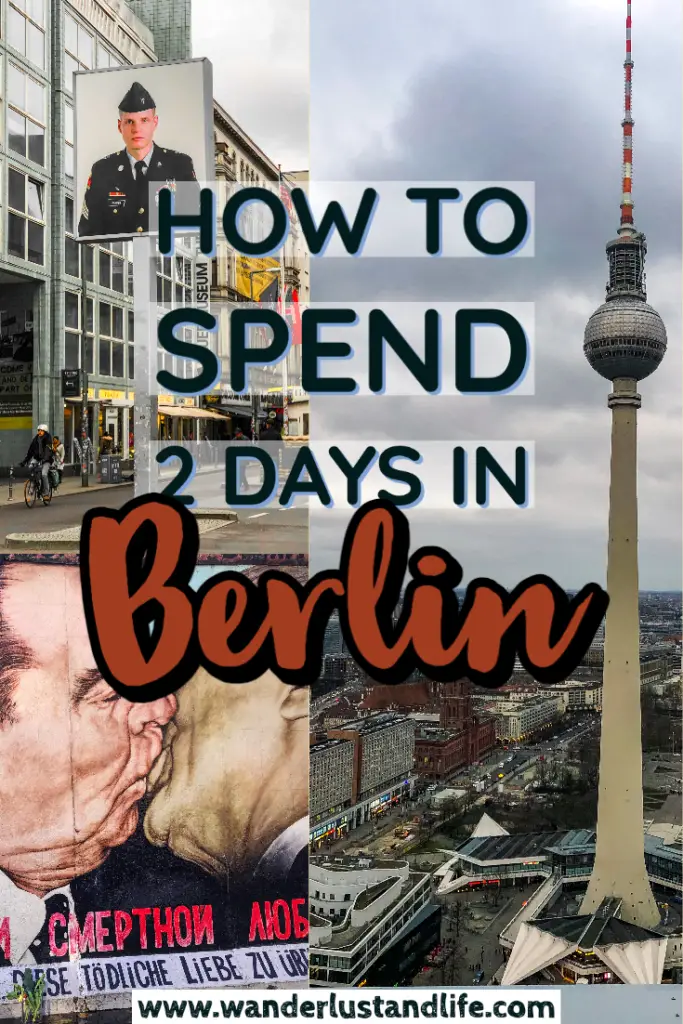 If you have a chance check out some of our other posts on Eastern European cities.