Brisbane is a vibrant modern Australian city, with a friendly laid back attitude. This riverside city has so much to offer from incredible nature, to shopping, and some amazing dining experiences. If you are based in this beautiful city on your next trip to Australia, I have written this article to help inspire your perfect 1 week Brisbane itinerary. I answer all your pressing questions such as where can I see kangaroos (because Australia right) to what are the best things to do in Brisbane. So sit back, relax and let me help you plan your Brisbane itinerary.
I should probably point out that I am incredibly biased towards Brisbane because it is my hometown. So even though I don't live there anymore every time I go back I get really excited to create a new Brisbane itinerary to see what has changed, and what has stayed the same.
Disclaimer: This post contains affiliate links, so if you use these links to buy something we may earn a commission, at no cost to you. Thank you for your support.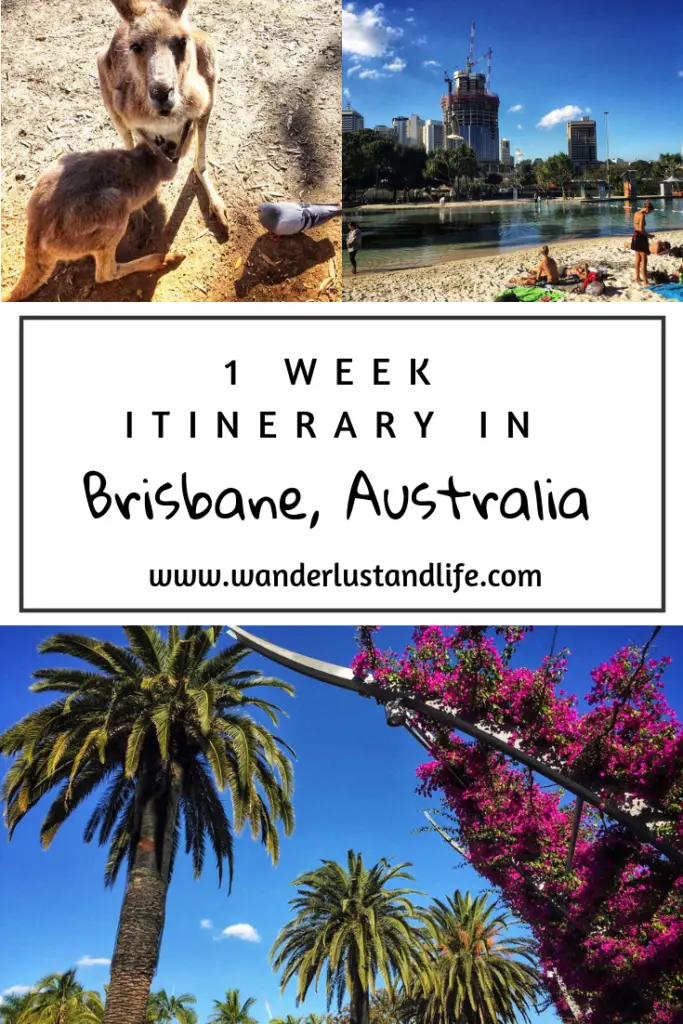 Brisbane Itinerary factsheet
Before we get to the best things to do in Brisbane, here is a bit of a factsheet with some background on the city. Brisbane is the capital of Queensland, often referred to as the Sunshine State. It is also the 3rd biggest city in Australia, after Sydney and Melbourne.
The city sits along the Brisbane River which snakes through the city. It is a clean city with a lot of green spaces, cultural experiences, and most importantly a lot of places to just relax and have a BBQ. Brisbane is often overshadowed by the likes of Sydney or Melbourne, but with a perfect sub-tropical climate and a laid back welcoming atmosphere, Brisbane is a must visit on any trip to Australia.
Country: Australia
Languages Spoken: English
Currency: Australian Dollar $ AUD
Famous for: It's good weather and sunshine
Visit if you like: relaxed places with a laid back vibe and plenty of sunshine
1 week in Brisbane – Is it enough?
The amount of time you need for your Brisbane itinerary depends on what you want to see and do. We have come up with this 1 week Brisbane itinerary because we think that is the perfect amount of time to make the most out of your time in the city. It will also mean that you aren't rushing around.
Keep in mind Brisbane is a big place as well and getting from one place to another is not as quick as you might think. On top of that Brisbane or 'Brissie' to the locals is the kind of place you want to take your time to explore.
That being said, you could probably see a lot of the main tourist sights in about 3 – 4 days so we have also included some ideas for the best road trips from Brisbane too in case you want to delve a little further into what Australia has to offer.
How much money do you need for your Brisbane itinerary?
Before you plan your 1 week Brisbane itinerary you are probably wondering about budget. In terms of Australian cities and cost of living Brisbane is a lot cheaper than the likes of Melbourne and Sydney. That being said things in Australia can be expensive.
Obviously your costs will be dependant on what you want to do during your week in Brisbane, but keep in mind that things like petrol or even eating out in Brisbane can get expensive. A meal for 2 in a standard restaurant could set you back somewhere between $50 -$100. For a decent week where you eat out, visit tourists attractions and catch public transport you probably need a little over $2000 between two. Of course this can either go up or down depending on your spending habits.
If you are looking to rent a car (which we highly recommend you do) then this is going to be more expensive. Hotels can also be expensive especially if you are staying in the city centre, and prices average from around $120 per night for basic accommodation and get more expensive depending on your travel style.
Where to stay as part of your Brisbane itinerary
If you are in Brisbane and you want to be close to all the action, we would recommend staying somewhere central like the CBD or South Bank. If you are planning to rent a car do make sure your accommodation comes with parking.
Whilst the CBD and South Bank can be expensive, they are also incredibly central, with excellent public transport links. You will also find yourself smack bang in the middle of the excitement the city has to offer. Here are some hotel recommendations to consider as part of your Brisbane itinerary.
W Brisbane
The W Brisbane is perfect if you are looking for a luxury break in Brisbane. This 5 star hotel, has a very modern and trendy interior, as well as a pool (because it does get hot in Brisbane). The location is excellent. It is technically in the CBD so you are close to the main shopping district, and bus station, but it is also just across from South Bank.
Prices start at around $200 per night (if you can find a good deal) so make sure you book early.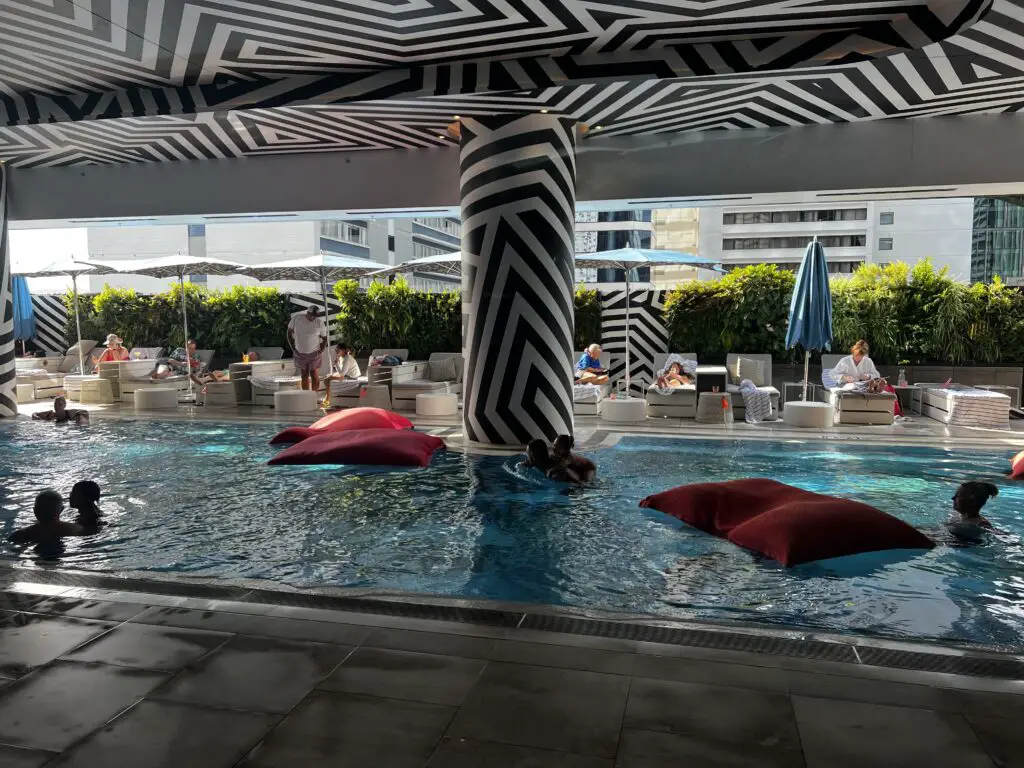 Pullman Hotel King George Square
Another excellent choice for luxury accommodation is the Pullman Hotel in King George Square. It is centrally located, has an excellent pool, and a rooftop bar with some amazing city views.
Emporium Hotel South Bank
Another favourite is the Emporium Hotel in South Bank. This is another 5 star hotel, located in the heart of South Bank. The location is great as it is near a ton of restaurants and bars. There is also a rooftop bar and pool, to really get you into the holiday mood.
Getting around during your 1 week Brisbane itinerary
It is pretty easy to get around during your 1 week in Brisbane with buses, trains, and ferries helping you commute through most parts of the city. We do recommend renting a car if you can. Most people in Australia have cars as it is such a large place and in Brisbane it really makes seeing the sights that much easier. Parking isn't an issue in Brisbane as you will find public car parks in most areas of the city as well as at all major tourist attractions.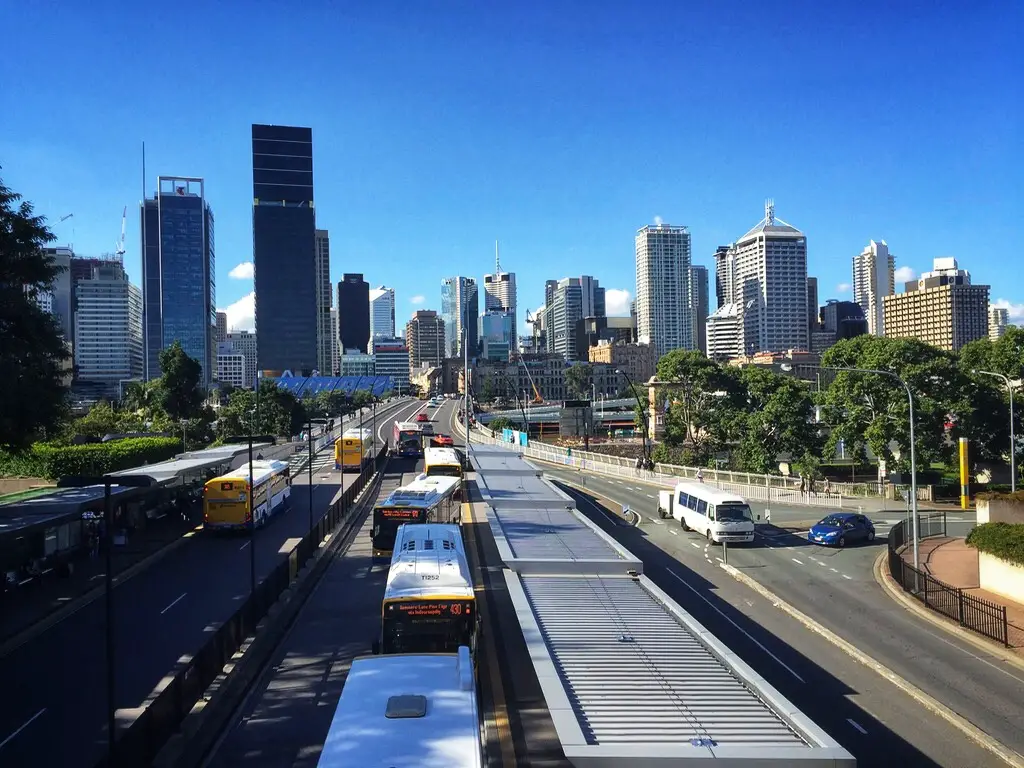 The bus, train, and ferry network are all linked, and you will need to purchase a 'Go Card' to travel on them. You can go to any newsagent, to purchase the card and you can also add credit here as well. When you get on the bus, train, or ferry you just tap your card and you are off (don't forget to tap off at the end).
Things to do in Brisbane
There are so many amazing things to do in Brisbane to suit everyone, these are some of our top picks when it comes to sights as part of your 1 week Brisbane itinerary.
Lone Pine Koala Sanctuary
Personally I don't think you can spend 1 week in Brisbane without going to Lone Pine Koala Sanctuary. Most tourists coming to Australia want to get up close and personal with some of the wildlife Australia is famous for. Enter Lone Pine Koala Sanctuary. It is a great place to go to see Koala's up close munching on Eucalyptus leaves, or even better you can hand feed a Kangaroo.
The Kangaroos are kept in a really large enclosure so there is a lot of space for them to hop around, and they will eat right out of your hands.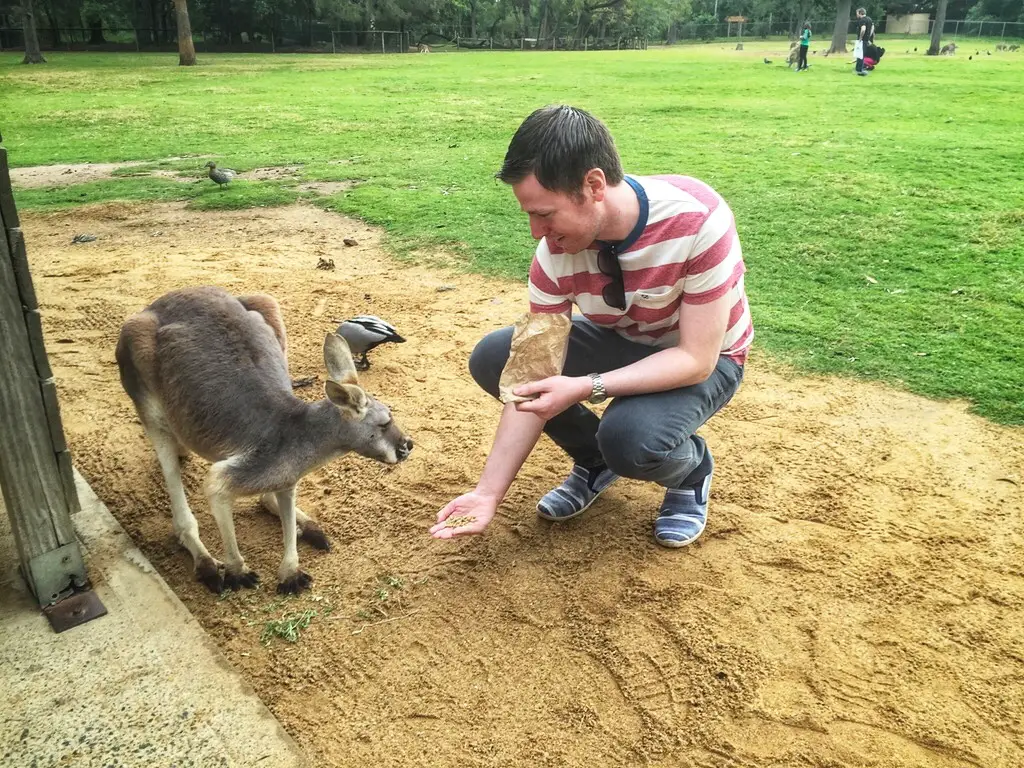 It is definitely a very Australian experience and we highly recommend adding this to your Brisbane itinerary. At Lone Pine you can learn a lot about the unique Australian wildlife. You probably need about half a day to explore properly, particularly as there are a lot of wildlife presentations and activities you can participate in.
Do a river cruise
Because Brisbane is a river city we highly recommend taking advantage of this by doing a river cruise. You get to see some of the cities best sights, and you also have a guide that explains the history too. If you can we recommend the sunset cruise, which is one of the most beautiful times in the city.
Climb the Story Bridge
Sydney of course has the Sydney Harbour whilst Brisbane has the Story Bridge. The bridge is an iconic structure in the city, and a great way to get a bird's eye view of the Brisbane River and the skyscrapers is to do the Story Bridge Climb.
This is not for the faint hearted, but if you are brave enough it truly is a memorable experience. You can book different packages such as evening or day climbs and they start at around $119 for the express climb and go up depending on the experience you want. The climb itself isn't too strenuous and you are taken up with a professional guide.
You also get some awesome photos to remember the experience or in my case proof you actually did it!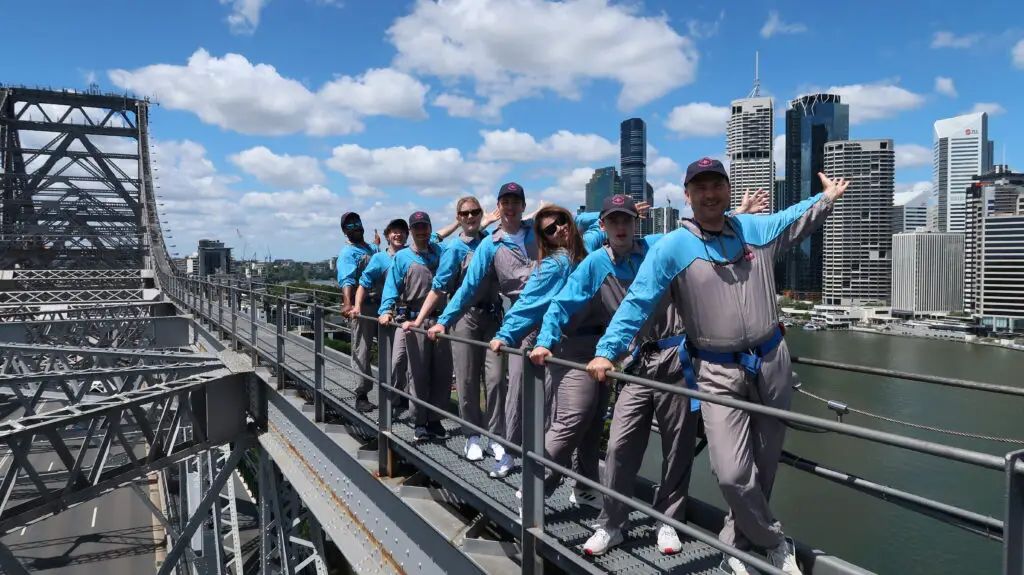 South Bank Parklands
Another must to add to your Brisbane itinerary is South Bank. Located on the banks of the Brisbane River you will find the South Bank Parklands. Sprawled out over 17 hectares of prime riverside land this inner city oasis is perfect for exploring, swimming, and eating. You can have a BBQ or dine at one of the many restaurants in the area. There is also a public swimming facility which resembles a beach with the stunning CBD as a backdrop.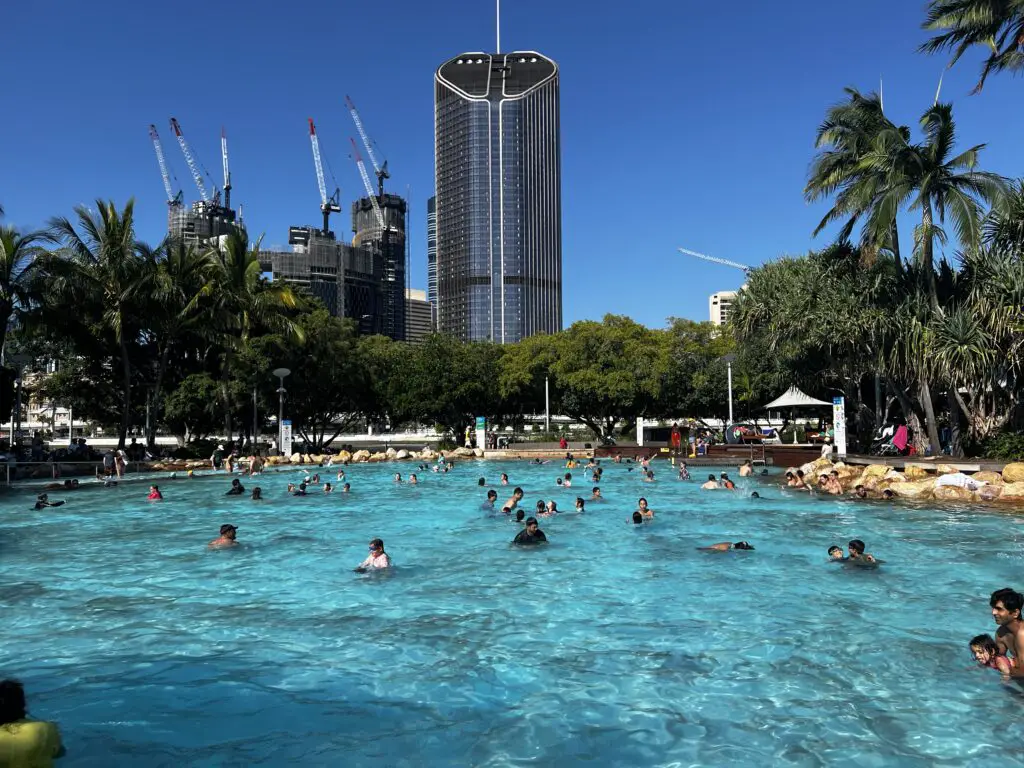 It is such an amazing contrast between the CBD on one side of the river and the very chilled South Bank Parklands on the other. There are a lot of really nice walks around the area and it is best enjoyed at a slow pace.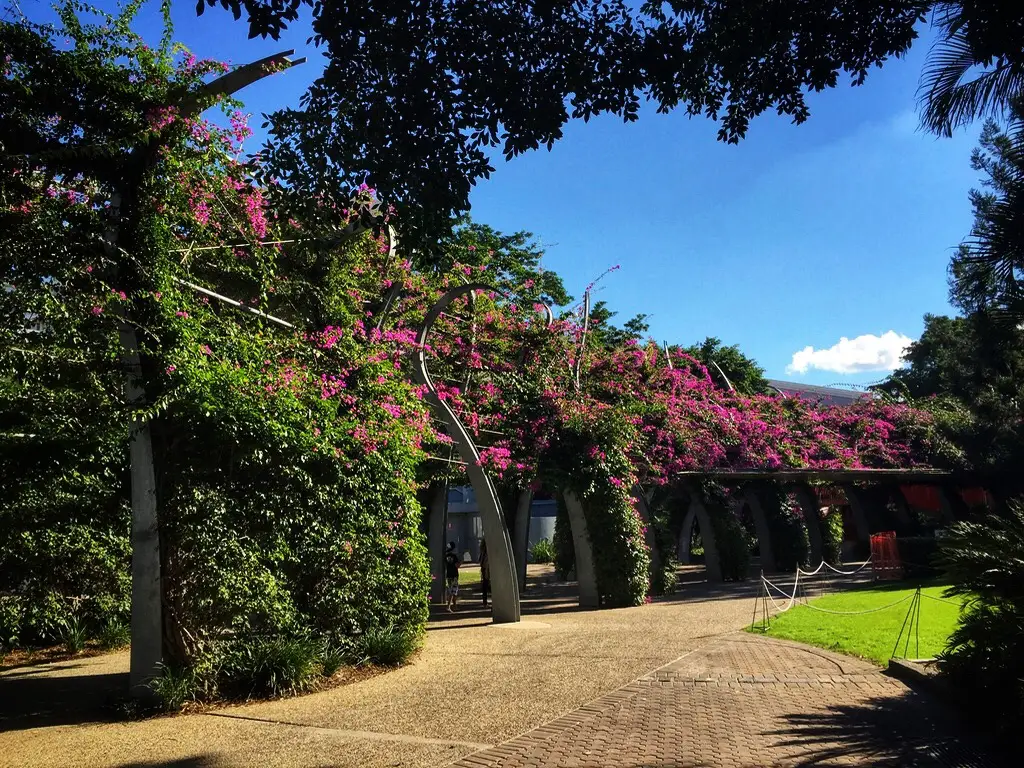 Make sure you take the time to find the Brisbane sign for that all important selfie. It's located close to the bus way, and has the beautiful city as a backdrop.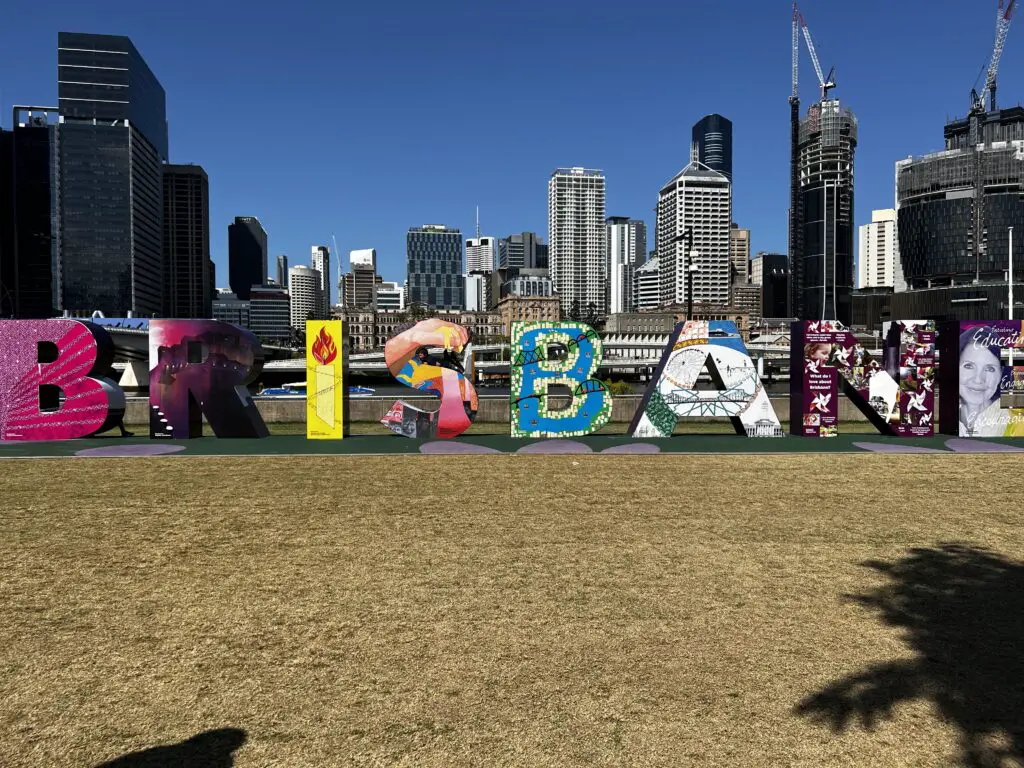 You can also go on the Wheel of Brisbane to get some great views of the city. The cool thing about this is you can sip wine as you learn all about the city.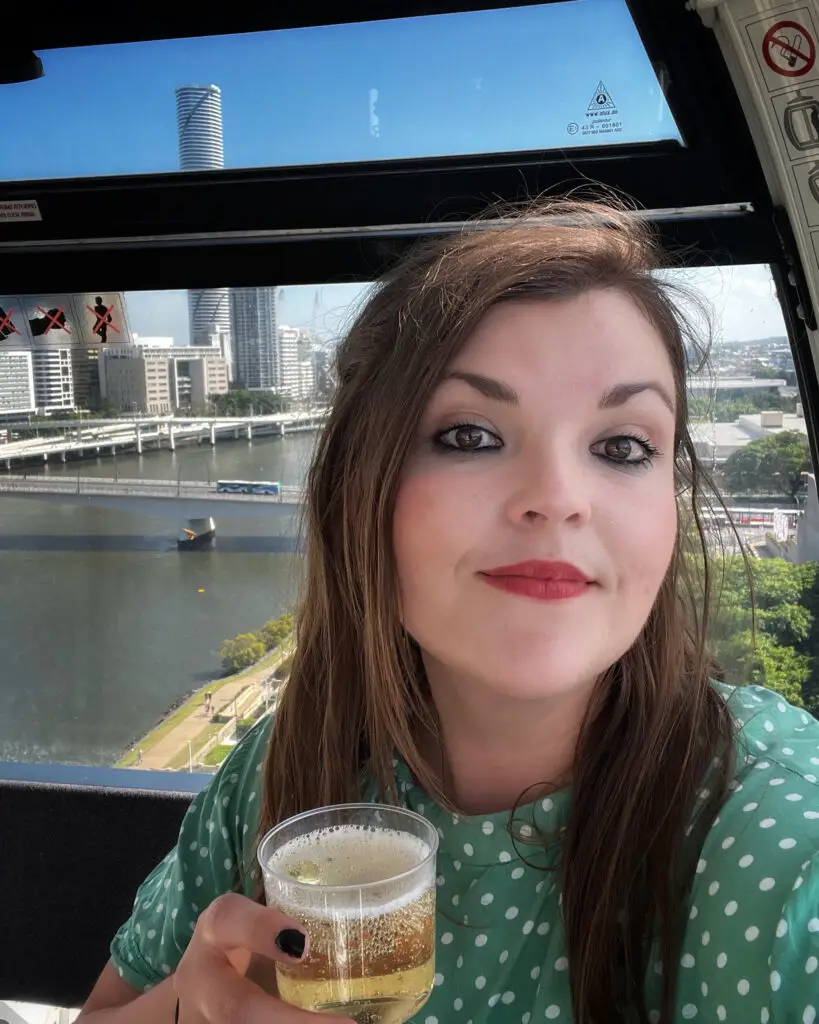 The Cultural Precinct
If you are feeling a little bit more cultural, also located in South Bank is Brisbane's cultural precinct. Here you can visit the Queensland Performing Arts Centre (QPAC), The Queensland Museum and Science Centre, The State Library and the Queensland Art Gallery and Gallery of Modern Art (GOMA).
The Queensland Art Gallery is certainly worth a visit especially as a lot of the art work has a focus on Australia, Asia, and the Pacific. It is also a great place to see some Indigenous Art which is an important part of Australian history.
Visit the Queen Street Mall
Growing up in Brisbane, the Queen Street Mall has always been the meeting place for friends and family in the heart of Brisbane. The Mall is an outdoor strip with several shops and restaurants vying for your attention. It feels like the life and soul of the city, so is definitely worth a visit at least once.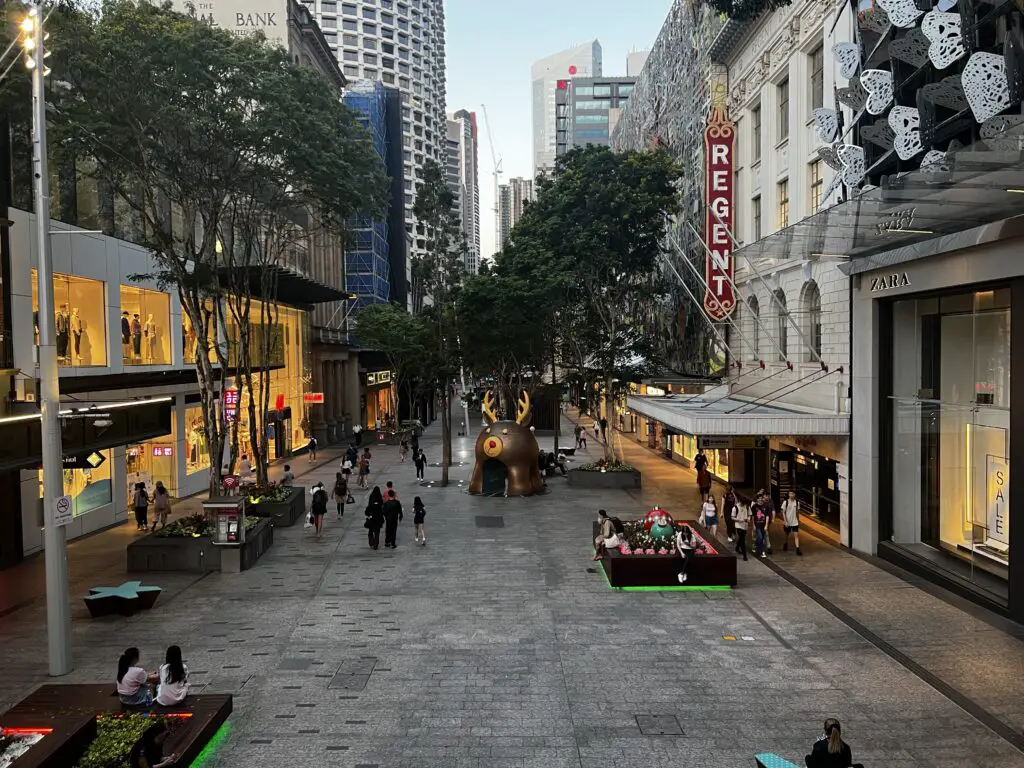 Roma Street Parklands
Brisbane's CBD is fortunate enough to have a lot of green spaces nearby. The Roma Street Parklands boasts a full 16 hectares of green space. It's great for picnics, or just unwinding after a busy day exploring the city.
Explore City Hall
Located in King George Square, Brisbane's City Hall has always been synonymous with the people of the city. It has long been the backdrop to a number of cultural events in the city and in 2013 after a period of restoration, it was reopened and dedicated to the people of Queensland.
These days you can do free guided tours and visit the Museum of Brisbane located on the 3rd floor. You can also visit the clock tower as part of your guided tour and ride up in a restored historic lift.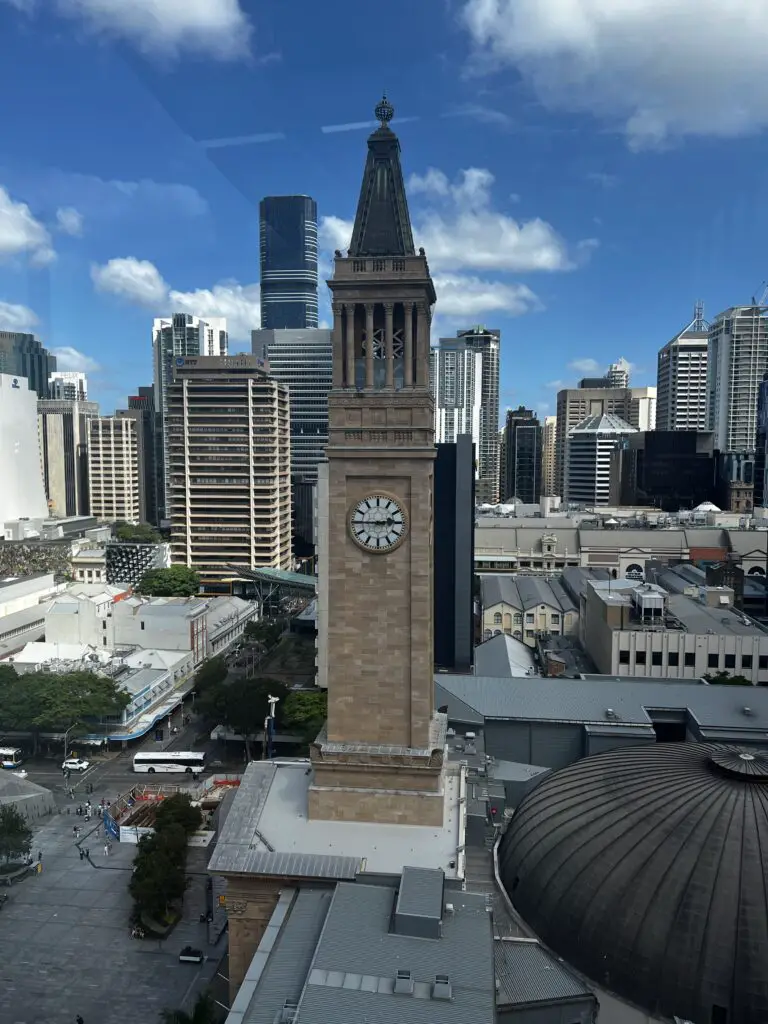 City Botanical Gardens
If you are based in the city centre, then we recommend adding the City Botanical Gardens to your 1 week Brisbane itinerary. The gardens are heritage listed, and were originally planted by convicts in 1825 as a source of food to feed the prison colony. Not long after it became a public garden, with several rare botanic species located here. It's a great place to go for a bit of quiet reflection, in an otherwise busy city.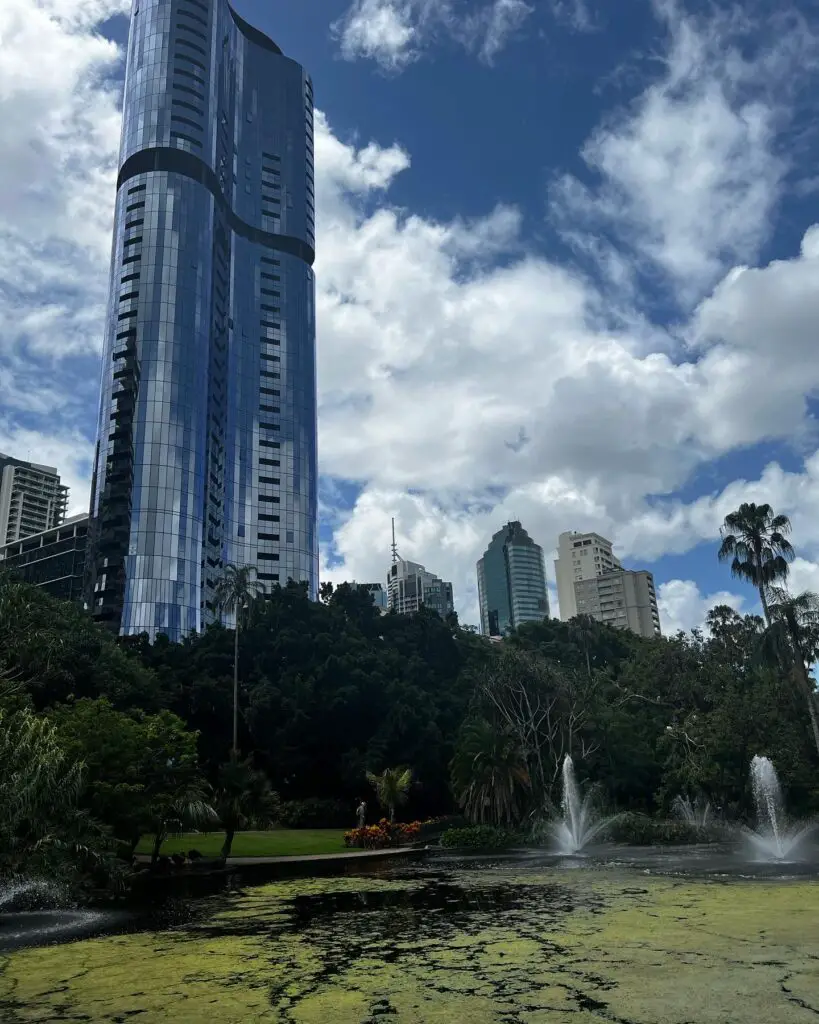 Mount Coot-tha Botanical Gardens
If you are trying to fill your 1 week Brisbane itinerary then the Botanical Gardens are a must. This is also where your car comes in handy as the Mount Coot-tha Botanical Gardens are located just outside the city centre. The gardens showcase a range of diverse themes, from the serene Japanese Garden to the Australian scrubland ready to explore. The gardens are a great place to sit and relax so bring a picnic rug if you can.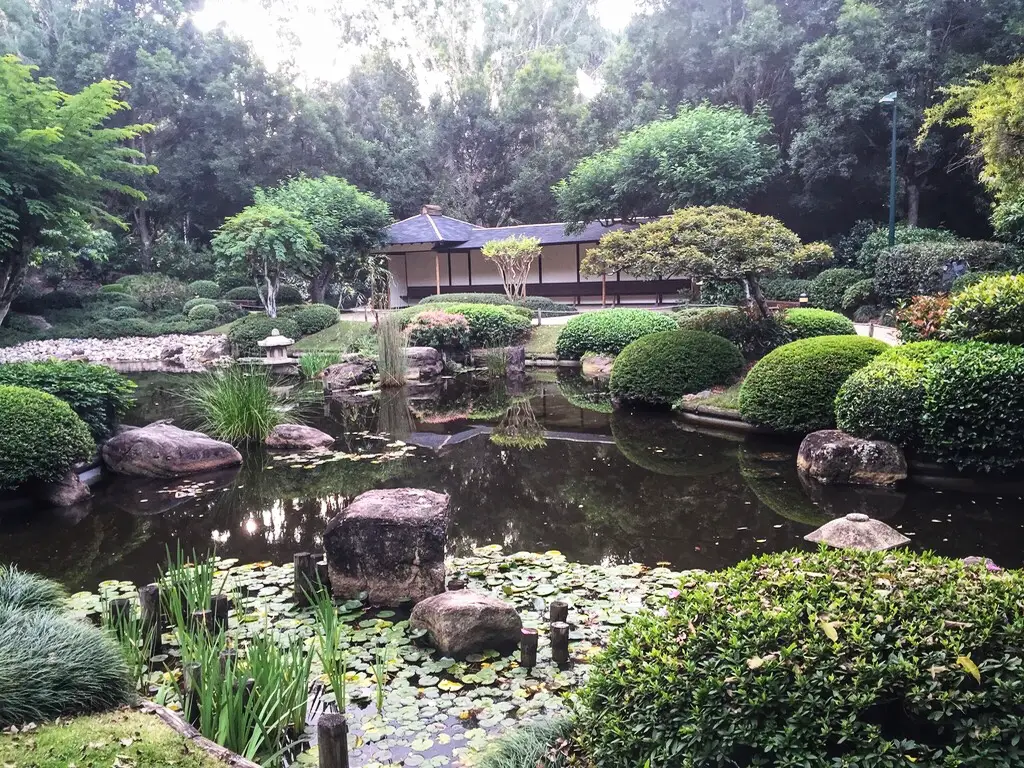 They also provide ample opportunity to come into contact with some of the Australian wildlife. In fact Dave was absolutely perplexed looking at the Ibis. A black and white bird with a really long twig like beak. And don't even get me started on the water dragons!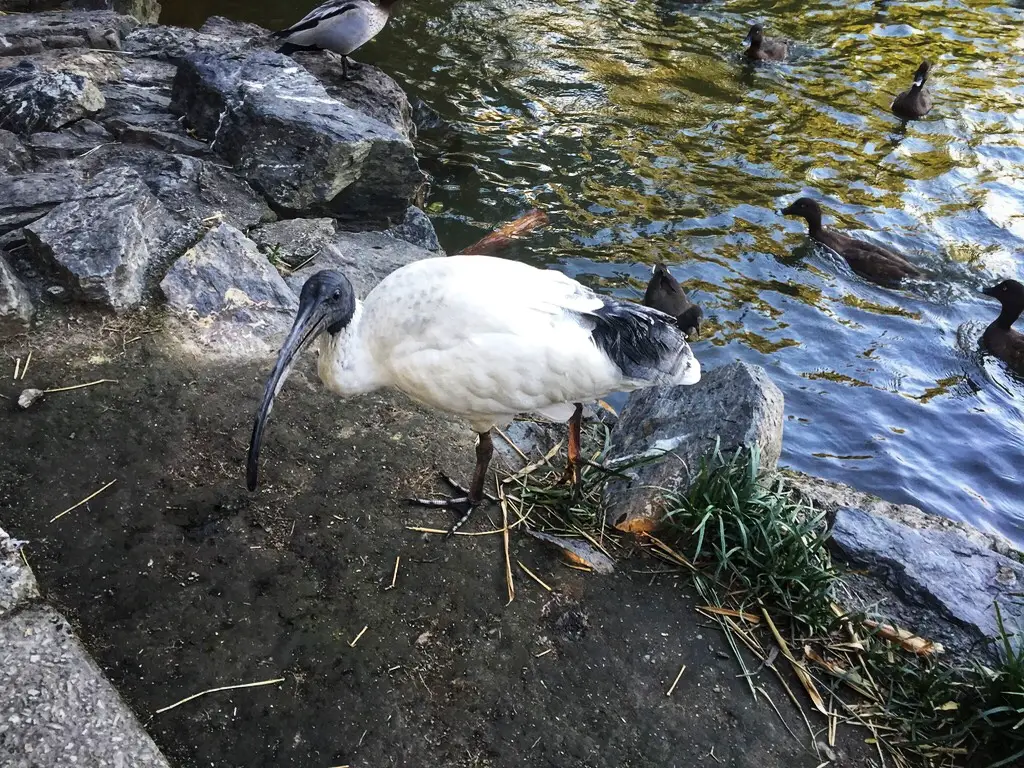 Mount Coot-tha Lookout
Another must on your 1 week Brisbane itinerary has to be the Mount Coot-tha Lookout. Unlike the Story Bridge climb, you don't have to be a thrill seeker to enjoy some spectacular views of Brisbane. We loved visiting at night because you get to see the city all lit up, but visiting in the day is amazing too.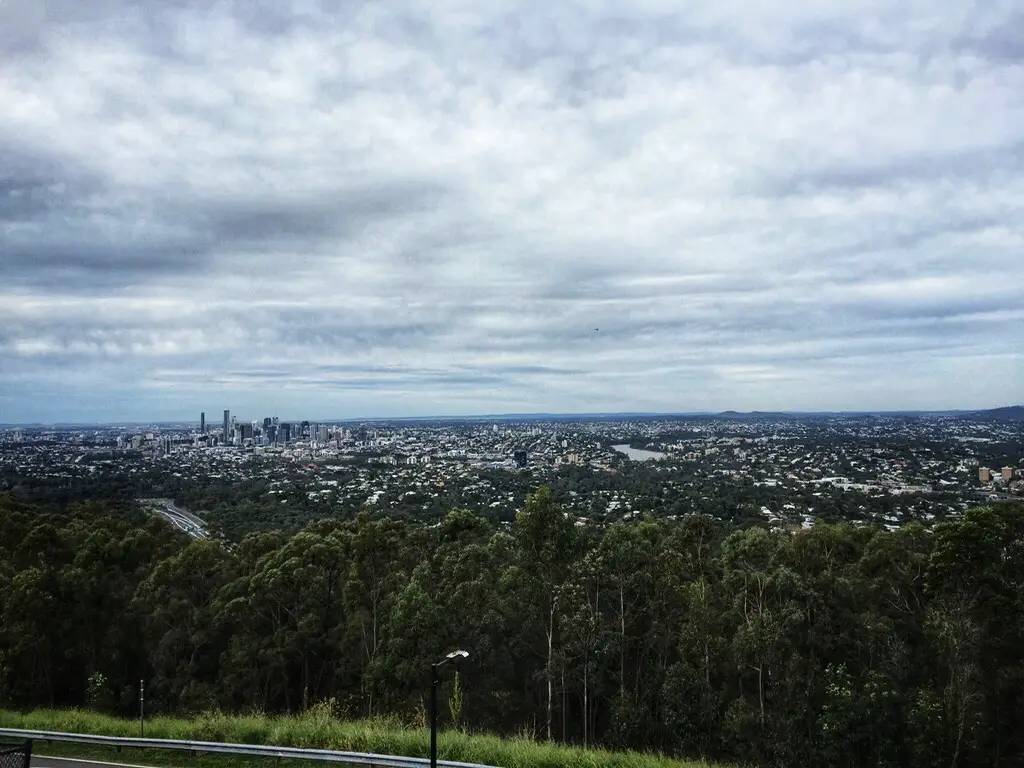 There is a cafe near the lookout serving everything from ice-cream to warm drinks so no matter what time of year you visit you will find a treat to accompany the view. Mount Coot-tha itself is a national park and there are a ton of walking trails and BBQ spots along the way. The good thing is that when having a BBQ in Australia, parks already have BBQ's so you just have to bring your meat and cook (and don't forget to give the BBQ a good clean before and after!).
Ride the CityCat
As mentioned above Brisbane is a river city, so it would be only right to schedule a trip on the CityCat. You can glide down the Brisbane River with the wind in your hair and the sun on your face whilst standing at the front of a blue and yellow painted catamaran as part of the Brisbane ferry network.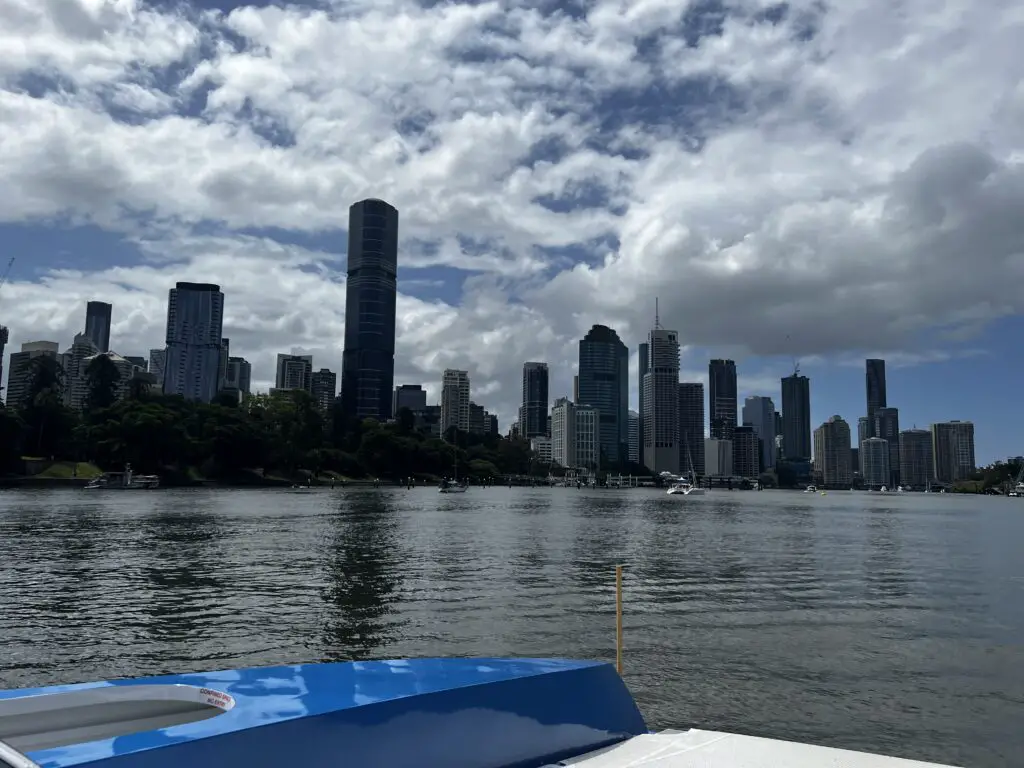 You get some incredible views of the city and it even takes you to one of the prettiest parks in Brisbane which is also our next point. To plan your City Cat journey, visit the Translink website.
New Farm Park
New Farm Park is one of the most beautiful parks in Brisbane. At least in our opinion anyway. It is a heritage listed public park and is also one of the grandest and oldest parks in the city. The park covers 15 hectares and sits just along the Brisbane River. We recommend taking the Ferry from South Bank to New Farm Park particularly as it is a beautiful trip that takes you right under the Story Bridge.
The park is perfect for exploring. You have a scented rose garden, a bandstand and so many picnic or BBQ spots. And the best thing is if you manage to visit in October you will be greeted by a carpet of blue as the Jacaranda trees are in full bloom and the flowers start to fall. It really is a beautiful sight. Just note though if you are having a picnic check for ant nests as we managed to sit right on top of one and I was bitten several times.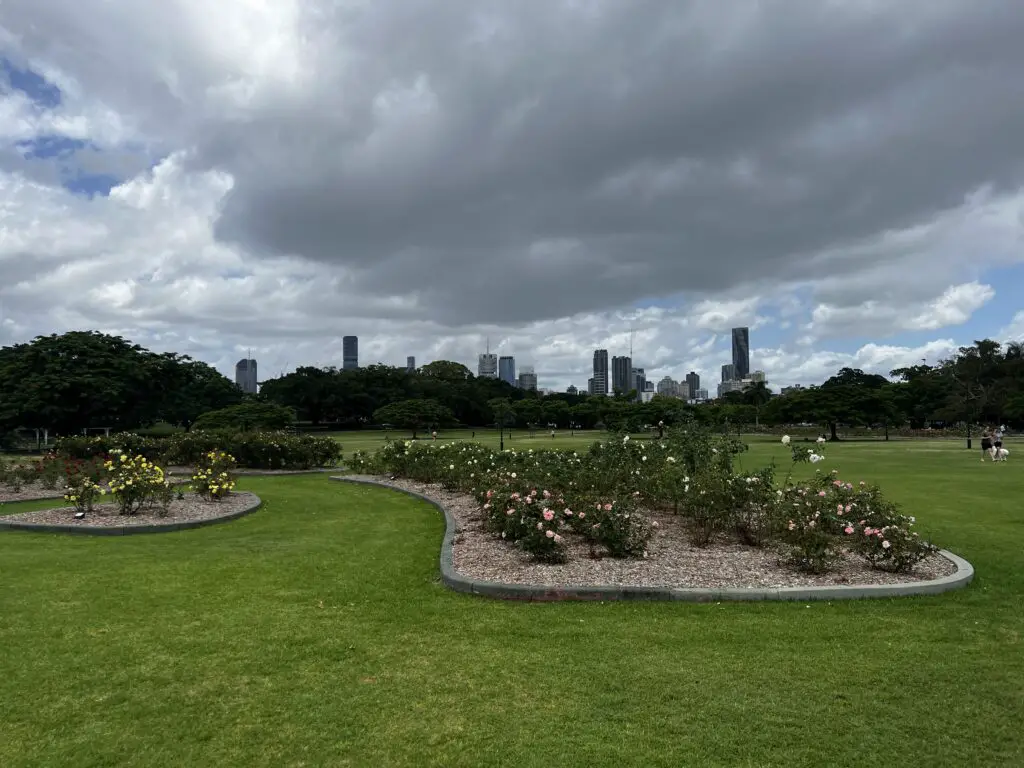 Rent your own boat
One of the cool new activities on offer in Brisbane is renting a Go Boat. Boats usually go from Breakfast Creek, and you can rent by the hour or for the day. You can have a picnic on the boat and explore the Brisbane River at your own pace.
Kangaroo Point
Another exquisite BBQ spot has to be the Kangaroo Point cliffs. You get a wonderful view of the city and it is especially charming at sunset. We visited in the evening and even then it was beautiful looking at all the skyscrapers lit up.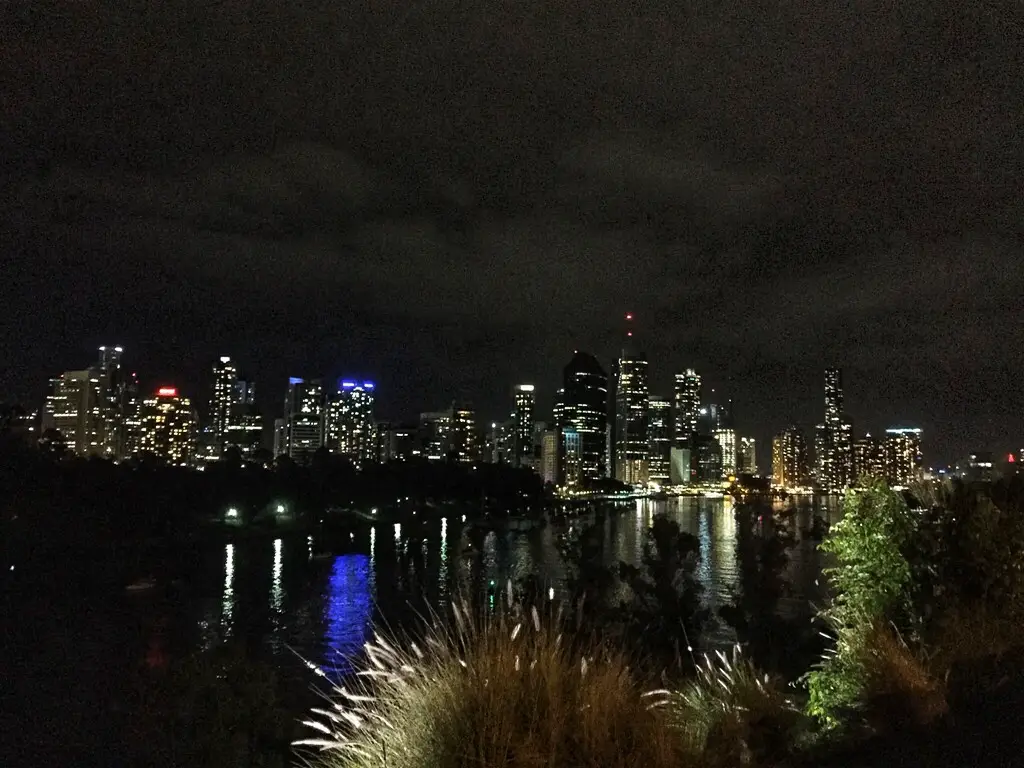 If you are a little more adventurous you can abseil down the 20 metre high cliffs. You need to book in advance but no experience is necessary. A professional guide will help you make your way safely down the cliffside. The cliffs make a gorgeous location to do this as you can take your time and observe the many boats as they float on by on the Brisbane River.
Experience Chinatown
Once you pass through the traditional Chinese gates you will be met with an abundance of Chinese grocers, and asian cuisine. Located in Fortitude Valley it is a great place to eat. Our absolute top pick is to go to a Yum Cha restaurant. You get to sip tea and pick your food from a trolley pushed around the dining floor by staff. Make sure you save room for the mango pancakes!
Fortitude Valley
Fortitude Valley or "The Valley" as the locals call is is certainly full of contrasts. Chinatown is located in this area but beyond that you will find a mix of elegance, grunge, and the contemporary. Some parts you might look at and wonder where you are, and other streets have trendy boutique clothes and coffee shops.
The Valley is Brisbane's main entertainment district so if you are looking for a fun night out, from sipping cocktails, to dancing all night long this is the place to come. Also if you are a music lover like us this is a good place to see some obscure bands from around the world.
The valley has a very interesting and often shady history, and if this is something you are interested in learning more about we recommend adding a historical crime walking tour to your Brisbane itinerary.
Eagle Street
Eagle street is another riverside area in Brisbane perfect for exploring on foot. It is located in the heart of the CBD but is also known for its upper class dining and drinking. It is the perfect place to go to sip drinks by the river as well as enjoying a more expensive meal.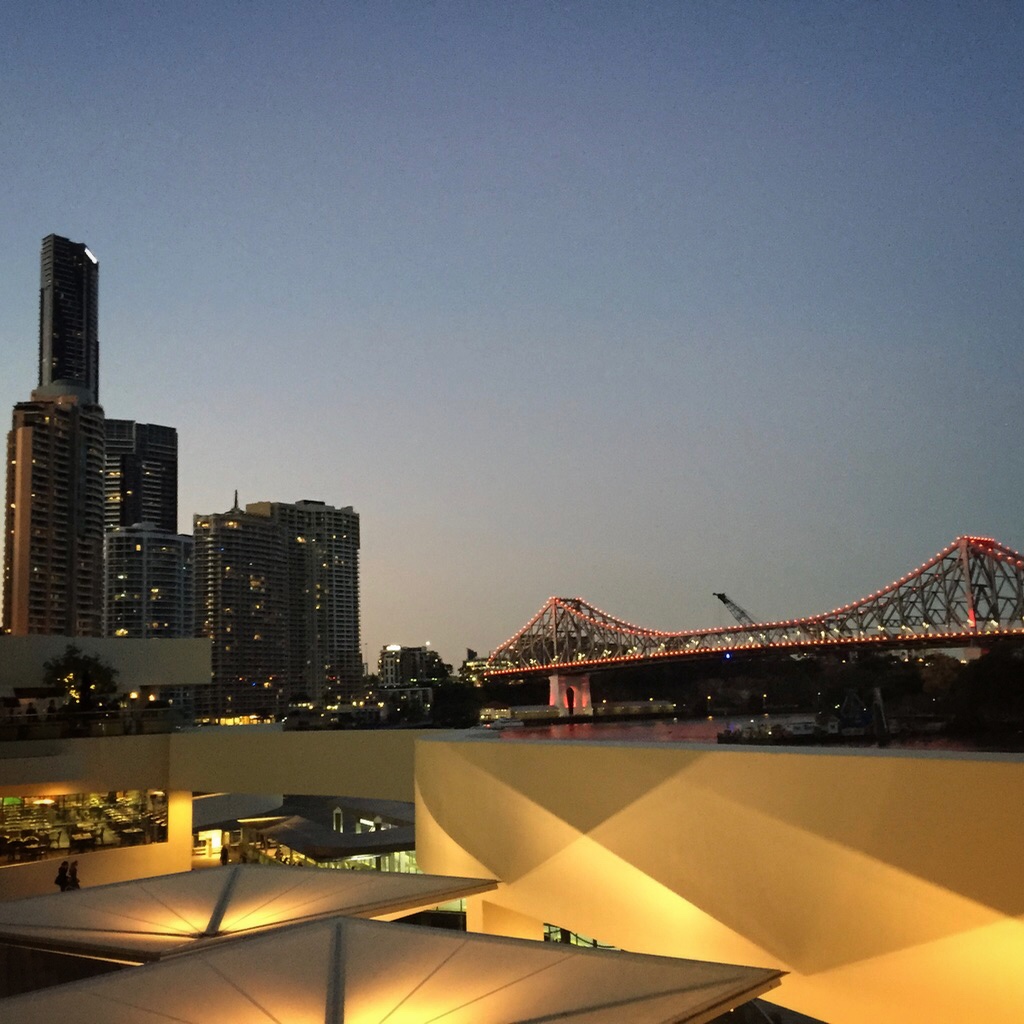 Go to the Markets
I am probably biased but Brisbane really knows how to put on a good market. From your farmer's markets to your more eclectic craft stalls you will be able to find a market to suit your needs. For a full list, checkout the Visit Brisbane website. This is another one that requires a car as some of the best markets are located outside of the city centre.
Go shopping
One of our absolute favourite places to shop in Brisbane has to be in the suburb of Paddington. There are a ton of vintage stores you can checkout covering all different price ranges. West End is also a great place to go for vintage and retro shopping. If you are more into boutique stores and one of a kind clothing pieces, then Fortitude Valley is your best bet. Those with more mainstream tastes can head to the Queen Street Mall for all the best high street stores.
XXXX Brewery Tour
Right, so beer in Australia is a pretty big deal. And each state is quite competitive in producing their own local beer. Queensland's contribution is XXXX (said 4 X). The tour is a great way to get to grips with how it is made, as well as how to pour a perfect beer. On top of that you do get to do some tasting which is always a bonus.
Boggo Road Gaol Ghost Tour
Boggo Road Gaol was one of the most notorious prisons in Australia. It is also said to be haunted. Executions took place here until 1913. What made it so notorious though was the fact that the conditions the prisoners lived in were quite harsh. Some parts of the prison had no electricity and as you can see with the picture below of my Dad exploring a gaol cell, your only light is via a torch.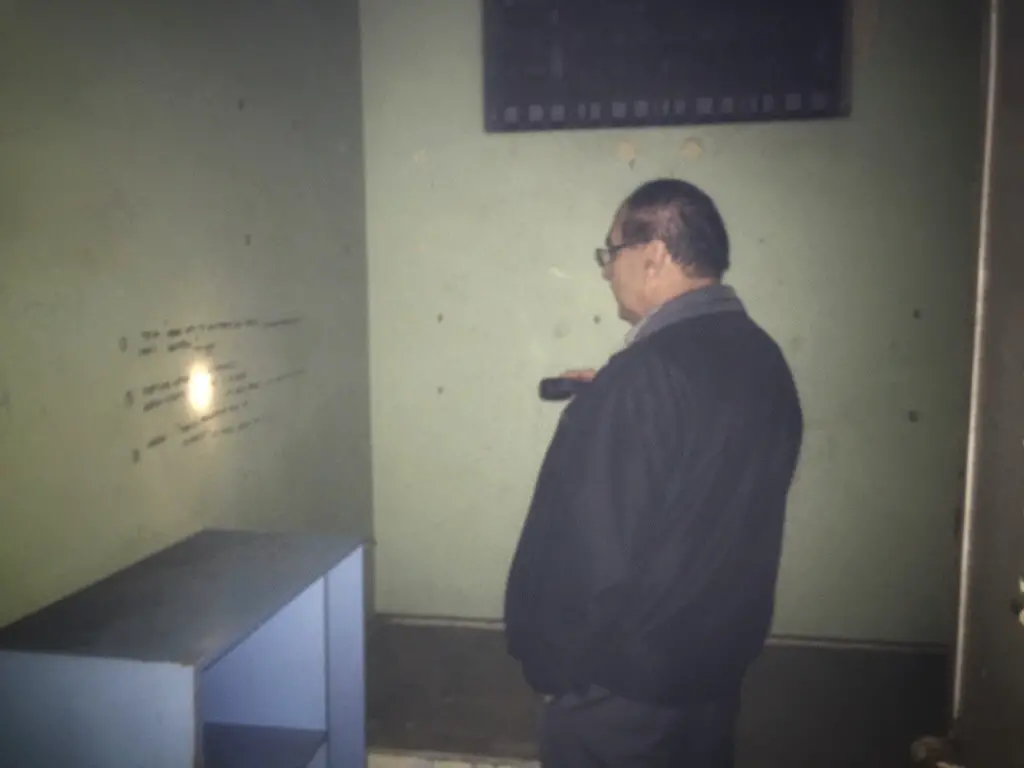 Cells also did not have any forms of sanitation and prisoners had to use buckets. If you get the opportunity to do a ghost tour we highly recommend it, as it provides a fascinating insight into life in the prison.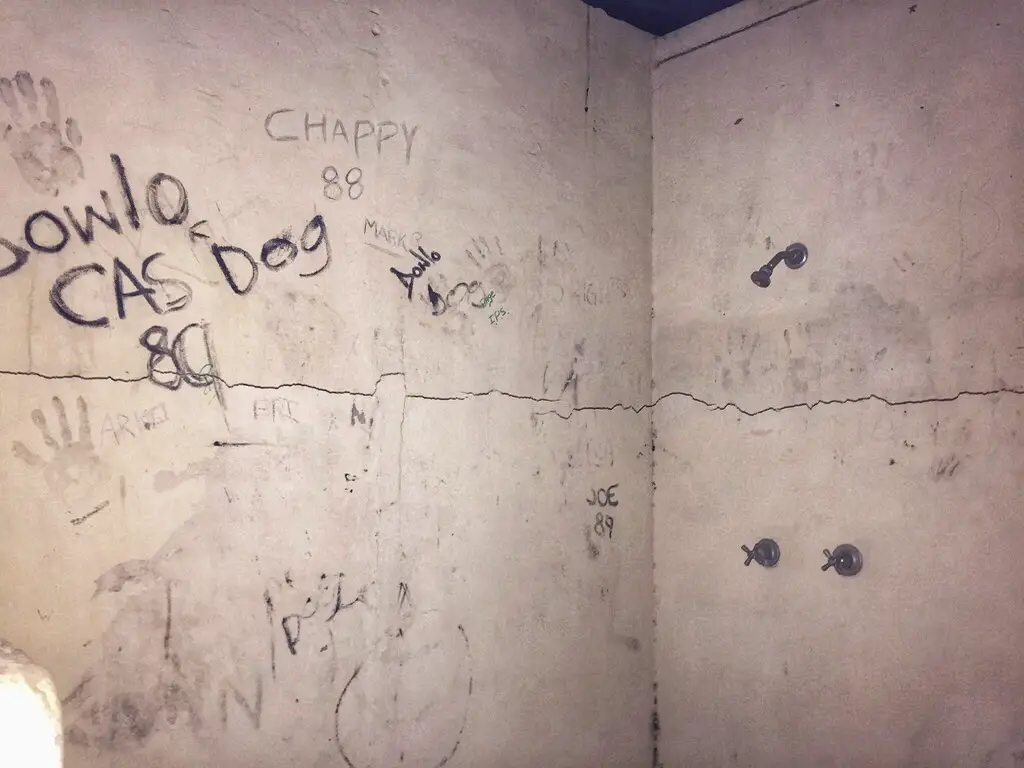 Eating during your 1 week Brisbane itinerary
Brisbane is starting to make a name for itself as a foodie favourite. And where to go all depends on the kind of evening you are after. South Bank is perfect for a more casual al fresco dining experience. There are a lot of specialty restaurants and it is a great place to sit outside whilst sipping wine and watching the world go by.
If you are after something a little more up market head over the Eagle Street Pier. A lot of places here have spectacular views of the story bridge and a really elegant atmosphere. From seafood restaurants to fine dining, if you are after something a little bit more special, this is the place to come.
One of our favourite areas though has to be West End. Located just on the outskirts of the city centre, here you will find some truly culturally diverse food from Vietnamese Bakeries to contemporary cuisine. It can feel a little rough around the edges but this just adds to the charm, and the food here is quite affordable.
You also have Eat Street Northshore, which is a kind of night market located on a disused wharf along the Brisbane River. There are a number of different street food style vendors, and this a great place to go if you are after a casual dinner.
Or you can book onto one of the culinary experiences available in the city.
Drinking as part of your 1 week Brisbane itinerary
Of all the things to do in Brisbane, sipping cocktails or beers in the sunshine has to be one of our favourites. There are so many great places to do this in Brisbane, but here is a small collection of our favourites.
Death and Taxes
My absolute favourite cocktail bar in Brisbane has to be Death and Taxes. It is tucked away down a back laneway, but once you find it, it is so worth it. The bar is speakeasy style with several inventive cocktails on the list.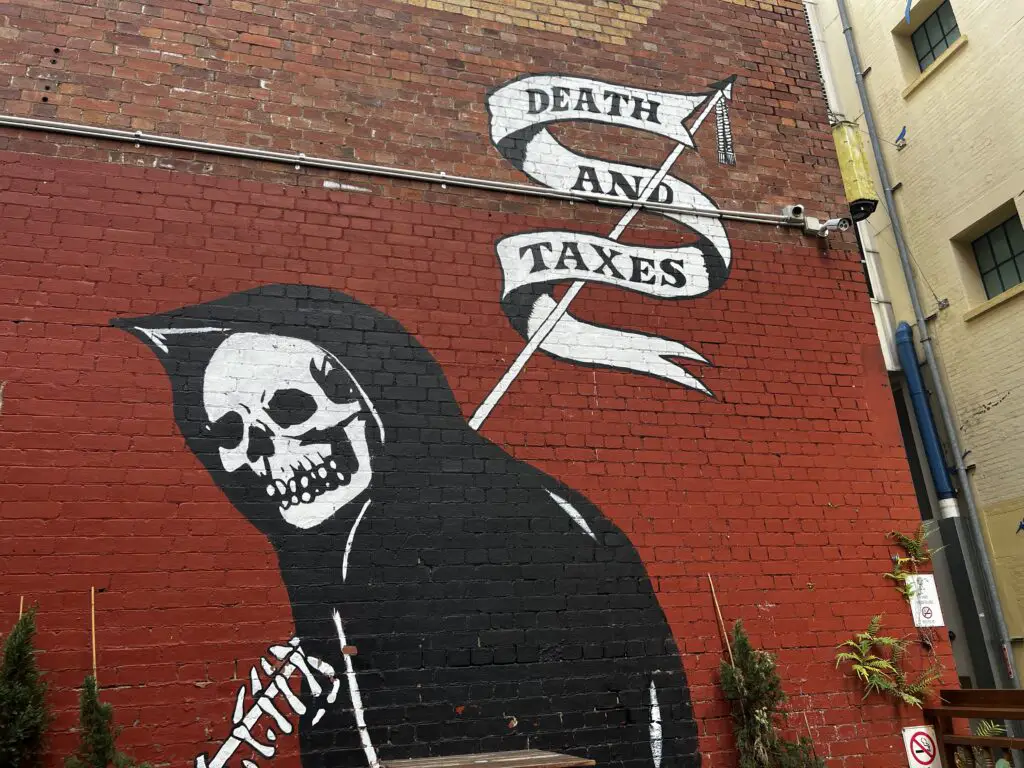 Sixteen Antlers
One of the best things to do in Brisbane has to be finding yourself a spot on a rooftop bar and admiring the views. Sixteen Antlers which is located on top of the Pullman/Mercure Hotel near King George Square is a great place to do this. The vibe is pretty chilled so it is perfect for those warm Brisbane days and nights.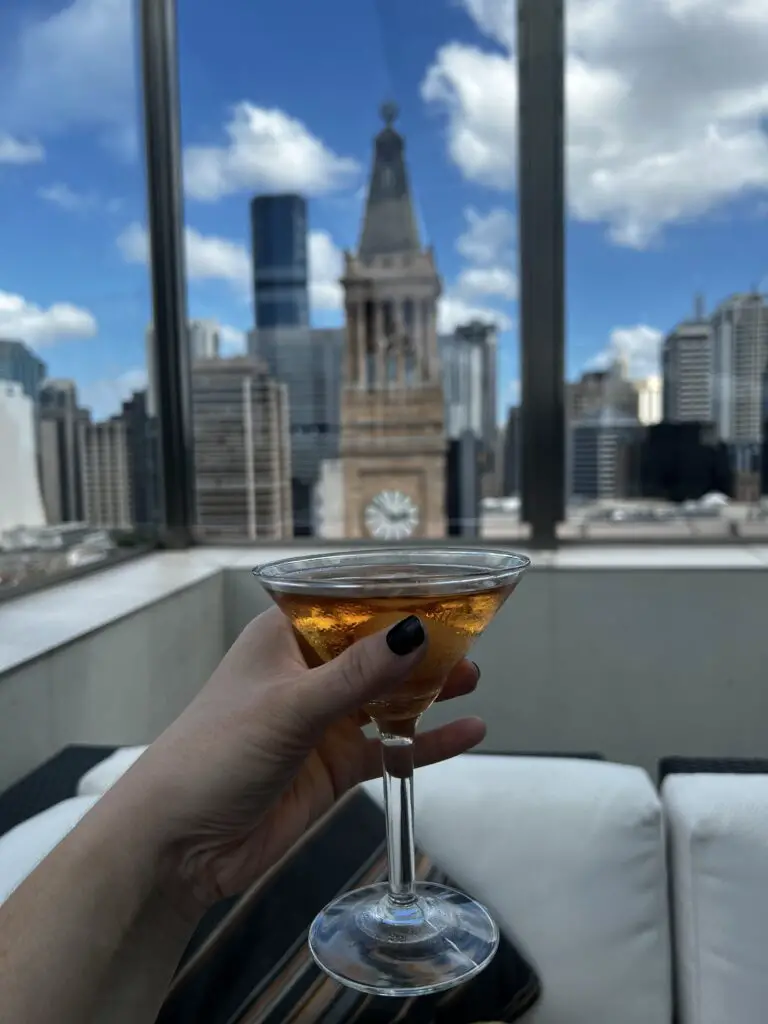 The Terrace
Another fantastic rooftop bar in Brisbane is the Terrace which is part of the Emporium Hotel. This one is located in South Bank, and is a little more upmarket than some of the other bars we have mentioned. There is a strict dress code after dark, and the drinks are a little more expensive. That being said it is still a great bar and the views are incredible.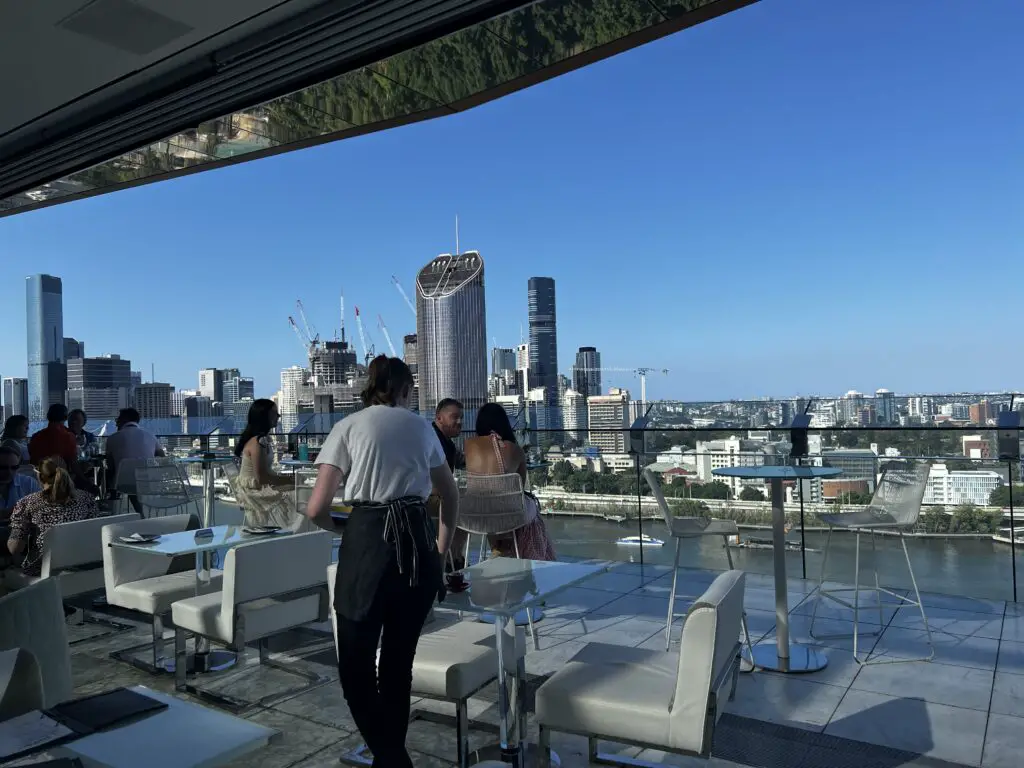 South Bank Beer Garden
For something a little more low key in South Bank head to the South Bank Beer Garden. It is right next to the beach area which gives it that awesome holiday feel. Drinks are reasonably priced here too.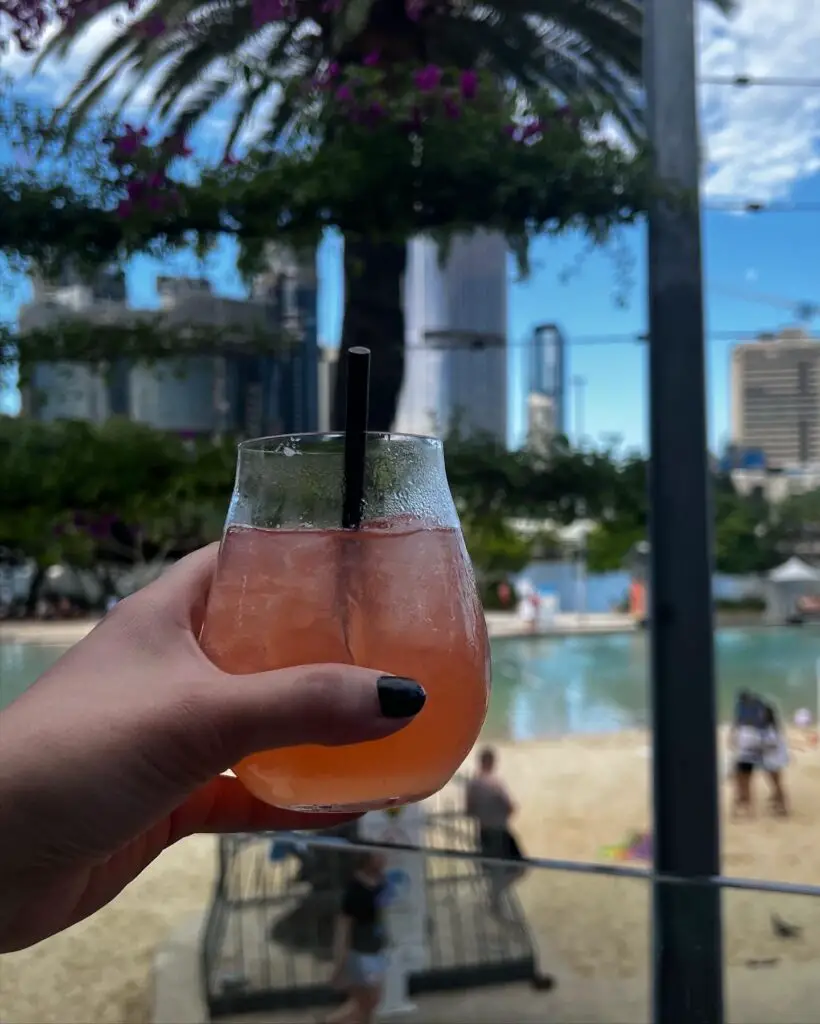 Miss Demeanour
Another CBD bar that we recommend as part of your Brisbane itinerary is Miss Demeanour. It's an underground cocktail/burger bar which is part dive par, part speakeasy. It attracts a younger crowd, and the food is actually quite good so if you want a good drink and some decent food this is the place for you.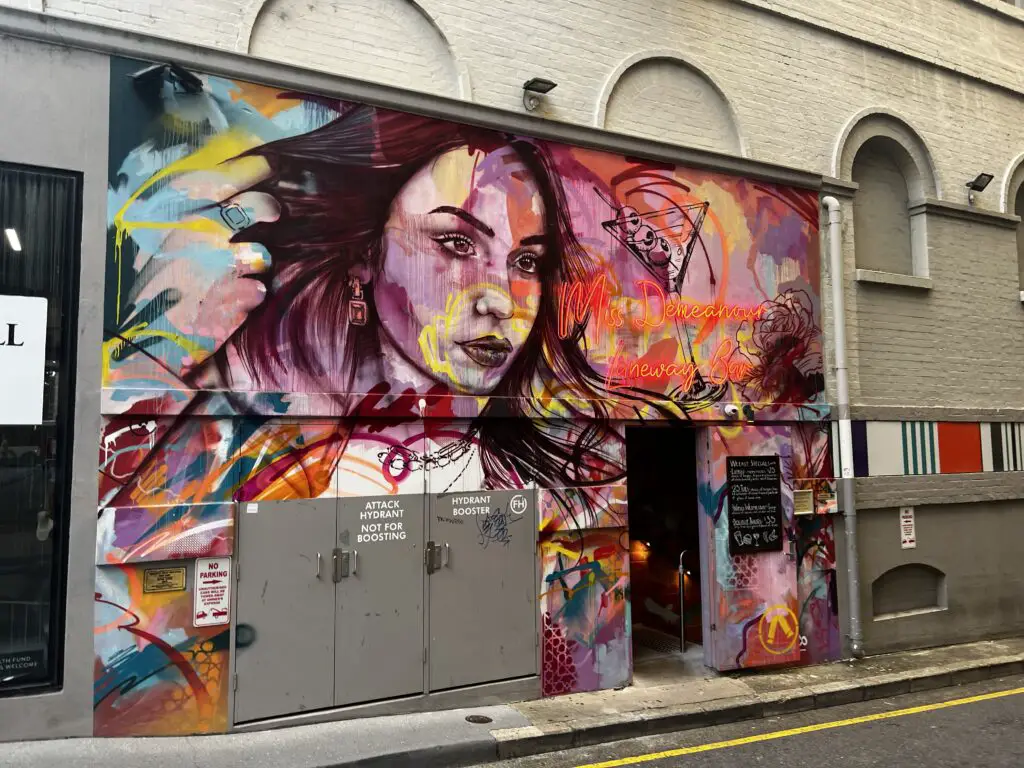 Wet Deck
Wet Deck is a hidden gem in the city centre. It's part of the W Hotel and the bar itself is located next to the hotel pool, and has some incredible views of South Bank. You walk in and you are transported to an oasis in the middle of the city.
They do some really cool and refreshing cocktails, as well as beers and wine. And they have some light bites you can enjoy as well. In terms of things to do in Brisbane, chilling out with a nice drink in the sunshine should be high on your list, and Wet Deck is a great place to give it a go.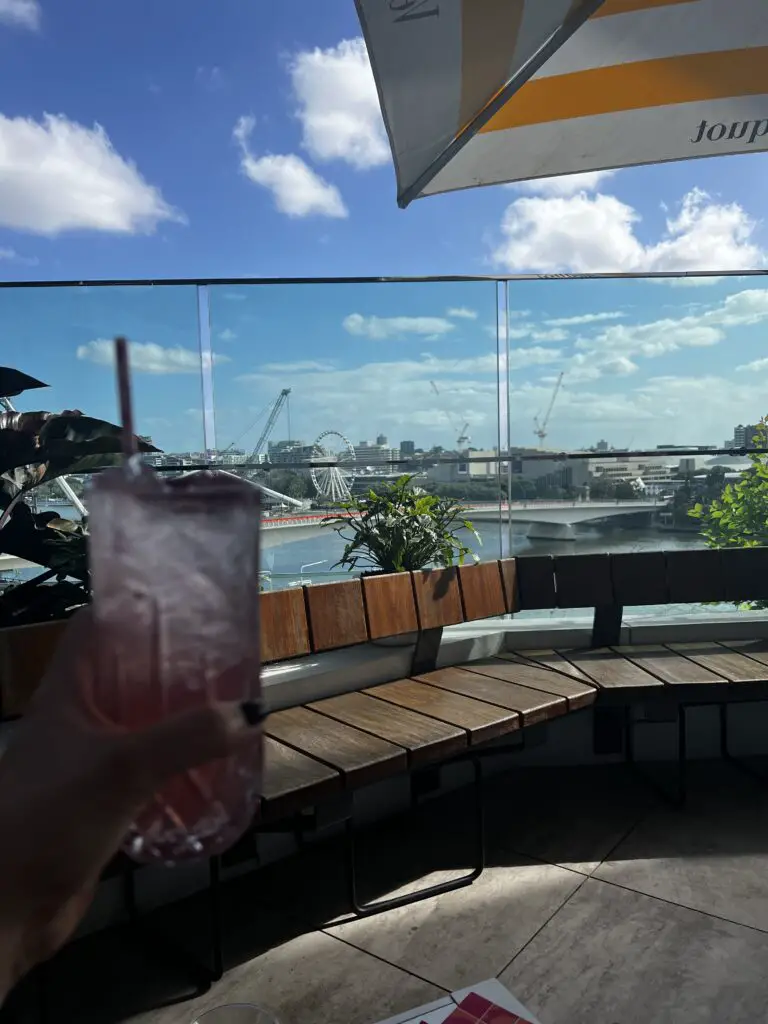 What to pack for your 1 week Brisbane itinerary
So you might be wondering what to pack for a holiday in Brisbane? Well the climate is certainly on the warmer side. Temperatures average to about 30 degrees Celsius in the day in the summer, although sometimes it can get hotter. Summers in Brisbane are very humid so t-shirts and shorts are very much a staple. Also make sure you pack plenty of sunscreen and a good hat to avoid being sunburnt.
Winter is a lot milder though and temperatures during the day average to about 20 degrees Celsius, although in the evenings it can get a lot colder. If you are visiting in the winter (June, July, August) do pack a jumper and it might even be worth bringing a light coat for those winter nights.
The good news is that Brisbane gets on average, around 300 days of sunshine each year. In the summer the humidity can cause some pretty intense thunderstorms, but there are also a lot of warm sunny days. Which is perfect for some al fresco dining or picnics.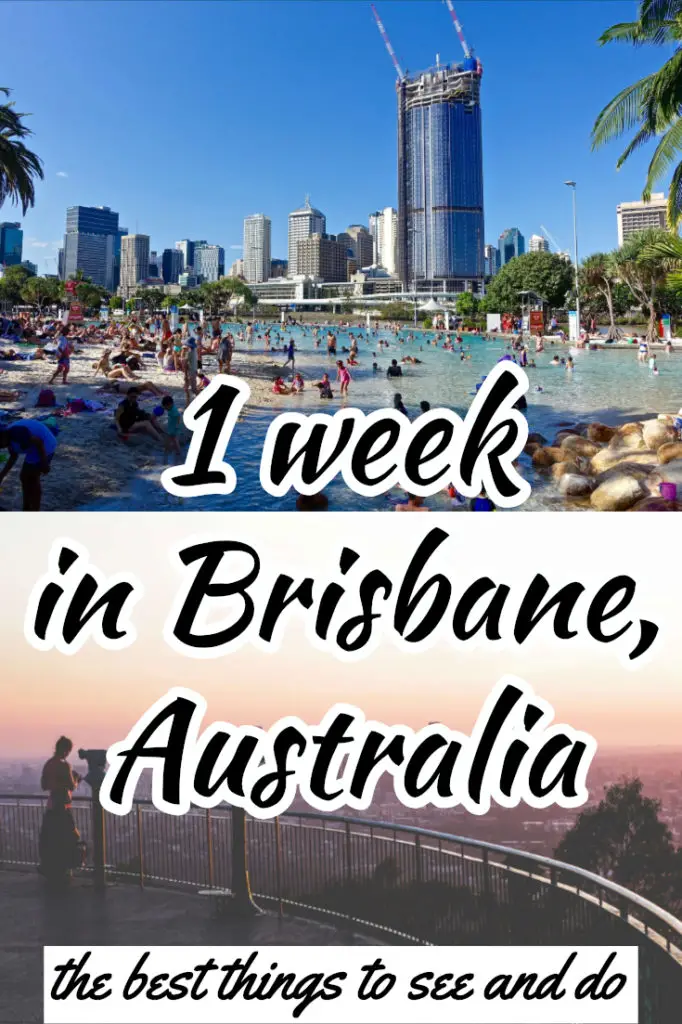 Best time of year to plan your Brisbane itinerary
If you are wondering when the best time of year to plan your Brisbane itinerary is, we honestly think Brisbane is one of those places you can visit year round.
The summer months are the busiest, particularly as this coincides with the school holidays. You do get some really hot days, but this gives you a real taste of the outdoor lifestyle Brisbane has to offer.
Winters in Brisbane are mild (compared to Europe anyway), and the weather is still pleasant with not much rain. Just pack a light jacket particularly for the evenings and you should be fine.
Romantic things to add to your 1 week Brisbane itinerary
If you are visiting Brisbane with your significant other than you might be looking for romantic things to do in Brisbane. Here are some of the most romantic things to add to your 1 week Brisbane itinerary.
Watch the sunset at Mount Cootha
Do a river cruise
Have a picnic at Kangaroo Point
Do the Story Bridge climb
Have some drinks around Eagle Street
Things to do in Brisbane and beyond – the best day trips 
Here are some of the best road trips from Brisbane as well as some general day trip ideas. 
Gold Coast
One of the best weekend trips from Brisbane has to be the Gold Coast. The drive takes about an hour or a bit longer depending on traffic and which part of the Gold Coast you want to visit. The Gold Coast is famous for its sandy Golden Beaches, laid back lifestyle, and sparkling ocean water. Popular with locals and tourists alike, this really is a must see destination. If you are short on time it really is one of the best day trips from Brisbane.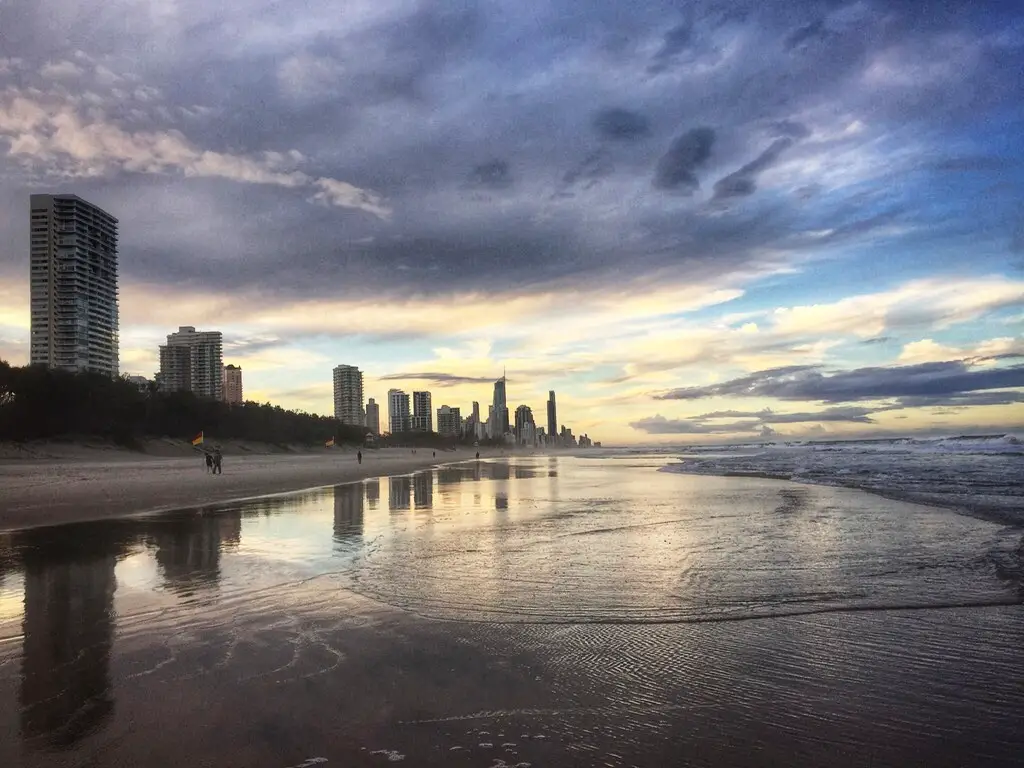 Getting there
If you have a car then it is a pretty smooth drive from Brisbane to the Gold Coast. The multi lane highways will get you there in no time. You can also hop on the train either directly from the Airport or from the city centre. Keep in mind though that depending on which part of the Gold Coast you intend to visit you will probably need to get a bus from the train station to your destination.
Where to stay
The Gold Coast has so many incredible places you can stay. You can either book your standard hotel room, or rent out a holiday apartment. We recommend going the apartment route because it means you can make your own food, and you get so much more space. It is also so much more relaxing and you don't feel guilty for lounging around. When booking your accommodation you want to get as close to the beach as possible. Ideally you also want a sea view. Most apartments have balconies where you sit and listen to the sound of the ocean. Another bit of advice is to try and get a higher floor because the views are way better.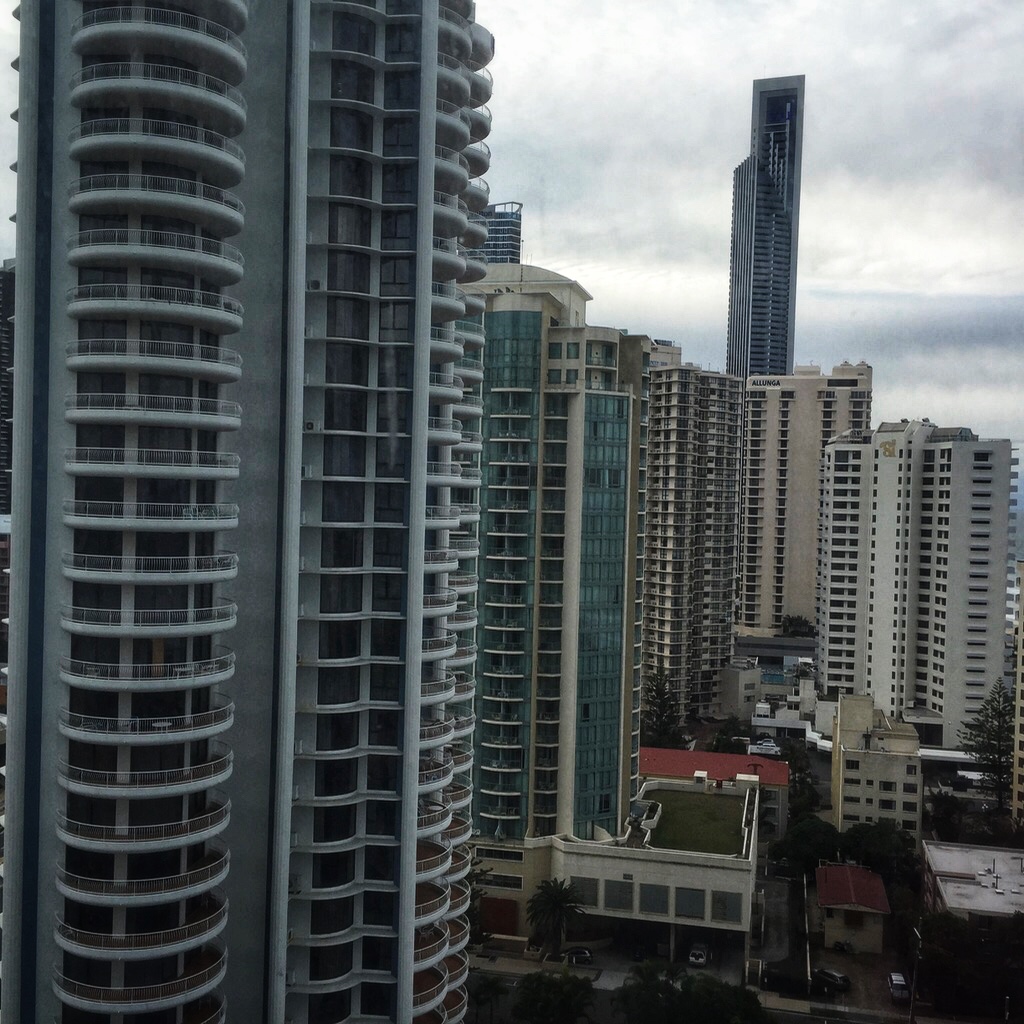 We stayed at the ultra modern Q1. It is the 7th tallest residential building in the world, and boasts some pretty epic views. There are two outdoor pools, and one indoor pool. The indoor pool is perfect especially in the winter months. As well as this there are BBQ facilities, and a sauna. If you do get the chance, stay overnight at the Gold Coast as it does make for one of the best weekend trips from Brisbane.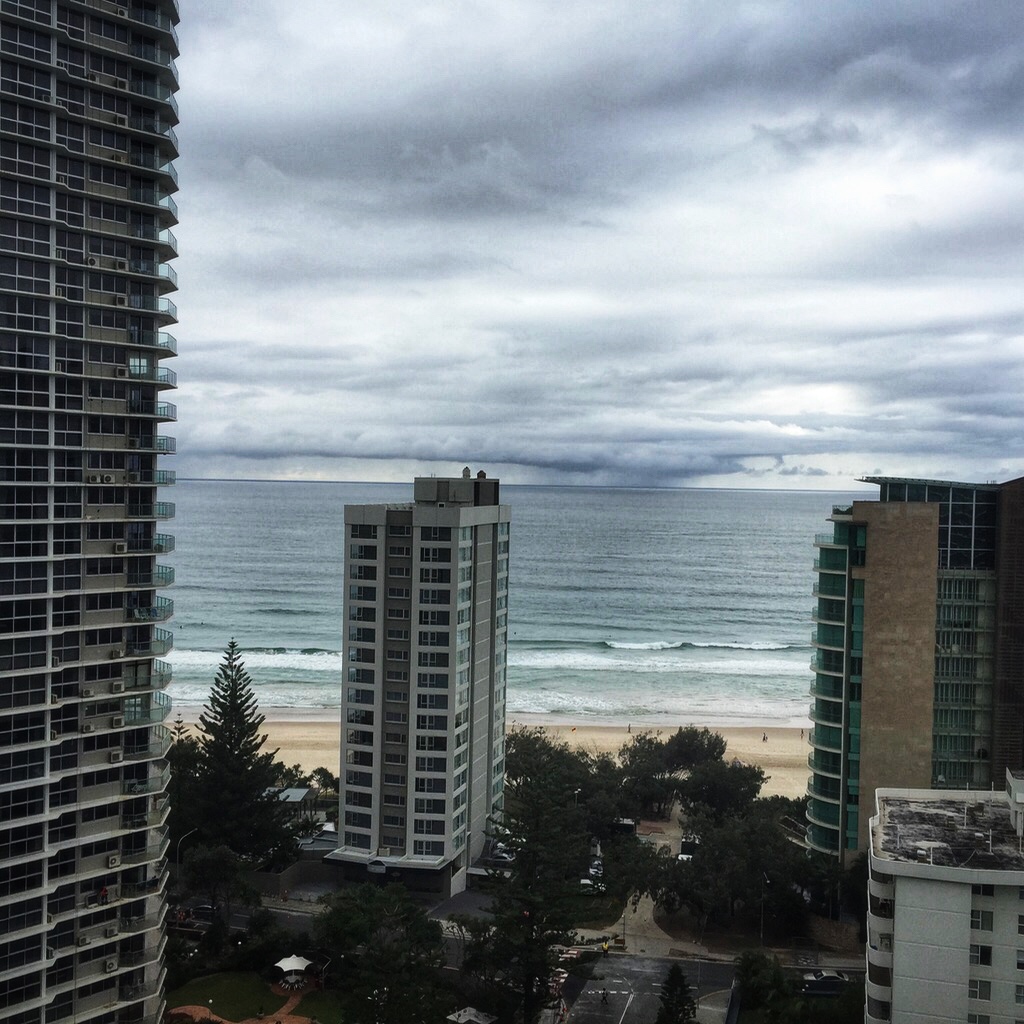 Surfers Paradise is where most of the action is so it does make for a great place to stay. The nightlife is lively and there is a lot to see and do. If you are looking for something a little more relaxing and family orientated though head to Broadbeach which is only a short distance away.
Things to do
Visit the Q1 observation tower – At 230 meters in height, Q1 is certainly the best place to get some 360 degree views of the Gold Coast. If you are brave enough you can also do the outdoor climb which looks amazing and terrifying at the same time.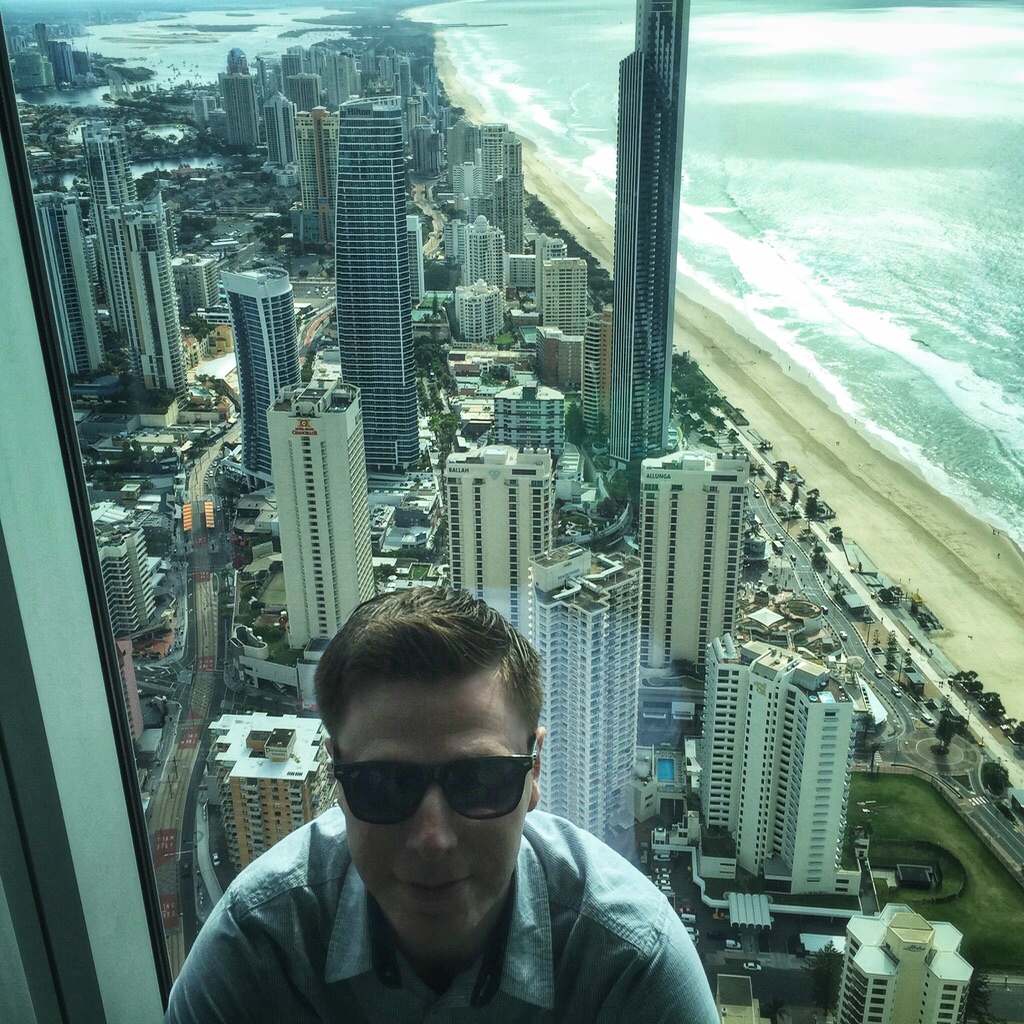 Feed the Lorikeets at Currumbin Wildlife Sanctuary – Currumbin Wildlife Sanctuary provides you with ample opportunity to get up close and personal with the Australian Wildlife. Like Lone Pine you get the opportunity to feed Kangaroos and learn all about other Aussie wildlife.
The main attraction for us though has to be the lorikeet feeding. Like clockwork, the birds turn up towards the end of the day and you can pay a small fee for a plate of specially mixed food. You hold the plate out and wait for the birds to come swarming over to feed. It is a really special experience and what makes it even better is that the birds are wild and they come to you by choice as opposed to being caged.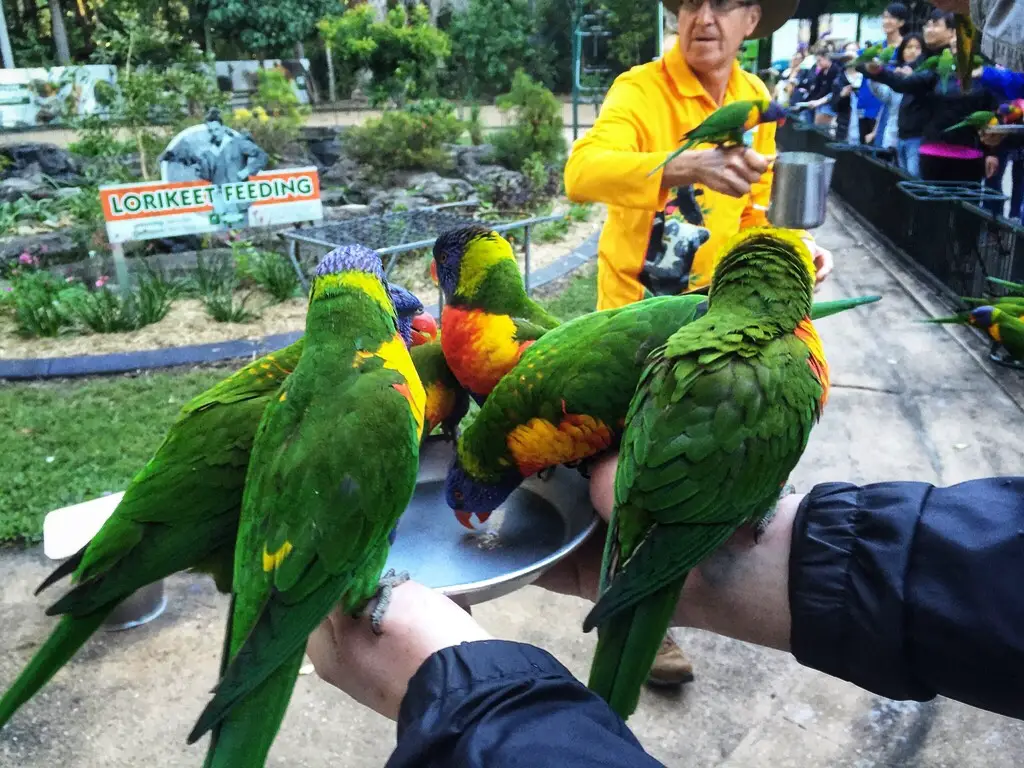 Visit one of the theme parks the Gold Coast is famous for – The Gold Coast is famous for being the home to some of Australia's best theme parks. You have Dreamworld, which is a theme park designed for thrill seekers who love rides. Movie World, which is a Warner Bros themed park with a mix of rides and film studios. And you also have Wet n Wild, a theme park totally dedicated to water slides.
Enjoy the beach– Obviously a must when visiting the Gold Coast is to make time to enjoy the beach. The sand is white and the water is so inviting especially on those hot days. When you do go, make sure you always swim between the flags.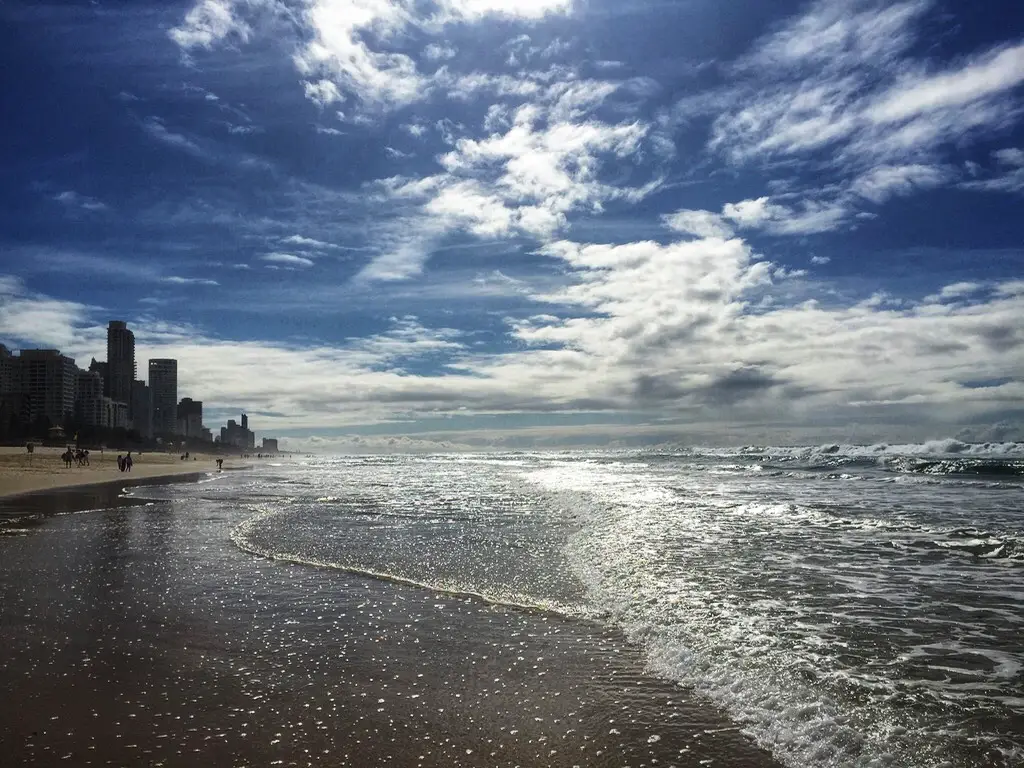 Enjoy a rainforest retreat– Located in the Gold Coast hinterland you will find O'Reilly's. It is a great place to escape to nature. You can do guided bird walks or the famous treetop walk. It really does make for a beautiful day and the scenery is just incredible.
Sunshine Coast
Another place to add to your weekend trips from Brisbane folder has to be the Sunshine Coast. It is about an hour and a half to two hour drive to get here, again times vary depending on traffic and which part of the Sunshine Coast you want to visit. The Sunshine Coast is located North of Brisbane and this is the complete opposite direction from the Gold Coast. While it is a popular tourist destination you don't get as many tourists as the Gold Coast.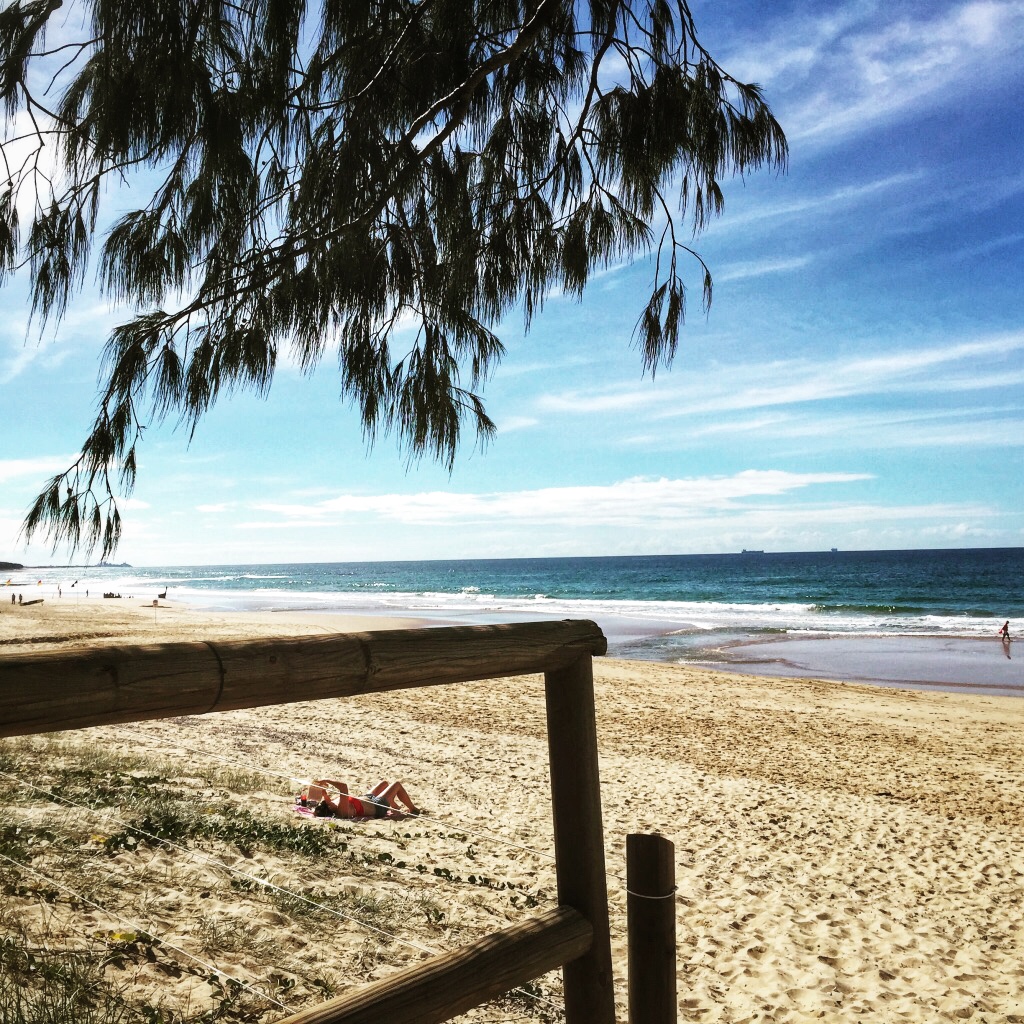 Getting there
Driving really is your best bet for the Sunshine Coast as this gives you the opportunity to see all the sights. You can get the train but again you will need to get more public transport to get to your final destination.
Where to stay
Similarly to the Gold Coast, you will find a lot of accommodation options from hotels to holiday apartment rentals. Two of the more popular areas have to be Noosa and Caloundra.
Things to do
Enjoy the beaches– The number one thing to do on any trip to the Sunshine Coast is to enjoy the beach. There are so many different spots and the beaches here are far more picturesque than those on the Gold Coast. At least in our opinion anyway.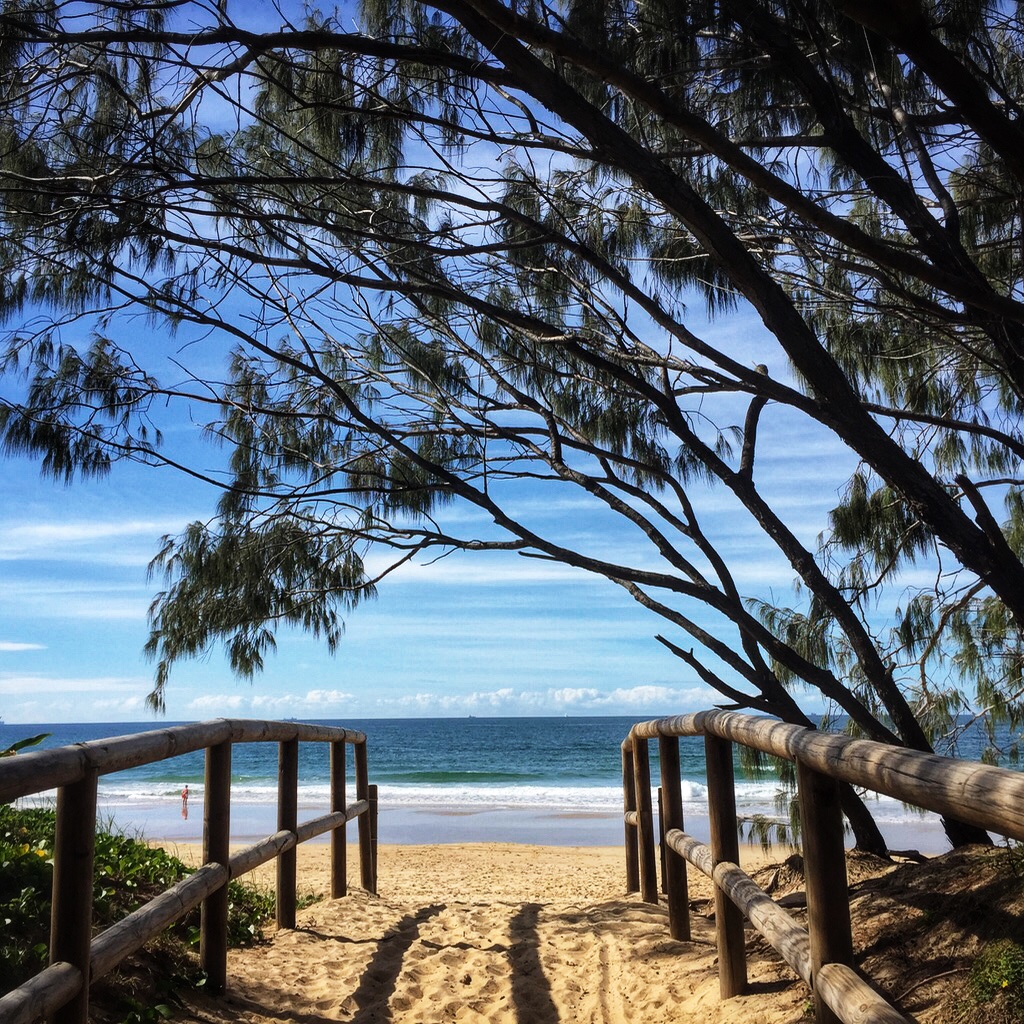 Australia Zoo– Steve Irwin certainly did a lot for wildlife conservation in Australia and you can visit the zoo he created. It is a great chance to get up close and personal with some slimey, scaley and even furry natives Australia is famed for. The Zoo does put a lot of time and money back into conservation projects around the world, which is good to know especially because we have very mixed feelings about the purpose of zoos. You can purchase tickets online in advance or as part of a day trip from Brisbane.
Glasshouse Mountains– You will see the Glasshouse Mountains on your drive up from Brisbane, and you can even drive through parts of the National Park. There are a ton of hikes you can do here with accredited companies, and it is a great opportunity to enjoy the natural Australian landscape.
Visit one of the National Parks– The Sunshine Coast has a lot of incredible scenery that can be explored in one of its many National Parks. The Sunshine Coast actually has more National Parks than any other place in Queensland. Apart from the Glasshouse Mountains National Park, the Noosa National Park and the Fraser Island Great Sandy National Park are must sees.
You can book day trips from Brisbane if you don't have your own car, and it is definitely worth it if you have the time.
Looking to travel further
If you are planning longer in Australia then there really is so much more to explore, like Sydney, (or you can read our article on Sydney in 3 days), Melbourne, Tasmania and Adelaide. Here is a really handy article that will help you plan a 2 week Australia itinerary.
Tips for planning your Brisbane itinerary
Here are some of our top tips for planning your own Brisbane itinerary.
Make sure that you are protected from the sun – have sunscreen, a hat, and sunglasses
Carry water with you as it does get warm in Brisbane
Hire a car if you can as this will allow you to get around much easier, especially if you want to venture out of the city centre
Have some cash with you, Brisbane is moving towards a cashless society, but some places still require cash payments
Tipping in Brisbane or Australia for that matter is not mandatory (but as a former waitress it is nice!)
If you are getting on public transport purchase your 'Go Card' at a newsagent beforehand. You cannot pay with cash or credit card on public transport (yet).
1 week in Brisbane – a sample Brisbane itinerary
Here is a sample 1 week Brisbane itinerary to help you plan your own trip to this magnificent city.
Day 1 of your 1 week in Brisbane
On Day 1 of your 1 week in Brisbane we recommend starting your trip by exploring the CBD. You can shop at the Queen Street Mall, or explore City Hall.
We also recommend visiting the City Botanical Gardens and the Roma Street Parklands whilst you are in the centre.
In the evening enjoy some of the al fresco dining spots, and experience some of the city nightlife.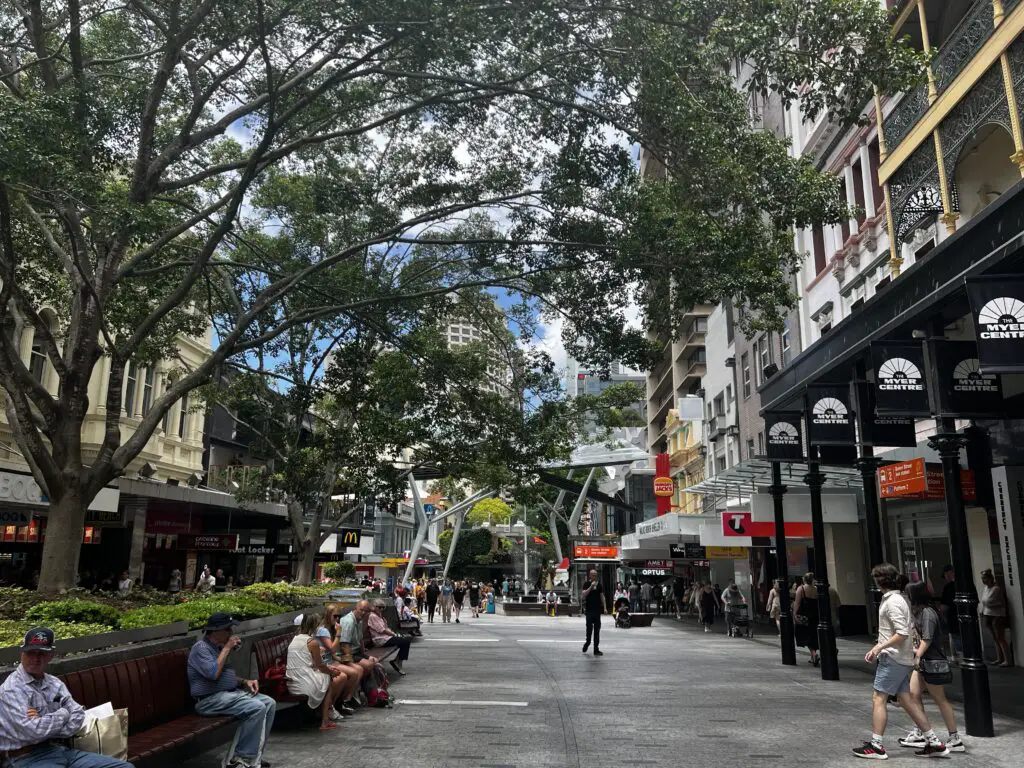 Day 2 of your 1 week in Brisbane
On Day 2 we recommend setting this aside to explore South Bank. From the Cultural Precinct, to the beautiful parkland walks you can go on, there is something for everyone. Make sure you bring your swimmers!
In the evening you can check out the many restaurants and bars in the area.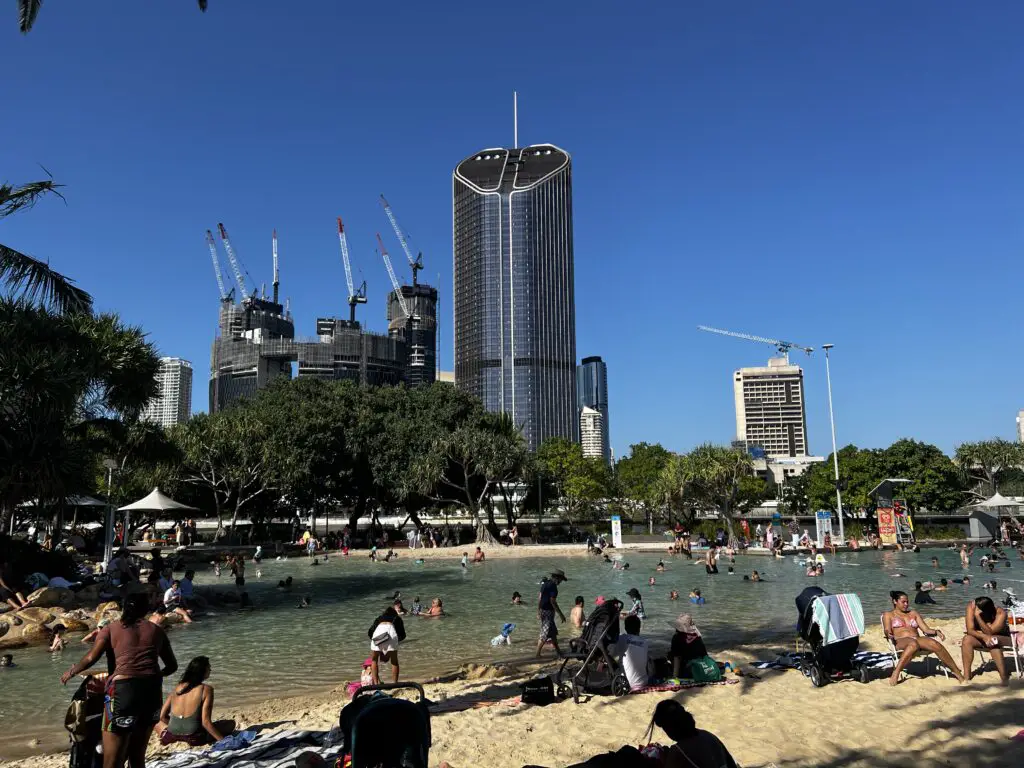 Day 3 of your 1 week in Brisbane
If you have access to a car, then this is the perfect time to venture out of the city centre. Our recommendation is to visit the Mount Cootha Botanical Gardens, as well as visiting the City lookout.
There are a number of hiking trails around here, and one of our favourites is at the nearby Slaughter Falls. Why not grab some sausages and bread and have a BBQ Australia style.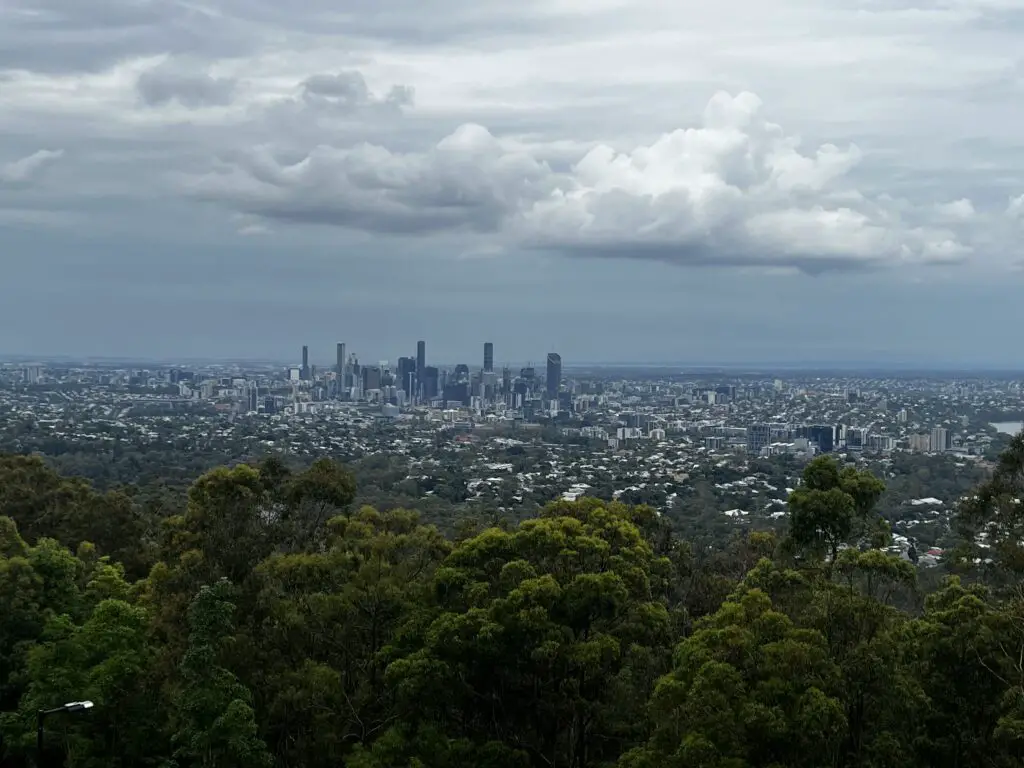 Day 4 of your 1 week in Brisbane
Today we recommend either driving, or getting the City Cat to Lone Pine Koala Sanctuary. Here you can hold a Koala, hand feed Kangaroos, and get up close and personal with some Rainbow Lorikeets.
If you are driving you can also explore some of the Brisbane suburbs like Paddington and West End.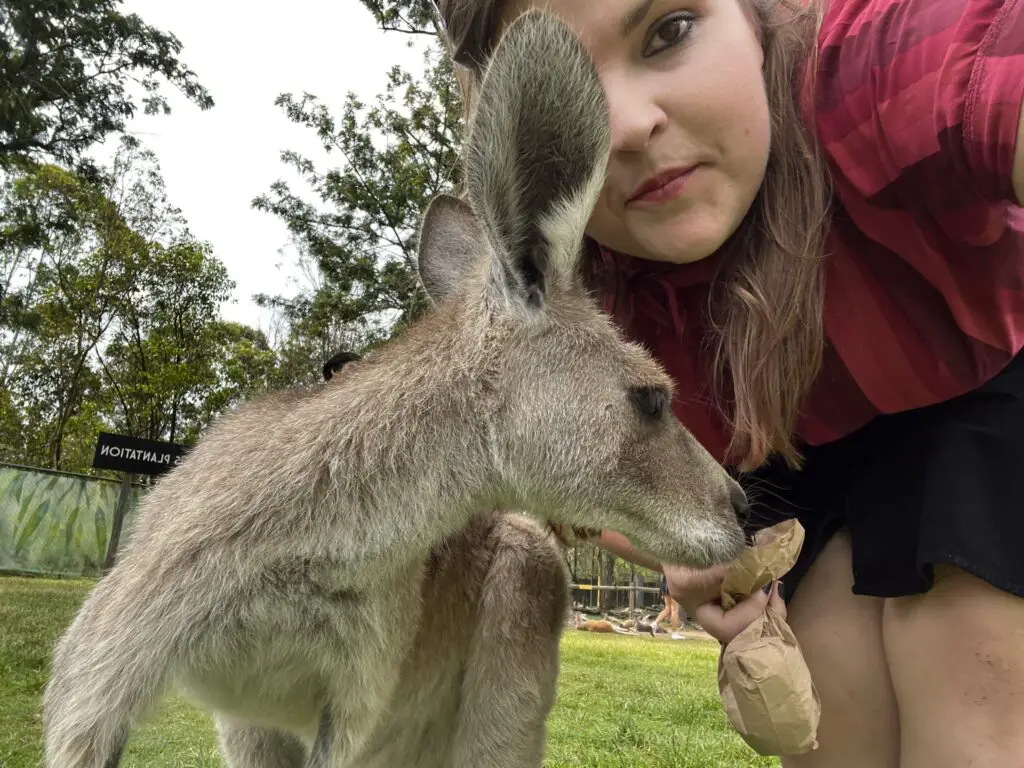 Day 5 of your 1 week in Brisbane
We recommend spending the day exploring on the City Cat. Make sure you get off at New Farm Park, and explore not only the park but the beautiful area itself. There are a number of quirky bars and restaurants here, making it the perfect place to get lost in.
Eagle Street is another great place to stop when you are on the City Cat. It especially comes alive in the evenings, so a great place for dinner and drinks.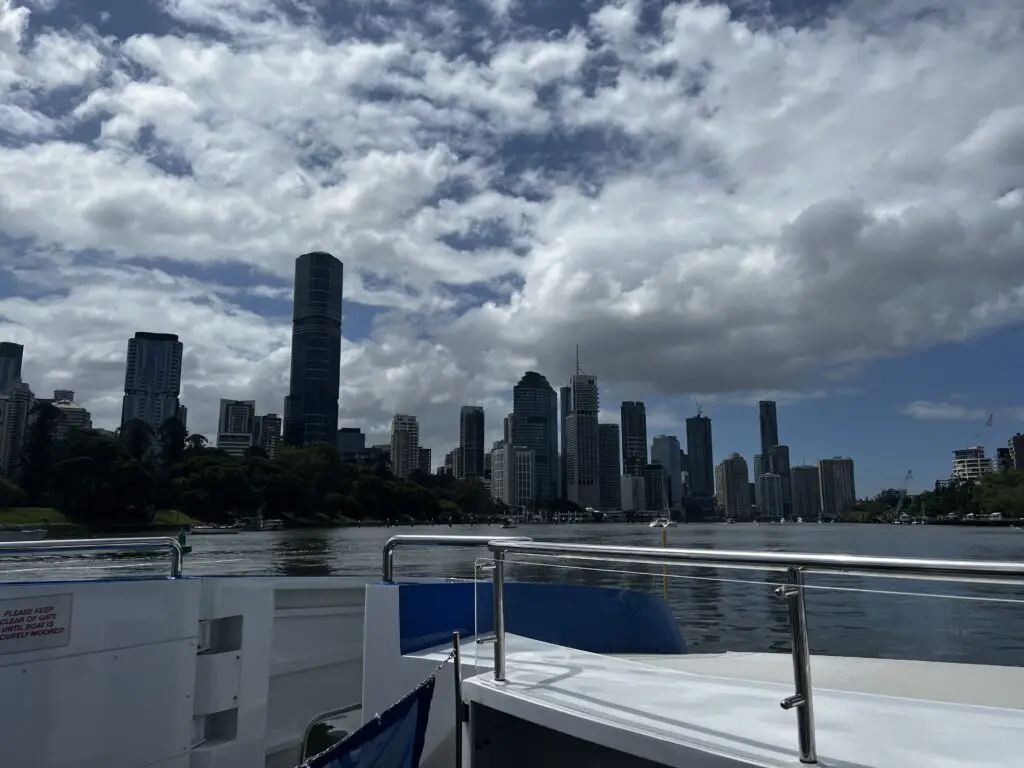 Day 6 of your 1 week in Brisbane
Here we recommend you explore more of the city, and do a XXXX Brewery tour, or even visit a local Brewery like Felons nestled under the Story Bridge.
This is also a good time to do the Story Bridge Climb (but be warned you will be breathalysed before you do it so maybe save the brewery tours for after the climb).
If heights aren't your thing just head to the Kangaroo Point Cliffs for some spectacular views of the Story Bridge and city centre.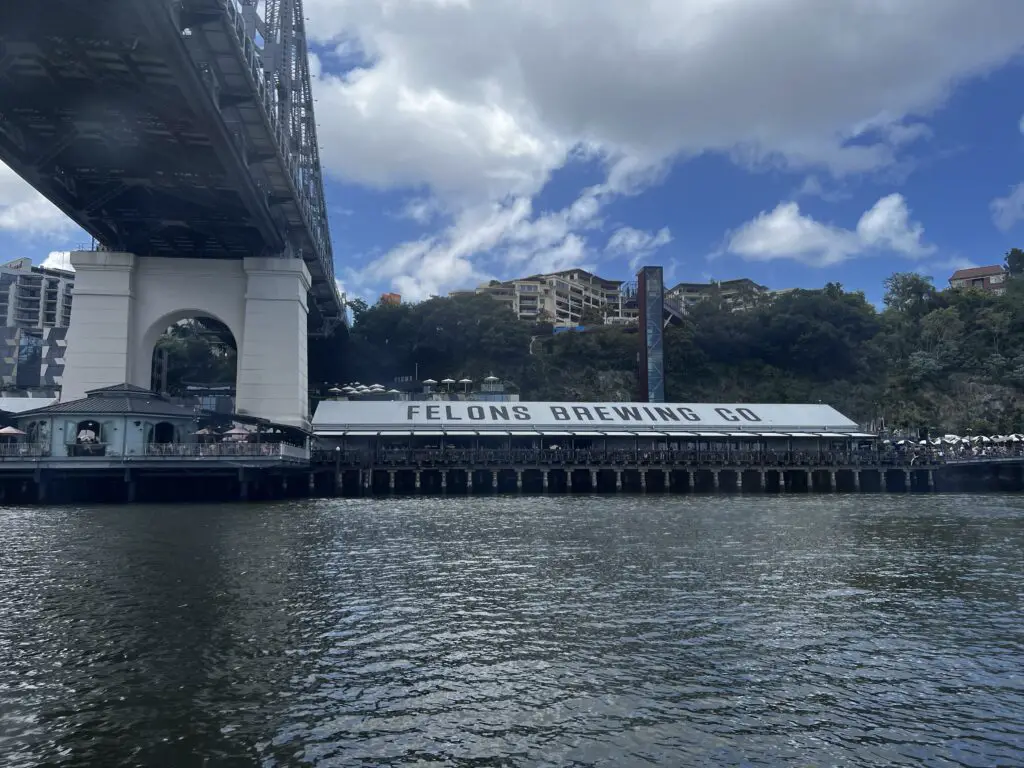 Day 7 of your 1 week in Brisbane
On the final day of your Brisbane itinerary, why not do a day trip to the Sunshine Coast or the Gold Coast.
So should I plan a Brisbane itinerary?
If you are wondering if you should plan your own Brisbane itinerary then we absolutely think so. Brisbane is truly a fantastic place to visit. Yes I know I am biased, but there are so many wonderful things to do in Brisbane, that you will find something for everyone.
It's a really friendly city, and not as touristy as Sydney or Melbourne, so you should get a more authentic Australian experience.
Brisbane itinerary – a recap
We hope this article inspires you to get started on planning your Brisbane itinerary. As you can see there are so many amazing things to do in Brisbane and it's a great place for some of the most amazing weekend or day trips. Sydney and Melbourne tend to be the cities that get the most attention, but Brisbane is really worth a visit. From its friendly atmosphere to its perfect weather, there is something here for everyone. If you are looking to travel further afield then here is an article all about other places in South East Queensland you should visit.
If you found this guide for things to do in Brisbane useful, then please make sure you Pin it for later.