3 days in Dubrovnik – Everything you need to know on where to eat, drink, sleep, and visit
If you are looking for crystal clear water, cobbled streets, mouthwatering cuisine, and a bit of sun then you have to start planning your Dubrovnik itinerary immediately. Located on the Adriatic sea this dreamy city has been hyped a lot in recent years, particularly due to its connection with a little TV show called Game of Thrones.
Dubrovnik is one of those rare places that actually lives up to the hype, and is a city best explored slowly and thoroughly. We spent 3 days in Dubrovnik getting to grips with its history, sampling the fine wine, and I'm not ashamed to admit, stroking a lot of cats. In this guide we suggest the best places to eat, drink, sleep, and visit so that you can plan your own long weekend in Dubrovnik.
This post contains affiliate links, so if you use these links to buy something we may earn a commission, at no cost to you. Thank you for your support.
Dubrovnik Itinerary Factsheet
Country: Croatia
Currency: As of January 2023 Euros are the official currency of Croatia.
Known For: Incredible beaches, laid back atmosphere, Game of Thrones filming locations
Visit if you like: History, sipping cocktails by the sea, really good food.
If you are trying to decide if Dubrovnik is worth visiting here is a guide for you.
3 days in Dubrovnik – Getting here
Most people will fly to Dubrovnik and land at Dubrovnik Airport. From the UK there are a number of airlines that fly here including Jet2.com and Easyjet. Once you land in the airport the easiest way into the city is either to get the shuttle bus or a taxi.
If you go with the shuttle bus, keep in mind that it only stops at designated stops in the Old Town. If your hotel is a bit further out you will need to work out how to get from Old Town to your accommodation. As we were staying a bit of a walk away from the Old Town, we decided to get an Uber. It arrived within minutes, and cost a little over £21 for a 25 minute ride.
When to plan your 3 day Dubrovnik itinerary
We visited Dubrovnik in early April. It was good because there weren't too many tourists arounds, and the weather was mild. It also meant that our accommodation was a lot cheaper than in peak season.
That being said in hindsight we wish we could have arrived a couple of weeks later because not everything had opened yet for tourism (in fact some attractions we missed out on seeing my a mere day). It was also slightly chilly in the evenings which was frustrating because most places in Dubrovnik are designed for outdoor dining and drinking.
Dubrovnik is a huge tourist city, so going in peak season probably isn't advisable. Also in the summer the weather tends to get quite hot. The end of April or May are good times to go, with decent weather and tourism picking up. Alternatively try to plan for September which marks the end of the summer holidays.
Where to stay during your 3 days in Dubrovnik
When planning your 3 day Dubrovnik itinerary it is important to think about what kind of accommodation you want to stay in, and its location. If you want to be in the heart of Old Town, alongside the many restaurants and bars then you may want to think of staying in a rented apartment.
If you are set on staying in a hotel, there are a few in the outskirts of the Old Town, or you can go a bit further to Lapad, where you will have many to choose from. Lapad is only a short walk to Dubrovnik Old Town. We stayed at the Hotel Bellevue in Lapad, and it was only a 20 minute walk into Old Town.
The hotel is a 5 star located on a cliff, which means that the views are absolutely breathtaking. We had our own balcony to sit on and enjoy looking out at the ocean. We would highly recommend staying here as part of your 3 day Dubrovnik itinerary, and just to clarify this is not sponsored content, we just really loved the hotel.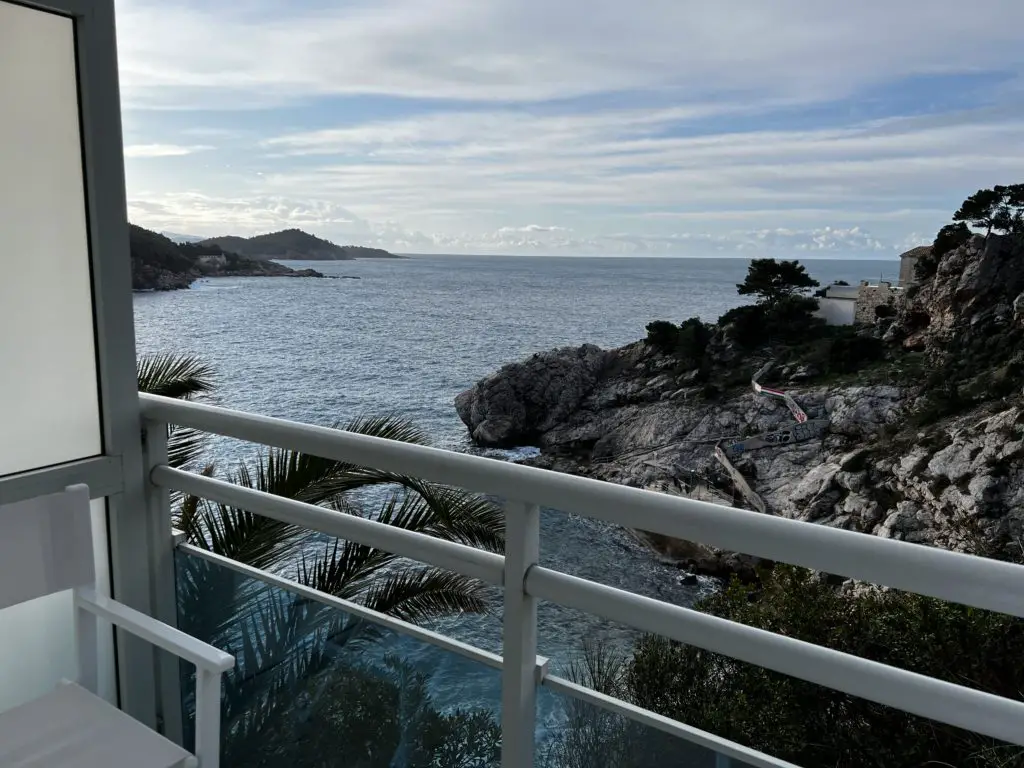 Is 3 days in Dubrovnik enough?
In our opinion Dubrovnik is a city best enjoyed at a slow pace. Part of the charm is just being able to walk around the cobbled streets of Old Town and just get lost. 3 days in Dubrovnik gives you ample time to explore the compact streets of the Old Town, and even do some island hopping in the process. Most of the key tourist sites are in Old Town, and 2- 3 days is a good amount of time to get a feel for this part of Dubrovnik. In all honesty you won't need more than 5 days in Dubrovnik, so somewhere in between is the sweet spot.
Tips for spending 3 days in Dubrovnik
Croatia is part of the EU but their currency is still the Croatian Kuna
Most places in Dubrovnik do accept Credit Cards so no need to stock up on cash
We found that restaurant staff don't accept tips on credit card, so have some cash if you do want to tip your server
For the best photos head to Old Town early to avoid the crowds and check to see when cruise ships are arriving or departing, as with them bring an influx of people.
What to do during your 3 days in Dubrovnik
Here are our suggestions on the best things to do during your 3 days in Dubrovnik. A big part of our list is centred around Old Town and we recommend taking it slow when exploring so as to take in the magical surroundings.
Explore the Old Town
The number one thing to do on any 3 day Dubrovnik itinerary is to explore the Old Town. Most of the attractions were recommend are centred here, and it is by far the most scenic and photogenic part of the city. The key thing in Old Town is to take your time. You should walk around, grab some coffee, enjoy the views, and most importantly try some Croatian food and drink. You can also do a tour to see all the key sites and learn about the history whilst you are there.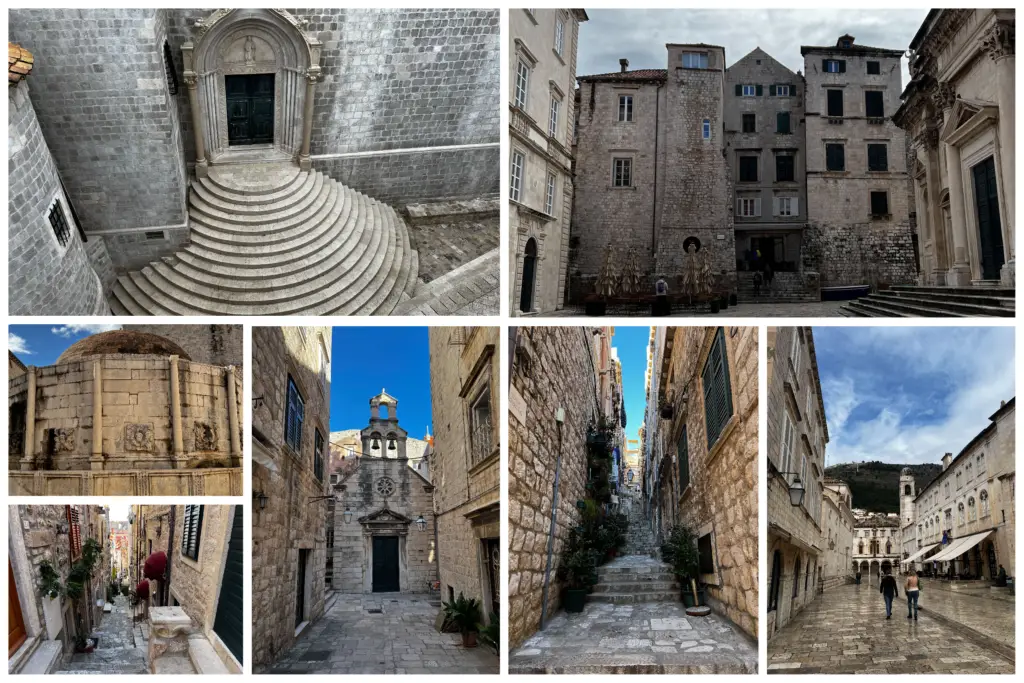 The best part about Old Town for us was just walking around the back streets. Don't let the steep steps put you off, because you never know what you might find. That being said what we happened to find were lots of cats, which made my 3 days in Dubrovnik absolute heaven. Which brings me to my next item on the to do list.
Spend time with the many cats
If like me you are also on the verge of becoming a crazy cat lady, Dubrovnik might just be the place to tip you over the edge. There are cats EVERYWHERE in this city. And if you are like me you will want to take the time to photograph and pat them. Just be warned that not all of them are friendly and do make sure that you respect their boundaries. One of my holiday highlights happened to be watching the sunset as a calico feline slept on my lap.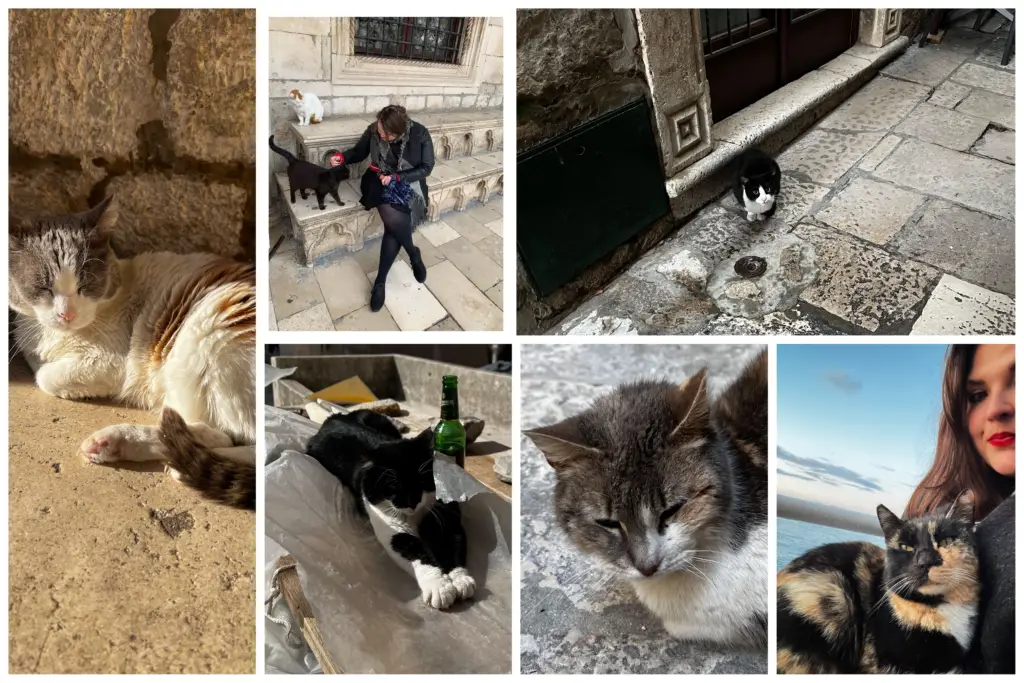 Walk the City Walls
Walking the city walls is a must during your 3 days in Dubrovnik. The city walls are really well preserved and encircle the Old Town. Originally built to keep invaders out, they are now the main tourist attraction in Dubrovnik. The length of the walls is 2 km long, in total and you will walk in a complete circle around the Old Town. There are also 3 different entrance/ exit points along the wall if you do decide to duck out early. It's an easy enough walk and you can do it at your own pace, but one thing to keep in mind is that there is a lot of going up and down stairs, and at some points the walls are quite low. If you are a bit nervous with heights I would say just take your time.
There isn't a lot of shade on the walls either, so in the peak of summer this can be problematic. Make sure you bring a bottle of water with you, and wear some solid walking shoes as well. If you want to avoid the crowds go early or if the cruise ships are in town go in the afternoon once they leave. Alternatively you could do what we did and decide to walk around the walls in the middle of a thunderstorm. On the plus side though we had the walls pretty much all to ourselves, although we did come across one very friendly but very wet cat.
If you are wanting to do a tour you can also book a sunset guided tour so you get the stunning city views at sunset.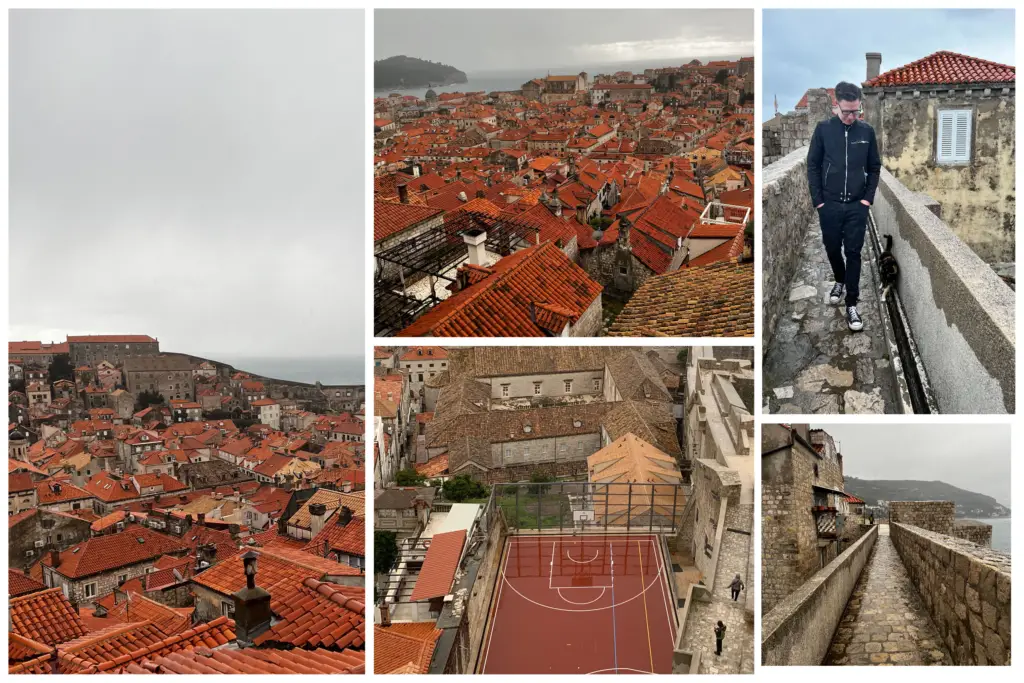 Visit Rector's Palace
Built in the late 15th Century this distinguishable building used to house the 'Rector' who governed Dubrovnik. These days it is a cultural history museum and fine example of Gothic-Renaissance style.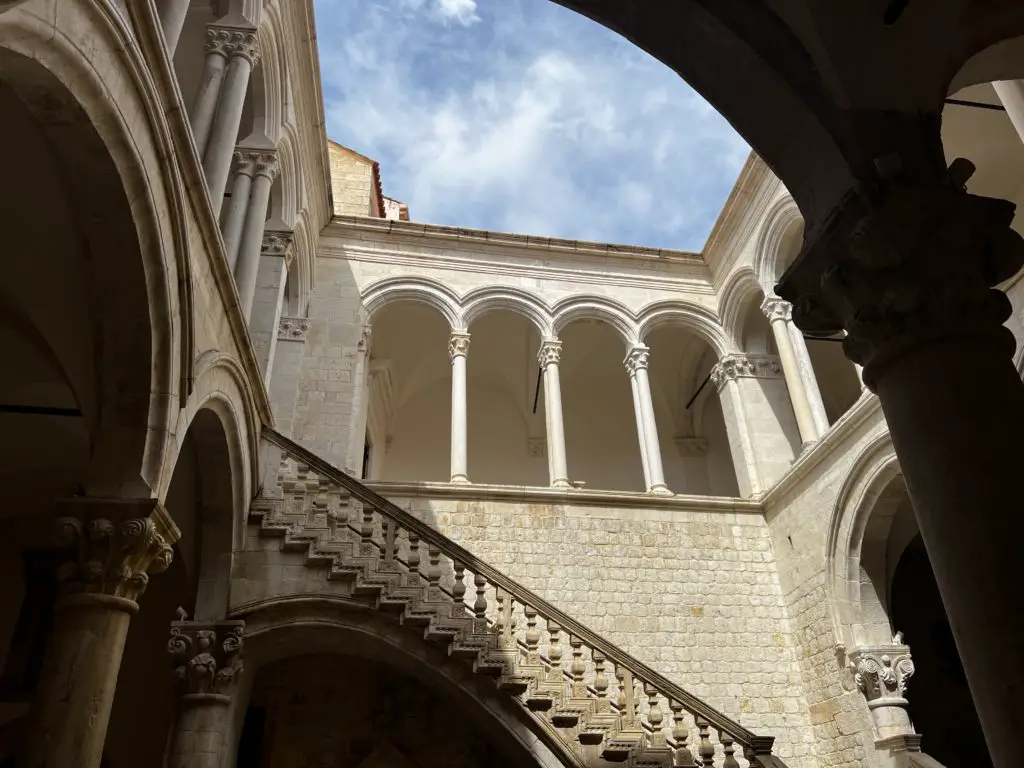 Ride the cable car
I'll be honest, the cable car opened a couple of days after we left Dubrovnik. It was quite disappointing especially as we had heard that the top of Srd Hill is a great place to watch the sunset. The cable car runs from April to October each year, but you will need to check the website to determine the exact dates.
Walk the shame steps
I have a slight confession to make. I never watched Game of Thrones. So when people started telling me I had to visit the 'Shame Stairs' in Dubrovnik I was slightly confused. Otherwise known as the Jesuit Stairs apparently this is where one of the most iconic scenes from the show was filmed. Even if you aren't a fan of the show, do try and locate the stairs. They are in a beautiful part of the Old Town and the Church at the top of the stairs is also worth a visit for a quiet moment of refection.
Explore the Dominican Monastery
Established in 1225 this religious complex is now home to an art museum. Located on the eastern part of the Old Town, it is a lovely place just to relax and escape the hustle and bustle of the Old Town. The courtyard is beautiful and provides you with a moment of calm in an otherwise hectic city.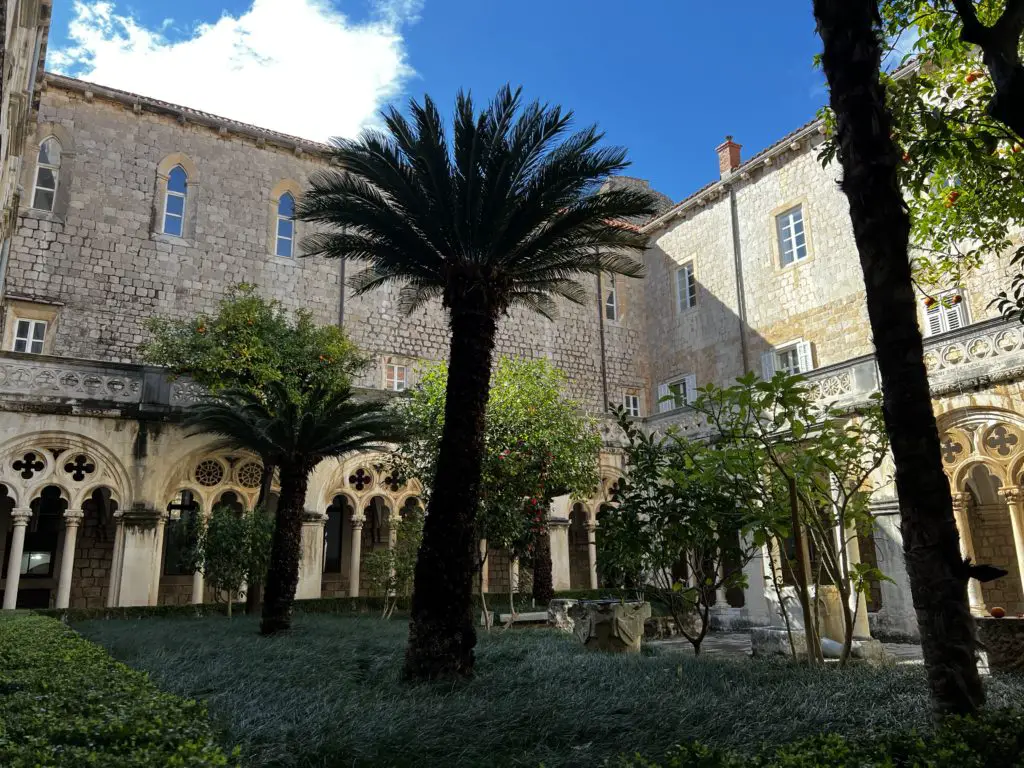 Go on a boat ride
A 3 day Dubrovnik itinerary is not complete without doing some sort of boat trip. As we visited on the cusp of the tourist season, there weren't that many boat trips going, but we did manage to hop on a 50 minute ride around the coastline of the Old Town and Lokrum Island.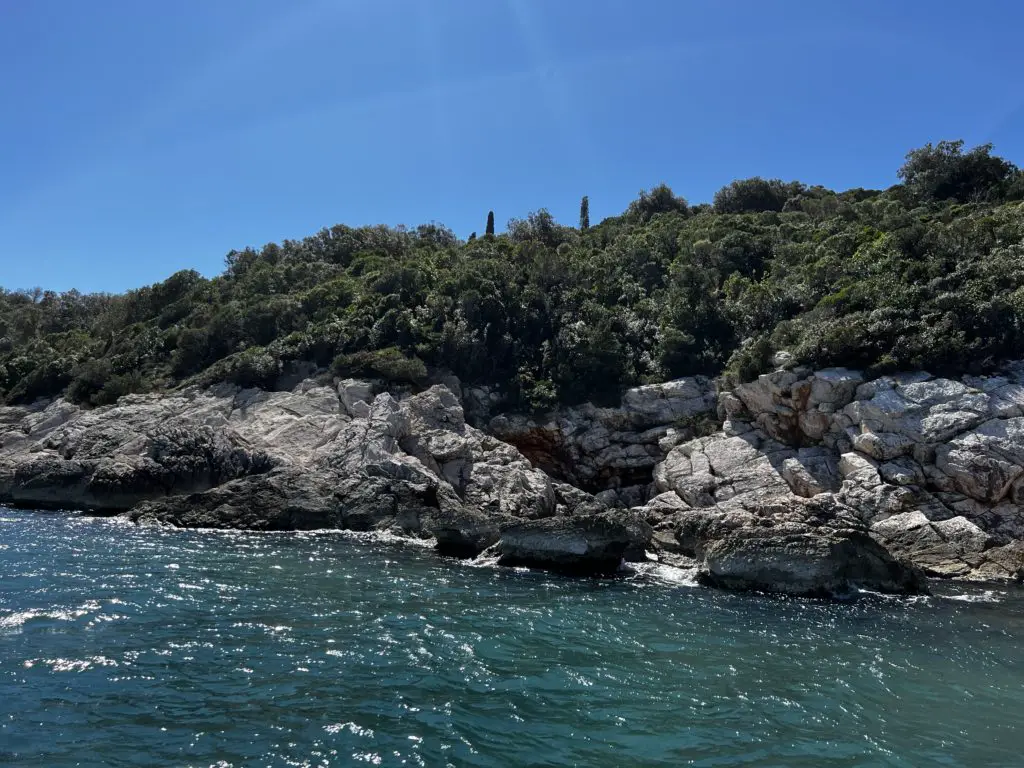 Visit Lokrum Island
This is another item on our to do list, that wasn't possible due to the time of year we visited. Boats to the island started running a couple of days after we left Dubrovnik. Again it was a shame because we heard so many amazing things about the island. Instead we opted for a boat trip around the island, and decided to do a day trip to the Elaphiti Islands to get our island fix.
Explore the Elaphiti Islands
As mentioned above because Lokrum Island wasn't an option for us, we decided to do a day trip to the Elaphiti Islands. The trip itself lasts about 8 hours and you get food and drink on board your boat as part of the tour. You stop off at 3 different Islands, and if you are a beach lover, or if you want to explore a bit more of Croatia away from the heavy footfall of Old Town then this is for you. This tour is worth adding to your 3 day Dubrovnik itinerary for the pictures of crystal clear water alone. A highlight for us included wine tasting in someone's backyard, and it was pretty good wine too.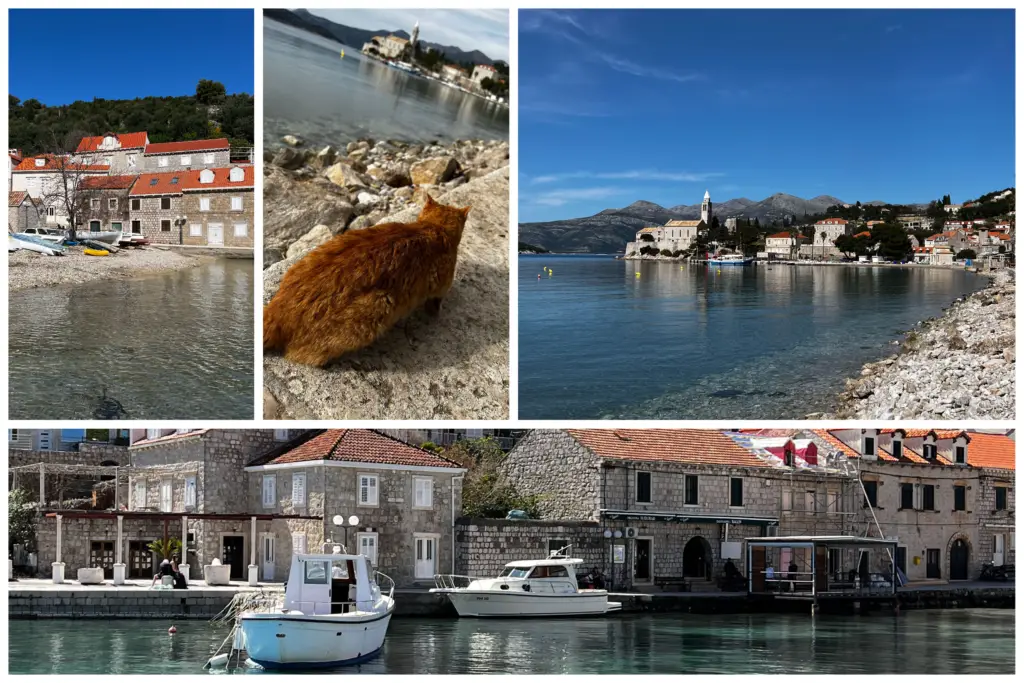 3 day Dubrovnik itinerary
Here is a sample 3 day Dubrovnik itinerary based on our own experience in the city. Be prepared for a lot of walking, eating, and drinking.
Sample 3 day Dubrovnik itinerary – Day 1
On the first day of our 3 day Dubrovnik itinerary, we recommend starting the morning with some pastries from one of the local bakeries in the Old Town, and washing it down with an espresso. Then spend the morning walking the city walls to properly orient yourself with the city.
Afterwards explore the cobbled streets of Old Town, and stop off somewhere for lunch. Spend the remainder of the afternoon exploring some of the museums such as Rector's Palace and the Dominican Monastery.
Grab some dinner at one of the many restaurants in the city, and either get the cable car to the top of Srd Hill or get yourself a spot at the Buža Bar for Sunset.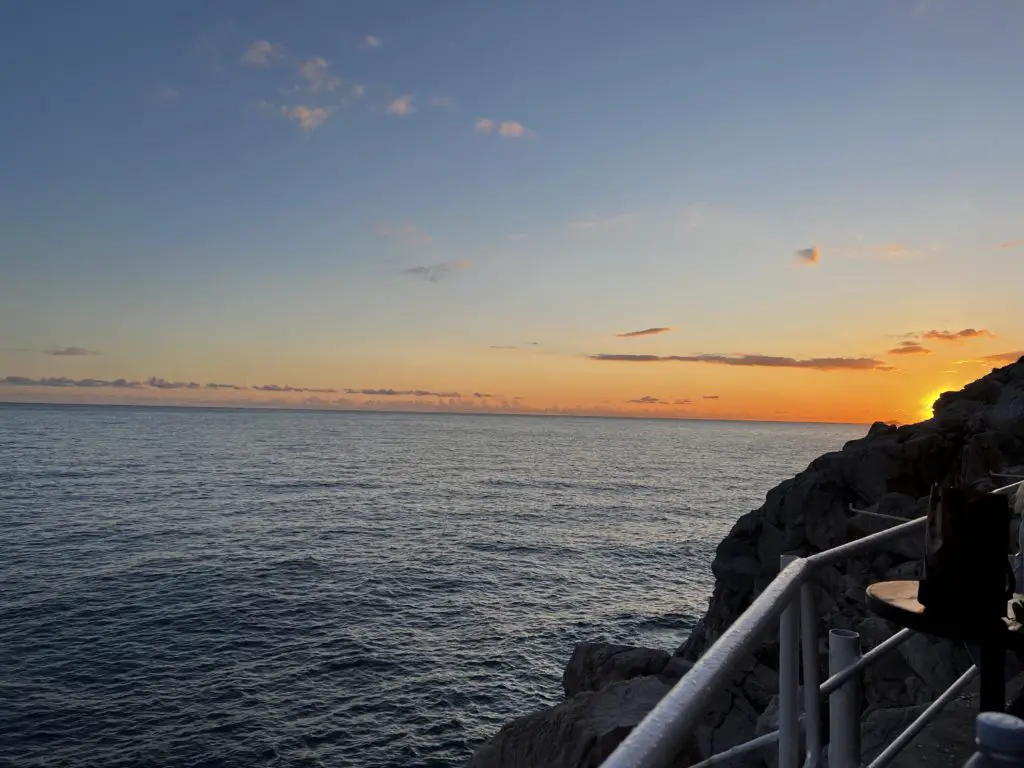 Sample 3 day Dubrovnik itinerary – Day 2
On day 2 of your 3 days in Dubrovnik we recommend again grabbing some pastries and finding a spot on a beach to eat them. We were lucky that our hotel was just across the road from a bakery, and had its own private beach. Stroll to the Old Town and visit the Jesuit Stairs and the nearby church.
Afterwards we recommend doing a boat ride and then heading to Banjee Beach for lunch and some cocktails. If you can go to Lokrum then this is a great time to do so, if not you can do what we did and enjoy the many bars the city has to offer. One of the main things we recommend is to do a wine tasting. We did ours at D'Vino, a small wine bar found in one of the back streets of Old Town.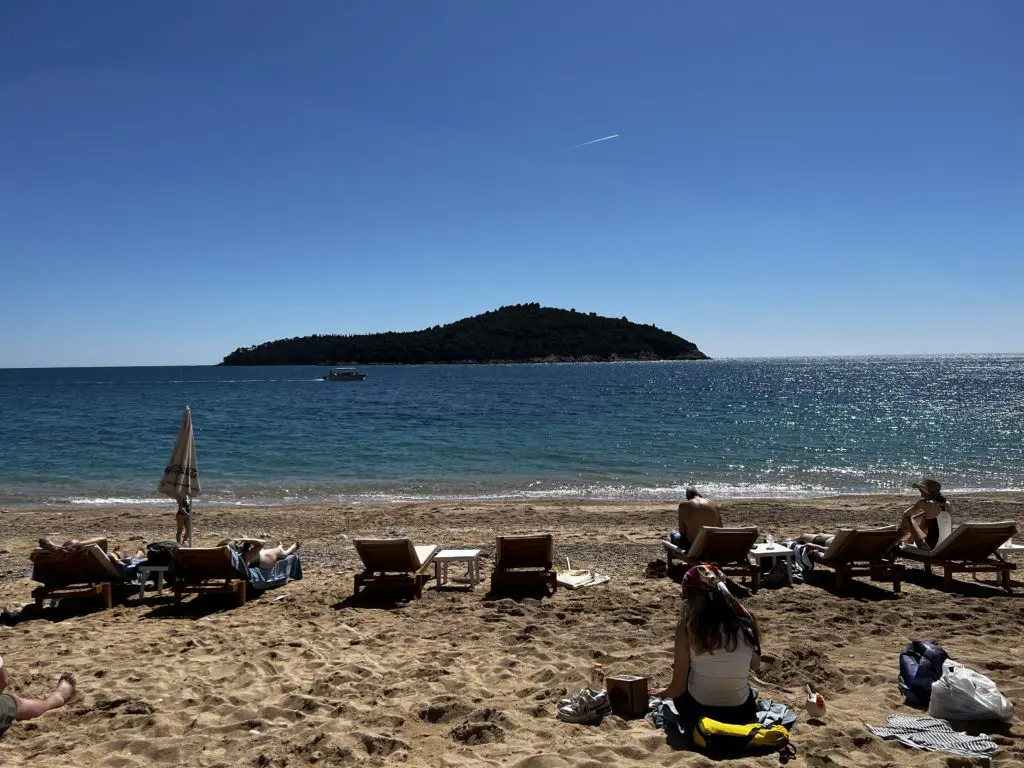 Sample 3 day Dubrovnik itinerary – Day 3
For the final of your 3 days in Dubrovnik we recommend doing a day trip out to the Elaphiti Islands. We booked online through Viator and ended up being on one of the first boats of the season. You get picked up from your hotel, and the trip itself lasts around 8 hours. You get to explore the islands of Lopud, Sipan, and Kolocep, as well as getting food and drink on the boat.
In the evening head out to Old Town for dinner and drinks for your final night in Dubrovnik.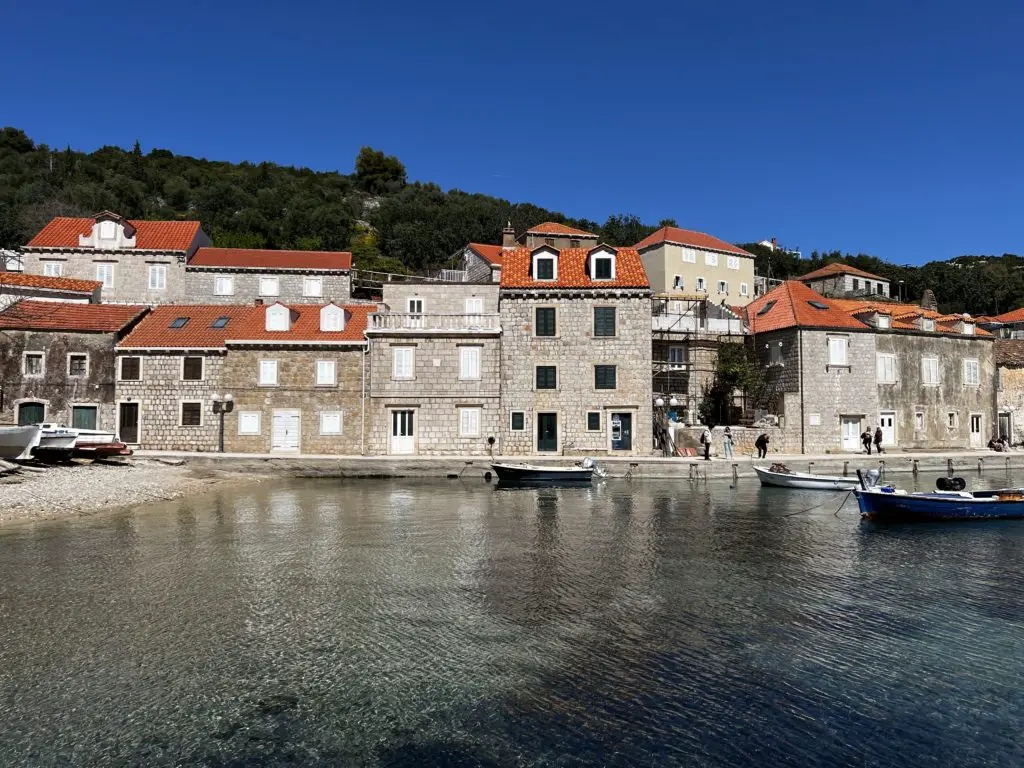 Eating and drinking during your 3 days in Dubrovnik
One of the best things, for us anyway, about being abroad has to be trying different types of food and drink. Dubrovnik is obviously a seaside city, so you might be unsurprised to find out that the seafood here is incredible. There are so many places to go to experience this seafood, but some of our favourites in Old Town Dubrovnik had to be Posat and Gradska Kavana Arsenal. Both are fine dining restaurants that serves Mediterranean food and carefully selected wines.
Another recommendation is Taj Mahal which serves Bosnian Cuisine. The food is a bit meat based but there are vegetarian options as well. The food was amazing and cooked so well, so if you are in the mood for grilled meat and freshly made breads this is the place for you.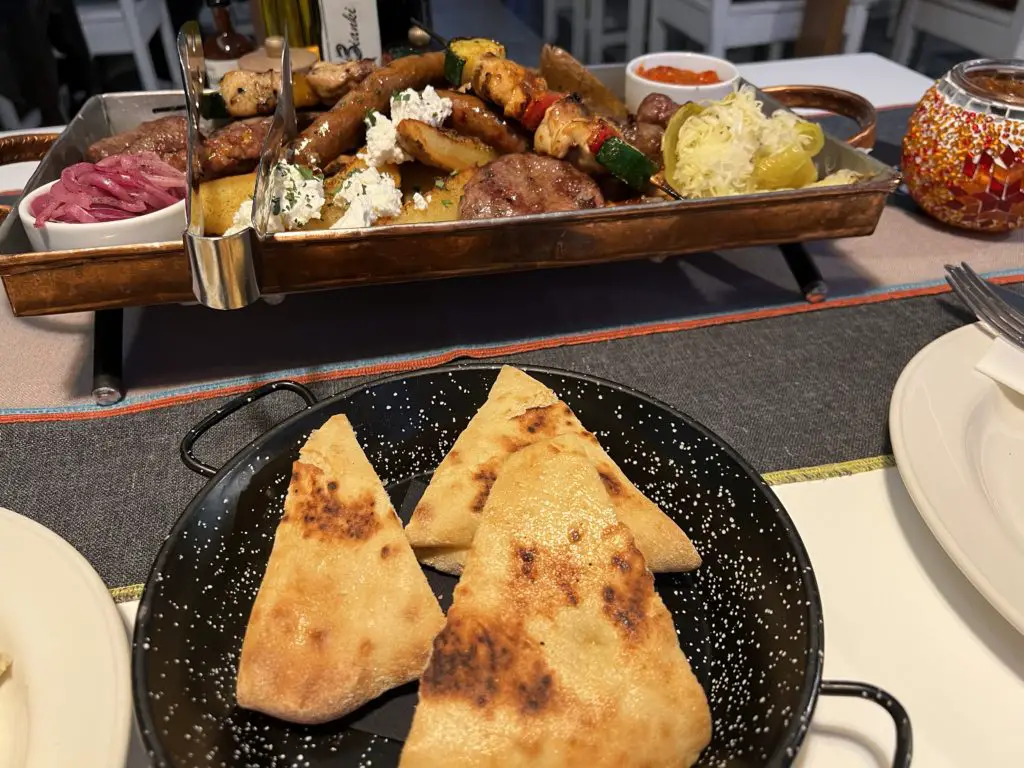 For something a little bit lighter and cheaper head over to Barba which is a small but amazing fast food style restaurant serving things like shrimp burgers and calamari.
If there is one bar that you visit during your 3 days in Dubrovnik make it the Buža bar. Located on a cliff this bar offers some incredible views, particularly around sunset.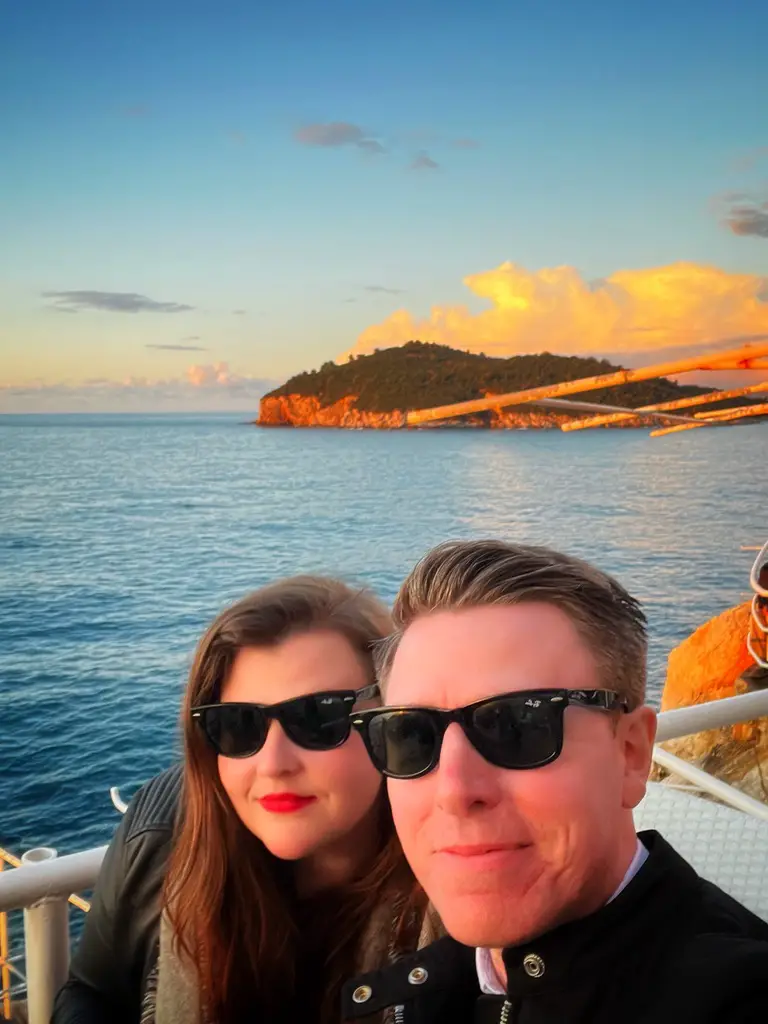 Another bar with incredible views is Banjee Beach Club, which like the name suggests sits right on the beach. Here you can order some food and sip cocktails late into the night. D'Vino is another favourite particularly if you are after a bit of Croatian wine tasting. You will find the wine bar down one of the side streets in the Old Town.
Travelling as a couple – Romantic things to add to your 3 day Dubrovnik itinerary
In fairness Dubrovnik is a pretty much set up for romance, with its cobbled streets, cliff bars, beautiful scenery and Michelin star restaurants.
If you are lucky enough to visit Dubrovnik with your significant other here are some of the more romantic things to add to your 3 day Dubrovnik itinerary.  
Elafiti Islands tour
We highly recommend enjoying a bit of couples time on an Elafiti Islands tour. You get to sail around and share in the sights together whilst sipping grappa. It's also lovely being able to walk around the islands, doing wine tastings, and basking in the sunshine.
Sunset Sea Kayaking Tour
Another suggestion for Romantic things to do during your 3 days in Dubrovnik, is to do a sunset sea kayaking tour. You get to Kayak around the city walls, discover some hidden caves and beaches, as well as enjoying a nice glass of wine at the end.
One of our favourite things to do in Dubrovnik was the grab some pastries from a bakery, and sit on a secluded beach and have a sort of picnic breakfast. We were lucky because our hotel had a private beach so we could do this easily, but there are many places you can do this in Dubrovnik.
Café Buza
Café Buza is one of our drinking recommendations as part of our Dubrovnik itinerary, but it really is a romantic place to sit and enjoy some drinks with your partner. It is especially beautiful at sunset.
Love stories Museum
So there is actually a museum dedicated to love in Dubrovnik. Here you can read love stories from around the world, so definitely a must if you are looking for a bit of romance.
How much money do I need for my 3 days in Dubrovnik
You might be wondering how much money do I need for this Dubrovnik itinerary. We would probably say budget for just under 100 Euros a day per person in terms of spending money. This will get you entry to some of the tourist activities, a decent dinner at a good restaurant, a few drinks/ cocktails, coffee and snacks, and then of course breakfast and lunch.
You can do things on much more of a budget though, we did splash out on drinks in the evening, and we did go to some really nice restaurants.
What to pack for your 3 days in Dubrovnik
What you need to pack will obviously depend on the time of year you are visiting. One thing that we would stress, is if you visit Dubrovnik in March- April don't expect the weather to be super warm. We visited around this time, and the evenings were quite chilly, so do bring a jacket.
During summer season it does get quite warm ranging between 25-35 degrees Celsius. Make sure you pack cool cotton style clothing, and lots of sun cream. Always carry a bottle of water around with you as well.
No matter what time of year you are planning your Dubrovnik itinerary we recommend bringing a good pair of walking shoes. You will more than likely do a lot of walking over cobbled streets, and up hills, and a pair of flip flops might not quite cut it.
How to get around during your 3 day Dubrovnik itinerary
In all honestly during our time in Dubrovnik we never once used public transport. Everything was walkable for us,  and for things that weren't we had tour transfers. If you are staying near Old Town chances are you won't need to use public transport either. Everything is completely walkable. You might instead hop on a ferry, particularly if you are visiting Lokrum Island or beyond. If you are travelling further afield though, there are buses that stop just outside the Old Town that will transport you to Gruz and Lapad.
More than 3 days in Dubrovnik
If you have more than 3 days in Dubrovnik then you probably want to look at organising a day trip. We ended up booking a day trip to Bosnia and Herzegovina, through Get My Guide which took us to the Kravice waterfalls and Mostar. For us this was such a memorable experience, if not quite emotional at times. It is a full day trip but certainly worth it if you have the time.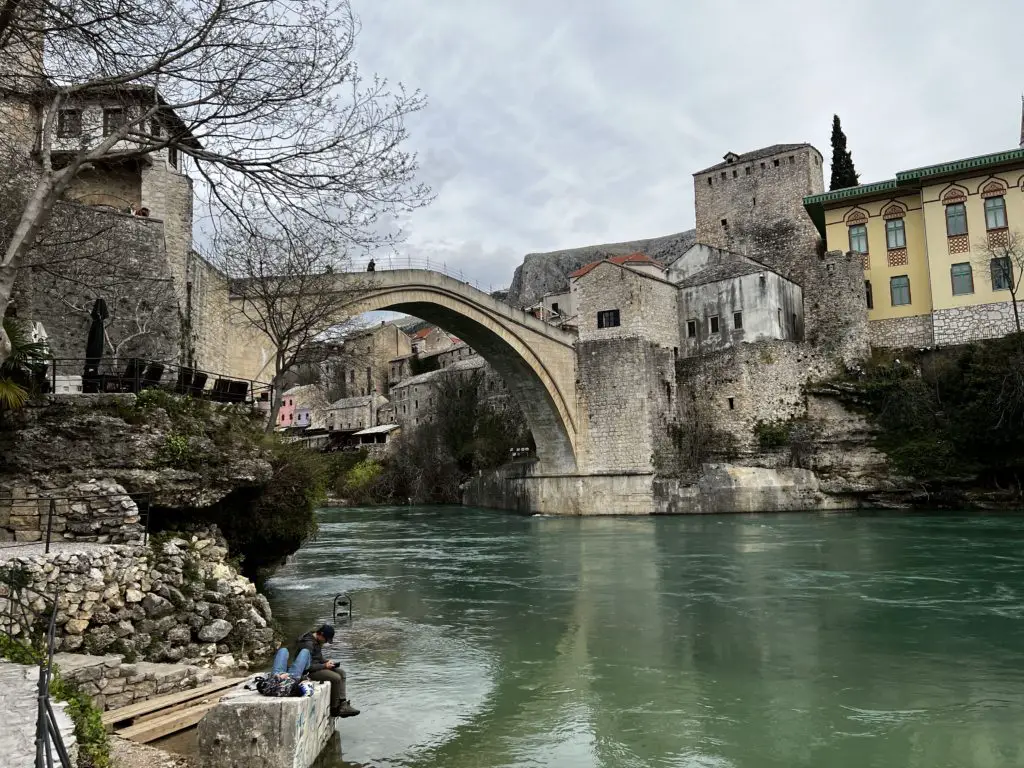 Other popular day trips include Montenegro which is less than 2 hours from Dubrovnik by car, or even a trip to Split which is Croatia's second largest city.
So should I spend 3 days in Dubrovnik
Yes! 3 days in Dubrovnik is really the perfect amount of time to explore the tourist attractions, eat some good food, sample some delicious wine, and do some island hopping in between. It might just be one of the most beautiful places we have ever visited so get booking!
Hopefully this guide has given you enough information to get started with your own 3 day Dubrovnik itinerary. And if you have found this useful please Pin our guide to 3 days in Dubrovnik for later. And if you want more European inspiration you can have a look at some of our other city guides below.
Best things to do in Lviv Ukraine