How to see Dubrovnik in one day – everything you need to know for the perfect day trip
If you are planning to visit Dubrovnik in one day, this article is for you. Whether you are city hopping, or arriving via cruise ship, you will find so many amazing things to do in this city.
Dubrovnik is a very popular tourist destination and it can feel overwhelming when you only have a short time here. So we have put this guide together filled with useful information on what to see and do, where to eat and drink, and useful tips on avoiding the crowds and making the most of your 1 day in Dubrovnik.
Disclaimer: This post contains affiliate links, so if you use these links to buy something we may earn a commission, at no cost to you. Thank you for your support.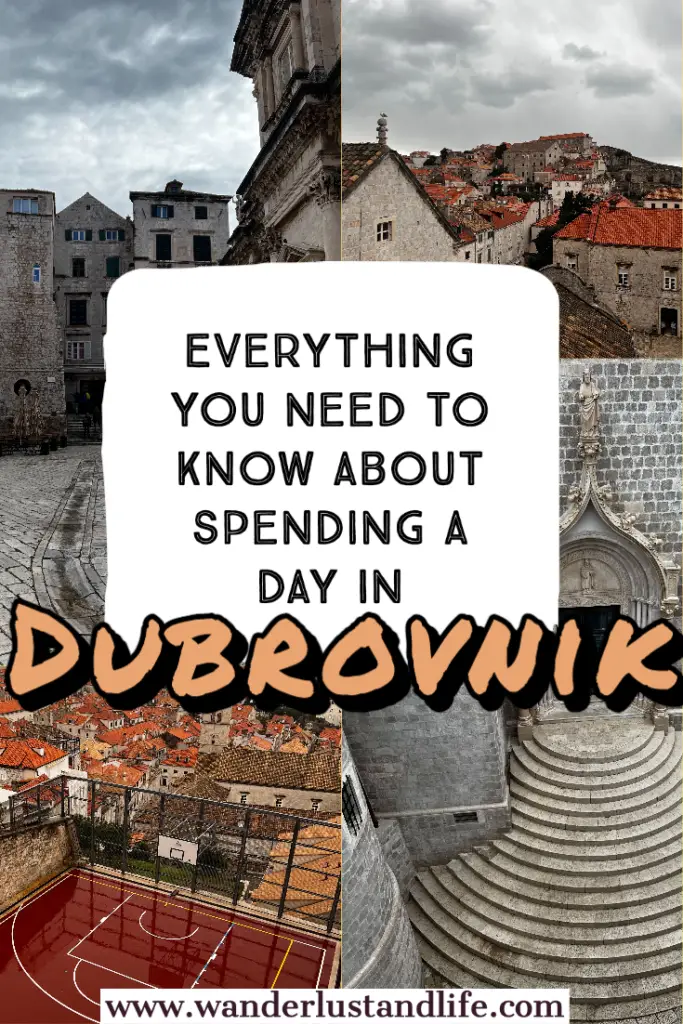 1 day in Dubrovnik – need to know information
Country: Croatia
Currency: As of January 2023 Euros are the official currency of Croatia
Known For: Incredible beaches,Game of Thrones filming locations
Visit if you like: History, sipping cocktails by the sea, really good food
Dubrovnik is one of those holiday destinations that has a little something for everyone. For starters it has beautiful beaches, mixed with an incredible historical Old Town encased in 16th Century stone walls. The turquoise waters and terracotta style rooftops, also make it a really picturesque place that you can explore at your own pace. It truly is a gem in the Adriatic.
If you are trying to decide if Dubrovnik is worth visiting here is a guide for you.
Dubrovnik in one day – The best things to do
Here is our list of things to do if you are trying to see Dubrovnik in one day. Fortunately all the attractions listed below are located in the historical Old Town. The Old Town is relatively compact and easy to get around. You might not be able to do absolutely everything on this list, but you can definitely make a good go of it. Here are our tope things to do when you have one day in Dubrovnik.
Explore the Old Town
The number one thing to do as part of any 1 day in Dubrovnik is to of course explore the Old Town. If you want to do a tour to see all the key sites then we recommend this tour. Alternatively you can explore yourself at your own pace.
The Old Town is so photogenic. We recommend just walking around and getting lost in the cobbled back streets. You can grab some coffee, enjoy the views, and most importantly try some Croatian food and drink.
Dubrovnik's Old Town is one of the world's best preserved medieval cities, and is surrounded by walls that were built to protect the city from enemies. It is also a UNESCO World Heritage site, which is completely traffic free, so you can walk around to you hearts content.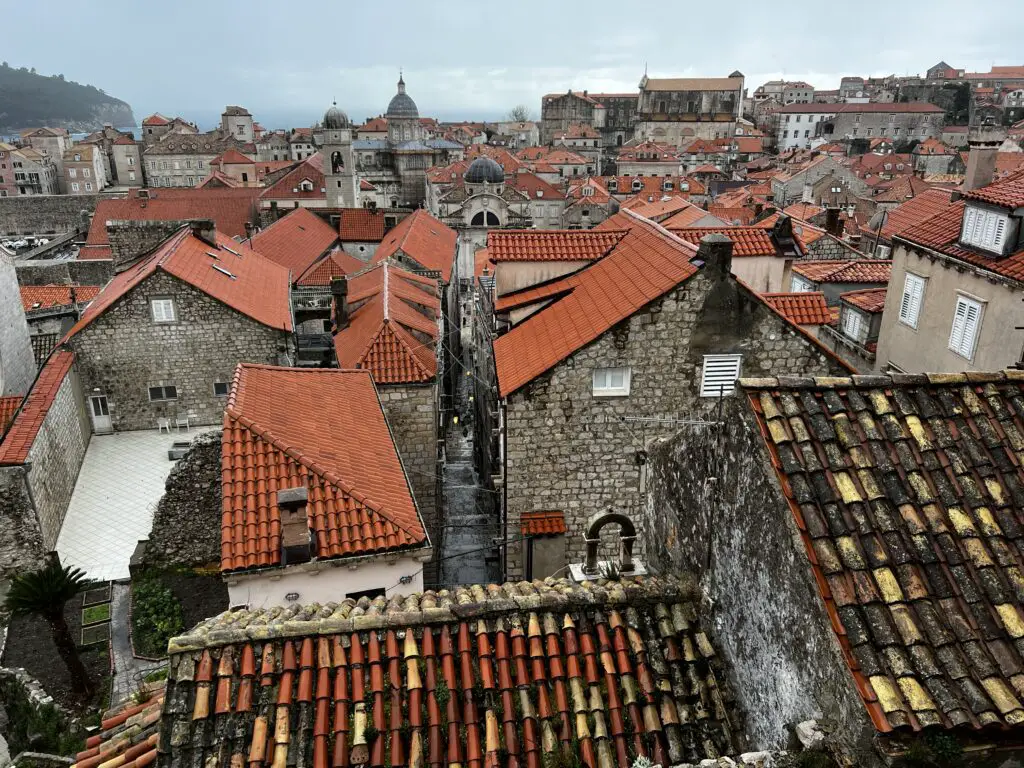 Hang out with the many cats of the city
If you are a cat lover then Dubrovnik is the place for you. You will not spend 1 day in Dubrovnik without seeing a cat. They are everywhere. Some are friendly some are not, so do be careful and respect their boundaries. My absolute holiday highlight was watching the sunset with a purring feline on my lap.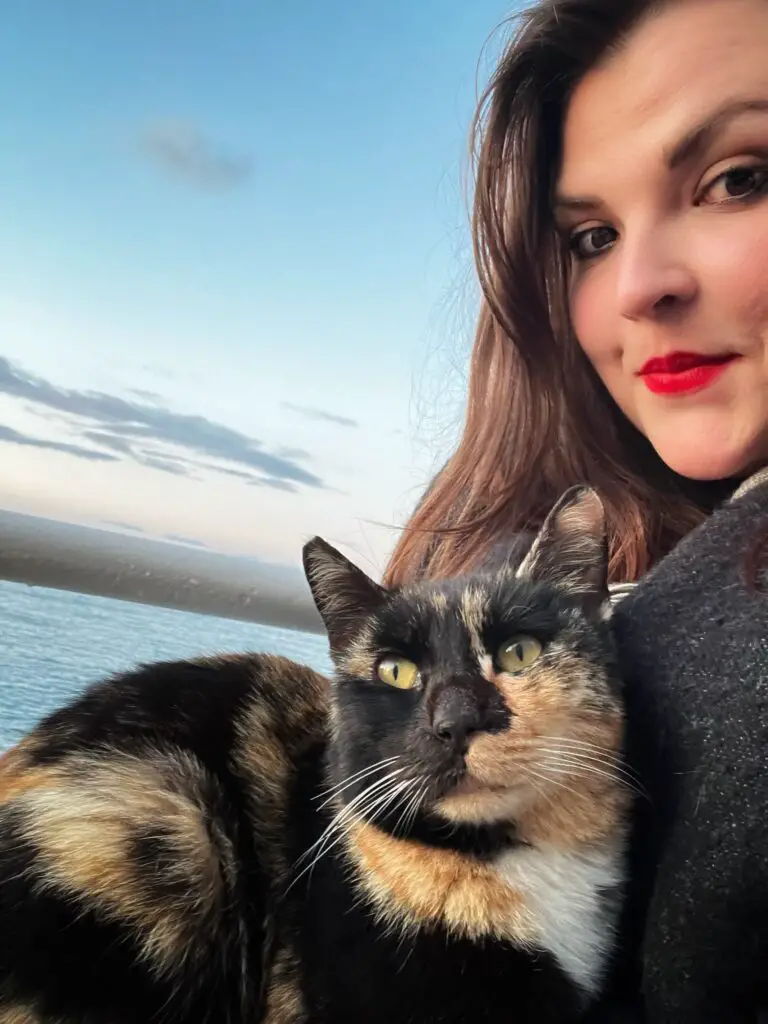 Walk the City Walls
Another absolute must for your one day in Dubrovnik is to walk the city walls. They surround the Old Town, so you get some great views over the town itself. They were originally built to keep invaders and enemies out, but are now one of the main tourist attractions in Dubrovnik.
The walls themselves are 2 km long, and when you visit you will walk in a complete circle around the walls. There are 3 different exit/ entrance points, so you don't have to do the complete walk if you don't want to. Although we highly recommend it.
The walk itself is relatively easy, and you are able to do it at your own pace. But do be mindful there are a lot of stairs you will have to go up and down. There are also certain parts of the wall, that might not be great for those who are afraid of heights. But if you are feeling a bit nervous I would say take your time.
There isn't a lot of shade on the walls, so in the summer months slap on a hat and sun cream. You should also make sure that you wear decent walking shoes, which is a no brainer really.
If you are wanting to do a tour you can also book a sunset guided tour so you get the stunning city views at sunset.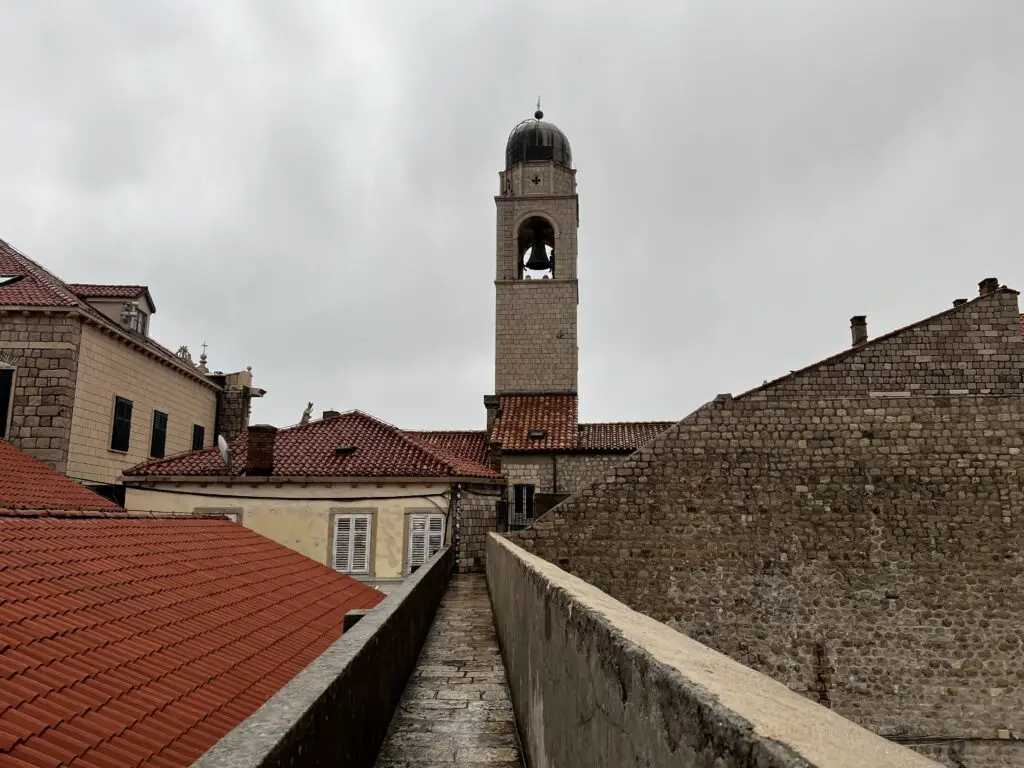 Visit Rector's Palace
Built in the late 15th Century this distinguishable building used to house the 'Rector' who governed Dubrovnik. These days it is a cultural history museum and fine example of Gothic-Renaissance style. You don't need too long to explore here, at the most maybe an hour, so it's a great place to visit as part of your one day in Dubrovnik.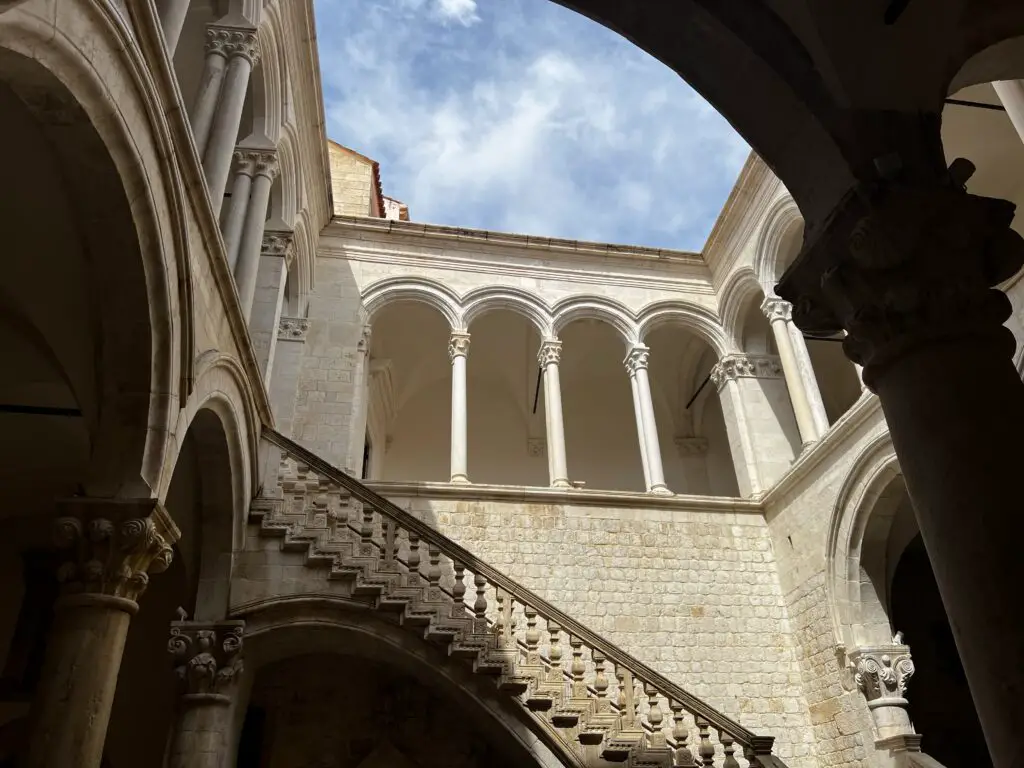 Ride the cable car
Unfortunately for us, the cable car only opened a couple of days after we had left Dubrovnik. It was a shame because we had heard that the top of Srd Hill is the best place in Dubrovnik to watch the sunset.
Thankfully though we got to visit Santorini, not long after this trip and we definitely had our fill of sunsets.
The cable car runs from April to October each year, but you will need to check the website to determine the exact dates. It also doesn't run in bad weather, so don't get your hopes up if it is a miserable day.
Walk the shame steps
Game of Thrones fans will absolutely adore Dubrovnik. In fact if you really loved the show there are several Game of Thrones tours you can do.
One of the iconic filming locations was the 'Shame Stairs' otherwise known as the Jesuit Stairs. Even if you aren't a fan of the show, the stairs are pretty cool. There is a church at the top, and it's a really beautiful part of the Old Town to explore. If you want a picture without the swarms of people – get there early!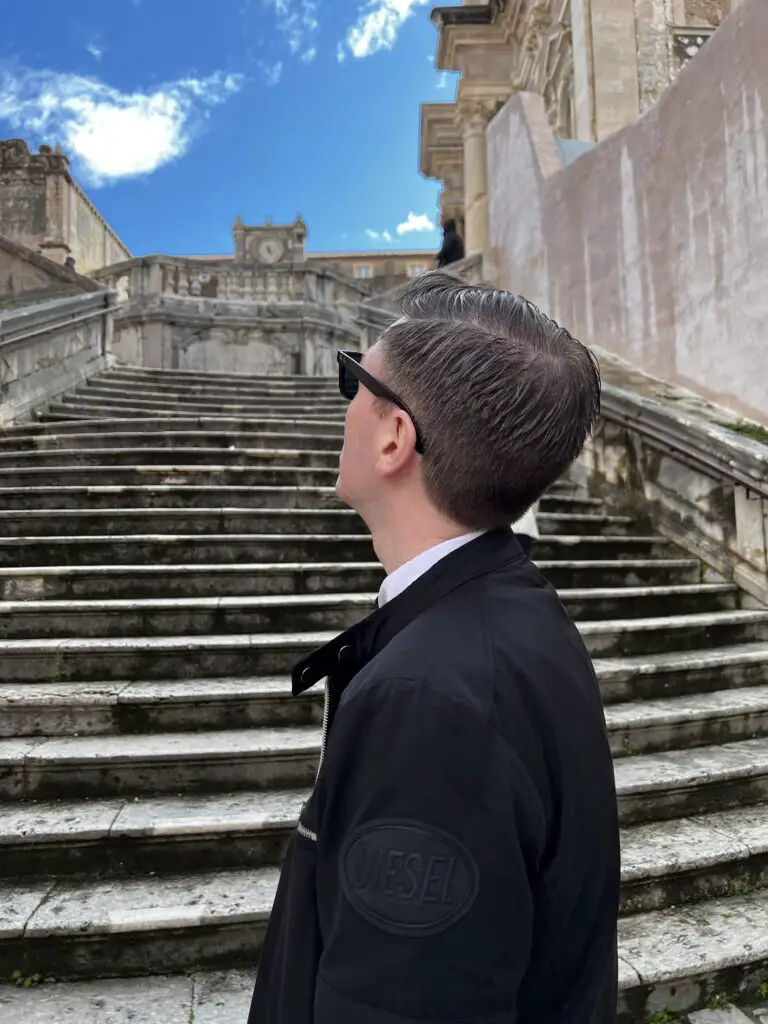 Explore the Dominican Monastery
Established in 1225 this religious complex is now home to an art museum. Located on the eastern part of the Old Town, it's hard to find at first. When you do though it is a lovely place just to relax and escape the hustle and bustle of the Old Town. One of my favourite bits was the courtyard that gave us a moment of much needed calm and serenity.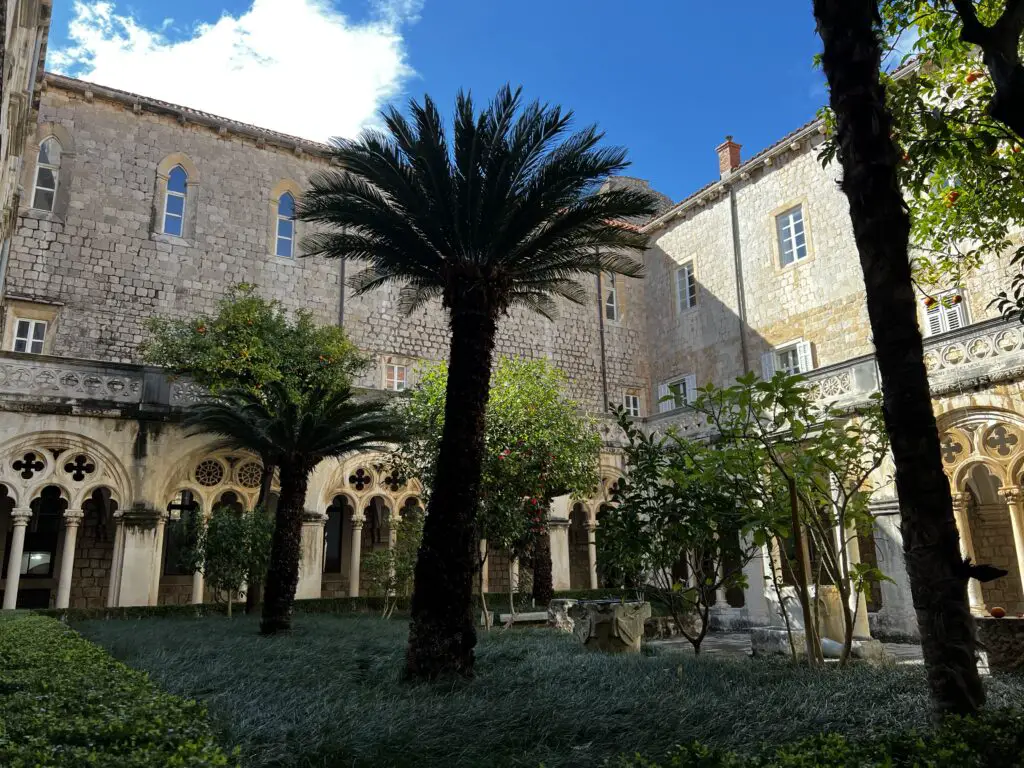 Get the ferry to Lokrum Island
Located only 600m away from Dubrovnik's Old Town is Lokrum Island. It's a must for any visit to Dubrovnik (time permitting of course). On the island you will find a monastery, botanical garden, and some beautiful beaches. The ferry to Lokrum only operates between April – November each year.
Indulge in some fine dining
One of things we were not expecting about Dubrovnik, was the high number of fine dining restaurants.  And seafood seems to be a hot item on the menu once you are there.
A couple of our favourites in Old Town Dubrovnik had to be Posat and Gradska Kavana Arsenal. Both are fine dining restaurants that serve Mediterranean food and carefully selected wines. If there is a restaurant you really want to visit during your 1 day in Dubrovnik, make sure you reserve a table in advance, otherwise you may miss out.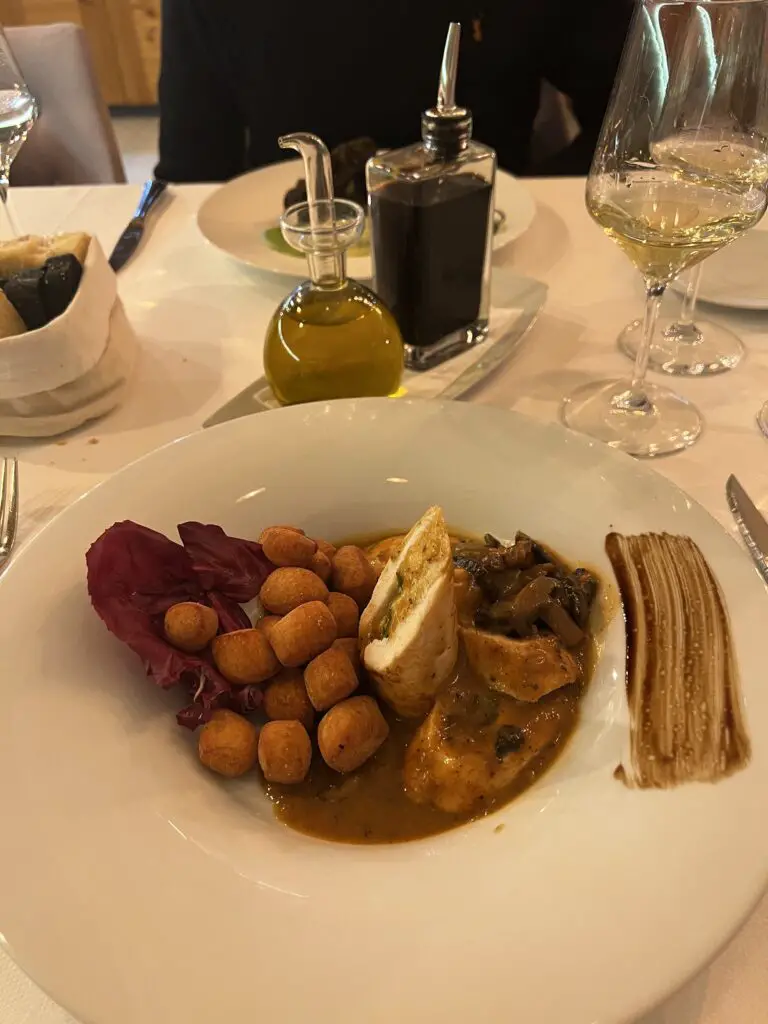 Go bar hopping
Dubrovnik has so many incredible bars, but if you really had to choose a bar to visit for your one day in Dubrovnik then make it the Buza Bar. Located on a cliff this bar offers some incredible views, particularly around sunset.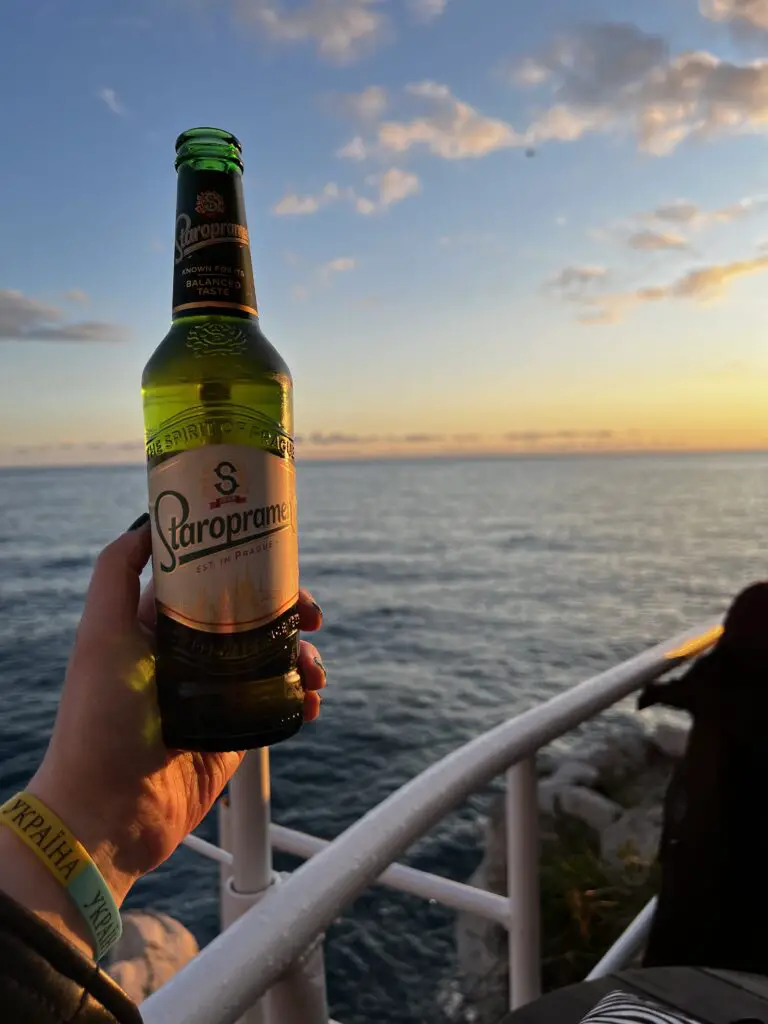 Another option is to try the Banjee Beach Club, which like the name suggests sits right on the beach. Here you can order some food and sip cocktails late into the night.
D'Vino is another favourite particularly if you are after a bit of Croatian wine tasting. You will find the wine bar down one of the side streets in the Old Town.
1 day in Dubrovnik – getting here
Chances are if you are spending 1 day in Dubrovnik, you are either visiting as part of a cruise, or as a day trip from another European city. There are several ways in which you can get to Dubrovnik, here we list some of the more popular, as well as how to get to the Old Town from each.
Flying into Dubrovnik
If you are flying into the city, then your one day in Dubrovnik will start at Dubrovnik Airport. There are a number of European Airlines that fly here such as Easyjet, and Wizz Air. You also have a handful of longer haul carriers that fly in as well.
From the airport the easiest way to get into Dubrovnik is either by shuttle bus or taxi. If you opt for the shuttle bus there are stands where you can purchase tickets in the arrivals section of the airport. Keep in mind that these shuttle buses only stop at designated areas in the Old Town. If you are going further afield get a taxi.
As we were short on time and wanted to see as much as possible we opted for the taxi/Uber option. The Uber arrived in minutes, and costs around €25 Euro for a 25 minute ride.
Getting the bus to Dubrovnik
If you are visiting Dubrovnik from Split, Zadar, or Zagreb, then the bus will be your best option. Buses usually arrive in Gruž which is a little bit away from the Old Town. From here you can either walk into the Old Town, or get on bus number 1 or 3. It should take around 15 minutes to get to the Old Town.
Spending one day in Dubrovnik as part of a cruise
Dubrovnik is a popular cruise destination, so chances are if you are cruising around Europe this will be one of your stops. Cruises usually dock in Gruž like the intercity buses, or at the Old Town Port. If you are travelling as part of a cruise then you will have a shuttle bus which you can take to the Old Town. You can also take a bus as mentioned above, or grab a taxi.
When to plan your one day in Dubrovnik
If you are hoping to see Dubrovnik in one day then you might be wondering when the best time of year is to visit. Summertime in Dubrovnik is peak travel season. The temperatures range between 20 degrees Celsius to in the 30s. It's a great time to visit Dubrovnik, but you should definitely expect queues when visiting attractions. August is the busiest month by far as it coincides with the school holidays which again is something to keep in mind when planning your day in Dubrovnik.
We visited in early April. It was good because there were far fewer tourists around, and accommodation was much cheaper. But on the downside, the weather was quite cool (we still had to wear jackets) and not all of the tourist attractions were open.
For your one day in Dubrovnik we recommend finding a happy medium, and maybe visit in May or September. It will be less crowded, but still in the swing of tourist season.
Winter is probably a no go with Dubrovnik. It's a very tourist oriented place, and most things are closed in the winter months, so it will be a very different experience if you do visit at this time of year.
Where to stay during your 1 day in Dubrovnik
If you are planning to stay overnight in Dubrovnik, then choosing accommodation close to the attractions will be important. Ideally you want to be as close to the Old Town as possible as this is where all the main sights are.
There are a few hotels near the Old Town, such as the Hilton Imperial Dubrovnik, or you can go with a rented apartment. Just make sure you book well in advance to secure the best deals.
We stayed in an area called Lapad, at the Hotel Bellevue, which was a 20 minute walk from the Old Town. The hotel was right on the beach and has some stunning views. We even had our own balcony which was bliss. Also just to clarify, this is not sponsored content, we just really liked our hotel. You can see why with the view below though!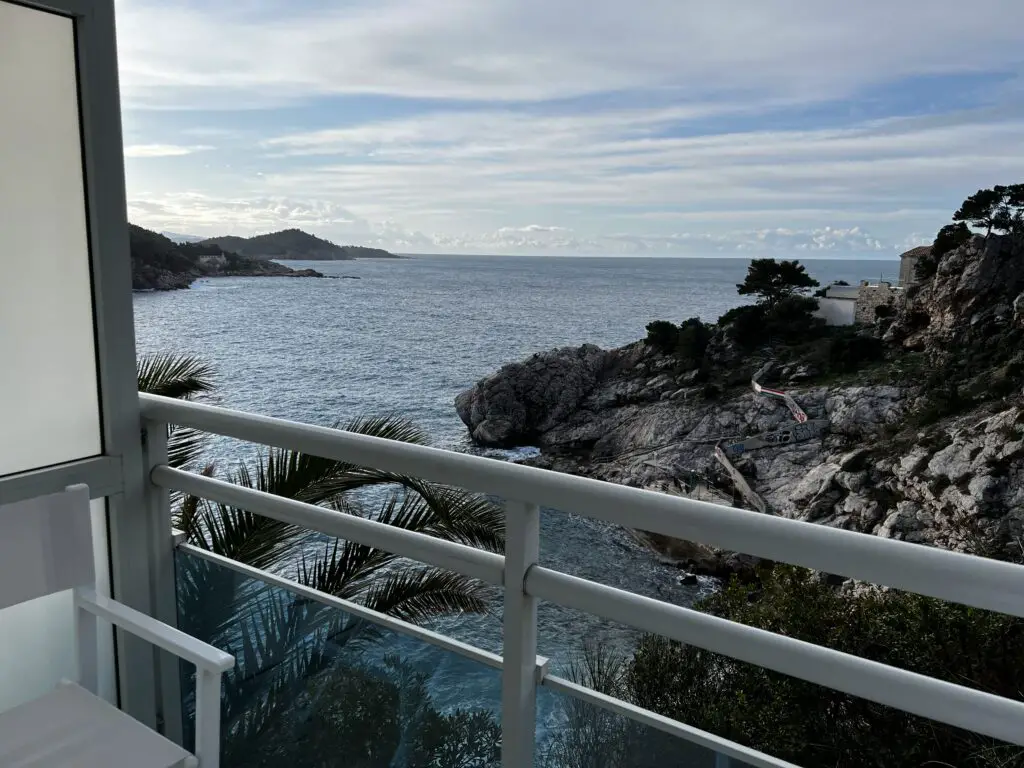 Is 1 day in Dubrovnik enough?
You may be wondering if 1 day in Dubrovnik is enough? If you want to get to grips with the city and explore every nook and cranny, then no 1 day in Dubrovnik is not enough. Ideally we recommend 3 days in Dubrovnik at least. But if you want to see the main sights, get lost in the cobbled backstreets, and eat some delicious food, then you can do all of that in a day.
Dubrovnik is quite small, and the majority of the tourist attractions are in the Old Town. You will be able to cover some good ground with your day in Dubrovnik, and you should be able to see a lot of the main tourist sights.
You just need to be organised. Know what you want to see, and try and book tickets in advance. If there is somewhere you really want to eat, again make sure you book a table in advance. This will limit the amount of time you are having to line up or wait, particularly in peak season.
Tips for spending 1 day in Dubrovnik
Croatia is part of the EU but their currency is still the Croatian Kuna
Most places in Dubrovnik do accept Credit Cards so no need to stock up on cash
Unless you want to tip at restaurants. We found that restaurant staff don't accept tips on credit card, so have some cash if you do want to tip your server
For the best photos head to Old Town early to avoid the crowds and check to see when cruise ships are arriving or departing, as with them bring an influx of people.
If you are one of the people arriving on a cruise ship then book your tours in advance to make the most of your one day in Dubrovnik.
How much money do I need to do Dubrovnik in one day
Good news if you are spending one day in Dubrovnik, it isn't a hugely expensive city. We recommend about €100 per person at the most. This should cover your entry to some tourist attractions, a decent meal at a restaurant, drinks/cocktails, coffee, snacks, and of course breakfast and lunch.
You can also spend a lot less, but we wanted to try some nice bars and restaurants when we were there hence why we budgeted a little higher.
1 day in Dubrovnik – getting around
I don't think we used public transport at all during our one day in Dubrovnik. In fact the only time we didn't walk was when we caught an Uber from the airport. Apart from that everything is really walkable. The Old Town is quite small and it won't take you long to explore or get from one side to the other.
So can I see Dubrovnik in one day?
Hopefully this article has proven to you that you can see Dubrovnik in one day. It's a compact city, with so many amazing things to do and you should be able to see a lot in a day.
If you found this article useful please pin it for later.