Is it worth getting the ferry from Newcastle to Amsterdam: An honest review
Once upon a time whilst searching the good old internet, we stumbled upon a 2 for 1 deal on a Newcastle to Amsterdam mini cruise. Being the affordable travel lovers that we are, we decided to snap the offer up. And in all honestly we had a lot of fun. We got to sip drinks whilst the sun set over the North Sea and wake up in a completely differently country. In this guide we tell you everything you need to know on getting from Newcastle to Amsterdam by ferry. We also answer the burning question is the Amsterdam mini cruise is worth it? 
Disclaimer: This post contains affiliate links, so if you use these links to buy something we may earn a commission, at no cost to you. Thank you for your support.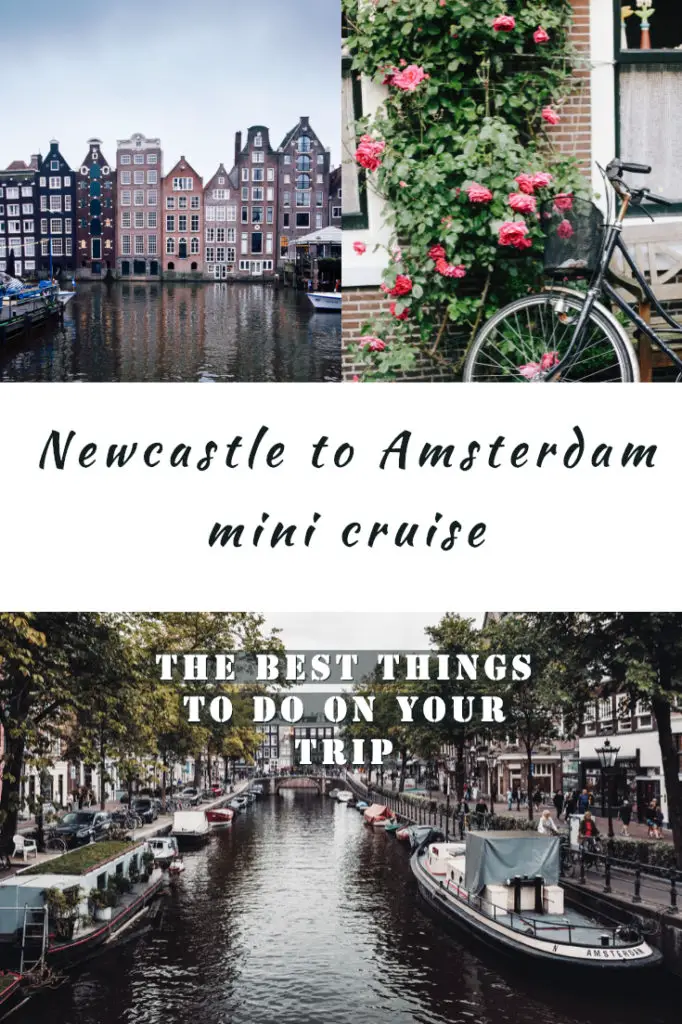 Newcastle to Amsterdam by ferry – A Factsheet
Here is a bit of a factsheet for planning your ferry trip from Newcastle to Amsterdam.
Amsterdam Factsheet
Country: The Netherlands
Language Spoken: Dutch – but you can get by with just English as enough people speak this
Currency: Euros
Known For: Canals, tulips, architecture
Here are some interesting things that you might want to know about Amsterdam. For starters, when we visited we discovered that the city is actually sinking. It lies below sea level, but is being held up by the canal system and wooden poles that support it.
Amsterdam also has more bikes than people. Which honestly I'm not surprised about after visiting. Seriously, getting run over by car isn't what scares me in Amsterdam it's the bikes. You just need to be aware and watch out in the cycle lanes.
And if you are wondering why some of the buildings are tall but really narrow, that is because in the 17th Century you actually had to pay based on the width of your house.
Wondering if Amsterdam is worth visiting? Here is a helpful guide.
How to get from Newcastle to Amsterdam by ferry
If you are wondering how to get from Newcastle to Amsterdam by ferry then you will need to book through DFDS. They run ferry services between the two cities daily and year round. The ferry crossing takes around 16 hours, departing Newcastle around 5pm and arriving in Amsterdam the next morning. 
Best time of year to get the ferry from Newcastle to Amsterdam
If you are wondering when the best time of year to get the ferry from Newcastle to Amsterdam is we have you covered.
Personally, we think summer is the best time when it comes to weather. The days are brighter for longer, which is nice when you are spending an evening on a boat. You can also sit out on the top deck and enjoy the incredible sea views.
Of course summer is also peak time for people looking to get the ferry from Newcastle to Amsterdam. This means prices are way more expensive, and deals are harder to come by. Summer in Amsterdam also means an influx of tourists which is a bit frustrating when you only have a day in the city. You will find yourself queuing up quite a lot.
Winter is an ok time to get the ferry from Newcastle to Amsterdam. The Christmas markets are on in December which is nice, and you can ice skate on the canals if it is cold enough.
The downside though is that the weather will be cold, and it is likely it will be rainy. This can be frustrating when you have such a short time in Amsterdam.
We think the best time to do the cruise is in Spring. May is probably most ideal, as it is just before busy season, but the weather is mild. There are far less tourists in Amsterdam and you can find those Newcastle to Amsterdam ferry 2 for 1 deals.
Newcastle to Amsterdam by ferry – what you need to know before you go
DFDS do some really good deals for their Newcastle to Amsterdam mini cruise, so do check the website to bag yourself a bargain
If you want to spend more than 1 day in Amsterdam you can book your return ticket for a few days later
You need to pay for your bus transfer from the ferry terminal to Amsterdam/Newcastle in advance 
It takes about 30-40 minutes to get from the ferry terminal to Amsterdam itself
You can choose various options for your cabin type from single bunk beds, to a double bed. You also need to pay more for a window in your room as the standard option doesn't include this. 
Getting from Newcastle to Amsterdam by ferry – arriving in Newcastle
Once you have booked your Newcastle to Amsterdam mini cruise you are going to want to know the best what to get to Newcastle. The fastest most hassle free option is to drive. There is a car park right near the ferry terminal although be aware that charges do apply. The cost isn't too bad considering you are leaving your car for a couple of nights and on average you will probably pay around £24 for this. 
If you don't have a car the quickest way to get to Newcastle is on the train. DFDS organise buses that take you directly from the train station to the cruise terminal. They cost around £4.00 per person each way. Or if you are like us and you get to Newcastle super early you can get the metro to Percy Main station and walk over to the ferry terminal.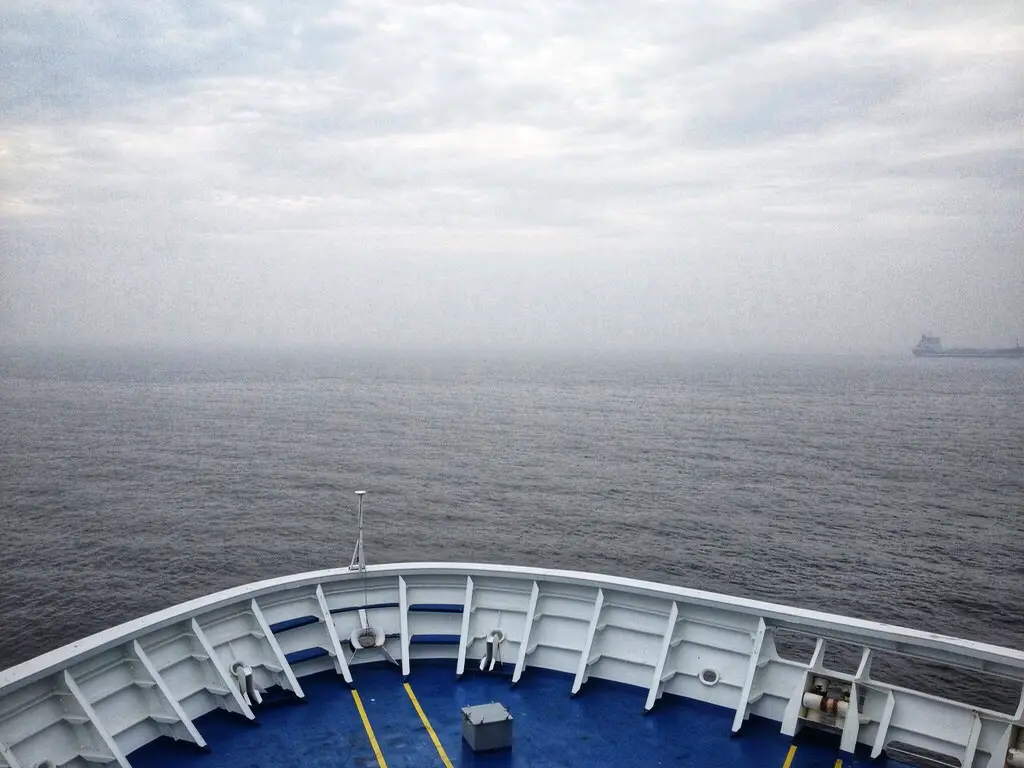 Newcastle to Amsterdam by ferry – checking in
Check in for our Newcastle to Amsterdam mini cruise was surprisingly easy and stress free. You can pre-purchase your meals during check in and they are slightly cheaper than what you would pay on board. You also need to make sure that you arrive at least 45 minutes before sailing time. We were super early and within 20 minutes of checking in we were settling into our cabin.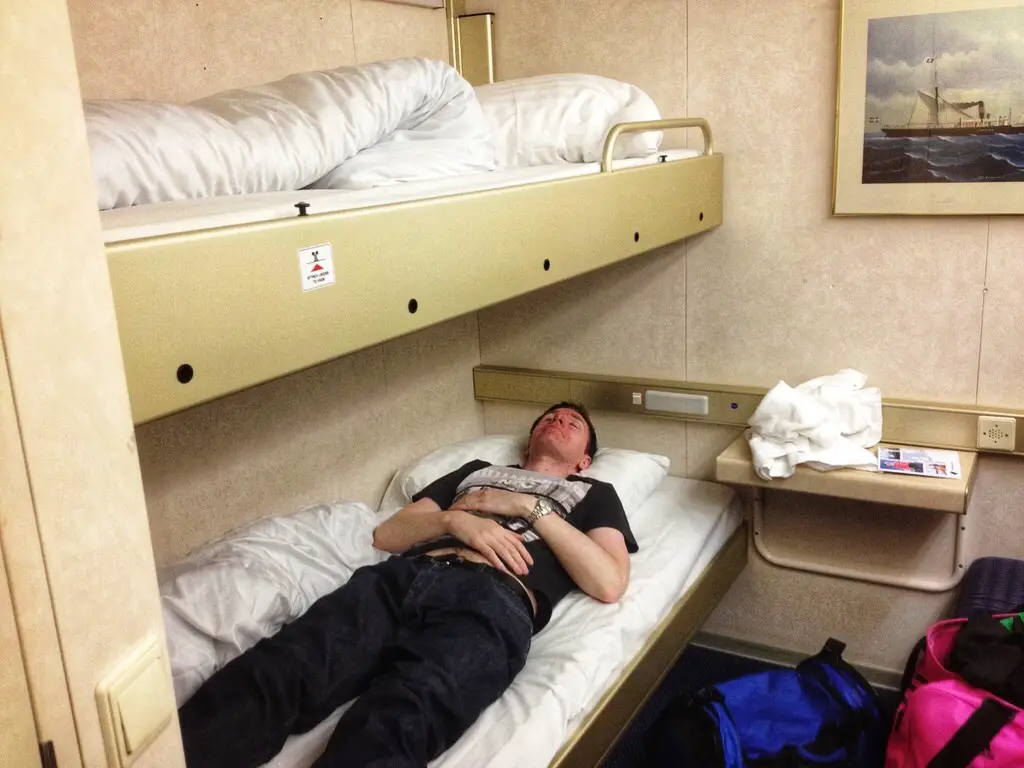 Newcastle to Amsterdam by ferry – The rooms
So I'm not going to sugar coat it. The rooms are small. We were in the economy section so we had a bunk bed and no window. This was fine as we were expecting this. It was such a cheap trip and for us the room was really just for sleeping. The only issue we had was that the shower was directly over the toilet in the ensuite bathroom. Still when it is only 2 nights you don't mind as much. Plus, when you have views of the North Sea to look at who needs to spend time in a room anyway? Of course, you can upgrade to bigger rooms, and rooms with windows if you are so inclined.
The different room types you can book when traveling from Newcastle to Amsterdam by ferry are as follows:
Economy Cabins
 As mentioned we booked the economy room with no window. This was fine for us because it was only 2 nights, and when you have a whole ship at your disposal how much time do you want to spend inside your room? Essentially you get a room with bunk beds, and an ensuite bathroom. Space is limited, but again it's all part of the experience.
Sea View Cabins
Sea View Cabins are similar to the economy cabins but obviously the big difference is they have a window. In honesty if we ever book again we will probably go with the sea view cabin because our cabin did feel a little claustrophobic.
Double Bed Cabins
If you are travelling as a couple it is probably worth splashing out for a double bed cabin. Again you have the choice of inside cabins (no window) and outside cabins (with a window). The double rooms are slightly more expensive than your economy and sea view cabins with bunk beds.
The ships are also kitted out with accessible and pet friendly rooms as well to meet your individual needs.
Newcastle to Amsterdam by ferry – The amenities
There is a lot to do on the ship. There are several bars and restaurants, as well as a cinema. For us it was nice to sit down and enjoy a nice dinner at one of the restaurants. They are a little bit pricey so keep that in mind as you might want to bring your own snacks on board instead.
We loved sipping cocktails on the top deck and watching the sun set over the North Sea. This was certainly a trip highlight for us. We also spent a bit of time in a few of the ship's bars. They had live music playing, and after a few drunk sing-alongs we decided to go to bed.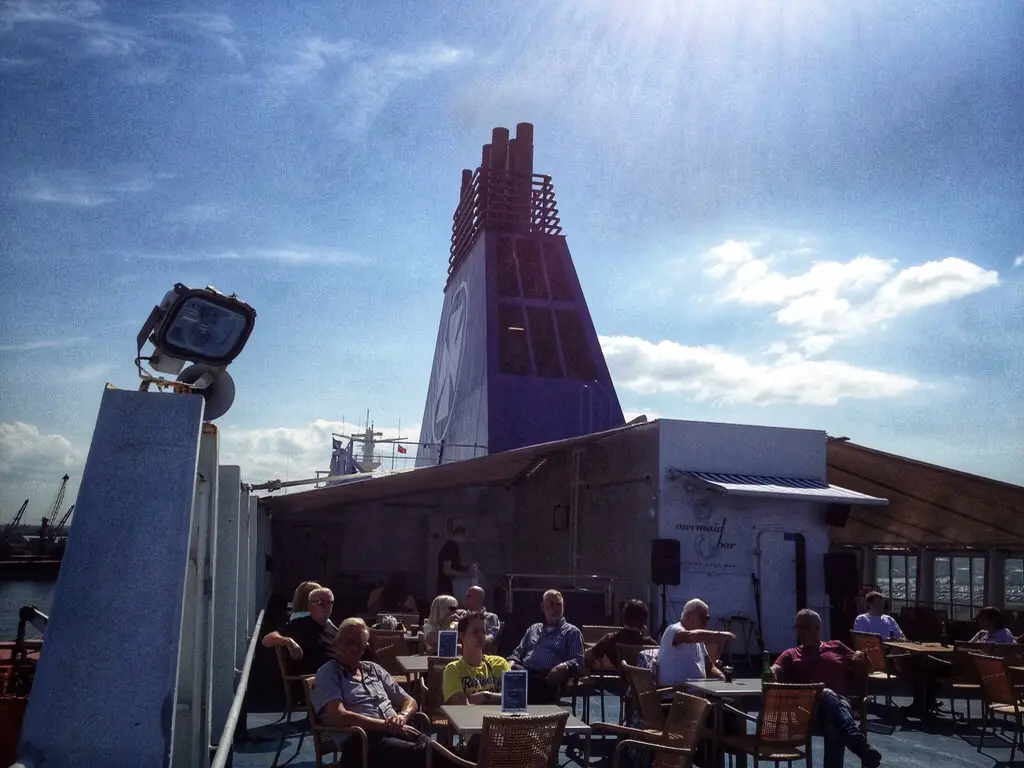 In terms of the restaurants when you travel from Newcastle to Amsterdam by ferry you can expect the following:
North Sea Bistro
This includes 2 or 3 course meals including things like steak or fish and vegetables. It's basically your more high end dining option on board.
Explorers Kitchen
The Explorers Kitchen provide an international buffet where you can help yourself to Mediterranean, Asian, and Italian food – plus much more.  Prices start at £22 and the buffet comes highly recommended.
Coffee Crew Café
If you don't want a bit feast on board, or are craving a morning coffee head to Coffee Crew Café serving Starbucks drinks, and small bites to eat.
You also have the option to partake in some Duty Free Shopping on board, or enjoy some drinks in one of the onboard bars.
Newcastle to Amsterdam by ferry- Arriving in Holland
The boat arrives in the morning at the port of Ijmuiden and I should mention that it takes a 40 minute bus ride to get into Amsterdam. Our advice would be to try and get on one of the first coaches if you can as this gives you a bit of extra time in Amsterdam. We arrived in the city at around 11am and we had about 5 hours to spend here before making our way back to the ship.
Newcastle to Amsterdam by ferry – Things to do in Amsterdam 
Obviously 5 hours is nothing in a city as incredible as Amsterdam. But if there is something you really want to do we would recommend booking tickets in advance. The bus drops you off right in the centre of the city. Just make sure you look out for bikes as you disembark the coach.  Here are some of our suggestions on how to pass the time.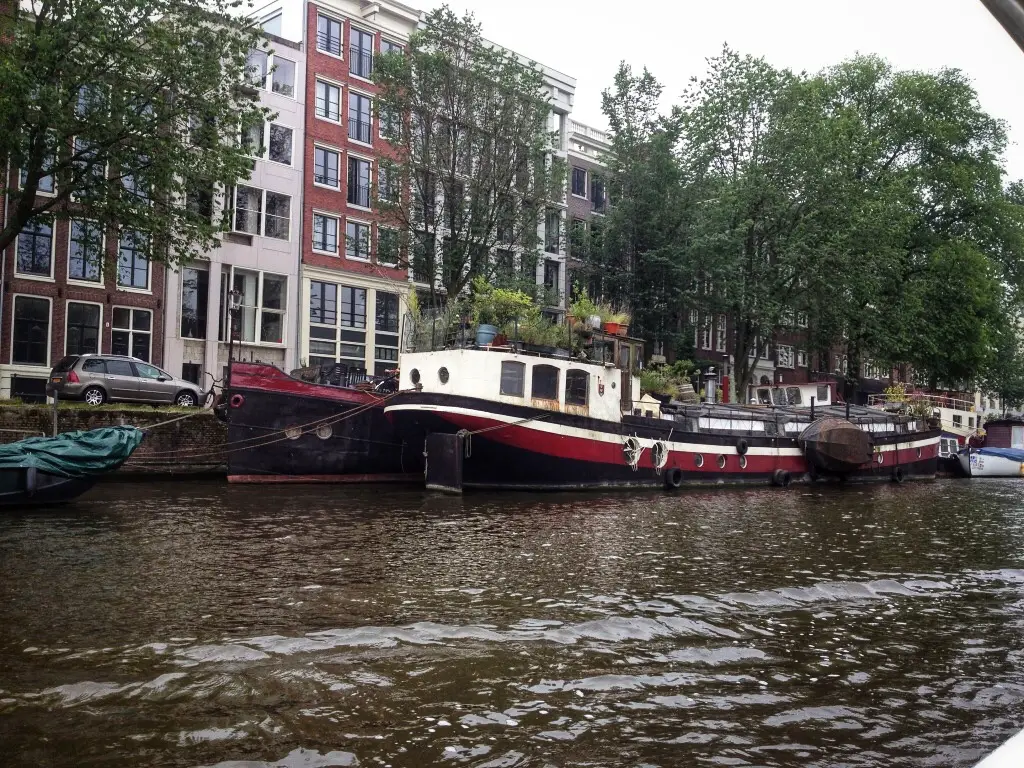 Do a canal cruise
Considering Amsterdam is famous for its canals, a great way to see the city is from the water. We really do recommend going on a cruise to orient yourself with the city. Our tour lasted around an hour and we got to see the incredible architecture and learn all about the history of the city and its canals. It is worth booking your cruise online in advance so that you don't have to waste time lining up for tickets when you arrive.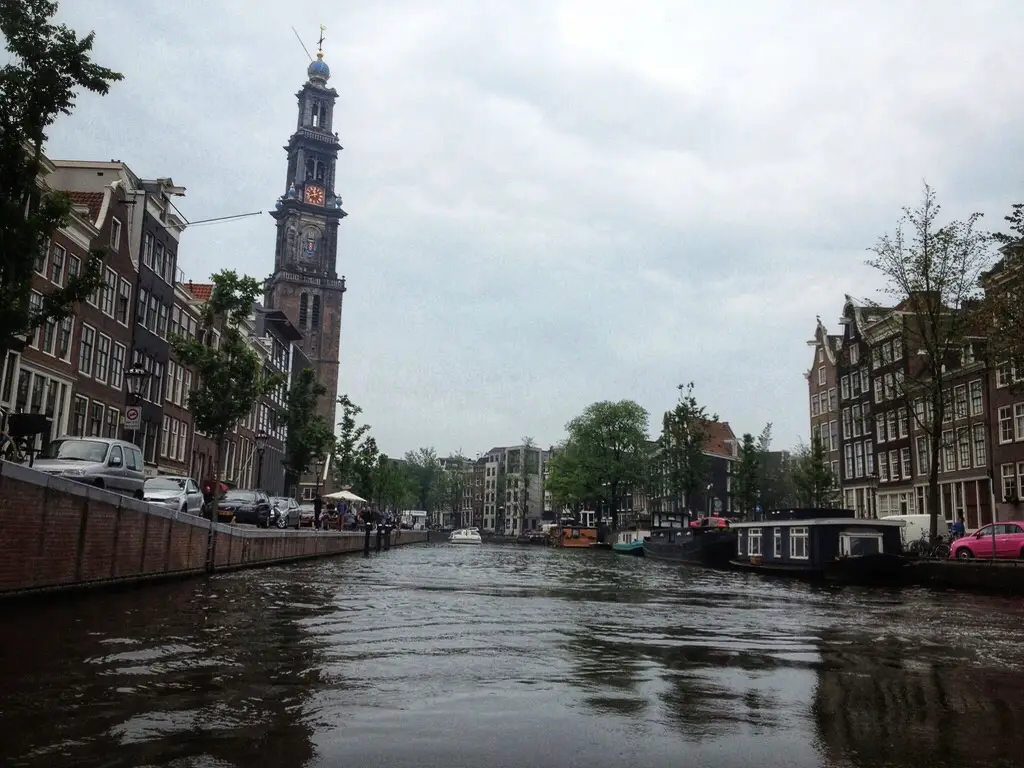 Fill up on fries and coffee
We didn't get up early enough to have breakfast on the boat, so we were starving. After the cruise we made our way to a cafe and sat by the canal to eat. If you get the chance to try them, Dutch Fries with mayonnaise are amazing. It is also really nice (weather permitting) to sit by the canal sipping cups of coffee. After all you want to soak in as much of the atmosphere as possible.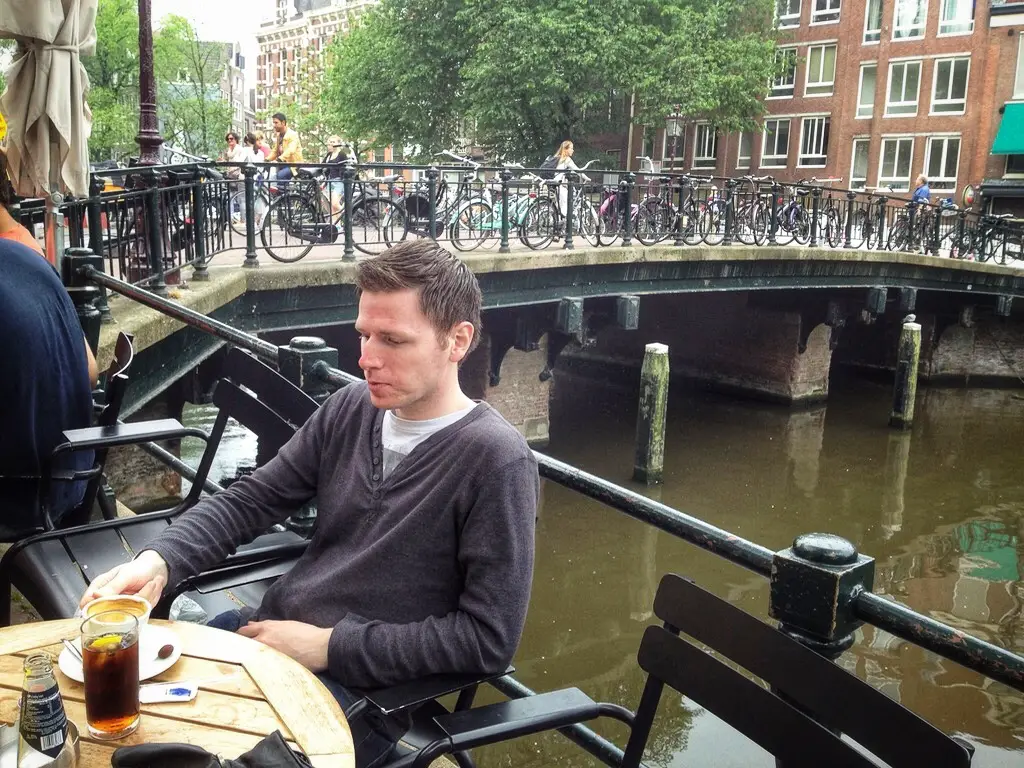 Walk around the canals
We spent a lot of time exploring the city on foot. We loved the beautiful canals and discovering beautiful streets. It's such a picturesque place and it's just really enjoyable walking around getting lost in the beauty of the city.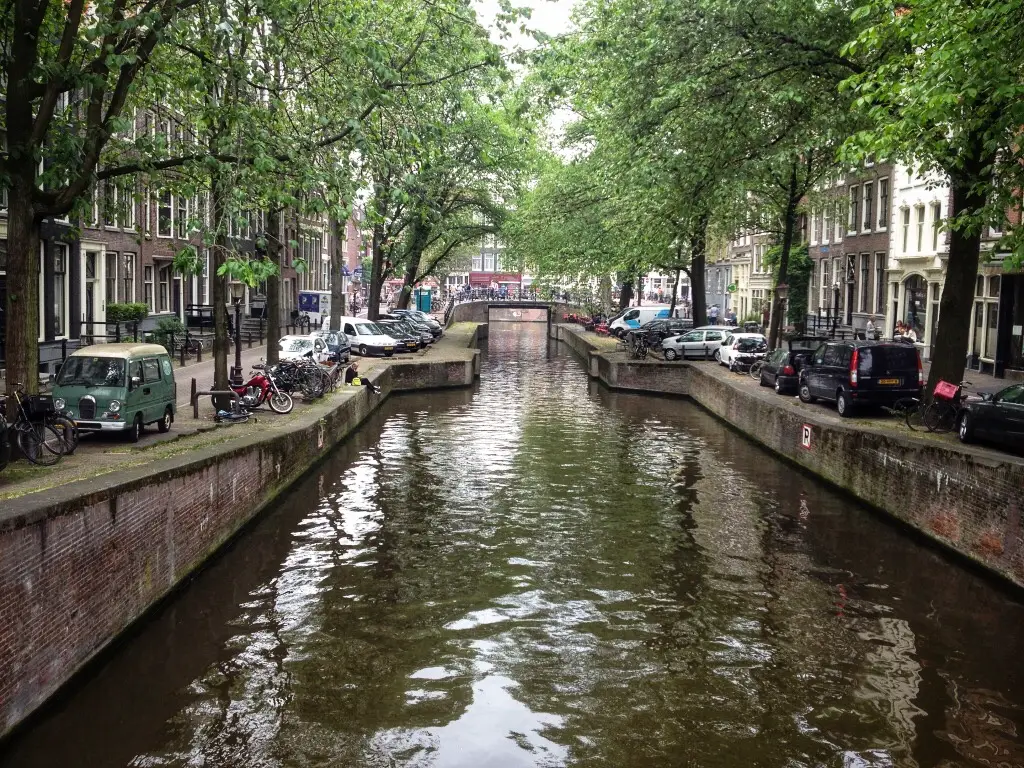 Visit the Floating Flower Market
So the Amsterdam Flower Market is the only floating Flower Market in the world. The shops are located inside a row of barges, and is a homage to the days when flowers arrived here by boat from the countryside.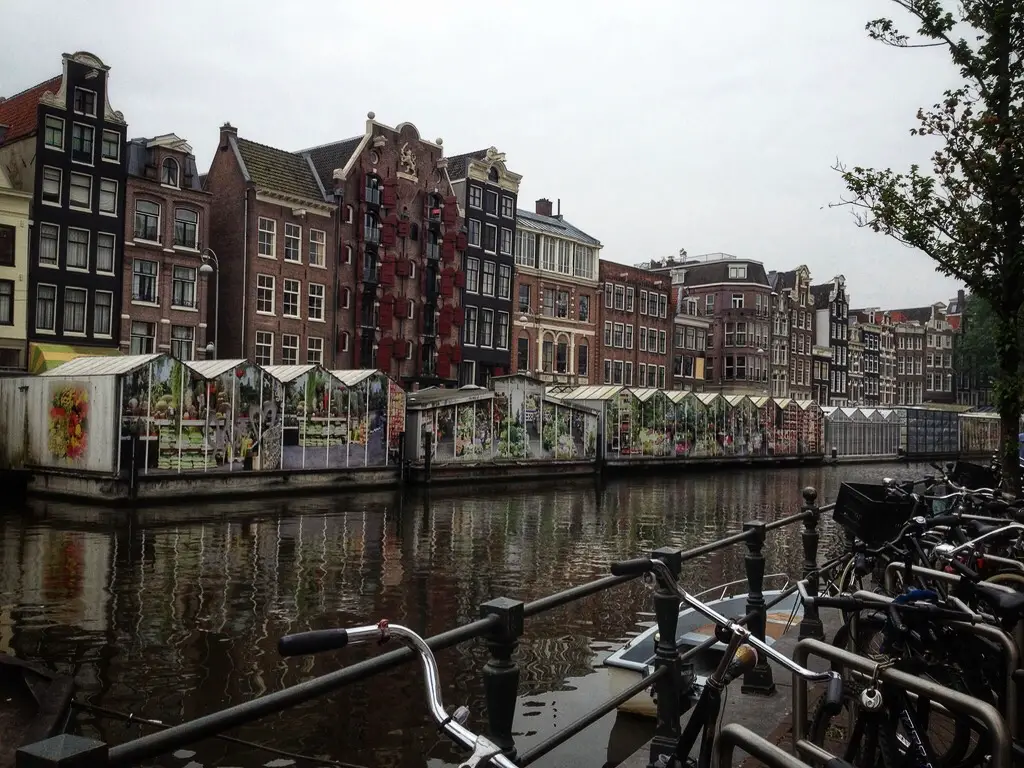 It is probably one of the most colourful places in the city and is a real visual feast. Apart from flowers you can also purchase seeds and gardening tools. It is also a great place to get some souvenirs like fridge magnets and postcards.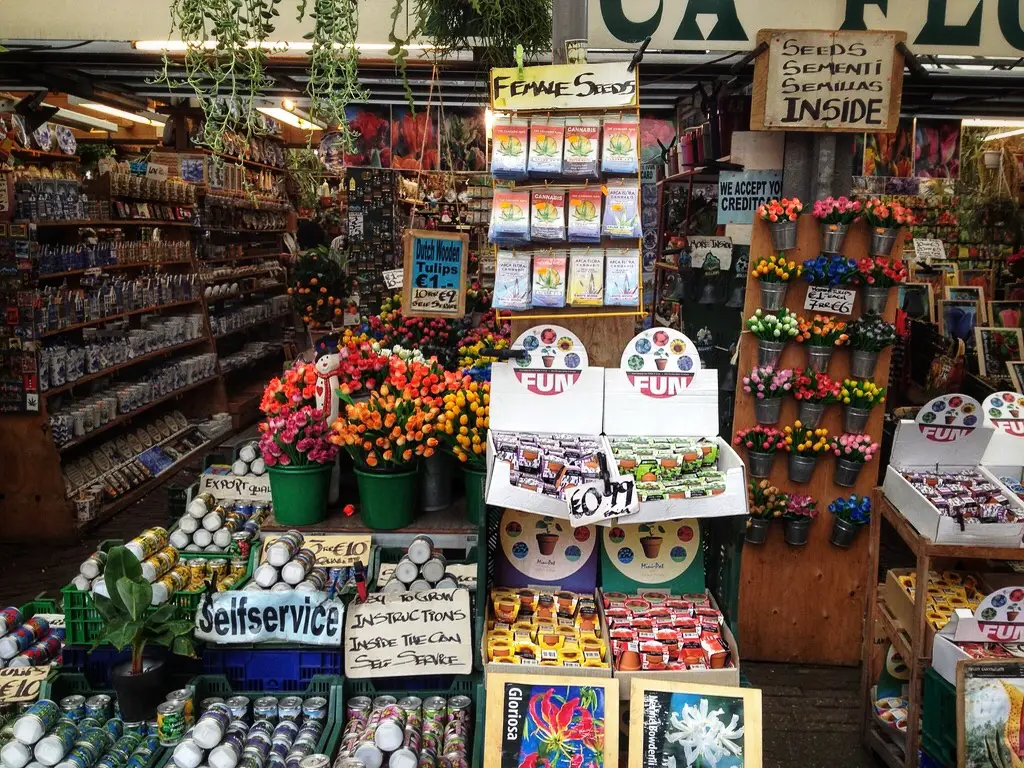 Rijksmuseum
The Rijksmuseum or the National Museum of the Netherlands is a great place to visit to learn all about the arts and history of the country. Now this will probably take the full 5 hours in Amsterdam so maybe best saved for longer trips. But if you are super keen then you can book your tickets here in advance.
Anne Frank House
This is probably one of the most well-known museums in Amsterdam. It's a very sombre reminder of the horrors inflicted during WW2, and if you do get a chance to visit then do. You will learn all about Anne and her family, and you can tour the place they called home for 2 years whilst hiding from the Nazi's.
Explore the edgier side of the city
On our way back to the bus we decided to have a quick walk through the back streets of the city and have a look at the coffeeshops. You hear so much about them and it was so strange walking past and seeing what they were like in person.
We actually found out that there are some strict rules when it comes to these coffeeshops, and the sale of marijuana is heavily regulated in the city. For us though, it was fascinating walking around an area that is so different to anything we would see at home. Coffeeshops are not our thing so instead we indulged in a pint of Dutch beer at a bar before heading back to the ship.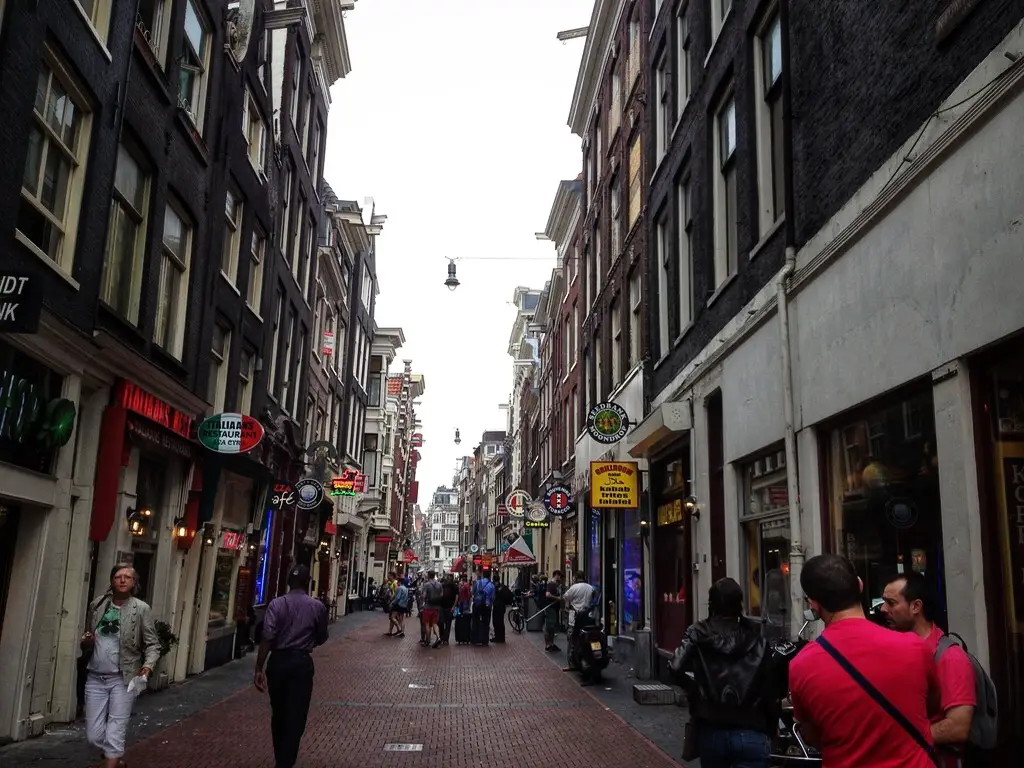 Explore the Red Light District
Admittedly the Red Light District in Amsterdam isn't going to be for everyone. But walking through is certainly an eye opening experience to say the least. It's not as graphic or dangerous as you might think. You will see red-lit windows, sex shops, and strip clubs in the area, which might be out there for some but it's a testament to the open attitude towards sex the Dutch hold. Also it is the oldest part of the city, and one of the oldest trades, so it is worth a visit.
And whilst we are discussing the openness towards sex, you can also visit the Amsterdam sexmuseum, if you dare.
Amsterdam to Newcastle by ferry – Getting around Amsterdam
If you are getting the ferry from Amsterdam to Newcastle, then realistically with your day in Amsterdam you probably won't really need to rely on public transport. The best thing to do is walk around and explore the city on foot.
If you do happen to use public transport though the main options are using the bus, tram, or metro. You are probably best off buying a day ticket for about €8.50. The best thing to do is download the GVB travel app onto your phone and purchase your tickets on here.
Amsterdam to Newcastle by ferry – Back on the boat
When we got back on the boat it gave us time to reflect upon our time in Amsterdam. The cruise was fantastic and definitely worth doing. Tickets can be quite cheap and it is a great idea for a mini break. That being said, we definitely want to go back to Amsterdam and spend a lot more time there. There are a lot of museums we want to see, as well as the Anne Frank house. And it would be awesome having a night out in the city. Fingers crossed we will be back soon and we will have to add it to our never ending list of places we want to go back to!
Newcastle to Amsterdam mini cruise tips
Book your dining in advance if you want to save some money 
Alternatively eat before you get on the boat and have breakfast once you get to Amsterdam to save money on food
Try to avoid the ferry on weekends, it sort of becomes a bit of a booze cruise on Friday and Saturday night
Don't fill up on Space Cakes and get on the boat!
Staying longer – Amsterdam to Newcastle
Like we mentioned previously, 5 hours in Amsterdam will not be enough time to see everything the city has to offer. You do have the option to stay longer in Amsterdam. You can either book a one way cruise from Newcastle to Amsterdam, and then a separate return from Amsterdam to Newcastle. Or you can select a longer amount of time in Amsterdam when booking your trip.
Just be mindful that it will be more expensive than the usual mini cruise, but despite this it is something we recommend. You can take all the usual stress out of travelling through the airport out of the equation, and sail to Amsterdam in style. You also don't have to worry about getting back to the boat within the 5 hours, and can really soak up the Dutch culture.
Where to stay when travelling from Amsterdam to Newcastle by ferry
If you decide to stay a little bit longer in Amsterdam here is a bit of a guide to the best areas to stay in the city.
Old Centre
For first time visitors, we recommend staying in the Old Centre. This will mean you are close to the tourist attractions, and all the hustle and bustle. Admittedly accommodation can be a bit expensive here, due to the prime location, so make sure you book well in advance to secure the best deal.
Oud-Zuid 
If you are looking for budget accommodation we recommend stying in Oud-Zuid. It's also very close to the museums, and the Heineken Experience.
Canal Belt
Our favourite part of Amsterdam has to be the Canal Belt. It's probably the most romantic part of the city, with all those charming cafes, and gorgeous canals. It's centrally located, and great for those on a short trip to the city.
How much does it cost to get from Newcastle to Amsterdam by ferry?
You might be wondering how much it costs to get from Newcastle to Amsterdam by ferry. Truth be told this will be dependent on a number of things such as the time of year you book, if you are staying longer in Amsterdam, and whether you plan to eat on the boat. As a rough idea here are some numbers:
Return trip from Newcastle to Amsterdam: £220 for 2 (unless you can get a 2 for 1 deal which do pop up sometimes).
Food on board: £60 for 2
Spending money in Amsterdam: €30 -€100 depending on what attractions you want to see.
Ferry from Newcastle to Amsterdam – how much money do I need in Amsterdam?
Amsterdam is a pretty expensive city to visit. Maybe not in the same realms as London or Oslo, but it's definitely not super cheap.
We recommend budgeting about €80 per person for you day in Amsterdam. This will include things like attractions, food, drink, and transport.
If you aren't planning on eating at expensive restaurants, or spending the day sipping cocktails you can definitely do things a lot cheaper. Plus with the limited time you will probably not be able to spend that much money on attractions and the like.
What to pack for your trip on the ferry from Newcastle to Amsterdam
Here are some of the things we recommend packing for your Newcastle to Amsterdam ferry trip.
Comfortable walking shoes – especially for walking around Amsterdam
A warm jacket – especially useful for the boat as it can get windy and cold if you are standing outside
Passport and travel documents
Layered clothes for a variety of weather as this can be unpredictable in Amsterdam (and Newcastle for that matter)
Rain/ waterproof items.
Tips for getting the ferry from Newcastle to Amsterdam
Here are some final tips for getting the ferry from Newcastle to Amsterdam.
Pack a few snacks as again these will be cheaper than buying them onboard.
Check Groupon and other booking sites for any 2 for 1 deals on your ferry from Newcastle to Amsterdam.
Try and get to the front of the queue and be one of the first off the boat to give yourself more time in Amsterdam.
Be careful when booking tours in advance especially if these include timed starts as it is hard to predict when you will be in Amsterdam.
Don't bring drugs onto the boat!
Carry your ID with you at all times in Amsterdam, as you will need to show it to police if you are stopped.
Watch out for bikes in Amsterdam!
Is it worth going from Newcastle to Amsterdam by ferry?
For us the Newcastle to Amsterdam mini cruise was absolutely worth it. The cruise itself was really enjoyable and relaxing. A big part of the holiday was enjoying our time on the boat and watching the sunset. Despite the tickets being cheap the food and drink onboard does get a bit pricey so keep that in mind when weighing up your costs. That being said if you are wanting to travel a little differently than we recommend going from Newcastle to Amsterdam by ferry. 
If you are trying to decide between London or Amsterdam here is a helpful guide.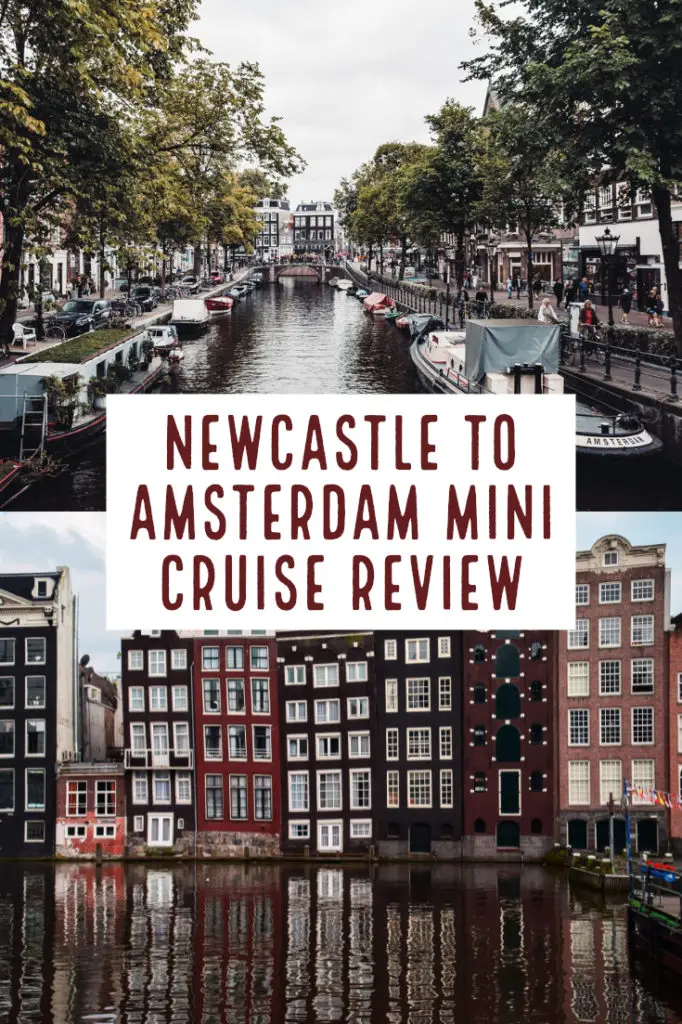 For more European inspiration have a look at these articles:
Visiting Prague, Vienna and Budapest