So you have a weekend in Hamburg and you are wondering what to expect? Well, hip bars, amazing architecture, and plenty of atmosphere are just some of the things that await you as part of your Hamburg itinerary.  We were lucky enough to explore this city through the Come to Hamburg project. We had 3 days in the city where we had the opportunity to explore some of the main tourist attractions, get lost in the colourful streets, and try some amazing food. We tried to fit in as much as possible, and after 3 days in Hamburg, our feet were sore, but we definitely enjoyed our time in the city. Here is our 3 day Hamburg itinerary that will hopefully help you plan your own trip to this amazing city.
Disclaimer: This post contains affiliate links, so if you use these links to buy something we may earn a commission, at no cost to you. Thank you for your support.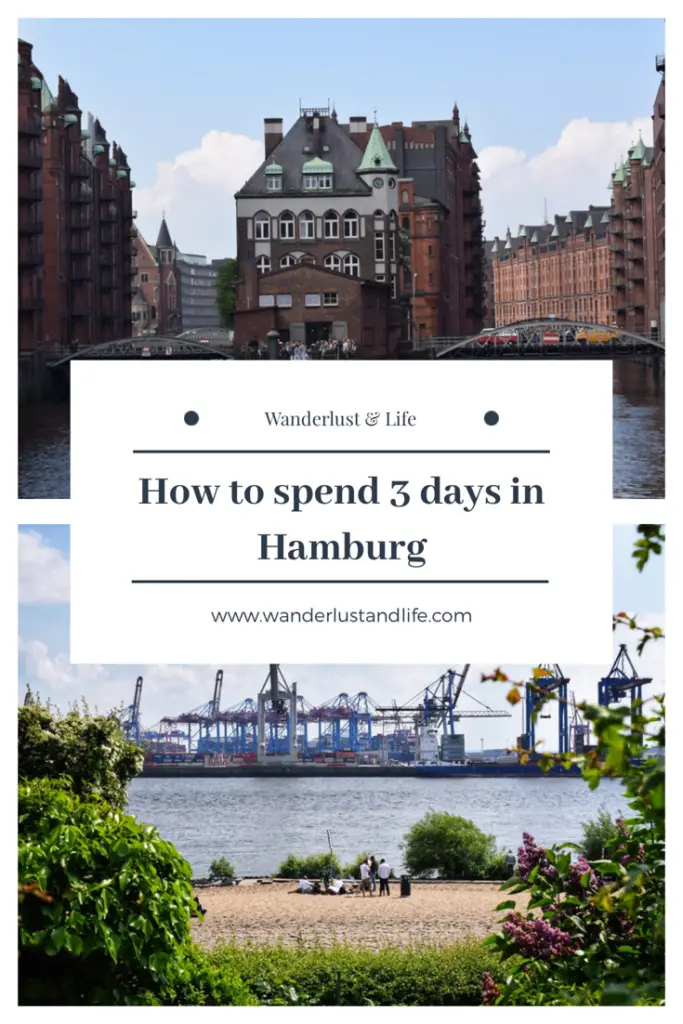 Hamburg Itinerary Factsheet
Country: Germany
Language(s): German but English is widely spoken
Currency : Euro
Visit if you like: European city breaks, architecture, and history
Hamburg is a major port city located in the Northern part of Germany. It is the second largest city in Germany and consists of hundreds of canals, lots of beautiful parkland, and parts of the city were declared a UNESCO World Heritage site. Despite it being the 3rd largest port in Europe, you might be interested to know that the city isn't actually located on the sea. In fact, a ship would need to travel 109 kilometres along the River Elbe to reach Hamburg.  
Another cool thing about Hamburg is that it has more bridges that any other city in the world, in part due to the canals that snake their way through the city. In my head I always thought maybe Amsterdam or Venice would hold that title, but apparently not. 
Getting around during your 3 days in Hamburg
I should mention that Hamburg was one of the easiest cities we have been to, in terms of getting around. The public transport system is excellent. We had a Hamburg Card that lasted the three days we were there. The Hamburg card gives you unlimited travel for your selected dates on buses, ferries, and trains. You can pre-purchase this online here. You just need to make sure you have the card on you at all times and show it if you are inspected. The cool thing is you can also use it to get discounts on a number of tourist attractions which we took full advantage of. The car is great value for money and will come in handy during your 3 days in Hamburg.
Where to stay during your 3 days in Hamburg
Hamburg has a lot of accommodation to fit all budget types. We got the opportunity to stay at the Sofitel Hamburg Alter Wall. This luxury hotel is located right next to a train station which made it the perfect location for us. You can read our review here.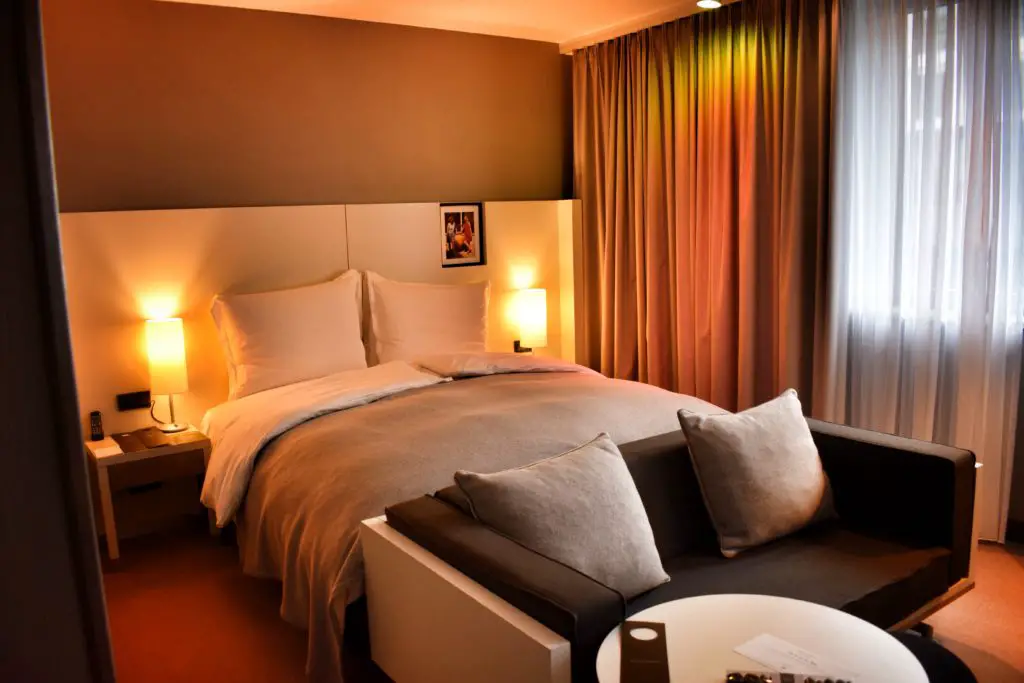 If you are looking for something more budget friendly then do have a look at the Hotel Bergedorfer Hohe. Located in Bergedorf this hotel provides you with the opportunity to explore the surrounding town as well as Hamburg centre.
Things to do during your 3 days in Hamburg
There are a lot of incredible things to do in Hamburg, and obviously in 3 days you might not be able to do them all. That being said here are our favourite things to do in Hamburg.
One of our favourite things to do when visiting a new city especially with limited time is to do a city bus tour. It is the perfect way to orient yourself as part of your 3 day Hamburg itinerary. We did the full circle (Sightseeing tour – Line A) and got to see a lot of Hamburg. There is live commentary in German, but you can plug your earphones in and there is pre-recorded commentary in English. The best thing about the tour was that it showed us how big Hamburg is, which really surprised us.
You can book your tickets online in advance on Get your Guide.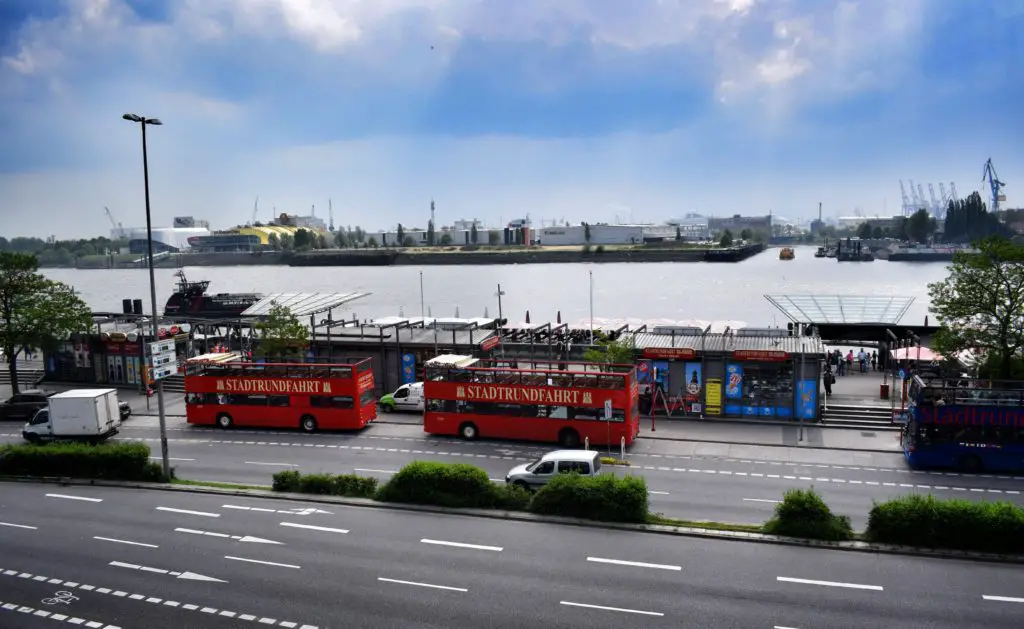 We discovered this on the bus tour, and we decided to hop off and explore. The church is one of the most famous in Hamburg.  The church tower also offers panoramic views of the city. The good news is there is a lift but if you really want to you can climb the 400 plus steps to the viewing platform. It is definitely worth a visit if you want an incredible view of the city. We also got a reduction off the entry price with the Hamburg card.
If you want to book online in advance then you can do that here.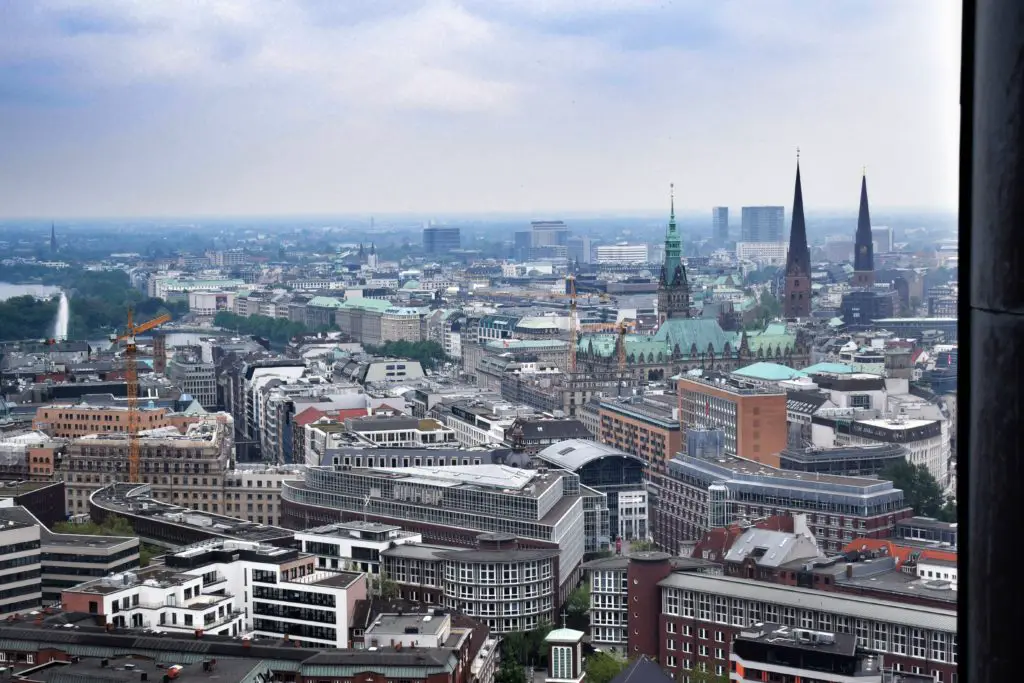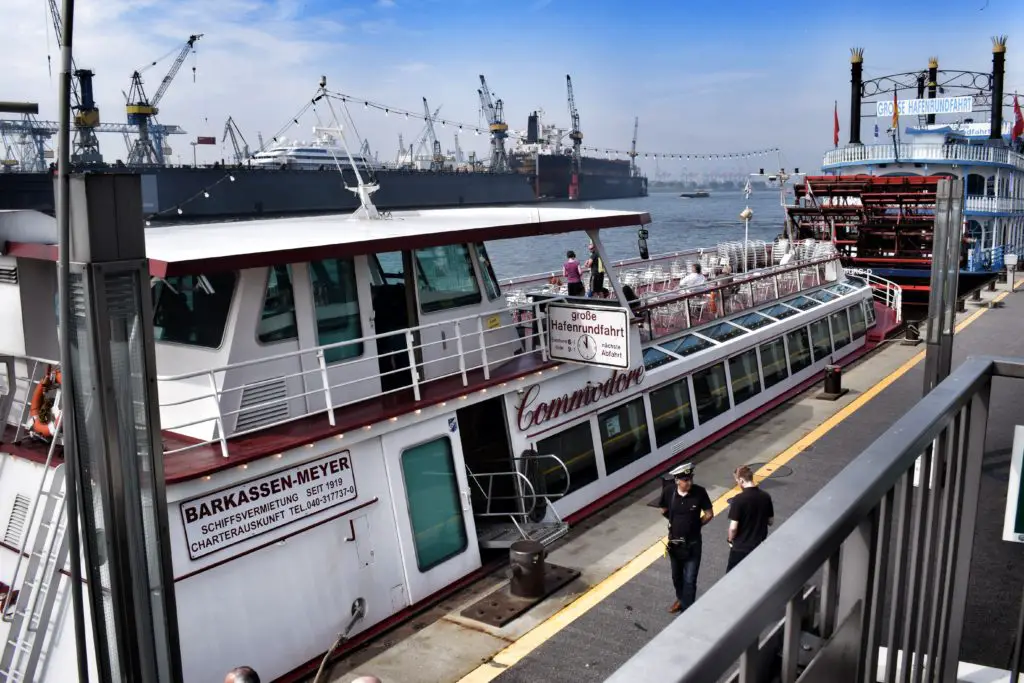 You cannot plan a 3 day Hamburg itinerary without doing a boat tour. There are so many companies offering tours around the harbour. You literally cannot walk around here without someone trying to sell you a tour. We had the opportunity to do the tour with Barkassen Meyer and it was amazing.
The tour was in German but we got an app from the main office which gave the commentary in English. The best bit about this was that you could click on the area you were passing and the commentary would start. This ensured you didn't miss anything. We sat on the top deck, the wind in our hair, and an Aperol Spritz or in Dave's case a pilsner in hand. The highlight of the tour was when we went right up to some of the larger boats filled with shipping containers. The sheer size of these boats and the machinery is on an epic scale and is a sight to behold.
There are actually several different cruises you can book onto with some examples below.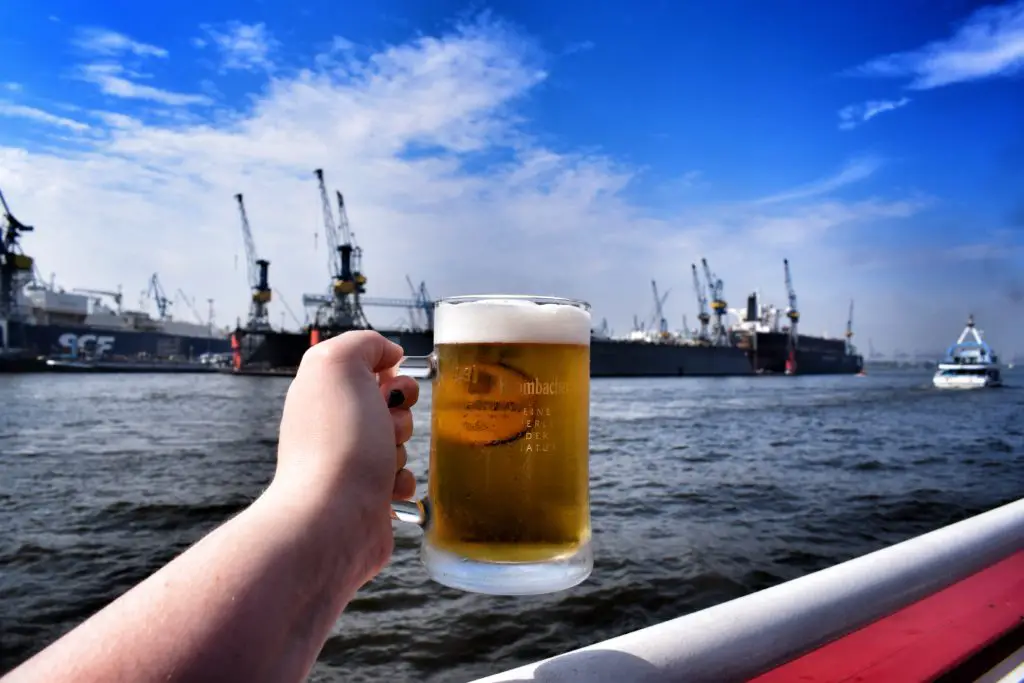 Another must for your 3 days in Hamburg is a visit to Miniatur Wunderland. Dave really wanted to do this, especially when we found out through the commentary on the bus tour that this was home to the world's largest model railway exhibition. I wasn't sure what to expect so went along reluctantly. I have to say I was really impressed. It is actually so amazing and we highly recommend visiting if you come to Hamburg. The displays are so intricate that it almost transports you back to that magic of being a kid. There are various displays and different themes although our personal favourite was the airport display which involved a model plane taking off.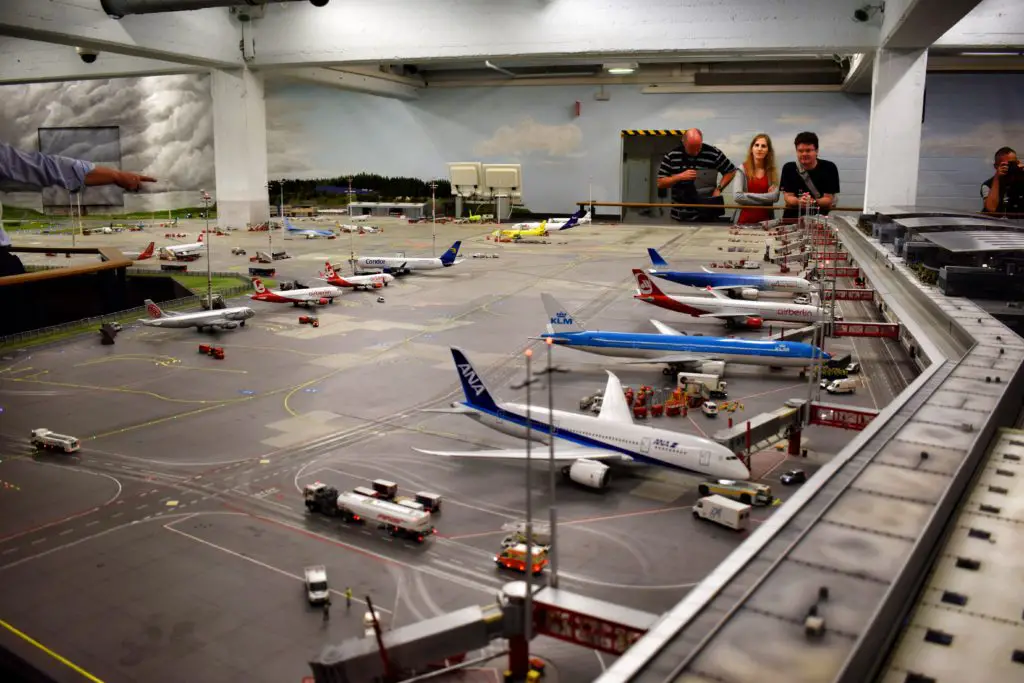 Rathaus
Our hotel was really close to the Rathaus or Town Hall. This was perfect because it gave us ample opportunity to walk by and marvel at the building. You can actually go in and have a look at the lobby, but due to time constraints we had to admire this beauty from the outside. The bus tour we took stopped off here, so we do recommend getting out and having a walk around this area. If you are lucky enough to visit around Christmas the Rathaus becomes the home of the Hamburg Christmas Markets.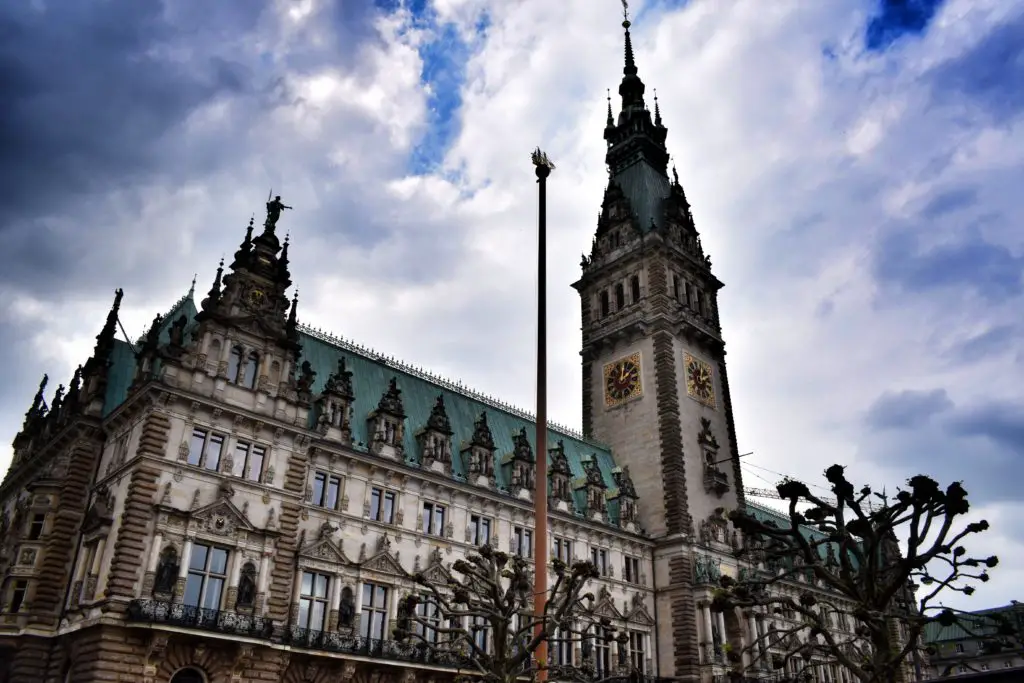 Poggenmuhlen Bridge
This is probably the most famous bridge in Hamburg and believe me there are a lot! Photographers flock here to get a snap of one of the most famous scenes in Hamburg. It's also really busy after sunset when the light begins to fade. If you are looking for Instagram spots in Hamburg then we have an article to help you get those social media perfect snaps here.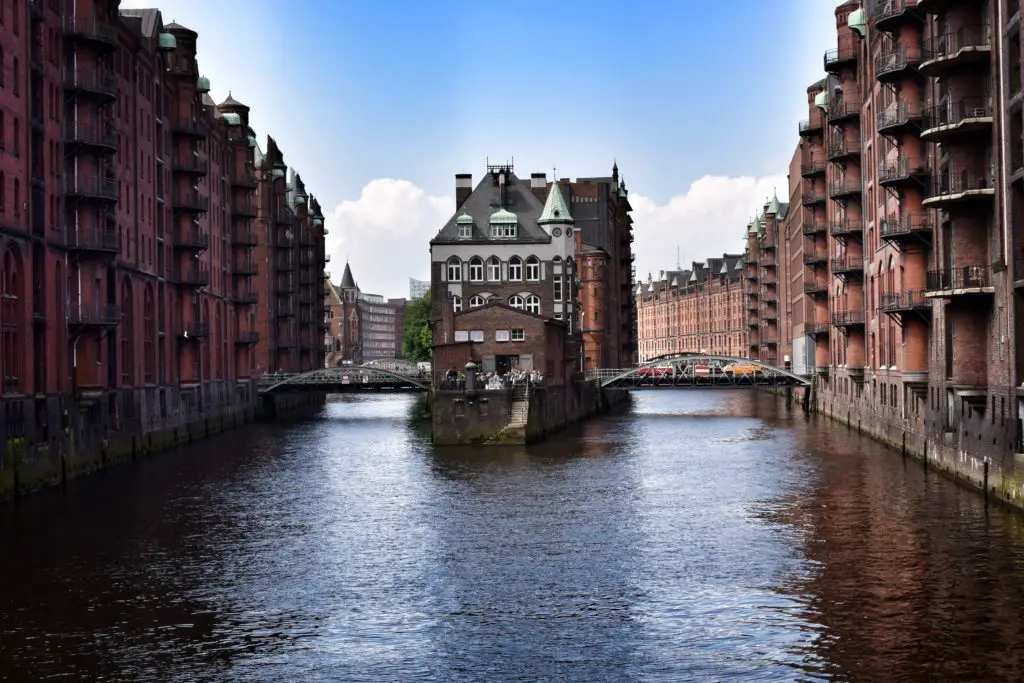 Another favourite on our 3 day Hamburg itinerary. Because who doesn't love chocolate! This place is a chocoholic's dream. You get to learn all about the chocolate journey from cocoa bean to chocolate bar. You also get to do a lot of tasting along the way.
We got to design our own chocolate bar to take home. Let's just say neither of us are going to become chocolate artists anytime soon. Most of the tours are in German but on Saturday and Sunday at 12.30pm they do an English tour. Our guide was fantastic and we learnt so much about the process. The whole tour takes about 90 minutes and is definitely worth it (even for the chocolate samples alone).
We recommend booking your tour online in advance so that you don't miss out.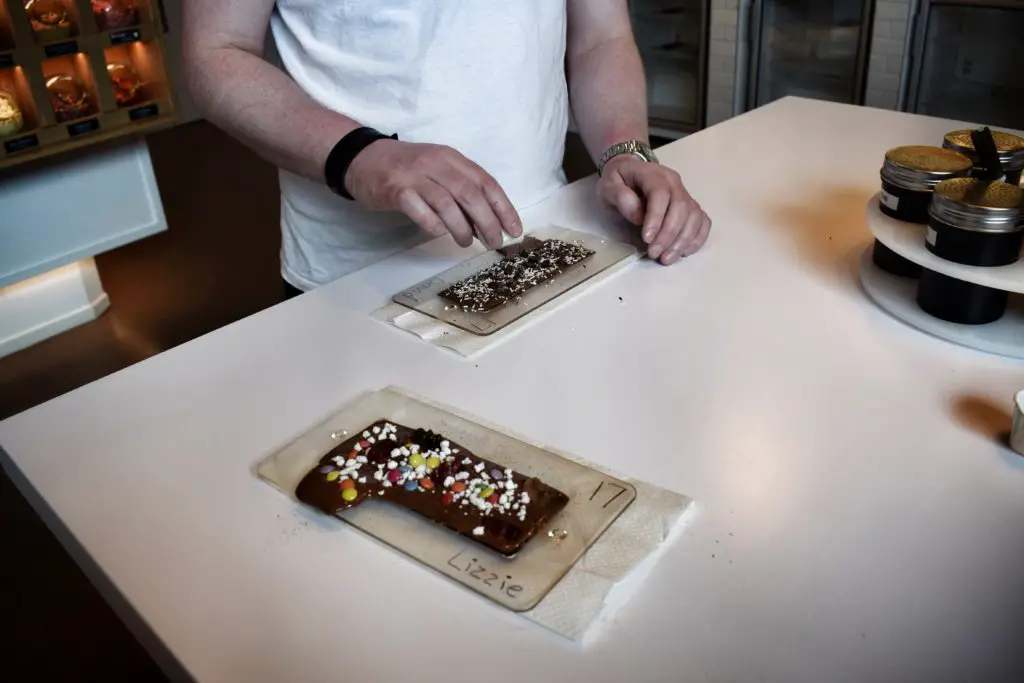 The Old Elbe Tunnel
This was by far one of the coolest tunnels we have seen. It was recommended to us by a local so you know it has to be amazing. Opened in 1911, this was actually the first river tunnel in mainland Europe. It is worth getting the lift down and having a look even if you don't intend to walk it.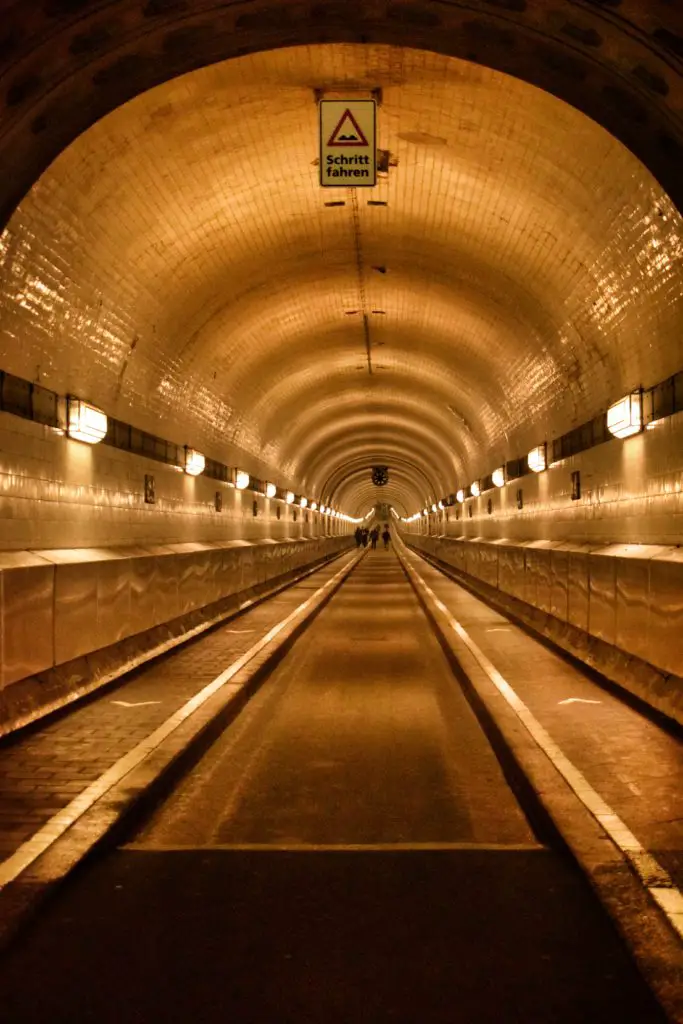 Reeperbahn and St Pauli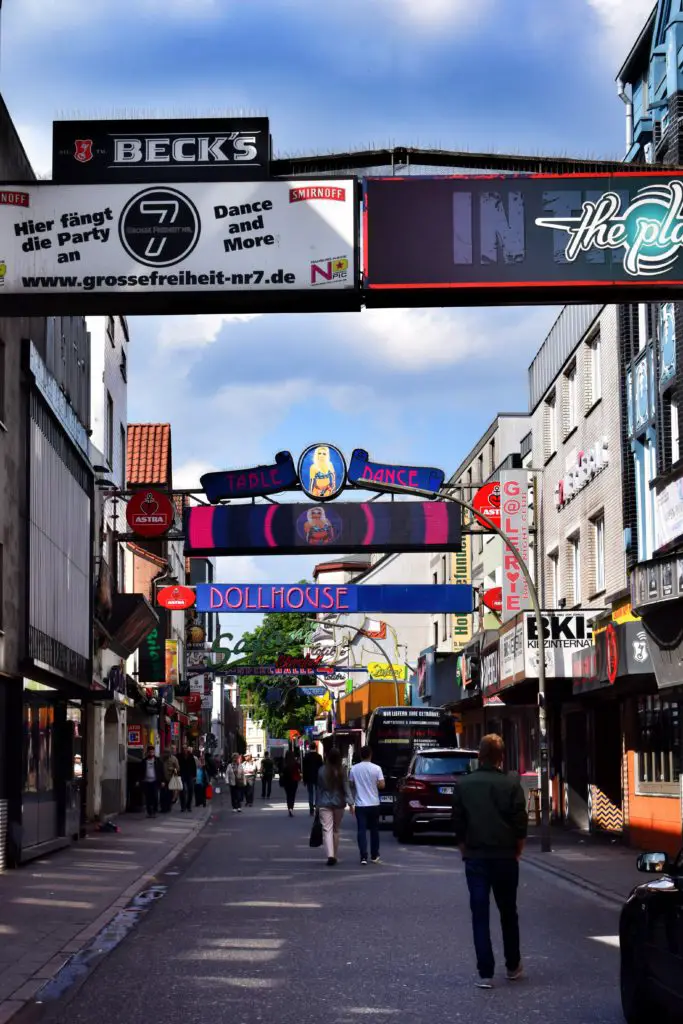 Yes it is seedy and yes it is frequented by stag and hen do's but however you feel about it, the Reeperbahn is worth a visit. At night the area is chaotic and rowdy, but in the day it has a quieter vibe. It is also located in the St Pauli area which is a great place to walk around.
There are a lot of hip bars and restaurants to discover. Plus you can get some cool photos of the graffiti laden walls. Around Christmas this area is home to the Santa Pauli Christmas markets, which are probably the most interesting Christmas Markets we have ever visited to say the least.
We recommend doing a tour of the area to learn a little bit more about it all, and experience the nightlife.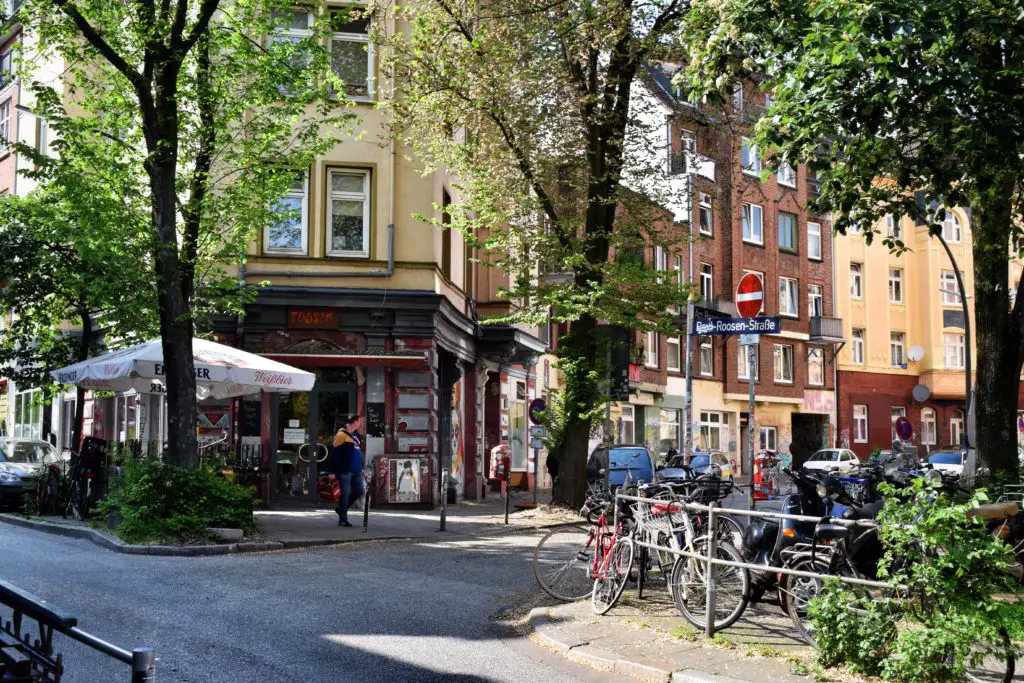 The beach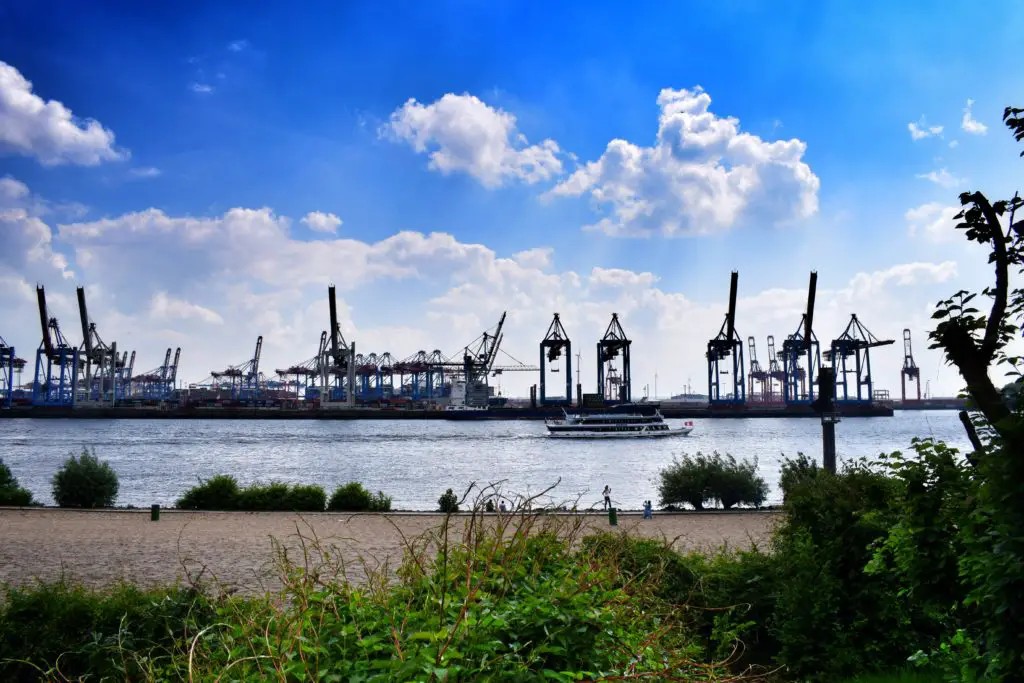 This was one of the more surprising stops on our 3 day Hamburg itinerary. If you get on the ferry from Landungsbruken to Finkenwerder (Line 62) you can hop off at Ovelgonne and head to the beach. On a warm day you will find kids building sandcastles and dipping their toes in the water, with cranes and tugboats in the background. There are also some lovely bars and cafes there which makes it all the more appealing on a summer's day. It's a great place to walk around and explore or just sit and take in the view. I should also add that the houses here are just incredible.
Food and Drink
Germany of course is synonymous with eating sausages and drinking beers. And this is of course what we did a lot of the time during our 3 days in Hamburg. We also enjoyed some pretty epic burgers at Better Burger Company which we recommend. You get to build your own burger from a wide variety of different toppings and sauces. A huge part of the Hamburg experience is based around food and drink. There are so many hip places to eat, and don't even get me started on the street food!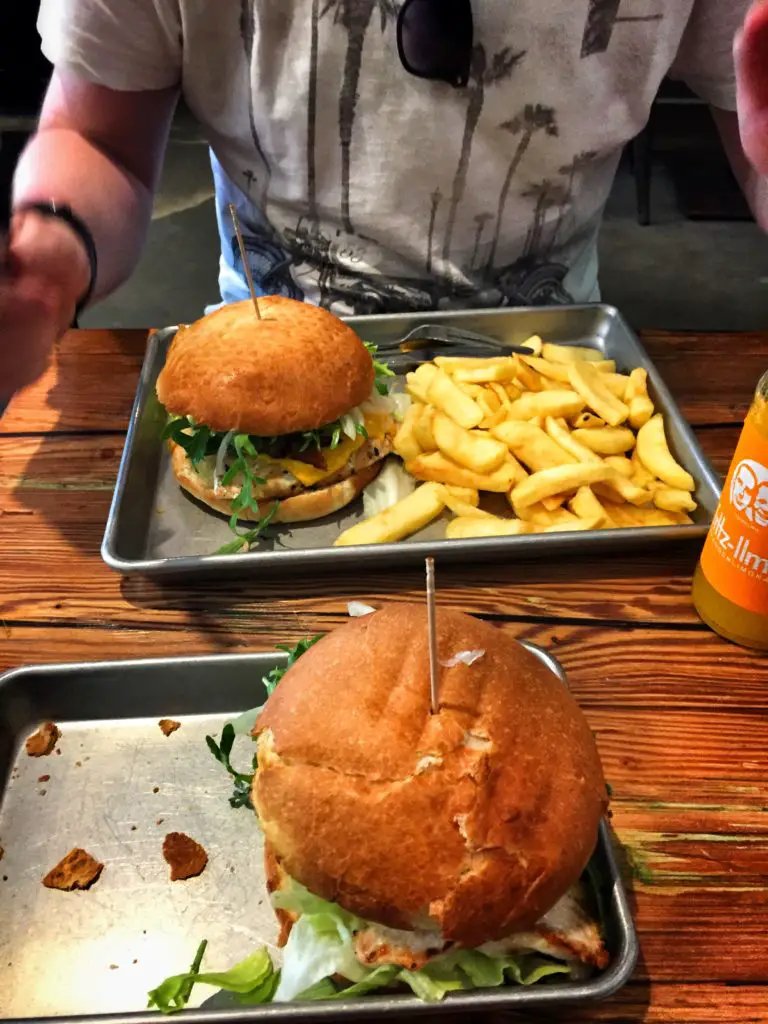 3 day Hamburg itinerary
3 days in Hamburg – Day 1
Day 1 of your 3 days in Hamburg should be spent getting acquainted with the city. We certainly think one of the best ways to do this is to do a hop on hop off tour. Do the full circuit to learn all about the history of the city, before disembarking in the warehouse district. Once here check out the Miniatur Wanderland. This should take you to late afternoon/ early evening when we recommend visiting the Reeperbahn area and exploring St Pauli. Make time for a few drinks and if you are game for a night out this is definitely the area to do it!
3 days in Hamburg – Day 2
Day 2 of your 3 day Hamburg itinerary starts with some awesome views. We recommend a morning visit to St Michaels Church where you can admire the views of the city. Then walk down to the harbour and do a harbour cruise. Once you are done in the afternoon have a drink at one of the harbour bars before exploring the Elbe Tunnel.
In the afternoon get the ferry over to Ovelgonne to walk around and admire the incredible houses. Make some time for a drink, and some food as well, before heading back into town for the evening.
3 days in Hamburg – Day 3
What better way to start the day than with a visit to the Chocolate Museum. Spend the morning making your own chocolate and learning about the history of it too. Once you are done head to the Rathaus to explore this area and get lost in some of the back streets. Make some time to visit the Poggenmuhlen Bridge or wait till golden hour to get some of those Instagram worthy shots.
When is the best time to plan your Hamburg itinerary?
Hamburg is one of those places that you can pretty much visit all year round. In the summer months. You are probably looking at a temperature range between 16 and 30 degrees Celsius on average in June, July, and August.
At this time of year Hamburg comes alive with al fresco dining, canal side drinks and much more. August tends to be the busiest month in Hamburg for ourism due to the school holidays. This means that you may find yourself queuing for tourist attractions a little longer. Accommodation is also a bit more expensive, so do make sure you book well in advance if you are planning your Hamburg itinerary for August.
Hamburg also has a lot of indoor activities like museums, that you can enjoy in the winter months, so visiting in winter is also viable. In December the Christmas markets begin and Hamburg becomes a magical winter wonderland full of festive cheer.
If you want decent weather, but also want to avoid the swarms of tourists May and September are great months to visit. Accommodation is a bit cheaper too.
Getting from the airport
Chances are your Hamburg itinerary will begin at Hamburg Airport. Well the good news is that getting from the airport to the city centre is quick and easy. If you are wanting to take public transport get on the S-Bahn which runs every 10 minutes. This will take you to Hamburg Central Station in about 25 minutes.
Is 3 days in Hamburg enough?
You might be wondering how much time you need in Hamburg. We think 3 days in Hamburg is the perfect amount of time to explore the city, and see all the main attractions. This should also give you enough time to experience some of the nightlife the city has to offer. Obviously the longer you have in Hamburg the better, but 3 days really is a good amount of time.
Travelling as a couple – Romantic things to add to your Hamburg itinerary
If you are lucky enough to be visiting Hamburg with your significant other, then here are some of the more romantic things to add to your itinerary.
Take a canal/ harbour cruise
A harbour cruise especially during the evening, is a great way to experience a bit of romance. You can chill out with your partner and watch the world sail on by. Here is a great evening cruise you can book.
Visit the Christmas Markets
If you are visiting in December the Christmas Markets are a must for any romantic weekend in the city. I mean what says romance more than mulled wine, and food?
Head to the Poggenmuhlen Bridge for sunset
Located in the warehouse district this bridge is popular with photographers at sunset, for a reason. The lighting and reflections off the surrounding buildings are just beautiful as the sun goes down. Definitely a must for your Hamburg itinerary.
Do a private sunset evening tour
For the ultimate romantic experience why not book on a sunset tour, that takes you to some of the most iconic sights in Hamburg.
Explore St Pauli and the Harbour by night
Walk through the harbour with the bright lights reflecting in the water, before heading to St Pauli and the Reeperbahn to experience the nightlife Hamburg has to offer. You can book here in advance.
How much money do I need for my 3 days in Hamburg
Hamburg isn't super expensive, which is good news if you are on a budget. As mentioned our accommodation in Hamburg was covered, but realistically you should expect to pay between €80- €150 per night for mid range accommodation in the city. There are a lot of accommodation choices so make sure you book in advance and you can get a good deal.
For everything else we budgeted around €100 per person per day. We didn't spend close to that (again a lot of our tours were covered), but we were pleased to find that food and drinks are quite moderately priced in Hamburg.
So should I spend 3 days in Hamburg?
Honestly if you are on the fence about visiting Hamburg then take this as your sign to go. It's a really cool city, with a lot to see and do. It's also really beautiful, with the canals, and bridges, offering a romantic background as you explore the city. Hamburg might actually be the most underrated place we have ever visited so definitely go before the secret gets out!
Weekend in Hamburg – a recap
Overall our time in Hamburg whilst very short was also very sweet. We would like to say a big thank you to those behind the Come to Hamburg project for hosting us. Do check out their really awesome website for more Hamburg related activities. We were so thrilled and honoured to have the opportunity to explore the city and just take it all in. If you want some more German inspiration don't forget to check out our 3 day Berlin itinerary.
Also if you found this useful don't forget to pin it for later.