How to spend 2 days in Prague: The best 2 day Prague itinerary you will find
If you are looking for a 2 day Prague itinerary that includes everything you need to know about visiting you have come to the right place. Prague is one of our favourite European capitals, with its romantic cobbled streets, breathtaking architecture, and incredible food, you won't be short of things to do.
In this guide we have included everything that we think you should know before you spend 2 days in Prague. We go through the best accommodation options, tourist attractions, budgeting tips, and much more.
Still wondering if Prague is worth visiting this article is for you.
Disclaimer: This post contains affiliate links, so if you use these links to buy something we may earn a commission, at no cost to you. Thank you for your support.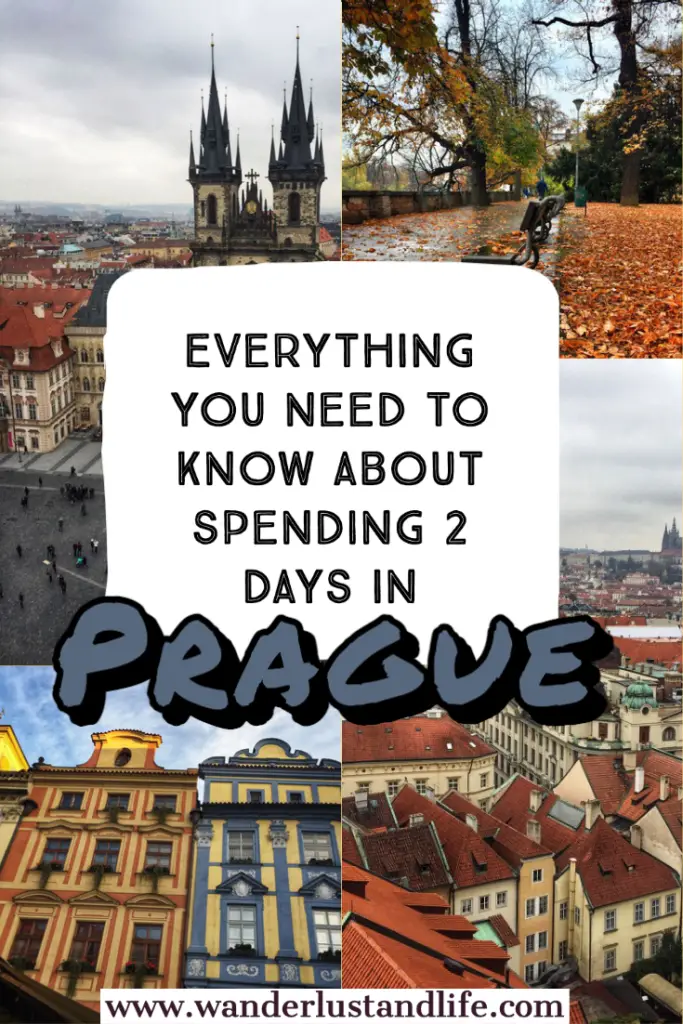 2 days in Prague – Quick Factsheet
If you are only spending 2 days in Prague, here are some quick facts for you that you might find useful throughout your trip.
Country: Czech Republic
Languages Spoken: Czech but English is widely spoken
Currency: Czech Koruna (CZK)
Famous for: Old world architecture, it's many spires, culture, and excellent beer
Visit if you like: City breaks with history, and really beautiful places
Nickname: The City of a Hundred Spires
Prague is fast becoming the place to be in Europe. And the fact that over 8 million tourists visit Prague every year goes to show you that there really is something special in the city. Filled with ornate architecture, and old world charm, Prague is one of those places you have to see to believe.
If you are tossing up between Prague or Budapest here is a helpful guide.
Or if you are tossing up between Vienna and Prague here is a helpful guide.
Starting your 2 days in Prague – getting here
Chances are your 2 day Prague itinerary will begin at the airport. A number of European carriers, as well as international ones, fly into Prague. Once you arrive at the airport, the easiest way to get from here into the centre will be via taxi. It usually takes in the region of 30- 45 minutes to get into the centre depending on traffic, and a fare will set you back around €30/ 736 CZK.
There are of course cheaper ways to get from the airport into the centre of Prague, but it does involve a little bit of faffing. Your other option for getting to Prague from the airport is by bus. Unfortunately the bus won't take you directly into the centre of Prague, but it will take you to one of the metro lines, and you can easily make your way from there.
Bus 119 is the more frequent bus, that arrives every 15 minutes. This is the best bus to get on if you want to go to the Old Town/ Historical Centre of Prague. You will need to get off at Nádraží Veleslavín metro station on line A, and from here it is about 6 stops into Old Town.
If you are travelling to the New Town, then get on the 100 Bus. This stops at Zličín metro station on line B. From here you are looking at about 11 stops to the centre.
Despite the buses being a little bit of effort they only costs 1.20€ or 32 CZK, so this is a good option for those trying to do Prague on a budget.
Where to stay during your 2 days in Prague
The good news about planning a 2 day Prague itinerary, is that the city has a lot of accommodation, to suit every budget. From your hostels, to your mid range hotels, and even luxury travel, you will find something for everyone.
If you are trying to narrow down which area to stay in, then this next section might be useful for you. When we were trying to decide where to stay we felt slightly overwhelmed, with the abundance of accommodation options in Prague. When you only have 2 days in Prague it can feel even more stressful, as you need to make sure that you pick somewhere central and convenient.
Here is a breakdown of the main areas, and the pros and cons for staying in each.
Old Town or Staré Město
The Old Town or Staré Město as it is known in Czech would probably be our recommendation when you are spending 2 days in Prague. It's great because you are close to the hustle and bustle and a lot of the main tourist attractions. There are also plenty of food options (although some places can be very touristy) and it feels like the real heart of Prague. It's also close to the Charles Bridge which is ideal if you are wanting to catch that incredible sunrise.
As it is prime location accommodation can be a little more pricey so do book well in advance to secure the best rates. The area is very touristy (for good reason) so if you want a less touristy experience you may want to think about staying elsewhere.
Lesser Town or Mala Strana
Lesser Town, is our second recommendation for areas to stay during your 2 days in Prague. It's just across the river from the Old Town, and it just that little bit quieter too. It's a quaint area to explore, and is close to places like the Lennon Wall, and the Charles Bridge. There are a lot of restaurants and bars in the area, and it is close to public transport too.
New Town or Nové Město
The New Town, is great if you are wanting to go clubbing, and have some crazy nights out in Prague. It's right next to the Old Town, so it is still pretty central. It's also less touristy than the Old Town. If you want a more authentic Czech experience where you are mingling with the locals, this is a great area to stay.
The Castle District or Hradcany
The Castle District has some of the best views over Prague, and is obviously close to one of the main tourist attractions, the Prague Castle. It's a little bit further out though from the Old Town, but still easily accessible. We probably wouldn't recommend staying in the area when you only have a short time in Prague, just because it's away from a lot of the hustle and bustle of the city.
Where we stayed during our time in Prague
We ended up staying at the Lokal Inn, in the Lesser Town/ Mala Strana part of Prague. We really loved the hotel because it was clean and modern, and had a pretty cracking bar and restaurant. Although that might be an issue for some people if you are trying to get a peaceful sleep.
The best bit about the hotel though, and the reason we chose it was because it was really close to the Charles Bridge. The one thing that we really wanted to do during our trip to Prague was watch the sunrise from the bridge. So our accommodation had to be close.
And before you ask, this trip wasn't sponsored and we don't get any commission for recommending the hotel, we just really liked it.
Things to do as part of your 2 day Prague itinerary
Prague has so many amazing things to see and do, and admittedly you might struggle to fit absolutely everything in during your 2 days. You are probably best trying to choose 3 or 4 highlights or must sees, and then basing the rest of your 2 day Prague itinerary on that. Here are some suggestions for the best things to do in Prague.
Charles Bridge
One of the must see attractions during your 2 days in Prague has to the Charles Bridge. It's a beautiful cobbled structure that connects Mala Strana (Little Quarter) and Stare Mesto (Old Town). One of our favourite things to do in Prague was just strolling across it, taking in the sights, and the atmosphere.
It is the oldest bridge in Prague  and was built to replace the Judith Bridge that had been damaged by floods in 1342. Construction started in 1357 by Charles IV and it was not completed until 1402. Whilst it has had many names such as the Stone Bridge, or the Prague Bridge, it came to be known as the Charles Bridge in 1870.
The bridge is 621 metres long and about 10 metres wide. As you walk over the bridge you will be able to observe the 30 baroque style statues that line either side. These statues were said to have been erected during the 1700's and these days most are replicas due to damage.
If you are visiting during the winter months, make sure you grab yourself a nice warm mulled wine, to sip as you cross. Unsurprisingly the bridge does get busy with tourists, so you have no choice sometimes but to walk across slowly and take it all in.
Our absolute top tip for visiting the Charles bridge is to come just before sunrise. There will be far fewer people here, and it is just such a beautiful sight. To learn more about visiting the Charles Bridge at sunrise you can read this article.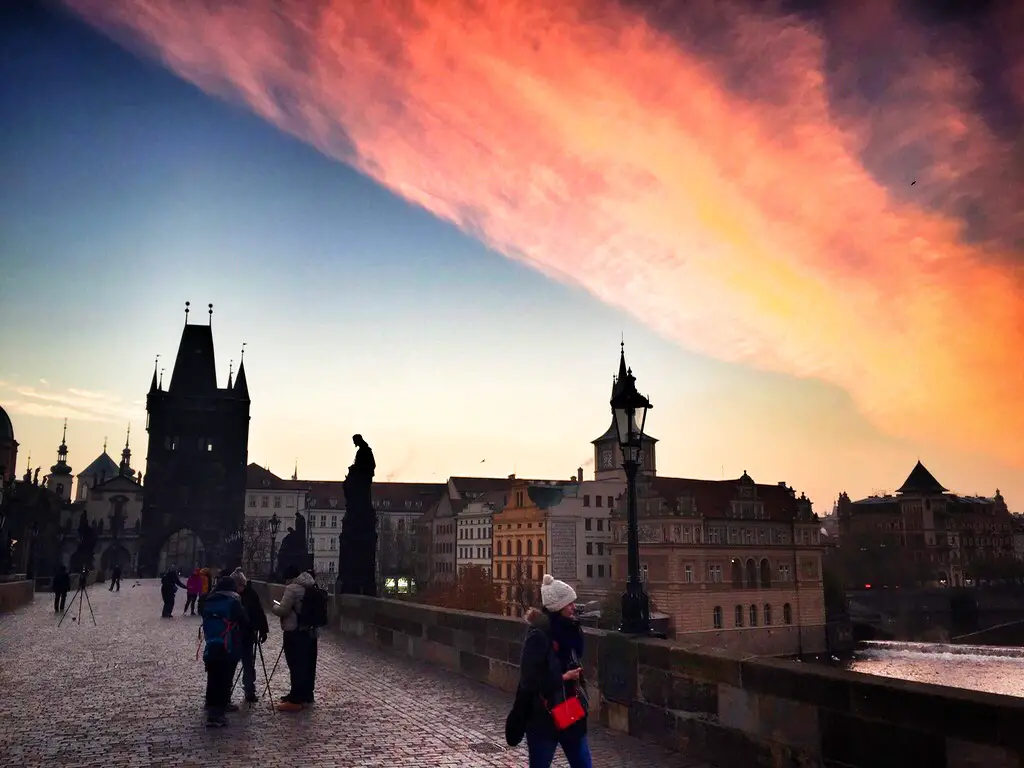 Prague Castle
Prague Castle is very hard to miss as it sits atop of a hill looking down at the city. This is another must visit for your 2 day Prague itinerary, as the grounds themselves as great to explore, but they also offer some pretty incredible views over Prague.
The Castle grounds contain gardens, palaces, and shops as well as the dramatic looking St Vitus Cathedral whose construction began in the 14th century and was only completed in the 20th century. 
Tickets are sold in different groups allowing access to an assortment of buildings. The real gem though for us was St Vitus Cathedral, and the Golden Lane. Well those bits plus the view. I mean seriously, the view is spectacular!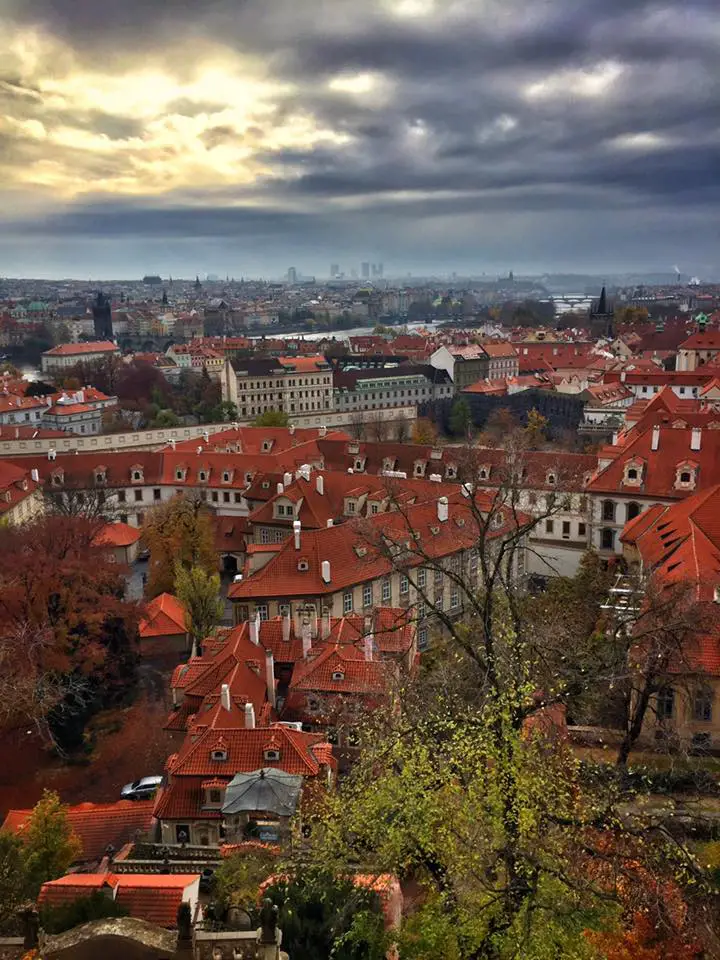 John Lennon Wall
For something a little less Old World we recommend checking out the John Lennon Wall. It is essentially a wall full of graffiti in the Mala Strana area of Prague. Officially it is the only legal part of Prague where you can graffiti, and it has become a symbol of political frustration in the country.
If you are wondering what the connection is with the Beatles, when the country was under communist rule, Beatles songs were banned. So for young people in the Czech Republic the Beatles and John Lennon represented freedom of speech. After Lennon's death in 1980 the youth of Prague visited the wall to mourn his death, hence the name.
If you are planning on visiting get there early especially if you want to get some cool photos, without the swarms of tourists.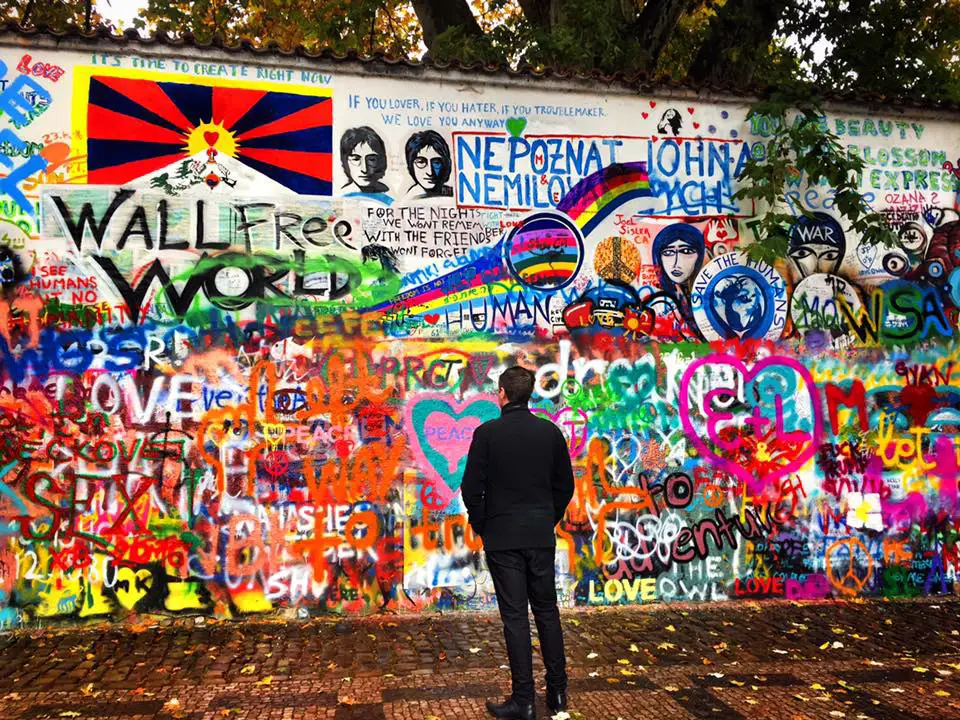 Feed the swans
Prague is home to some of the most well fed swans we have ever seen. (Except maybe in the Lake District in England).
Feeding them is actively encouraged in Prague, but just be mindful what you are actually feeding them. Soggy bread or bread in general is a no no, as it can make them quite sick.
There is a little spot that you can go to feed them, and it is between the Charles Bridge and the Manes Bridge, on the Mala Strana side. It's also a lovely photo spot, so worth a visit during your 2 days in Prague.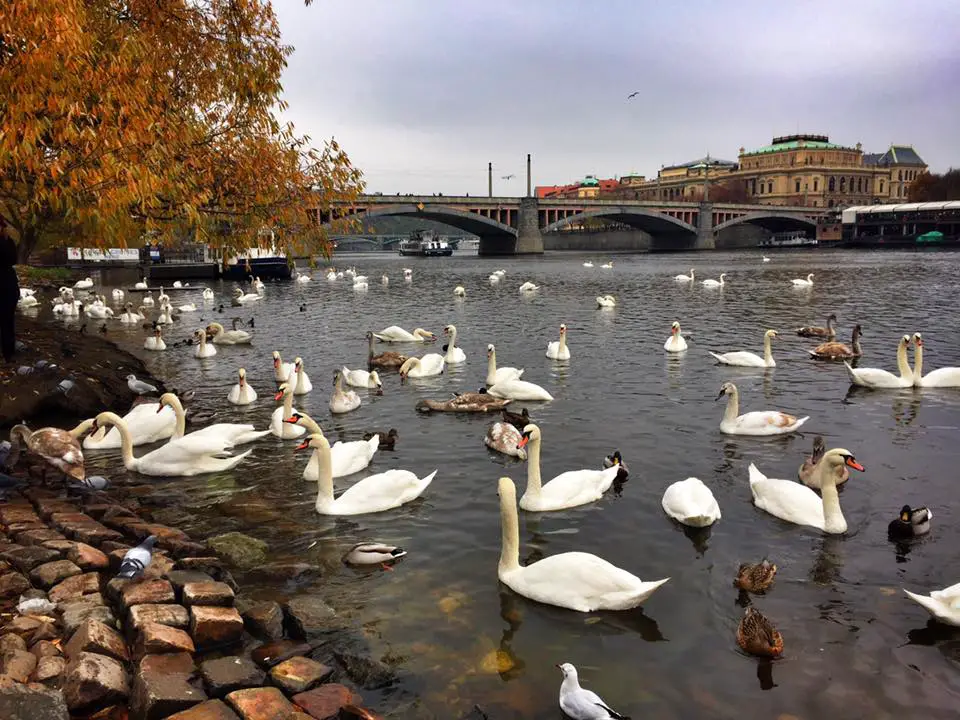 Old Town Square
The Old Town Square in Prague is one of the most historically significant squares in Prague, and you will definitely find yourself here at some point during your 2 days in Prague. The square dates back to the 12th Century, and is still a key meeting point in the city today.
It feels like the heart and soul of Prague, with tourists and locals gathering here, and it is particularly beautiful at Christmas when the markets are in full swing.
Our recommendation in the Old Town, and the Old Town Square is to just explore. There are a number of cathedrals, you can visit, or you can do what we did which is buy some Trdelnik and eat it whilst taking in the sights and sounds.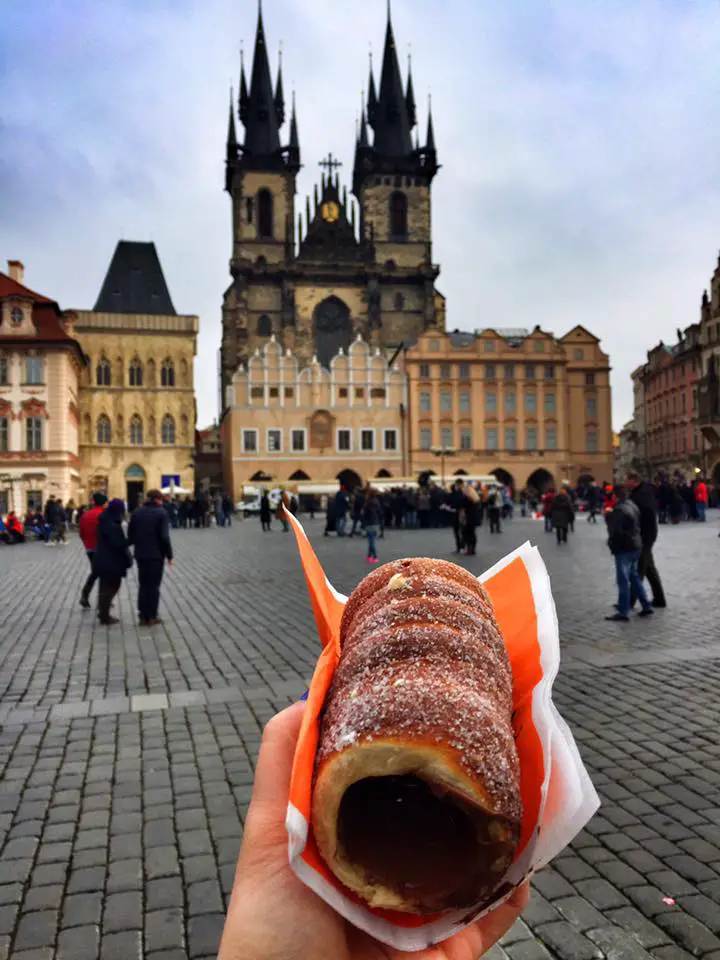 Old Town Hall Tower
Whilst in the Old Town, do pay a visit to the Old Town Hall. You can go to the top of the tower (there is a lift before you ask!) and admire the views. It really is worth it, although if you aren't a fan of heights there are some narrow bits at the top, so you may want to think twice. Dave and I are both scared of heights. I found it ok, because there is a barrier and it does feel sturdy up there. Dave struggled a bit more due to the narrow walkways. Our advice is to give it a try. If you don't like it you can get the lift back down.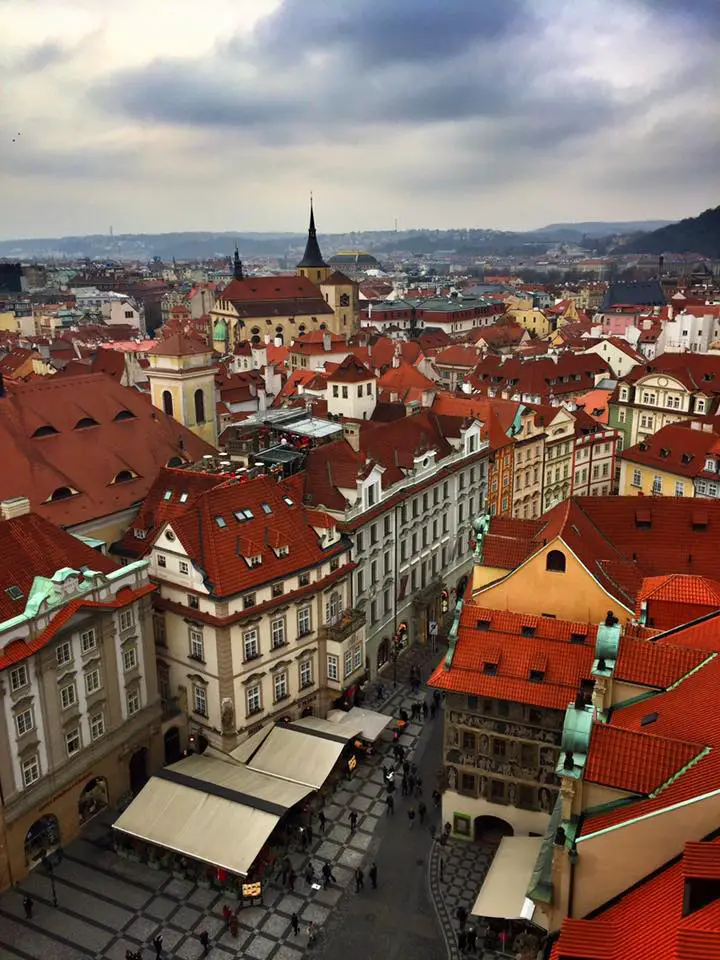 Astronomical Clock
Ok slight disclaimer, watching the astronomical clock is quite underwhelming. Every hour, on the hour, it does a little 'performance' to gathered crowds. It is still worth a visit though when you are in the Old Town.
The main thing to think about when visiting is that this is one of the oldest working astronomical clocks in the world. It was installed in 1410, and when you think about that you kind of appreciate it more.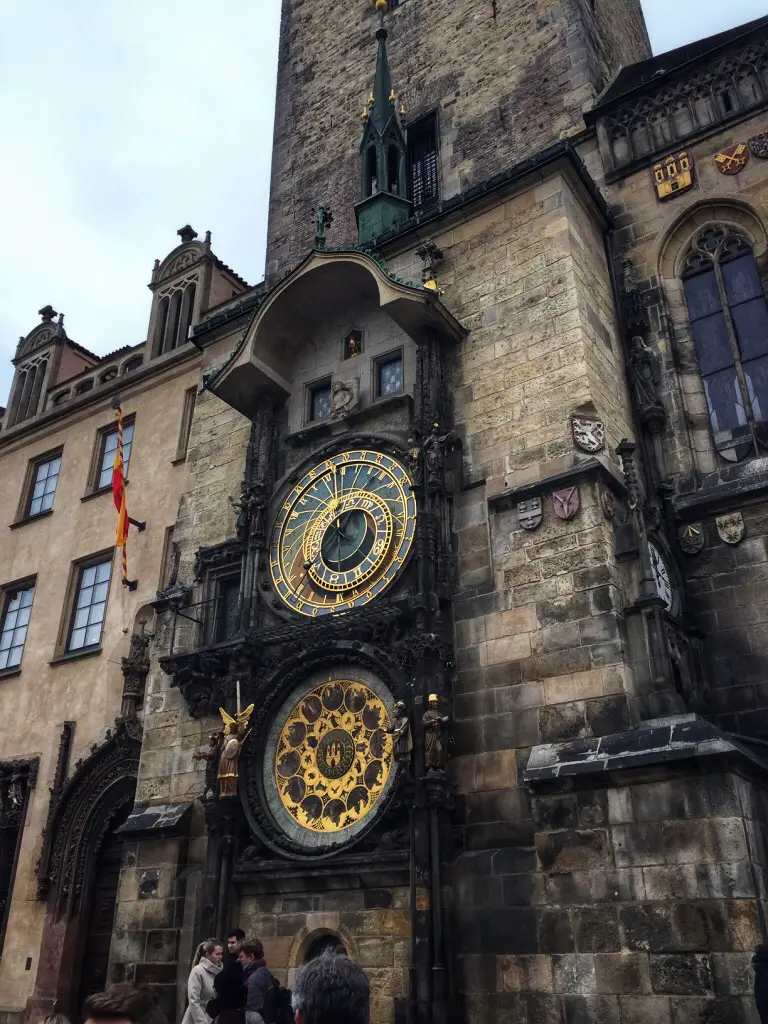 Beer Bath
For something totally random to add to your 2 day Prague itinerary, you can book yourself in for a beer bath. Yes that is a real thing, and you can sip beer whilst bathing in it. Although we are told the beer that you drink doesn't come from the bath itself, just in case you were wondering. You can also book an optional massage.
Dancing House
This is one of the more modern buildings on our list of things to do in Prague. The Dancing House, or as it is officially known the Nationale-Nederlanden building, is one of the most photographed modern buildings in Prague. It was designed to resemble a pair of dancers, hence the nickname.
The Dancing House is located in the New Town, and honestly we didn't spend too much time here. If you only have 2 days in Prague, you may not get time to see the Dancing House, unless you are staying in the New Town. We avoided it mostly because of the high numbers of hen and stag parties.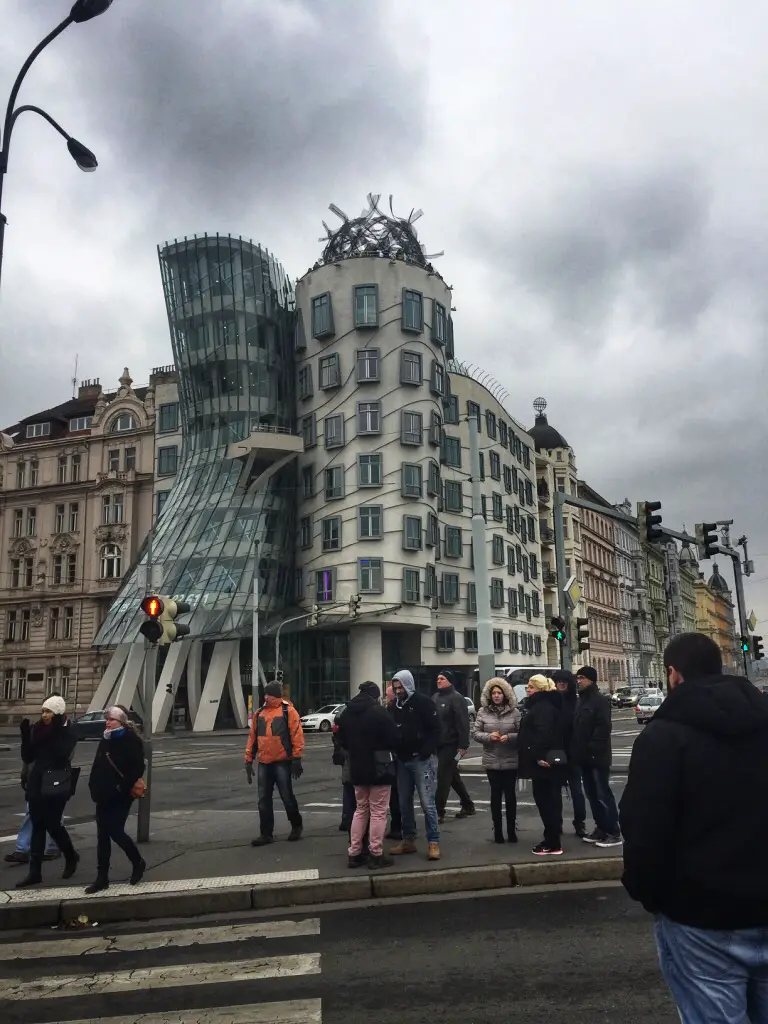 Petrin Hill Funicular
One of our favourite experiences in Prague was riding the funicular up to Petrin Hill. It departs from Lesser Town, and is part of the public transport network, so it is cheap to ride.
The funicular opened in 1891 but then ceased running during World War 1. In 1932 it opened again and was converted from a water-balance drive system to an electrical drive system. It really is worth a ride and the views going up are really beautiful.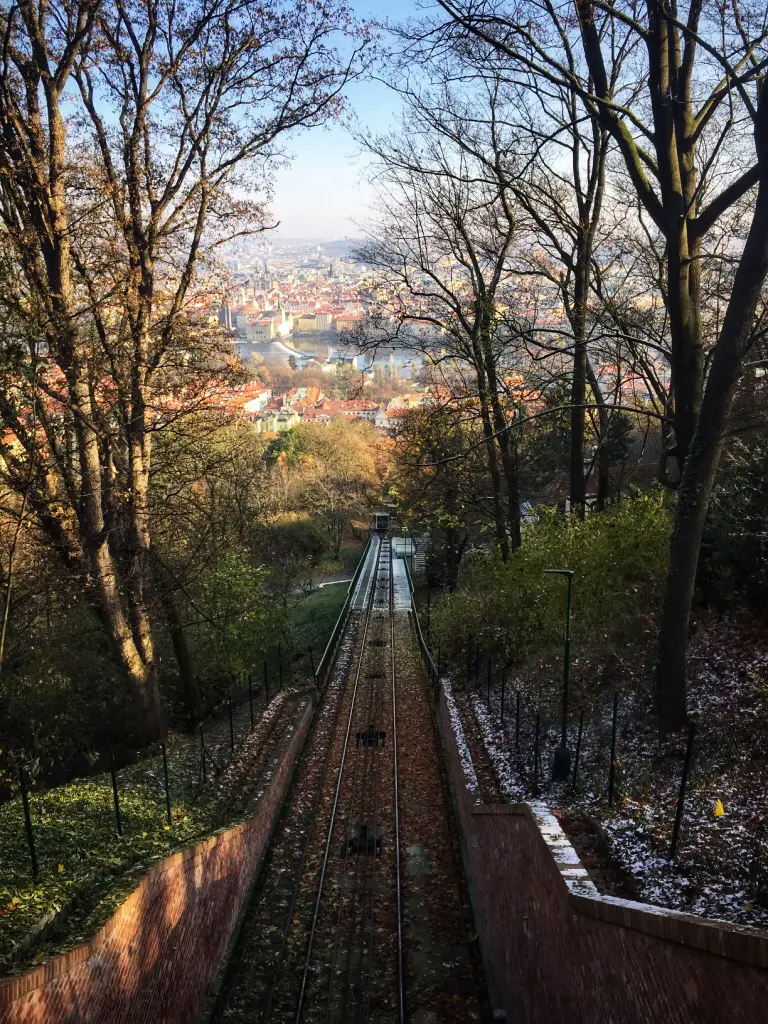 Petrin Hill
Once you have ridden the funicular to the top of the hill, we highly recommend exploring Petrin Hill. There are some beautiful hiking trails, with excellent city views, plus some beautiful gardens that really bloom in the spring months.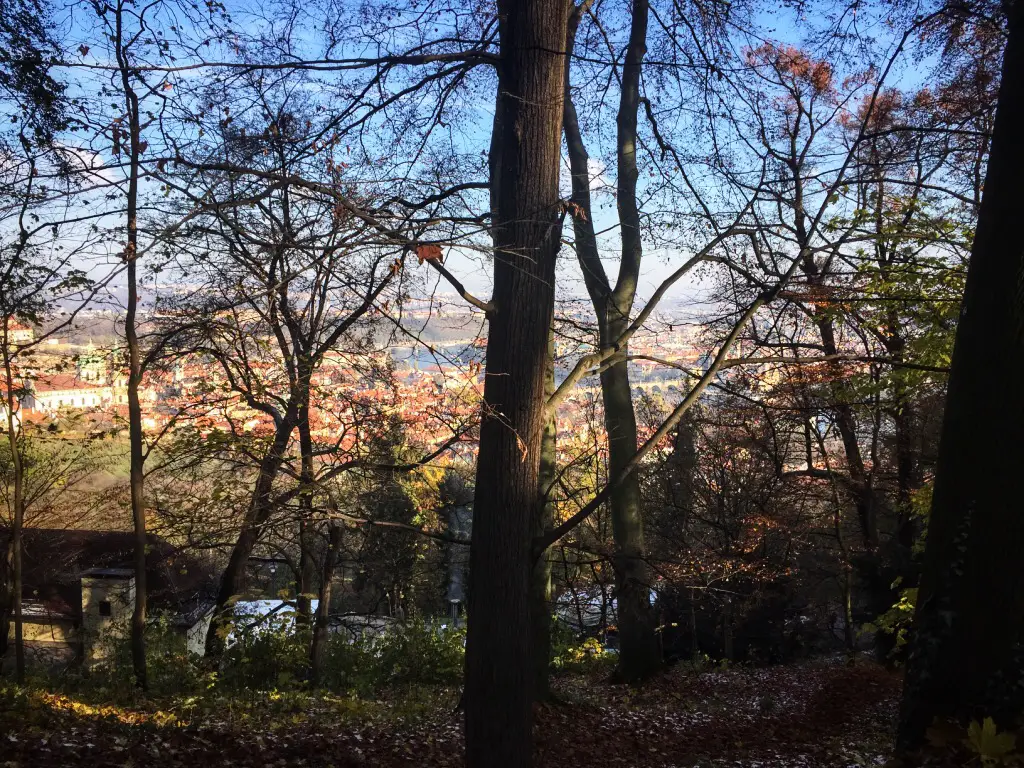 Petrin Tower
Apart from the beautiful walking trails and gardens, another must see in Petrin is the Tower. Apparently it was modelled off the Eiffel Tower, but the budget was much much smaller, as is the structure. Still it isn't to be scoffed at. It was built on the hill to give off the illusion of height, and you do get some pretty awesome views of Prague from here.
Unfortunately I can't show you any of those views because I lasted a grand total of 2 minutes at the top. Just to clarify the tower is not great for people who are afraid of heights. And despite the fact that it has obviously stood for years, and several people telling me it was safe I was terrified.
Jewish Museum
Prague has a lot of Jewish history and the museum tells the powerful and often tragic story of the Jewish community here. It is a sombre but fascinating place to visit. Tickets also include entry to the Old Jewish Cemetery were some prominent figures in Jewish history are buried.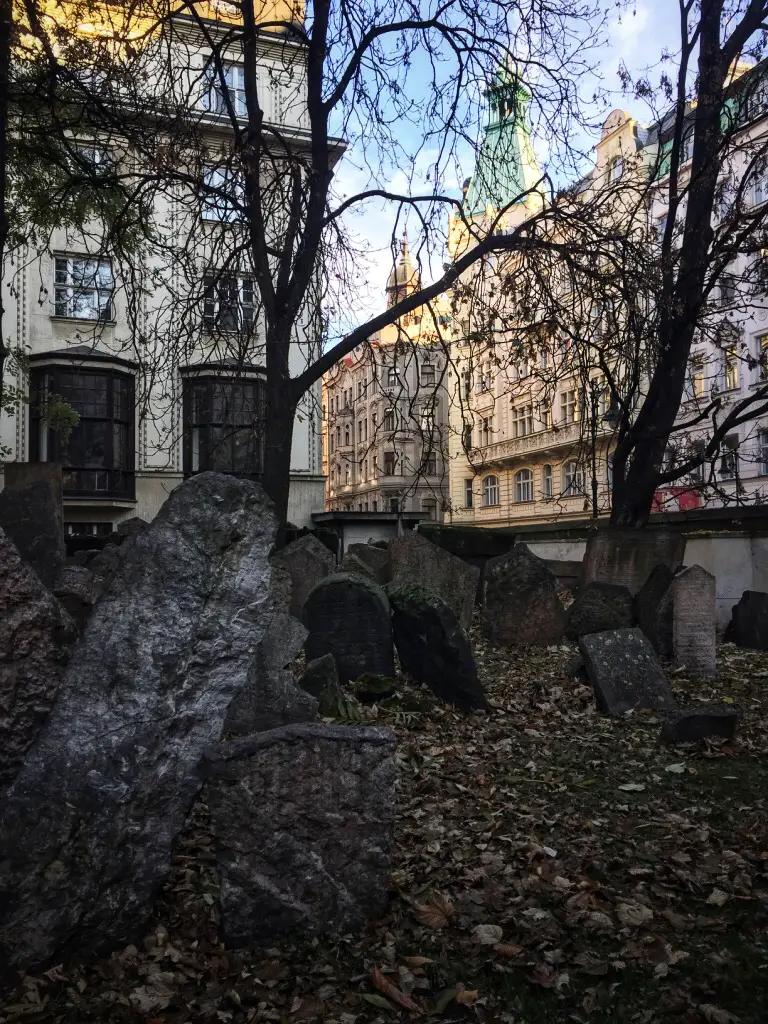 Vltava River Cruise
I feel like you cannot spend 2 days in Prague without doing a Vltava River cruise. There are so many cruise options that you can take, including ones with dinner and drinks. We chose a cruise that had coffee and cake on a cool November afternoon, which was perfect. It also allowed us to explore some of the canals, in what is called the Venice of Prague.
If we could do it again we would probably do a dinner cruise, because you get some gorgeous views of the city was floating down the River Vltava.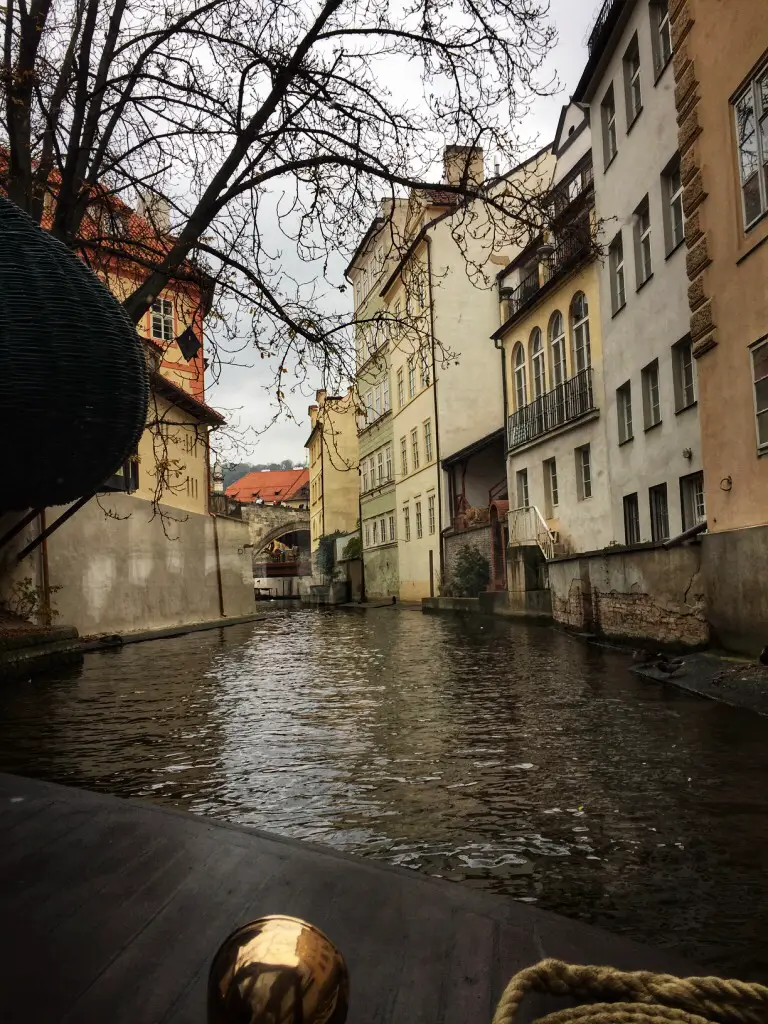 St Nicholas' Church
St Nicholas' Church located in Mala Strana is a Baroque masterpiece that you really have to visit. The inside is adorned with impressive artwork and intricate carvings, so we recommend you make the time to visit.
It was built between 1704-1755 it is now a hugely popular tourist attraction in Prague. It is also considered one of the greatest examples of Prague Baroque architecture.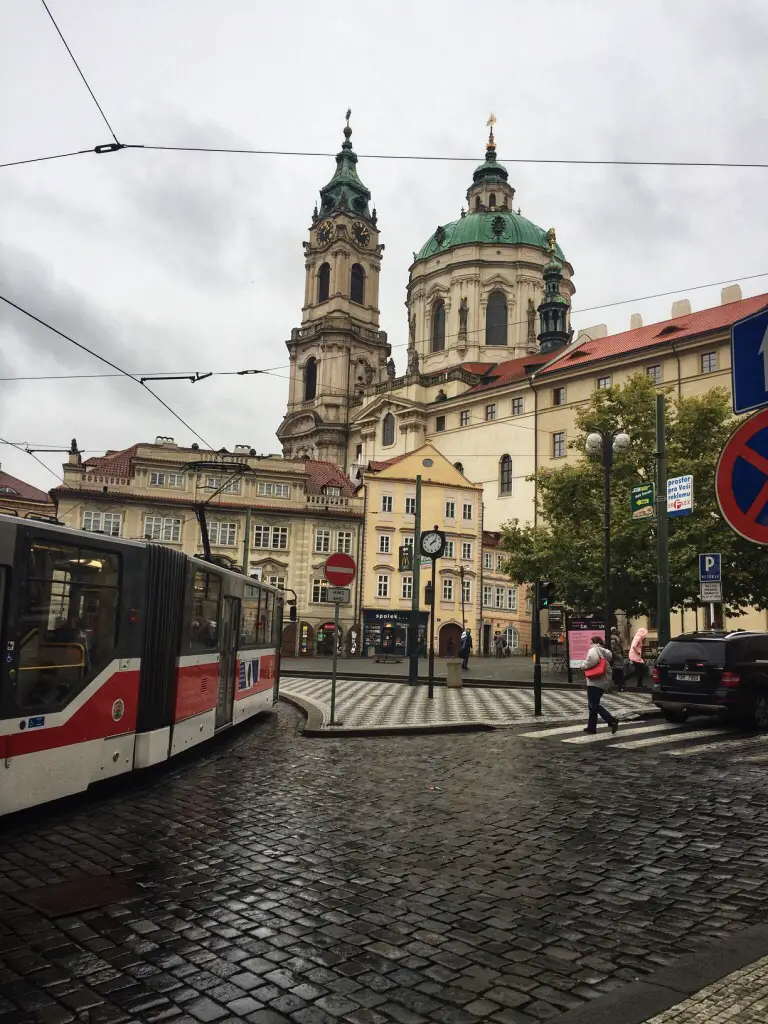 Sample 2 day Prague itinerary
When trying to come up with your 2 day Prague itinerary we recommend focusing on key areas or key attractions that you absolutely want to see, and then work back from there. Here is a sample 2 day itinerary for Prague, to give you some inspiration.
2 day itinerary for Prague – Day 1
On day 1 of your 2 day Prague itinerary, we recommend starting your journey in the Prague Castle area. From here you will get such an incredible view of the city, and explore some of the incredible museums and churches. Grab some lunch (and mulled wine if you are visiting in the cooler months).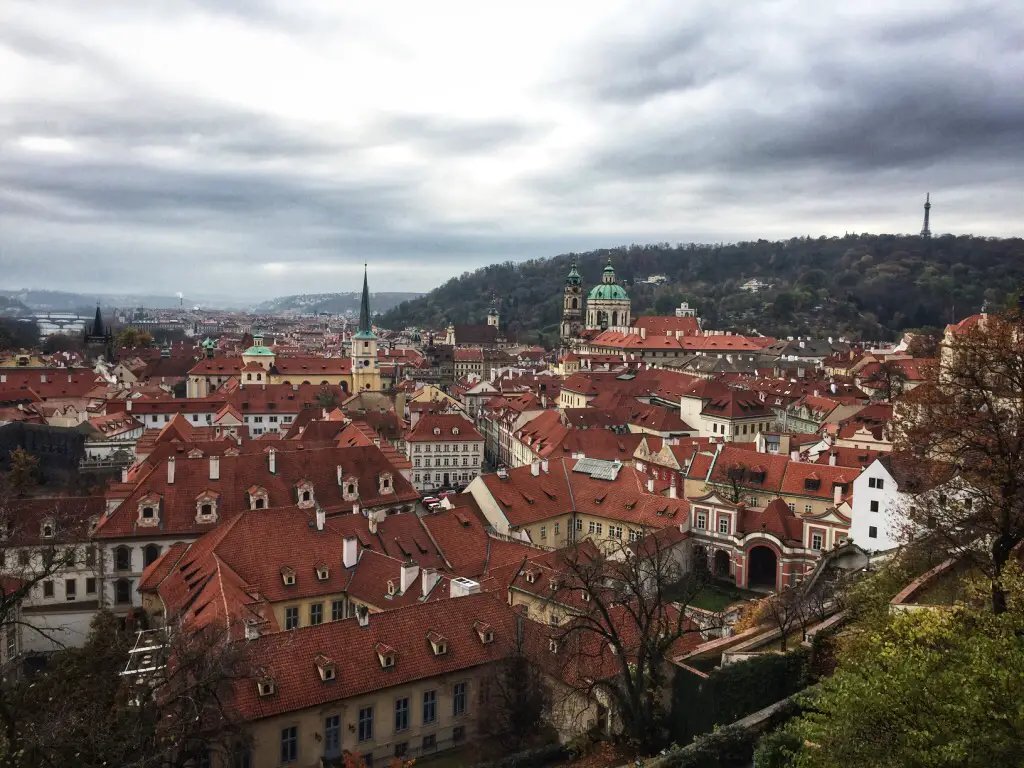 Make your way down the hill, and head over to the Old Town. Explore the cobbled streets, and take in some of the sights like the Old Town Hall, and the Astronomical Clock. Make sure you feast on some trdelnik too and soak in the atmosphere of the Old Town Square.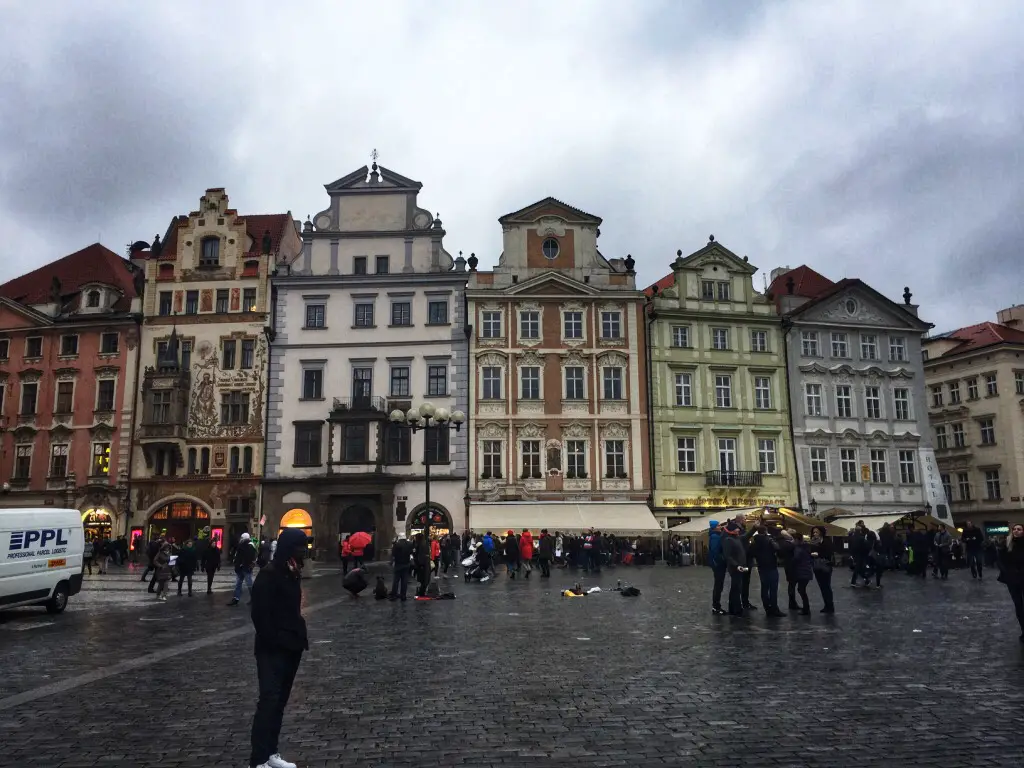 In the evening explore some of the bars and restaurants in the area.
2 day itinerary for Prague – Day 2
On your second day in Prague we highly recommend waking up early to watch the sunrise at the Charles Bridge. Yes your head may be throbbing from all those beers the night before, but this is a once in a lifetime experience that you have to see for yourself. Plus you can always go back to bed after.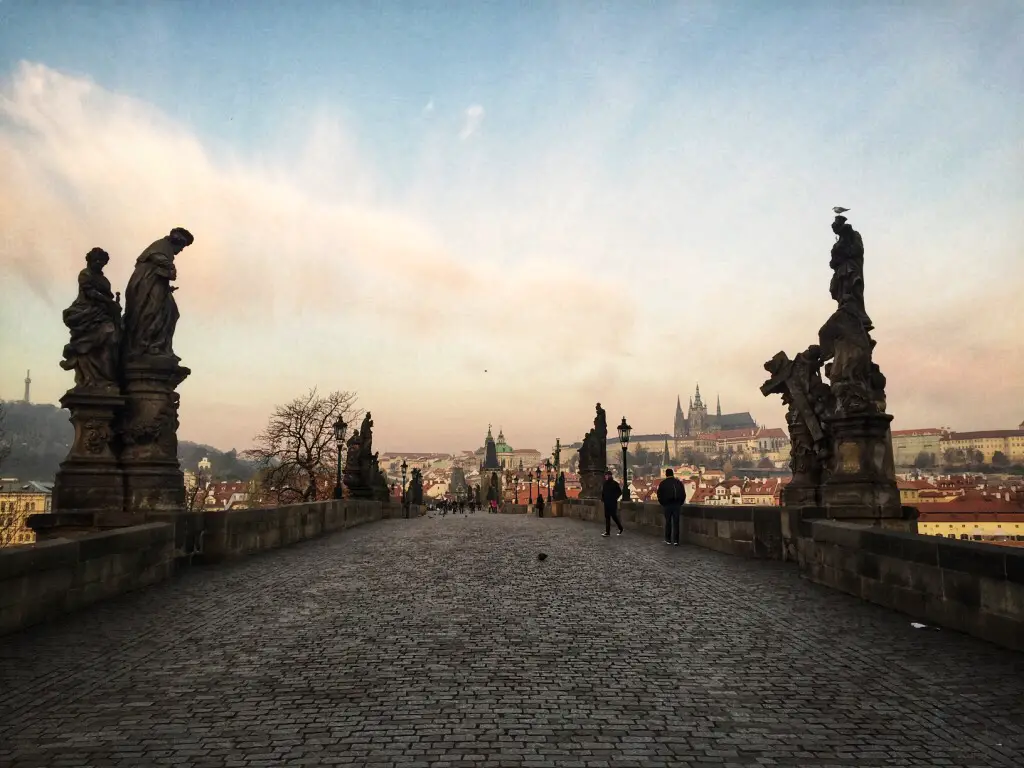 After sufficient rest, and breakfast at Café Savoy, explore the Mala Strana area. We recommend a visit to the John Lennon Wall, St Nicholas' Church the Memorial to the Victims of Communism, and a visit to Petrin Hill.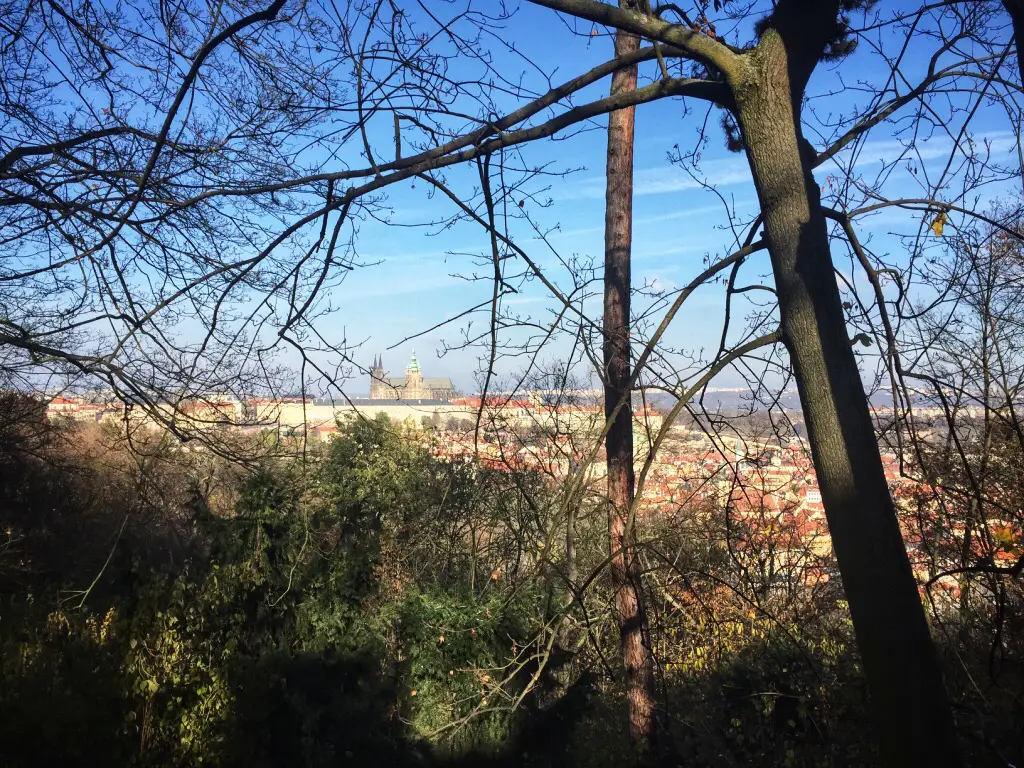 Spend the afternoon exploring Petrin before making your way back down. If you have time why not visit the Dancing House before some food and drink in the New Town. If that isn't your thing spend the evening in the Old Town. There are so many incredible bars and restaurants there, that one night isn't enough!
Romantic things to add to your 2 day Prague itinerary
If you are lucky enough to be spending 2 days in Prague with your significant other, here are some cool ideas for some of the more romantic things to do in the city.
Charles Bridge at Sunrise
Yes I know I keep banging on about visiting the Charles Bridge at sunrise, but for good reason. It is stunning. We even stumbled upon a couple getting their wedding photos taken (which is dedication if you ask me). But also proof that this is one of the most romantic things to do in Prague.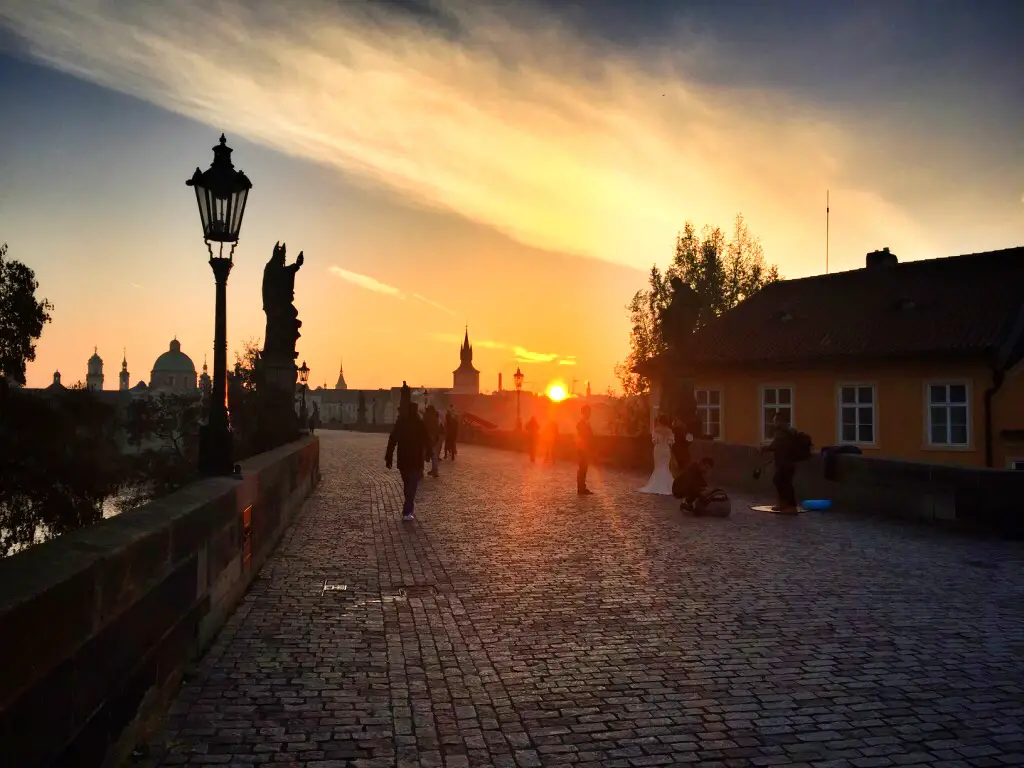 Visit the love lock bridge
Ok, I don't know how I feel about this trend of love locks in cities. Still if it is your thing then visit the love lock bridge. That being said you can no longer put locks on the bridge which is a good thing but it is still worth visiting because it's such a beautiful spot.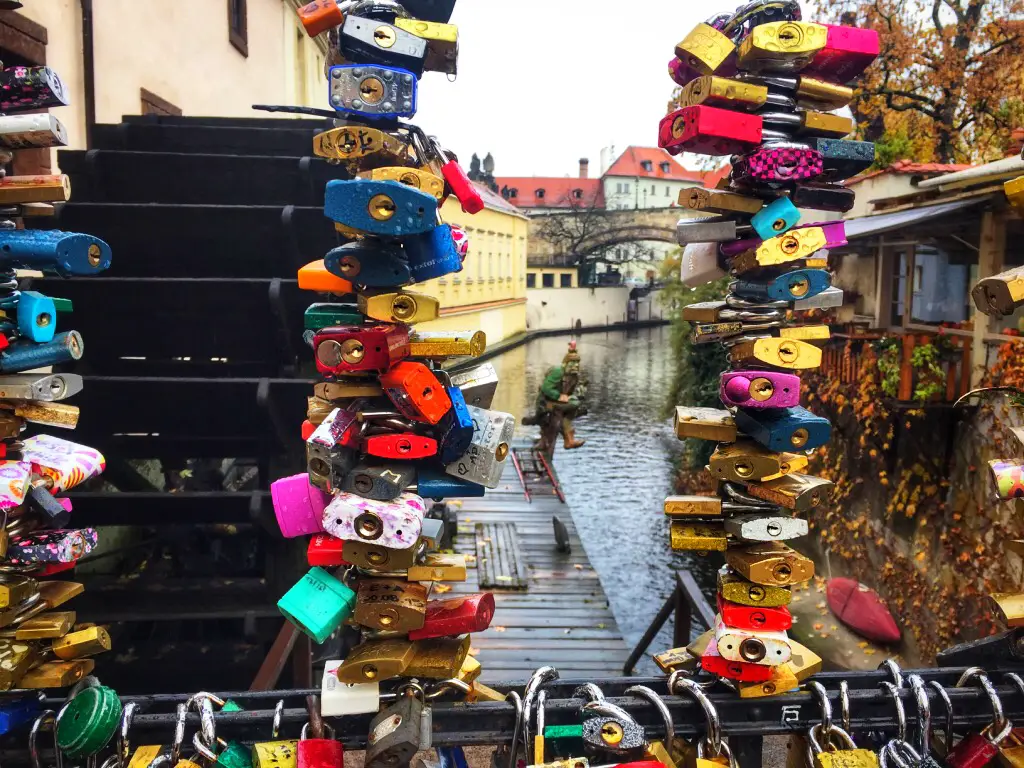 Take a vintage car ride around the city
Vintage car rides are another romantic things you can add to your 2 day Prague itinerary. You don't have to spend a lot of time in the Old Town before you notice the vintage cars lined up all around the place. You can hop in and cruise around in one of the cars. Some cars offer blankets as well, so you can get cosy, as you admire the beautiful architecture of Prague.
You can book this in advance here.
Eating and drinking during your 2 days in Prague
Let's be honest, it isn't a real holiday unless you have stuffed your face with some of the local delicacies, and sampled some traditional drinks. Prague is pretty much comfort food heaven. Which is a good thing, particularly in the colder months, when you need all that food and beer to keep you warm. Here are some must try foods in Prague.
Trdelník (chimney cake)
Top of our list of must eat food in Prague is Trdelník or chimney cake. If you have spent any time in Budapest you may recognise these tasty treats. You can pretty much find it on every street corner in Prague, and it is best served with ice cream (in my humble opinion). It's essentially pastry, wrapped around a stick and cooked until browned. It's then brushed with butter, and rolled in cinnamon to create a beautifully crispy shell that you can fill with almost anything.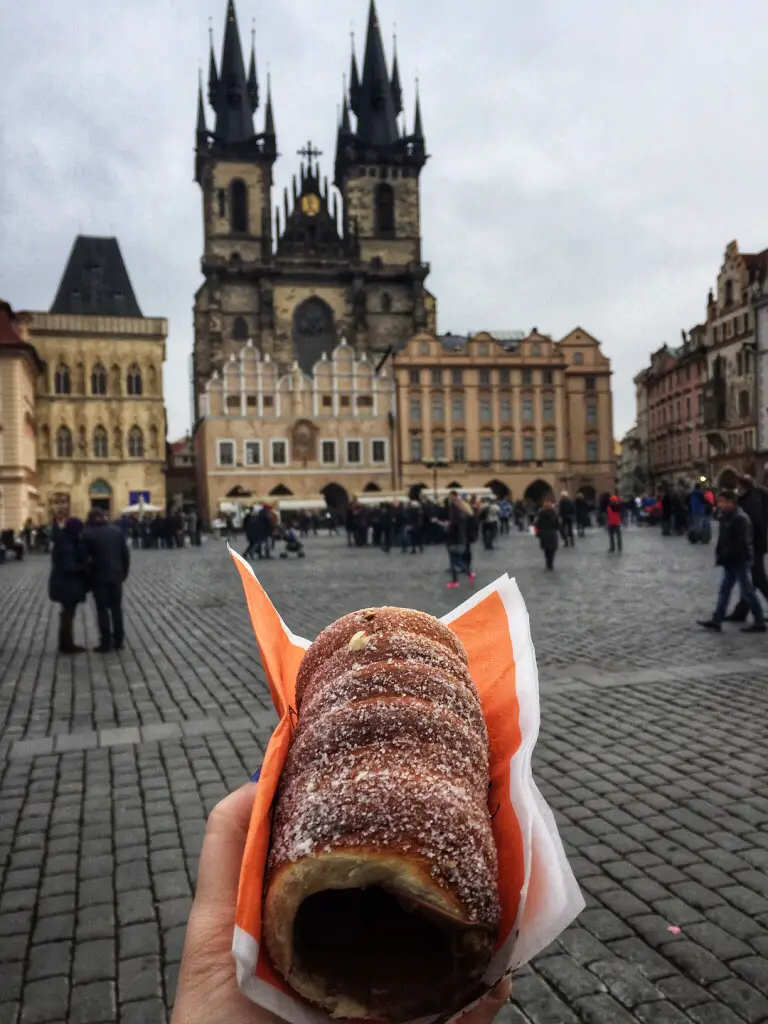 Goulash
This is another food that you will come across quite a bit in Prague. It differs from its Hungarian counterpart in that it is thinner and not as soupy. And it is also served with dumplings. It's delicious but what I would say is don't make the mistake we did and order it in a tourist trap place in Old Town.
Pork Knuckle
Vegetarians look away now! Pork Knuckle is one of the more famous dishes in Prague. It is essentially pork which is boiled at first, then marinaded and roasted. I really enjoyed it. It's easy to eat because the meat is quite soft and it is usually served with mustard and sauerkraut. It is very filling so if you aren't starving you could probably get away with sharing between two.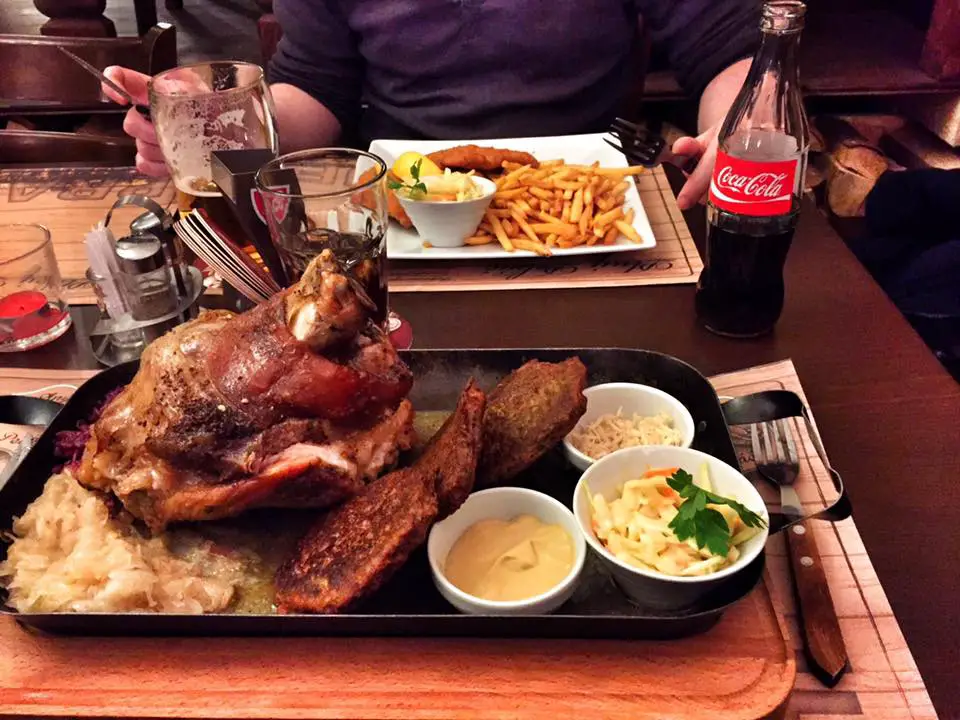 Chlebíčky
Chlebíčky is an open faced sandwich that locals usually eat for breakfast or lunch. You can find them in bakeries, and cafes, and they are pretty darn good. It's usually topped with things like egg, salami, cheese or ham. And the good news is that this is one food vegetarians should be able to try as they do have vegetarian options.
If you want to splash out, you can do a food tour of the city, that will help you find all the culinary delights on offer in Prague.
Must try bars during your 2 days in Prague
If you are looking for some great bars these are our recommendations for drinking in Prague.
Dubliner Irish Bar
This is a bar Dave dragged me to. You can take Dave out of Ireland, but you can't take Ireland away from him that is for sure. Located in Old Town this bar is great if you are wanting to blow off some steam and have a good time.
Prague Beer Museum
For those looking for more traditional drinking dens in Prague, then we recommend the Prague Beer Museum. This is another Old Town favourite, where you can try lots of different types of beer. The tables are your traditional beer hall style tables, and it does get busy in there. Try to get in early and before the rush to guarantee a seat.
 U Tygra
This is another Old Town Gem. U Tygra is very traditional with wooden decor and furnishings. It gets incredibly busy in here (but for good reason so try and wait it out of you can). Bill Clinton drank here at some point, and if it's good enough for Bill it's good enough for us.
Hemingway Bar
This is one of our favourite bars in Prague. The cocktails are innovative, and so tasty you will want to stay all night. It's expensive by Prague standards, but worth it if you are after something slightly more fancy.
Hangar Bar
Hangar Bar is another favourite, and a must if you like cocktails. It's a themed bar, and the theme is aviation from the 1940s – 1960s. It's totally random but so much fun so do give it a try.
Black Angel's Bar
For something a little darker, head to Black Angel's Bar. Located in the cellar of the Hotel U Prince in Old Town Square, this retro bar does a mean cocktail. The decor is wooden and slightly creepy and they promote cocktails like the corpse reviver (which is really nice!).
Interesting experiences to try during your 2 days in Prague
If you want to add some truly memorable experiences to your 2 day Prague itinerary here are some interesting experiences that you can add.
Folklore garden party and traditional food
This is great if you are looking to take part in a traditional Czech garden party. You get to try some traditional Czech food, and experience some traditional gypsy style dancing too.
Medieval Dinner
Another unique experience in Prague, and one that we have found to be really popular is a Medieval dinner experience. You get to try a 5 course meal, and watch a show, all whilst enjoying the atmosphere in a medieval cellar.
Folk Dancing Dinner Experience
Or if you want something a bit more traditional we recommend a Folk Dancing dinner experience. You can enjoy a 4 course meal and unlimited drinks, whilst watching Czech folk dancing and listening to traditional Czech folk music.
How to get around during your 2 days in Prague
When planning your 2 day Prague itinerary you might be wondering how you will get around the city. We did spend a lot of time walking around the city, mostly because we wanted to get lost in the atmospheric back streets be a bit spontaneous.
But with only 2 days in Prague, you may not have time to wander around aimlessly in which case you will probably want to use public transport.
The first time we got on a tram in Prague we were really confused, but once you know the basics transport is super efficient.
The thing that confused us, was that you have to buy a ticket before boarding the tram. Now you can buy tickets at some tram stops and all metro stations, but obviously the tram stop we got on at didn't have this option. In which case you can purchase tickets at newspaper kiosks or hotels.
When you board the tram you need to validate your ticket. You basically just stamp the ticket near the door. Ticket options vary, but you can purchase a day pass for each of your 2 days in Prague. You can also buy a single use ticket. These are valid for 30 minutes.
We didn't use the metro all that much in Prague, but this is slightly easier than the tram. And the good news is you can use the same ticket.
We also recommend a hop on hop off bus tour, for at least for one of your 2 days in Prague. We always find these tours are a great way to familiarise yourself with a new city, and if you don't see everything you want on the day you can always make plans to visit afterwards.
Budgeting for 2 days in Prague
When planning your 2 day Prague itinerary, you might be wondering how much money you will need. We found Prague to be a bit of a mix in terms of pricing. Some places were cheap, whilst others were quite standard for Europe. That being said, it is a lot cheaper than other European capitals, like our weekend in Oslo, or our 3 days in Copenhagen.
On average we budgeted around €100 or 3000 CZK per person per day although we generally didn't spend this much. I should also add that our budget does not include accommodation, which we paid for months in advance.
I think a lot of people have this idea that Prague is super cheap, and it is at times, for example a pint of beer will cost around €3/€4 sometimes less, depending on where you go. A meal will be around €20/€30 which isn't too bad but maybe not as cheap as you might expect.
If you are wanting a budget trip, then you can save a lot of money by avoiding fancy restaurants and bars and walking instead of catching public transport.
Throughout Prague and the Czech Republic, you will need to use Czech Koruna. Banknotes are made up of the following denominations 100, 200, 500, 1000, 2000, 5000 CZK, and coins consist of 1, 2, 5, 10, 20, 50 CZK. A lot of places in Prague will accept payment by bankcard, but you do get the occasional small shop that only accepts cash. Therefore we recommend you bring even just a little bit of cash with you during your 2 days in Prague.
Best time of the year to plan your 2 day Prague itinerary
So when is the best time of the year to plan your 2 day Prague itinerary? Personally we think Prague is one of those places that can be enjoyed year round. There is something really cosy about visiting in the winter months, and tucking into a hearty meal, or a mulled wine, and summer brings its own perks such as warm days, and outdoor dining. There are pros and cons no matter when you visit, so here is a breakdown.
2 days in Prague in summer
Summer is a great time to visit Prague. The daylight hours are long, and the temperatures are mild. You are looking at an average of 15 – 26 degrees Celsius. With the high temperatures, comes the high number of tourists. Therefore summer is very much peak travel season in Prague. It's not so much of an issue if you book things like accommodation well in advance, but can be frustrating when you have to line up for ages to see an attraction. Also something to be mindful of is August coincides with school holidays, so this does tend to make it extra busy.
2 days in Prague in winter
Winter gets pretty chilly in Prague. On average the temperatures range from minus 2 to 5 degrees Celsius. It is very much the off season, although December is pretty popular due to the Christmas Markets that fill the Old Town Square. It's kind of a nice time to visit because you can warm up with mulled wine, and pastries, and snow on the Charles Bridge is incredibly beautiful.
2 days in Prague in autumn and spring
The best times to visit Prague in our opinion are the shoulder seasons of autumn and spring. Personally I would recommend visiting in autumn because the red and orange leaves look incredible against the backdrop of stunning architecture and grey skies. The temperature ranges from 3 degrees Celsius to 10 degrees, which is cool, but nothing a little mulled wine won't cure. It's also a lot less busy than the summer months, which is another bonus.
And if you want to know what it's like visiting Prague in autumn this article might be handy.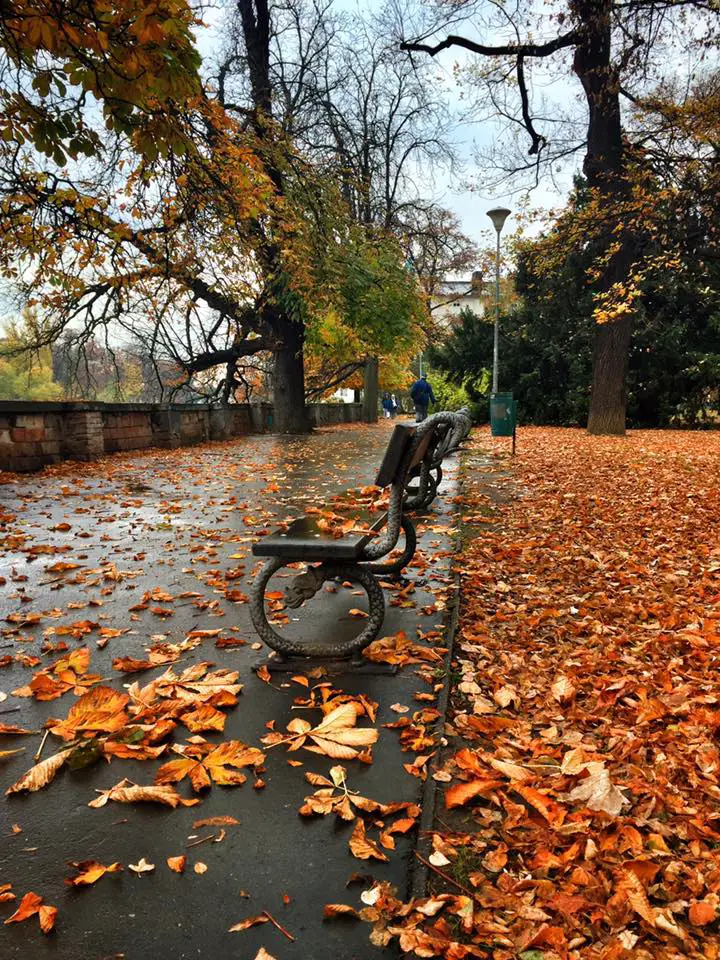 Spring is also really beautiful, when the city's flowers are in bloom, and the weather starts to warm up. You are looking at temperatures between 8-20 degree Celsius, and again it isn't as busy as the summer months.
Is 2 days in Prague enough?
You might be wondering if 2 days in Prague is enough time to visit. Honestly, we recommend spending a minimum of 4 days in Prague. That way you can take things at a slower pace, and really explore the main areas of the city.
That being said if you do only have 2 days in Prague, all is not lost. You can still make the most of your time there, by planning your Prague itinerary in advance, and sticking to a schedule. You should also book attractions in advance and if you can pay extra for the skip the queue option then do it.
The way we look at it, any time in Prague is better than no time in Prague.
What to pack for 2 days in Prague
Apart from your usual travel items, here are some of our suggestions on what you should pack for your 2 days in Prague.
Comfortable walking shoes – you will want to explore as much as possible during your 2 day Prague itinerary so make sure you pack appropriate shoes
Bring a waterproof jacket in case of rain
Pack layers as it does get cooler in the evenings
Reusable water bottle
Hand sanitiser and a face mask (just in case)
Tips for planning your 2 day Prague itinerary
Here are some final tips for planning your 2 day Prague itinerary.
Decide on the 3 or 4 must sees for your 2 days in Prague and book those in advance.
Book any restaurants in advance.
Get up early if you want to get photos without the masses of tourists in the background.
And speaking of getting up early, see the Charles bridge at sunrise.
Read up on common tourist scams – it's nothing to worry about, but it's good to know what is going on so you can avoid them.
More than 2 days in Prague?
If you have more than 2 days in Prague and want to add a few more countries to your bucket list we have some articles on some of Prague's popular neighbours that you may want to check out.
For example we have a Prague, Vienna, and Budapest itinerary that might be useful.
Or just a 2 day Vienna itinerary
Or a Budapest itinerary
Should I spend 2 days in Prague?
If you are on the fence about whether or not to spend 2 days in Prague, then take this as your sign to go. Prague is one of the most beautiful places we have visited. The architecture is stunning, and the food and drink are delicious, so you will definitely have an amazing time when you visit. Just make sure you plan your trip, and book any attractions, or tours in advance.
We really hope you enjoy your 2 days in Prague as much as we did. Happy travels.
And if you found this 2 day Prague itinerary useful, don't forget to save it for later.