Budapest has long been on our bucket list so it is kind of surprising it has taken us this long to visit. We actually arrived in Budapest weary and sleep deprived after getting an overnight train from Lviv in Ukraine. During our first few hours we were powered by adrenaline and a desire to see as much as possible during our 3 days in Budapest. In this article we provide you with all the information you need to know before visiting the city, as well as the best things to do and the best places to eat. Here is our 3 day Budapest itinerary to help you plan your own trip to the Hungarian capital.
Basic information
Country: Hungary
Languages Spoken: Hungarian – although English is widely spoken
Currency: Hungarian forint (HUF)
Famous for: thermal baths, incredible architecture, great nightlife
Visit if you like: history, quirky bars, cool buildings, cheap holidays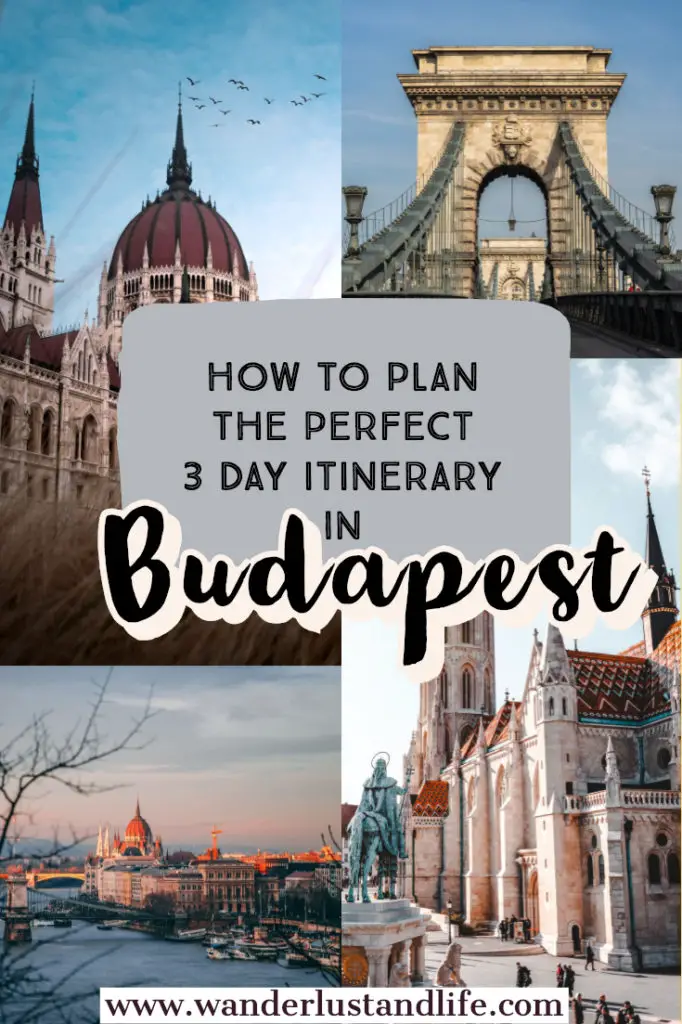 How much money do you need for 3 days in Budapest
For an Eastern European country, Budapest is not as cheap as we had hoped. That being said, in comparison to places like Rome or Paris it is substantially cheaper. For our 3 day Budapest itinerary all in all we probably spent about £400 between the two of us, not including accommodation. But this also included us eating out every night and we had a fancy breakfast each morning. I mean when in Budapest right? So you can definitely do things a whole lot cheaper.
How much time should I spend in Budapest?
We spent 3 days in Budapest, which was a good amount of time to see the main sights, but there were a number of things we still wanted to see. Three days meant that we didn't have time to soak in the thermal baths, which was a shame. Ideally we would recommend a minimum of 4 days in Budapest. That will give you enough time to see the sights, enjoy the nightlife, and chill out with a coffee or glass of wine every so often.
Do I need the Budapest Card?
One thing that we thought about getting in Budapest was the Budapest Card. The card costs around €66 per person for 3 days, and public transportation is included. You also get free entry into certain museums as well as a free walking tour and substantial discounts on several attractions in the city. A lot of people will try and sell you the card, so you should think if this would really save you money before purchasing it.
We didn't purchase the card because it was not going to save us any money. We knew what attractions we wanted to see during our time in Budapest, and the main ones were not free with the Budapest card. Yes we could have gotten a discount but we were informed that all museums are closed in Budapest on Mondays. This was one of our main days in the city. Also public transport is really cheap. We paid around £5 per 24 hour period for a public transport pass. For us it didn't make sense to purchase the card.
Getting around during 3 days in Budapest
As mentioned above getting around Budapest is pretty easy. If you purchase a 24 hour ticket you can use this on the trams, buses, and metro. You can purchase tickets from any ticket machine at the station. Just select the English option and choose your ticket.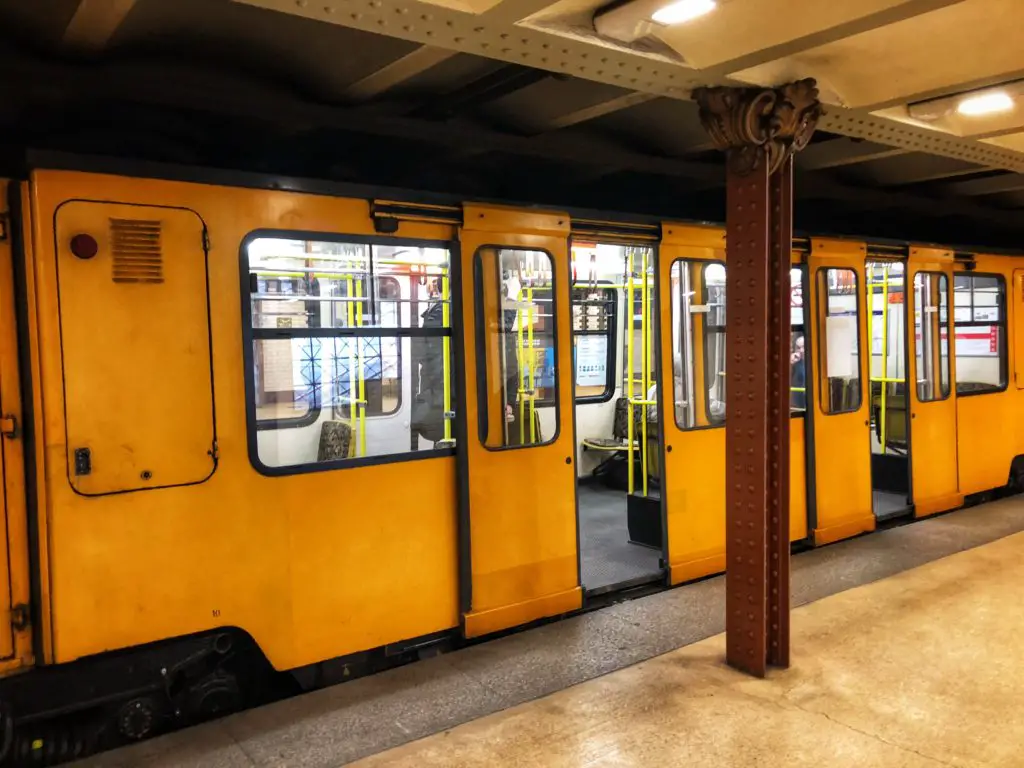 Where to stay during your 3 days in Budapest
Budapest is broken up into two parts, Buda and Pest. On the Buda side, you have Buda Castle and as a whole the area tends to be calmer in the evenings. On the Pest side, you have Houses of Parliament, as well as the Ruin Bars. Pest is the best place to stay if you are wanting to immerse yourself in Budapest's nightlife.
We stayed on the Pest side at the K+K Hotel Opera. The hotel was fabulous and the location was ideal. It is located on a quiet street so you are away from the hustle and bustle but within walking distance to bars and restaurants. Our room was spacious and comfortable, and it was a perfect place to rest our heads after long days exploring the city.
When to plan your 3 day Budapest itinerary
We visited Budapest in April, which is just before peak tourist season in the summer. Even in April attractions were crowded, so we can only imagine what it is like in peak season. The weather was also pretty mild ranging from around 8 – 20 degrees Celsius. The days were warm and mostly sunny whilst the evenings were cool.
If you can, try to avoid peak season as the city becomes crowded with tourists. This is usually in the summer months. We think the best time to visit is between March – May when the weather is nice, hotel rooms are cheaper, and the queues are substantially shorter.
3 days in Budapest – what to do
So now you know how to get around and where to stay in Budapest, here is our list of things to do. Unfortunately due to time constraints we had to miss out on having a good soak in the thermal baths. We did cover some good ground during our 3 days in Budapest and tried to balance out seeing as much as possible, with relaxing and enjoying a coffee or beer every now and then.
St Stephen's Basilica
The first thing we did when we arrived in Budapest was visit St Stephen's Basilica. The views from the top are absolutely spectacular and you get a brilliant view over Budapest. You can climb to the top or get the lift, but either way the views are incredible. This is a good place to start your 3 day Budapest itinerary because you get to see the lay of the land from a height.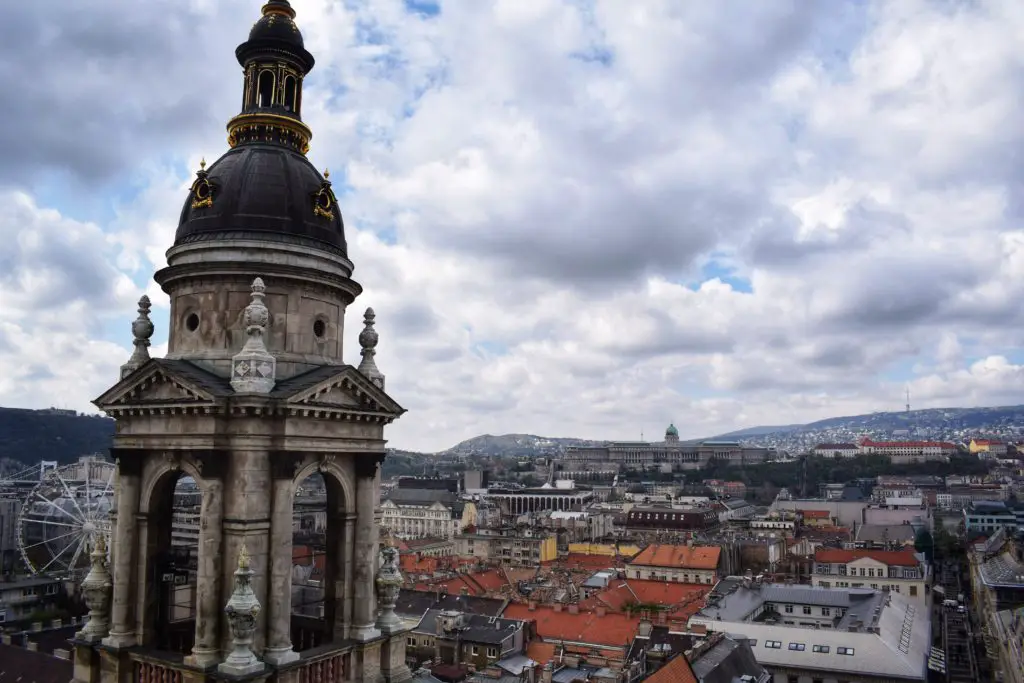 The interior is just as beautiful, with various artworks painted by artists of the time. Stepping inside is such a spiritual moment, and as you gaze up at the high ceilings it is easy to feel so insignificant.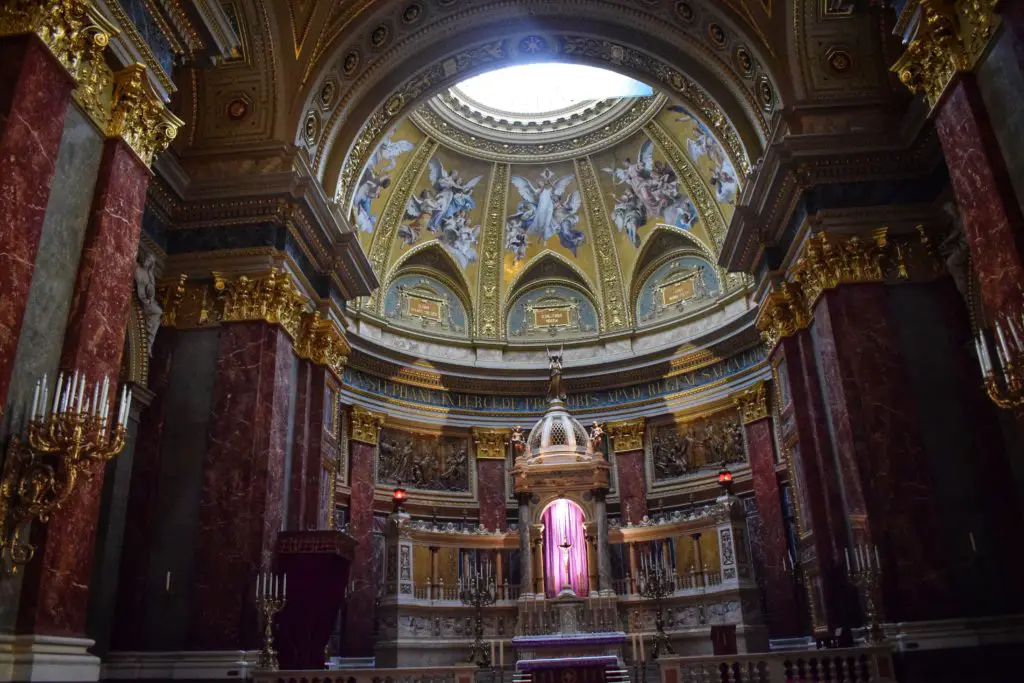 Hungarian Parliament Building
One of the notable buildings that stands out as you admire the skyline in Budapest has to the the Hungarian Parliament Building. The striking neo-gothic architecture is a favourite among tourists, with cameras in hand and poses at the ready. Again this is another must visit attraction as part of your 3 day Budapest itinerary.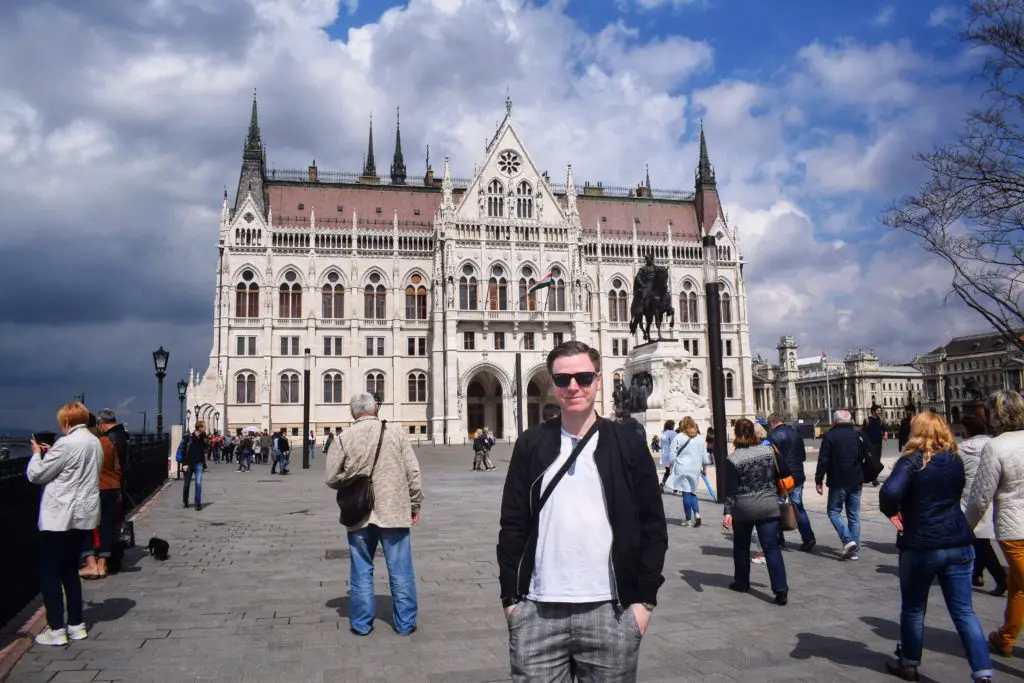 You can do a tour of the inside when the National Assembly is not in session. We decided against a tour just because of time restrictions (you have to book in advance), but judging by how incredible the outside is, and from pictures we've seen, we can imagine the beauty of the inside.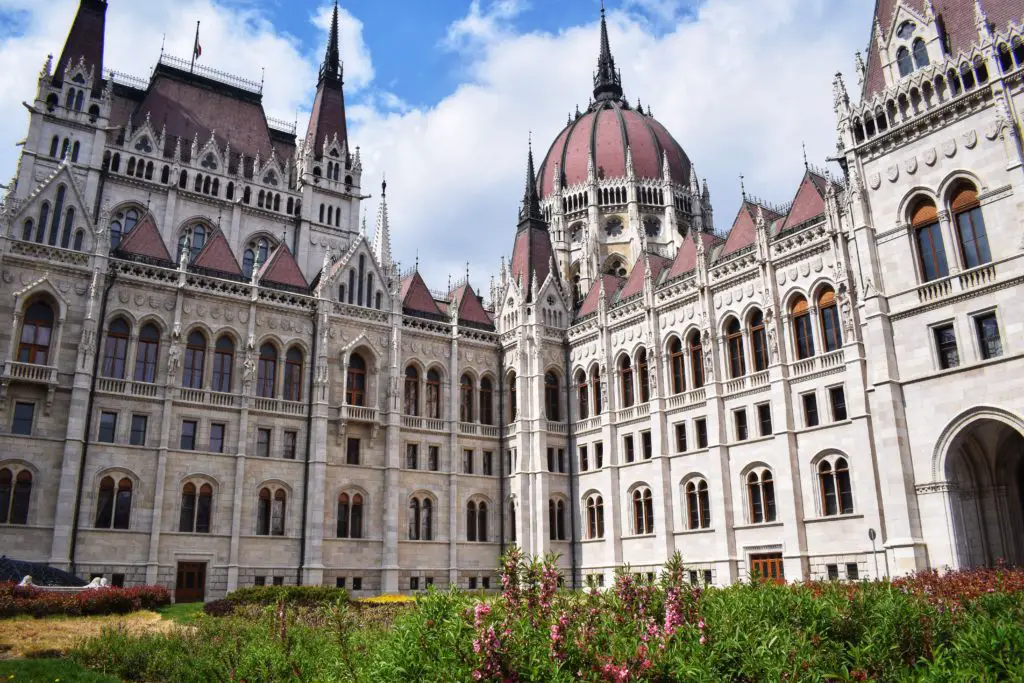 Shoes on the Danube
This is one of the most moving memorials we have come across. The Shoes on the Danube represent the thousands of Jews that were killed during World War II by the Arrow Cross militia. They were marched down to the Danube and ordered to take off their shoes before being shot by the edge of the river. Their bodies then fell into the river and were carried away. What makes it even more gut wrenching is that many of the shoes were children's. As we made our way to the memorial the rain started to pour and this perfectly reflected the darkness of the crimes that were committed here.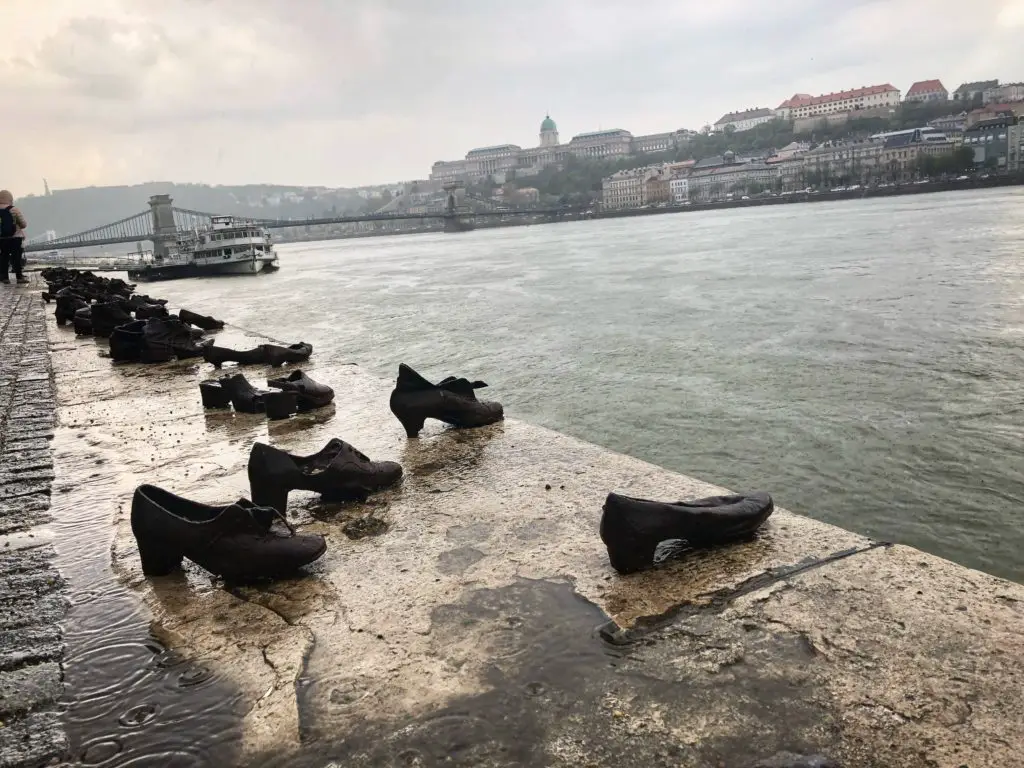 Dohány Street Synagogue
On our European trip we spent a lot of time exploring cathedrals and churches so it was great to take the opportunity to explore the Dohány Street Synagogue in Budapest as well. It is the largest synagogue in Europe and seats approximately 3000 people.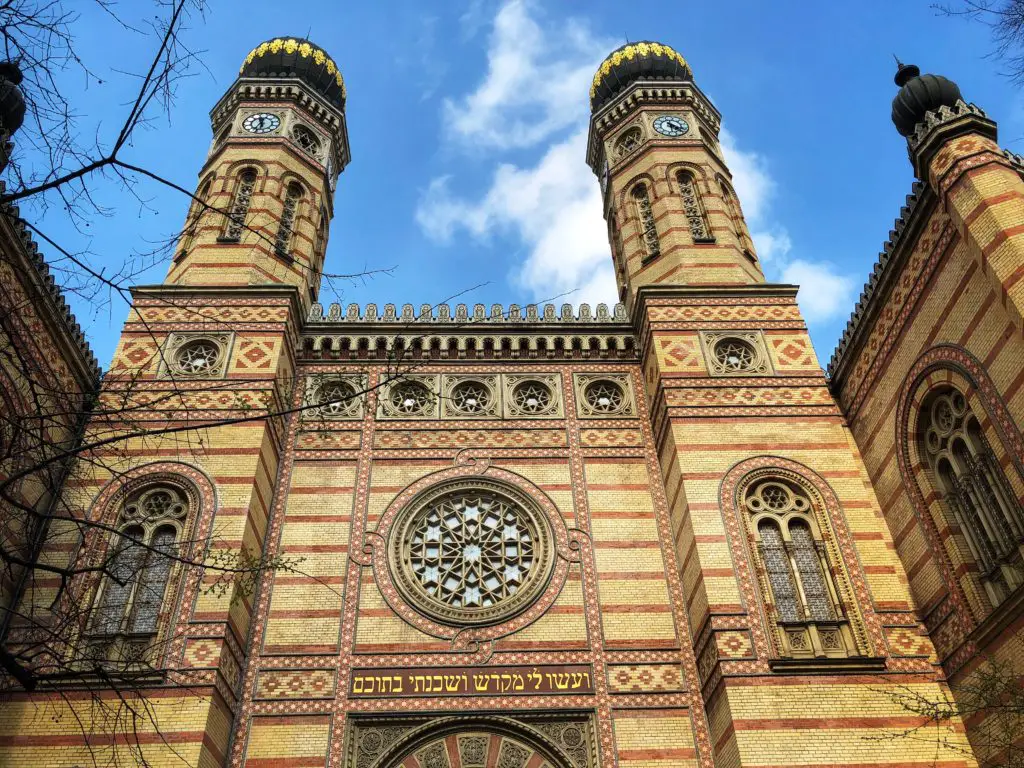 House of Terror
This is an absolute must on your 3 day Budapest itinerary. The House of Terror is a museum that centres around the fascist and communist regimes in Hungary in the 20th Century. This is quite a difficult museum to walk around. It details the sheer horror of what the victims of these regimes endured. There were a number of times walking around the museum that I felt my throat tighten and my eyes well up. The most poignant part though is towards the end where you get into an elevator. Everything is dark and the lift descends slowly with ominous music. When you get out of the lift you will find yourself in the basement of the building which is also where you will see examples of the cells where prisoners were tortured and killed. It is so moving and we highly recommend coming here to reflect on the hatred humans are capable of.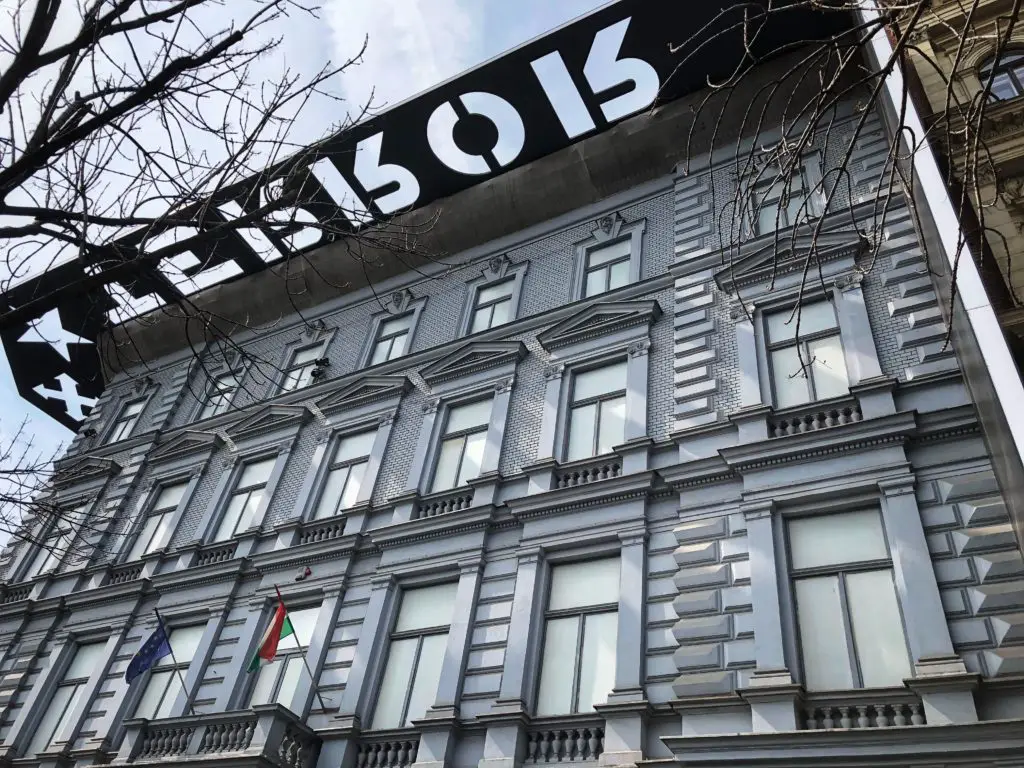 Hungarian National Gallery
Dave is an art fan, so he really wanted to visit the Hungarian National Gallery. It is located in Buda Castle and has some fabulous views over the city. I'm not going to pretend I know the first thing about art so all I will say is the gallery is worth a visit even if you don't like art. The interior is quite spectacular and the dome is also accessible at certain times of the year.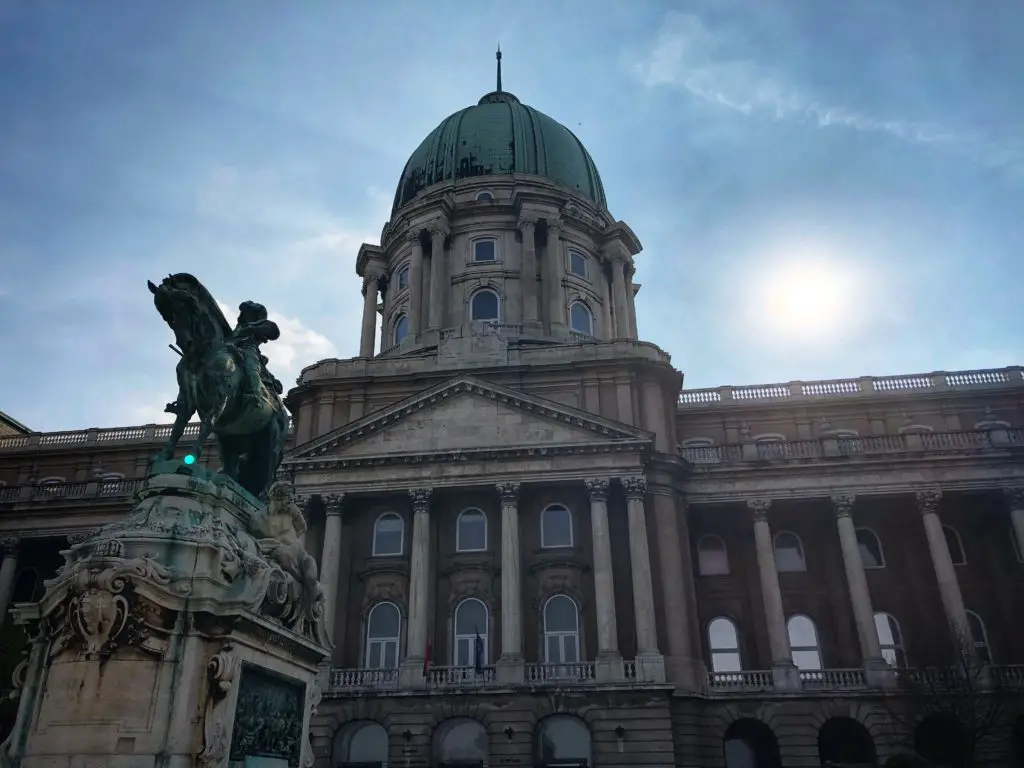 Buda Castle Hill Funicular
Who doesn't love a good Funicular ride? The Buda Castle Hill Funicular connects the area around the chain bridge to Buda Castle. It is worth a ride especially if you want to save your legs climbing up that hill! The funicular has been in service since 1870, so not only is it historical, but you also get some incredible views over Budapest.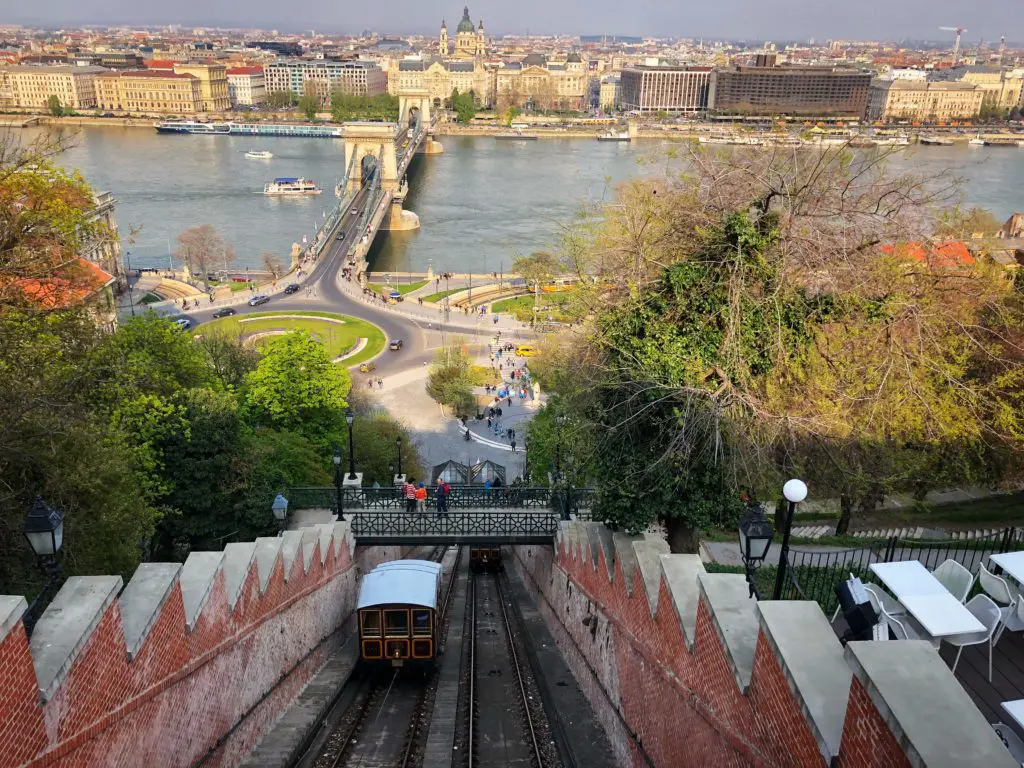 Fisherman's Bastion
The Fisherman's Bastion is a stunning terrace located across the river from the Parliament Building. I think this was one of our favourite places in Budapest because of the sheer beauty of it. The terrace was actually built for the 1000th birthday of the Hungarian State, although it certainly looks much older.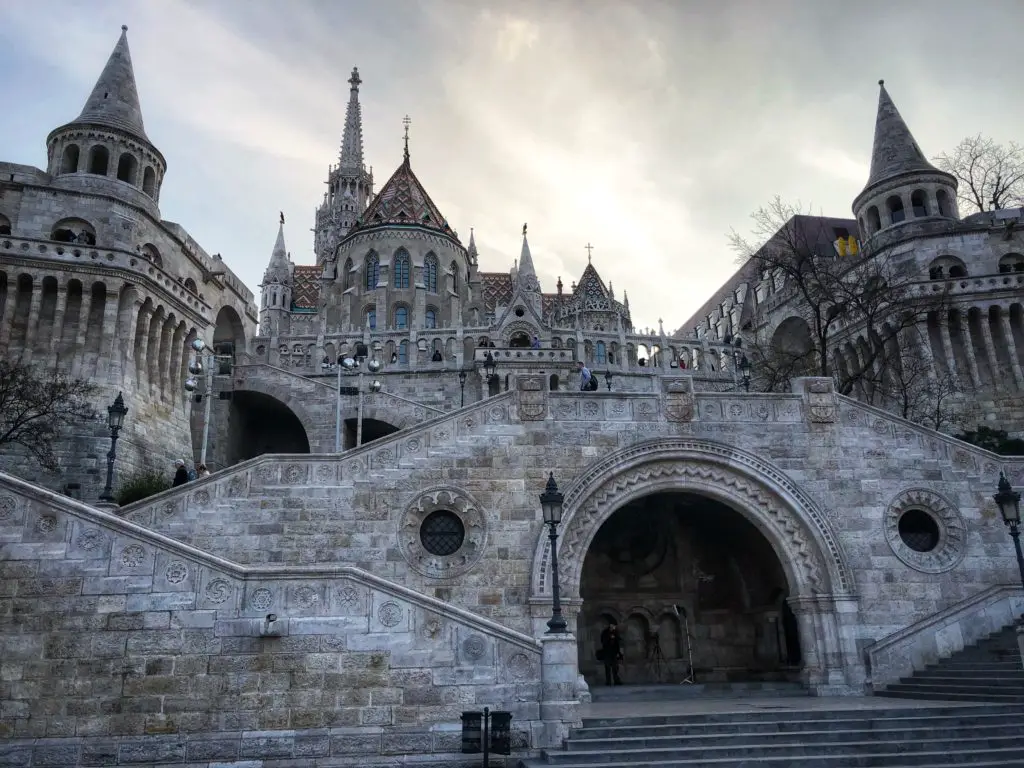 There are several places along the terrace where you can sit with a drink and admire the views. I know these places are usually so overpriced and we usually avoid them but we felt it was worth spending a little bit of money to just sit and admire the view. And it seriously was a good view! Having a drink here was a very memorable part of our 3 days in Budapest so we do recommend it if you get the chance.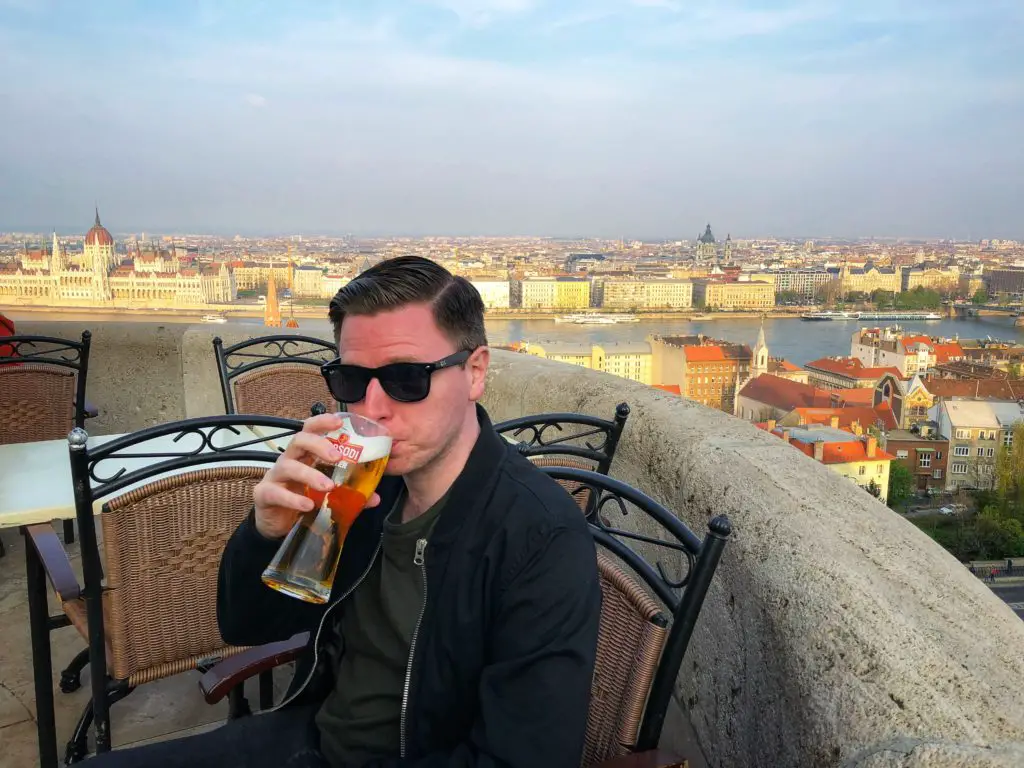 Matthias Church
Matthias Church sits right next to Fisherman's Bastion. We decided not to pay to go inside on our visit, instead opting to pay to access the upper terrace of Fisherman's Bastion. Still it is worth visiting even if it is just to see the outside.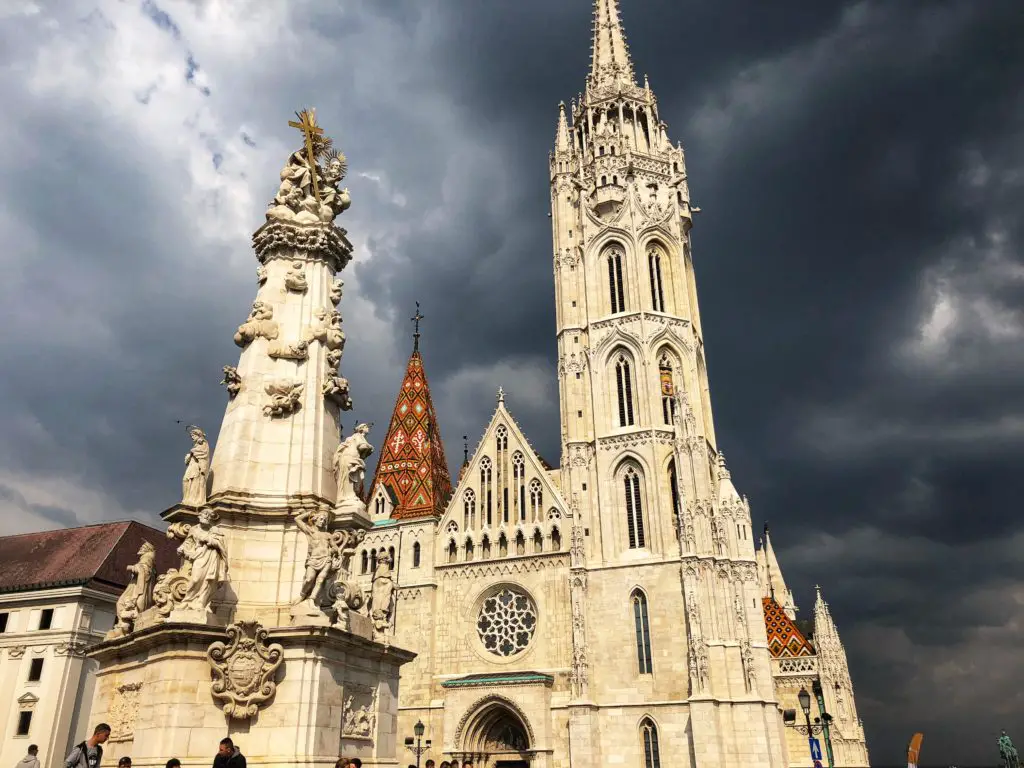 Hospital in the Rock
The Hospital in the Rock is certainly one of the more unique attractions on our 3 day Budapest itinerary. You essentially get the chance to explore the underground caverns of Buda Castle which were turned into a working hospital in the late 1930's in preparation for WWII. You can only enter the caves as part of a guided tour, but this gives you the chance to learn so much about the conditions that hospital staff had to work under.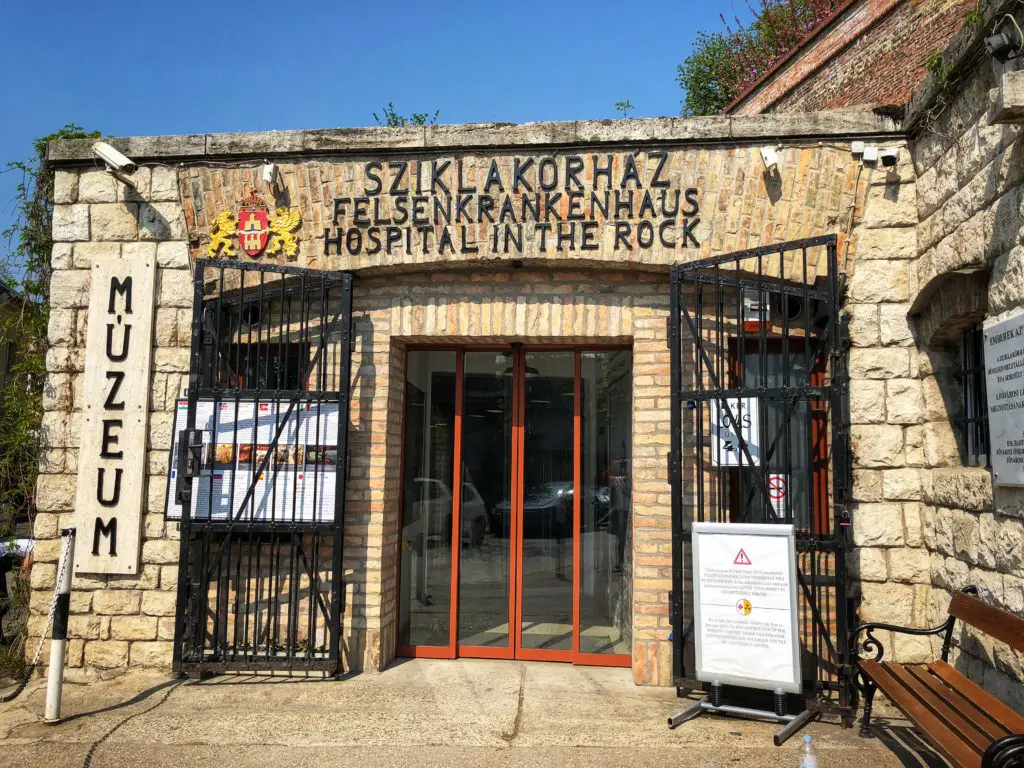 Labyrinth of Buda Castle
The Labyrinth is a series of tunnels under Buda Castle. These caves once held the infamous Vlad the Impaler, otherwise known as Count Dracula as a prisoner for 14 years.
This attraction is a lot of fun, especially if you aren't scared of the dark. You get let loose in the underground tunnels and get to explore with little direction. In some parts its completely dark expect for phone torch lights, as you try to make your way through.
Eating and drinking during your 3 days in Budapest
A large part of any long weekend in Budapest has to include opportunities to indulge in some good food and drink. Here are some of the places we really enjoyed and hope you will too.
Gerbeaud Cafe
If you are after one of those old world traditional coffee houses then Gerbeaud is a great place to go. With its high ceilings and wooden features you could literally sit here for hours drinking coffee. We came for breakfast which was really good. Particularly as we were starving and dishevelled after our overnight train ride into Budapest.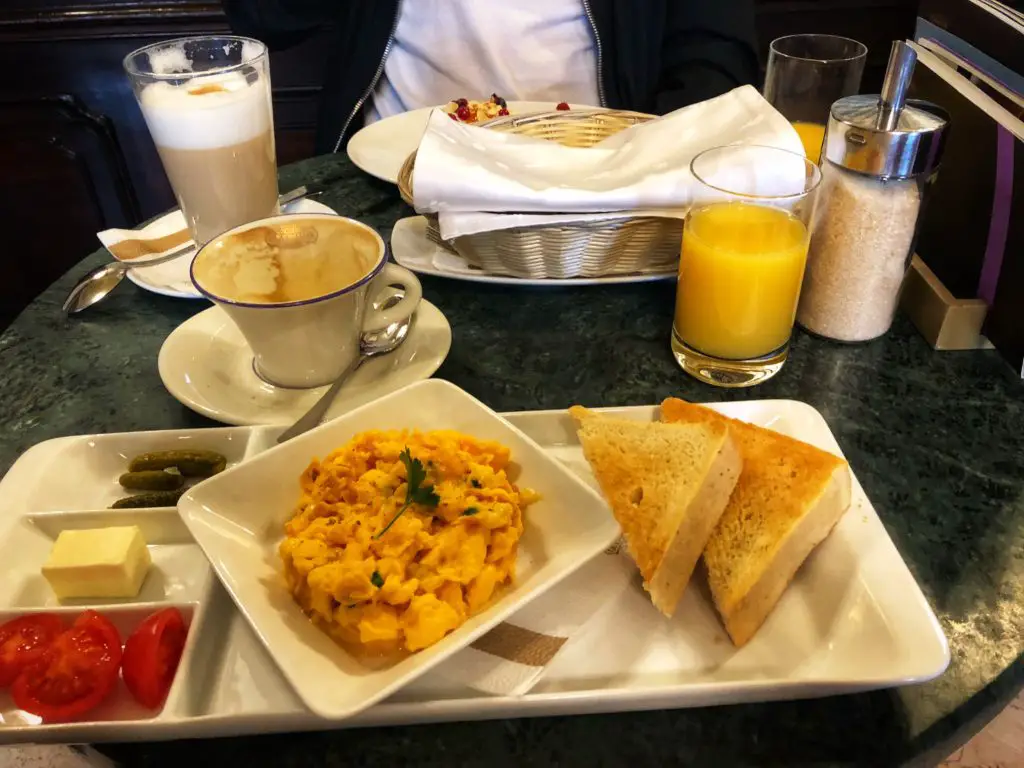 Gerloczy Cafe
We actually stumbled upon this cafe by accident one morning as it is tucked away on a very quiet back street in downtown Budapest. The breakfast here was amazing. We had omelette wrapped around a sausage. I know that doesn't sound amazing but it really was.
New York Cafe
Judging by the incredibly long queue we were met with upon arrival, the New York Cafe appears to be a very popular cafe among tourists. Also the claim that it is the most beautiful cafe in the world helps attract tourists throughout the day. For that reason it is definitely worth adding to your 3 day Budapest itinerary. Upon entering it is really easy to see why this place is so popular. It certainly has a vibe of nobility with its marble surfaces and crystal and wood features.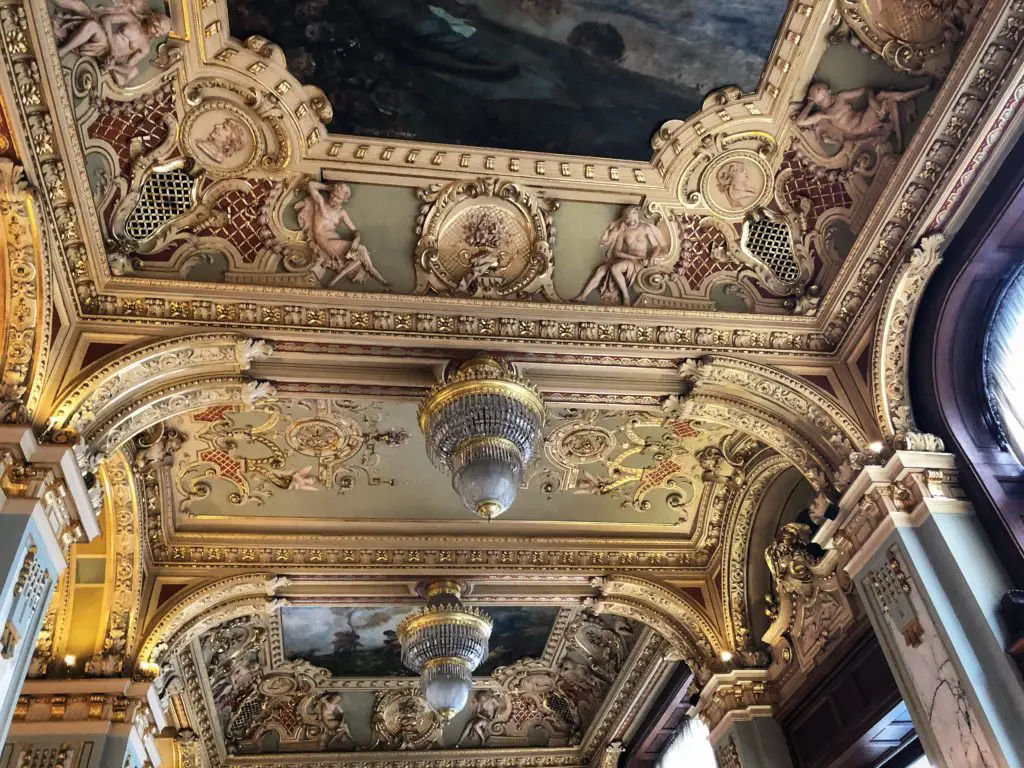 It is highly recommended that you book in advance or you will, like us, face having to queue for some time. It really is worth it though as you are serenaded by a piano and small orchestra during your meal. As you would expect dining in the most beautiful cafe in the world doesn't come cheap, but trust us it really is worth it. I mean where else can you sip coffee with gold on the top?
Ruszwurm Confectionery
Ruszwurm Confectionery is one of the oldest traditional cafes and confectioners in Budapest. Serving homemade cakes and coffee, this place is a must for anyone with a sweet tooth.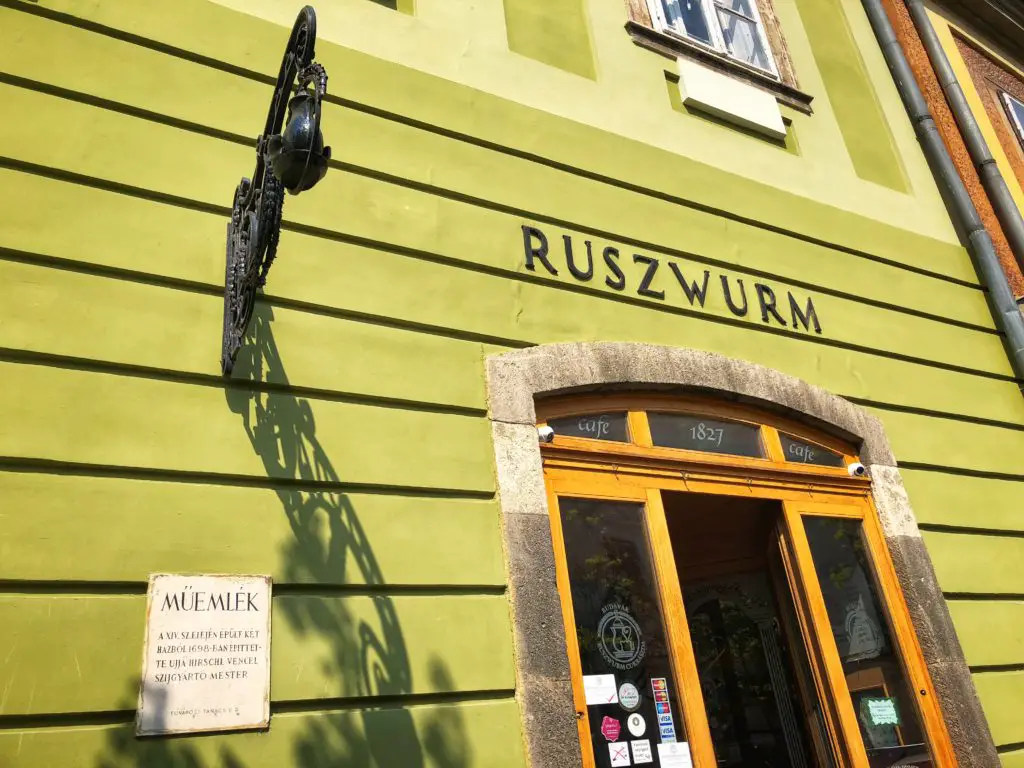 For Sale Pub
First things first, if you want to eat here then you really should make a reservation. Otherwise, like us you will spend an hour of your life waiting in line for a table. I have to say it was worth it though. The food is absolutely incredible, and the portions are HUGE! It is also really quirky inside because from the moment you walk in you will notice bits of paper hanging from the ceiling and covering every inch of the walls. These are all notes from previous patrons who have left their mark on this quirky place.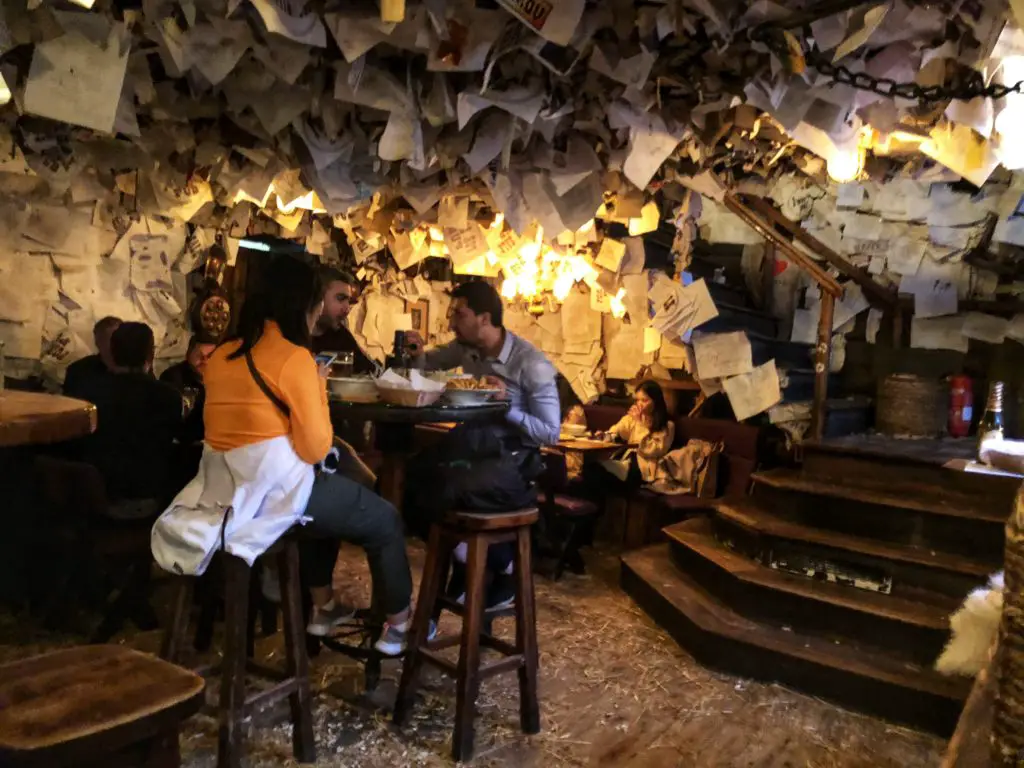 The Ruin Bars
Budapest's ruin bars are a nightlife bucket list item. You will find them in derelict buildings, filled with groups of people enjoying their nights. Szimpla Kert is the biggest and most popular and I don't think anything we read really prepared us for actually seeing it for ourself. It is kind of like a playground for grown ups where instead of swings and slides you have random fixtures and cheap drinks.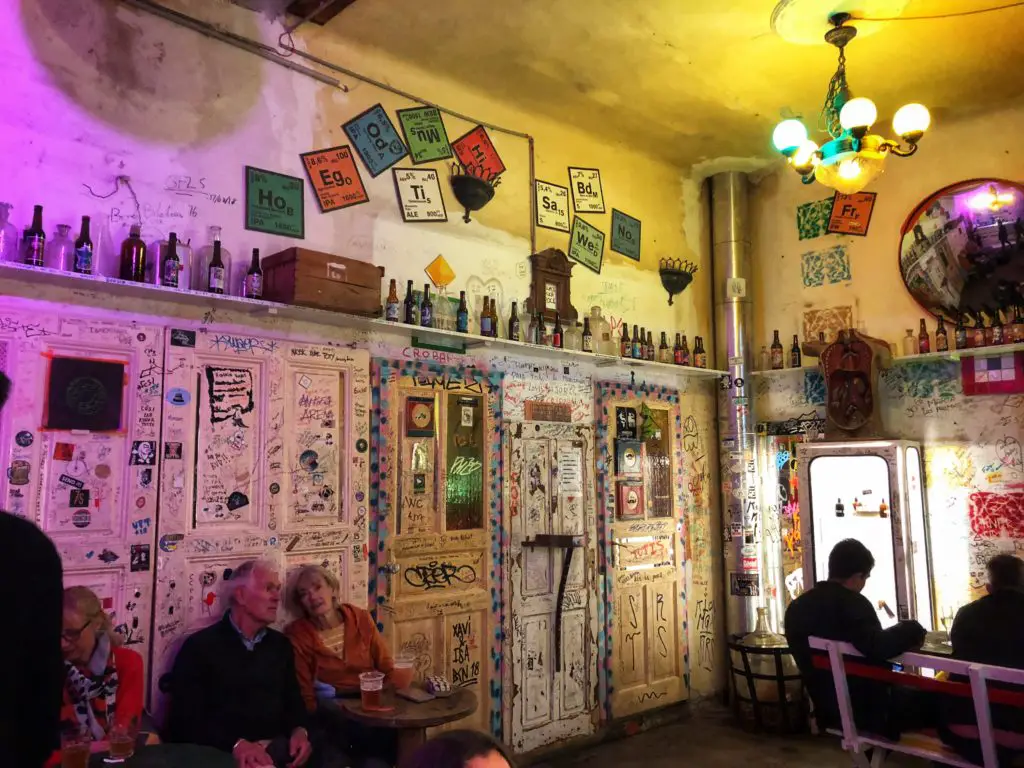 Rengeteg Romkafe
If you are a fan of hot chocolate and quirky yet cosy cafes then Rengeteg Romkafe has you covered. There isn't an official hot chocolate menu. Instead you are encouraged to be as creative as you like when coming up with your hot chocolate. I went with a salted caramel flavour with strawberries and cream, and Dave went with mint, dark chocolate and blueberries . When our hot chocolate arrived it was almost dessert like with its thick texture. The hot chocolates here are so good, that we recommend adding this as an attraction in its own right to your 3 day Budapest itinerary.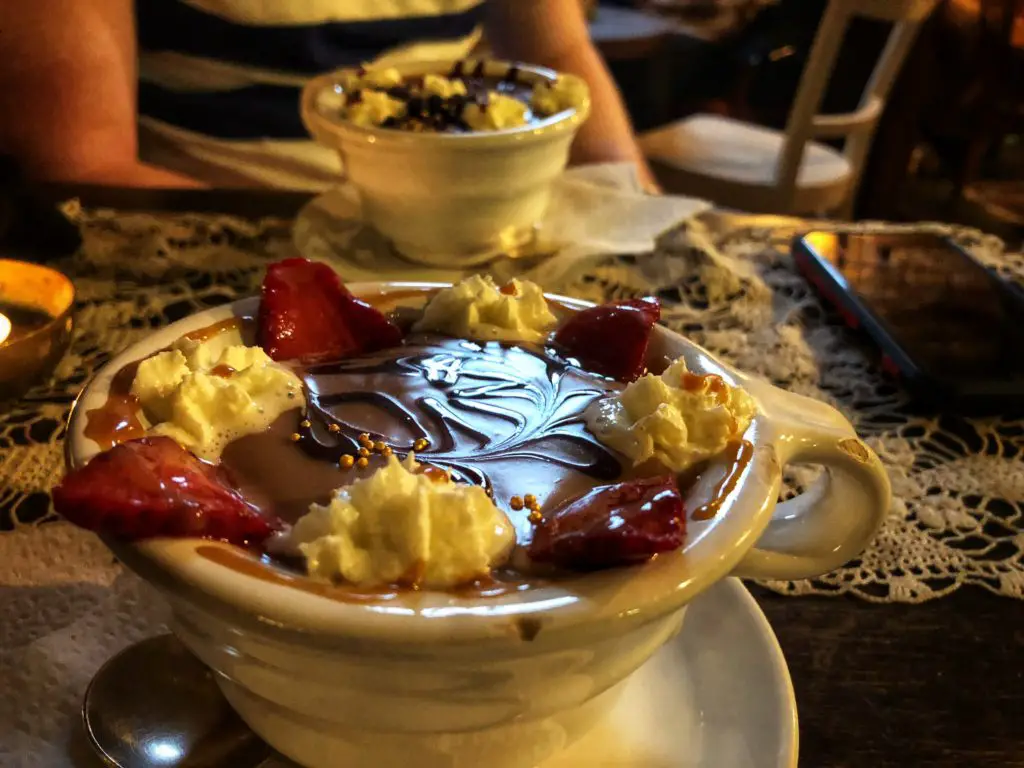 High Note Sky Bar
Located on the rooftop of the Aria Hotel this bar was actually voted one of the world's top rooftop bars by Conde Nast Traveler. Based on this fact alone we knew we had to have a drink here. The view is amazing, particularly of St Stephen's Cathedral that forms part of the bars stunning backdrop.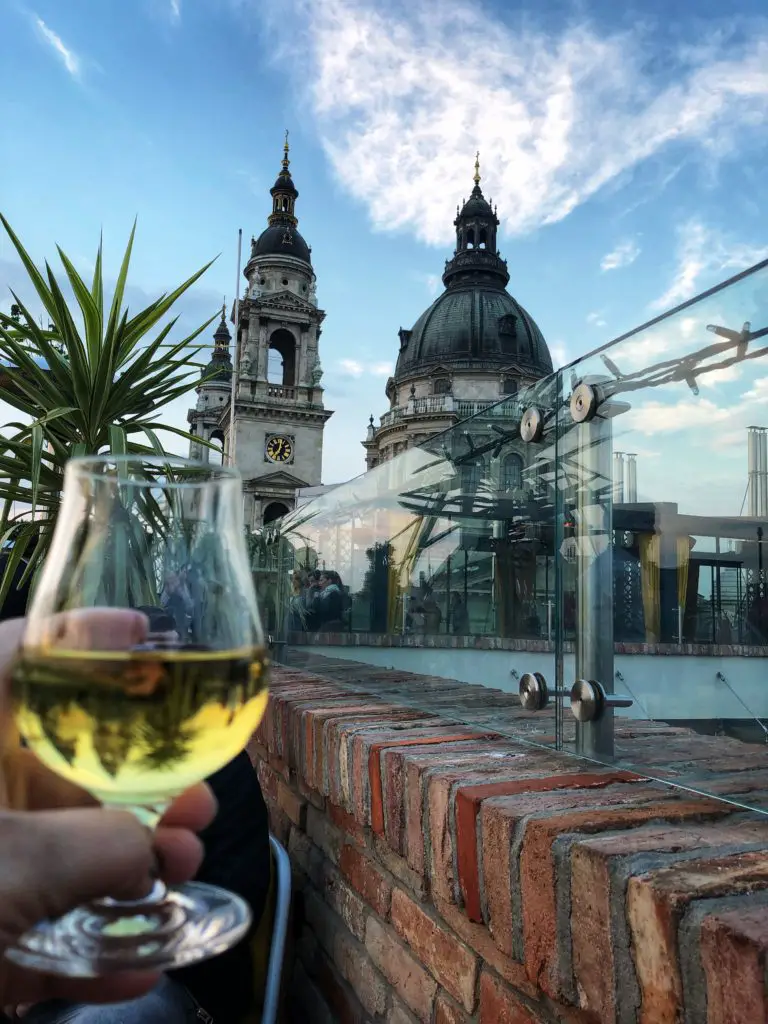 3 day Budapest itinerary
3 day Budapest itinerary Day 1
Breakfast at Gerbeaud
St Stephen's Basilica
Hungarian Parliament Building
Dohány Street Synagogue
House of Terror
Ruin Bars
3 day Budapest itinerary Day 2
Breakfast at Gerloczy Cafe
Shoes on the Danube
Chain Bridge
Buda Castle Hill Funicular
Hungarian National Gallery
Rengeteg Romkafe
For Sale Pub for dinner
3 day Budapest itinerary Day 3
Breakfast at New York Cafe
Hospital in the Rock
Ruszwurm Confectionery for coffee and cake
Labyrinth of Buda Castle
Matthias Church
Fishermans Bastion
High Note Sky Bar
Final tips for your long weekend in Budapest
Here are some things to remember on your long weekend in Budapest:
Museums are closed on Mondays
If there are any particular restaurants you really want to eat at, then book these in advance
Bring a good pair of walking shoes
Long weekend in Budapest – final thoughts
We hope that this guide to spending 3 days in Budapest will help you plan your own trip this amazing city. Don't forget to pin this post for later if you find it useful.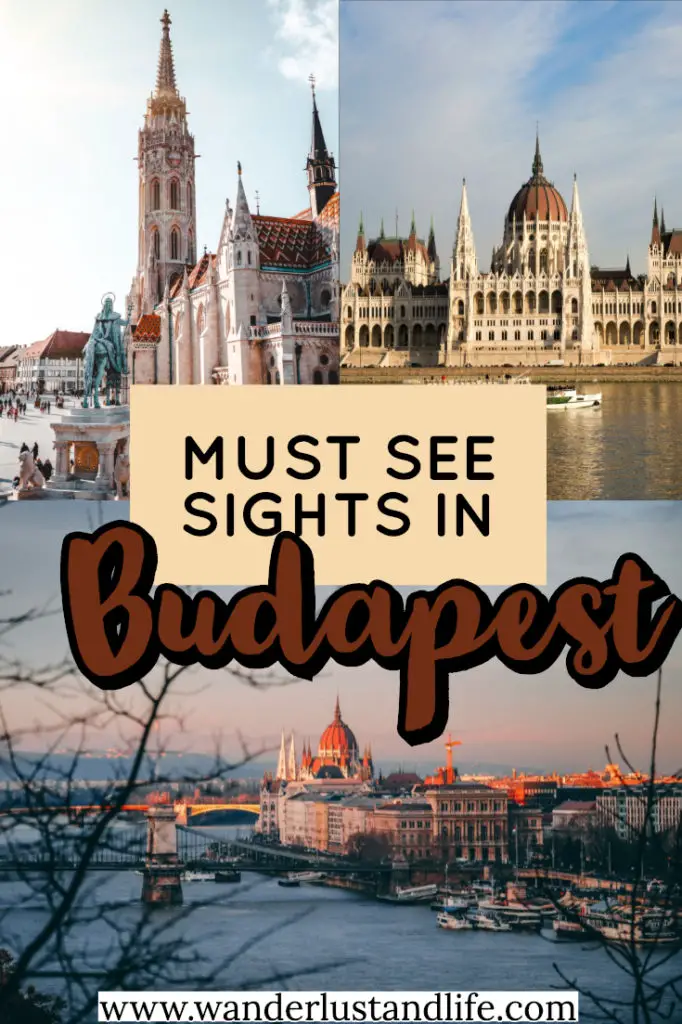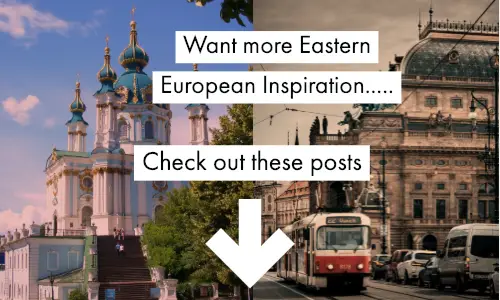 Instagrammable places in Budapest
Best things to do in Lviv Ukraine