This post contains affiliate links, so if you use these links to buy something we may earn a commission, at no cost to you. Thank you for your support.
Budapest has long been on our bucket list so it is kind of surprising it has taken us this long to visit. We actually arrived in Budapest weary and sleep deprived after getting an overnight train from Lviv in Ukraine. During our first few hours we were powered by adrenaline and a desire to see as much as possible during our 3 days in Budapest. And I have to say we really did see Budapest. We managed to fit so much into our time there, and can confidently say there is no shortage of things to do in Budapest.
In this article we provide you with all the information you need to know before visiting the city, like what to do, how to get around, and the best time of year to plan your own Budapest itinerary. We also listed our top suggestions for where to eat and drink in the city because let's face it are you even on holiday if you aren't stuffing your face with stodgy food and cheap booze? With that in mind here is our 3 day Budapest itinerary to help you plan your own trip to the Hungarian capital.
Basic information for your 3 days in Budapest
Country: Hungary
Languages Spoken: Hungarian – although English is widely spoken
Currency: Hungarian forint (HUF)
Famous for: thermal baths, incredible architecture, great nightlife
Visit if you like: history, quirky bars, cool buildings, cheap holidays
Another cool fact, Budapest is home to the world's largest thermal cave system, and the largest medicinal bath in Europe. In fact under Castle Hill one of the more prominent tourist areas in the city, you will find a whole world of underground networks which are the result of the geothermal springs in the area.  It is no surprise that Budapest is sometimes referred to as the city of the spas.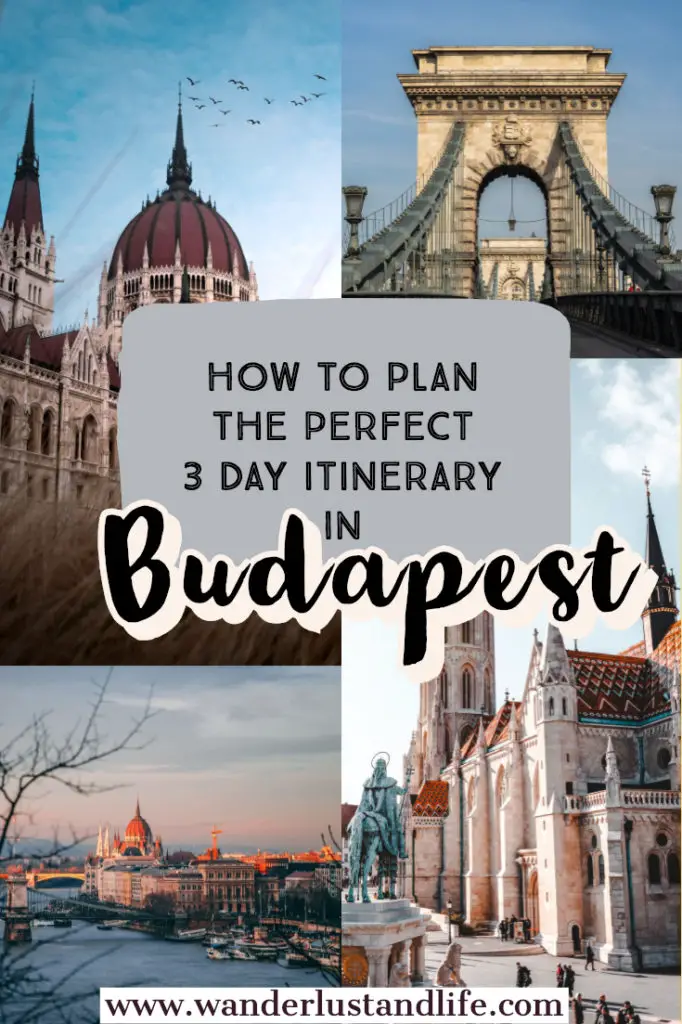 How much money do you need for 3 days in Budapest
SO you ight be wondering how much money do you need for 3 days in Budapest. For an Eastern European country, Budapest is not as cheap as we had expected. That being said, in comparison to places like Rome or Paris it is substantially cheaper. For our 3 day Budapest itinerary all in all we probably spent about £400 between the two of us (approx. 456 Euros), not including accommodation.
This budget included us eating out every night and we had a fancy breakfast each morning. I mean when in Budapest right? So, you can definitely do things a whole lot cheaper. Especially if you just wanted to pick up some pastries and coffee for breakfast. Nightlife is also a lot cheaper than other European cities, especially if you are hanging around the ruin bars.
Public transport in Budapest is also pretty cheap, and we have a whole section on getting around Budapest and the cost if you keep reading.
We found that accommodation was actually on the cheaper side, with good quality 4 star hotels costing under 100 Euros a night. Although we didn't travel in peak season, so if you do decide to spend your 3 days in Budapest in peak season, things will probably be a bit more expensive.
What is the currency in Budapest
The official currency in Budapest is the Hungarian Forint. You might see it abbreviated to HUF or Ft.  
Some places, especially the more touristy spots may accept Euros, but we highly recommend you pay in the local currency. This is because change will be given to you in Forint even if you pay in Euros, and the conversation into Euro's isn't always great so chances are you will probably end up paying more.
Also not all places in Budapest accept card, so this is another reason to make sure that you have some Forint on you.
The currency is one of those that has a ton of zero's in it so just keep an eye on what notes you are getting when you are given change etc. Notes consist of 500 Ft all the way to 20,000 Ft. Although with the larger denominations you may struggle to pay for things in some shops, so if you are carrying cash try and have some smaller notes as well as the larger ones.
There are also coins such as the 200, 100, 50, 20, 10 and 5. Everything is in Forint. So for example in the US there are dollars and cents, or pounds and pence in the UK, but in Hungary everything falls under Forint.  
Is 3 days in Budapest enough?
We spent 3 days in Budapest, which was a good amount of time to see the main sights, but there were a number of things we still wanted to see. Three days meant that we didn't have time to soak in the thermal baths, for example which was a huge shame. We also found ourselves rushing between the different tourist attractions, not wanting to miss anything in our Budapest itinerary.
 Ideally we would recommend a minimum of 4 days in Budapest. That will give you enough time to see the sights, enjoy the nightlife, and chill out with a coffee or glass of wine every so often.
That being said if you only have 3 days in Budapest all is not lost. Three days will still allow you ample time to get to grips with the city, the culture, the food, and of course the drinks. You just need to make sure that you plan things in advance. That is where our 3 day Budapest itinerary comes into play!
Should I buy the Budapest Card for 3 days in Budapest?
If you are only spending 3 days in Budapest you might be wondering if the Budapest Card is worth getting? It was something that we thought about. The card costs around €56 per person for 3 days, and public transportation is included. You also get free entry into certain museums as well as a free walking tour and substantial discounts on several attractions in the city. A lot of people will try and sell you the card, so you should think if this would really save you money before purchasing it.
We didn't purchase the card because it was not going to save us any money. We knew what attractions we wanted to see during our time in Budapest, and the main ones were not free with the Budapest card. Also as we visited on Monday we were informed that all museums are closed in Budapest on Mondays. As this was one of our main days in the city it didn't make sense to purchase the card.
Also we should note that public transport is really cheap. We paid around £5 per 24 hour period for a public transport pass. For us it didn't make sense to purchase the card but it might for you. Think about what you want to see and do, and check if those attractions are listed on the Budapest Card. And don't just buy it for the sake of it. A lot of tourists tend to go for it because it is the easier option, but from experience it won't always be the cheapest.
Getting around during your 3 days in Budapest
As mentioned above getting around Budapest is pretty easy so you shouldn't have too much trouble getting around as part of your 3 day Budapest itinerary.
You can purchase public transport tickets from any self service ticket machines located at most metro stations, or bus and tram stops. And thankfully there is also an English Language option you can choose when doing so.
You then select your ticket type, so for example you could opt for a single journey ticket, or get one for 24 hours. Don't forget to validate your ticket either when you enter the metro station or on the bus and tram.
You will probably do a fair bit of walking in Budapest as well. A few of the attractions are near each other, so sometimes it can be easier to just walk.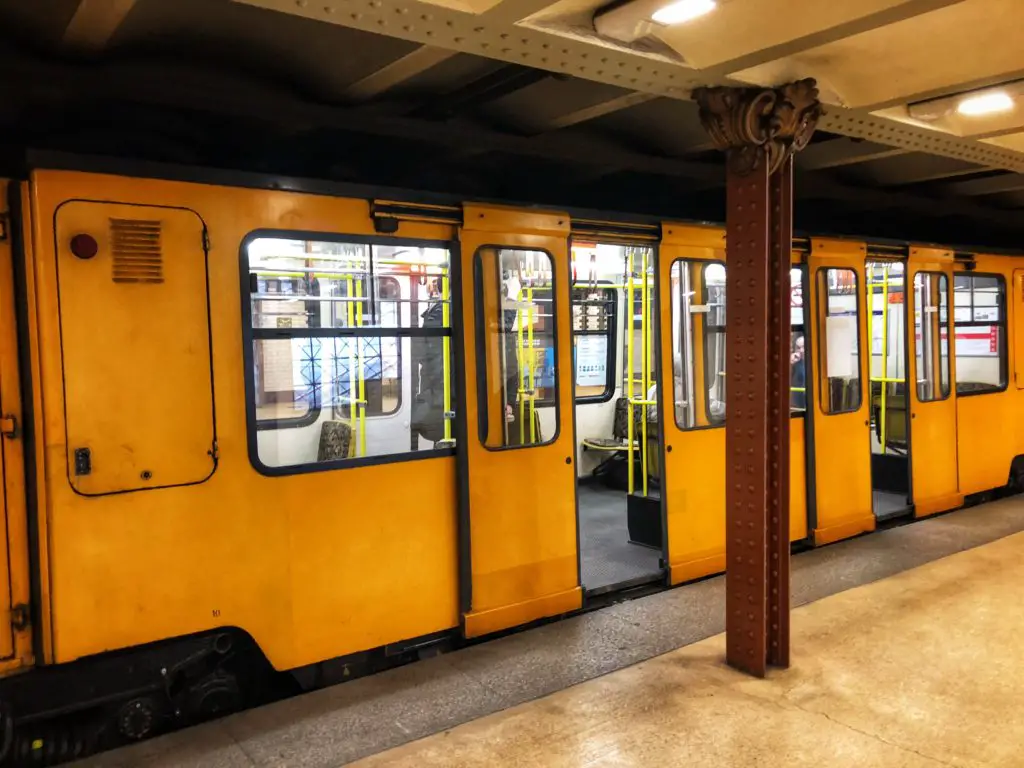 Getting to Budapest
Chances are that your 3 day Budapest itinerary will start in Budapest Ferenc Liszt International Airport, which is the city's main airport. You are probably best running your hotel location through GoogleMaps and this will tell you the best way to get there. But your main options really are going to be bus or taxi.
Bus
Getting into the centre of Budapest by bus is probably the most popular choice. You can hop on the 100E which will take you into town within about 30 -40 minutes. There is also the 200E but this one is a bit more complicated as you will have to change onto the Metro at some point to get into the centre
Taxi
This was our preferred option when we had to get to the airport at the end of our trip. Depending on your hotel location it should cost you under 30 Euros for a taxi (one way). This will obviously be your more direct and convenient way to get to and from the airport.
Where to stay during your 3 days in Budapest
We did a ton of research when it came to booking our accommodation for our 3 days in Budapest. And there is a lot of information out there! So in order to keep it simple here is what you need to know.
First, Budapest is broken up into two parts, Buda and Pest split by the Danube River. The city is also made up of 23 Districts so you might see words like District III etc banded about. Very simply on the Buda side, you have Buda Castle and as a whole the area tends to be calmer in the evenings. On the Pest side, you have Houses of Parliament, as well as the Ruin Bars. Pest is the best place to stay if you are wanting to immerse yourself in Budapest's nightlife. Budapest isn't too spread out, so wherever you do choose to stay you won't find yourself too far from the main attractions.
District I – Buda Castle
Located on the west bank of the Danube, the Buda Castle area is home to places like the Fisherman's Bastion, The Royal Palace and Matthais Church. It's really beautiful with cobbled streets, and cherry blossoms in the springtime. There are a lot of traditional restaurants here as well, so it's not surprise it is a popular tourist area. The Castle District is probably more suited to luxury travellers as the hotels and area itself is a bit more expensive that other parts of the city. It is also a lot quieter, with nightlife being more abundant on the opposite side of the Danube. It's good for 3 days in Budapest if you want to stay somewhere quieter and more luxurious.
District V -Parliament & Downtown Budapest
Across the Danube from the Buda Castle area is District V, which includes attractions like the Parliament Building and St Stephens Basilica. There are a lot of really good food places around here, as well as a good range of boutique hotels. It is very central, with excellent transportation links, and is often recommended to first time visitors to the city due to its location and proximity to several key attractions.
District VI Terézváros
This is probably your more cultural part of Budapest with points of interest such as the  Hungarian State Opera House, the Liszt Ferenc Music Academy, and the Operetta Theatre. Culture lovers will be best off in this area, or those that want to do some shopping. There are a few mid- range hotels as well as some more upmarket places.
District VII – ERZSÉBETVÁROS
This is probably the heart of the Jewish Community in Budapest especially as it is home to the Dohany street great synagogue. Separately the area is a hipster's dream filled with super cool cafes, street food, and of course the ruin bars. If you are planning to party during your 3 days in Budapest this is probably the area for you.
We stayed on the Pest side at the K+K Hotel Opera. The hotel was fabulous and the location was ideal. It wasn't smack bang in the middle of the vibrant streets with ruin bars, but it was a 10 minute walk which was a good compromise.   It is located on a quiet street so you are away from the hustle and bustle but within walking distance to bars and restaurants. Our room was spacious and comfortable, and it was a perfect place to rest our heads after long days exploring the city.
When to plan your 3 day Budapest itinerary
We visited Budapest in April, which is just before peak tourist season in the summer. Even in April attractions were crowded, so we can only imagine what it is like in peak season. The weather was also pretty mild ranging from around 8 – 20 degrees Celsius. The days were warm and mostly sunny whilst the evenings were cool.
We would be happy visiting Budapest any time of year to be honest. But that being said there are some times that are better to visit than others.
The winter months (December – March), fall within the low season in Budapest (except December where you do get a flurry of activity with Christmas Markets). The positive is that there are less tourists but some tourist attractions are closed during this period. The weather can also be a bit dreary so not ideal if you want to do a lot of outdoor activities.
June – August is high season in Budapest, and this coincides with the summer months, but also school holidays. Budapest get super busy, and hotel prices increase. You also have to wait in line for most attractions, so you have to book in advance. It's also hard getting into restaurants, so again advance bookings are crucial. On the plus side the days are long, and Budapest really comes alive in the summer. The weather is also warm making it perfect for drinking and al fresco dining.
The best time to plan your 3 days in Budapest realistically will be March – May or October- November. Temperatures are mild, and there are less tourists. Hotels are also way cheaper than in the summer months, and you can bag yourself a good deal. If you can, visit in Spring, because the city is even more beautiful than usual. The flowers are in full bloom, and the cherry blossoms will frame your photos.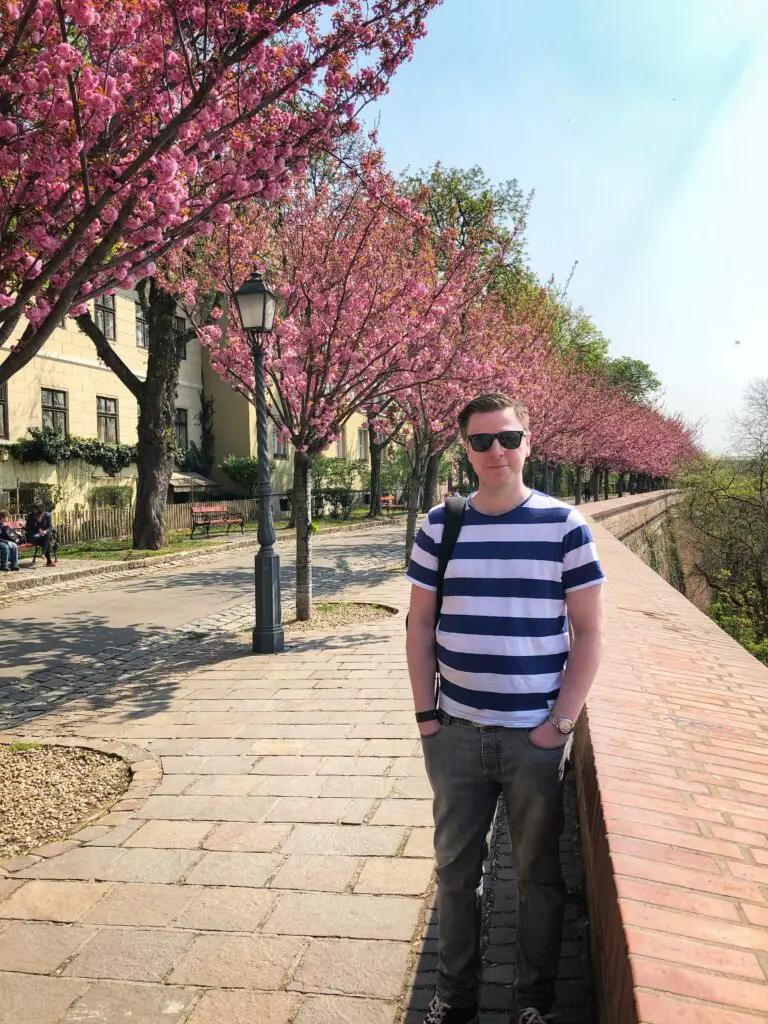 3 days in Budapest – what to do
So now you know how to get around and where to stay in Budapest, here is our list of things to do. Unfortunately, due to time constraints we had to miss out on a few things like having a good soak in the thermal baths. We did cover some good ground during our 3 days in Budapest and tried to balance out seeing as much as possible, with relaxing and enjoying a coffee or beer every now and then.
St Stephen's Basilica
The first thing we did when we arrived in Budapest was visit St Stephen's Basilica. The Roman Catholic Basilica is a distinctive part of the city's skyline and was named in honour of Stephen the First King of Hungary. It is also one of the tallest buildings in Budapest alongside the Hungarian Parliament standing at 96 metres.
With that in mind it is no surprise that the views from the top are absolutely spectacular and you get a brilliant view over Budapest. You can climb to the top or get the lift, but either way the views are incredible. This is a good place to start your 3 day Budapest itinerary because you get to see the lay of the land from a height. You can either book tickets in advance online to skip the queues or on the day.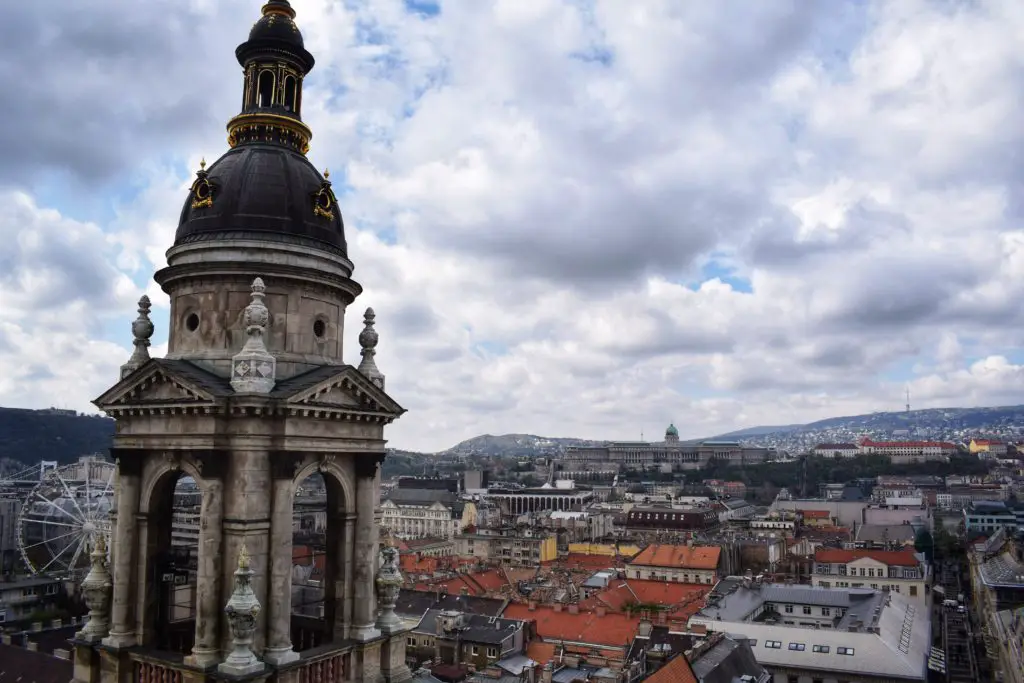 The interior is just as beautiful, with various artworks painted by artists of the time. Stepping inside is such a spiritual moment, and as you gaze up at the high ceilings it is easy to feel so insignificant.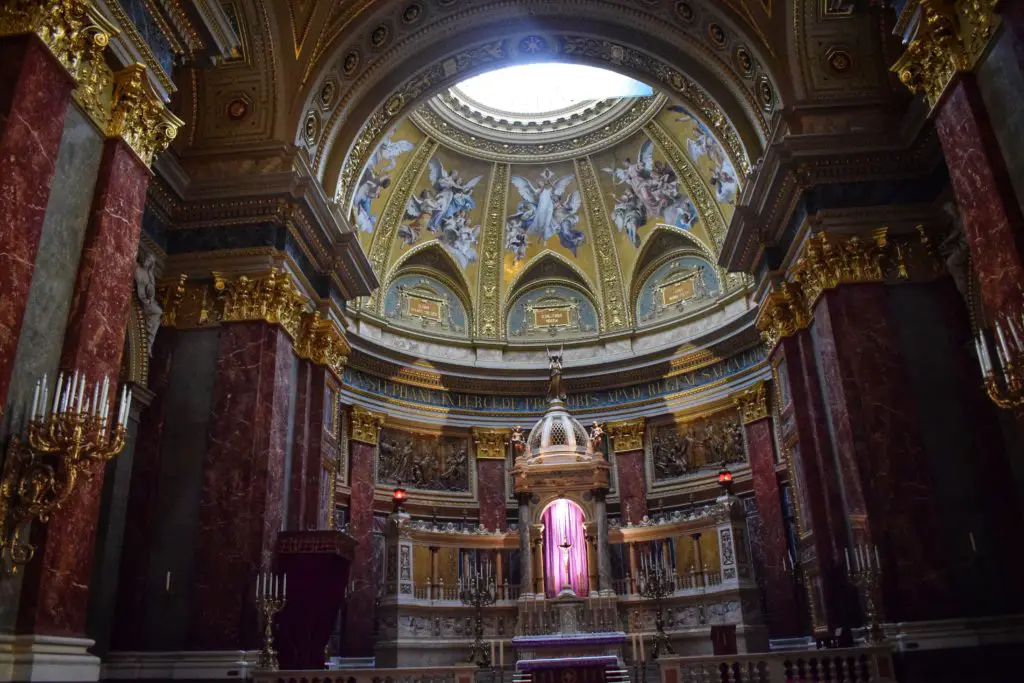 Also an interesting fact is that the Basilica took 54 years to build. Yup, you heard that correctly. Work was started in 1848 and eventually completed in 1905. It is free to enter the Basilica although a donation is highly encouraged. If you want to visit the top, or do a guided tour though this will be extra.
Where is it:, Szent István tér 1, 1051 Hungary
Entry Fee: Technically Free, but a donation of 200 HUF (0.50 Euro) is recommended. To get to the top it is around 600 HUF.
Margaret Island
If you want to embrace some green space during your 3 day Budapest itinerary then Margaret Island might be for you. It's a 2.5 kilometre island of serene parkland right on the Danube. This is the perfect place to visit in the summer months where you can sit and read, or just take in your surroundings. Another cool thing is that there is a musical fountain. You will find it near Margaret Bridge, and four times a day it 'performs'.
Hungarian Parliament Building
One of the notable buildings that stands out as you admire the skyline in Budapest has to the the Hungarian Parliament Building. The striking neo-gothic architecture is a favourite among tourists, with cameras in hand and poses at the ready. Again, this is another must visit attraction as part of your 3 day Budapest itinerary. It was designed by the Hungarian Architect Imre Steindl and opened in 1902. Along with St Stephen's Basilica it is the other tallest building in Budapest.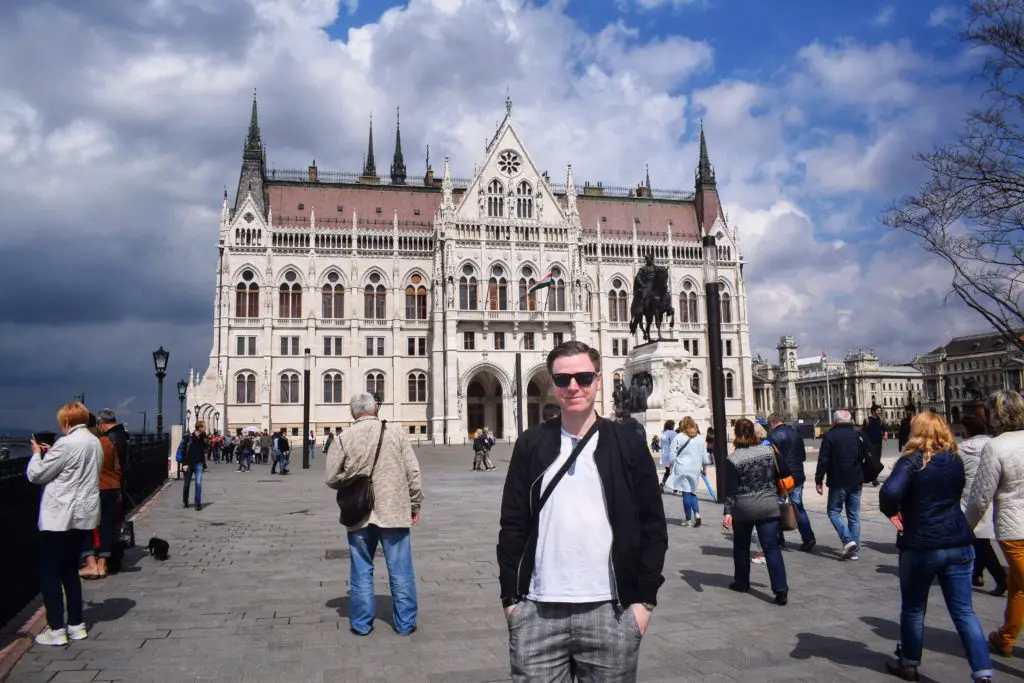 You can do a tour of the inside when the National Assembly is not in session. We decided against a tour just because of time restrictions (you have to book in advance), but judging by how incredible the outside is, and from pictures we've seen, we can imagine the beauty of the inside.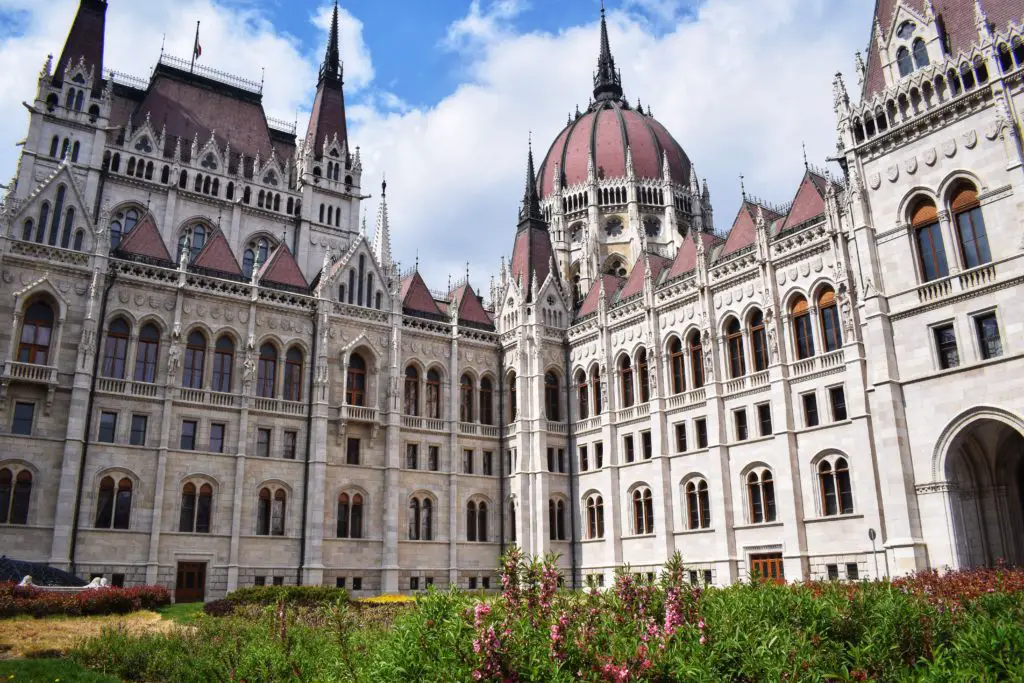 Where is it:, Budapest, Kossuth Lajos tér 1, 1055 Hungary
Entry Fee: HUF 3200 for EU citizens and HUF 6400 for non EU citizens.
Shoes on the Danube
This is one of the most moving memorials we have come across. The Shoes on the Danube represent the thousands of Jews that were killed during World War II by the Arrow Cross militia. They were marched down to the Danube and ordered to take off their shoes before being shot by the edge of the river. Their bodies then fell into the river and were carried away. What makes it even more gut wrenching is that many of the shoes were children's. As we made our way to the memorial the rain started to pour and this perfectly reflected the darkness of the crimes that were committed here.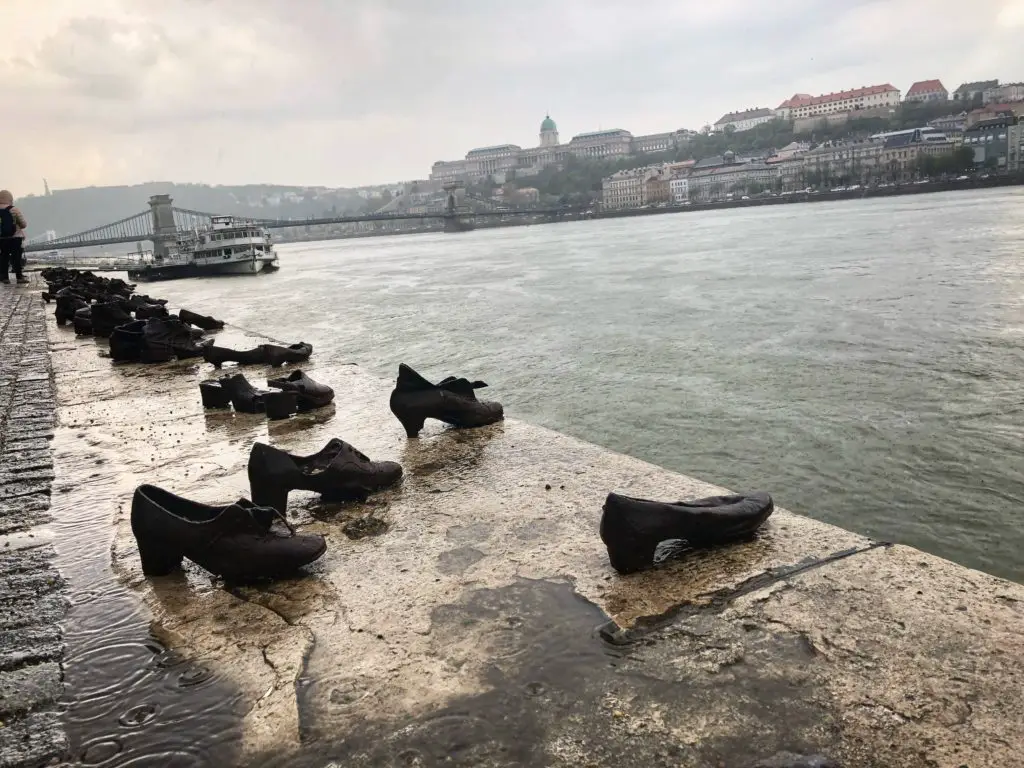 Where is it: Budapest, Id. Antall József rkp., 1054 Hungary
Cost: Free
Dohány Street Synagogue
On our European trip we spent a lot of time exploring cathedrals and churches so it was great to take the opportunity to explore the Dohány Street Synagogue in Budapest as well. It is also known as the Great Synagogue or Tabakgasse Synagogue, and is located in District VII.
It was built between 1854 and 1859 in the Moorish Revival style. The architect Ludwig Forster is Viennese with the inside designed partly by Frigyes Feszl. The complex itself consists of the Great Synagogue, the Heroes' Temple, the graveyard, the Memorial and the Jewish Museum. Another cool fact is that it is the largest synagogue in Europe and seats approximately 3000 people.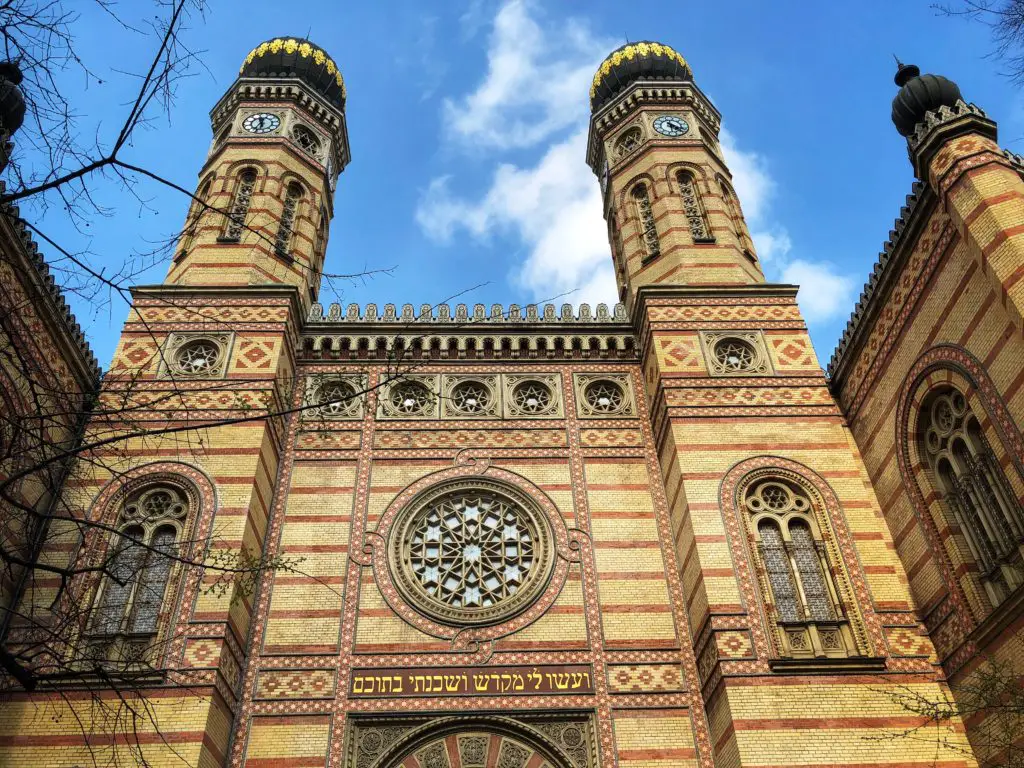 Where is it: Budapest, Dohány u. 2, 1074 Hungary
Cost: approximately HUF 4500
Szechenyi Baths
The Szechenyi Baths are another hugely popular attraction in Budapest. Built in 1913, the spa baths are considered medicinal and the water is supplied by two thermal springs. The water consists of a number of minerals including calcium, magnesiam, bicarbonate, metaboric acid and fluoride.
For a standard experience you get to spend some time in the large thermal pool. You might have seen those photos of people playing chess in the water, which is obviously something else you can do here. There are actually 18 pools to choose from, as well as 10 saunas, massage therapies, facial treatments and more.
We highly recommend booking in advance because this is a really popular attraction and if you only have 3 days in Budapest you might miss out.
We weren't able to fit in a visit as part of our 3 day Budapest itinerary, which is something we really regret. Return trip anyone?
Where is it: Budapest, Állatkerti krt. 9-11, 1146 Hungary
Cost: Depends on whether you want to opt for treatments, but expect to pay around 7200 HUF
House of Terror
This is an absolute must on your 3 day Budapest itinerary. The House of Terror is a museum that centres around the fascist and communist regimes in Hungary in the 20th Century. This is quite a difficult museum to walk around. It details the sheer horror of what the victims of these regimes endured.
There were a number of times walking around the museum that I felt my throat tighten and my eyes well up. The most poignant part though is towards the end where you get into an elevator. Everything is dark and the lift descends slowly with ominous music. When you get out of the lift you will find yourself in the basement of the building which is also where you will see examples of the cells where prisoners were tortured and killed. It is so moving and we highly recommend coming here to learn, and understand what went on.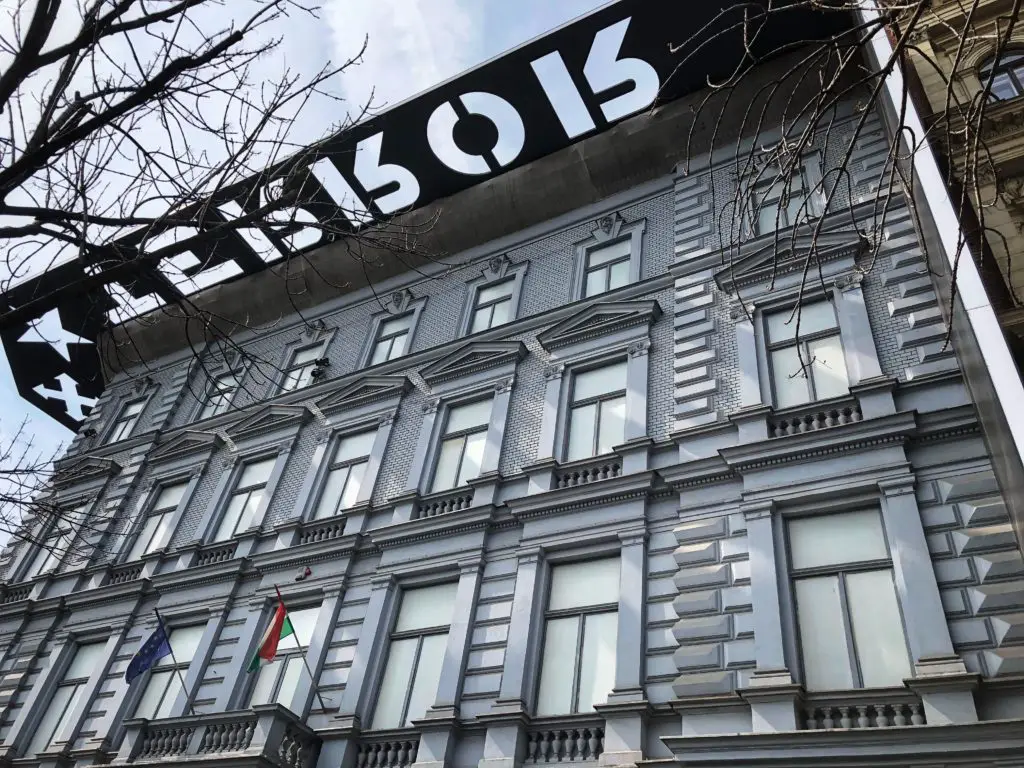 Where is it: Budapest, Andrássy út 60, 1062 Hungary
Cost: 3000 HUF
Hungarian National Gallery
Dave is an art fan, so he really wanted to visit the Hungarian National Gallery. It is located in Buda Castle and has some fabulous views over the city. I'm not going to pretend I know the first thing about art so all I will say is the gallery is worth a visit even if you don't like art. It was established in 1957 as the national art museum, and it has collections covering Hungarian art in all genres. The interior is also quite spectacular and the dome is accessible at certain times of the year. You probably need a good 3-4 hours to have a good look in here.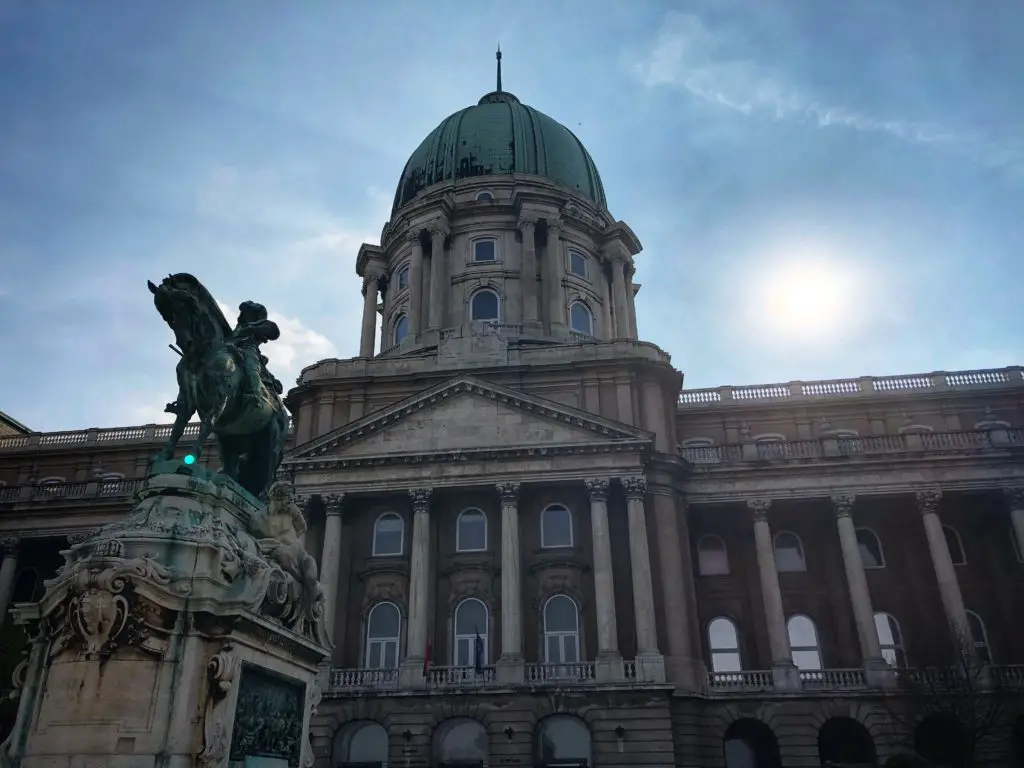 Where is it: Budapest, Szent György tér 2, 1014 Hungary
Cost: HUF 2,600.00 or Free with the Budapest Card
Buda Castle Hill Funicular
Who doesn't love a good Funicular ride? The Buda Castle Hill Funicular connects the area around the chain bridge to Buda Castle. It is worth a ride especially if you want to save your legs climbing up that hill! It only takes a few minutes but the views going up (or down) and really spectacular.
The funicular has been in service since 1870, so is quite historical, and a very popular tourist attraction. The lines for this do tend to be quite long, so our recommendation is to get there early. The funicular opens at about 7.30am and closes at 10pm, so plenty of time to catch a ride.
The funicular was actually completely rebuilt after it was destroyed in WWII. But in 1987 it was added to the UNESCO World Heritage list. It holds a special place in the history of Budapest that is for sure!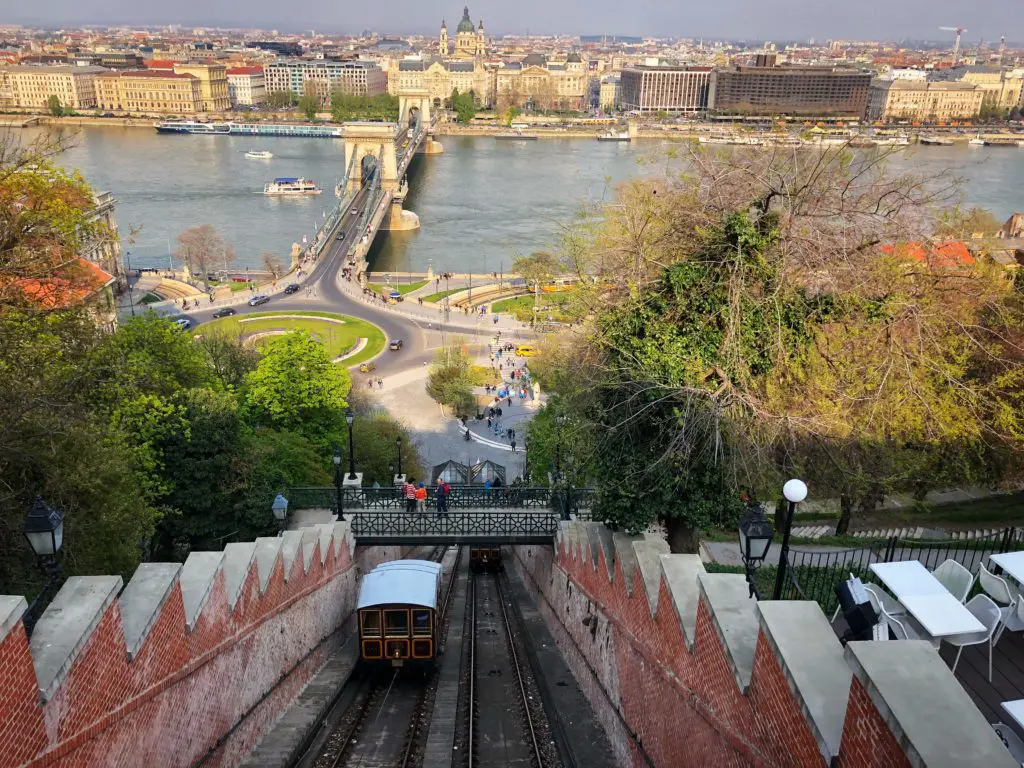 Where is it: Budapest, Clark Ádám tér, 1013 Hungary
Cost: A one-way, ticket costs HUF 1,200. A return tickets is HUF 1,800.
Fisherman's Bastion
The Fisherman's Bastion is a stunning terrace located across the river from the Parliament Building. There are several Romanesque look out terraces making it the perfect place to take pictures and enjoy the stunning views.
The façade itself is around 140 metres long and honestly is one of the most recognisable structures in Budapest. There are seven stone towers that are supposed to represent the 7 chieftains of the Hungarians who founded Hungary in 895.
The original walls were built in the 1700's but the structure that we see today was built between 1895 and 1902 by Frigyes Schulek who also restored the nearby Matthias Church.
I think this was one of our favourite places in Budapest because of the sheer beauty of it. The terrace was actually built for the 1000th birthday of the Hungarian State, although it certainly looks much older.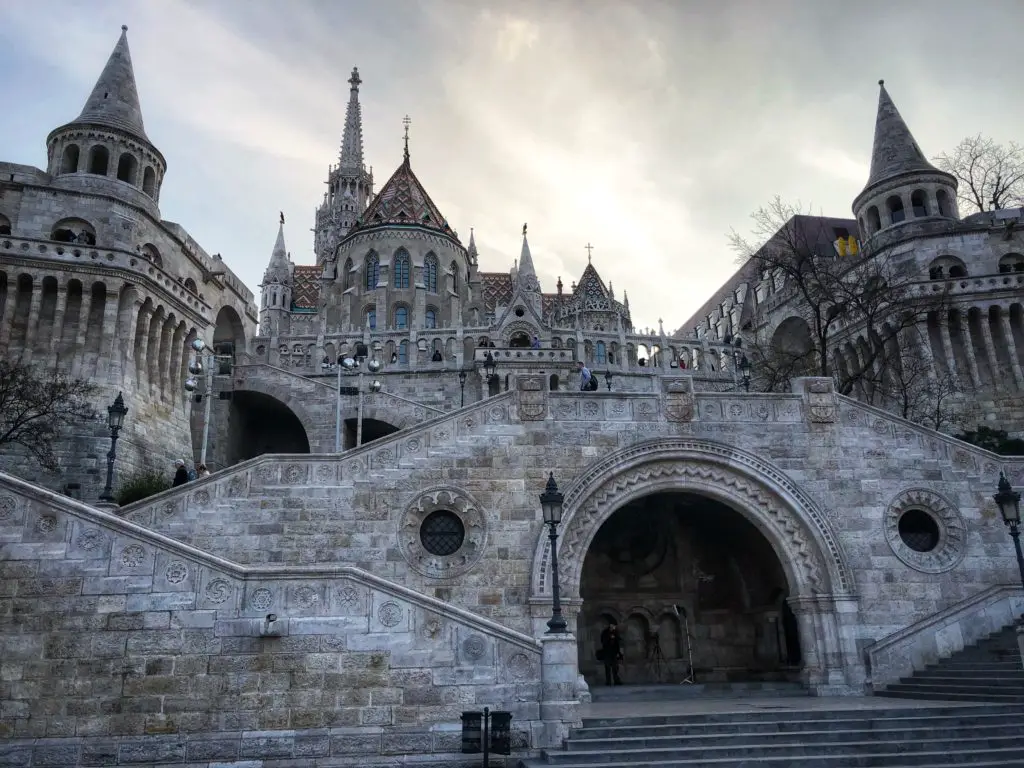 There are several places along the terrace where you can sit with a drink and admire the views. I know these places are usually so overpriced and we usually avoid them but we felt it was worth spending a little bit of money to just sit and admire the view. And it seriously was a good view! Having a drink here was a very memorable part of our 3 days in Budapest so we do recommend it if you get the chance.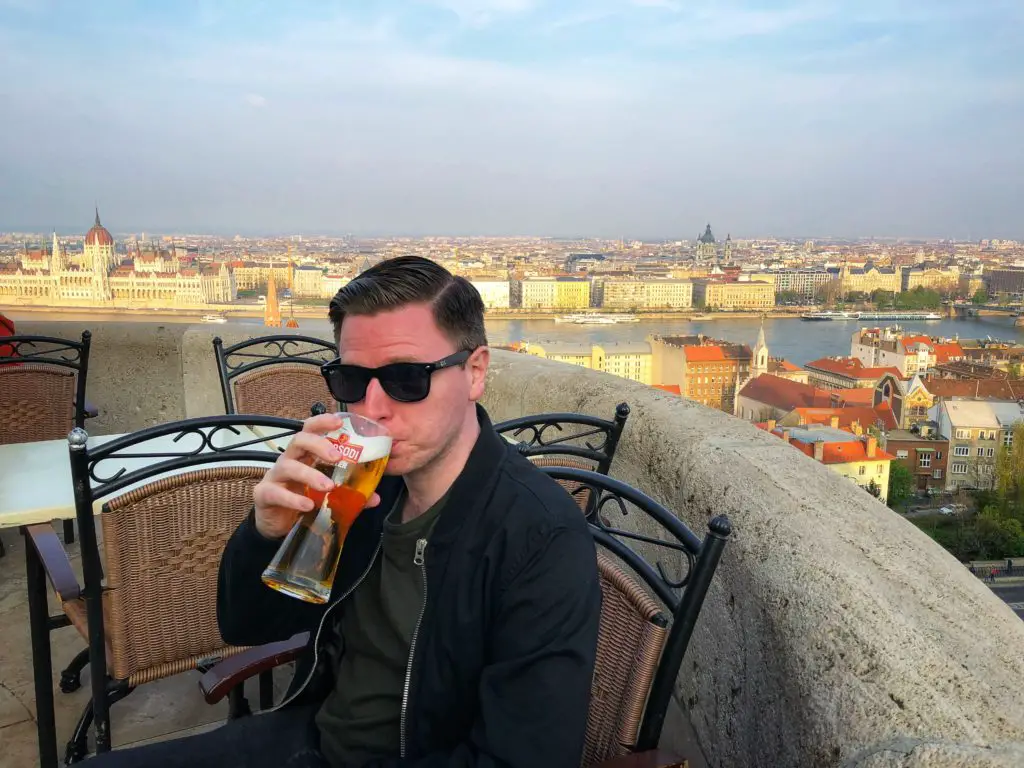 Where is it: Budapest, Szentháromság tér, 1014 Hungary
Cost: HUF 1000 & a 10% Discount with the Budapest Card
Matthias Church
Matthias Church sits right next to Fisherman's Bastion, and is the most visited Roman Catholic church in Budapest. It's is a mostly neo-Gothic style building that was established between the 13th & 15th Century although at the end of the 19th Century it was renovated. It's an important building in Hungary, hosting many a royal wedding, as well as a number of classic/ organ concerts.
We decided not to pay to go inside on our visit, instead opting to pay to access the upper terrace of Fisherman's Bastion. Still it is worth visiting even if it is just to see the outside.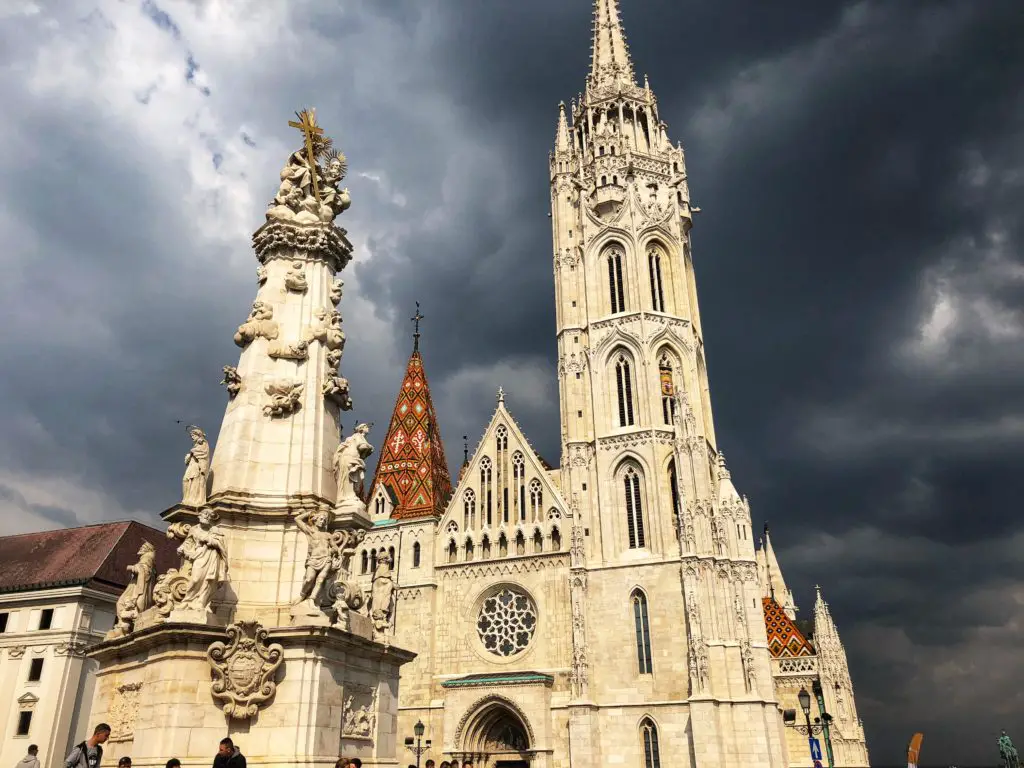 Where is it: Budapest, Szentháromság tér 2, 1014 Hungary
Cost: 800 HUF
Hospital in the Rock
The Hospital in the Rock is certainly one of the more unique attractions on your 3 day Budapest itinerary. You essentially get the chance to explore the underground caverns of Buda Castle which were turned into a working hospital during WWII. Construction begain in 1939 and was completed in 1944. The hospital staffed 40 doctors, nurses and assistants,
Initially it became a hospital for wounded civilians injured in airstrikes, and eventually soldiers too. Conditions inside the hospital were bleak. During the Siege of Budapest the hospital had to handle the wounded and dead, and were often without food or medical supplies. Staff had to sometimes reuse supplies, taking them from the deceased to reuse. It was only designed to treat 60-70 patients, but at one point there were 600 wounded soldiers being treated here.
You can only enter the caves as part of a guided tour, but this gives you the chance to learn so much about the conditions that hospital staff had to work under. This was one of our favourite tours in Budapest, so we highly recommend it.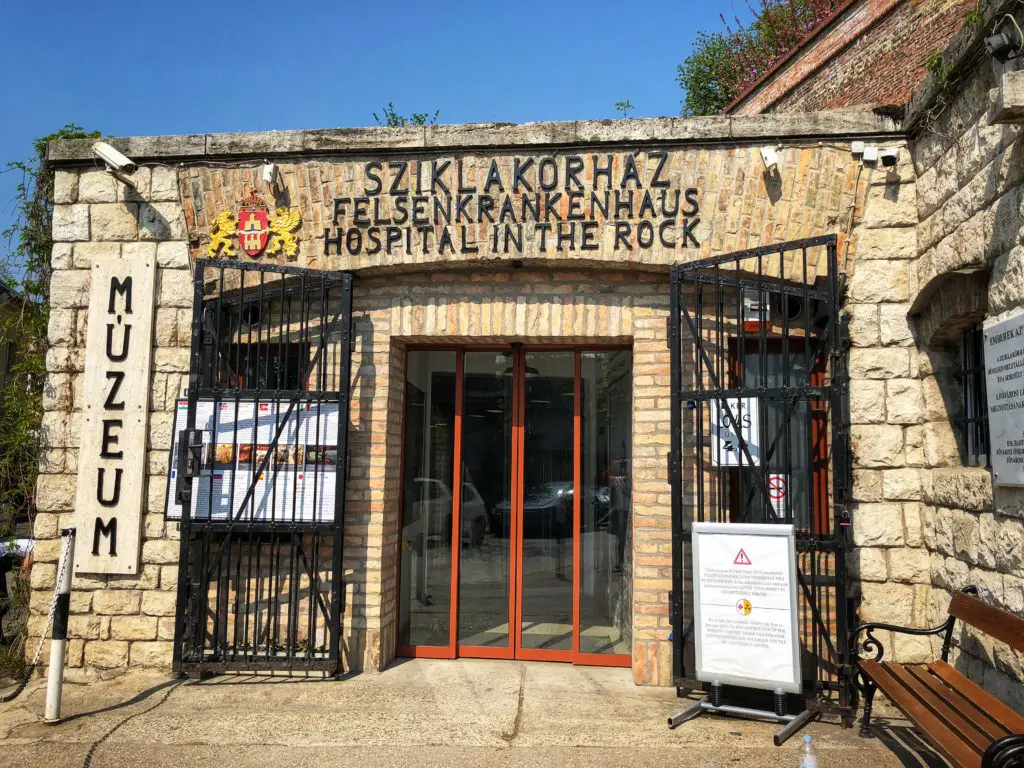 Where is it: Budapest, Lovas út 4/c, 1012 Hungary
Cost: 4000 HUF but you get a discount with the Budapest Card
Labyrinth of Buda Castle
The Labyrinth is a series of tunnels under Buda Castle. These caves once held the infamous Vlad the Impaler, otherwise known as Count Dracula as a prisoner for 14 years.
This attraction is a lot of fun and if you go after 6pm you can explore with an oil lamp for light. You basically get let loose in the underground tunnels and get to explore with little direction. In some parts its completely dark expect for phone torch lights, as you try to make your way through. It's is certainly a very unique activity to add to your 3 days in Budapest.
Where is it: Budapest, Úri u. 9, 1014 Hungary
Cost: 2,500 HU
Eating and drinking during your 3 days in Budapest
A large part of any long weekend in Budapest has to include opportunities to indulge in some good food and drink. Here are some of the places we really enjoyed and hope you will too.
Gerbeaud Cafe
If you are after one of those old world traditional coffee houses then Gerbeaud is a great place to go. With its high ceilings and wooden features you could literally sit here for hours drinking coffee. We came for breakfast which was really good. Particularly as we were starving and dishevelled after our overnight train ride into Budapest.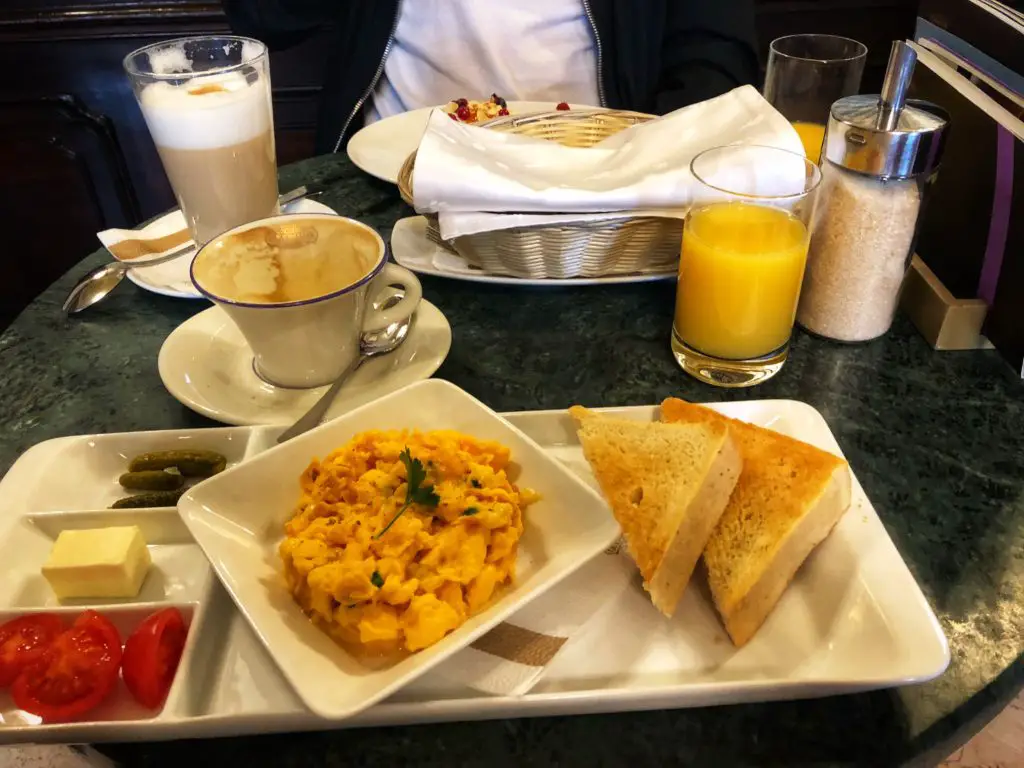 Gerloczy Cafe
We actually stumbled upon this cafe by accident one morning as it is tucked away on a very quiet back street in downtown Budapest. The breakfast here was amazing. We had omelette wrapped around a sausage. I know that doesn't sound amazing but it really was.
New York Cafe
Judging by the incredibly long queue we were met with upon arrival, the New York Cafe appears to be a very popular cafe among tourists. Also the claim that it is the most beautiful cafe in the world helps attract tourists throughout the day. For that reason it is definitely worth adding to your 3 day Budapest itinerary. Upon entering it is really easy to see why this place is so popular. It certainly has a vibe of nobility with its marble surfaces and crystal and wood features.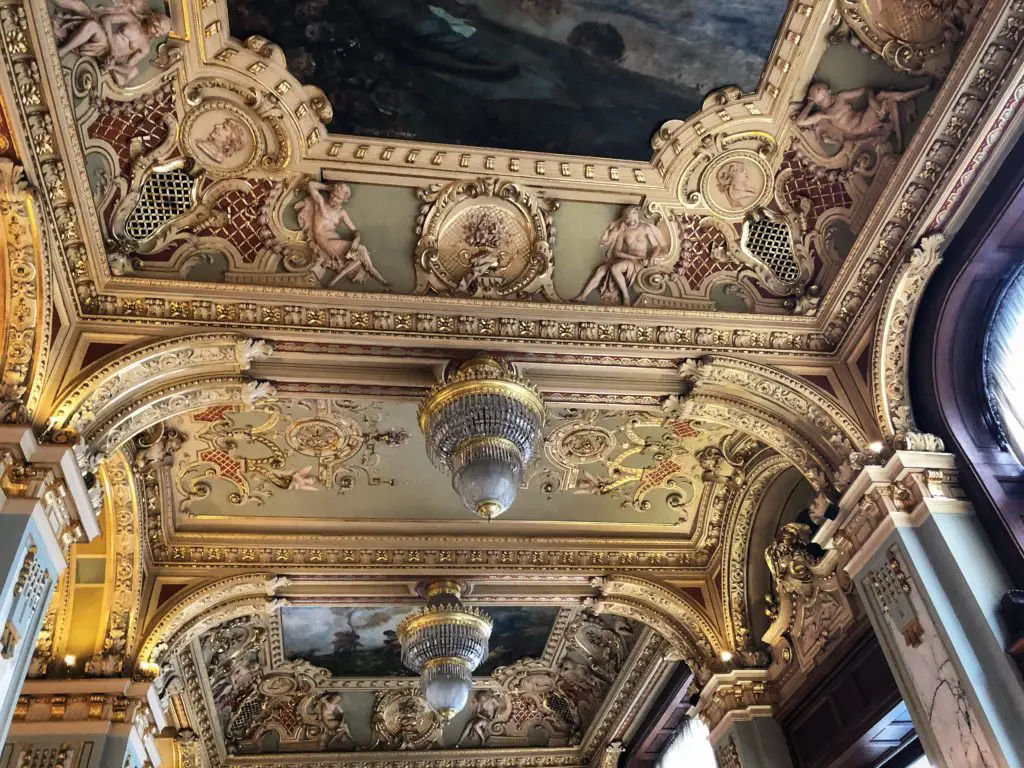 It is highly recommended that you book in advance or you will, like us, face having to queue for some time. It really is worth it though as you are serenaded by a piano and small orchestra during your meal. As you would expect dining in the most beautiful cafe in the world doesn't come cheap, but trust us it really is worth it. I mean where else can you sip coffee with gold on the top?
Ruszwurm Confectionery
Ruszwurm Confectionery is one of the oldest traditional cafes and confectioners in Budapest. Serving homemade cakes and coffee, this place is a must for anyone with a sweet tooth.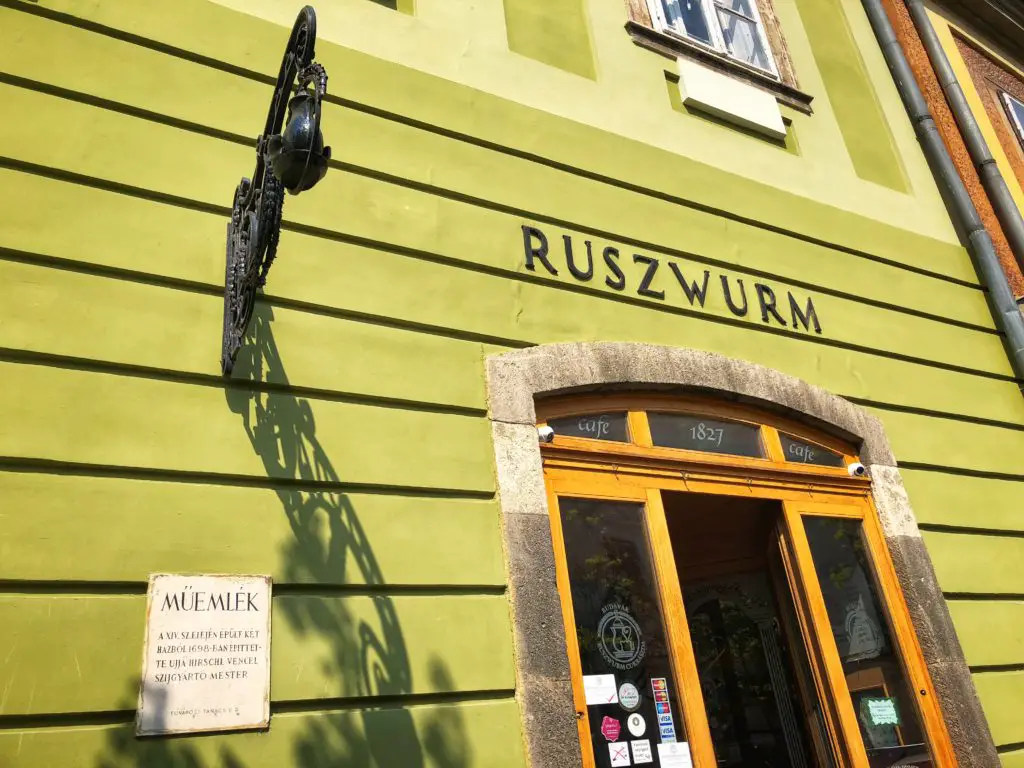 For Sale Pub
First things first, if you want to eat here then you really should make a reservation. Otherwise, like us you will spend an hour of your life waiting in line for a table. I have to say it was worth it though. The food is absolutely incredible, and the portions are HUGE! It is also really quirky inside because from the moment you walk in you will notice bits of paper hanging from the ceiling and covering every inch of the walls. These are all notes from previous patrons who have left their mark on this quirky place.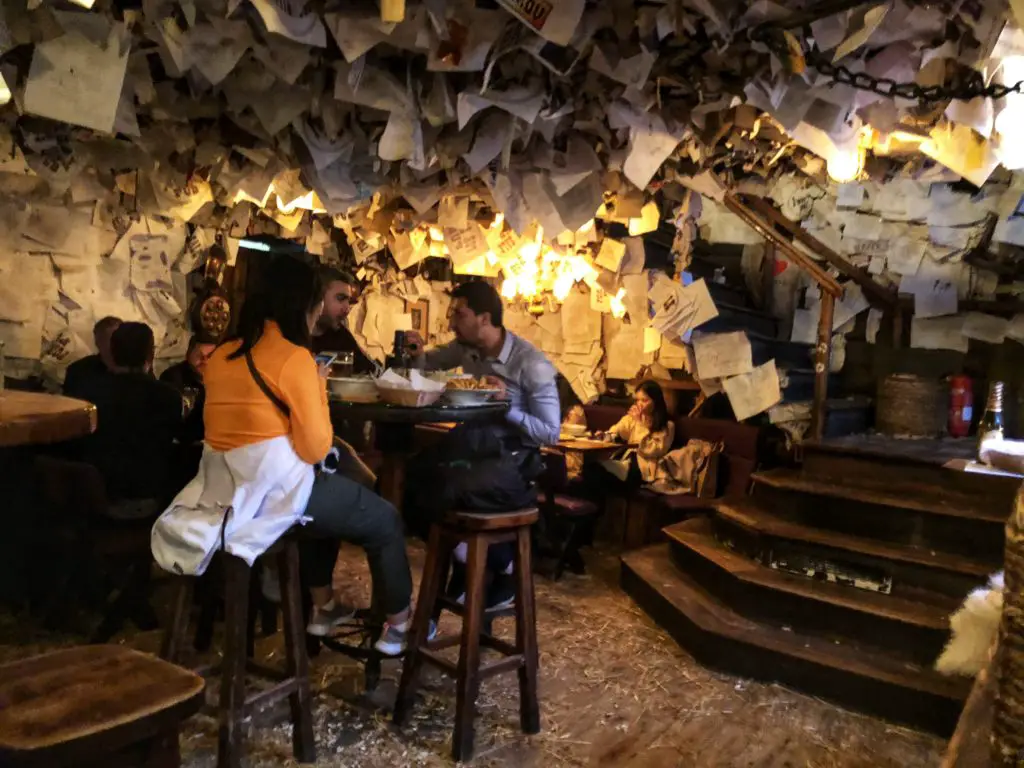 The Ruin Bars
Budapest's ruin bars are a nightlife bucket list item. You will find them in derelict buildings, filled with groups of people enjoying their nights. Szimpla Kert is the biggest and most popular and I don't think anything we read really prepared us for actually seeing it for ourself. It is kind of like a playground for grown ups where instead of swings and slides you have random fixtures and cheap drinks.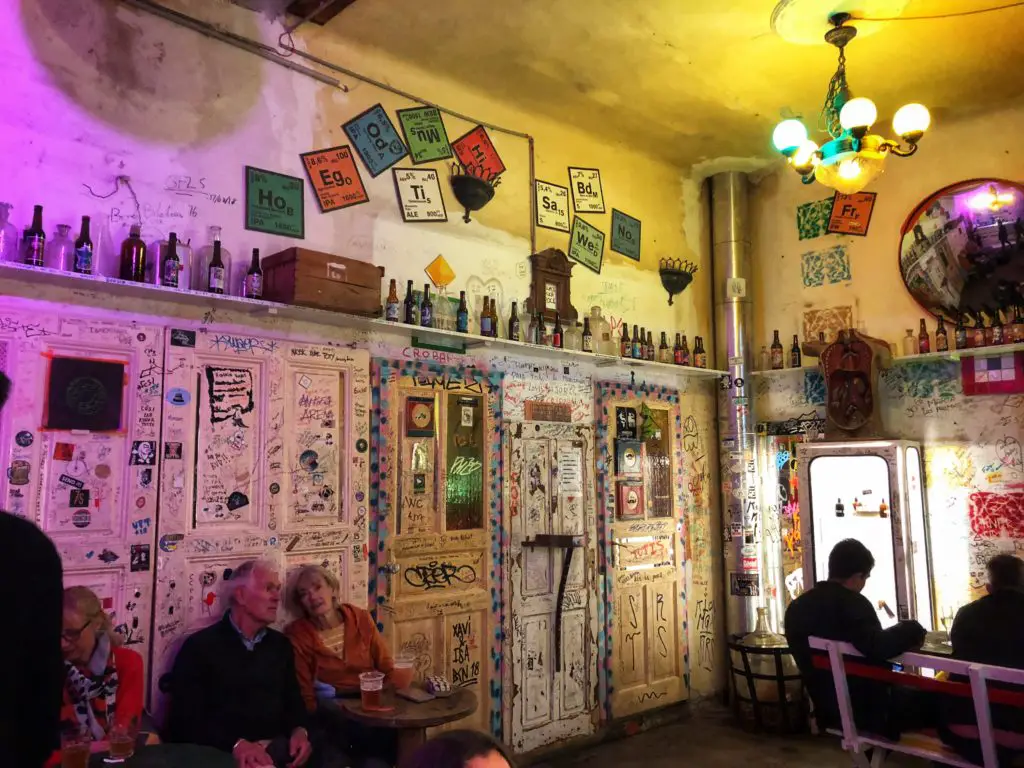 Rengeteg Romkafe
If you are a fan of hot chocolate and quirky yet cosy cafes then Rengeteg Romkafe has you covered. There isn't an official hot chocolate menu. Instead you are encouraged to be as creative as you like when coming up with your hot chocolate. I went with a salted caramel flavour with strawberries and cream, and Dave went with mint, dark chocolate and blueberries . When our hot chocolate arrived it was almost dessert like with its thick texture. The hot chocolates here are so good, that we recommend adding this as an attraction in its own right to your 3 day Budapest itinerary.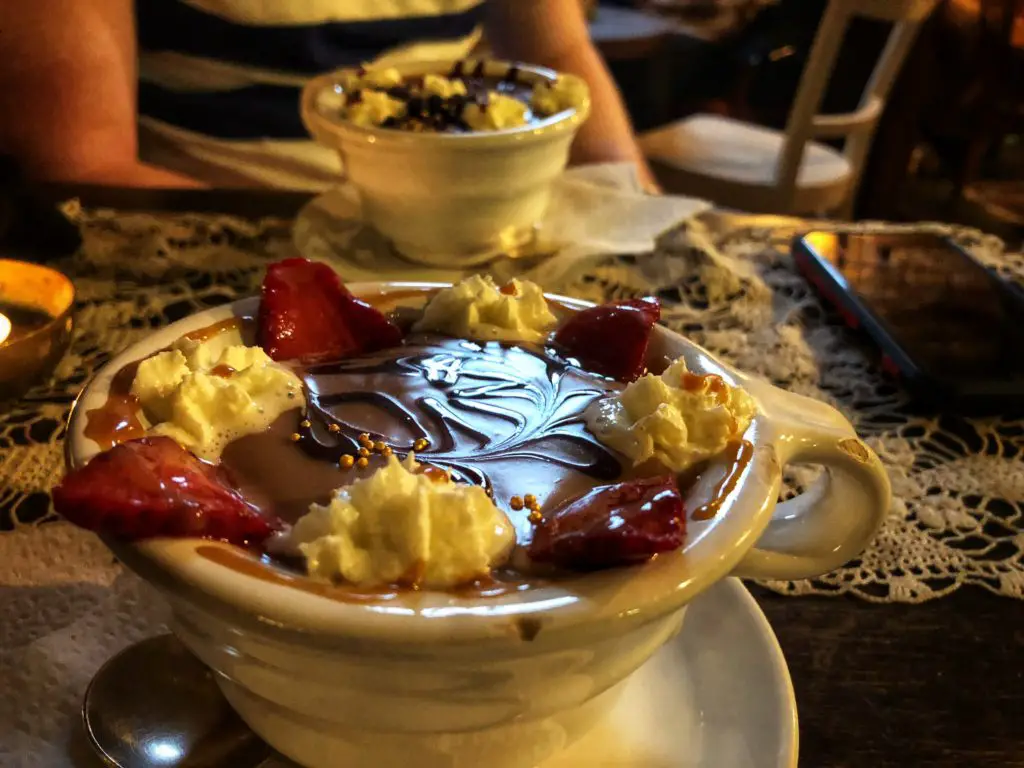 High Note Sky Bar
Located on the rooftop of the Aria Hotel this bar was actually voted one of the world's top rooftop bars by Conde Nast Traveler. Based on this fact alone we knew we had to have a drink here. The view is amazing, particularly of St Stephen's Cathedral that forms part of the bars stunning backdrop. It gets really busy though, and we were lucky to get a table, so we recommend booking in advance.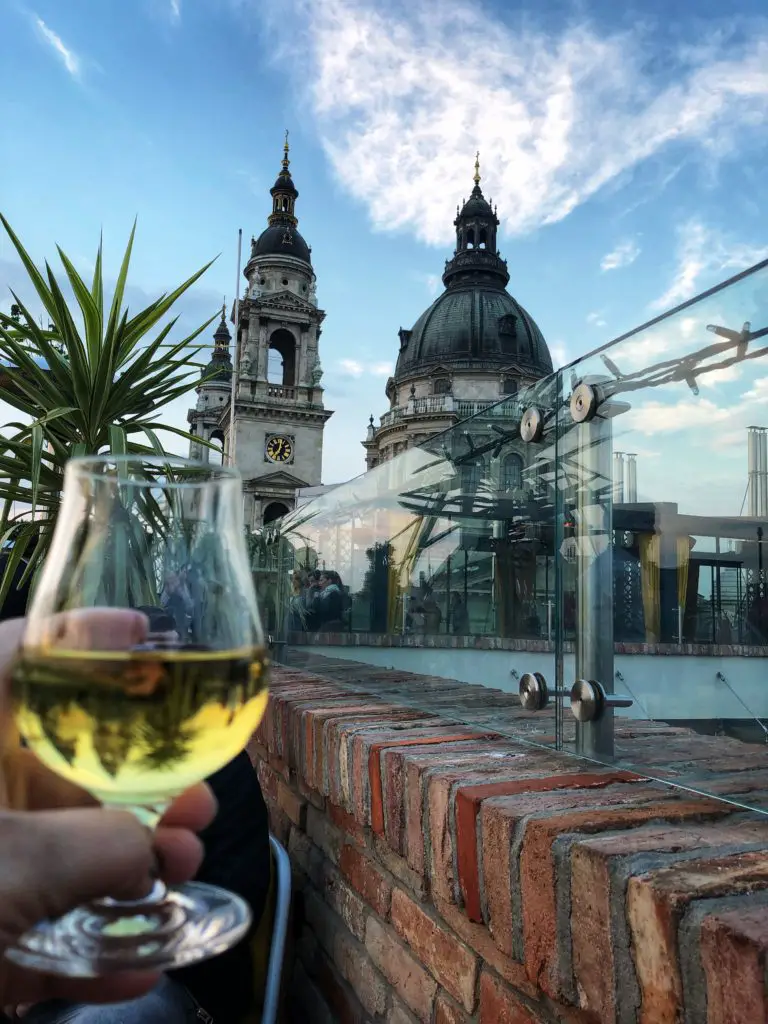 Must eat food during your 3 days in Budapest
Whilst you are spending 3 days in Budapest you will probably want to chow down on some of the local delicacies. We were actually surprised at how many tasty treats there were in Budapest, as we never thought of it as a culinary city. These are some of our favourite traditional dishes that you should try.
Goulash
If it's comfort food you are after then you have to have a nice hot bowl of Goulash. It is basically a beef stew filled with lots of hearty vegetables, and a good dash of paprika. Some places serve it out of a bread bowl to add to the gimmick, but on its own it is just as good.
Langos
You can't really go wrong with Langos, which is essentially fried flat bread topped with sour cream and cheese. It's probably more of a street food item as opposed to something you will find in restaurants, but definitely a cheap and comforting food to try to give you some much needed energy when exploring.
Dobosh Cake
This reminded me a lot of honey cake we had in Ukraine. It's a Hungarian staple and is over 100 years old, so you know it's good. It's a very layered kind of sponge cake usually covered in caramel and with chocolate separating the layers. It's really good, although hard to finish as it is quite rich.
Chimney Cake
If you have been to Prague, you might have come across this dessert before. Chimney Cake is a sort of pastry wrapped around large cylinders and cooked over an open fire. Whilst cooking add some sugar and presto you have Chimney Cake. It's delicious plain but you can also get it with different fillings. You will pretty much find it all over Budapest at different street stalls. It's also quite handy when you are feeling peckish after a few drinks out at one of the ruin bars.
Chicken Paprikash
I'm still dreaming over the mouth watering chicken paprikash I ate in Budapest. It's chicken cooked in a sauce filled with onions, tomato, garlic, peppers, and of course paprika. Add some sour cream and you have yourself a taste sensation.
Stuffed Cabbage
This one is a bit of a staple all over Eastern Europe truth be told, but Budapest is as good a place as any to try it. The dish consists of cabbage leaves filled with mince and rice (and usually paprika because it's Hungary!). It also comes with a tomatoey sauce.
Fisherman's Soup
Another popular dish to try during your 3 days in Budapest, although I will admit we weren't quite sold on it. It's prepared with mixed river fish like perch or pike, vegetables, and obviously paprika. I think it is the one food that we didn't quite like the look of in Budapest, but that's not to say it isn't delicious.
Unicum
Go to any bar in Budapest and you will see signs promoting 'Unicum', which is Hungary's national liquor. It's made up of more than 40 herbs, and is drank as an aperitif. Obviously we had to try it. We won't lie, we were not expecting the taste. Apparently you either love it or hate it, we may be in the latter group.
Tokaji
When in Budapest make sure you try some Tokaji wine. Sometimes referred to as liquid honey, it is the most famous dessert wine in the country. It can be expensive, but it is really delicious and goes down a treat. Especially if you need to wash the harsh taste of the 'Unicum' our of your mouth! (Yes that sentence sounded weird to me too) Try some at the Aria Hotel bar and enjoy the sensational wine with some great views.
3 day Budapest itinerary
Here is our sample 3 day Budapest itinerary to help you plan your own trip.
3 day Budapest itinerary Day 1
Start your day with breakfast at Gerbeaud a beautiful grand café in the heart of Budapest, before making your way to St Stephen's Basilica, try to visit the top to enjoy the amazing views.
Afterwards head to the House of Terror for the afternoon.
In the evening, pop by the Dohány Street Synagogue, before grabbing some food and enjoying the Ruin Bars.
3 day Budapest itinerary Day 2
Start your day at the Gerloczy Café for a filling breakfast, before visiting the Hungarian Parliament.
Afterwards see the 'Shoes on the Danube', for a moment of quiet reflection.  Walk over the Chain Bridge to the Buda Castle Hill Funicular and head up towards the Hungarian National Gallery for an afternoon of culture.
Afterwards visit the Rengeteg Romkafe if you have time. It is a bit out of the way but compoletely worth it if you like drinking liquid chocolate.
In the evening go to the 'For Sale Pub' for dinner.
3 day Budapest itinerary Day 3
On the final of your 3 days in Budapest grab some breakfast at opulent New York Café. Afterwards explore the Hospital in the Rock, and then visit the nearby Ruszwurm Confectionery for coffee and cake.
In the afternoon do the Labrynth of Buda Castle, before making your way to Matthias Church and Fishermans Bastion. If you are short of time, you can skip the Labyrinth and head straight to Fisherman's Bastion.
In the evening head to the High Note Sky Bar for sunset drinks with a view.
Romantic things to add to your 3 day Budapest itinerary
There are so many things to do in Budapest to compliment the perfect date night. If you are lucky enough to visit Budapest with your significant other, here are our top recommendations for romantic things to add to your 3 day Budapest itinerary.
Walk the chain bridge at sunset
The chain bridge has some incredible views, and there is no better time to walk across it hand in hand than at sunset.
Soak in the thermal baths
What could be more romantic than having a soak in one of the cities thermal baths. There are so many to choose from, and some of the indoor baths are so opulent that they make for a perfect date. 
Have a drink at Fisherman's Bastion
Ok it might be slightly over priced but can you really put a price on romance? There are a number of cafes nestled into the structure, providing some immense views of the Parliament Building and beyond.
Do a Danube river cruise
Budapest is such a beautiful city, so why not admire if from the water. Sail along and take in the spectacular architecture. It's even more romantic if you can do a dinner cruise at sunset!
High Note Sky Bar
This is one of the most beautiful bars with a view that we visited in Budapest. Located on the rooftop of the Aria Hotel you can sip wine with the incredible views of St Stephen's Basilica behind you.
What to pack for your 3 days in Budapest
Apart from your packing staples here are some of the things that we think you should add to your Budapest packing list.
Comfortable shoes – you will more than likely do a lot of walking in Budapest
Jacket – even in the summer months evenings can be cool so pack accordingly
Swimming costume – don't forget about the thermal baths!
Reusable water bottle – especially in the summer
More than 3 days in Budapest? Day trip ideas
If you have more than 3 days in Budapest or you are just looking to explore some more places here are some of our top day trip suggestions.
Esztergom
About 60 kilometres away from Budapest you will find the city of Esztergom. It actually used to be the capital of Hungary over 1000 years ago, so you know you are going to stumble upon something interesting. There are a number of stunning cathedrals, and the Hungarian Royal Palace is a must see too.
The Danube and Vác
Quite close to Esztergom, you will find Vac. It's full of baroque style architecture, quaint buildings, and one very big church. It's certainly very picturesque. You can also do a river cruise down the Danube and enjoy it from the water.
Gödöllő
Nope we don't know how to pronounce it either but Gödöllő is an extravagant small town that was once the summer residence of Emperor Franz Joseph. The Royal Palace is hugely extravagant, with gold flecks and rooms draped in silk. Definitely worth a visit.
Eger
This one is my favourite because Eger is actually known for its wine. On the outskirts of the town you can try some of the wine in the winecellars located at the foot of the surrounding hills.
Bratislava, Slovakia
If you fancy visiting another country, you could make the trek to Bratislava. Whilst it might not be as popular as other European cities, Bratislava is worth a visit. The centre is filled with cobbled streets, and if you have a walk around you will come across a number of churches and historical buildings. It is just over 3 hours by train, so this is a really long day trip but if you are after something a little different then this might be for you.
Final tips for your 3 days in Budapest
Here are some things to remember for your 3 days in Budapest:
Museums are closed on Mondays
If there are any particular restaurants you really want to eat at, then book these in advance
Bring a good pair of walking shoes
Carry some cash on you as not all places accept card payment
If you visit in the winter some tourist attractions might be closed
Similarly if you visit in the summer book your activities in advance otherwise expect long queues.
So should I spend 3 days in Budapest?
Yes, you really should. Budapest is incredible, and has something for everyone. Whether it's culture, art, architecture, shopping, or food that floats your boat you will find it in Budapest. 3 days is a good amount of time to experience the tourist attractions, brush up on your history, and eat and drink your way through the city. It might not feel like the longest amount of time considering there is so much to do, but you really can make the most of it by planning your Budapest itinerary in advance, buying your tickets to attractions online before you go, and making sure that you reserve tables at any must visit restaurants.
For us our 3 days in Budapest is something we will never forget. We hope that you will feel the same after your own trip. If you found this guide useful please don't forget to Pin it for later.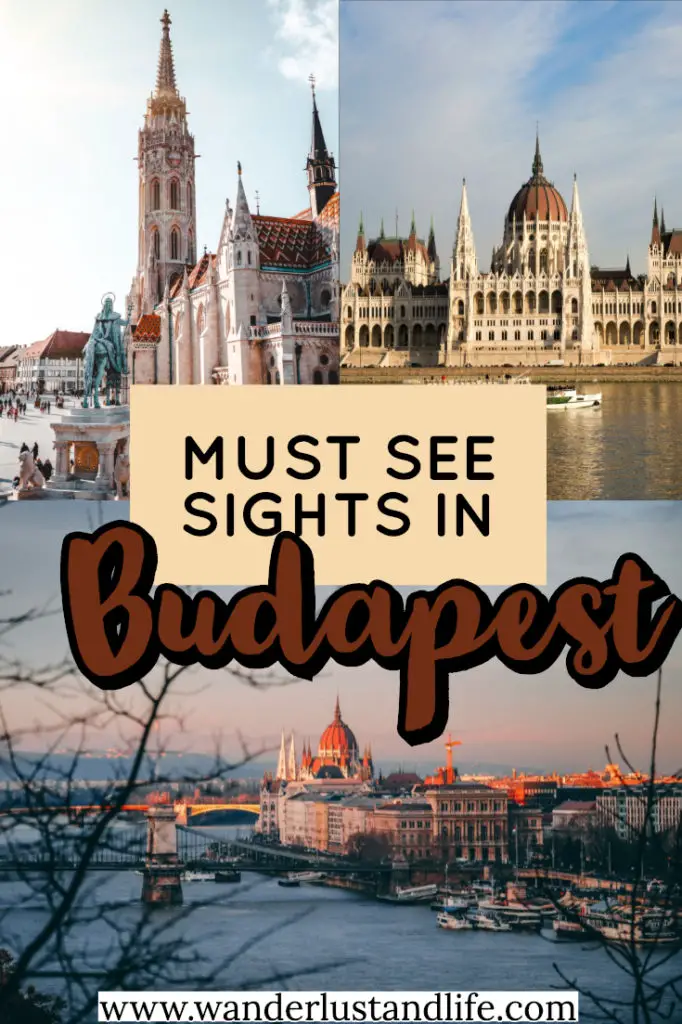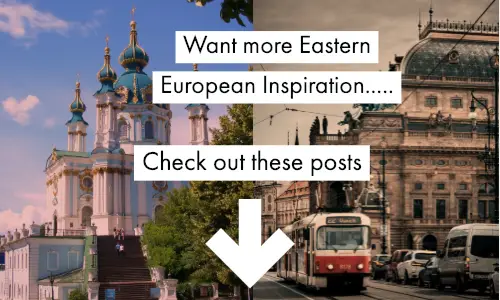 Instagrammable places in Budapest
Best things to do in Lviv Ukraine