Truth be told Copenhagen is somewhere we have always wanted to visit, but have always felt quite dubious about. We had heard so many times that it is a beautiful place, but also that it is expensive. In the end we decided to bite the bullet and book a short break of 3 days in Copenhagen.
Copenhagen is one of those places that certainly lives up to its hype. Yes it is really beautiful, yes the people are friendly, and the city is clean and vibrant. But it is also super expensive.
In this guide we wanted to give an honest account of Copenhagen in 3 days, and arm you with all the information you need for your own trip to the city. We list everything that you should see and do, where to stay, what to eat, and how to get around.
Of course we also wanted to give you some tips on how to see Copenhagen on a budget – which is hard but it is possible to save some pennies on your trip. So here is our 3 day Copenhagen itinerary.
Disclaimer: This post contains affiliate links, so if you use these links to buy something we may earn a commission, at no cost to you. Thank you for your support.
Copenhagen Itinerary Factsheet
Country: Denmark
Currency: Danish krone
Language: Danish but English is very widely spoken
Famous for: Being the one time home of writer Hans Christian Andersen, canals, Michelin Star restaurants, high quality of life, being expensive
Visit if you like: Good quality food, relaxed city vibes
Known for being the capital of Denmark, Copenhagen is also rumoured to be the happiest city in the world. And honestly during our 3 days in Copenhagen it was really easy to see why. In fact one of the key principles of the city resolves around the concept of hygge. And no don't ask us to pronounce it. Apparently it is said 'hoo-gah'.
Essentially hygge is a concept that loosely translates to 'cosiness', but actually it is a whole lot more. It's about creating a good atmosphere and enjoying the good things in life with good people. So make sure you add some moments of hygge to your 3 day Copenhagen itinerary.
If you are still trying to decide if Copenhagen is worth visiting this post might help.
Things to do in Copenhagen in 3 days
Here is our list of the best things to do in Copenhagen in 3 days. The city offers a little something for everyone, from museums, theme parks, architecture, canals, and much much more. Obviously we couldn't cover absolutely everything in this list but we tried to include all the major tourist highlights for spending 3 days in Copenhagen.
Nyhavn
Nyhavn, is what I think of when I think of Copenhagen. It's probably one of Copenhagen's most iconic spots, with colourful bars and restaurants lined up against the canal. It is very touristy and for that reason we didn't spend large amounts of time here, but it is a must on your 3 day Copenhagen itinerary.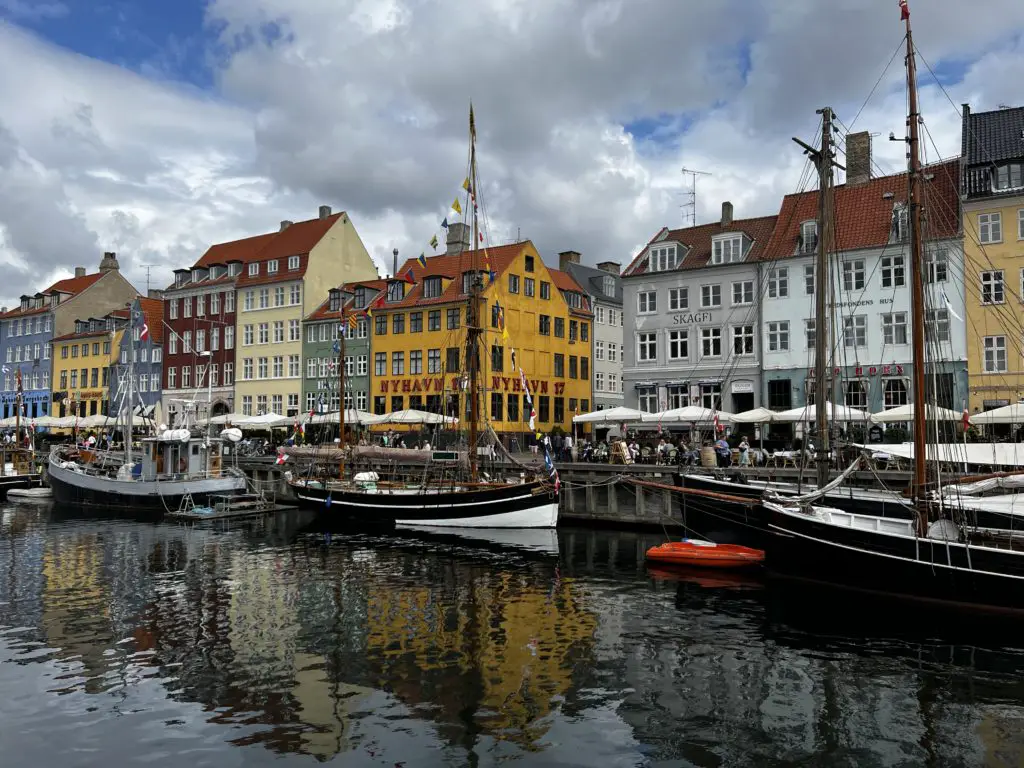 It used to be a commercial port, so you would get ships all over the world docking here. And with sailors also came a lot of pubs, and ladies of the night. Apart from sailors though it also attracted writers like Hans Christian Andersen who lived in three difference residences in Nyhavn, during his time. One of the most famous stories he wrote whilst living here was the Princess and the Pea.
These days there are a number of bars and restaurants swarming with tourists especially on those sunny Copenhagen days. We recommend coming here for some drinks on a hot day, or even better some super tasty churros and ice cream.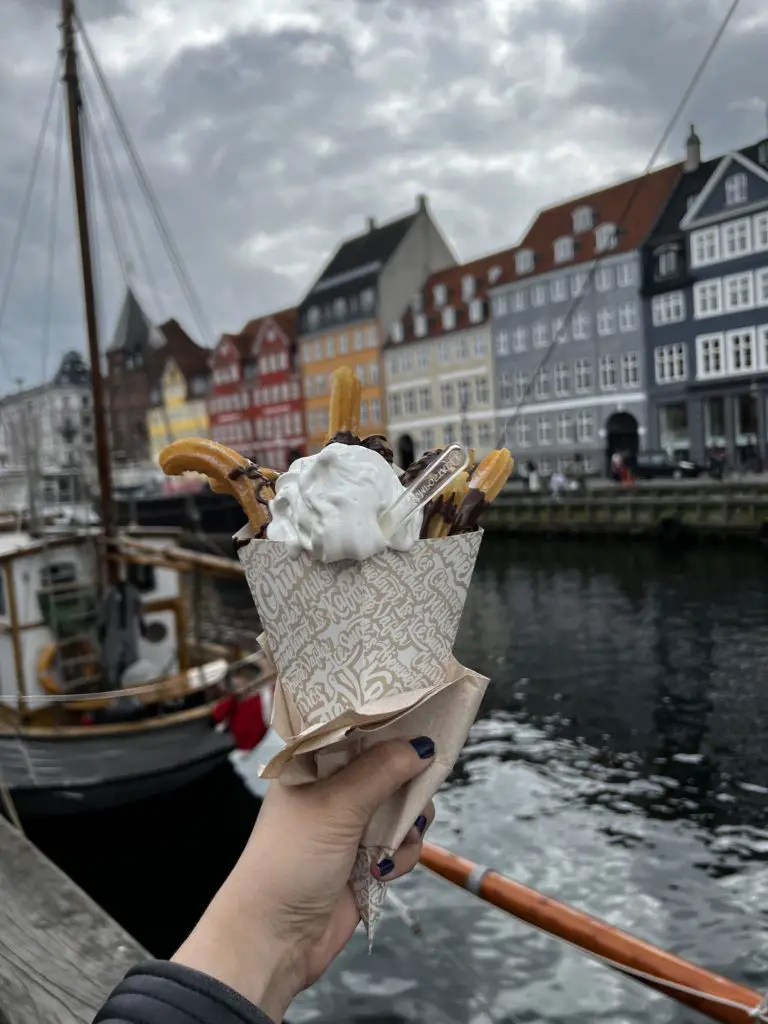 You can explore the area yourself or you can do a walking tour of Copenhagen like this one, that will include Nyhavn as one of the key attractions.
Do a boat tour
If you are trying to see Copenhagen in 3 days, then another must do activity is a canal cruise. I know that in some cities it can feel really gimmicky but not in Copenhagen. In fact seeing the city from the water is so beautiful and relaxing.
Canal tours tend to start around Nyhavn, and you can either book these on the day or book online in advance. We do recommend doing the tour earlier in the morning – at least before 12 because they are really popular and you might have to line up to get a seat.
With our tour we had a live guide who pointed out all the key sites in the city, and also gave us some great tips on where to eat and drink. The tour is also really cheap (compared to most things in Copenhagen) and some tours are even free with the Copenhagen Card.
If you want to do something a little different then you can do a slightly more expensive but more intimate canal cruise like this one. You get to see more of the city's hidden gems in a more sociable environment.
Other options that we thought were really cool when we were in Copenhagen were the GoBoats. They are environmentally friendly boats that you can rent and sail the canals of Copenhagen yourself. There is a picnic table in the middle so you can bring your own food and drinks and have a chilled out experience in the city.
Another concept that we thought was fantastic was the GreenKayak's. You rent a Kayak for free, but part of the deal is that you collect trash from the canals as you go. So not only is it budget friendly, but great for the environment too.
Whatever floats your boat (pardon the pun) though, we absolutely recommend seeing Copenhagen from the water. During the summer especially it is such a blissful experience and a great way to enjoy this magical city.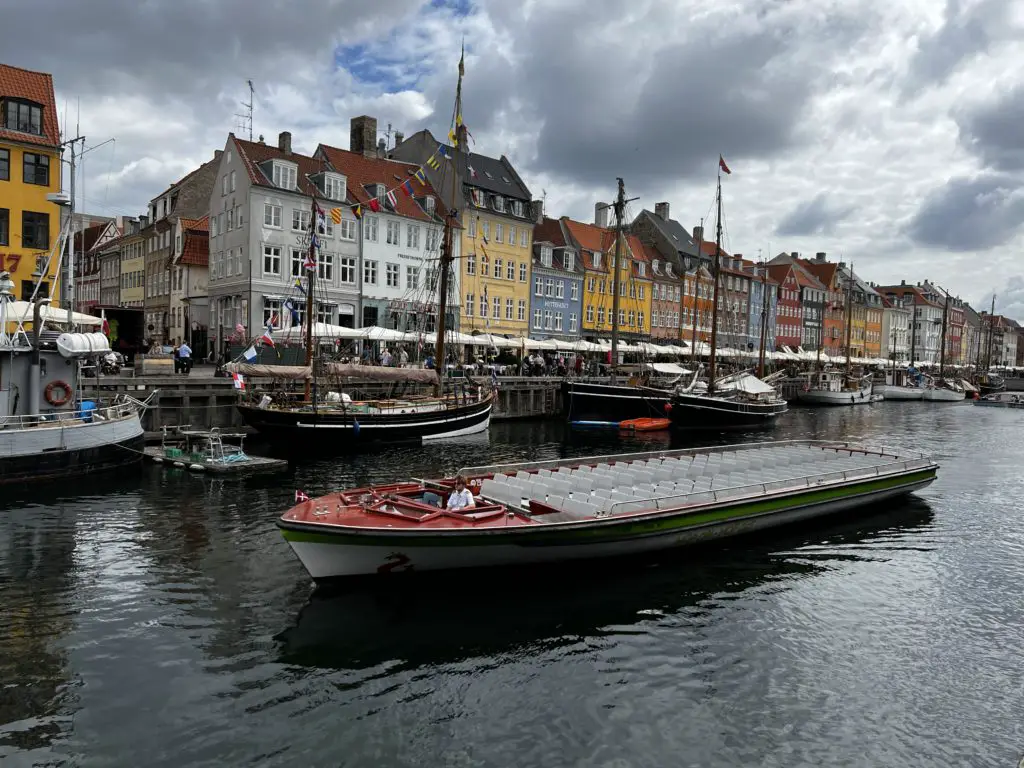 Rosenborg Castle
If you are a fan of castle's then this one will not disappoint. It was home to the Danish Royal Family for 400 years, and is now a well kept tourist attraction in the middle of Copenhagen. Denmark's most famous King Christian IV ordered that it be built as a summerhouse. And it certainly is/was an impressive one at that.
The castle was built in 1606- 1607, in Danish Renaissance style. Not only is it beautiful from the outside though, the inside is incredibly well preserved filled with lavish portraits and details. But perhaps even more interesting is that is is home to the Crown Jewels and Royal Regalia.
Entry to the castle costs 125 DKK, and I did think it was worth that because it is gorgeous inside. All in all you probably need at least an hour and a half here to enjoy the full splendour of the rooms and the surrounding gardens. It is worth noting that entry to the castle is free with the Copenhagen Card.
Another tip, if you do visit Rosenborg Castle, make sure you take some time to visit the King's Garden located just next door. It is one of the oldest and most visited parks in Copenhagen, and provides an excellent green space to chill out and relax. There are a few different royal palaces/sites you can visit for we think this is the top one for your 3 day Copenhagen itinerary.
Copenhagen Botanical Gardens
If you enjoy nature then the Copenhagen Botanical Gardens is a must for your 3 days in Copenhagen. Admission is free unless you decide the visit the Palm House. The gardens are impressive, and are home to Denmark's largest collection of living plants.
There is a lot of green space here to wander about, and grab a tea or coffee whilst enjoying the outdoors. It's also pretty tranquil in parts so a good place to go if you want some quiet reflection away from an otherwise busy city.
My favourite part of the Botanical Gardens had to be the Palm House. You do need to pay to visit and entry costs 60 DKK. Personally I think it was worth it because the moment you step into the Palm House it's almost magical.
In the middle of the Palm House you will find a winding narrow cast iron staircase. It's 16m high and lets you experience the rainforest from up above. The path at the top is quite narrow so probably not great if you really dislike heights. That being said it is certainly very photogenic and a great escape from the rest of the city.
Entry to the Palm House also included entry into the Butterfly House, but we took one look at the line and decided against it. I mean when you are trying to do Copenhagen in 3 days you have to choose your activities wisely.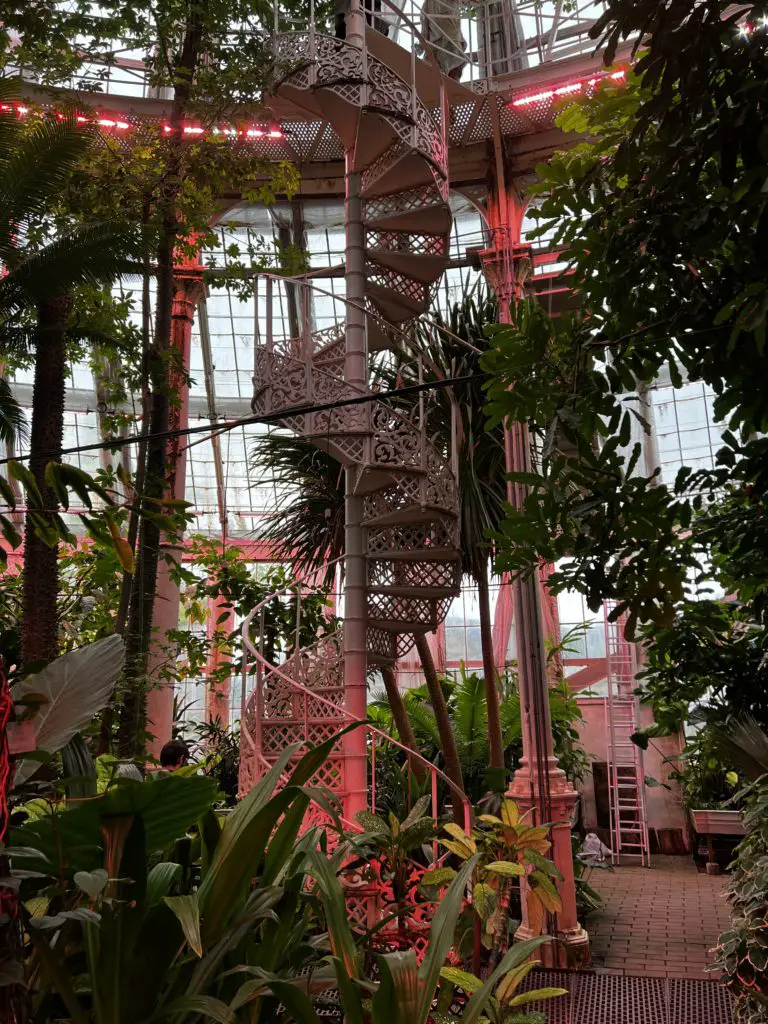 Tivoli Gardens
One of the coolest things about Copenhagen has to be the fact that there is a giant theme park smack bang in the centre of the city. Tivoli Gardens, or just Tivoli to locals, opened in 1843 and is actually the 3rd oldest working amusement park in the world.
If you want to read about one of the other oldest operating theme parks in the world, then you can have a look at our Vienna Guide.
It's kind of an institution in Copenhagen, and it is no surprise that it was one of the inspirations for Disneyland. There really is something magical about it from the moment you walk in, and even though Dave and I are not really into rides, we absolutely loved visiting.
If you are planning to tackle Copenhagen in 3 days then we recommend setting aside at least a good 2-3 hours for Tivoli Gardens. There is a lot to do even if you just want to walk around and enjoy the atmosphere. The Gardens are perfectly manicured and despite it being a theme park it's quite relaxing walking around some of them.
If you do like your rides one of the highlights has to be a rollercoaster that has been in operation since 1914. In fact there is actually a brakeman on board each ride who controls the rollercoaster. How's that for a job!
The food here is actually pretty good as well. Which is a weird concept because you kind of expect theme park food to be cheap and nasty. But in Tivoli there is a large range of dining options including dessert bars, fine dining, fancy cocktail lounges and much more. There is also a food hall serving some really decent fast food like sushi, lobster rolls, and pizza.
If you want to splurge we recommend a visit to Nimb Bar, where you will find some pretty fancy cocktails. Yes they are expensive (it's Copenhagen) but we really enjoyed it. Nimb itself is a luxury hotel located in Tivoli, and they have a cocktail bar, as well as a restaurant that serves traditional Danish smørrebrød.
If Tivoli Gardens is a must on your 3 day Copenhagen itinerary, then we recommend visiting an hour or so before sunset. That way you get to experience the beauty of daytime at Tivoli but also the fairytale ambience of the evening. In fact it almost changes into something really magical in the evening with fairy lights dotted around the place.
If you are planning to visit, entry to Tivoli is free with your Copenhagen Card. Alternatively you will need to pay between 145- 155 DKK for entry. We do recommend purchasing your tickets online in advance. Now keep in mind this is entry alone. If you are planning to go on any of the rides you can either pay for individual rides once you are inside, or you can purchase a ride pass, which is an additional cost on top of your entry ticket. For combined entry and rides you can pre-purchase your ticket here.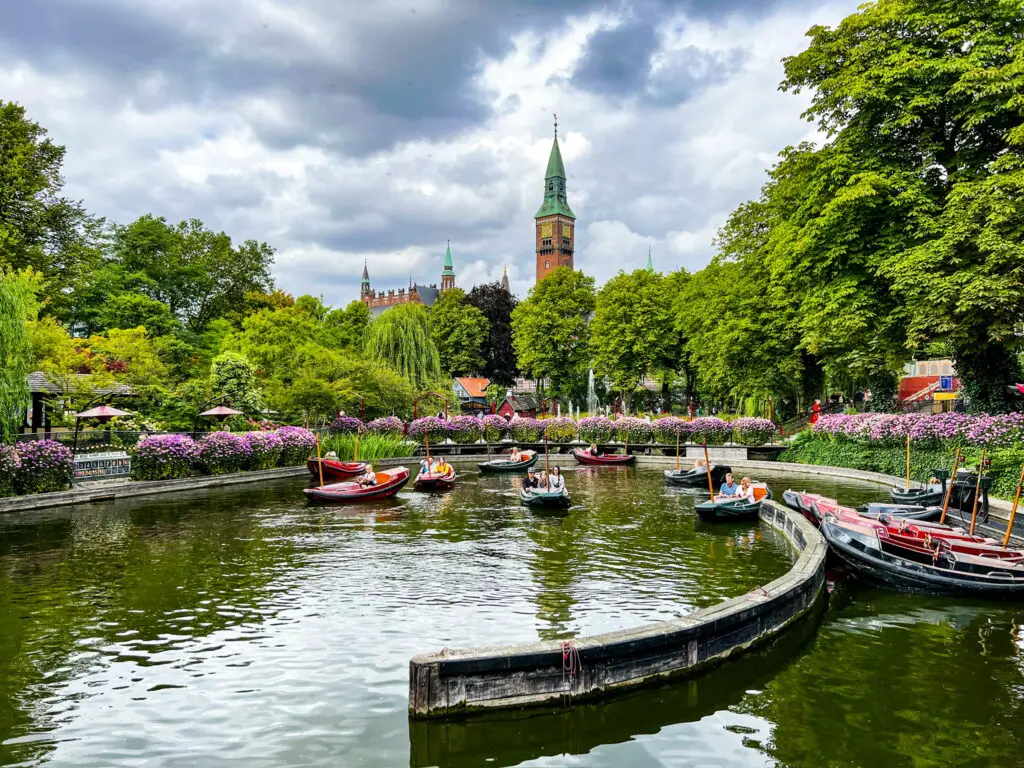 The Little Mermaid Statue
I'm going to be blunt when I say this, but honestly the Little Mermaid Statue might actually be the most overrated tourist attraction I've ever seen. I mean it's cool, but it's not huge, and it's sort of in the middle of nowhere too. We decided to get public transport here, and we had a good 15-20 minute walk to get to the statue.
Enough about that though, I definitely think you should make up your own mind when you visit. The statue is a 4.1 foot tall bronze depiction of a mermaid becoming human. It is based on Hans Christian Andersen's story, The Little Mermaid, and has become a symbol of Copenhagen.
If you are doing Copenhagen in 3 days I would say, don't bother visiting, or alternatively, if you do a canal cruise which is very much worth the hype then you will be able to get a close up of the statue on this tour anyway.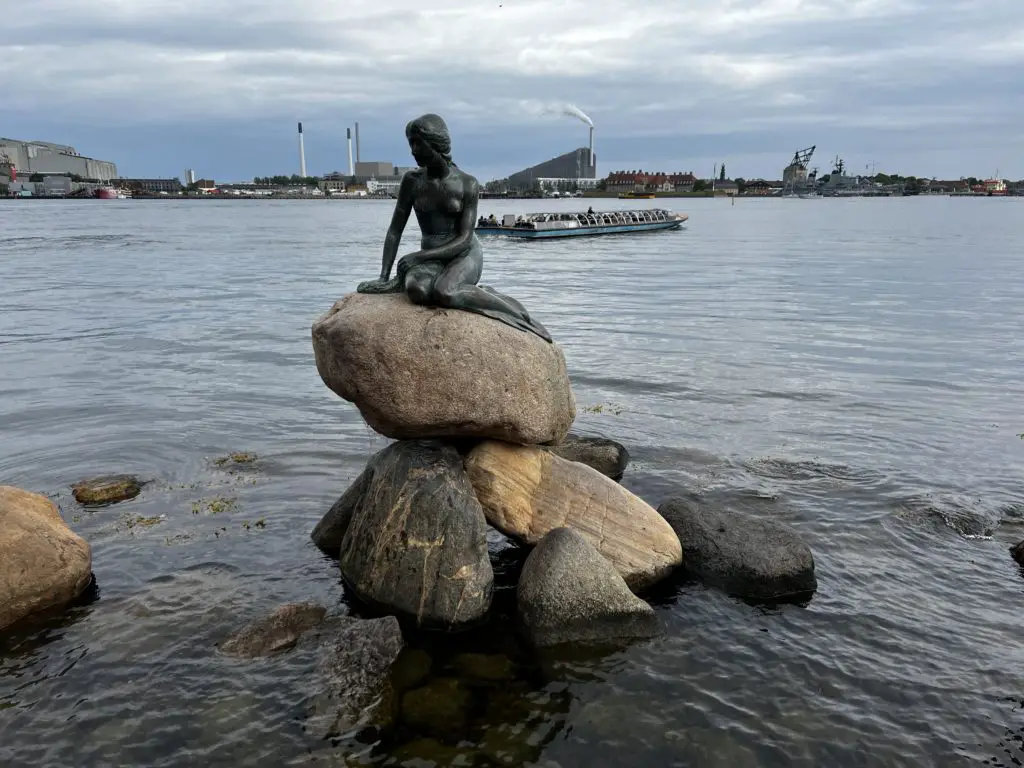 Rundetårn
The Rundetårn or to put it simply the Round Tower, was one of our highlights during our 3 days in Copenhagen. The tower is another of King Christian IV's many architectural projects, and was started in 1601. It was created as an observatory and is the actually the oldest functioning observatory in Europe which is pretty amazing.
One of the key features of the tower is the fact that there is no staircase, instead there is a ramp that ascends to the top. It's a pretty gentle walk up and takes around 10 minutes or so. Apparently it was designed that way to allow wide loads like horses and cart to transport heavy items to the top.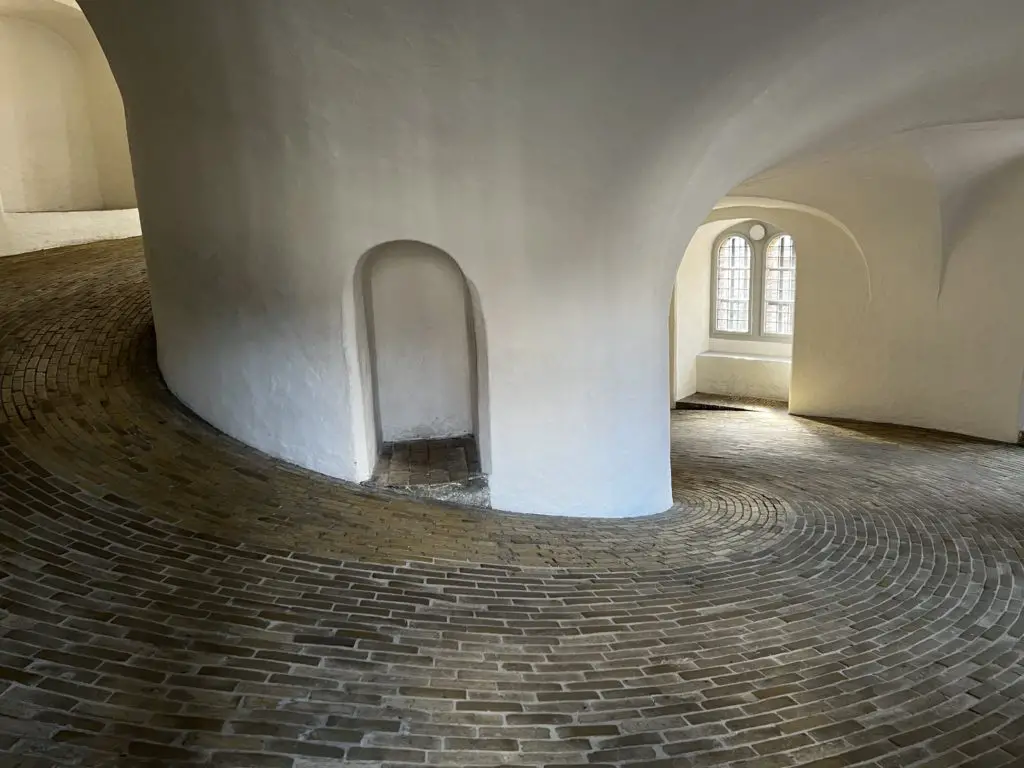 Along with the interesting design one of the highlights for visiting the Round Tower has to be the 360 degree view of Copenhagen that you get from the top. There is plenty of room at the top and the viewing deck is quite wide, so it shouldn't be too much of a problem if you don't like heights.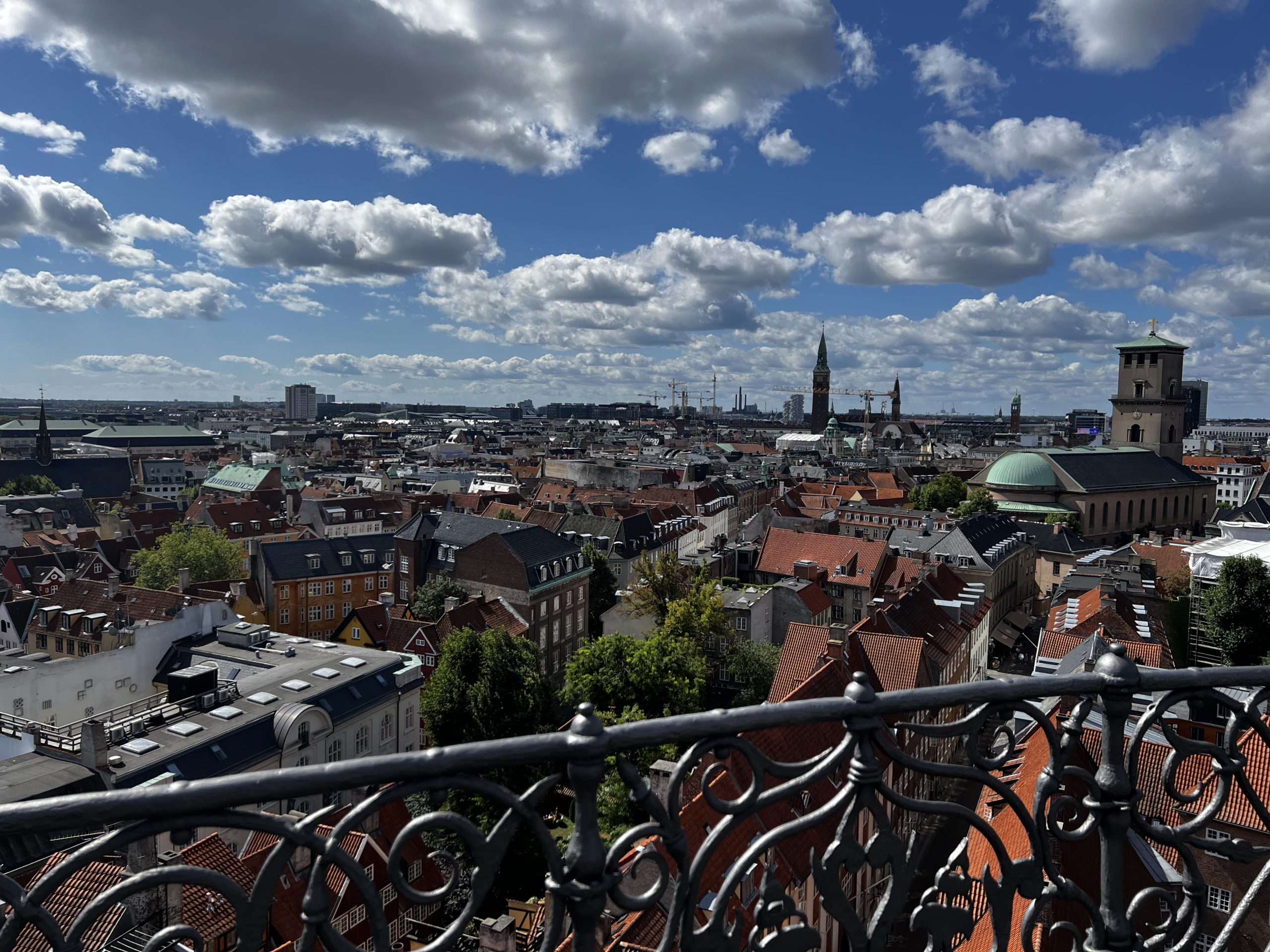 Ny Carlsberg Glyptotek
If you are an art lover then you should add a visit to the Ny Carlsberg Glyptotek to your 3 day Copenhagen itinerary. The gallery is a mix of ancient and modern art. You can explore the history of Danish and European art in one section of the museum, and then ancient Egyptian and Roman art in another.
The gallery was founded in 1888 by the famous brewer Carl Jacobsen, which you might have guessed with the name Carlsberg included in the gallery title. It not only includes impressive art work but is also home to a gorgeous winter garden.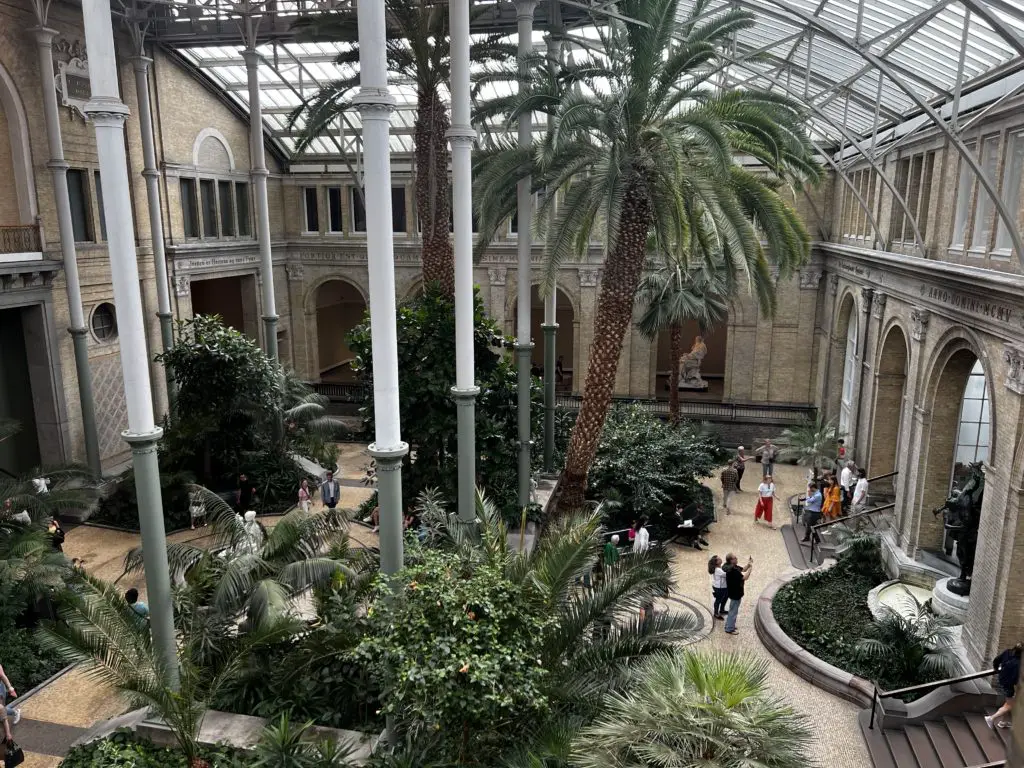 We have a couple of tips if you are hoping to visit the the Ny Carlsberg Glyptotek. Firstly if you can go on a Tuesday when the gallery is open to the public for free. Otherwise you should get free entry anyway with your Copenhagen Card. Normal entry is 125 DKK.
Also there is a lovely rooftop terrace complete with a bar serving alcohol and tea and coffee. It's a really lovely way to break up a visit to the the Ny Carlsberg Glyptotek. Overall you probably want to spend a good 2-3 hours here to properly explore the exhibits, enjoy the winter garden, and of course relax with a drink on the roof terrace.
Statens Museum for Kunst
The Statens Museum for Kunst is the Danish National Gallery and contains a large amount of Danish art from the last 700 years. It's well worth a visit if you are into art, and you can also take advantage of one of the guided tours available.
The Museum is located in central Copenhagen and just a short walk from Rosenborg Castle and the Botanical Gardens, in case you wanted to make a day of it. We recommend about 2 hours to give you time to explore the gallery properly.
Entry is free with a Copenhagen Card, or 120 DKK without.
Natural History Museum
Close to the National Gallery you will find the National History Museum where you can look at fossils, meteorites, and much more. This is another attraction that happens to be free with the Copenhagen Card, and it is actually part of the Botanical Gardens, so definitely worth a visit if you are nearby.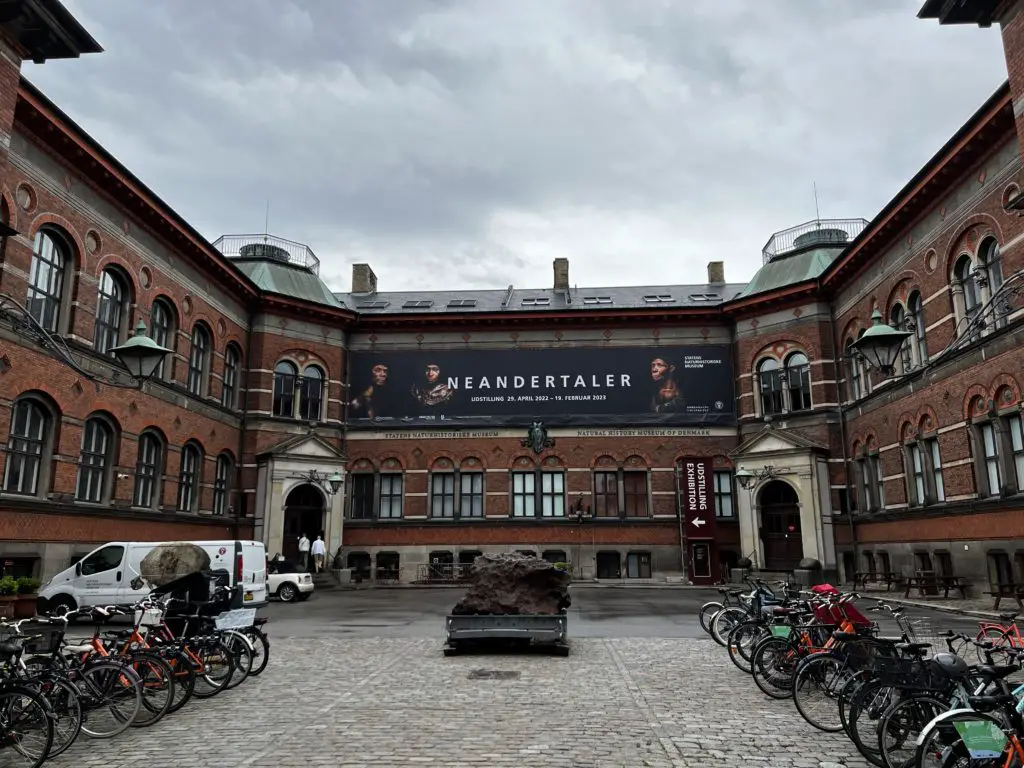 Freetown Christiania
Freetown Christiania or just Christiania as it is better known, is one of those places that you kind of have to see to believe. It's kind of like stepping back into the 70's with the whole peace, and love vibe. There's a community of around 1000 people who live here, but it is also hugely popular with tourists.
Christiania began in the 1970's, when a group of individuals started squatting on a military base. It's an incredibly controversial area as I'm sure you can imagine, especially because there are some very relaxed views on drugs here. If you want to add something a little quirky to your 3 day Copenhagen itinerary this is it.
There are certain parts of Christiania that are a bit rough, or sketchy, and visitors are encouraged to abide by a set of rules. The key one is not to take photos around Pusher Street, which is where you will find people selling drugs (although no hard drugs mostly just things like hash).
There is way more to Christiania then sketchiness and drugs. For instance there are some really beautiful walking paths with some stunning lakeside views. It's a beautiful place to explore, and gives you a very different picture of Copenhagen.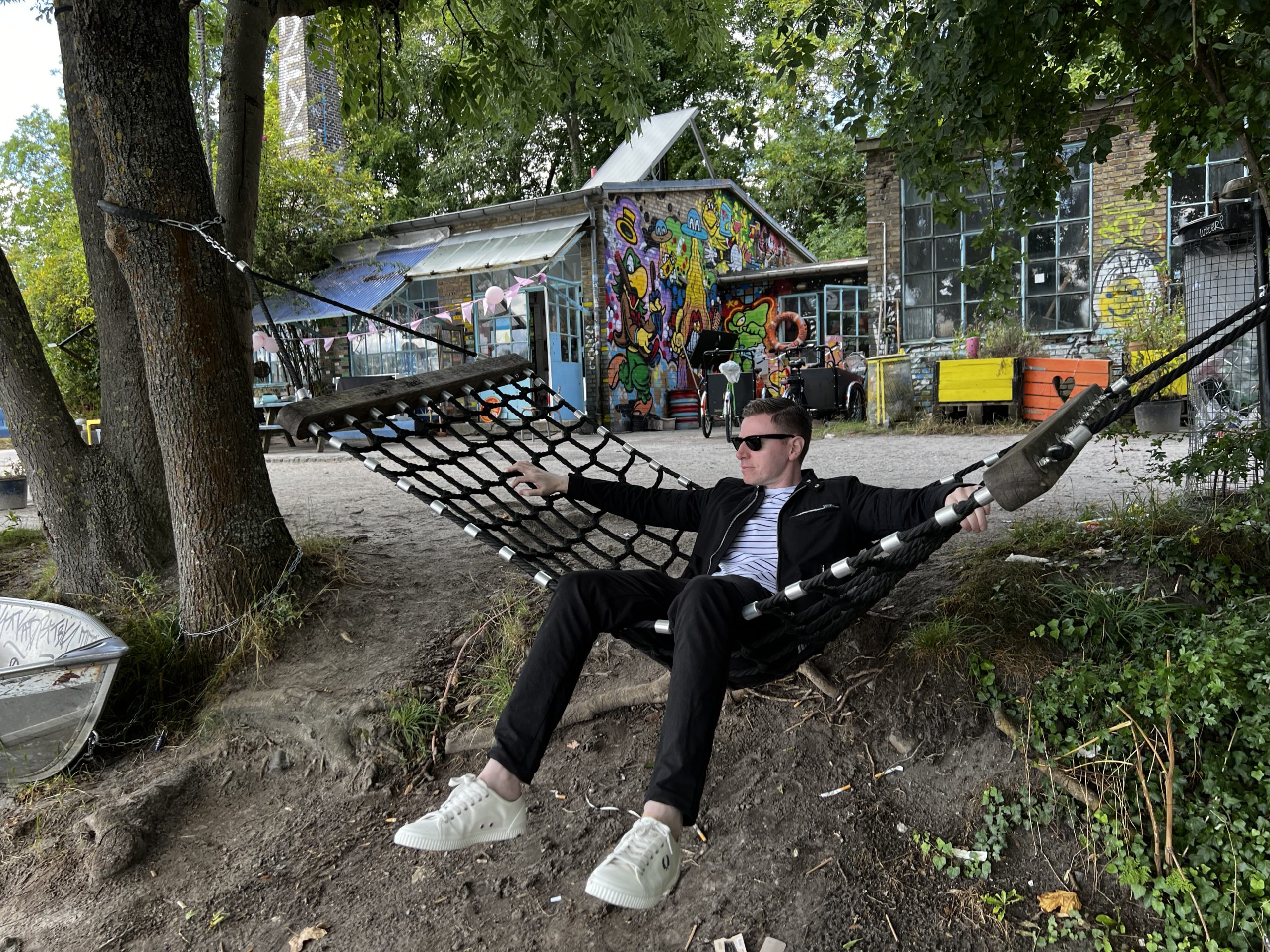 In terms of safety Christiania is a bit of a weird one. For instance according to the Police there are parts around Pusher Street that are controlled by criminal organisations. Tourists generally have been left alone although there are reports of some being assaulted for taking photos when they have been asked not to.
We didn't have any issues when we visited, and never felt unsafe. It was a generally pleasant experience and we just enjoyed walking around the lake and taking in the atmosphere. So don't let the stories put you off visiting. If you abide by the rules and keep to yourself you should be fine.
If you want to learn more about Christiania you can do a guided tour like this one, that will provide you with a detailed background.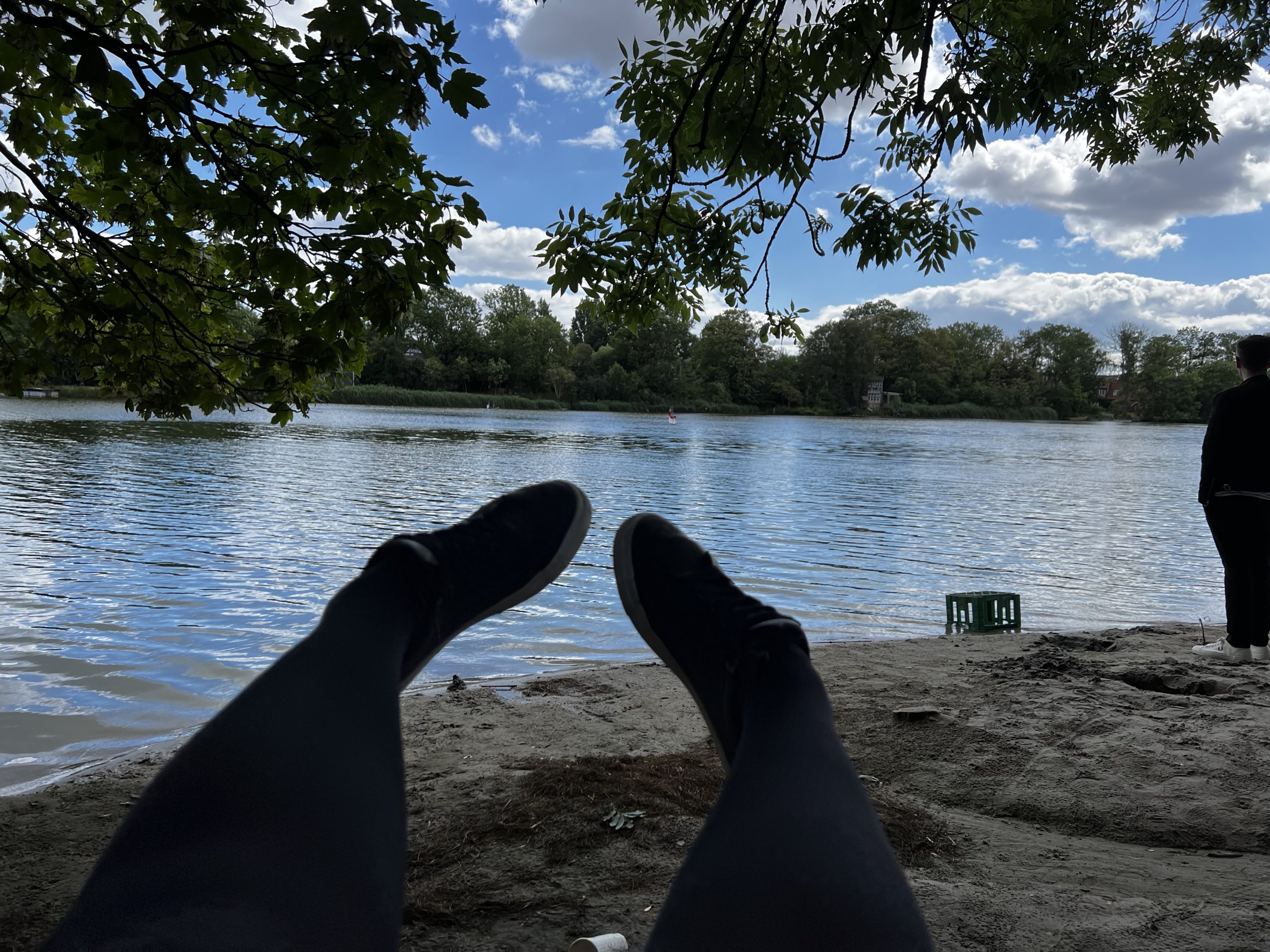 Church of Our Saviour
The Church of Our Saviour has to be one of the most distinguishable churches in Copenhagen. Mostly because of its spire which contains a number of stairs on the outside that you can climb.
The spire was inaugurated in 1752 and ever since then climbing it has been a popular pastime. There are 400 steps that you will need to climb to reach the top, and of these the last 150 are on the outside of the spire. As I'm sure you can imagine the view is incredible.
The climb to the top isn't too bad and there are plenty of places you can rest on your way up, that being said some of the stairs up can be quite steep or narrow. It might be worth thinking twice about visiting if you are afraid of heights.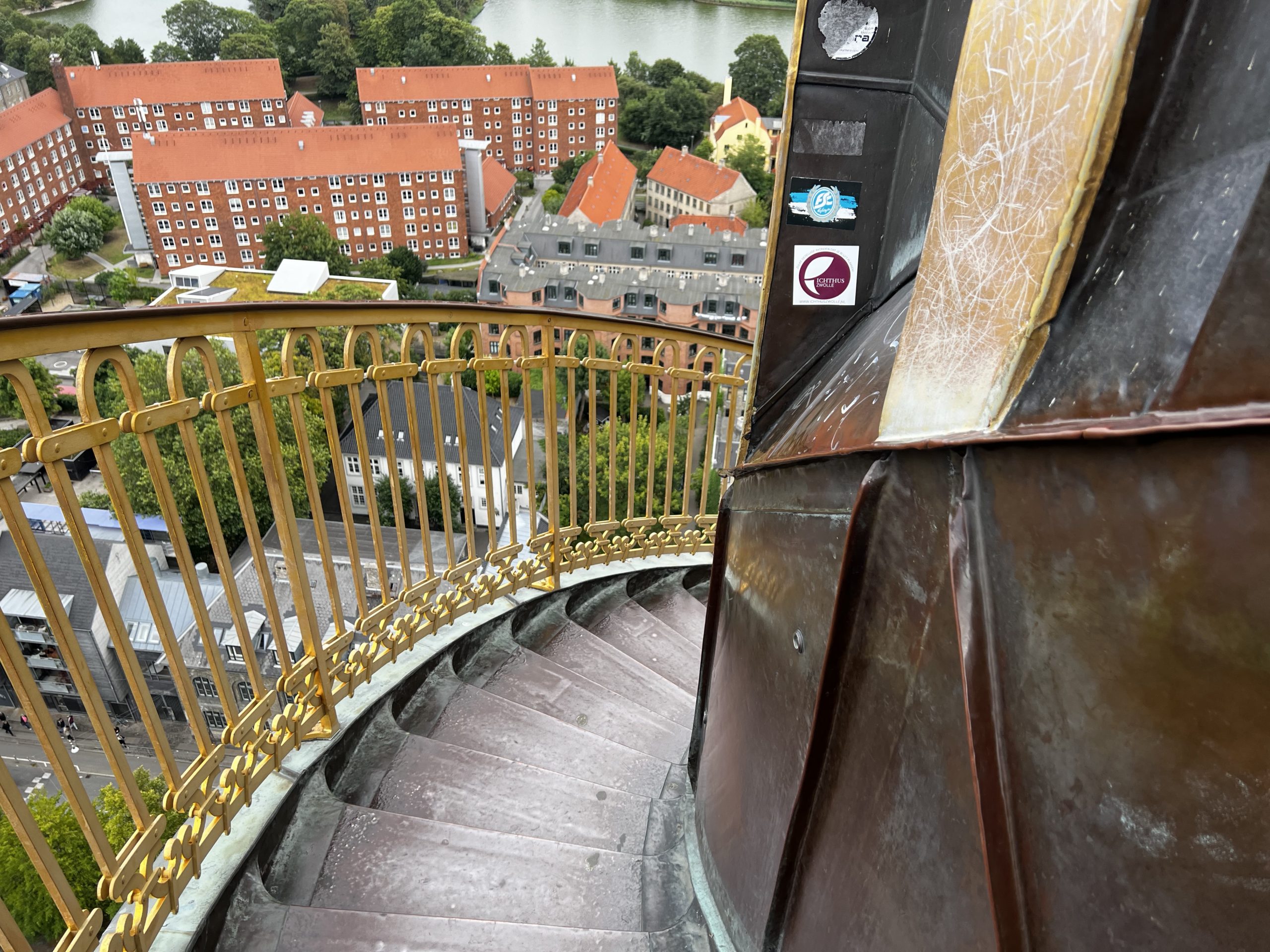 If you are able to brave it though you will be rewarded with one of the best views of Copenhagen. I think for me climbing to the top was the highlight of my 3 days in Copenhagen. Entry costs 65 DKK, but is free with your Copenhagen Card. You may also need to reserve your place online before you visit as this is a very popular attraction and due to the tight spaces there is a limit to the number of people able to visit at once.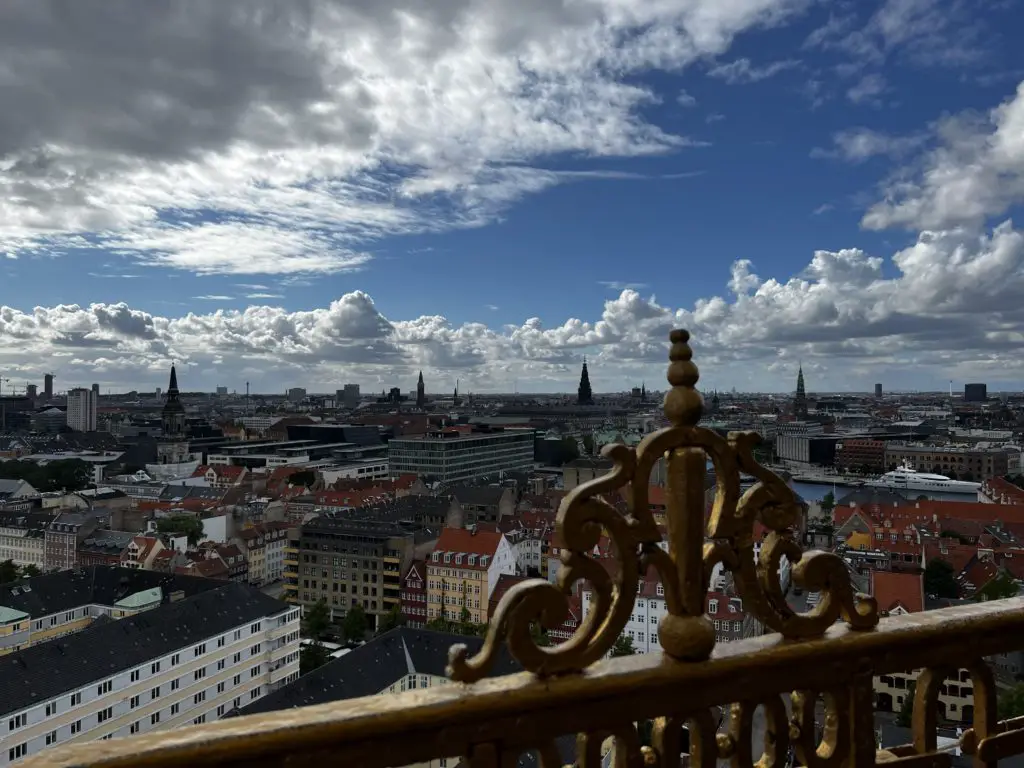 Kastellet
Ok this we found totally by accident as we were on our way to visit the Little Mermaid Statue. Kastellet or otherwise known as The Citadel, is one of the best preserved fortresses in northern Europe. It was built in 1662, and occasionally is still used for military events and activities, but now is mostly a really nice green space and public park. It's completely free to visit, and you can get a cool photo of the giant windmill located in area.
We wouldn't necessarily recommend adding it to your 3 day Copenhagen itinerary per se, but do stop by if you are on your way to the Little Mermaid Statue for instance.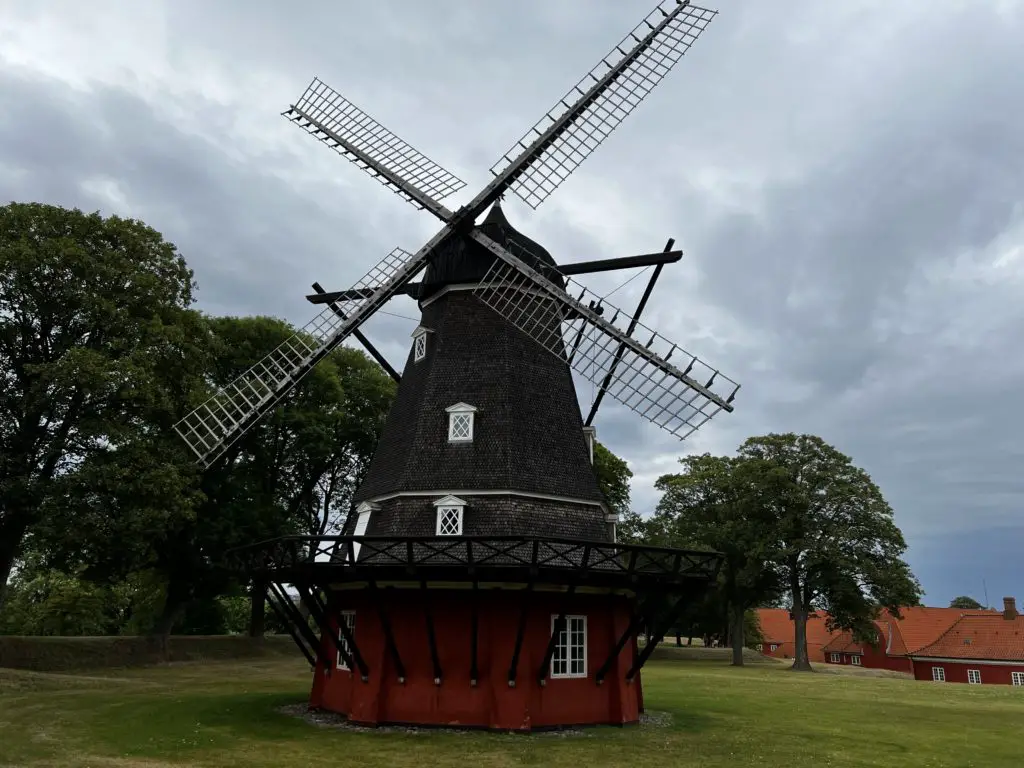 City Hall
Copenhagen City Hall, is one of the tallest buildings in the city, and the HQ for the Copenhagen City Council. It's a beautiful building just across from Tivoli Gardens, and the cool thing is you can go in and walk around at your leisure.
Some of the highlights include the reading room, which is basically my dream space, and the Tower. To visit the Tower you do need to be escorted and you can do this Monday- Friday at 11am and 2pm, or Saturday at 12pm. You will need to pay a fee of 40 DKK or this is another attraction that is free with the Copenhagen Card.
We recommend adding it to your 3 day Copenhagen itinerary for the view alone!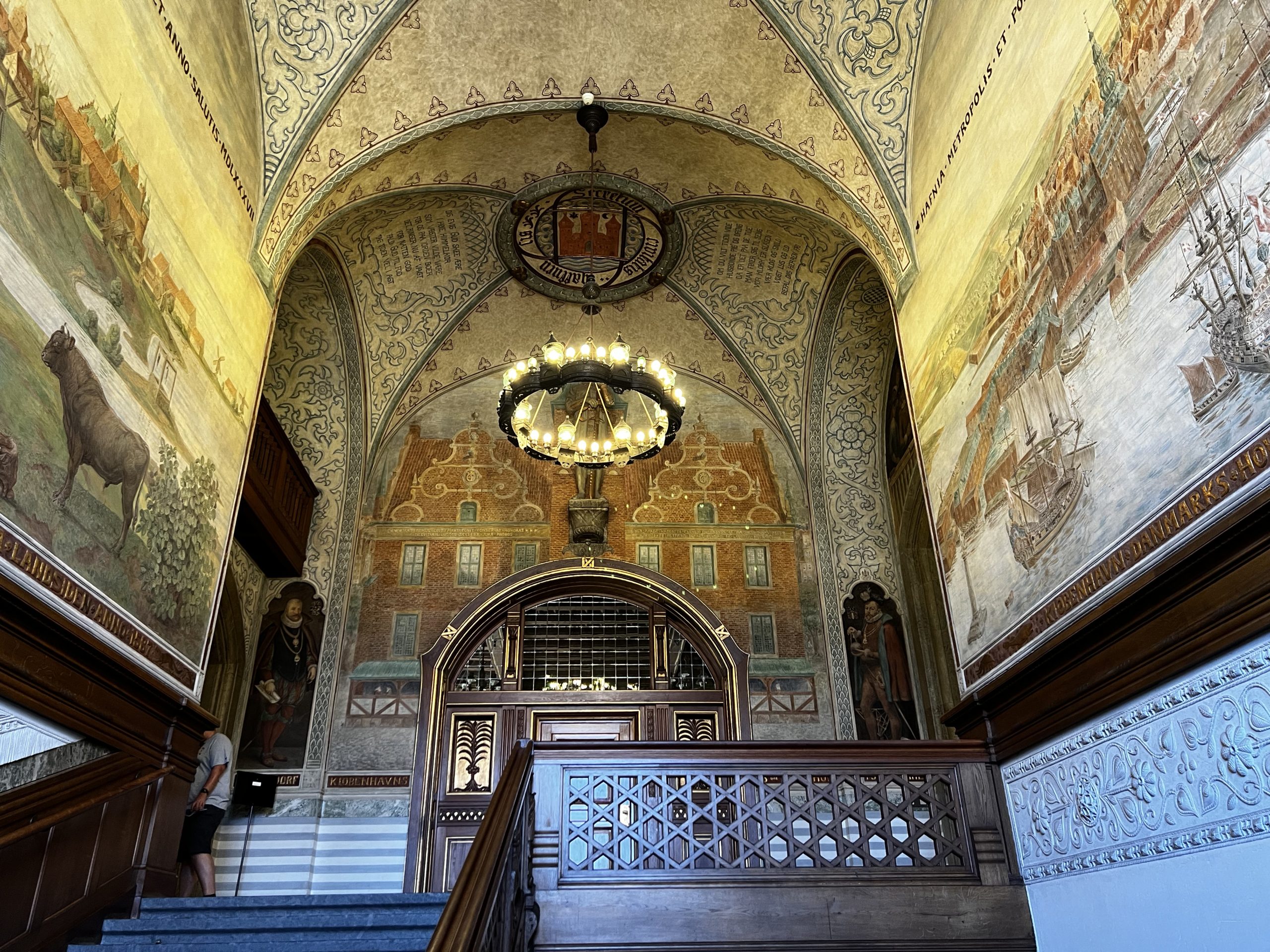 Sample itinerary for Copenhagen in 3 days
Here is our sample 3 day Copenhagen itinerary to help you plan your own trip. In the next section we have also included a map to give you an idea of where each of the key attractions are in relation to each other.
3 days in Copenhagen – Day 1
Visit Nyhavn in the morning and then hop on a boat cruise to get acquainted with the city.
In the afternoon explore Rosenborg Castle and the King's Park, before heading across to the Botanical Gardens to explore. If you have time you can also visit the National Gallery nearby.
3 day Copenhagen itinerary map – Day 1
3 days in Copenhagen – Day 2
Start the day with a visit the Freetown Christiania, and don't forget to explore the surrounding area of Christianshavns and the gorgeous canal side bars. Afterward head to the Church of Our Saviour to soak in the incredible views.
Afterwards head to The Little Mermaid Statue and Kastellet or skip them completely and head to the Round Tower instead.
3 day Copenhagen itinerary map – Day 2
3 days in Copenhagen – Day 3
Start the day with some pastry and coffee from sankt peders bageri then take a trip to City Hall, and try and catch the 11am tower tour.
After this visit the Ny Carlsberg Glyptotek and enjoy the art, make sure you take some time to enjoy the view from the rooftop terrace.
In the late afternoon head to Tivoli Gardens and enjoy your time amongst the rides and magic.
3 day Copenhagen itinerary map – Day 3
Where to stay during your 3 days in Copenhagen
If you are hoping to do Copenhagen in 3 days, then deciding on where to stay is pretty important. Before we get to that though, I should point out that accommodation in Copenhagen is not cheap and in order to get yourself the best deal make sure you book well in advance. Here is a detailed guide on where to stay in Copenhagen written by a local. And in the meantime here is a quick a run down of the top 3 neighbourhoods to stay in.
Indre By
Indre By translates to inner city, so it is safe to say that this neighbourhood is pretty central. It's convenient if you want to be close to the main shopping streets, and bars and restaurants. Transport links are also pretty decent in the area. For the majority of our stay in Copenhagen we stayed in this area at the Hotel SP34 by Brochner Hotels.
The area was close to public transport and within walking distance to restaurants and bars, in fact our hotel also had a restaurant and bar inside which was convenient. It's a 4 star hotel with very modern and clean rooms, although they are slightly pricey. Our room was quite small (we had an attic room) it was fine for a short trip but you might struggle if you have larger suitcases.
We paid just under £600 for 4 nights (Approx 5,297.58 DKK or €712), which by European standards is pretty pricey. This was also after booking in advance through a booking website. That being said one cool thing our hotel had was a Happy Hour every evening where you got a free glass of wine, as well as a Night Cap in the evening for a bot of hard liquor before bed. The staff were also really good and friendly so we would highly recommend staying here.
Vesterbro
Vesterbro is great if you like to be in the centre of all the action and nightlife. And honestly is our top recommendation for where to stay in Copenhagen for 3 days. There are a lot of options for different budgets, and it's well connected in terms of transport. There are also a lot of attractions either in Vesterbro or really close, such as Tivoli Gardens. Additionally when it comes to food and drink there are plenty of options here too.
Vesterbro attracts a lot of your hipster/ arty types due to the number of cool restaurants, bars, and galleries in the area. We ended up having to stay in Besterbro for 1 night because our flight was cancelled, and we were rebooked onto an earlier flight.
We stayed at the Comfort Hotel Vesterbro which is a 3 star hotel. The location is excellent, with so much nightlife all around. The rooms were spacious, although I didn't think they were as clean as they could have been. Also we paid DKK1,291.50 (€173) for just 1 night. Granted it was a Friday, and we had to book last minute but still, it was quite a lot! The moral here really is to book your accommodation in advance.
Nyhavn
Nyhavn is really touristy and is home to the very colourful buildings that you see in pretty much all the postcards of Copenhagen. There are a lot of restaurants here, but you might have to walk a little bit for nightlife. All in all though it's not a bad area to stay and again you will find accommodation here to suit all budgets.
Other areas to consider:
Nørrebro – Another good option although slightly further out of the centre of Copenhagen. There are lots of independent restaurants, bars and shops here. Accommodation is also slightly cheaper too.
Østerbro – Another quirky Danish neighbourhood that is within walking distance to the main attractions.
Christianshavn – This is probably one of the prettier neighbourhoods to stay in with plenty of canal side views. It's also close to Nyhavn, and public transport links are excellent.
Honestly you can't go wrong with any of the neighbourhoods we have listed in this article. Copenhagen isn't massive so a lot of things are in walking distance a short public transport ride away.
Need more information here is a comprehensive guide on where to stay in Copenhagen.
Starting your 3 day Copenhagen itinerary – How to get here from the airport
Chances are your 3 day Copenhagen itinerary will begin at Copenhagen Airport. If that is the case then you are in luck because getting to and from the airport from Central Copenhagen is really easy. There are several transport options like taxi, bus, and train. But the one we recommend is the Metro, especially if you are staying in the centre of Copenhagen. Follow the signs at the airport to the Metro Station and hop on. The airport is the last stop so you can get on the first one you see. Tickets can be purchased from the machines before you reach the station, and there is usually someone there to help you if you need assistance.
You may need to change at Kongens Nytorv which is one of the main stations, depending on where you are headed, but our recommendation is to pop your destination into GoogleMaps and this should get you where you need to go.
When is the best time to plan your 3 days in Copenhagen
Deciding on when to plan your 3 day Copenhagen itinerary will in large depend on what you want to get out of your trip. For instance, summer (June – August) is great because the weather is mild, and the city really comes alive with activities and festivals. On the downside this is the busiest time of year with tourists (August especially due to school holidays) so hotel prices increase and you will find yourself waiting in line for various attractions. When you only have 3 days in Copenhagen this can be a bit frustrating.
Winter tends to be the off season, and some of the tourist attractions close due to the weather. Daylight hours are also pretty limited and it gets dark at 3.30pm for some of it. That being said if you visit around Christmas there is a very special atmosphere filled with mulled wine, fairy lights, and dustings of snow.
March – May are probably better months to visit, as the weather isn't freezing, and the days are starting to get longer. Accommodation is also a bit cheaper as this is before peak tourist season.
Is Copenhagen in 3 days doable?
You might be wondering if Copenhagen in 3 days is doable, or will you need more time. Personally we think anywhere between 3 – 5 days will give you the opportunity to explore Copenhagen, enjoy some of the nightlife, and see a good majority of the tourist attractions. It will also mean that you won't be breaking the bank because it is a really expensive city.
If you are looking for the perfect guide to spending 5 days in Copenhagen here is our recommendation.
Another good thing about Copenhagen is that most of the tourist attractions are close together, and the public transport system is amazing so you won't need to spend hours getting from one attraction to the next.
Travelling as a couple? Romantic things to add to your 3 day Copenhagen itinerary
If you are lucky enough to be spending 3 days in Copenhagen with your significant other, here are some of the more romantic things to add to your Copenhagen itinerary.
Rent a boat and picnic on the canals
I know we mentioned this in our list of things to do in Copenhagen, but one of the most romantic things to do in the city is to rent a GoBoat and sail along the canals. You can pack yourself a picnic and some wine and watch the city go by.
Picnic in The Kings Garden
Another romantic thing to do during your 3 days in Copenhagen is to pack yourself a picnic and enjoy it in the Kings Garden just next to Rosenborg Castle.
Do a sunset tour of the Church of our Saviour
In 2022 the Church of our Saviour began offering sunset or sunrise tours. What could be more romantic then visiting this incredible viewpoint and watch the sunset/sunrise with your significant other.
And if you want to sit back and let someone else arrange the romance for you here is a suggested romantic city tour.
Eating during your 3 days in Copenhagen
You might not think it at first glance but Copenhagen is definitely a foodie city. Fine dining is a big deal, so much so in fact that there are 14 restaurants in Copenhagen that have at least 1 Michelin Star. Unfortunately for us, our 3 day Copenhagen itinerary didn't include a lot of fine dining, mostly because we didn't want to have to remortgage our house (jokes). But in all seriousness we were trying to be a bit money conscious so fine dining was out of the question. I'm not going to pretend I know anything about fancy food especially in Copenhagen so instead I will go through the must eat places that we discovered as part of our exploration of Copenhagen in 3 days.
Cafe Wilder
Cafe Wilder is supposed to be one of the oldest cafes in Christianshavn. The food is really good, and there is a pretty relaxed atmosphere here too. It is slightly expensive, but not too bad for Copenhagen. We ordered Smørrebrød with Akvavit and we do highly recommend it.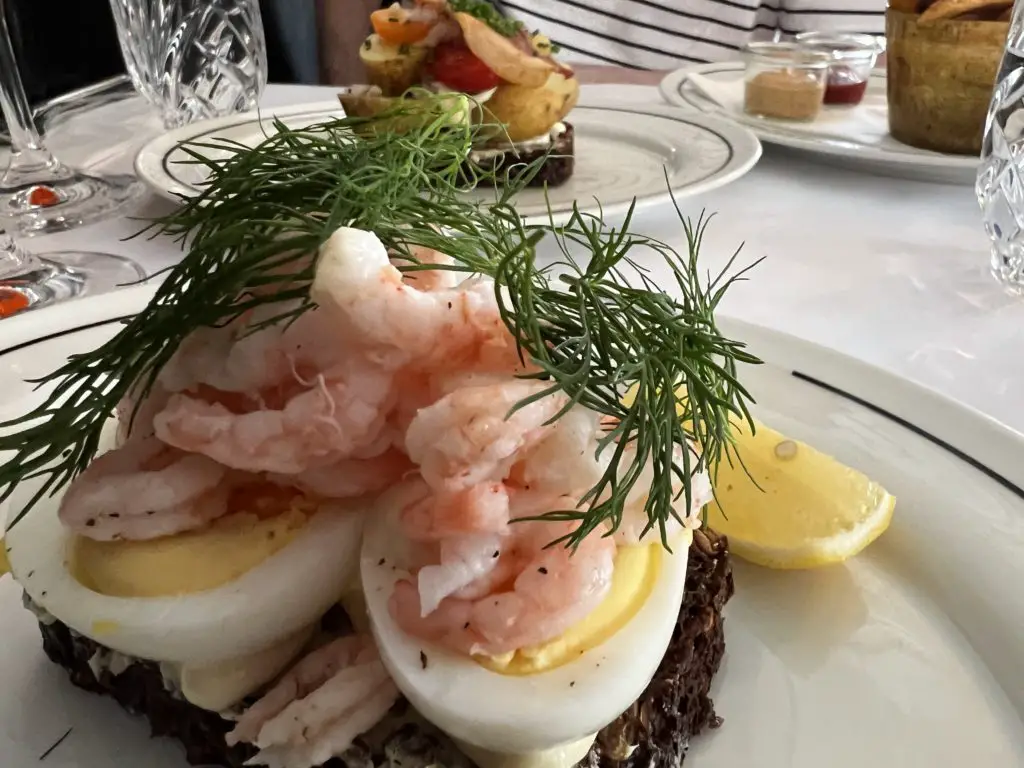 Sliders
Sliders is a chain serving mini burgers and fries. For a fast food place it is delicious, and the food is pretty fresh too. It's great if you don't want to spend too much for dinner.
Gasoline Grill
This is another burger chain, but the burgers are organic and made fresh. This is another great option for a cheaper bite to eat.
La Glace
La Glace is Denmark's Oldest patisserie, and definitely in the running for the most delicious too. The cakes are honestly amazing, to the point where we were in a bit of a cake coma at the end of it. It does get busy here but the queue is worth it.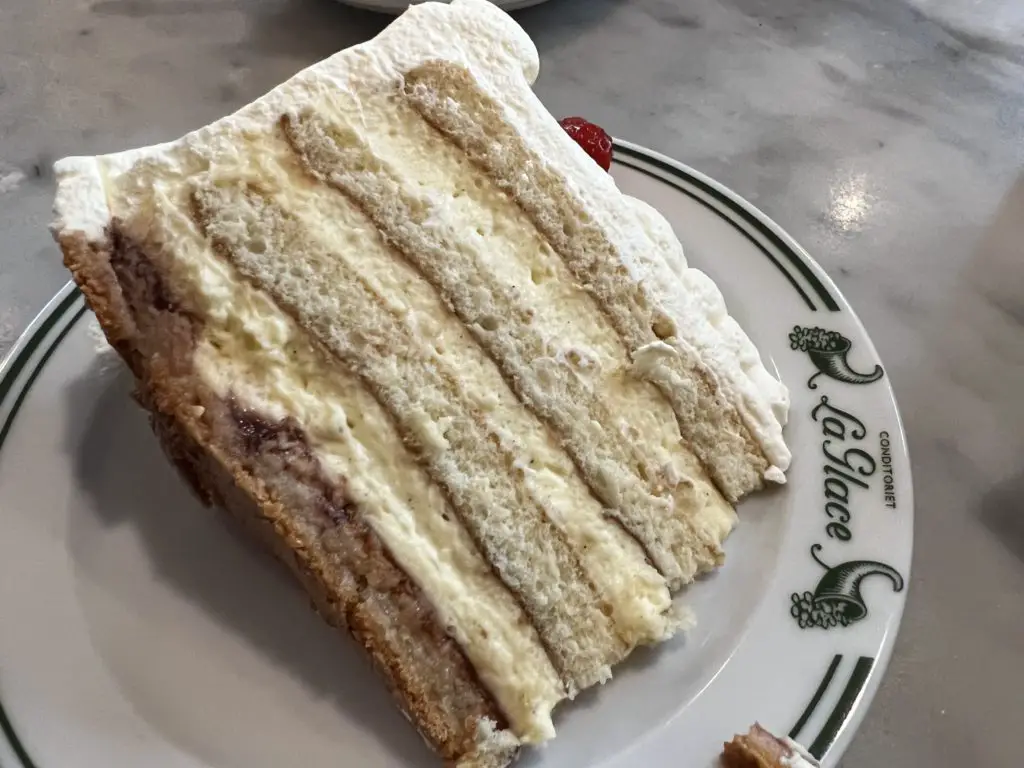 Cakenhagen
If you are visiting Tivoli and craving some sweets, then we highly recommend Cakenhagen. They do some pretty incredible cakes which you can have with either Champagne or your classic the and coffee.
Gorms
Gorms is a pizza chain in Copenhagen, serving some really good quality pizza on a thin crispy base. Copenhagen is supposed to have some really good pizza and after visiting Gorms we cannot argue with that. Prices here are reasonable again for Copenhagen.
Sankt Peders Bageri
If you are after a quick breakfast in Copenhagen head to Sankt Peders Bageri. Located in the Latin Quarter this is Copenhagen's oldest bakery. The cinnamon rolls are to die for, as is pretty much everything here actually. I'm not ashamed to say we ate here pretty much everyday in Copenhagen.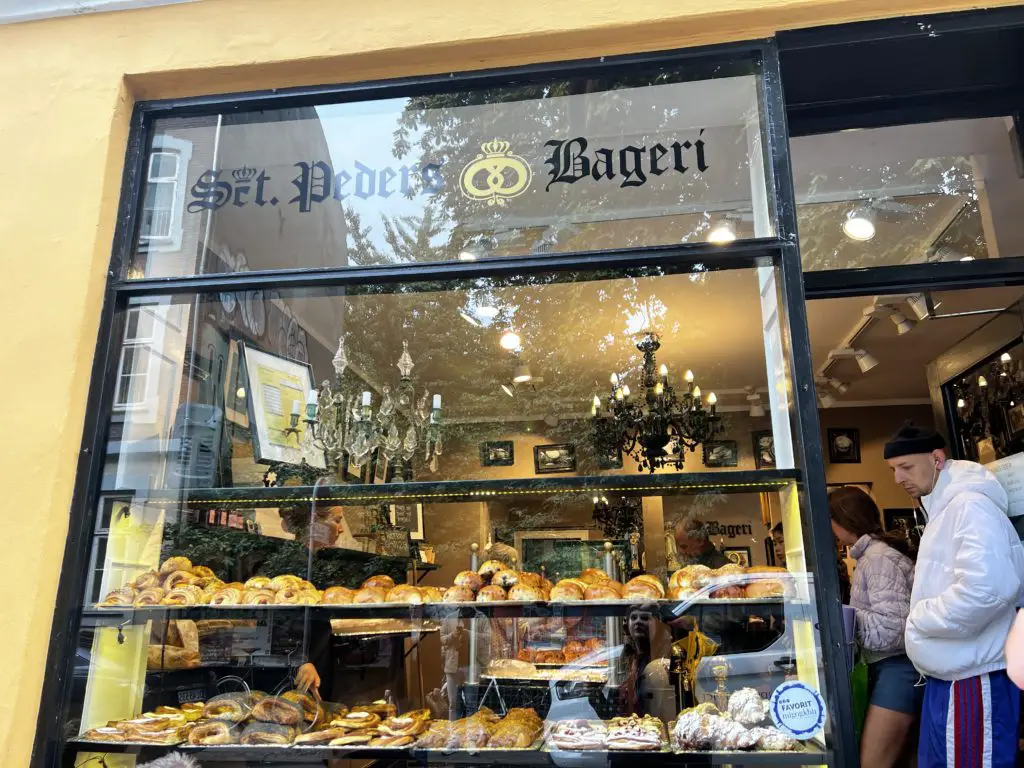 Best traditional food to try during your 3 days in Copenhagen
A big part of enjoying Copenhagen in 3 days is of course trying some of the more traditional foods the city has to offer. Here are some of our top suggestions.
Spandauer
Apparently the Spandauer is the inspiration behind the well loved Danish. It's one of the oldest and most popular pastries in Denmark so make sure that your plan to see Copenhagen in 3 days includes eating many of these.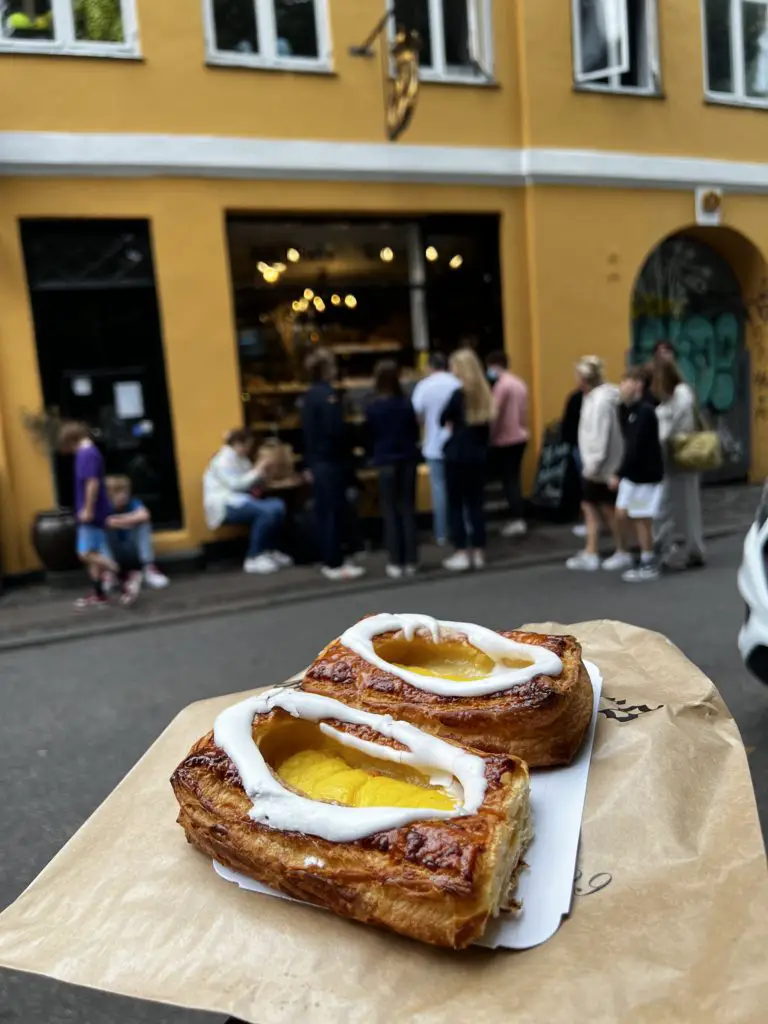 Kanelsnegle
So I think this translates roughly to cinnamon snail because of its spiral shape. And honestly these pastries are so tasty especially in the morning with a nice cup of coffee.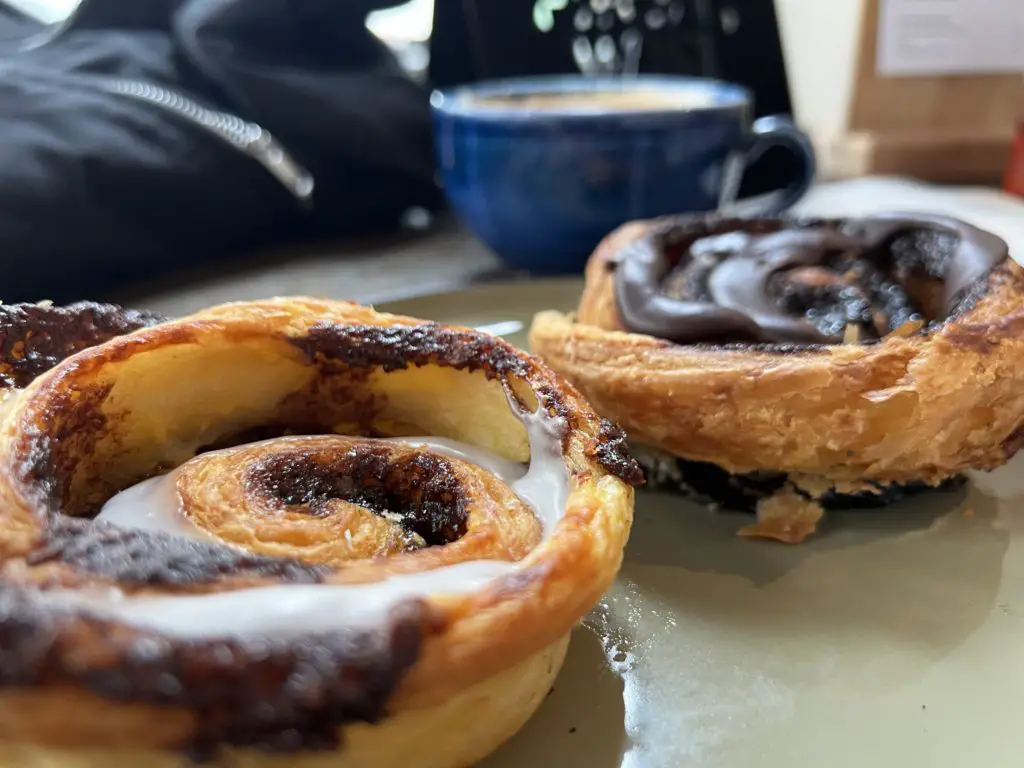 Rød pølse
There are a ton of Hot Dog stands dotted around Copenhagen, and you might initially think to avoid them because street meat doesn't always have a great reputation. This would definitely be a mistake though as, forget the fine dining, hot dogs are a must eat food in Copenhagen. Rød pølse or red sausage is usually served in a bun with lashing of mustard and ketchup. Honestly we highly recommend it. And DØP outside the Round Tower is one of the best places to eat these in Copenhagen in case you were wondering.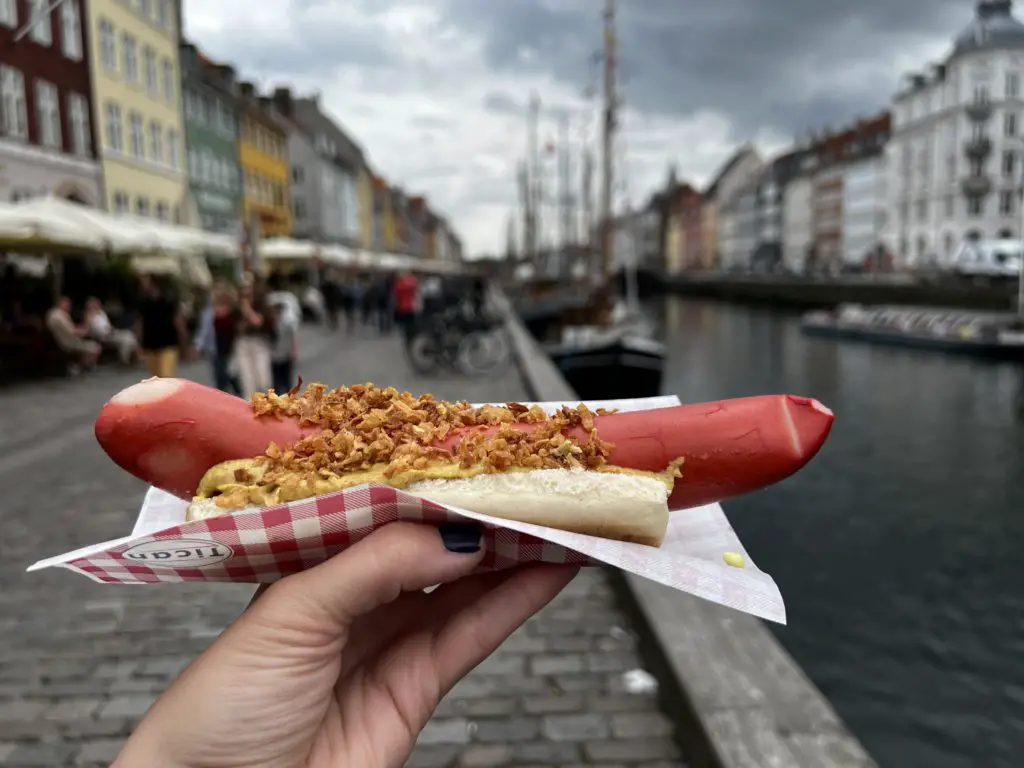 Smørrebrød
Another must to add to your 3 day Copenhagen itinerary is to fill up on Smørrebrød. To put it very simply it's an open sandwhich served on rye bread with toppings including things like prawns, fish, and vegetables. It's even a thing in fine dining restaurants. We ended up trying these at Cafe Wilder and they did not disappoint.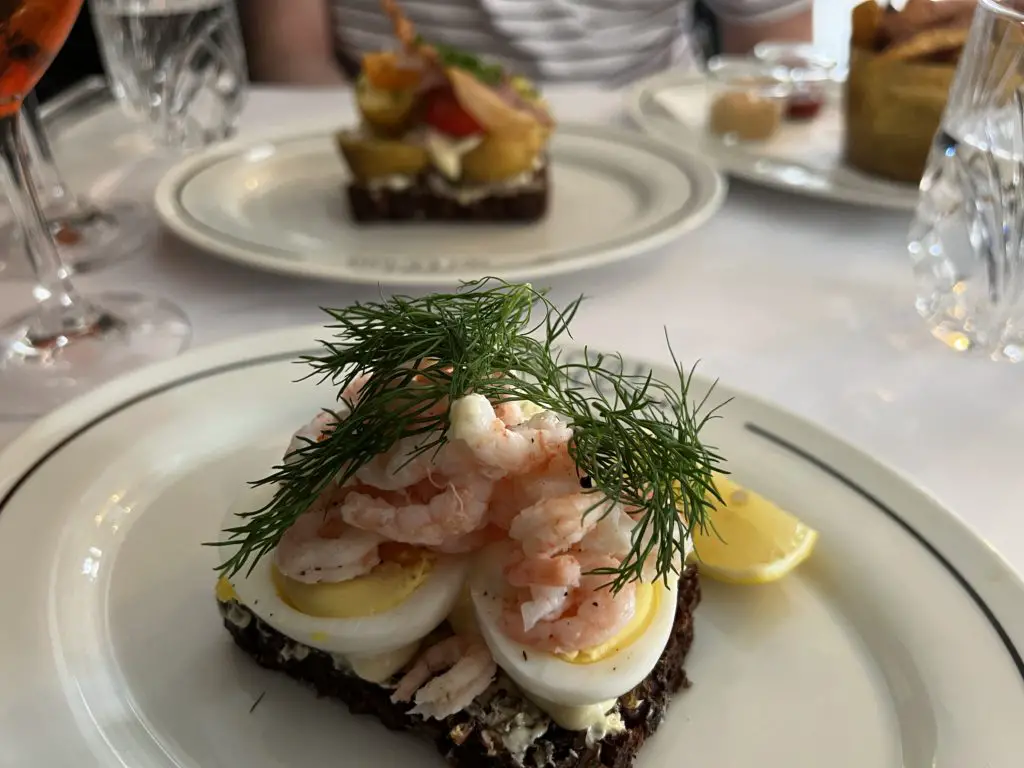 Akvavit
Ok Akvavit isn't a food, but it is a very strong Danish spirit that we recommend you try. It is really nice when eating Smørrebrød. Just make sure you sip it.
Best drinking spots to add to your 3 day Copenhagen itinerary
We've covered the food element but you cannot do Copenhagen in 3 days without knowing where all the best bars are. There are so many great bars in Copenhagen that we cannot possibly list them all but here are some of our highlights.
Nimb
Nimb Bar is located in Tivoli Gardens and as its name would imply it is part of the Nimb Hotel. They serve classic cocktails along with their own specials that are named after 90s films. And of course you also get your selection of beers and wines. I ordered the 'Pulp Fiction' which is served out of a shoe, and despite the gimmick it was a really nice drink.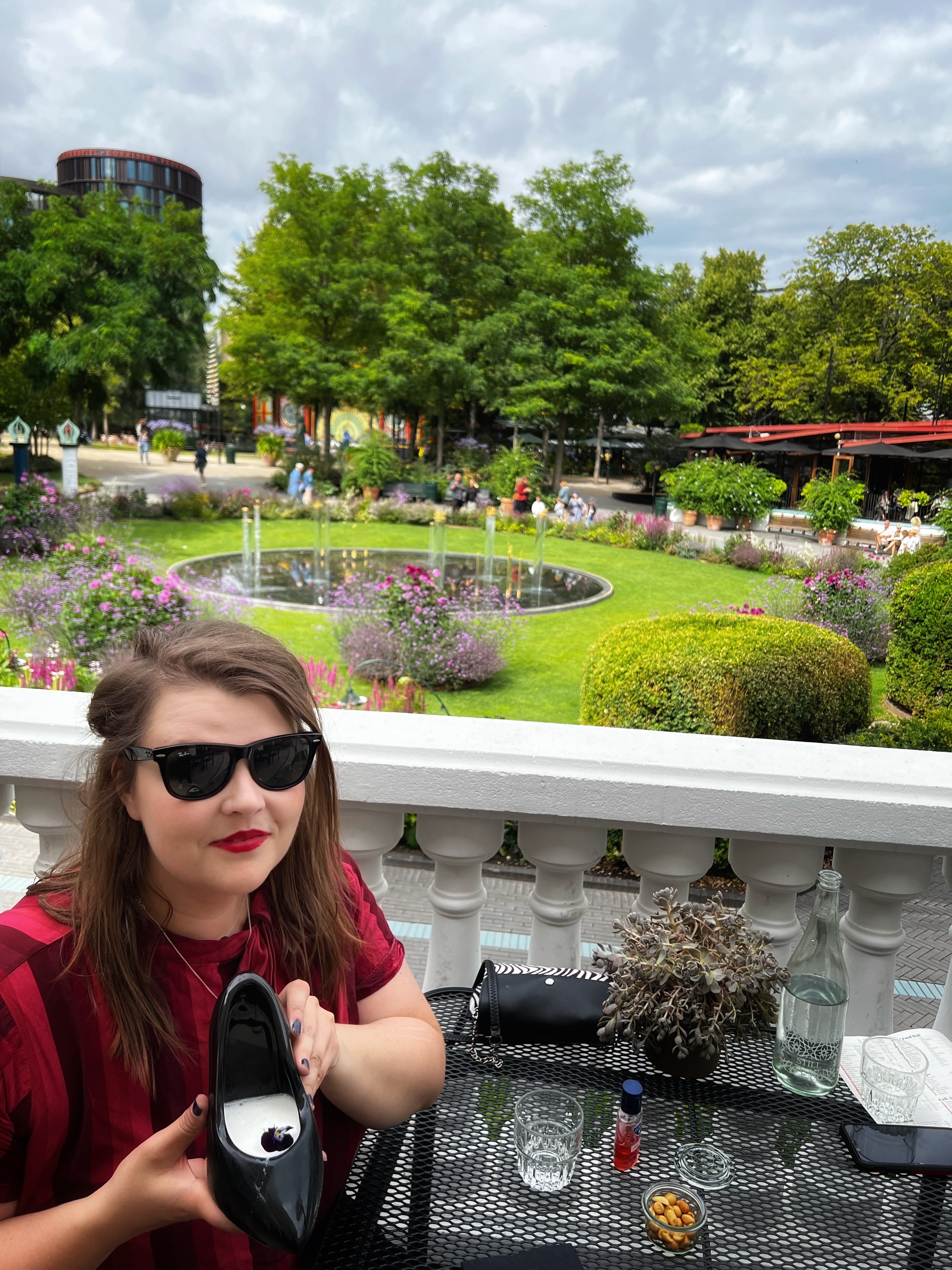 Ruby
Ruby is one of the best cocktail bars in Copenhagen, and the drinks do live up to the hype. It is one of the more expensive bars we went to during our 3 days in Copenhagen, but still a great experience.
Peders
You might miss this basement bar when you first walk past it, but do take the time to find it because it is fantastic. If you like beers or wine this is a very chilled bar with friendly staff. This bar was quite close to our hotel and we stumbled upon it completely by accident, but we are so happy we did.
Lidkoeb
Lidkoeb was one of our favourite spots to have drinks in Copenhagen. The bar is hidden down a back alley and has two floors, the top of which is home to a whiskey bar. Although this is only open on Friday and Saturday nights. The rest of the bar however is open every day. They do some great drinks including classic cocktails, and the vibe is very unpretentious.
Ved Stranden 10
Another favourite to add to your 3 day Copenhagen itinerary is Ved Stranden 10. It's a great place to go if you are into wine, and you can sip it outside whilst sitting by the canal.
Den Vandrette
This cool wine bar is located in Nyhavn harbour and they serve organic wines. We didn't actually get to sit inside when we were there due to an event, but staff allowed us to take a glass of wine and sip it near the harbour which was much appreciated.
Copenhagen in 3 days – How to get around the city
Copenhagen is a pretty walkable city, and things do tend to be close to each other. For this reason a lot of the time in Copenhagen you will probably find yourself walking.
You only have to spend 5 minutes in Copenhagen to see how popular cycling is. Another great way to get around the city is to rent a bike. Donkey Republic is one of the local bike rental companies operating in the city. The good thing about biking is that there are actual cycle lanes in the city so even an inexperienced rider can get around. Obviously you need to understand the basic rules of riding a bike in the city, but you don't have to worry about cars cutting across your path or things like that.
Despite Copenhagen being a walkable city, let's face it there are times when a 30- 40 minute walk just don't appeal to you. This is where public transport comes in. If you purchase a Copenhagen Card this also includes your public transport for a set amount of days. Just have your pass on you, in case you need to show it, but otherwise you can walk on buses, trains, and the metro no problem.
We will go into a bit more detail further dow in this post, but we did not get the Copenhagen Card. So for public transport we purchased what is called a City Pass. Again you get unlimited access to public transport within a set period of time. For more information or to purchase the pass checkout their website.
Copenhagen has some of the best public transport we have ever come across. The Metro is clean and efficient as are the buses and trains. We ended up using GoogleMaps to help plan our journey and this would advise all the public transport options for the trip.
Another great way to see the city is to do a hop on hop off bus tour. This takes you to all the main tourist attractions, and you get the luxury of learning about the city as you go.
Copenhagen in 3 days – Is it expensive?
There is no real way to sugarcoat it, 3 days in Copenhagen will not come cheap. In fact apart from Oslo it is one of the most expensive places we have visited. Taxes are really high in the country, which makes it a great place to live, but for tourists it is pricey. Just to give you an idea of costs here are some of the things we purchased and how much they were:
2 x Old Fashioned Cocktails – 280 DKK or €37
2 x Burger Meals at a fast food restaurant (without drinks)– 258 DKK or €34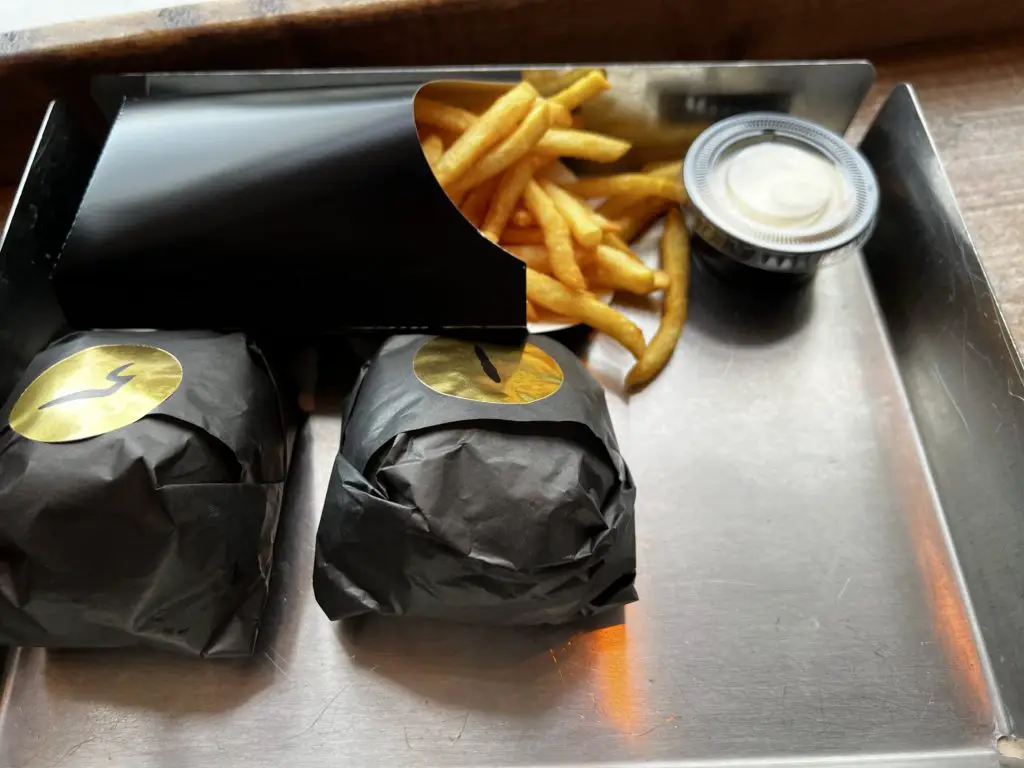 We also ended up buying pastries and coffees for breakfast and this was coming out at around €23 which is a lot compared to other European capitals. So as you can see yes Copenhagen is expensive.
Do I need to tip in Copenhagen?
No tipping is not customary in Copenhagen and honestly isn't even encouraged. If you pay by card you might get the option to add a tip but a lot of servers even bypassed this step for us. Wages are really good in Denmark as a whole, so you don't need to tip.
Do I use cash or card in Copenhagen?
We only used card to pay for things during our time in Copenhagen and this was no problem at all. All tourist attractions, and the vast majority of restaurants and bars allow you to pay with your card. There are also apps you can download to pay for things online, so I wouldn't bother bringing any cash with you on your trip.
How much money do I need for my 3 day Copenhagen itinerary
You might be wondering how much money you need to do Copenhagen in 3 days. Overall we probably spent around £150 – £200 per day between us, so you are looking at about 1,325 – 1,765 DKK per day for 2 people.
This was not including accommodation. In this budget we did visit quite a few tourist attractions, and paid for a 3 day pass for public transport. We tried not to spend too much money on dinners, opting to eat at food halls, or bars, but we did go out for quite a few drinks which definitely brought our costs up.
Budget tips for your 3 days in Copenhagen
It is hard to do Copenhagen on a budget, even if you really try. As mentioned above things are just generally way more expensive then other European cities. Some things we did to try and bring down costs were:
Checking if any galleries or museums had days where entry was free – e.g the Ny Carlsberg Glyptotek is free on Tuesdays
Eat the street food – seriously the hot dogs in Copenhagen that you can get from street food vendors are incredible and cheap
Book accommodation well in advance and avoid staying the night at weekends or in August for example when things are way more expensive
Bring a refillable drink bottle with you – tap water is drinkable and tasty too
Avoid the tourist trap style restaurants – instead eat where the locals eat
Think about purchasing the Copenhagen Card if you want to see a lot of things
Otherwise do free activities like visiting Nyhavn or the Little Mermaid Statue
Is the Copenhagen Card worth it?
Ok so complete disclaimer here, we did not purchase the Copenhagen Card when we visited Copenhagen. Honestly we aren't usually fans of the City Cards because most of the attractions we want to see don't end up being on them, and public transport is cheap enough anyway. Looking back now we probably should have purchased the card.
For starters you can see in our 3 day Copenhagen itinerary that pretty much all of the attractions were visited were part of the Copenhagen Card. On top of that so is public transport, including your trip to and from the airport. The other thing with the card is you get discounts on some restaurants, which isn't a bad thing in Copenhagen because honestly it gets expensive.
Here is a link in case you are interested in purchasing the card yourself.
What to pack for 3 days in Copenhagen
What you pack for your 3 days in Copenhagen will depend on what time of year you are visiting. As a general rule of thumb make sure you pack comfortable clothes, particularly if you are planning to cycle around. A decent pair of shoes is another must, as you will probably do a lot of walking. The vibe in Copenhagen tends to be pretty chilled so you don't need to bring your fanciest outfits.
In the winter months it can go below freezing in Copenhagen so make sure you bring a good quality winter jacket, gloves, scarf, and a winter hat to keep yourself warm.
Summer is pretty mild in Copenhagen and on average you are looking at temperatures of around 15 – 25 Celsius. Our top tip is to layer up and carry a light jacket with you especially for those cooler summer evenings.
Things to know before planning a 3 day Copenhagen itinerary
Be prepared to spend a bit of money on your trip as things generally are expensive in Copenhagen
Book your accommodation well in advance and use booking sites to find the best deals
Renting a bike is a great way to get around and see the city
Whilst on the subject of bikes! Look out for bikes when crossing the road or coming off a bus and do not walk in the bike lanes
Definitely do a boat cruise when you are in the city.
More than 3 days in Copenhagen – Day trip ideas
If you have more than 3 days in Copenhagen here are some of our day trip recommendations.
Kronborg Castle
If you love visiting European Castle then a visit to Kronburg Castle from Copenhagen is a must. It is only 45 minutes on a train from the city, and the castle was actually the same one that Hamlet was set in. For some tour suggestions see below.
Malmö
It actually surprised us how close Sweden is to Copenhagen, which is why Malmö is a great day trip option. It's an especially good option if you want to see 2 countries in one trip. Here is a tour that will take you across to Lund and Malmö for the day.
Copenhagen in 3 days – Is it worth it?
Some people might be put off by the cost of visiting Copenhagen, and so you might be wondering is 3 days in Copenhagen worth it? Truthfully yes. In fact 3 days is probably a good amount of time to visit the city without spending your life savings.
Copenhagen in our opinion is a must visit European city that makes for the perfect city break. It might be expensive but if you get the opportunity to visit we really do recommend it. It's a beautiful, vibrant, safe, and inclusive city, that you really need to see to believe.
Not only is there a lot to see and do, but the food alone will blow your mind. The people are welcoming, and it is one of those places that will leave a lasting impression on you.
We hope that you have found this guide useful, and that it has inspired you to plan your own 3 day Copenhagen itinerary. Please do pin this guide for later so that you can refer back when planning your trip.
Enjoy Copenhagen, eat, drink be merry and experience the hygge!