If you are planning on spending a week in Europe, then we highly recommend visiting the Imperial capitals of Prague Vienna & Budapest. Each city is steeped in history, with grandiose architecture, mouth watering food, and a whole lot of culture. Each of the capitals bring something a little different to the table so you get a real taste of Europe in a limited time.
Here we have put together the perfect Prague, Vienna, Budapest itinerary to help you plan your own European adventure.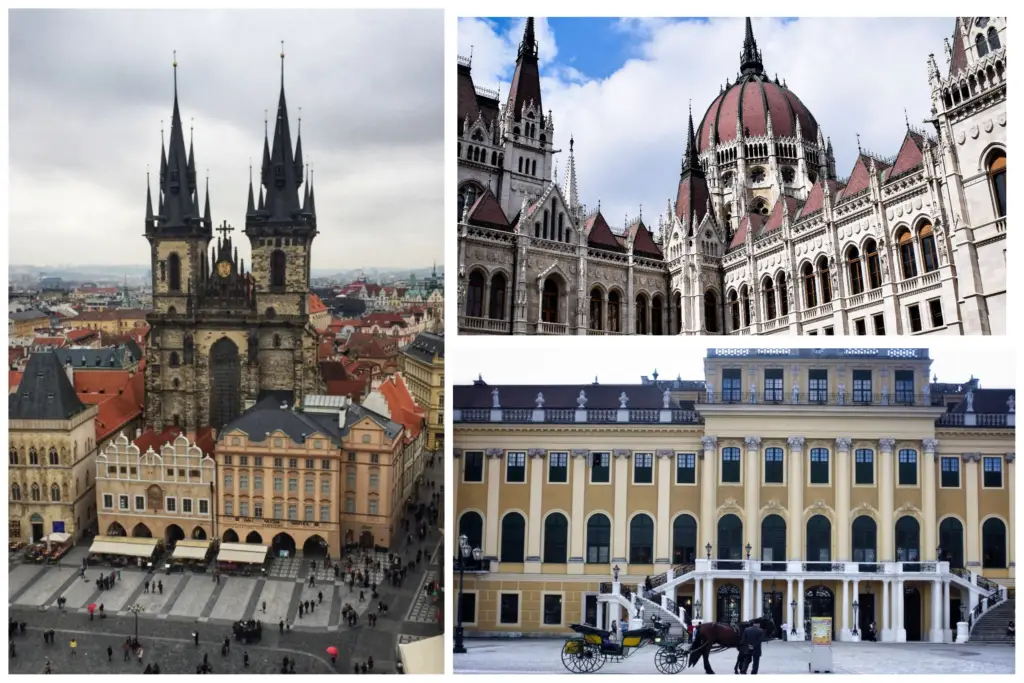 Prague, Vienna, Budapest – how many days
In our Prague, Vienna, Budapest guide we give you 2 example itineraries for a 7 day and 10 day trip. Obviously the longer you have in each city, the better. Each of them offer so much to see and do. If you only have 7 days we recommend 2 days in each city with a 7th day for travelling. And if you have a little bit longer 3 days in each plus a day of travel gives you a good chance to see the sights and get a taste of each city.
Of course we recommend spending much longer in Europe, especially because it is so big and each country is so unique. For more ideas, here are some sample 3 week Central Europe itineraries to give you some ideas.
Prague Vienna Budapest itinerary breakdown
Here is our Prague, Vienna, Budapest itinerary breakdown including the best things to see and do in each of the cities.
Prague Itinerary
Prague is by far one of our favourite destinations. It's literally like walking into a fairytale with castles and cobbled streets. It is the perfect city to start your Prague, Vienna, & Budapest itinerary, but we warned you may never want to leave.
You can read more about our trip to Prague here.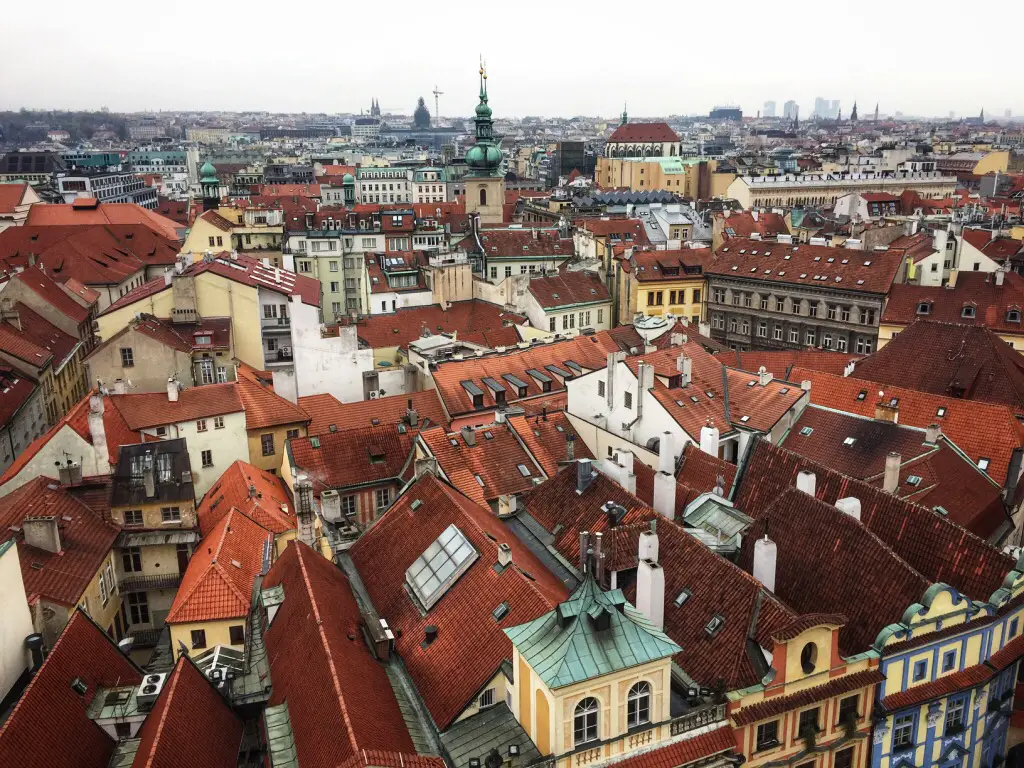 Where to stay in Prague
You will find accommodation to fit any budget in Prague. If you only have a short time in the city though you want to be close to the key tourist attractions, particularly the Charles Bridge and Old Town. We opted for a mid-range hotel located right near the Charles Bridge called Lokal Inn. It was only a minutes walk from the bridge, and was close to lots of bars and restaurants.
Things to do in Prague
Here are some of our highlights and top things to do when visiting Prague.
John Lennon Wall
Probably one of the more instagrammable spots in Prague, the John Lennon Wall is a must on any visit to the city. Etched with graffiti that changes on a regular basis the wall is a symbol of political frustration but also freedom of speech. Make sure you get here early to avoid the crowds.
Prague Castle
The first thing we noticed in Prague was the spectacular castle perched above the city, almost watching over it. The castle grounds contain gardens, palaces, and shops as well as the very dramatic looking St Vitus Cathedral. The views over Prague from the castle are also pretty incredible!
Charles Bridge
If you do one thing on your trip to Prague, make sure you visit the Charles Bridge at sunrise. It's so much quieter and you get some really amazing photo opportunities. The bridge connects Mala Strana (Little Quarter) and Stare Mesto (The Old Town) so it is a very beautiful way to get from one side of the river to the other.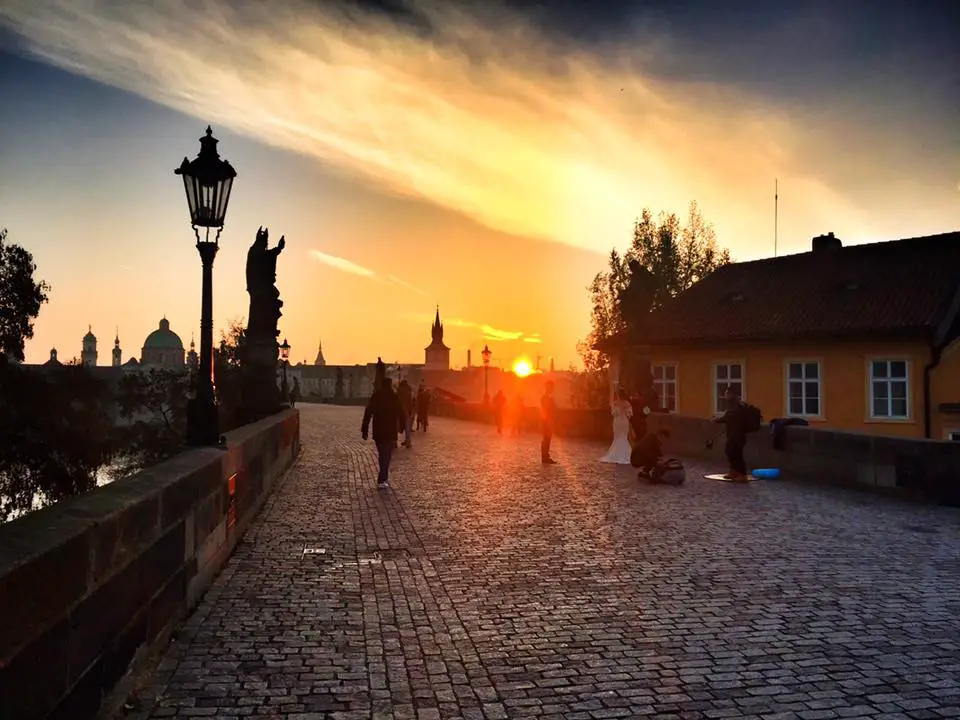 Petrin Hill
Petrin Hill provides a bit of a reprieve from the hustle and bustle of Old Town. Make sure you get the funicular up the hill, but remember to arrive early to beat the crowds. Once you are at the top of the hill you can stroll around the beautiful gardens and woodland, or if you are brave enough head up to the top of the TV Tower.
Jewish Museum
Whilst it is a sombre place to visit the Jewish Museum is one of the most visited museums in Prague. Here you learn about the history of the Jews in the city, and you get to explore the Old Jewish Cemetery too.
Vltava River Cruise
I always love seeing a city from the water, so the Vltava River cruise was a must on our visit to Prague. We ended up doing a 45 minute cruise however with Prague-Venice which is a historical tour with some amazing views of the city.
Old Town & Old Town Hall Tower
A visit to Old Town is a must in Prague. The Old Town Square is probably one of the most photogenic parts of the city. The Xmas markets are held here in December and at other times it is a hive of activity with street performers and vendors selling Chimney Cakes and other treats. If you have time it is worth visiting the Old Town Hall Tower for some really wonderful views.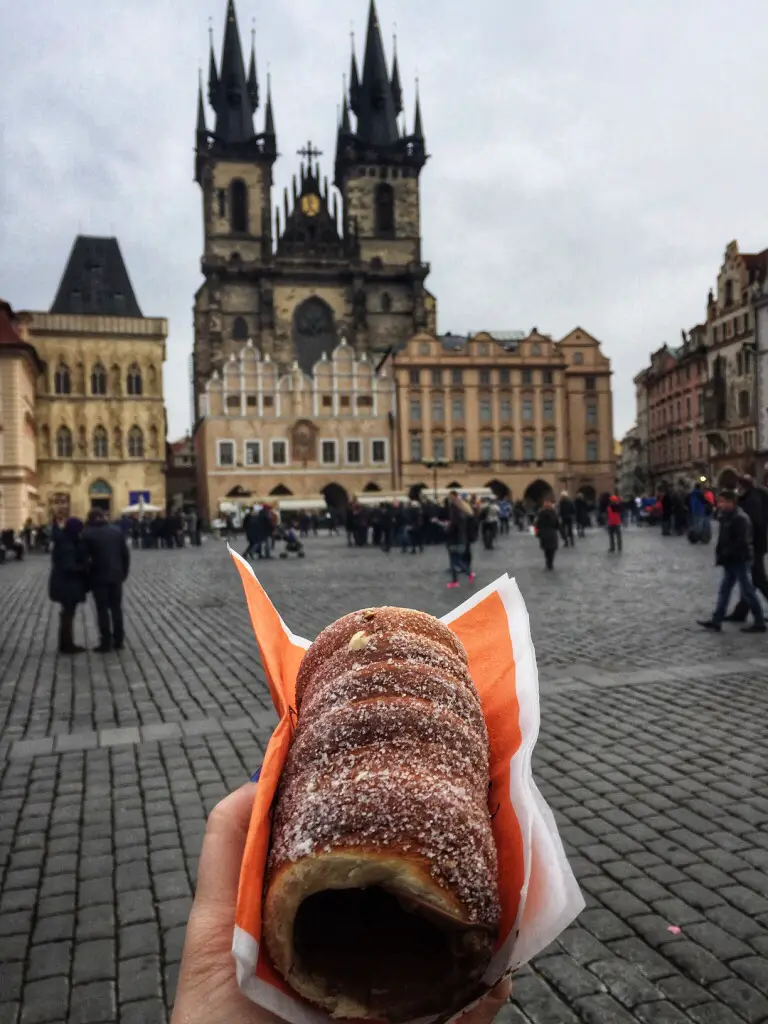 Vienna Itinerary
So now we head to our second destination of our Prague, Vienna, Budapest itinerary. Vienna is full of lavish architecture, museums, classical music, and of course coffee and cake.
You can read more about Vienna here.
Where to stay in Vienna
If you are in Vienna for a short time, like we were then you will want to stay somewhere central and close to the tourist attractions. Innere Stadt and MsuseumsQuartier and probably the best areas to stay in for a first time visit. You are close to the attractions and there are a number of hotels to choose from for all budgets. We ended up staying a bit further out when we visited which in hindsight wasn't the brightest idea on such a short trip.
Things to do in Vienna
Here are some of our highlights when visiting Vienna.
Schonbrunn Palace
Schonbrunn Palace is one of the top attractions in Vienna, giving you a flavour of imperial living in the city. Built in the 1630's this former summer residence for royalty is now popular with tourists. You get the opportunity to tour the inside as well as exploring the palace gardens.
Visit a coffee house
A visit to a coffee house in Vienna is a must due to their part in shaping Viennese culture. Treat yourself to some coffee and cake (Sachertorte is the most traditional) and read the paper like the locals do.
Prater amusement park
Open from March – October every year. the Prater amusement park is home to one of the oldest ferris wheels in the world. The Riesenrad, is 212 ft tall and has these wooden gondolas that you stand in as the wheel goes around. This is a highlight in Vienna for sure.
MuseumsQuartier
Like you would assume with the name, the MuseumsQuartier is home to a number of art museums, as well as an architecture and design museum.
Hundertwasserhaus
A quirky thing to see in Vienna is this colourful housing complex. It is a really unusual building built after an idea and concept by Austrian artist Friedensreich Hundertwasser, hence the name. If you are looking for an offbeat experience it is certainly worth a visit.  And of course it is a great place to get a few Instagram shots.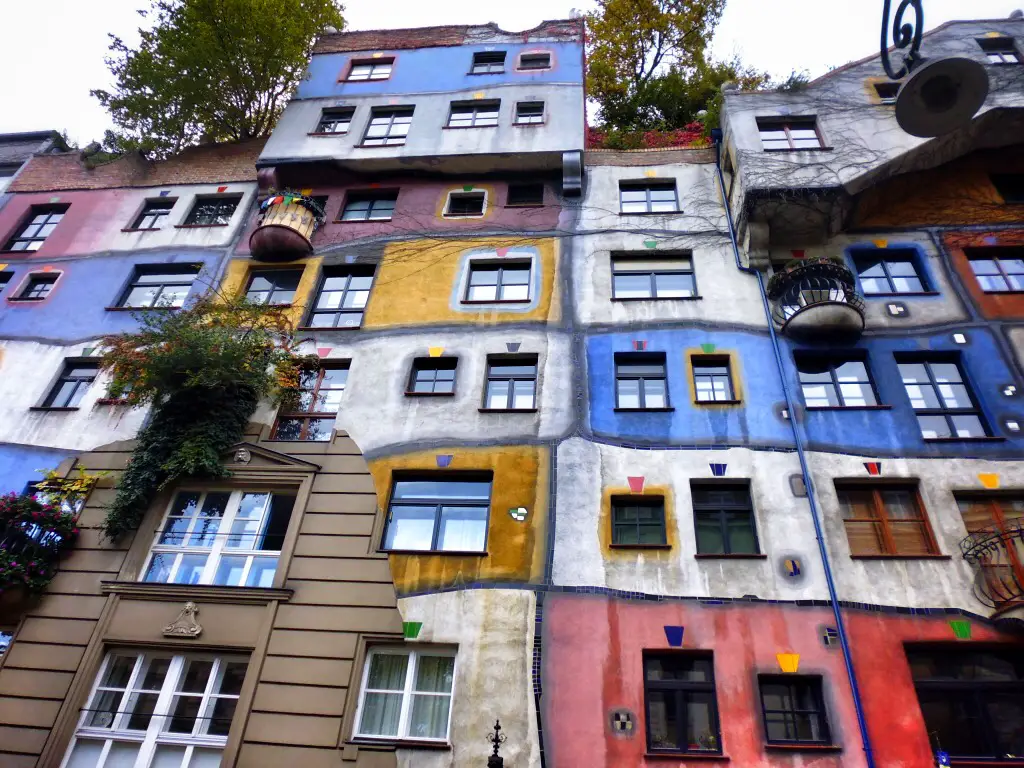 St Stephen's Cathedral
Hailed as one of the most important religious buildings in Vienna. This gothic style cathedral is a Roman Catholic church with intricate detail. It is well worth a look and make sure you go inside if you can.
Listen to some Opera
Vienna is renowned for its musical history so heading to an opera is high on the bucket list. If you don't get the chance to though there is actually an Opera Toilet in Vienna – see if you can spot it
The Vineyards
We had no idea there were vineyards in Vienna and this was a pleasant surprise. It is a bit of a journey out of town and you will need to take a bus to Kahlenburg. But it really is worth doing and a real quirky thing to do in Vienna.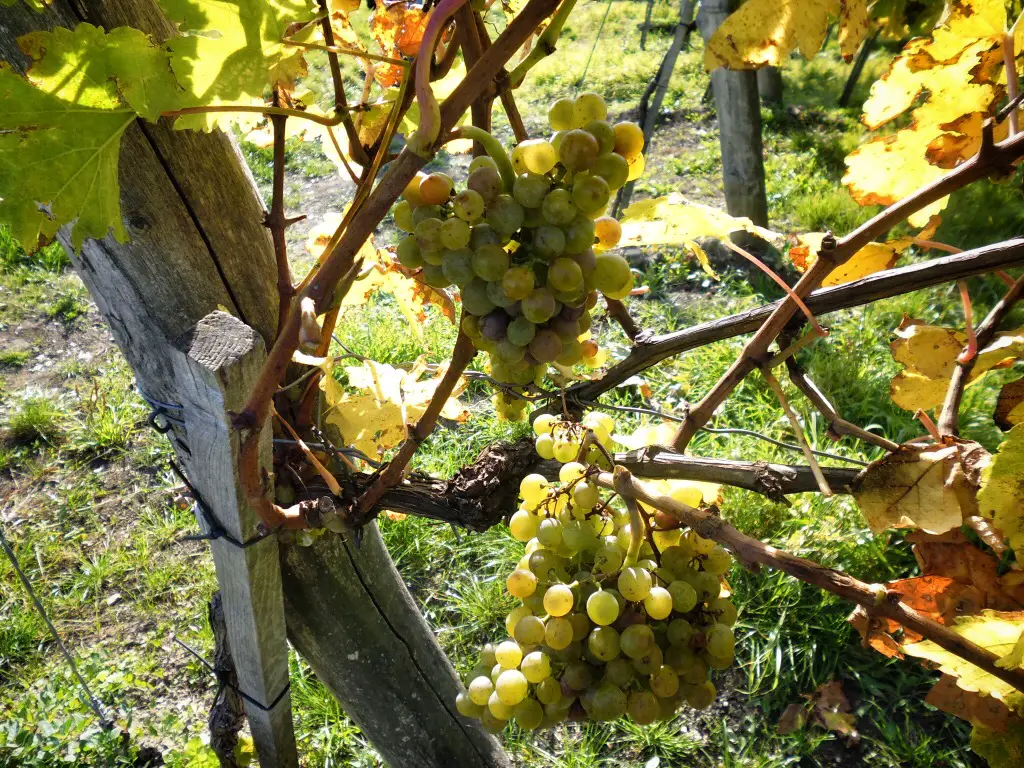 Budapest Itinerary
The final leg of our Prague, Vienna, Budapest itinerary is of course the Hungarian Capital. It's probably a little rougher around the edges than say Prague or Vienna, but filled with so much culture, history, and beauty it is another city you won't want to leave.
For more things to see and do in Budapest check out this post.
Where to stay in Budapest
We stayed on the Pest side at the K+K Hotel Opera. The hotel was fabulous and the location was ideal. It is located on a quiet street so you are away from the hustle and bustle but within walking distance to bars and restaurants. Our room was spacious and comfortable, and it was a perfect place to rest our heads after long days exploring the city.
Things to do in Budapest
Here are some of our favourite things to do in Budapest to help you plan your own itinerary.
St Stephen's Basilica
St Stephen's is a must when visiting Budapest. The interior is stunning but its the views from the top which made it for us.
Hungarian Parliament Building
One of the notable buildings that stands out as you admire the skyline in Budapest has to the the Hungarian Parliament Building. You can do a tour of the inside when the National Assembly is not in session. We decided against a tour just because of time restrictions but if you do want to do this make sure you book it in advance.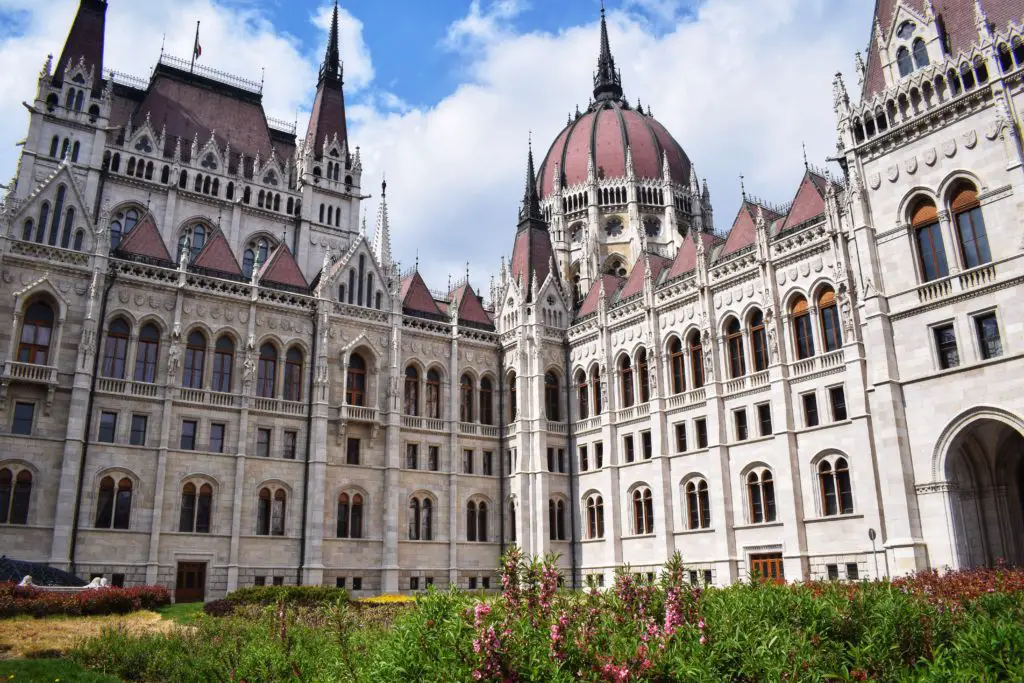 Ruin Bars
Budapest's ruin bars are a nightlife bucket list item. You will find them in derelict buildings, filled with groups of people enjoying their nights. Szimpla Kert is the biggest and most popular and I don't think anything we read really prepared us for actually seeing it for ourself.
Shoes on the Danube
This is one of the most moving memorials we have come across. The Shoes on the Danube represent the thousands of Jews that were killed during World War II by the Arrow Cross militia. They were marched down to the Danube and ordered to take off their shoes before being shot by the edge of the river. Their bodies then fell into the river and were carried away. What makes it even more gut wrenching is that many of the shoes were children's.
House of Terror
The House of Terror is a museum that centres around the fascist and communist regimes in Hungary in the 20th Century. It is an important place to visit, but be prepared it is also very emotional at times.
Szechenyi Bath
This is the biggest and most popular of all the thermal baths in Budapest. Besides enjoying the baths you can also book massage treatments and use the saunas and the gym.
Labyrinth of Buda Castle
The Labyrinth is a series of tunnels under Buda Castle. These caves once held the infamous Vlad the Impaler, otherwise known as Count Dracula as a prisoner for 14 years.
Hospital in the Rock
You essentially get the chance to explore the underground caverns of Buda Castle which were turned into a working hospital in the late 1930's in preparation for WWII. You can only enter the caves as part of a guided tour, but this gives you the chance to learn so much about the conditions that hospital staff had to work under.
Fisherman's Bastion & Matthias Church
The Fisherman's Bastion is a stunning terrace located across the river from the Parliament Building. I think this was one of our favourite places in Budapest because of the sheer beauty of it. The terrace was actually built for the 1000th birthday of the Hungarian State, although it certainly looks much older. Nearby is the equally dramatic Matthias Church.
Hungarian National Gallery
Located in the Budapest Castle the National Gallery houses collections of all types of Hungarian art. Even the building itself is spectacular and the views from the outside are breathtaking.
Castle Hill Funicular
The funicular has been in service since 1870, so not only is it historical, but you also get some incredible views over Budapest. We highly recommend getting the funicular up to the National Gallery.
Prague, Vienna, Budapest 7 day itinerary
Here is a suggested Prague, Vienna, Budapest itinerary for 7 days. This is probably the minimum amount of time you will need to explore all 3 cities.
Day 1 Prague
Arrive in Prague and visit the John Lennon Wall in the morning and then spend the day exploring the Old Town. If the weather is nice do a boat tour in the afternoon. In the evening check out some of the bars in the area – Hemmingways is a favourite for cocktails whilst the Beer Museum is a must for, well beer.
Day 2 Prague
Get up for sunrise and head to the Charles Bridge (you can always go back to sleep after – trust us it is worth it). Head to one of the traditional cafes for brunch and then spend your second day exploring the Castle area.
Day 3 Travel to Vienna
Most of day 3 will be spent travelling to Vienna. Try and get an early train to arrive in Vienna around lunch time. Explore the MuseumsQuartier and see if you can listen to some opera in the evening.
Day 4 Vienna
For something a little different head to Hundertwasserhaus in the morning, before heading back into the centre and paying a visit to St Stephens Cathedral. In the afternoon head to Prater Amusement Park and make sure you ride the Ferris Wheel!
Day 5 Travel to Budapest
Head to Schonbrunn Palace in the morning and explore, make sure you save some time for some coffee and cake before you leave Vienna.
Grab an afternoon train to Budapest so that you are ready for a full 2 days of exploring the city.
Day 6 Budapest
Grab some breakfast in one of the city's many grand cafes, then head to the Shoes on the Danube for a moment of reflection before crossing the bridge to the funicular. Ride the funicular to the National Gallery to enjoy some art. In the afternoon head to Fisherman's Bastion. For dinner we recommend the For Sale Pub for dinner. Spend the evening exploring some of the ruin bars before calling it a night.
Day 7 Budapest
In the morning head to St Stephen's Basilica and admire the views from the top. Then make your way to the Hungarian Parliament building for a tour.
Head to the House of Terror in the afternoon to learn about the history of the communist regime in Hungary. In the evening, we recommend heading to the ruin bars again, to keep exploring (and drinking).
Prague, Vienna, Budapest 10 day itinerary
For our Prague, Vienna, Budapest 10 day itinerary we recommend following the above 7 day guide, but adding an extra day in each city. Here are our suggestions for what to do for an additional day in Prague, Vienna, & Budapest.
Additional day in Prague
Use your additional day in Prague to explore Petrin Hill and the Jewish Museum.
Additional Day in Vienna
Use this additional day to head to the Vineyards to taste some Austrian wine.
Additional Day in Budapest
For an additional day in Budapest make some time to visit the thermal baths. we also recommend the Hospital in the Rock tour if you have the time.
Travelling between Prague, Vienna, & Budapest
The best way to travel between Prague, Vienna, & Budapest is by train. Trains are incredibly frequent and often the fastest way to travel between cities. The train from Prague to Vienna takes about 4 hours depending on whether you take an express train or not. Trains are frequent, and reasonably priced, particularly if you book well in advance.
The train journey from Vienna to Budapest is about 2.5 hours, and again if you book in advance the prices are pretty cheap. You can use booking sites like trainline.com or omio.com to book your tickets.
Prague, Vienna, Budapest – Travel tips
Each country has different currency so make sure you stock up on Euros for Vienna, Koruna for Prague & Forint for Budapest
English is widely spoken in all three countries, but be sure to brush up on some basics in each language
Book your train tickets between cities in advance for the cheapest prices.